Ladies, are you hesitant to wear bold, vivacious yellow outfits? Then it is just the right place for you to get inspired. Yellow is such a lively and vivid color but yet a bit underrated amongst everyone as very often people seem to be a bit hesitant to put on a bold yellow outfit to the office or basically anywhere outside the house.
Learn more about Best Colors that Go Well With Mint Green Clothes – Color Scheme Guide
Whether its summer or the winters, yellow is a color that you can pull off all year round and for a versatile range of occasions. You can pair wear two-tone yellow outfits or even go bold and wear a complete yellow monotone outfit, it's all in fashion these days.
What basically matters is how you style that yellow outfit and how you carry it. All you need is some color coordination to the balance of the boldness of the color with something a bit more subtle. Yellow is not at all considered to be too gaudy for the streets anymore. As a matter of fact, it is now a statement color for an outfit which you can rock any season.
There are some spectacular yellow outfits that are in trend now and with just a little bit of inspiration, you can create any of these looks. So without further due, let's look at some of these looks that you can create very easily.
1. Perfect Yellow outfit for the Office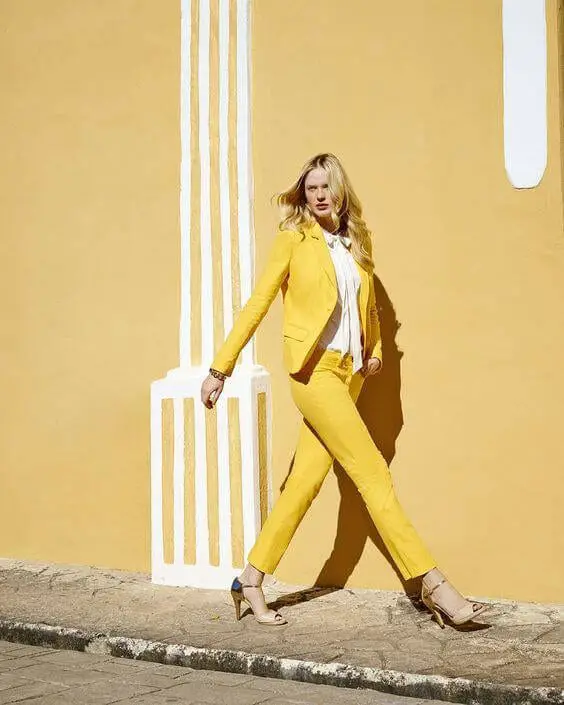 Have a yellow suit but afraid to take it to the office? Well here is a perfect way to make it work appropriate and keep it bold and classic.
Put on a silk white shirt underneath the vivacious yellow blazer and you are all good to go. Here is a great idea, try adding on a white sleek tie to get a bold but sophisticated outlook in general. Winter months are approaching and you want to look a bit livelier around the boring cold months, but how? Well, just put on a bright yellow cardigan over a black and white boring office outfit to bring in some color to the busy work life.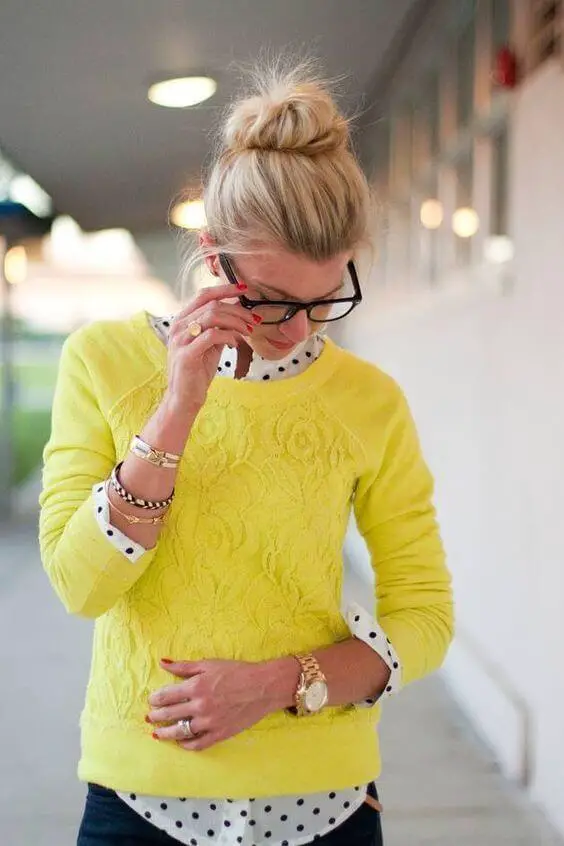 The polka dot shirt will balance out the neon yellow sweater and give you a very proper office look.
2.The Head to toe Yellow Look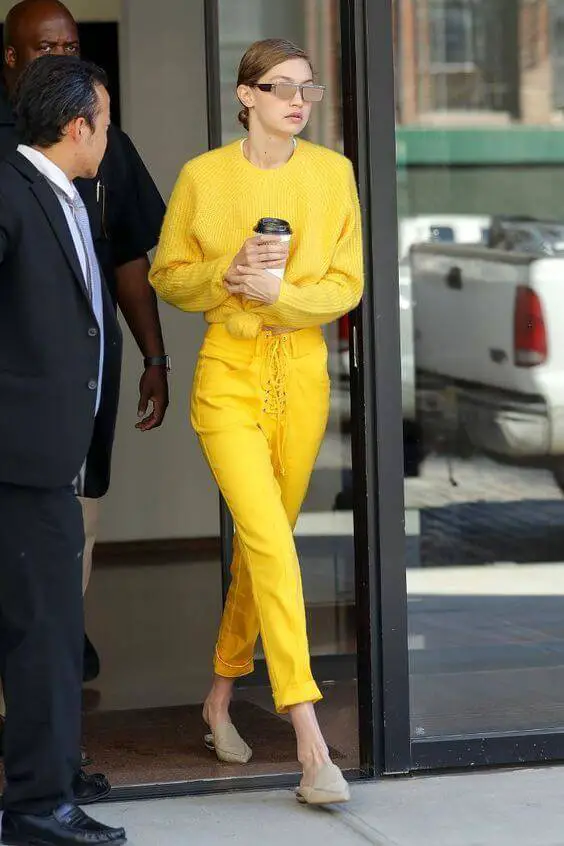 This outfit is the easiest yet very bold to put together. It is a classic day time casual look that anyone can easily carry out on a day to day basis. Okay, you all might be getting a little intimidated by the all head to toe yellow look, but it is truly in trend these days.
It is that time in the fashion industry which is perfectly appropriate to be bold and fierce. It is the outfit that speaks that you have a very bold and strong personality.
Another way you can style the same outfit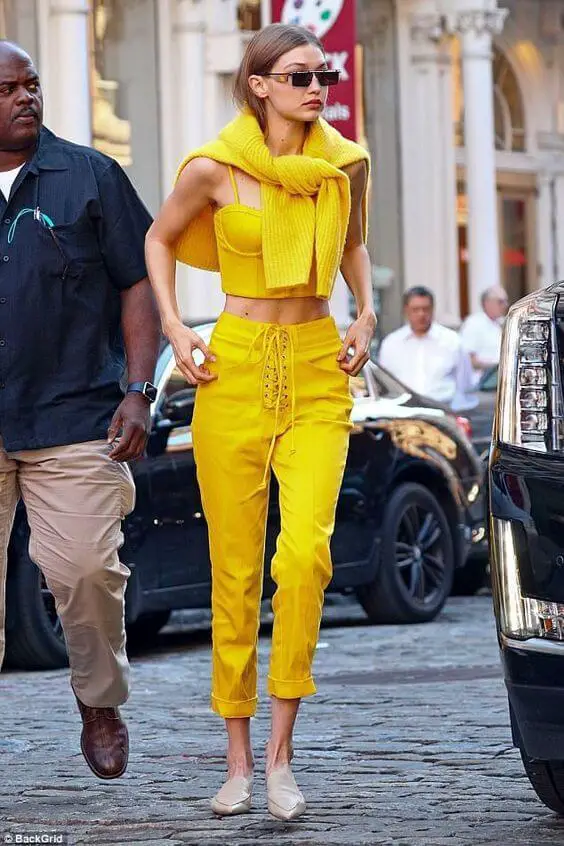 Well, ladies, it is the same outfit yet the completely different look. Tying the sweater in a knot around you knot will give you a chic and edgy look with the yellow outfit.
3. The Short Yellow Dress
Whether its summer or autumn, this outfit will be perfect for every season. The full sleeve outfit screams classiness and sophistication while its length showcases the joyful look. It is the perfect blend of chic and sophistication. The black ankle boots really infatuate the entire look together and give you that chic detail.
Have a lunch date? Just pop this outfit on and you are all set to go.
4. The Boss Lady Look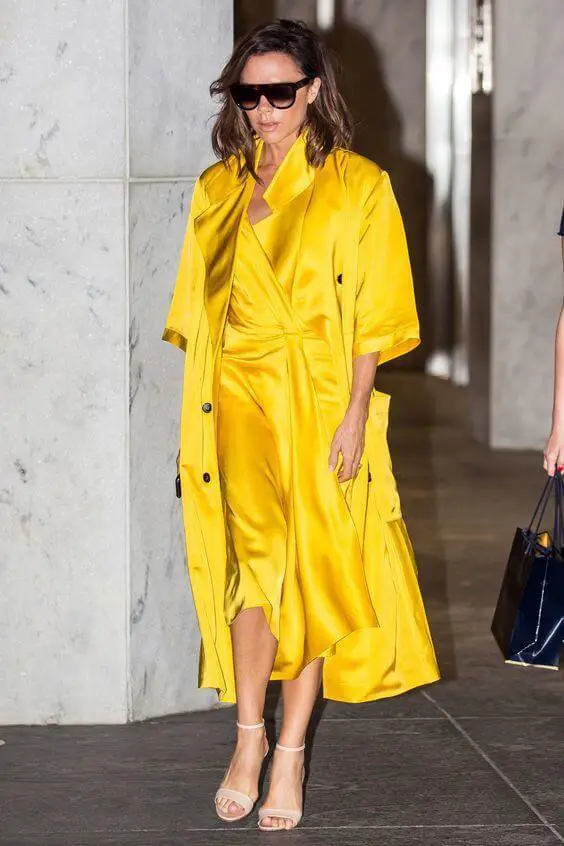 Who doesn't want to look bold and powerful? This outfit is all about power and superiority.
Have a casual meeting in a restaurant? Try this look which will really signify your bold persona and give you a very bright and powerful outlook.
Whether it's a meeting or a casual dinner date, this outfit will complement both the occasions. The long overcoat adds that fashionable and refined vibe where the color adds on a bright outlook.
5. The Spring Monotone Yellow Outlook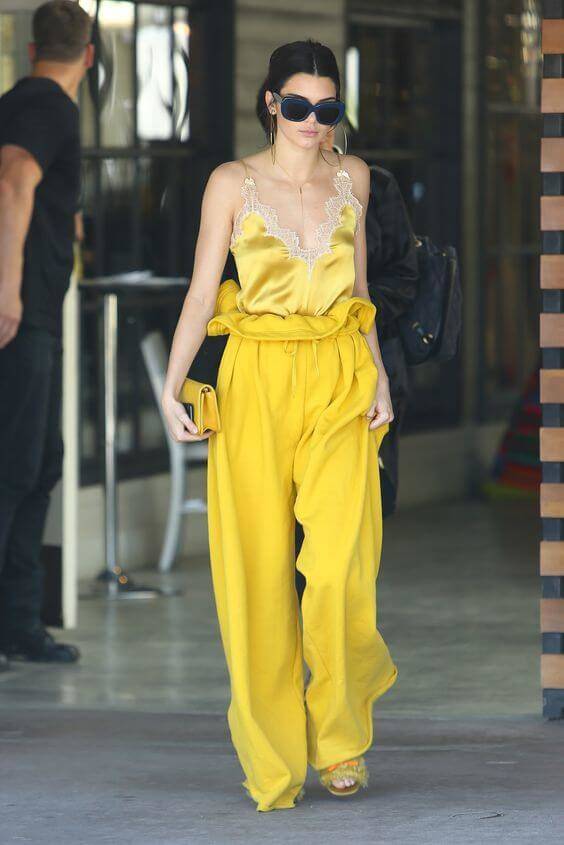 Spring and yellow have been best friends from the longest of times. Whenever this season arrives your search starts for something colorful and playful.
This outfit is just what you are looking for to rock the streets in spring and summer. If you are looking for sexy and classy in a monotone outfit, then this is probably the ideal one for you.
The oversized pants really will pull the entire look together. The cringes waist will bring out your hourglass figure even in the single tone outfit.
6. How you can combine monotone suits and trousers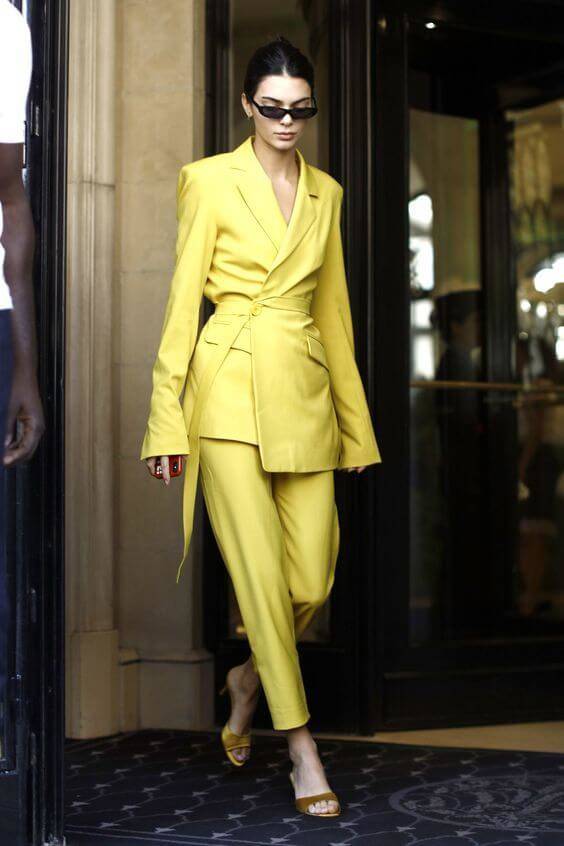 Ladies, are you in dilemma about how to pull off a casual monotone suit look and afraid to pair same tone suit with trousers? Here is an ideal inspiration for you very easy to carry off. This outfit is perfect for the autumn months when you want to wear something warm but yet not overdo it. The oversized yellow suit with the cringed waist gives a really flattering yet classy vibe to your persona.
In spite of being all yellow, the structure of the suit and the softness of the trousers created a depth and structure which really magnifies the overall look.
7. The All Yellow Day Time Modern Look for all year around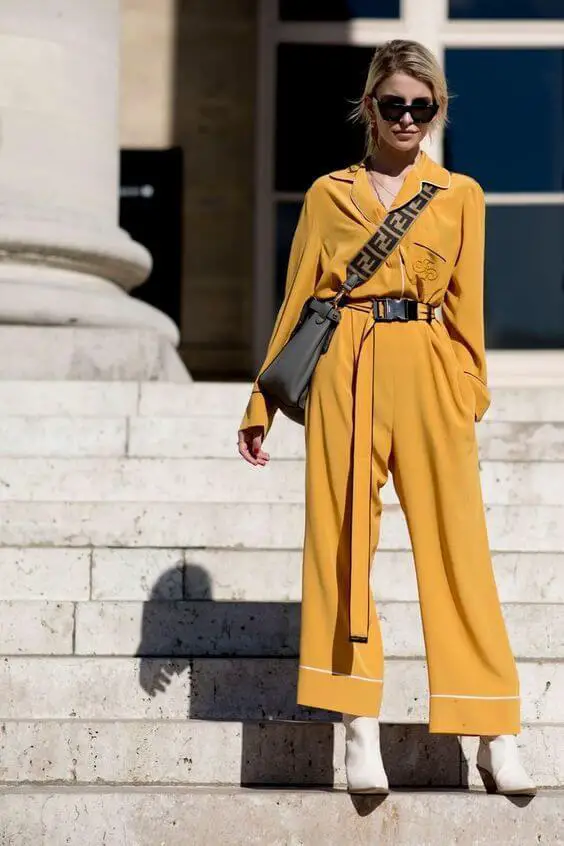 Well are you late and have to run the errands? This is just the outfit to grab onto that will work for you all year round.
A jumper is a classic and easy to pull together outfit. Not only is it high fashion and stylish, but it is an epitome of modern wear.
This yellow outfit will complement your curves and yet be very comfortable for the day time when you usually have a lot of things to do.
8. An All Yellow Date Night Outfit For all season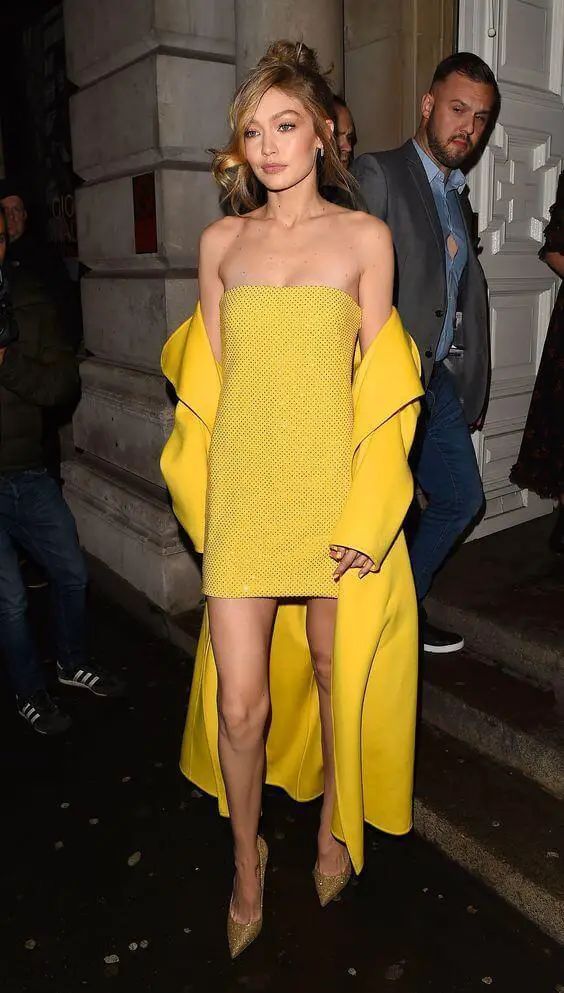 Looking for a killer yellow dinner date outfit ladies? Here is just what you have been searching for.
This outfit is the epitome of gorgeousness. It is all in yellow but yet extremely flattering and perfect for any dinner date. Plus, this outfit is so applicable for all year round. In the hotter month's just wear it with the off shoulder look and in the colder months, you can use that gorgeous yellow coat for some warmth.
Not only is it sexy and fashionable but its vivacious color will really heighten your overall persona and help you create a great impression of ladies.
9. The Soft Yellow Beach Outfit for the Summers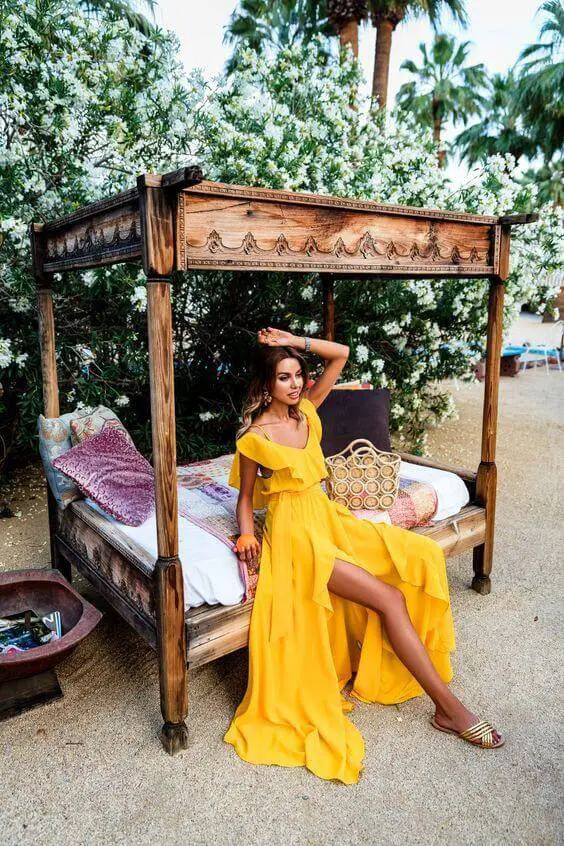 Are you looking for the ideal beach outfit for the summers in the vibrant shade of yellow? Have a look at this stylish beach gown ideal to make your day brighter.
If you want to create a statement beach look and make the heads turn at your gorgeous outfit then this outfit is just the one for you girl. The long flow in the dress with a thigh-high slit screams summer and gives you that effervescent look.
When you will walk by the ocean the fabric will play with the wind and give you the outlook of a sun-kissed goddess.
10.The Ideal Yellow Cocktail Outfit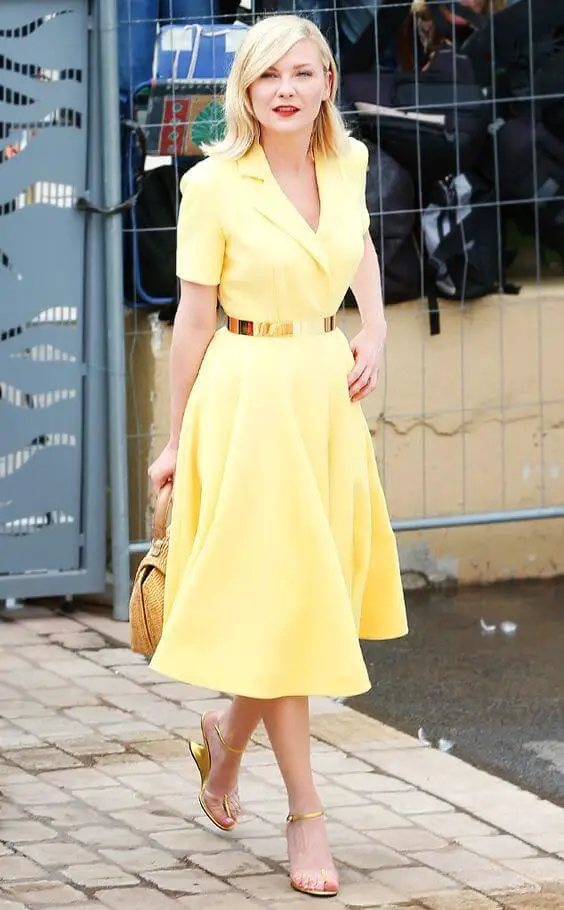 Cocktail outfits are a staple in everyone's closet and wardrobes. It is all about the impression you create in these parties, we all know that, don't we?
What better way to grab the attention in the party than putting on a classy, Knee length Yellow Outfit. This mellow yellow outfit is a solid head turner in any party and gives you a very flattering outlook.
It is more applicable for the spring-summer parties and the entire look can be created very easily.
Conclusion
Yellow outfits are very much high in demand in today's fashion trend. It is a true statement color that will bring out the cheerful and vibrant persona within you. These yellow outfit looks are extremely easy to recreate and can be carried effortlessly throughout the year. All you have to do is get inspired and don't forget to accessorize these looks with your favorite accessories and you are all good to go.