Just like there are some pieces in your wardrobe that are a must-have, certain colors are also a key to multiple and timeless looks.
One of them is the color black.
All-black outfits
Black is a color that looks great on everyone, regardless of their skin tone. It's also the most versatile color you'll ever have: you can wear it for absolutely any occasion and time, from early in the morning to midnight.
That's why it's critical to own at least a couple of pieces in black, even if you're a color lover.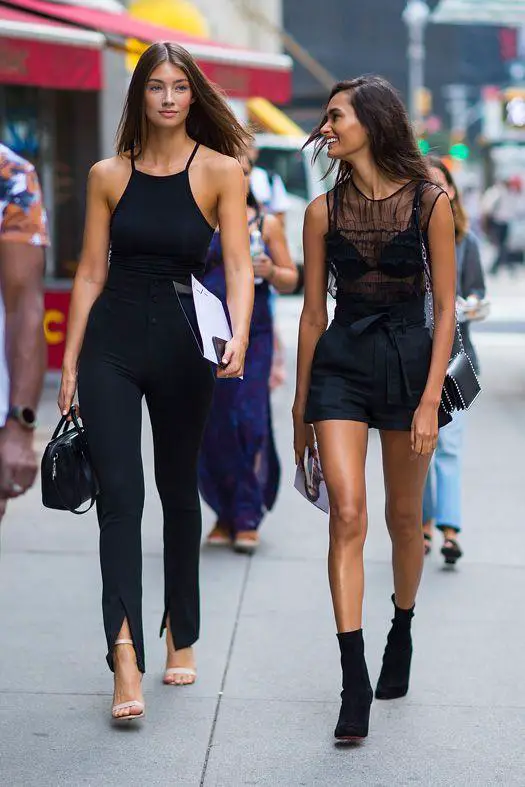 The best part of the color black in fashion? The answer is easy: you can create cute black on black outfits that you can wear anywhere.
As a rule of thumb, always opt for an all-black outfit when in doubt.
The best all-black outfit ideas for Every Occasion
I will guide you through the best all-black outfit ideas that will leave you wanting more black in your life! So follow me and enjoy this chic all-black fashion compilation.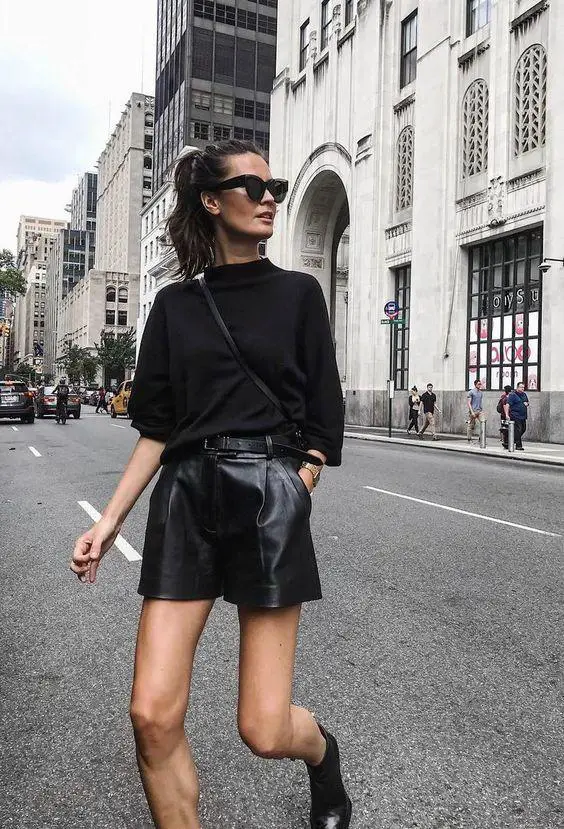 1. Casual black outfits
Don't make the mistake of thinking that all-black outfits are solely for the evening or for a party. You can perfectly wear one during the day, even in the early morning if you want.
All you have to do is, literally, wear head-to-toe black. Easy breezy!
Black jeans
For a casual look, jeans can never fail you. Even if it's a dark charcoal gray, you can still create a cute black outfit. All black fashion can also include really dark shades of gray.
If simple and polished is what you're looking for, a plain black t-shirt half-tucked inside your black jeans and a pair of black ankle boots will do the trick: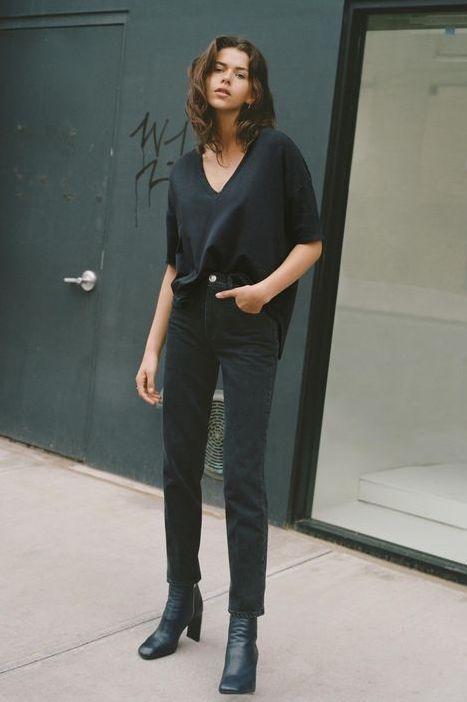 You can also rock a skin-tight all-black outfit with a simple tank top, skinny jeans, and a chic black belt.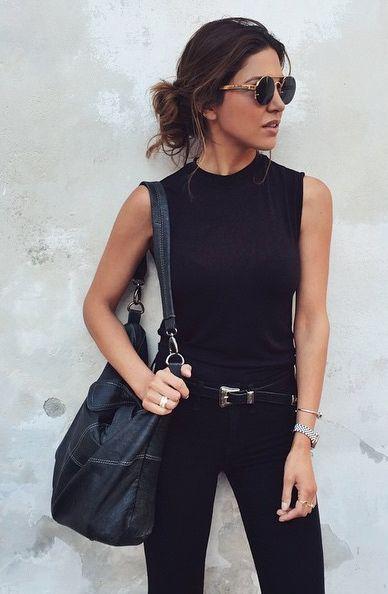 You can add texture with a striped t-shirt with black and dark charcoal gray stripes. Add black sunglasses to add a touch of edge to your look: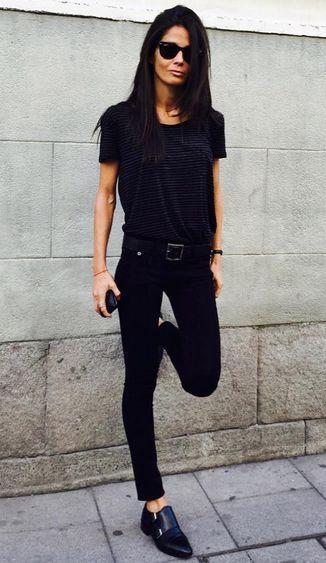 Get creative with the accessories. Remember that the only rule for an all-black outfit is to wear black items. Easy as that!
If you have a black cap, hat or bandana, wear it with confidence! Accessorizing an all-black look is not only easy but also necessary for those occasions when you're feeling like taking your style to the next level in the simplest possible way.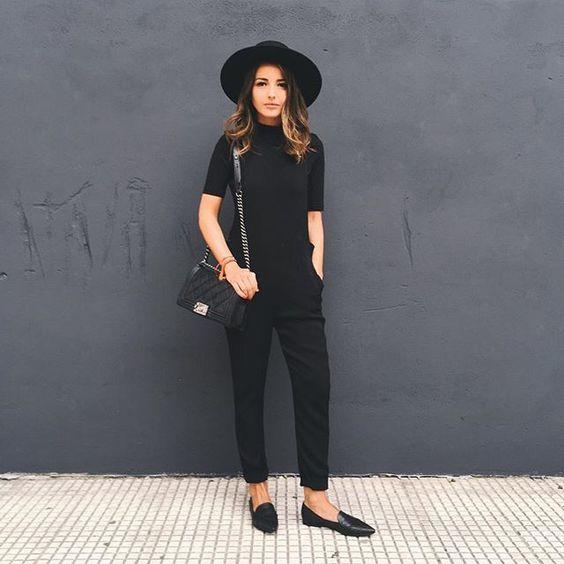 For a business casual look, don't forget to add your black blazer!
Again, remember that all black fashion is not only for solid black items. You can wear stripes, polka dots, textures, and subtle prints in black, charcoal grey or even white.
This outfit, for example, is still considered an all-black outfit even if it has tiny white polka dots.
It's the overall look and feel of the outfit that matters.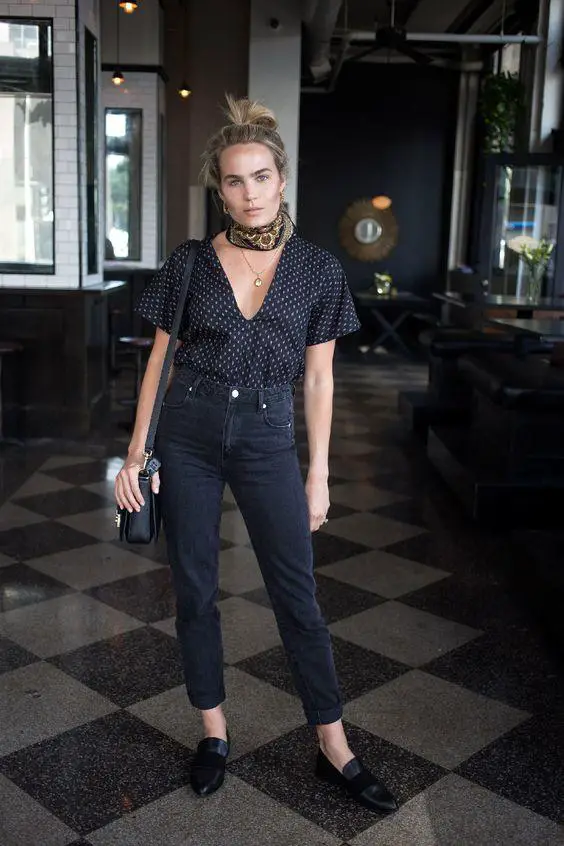 Adding texture with subtle prints in all-black outfits is a great way of showcasing a chic and simple style. You can do so in your bottoms, tops or accessories, just try to choose only one because otherwise, your outfit can look as if you're trying really hard.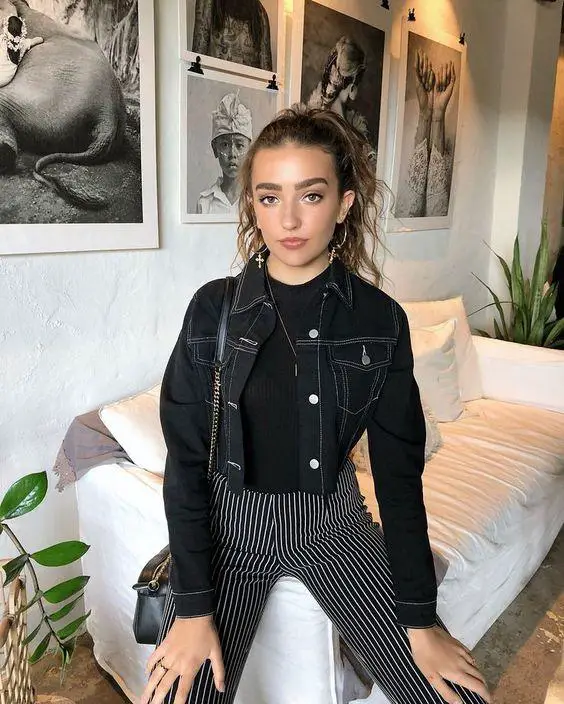 Black shorts and skirts
Switch your black jeans for a pair of black shorts or a skirt. Show off your legs with a chic all-black outfit and not only will you look super cute, but also edgy, chic and relaxed. All this is only one outfit!
You can wear a white t-shirt tucked inside your black shorts while adding a black leather belt to finish your look. Don't worry too much about your shoes, it's okay if they're not black. As long as they're in a neutral color, your whole look will still be all-black.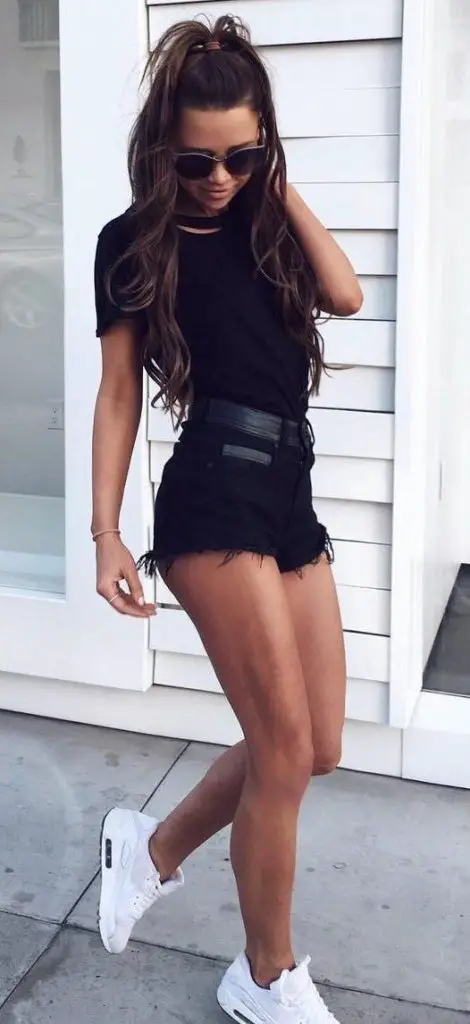 An all-black outfit is perfect for a music festival look. All you have to do is wear cool black pieces such as a beret and classic black Vans, to add some edge to your look.
The thing about all black fashion is that you can keep it absolutely simple but with one or two interesting pieces you can transform it from a so-and-so outfit into a fashion pro look.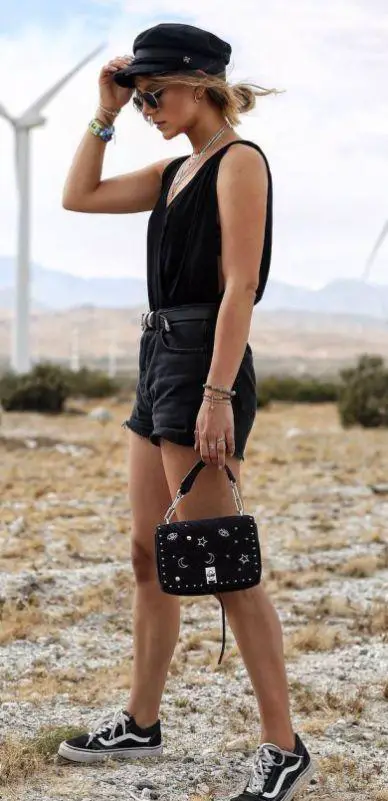 Have fun with the accessories. Don't worry if all of them are not entirely black, as long as you keep 90% of your outfit black, any other neutral color will still look great.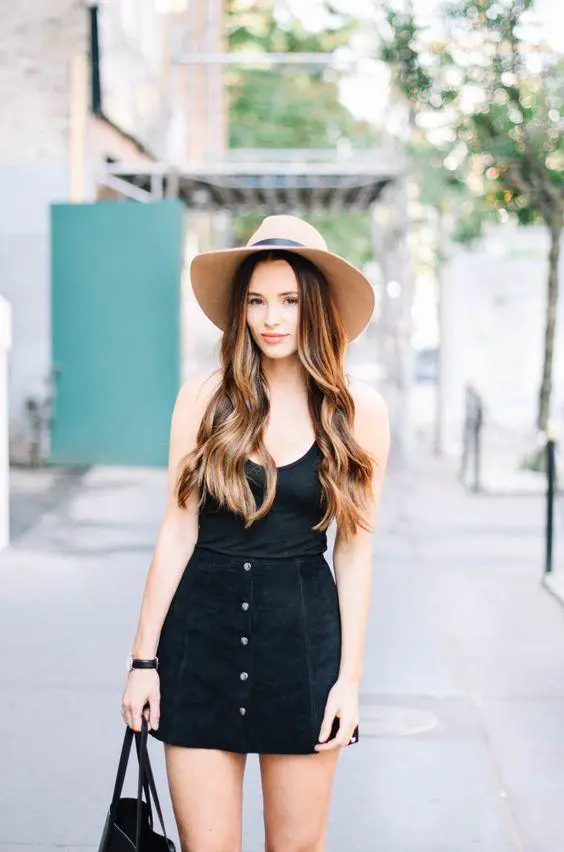 Black dress
A black dress is not only for the evening. You can transform it into a casual black outfit with the right complements.
What I love about a black dress is that wearing an all-black outfit becomes much easier. As I mentioned before, you can wear neutral color shoes with an all-black look, so if you wear a black dress, the rest is just about wearing anything you like.
For an effortlessly chic look, wear your all-black outfit with sneakers: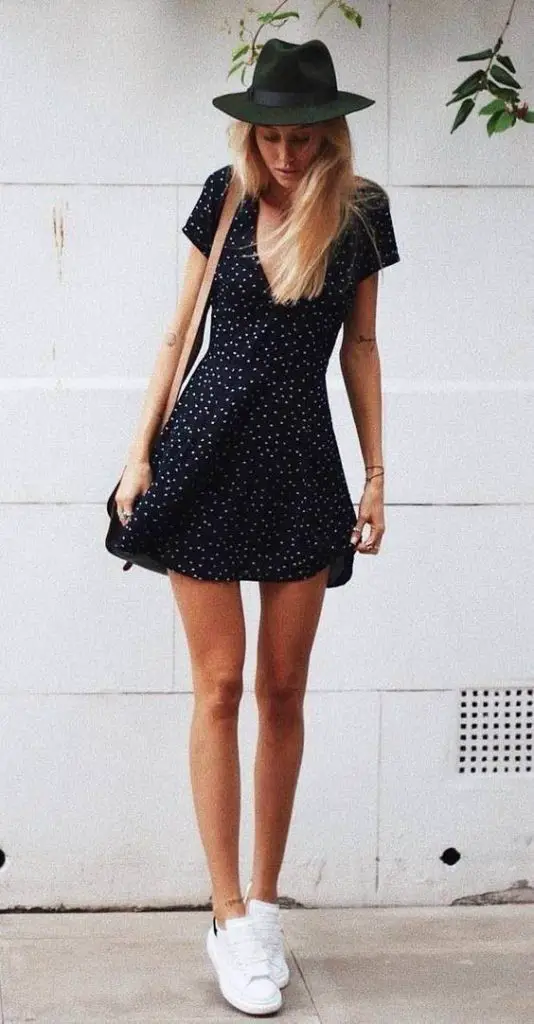 If you want to take your outfit to the next level, make sure to wear only black pieces from head to toe. You can never go wrong with "too much" black!
For a polished and edgy casual black outfit, wear your favorite ankle boots with a maxi or midi dress, and keep the rest of the accessories simple.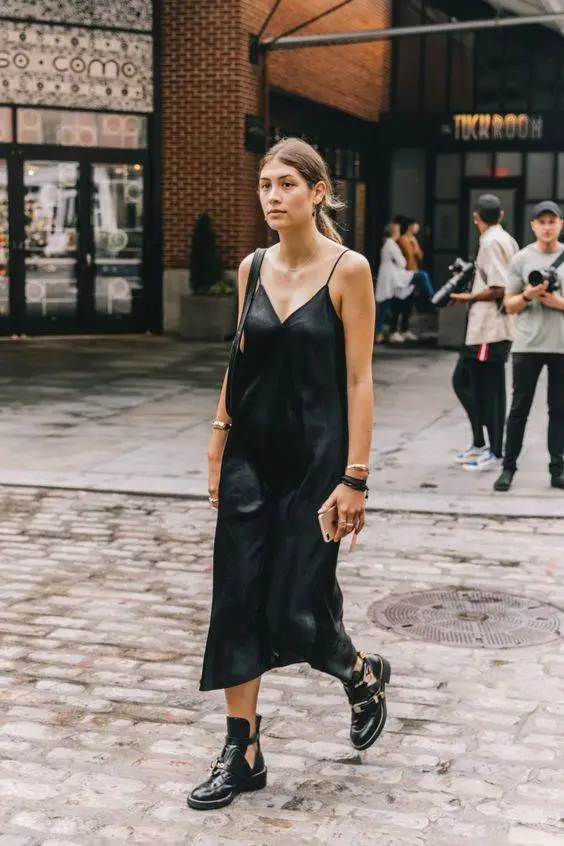 You can also add a black leather jacket for an edgy yet casual look: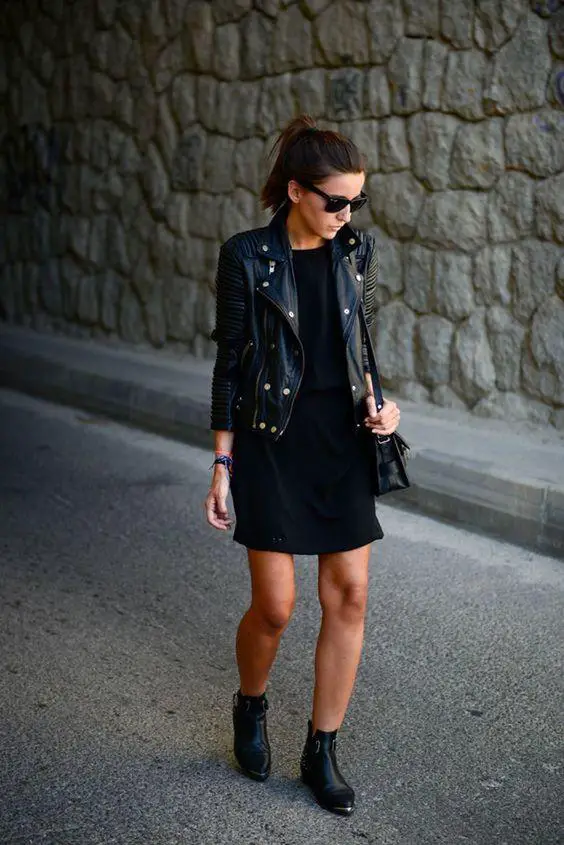 You can create any type of outfit with an all-black attire: from edgy and punk, to girly and boho. It's all about choosing the silhouettes and styles you feel most comfortable with!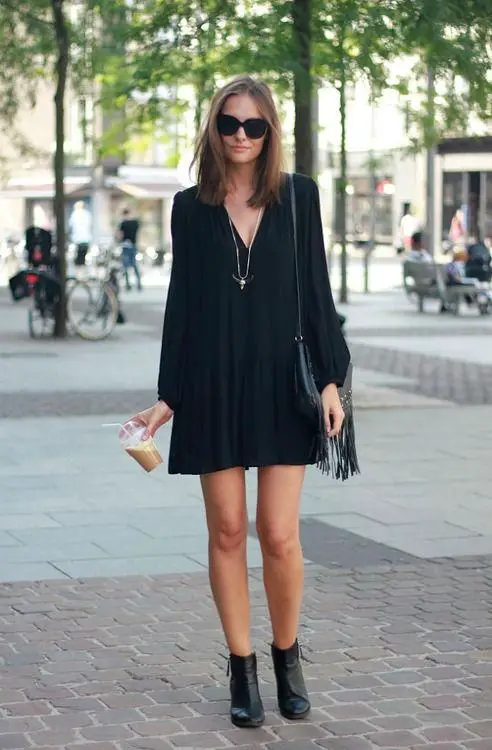 Don't be afraid of black! The worst thing that can happen is to look absolutely chic:
2. Polished and formal all-black outfits
Just like most people think, all-black outfits are perfect for formal occasions and pulling a cute one is a no-brainer at all.
Again, all you have to do is choose cute black pieces and wear them together! Easy as that…
All black attire for work
For an all-black workwear outfit just wear staple pieces: black blazer, black trousers or leggings, and a black blouse.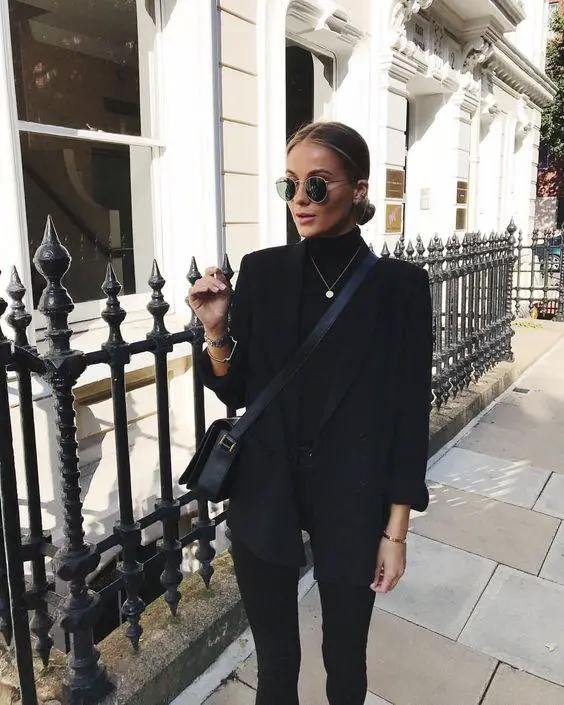 You can also wear cute mules or loafers for a business casual all black attire. High waisted black pants and loafers or mules will give you an edgy and cool look, which will for sure turn heads at your workplace.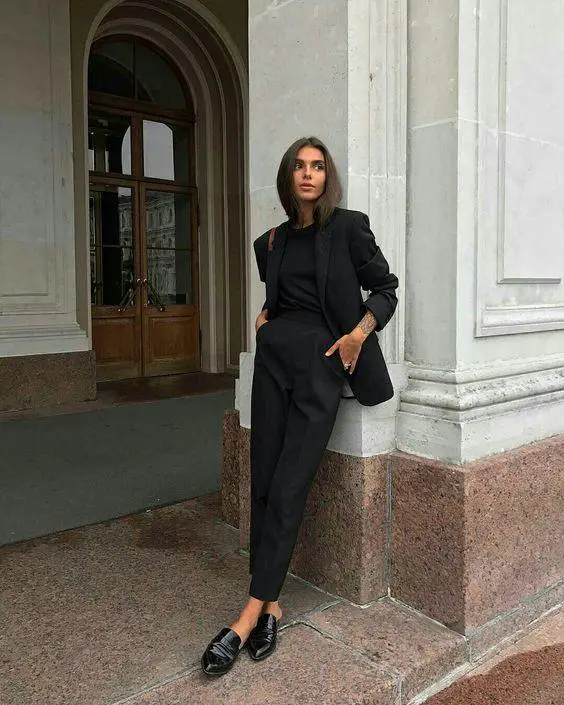 You can also add white trainers for another cool and casual but polished workwear look.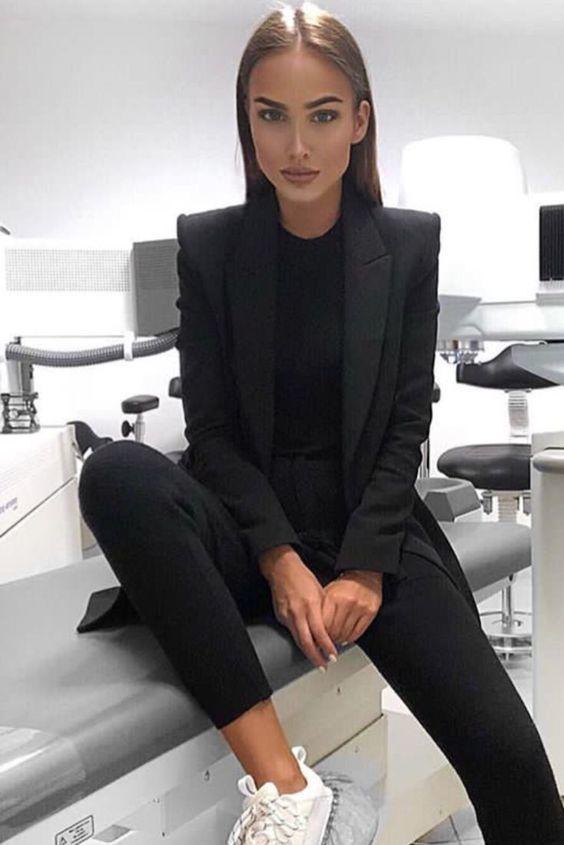 Wanting to take your workwear looks to the next level? Try adding a black leather piece such as a cute top or leggings, and you'll transform a regular outfit into an edgy and stylish all black outfit.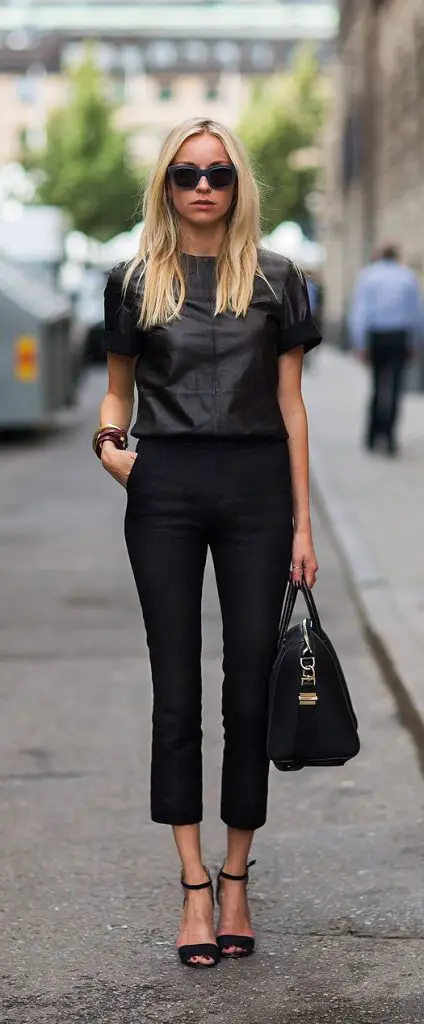 A black on black outfit is nothing without a statement piece. A belt, purse or necklace can instantly elevate a regular workwear outfit.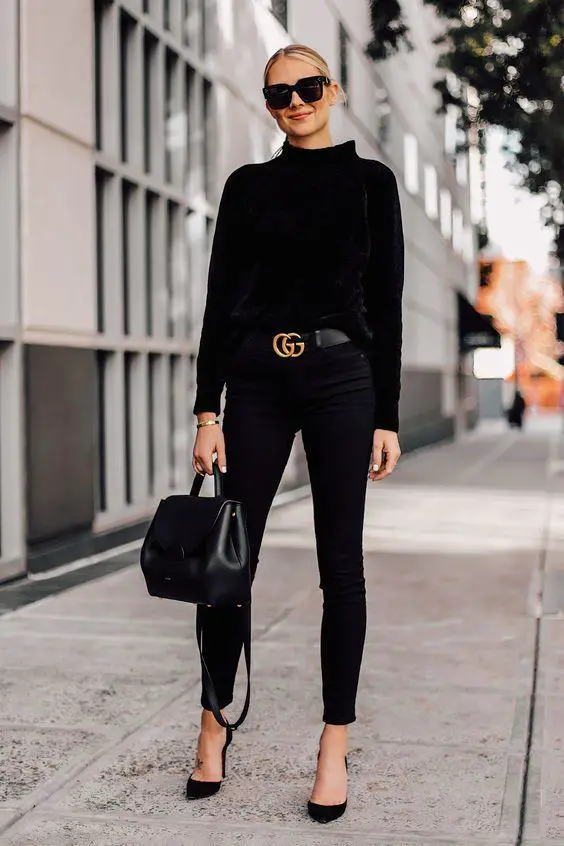 You can also pair your black pieces with a pair of nude heels. This color looks absolutely chic with black, so whenever you feel like playing it safe but chic, opt for nude color shoes.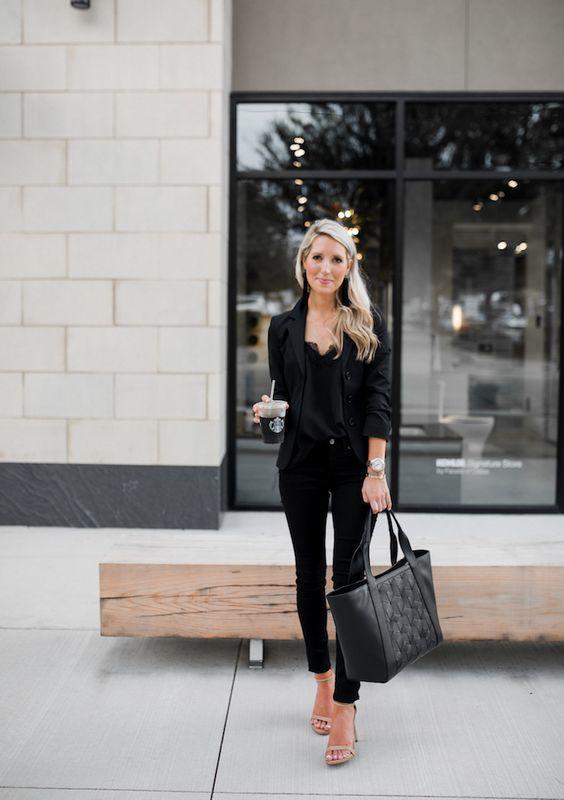 For a sexy yet professional look, add red lipstick to your all black outfit.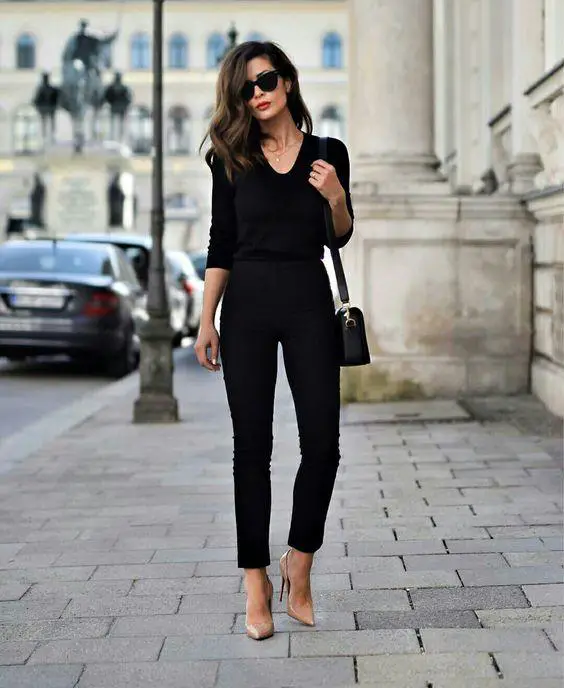 Black party outfits
For an all black party outfit, remember that few things can beat a leather piece.
You can wear a black leather dress for a cute yet sexy look: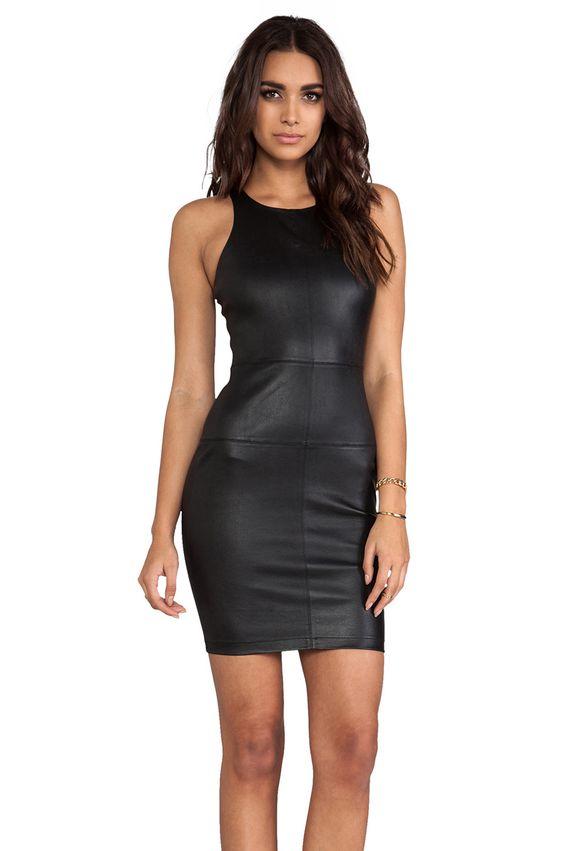 Or wear a tight leather skirt for the same effect:
You can wear something as simple as a tight tank top to make your skirt the star of your black on black outfit:
You can also wear a crop top to show off your toned midriff: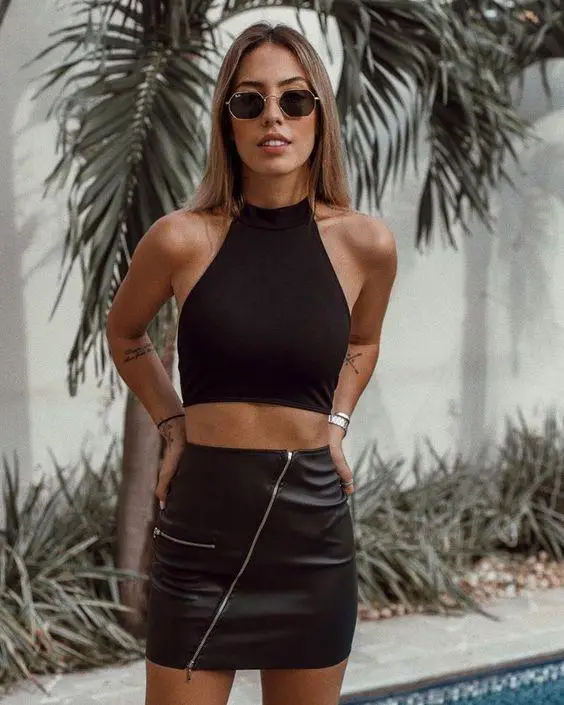 And why not wear an all black leather outfit? If you want to add some extra dose of edge to your party looks, opt for your favorite leather pieces such as a jacket, leggings, top and booties.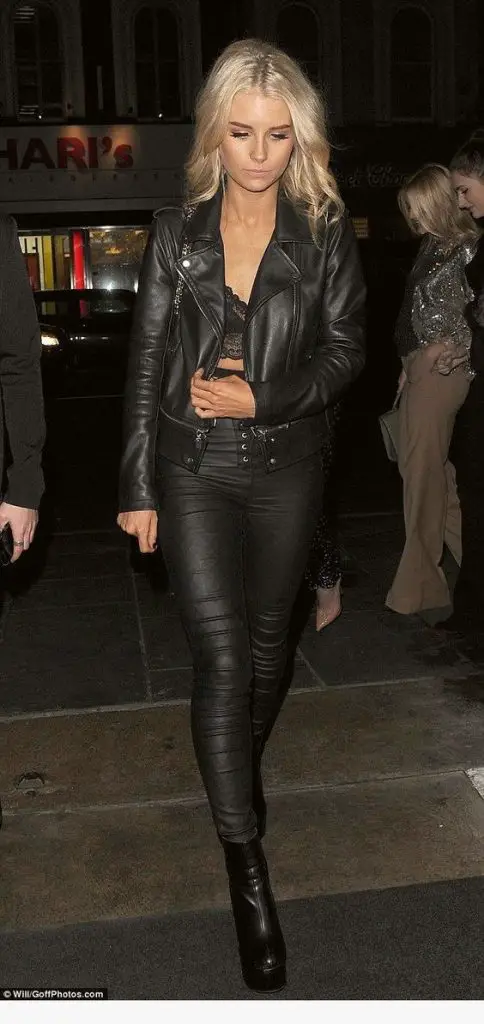 Wrap up:
As you can see, wearing all black outfits is a no brainer. All you have to do is, literally, wear your favorite black pieces together.
The secret about black on black outfits is that there is no secret at all!
Black is an elegant, sophisticated and chic color with a slimming effect that suits absolutely anyone. All you have to do is own a few well-fitting black pieces and, whenever you feel like pulling off a chic outfit, just wear them! Simple as that…