History Of Punk Fashion
Punk fashion dates back to the '70s when a group of people decides to go against mainstream society and therefore developed a new lifestyle. Punk is much more than music, it's about belonging to a group and expressing your beliefs through your clothes.
That's why punk fashion became a huge thing in the '70s, first in the UK and in a blink of an eye the whole world was taken by storm. Even nowadays you can still see many people who identify themselves as punks.
How to dress like a punk
Punk outfits are seen everywhere: from edgy, rocker and tomboy looks to a cuter and girly punk style.
If you want to pull-off cute punk outfits, then get ready to be inspired with the best punk outfit ideas for girls.
All you need to do is take some notes and see what you see yourself recreating, but most importantly, keep an open mind! Sometimes we look at a specific outfit and think we could never pull it off, but that mindset keeps us from trying new things and ultimately leaves us stuck with the same style.
A punk look is all about attitude, so having the right mindset and confidence is the key to rocking a cool and cute punk outfit.
Punk rock dressing
In order to create cute punk outfits, first, you need to know the basics of what makes a punk look, well, punk. That's why I'll guide you through the top 7 basics of a punk style. Once you finish reading through them you'll be ready to pull-off cute outfits by yourself.
1. Black is a punk's best friend
The most basic principle of punk fashion is that black is a must-have color in every single outfit. If black is missing, then no matter how distressed your clothes are, even if you're wearing a t-shirt that says PUNK, people will not consider your outfit a genuine punk style outfit.
If you want to make a strong statement, you can wear black in every single piece: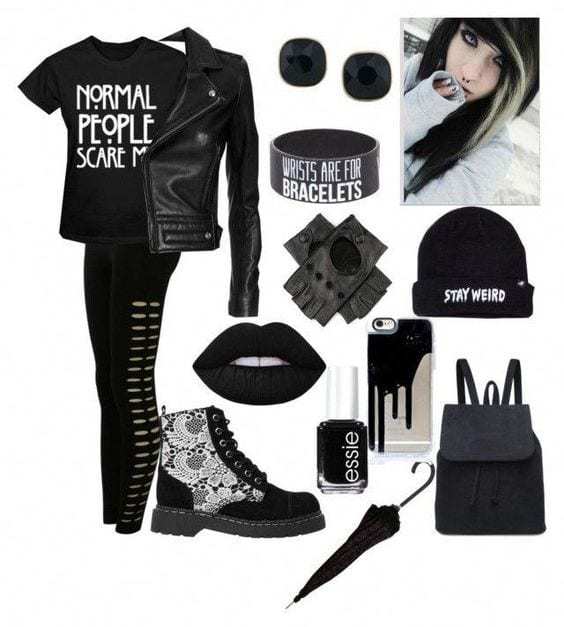 If you have tattoos, show them off as much as possible with shorts, tank tops or crop tops: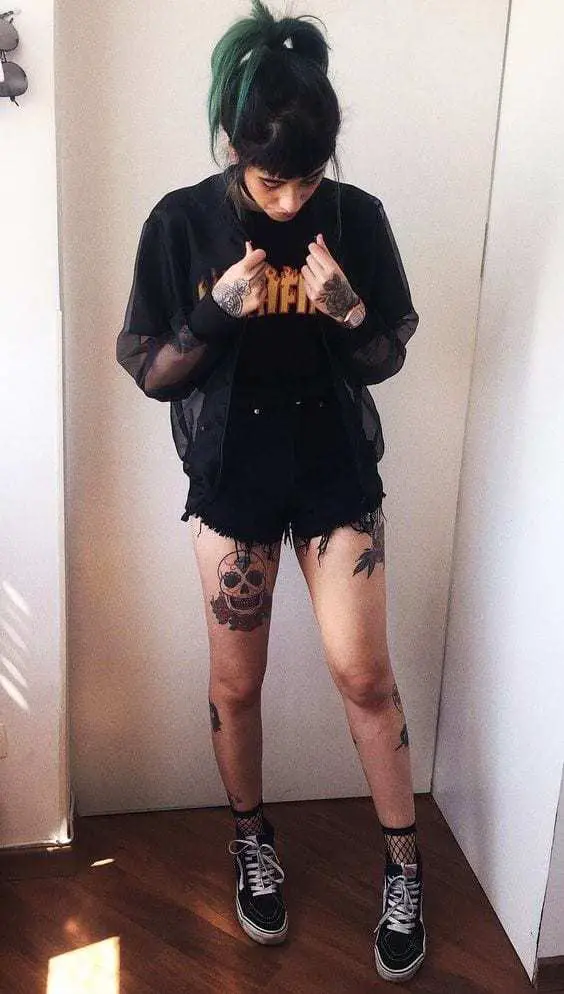 But you can also wear black anywhere you like: tights, boots, shirts, jeans… Even a black nail polish will do the trick.
When it comes to punk rock dressing, Don't underestimate the power of black!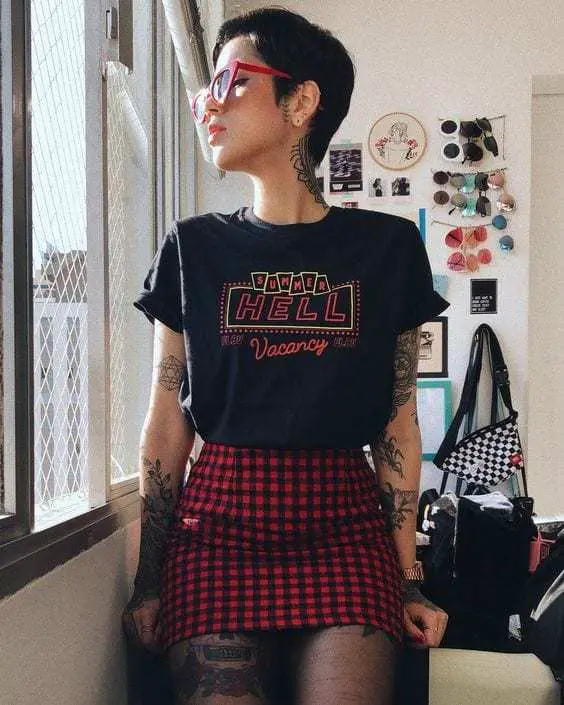 What's important is that you make the color black the star of your punk outfit. You can wear any other color but black should be the center of attention.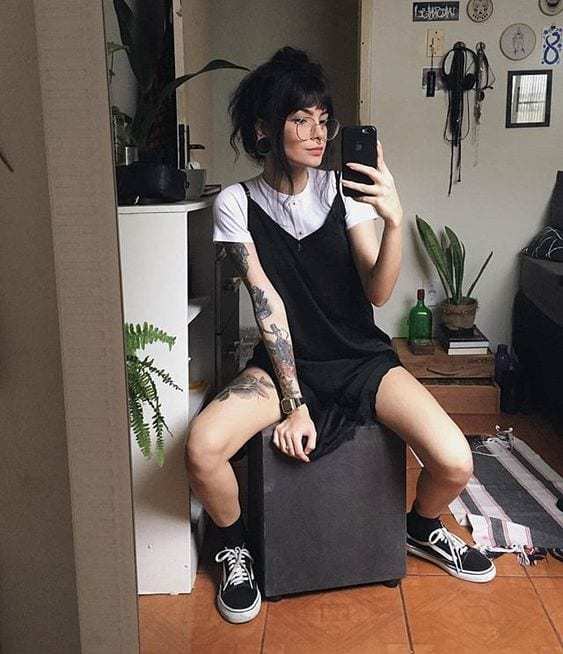 2. Plaids
Punks were born in the UK, and therefore, a genuine punk style has some British accents. Plaids, for example, were originated back in the 16th century in Scotland, and that's why they have a strong reminiscence to the UK.
Punks use plaids as a symbol of their origins and, therefore, they should be included in your punk wardrobe as well.
Same as the color black, you can wear plaids anywhere you like. The most popular plaid item among punk girls is a button down shirt and a straight or A-line skirt.
If you're a "go big or go home" kind-of-girl, then pair your plaid piece with all-black clothes for a head-turner punk outfit.
Plaids can be any color you like, from the typical red and black to yellow, teal or black and white patterns.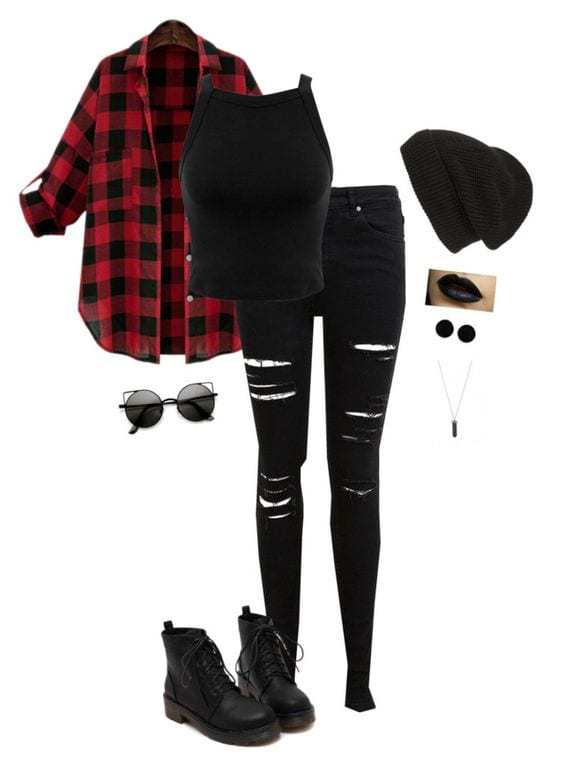 A fitted crop top is a cute idea you can pair with your plaid punk skirt. It will accentuate your waist and will give you a flirty and edgy vibe: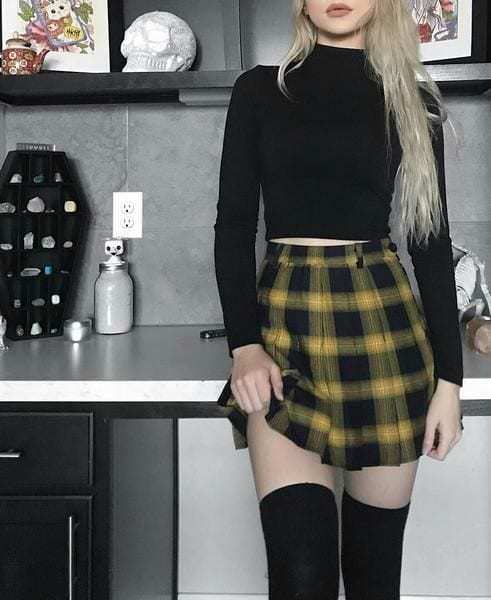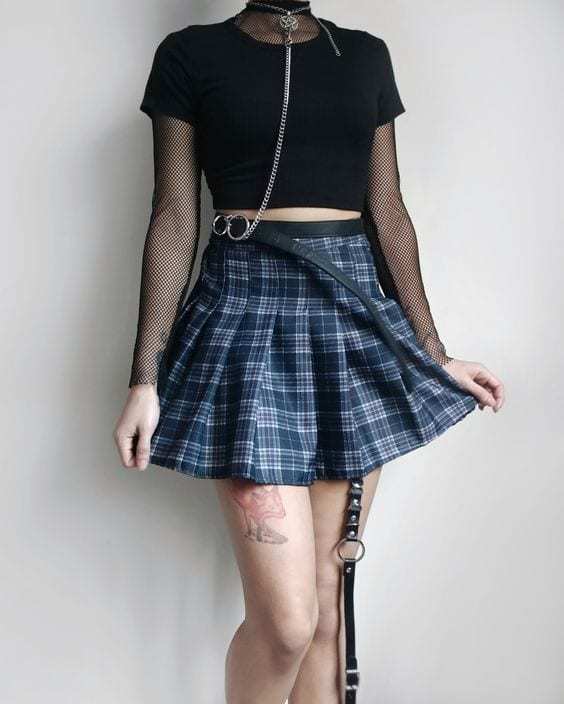 Apart from a shirt and skirt, a plaid scarf or trousers are a great option to pull-off a cute punk rocker look.
You can wear a plain tank top or a graphic crop top and chunky boots for a genuine punk look: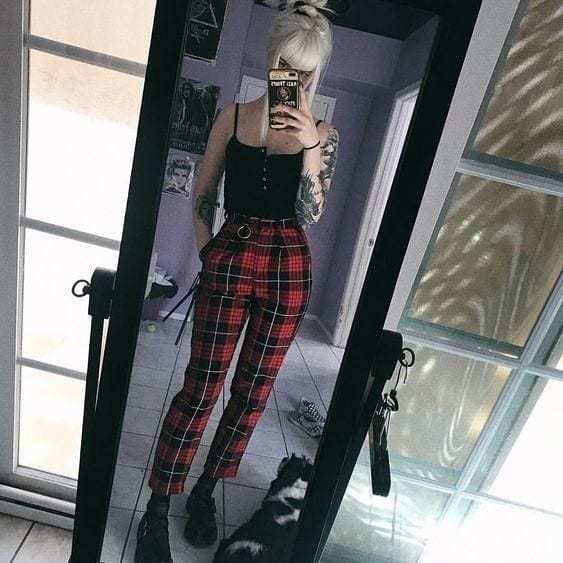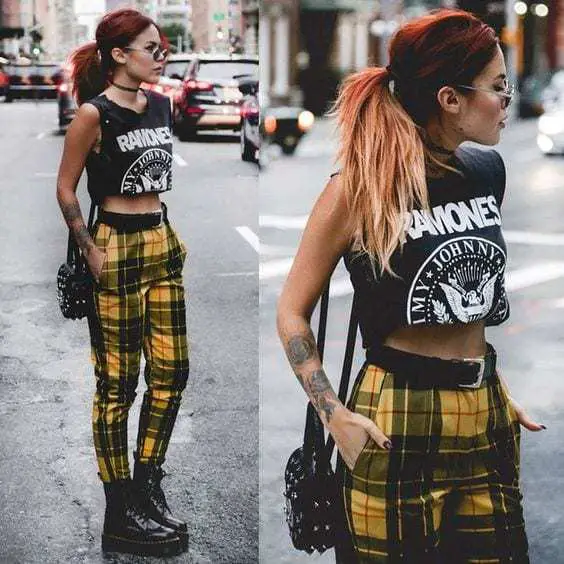 You can wear plaids anywhere, even in a vintage and unique shirt. Just remember: black should also be included in your outfit, otherwise, your look will be anything but punk.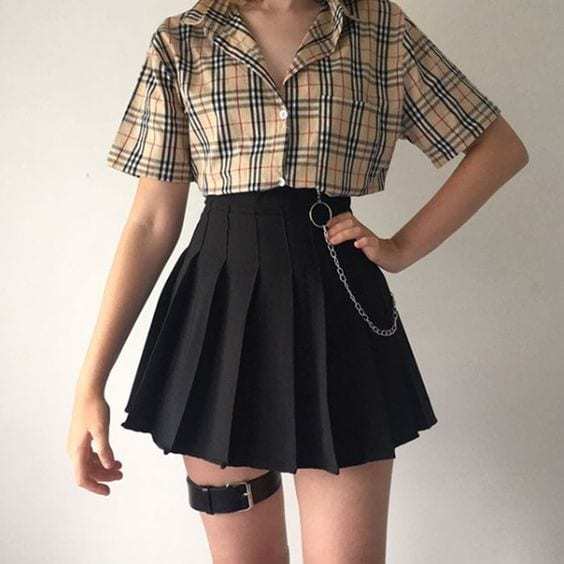 3. Chains
Chains are another iconic detail from punk style. You can wear them as necklaces or in your clothes as well.
There are many pieces that come with chain details, but the most popular are skirts, leather jackets, and pants.
If edgy and rebel is what you're looking for, chains will give you just that: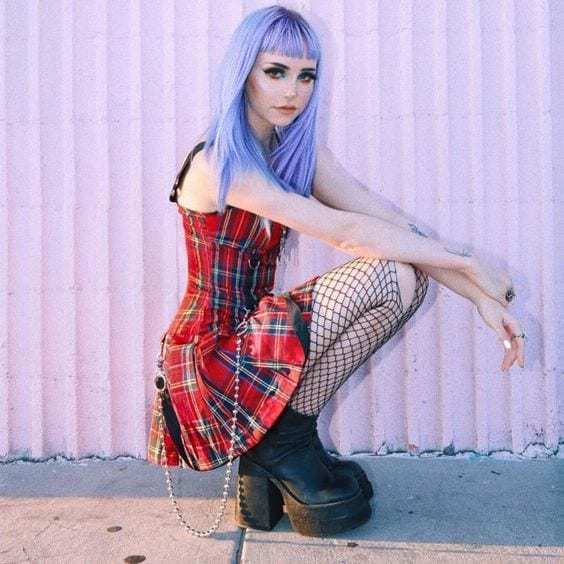 The more chains, the better: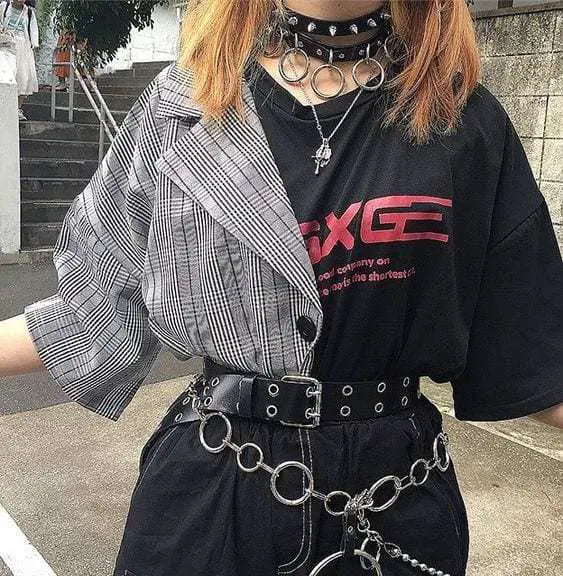 You can also do it by yourself: just grab one or two chains and put them in your jeans' belt loops: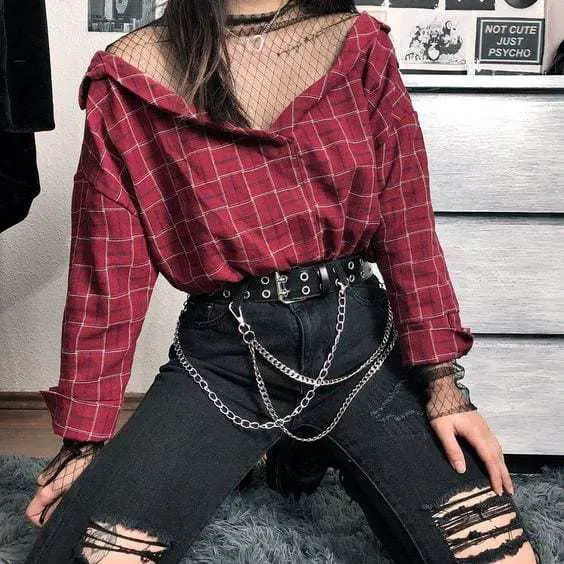 Just get creative with chains and you'll be amazed at the endless edgy and cute punk outfits that will come up.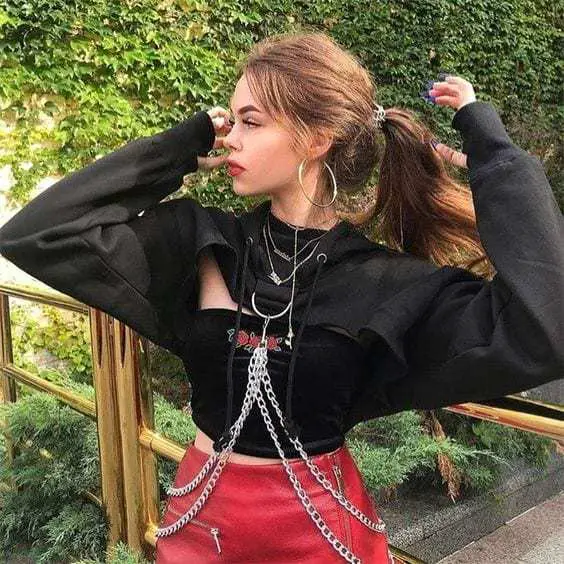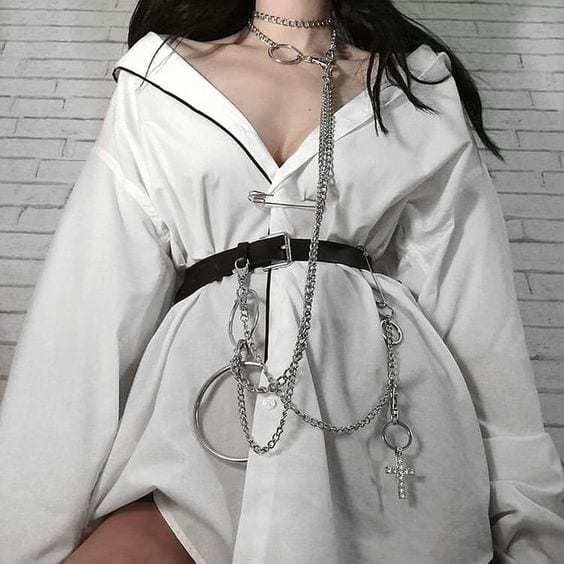 4. Black belts
Another accessory you can't miss if you're serious about your punk outfits is a thick black belt.
Silver grommet belts are a punk's classic accessory: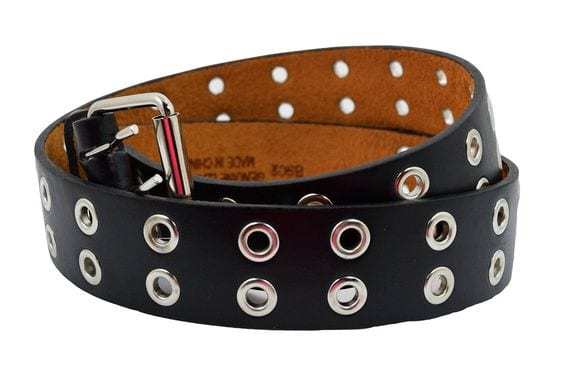 You can wear your belt on top of a t-shirt dress to accentuate your waist and make it look slimmer: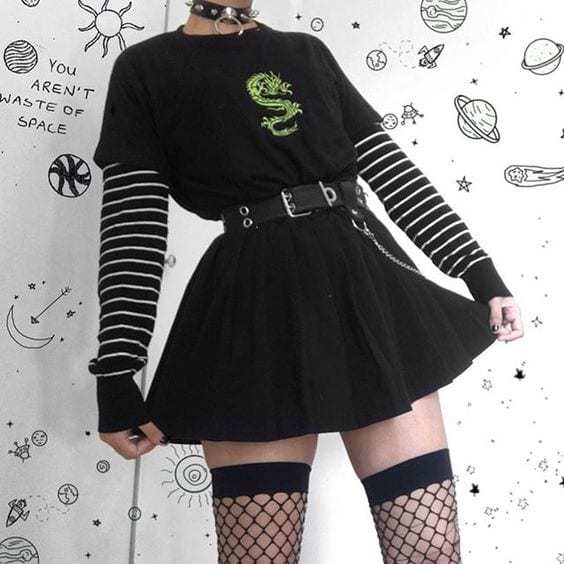 If you want to take your punk outfits to the next level, try wearing a belt-like choker like this girl. The result? Edgy, badass and rebel look took to another level: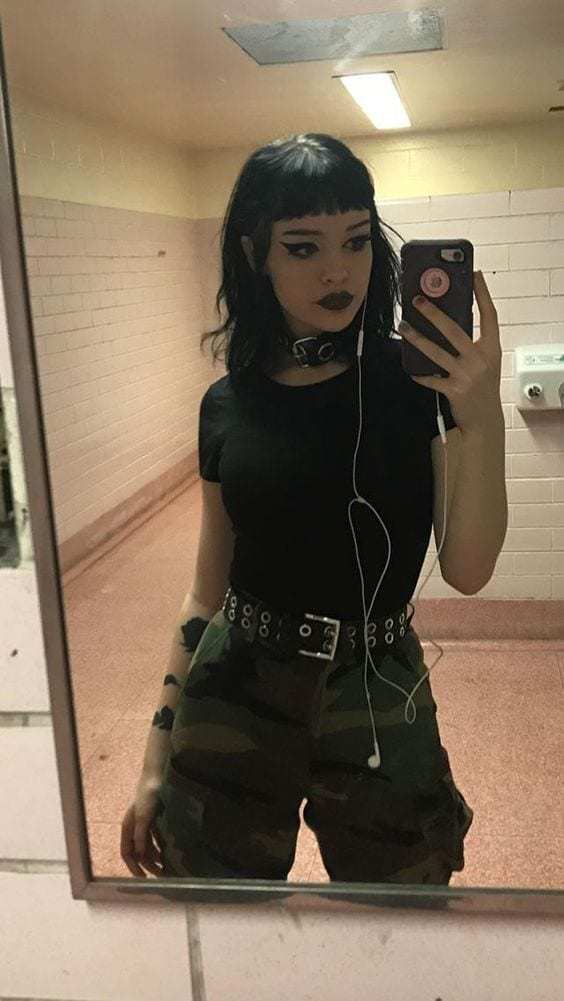 5. Ripped jeans
Ripped jeans is another must-have in your punk rock wardrobe. Back in the days when they were first introduced in the market, ripped jeans symbolized rebellion against the mainstream.
Nowadays, a pair of ripped jeans is one of the most classic pieces you can own. But even so, they have still that strong rebel looks and therefore, a punk style should never be left without its ripped jeans.
Skinny, boot cut, boyfriend or straight, a pair of ripped jeans is a great way of showcasing a cute punk style.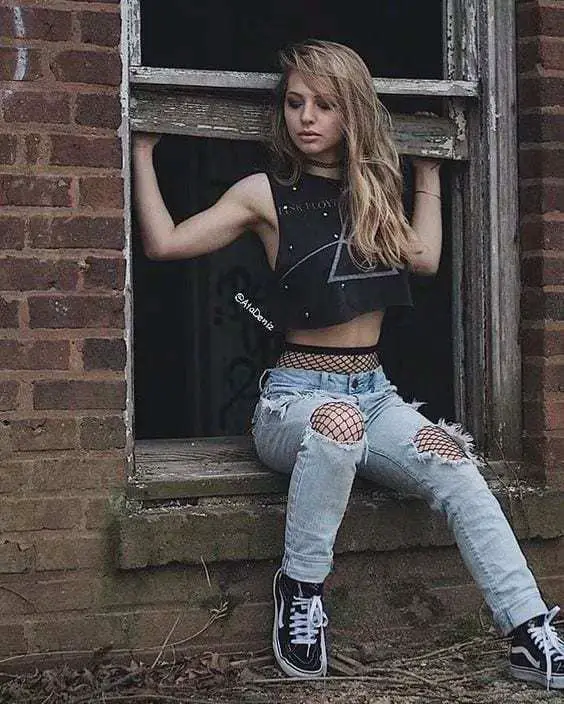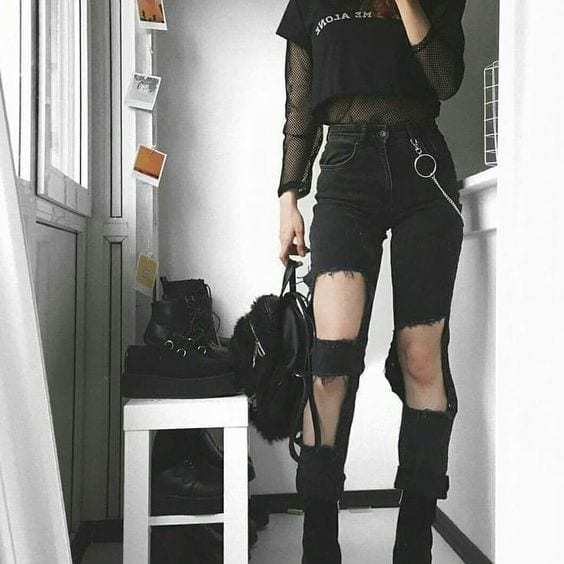 Even slightly distressed jeans can add up to your punk rock outfit when you pair them with black pieces. Add chunky boots and you'll look like taken straight from the 70's punk scene.
6. Black Tights
Wearing black tights is a cute way of pairing your shorts or skirts for a girly yet edgy punk outfit.
What I love about wearing tights in a punk outfit is that you also get to show off your gorgeous legs in a stylish and cute way.
You can wear dense black tights, see-through or fishnet tights. Whichever style you feel most comfortable with.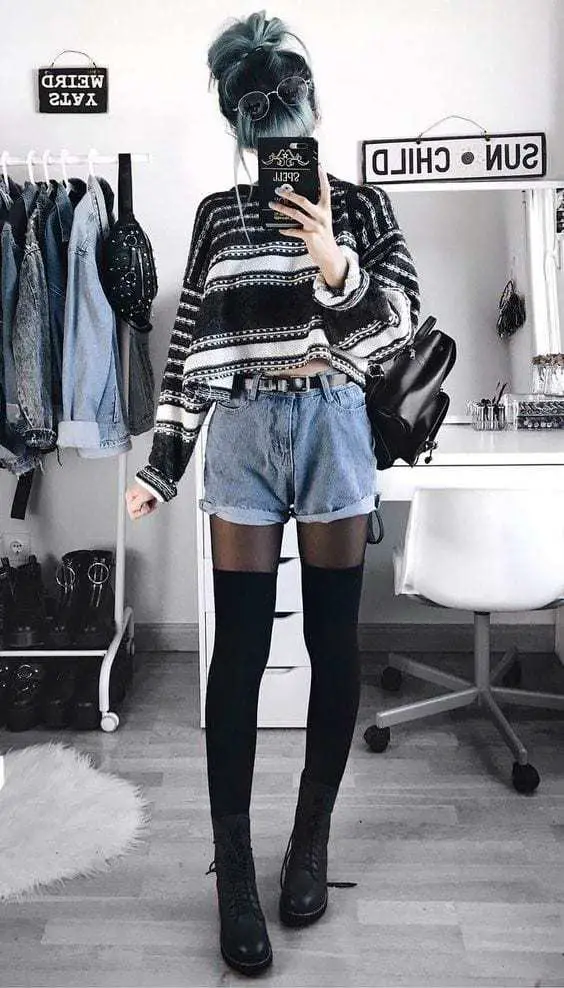 The most popular among punks is the fishnet tight style because of its rocker and rebel looks.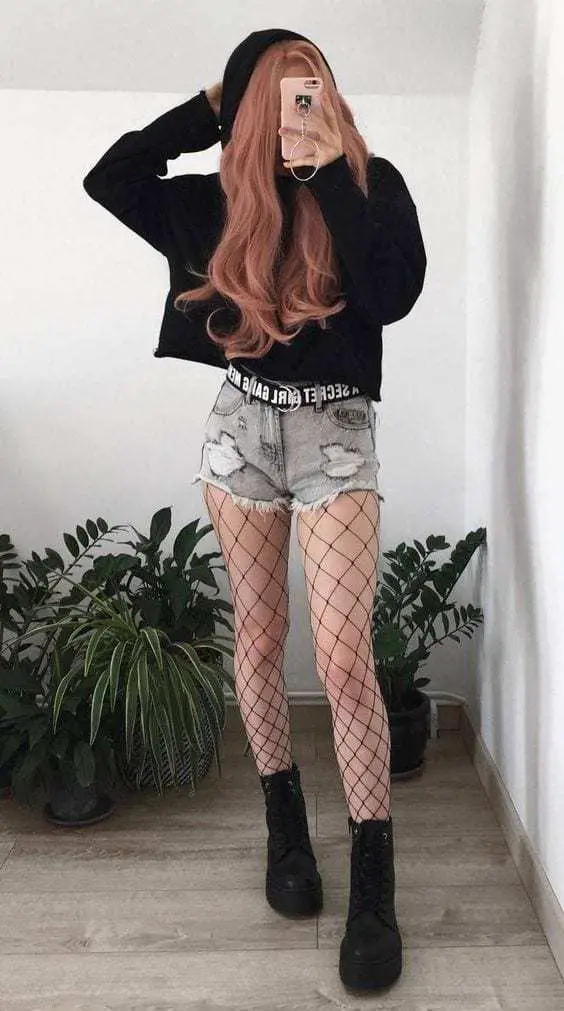 You can also wear your favorite oversize t-shirt for a trendy yet punk outfit: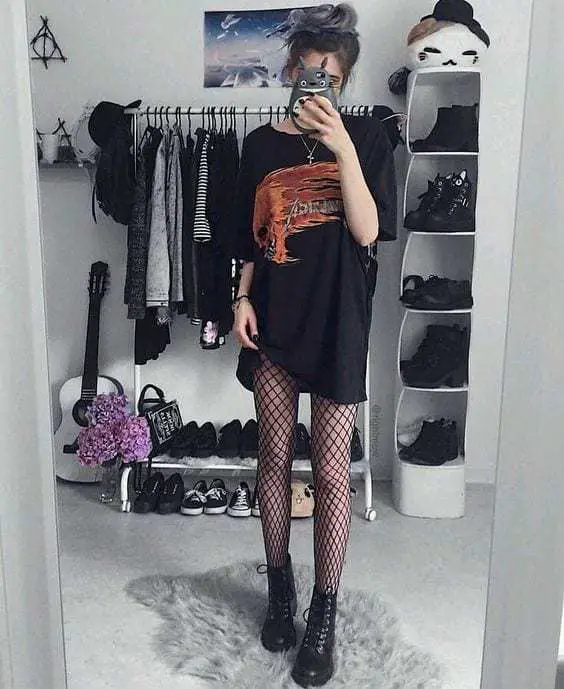 7. Make-up
Dressing like punk is not exclusively about clothes. In order to pull off a genuine punk rocker look, you have to pay attention to your make-up.
A punk make-up is characterized by strong eyeshadows and dark lipsticks, so if you don't feel that comfortable wearing a lot of make-up, you can still try to adapt to these following ideas.
If, on the other hand, you love make-up, then get creative with your brushes and eye-shadows!
But most importantly, make sure you have a lot of black eye-shadow and eyeliner. Same as in clothes, black is the most important color when it comes to looking like a punk rocker.
Apart from black, you can add red, orange, blue, pink… your favorite eye-shadow color!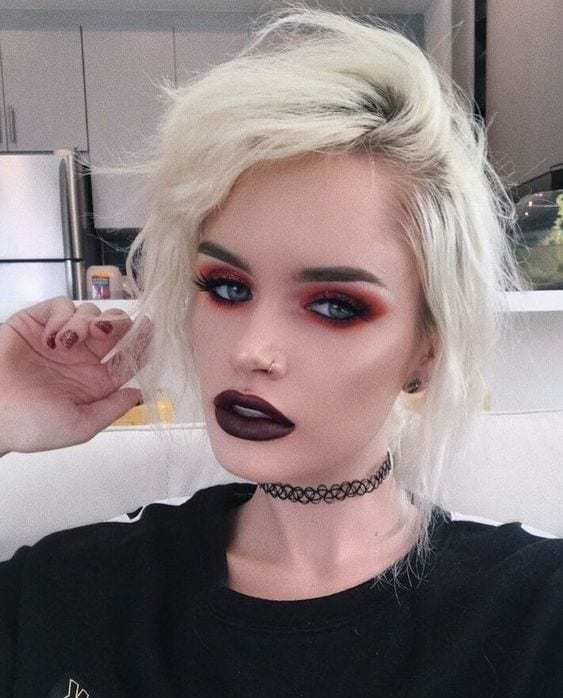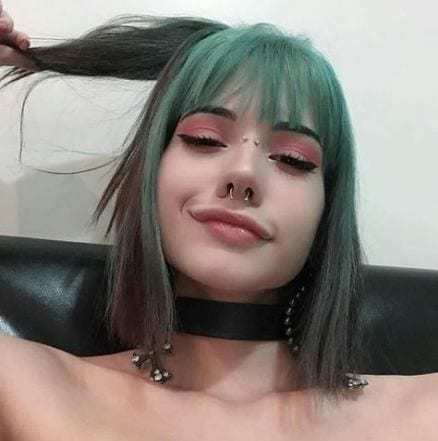 And, if you haven't noticed yet, a punk rock look is nothing without dark color lipsticks. You can choose a dark burgundy, chocolate or purple lipstick. It doesn't have to be necessarily black.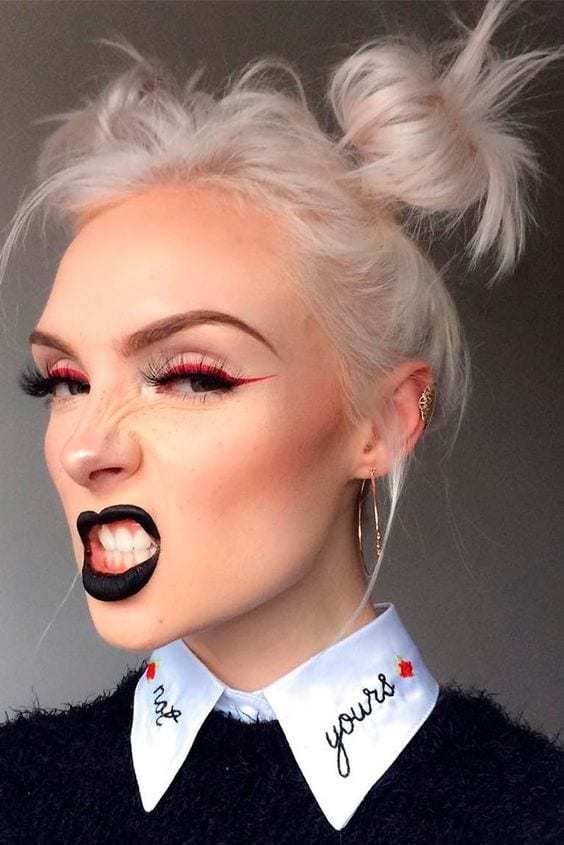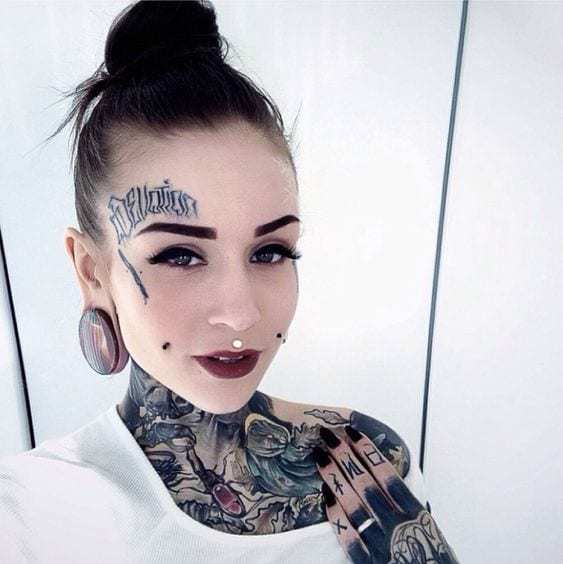 What's important is that you get creative and experiment with your make-up. You'll be amazed at the many cute looks you can pull-off: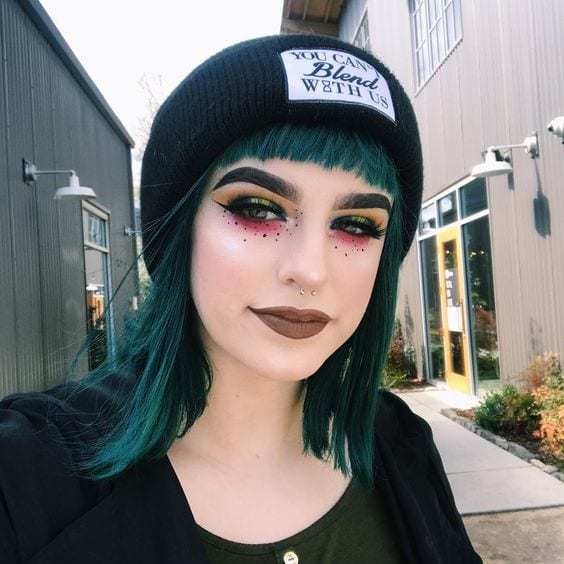 Wrap up:
Punk outfits can be cool and cute and can be worn by anyone who's not scared of showing some edgy attitude.
I hope these 10 tips on how to pull-off cute punk outfits will give you plenty of ideas of how to create a trendy punk style all by yourself. Remember these basic points and you'll be more than ready to showcase the best punk outfits!
One last thing to remember, apart from a cool and stylish outfit, being a punk is all about attitude, as I mentioned before. You have to feel confident in your clothes in order to look cool.
That was the reason why punk fashion became a huge thing back in the 70s: everyone was obsessed with how cool punks were.
And I think that's still the reason why this style is still very much present.