There are some fashion pieces that are crucial for every women's fashion wardrobe. Black pants are one of them. When it is about your everyday outfits, wearing black trousers fashionably can be an intimidating task. You are in luck as I am here to save the day. Keep on scrolling to explore the best black pants outfit ideas to get a variety of chic and modish look each time.
24 Best Black Pants Outfit Ideas
Black Pants With Black and White Top
Pairing your black skinny bottom with a black and white top is the classiest combo. Try anything from black and white striped blouse to plaids or polka dots. This is something that is always in vogue. The best thing about this combo, it goes from office to after hours with ease. If it is winter, layer it up with a trench coat, colorful sweater, scarf and ankle boots.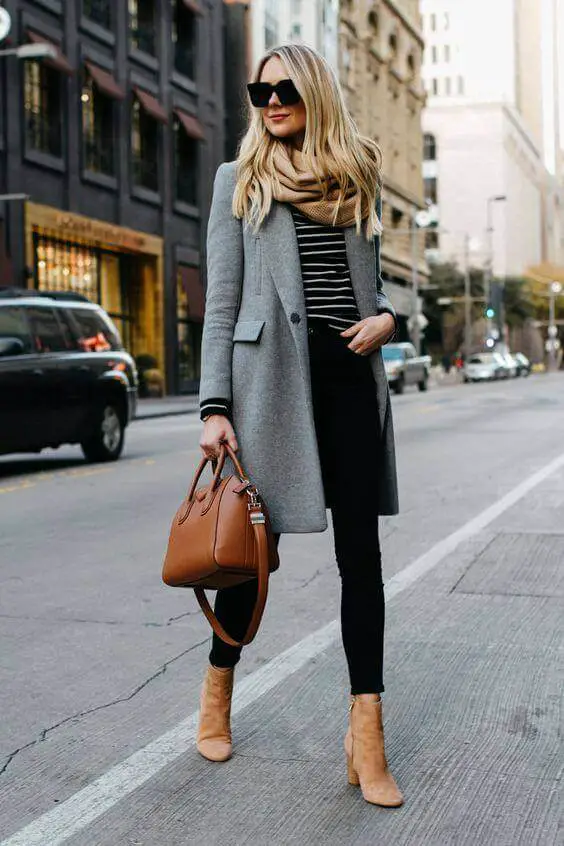 Shop Similar Black Pants:
Black Pants With Denim Jacket
For a comfy street style, wear black jeans with a black tank top and denim jacket. It just seems both comfy and fashionable. For footwear, look for comfort and go on with some comfy sneakers.
With Army Jacket
A pair of black jeans lookS adorably elegant when layered up with an army jacket. If you are not feeling like wearing your jacket, tying it around your waistline too adds a unique style to your look. This particular style is perfect for colder days of the year.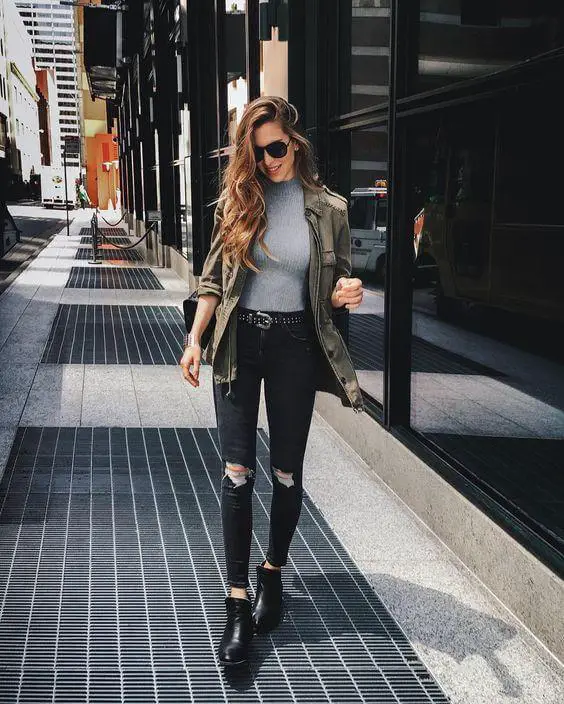 Shop Similar one:
4.Black Leather Pants
Girls with a bold style and attitude must try black leather pants in winter. The skinny leather trouser not just works to flatter the legs, it also adds a glamorous appeal to a laidback and simple look. Pair it up with a denim top, a tee or an oversized sweater—it will never fail you.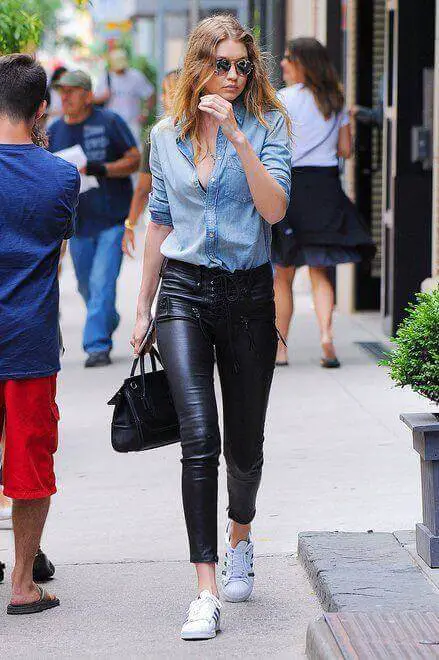 Shop Similar Leather Black Pants:
With Plain White Top
Pairing your black pants with a white blouse is highly recommended as an office attire. For working hours, layer it up with a femininely stitched jacket. For street style, let's just add a pretty pop of color with red. Addition of red shoes and other fashion accessories (handbag) can uplift the look with ease. Just check out the image to get some visual advice.
Black Pants with Sequined Top
For the most fun occasions like partying or a night out with friends, just pull out your black trouser and team it up with a brightly hued blouse or jacket adorned with sequined detailing. For late hours, pulling off such look promises a bold and glamourous look.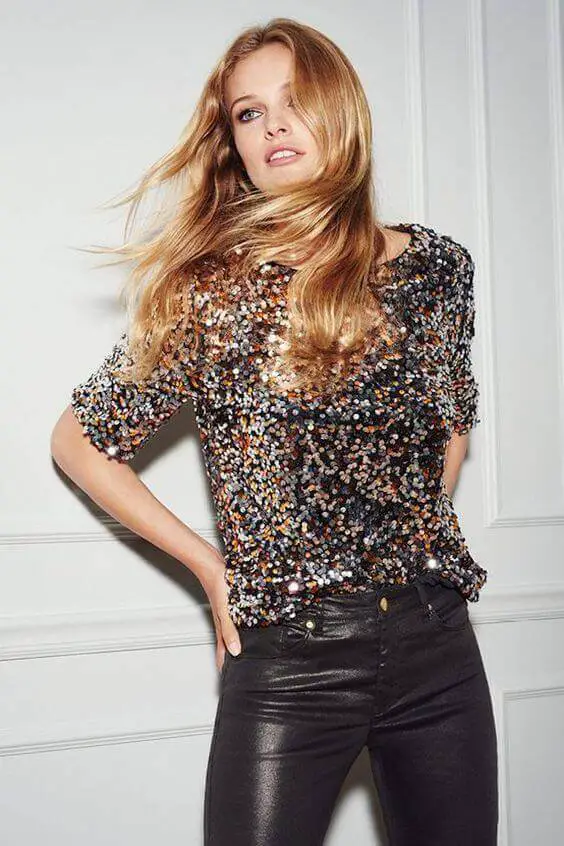 Black Bottom with Animal Print Top
Whether it is your black pair of jeans or black leather trousers, pairing it up with an animal print top is always in vogue. Just be sure that this hot look is being pulled off in autumn/winter season.
Buy Similar Here
Black Jeans with White Fancy Blazer
The elegant combo of black jeans, white blazer, a tank top (white or black) and stiletto heels, all tend to make you look like a true fashionista.
Black Monochromatic Look
Being black from head to toe is yet another modish outfit idea. I would suggest this, especially for plus size girls. It would make them look slim and shaped.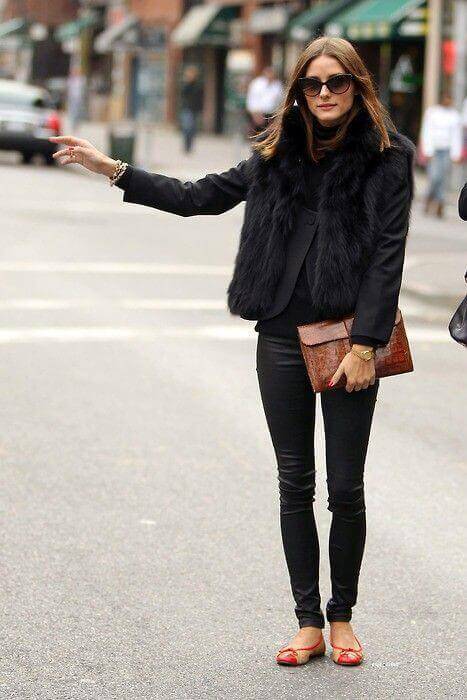 Black Pant with Chic Chambray Top
Nothing could be cooler than a chambray top or blouse—especially with black jeans.
Black Trouser with Graphic Tee
A tee bearing some cool lines or catchy designs can also be a suitable partner for your black pair of jeans. For a comfier look, opt for sneakers as footwear.
With Printed Blouse or Blazer
Doll yourself up with a printed top layered up with a blazer. Addition of a functional bag and suitable fashion accessories are surely going to put you in the spotlight. Same style can be adopted for office hours.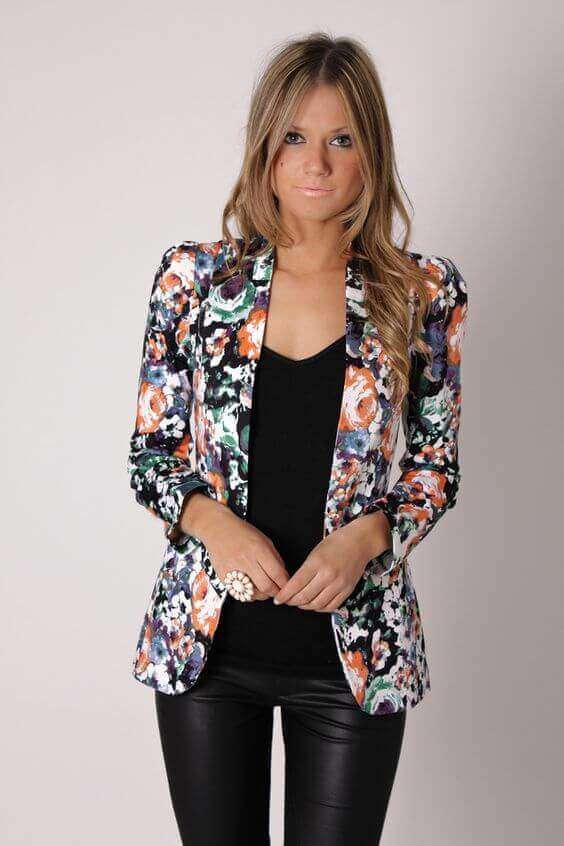 Floral Blouse with High Waisted Black Trouser
Try some floral top/jacket with high waisted black bottom. The combination of vibrant hues with black adds the flair of femininity. High heels and matched handbag complement the look. Take a look at the image to get some inspiration.
Black Wide-Legged Pants with Sleeveless Top
Gigi looks stunning in this black wide-leg pants teamed up with sleeveless top knotted on the waistline. To keep up with the urban or street style, she has opted for flat footwear.
Buy Similar Here
Black Pants with Fur Coat
When it is about colder days of the year, layer up your most favorite fur coat with black pants. Addition of ankle boots as footwear makes you look taller and slimmer.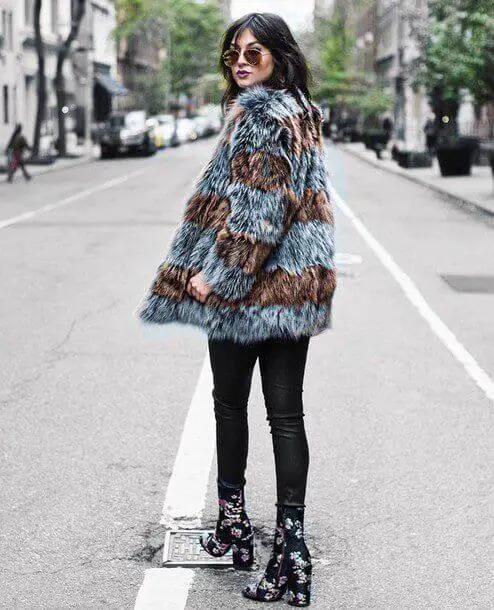 Black Bottom with Something Red Hot
Layering up your black bottom (pair of jeans or leather trouser) with a red-hot piece (red cardigan, red jacket or red puffer jacket) is one of the hottest outfit ideas in winter.
Chic Street Style with Black Overall
For a chic street style and stylishly casual look, black overall is yet another essential piece for your bottom. Wear it with a striped crop top or with a bralette, it looks sassy in both ways.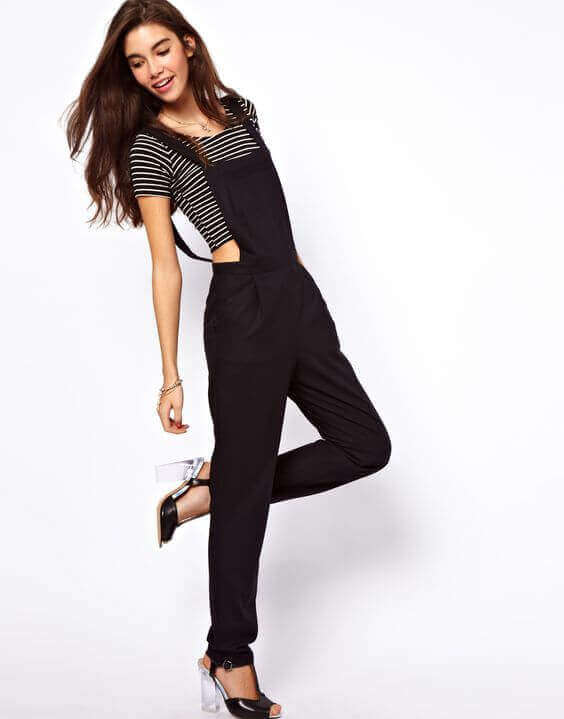 Buy Similar Here
Black Pants with Sheer Top
No fashion season can be completed without anything sheer in your closet. Check out these sheer black tops looking glamorously adorable when paired with black denim or leather pants.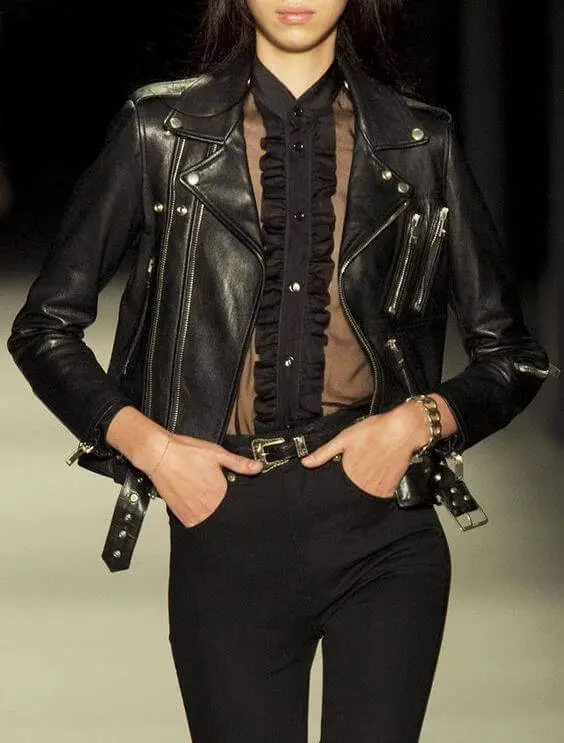 Black Cropped Jeans
For winter days, layer up your black crop top with winter pieces like trench coats, sweaters, and a scarf. When it is about cold weather, ankle boots are the right choice to try with cropped jeans.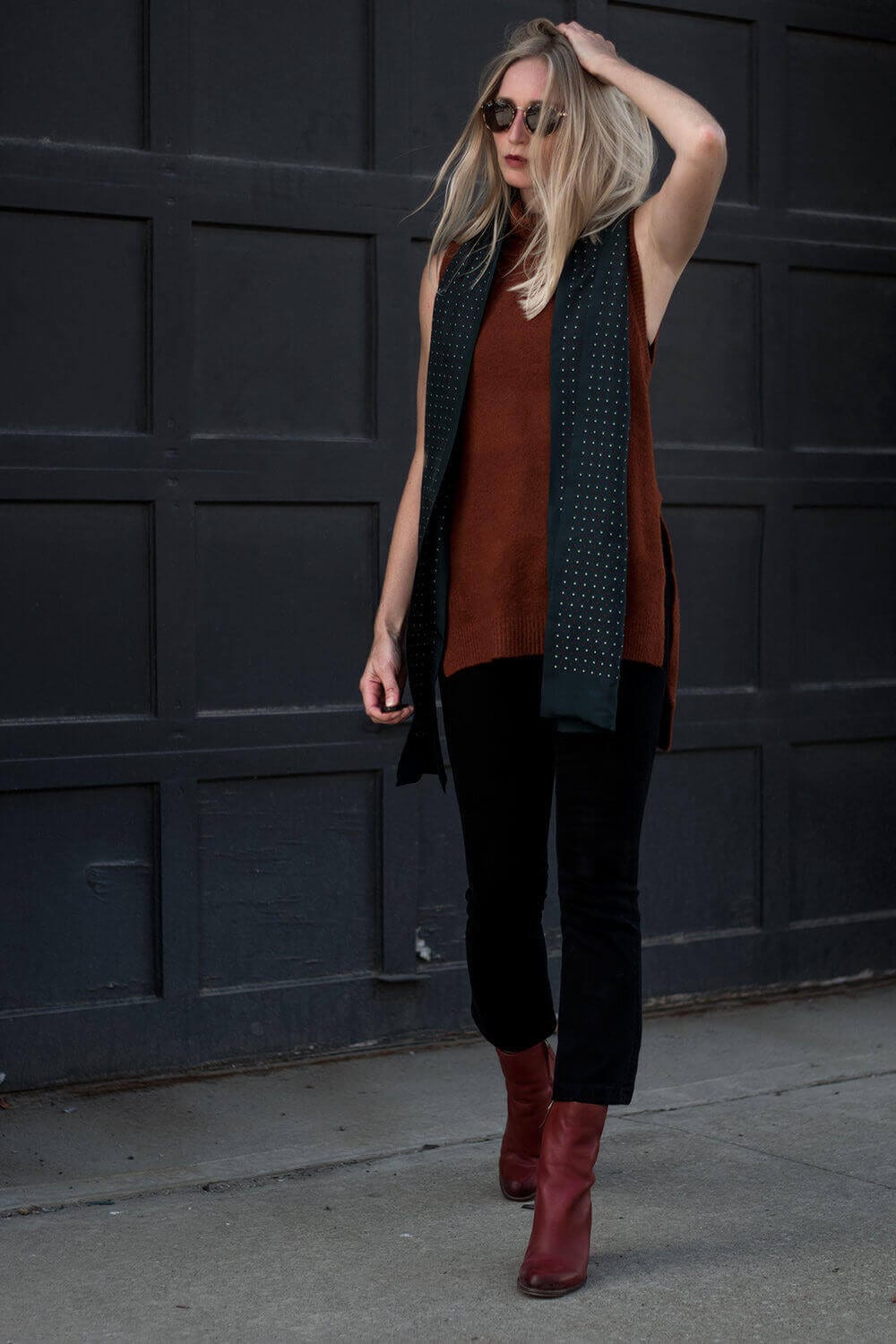 Black Ripped Jeans for Different Seasons
Ripped jeans is not a new trend but still, it is being followed by all. A black ripped pair of jeans is a fashion staple for every season. For spring/summer, it can be paired with a casual looking and comfy tee. For winter, we recommend it with some well-structured jacket.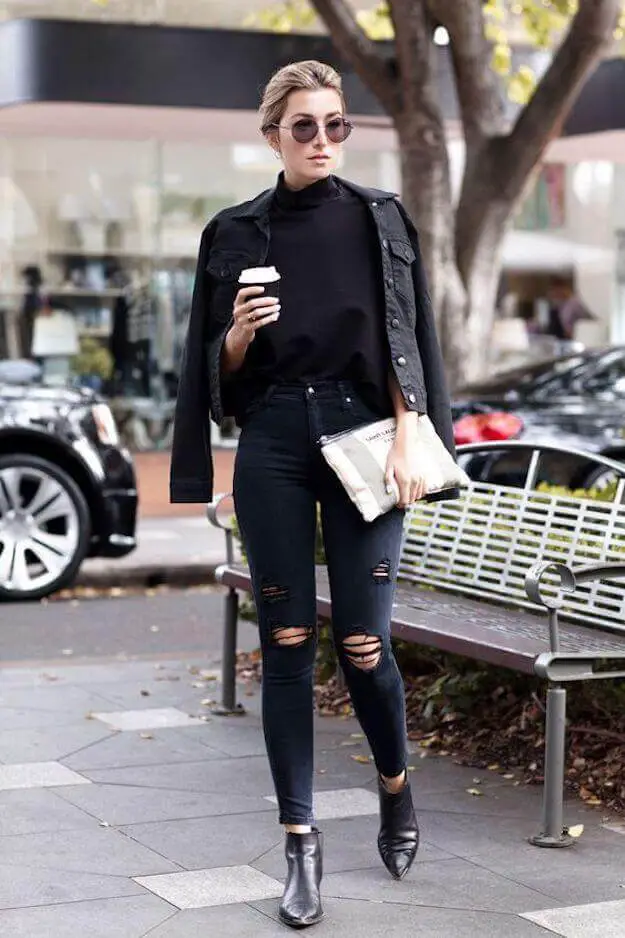 Black Jeans with Checkered Shirt
The combination of denim and checkered tops is always in—, especially for the winter season. Simply team up your black pair of jeans with any color combination—it will never disappoint you.
Buy Similar Here
Black Jeans with Off the Shoulder Top
If you find black jeans a bit boring, no worries—get it paired with a sassy and sultry off the shoulder top. To complement the look, do not forget to wear high heels. It would uplift the whole look effortlessly.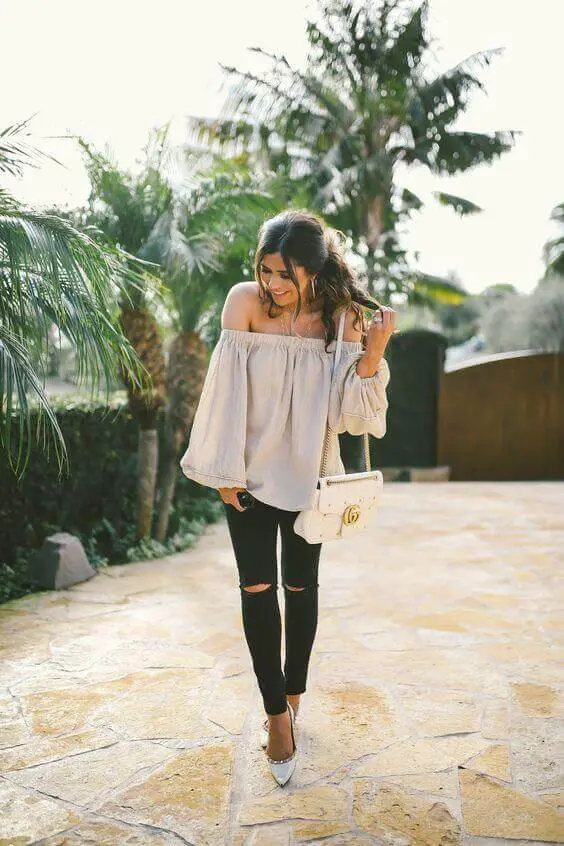 With a Baggy/Oversized Sweater
This one is a particularly winter-based outfit idea. Team up your black pair of jeans with an oversized sweater for both braving the weather and to look flawless.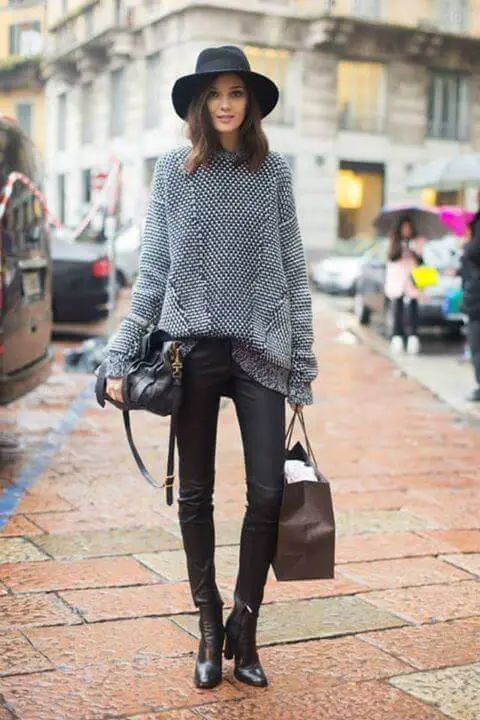 With Velvet Top
Just check out this adorable combo of black skinny jeans with a velvet top. This one is suitable for street style as well as for working hours.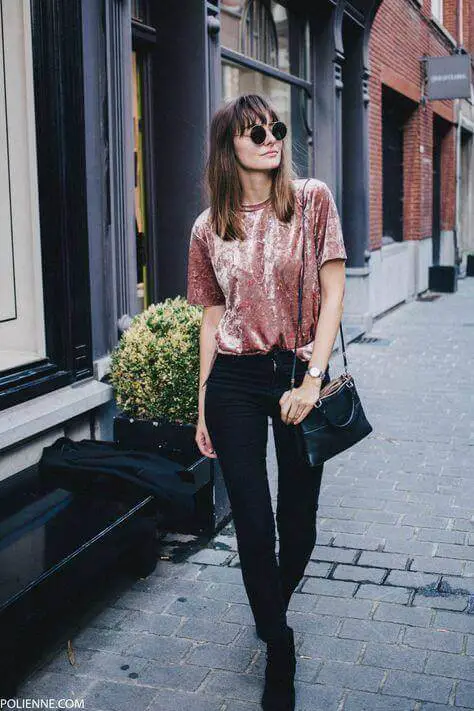 Wrap up:
Concluding the article, it is proved that a black pant is the most versatile fashion staple. It can be worn in outnumbered ways. We have whittled down just a few of them. But we believe going through the post would have landed you on some great black pants outfit ideas.