Polka dot clothing really touches women's hearts. Polka dots and stripes are the classic elements that never go out of style. How beautiful is this trend? It comes with a retro appeal—especially with red lips, it reminds of the old era ~Putting on the simplest polka dot element lets you have retro girl-like elegance and style ~Polka dot was the highly sought-after trend last year and it's still in vogue.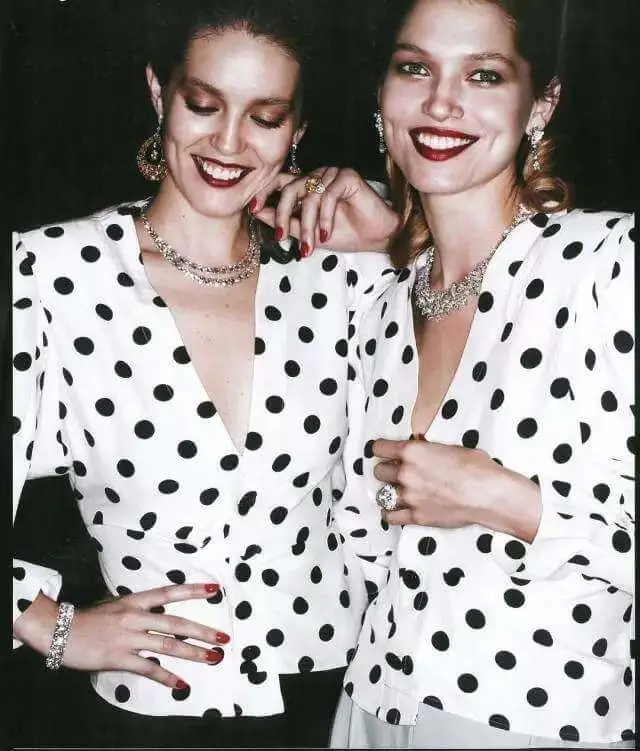 You must have seen this silhouette Polka dot top, it got immensely popular, and about every fashion blogger showed up in this style. It comes from Jacquemus.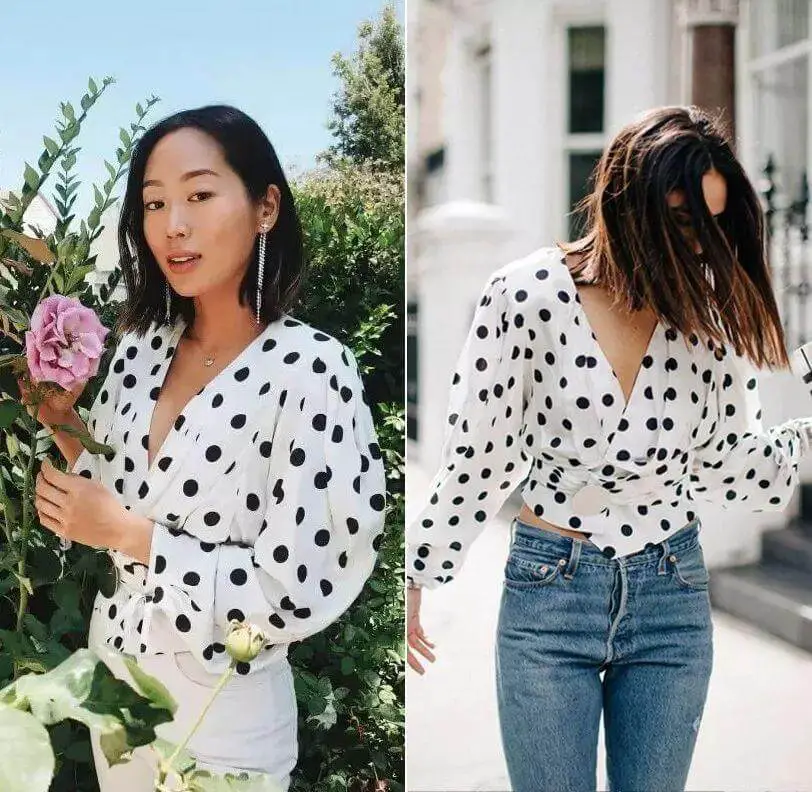 In the recently concluded Winter Fashion Week 2018, the classic Polka dot designs too were on display. Vivetta's big show is the world of Polka dot.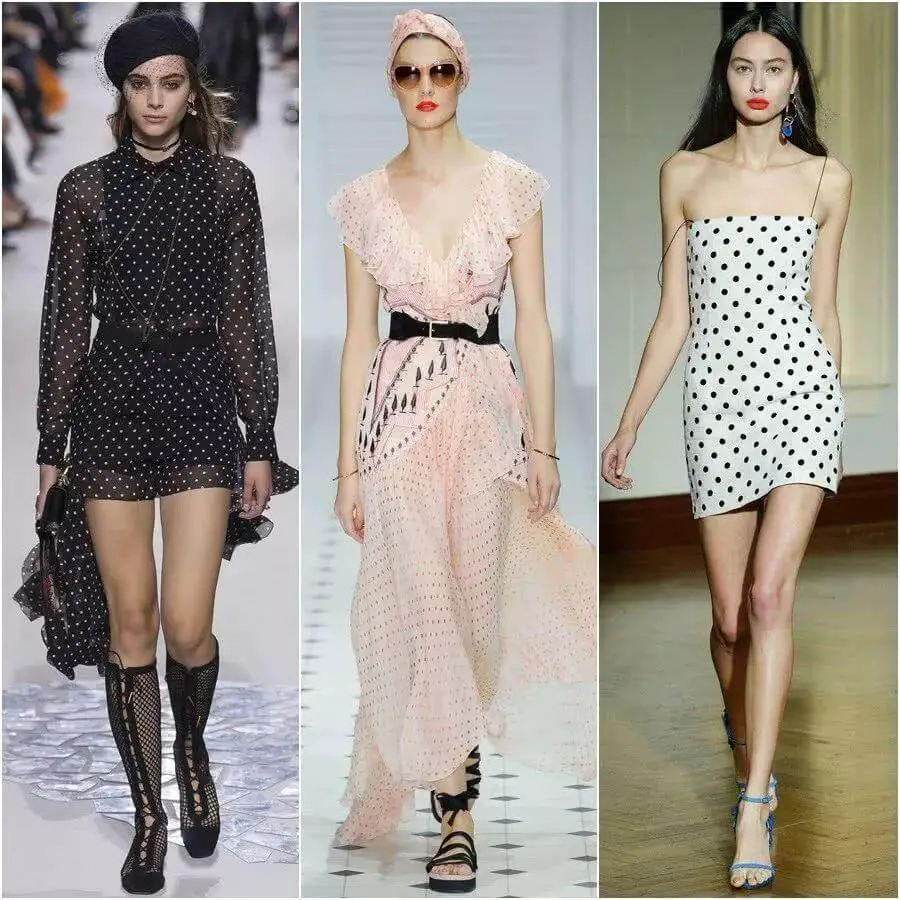 2018 spring and summer series of T station is all about Polka dot elements on the screen. The following are Christian Dior, Temperley London, and Bec&Bridge respectively.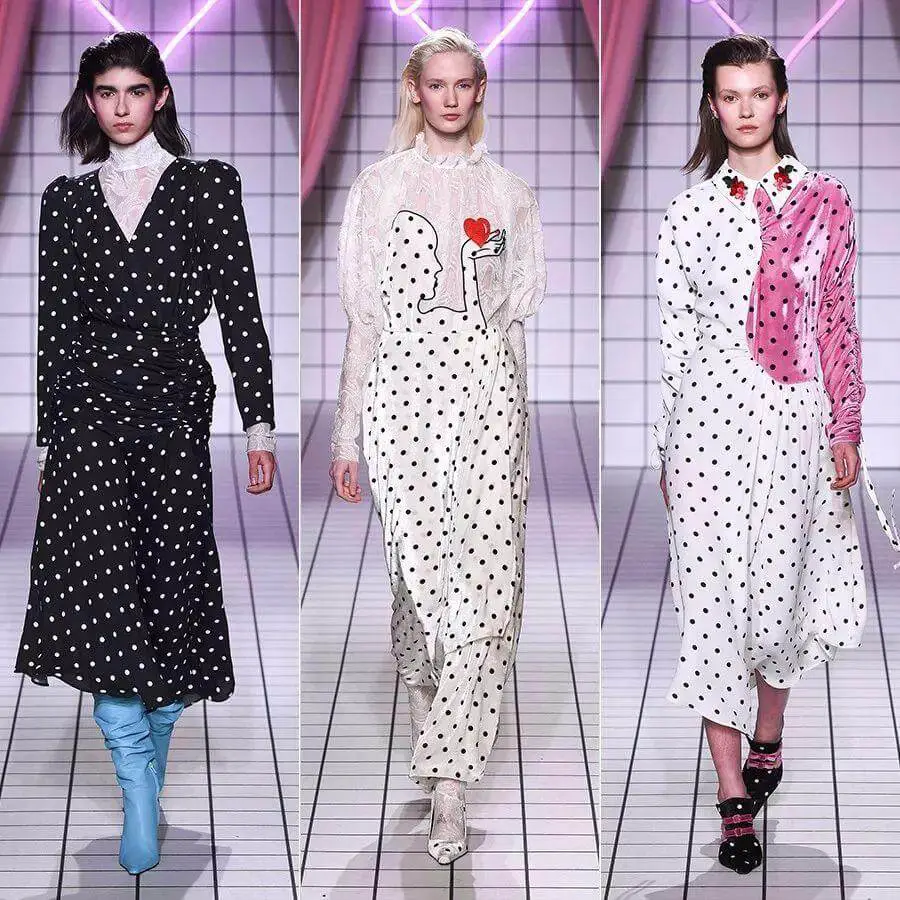 As compared to other printed elements, Polka dot is more manageable and common people can easily style it. Compared with the striped elements, polka dot has more retro playfulness. How about a polka dot shirt in your spring wardrobe? After years of wearing other shirts, Polka dot elements make it easier for people to shine. Polka dot single products are available in a great variety. There are black and white, green and white, pink, red and white color combinations…
Polka prints can be incorporated in skirts, shirts, pants, and even shoes.
Which Polka dot items are the trendiest and worth investing?
Worth investing item No.1: White Polka Dots on Black Top
A polka dot shirt with white dots on a black background is a timeless combo. It is also quite easy to style and match.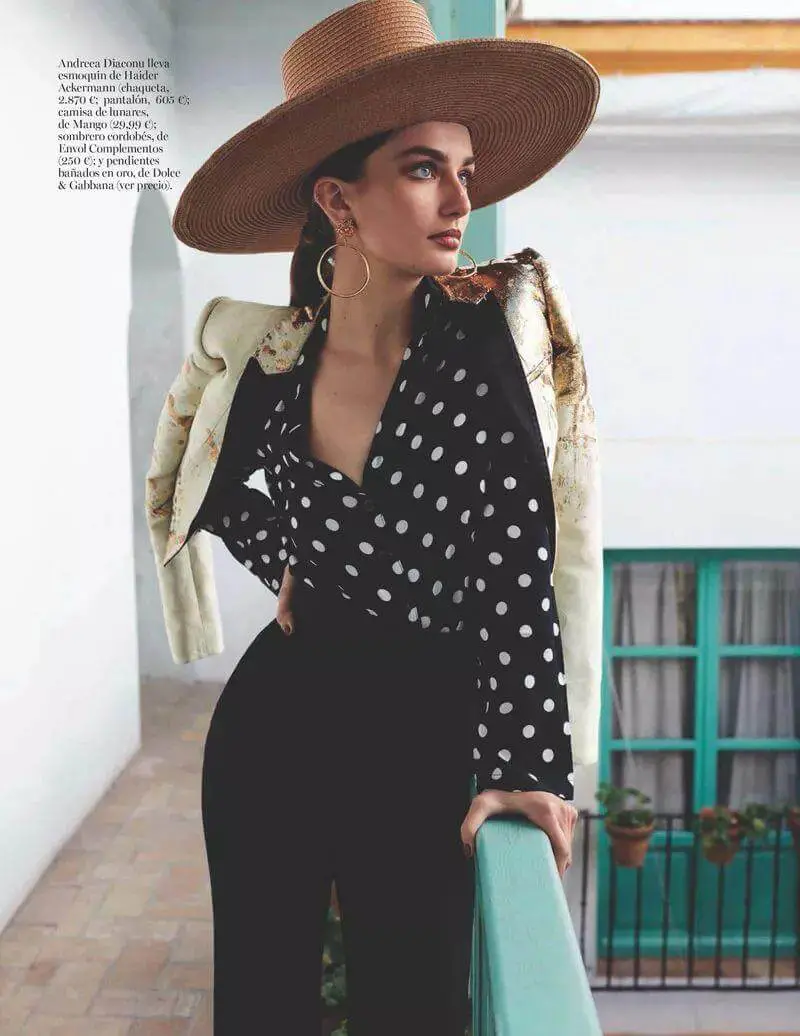 This black and white look is quite common in street style. It can be worn alone or as inside wear.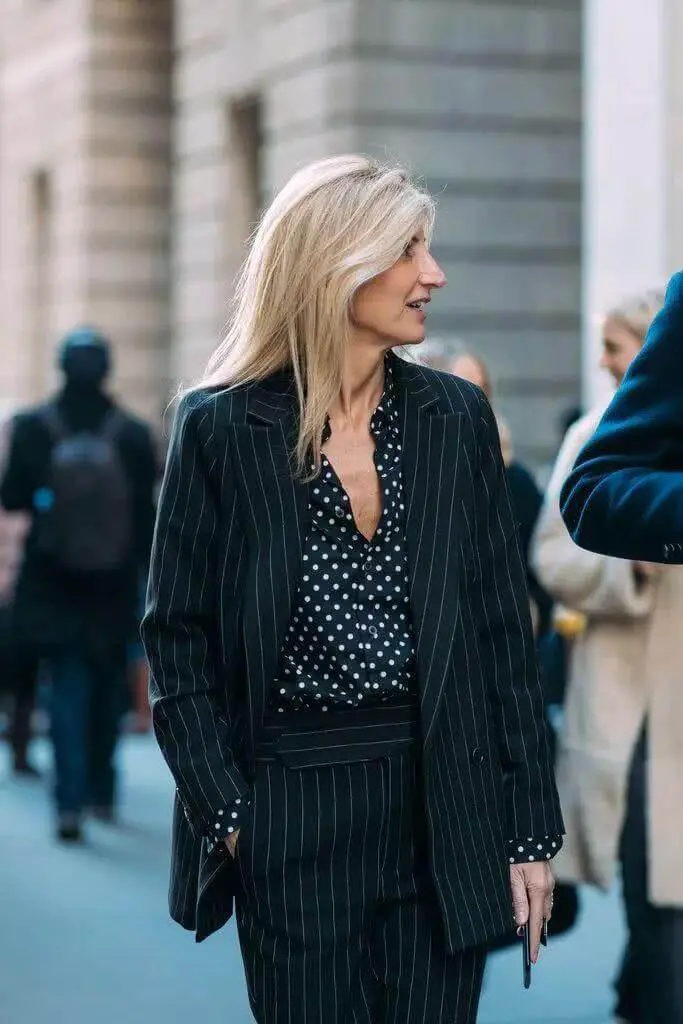 However, compared to the white Polka dot, I prefer black dots. Black seems more refreshing and more joyful. Whether it is single wear or a blouse top, it has got the spark to brighten up the whole look.
In terms of style, the basic and streamlined polka dot shirts are the most worth investing items. They do not get outdated easily. Both Olivia and Miss Zhong are wearing very classic polka dot looks.
I love to dress up polka dot shirt in a special way. Try polka dots in "Contrast" match. The upper and lower bodies are dolled up in small polka dots, but with different colors. It seems quite harmonious to eyes.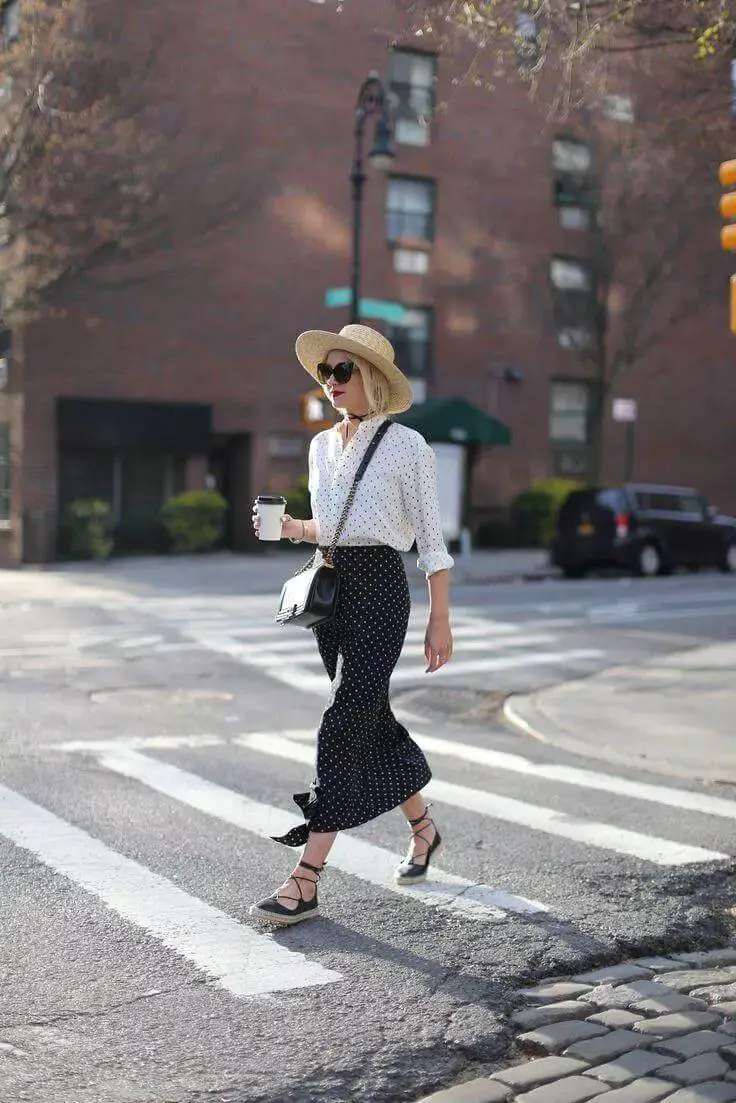 The streamer shirts are excellent, both in single wear and in innerwear.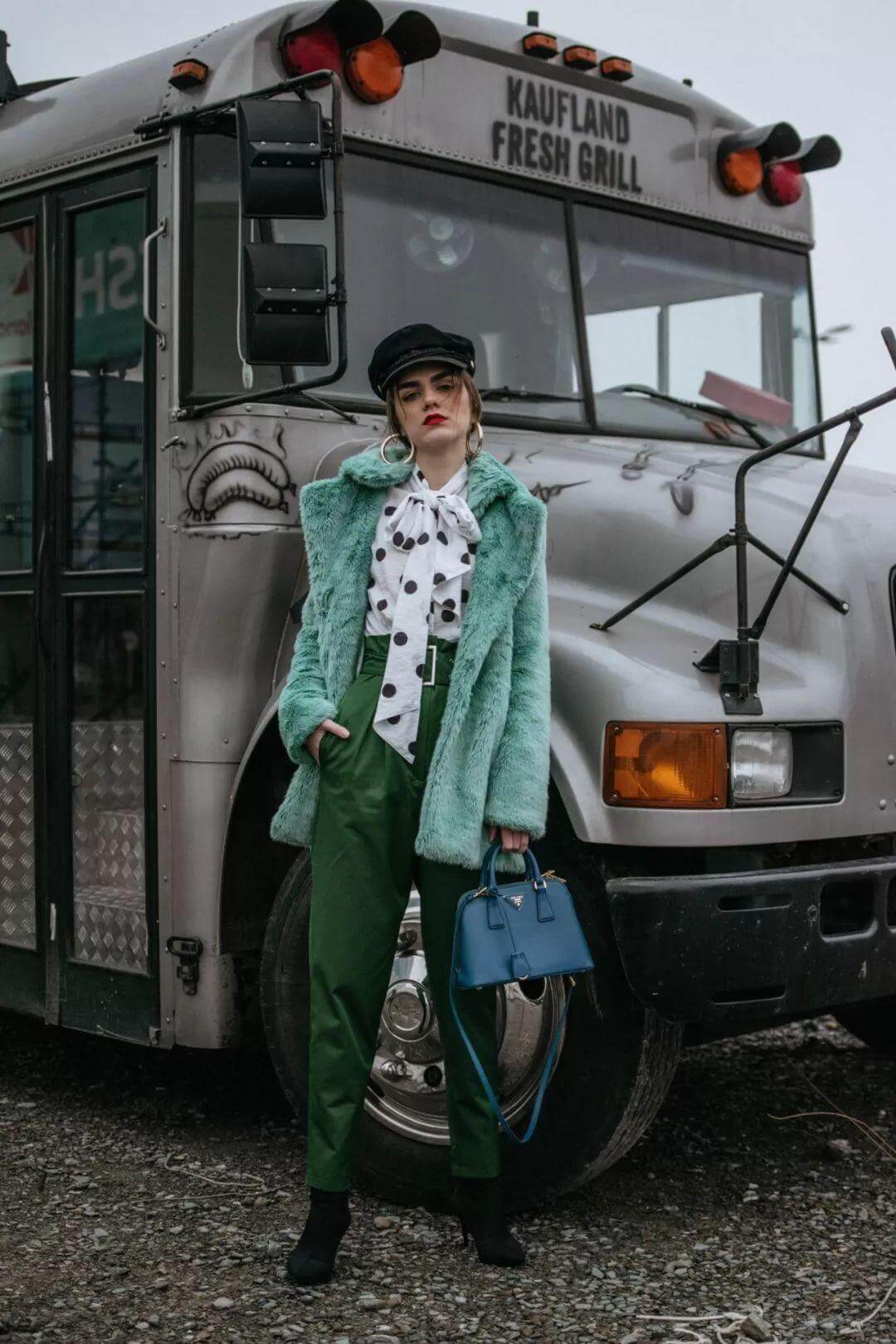 If it is a shirt with no styling, it is best to choose a special color to get a standout look. For example, the forest green that I like very much, when combines with polka dot print, gives a very fashionable look.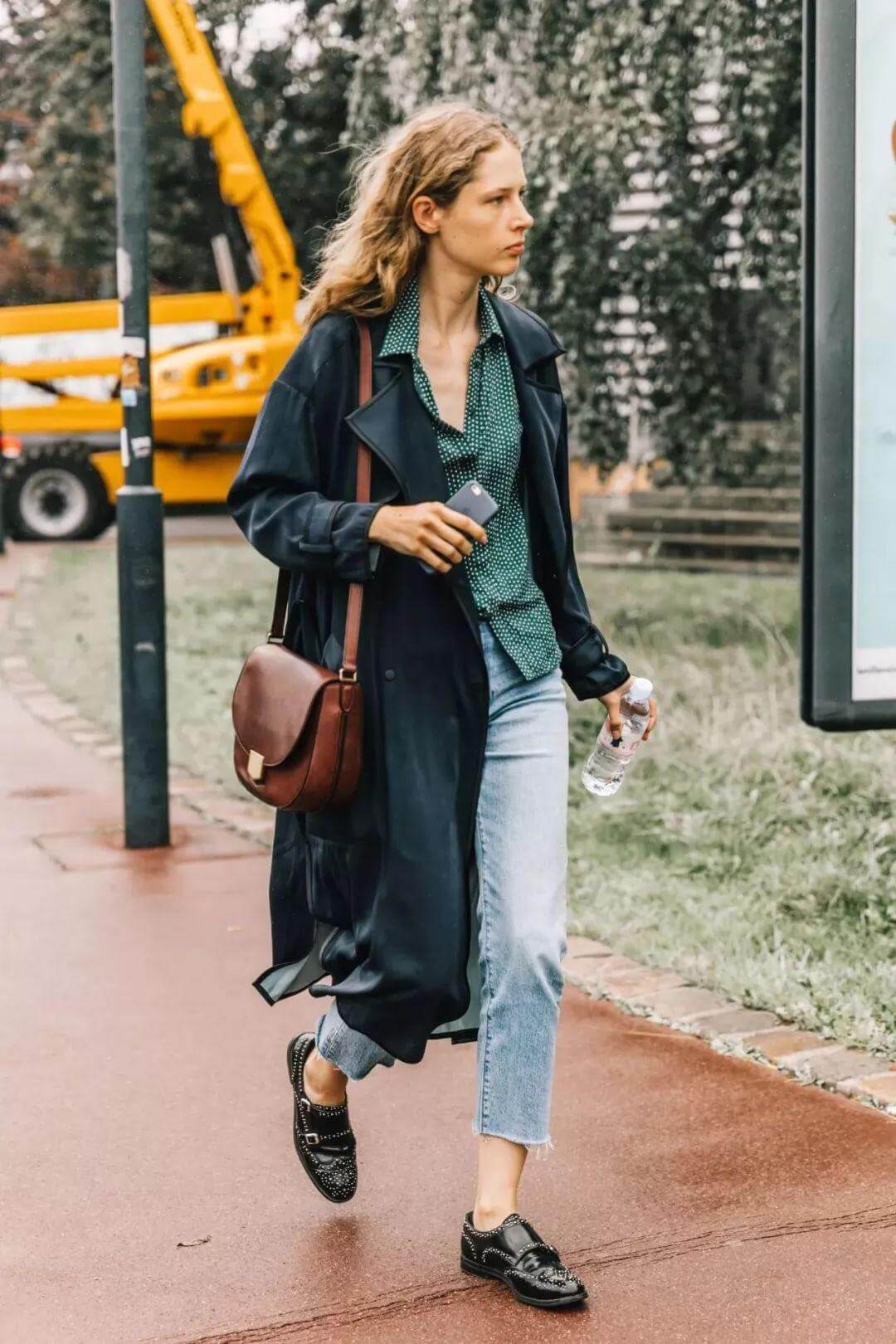 Relatively speaking, small polka dots are more manageable and look more fashionable with a plain bottom.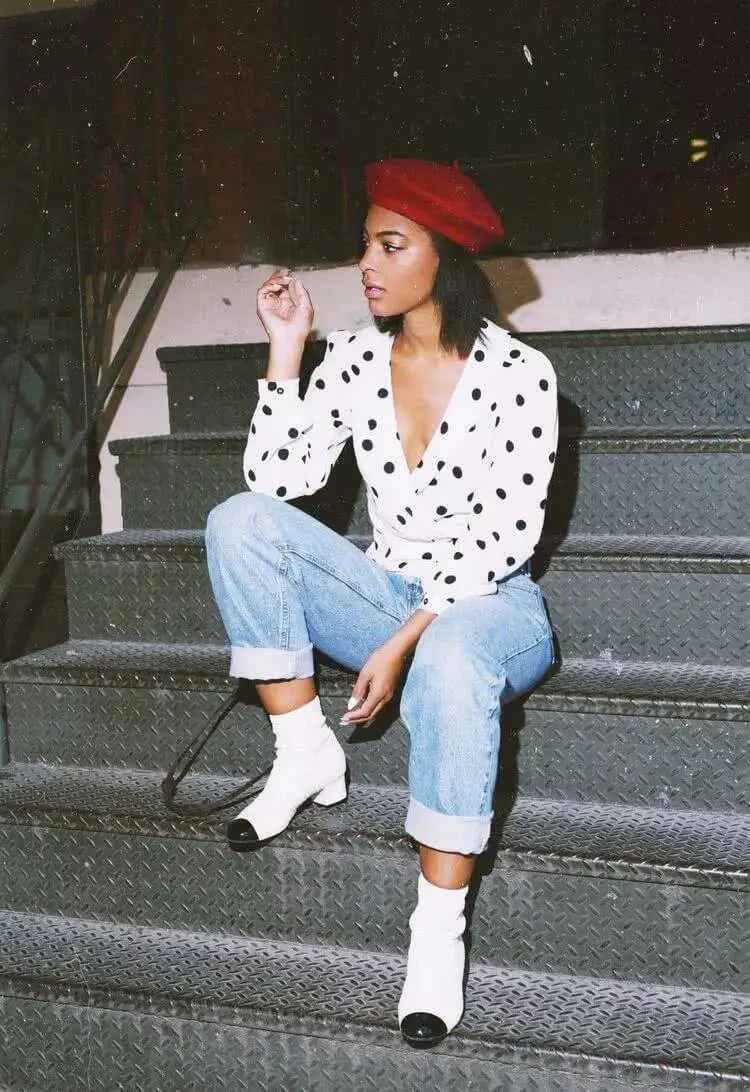 If you already have the basic polka dot shirt, you can try out the details of the profile, waist and shoulder pads, although the collocation space is small, it is easier for people to get an eye-catching appeal.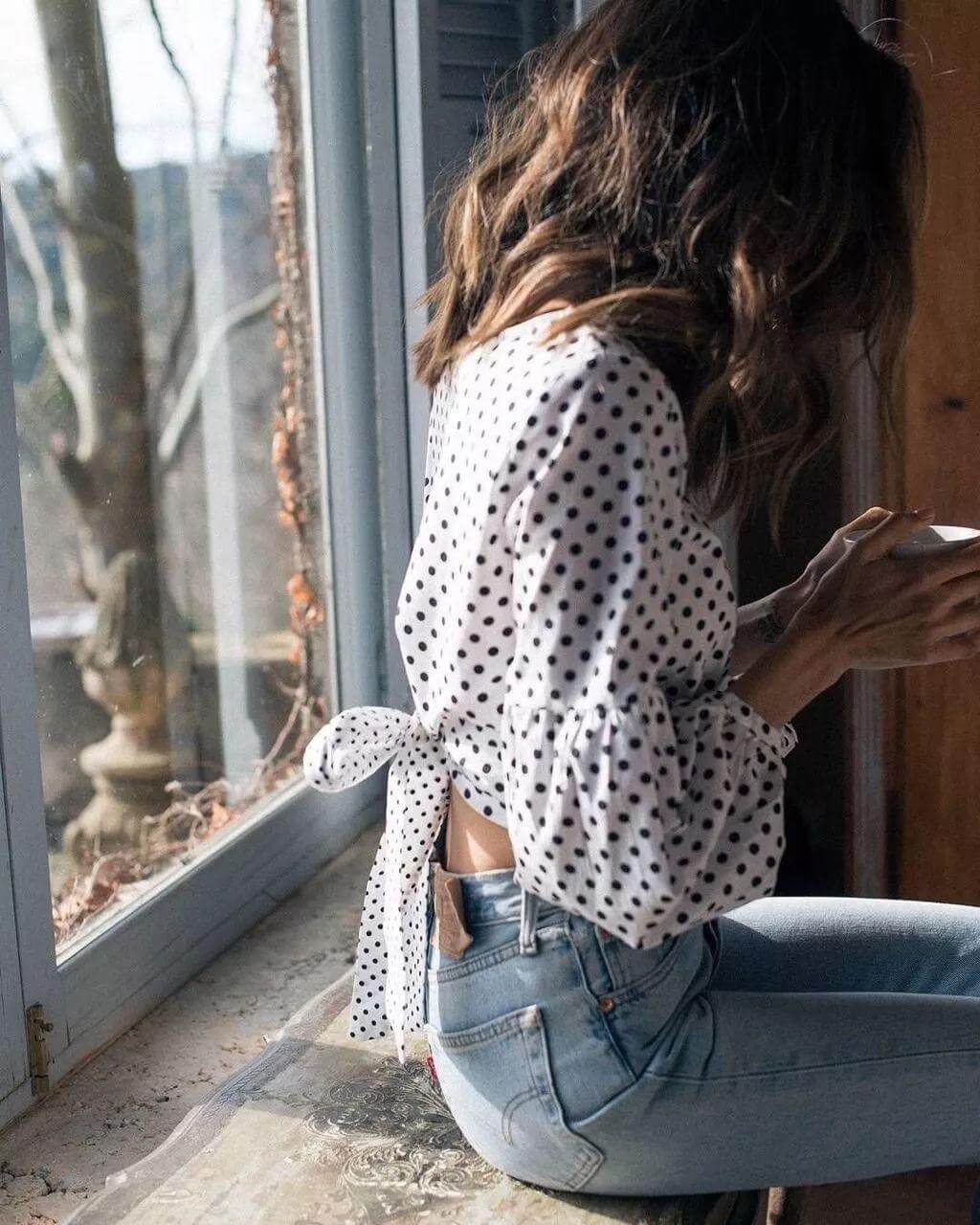 Try polka dot shirts with other detailing like bare shoulders, cutouts, and bows. It gives a younger and playful look.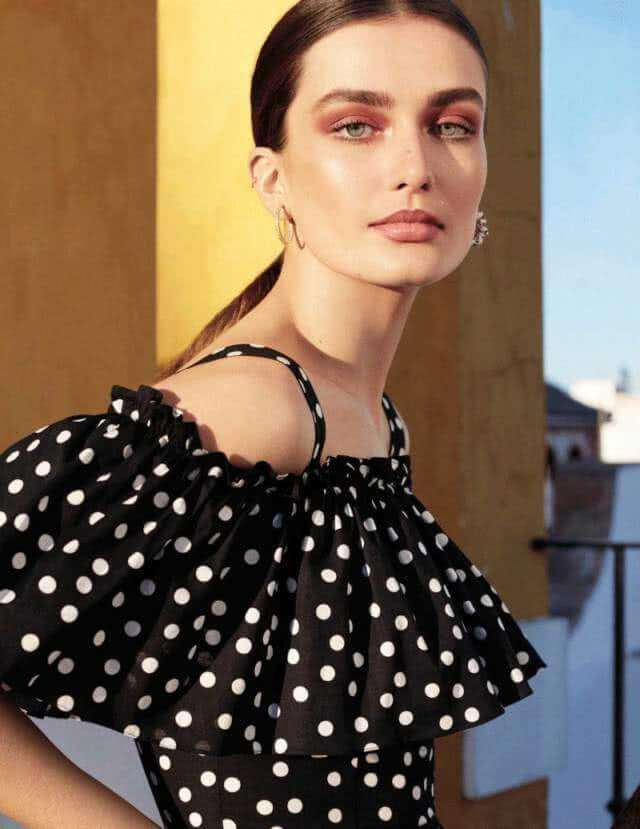 Deep V-neck design is also a good choice. It not only makes your face look small, but it also shows your swan neck.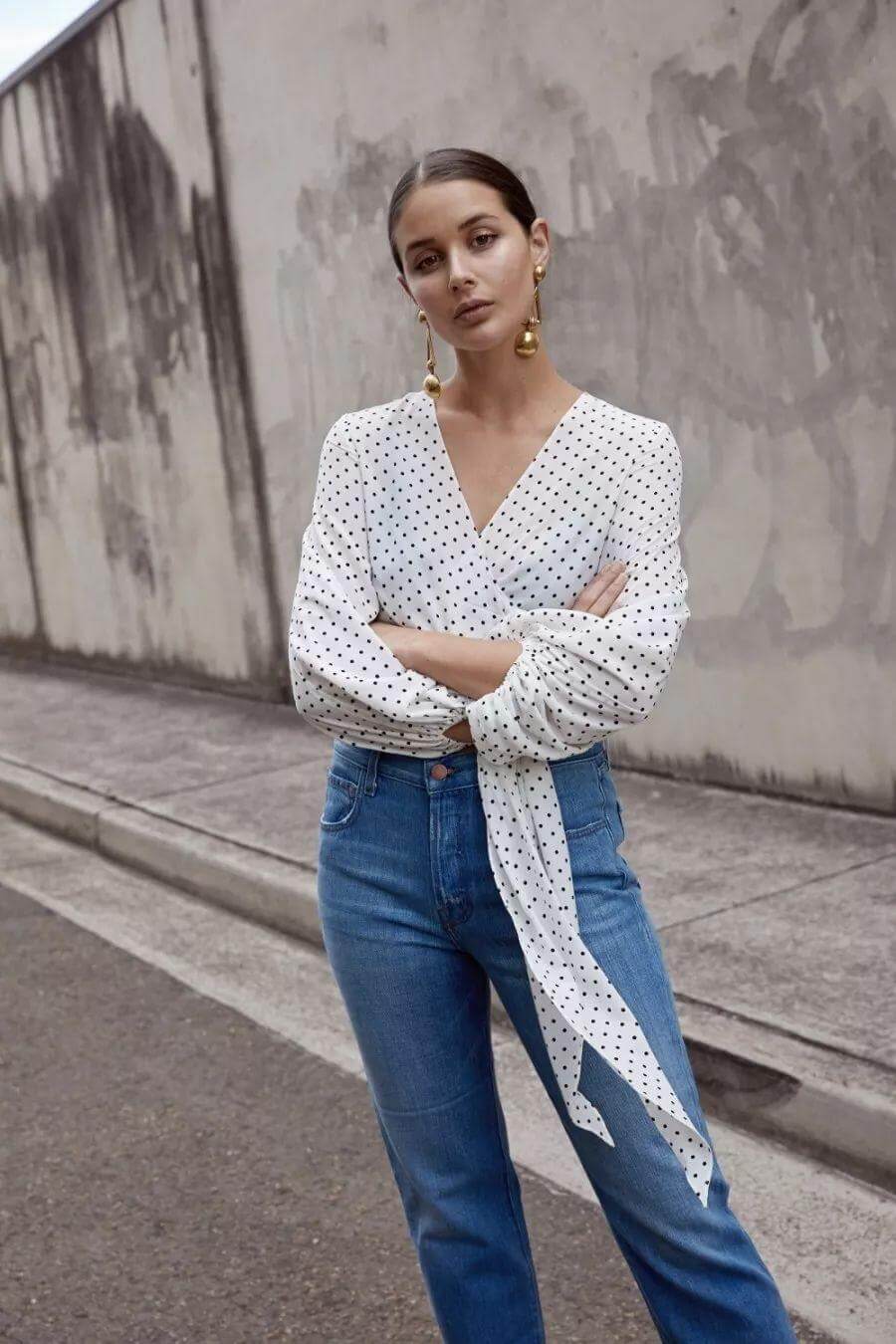 Worth investing item No.2: Black Polka Dot Dress
The full name of Polka dot is "Polka Dots". Polka is a very popular and cheerful dance in the Central European region – the polka dance.
Polka dot pattern was originally worn while dancing. It was after the 1930s that Polka dot's fashion became common and became a popular fashion trend.
There are also many Polka dot elements in the films of this period. Marilyn Monroe's Polka dot dress worn in "Seven Years Itch" looks sexy and cute.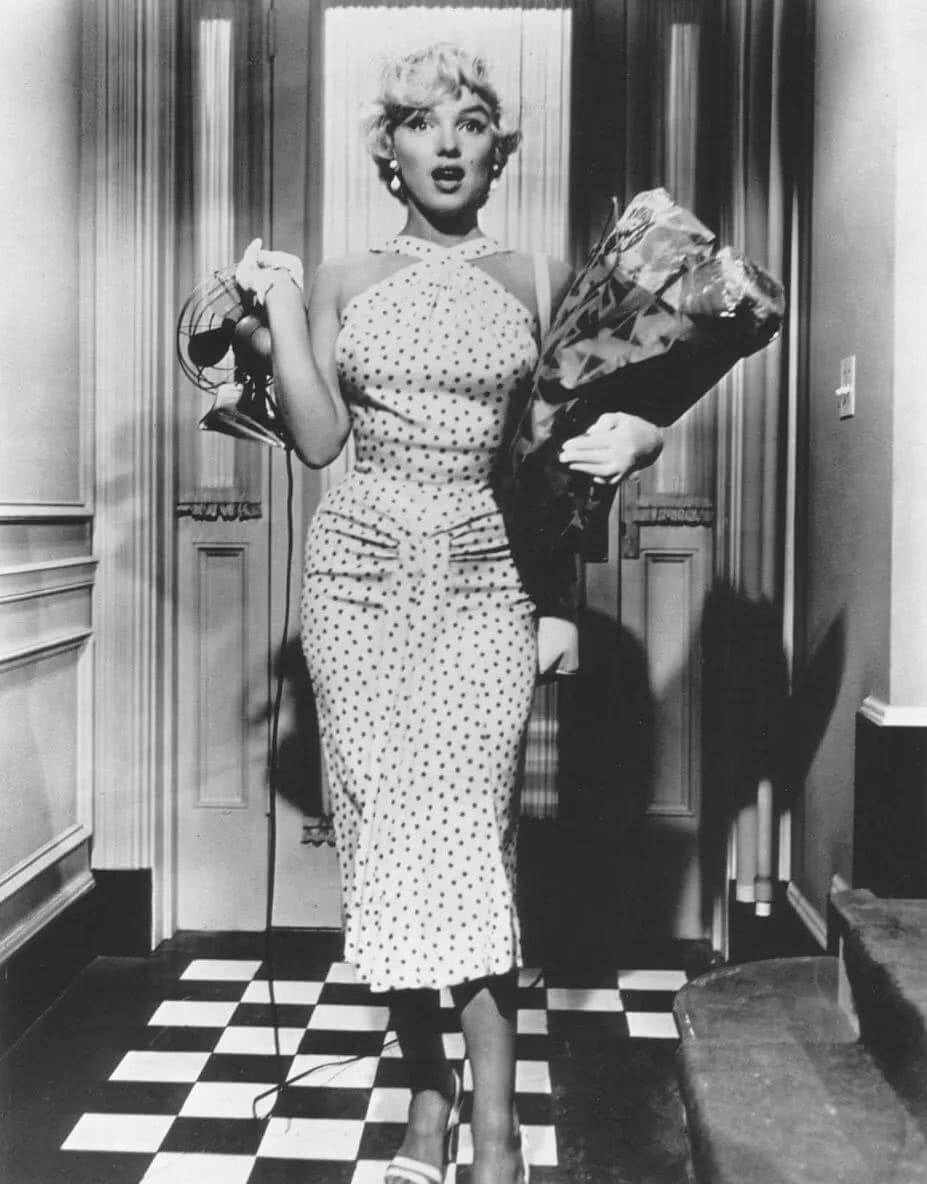 Diana Princess who led the trends in 1990s also liked Polka dot.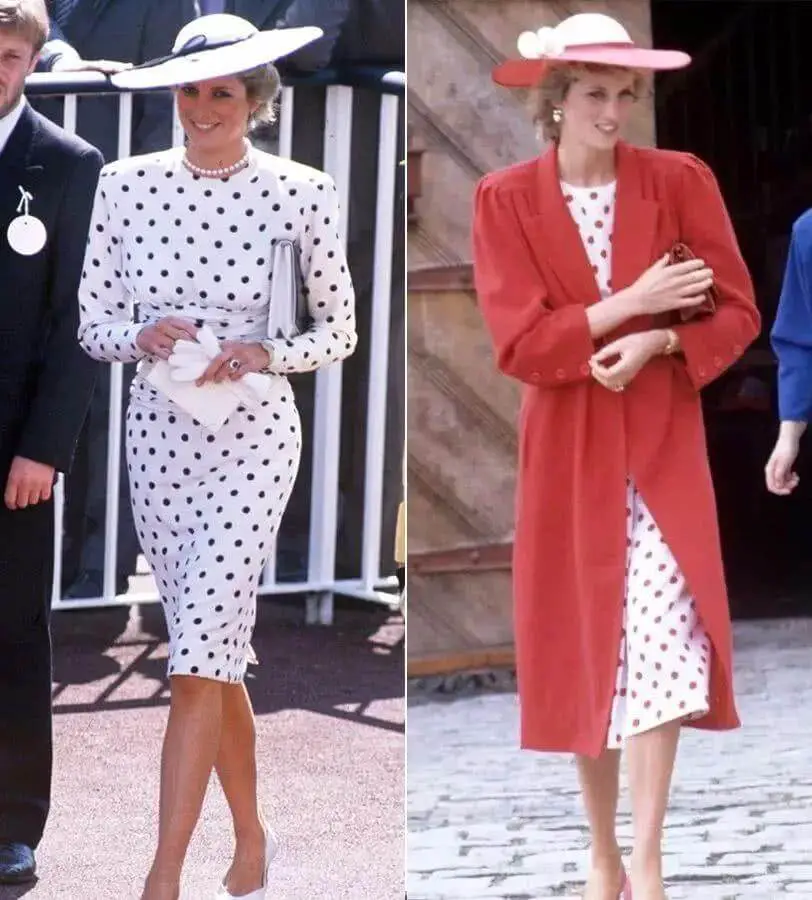 However, due to the fact that Polka dot itself is a bit larger, and the black Polka dot on the white background can easily make people look a bit bloated. So, I recommend the black Polka dot skirt.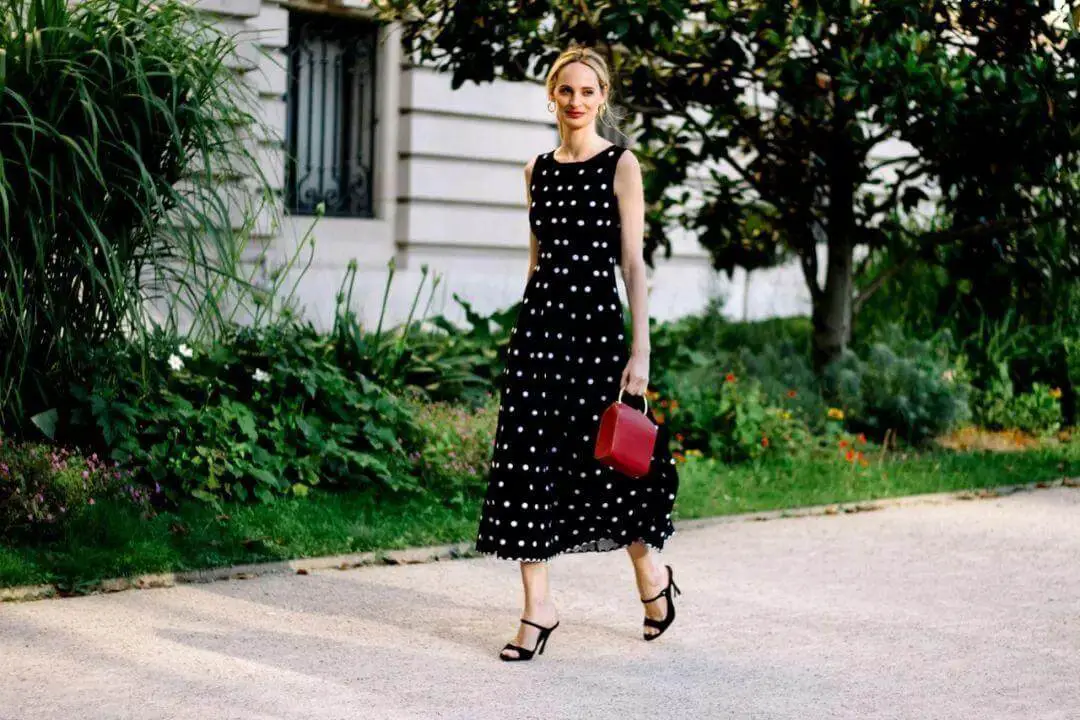 When it's cool in the spring, you can use a coat to pair with Polka dot dress.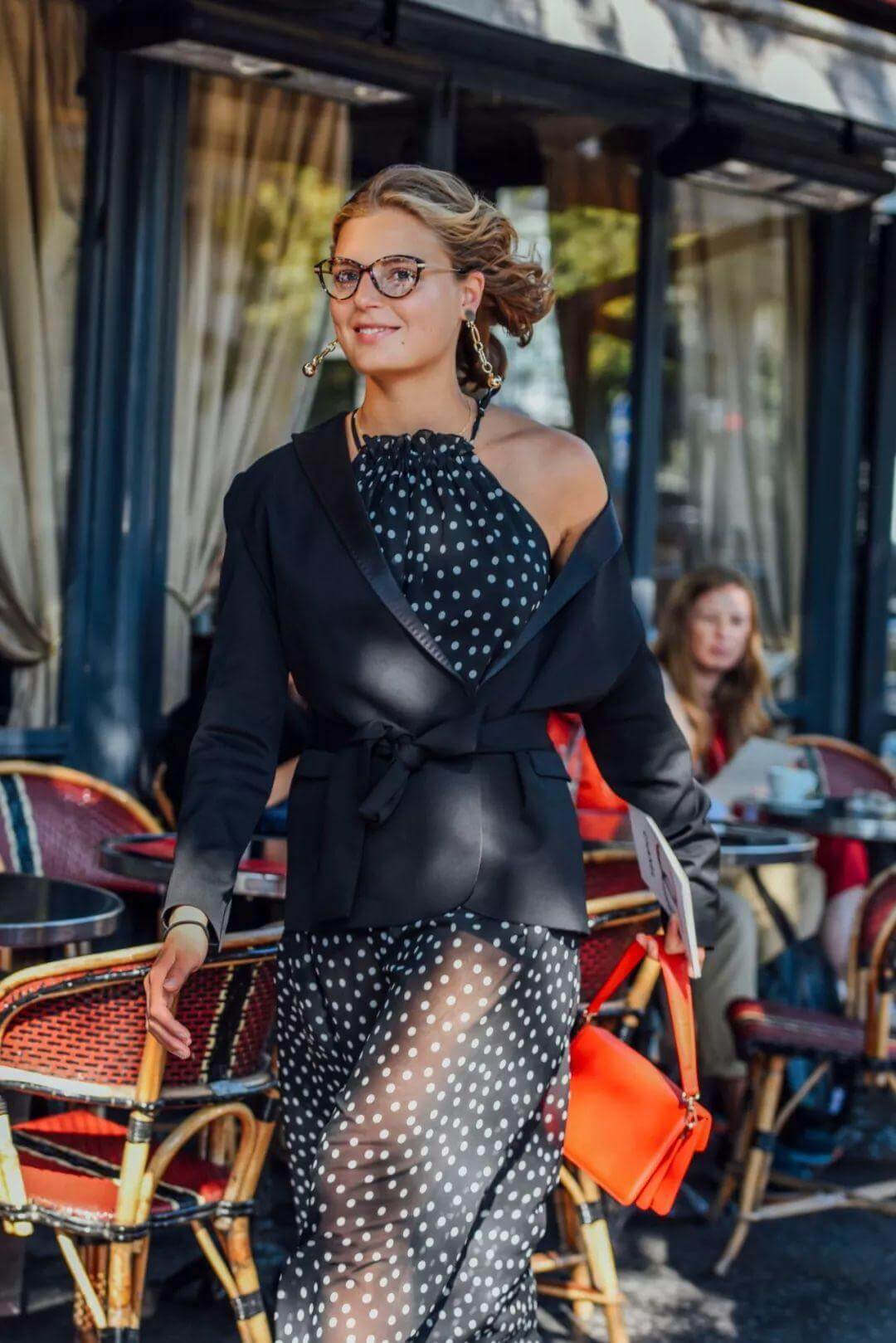 If you choose the strap style Polka dot dress in winter, besides a jacket, you can also wear a thin turtleneck sweater—warm and stylish.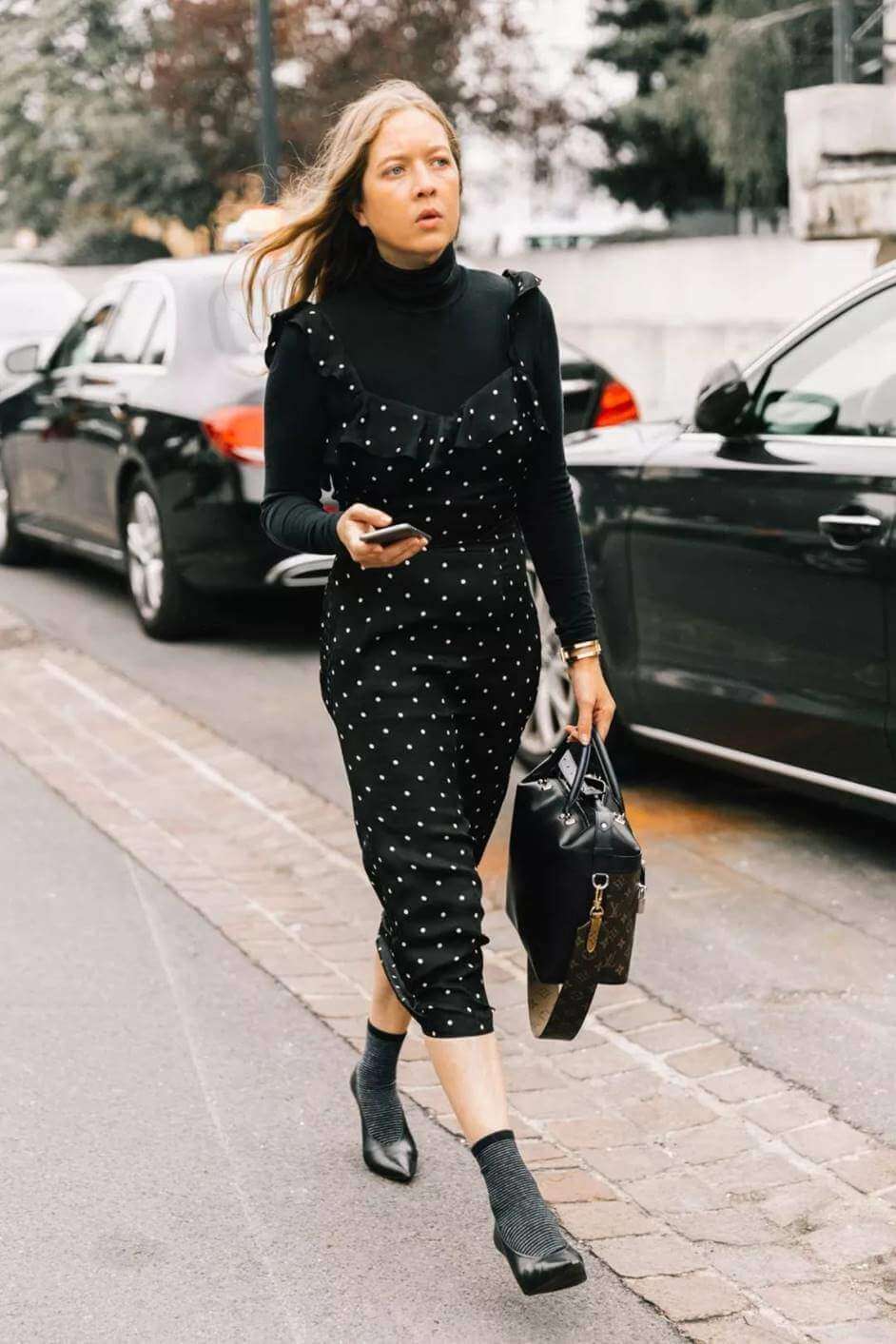 If you want to wear Polka dot in a sexy and charming way, you can choose to have a knit design wrap dress. Jeanne Damas, a French blogger, prefers this type of wrap dress to get a comfy and laid-back look.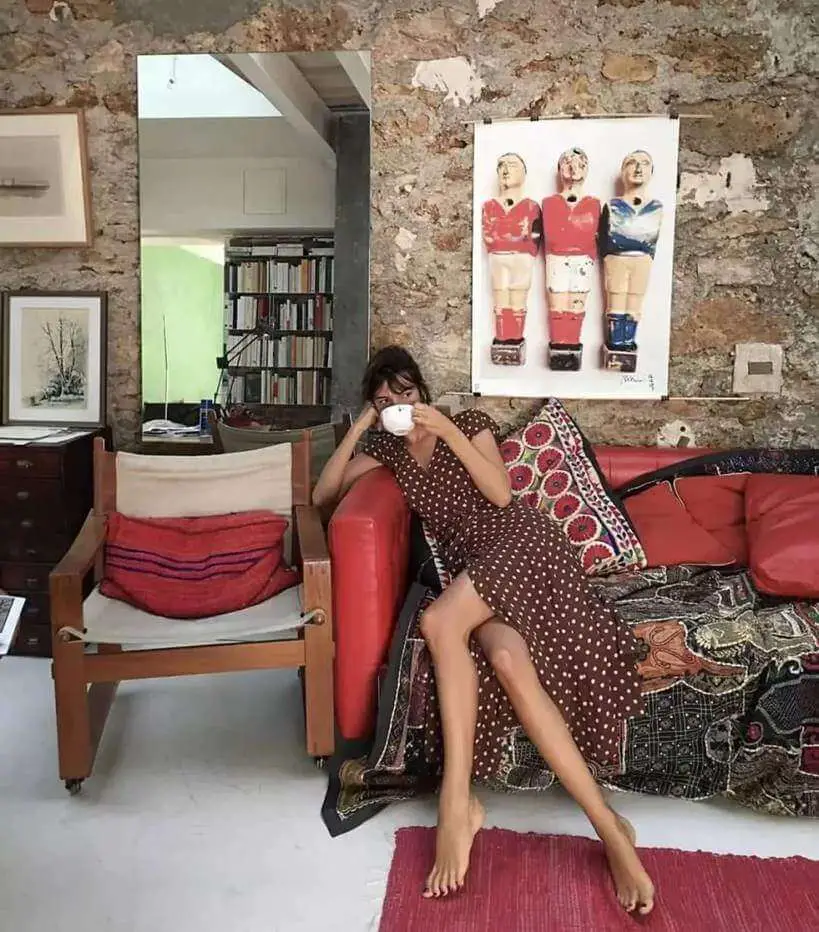 As you walk around, the skirt looks elegant and reveals slender legs, which will make you feel more fashionable.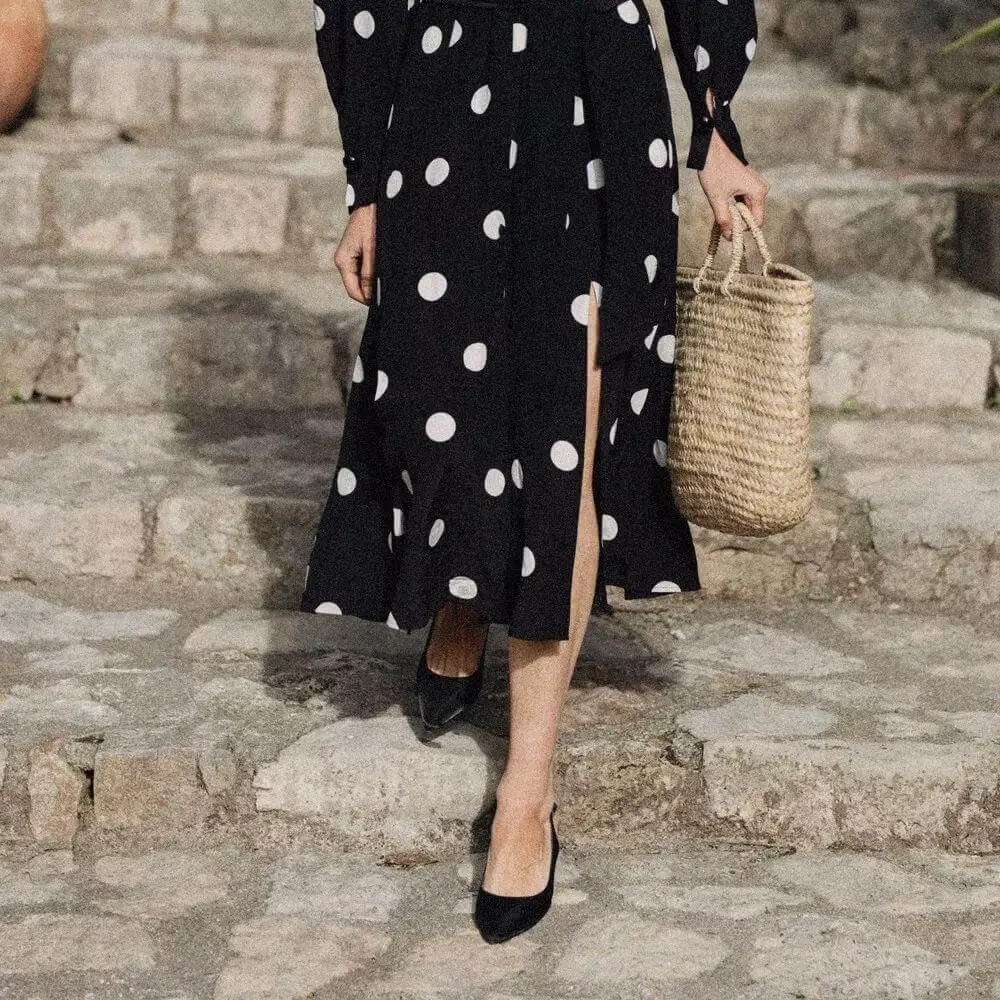 he large V-neck design of Polka dot skirts is also very common. They are suitable for girls with broad shoulders, big breasts, and big faces.
Different sizes of Polka dots do not give the same effect. The big Polka dots have a more mature and dignified appeal, so they are suitable for mature women, while the small Polka dots seem more playful and lovely, suitable for young and beautiful girls.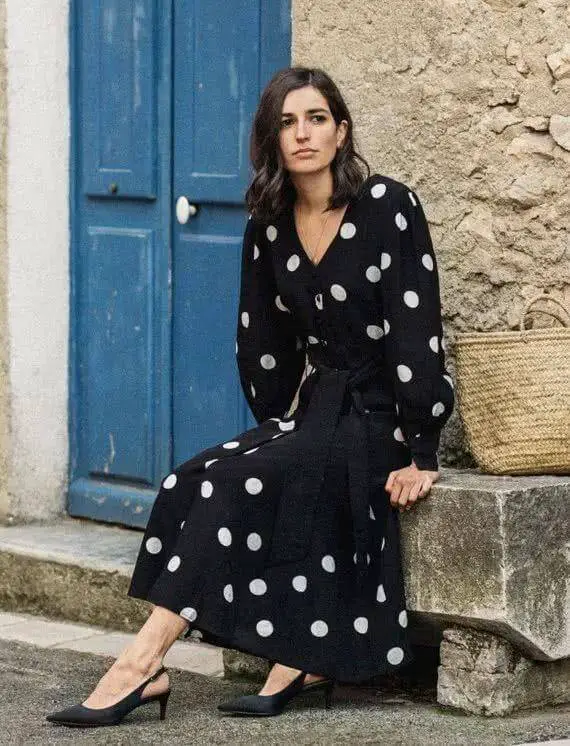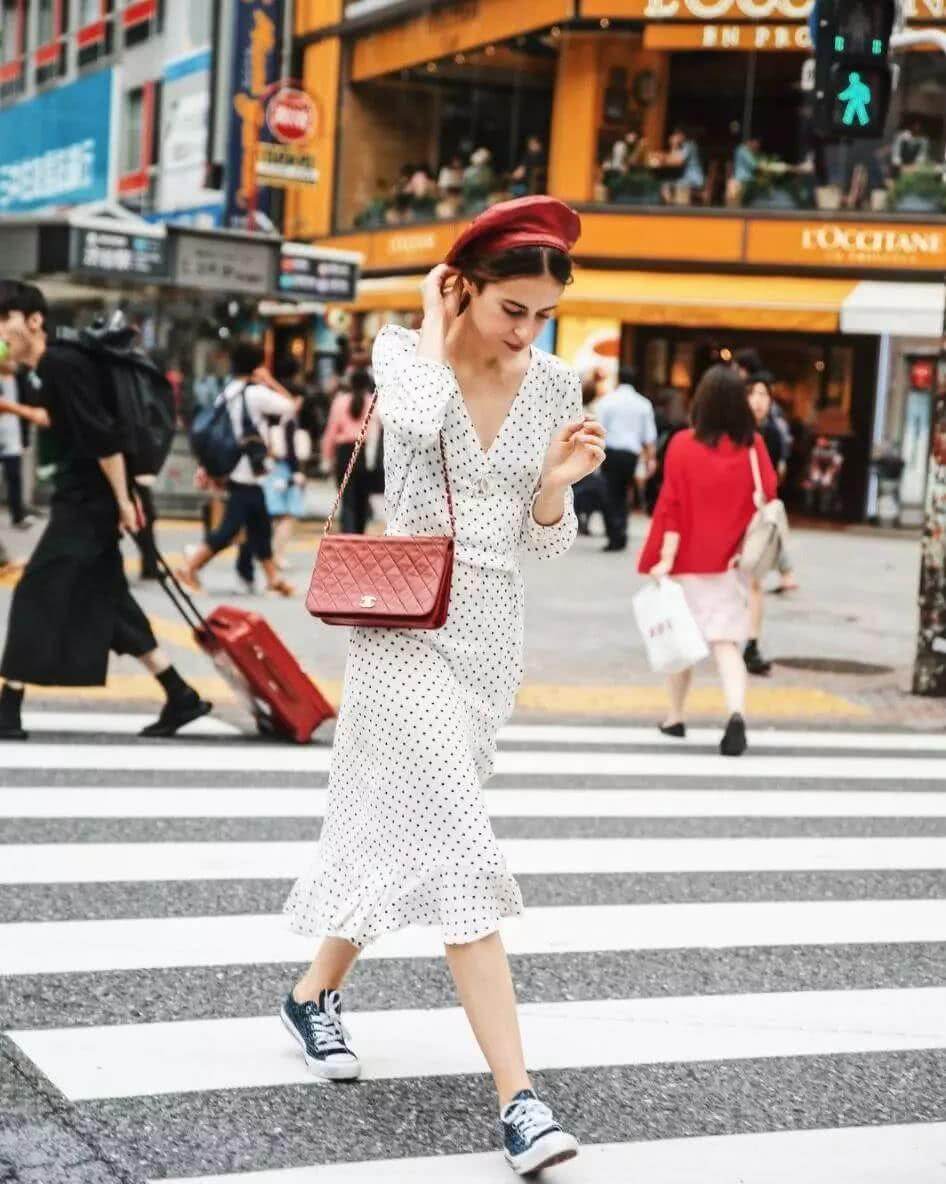 If you choose a black and white Polka dot dress, you can experiment with so many amazing styles. Designs with more skin show add an unforgettable appeal. The soft ruffled element, when combined with polka dot, makes a perfect look.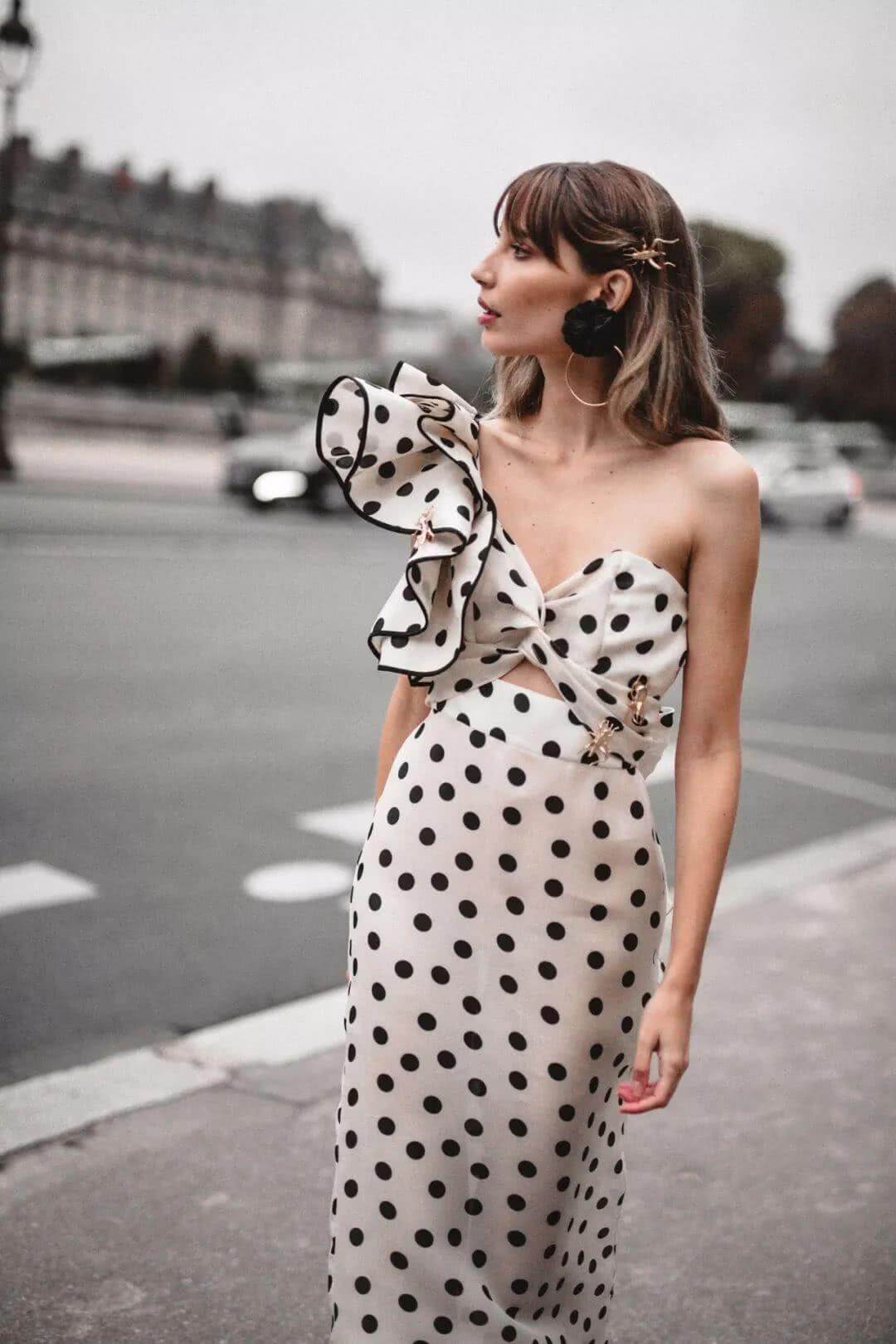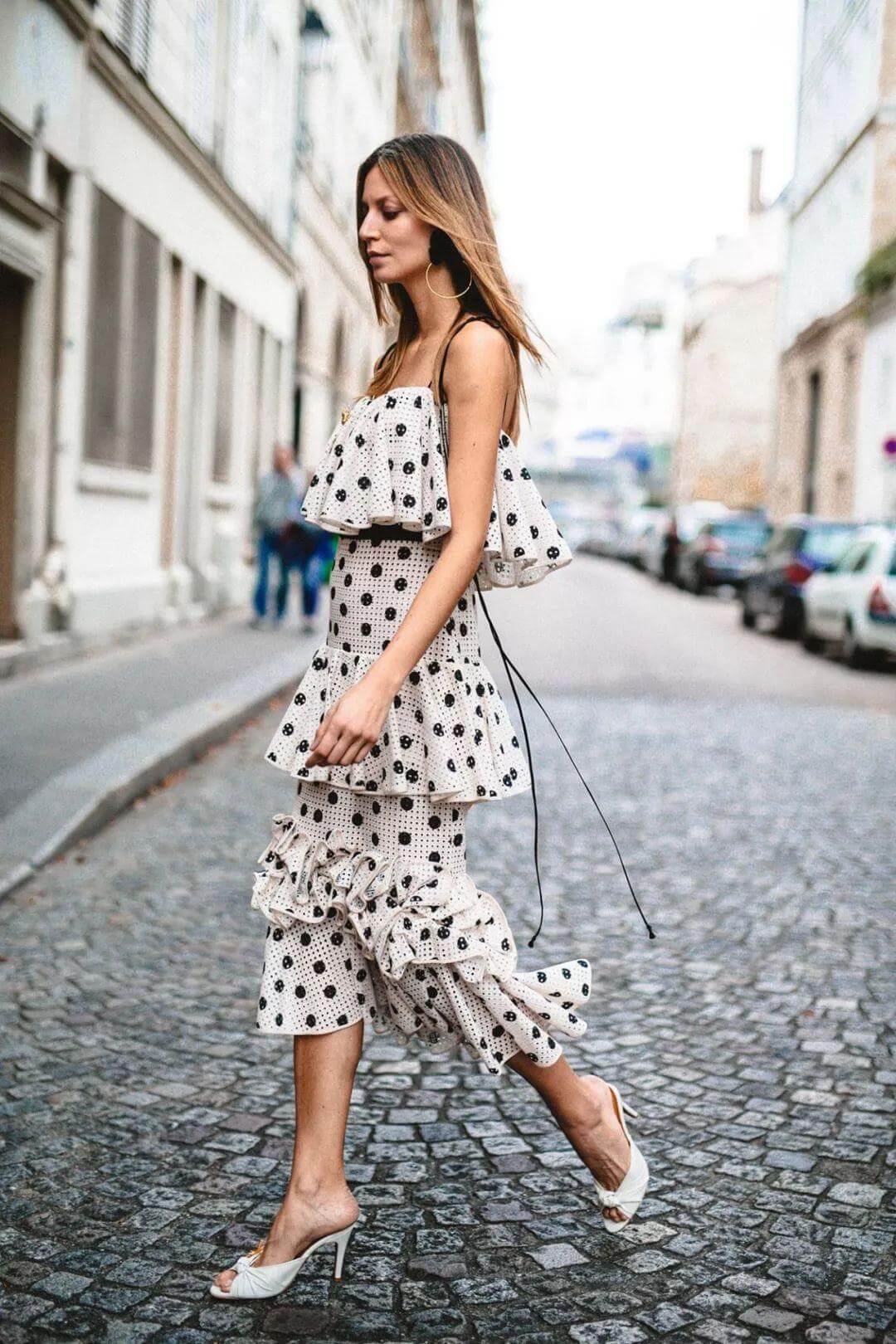 The Polka dot dress with slanting shoulders promises a more feminine look.
To look slim and smart, we do not recommend tightly fit polka dots dresses. To get an appealing look, pull off polka dots that are slightly loose.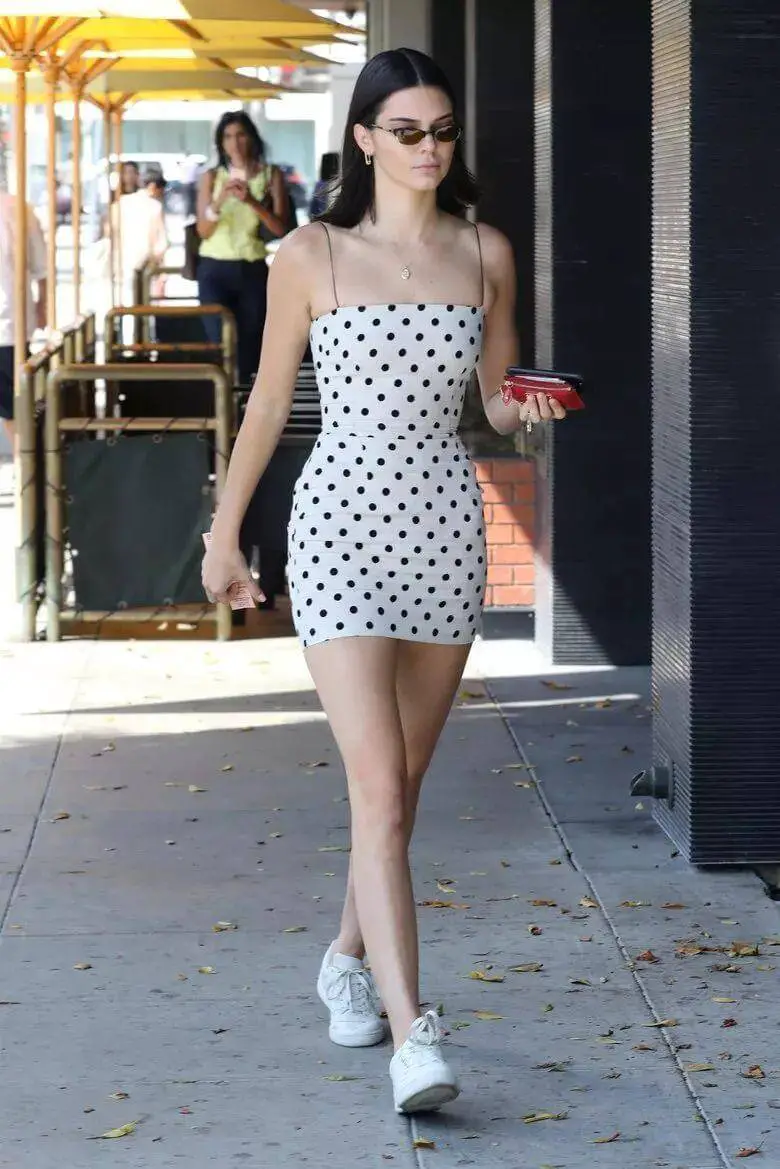 You can try mix and match.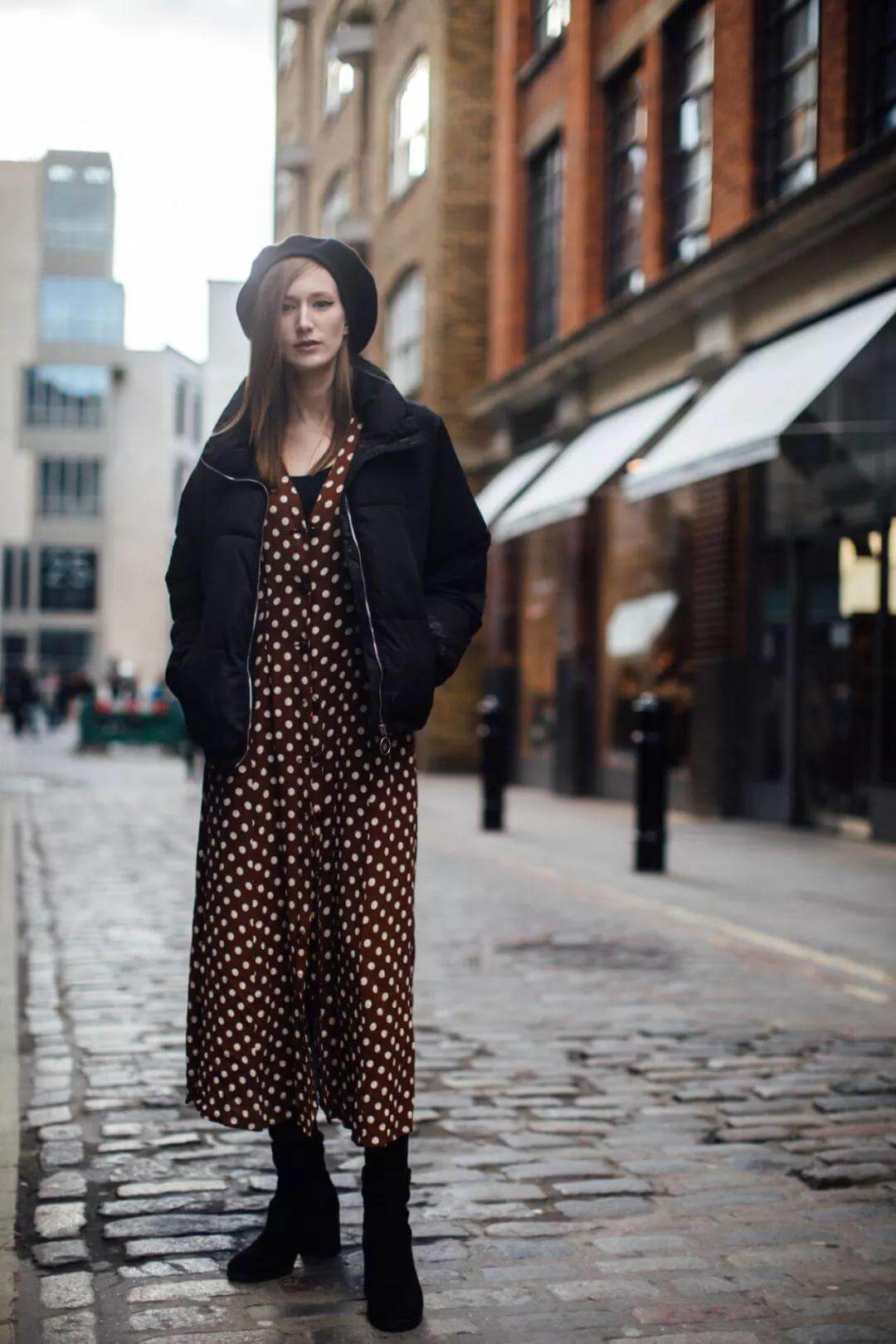 Or wear a direct sweater suit. However, check out this half-skirt, the hottest GanniPolka dot half skirt trend of last year.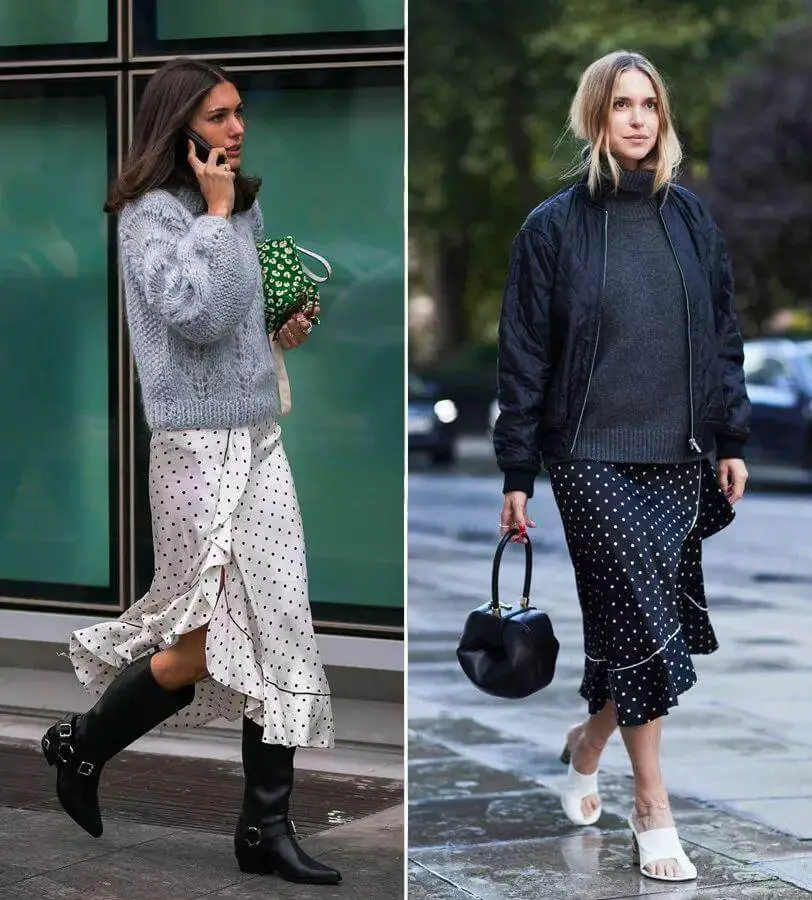 If you want to buy a skirt this spring, it is best to choose the length of the midi skirt It looks both elegant and charming. Pairing it up with a basic white tee gives a refreshing sensation in spring.
Worth investing item No.3: Polka Dot Scarves
Polka dot designs are not limited to clothes only, small sized polka dot single products are also very popular. Pulling off a single item highlights the whole look.
The scarves with polka dot element are also very trendy, especially the slender and narrow scarves.
A small Polka dot silk scarf accentuates your look and style more attractively.  It can also be used to break the dull and boring office look.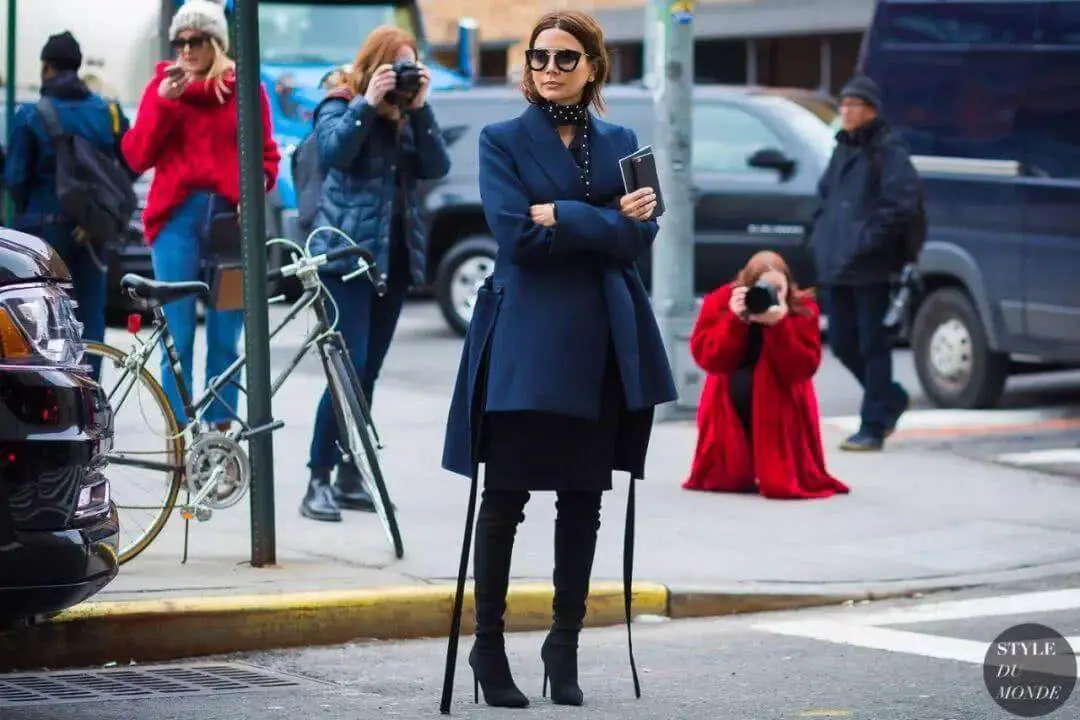 The short scarf is easy to manage. In spring and summer, it can be proved the best embellishment of the neck. If you like to wear a solid T-shirt, simply layer it with Polka dot scarf to add a flair of fun.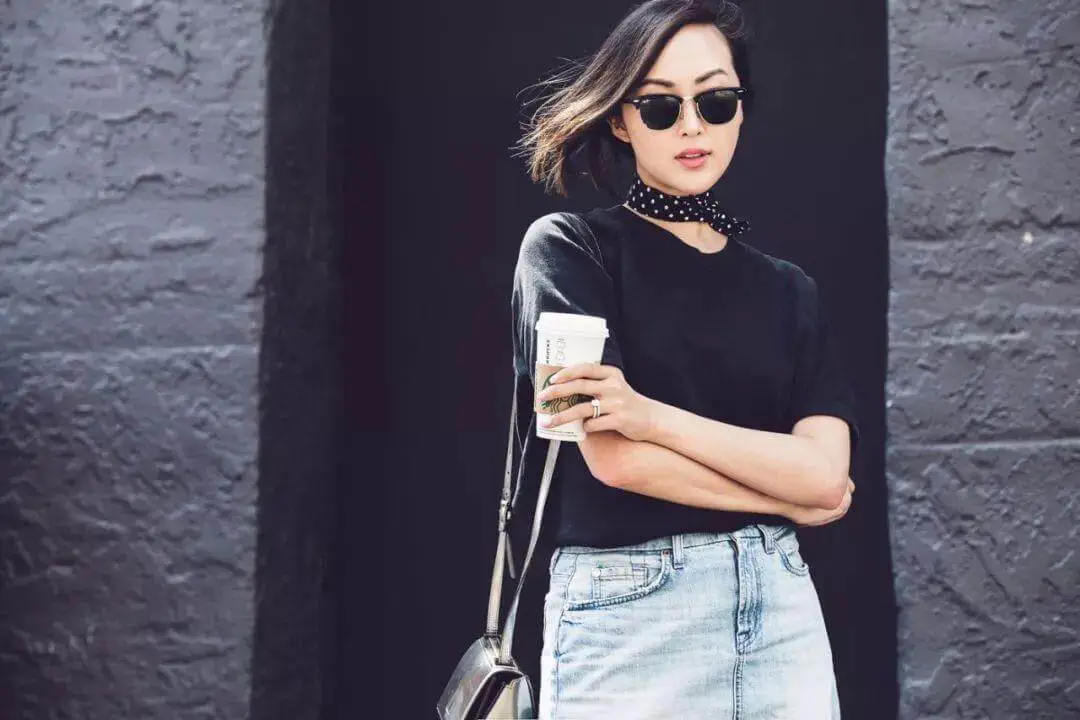 Polka dot silk scarf can also be used as a hair ornament. When embellished in the hair, it looks very smart.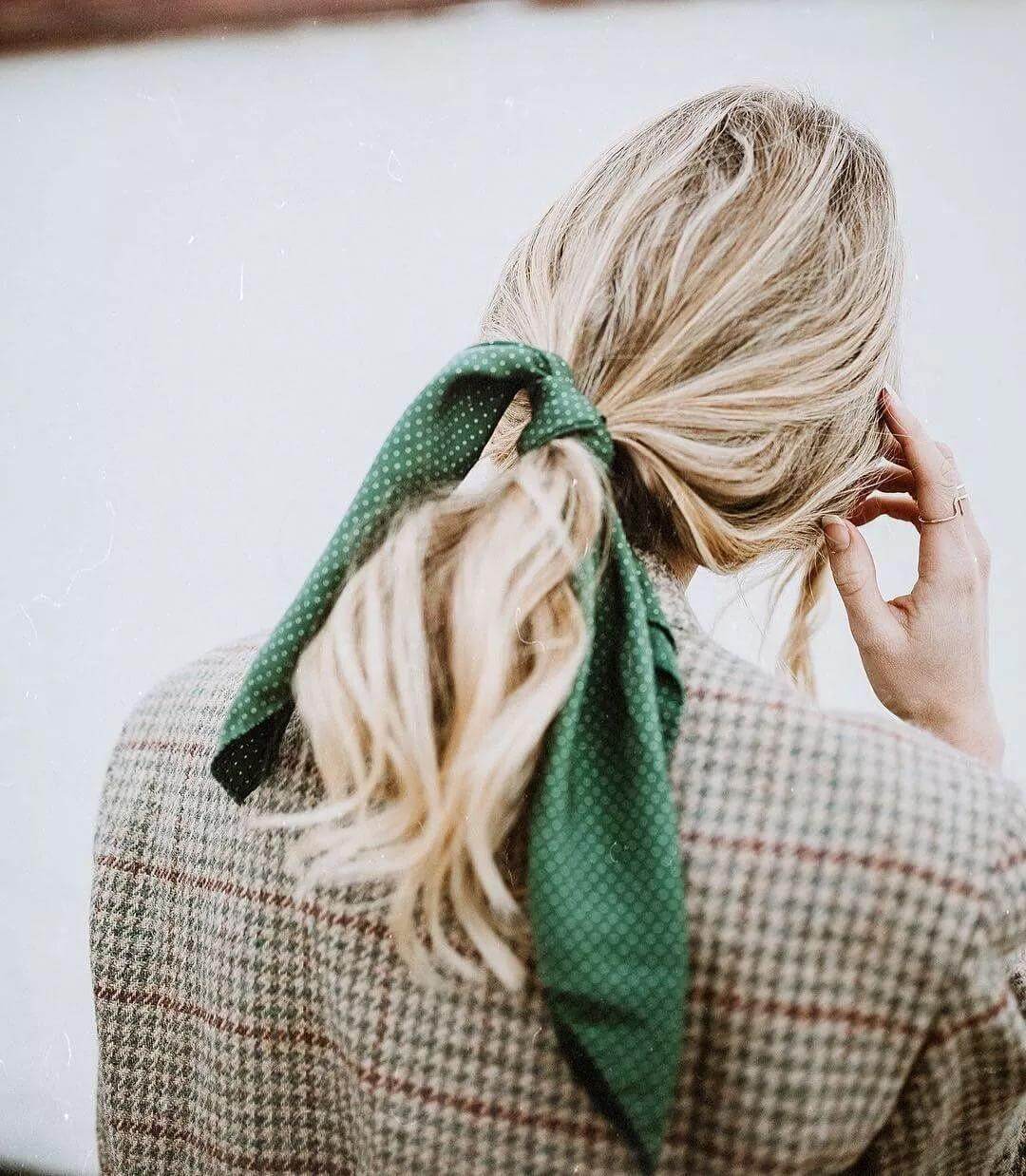 In addition, the Polka dot style is even more stunning when we talk about cat shoes.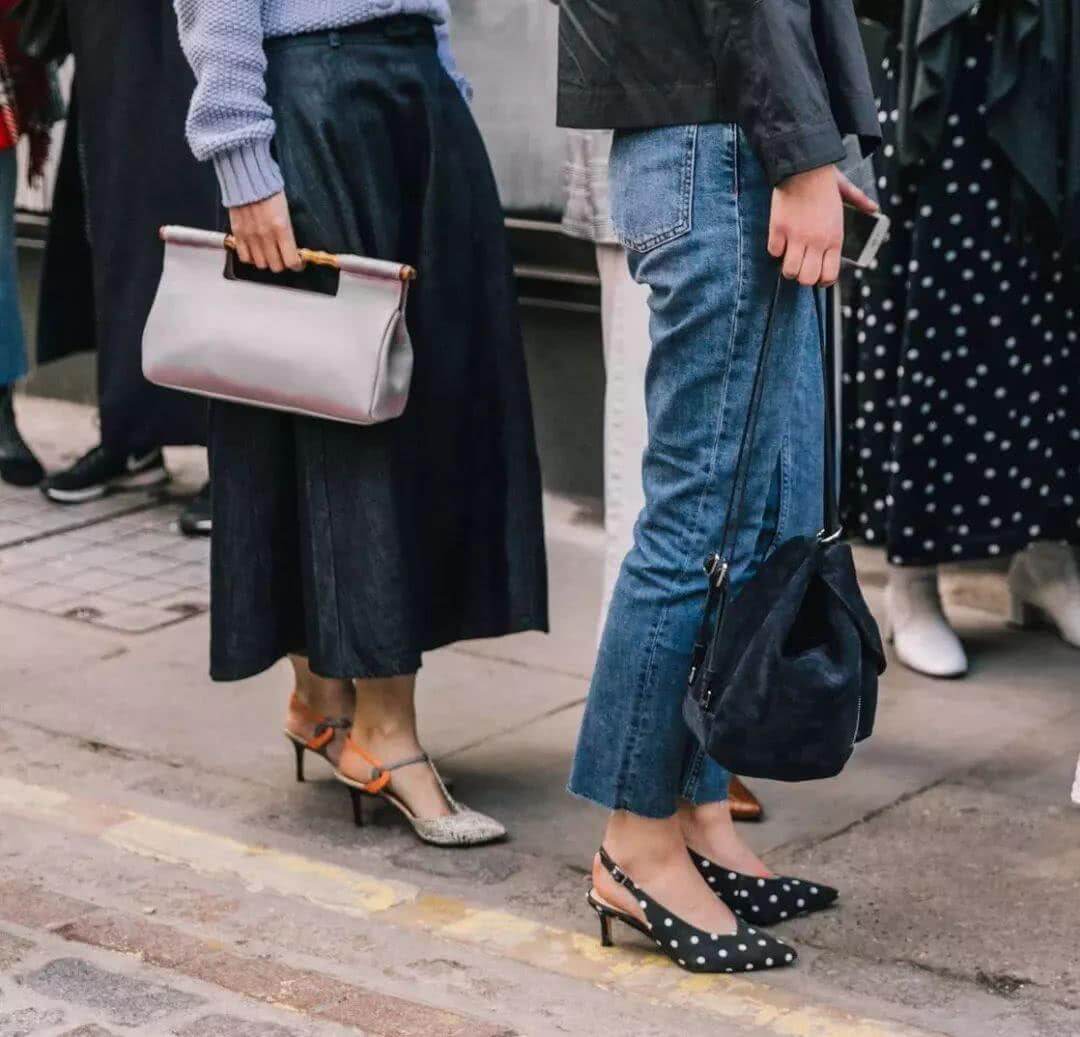 Though shoes are very small in size but wearing them uplifts the whole look instantly.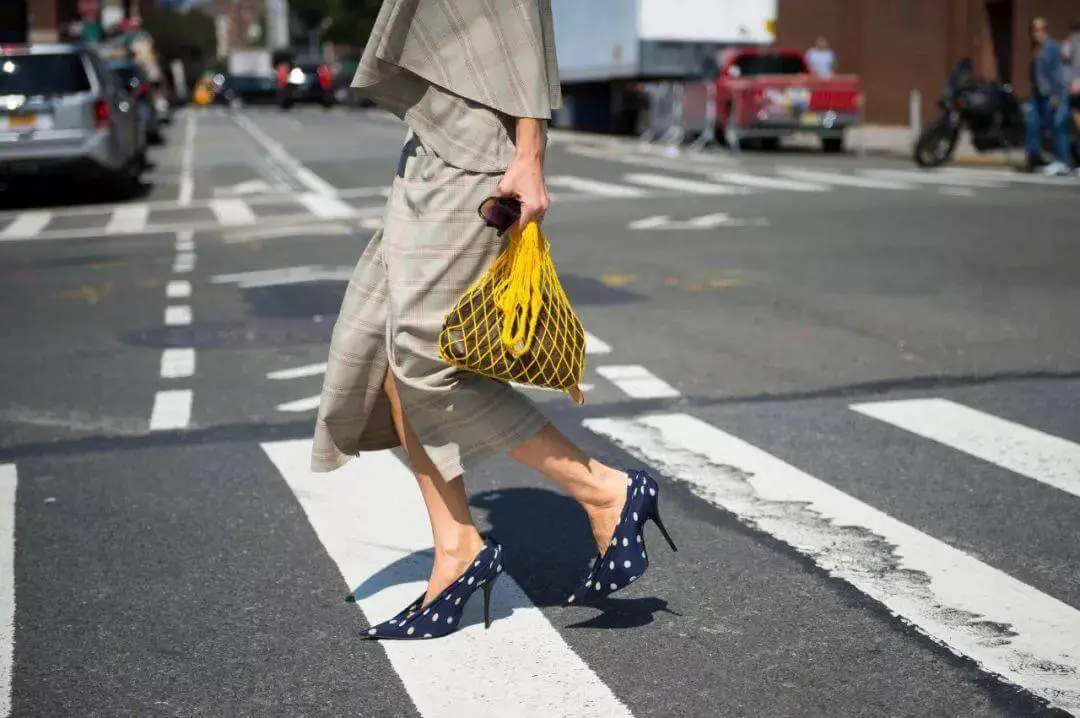 Polka dots have something for boys as well. Boys can use polka dot socks with suits. It is all about adding playfulness.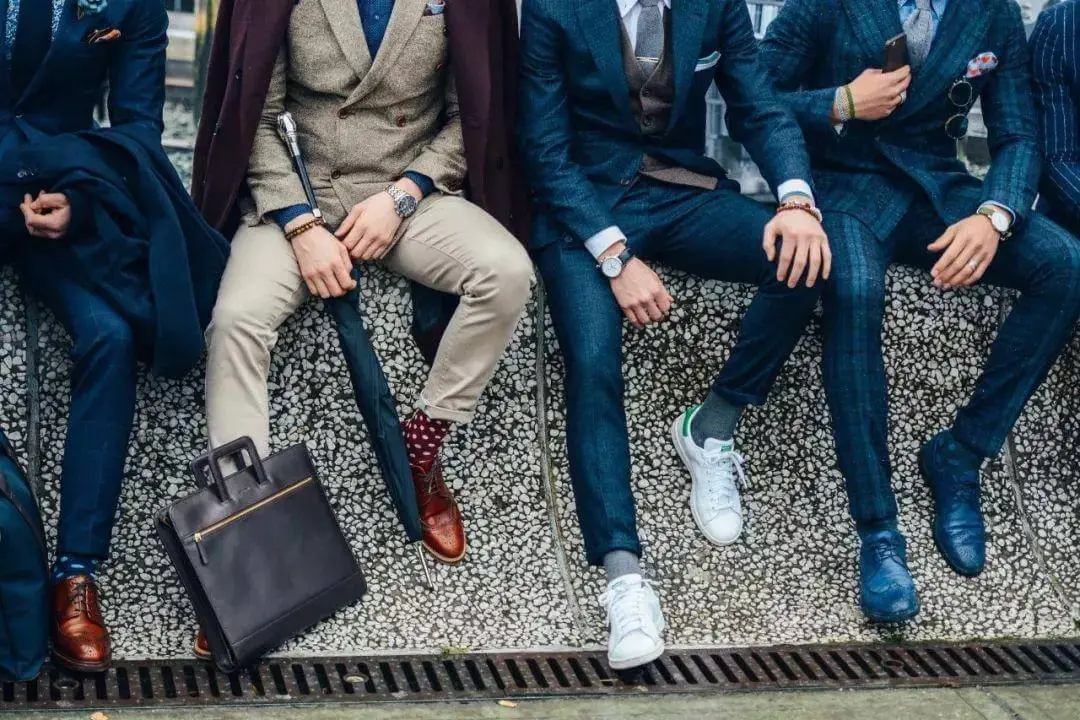 Worth investing NO.4: Polka Dot Swimsuit
Polka dot swimwear is classic. Back in the 1950s and 1960s, it was very popular, especially the high-waisted two-piece. Monroe too wore it, too sexy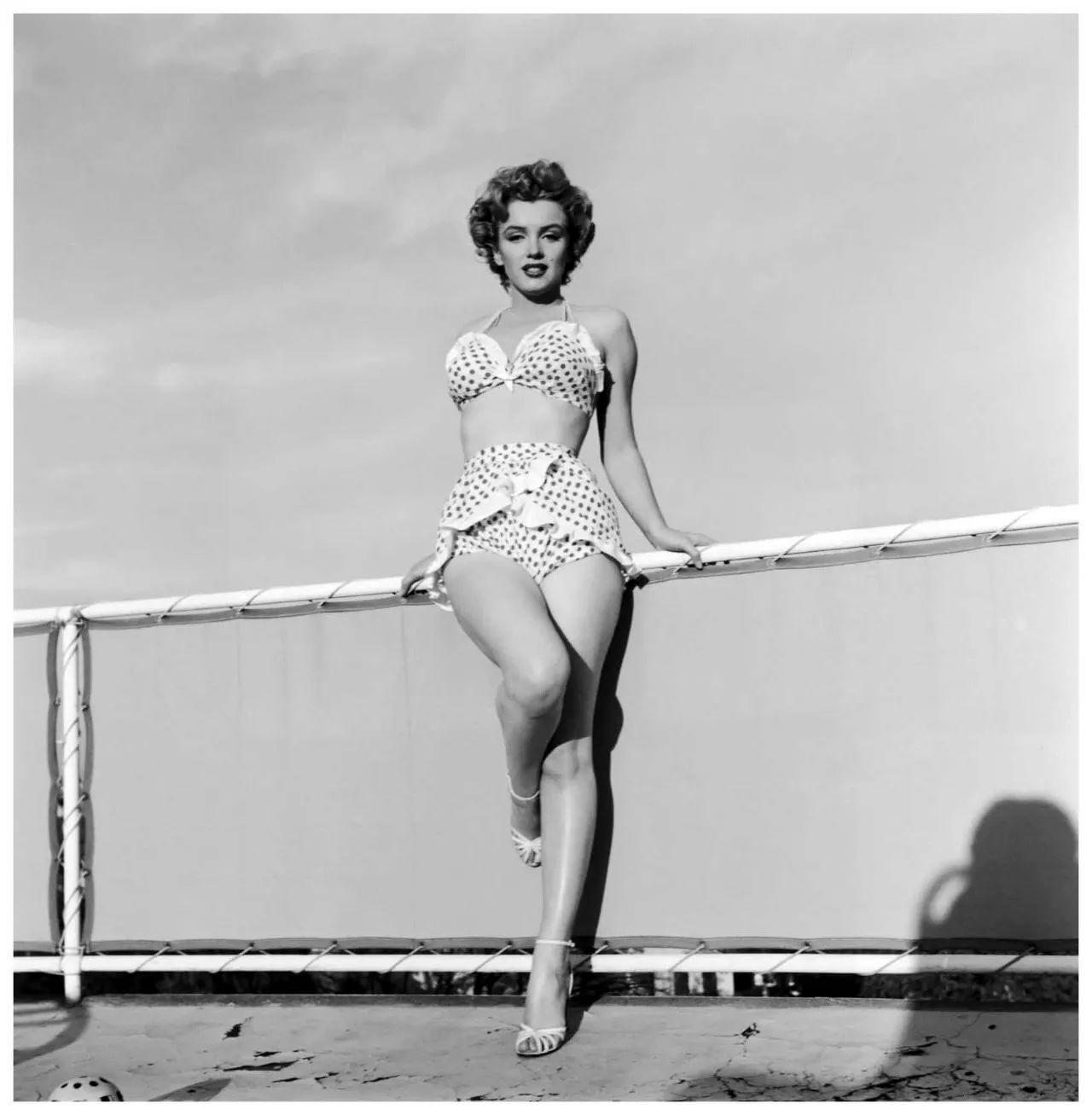 Taylor Swift, who adores the retro style, also loves these swimwears. High-waisted swimwears not just tighten the fatty stomach area but they also help in giving the illusion of elongated legs. ~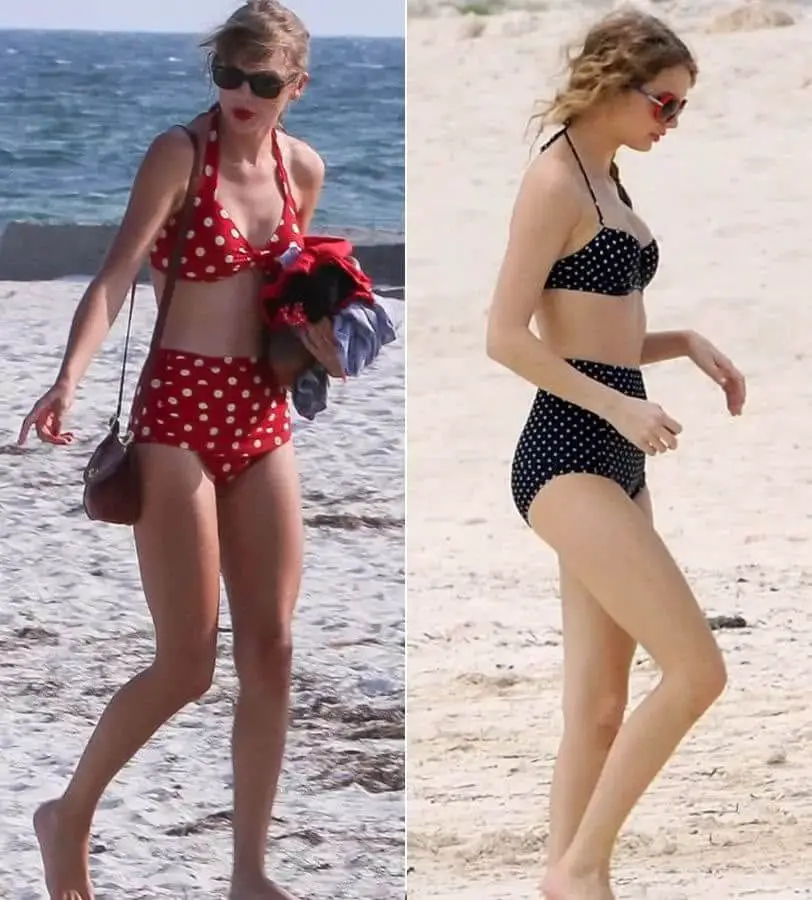 In addition, there are Siamese-style Polka dot swimsuits that look beautiful.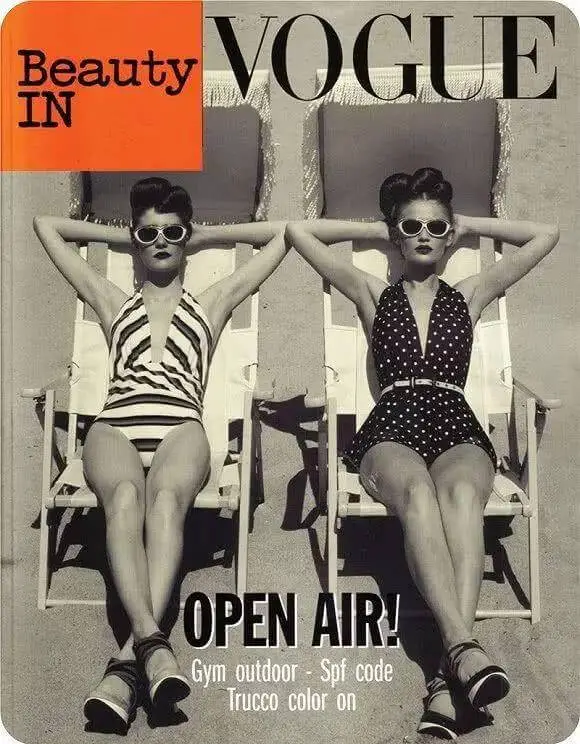 There are many swimwear brands that have introduced such retro styles. The Polka dot element is timelessly classic.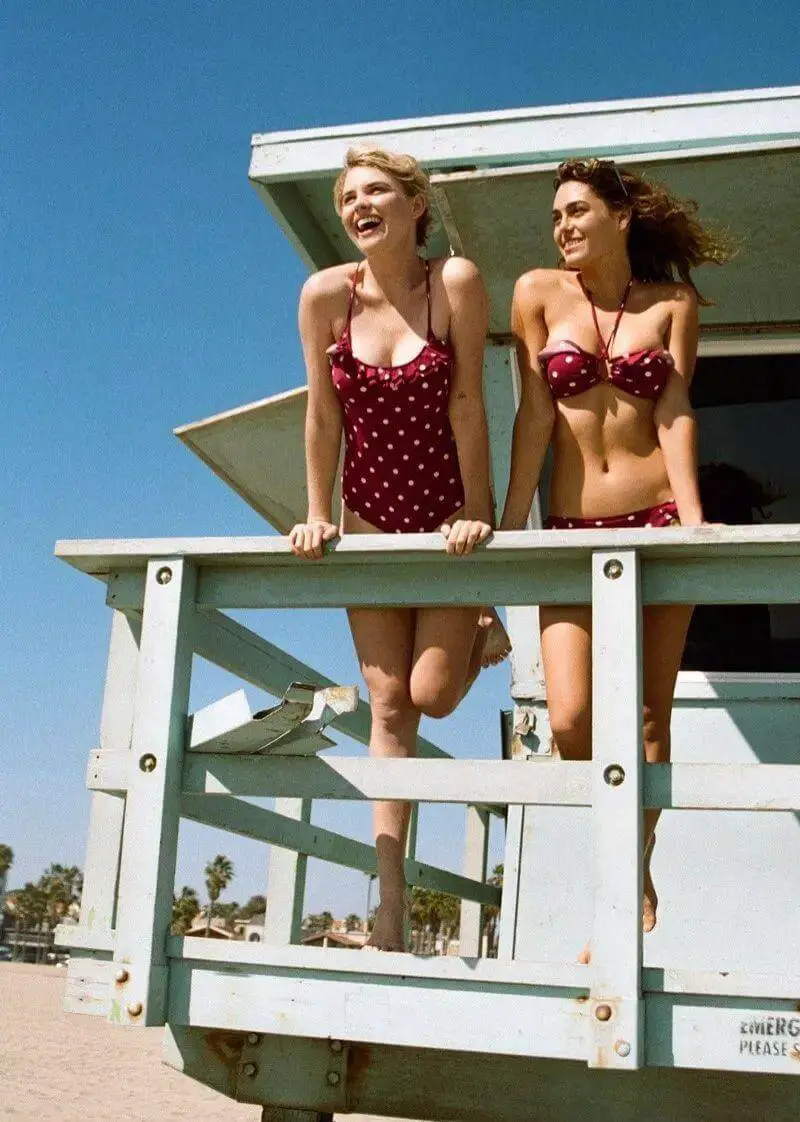 One shoulder or big halter designs promise a younger and fresh look.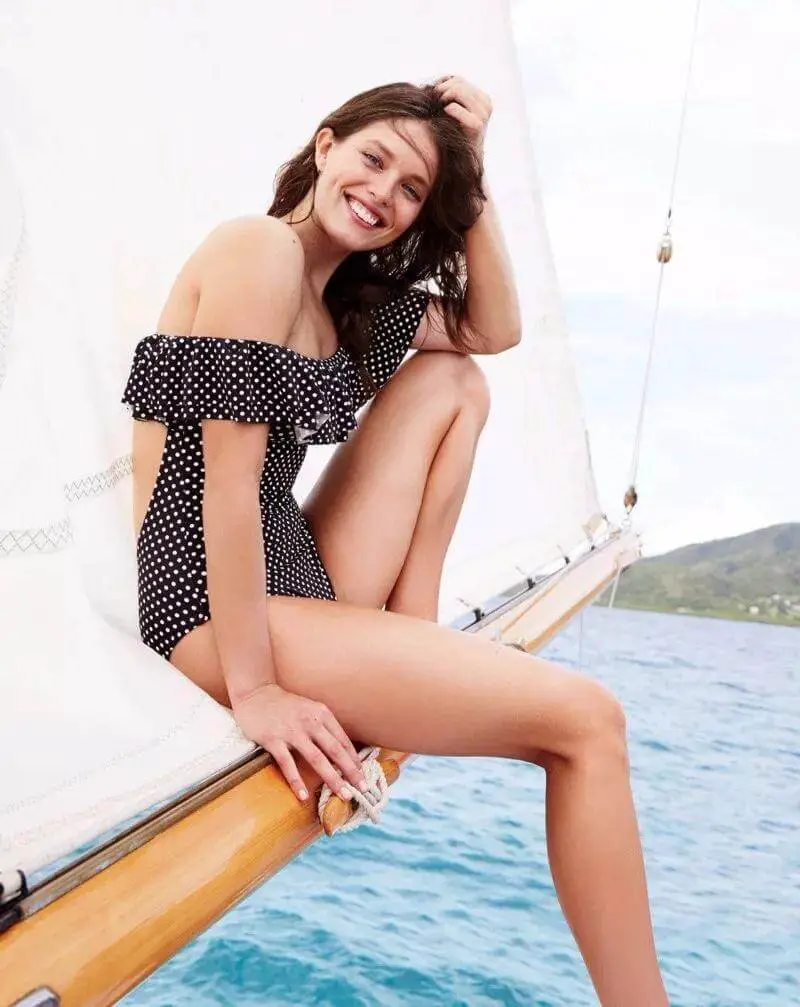 Finally, do you want to go to the beach!
We have recommended 4 Styles of Polka dot single products, which one do you want to buy?