How does a hipster style look like?
If there is one thing we know about hipster girls is that their ultimate goal is to stay as far away as possible from the mainstream.
This is the reason why fashion plays an important role in their lifestyle because, honestly, can we think of a better way of expressing who we really care if it's not by how we dress?

But before we go into further detail, how can you define a hipster girl? To put it simply:
– She doesn't care about popstars. She's more into male bands such as The Black Keys, Arctic Monkeys and The Vampire Weekend
– Starbucks? Not at all. She's more likely to brew her own coffee
– She's a vintage lover without being too obsessed about it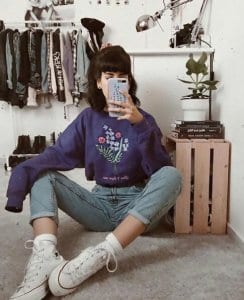 And most importantly: she's definitely super cool and has a great sense of style. But dressing like a hipster is not an easy task, and running out of outfit ideas can be frustrating.
Do you feel like you have just been described? Then this article is perfect for you.
How to dress like a hipster girl
Trying to pull out a perfect hipster outfit will never work because the whole point of a hipster is to look cool and indifferent to others' opinions. BUT deep inside they know that they truly care about their style, so when it comes to fashion, they have to master the art of looking effortlessly cool.
The best piece of advice I can give you is to don't go crazy with your clothes. Keep in mind that hipster outfits combine unconventional and basic, comfortable items.
Here are 8 outfit tips that will help a hipster soul like yours.
Hipster clothing for girls
1. Button-down shirt
A button-down shirt will give you an instant look of vintage and coolness like no other item. A true hipster style has a subtle nod to both the 50's and 90's fashion, and a shirt like this is definitely inspired by these two decades.
If it's solid, try to wear a desaturated color palette. Dusty shades of pink, orange, yellow and green are some of my suggestions.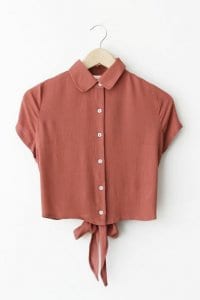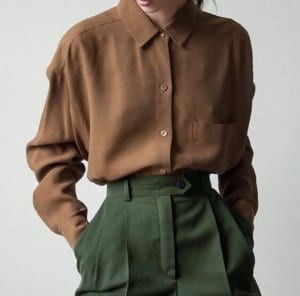 What's cooler than black and white? These two colors should never be ignored in your hipster wardrobe.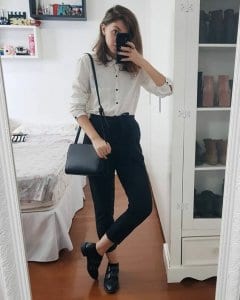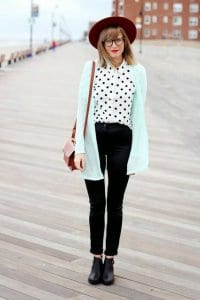 Shop The Look
---
Click the picture to buy
Do hipsters wear prints?
A big loud YES, but these prints are usually geometric and retro/vintage inspired.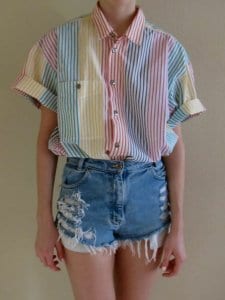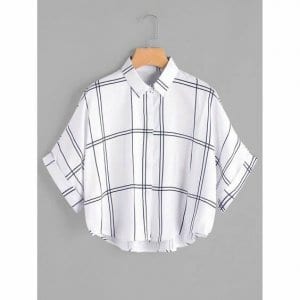 Floral prints are another great option for hipster girls' fashion. These will definitely make you look cool, as long as they don't look extra feminine.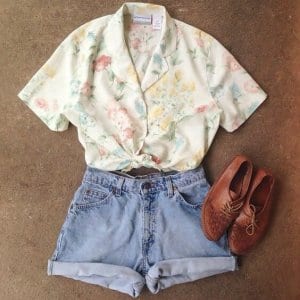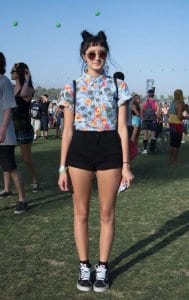 Shop The Look
---
Click the picture to buy
When it comes to prints, remember to stay away from the mainstream, cute and girly designs. If you want to play it safe, opt for bold and geometric styles, such as a striped shirt.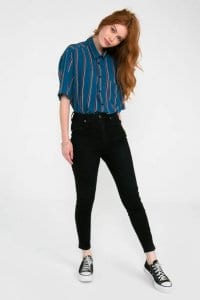 2. Unconventional prints
Yes, I know I just mentioned retro and vintage, but unconventional prints need to be discussed in further detail.
How to look like a hipster girl? There is nothing that screams hipster more than "weird" and out of the box-kind-of prints.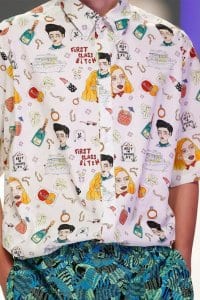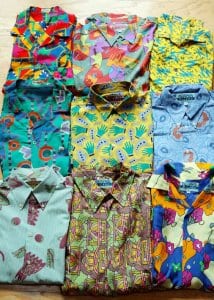 When in doubt, remember that cats are your best friends: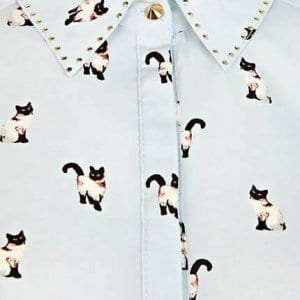 Shop The Look
---
Click the picture to buy
3. Oversized shirts
These shirts are perfect for dressing like a hipster girl because they look comfortable and effortlessly cool and casual. Try wearing them on top of a t-shirt, either buttoned or unbuttoned.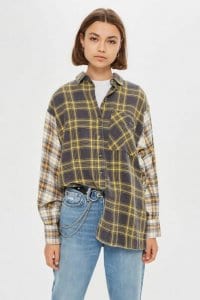 Budget-friendly tip: take a tour of your boyfriend's or dad's wardrobe. You will be surprised by how many goodies you will find.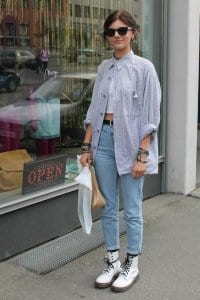 Shop The Look
---
Click the picture to buy
4. Mom, can I have your jeans?
When it comes to jeans, it's all about the '90s. Mom jeans are for hipster girls what skinny jeans are for mainstream girls. What's important is not necessarily the wash, but rather the style and fit of the jeans.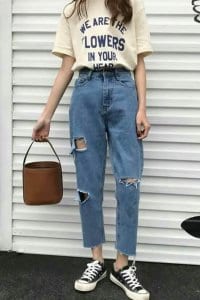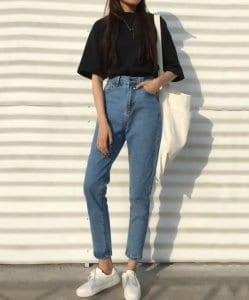 The thing about hipster girls is that they don't try to show their body that much. Of course, you want to look feminine, but accentuating your curves is usually not one of your priorities.
This is why shorts should also look vintage because they're not as tight as most denim shorts are.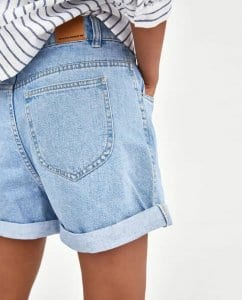 If you want to wear skinny jeans, go for it! Just try to choose high-waisted ones with a half-tucked t-shirt or buttoned-down shirt.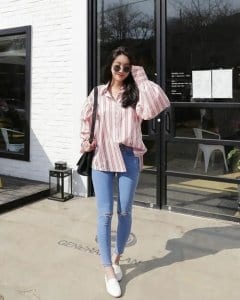 They can also have nautical-like buttons like this one: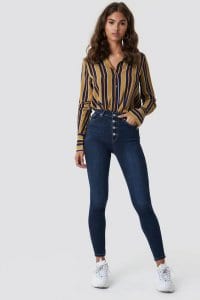 5. Plaids everywhere
There is nothing better than making the most of a current trend. Plaids are stronger than ever, and even though hipster girls don't care about what everyone else is wearing, you can still rock plaids while being loyal to your style.
The best way to wear them is on oversized shirts like I showed you before: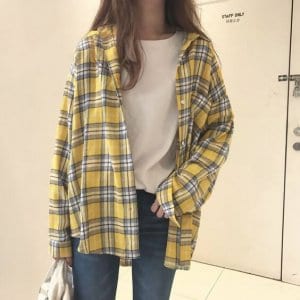 Plaids also look great on bottoms. Just pair them with sneakers and you'll get instant hipster vibes.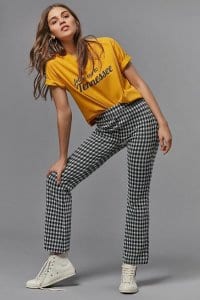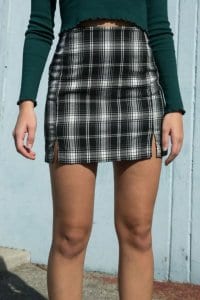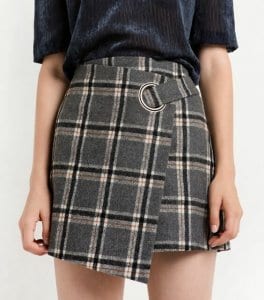 Shop The Look
---
Click the picture to buy
6. The Preppy style
A preppy style can provide endless inspiration to a hipster girl because both have in common one thing: in one way or another, both styles tend to strive for an intellectual look.
But the difference is that preppy girls' style is extremely polished, while a hipster has an effortless and comfy vibe.
Either way, I suggest you look at preppy clothing to get more hipster outfit ideas. I can guarantee you'll find many!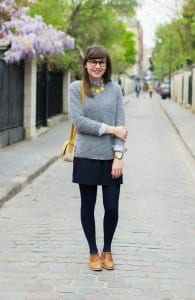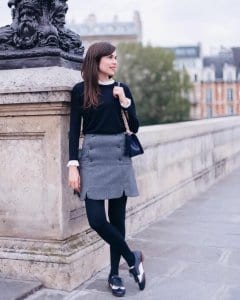 7. The shoes
Hipster fashion for girls pays a lot of attention to shoes.
Sneakers can be from brands such as Vans and All-Stars. Try wearing them with striped or colorful socks to add a little extra to your hipster look.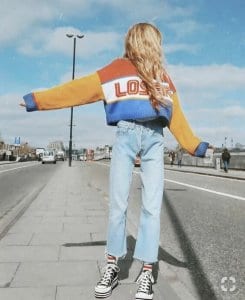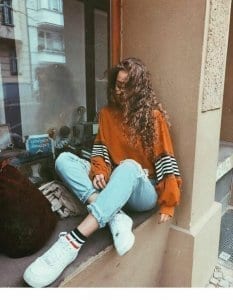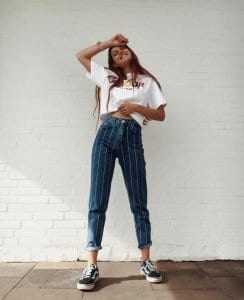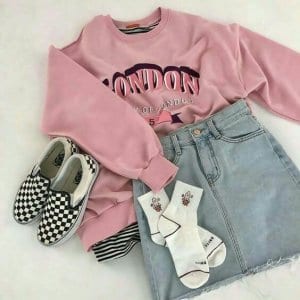 Super mainstream brands like Nike or Adidas can also work, just choose the most vintage looking styles like this one: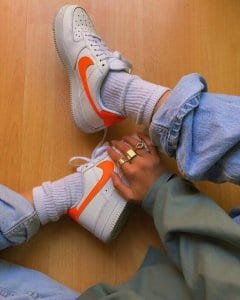 Ankle boots are also a great option for a hipster look: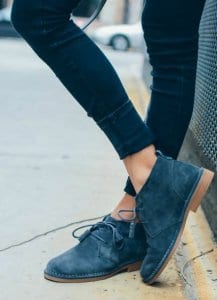 Dr. Martens inspired style (or the actual brand) should also be on your radar.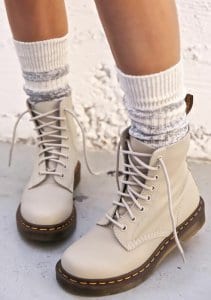 Other cool shoe options are: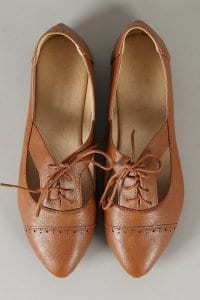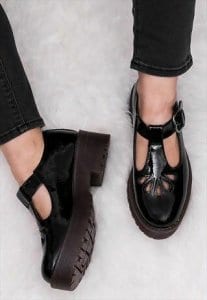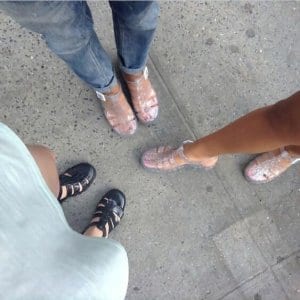 For sandals, I suggest chunkier styles such as these ones: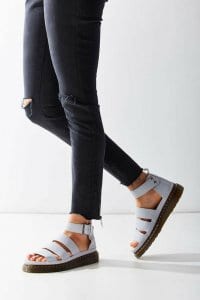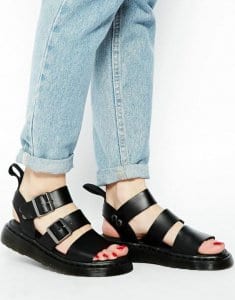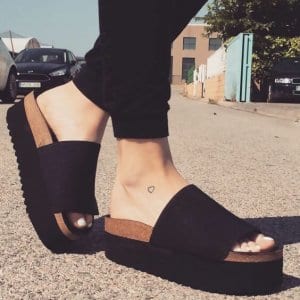 8. It's all about the eyes
There's nothing more obvious than a hipster wearing glasses. This is one of the key items you should never miss in your wardrobe, as it will add that cool and smart vibe to your outfit.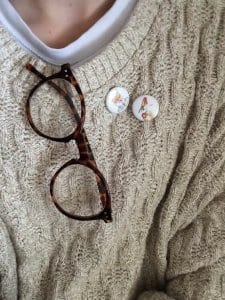 The best glasses are the ones that have round frames. These ones are automatically associated with hipsters, so you can almost forget about everything else and just wear your glasses.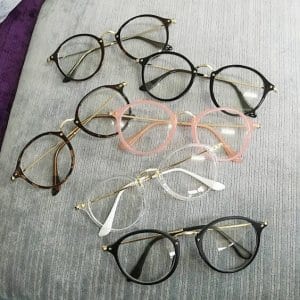 If you want to stand out from the other hipster girls, then try some unconventional frames. I truly believe investing in different glasses is one of the most important things for hipster fashion.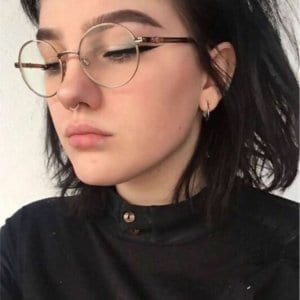 Transparent frames are perfect if you don't want to make your glasses too obvious. They're also perfect for faces with delicate and soft features.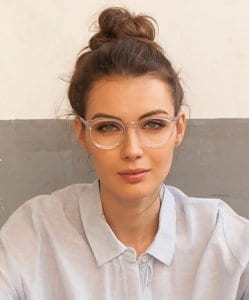 If you're usually gravitating towards vintage, I'd suggest going for 70's inspired frames.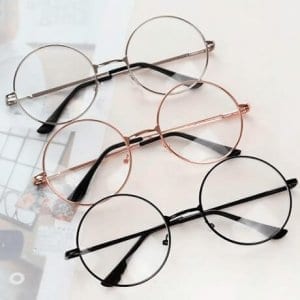 Can hipsters wear colors?
Definitely.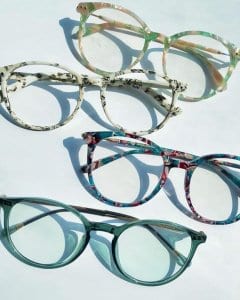 As you've seen from my previous examples, a hipster girl can totally rock colors. Try adding them on your frames! They will come in handy when you just want to wear a black and white outfit.
Sunglasses are the definition of cool. To include them in your outfits, make sure they look both vintage and classic.
Don't go for unconventional sunglasses because that's what top models like Gigi Hadid, Kendall Jenner, and Kaia Gerber are wearing right now. The last thing you want to do is look like you're following trends.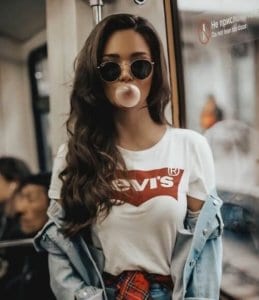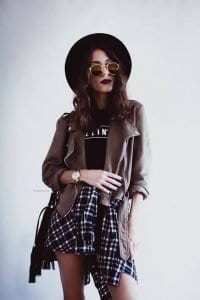 You can also choose sunglasses from the '70s. There are few things more vintage than John-Lennon-vibe shades.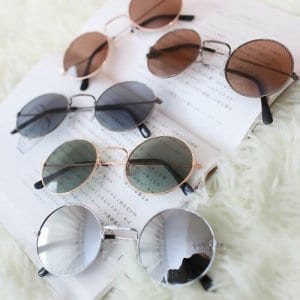 Another key item you don't want to miss is a hat. Wear hats and glasses and you will be the definition of a hipster girl.
I would suggest having a black hat just because it goes perfect with absolutely anything.
But you can also get creative and add some color because… why not? Just keep the rest of the outfit very simple: a vintage t-shirt and pair of jeans.
Wrap up:
What I love about hipster fashion for girls is that there are no specific rules to follow. I think you should try new things because the worst that could happen is realizing it might not have been the best choice.
Hipster girls are confident and creative, and each one of them has a unique way of interpreting fashion. The basic rules of this style are simple: comfy, oversize, vintage and retro, with a small touch of classic.
These 8 outfit tips and ideas will help you understand the basics of hipster fashion, but the rest is up to you. Have fun expressing and embracing your style!