The story behind preppy fashion
Have you ever been curious about preppy outfits? There's something about this style that makes everyone try it at least once in their life.
The story behind the preppy style dates back to the beginning of the last century, becoming more established around the '50s. The word "preppy" comes from preparatory, and the genuine preppy style was developed among the upper-class college students who attended these private and expensive "prep schools".
These schools' main goal was basically preparing students to enter the Ivy League universities such as Harvard, Yale or Princeton. But the style was not exclusively for academic purposes, but was also reflected in the activities related to wealthy people such as polo, tennis, hunting, swimming…
That's why a preppy style is associated with upper-class society and dressing like this involves showing-off "expensive brands"
But there are many other ways in which you can pull off a preppy look without having to spend tons of money.
What is a preppy style
Now that we know the origins of the preppy style, let's talk about what are the things that make a preppy outfit, well, preppy.
In this article, you will find 8 typical characteristics of this style while giving you preppy outfit ideas you can recreate to showcase a cute look.
To add some fun to this preppy style guide, keep in mind Blair Waldorf from Gossip Girl and her signature style, and try to catch the similarities I will share with you in the following points.
Preppy Style Guide: 8 Tips To Help You Create Cute Preppy Outfits
1. Bow-tied collars
One of the secrets of dressing in a preppy style is to try to make an ensemble that reflects or looks academic.
That's why bow-tied collar blouses are a go-to option for any girl who wants preppy style clothing in her wardrobe. It's a super feminine top that's also easy to wear: with jeans, skirts, trousers, shorts…
So think of it as an investment!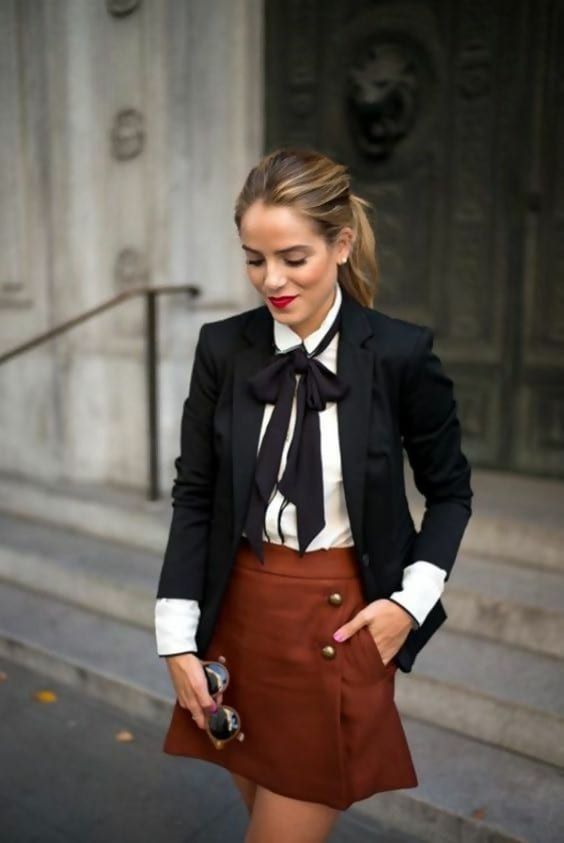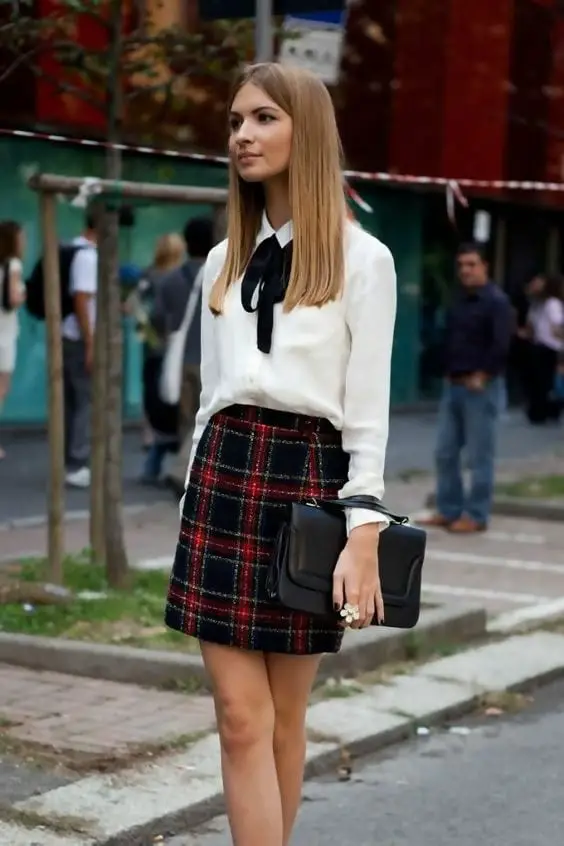 You can find a bow tied collar tops in many stores and in different and cute styles, making it an easy option to wear as a preppy outfit for school. For example, if you have a boho style but want to dress more preppy, your bow-tied collar top will similar to this one: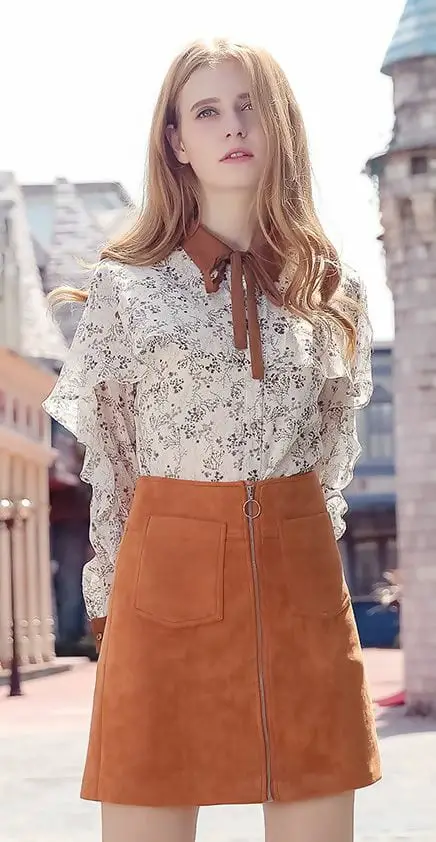 Or if you're more into the vintage style, then your preppy outfits will be close to this: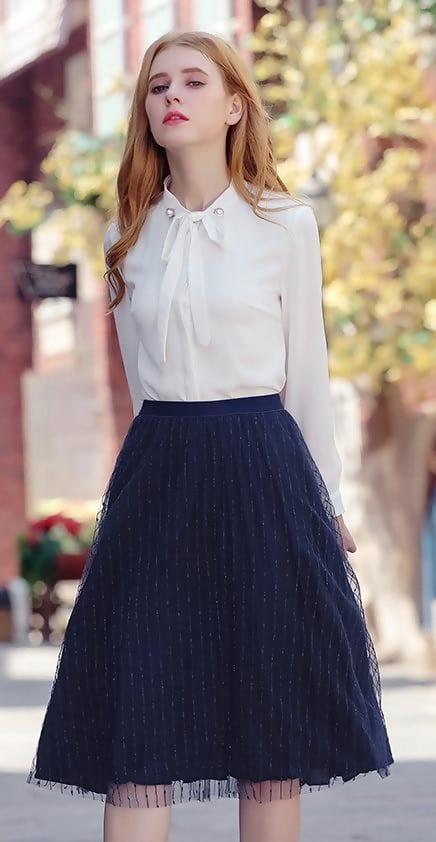 If you want to look less academic, you can perfectly wear a bow-tied neckline with your skinny jeans for casual preppy outfits: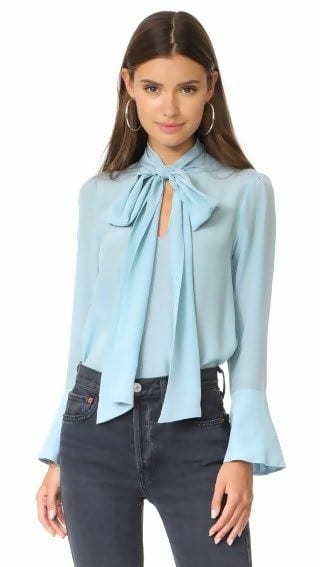 Or switch your jeans for high-waist pants and you're ready for a business meeting: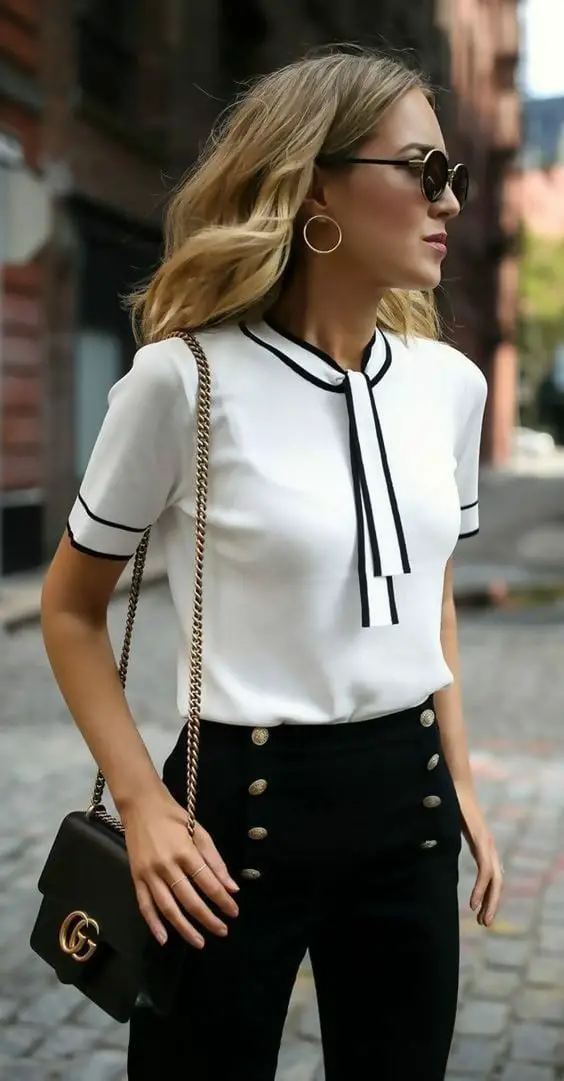 You can also transform a cute preppy outfit into an edgier look by wearing leather leggings: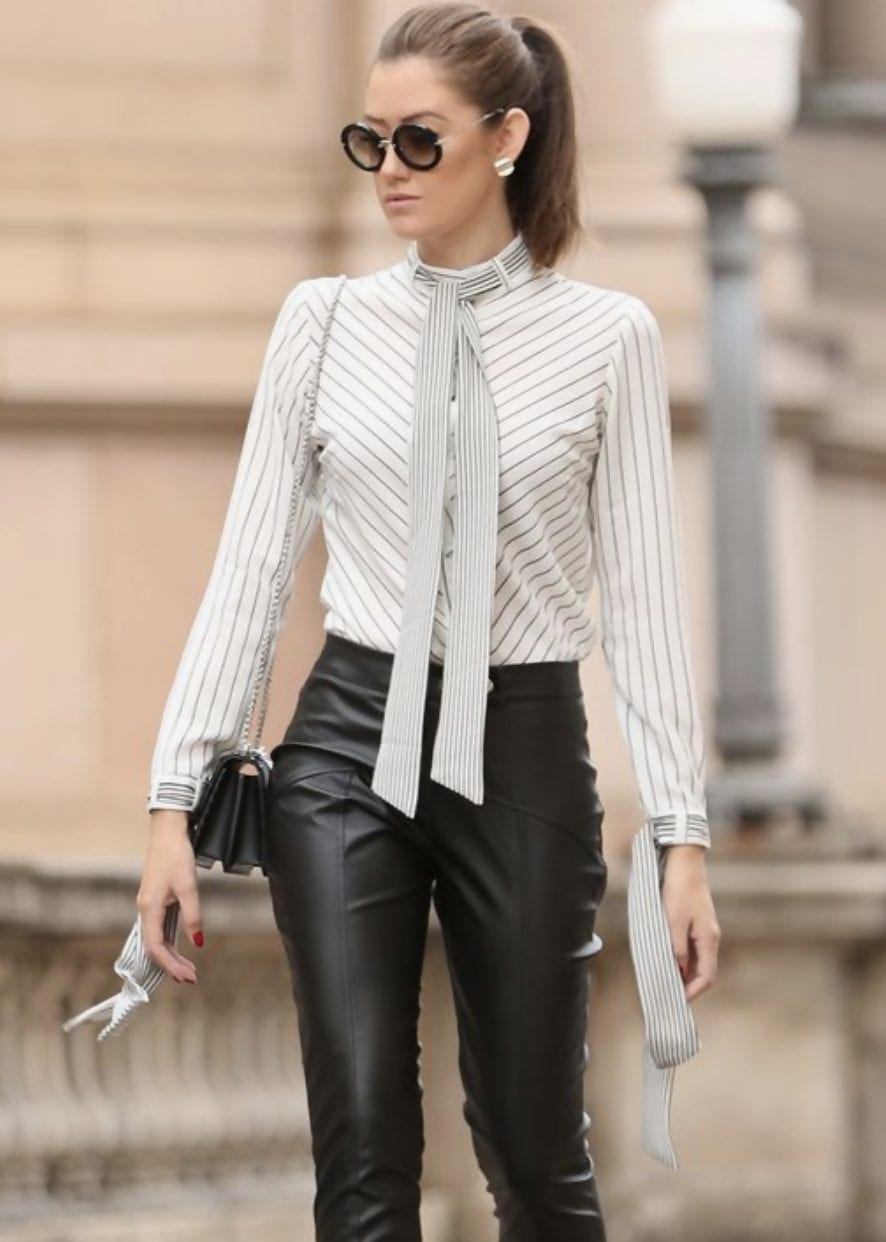 And why not bow-tied neckline dresses? They look super classic, sweet and preppy: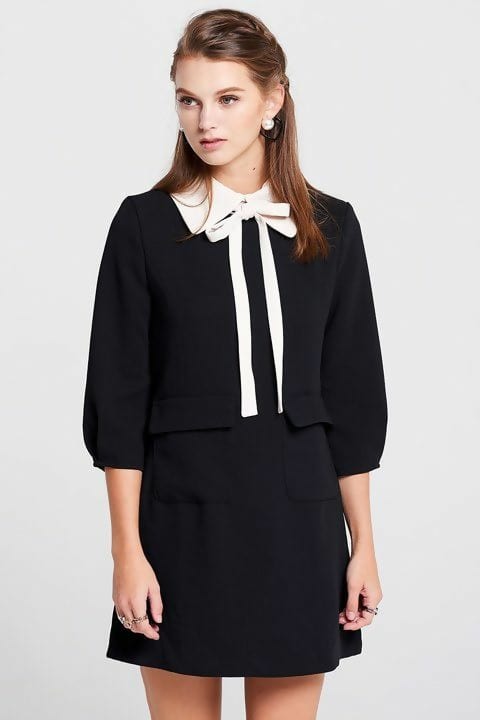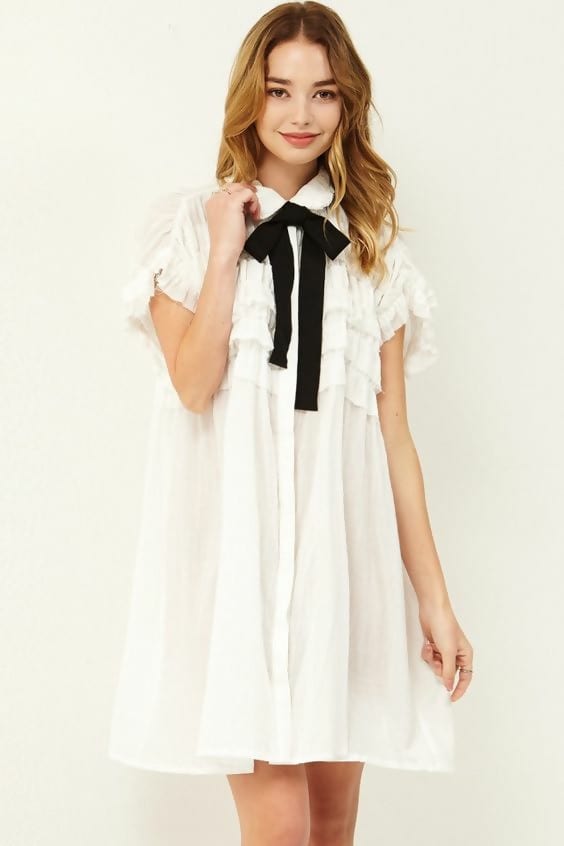 2. Blazers
What's a wealthy girl doing in a college without a blazer? This item has been strongly associated with preppy style because of its academic look, and that's why you need to own at least a pair of cute and perfectly fitted blazers.
Even if you don't want to look too formal, you can still wear blazers with your jeans and a pair of flat shoes.
Sometimes we think blazers are solely for business meetings or for work, but you can perfectly wear them with casual outfits on those days when you feel like adding a touch of chicness.
Here are different ways in which you can wear your blazer for multiple purposes: from work and college outfits to chic casual looks: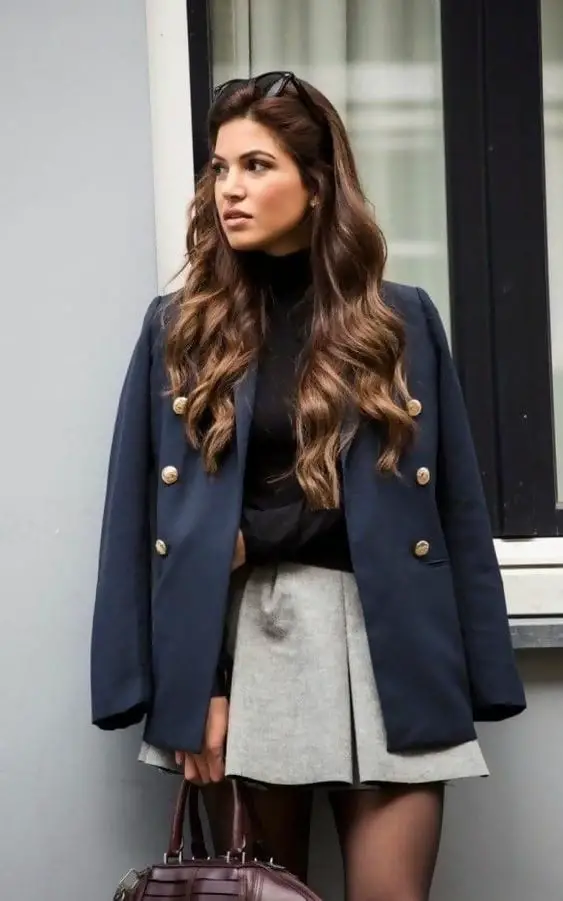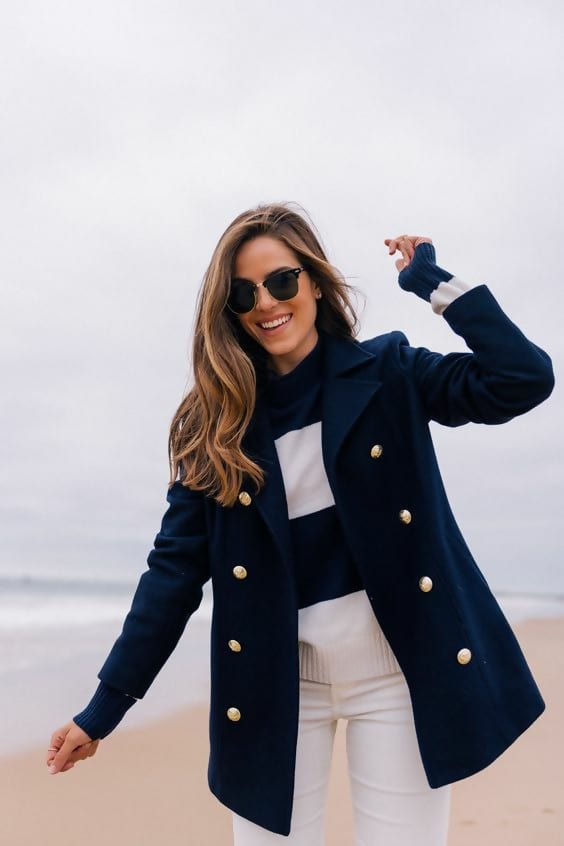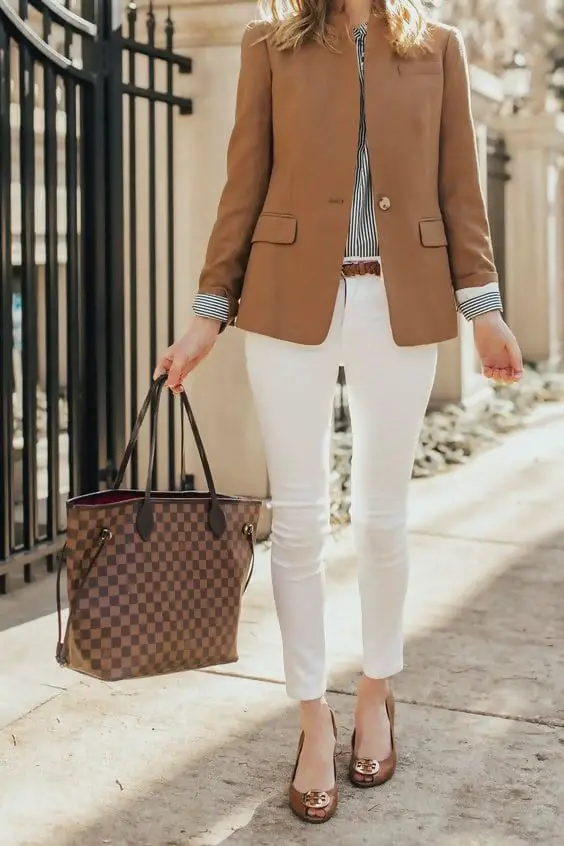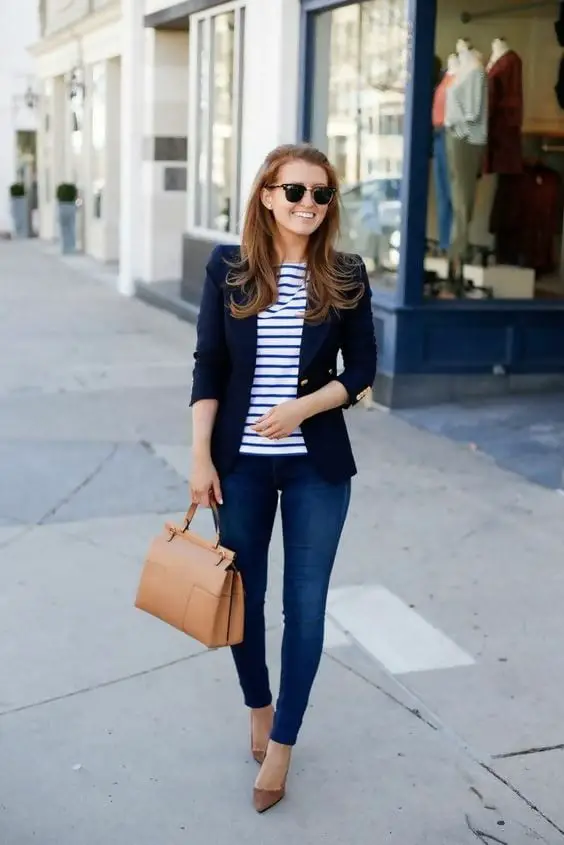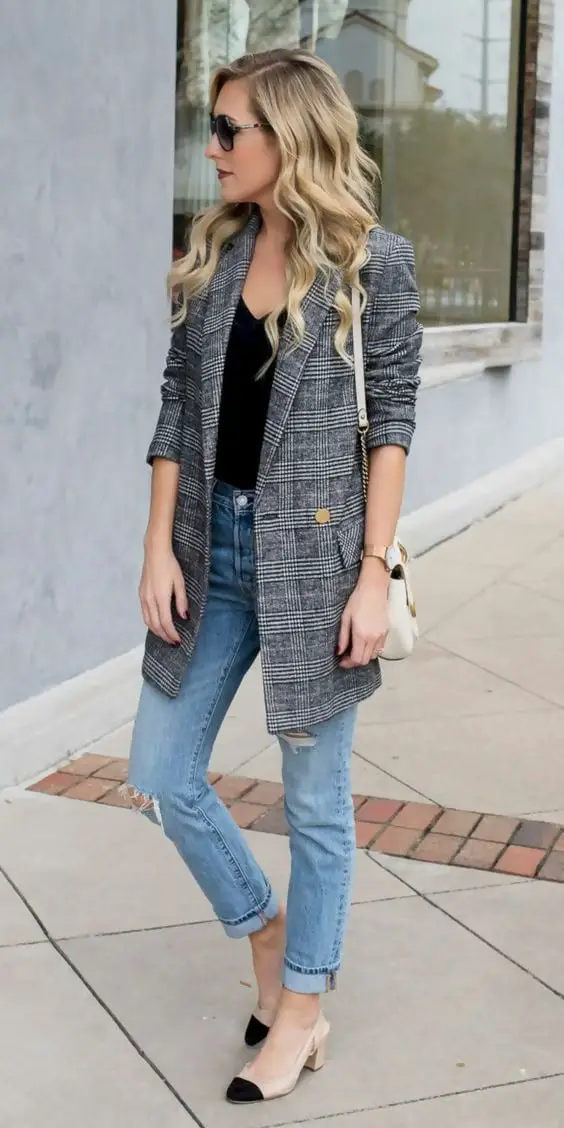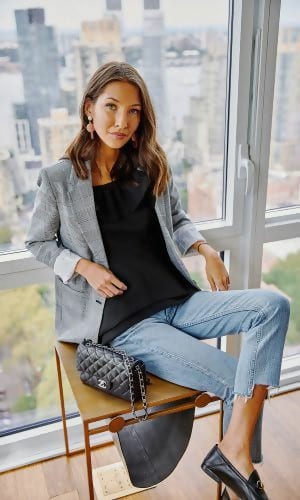 3. Crew-neck sweater
A crew-neck sweater is another classic preppy item you can wear. This is probably the easiest piece to style because you can wear it for absolutely any occasion and pair with anything you like.
All you have to do is own one or two in neutral colors such as navy blue, camel or ivory, and mix-and-match it with any bottom you like. The thing about a crew-neck sweater is that, just like a blazer, it has a strong statement look that screams "preppy", and that's why you don't need much to prep up your outfit apart from this sweater.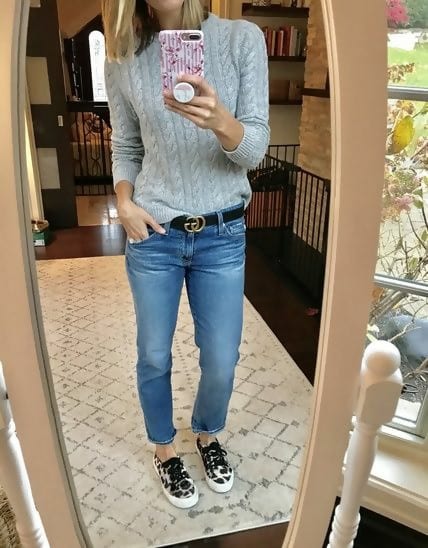 But, if you want to take your outfit to the next level of preppiness, make sure to wear it on top of a button down to show some collar action, and add your favorite necklace.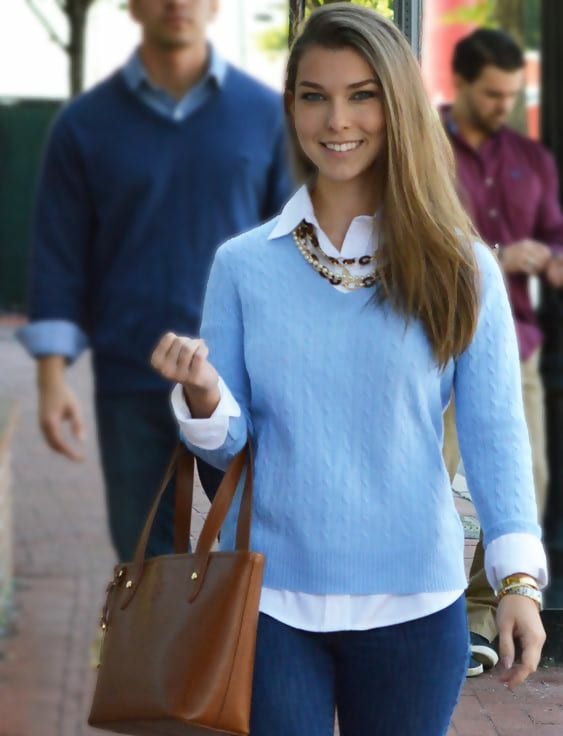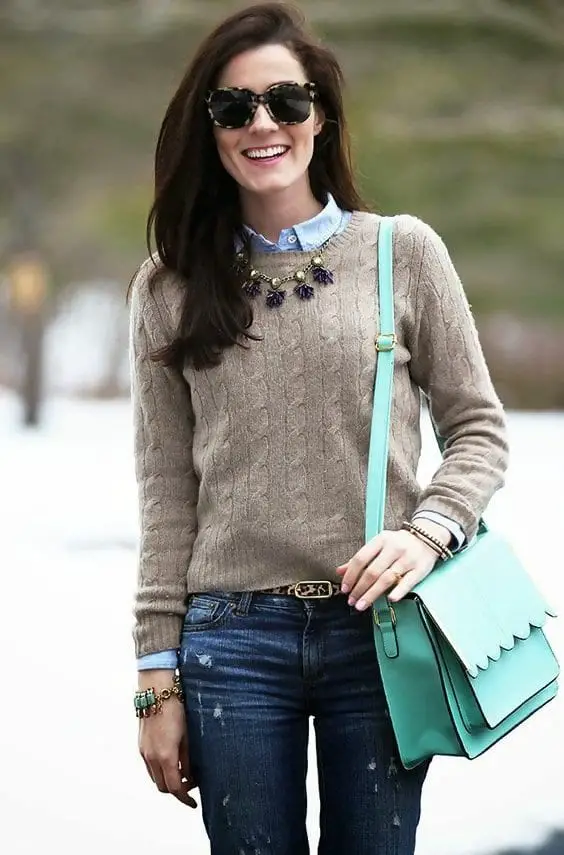 This is an iconic preppy style look easy to recreate. It's polished, chic and glamorous without losing your smart looks
The combination of crew-neck sweater, collar and pearl necklace is another must-do: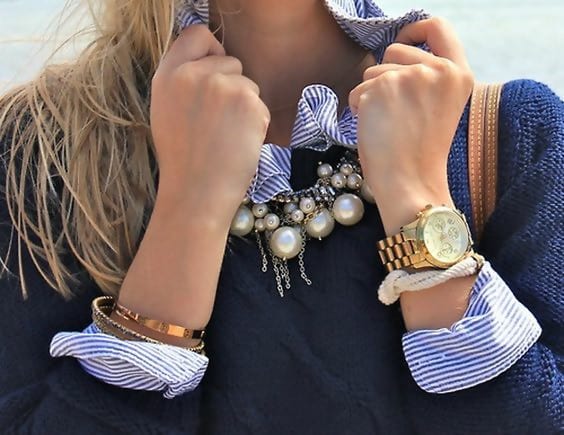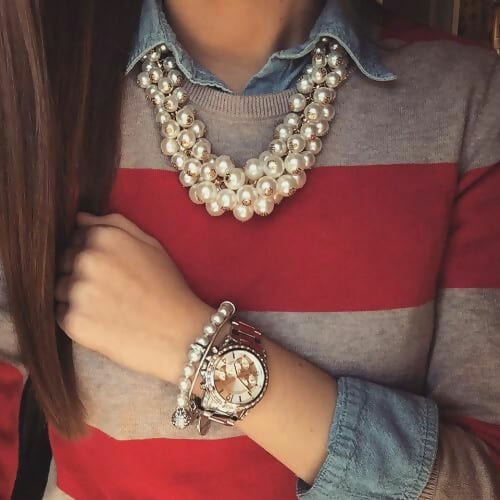 Add a blazer for a head-turner preppy outfit: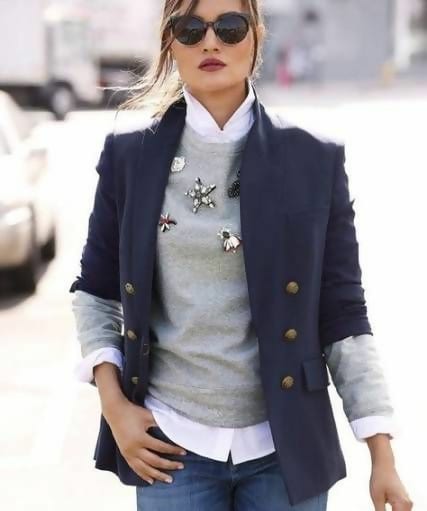 4. Plaids
Plaids are another iconic characteristic of preppy style clothing. All you have to do is include them wherever you prefer: on your blazer, pants, accessories…
Just add plaids to your clothes and you'll be able to effortlessly create preppy outfits.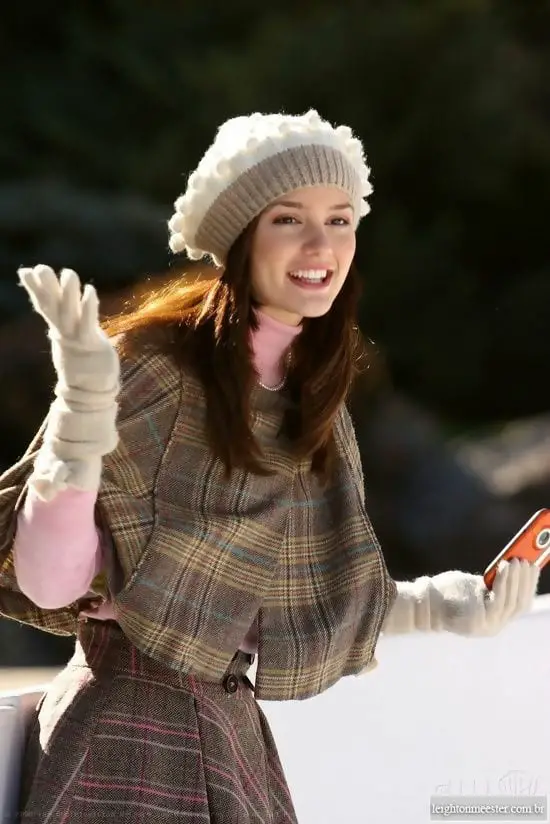 Here are some ideas of how you can include plaids in your outfits for a preppy look: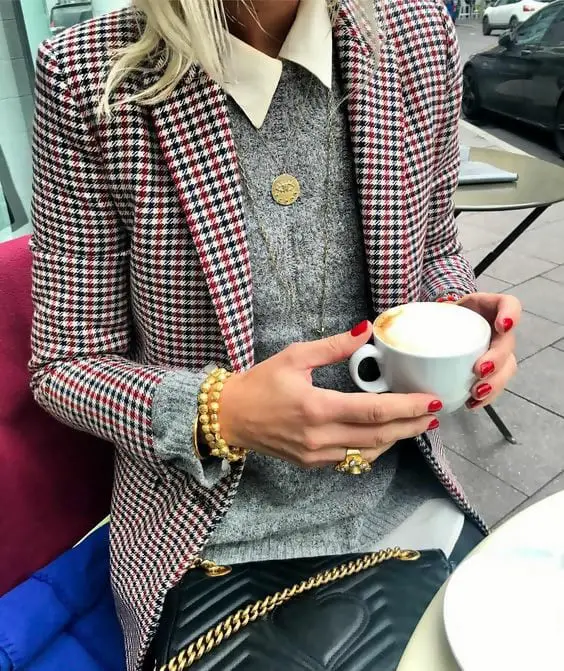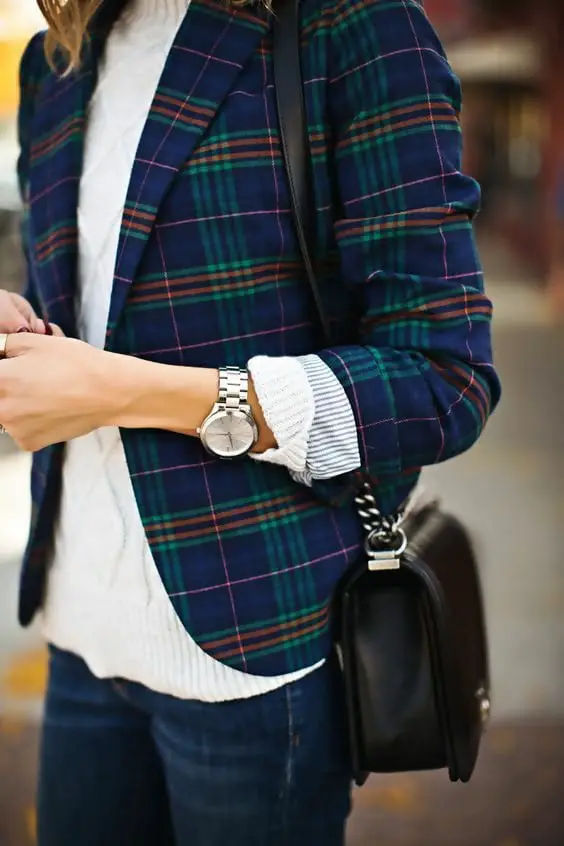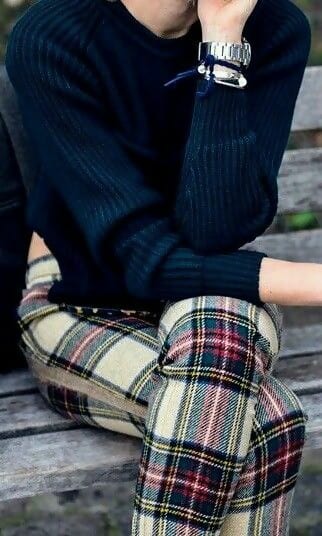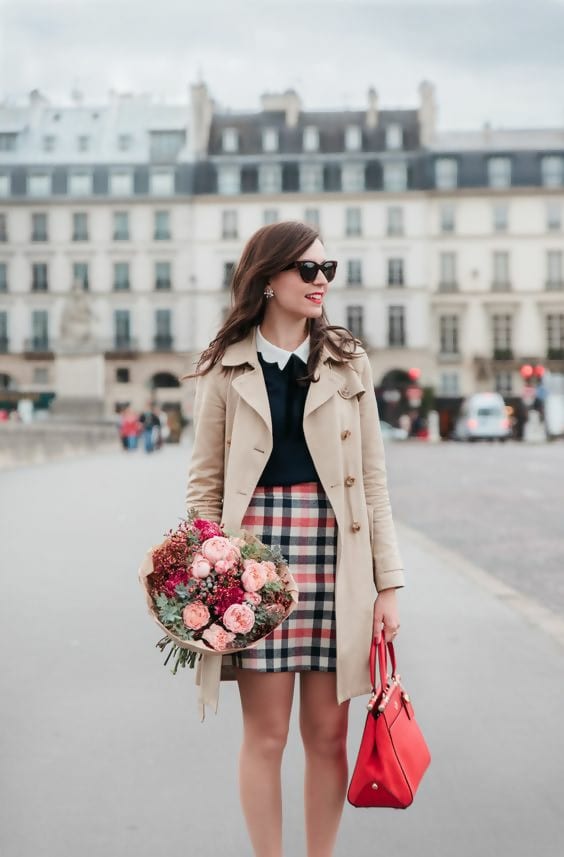 5. Chanel inspired tweed jacket
Preppy girls from the '50s would actually be able to afford the classic Chanel tweed jacket. But fast forward to the 20th century and welcome fast fashion!
Now you can get Chanel-inspired tweed jacket to pull off a genuine preppy style. Wear it with your jeans, trousers, skirts, or anything you like.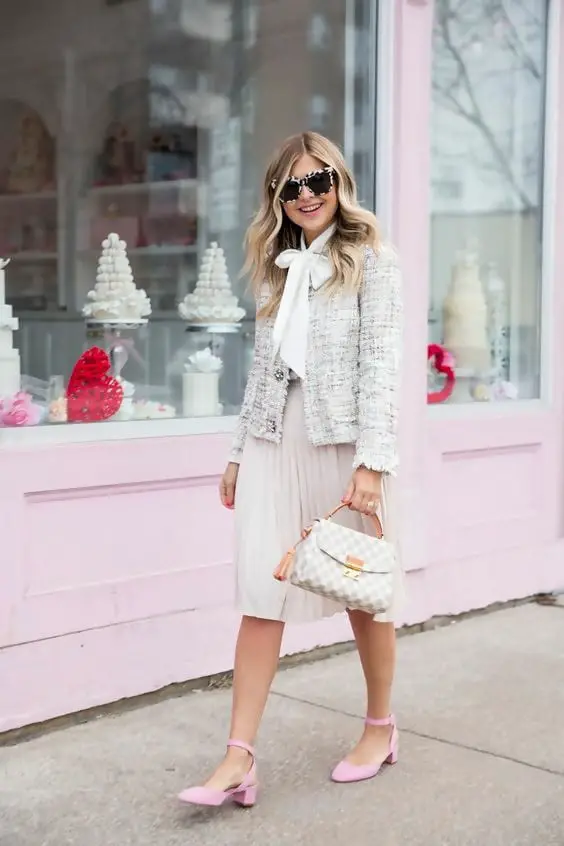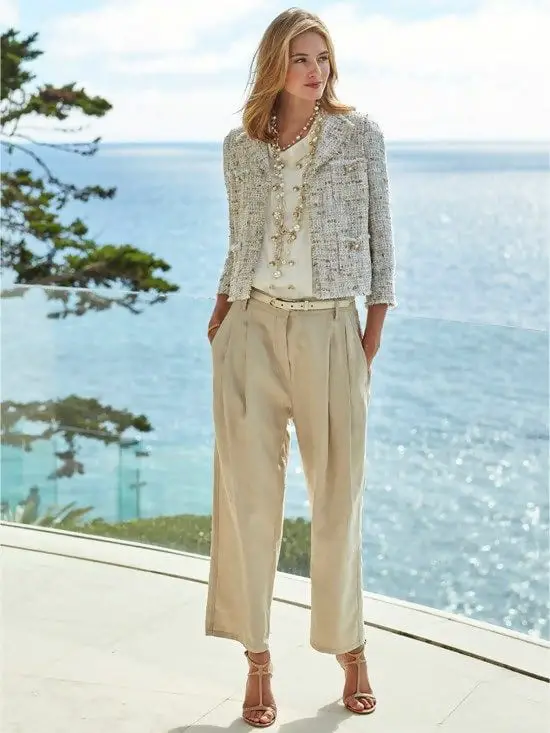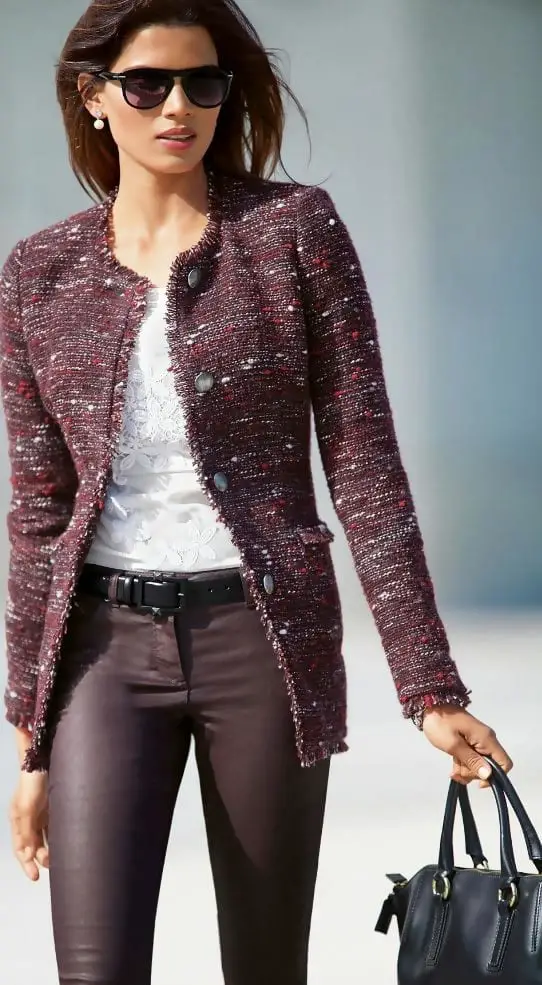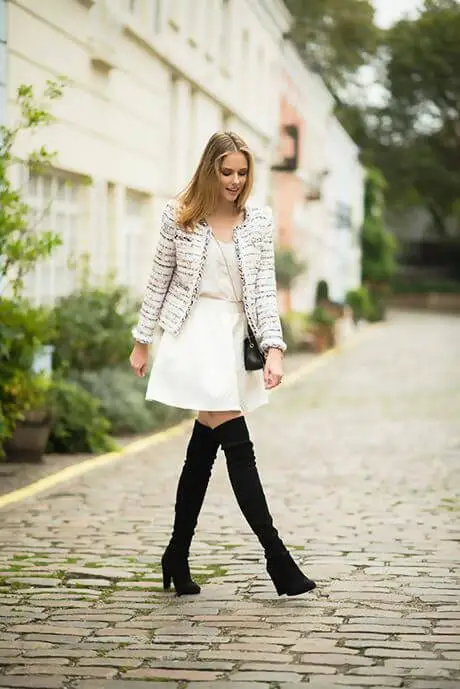 I totally love a tweed jacket with skinny jeans. It's a super chic and casual preppy outfit easy to recreate: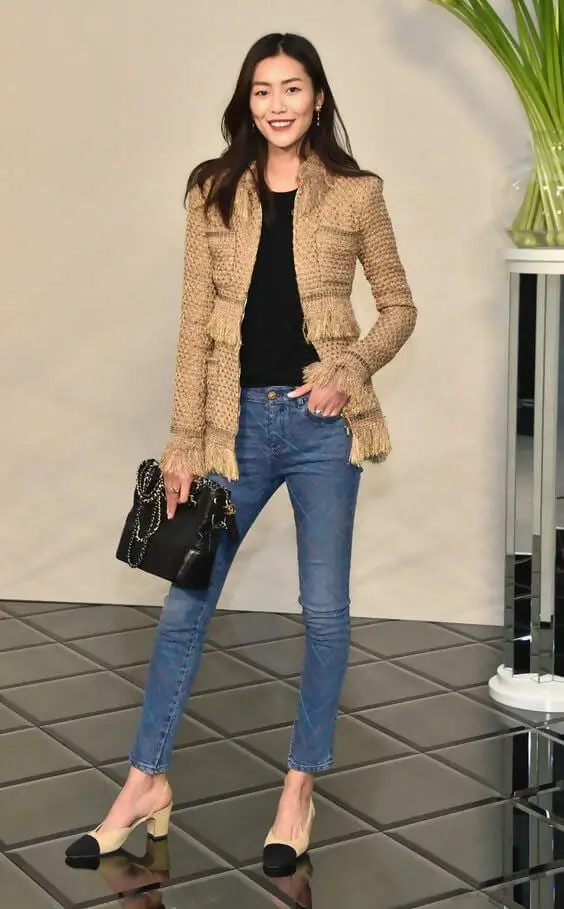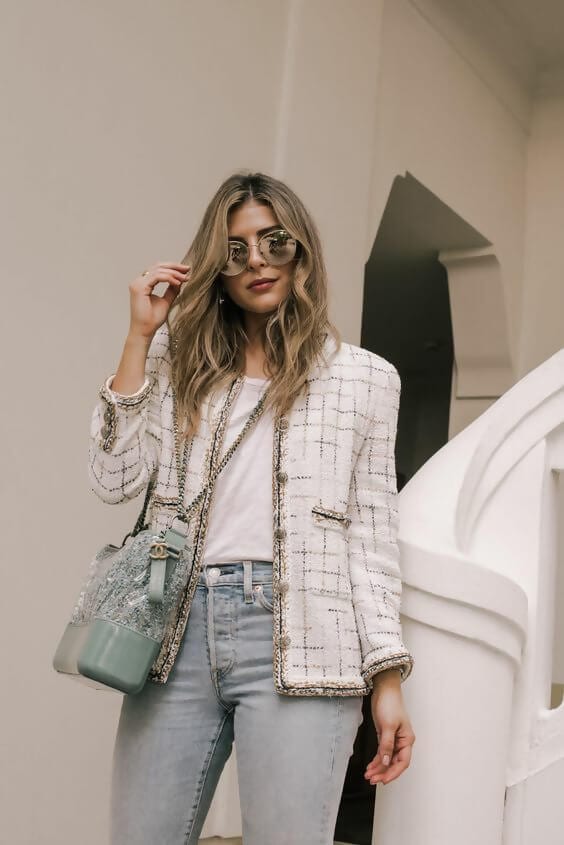 6. Chanel sling-back shoes
Forever classic and forever chic.
A pair of Chanel sling-back imitations will give you a sophisticated touch to your outfit, transforming it into a chic and polished preppy outfit. You can wear them with any clothes you like because their classic cream and black color go perfectly well with any color you choose.
From jean shorts to sequin dresses, a pair of sling-back shoes will not fail in giving you cute preppy outfits.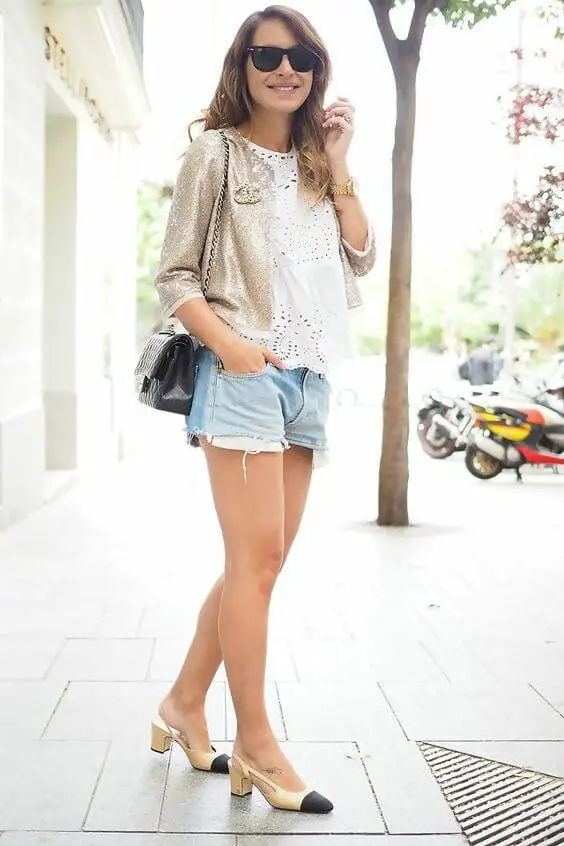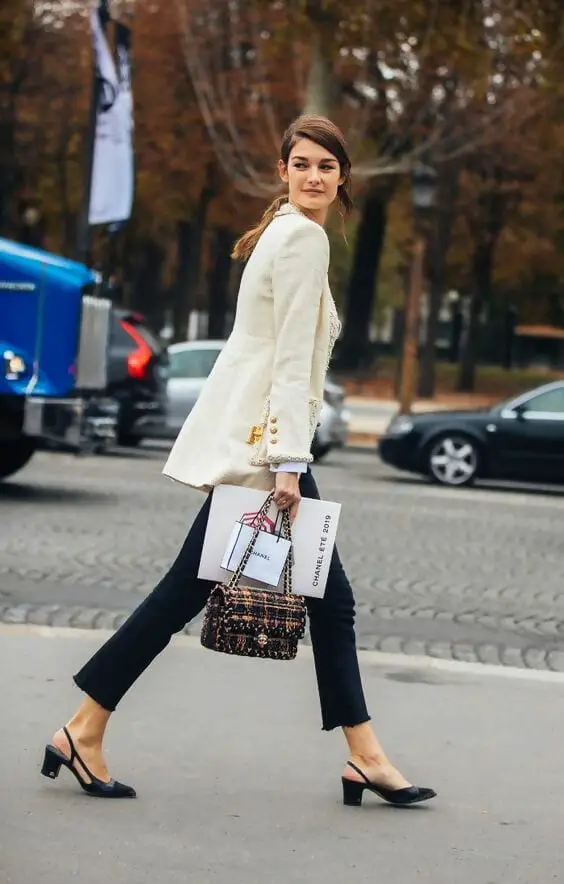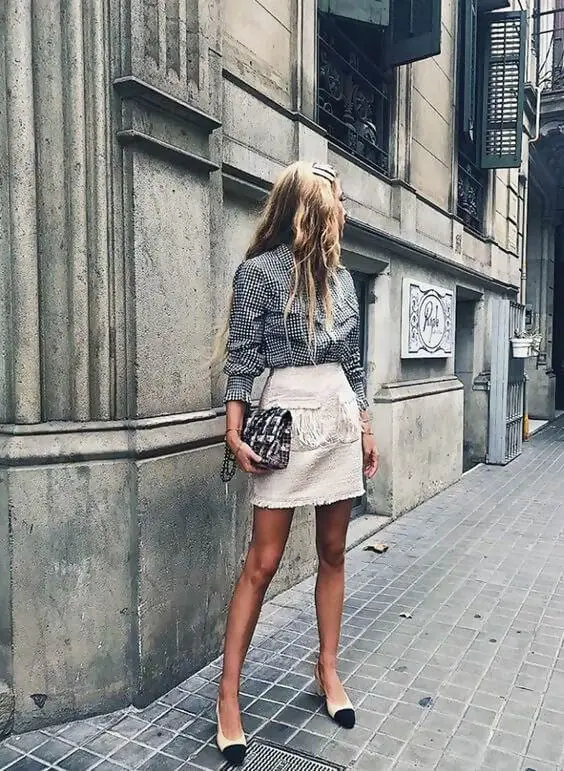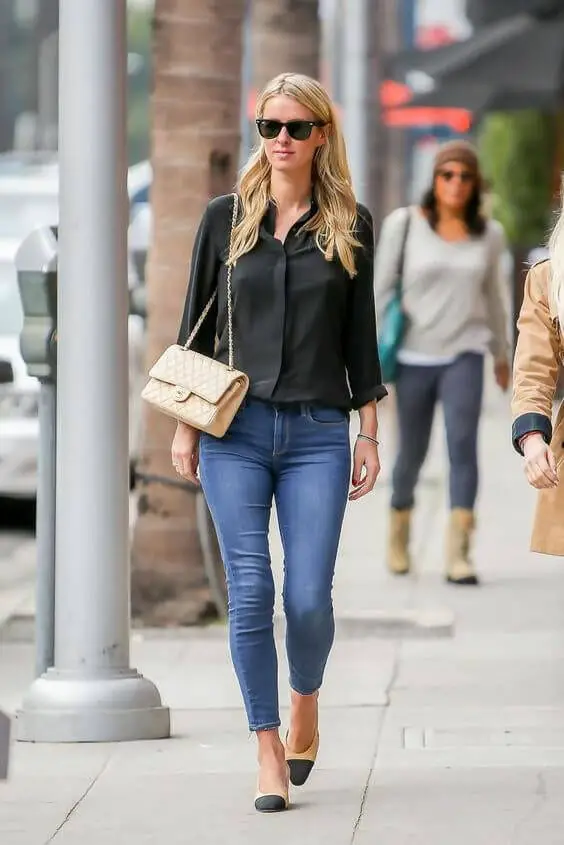 7. Skirt and tights
If the preppy style was developed among wealthy college students, then that means that skirts with tights are the ultimate combo for a genuine preppy outfit.
Both of these items are usually worn as a school uniform, that's why adding them into your outfits will bump up your preppy looks. To transform a school uniform into a chic outfit, just make sure to keep in mind the previous tips on how to dress like a preppy girl: blazers, pearls, crew-neck sweaters, sling back shoes, plaids… And just add a skirt and tights!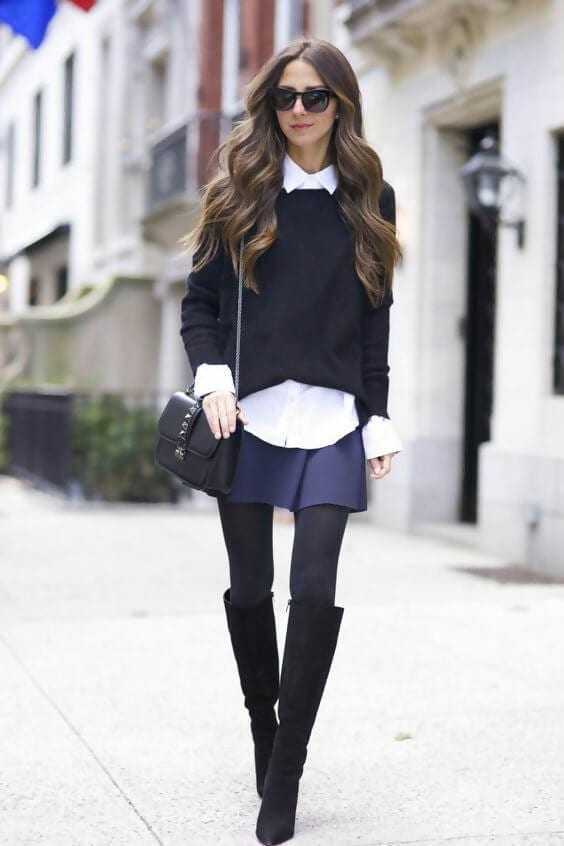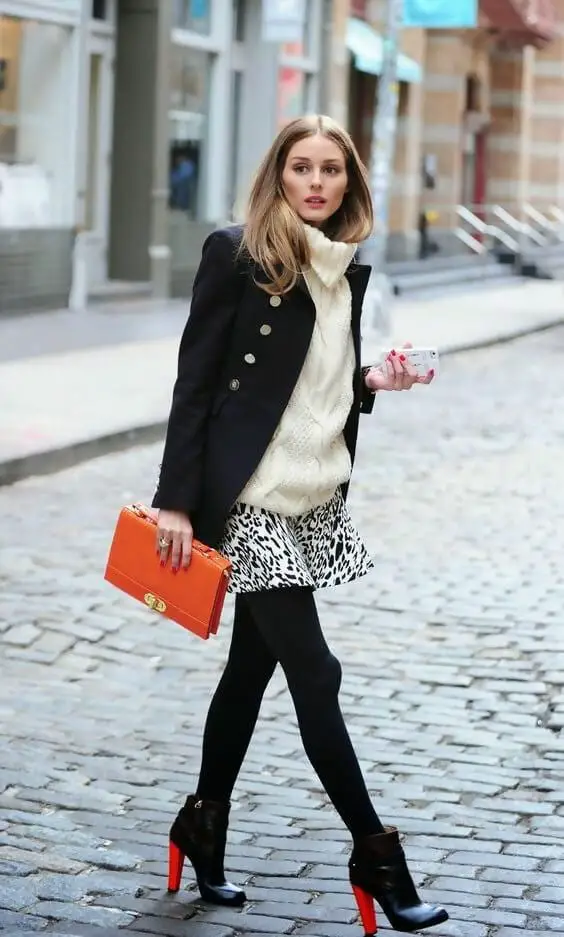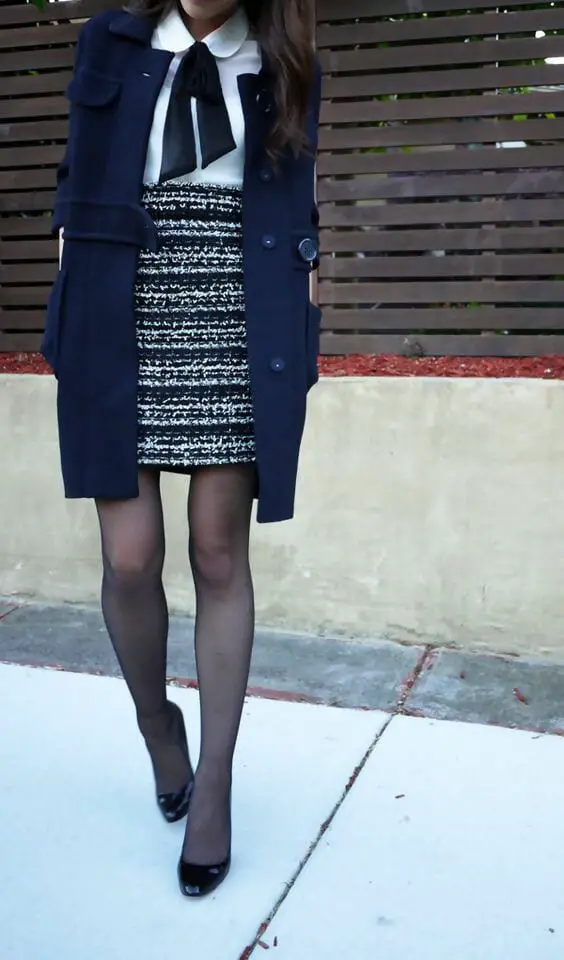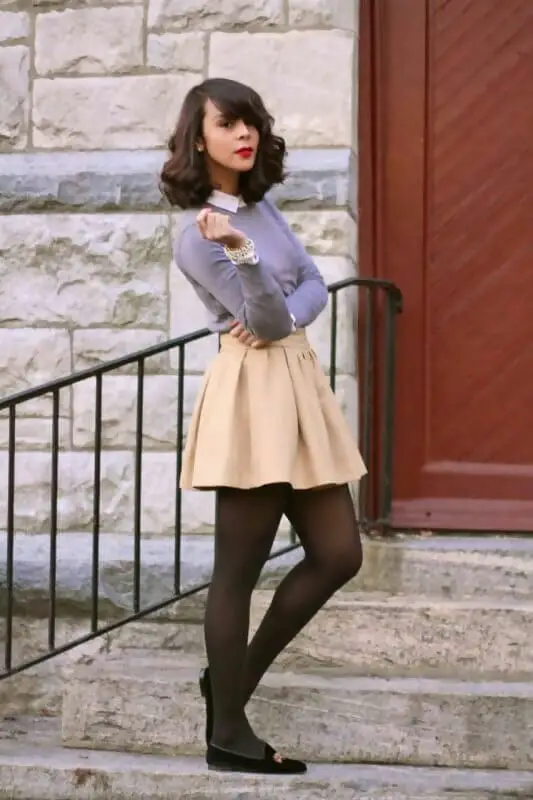 8. Add a headband
To finish this preppy style guide, let's not forget how youthful and school-like a headband can make you look. That's why having this accessory in mind when you're creating a preppy outfit can be the key to pull off a cute look.
If you don't believe, Blair Waldorf's signature style always included a chic headband.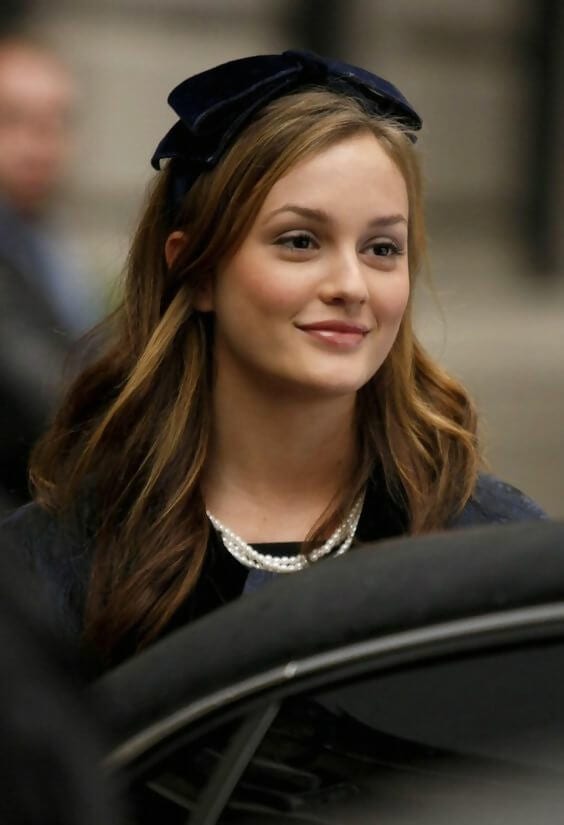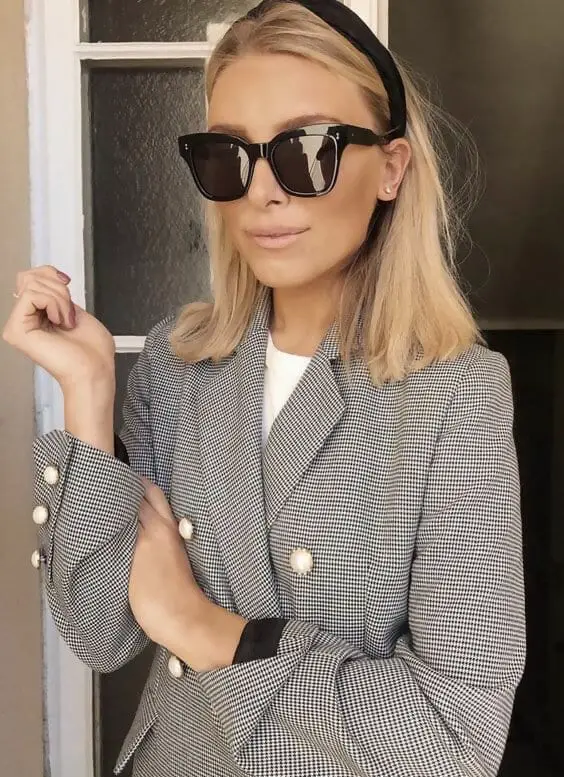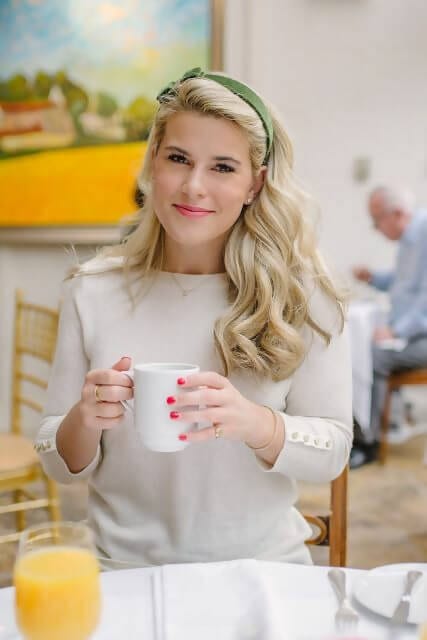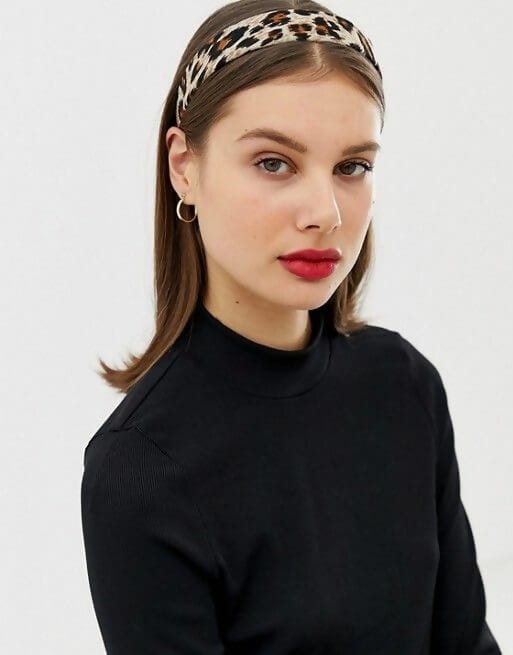 Wrap up:
A preppy style has been copied, recycled and recreated by many generations. The key to understanding how to create cute preppy outfits is just to keep in mind the origins of this style: from the upper-class college students preparing for Ivy League universities.
That's why wearing tights, skirts, blazers, bow-tied collars and headbands need to be included in your wardrobe if you want to showcase a preppy style.