Bonjour!
Have you ever found yourself daydreaming about walking through those small, enchanting and chic French streets? Sipping your coffee at the local Patisserie while eating a macaron, wondering where Coco Chanel had walked, and how French people have been blessed with such an amazing city as Paris?
Raise your hands if you have! Because I'm sure I'm not the only one.
But truth be told, the best thing about France is that elegant, sophisticated yet simple Parisian style that women have mastered through the history of fashion.
What is a Parisian Chic style
We have often read magazines, articles, and even books about Parisian style and French women's fashion, and who can blame them? Even the word "chic" was introduced to the world by French people.
The Merriam-Webster dictionary mentions that "chic" literally means "smart elegance and sophistication". So if you want to imitate Parisian women you have to gravitate towards these two words, no matter what.
I have compiled many outfit inspirations that will help you improve your Parisian style without having to spend tons of money. You can stay in the comfort of your home and enjoy this virtual travel to Paris.
How To Dress Like French Women
First, we have to understand that elegance and sophistication doesn't necessarily mean wearing Chanel and Dior all year-round. Most women can't afford high-end brands, but can still look chic and have a wardrobe completely inspired by French women's style.
One of the most important things to remember is that the Parisian style has a certain touch of bold sweetness, meaning that they manage to look feminine and simple at the same time.
Accessories
One of the most relevant characteristics of French women is their hair. When I think of French hairstyles, I think of bangs and short haircuts.
Instagram fashion icon Leia Sfez is someone you need to follow right away. Apart from her amazing sense of fashion, her hairstyle is exactly what I'm talking about: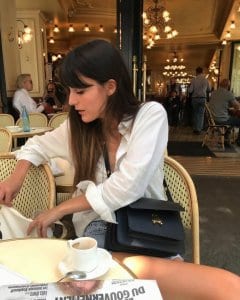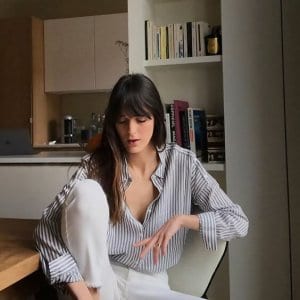 Bob and pixie haircuts are another great way of showing some Parisian style, and who's more French than Audrey Tatou or Marion Cotillard?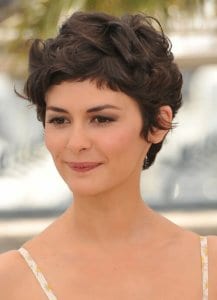 If you don't want to make a massive makeover to your hair, don't worry, you can still have a French hairstyle look by simply adding simple accessories that will give you that Parisian chicness.
Look how cute and elegant these hairstyles are with just a bow or a printed scarf. There's nothing easier and simpler than wearing a hair accessory, yet it gives you a stylish statement to your outfit.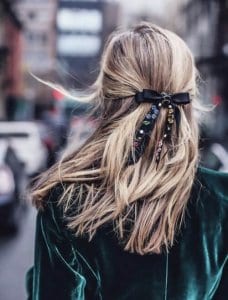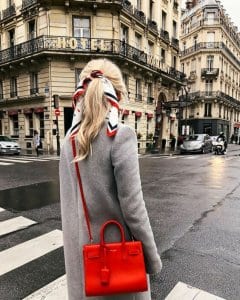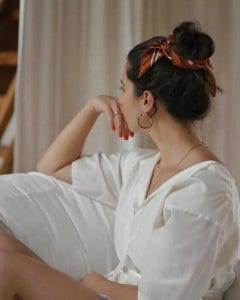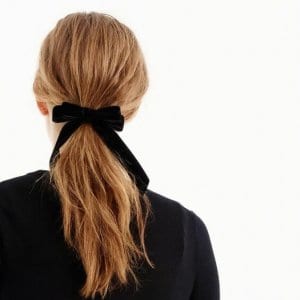 You can also wear these printed scarfs anywhere you'd like, so it's basically one of the most versatile items you'll invest on. And the best part is that it's not an expensive item at all.
The secret is to keep the prints very classic: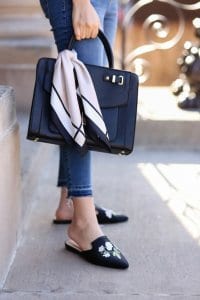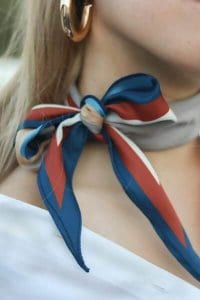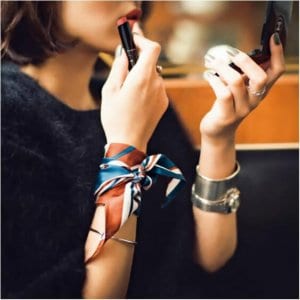 How to look like a French Woman?
berets
I'll answer with one word: berets.
A beret is, in my opinion, the most classic French item ever, and you something you shouldn't ignore. It looks incredibly stylish and is a total synonym of Parisian Style.
Most women wear opt for black berets, but a bright color such as yellow or red will definitely make you stand out.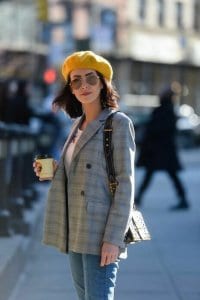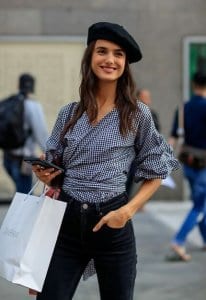 Shop The Look
---
Vintage sunglasses
Vintage sunglasses are also completely approved by French women. My favorite style is a cat-eye framed: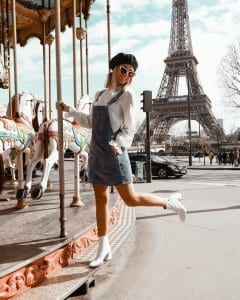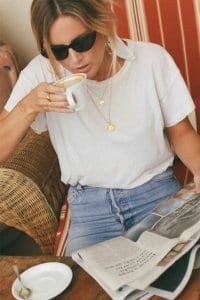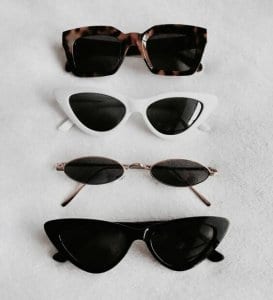 The last thing I want to mention a typical French face is RED LIPSTICK. Something so basic and yet so sophisticated.
Red Lips
Keep your makeup natural and your lips very red: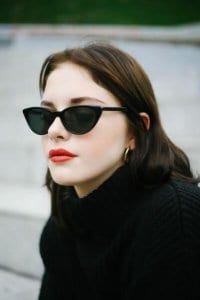 Add pearls to your outfit and you're ready to go. Coco Chanel used to wear red lipstick and pearls all the time, making them a fashion statement for French women.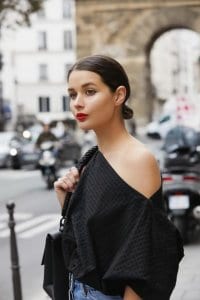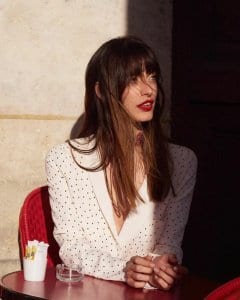 I love the unusual but classic pearl necklaces like this one: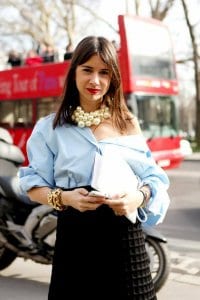 Tops
White shirts are a must-have if you are serious about imitating a French woman's style. These tops can be button-down shirts or a chic blouses.
These are my favorite styles:
1. Deep V-necks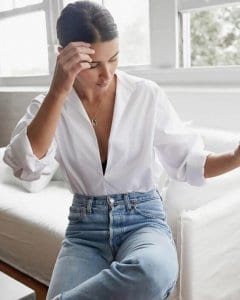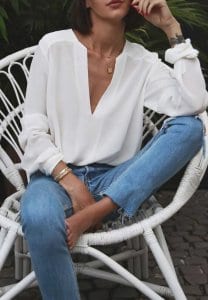 Shop The Look
---
2. Statement sleeves
Big and voluminous sleeves will give you an updated look to your classic white shirt.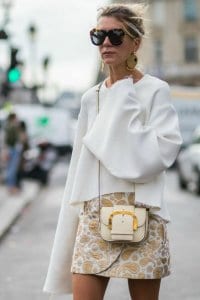 Shop The Look
---

3. Button-down shirts
Classic fit or oversized, tuck them in your trousers or jeans to get an instant elegant style. This is also a nice option for workwear outfits.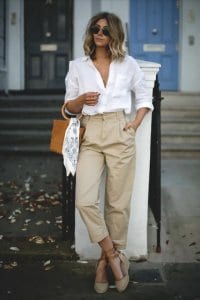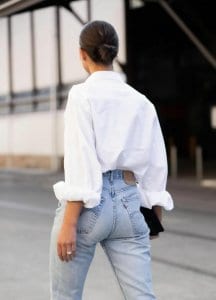 Shop The Look
---
Striped t-shirts will also give you a Parisian chic vibe to your outfit, especially if they're black, red, blue or white.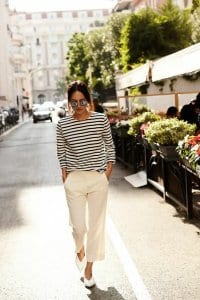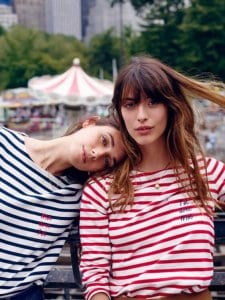 Shop The Look
---
A striped dress is also another great outfit idea for both casual and formal events: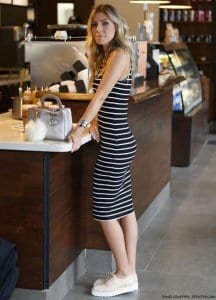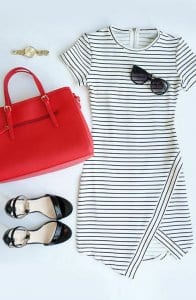 Shop The Look
---

Parisian Style Dresses
A chic polka dot dress is stylish, feminine, AND super comfortable. The perfect combination for those casual and lazy days.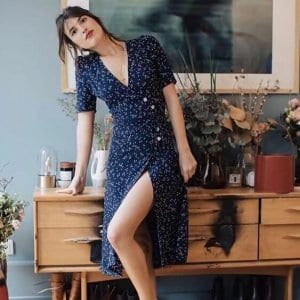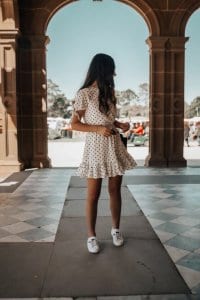 They also look super chic for any formal occasion, like a fancy lunch or a cocktail. The secret about polka dots is that they give you a sweet and classic look.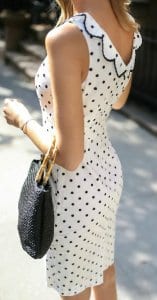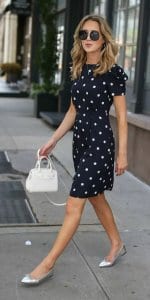 Shop The Look
---
How to dress like French women? Easy: a little black dress is, by definition, the epitome of Parisian style.
Chic, classic and feminine, everything you'll need.
But as I mentioned previously, French women's fashion has always been classy, so my advice is to wear a dress that's not too revealing. It can be short as shown below, but leave cleavages for another occasion.
If you want to look a bit sexier, opt for a tight-fitting dress rather than a cleavage. It'll accentuate your figure, making you look absolutely fabulous.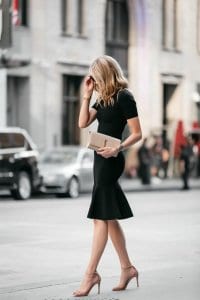 The little black dress doesn't have to be exclusively for formal events: just wear some sneakers or a denim jacket and you're already a casual French woman.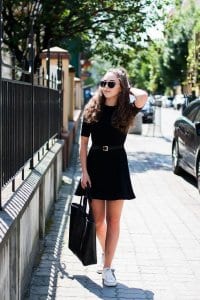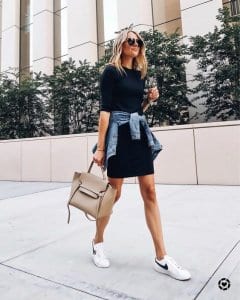 Shop The Look
---

Blazers
French women LOVE blazers, and what I like about this is how cool they make them look by simply pairing them with t-shirts, jeans, sneakers…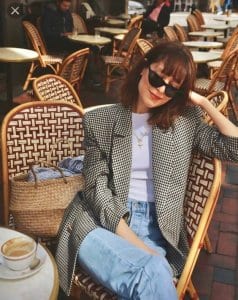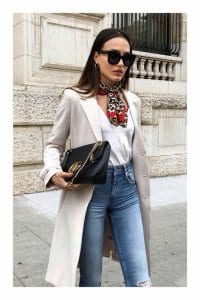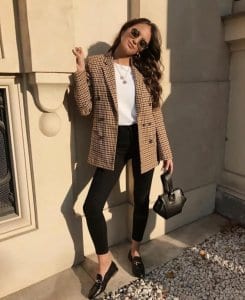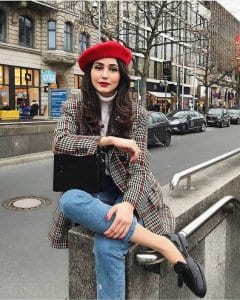 Shop The Look
---

Trench coats
Another must-have for you. Along, a classic trench coat will automatically give you a sophisticated look.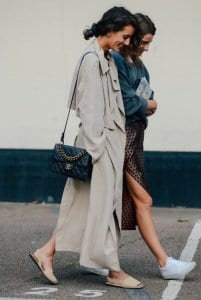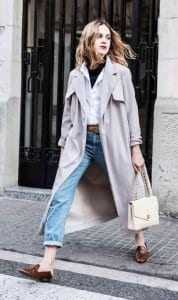 Shop The Look
---
Bottoms
Midi skirts are all you'll ever need for a chic and glamorous outfit, just like a classic Parisian style. These can be silk and fluid, pleated, or tulle skirts.
My favorite way of pairing these skirts is with a white t-shirt or blouse, which makes them super versatile: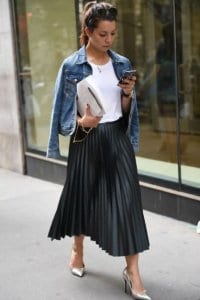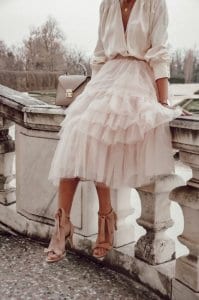 As you may have noticed, many of these pictures include mom jeans. That's because the Parisian style has a sophisticated and vintage look, so a pair of light-washed jeans should never miss in your wardrobe.
The simplest and chicest way to wear them is with a white blouse, but striped shirts, t-shirts, sweaters, or absolutely anything will look great on any French fashion lover: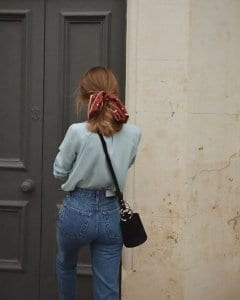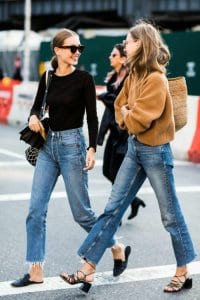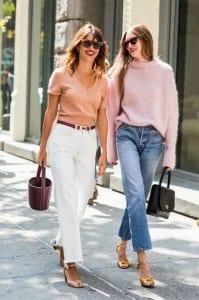 Wide leg trousers are another option for your bottoms. They look super classic and are a great idea for workwear French-inspired fashion: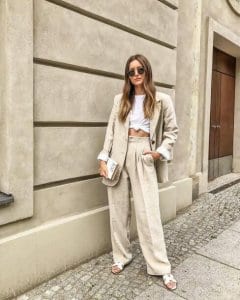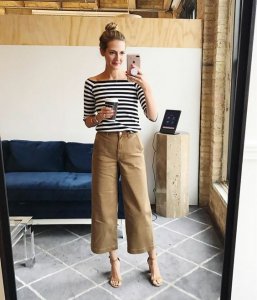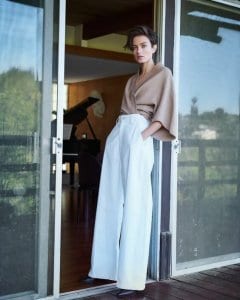 Shoes
The most classic Parisian shoes are:
1. Ankle strap heels: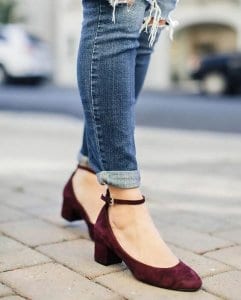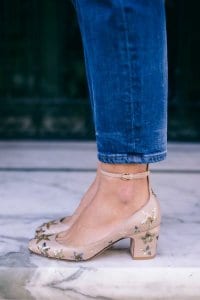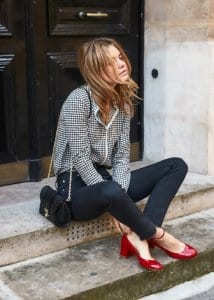 2. Chanel inspired two-tone slingbacks: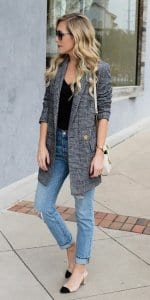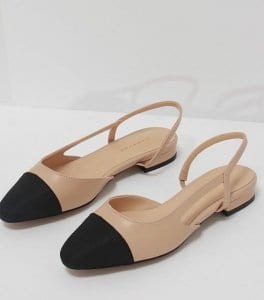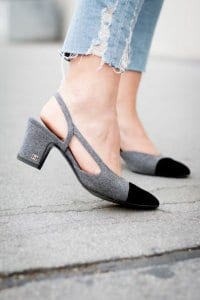 3. Basically any low heel shoe: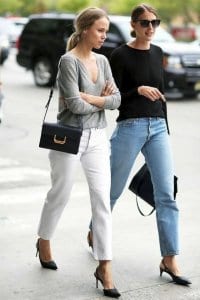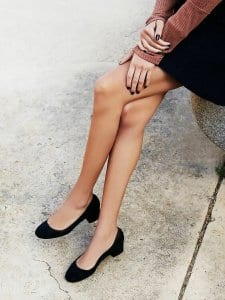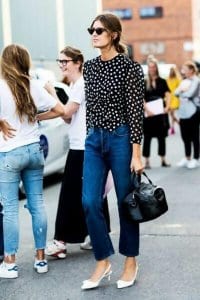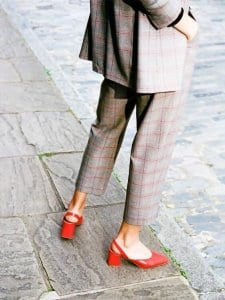 4. Ballerina flats and mules
These are the most comfortable option for a Parisian style outfit: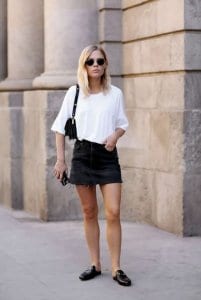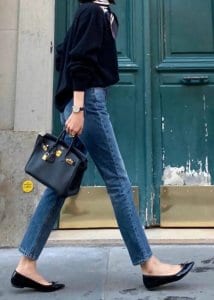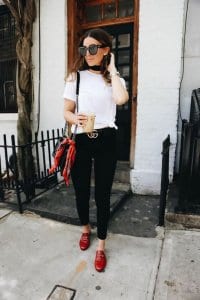 If they have a nice, big bow, even better! You outfit can't get more feminine than this.
Wrap up
Parisian style is easy to understand because it's always focused on elegance and sophistication.
Most of the times it's revolving around basic, nude or earthy tones, and sometimes can even pull off a perfectly monochromatic look. But the Parisian style usually has a pop of colors such as a bright red beret, a yellow and green printed scarf, or a pair of electric blue shoes.
The most important advice I can give you is to go to Paris.
Just kidding.
But the best you can do is to keep in mind these tips on how to dress like a French woman and make the most of this elegant style. My favorite thing about it is that French fashion involves so many basic items such as jeans, white shirts, t-shirts, ballerina shoes… making it easy and affordable to look Parisian.
Am I the only one who's dying to fly to Paris ASAP? These outfit ideas of French women's fashion have made me fall in love with their capital all over again.
Au revoir!