I have to confess, two years ago when I first saw a friend of mine wearing bandanas around her neck, I wasn't too crazy about it. In fact, I almost felt like I didn't like them at all.
Fast forward to 2019, I'm all head over heels for this bandana buzz. I just find this accessory so appealing because how to wear a bandana is no rocket science at all, and is probably the easiest and most versatile way of styling all kinds of outfits.
And the funny thing is that I thought I was the most creative person in the world once I figured out how to tie a bandana, but then I saw on the internet and social media how everyone was wearing it in the same exact ways I had "discovered" by myself.
That's because, again, wearing a bandana is no brainer.
What is a bandana?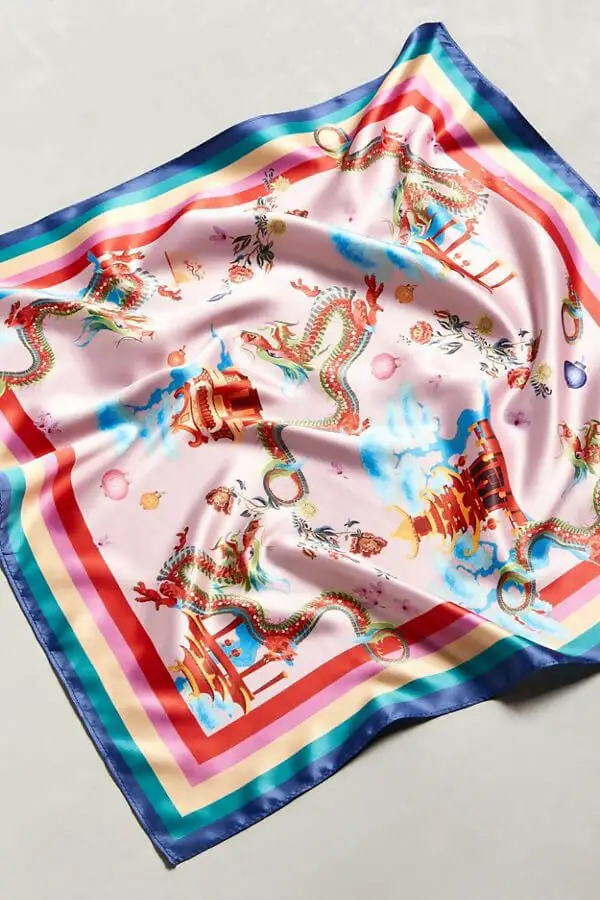 A bandana is a triangular, rectangular or square piece of cloth that's mostly used by women as an accessory. Its fabric composition can vary a lot, but most of them are mixes of polyester, cotton or silk.
The appeal of these fashion items lays on the versatility in which they can be worn. In this article, I'll show you how to fold a bandana and several ways to wear it.
Shop The Bandana
---
Click the picture to buy
Silk scarf or bandana?
There are multiple bandana styles with different fabric composition, lengths and shapes. Silk scarves, for example, are often mistaken for bandanas because they can be worn in the exact same ways as a bandana.
Silk scarves are literally, scarves: long and mostly rectangular, and can be 100% silk or have faux-silk.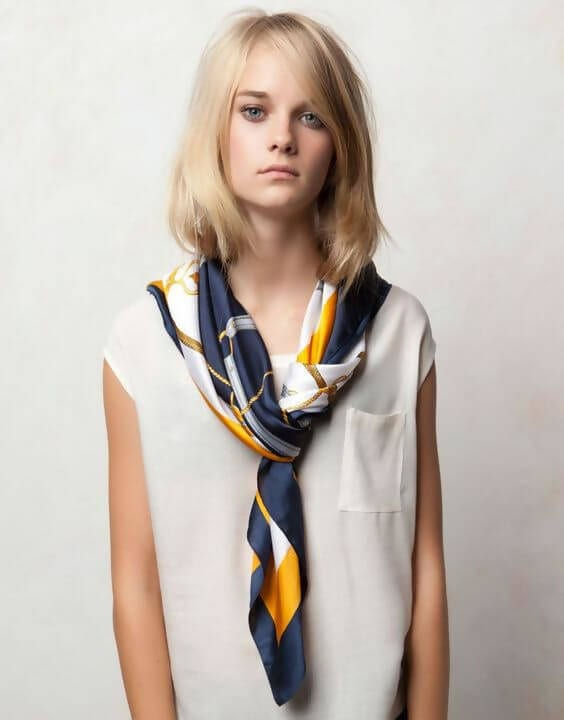 Bandanas can be mistaken with silk scarves also because they can have a silky touch, or can be made from faux-silk or 100% silk. The difference between both lays entirely on their lengths and shapes. As mentioned, bandanas can be rectangular, square or triangular, and are much shorter than scarves, as seen below.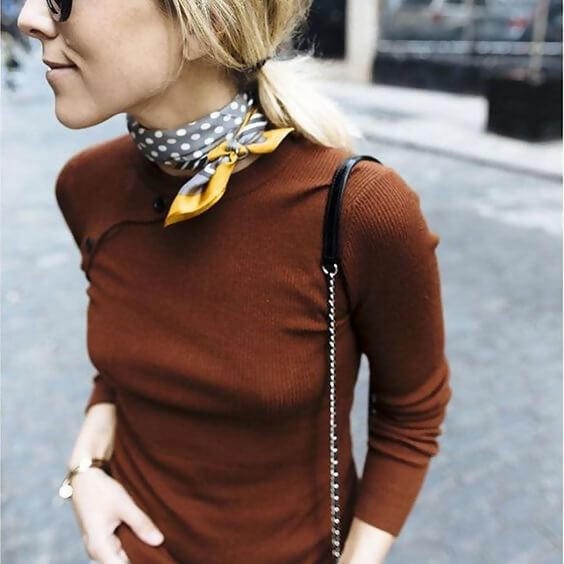 You can perfectly choose either a bandana or a silk scarf, as both have the same fashion statement effect. As a suggestion, if you've never worn any of them, opt for a bandana because it's a bit easier to hold and use thanks to its length.
How to wear a bandana
Now that we've seen the characteristics of a bandana, let's go straight into the fascinating world of how to wear a bandana with these seven styling ideas.
1. Bandana hairstyles
If you're wondering how to wear a bandana on your head, let me tell you have the soul of a fashionista. Styling your hair should always come as a priority, and adding a bandana will definitely change your hairstyle game.
How to wear a bandana as a headband
Fold your bandana creating approximately a 2-inch wide to create a band. Bring both ends to the top of your head and tie them with a double knot for a cute bandana hairstyle: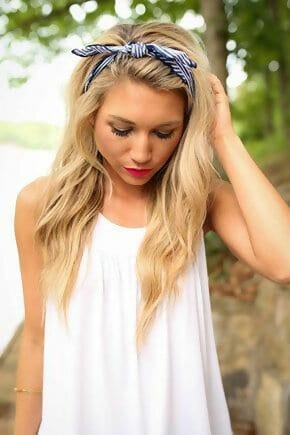 You can also wear it right where your forehead ends for a hippier and chic look: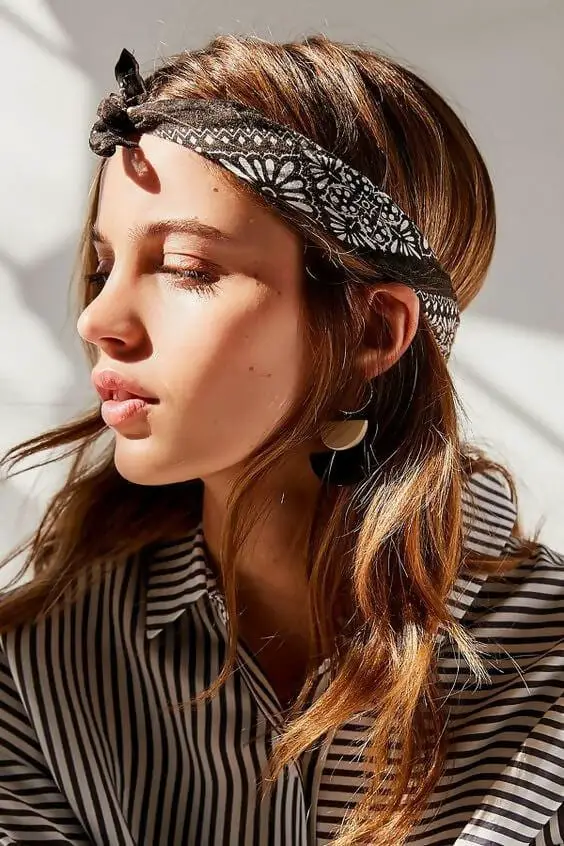 If you have a super babyface like me and think this style of wearing a bandana is too cute for you, just turn the knot upside-down to hide it under your hair: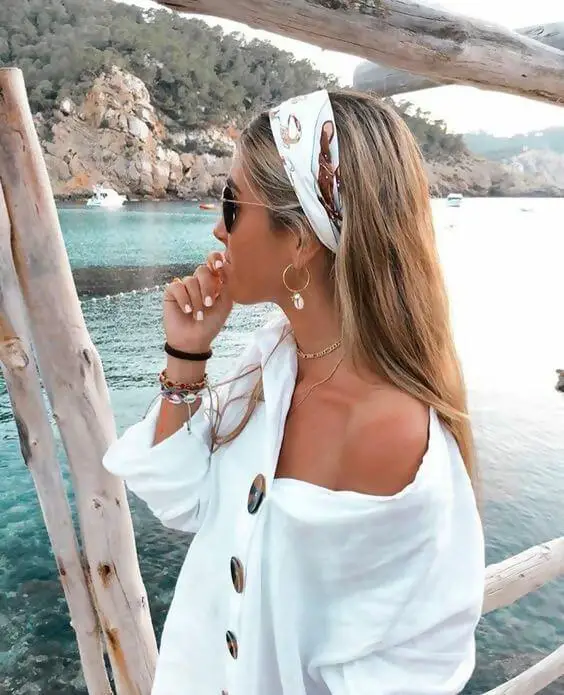 If your bandana is long enough, you can also bring the ends to one side: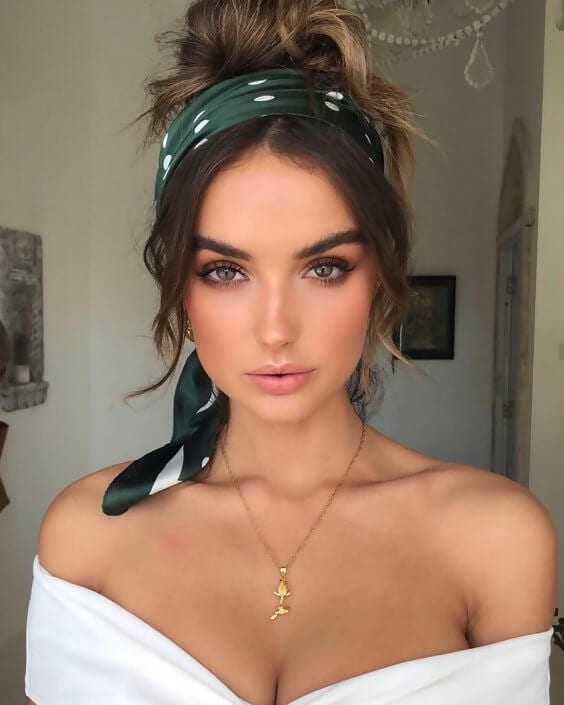 How to wear a bandana like a turban
Everything's possible for a fashion lover who wants to look cool with a bandana. For a boho look, you can turn your bandana headband into a chic and subtle turban:
check How to Wear a Headband: 6 Ideas Every Girl Should Know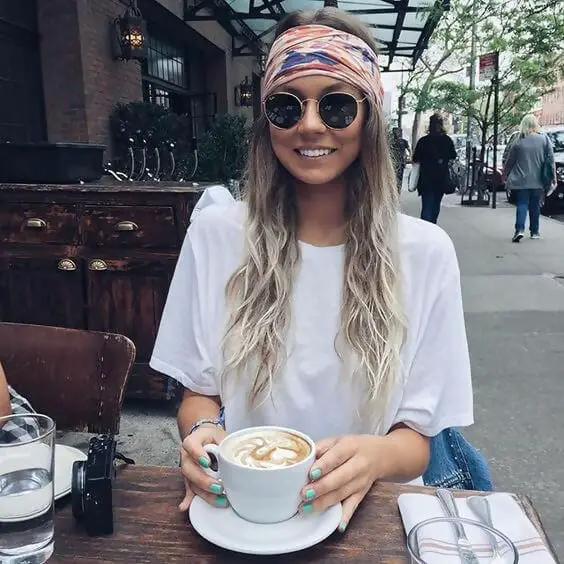 There are no limits when it comes to bandana styles, and a super fashionable way of rocking one is wearing it, literally, like a turban. You'll just need a bandana that's long enough to cover your head: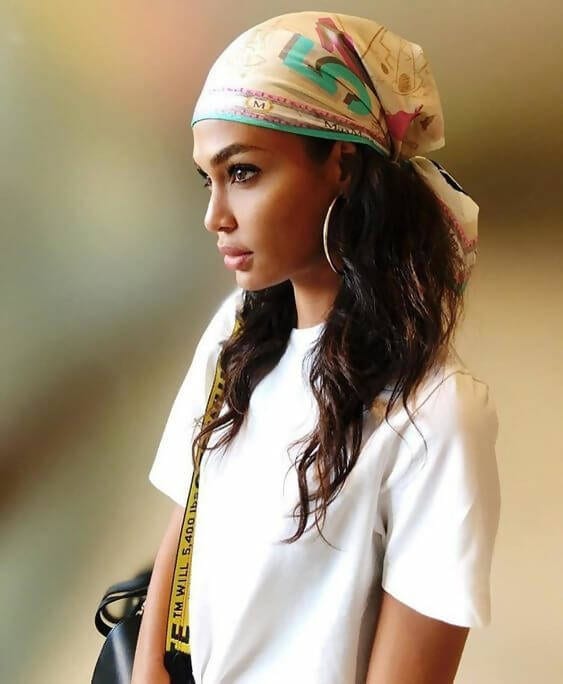 Bandana ponytails
Regardless of your hair length, a bandana tied around your ponytail is by far one of the easiest ways to wear a bandana for a super chic look: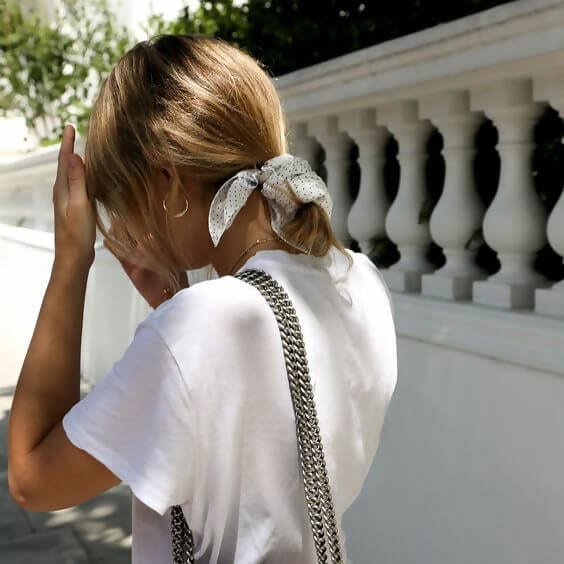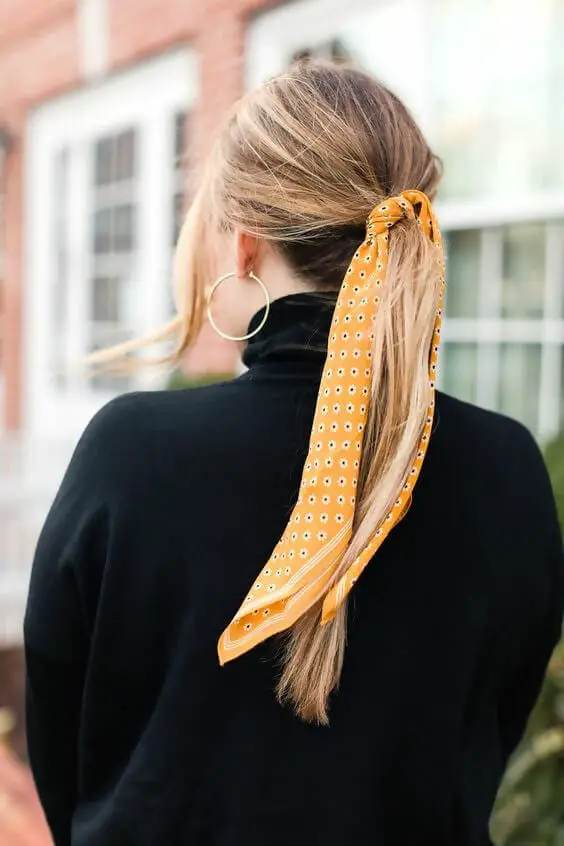 A half-do with a bandana is another option you can do as an alternative for ponytails: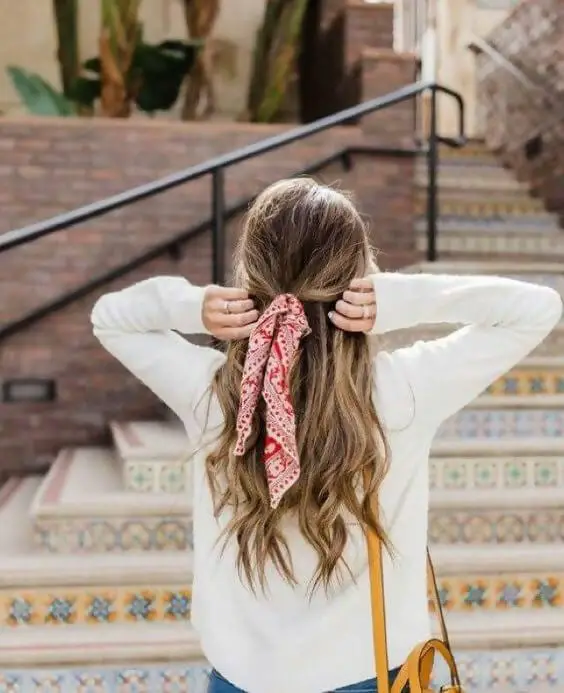 High bun with a bandana
A super cute way of wearing a bandana is by tying it around a high bun. I love this style for a summer or beach style look: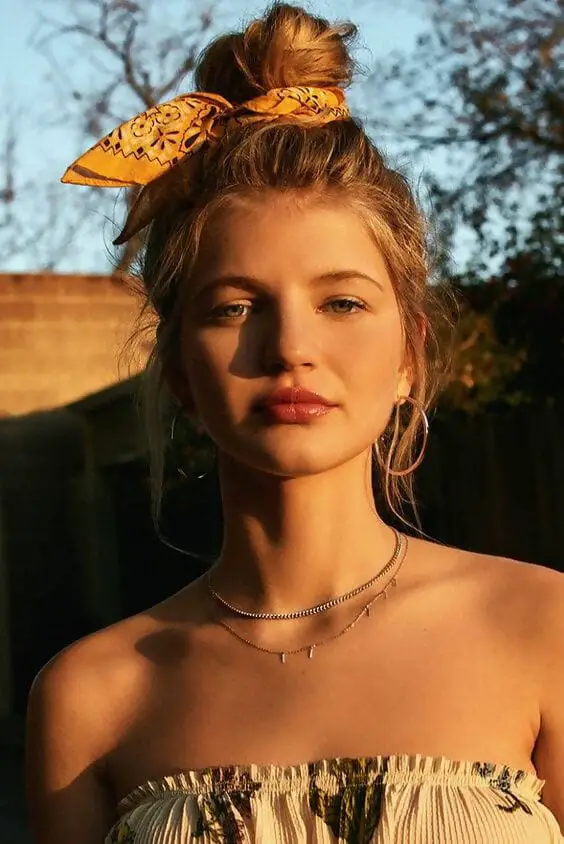 And it's been approved by J.Lo, so there's no risk at rocking this bandana hairstyle: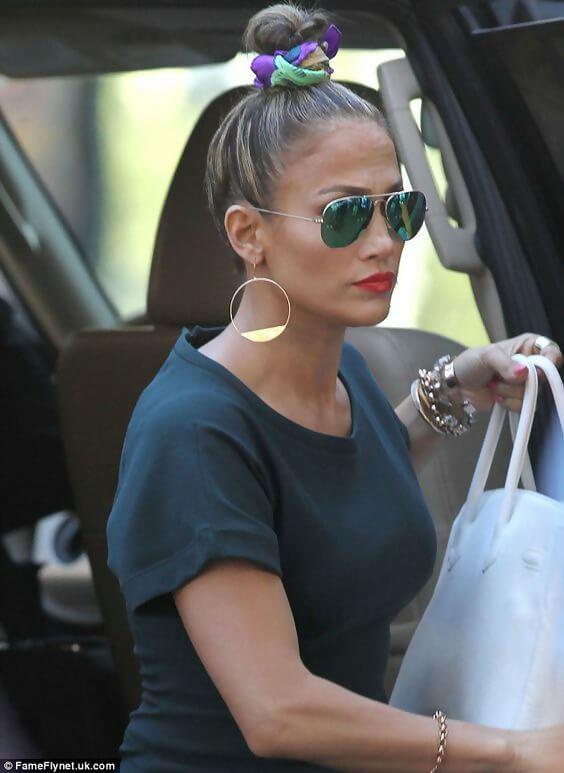 A way of styling a bandana like a pro is by, literally, blending it into your hairdo: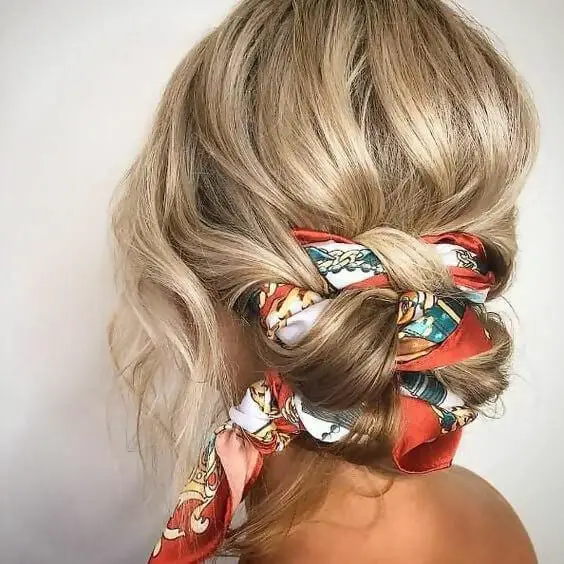 Other chic alternatives of how to wear a bandana with long hair: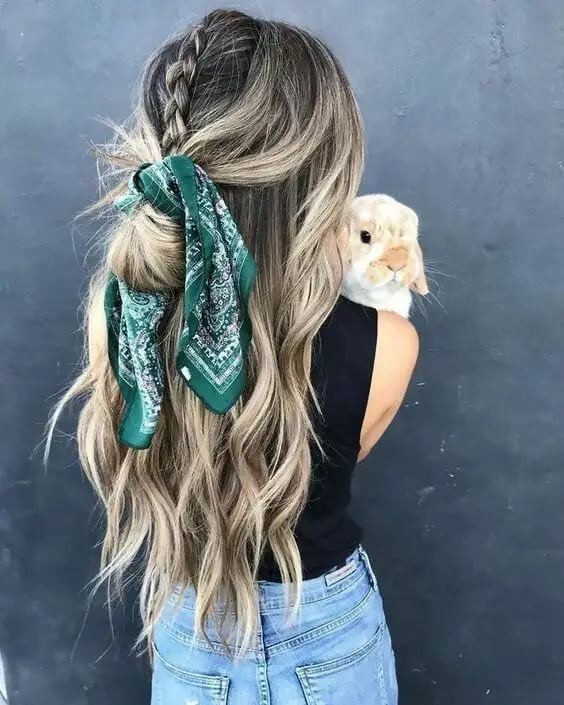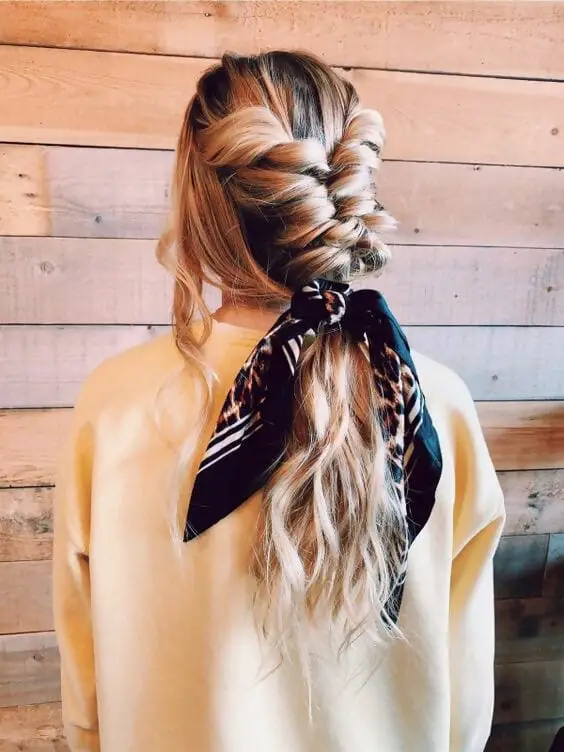 And, of course, how to wear a bandana with short hair: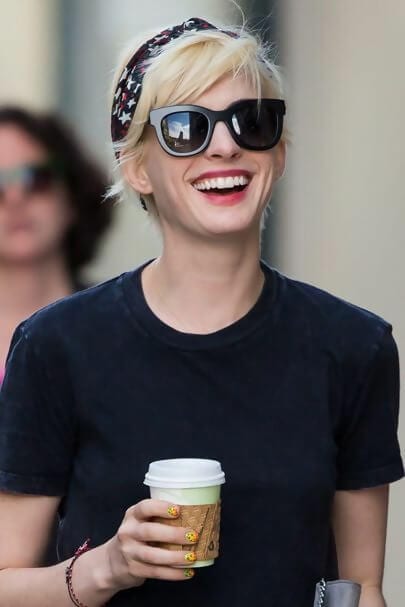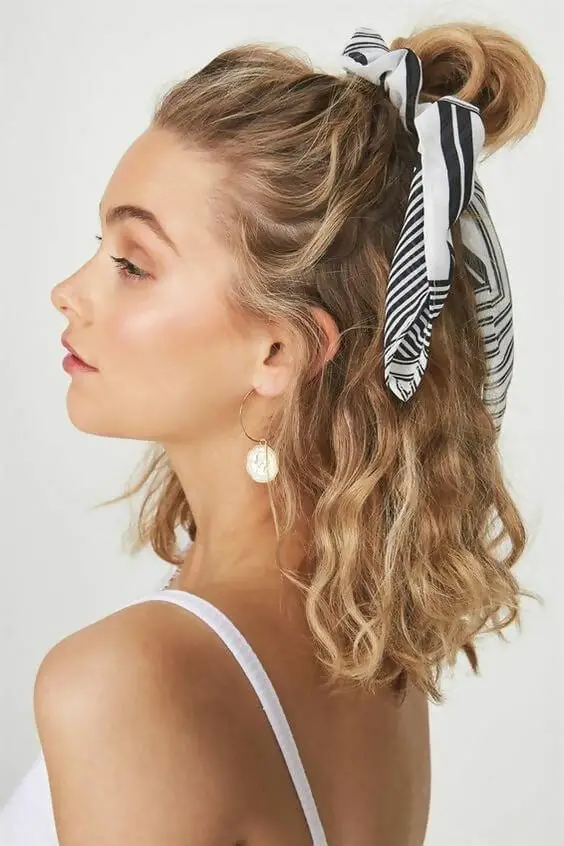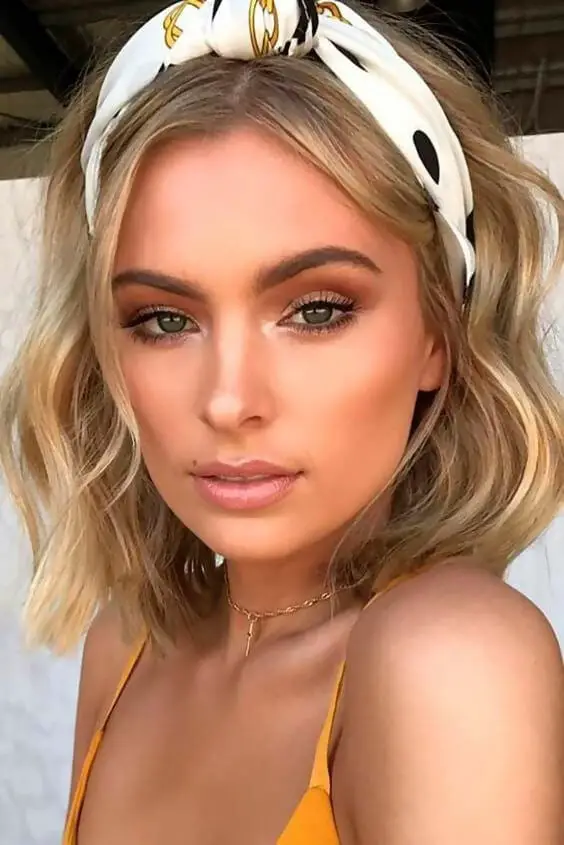 2. Bandana around your neck
Now that we've talked about bandana hairstyles, let's move on to the neck which is, personally, the coolest way of bringing out the best of this fashion item.
If you're wondering how to wear a bandana around your neck, you'll realize it's far easier than doing so on your head. All you have to do is pretend it's a chocker and double-knot it on the front or the back of your neck.
If you opt for a front knot, you can leave it at the center or pull it a bit onto one side: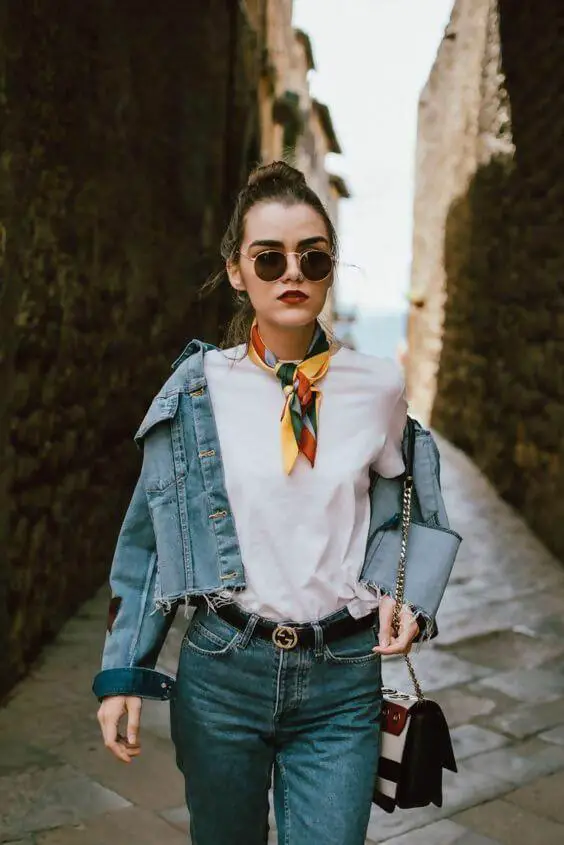 You can also make the most of your bandana's length and tie it around your neck as many times as possible. This will create a tighter chocker look: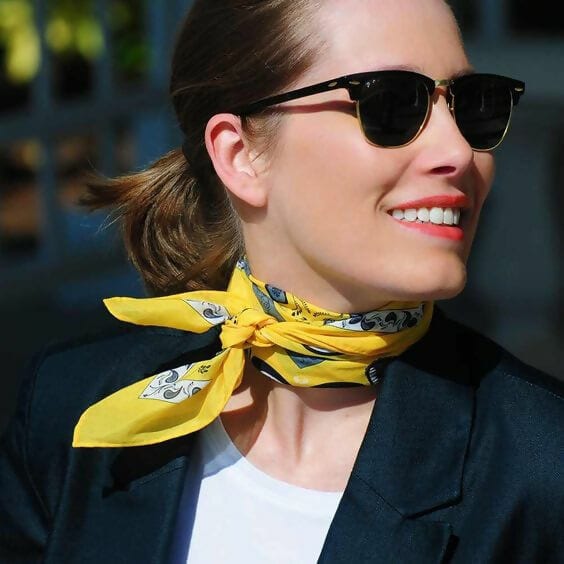 You can also leave the knot invisible by pulling it at the back of your neck: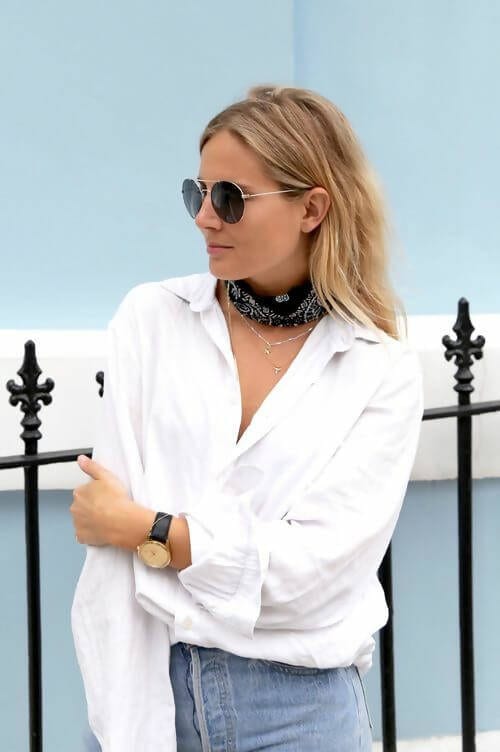 And why not wear your bandana like a true cowgirl? This bandana style will give your outfit a cowgirl-ish look, but it's still a chic and fashionable way of pulling out a great outfit.
If yours is square-shaped, fold your bandana in the middle to create a triangle shape, and just wrap the two ends around your neck in order to leave the triangular section at the front.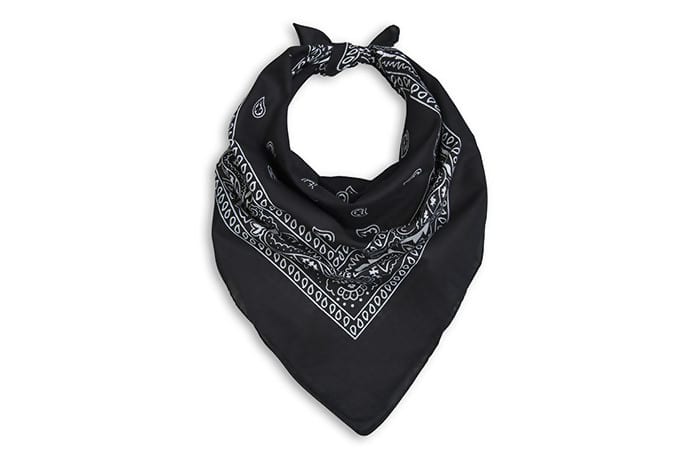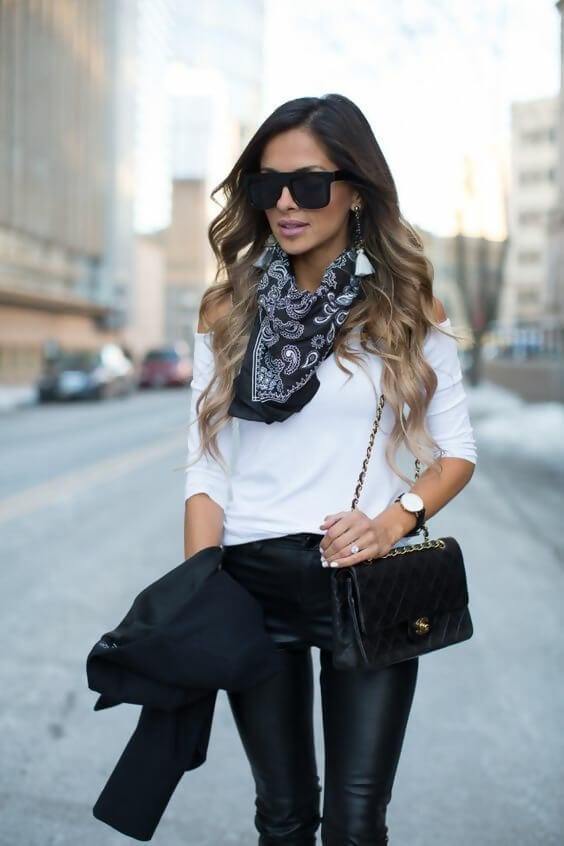 3. How to wear a bandana on your wrist
A super cool way of styling a bandana is by wearing it wrapped around your wrist, as an alternative for bracelets. Don't worry about leaving the knot on the front because, as you can see below, it adds an extra charm to your wrist.
It's a perfect option for a pop of color when your outfit is monochromatic or dark colored.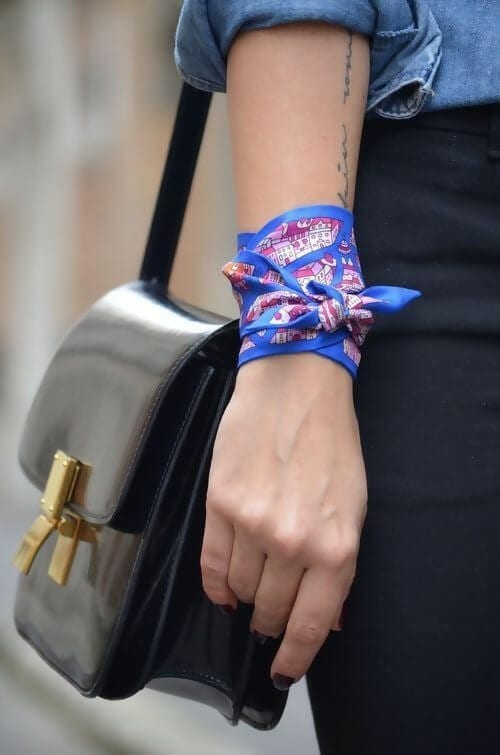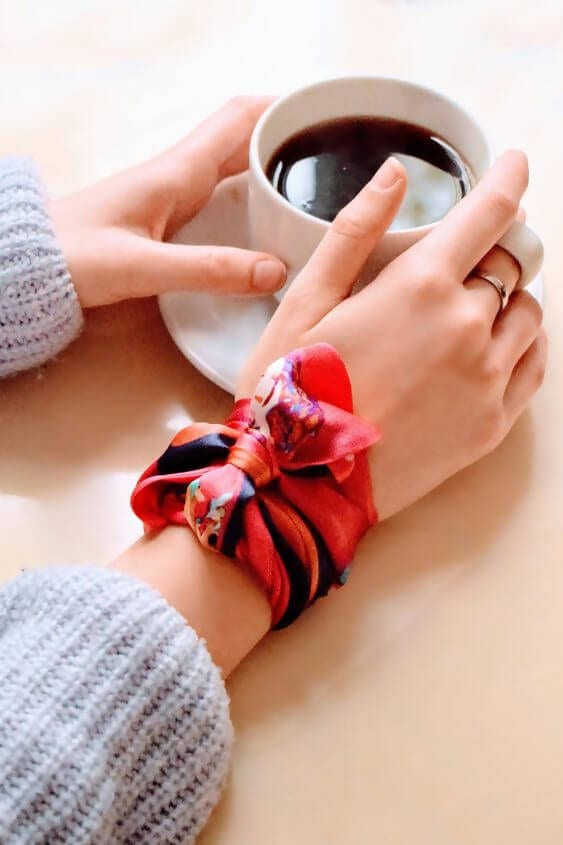 4. How to wear a bandana on your ankles
Yes, you read it right. Bandanas can also be worn on your ankles, just the same as on your wrists, creating a beautiful accent for your outfit.
You can tie your bandana around your ankle for both casual and formal looks: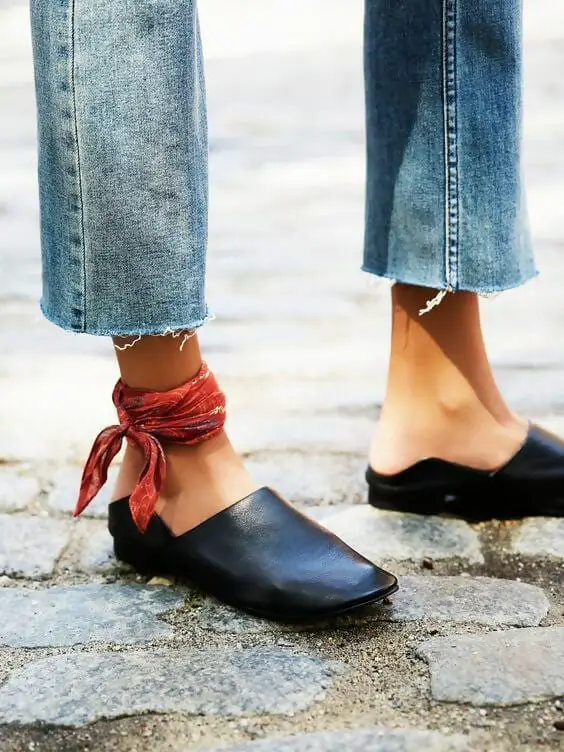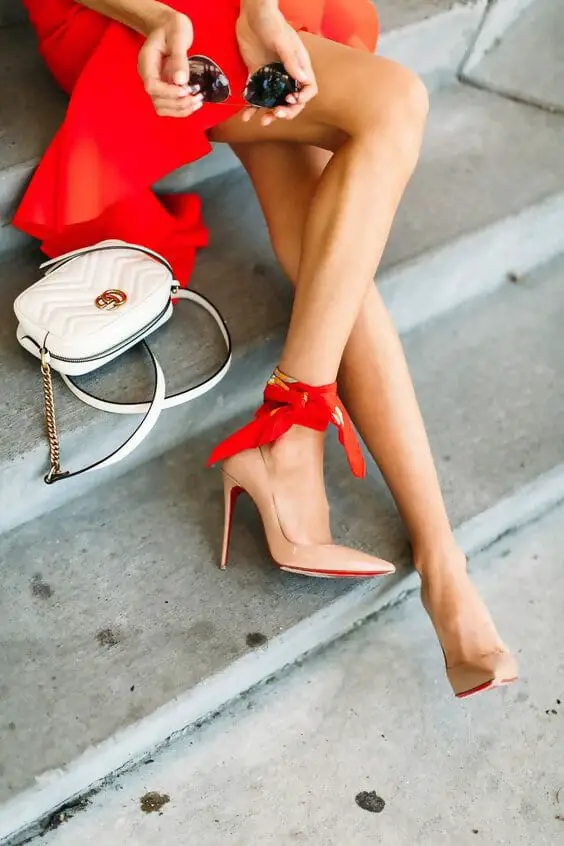 5. How to wear a bandana on your bag
Another chic way of styling your accessories is by tying a bandana on any of your bags. From totes to cross-bodies, any style can be perfectly complemented by a bandana.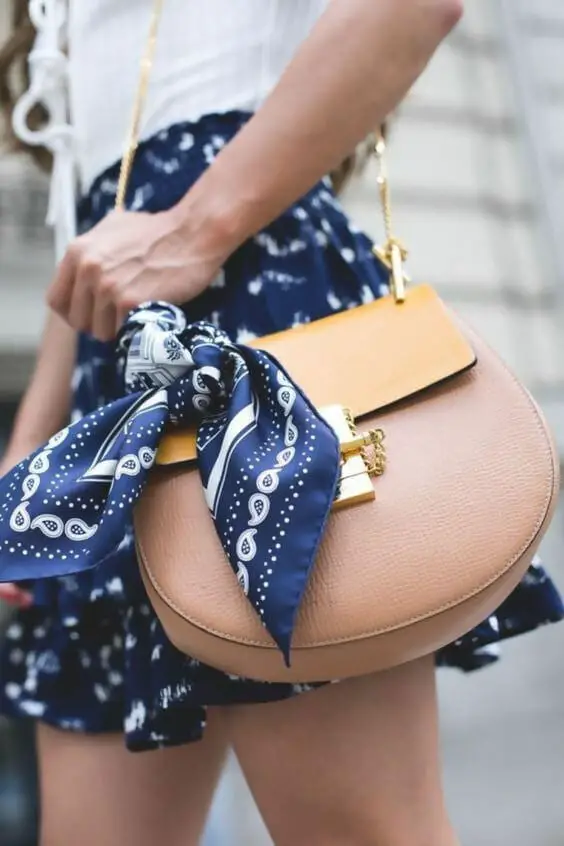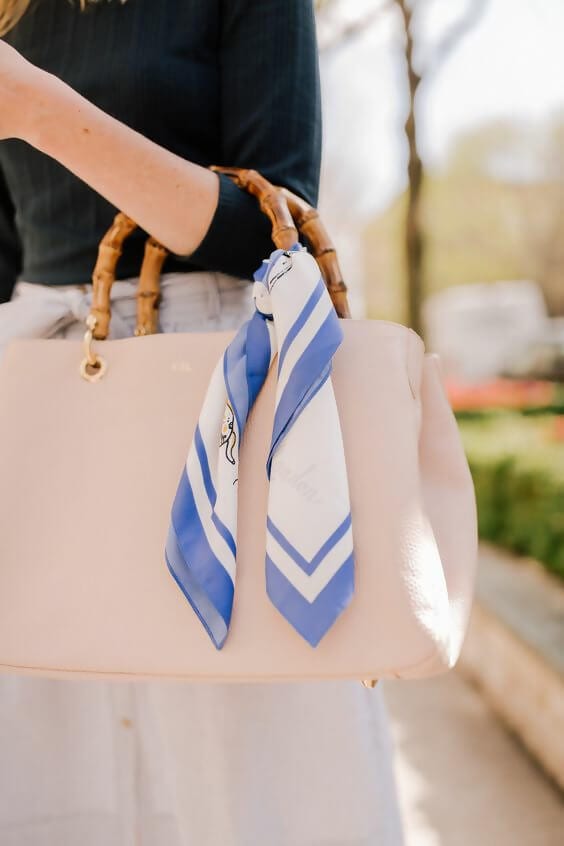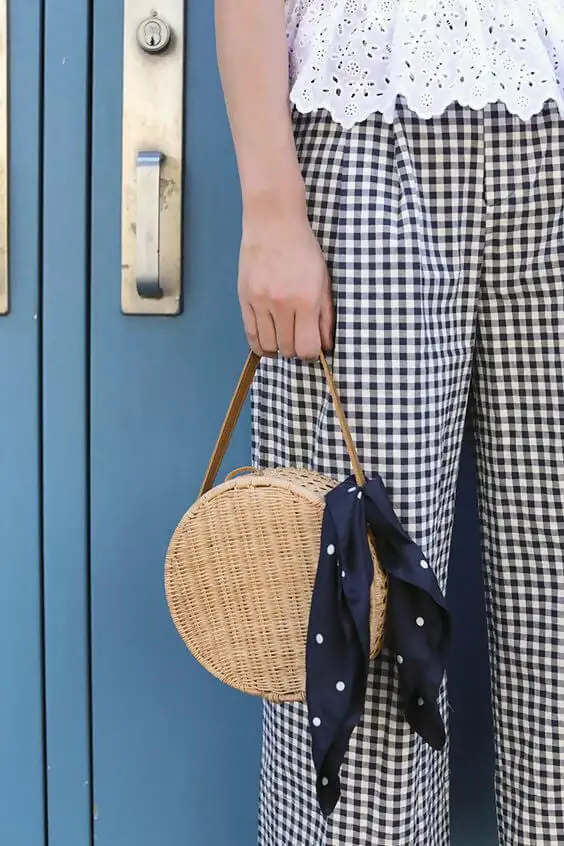 You can also tie your bandana all the way around your bag's handles, which is one of the most creative ways of showing off your bandana.
How to tie a bandana around the handles? All you have to do is make a knot with one end of the bandana on one of the handle's end, and start wrapping it around the entire handle until you get to the other side, and do another knot. Just make sure to center the bandana to prevent a long loose end on one side of the bag.
6. How to wear a bandana with your bottoms
Tying a bandana on your jeans or any bottom's belt loop will take your outfit to the next level. It's a super stylish idea you can opt for when you're feeling a little bit bored of your bottoms.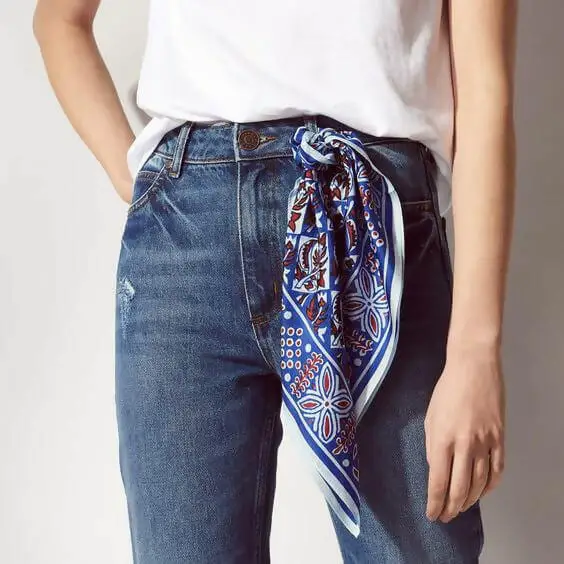 I love how you can also use a bandana as a belt: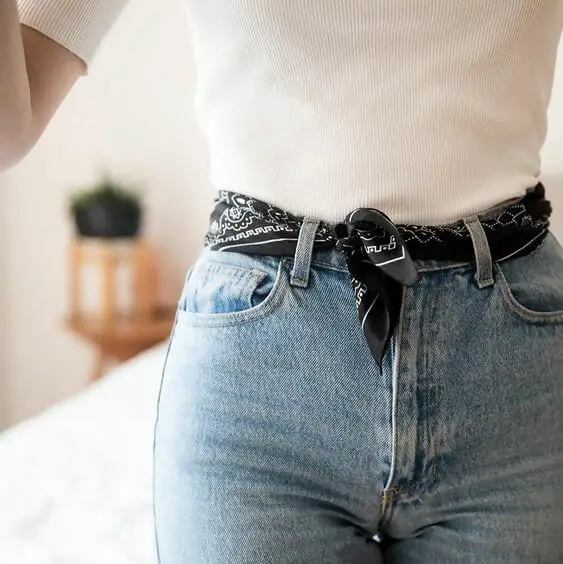 7. Other stylish ideas for bandanas
Forget about your bottoms, you can also wear a bandana with your dress as a belt alternative: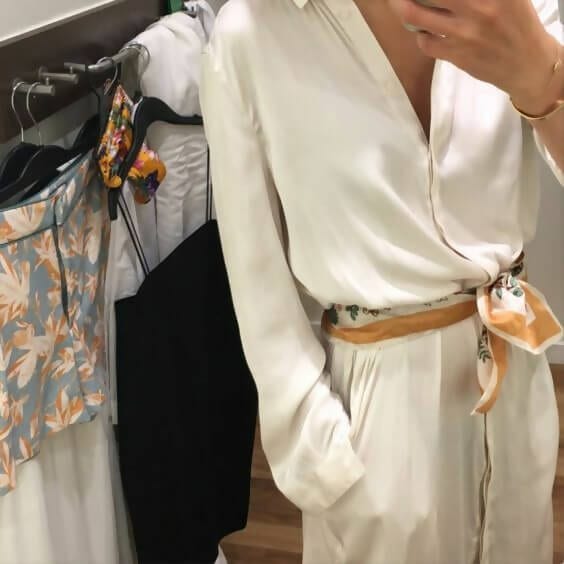 Other super creative ways of rocking a bandana as a fashion accent are: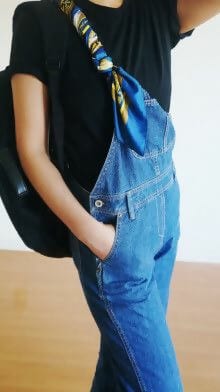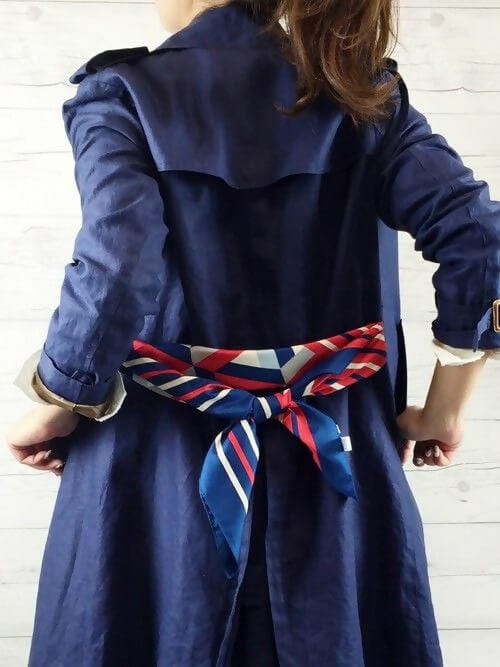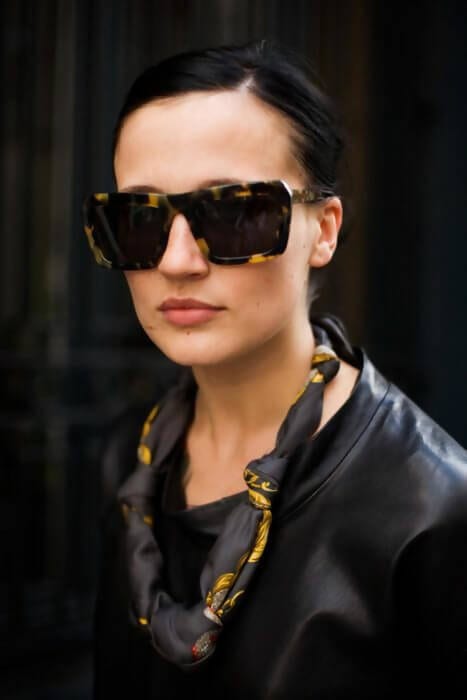 To create this beautiful necklace-like bandana follow these easy steps:
Shop bandanas
If you don't own any or feel like you can need an extra pair of bananas, what are you waiting for?
My favorite bandanas that you can find on Amazon are:
Wrap up
Few fashion accessories have become as trendy as a bandana and the reason is, as you may have already seen, the multiple and super chic ways in which you can wear it. No matter the outfit you're wearing, a bandana will always bump up your look.
You are more than ready to take your outfit to the next level with these stylish ideas on how to wear a bandana. All you have to do is grab yours, get creative and have fun!