We all have found ourselves at least once in our lifetime trying to conceal our tummy, whether we've gained weight or just feel extremely bloated, hiding that part of the body is a common practice among women.
The good thing is that there are some fashion pieces that can help us achieve just that. Sometimes we think only of loose dresses or tops, but truth is that jeans are a great idea for those moments as well.
Best jeans for tummy control
If you're looking to slimming down your tummy or want to feel you've got it under control, then this article is perfect for you.
I'll guide you through the best 10 tummy control jeans you can find in Amazon based on customer ratings, fit, price and quality. So take notes and get ready to rock some fashionable jeans while slimming your figure.
Top 10 slimming jeans for tummy
1. For a versatile addition: Vibrant Women's High Waist Fitted Jeans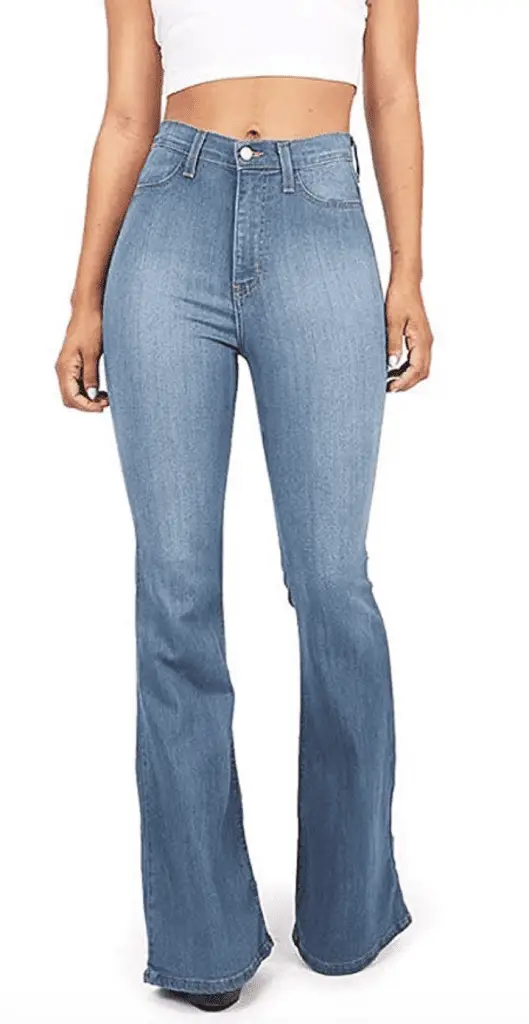 These super cute Vibrant bell-bottom jeans are perfect for anyone who wants to rock a boho look but still want to keep it low key, as the flare is not as accentuated as other bell-bottom jeans.
The high rise also makes them perfect for tummy control, keeping everything in its place. It also has 2% spandex, which makes them ideal for a comfortable outfit.
What customers say
These Vibrant jeans have received great feedback, and some of their best features and qualities are:
– Tummy control jeans: they slim the figure, accentuating the waist
– Highlight booty
– Super stretchy
2. For a classic and comfortable look: Vibrant Women's Classic High Waist Skinny Jeans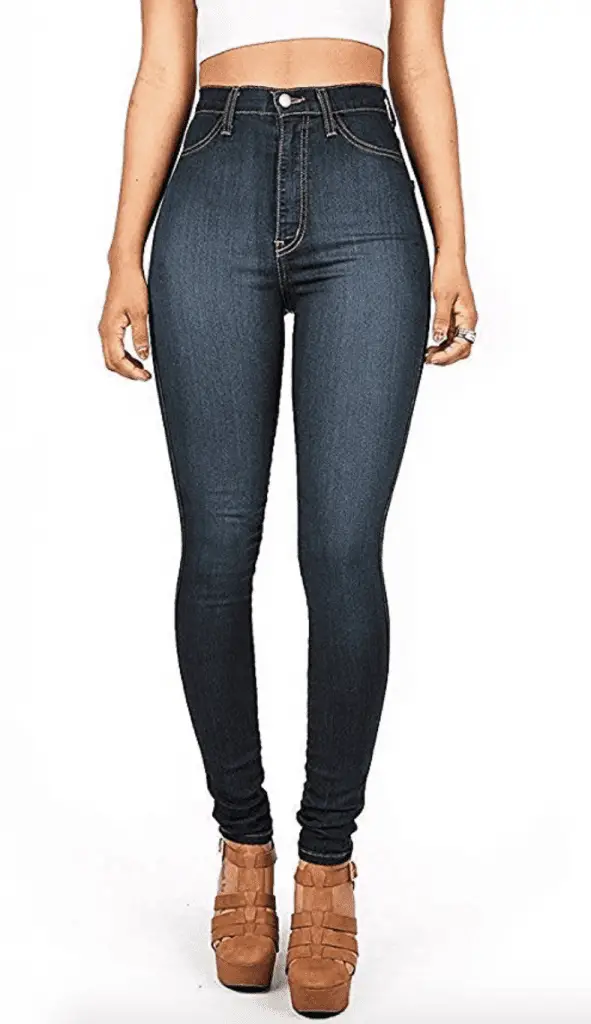 These are perfect for anyone who wants to look classic and is searching for an investment piece. Skinny jeans are a must-have piece, but if you add a tummy control feature, then they're set to become your go-to option for at least a couple of years.
Their high waist makes your tummy look flat and controlled.
What customers say
Many women who have purchased these jeans can't get enough of them, saying how amazing they fit and how flattering it is to their booty. "Awesome fitting jeans", "so worth it" and "magical jeans" are some of the expressions used to describe them.
If you're looking for the best jeans for tummy pooch, hands down these are one of the best.
3. Cute jeans for a comfortable look: Urban K Women's Classic High Waist Bell Bottom Jeans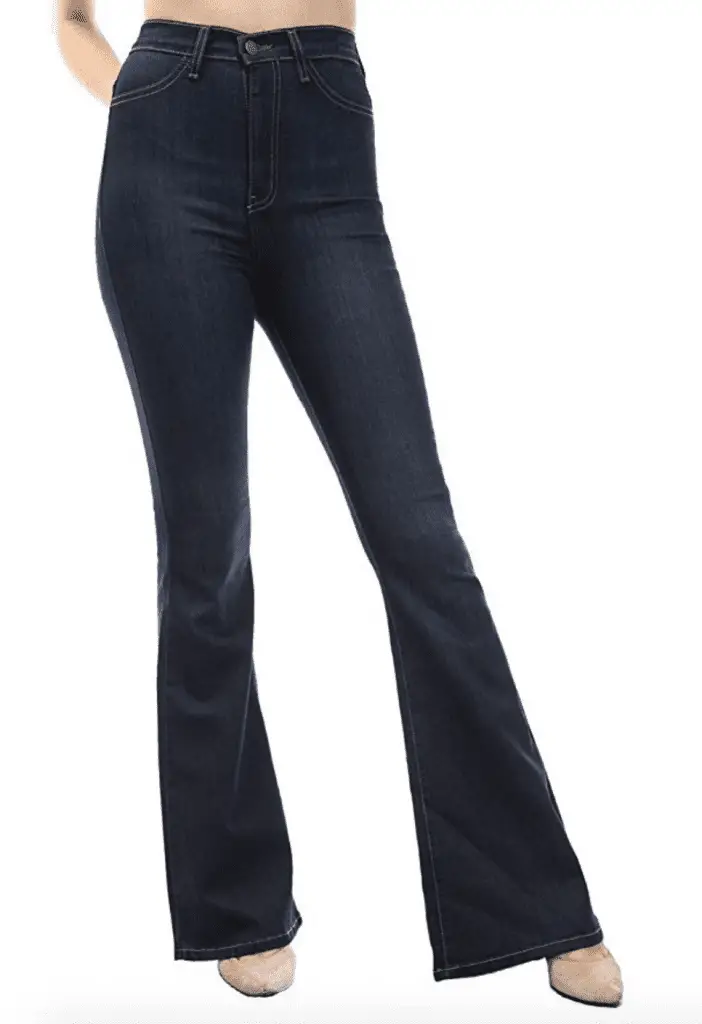 These Urban K jeans offer the best comfort and style while tucking in your tummy in the most efficient way possible. These bell bottom jeans shape your curves and make you look skinner thanks to their fit and premium fabric.
With 2% of spandex, you can rest assure that these jeans will make your daily activities much more stylish and comfortable.
What customers say
Customers love how these jeans fit better than they expected, saying that their tummy feels tucked in thanks to the very high waist and comfortable fabric.
Moreover, if you're curvy, these jeans are perfect for you since many customers claim to have a big difference between waist and hips, and still, these jeans fitted perfectly.
4. Best jeans for an edgy and cool look: Halfword Women's Ripped Plus Size Jeans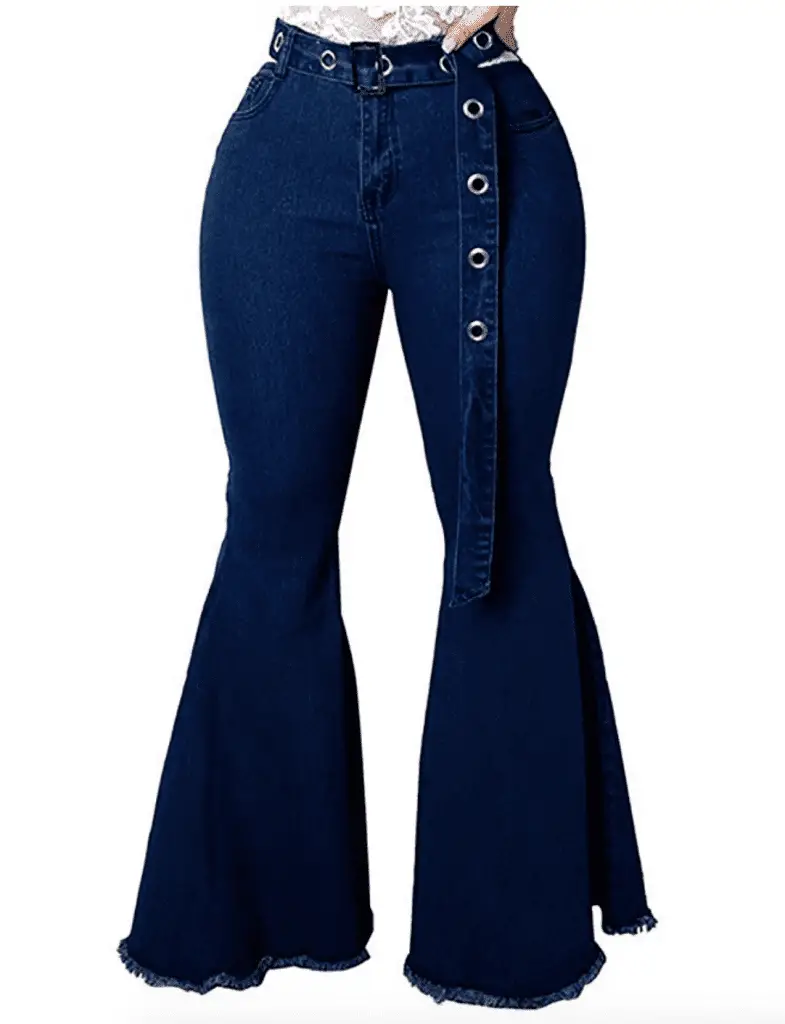 Looking for stylish jeans AND a sexy look? Don't worry about your tummy, these Halfword high waist jeans will surely give you the best looks.
You can choose from 8 different styles, from bell-bottom to skinny ripped jeans, but they're all made from the same high-quality fabric. They're soft and stretchy, which will make you look AND feel great.
What customer say
Many customers have highlighted how these jeans make their silhouette look extra sexy: they slim their waist and accentuates their curves.
Even though these jeans have not a super high waist, it's high enough as to hide your lower belly, as some customers claim. So if you have a lower belly problem, these are just perfect for you.
5. Best jeans for a classic and timeless investment: Levi's Women's 311 Shaping Skinny Jeans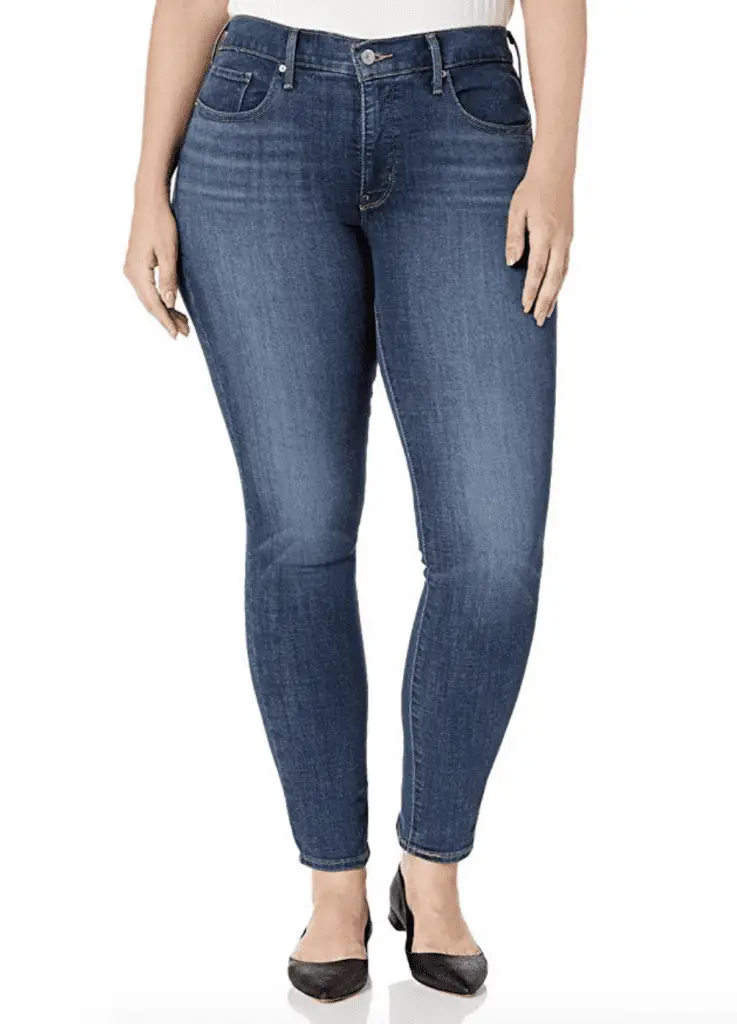 If you're looking for a great investment type-of-jean, then these Levi's are your answer. This is a classic and high-quality brand that targets your problem area with these 311 Shaping Skinny Jeans Style.
Made from 98% cotton and 2% elastane, you can rest assure that these tummy-tuck jeans will keep your belly in its right place.
What customers say:
Customers have loved the classic look of these Levi's jeans, and also highlight how great they make their booty look.
"Best jeans ever", "the most comfortable" and "the most amazing jeans" are some of the ways customers have referred to these jeans.
These Levi's jeans are another classic style just like the one mentioned above, but with a mid-rise waist. Don't be fooled though, even if they're not high waist they still have a slimming effect thanks to their high-quality fabric, keeping your tummy tucked inside and making you look slimmer.
What customers say
Customers are amazed at how flattering these Levi's jeans are, happy to see their booty being accentuated while keeping their lower belly in its place.
Many curvy women have also expressed how these jeans have been the best purchase they've made. If you've got some sexy curves, then these are what you've been looking for!
7. Easy and Comfy wear: Signature by Levi Strauss & Co. Gold Label Shaping Pull-On Jeans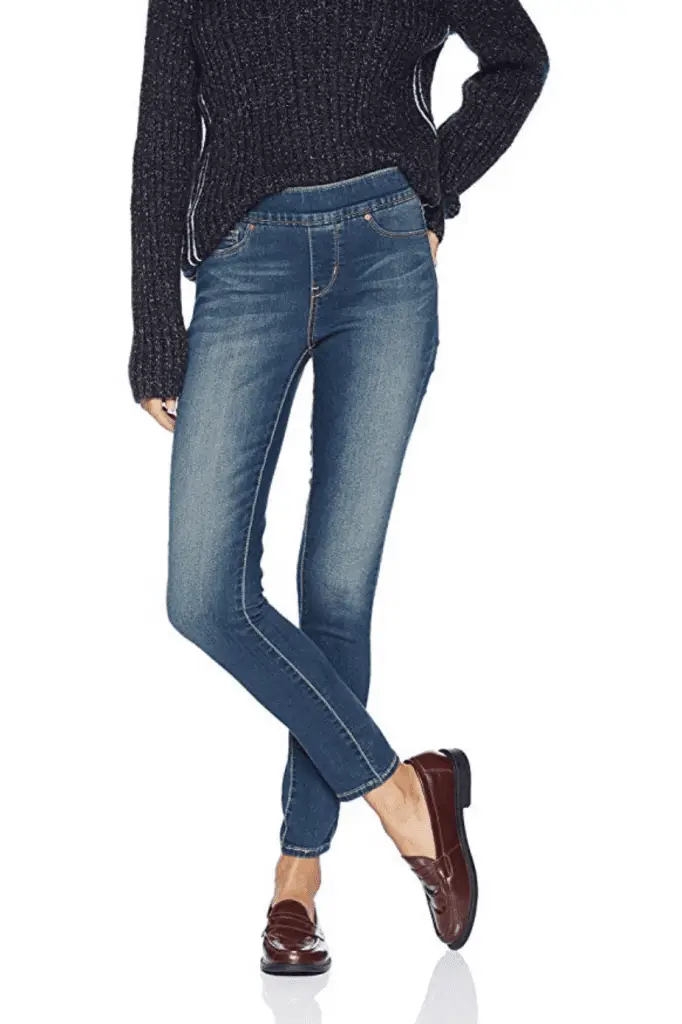 If you're a fan of jeggings, these will be your go-to option for sure. These Levi Strauss pull-on skinny jeans are super comfortable and, just like all of their styles, are made with premium fabrics which will be perfect for your tummy.
Jeggings are a comfortable version of regular jeans, so if a comfy pair of jeans is what you're looking for, these are your best option.
What customers say
Customers can't get enough of these jeggings, and many have bought more than one wash after their first purchase. Sexy, comfortable and high-quality are their best attributes, which makes me want to order a pair of my own right away!
8. Cute look and amazing tummy tuck jeans: Gloria Vanderbilt Women's Classic Tapered Jeans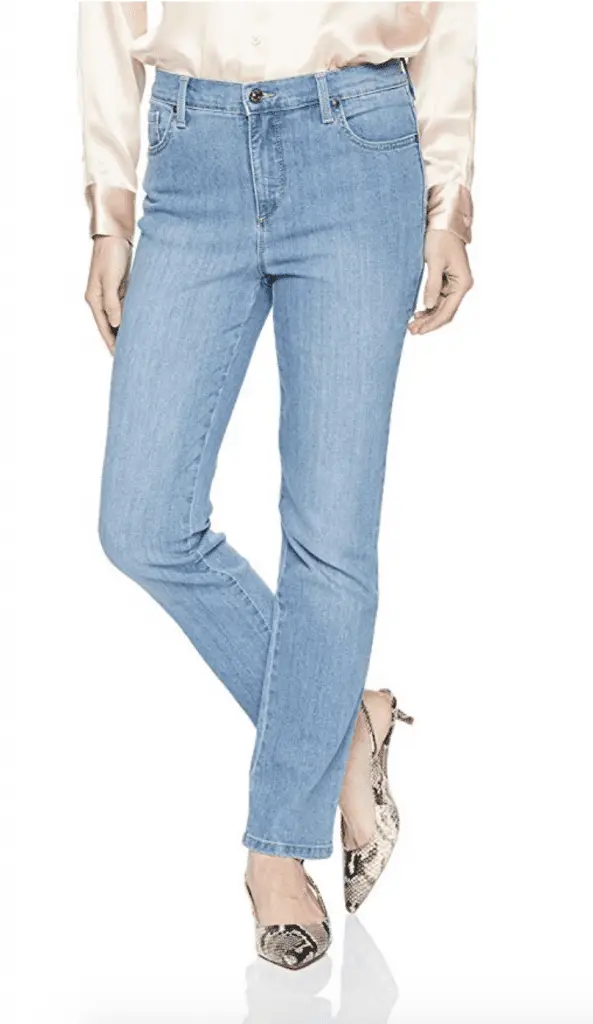 These Gloria Vanderbilt jeans are perfect for anyone who wants neither skinny nor flare jeans. These are tapered and come in 44 different colors, which makes them ideal for creating multiple and fun outfits.
What customers say
Customers have loved how amazingly well they fit and highlight how these jeans are not high waist but still manage to keep their lower belly under control. The price, quality and multiple colors make them a loved piece among customers.
9. Perfect for plus size women: EVEDESIGN Women's High Waist Jeans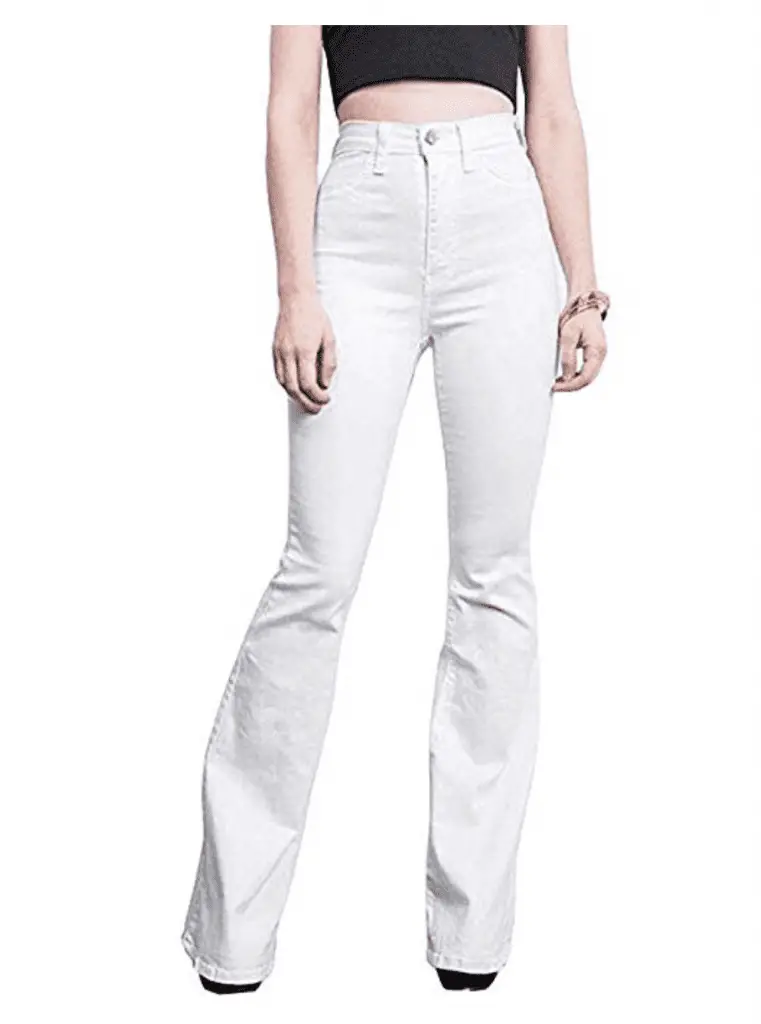 If you're a plus-size, then these are perfect for you! These EVEDESIGN jeans come in different styles: bootcut, flare, ripped… which makes them ideal for anyone who wants to experiment with different silhouettes.
The brand highlights the following fabric's qualities:
– Breathable
– Thick texture
– Comfortable
– Shrink resistant
– Moisture permeability
Great qualities if you ask me!
What customers say
"In love with these jeans", "the perfect flare" and "they're beautiful" are some of the descriptions customers have made about these jeans. They also have a super high waist which makes them perfect for tucking in your lower belly.
The only suggestion most of them make is to size down because they're super stretchy.
10. The best jeans for belly control AND a stylish look: TENGFU Women's Fashion Bell Bottom Pants Curvy Fit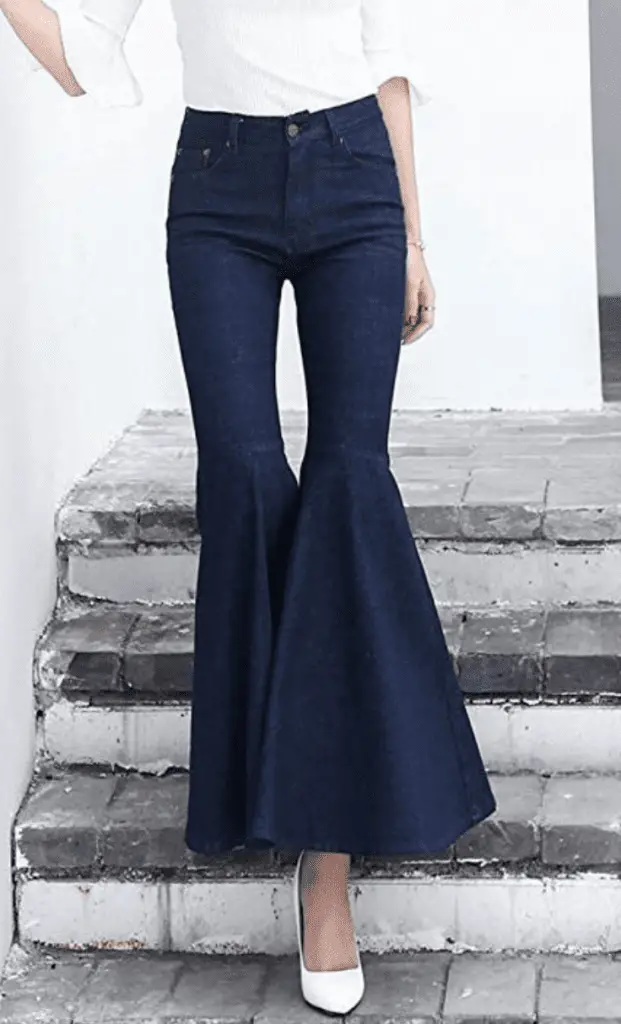 These fashionable TENGSHU jeans are the cutest option you'll find with tummy control features. They have a variety of 9 different designs you can choose from, but what makes them unique is their trendy and super wide flare. Perfect for a retro look!
What customers say
Customers love how comfy they are and many have re-ordered them in many more colors. They're super stretchy and that's one of the reasons why these flare jeans are so comfortable to wear.
If you're on a hunt for vintage but edgy and cool jeans that control lower belly, these are the perfect match!
Wrap up:
We have all dealt at least once in our lives with tummy area problems, and having a nice pair of jeans that makes us feel great with great tummy control qualities is what everyone needs for those days when you feel extra bloated or have gained some weight.
I hope these top 10 best jeans for tummy control help you on your hunt for the perfect jeans!