Bodysuits have taken the world by storm: they started as a trendy piece and have become now an almost-considered basic. In fact, these pieces can take the place of your favorite t-shirts because you can find them in plain white or black colors.
If you want to rock a bodysuit outfit but are still unsure of how to do so, follow me through these cool outfit ideas that will convince you that these pieces will be one of the best investments you'll make this year.
Decoding the bodysuit
But, first of all, what is a bodysuit? Think of bodysuits as one-piece swimsuits, because that's literally what they are. The only difference is the materials, as bodysuits can't be worn as a swimsuit substitute.
Bodysuits are skin-tight garments (most of the time) that have a hook-and-eye closure in the crotch and can be either sleeveless or long/short sleeve.
They're a favorite piece among fashionistas because they're comfortable to wear, especially if you love tucking your shirts inside your bottoms, or simple love a skin-tight look.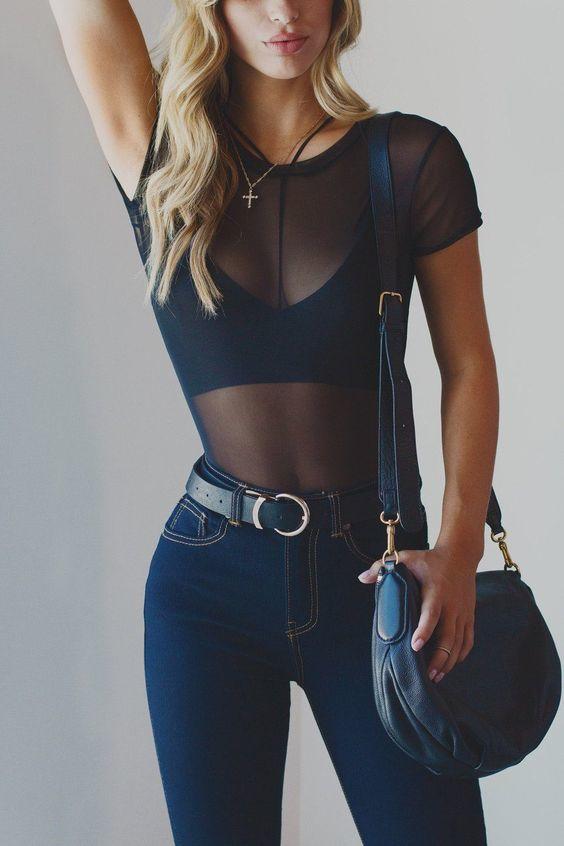 Many bodysuits can even be mistaken by normal shirts because they are not as tight and form-fitting as most. This type of bodysuit is tight in the bottom part (crotch and hips) and can be loose or fitted on the upper part, like this example: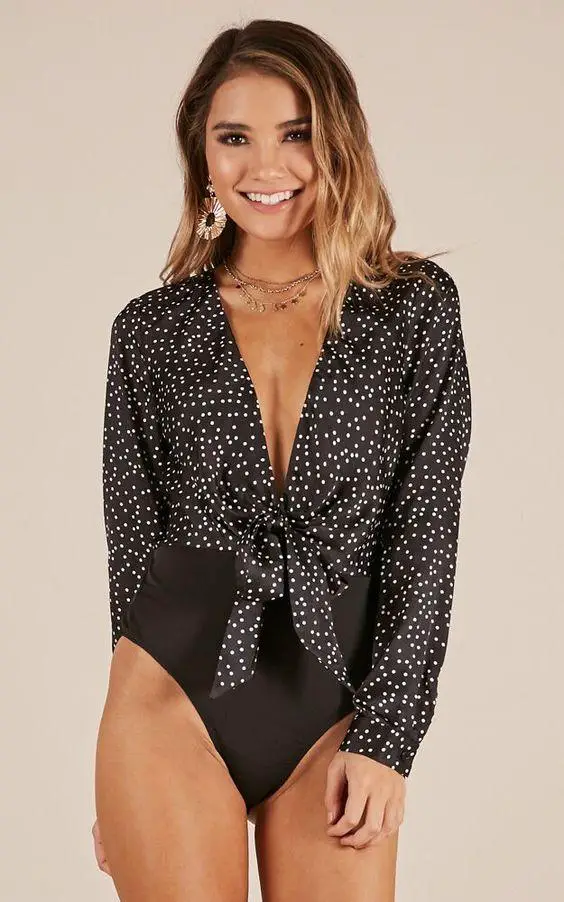 These bodysuits are perfect for those who hate having to tuck in their shirts all the time because that's the whole point of bodysuits: they stay put the whole day, no matter if you're dancing or simply lounging at home.
How to wear a bodysuit
I remember when bodysuits appeared and where seen absolutely everywhere. I never considered trying them because I don't like tight-fitting clothes, but wearing them was another thing that also intimidated me.
Turns out it's all about getting used to the idea that you're wearing a one-piece swimsuit.
But swimsuits don't need underwear, does that mean that bodysuits and underwear are a total no?
What to wear under a bodysuit is one of the main questions that pop into someone's head who hasn't ever worn one. Some people claim to wear no underwear, and others suggest you should.
I've done my homework and researched this popular concern and can give you the final verdict:
– If the bodysuit has a cotton gusset right in the crotch, then you're good to go sans underwear, as this will give your vagina a fresh and breathable environment.
– If it doesn't have this cotton gusset, please make sure to wear underwear, otherwise, you can get vaginal problems such as yeast infection.
In other words, bodysuits were originally made to be worn without any underwear. However, you're free to wear yours as well.
Cute bodysuit outfit Ideas
Now that we've talked about the bodysuit basics, let's move on to 20 cute outfit ideas and occasions in which you can wear this almost-staple-piece.
1. Bodysuits with jeans
Let's start with the easiest look: the bodysuit and jeans combo.
This is a look you will probably opt for on those occasions in which you want to pull off a casual but trendy type-of-look.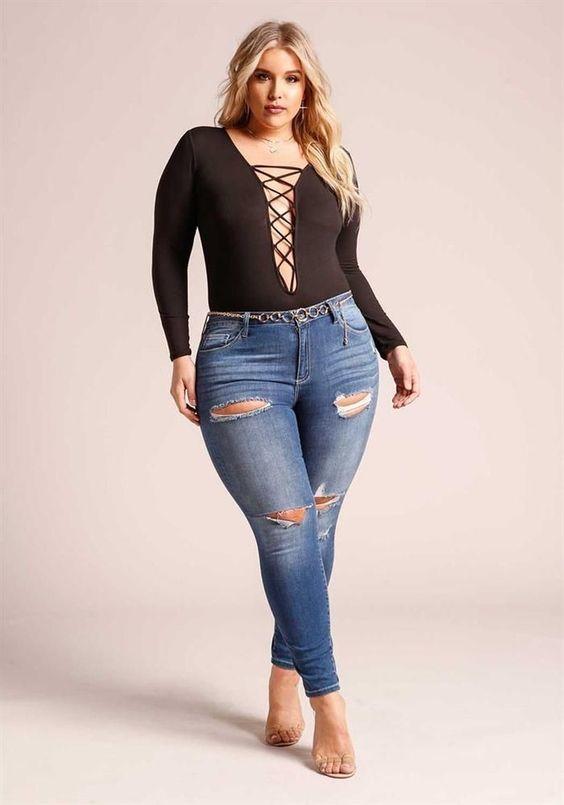 You can wear any type of jeans. If you love tight-fitting clothes, then skinny jeans and bodysuits will do the trick.
You can also opt for skinny jeans if your bodysuit is loose fitting to create a balanced outfit.
If you want to wear a skin-tight bodysuit, high waist jeans like mom or wide-leg jeans are one of your best options. This is a popular combination that many fashionistas rock because they get to wear two trendy pieces at once: non-skinny jeans and bodysuits.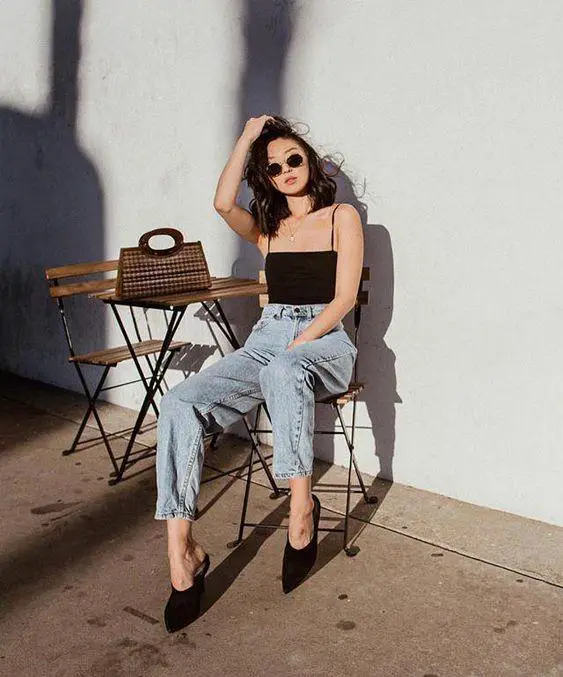 You can always layer your bodysuit outfit if you don't feel that comfortable in tight clothes. Jeans, cardigan, bodysuit and sneakers have the potential of becoming your new go-to look: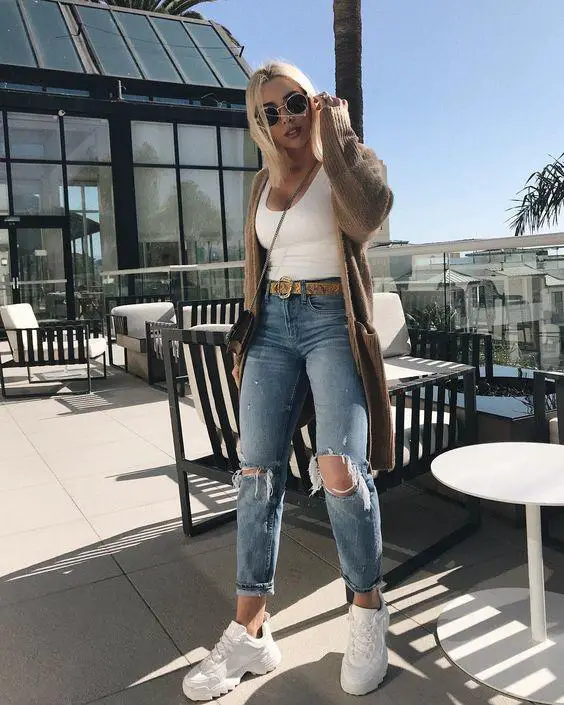 Long cardigans are the best compliment for a bodysuit and jeans look because you get to show off your figure but at the same time, you feel comfortable knowing that you're not showing too much. That's why bodysuits are a great option for both day and night-time occasions.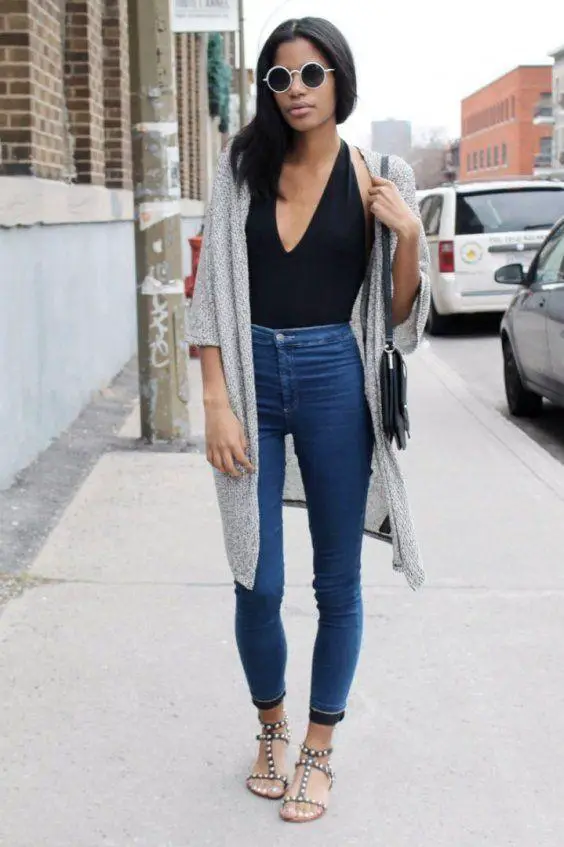 You can wear your high waist flare jeans with a sleeveless bodysuit and cool wedges anytime you feel like rocking a sexy casual look: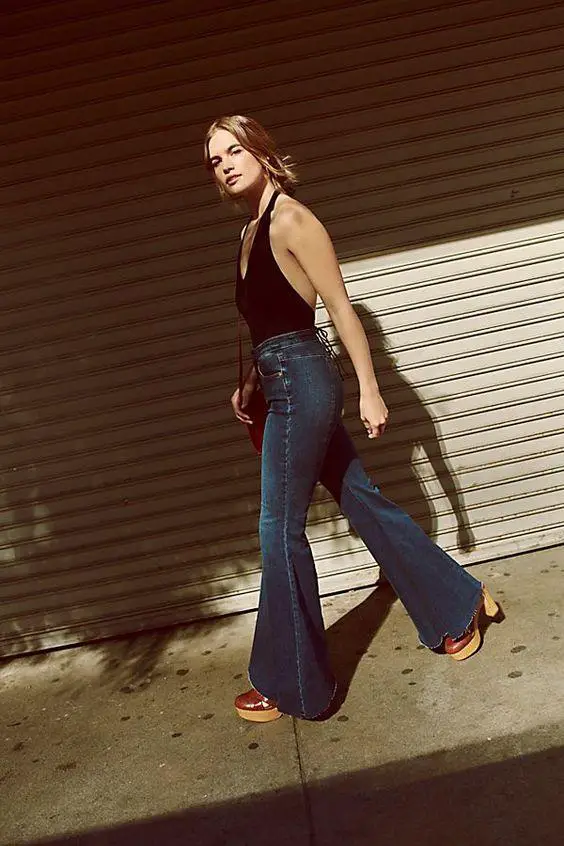 A long-sleeve solid bodysuit is perfect for a chilly weather look. Pair it with your favorite high waist jeans and loafers for a casual but chic look: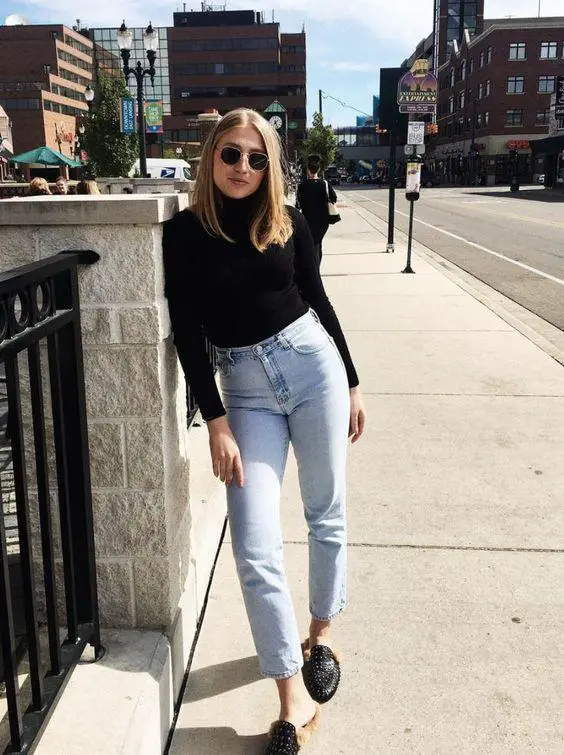 A bodysuit and jeans outfit doesn't have to be necessarily super casual. You can try this combo for a fun night out with friends by simply adding your favorite high heels and a chic handbag. Finish your look with glamorous makeup and you're ready to go.
This look is perfect for anyone who loves sexy attire that accentuates the curves: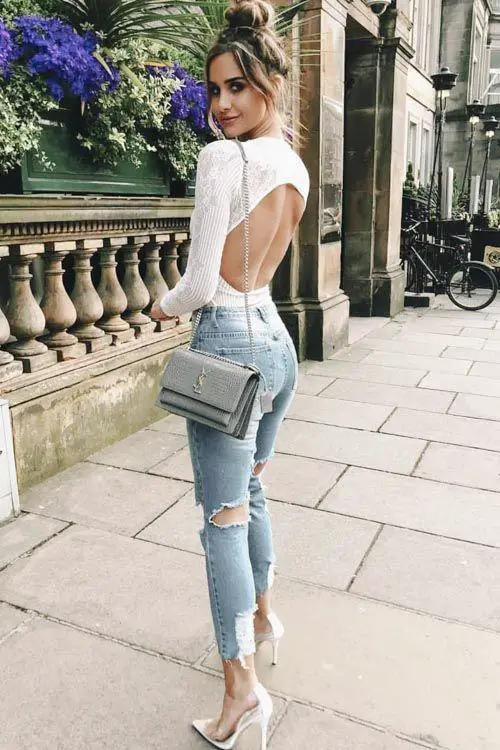 For an edgier look, switch your high heels for a pair of black leather booties. Distressed jeans will add another extra dose of edge, pulling off a statement club outfit.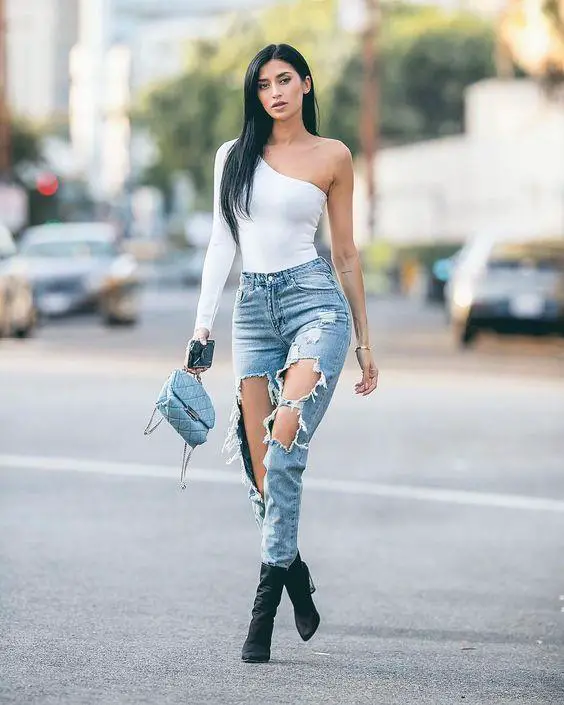 A lace bodysuit outfit is perfect for those days where you feel like wearing something sexy but casual. Pair your lace bodysuit with your favorite jeans and finish you look with a cardigan, jacket or vest: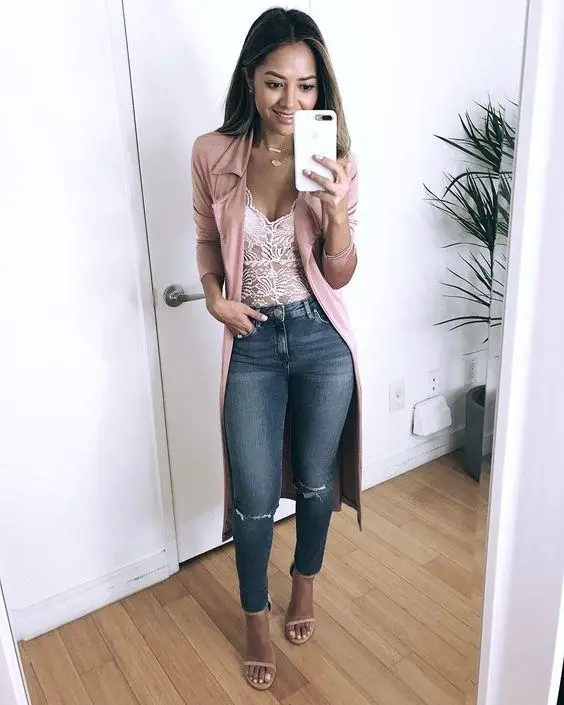 2. Bodysuit outfits for night outs
Bodysuits can be dressed up or down quite easily depending on the fabric, color and design. However, it is a universal truth that it's easier to dress up any type of bodysuit than dress down.
That's why bodysuits are so popular for a night-out look. What's more, they're super sexy and figure-flattering, which is the most important reason why girls love to wear their bodysuits for going out at night.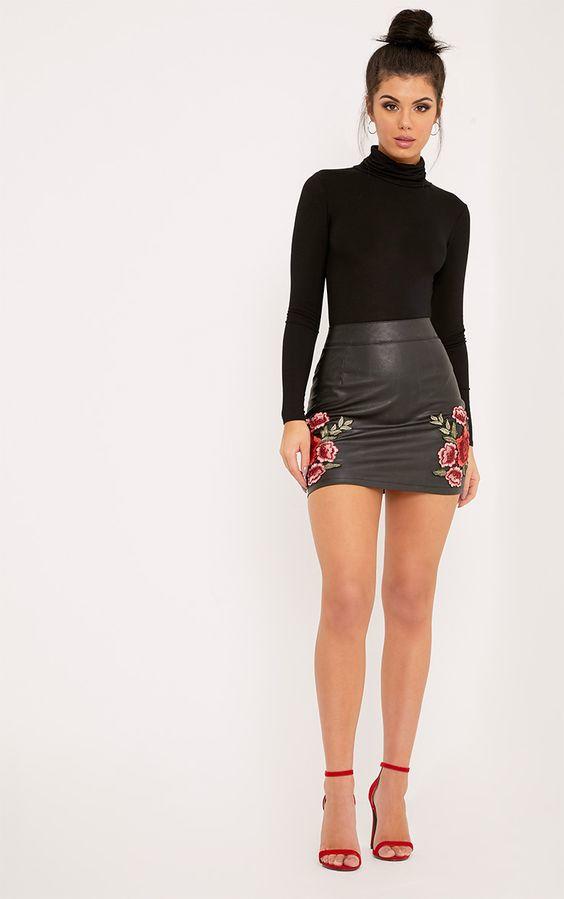 An easy outfit for night outs is a tight mini skirt with a long-sleeve bodysuit. Leather is always a great idea, so try to include whether as a bottom, shoe or jacket: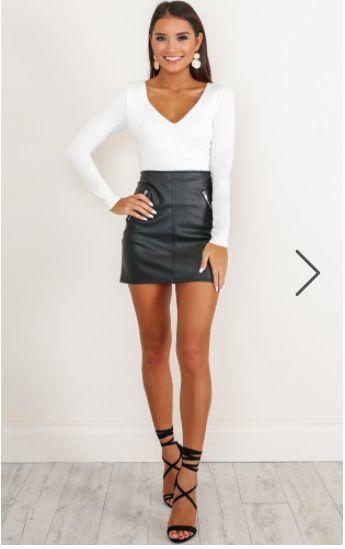 If you're feeling a little bit edgier, try wearing a see-through bodysuit over a lace bralette and finish your look with a pair of shorts: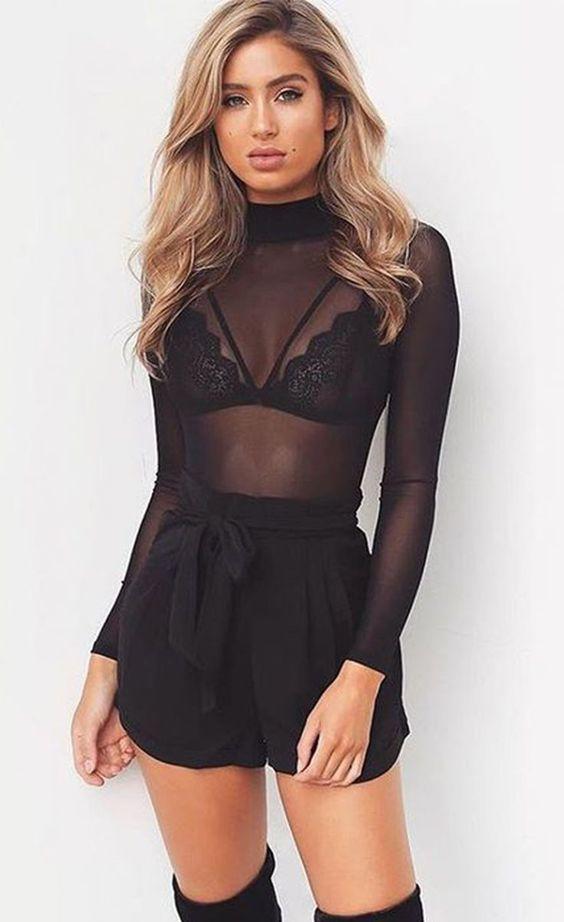 Leather pants with a see-through bodysuit make up the perfect combo for a stylish and modern night-out look:
Remember that bodysuits don't have to be skin-tight. You can find many different variations of the classic tight bodysuit.
If you don't feel comfortable, you can always opt for loose-fitting bodysuits. For a night out look, pair your bodysuit with leather pieces: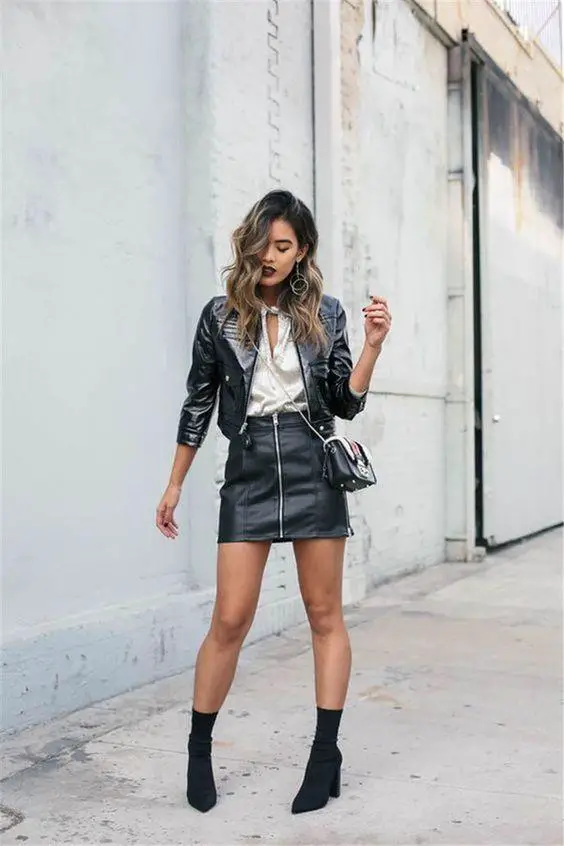 Step up your bodysuit style with animal prints and a black leather bottom: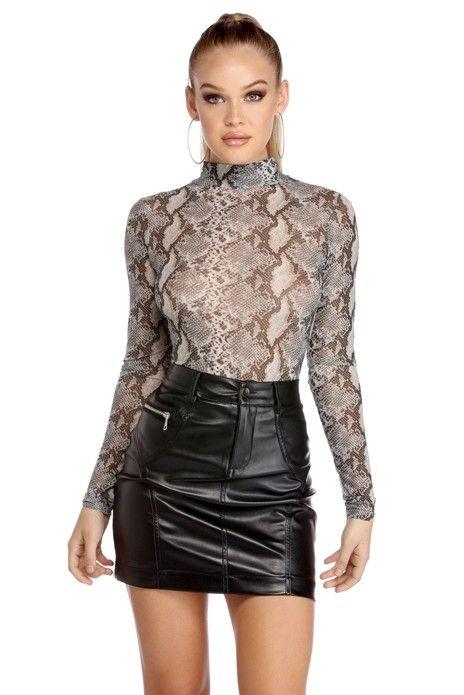 If you want to wear a casual but sophisticated night-out look, a velvet bodysuit outfit will do the trick: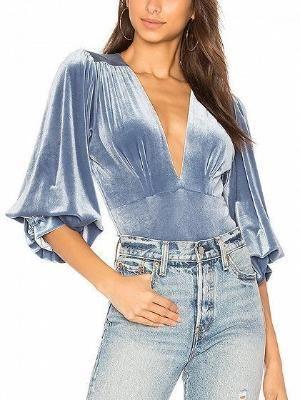 3. Glamorous bodysuit outfits
As I've mentioned, the typical bodysuits are skin-tight and sexy, which is reason enough to showcase a glamorous style.
Whenever you feel like wearing a sexy outfit, remember that bodysuits are the best garment to pull off this type of looks.
Switch your go-to jeans for a pair of perfectly fitting trousers: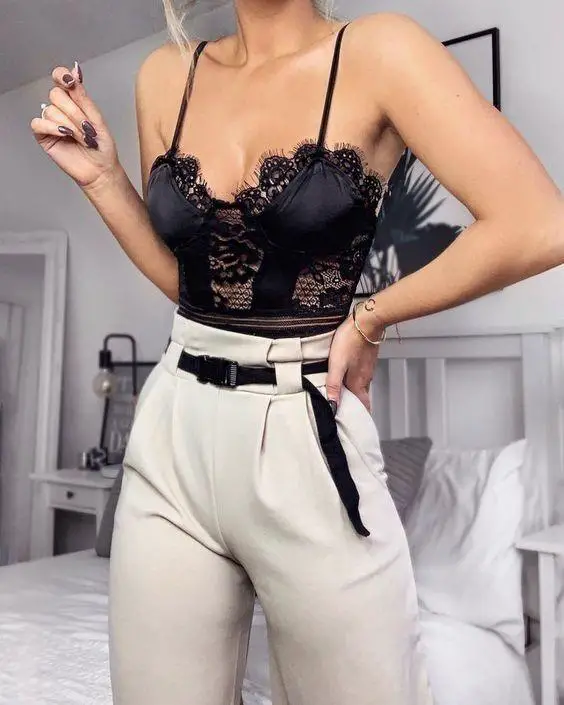 You can also wear a lace bodysuit with a trendy blazer. Plaids, checks, textures… Anything will look great with your lace bodysuit: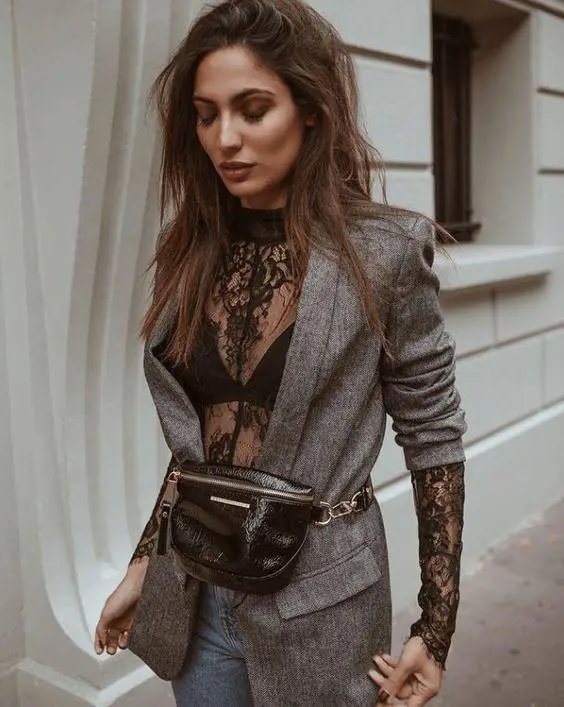 Bodysuits are also perfect for letting a statement bottoms or layers be the star of the outfit. If you gave sequin pants, for example, pair them with a neutral color bodysuit and let your pants make the statement look they deserve: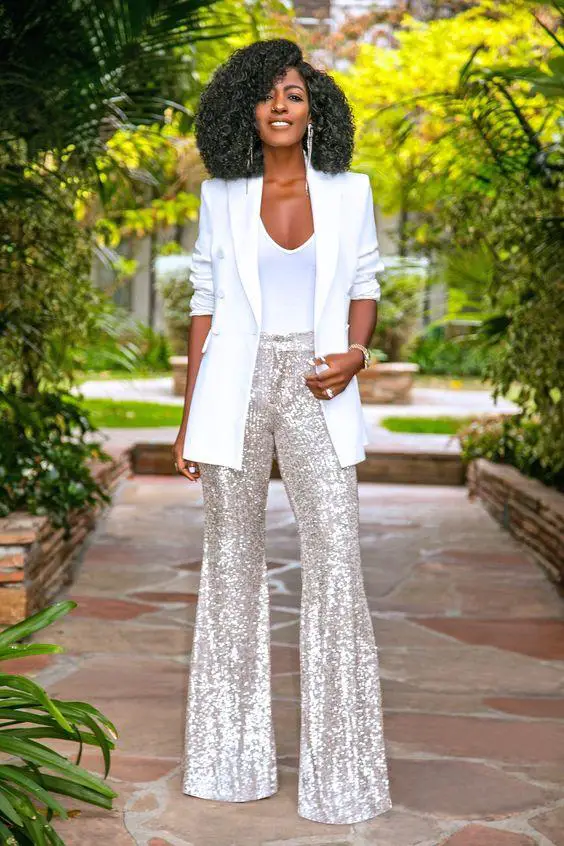 As you may have noticed by now, few pieces can compete with the glamorous look of a lace bodysuit. Blazers and tailored complements will look on point with your lace bodysuit.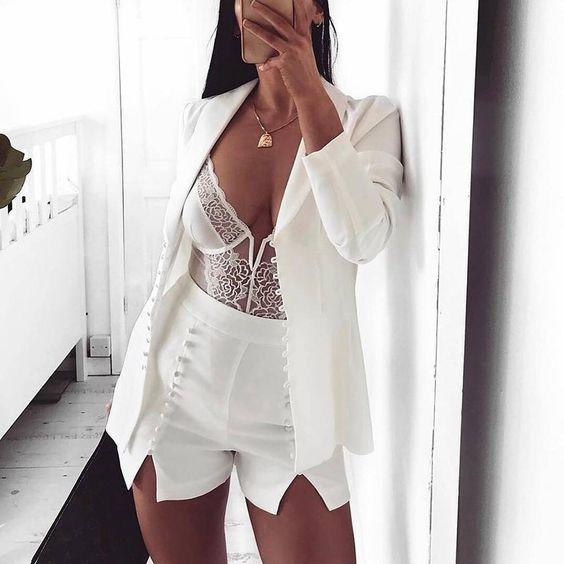 4. Bodysuit with leggings
Wearing leggings with a bodysuit might seem like too much for many, but it's still a great option you can consider to bump up your bodysuit style.
Both pieces are tight, so it's only a combo made for those who feel super confident showing off their figures from head to toe. But don't worry, you can always count on your favorite jacket for an extra dose of confidence: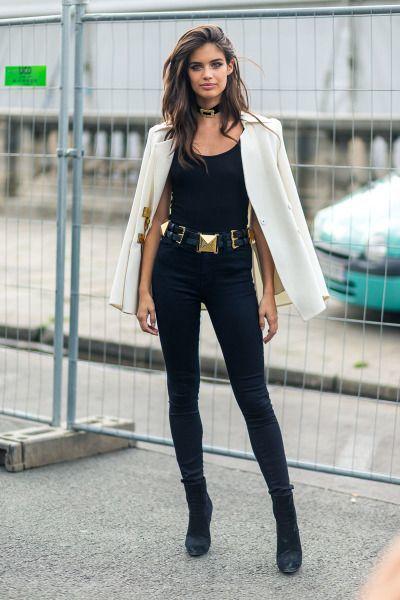 And, of course, you can wear a bodysuit and leggings outfit with a coat and booties for a winter look without having to show off your killer figure: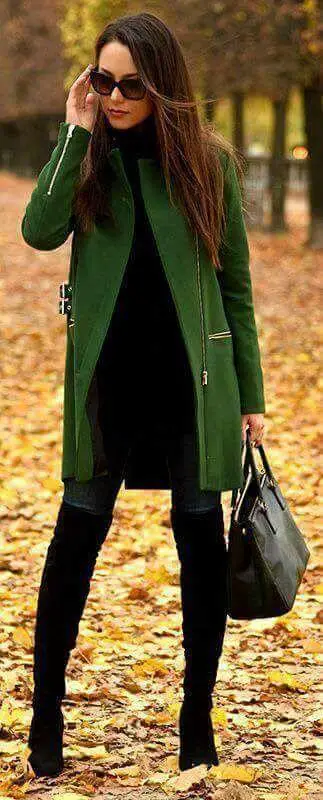 Wrap up:
If you've ever felt intimidated by bodysuits, let me tell you you're not the only one. I was also hesitant in trying them, but at the end of the day, I realized that it's all about having confidence.
I hope this style guide on how to wear bodysuits will convince you to step into this trend. And, if you're already a fan, then these bodysuit outfit ideas will always come in handy whenever you feel like showcasing your fashionable style.