Ah!… Combat boots, the perfect type of shoe for anyone who wants to rock an edgy look. They're the go-to option when you're wearing a so-and-so outfit and want to instantly lift it up and add an edgy touch.
But the truth is that you can create multiple styles of combat boots outfits. From a rocker and punk look to a feminine and sophisticated outfit. It all depends on how you style them.
Either way, one thing's sure, a pair of combat boots will never go unnoticed. They are statement shoes, and the right clothes should complement them, not the other way around.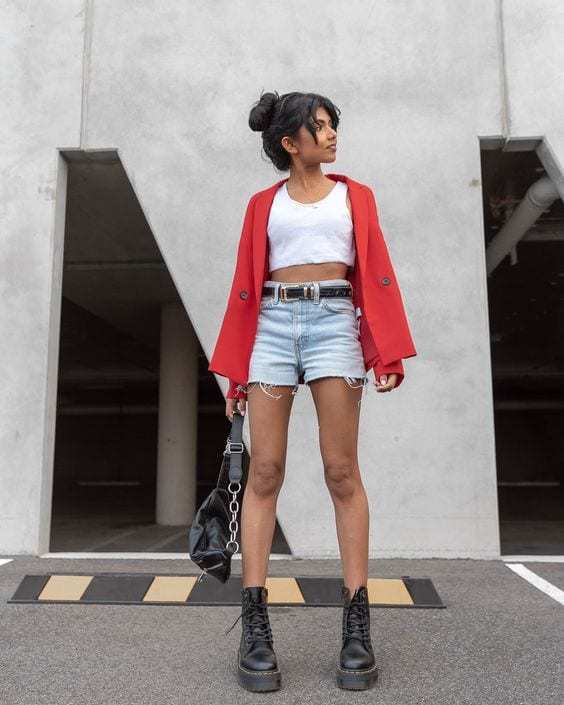 Combat boots best features
Not only are they comfortable and fashionable, but they're also one of the best shoe investment you'll ever make. Combat boots have a large life-spam, making them a durable show that will be with you through thick and thin.
Let's remember that these shoes were designed to be worn by soldiers… How can any other shoe compete with this?
Apart from making you look edgy and stylish, these are the best shoe type for anyone who's looking for a great statement AND investment boot. Hands down.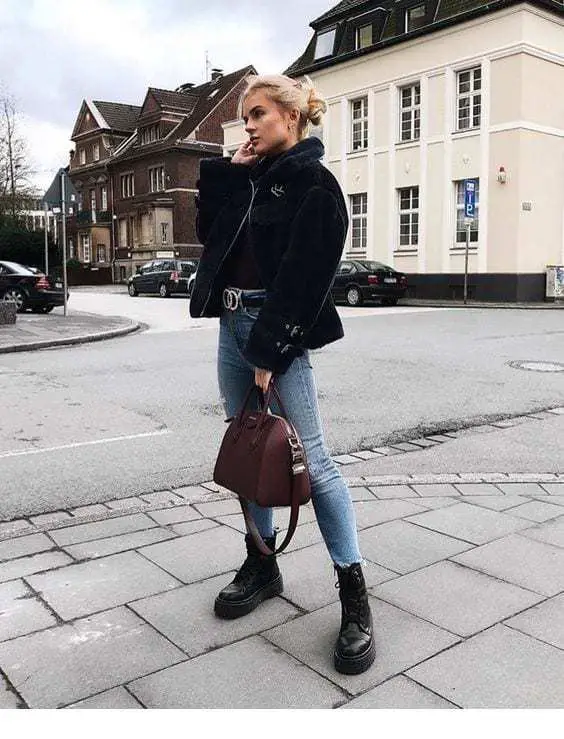 How to wear combat boots
The classic way of wearing combat boots is with skinny jeans and a black leather jacket. That's a cool look to pull off, but there are multiple alternatives to this iconic combat boots look.
I have compiled the best 12 combat boots outfit ideas that will leave you inspired and ready to showcase your own take on these boots. And, if you're still deciding whether to buy them or not, this is also the perfect article to read, as you will be instantly convinced about how cool and fashionable combat boots are.
Combat boots with jeans
1. With skinny jeans
Let's start with the basics.
The easiest way of wearing a combat boots outfit is with skinny jeans. From light wash to black, any color you choose works perfectly with these boots.
If you want to go simple, a pair of skinny jeans will do the trick.
For a cute winter or fall look, wear your combat boots with skinny jeans and your favorite pullover sweater. You can tuck it inside of your jeans for a chic and polished look: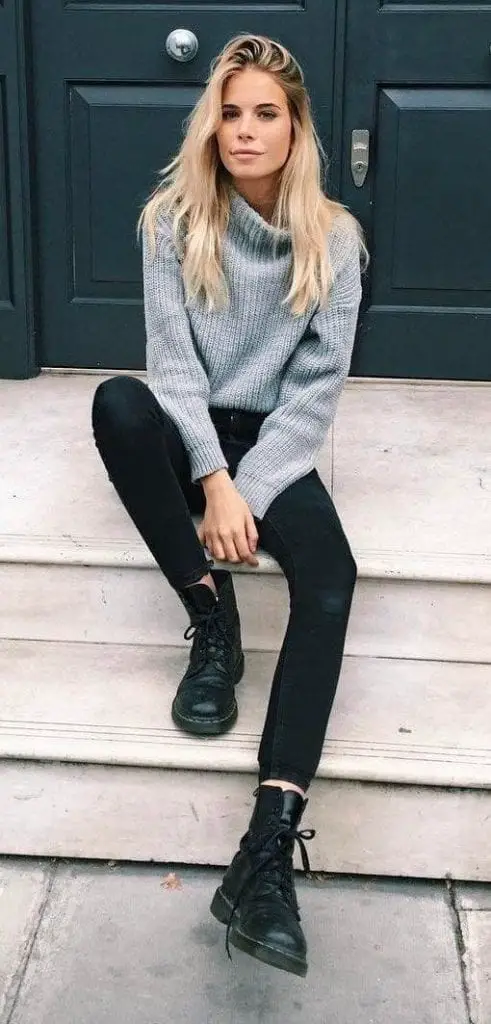 Or wear an oversize sweater for a trendy and streetwear look: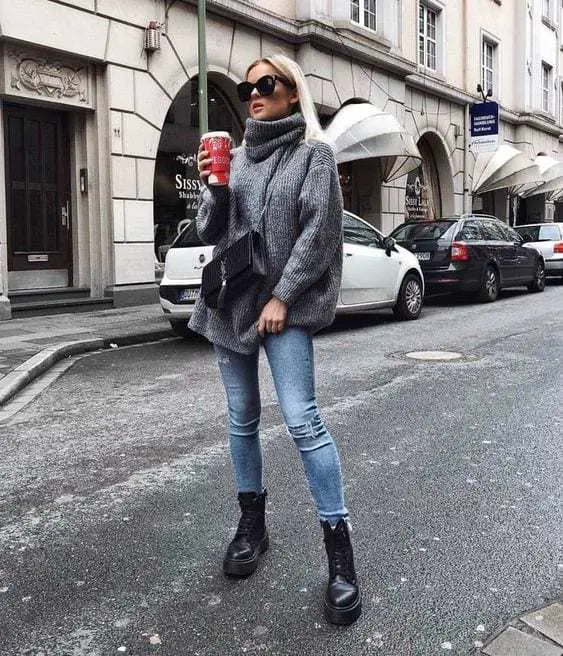 Combat boots look great with a layered outfit. Wearing different layers will complement your boots because it'll make a cool and statement look that will match with combat boots' edginess.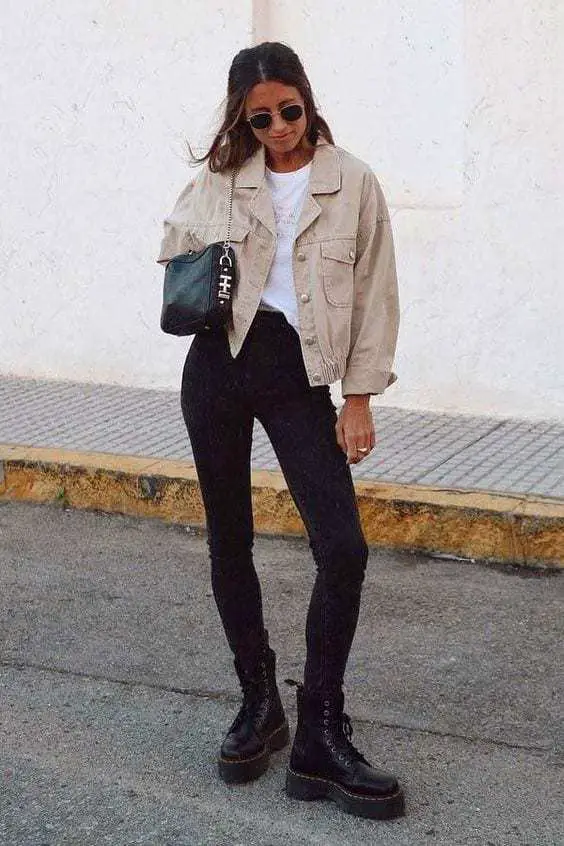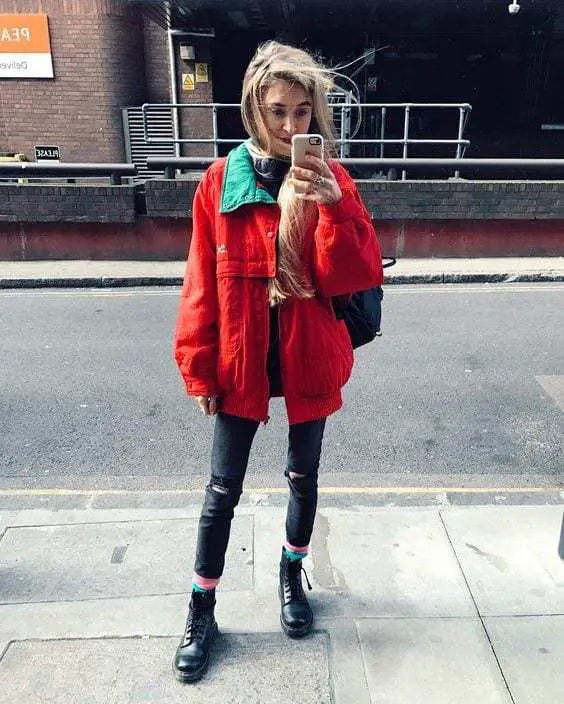 But combat boots aren't solely for cold weather seasons. You can perfectly wear them during the summer.
For a cool and simple look, wear your skinny jeans with combat boots and a graphic (or solid) t-shirt.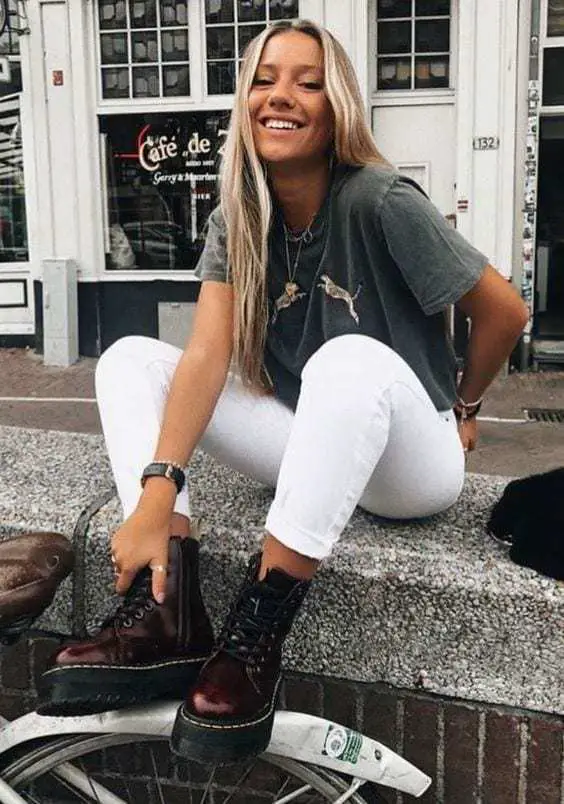 2. With mom or boyfriend jeans
Mom or boyfriend jeans are perfect bottoms to wear with combat boots. They're a great match because even though these boots have become more mainstream, they still have a trendy look that goes perfect with other trendy pieces such as mom and boyfriend jeans.
By pairing these two, you will create a trendy and edgy outfit that will be hard to ignore.
All you have to do is make sure that these jeans are cropped, because if not, wearing any type of ankle-length boots will be very uncomfortable.
Plus, combat boots look much more stylish when they're being completely displayed.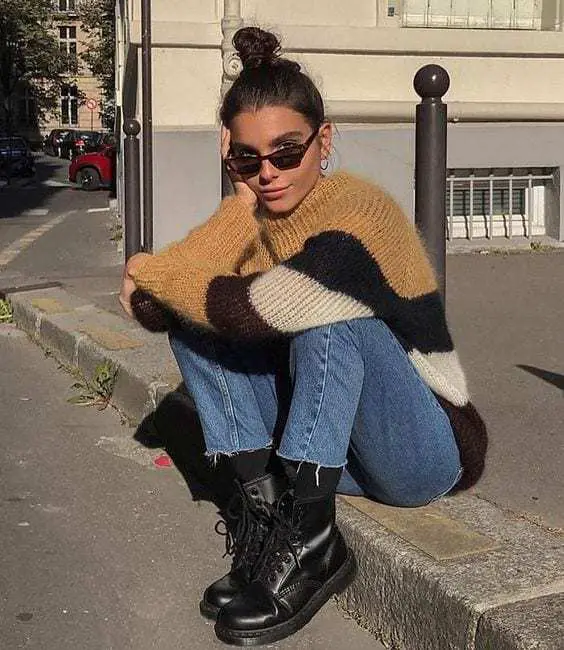 You can wear anything you like, but a cute sweater will never fail. Match your combat boots with a chic black cross-body purse.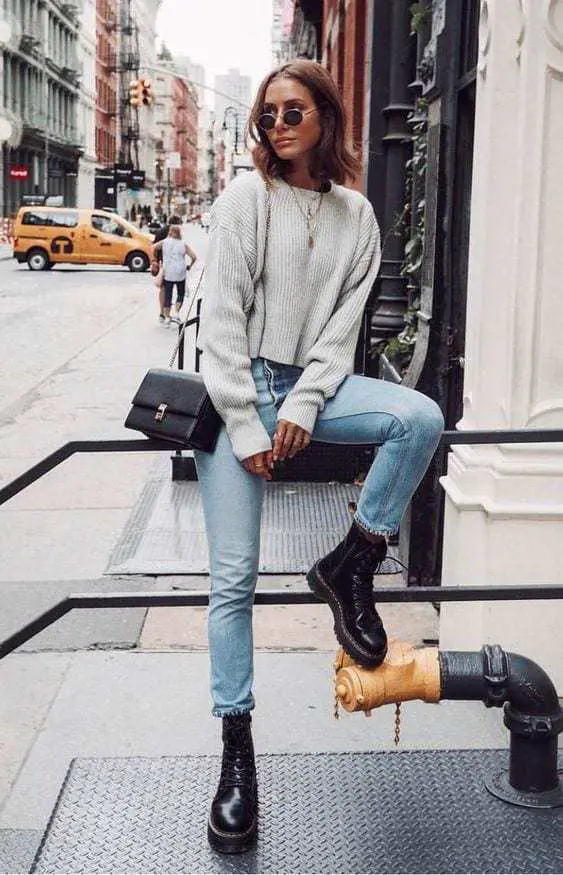 Wearing a combat boots outfit doesn't necessarily mean that you're dressing super casual. You can elevate your look with a blazer and make it 100% work appropriate.
If your workplace's dress code is flexible, try wearing your mom jeans and combat boots with a black tank top and a black blazer on top. Finish your look with a cute and simple up-do, and you will be turning heads the moment you step in.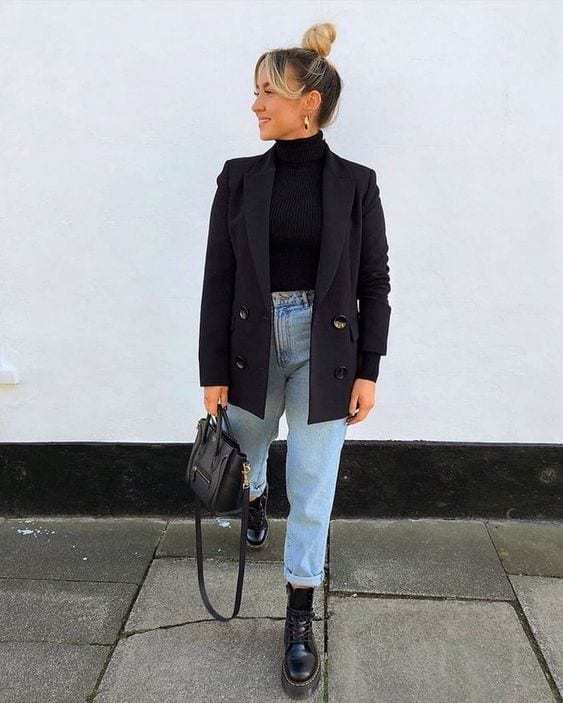 Or any type of blazer you'd like. Plaids are a classic pattern that has become trendy in the last couple of seasons.
Make the most of your combat boots by pairing them with trendy pieces such as mom jeans and plaids.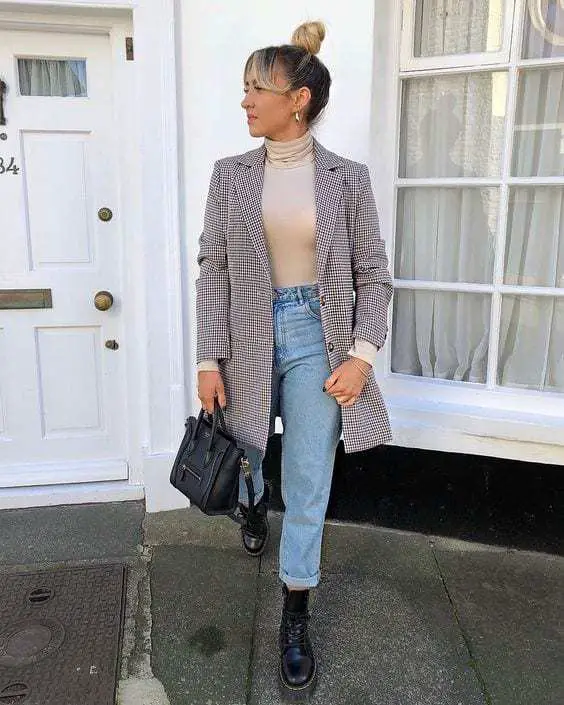 A long coat or jacket is another way of lifting casual combat boots outfits and making them work-appropriate.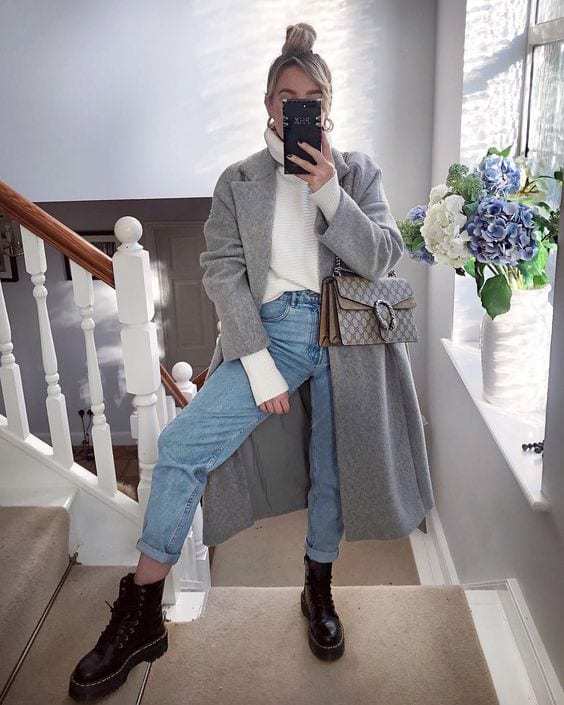 Of course, we can't talk about combat boots with jeans without mentioning a leather jacket.
I'd suggest that if you want to wear a leather jacket with combat boots, do so with a pair of mom or boyfriend jeans. Stay away from a leather jacket and skinny jeans. Don't get me wrong, these two are perfect with combat boots, but it's a mainstream look that everyone wears and, if you want to stand out, mom/boyfriend jeans are your go-to option.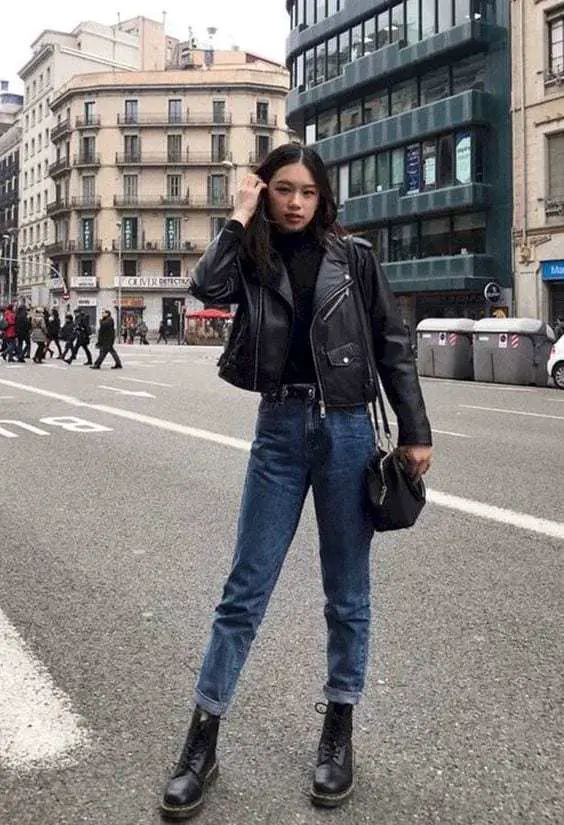 Combat boots with leggings
1. Leather leggings
Leather and combat boots are the perfect matches. So if you want to make the most of your boots, try pairing them with leather leggings.
Not only will you create a cool and edgy look, but leather also has a sophisticated vibe that can elevate a casual outfit in the easiest way possible.
For an easy look, just grab your favorite sweater: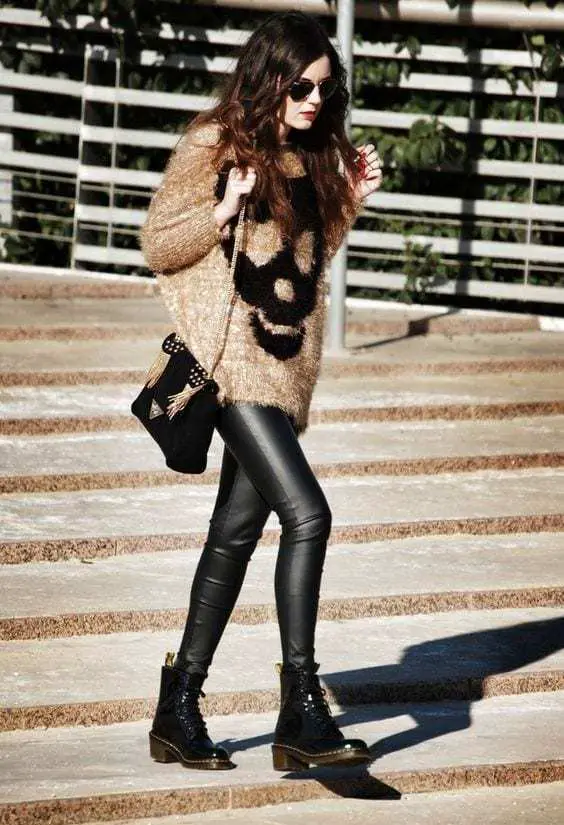 An all-black outfit with leather leggings is a safe and chic way of showcasing a fashionable combat boots style.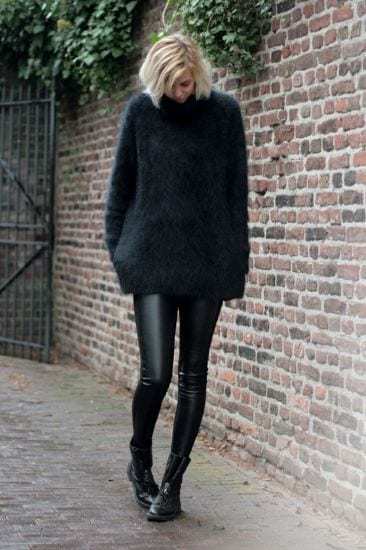 A plain black tank top will also do the trick. If pulling off an edgy and punk look is what you're looking for, a simple all-black outfit with leather leggings is what you need.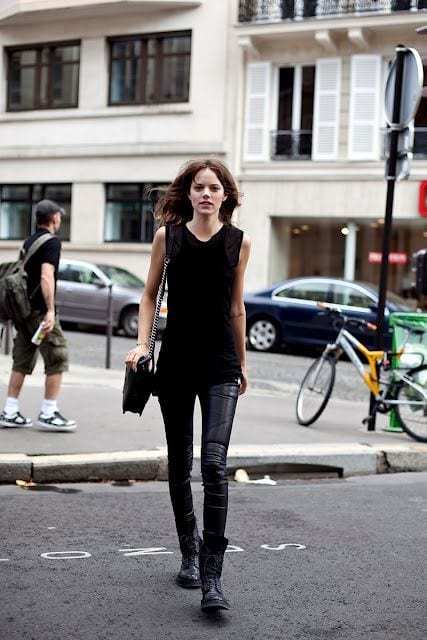 Elevate your look with a blazer for a fashion pro look: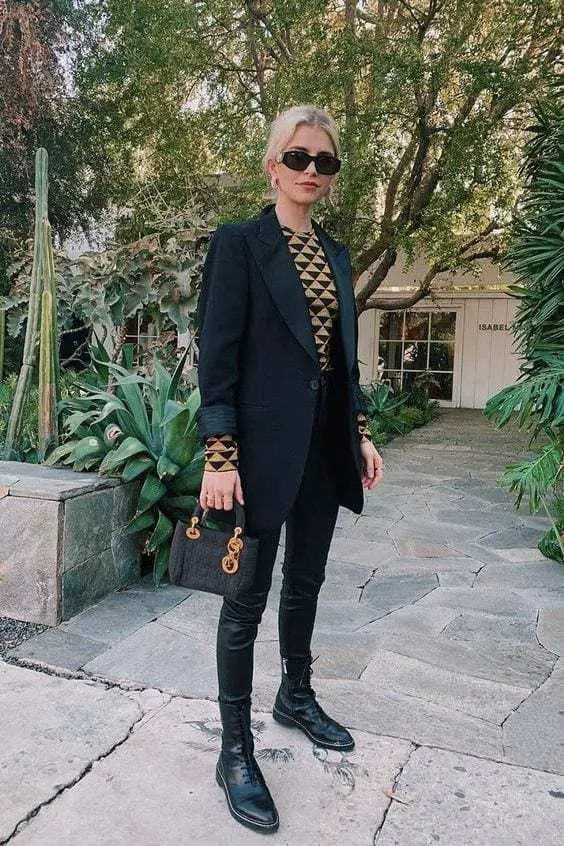 2. Any leggings
Don't have leather leggings? A simple pair of black or dark grey leggings are perfect as well. Wearing combat boots is as easy as wearing classic pieces such as a black legging.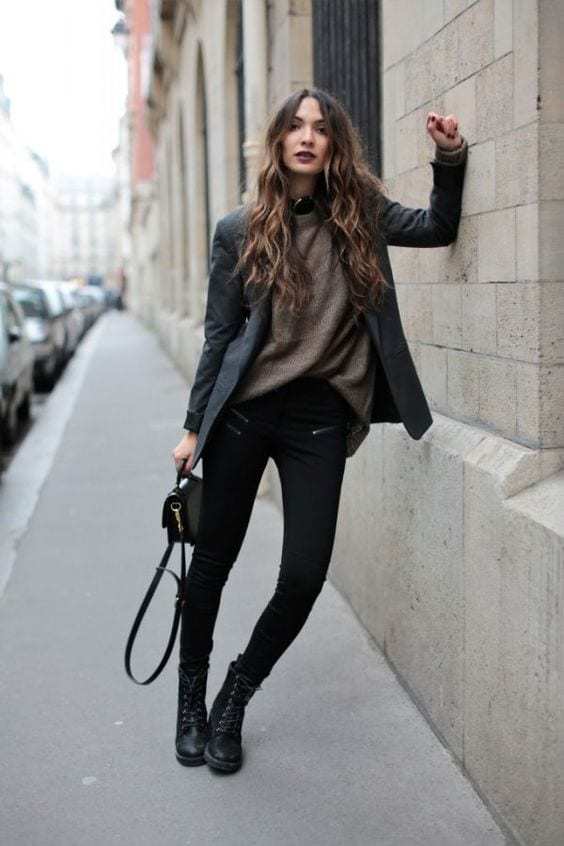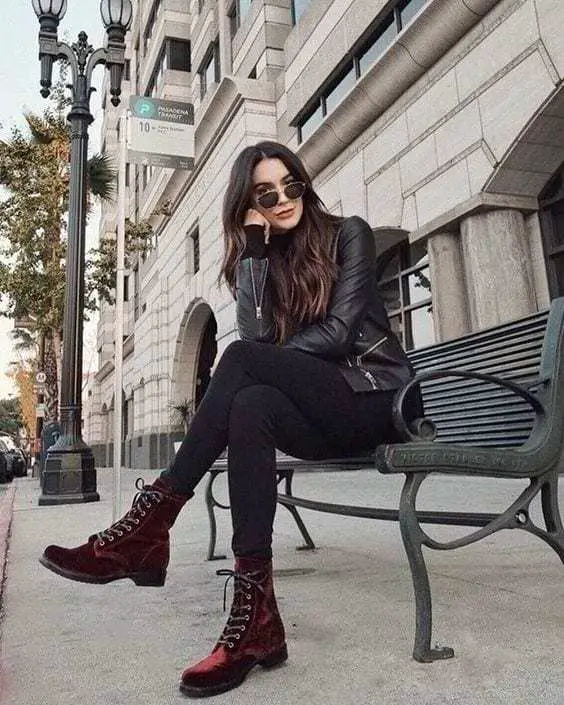 Combat boots with trousers
If mainstream is what you want to stay away from, try wearing a chic pair of trousers.
There are endless types of trousers, but the ones that best match with combat boots are the following:
1. Plaids
As I mentioned before, plaids are everywhere, but wearing them as trousers and pairing them with combat boots is the best way of showcasing a fashion pro look without looking like the rest.
Plaids and combat boots are also the best combinations for anyone who wants to pull off an edgy and tomboy look, but still, look chic and trendy.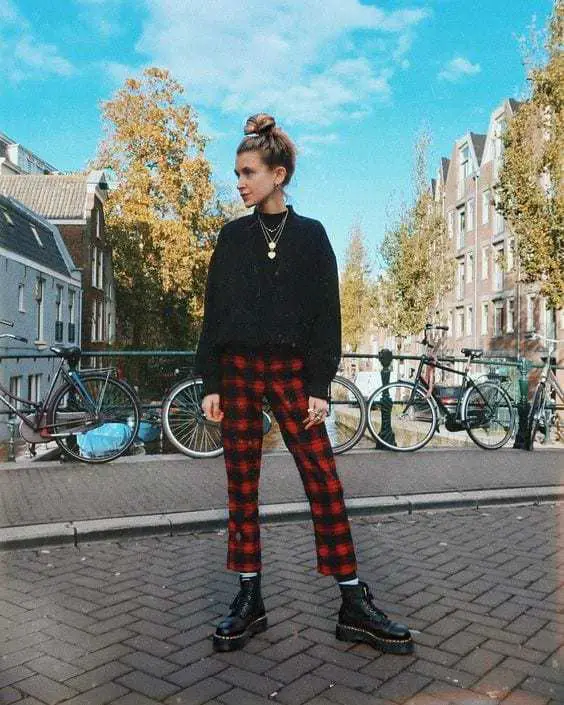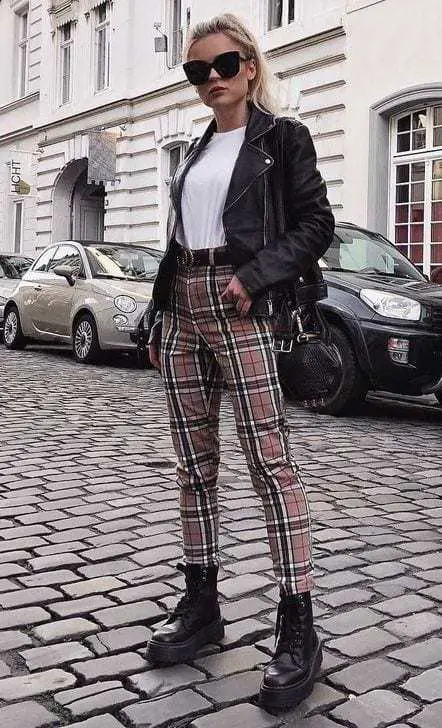 2. Wide leg pants
Wide leg pants are also a great idea for anyone who wants to look like a fashion pro. They're fashionable, trendy and look super edgy with a pair of combat boots.
You can also wear this combo for a chic casual business look.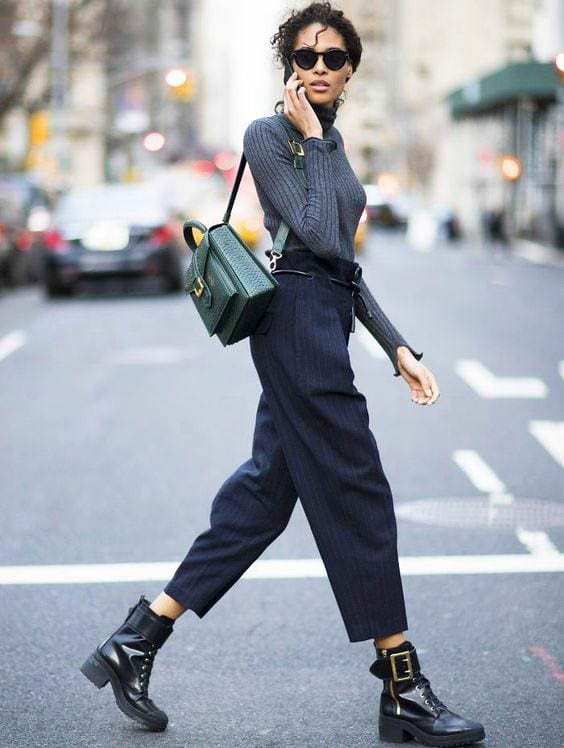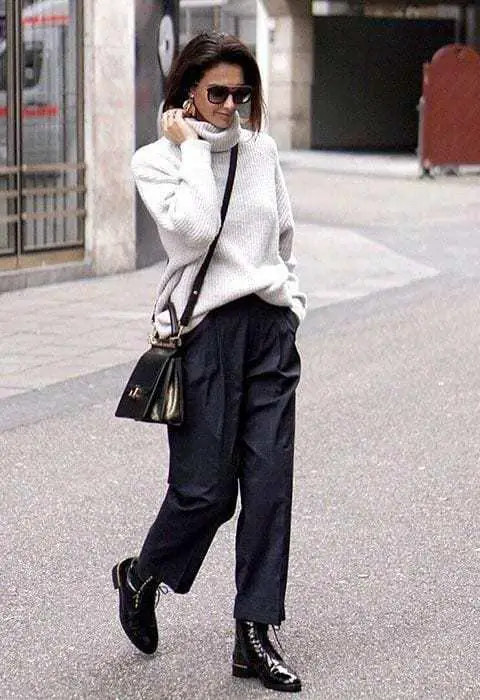 3. Just any trouser
The magic of combat boots is that they go perfectly with almost anything. So you can choose your favorite trouser and wear combat boots and still look fashionable.
From cigarette to cargo pants, combat boots have a special way of making everything look on point.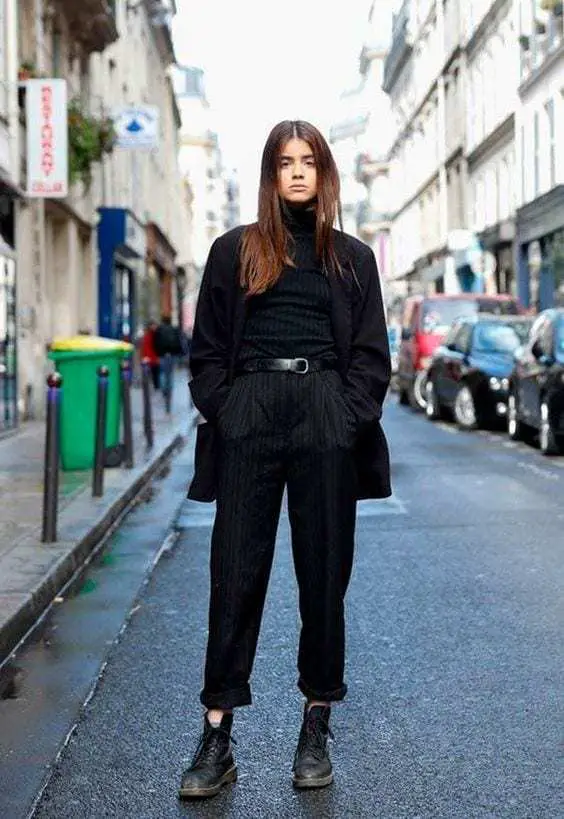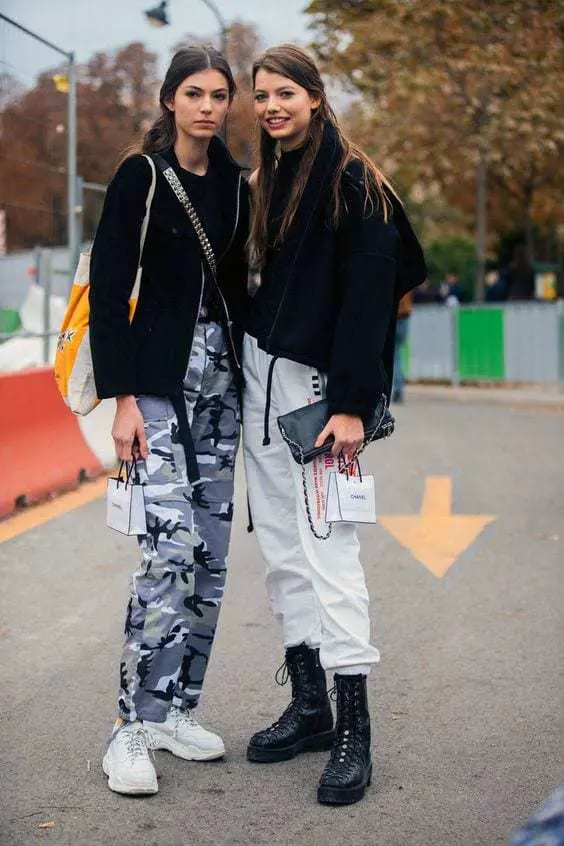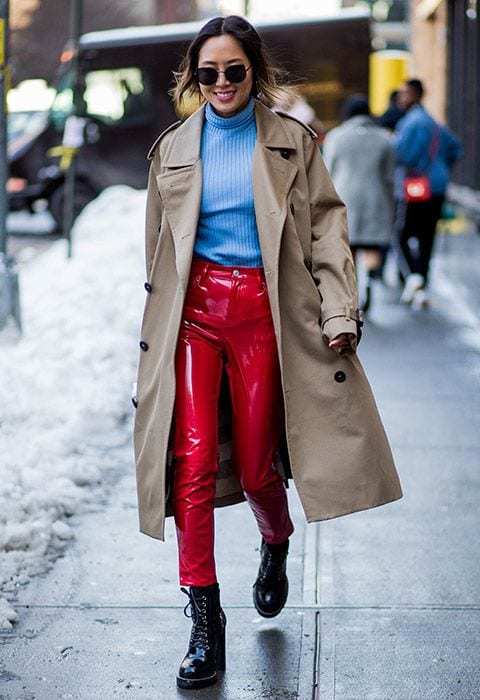 Combat boots with shorts
Shorts are perfect for displaying your gorgeous legs, but it's way better if you show them off with combat boots.
As I mentioned, combat boots are not only for winter or fall looks. Summer is another excuse for rocking them as well.
That's when shorts make the best combat boot outfits.
1. Jean shorts
Basic jean shorts and combat boots are one of the easiest ways of pulling off an edgy summer look.
For super warm weather, wear a strapless or spaghetti strap tank top with your favorite jean shorts: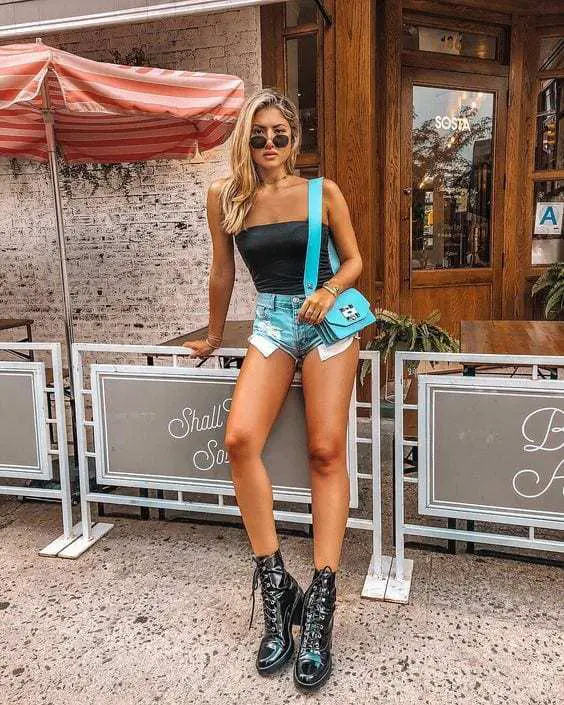 For a casual and chic look, wear an all-black outfit with black jean shorts: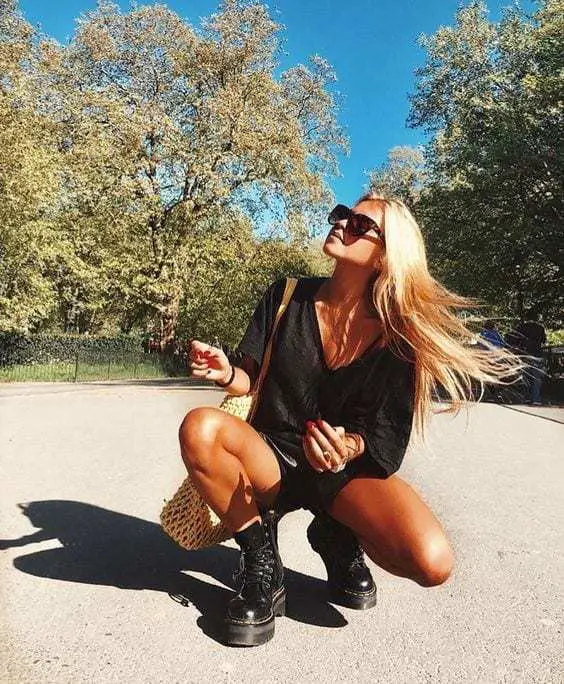 Jean shorts and combat boots are also a perfect combination for a country concert:
And, if the weather gets chilly, just wear a fashionable jacket. That's how easy-wearing shorts with combat boots is.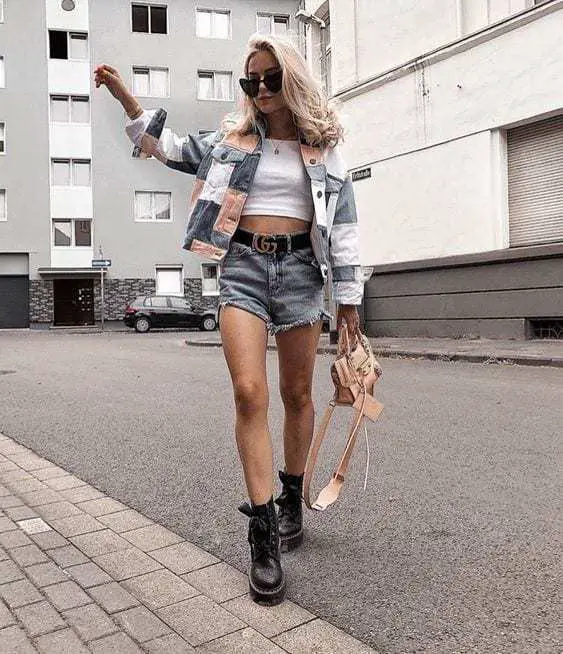 2. Other shorts
If you want to wear a polished look, switch your jean shorts for any other type of shorts: from linen to leather, anything will look cute with combat boots.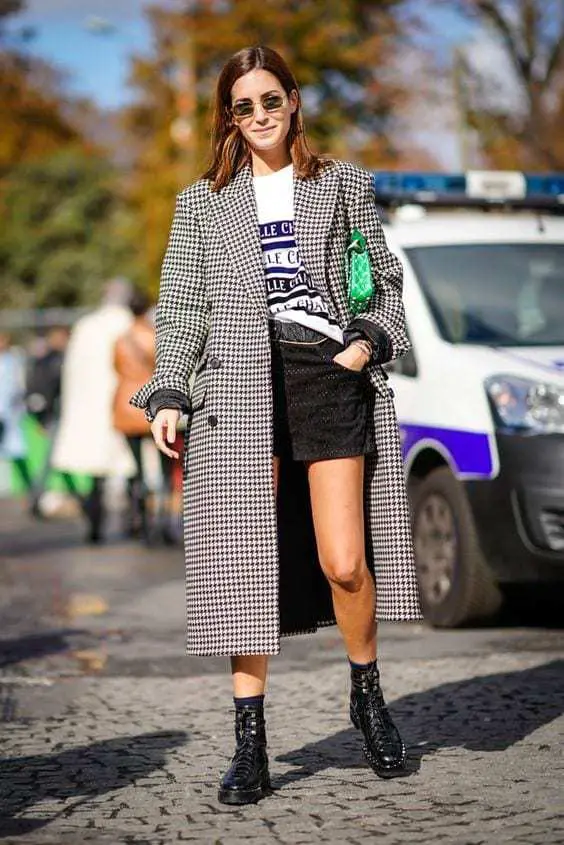 As I've mentioned, blazers and combat boots are a great combo for an elevated casual outfit. Add a pair of fashionable shorts and get ready to turn heads as you walk by.
Flowy and/or printed shorts are the best option for anyone who wants to wear combat boots and still look girly.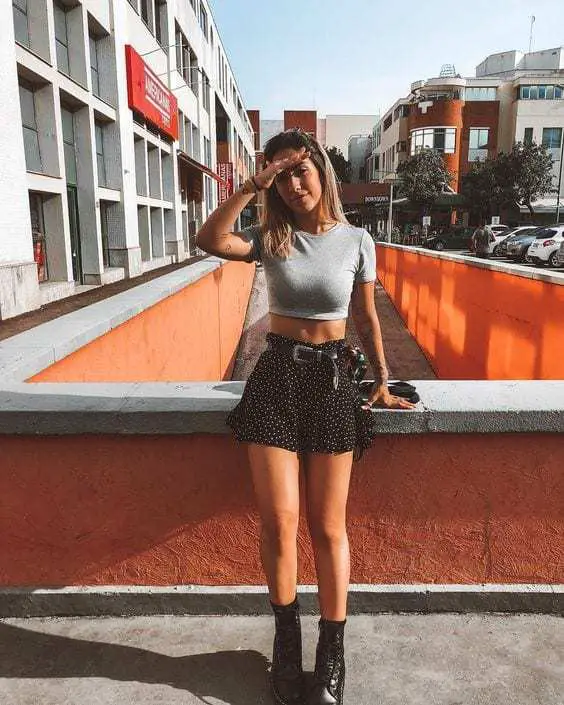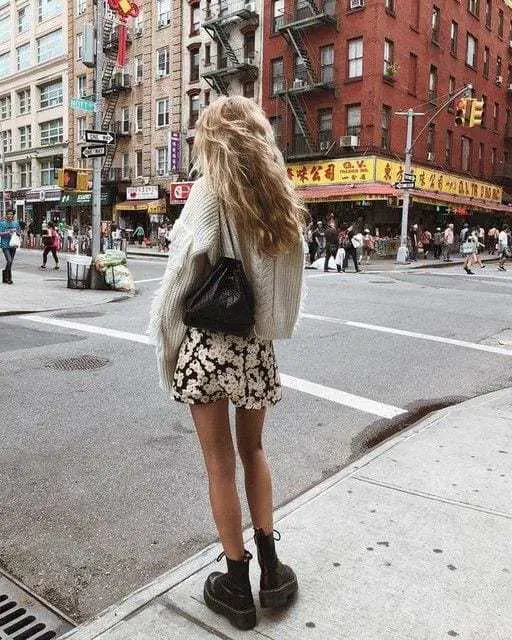 Wrap up:
Combat boots are versatile shoes you can wear with almost anything.
Even though they are statement shoes, which makes them so popular is that they allow you to create different but stylish looks all with the same pair of boots.
These combat boots outfits have given you a glimpse of how cool they can be: from pairing them with a basic skinny jean to elevating them with a chic blazer and leather leggings.
You can do all this with just a pair of black combat boots… And, as I mentioned before, they will be with you through thick and thin.
Now this is what I call an investment!