Cowboy boots have always had a special place in the fashion industry. Sometimes they're trendier and sometimes a bit less, but regardless of how "in" they are, cowboy boots will always be accepted among fashionistas.
One of the most popular ways to wear cowboy boots is with dresses. The reason is that only by showing off your legs do you get to make your cowboy boots the star of your outfit and, honestly, they do deserve some special attention.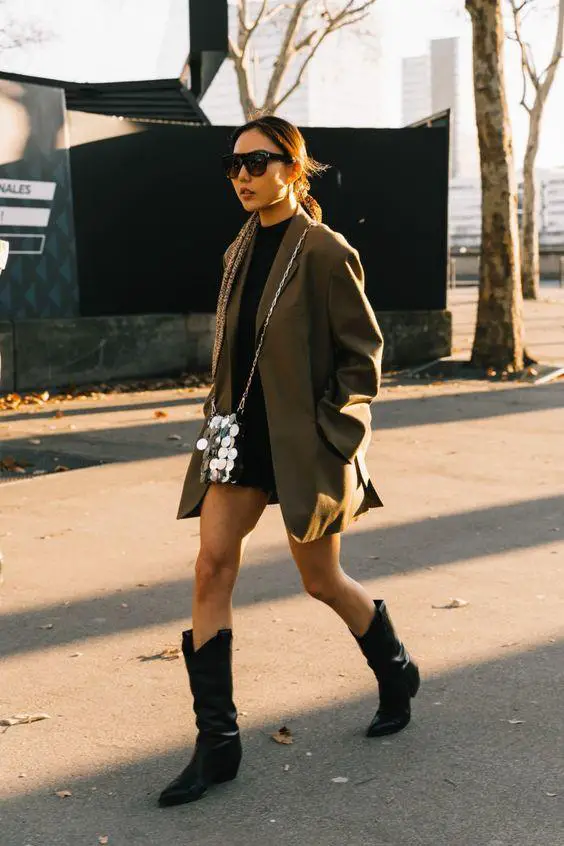 8 Types of Dresses to wear with cowboy boots
If you love your cowboy boots and are looking for cool and stylish ways to style them, then follow me as I guide you through 6 different dress types that will take your cowboy boots style to the next level.
I'll show you 28 cute dresses with cowboy boots that will leave you wanting to go on a dress shopping day. But don't worry, I've also included some basic dress types that you surely already own.
1. Flowy shift dress
Let's start this guide with one of my favorite combos: flowy shift dresses and cowboy boots.
If you're wondering how to wear cowboy boots with dresses, one of the easiest and "safest" ways of doing so is with a mini dress, especially if you're a petite woman (like me!).
Above-the-knee dresses will let your cowboy boots be the star of your outfit, but will also make you look absolutely stylish.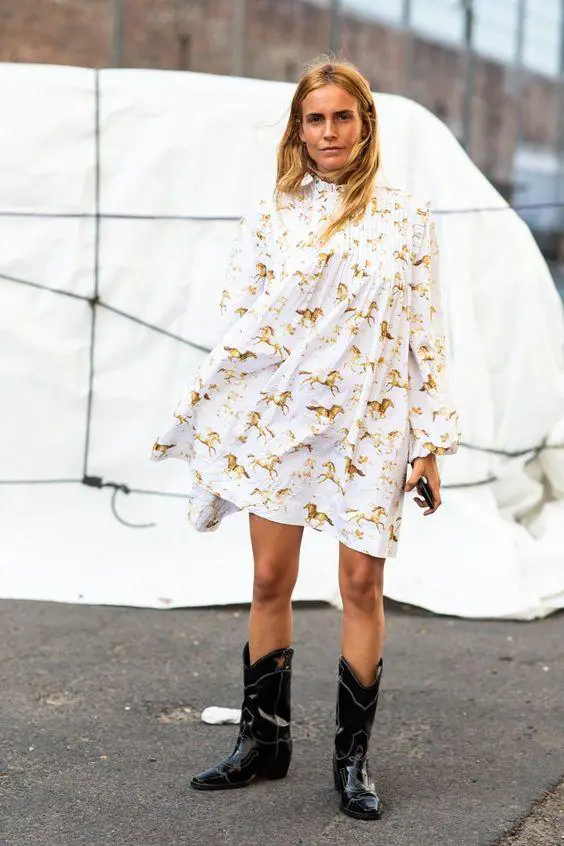 A summer dress with cowboy boots will always look on point, but you have to choose a silhouette that flatters you. If a shapeless flowy shift dress is not your style, you can always cinch it with a belt around your waist for an hourglass effect: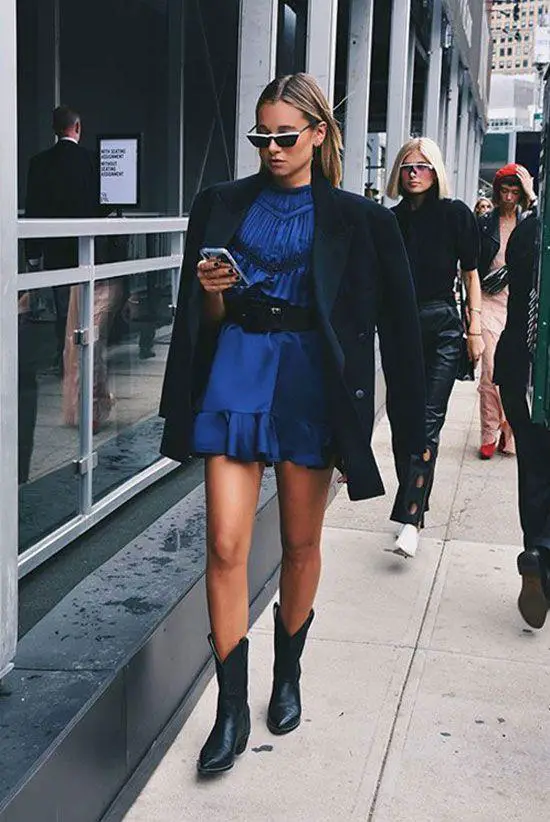 Now that we're moving into fall, a jewel color flowy dress paired with cowboy boots have the potential of becoming your new favorite combo. Finish your look with a leather jacket and you'd have created a killer fall look: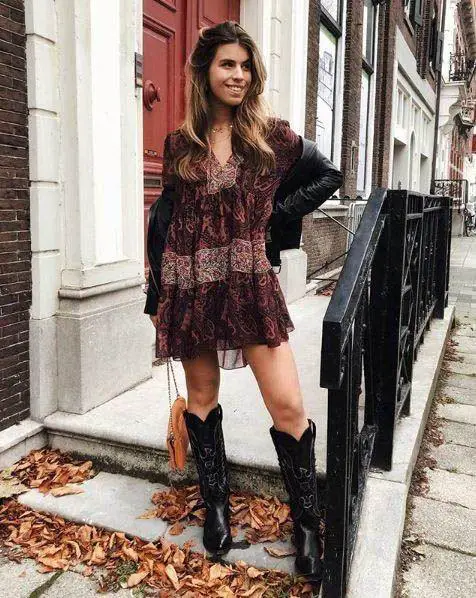 2. Sheath mini dress
If you'd rather wear a dress that's a bit more form-fitting, then a sheath mini dress will be your go-to option.
For summer, you can wear a spaghetti strap sheath dress with your cowboy boots, and for fall you can simply add a black leather jacket for some extra edge.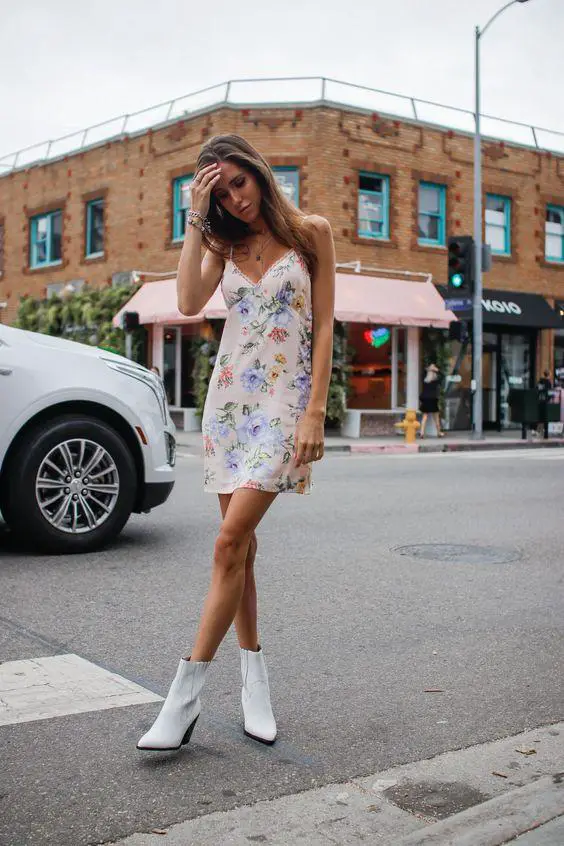 This is a cute idea you can wear for a casual but polished look. It's also the perfect excuse for wearing your best jacket: from denim to leather or canvas, sheath dresses and cowboy boots will always look great with any style.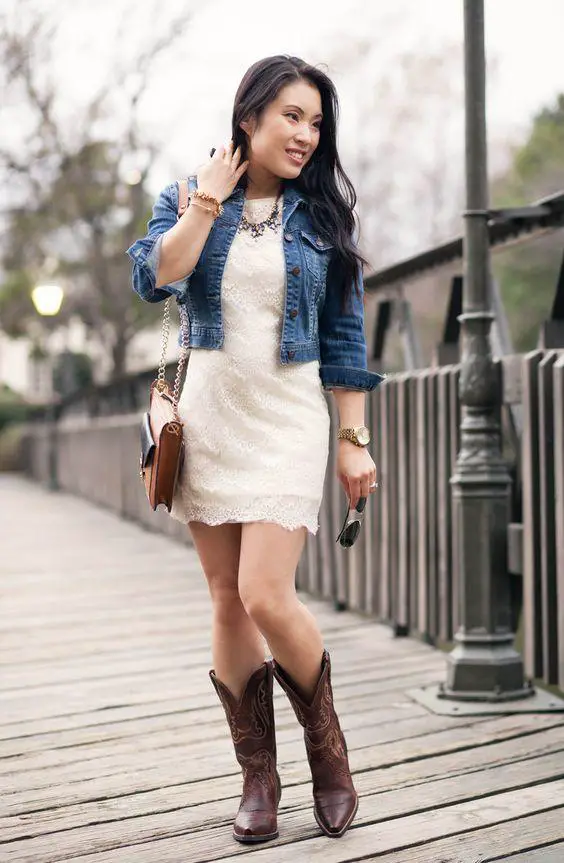 3. Mini wrap dresses
These mini wrap dresses have taken the world by storm. Everyone seems to be wearing one with absolutely any type of shoe.
That's why cowboy boots can't be left behind. If you're looking for the perfect sundress with cowboy boots look, let me tell you it's as simple as it sounds: cowboy boots will instantly make your mini wrap dress look 10 times better the moment you try them on.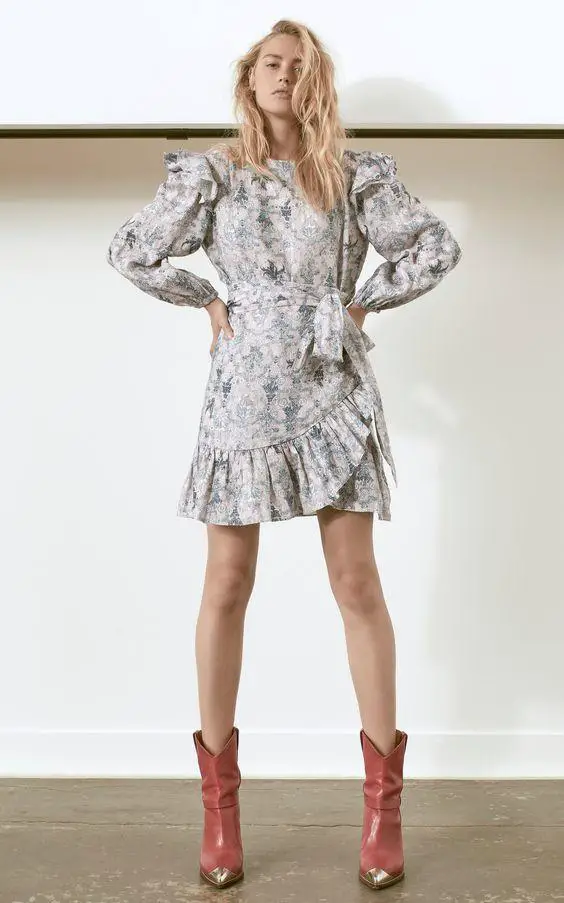 You can wear this stylish combo for your vacation getaway or simply for a date with your special someone. What I love about wrap dresses is that they're flirty and cute, and a pair of cowboy boots will add that edgy and cool vibe that will take your wrap dress to the next level.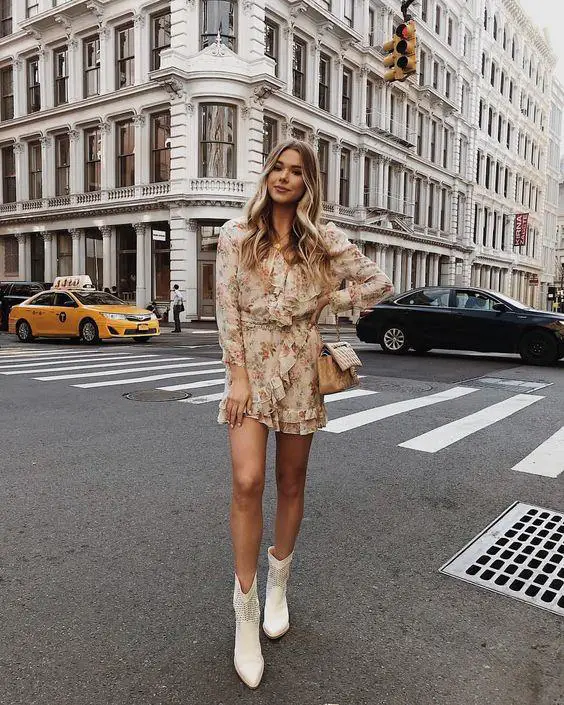 If you're wondering what country dresses to wear with cowboy boots, then a lace wrap dress is a great option for you. For a genuine western look, I'd go for the ivory of black color dress and brown cowboy boots: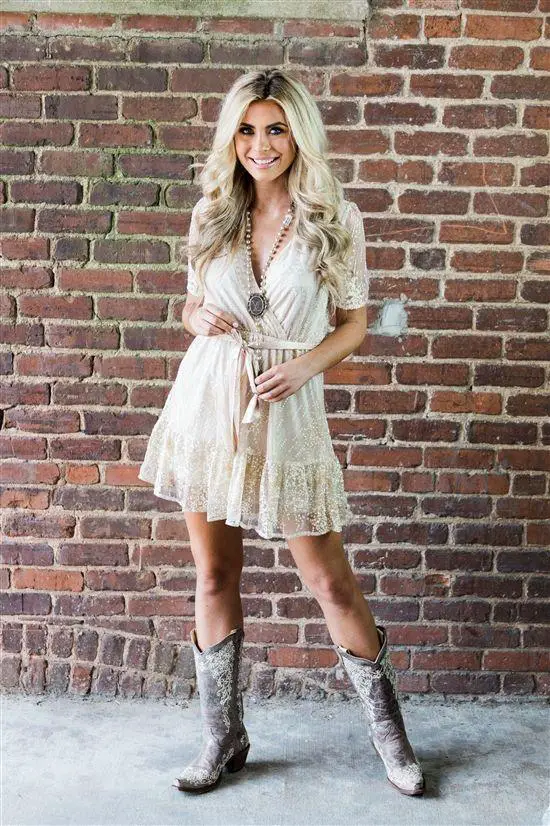 4. Winter jumper dress
Cowboy boots are one of the coolest types of shoes because you can get to wear them throughout the whole year, regardless of the seasons.
You can perfectly wear a jumper dress (which is another super trendy dress style) with your cowboy boots for a cool winter western look.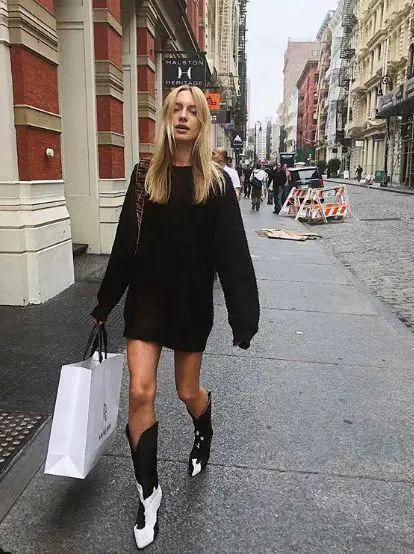 You can always add a belt to accentuate your waist. It's also the perfect excuse for adding a pop of color: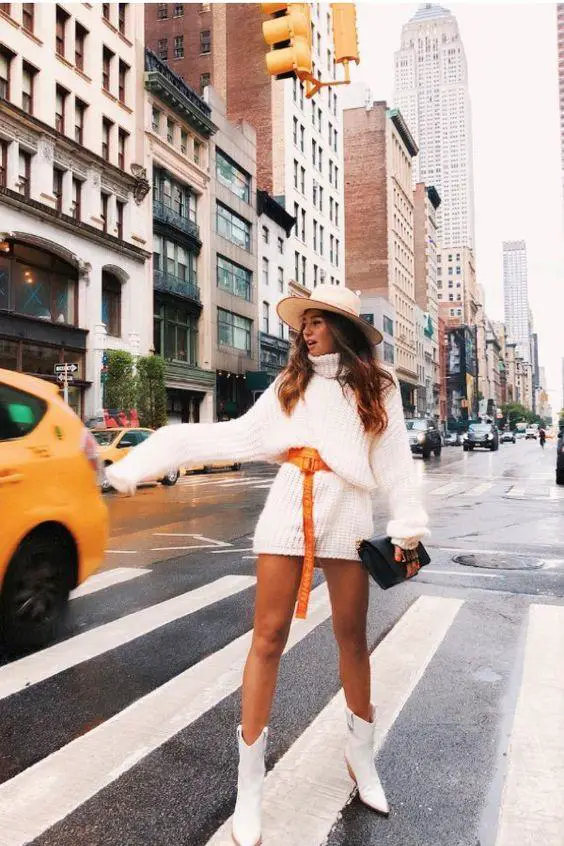 5. Ruffles and/or pleats
Ruffles and pleats are perfect for a feminine and flirty style, so pairing a ruffled or pleated dress with your cowboy boots will create the perfect balance of sweetness with an edge: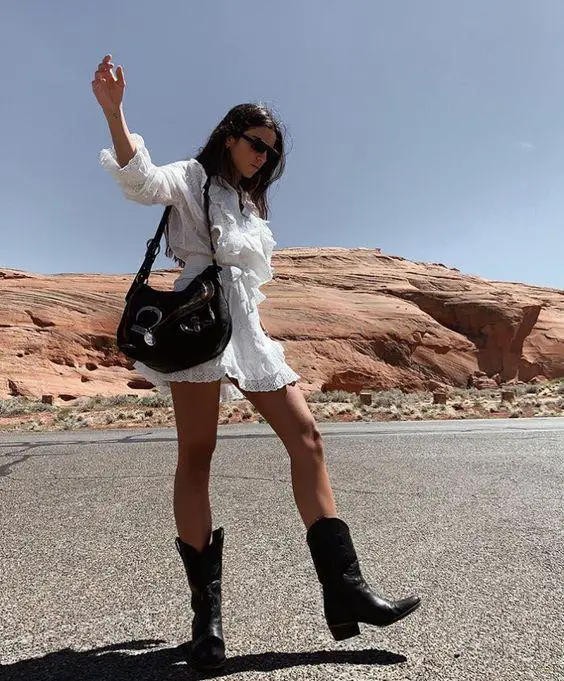 A black and white outfit will always be a classic and stylish combo. Whether it's a black dress with cowboy boots or an all-white outfit with a black jacket, make sure to include this timeless combination into your cowboy boot outfits: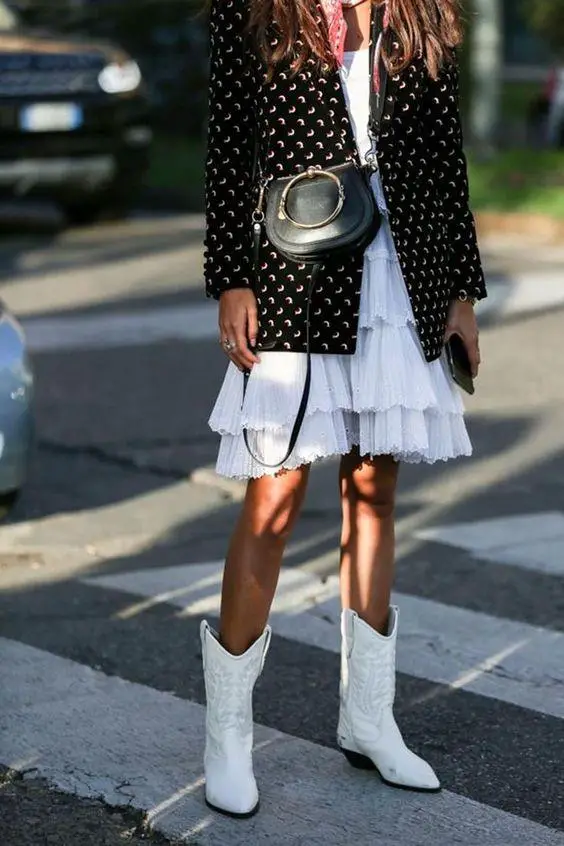 6. Oversized dress
If you're wondering how to wear cowboy boots with dresses, then my best answer is to consider your body type. For Petites, mini dresses will always be one of the best styles, but for tall women, an oversized dress might be one of the coolest and trendiest options.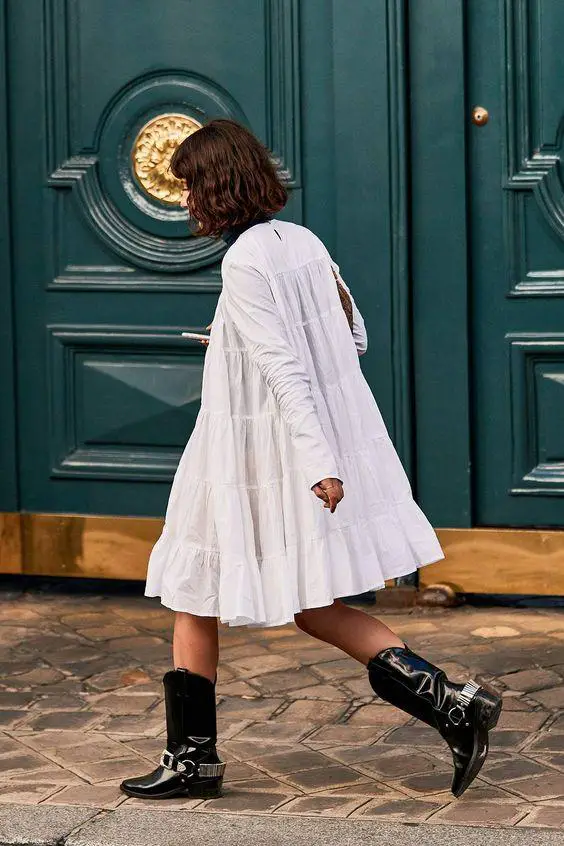 Whether it's an oversized silhouette or oversized sleeves, this is a trend you can't ignore, especially when wearing a classic pair of cowboy boots.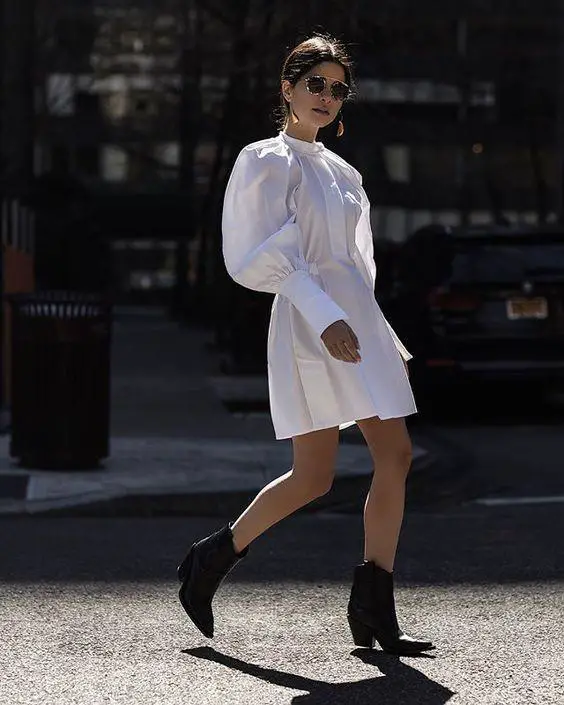 7. Midi dresses
Now that we've talked about above-the-knee dresses, let's move on to midi dresses, which are personally one of my favorite pieces to wear. They look trendy, feminine and relaxed, and if you add cowboy boots you'll get a head-turner type-of outfit.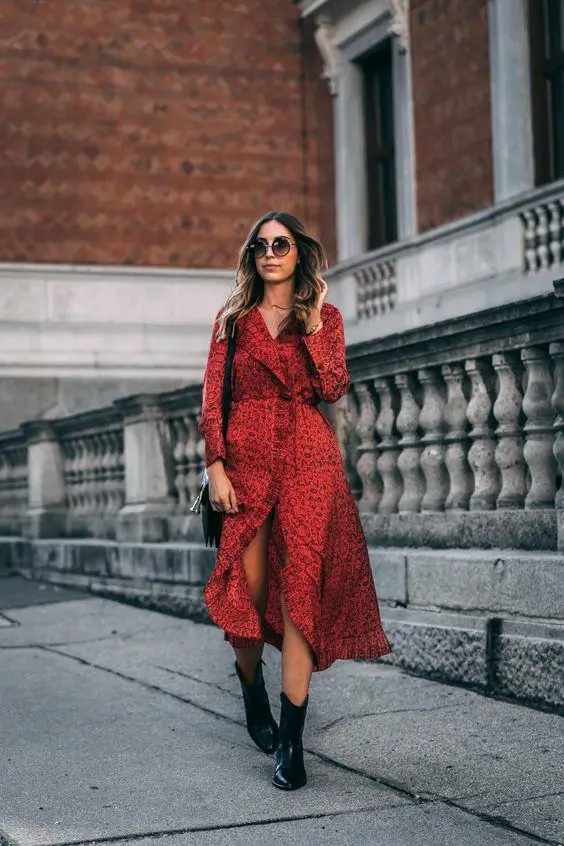 Deciding whether tall or short length boots it's totally up to you. If you want a statement look while turning heads as you pass by, a midi dress with mid-calf boots or taller is just what you need.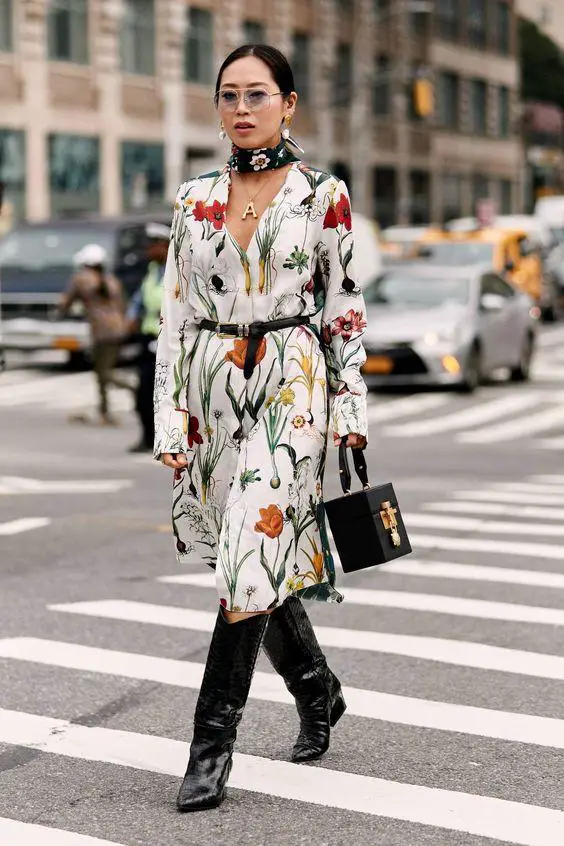 However, if you're not that "extra" cowboy booties will still do the trick: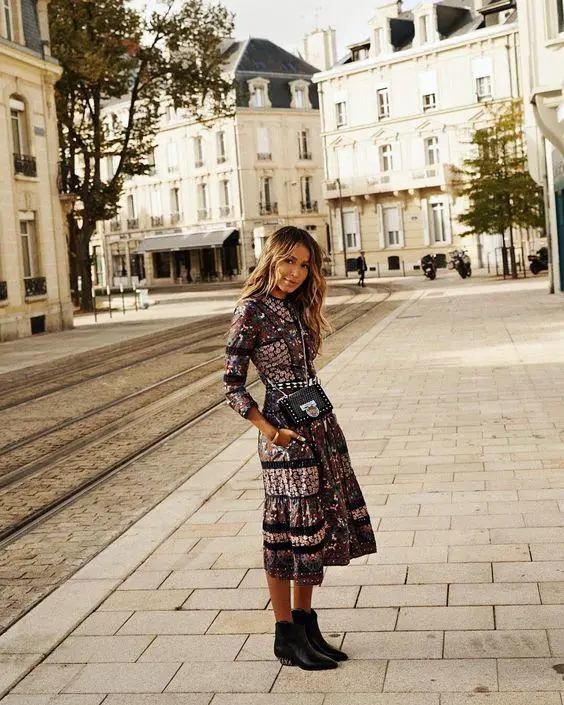 You can always add a sweater to this type of outfit whenever the temperature drops: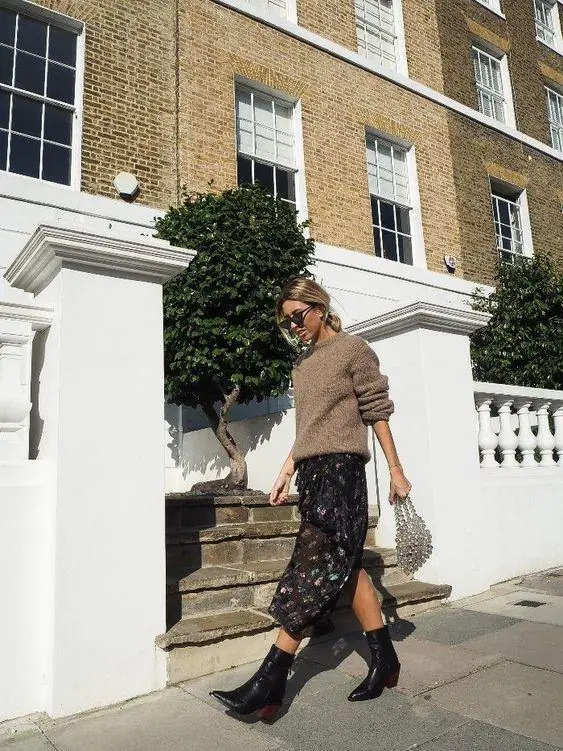 Wondering what dresses to wear with cowboy boots for a wedding? Midi-length dresses are your answer.
If you're invited to a semi-casual wedding in the south, wearing a midi dress with cowboy boots is one of the best combos you can make.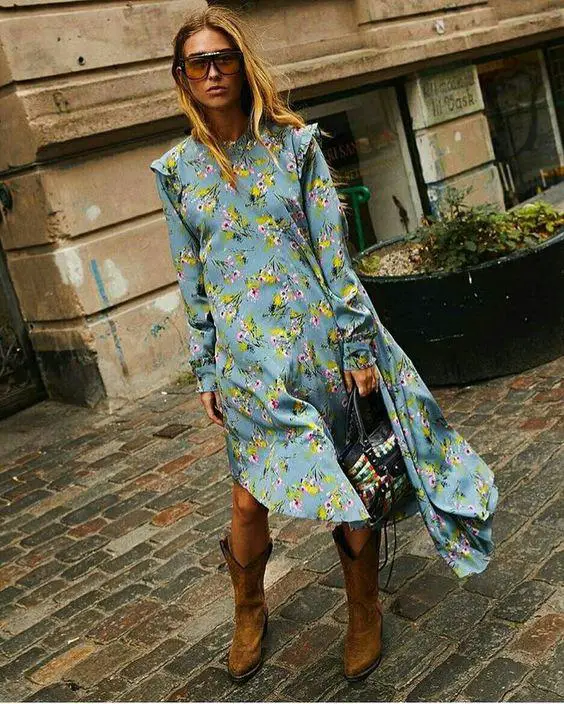 White cowboy boots are perfect for an elevated look. If you're going to a wedding or simply need to dress up a bit, white cowboy boots will do the trick for you: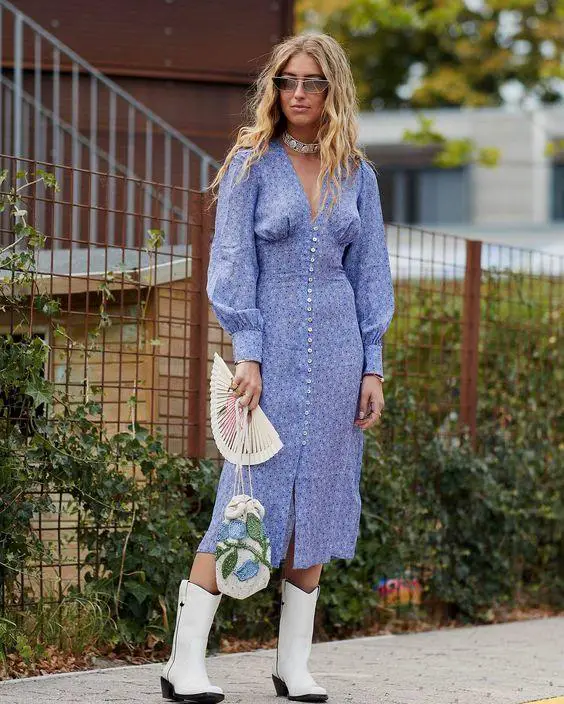 Cowboy boots look absolutely on point with a layered outfit. For a cool fall look, pair your midi dress with a black casual blazer and your cowboy boots: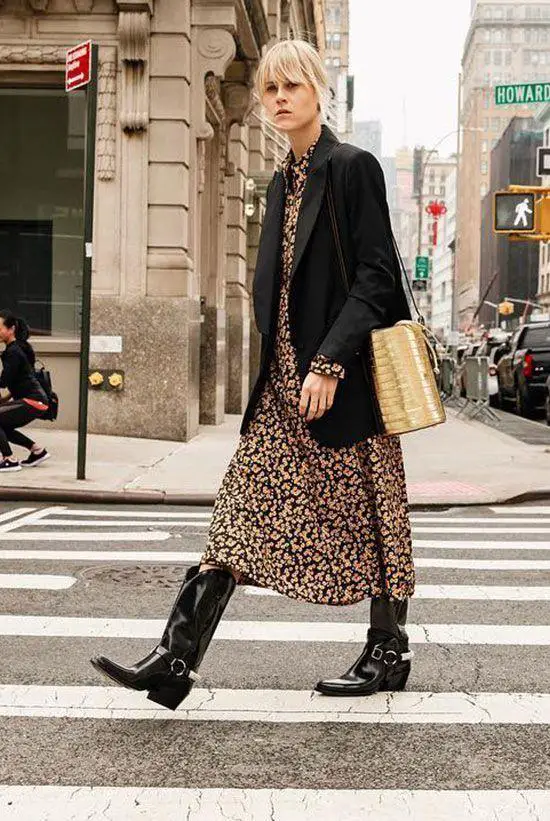 A midi rustic dress with cowboy boots is another option for someone who loves a relaxed style. Midi dresses are perfect for pulling off a cool, relaxed and casual look: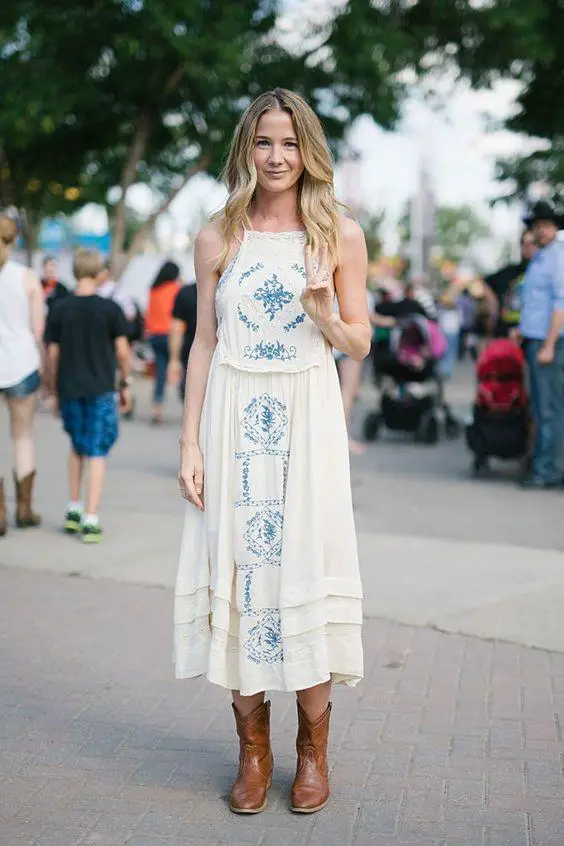 Silk slip-on dresses are another style that's included in the top 10 hottest trends of this year. Make sure to pair a trendy style such as a silk dress with your cowboy boots for an elevated casual look: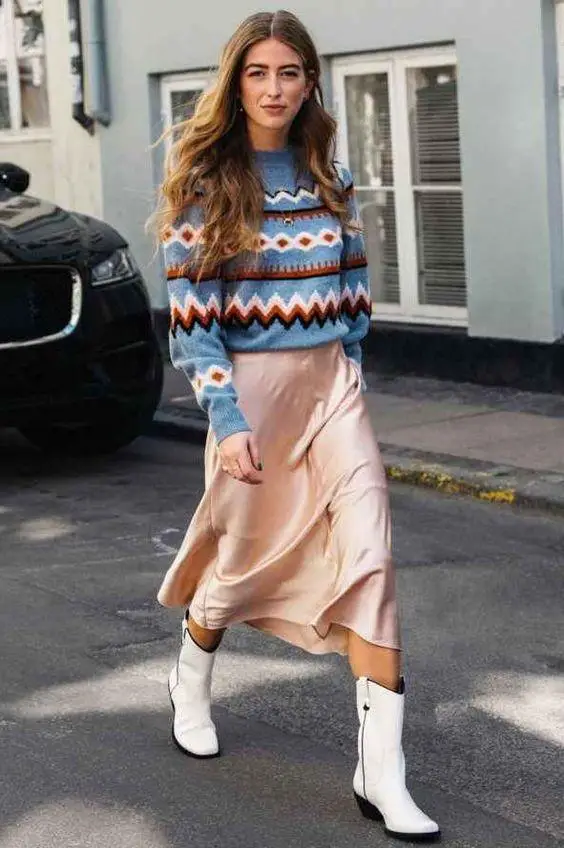 High and low midi dresses are another style you can opt for. A wrap high and low style is one of the best plus size dresses to wear with cowboy boots: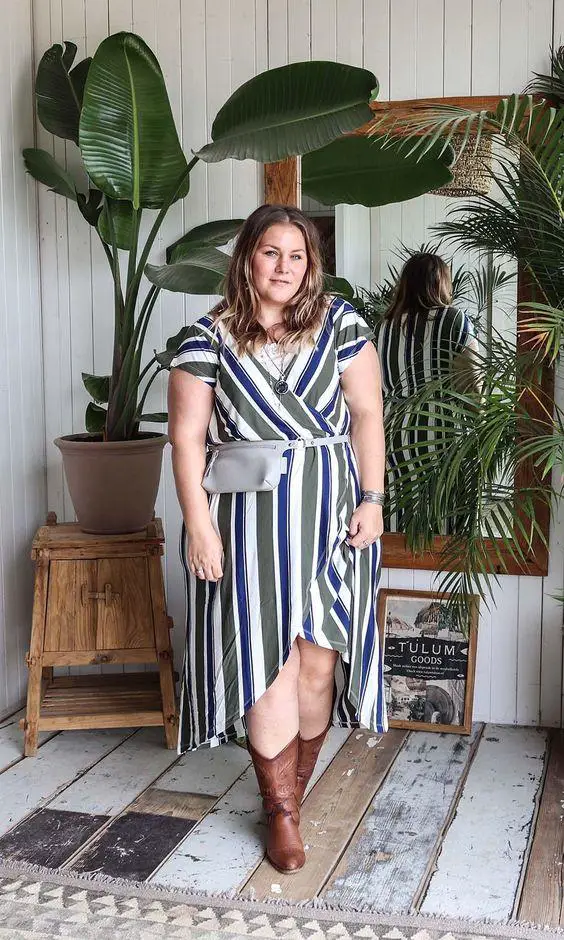 8. Maxi dresses
Last but not least, maxi dresses and cowboy boots are definitely another combos we need to talk about. This is the perfect look for anyone who loves a boho style but is willing to take it to the next level.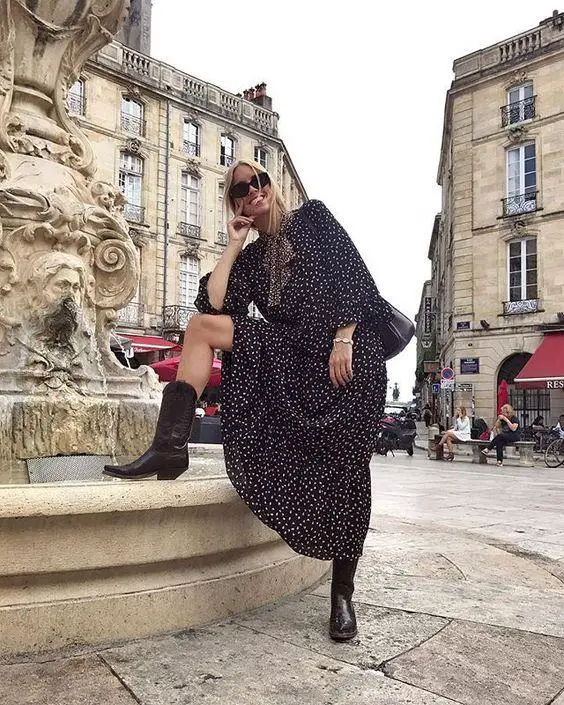 A western dress with cowboy boots style can be modernized with side slits that will show off your cool boots as you walk by: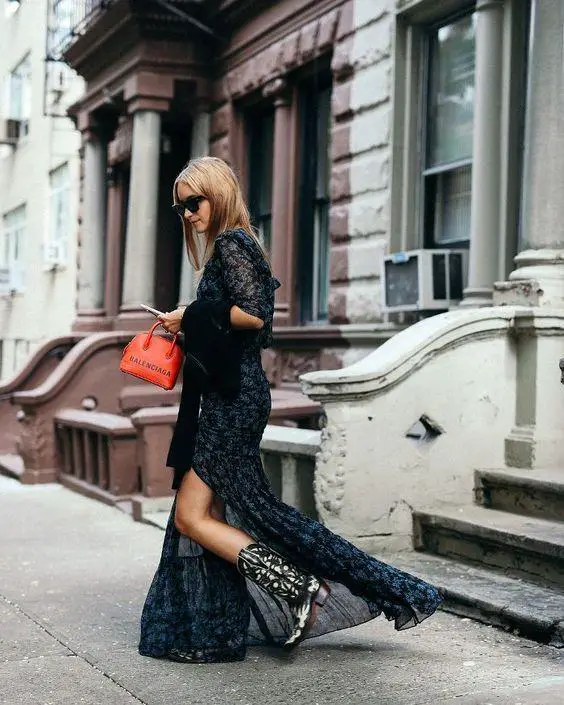 Wear a maxi dress whenever you feel like pulling-off a comfortable but cool look: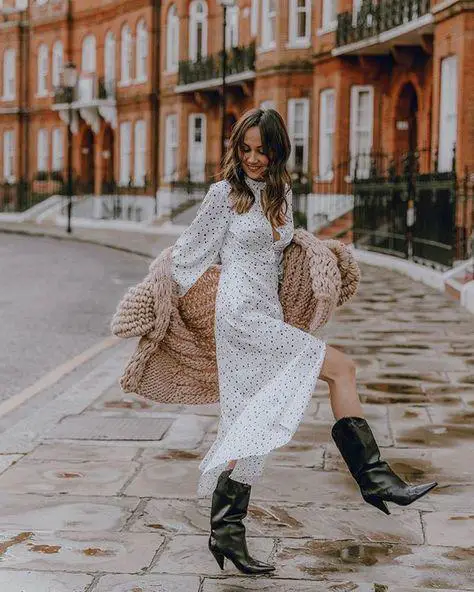 Cowboy boots for the coolest outfits
As you may have seen, one of the secrets into pulling off a killer cowboy boot look is to wear a style that looks modern. There are some booties, for example, that you can notice have been inspired by the original western style, such as these: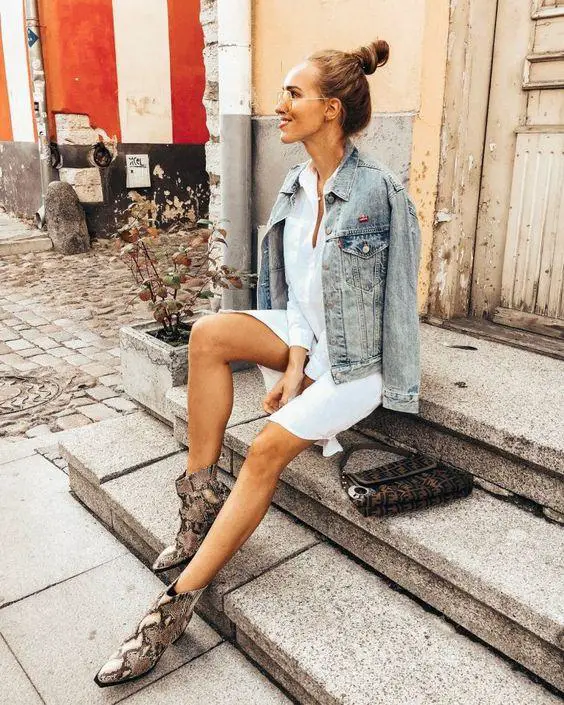 In other words, one of the reasons why these outfit ideas look so modern and cool is because the cowboy boot style most of these women are wearing is an updated version of the original cowboy boot.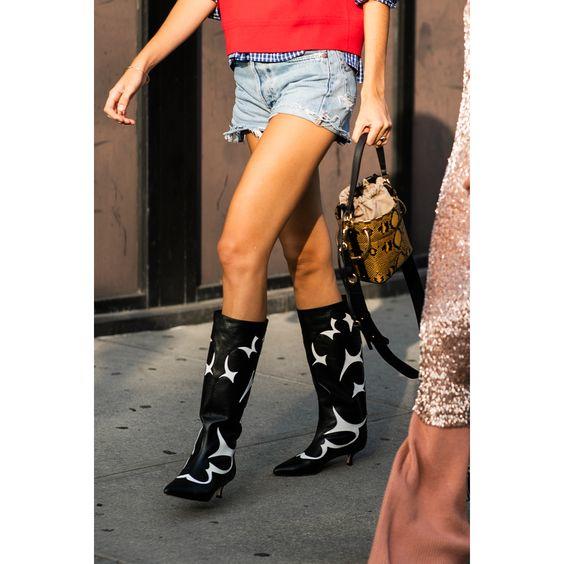 However, finding these cool cowboy boots might not be the easiest task out there. That's why classic black cowboy boots can be your go-to option. If you're hesitant about these shoes, my best advice is to opt for mid-calf black boots with a clean design such as these: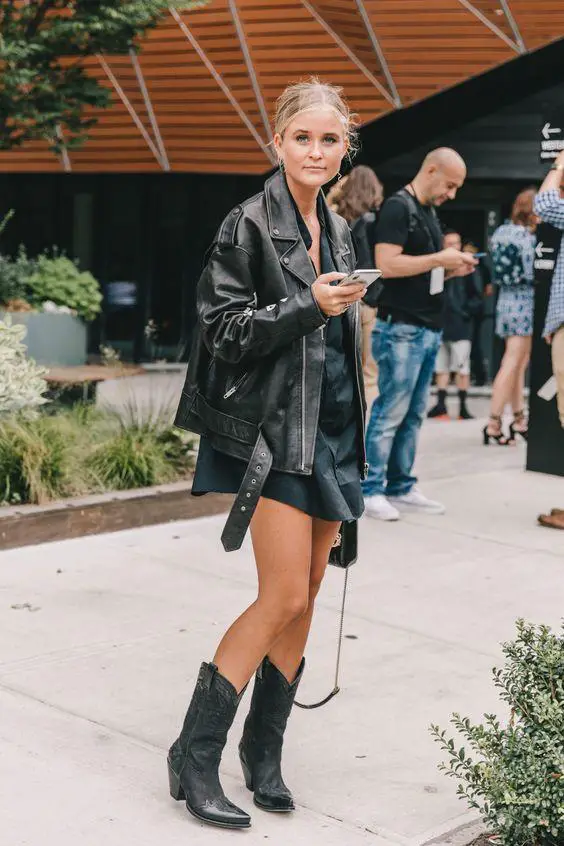 Or a bootie style cowboy boot. This style will perfectly complement any type of outfit, from dresses to jeans and leggings: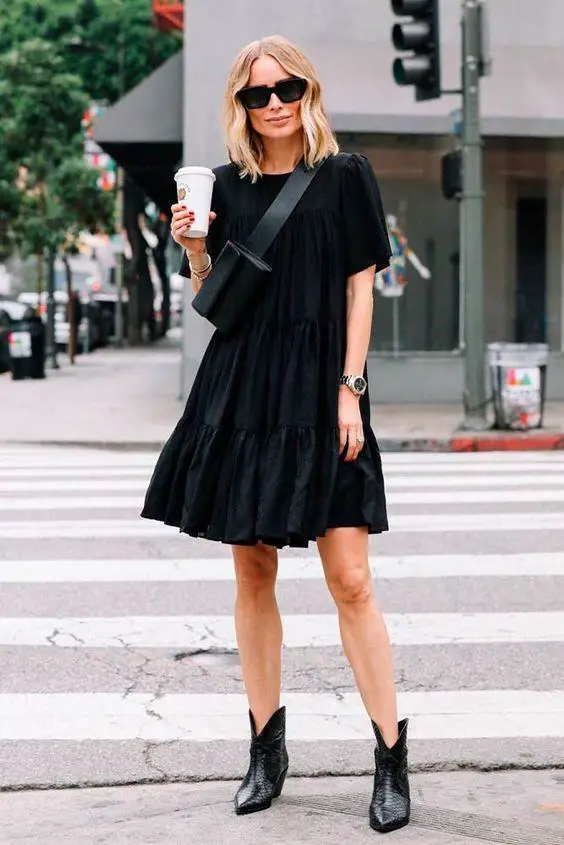 Wrap up:
When some people think of cowboy boots, the first thing that may pop into their minds is a cowboy girl with a plaid shirt riding a horse.
Truth is, cowboy boots are one of the coolest shoes you can ever own.
If you were wondering what dresses to wear with cowboy boots, or simply wanted to take a glimpse into the fabulous world of cowboy boots, then I hope this article has served to give you an idea of how cool these boots can be.
Even I was amazed at the killer looks I found! Now I'll make sure to include cowboy boots in my every-day life.