Brown boots are one of those shoes you should definitely own. They're super versatile and, if taken good care of, they can last you a lifetime because, well, brown is a must-have and timeless color.
That's why I'm assuming that if you're reading this is because you want to know different and cute ideas on how to wear brown boots. Or maybe you're finally considering buying yourself a pair of brown boots and this article is the cherry on top that will convince you.
I've compiled 44 outfit ideas and tips on how to wear brown boots that will help you come up with multiple ways of pairing your boots.
What to wear with brown boots
You can find so many different types of brown boots in every store and that's why I will guide you through several boot lengths that will help you with your fashion dilemma regardless of your boots' design. Just by taking into consideration their length, you can apply the following tips and ideas on how to wear brown boots.
1. Brown ankle boots
Ankle boots are another basic shoe you should definitely own in brown. They can look really cute with spring, fall or winter outfits, allowing you to style them in multiple and different ways.
They're mostly worn for day-time outfits, such as college, school or work, but can look great on night-time looks as well.
Jeans
If you're wondering how to wear your brown boots with jeans, you can take a look at the following fashion tips.
You can roll up your jeans right where your boots start to show off some ankle skin. This tip is important for short girls, as showing some ankle skin, even if it's just an inch, can help your legs look elongated.
Your brown ankle boots also get some attention by rolling your hem up.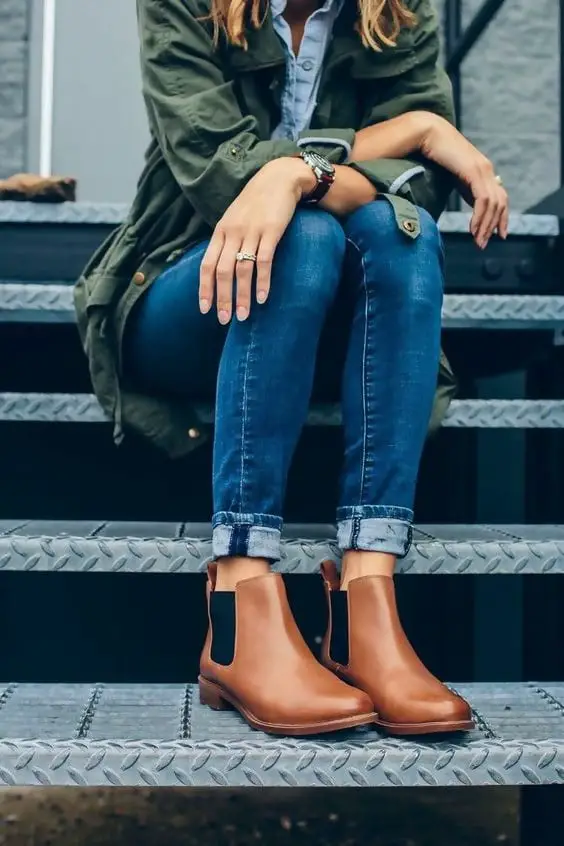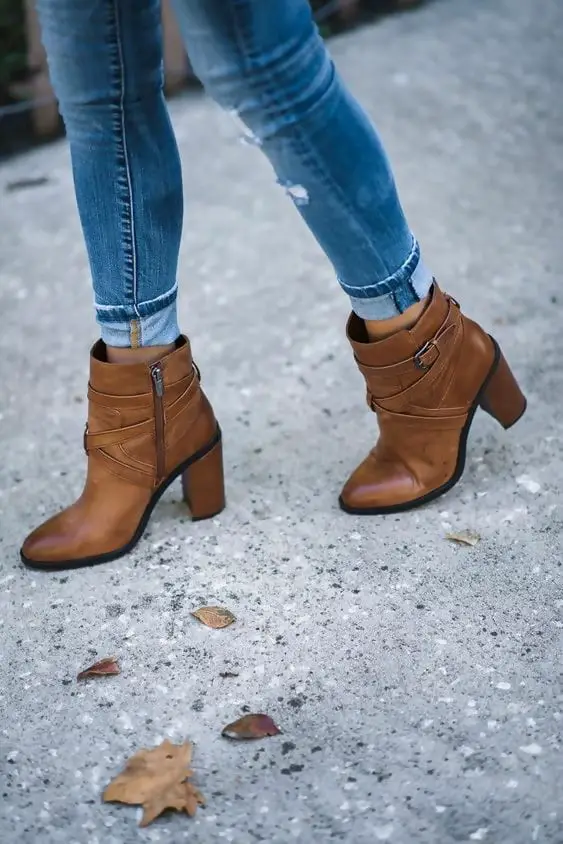 Instead of rolling your jeans up, you can opt for cutting them right above the knee, where your boot should start. An unfinished hem is one of the most popular ways of styling your jeans, and wearing ankle boots with this trick is a way of making the most of it.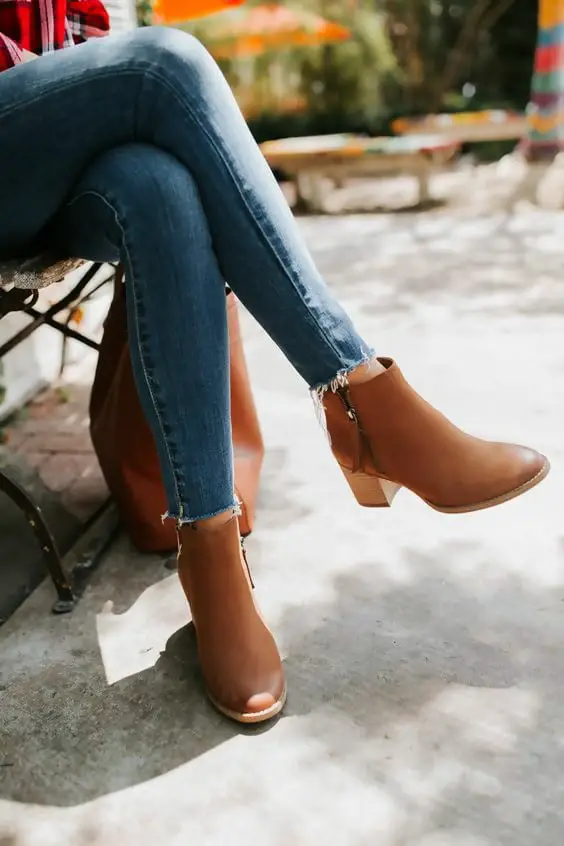 You can also choose to cut off your jeans a bit higher than the ankle for an alternative chic jean look: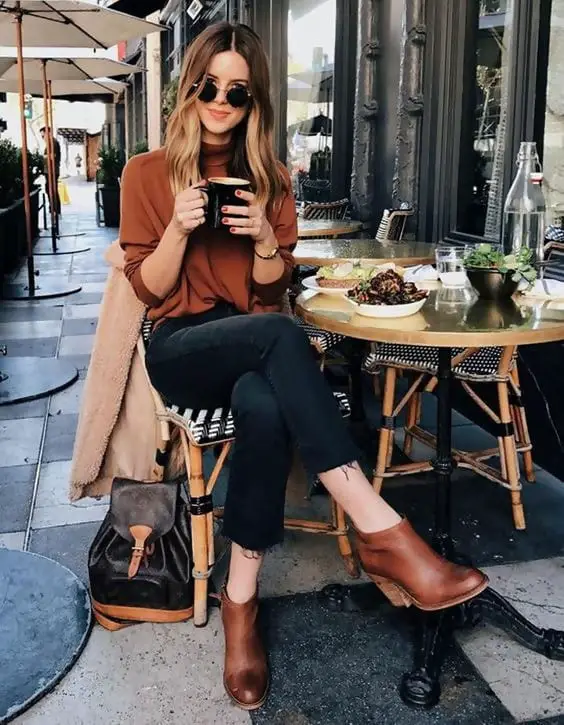 To pull off cute outfits with brown boots, opt for a handbag that matches the color with your shoes. This will give you more freedom in choosing the top as you will already have a coherent look with your blue jeans, brown boots and handbag.
These are two different outfits that are great for casualwear or for work, using the same tip I mentioned: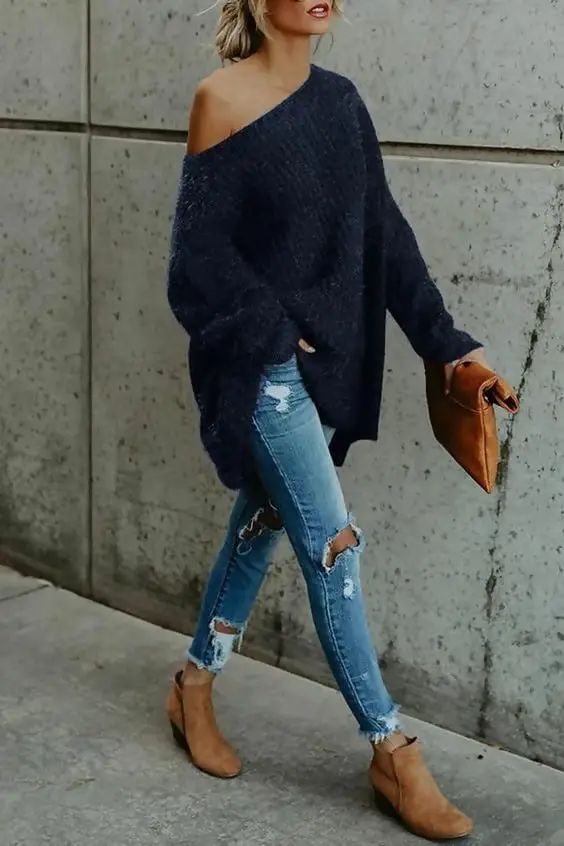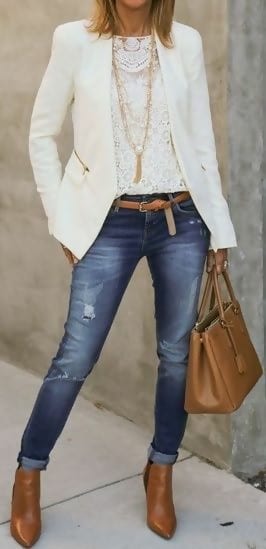 TIP: If you match your handbag with your boots, you can wear any shade of brown you like on your belt. You can also choose to match your boots with your belt and keep the handbag in another shade.
As long as you have only two shades of brown, your outfit will look very stylish. This girl, for example, is matching her brown boots with her cross-body bag while her belt is a dark brown, but the whole outfit still looks coherent: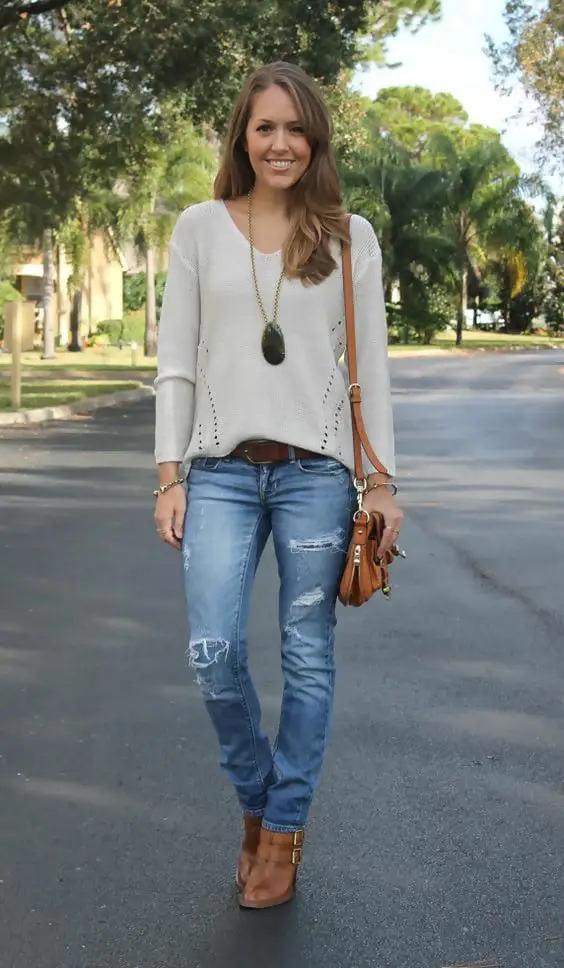 Ripped jeans outfits look great with brown ankle boots: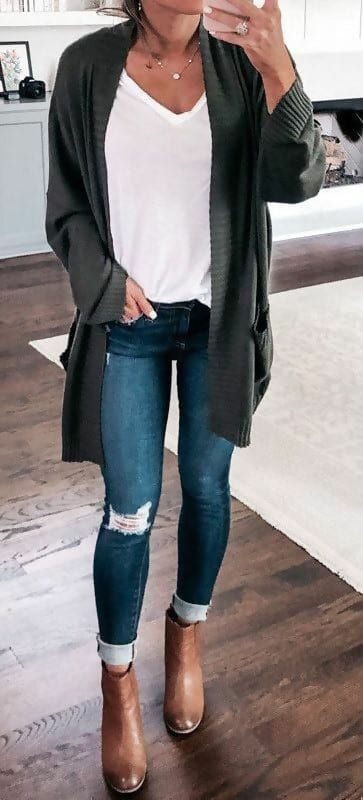 But skinny jeans are definitely not the only type of jeans you own, I'm sure. A pair of mom jeans or flare jeans are perfect for brown ankle boots.
If you have a vintage soul, this is the perfect combination for you: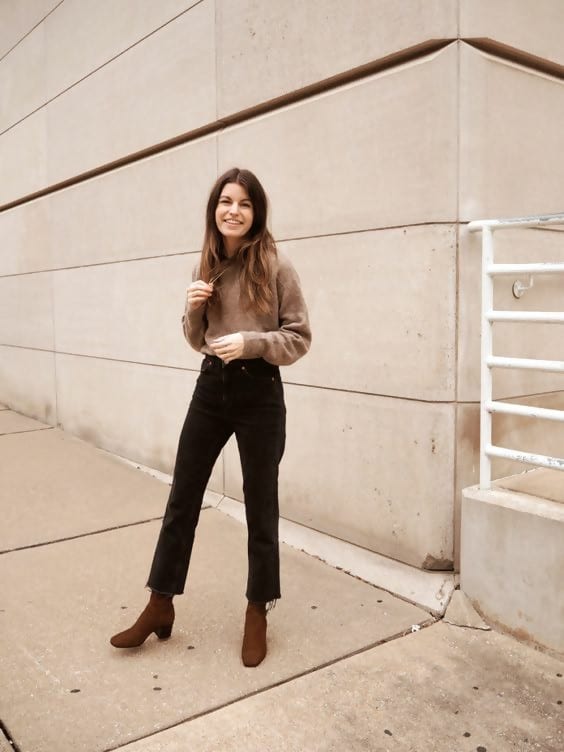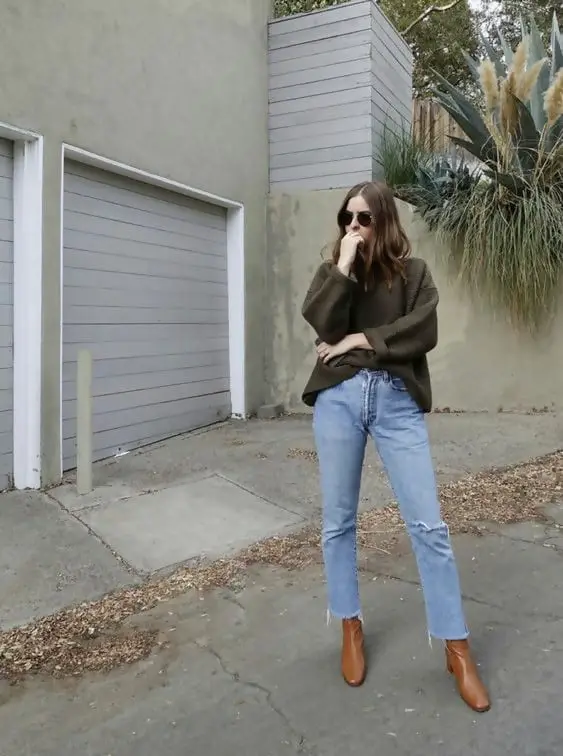 You can also choose to wear all black on top (shirt, jacket, scarf, sweater), a pair of blue jeans and your cute brown ankle boots for an edgy look: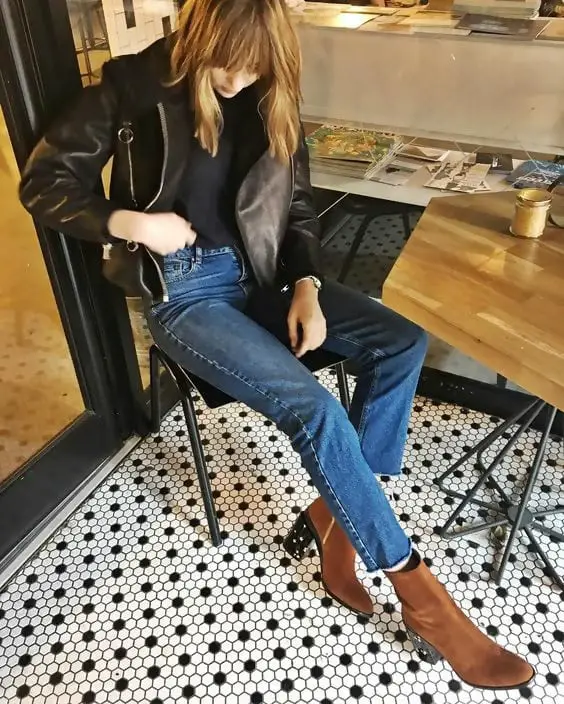 Here are other brown ankle boots with jeans ideas you can recreate for different seasons: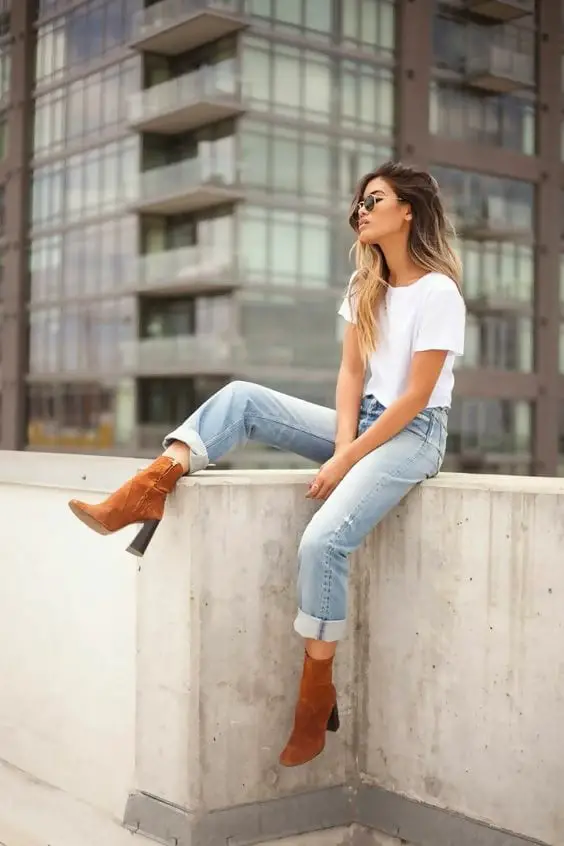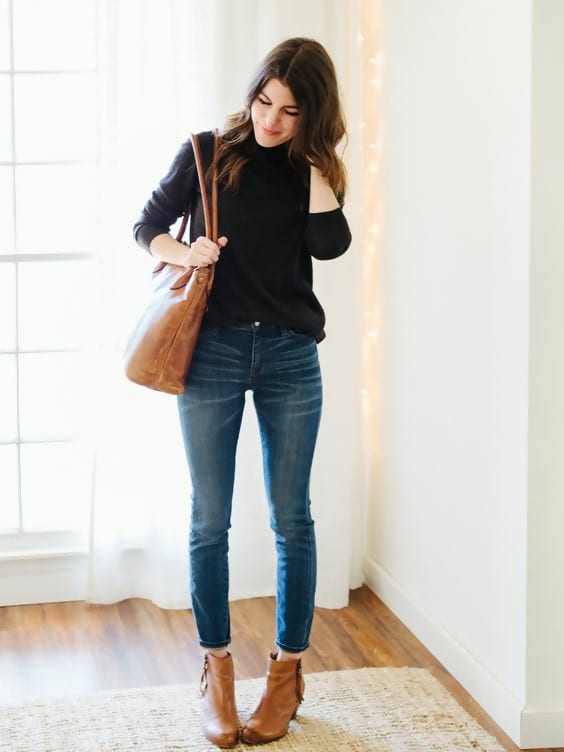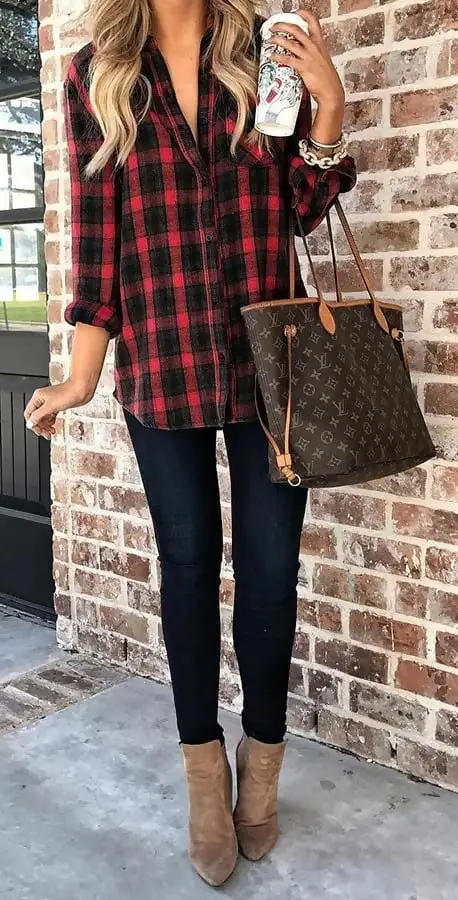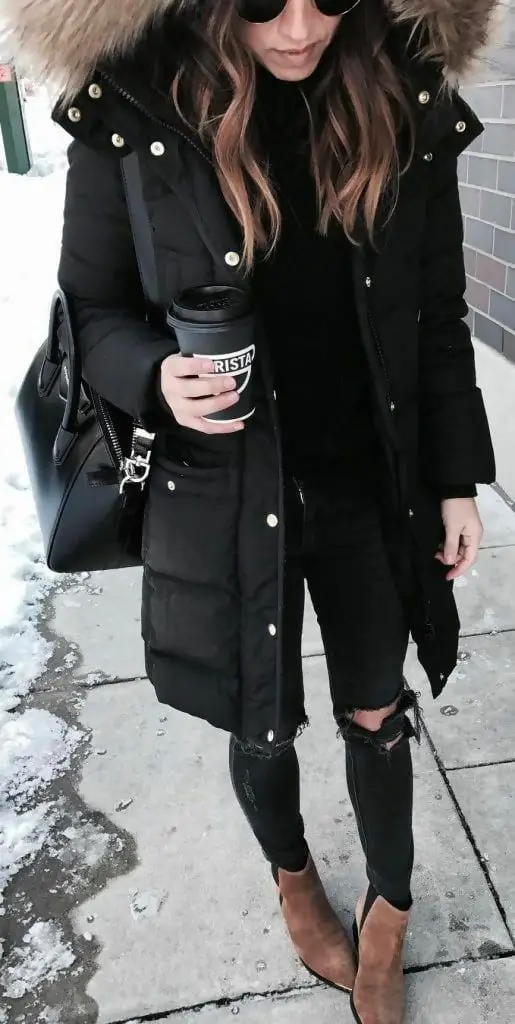 Dresses
Your brown ankle boots look great with dresses! This combo is great for rocking boho-chic outfits.
You can choose a maxi or midi printed dress for an extra dose of boheminan. This is the perfect look for fall outfits and for strolling around the city, showcasing your cute dress.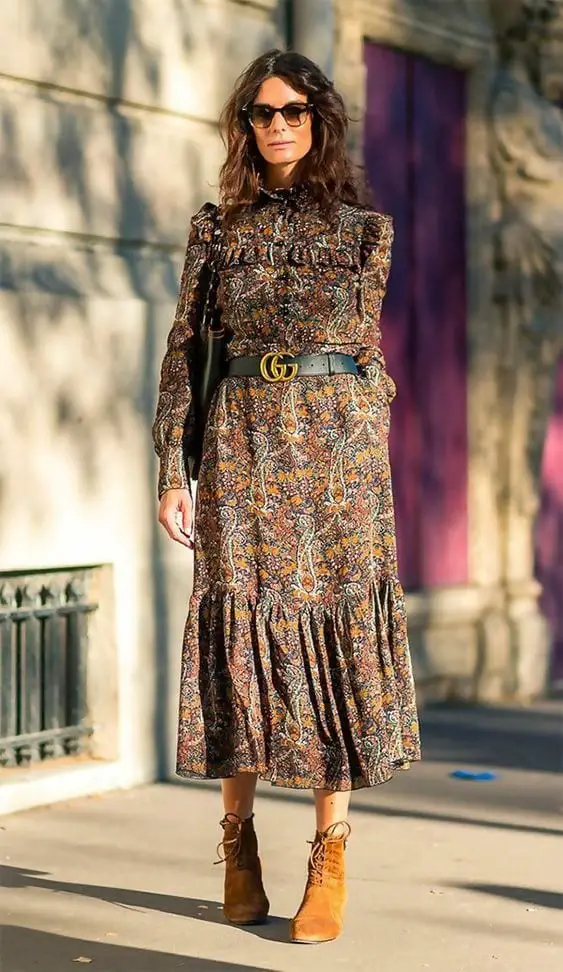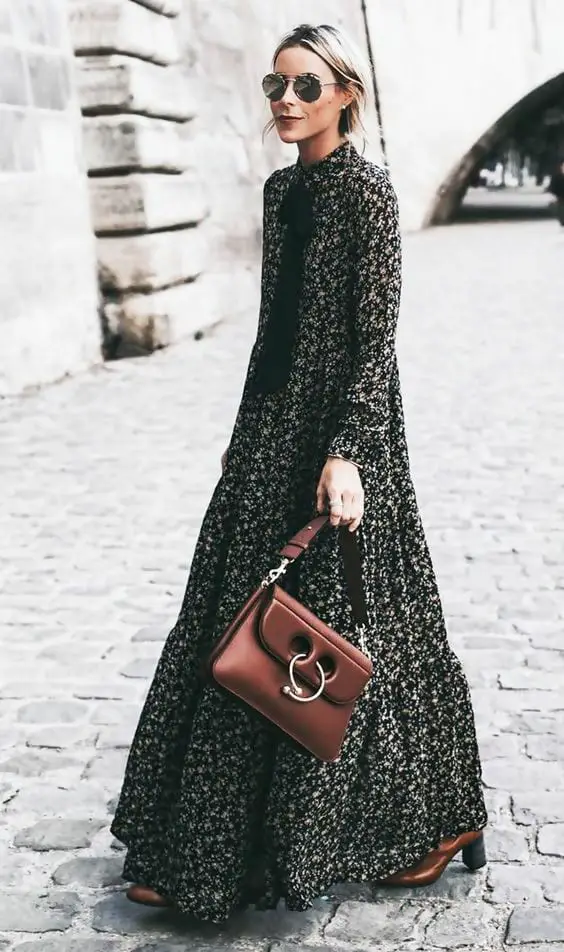 You can also wear a short dress as an alternative for your brown boots outfits. Even a knit dress will look absolutely chic with your boots: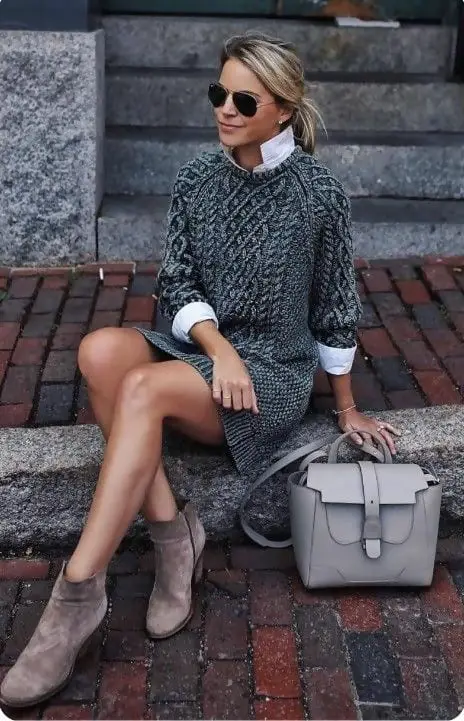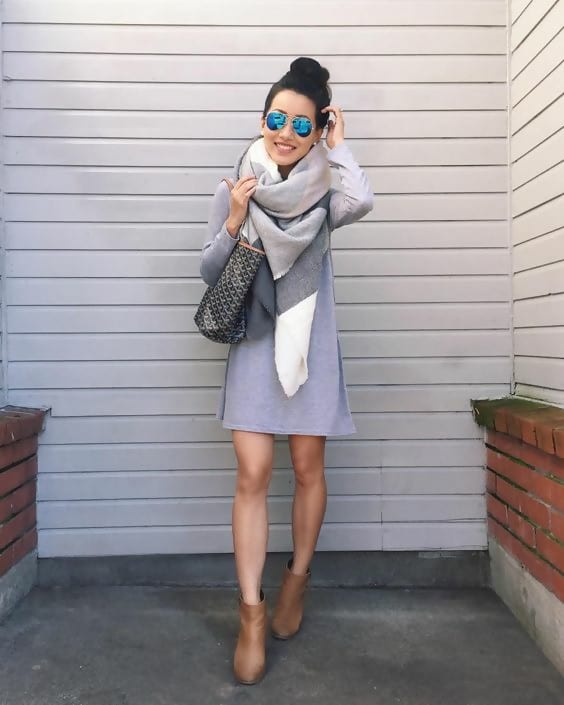 You can match your brown boots with your handbag and scarf to create a chic and harmonious look: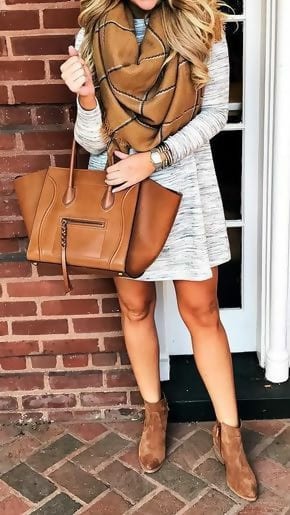 Skirts and shorts
Same as dresses, a short can create a cute boho-chic look simply by pairing it with brown ankle boots. If you ask me, this is also a great country concert outfit you can easily recreate: just wear a chic hat and a kimono: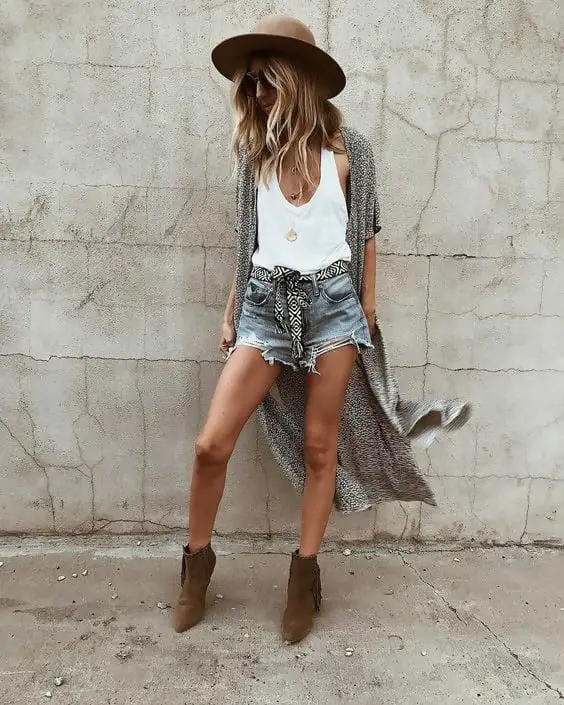 You can dress it up with a cute crossover bag and jewelry: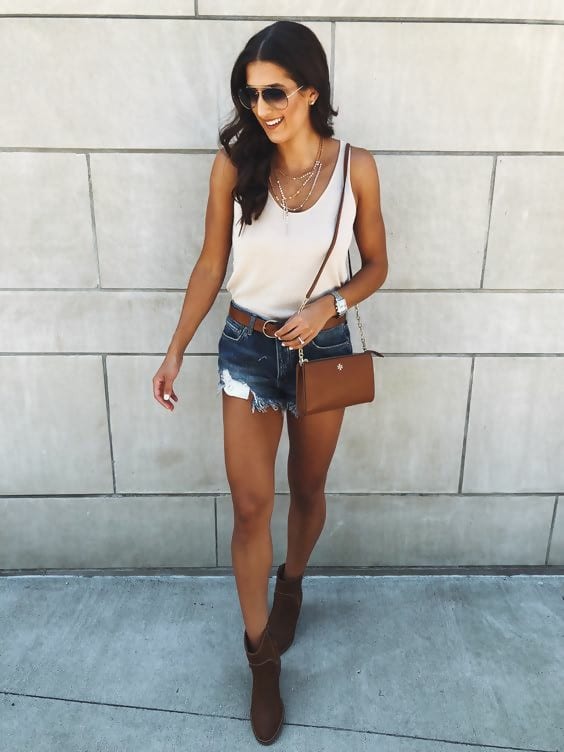 Skirts and brown ankle boots are perfect for a cute nerd outfit: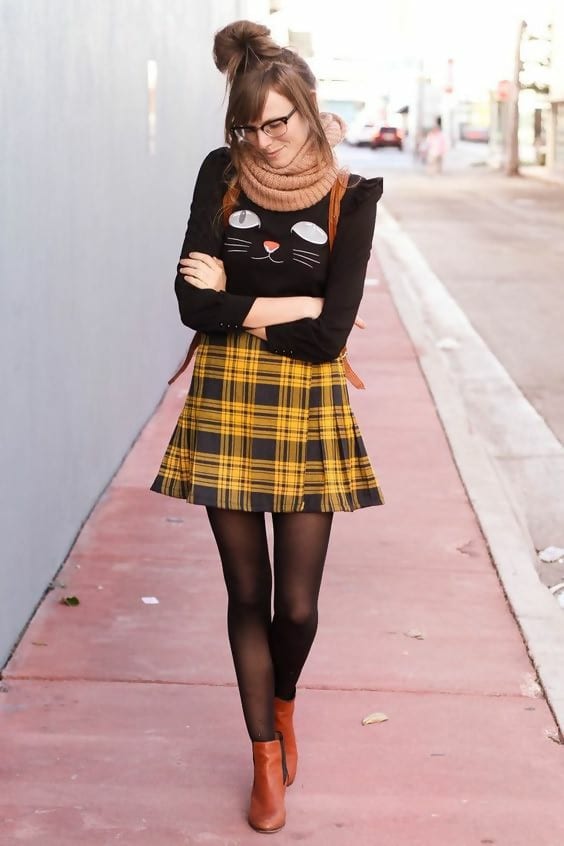 A polished monochromatic look is another idea you can recreate. You can even choose the length you feel most comfortable in: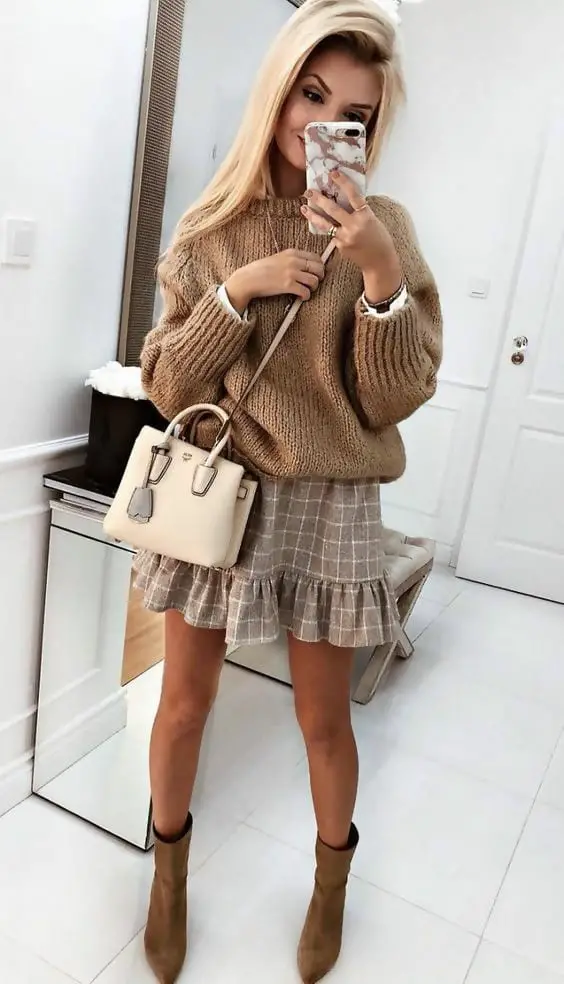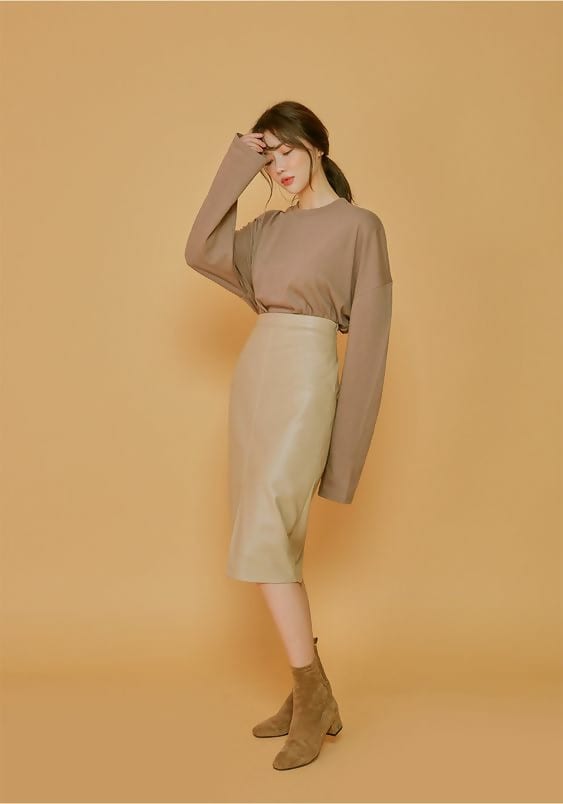 2. Mid-calf and knee-length brown boots
If you own a pair of mid-calf or knee-length brown boots, let me tell you that you own the trendiest type of boots. You can create amazingly cute outfits with them, so take good care of them because they'll be one of the best investments you make.
Jeans
The easiest way of pairing your brown boots is with skinny jeans and your favorite long-sleeve top for fall and winter. It's a classic go-to look for those busy days when you don't have time to think much of what you'll wear but still want to look stylish.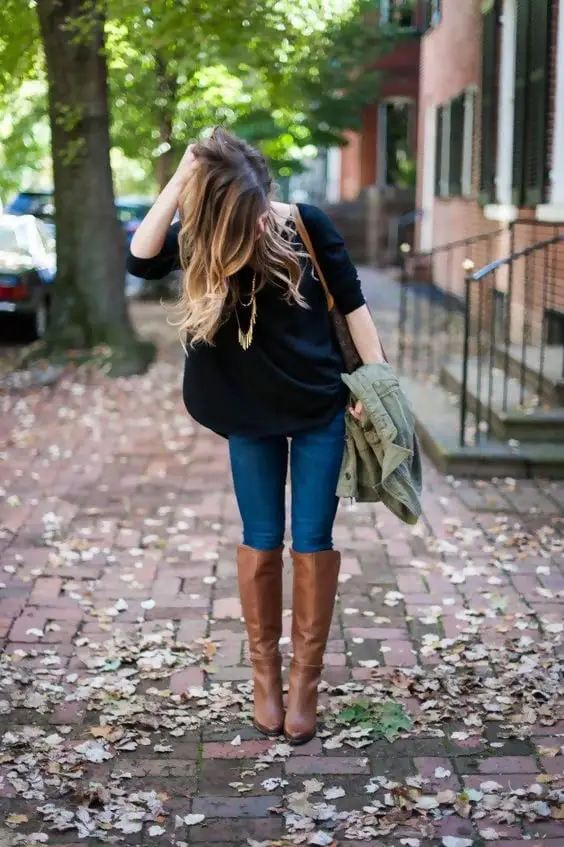 But, if you ask me, brown boots look chicer with white skinny jeans: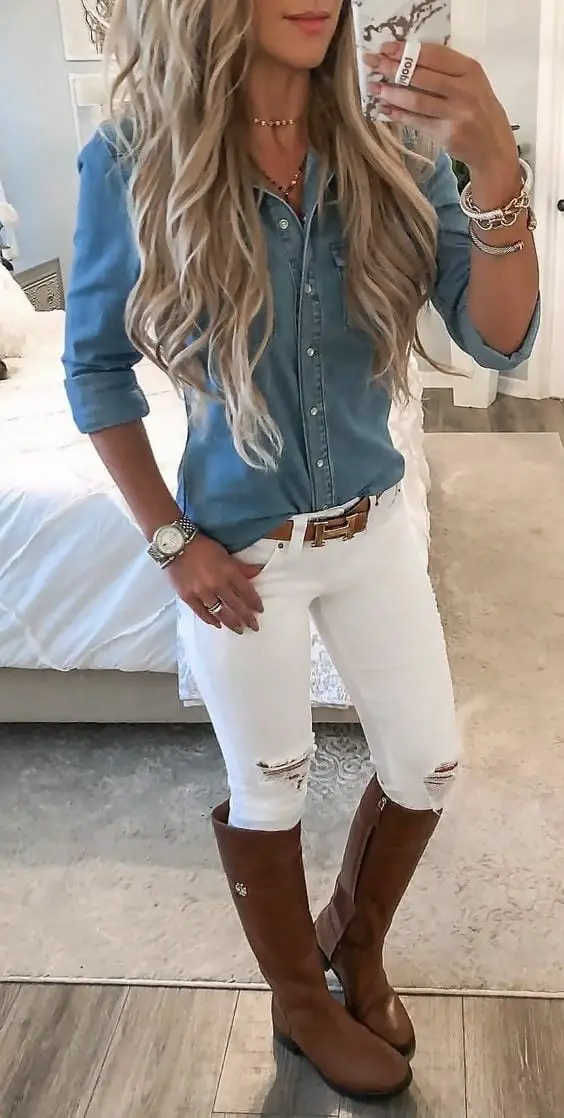 You can easily pull off a chic all-white outfit, all you have to do is pair your brown boots with your handbag: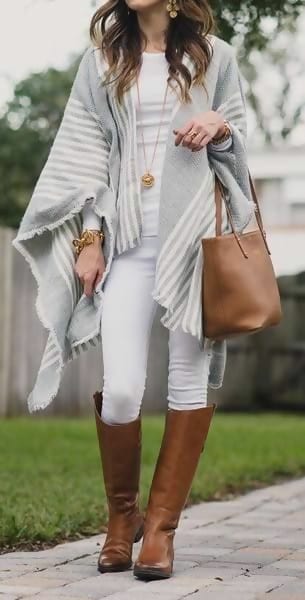 For light brown boots outfits you can opt for a beige scarf, similar to the classic Burberry: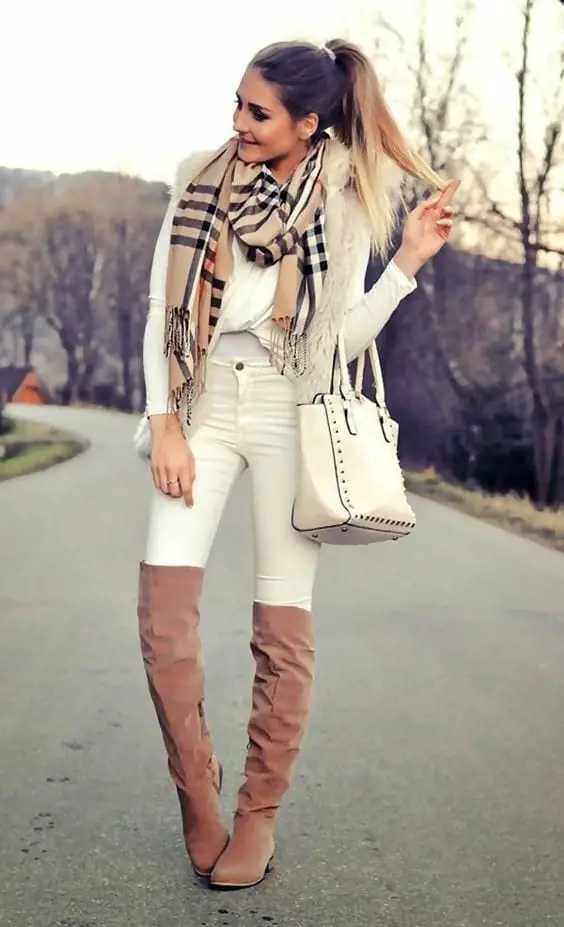 An all-black ensemble is another chic option. Opt for a printed handbag or clutch for a statement look:
You can also choose black leggings as an alternative for your bottoms: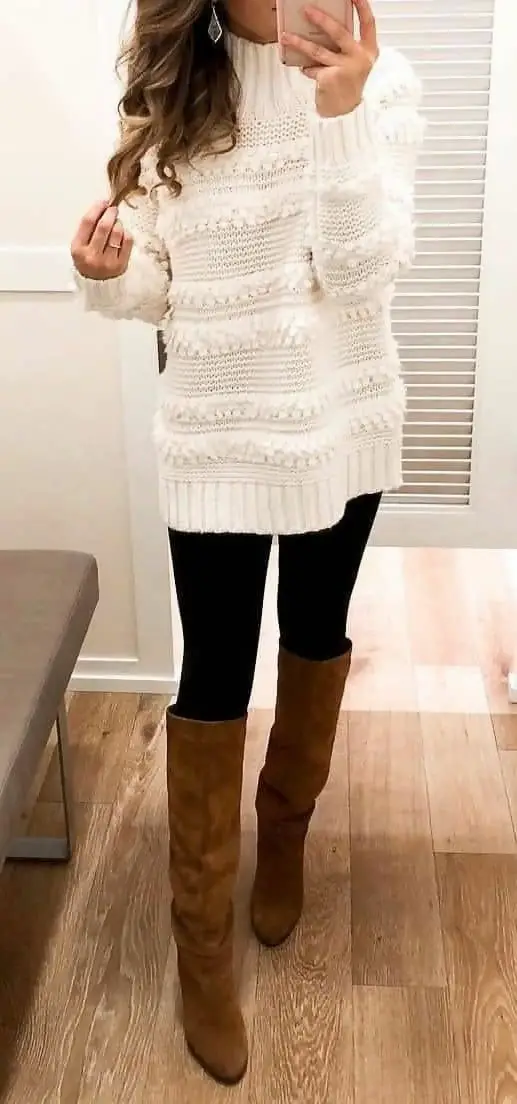 Dresses
Dresses with brown boots are the definition of boho chic, as I mentioned before. Any length of boots you choose, the result is the same: chic, classy, and completely stylish.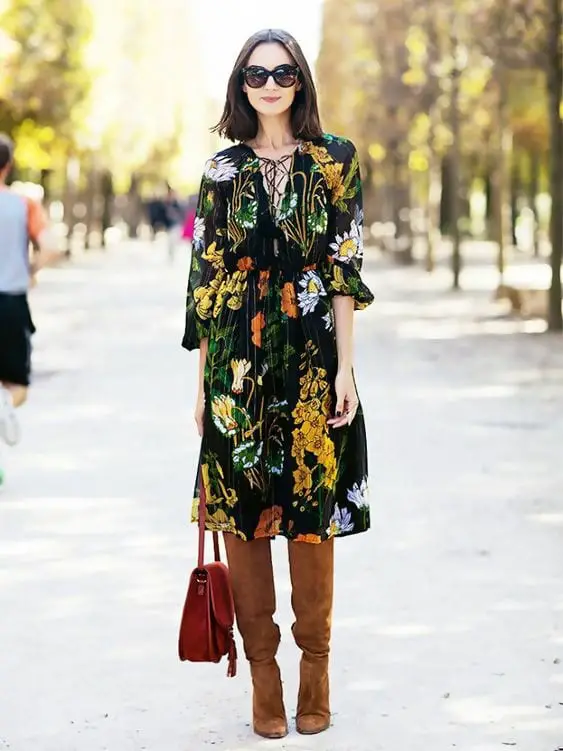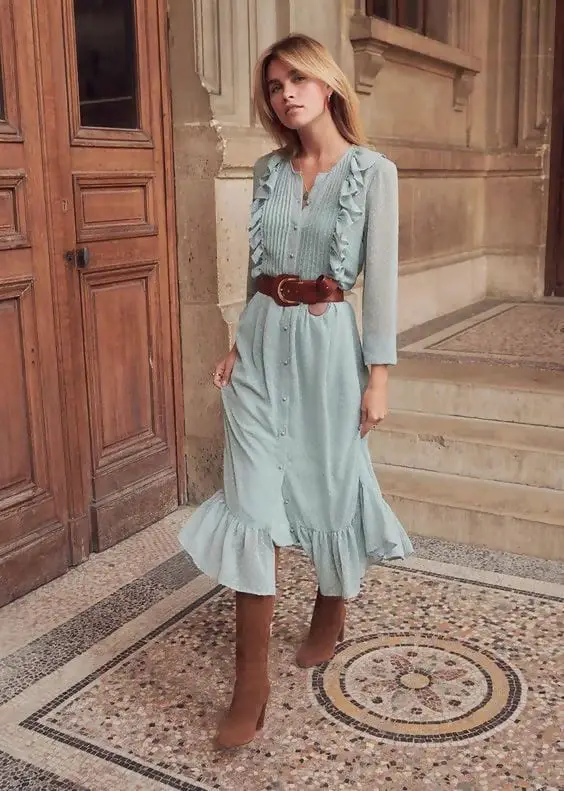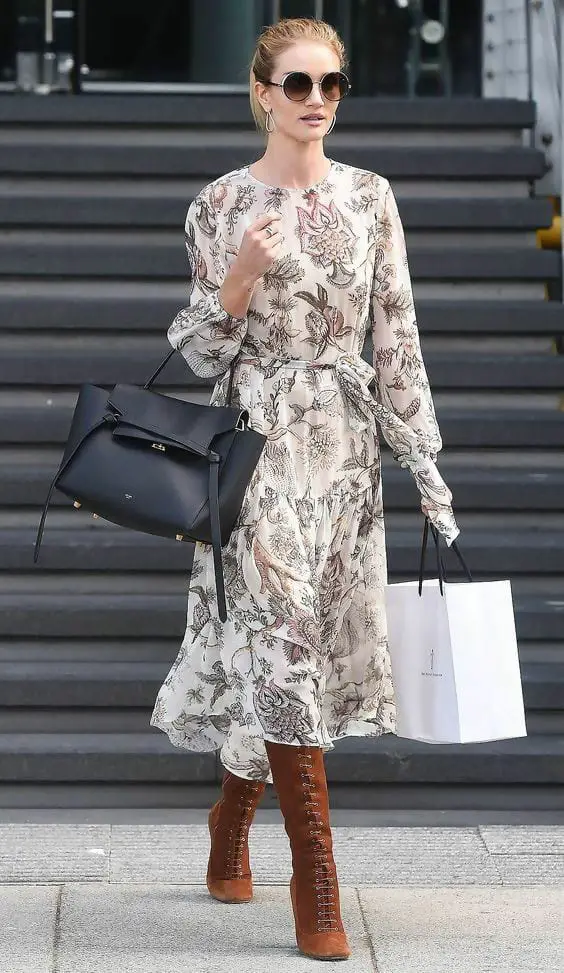 You can also wear your favorite pullover sweater for a fashion pro look: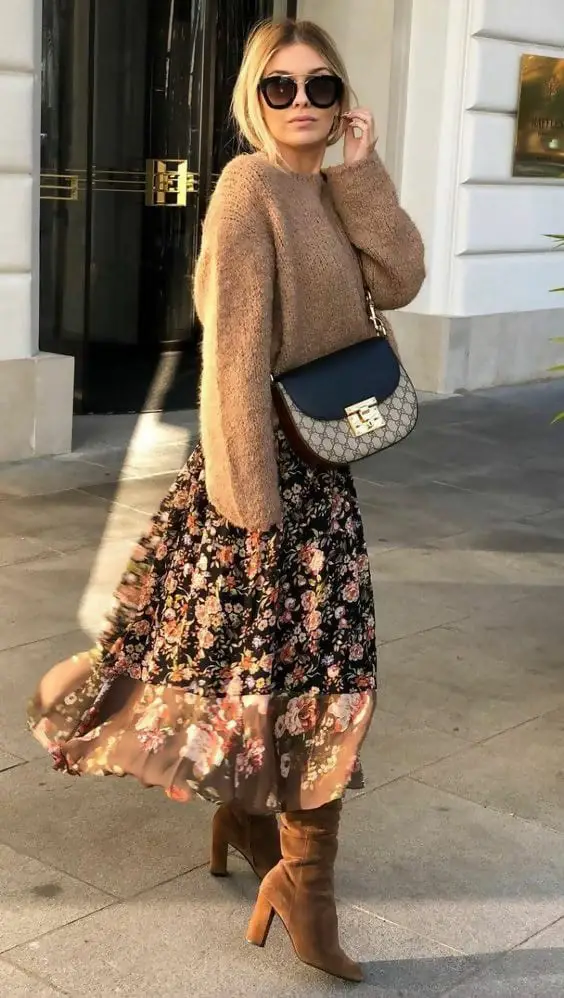 But if bohemian isn't exactly your cup of tea, then you can perfectly opt for a solid and tight dress (or a t-shirt dress) for edgier brown boots outfits.
Or a cute button-down dress with a belt to accentuate your waist. I love how contrasting your boots' brown with your belt makes a chic statement look.
Just remember to match your handbag's brown to either your belt or your boots' brown.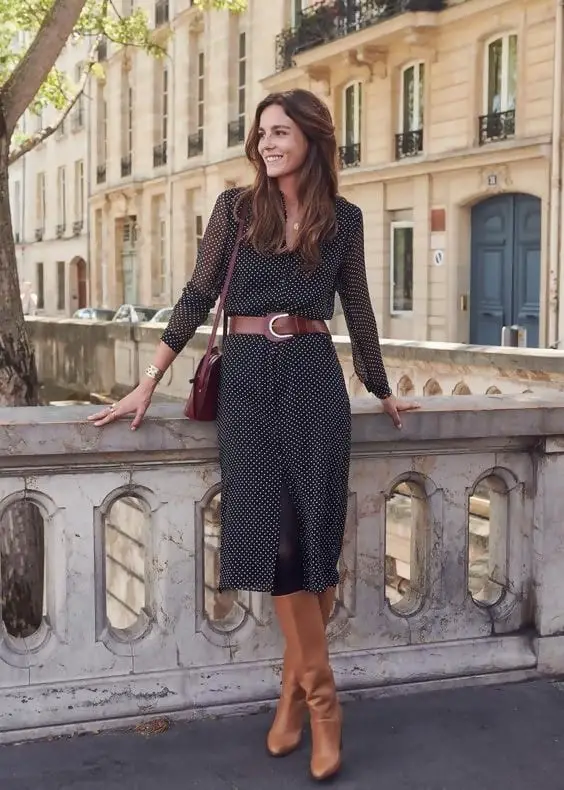 Skirts and shorts
Wearing your mid-calf or knee-length brown boots with skirts can also look super boho chic.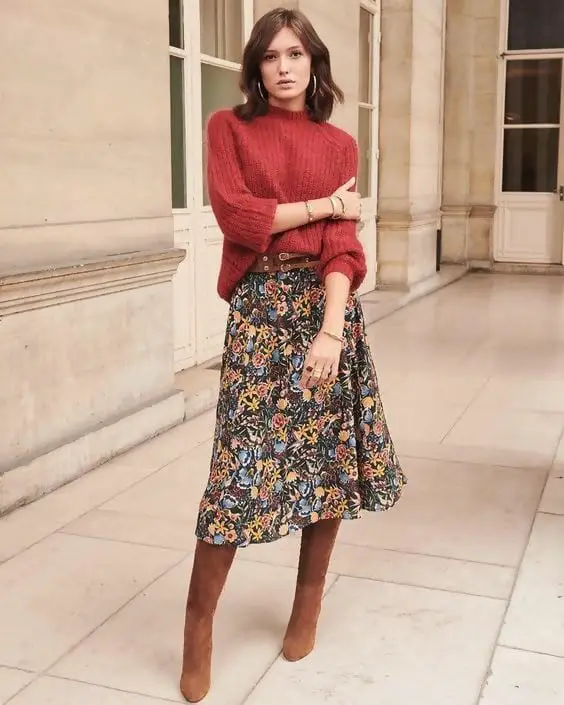 But you can also opt for a solid midi skirt for a classy look: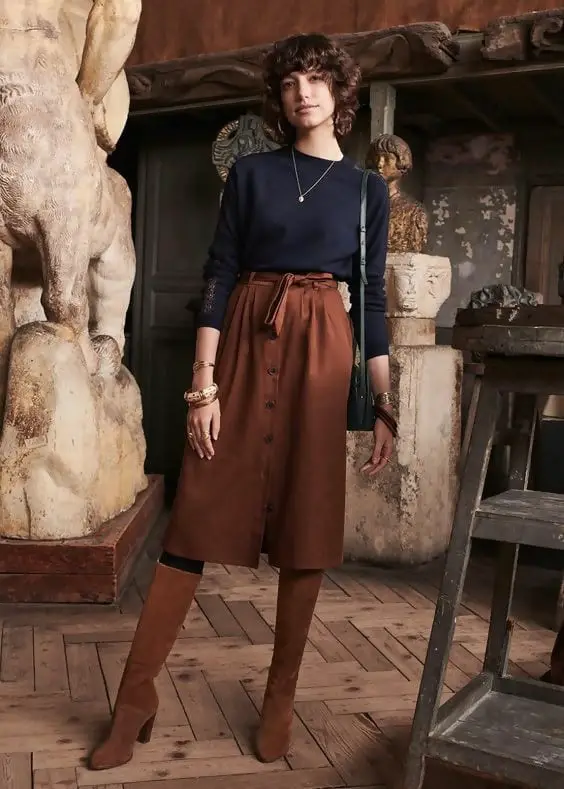 Or a pleated skirt for an extra dose of sophistication. To spice up your looks, opt for a pullover and loose sweater or a belt as complements to your brown boots outfits.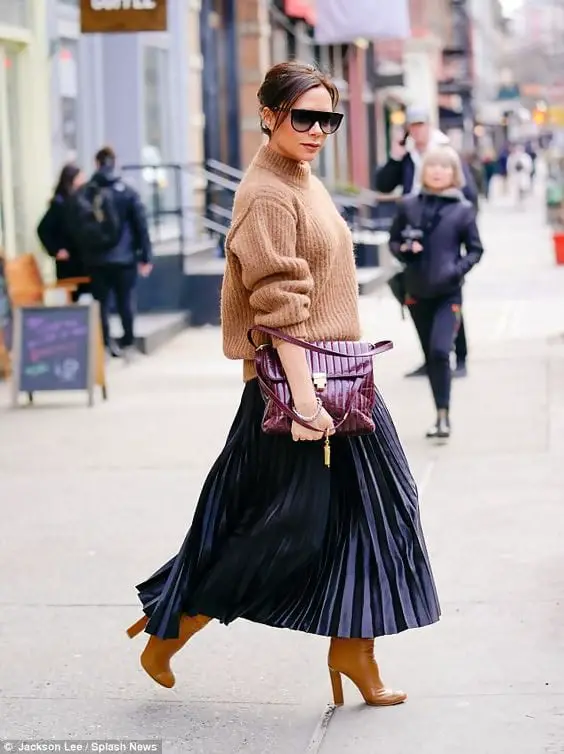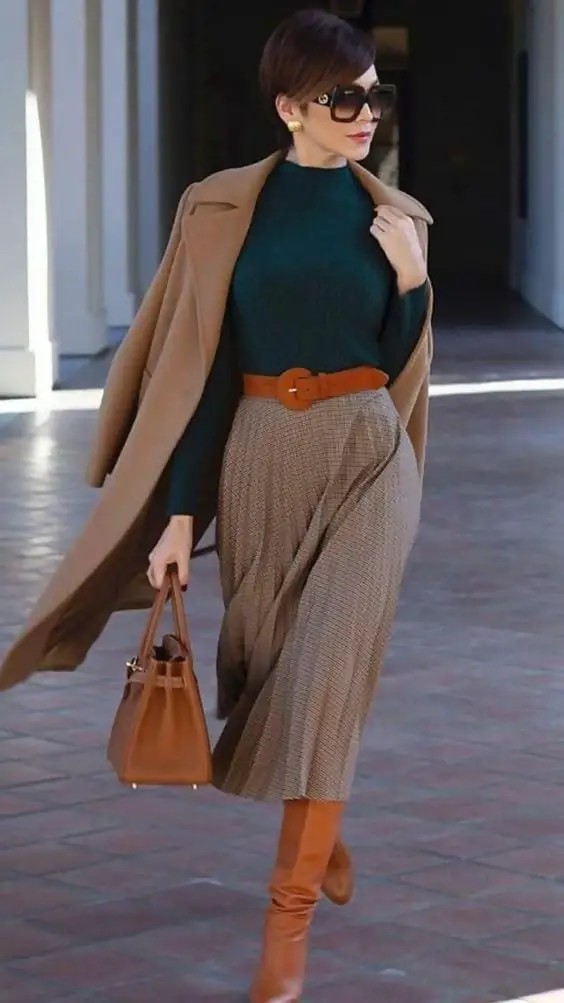 Here are other types of skirts that look great with brown boots: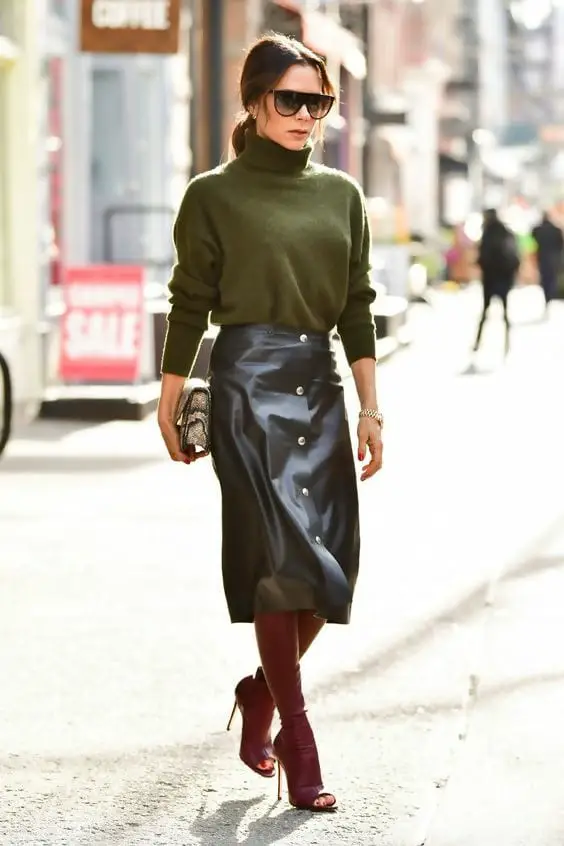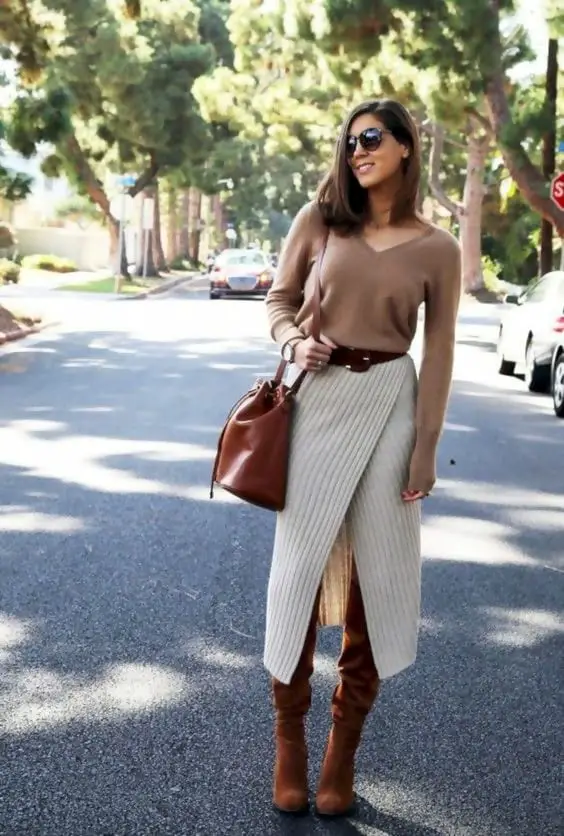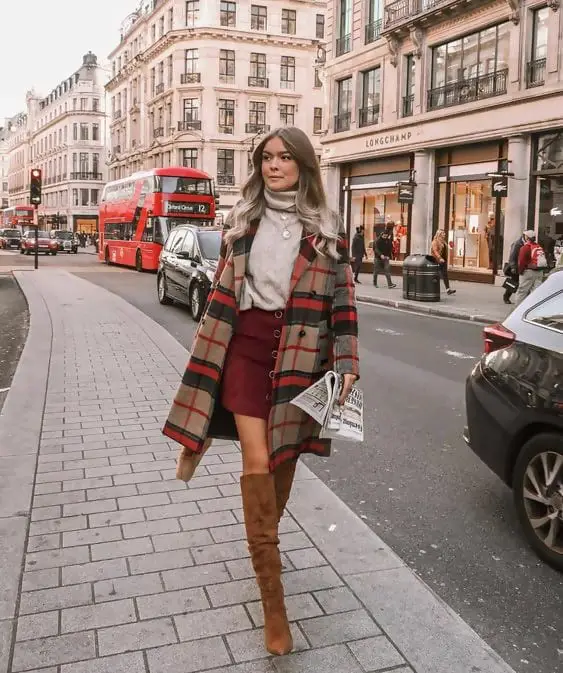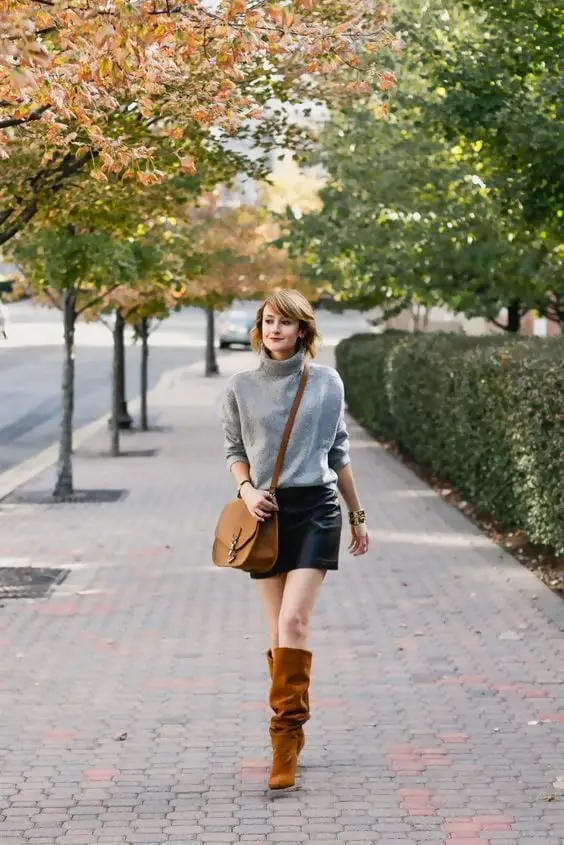 Wrap up:
If you've run out of ideas on how to wear brown boots, then consider this article your go-to guide. These 44 outfit ideas can give you plenty of inspiration whenever you feel like spicing up your boot game.