The fashion industry has been embracing a super young generation in the last couple of years. Back in the '80s, women in their mid 20's were the faces of high-end fashion houses. Noami Campbell, Linda Evangelista, Cindy Crawford…
Nowadays, young girls in their teenage years are being hired to model for big brands. Kaia Gerber, for example, was barely 15 when she debuted in Raf Simons's Calvin Klein Collection.
With super young fashion icons like Kaia, it's normal to wonder what does "fashion for women over 60" really mean. But just because you're this age doesn't mean fashion is not for you.
Regardless of your age, dressing stylishly is all about attitude! Even young girls who think fashion is not for them have a difficult time discovering their true style, and that's because their mindset is pulling them down.
So if you're past your 60s, remind yourself that clothes should only bring out the best of you: they should make you feel comfortable, confident and reflect your personality. That's what fashion should be all about.
How to dress over 60
That being said, dressing when you're past your 60s is a no brainer, and even though personal styles can drastically vary from women to women, there are a few tips when it comes to dressing that will help you pull off age-appropriate but stylish outfits.
I'll guide you through the pieces that should be included in a basic wardrobe for 60-year-old women in order to dress however you wish. Remember that the whole point of basics is to be versatile and timeless, so if you own the right pieces you can create multiple combinations that, styled correctly, will express your true personal style.
And don't get me wrong. Talking about basics is not boring at all, because I'll show you classic basics and basics "with a twist" for modern women over 60.
1. The perfect pair of jeans
People often underestimate the power of well-fitted clothes. The importance of tailored clothes is highlighted only when it comes to suits and blazers.
But owning a pair of jeans that fit perfectly is the key to look chic and stylish. The thing about clothes that are right for your body is that they enhance your figure and therefore, your whole look becomes coherent like it was made just for you.
That's why the perfect pair of jeans is super important. These are basics you can wear almost every day, and picking the right silhouette and size is the time you should invest on.
The best jeans for women over 60 are those that have a "tailored" look, meaning no skinny jeans, boyfriend or mom jeans, nor bell bottom jeans.
Bootcut and straight jeans are a great style for older women because they make them look classic. This doesn't mean that you can't own any of the styles mentioned before, but you should at least own one or two bootcut or/and straight jeans.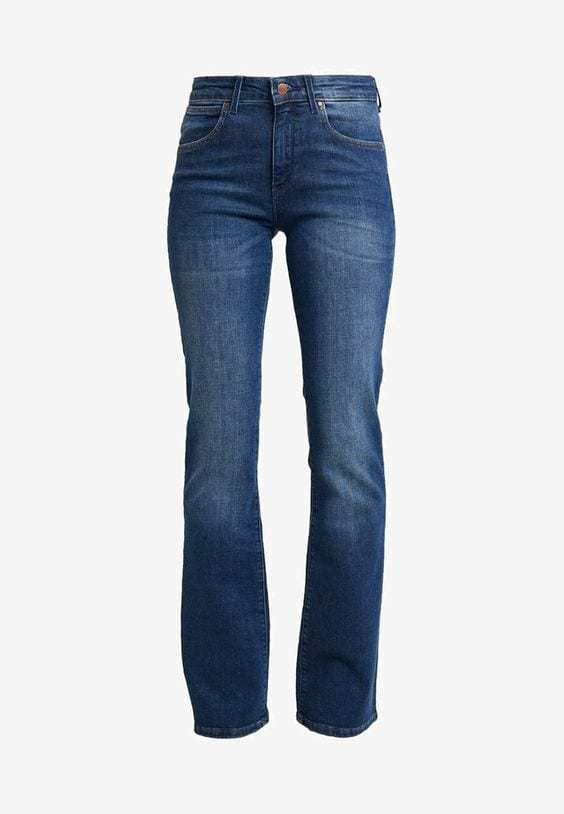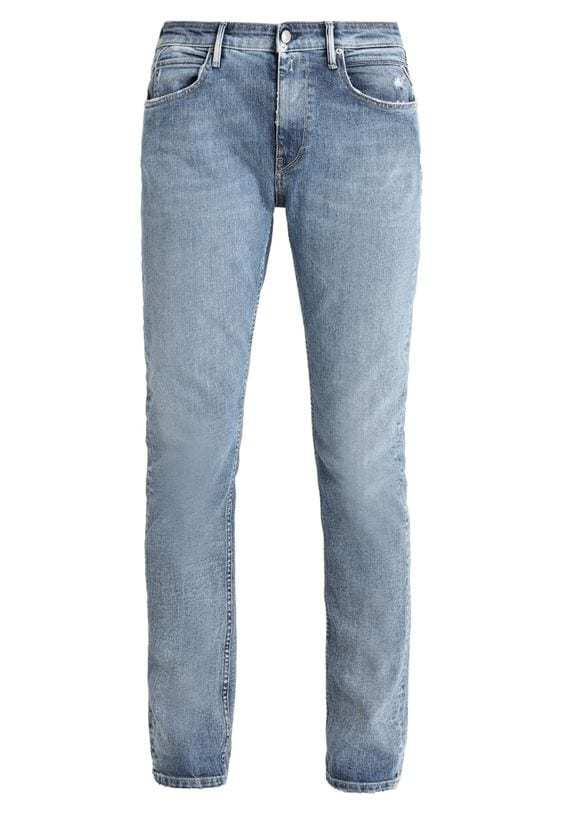 Here are some outfit examples that demonstrate how classic and chic these jean styles look on 60 plus women and, if you can notice, there are multiple ways of styling jeans: with belts, with the hem rolled up or cut…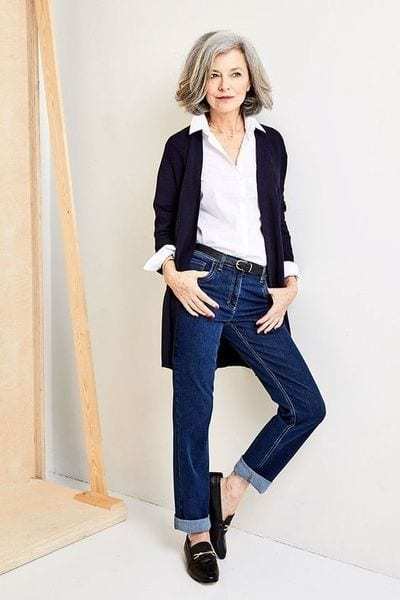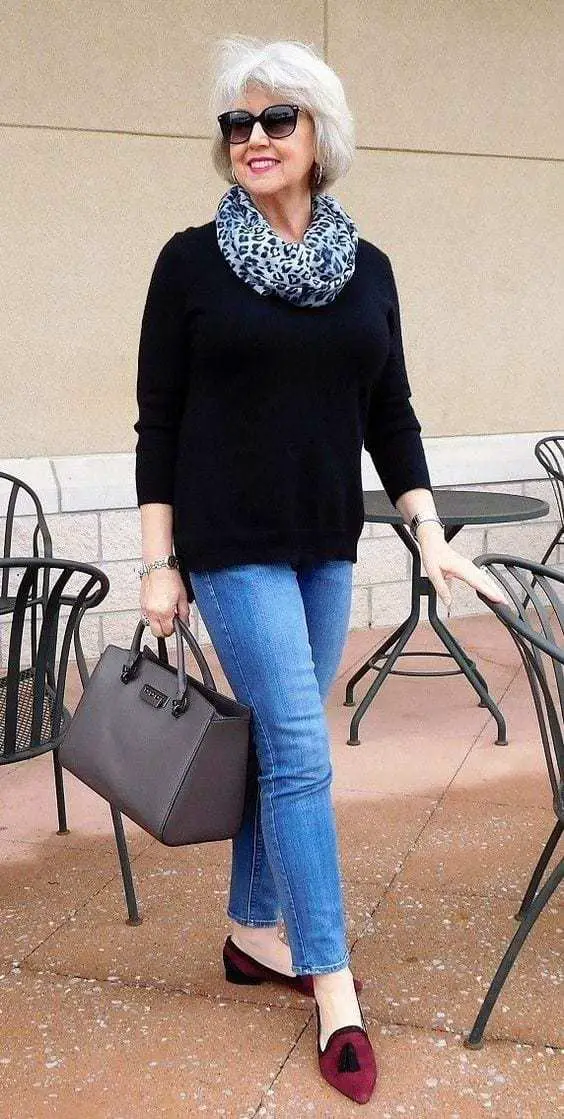 And remember, jeans are not only blue. Owning a white or black pair of jeans will help you create stylish and modern outfits as well: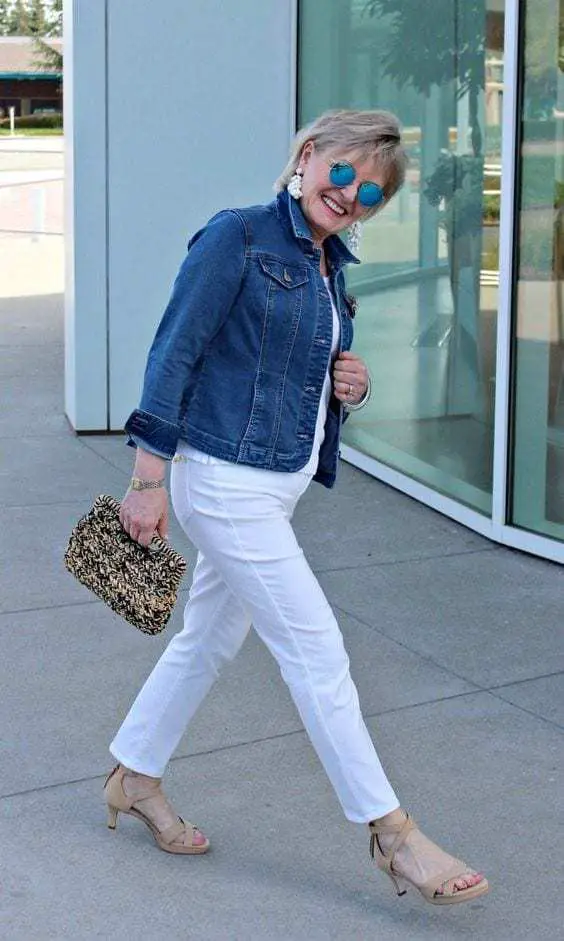 2. Cardigans
Cardigans can be found in so many different and modern styles, making it easy to find the one that best fits your personality. But, if you don't want clothes for women over 60 that scream your age, I'd suggest staying away from the typical "grandma-looking" cardigans.
Here are some examples of cool, stylish and modern cardigan styles that are perfect to disguise your age. They will make you look like a fashion pro in the easiest possible way.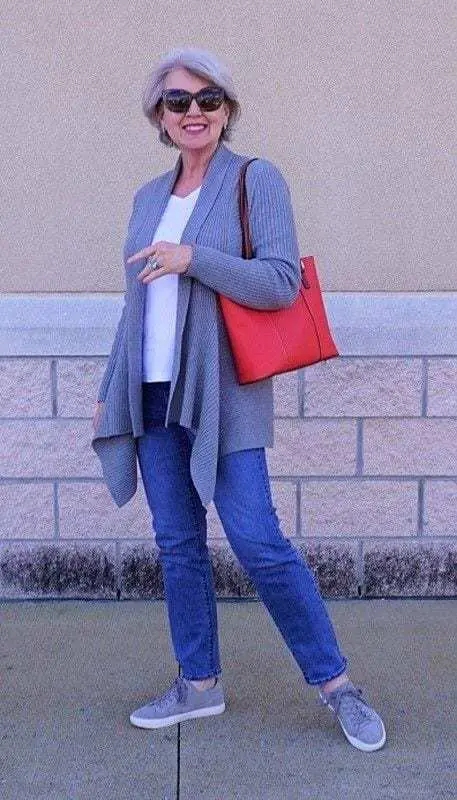 Apart from neutral color cardigans, owning one in a statement color will turn a so-and-so outfit into a modern and sophisticated one: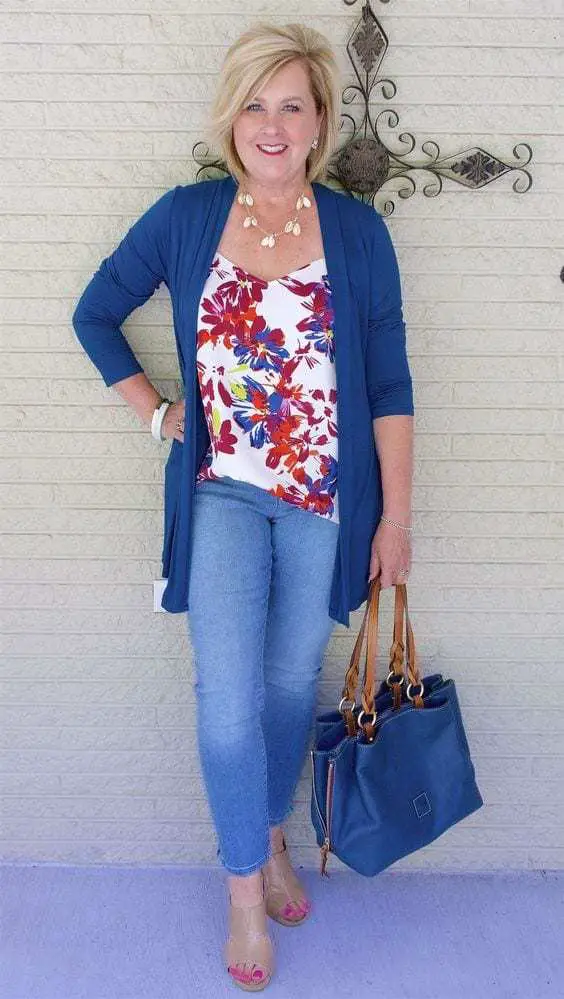 3. Blazer
Whether you work or not, a cool blazer will make any outfit look edgier. It's perfect for women over 60 because, if it fits perfect, a blazer can make her look more polished but in a modern way.
For example, if you're going to a fancy lunch, wearing a blazer will give you an extra dose of chicness. You can wear a basic tank and jeans if you want because the blazer will do its trick by itself: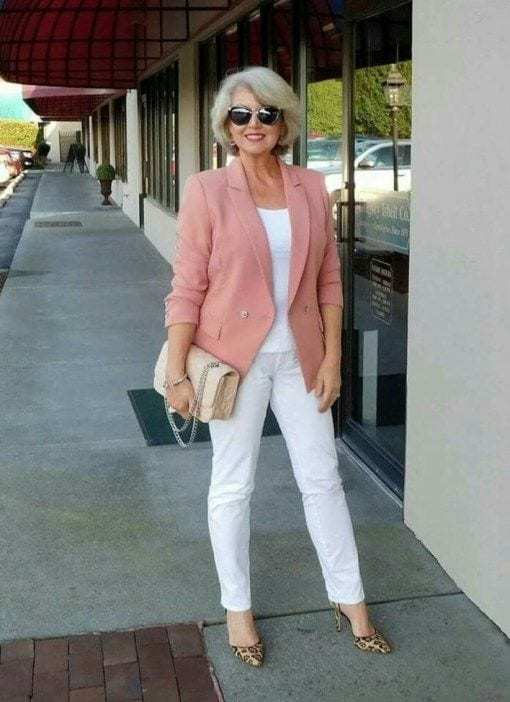 Here are other examples that demonstrate how a blazer can elevate a simple look: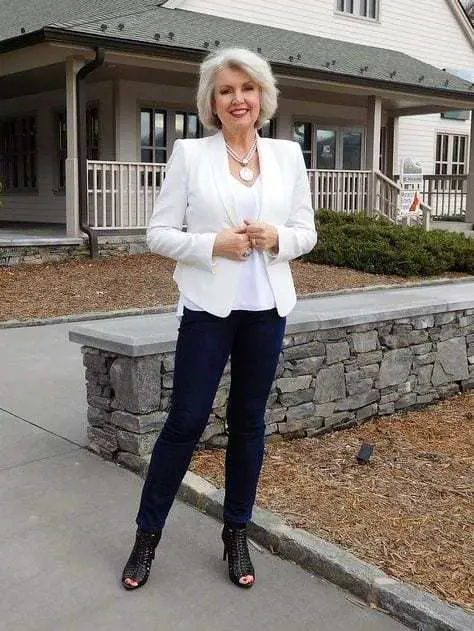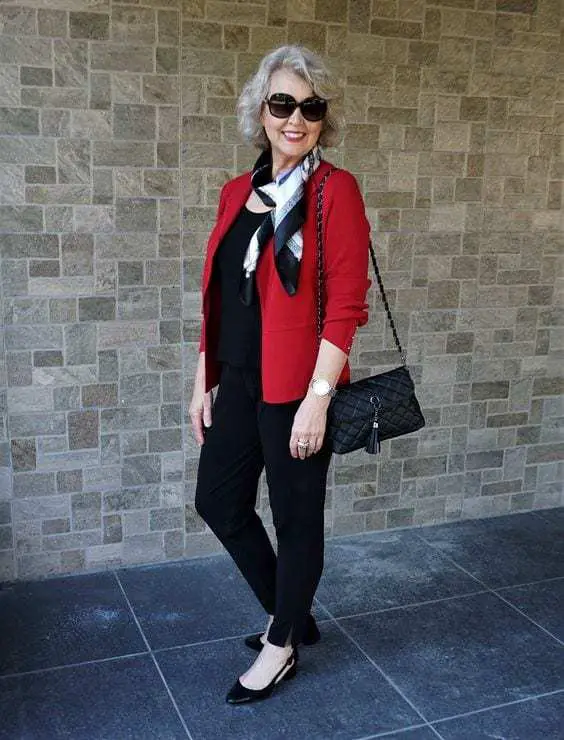 If looking modern is your main goal, you can also try a straight and long blazer: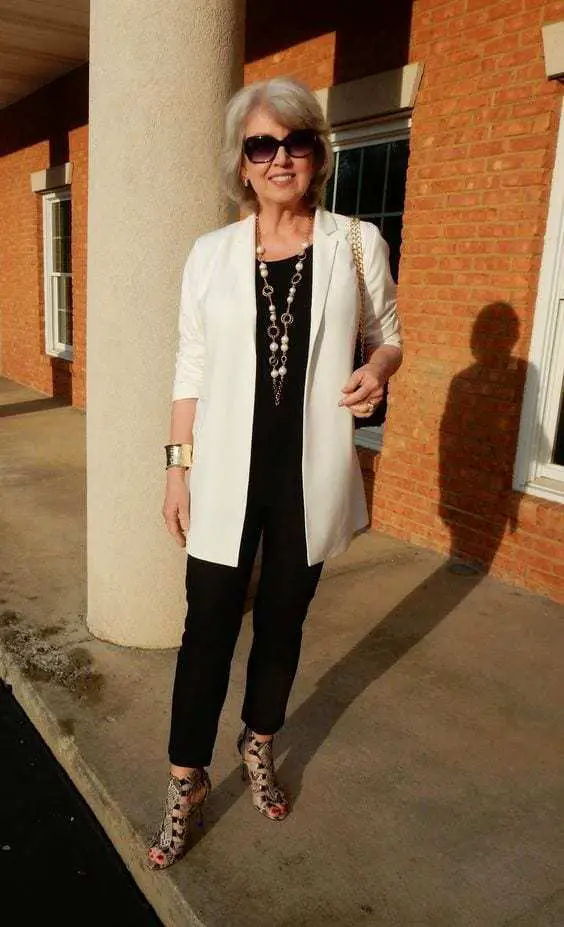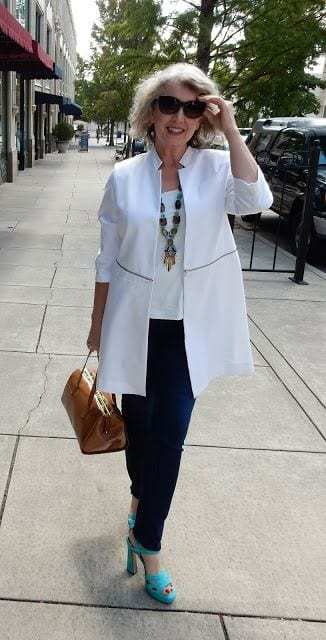 4. White cotton blouse
A crisp white blouse is one of the quintessential pieces to build the perfect basic wardrobe for a 60-year-old woman because they're classic and can be worn in so many different ways and situations.
You can find endless styles of white cotton blouses, from the most classic button-down shirt to a sophisticated and elegant blouse with statement sleeves.
Again, make sure that your blouses fit you right. A perfect-fitting blouse can make the difference between a plain outfit and a chic and polished outfit.
This doesn't mean you can't wear an oversized button-down, just double check that it doesn't overwhelm your figure.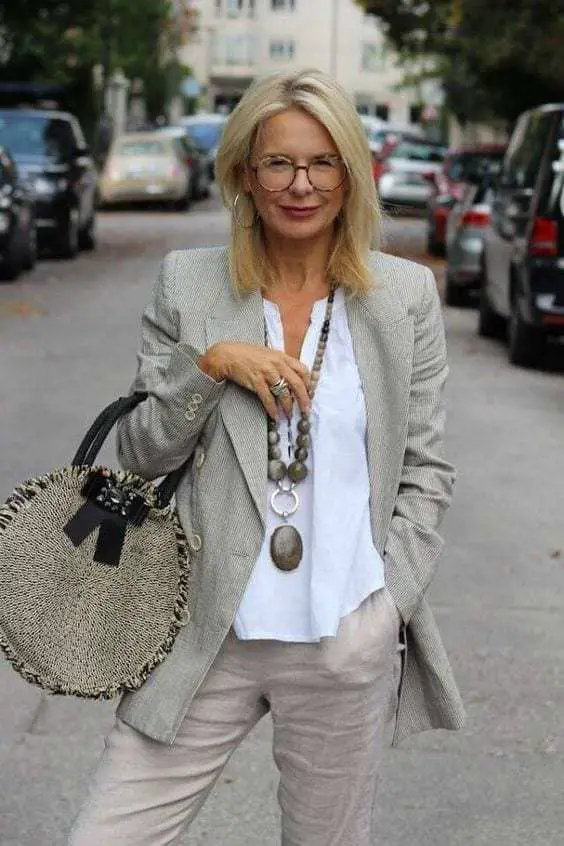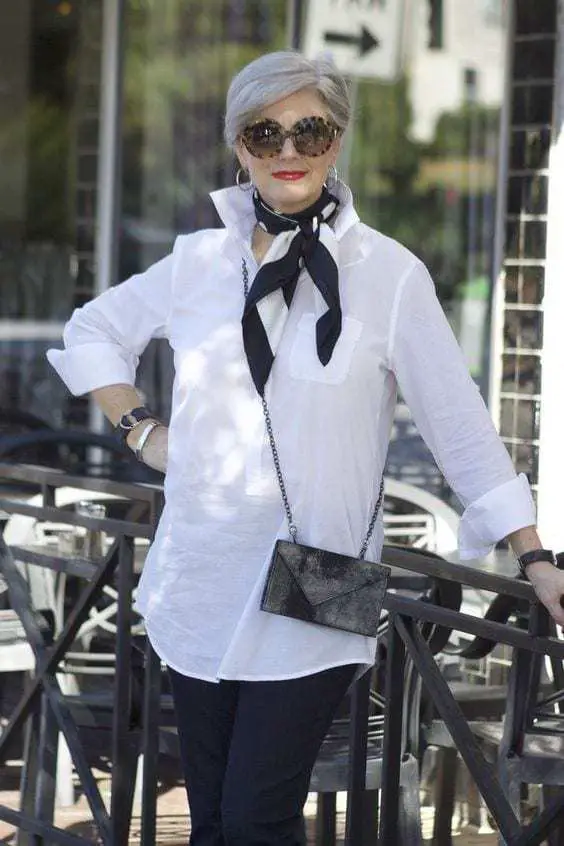 A white blouse will never go out of style, so if you take good care of it, you can be assured you'll have plenty of different outfits for a couple of years.
You can wear it tucked, half-tucked or untucked; buttoned all the way up, or completely unbuttoned on top of a tank top; with the sleeves rolled up or with a stylish knot… If you get creative, the possibilities are endless.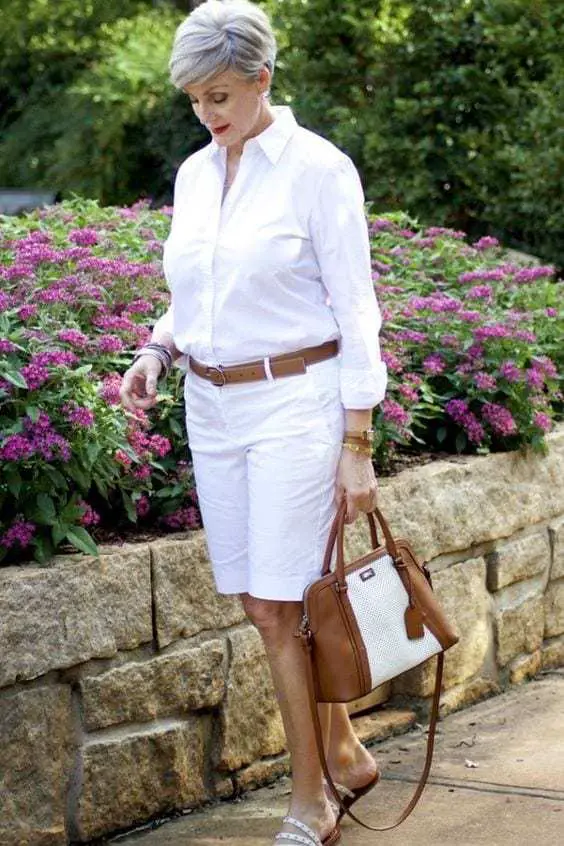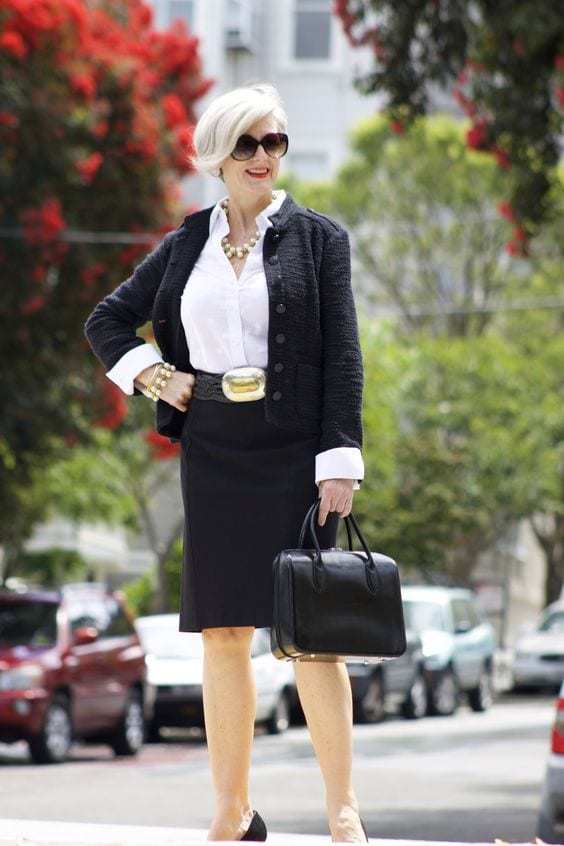 5. Tunic length Tops
Many women in their 60s or more tend to be self-conscious about their body. Most of them have had kids and of course, their metabolism is not as fast as it used to be.
That's why tunic-length tops are a great idea that will not only cover your tummy but will also make you look super stylish. And, contrary to what many think, tunic length tops are not only for tall women, anyone can perfectly rock these types of top.
The only two suggestions I'd make is:
– Pair it with either thick leggings or slim/bootcut bottoms.
– A tunic-length blouse will always be a statement piece, so try to pair yours with pieces that complement it rather than compete for the attention
Here are some outfit ideas you can recreate in your own way: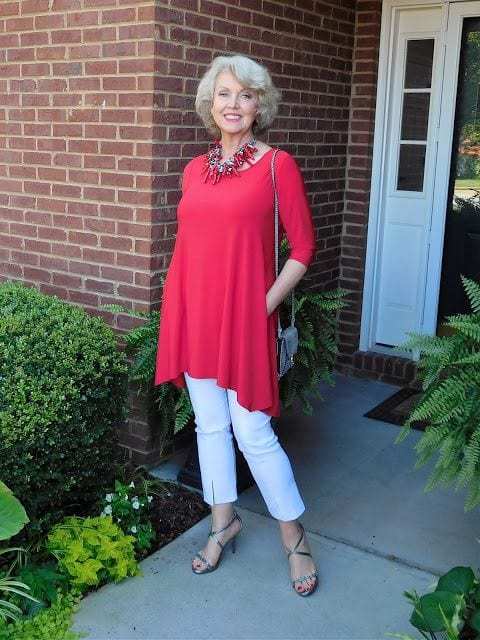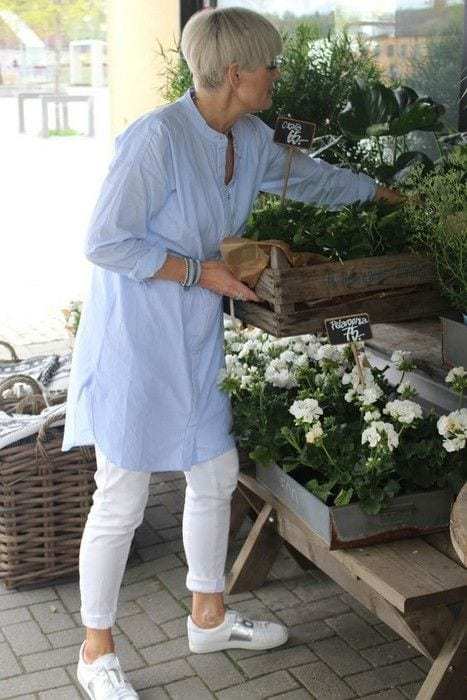 A chic idea to make the most of your tunic length blouse is to wear it under a maxi kimono or cardigan: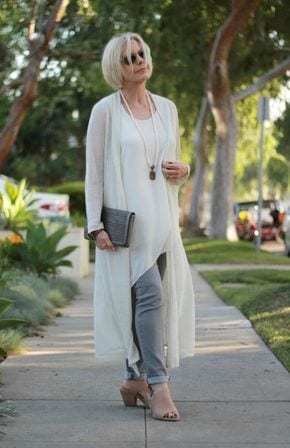 6. Dresses
There are no perfect dresses for women over 60, it will all depend on what's your style like. If you feel comfortable showing off your legs, or have a fun and flirty personality, or a modest and classic.
One thing's sure though, wearing dresses is not about age at all! They can look super fashionable on anyone, as long as you wear them with attitude and feel comfortable in them.
From maxi dresses to over-the-knee dresses, these are some of the styles you can choose from: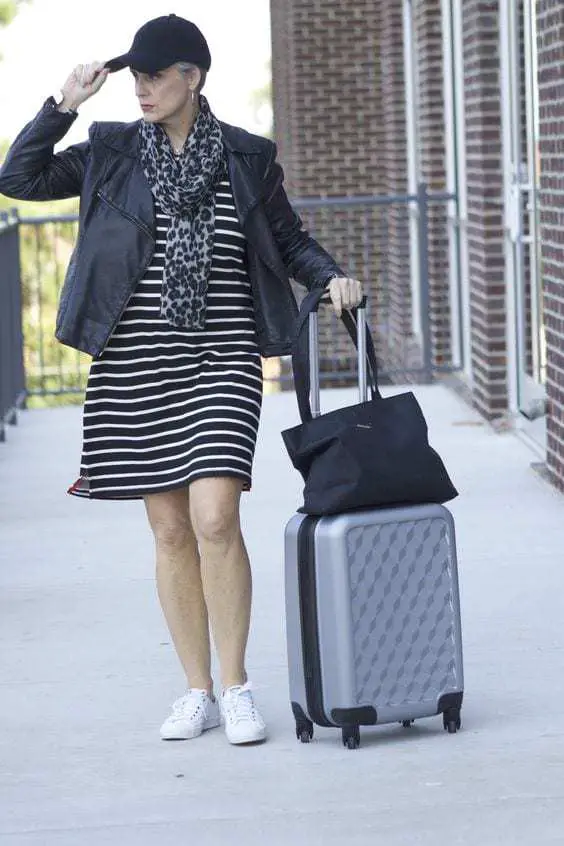 7. Sneakers
Sneakers have been a hot trend for a couple of years now, having people from all ages join the frenzy of looking cool and sporty with these shoes.
Fashion for women over 60 should not only revolve around classic pieces but also around modern and trendy items that can elevate a simple outfit in the easiest way.
That's why sneakers are a great idea for you. They're comfortable, casual, edgy and chic at the same time, and you can choose whichever style fits best your personal taste.
Here are some examples of how to wear sneakers for plus 60 women: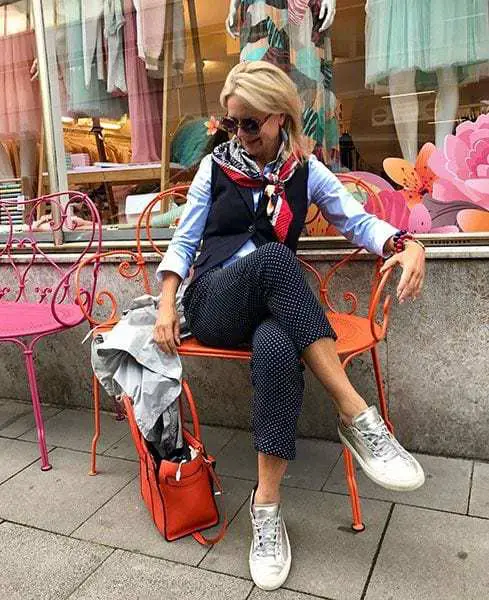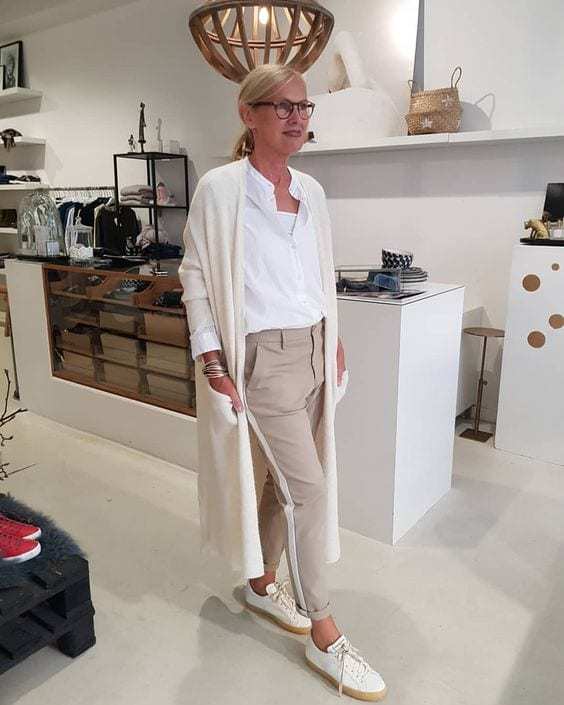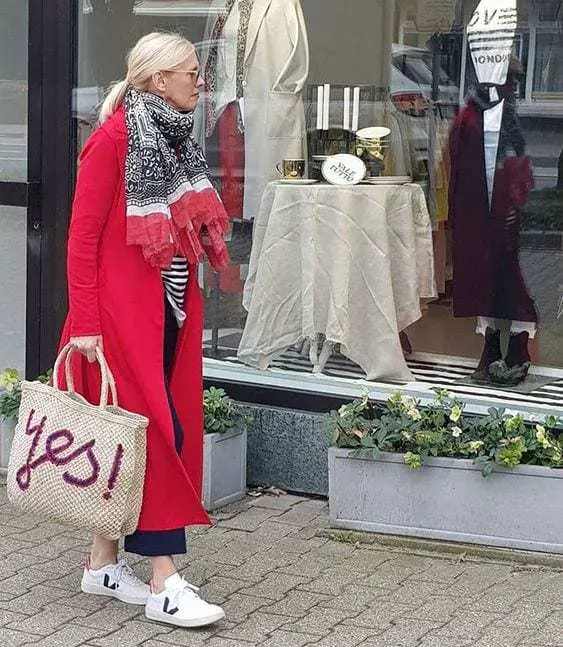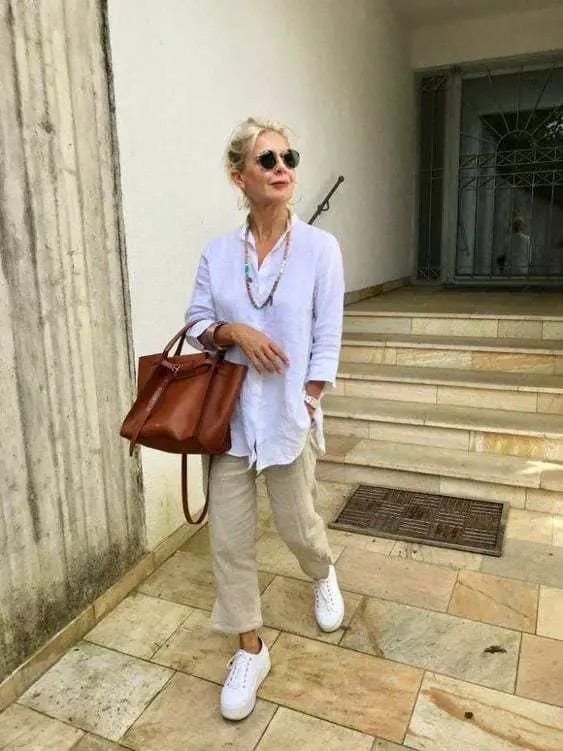 Wrap up:
You know what they say, "age is just a number", and this couldn't be more valid with fashion.
As I've said it before, fashion is all about attitude. If you have a positive mindset and feel comfortable with yourself, then this will also translate through your clothes and therefore, through your fashion style.
I hope these ideas on how does fashion for women over 60 looks will give you a glimpse of all the endless possibilities you can experiment with. These were just the basics you should own; so can you imagine what you can do with statement pieces as well?