Staple pieces help us create multiple and different outfits throughout the years. That's why owning the minimum basic pieces is a must in every girl's wardrobe.
But many ignore the fact that there are some shoe types that also staple pieces. One of those is the ankle boot.
How to wear ankle boots
The thing about ankle boots that make them a classic is how comfortable and versatile they can be. As opposed to knee-high boots which make a strong statement, booties are easier to wear and can complement any outfit without much effort.
If you're a bootie lover, join me as I show you cute and versatile ways of wearing these shoes.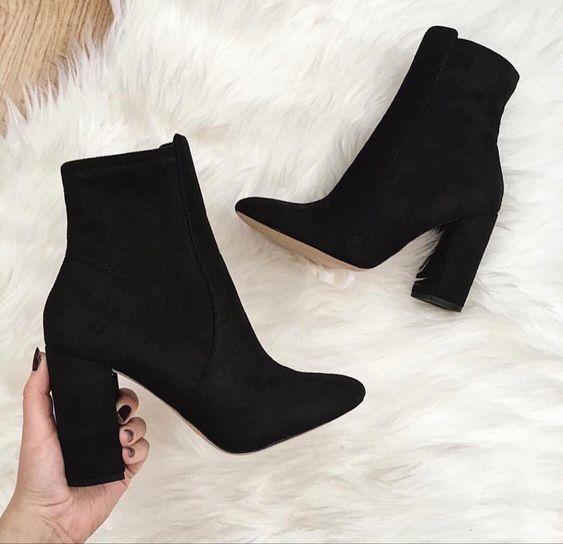 1. Ankle boots with jeans
Wearing ankle boots with jeans is a no brainer. All you have to do is wear your favorite pair of jeans and voilà!
But the secret to pulling off a stylish bootie and jean outfit is to wear jeans that are either cropped or cuffed up above the ankles. In this way, you show off your booties and compliment your outfit in the best way possible.
Skinny jeans and booties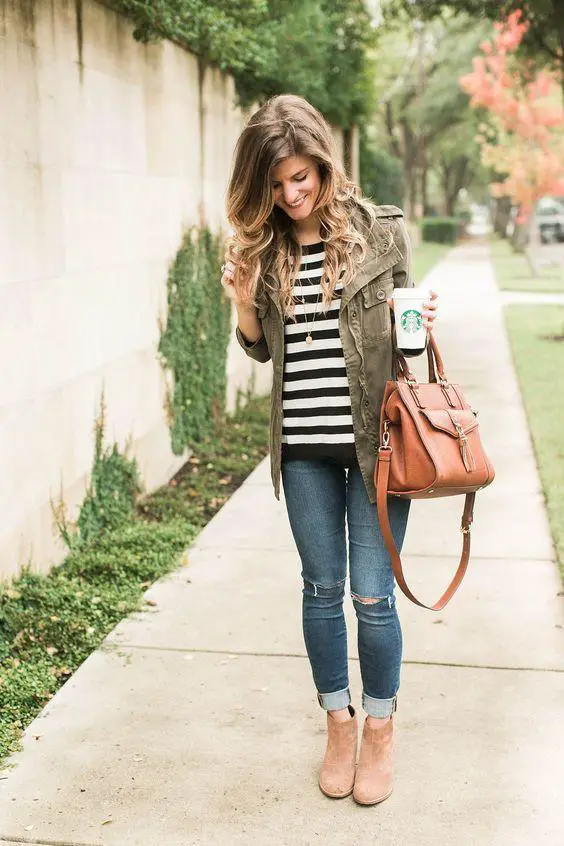 If you tuck your jeans inside your booties, your outfit will look just "okay". You can see the difference between these two examples. The first one has her jeans tucked inside her booties and the second one has left some bare skin on the ankles which highlights her booties.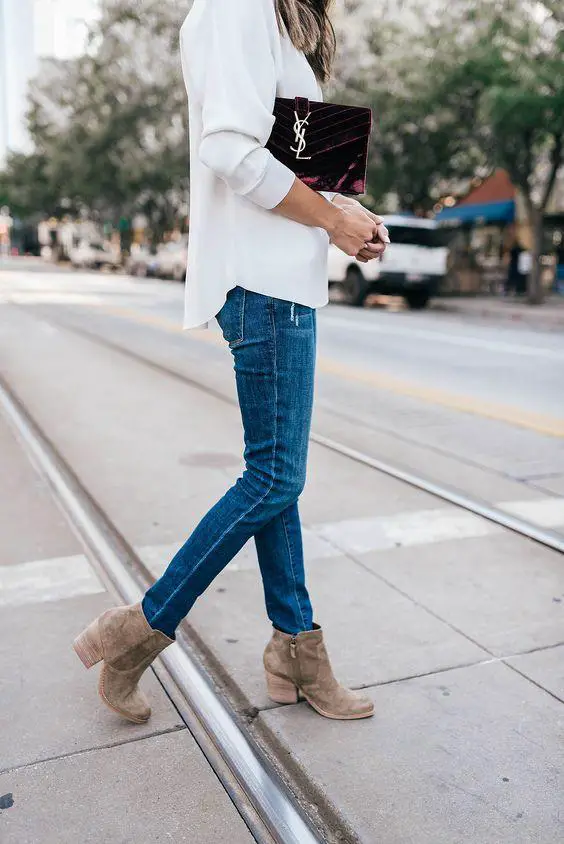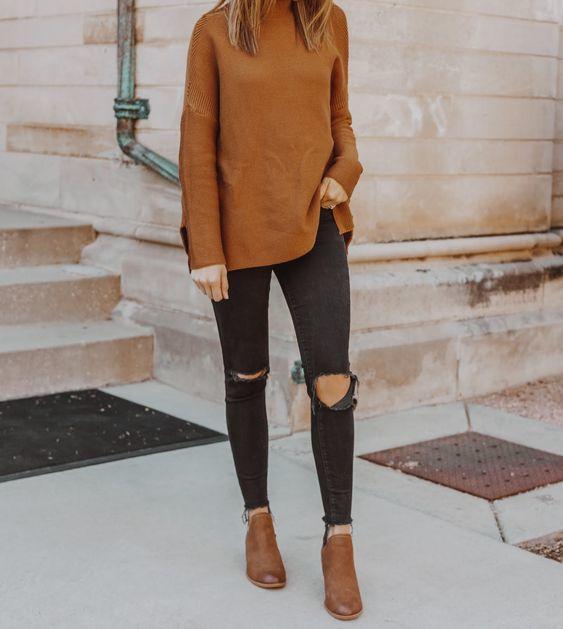 You can do either, but the most fashionable way is the second one, hands down.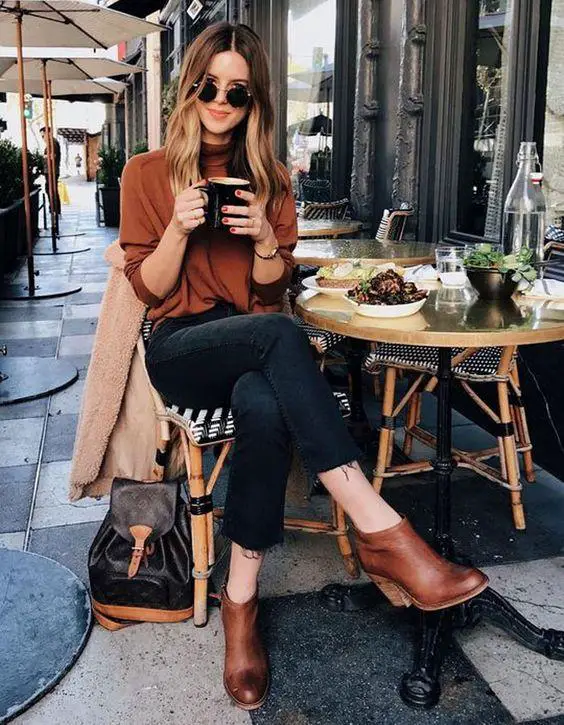 How to wear ankle boots with straight leg jeans? Just the same as the examples above. Cuffing up your straight leg jeans is just as easy as doing it with skinny jeans.
You can either cuff them up or cut some inched off with scissors to get that modern crop straight leg jeans.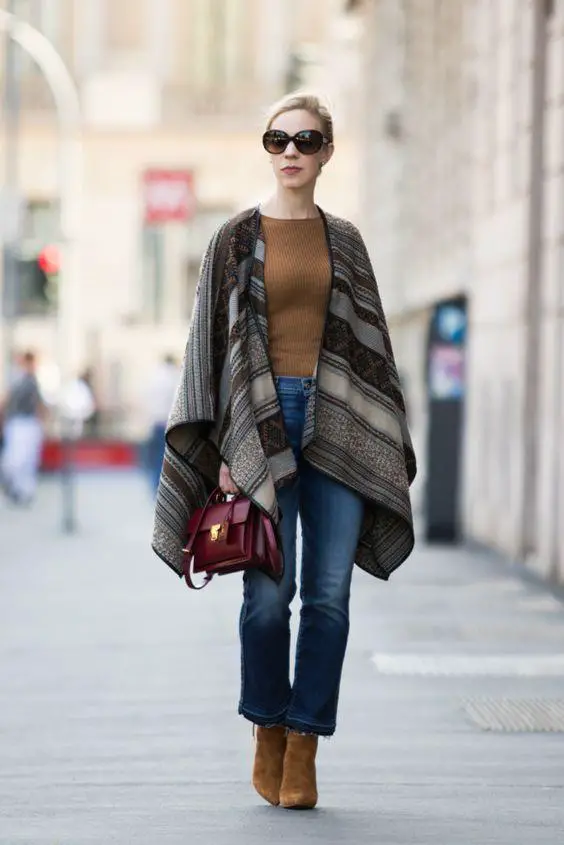 Cropped jeans and booties
One easy tip on how to style ankle boots is to wear them with cropped jeans. In this way, you show off your cute booties while wearing a trendy jean style.
Cropped jeans have become quite a thing among fashionistas, and one way of pulling off a cute outfit with these bottoms is with a pair of ankle boots.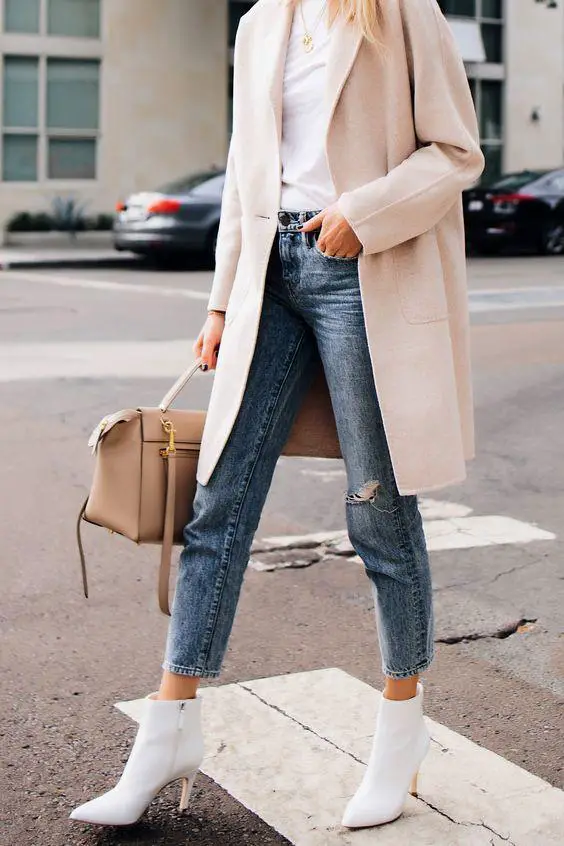 It doesn't matter if it's a skinny, mom, boyfriend, flare or straight jeans. All cropped styles are more than welcome when it comes to styling booties.
Cropped jeans will transform a so-and-so bootie outfit into a modern and stylish one.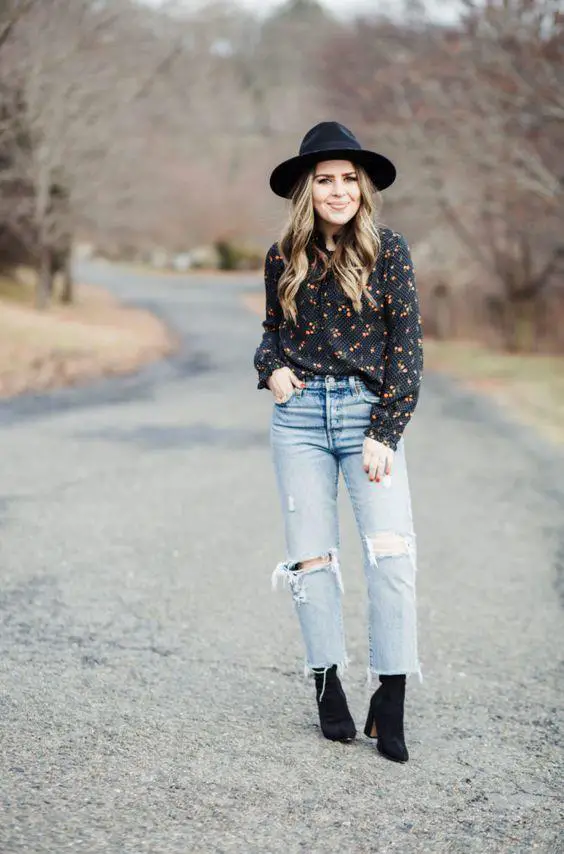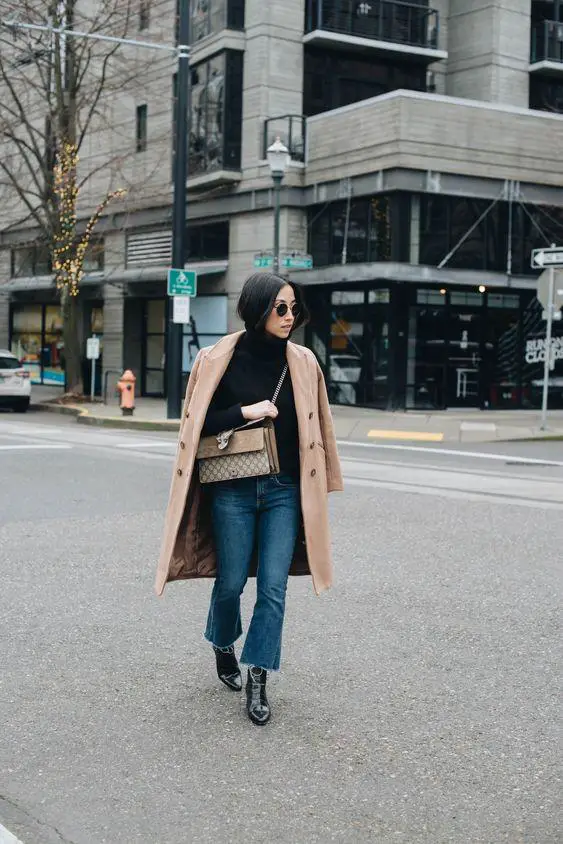 What I love about cropped jeans and ankle boots is the subtle edgy touch it can bring to an outfit.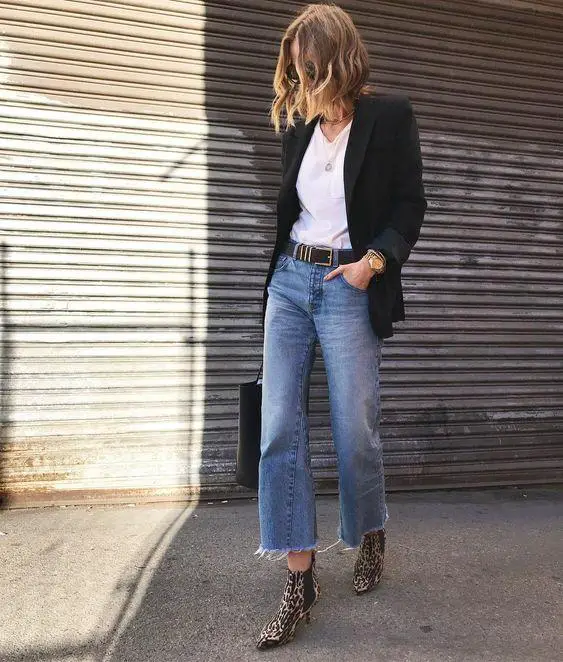 If you want to look modern, switch your regular skinny jeans for a pair of cropped jeans.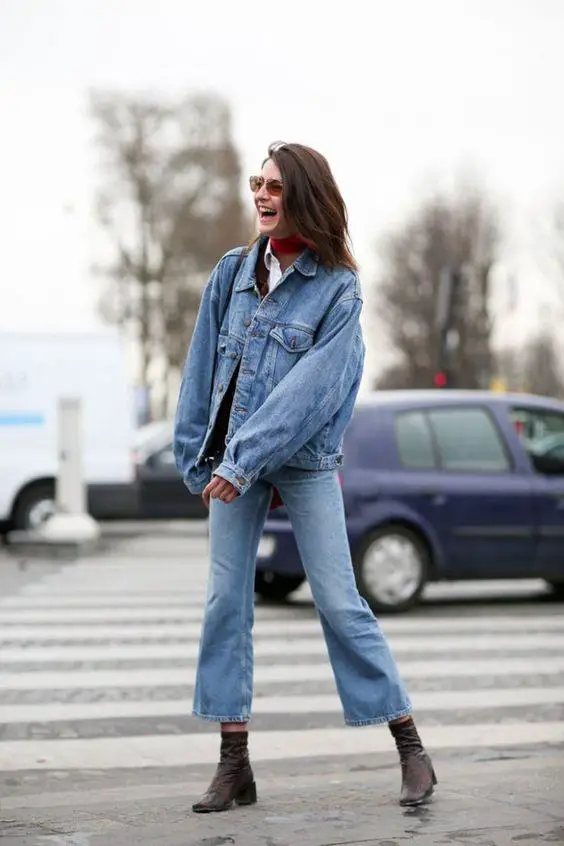 2. Booties with leggings
Just like jeans, leggings are another easy way of styling your booties.
For an easy outfit, simply wear your favorite t-shirt and jacket, and pair them with leggings and booties.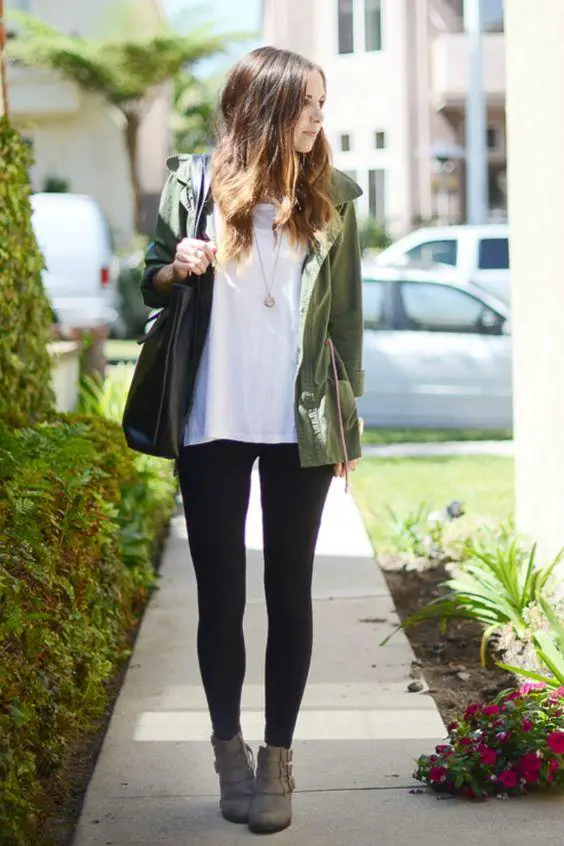 For a stylish and modern look, opt for black booties and black leggings paired with a bright color pullover sweater. It's an easy yet fashionable look you can wear anytime: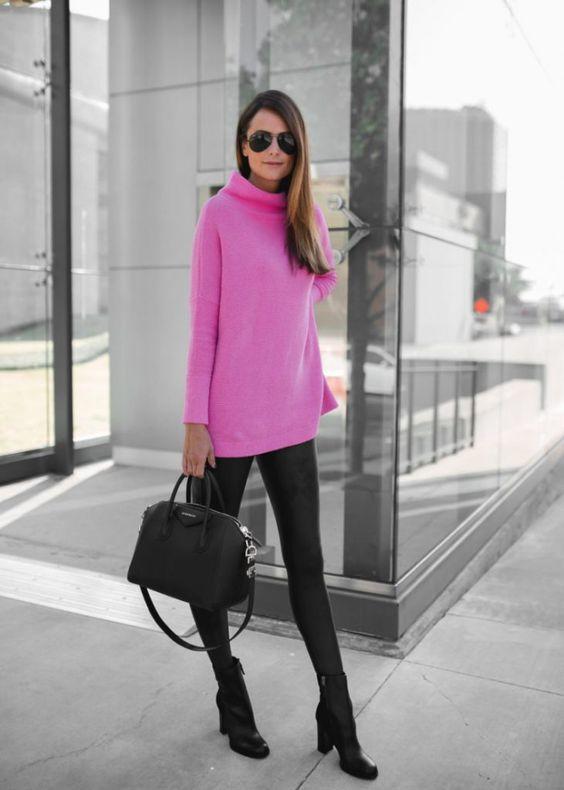 You can also wear an all-black outfit and add a statement jacket or coat: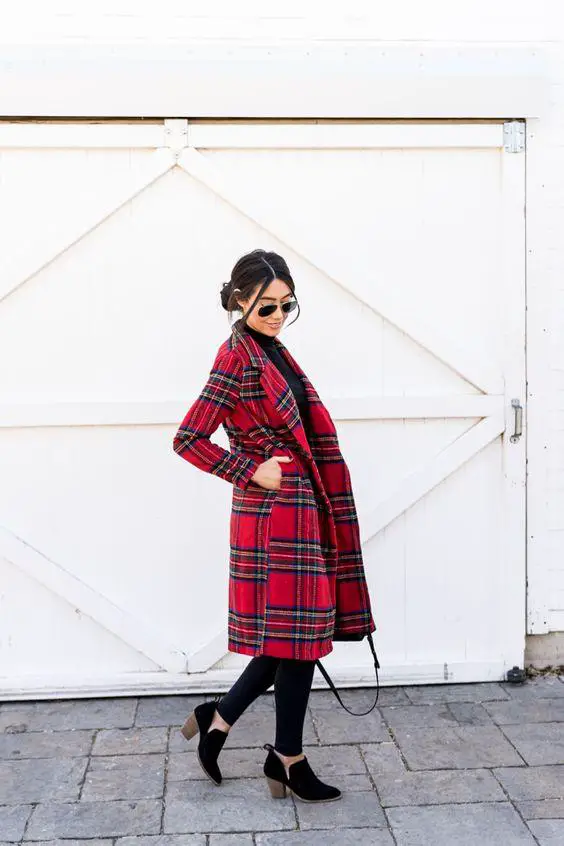 Or you can contrast your black on black look with a pair of white/cream color ankle boots: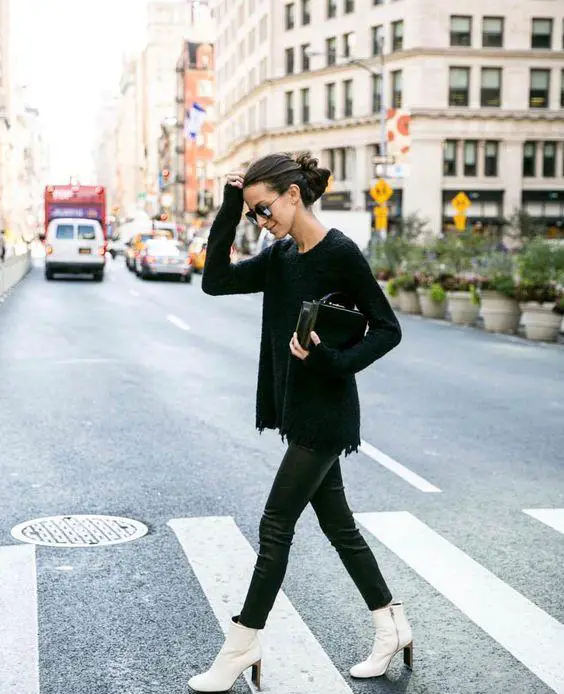 If you want to take your bootie style to the next level, do so by wearing a pair of black leather leggings. This combination is perfect for an evening look.
You can wear a fitted long sweater or an oversized one: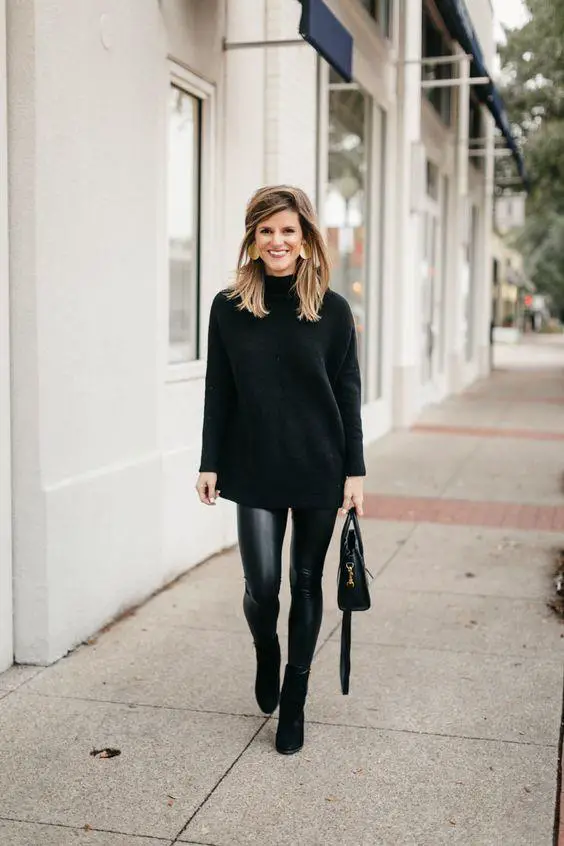 Make the best of your leather leggings and booties outfit by adding some layers during winter: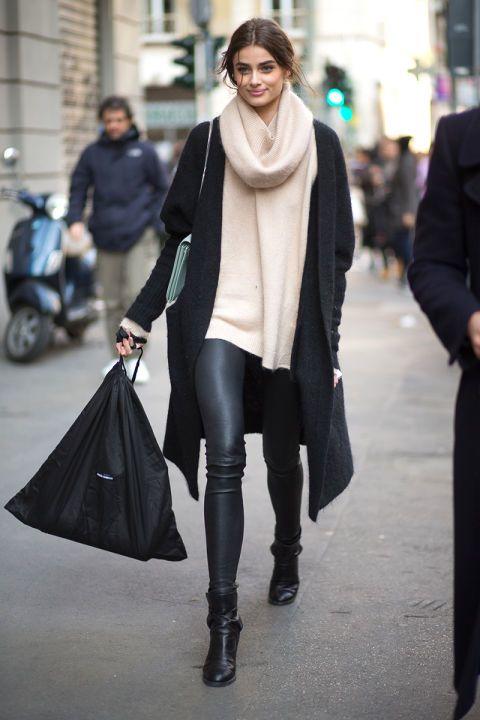 3. Booties and dresses
Ankle boots and dresses are a great combination for cute fall outfits. Again, pulling off this combo is as easy as it sounds because there's not much styling involved (and that's why we love dresses!)
What's the best dress length to wear with booties? It's completely up to you. You can wear mini dresses to maxi dresses and still look cute.
But the trendiest and most modern ways of wearing ankle boots with dresses are the following:
Ankle boots and sweater dresses
Sweater dresses have become quite trendy thanks to the likes of A-list celebrities like Kylie Jenner and Hailey Baldwin. These are a great option when you don't know how to style ankle boots because it's easy and super trendy: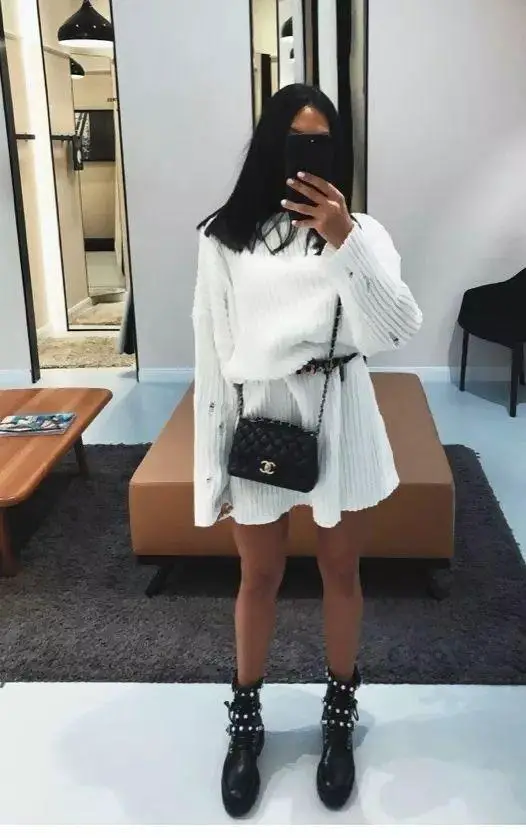 You can also wear an oversized and long hoodie as a dress, for a cool and edgy bootie outfit: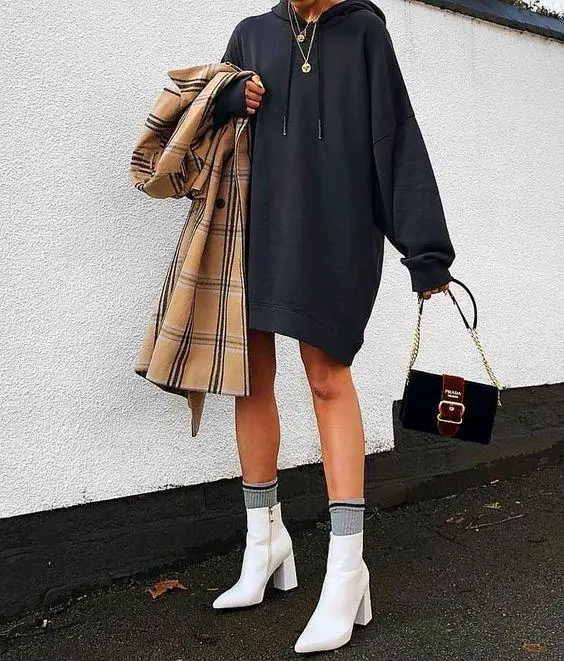 Ankle boots and slip-on dresses
Slip-on dresses are another trendy dress type that we just can't get enough of. The best part is that you can wear them with booties in many different ways.
If you're going to a club, wearing a silky slip-on dress with your black ankle boots will make you look like a polished rock star.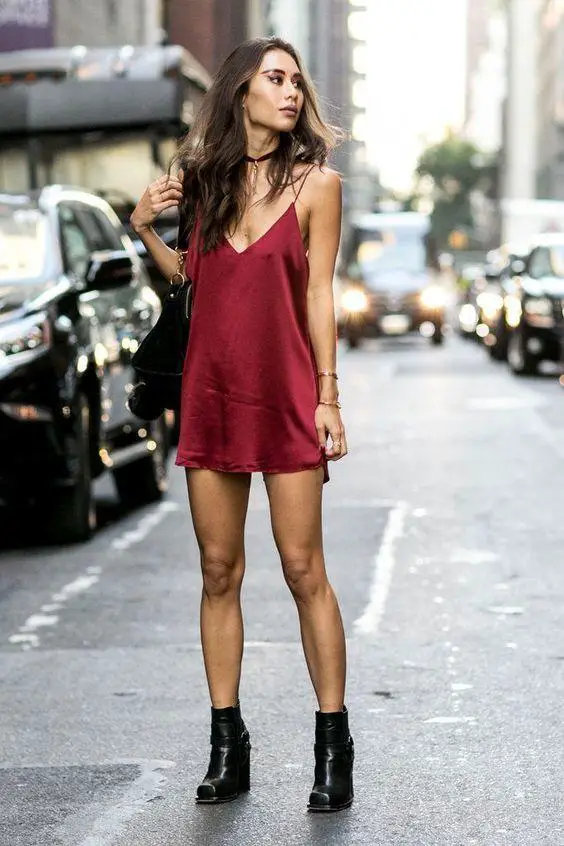 If you're opting for a casual outfit, wear your slip on a dress on top of a fitted t-shirt and add black booties for some extra edge.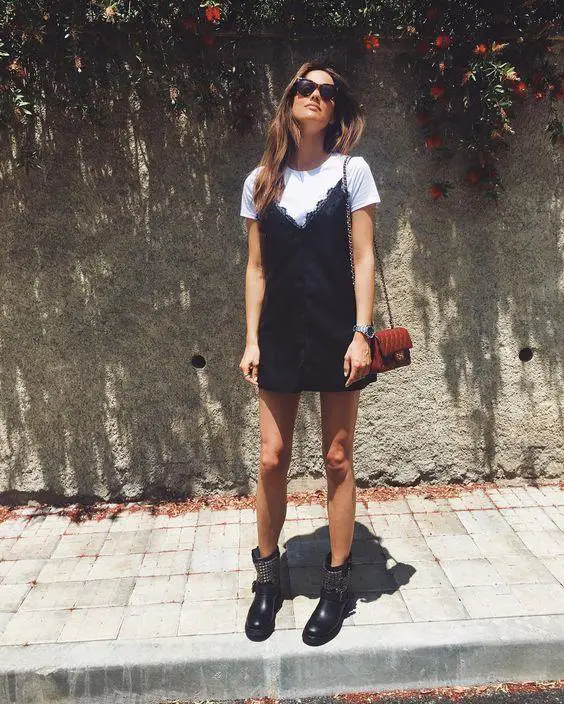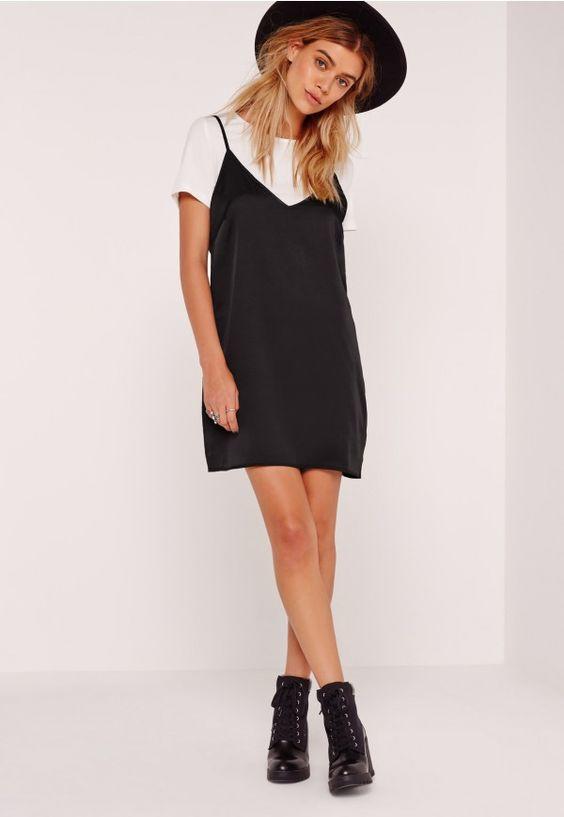 If you want to spice up your fashion style, opt for a maxi slip-on a dress and cute booties. You can wear this look during summer with a stylish statement belt: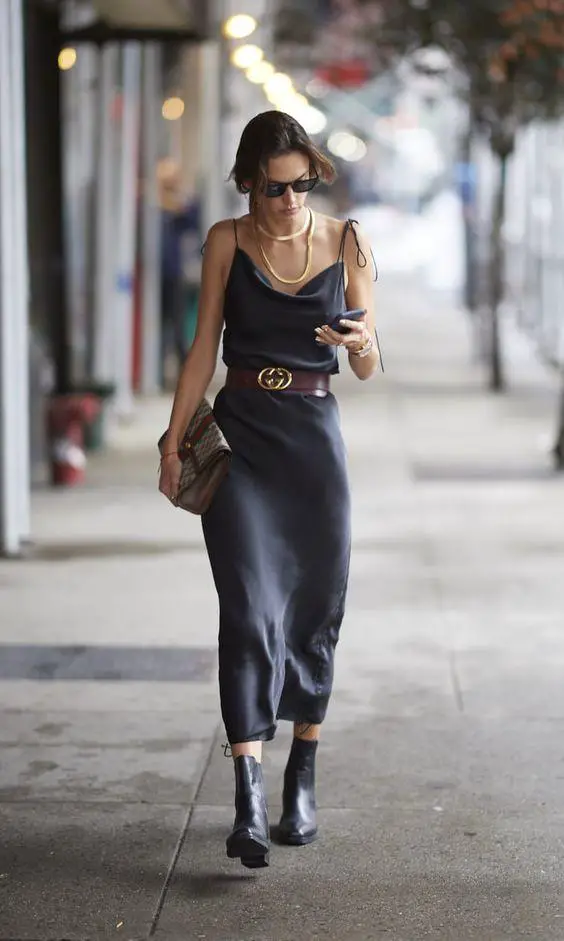 Or transform this look into a winter-friendly one with a long sleeve tight shirt, just like the example below: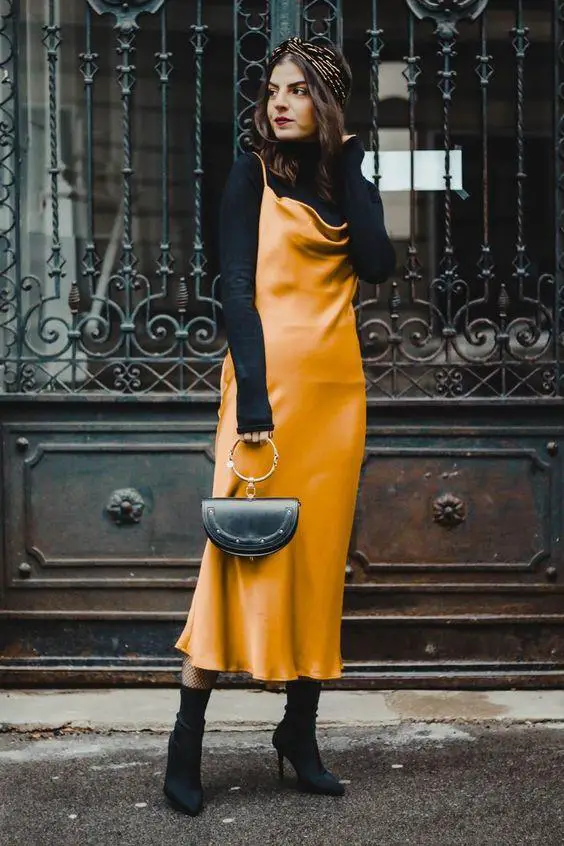 Booties and flowy short dresses
Wrap dresses or A-line flowy dresses are another type that's become a thing among fashion lovers. They're flirty, cute, super feminine and look absolutely stylish paired with ankle boots.
Opt for printed flowy dresses for a cute and modern look: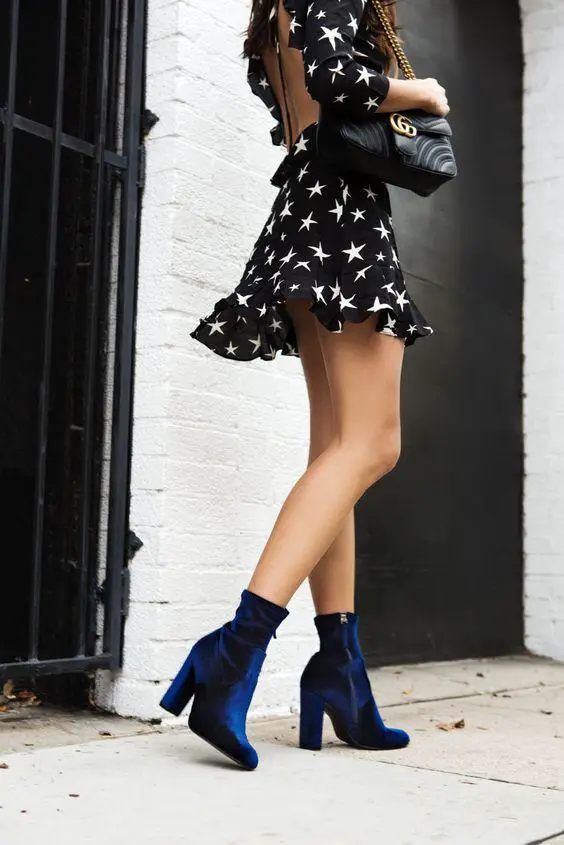 Wrap ruffled dresses have been all over social media for the last couple of seasons, making everyone obsessed with this style. You can add ankle combat boots to add a bit of edge and contrast the girly look of this dress type: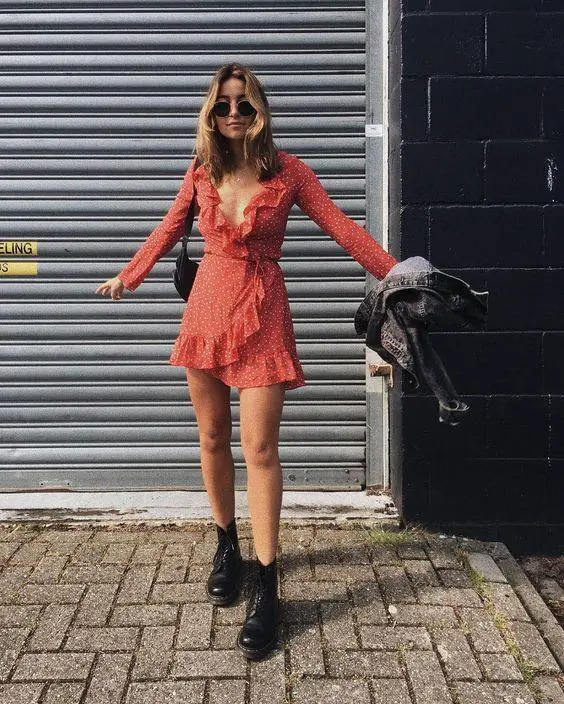 During winter or fall, you can always wear your ankle boots with tights, especially when you're wearing a skirt, short or dress: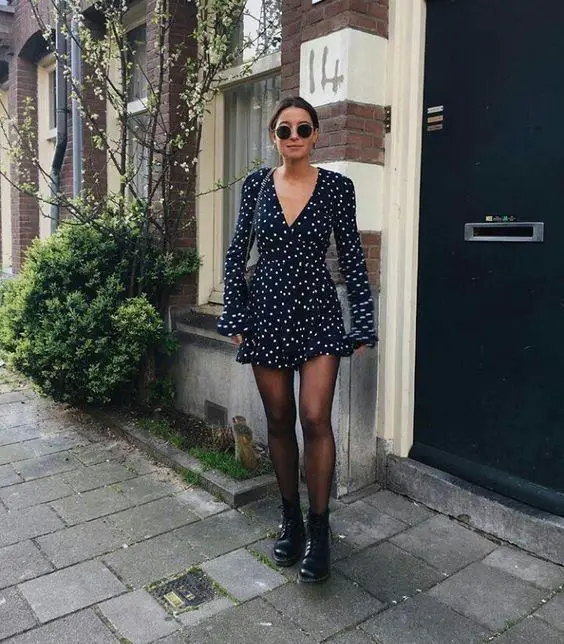 Any type of flowy short dress will look just perfect with your favorite pair of ankle boots.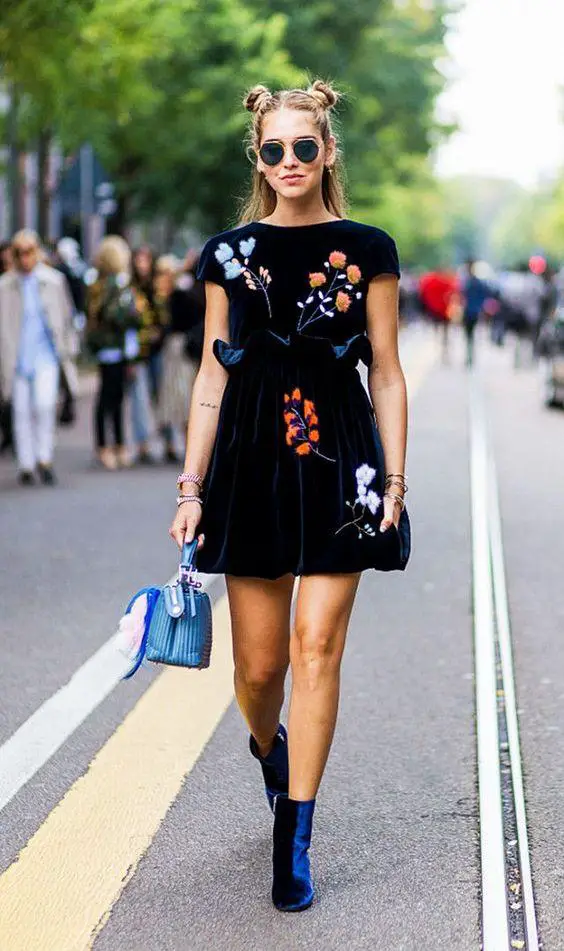 4. Ankle boots and skirts
Skirts make the best excuse for wearing ankle boots. You can wear any type of skirt, but some of the most stylish ones are:
Straight skirts
Almost every girl owns one straight skirt, so not trying this look is not allowed.
You can add a denim jacket for a classic touch, and a pair of leopard print booties for a modern and sophisticated look: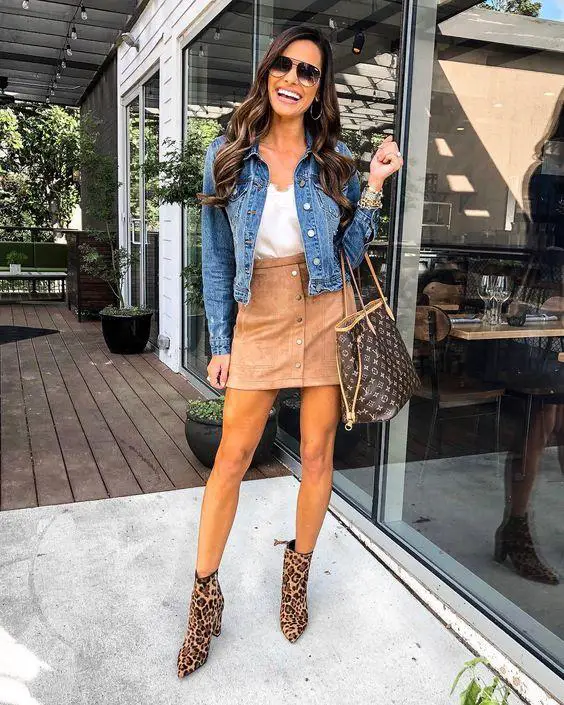 Mini skirts
What better way to show off your legs than with a mini skirt? You can easily pair your ankle boots and tight mini skirt with a t-shirt, for an effortlessly sexy look: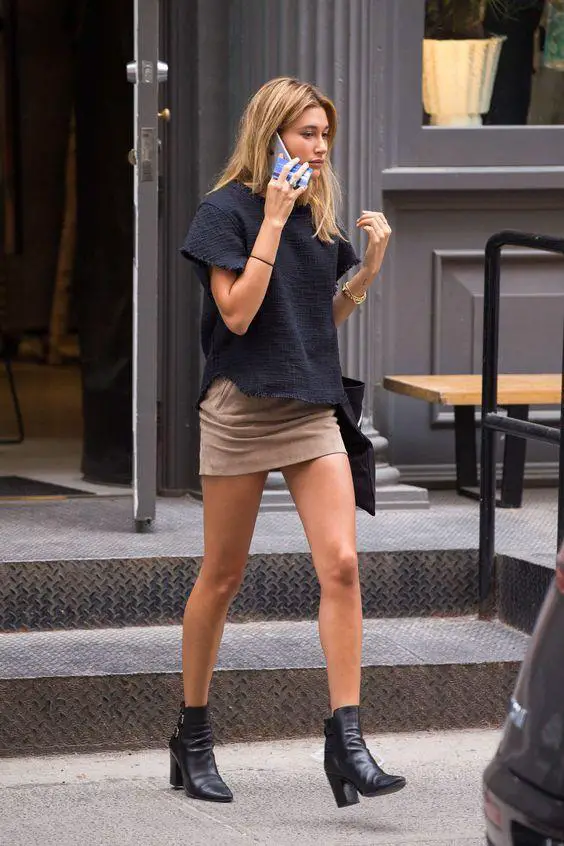 Flowy midi skirts
Silk, leopard and midi skirt are three words that put together sound like the hottest trend. Wear your midi skirt with black ankle boots for a modern and sophisticated look: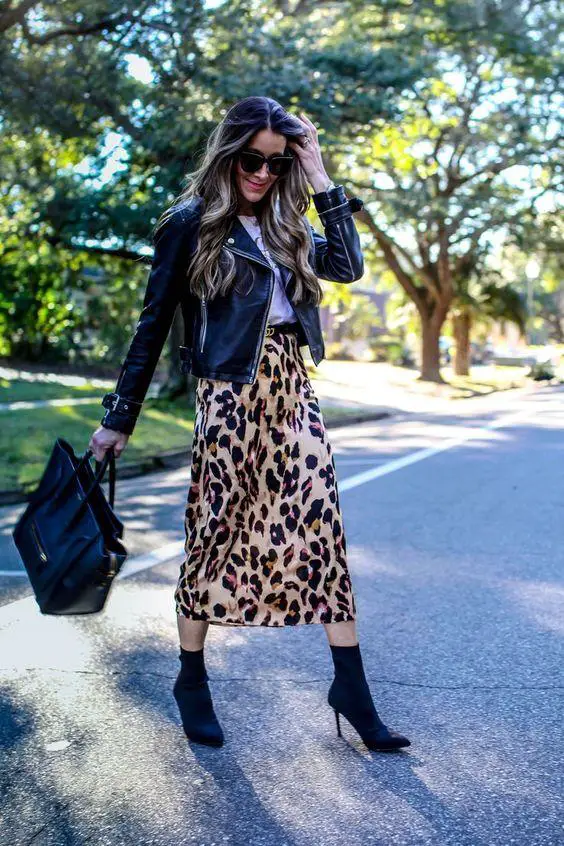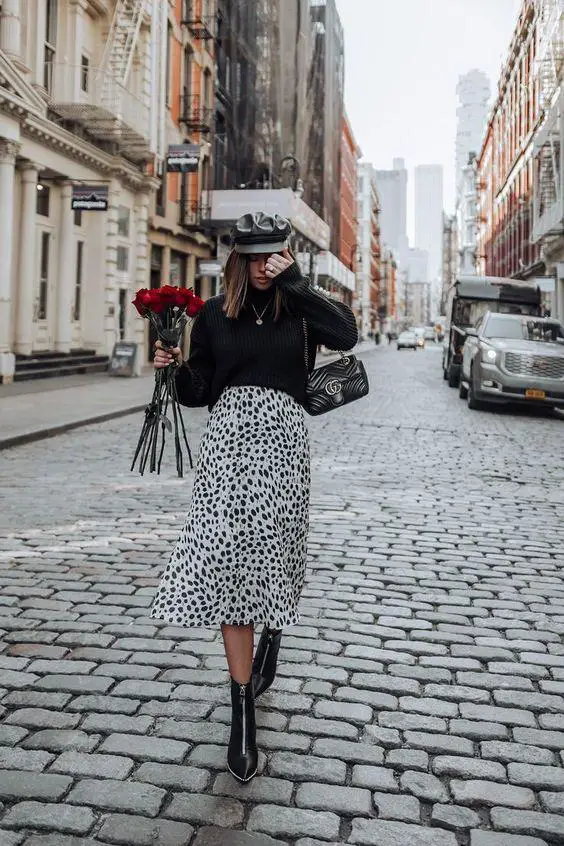 Flowy mini skirts
Flowy mini skirts are the perfect way of pulling off a flirty and cute bootie outfit. You can wear a fitted pullover sweater for a cute fall look: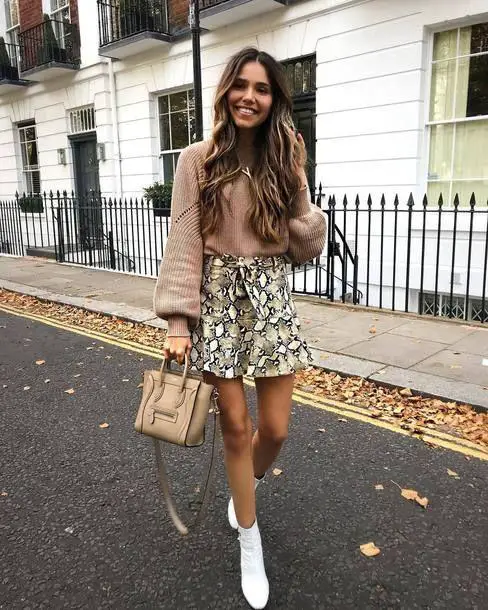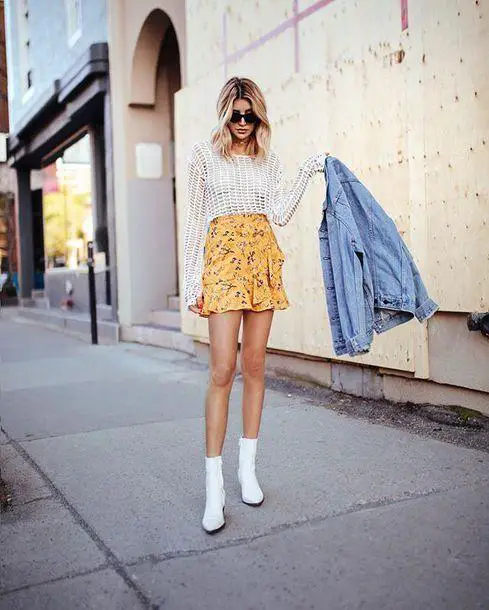 Denim skirts
Denim skirts are another staple item you can't miss in your wardrobe. They are another skirt type that looks absolutely fashionable with booties: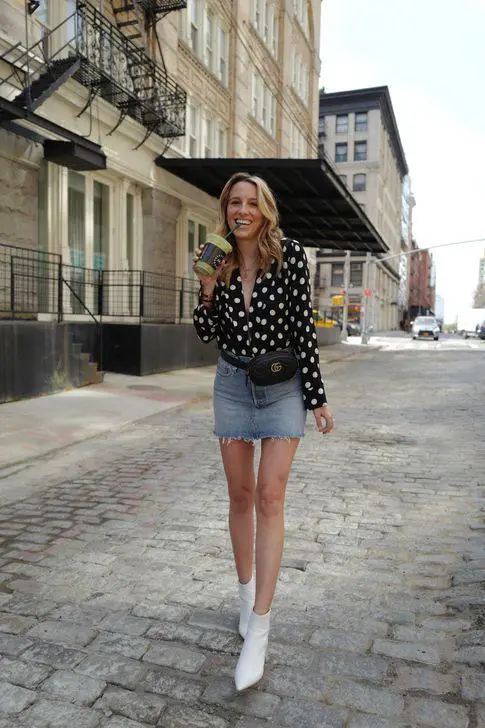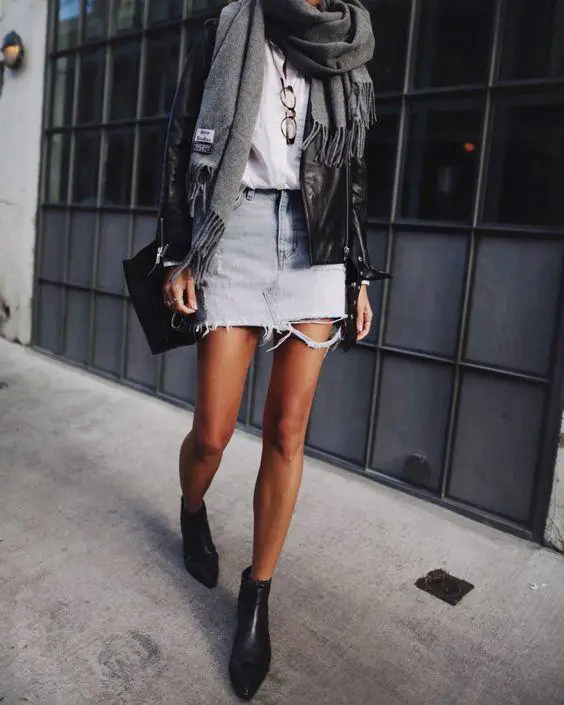 5. Ankle boots and shorts
Last but not least, shorts are another excuse for wearing ankle boots. Same as skirts, you can wear any type of short with your booties, but I've compiled some great examples of modern looks that will make you want to wear this combo right away.
Denim shorts
Denim shorts and booties are a classic and timeless combo you can't miss on.
You can rock this combo with a hat for a casual boho look: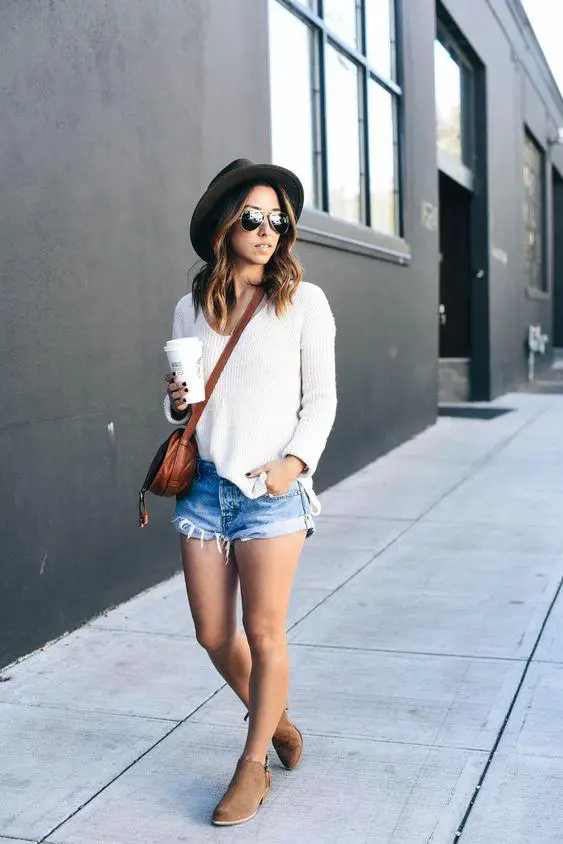 Or with shiny metallic booties for a modern and bold look: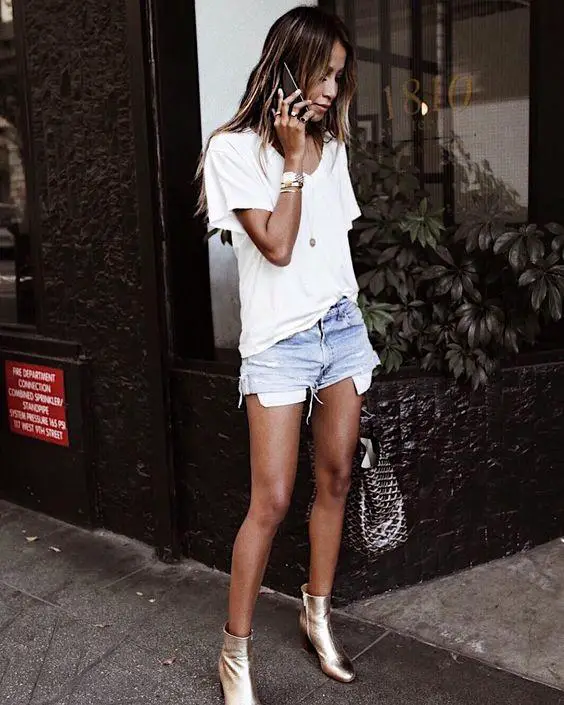 It's all about how you style your denim shorts and booties. Add black accessories to give your look some edgy vibes: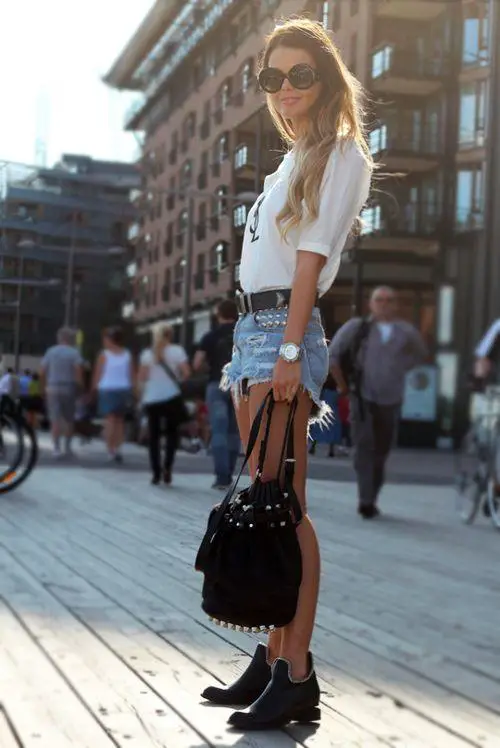 Leather shorts
Leather shorts are one of the most stylish short types you can wear, and they make your booties look fashionable as well. You can wear this combo whenever you feel like spicing up your casual style game: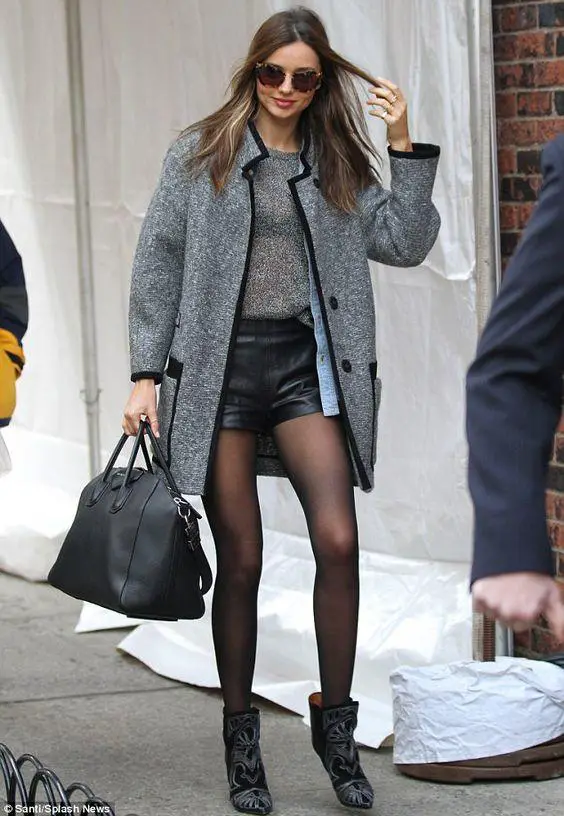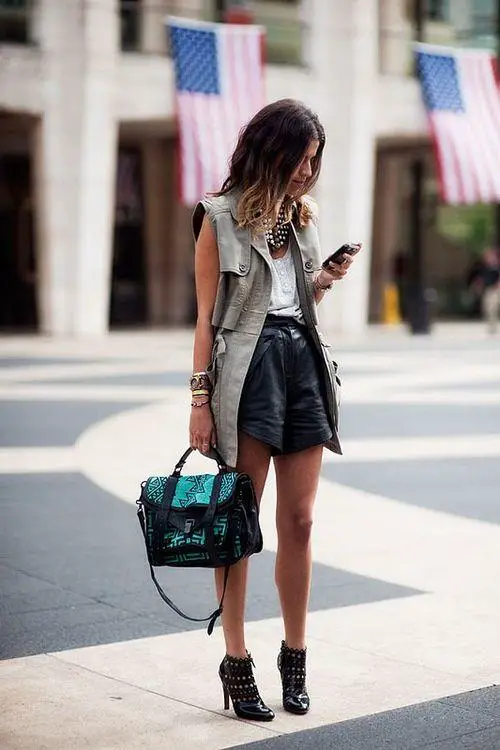 Wrap up:
Ankle boots have always been a loved shoe type because of their versatility and comfort. That's why you can find them in so many different types, making it easy to pick the ones that best fit your personal style.
These outfit ideas on how to wear ankle boots have shed some light onto the best and most modern ways of styling your booties, showing you just how fashionably chameleonic they can be.
I hope this article has made you want to wear your booties right away!