Few things are better than staying warm and cozy during cold days. A blanket scarf is one of those fashion items that will assure both.
Apart from being super long and cozy, they're also very fashionable and versatile, giving you plenty of option on how to wear them. Their length allows you to style, tie and wear them as you please while making you look comfortable yet stylish.
Before we talk about how to wear a blanket scarf, let's define first what this item is.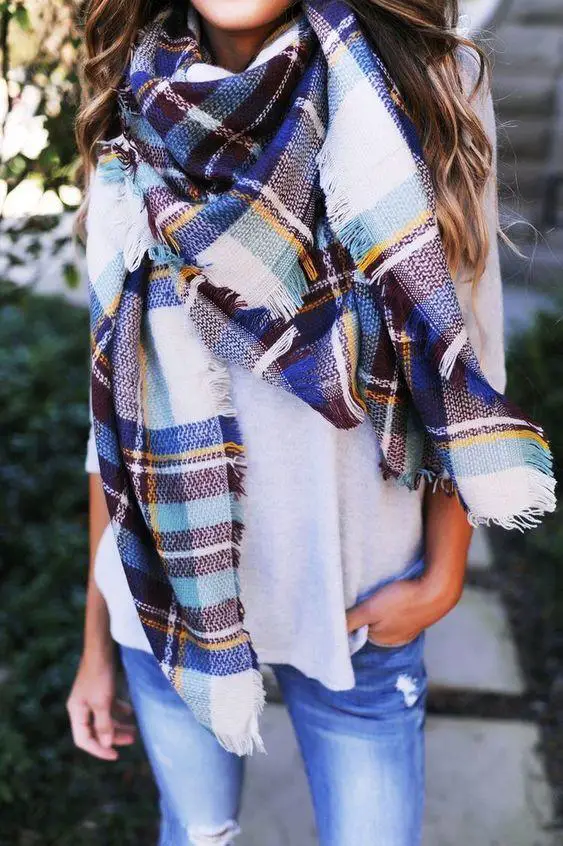 What is a blanket scarf
Think about a blanket but in a fashionable way. That's what a blanket scarf is!
As the word itself says, a blanket scarf is a blanket is an oversize scarf that, if you'd like to, you can also use it as a blanket due to its super long length.
Even if it might sound crazy at the beginning, wearing a scarf this big is ideal for those days when feeling warm (and cute) is all you care about. Imagine cold winter days when a simple scarf simply won't do. That's when blanket scarves come in handy.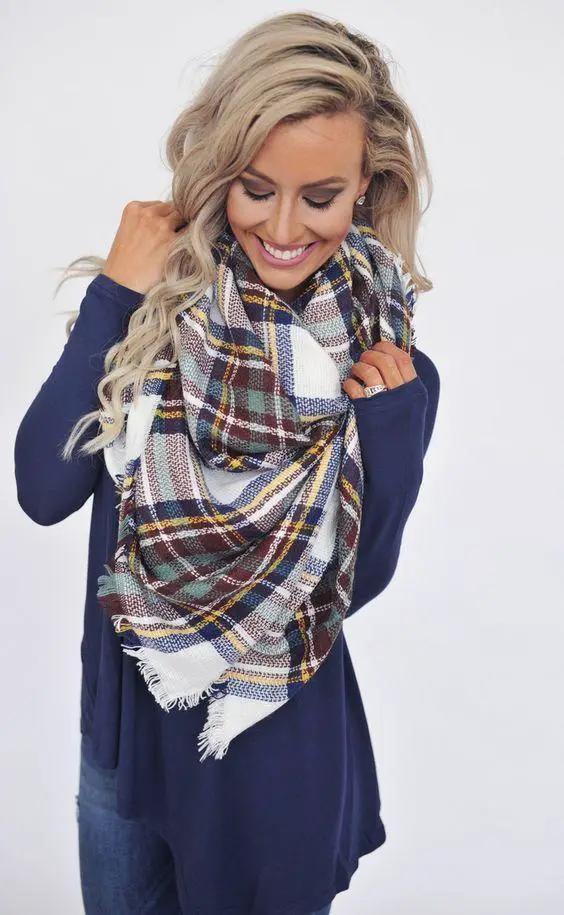 How to wear a blanket scarf
But owning a scarf with such size can be intimidating, and styling it might become a challenge. That's why you've come to the right place!
If you want to jump into the blanket scarf frenzy, then follow me as I show you many different and cute ways on how to style, wear and tie them.
Next time you're looking for a comfy way of wearing a blanket scarf, come back to this article to get inspired again!
How to tie a blanket scarf
Blanket scarves are, of course, oversized. That's why you can tie them in multiple ways; it's all about getting creative and discovering new ideas.
However, there are some cute and popular ways of tying them that will help you come up with your own original ways of doing so. These are the "basics" of how to tie a blanket scarf:
1. Wrapped around your neck
The most popular way of tying a blanket scarf is how you would normally do with a regular scarf. It's not only super easy and practical but also stylish enough as to make you look like a fashion pro.
1. Grab both ends of your scarf while putting it behind your neck
2. Leave one side longer than the other: that's the side that you will wrap around your neck as many times as you'd like
3. Make sure it looks as symmetrical as possible
The final result should look like this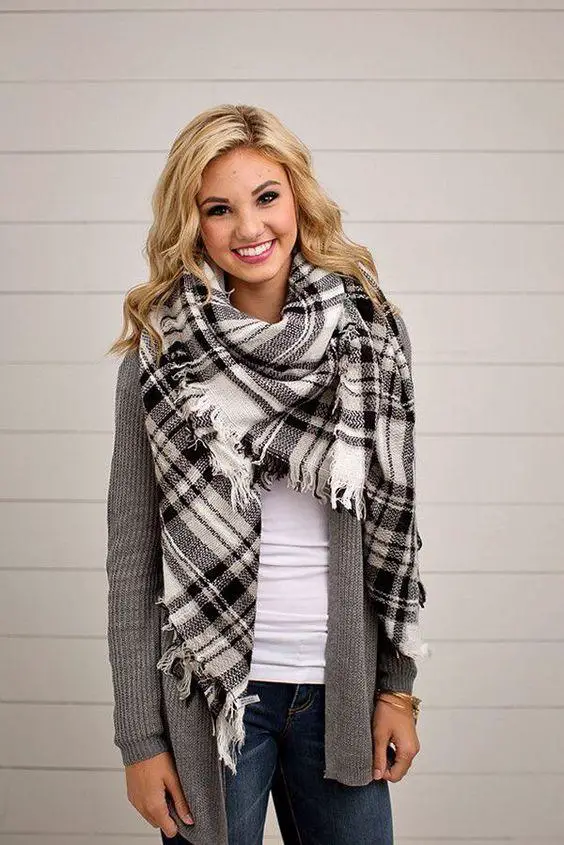 Style it
If you're wondering how to style a blanket scarf tied like this, here are some cute and easy suggestions:
Wear an all-black outfit: use your blanket scarf as a pop of color on an all-black look.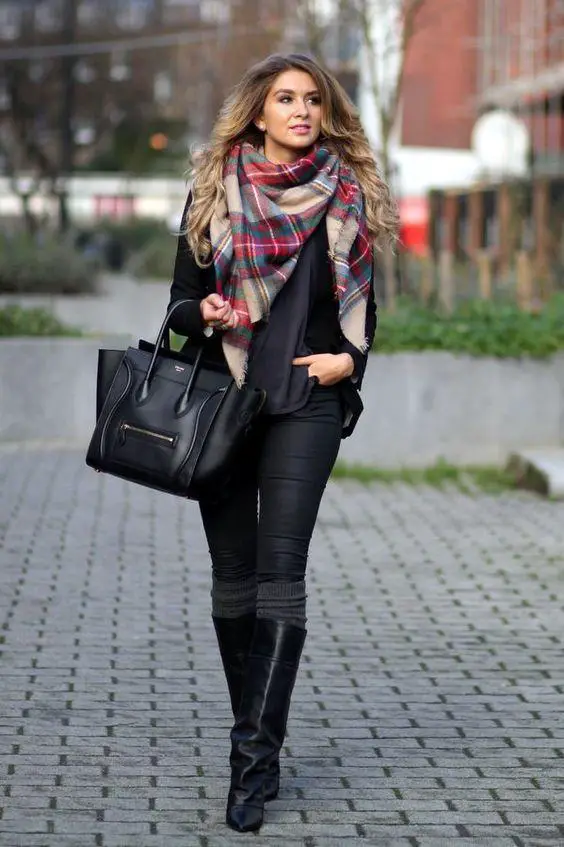 Pair it with neutral layers: Wearing a neutral color palette that at the same harmonizes with your blanket scarf's color is a cute and sophisticated way of showcasing a winter or fall look.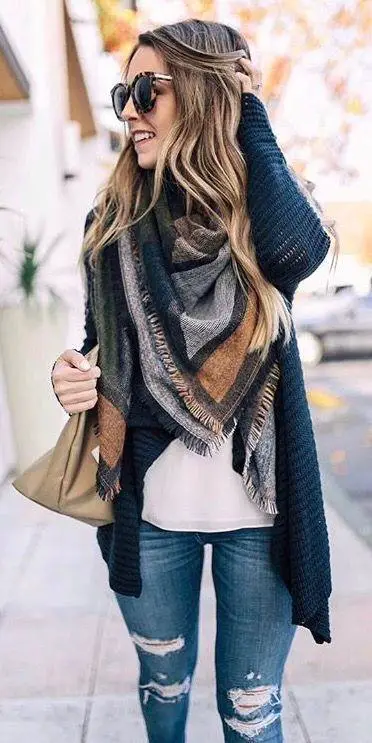 Wear a monochromatic look: If you want to look modern and fashionable, join the monochromatic look club with a neutral color palette from head to toe. Nudes, beige and white is a great combo you can wear on your upper half, or in your whole look: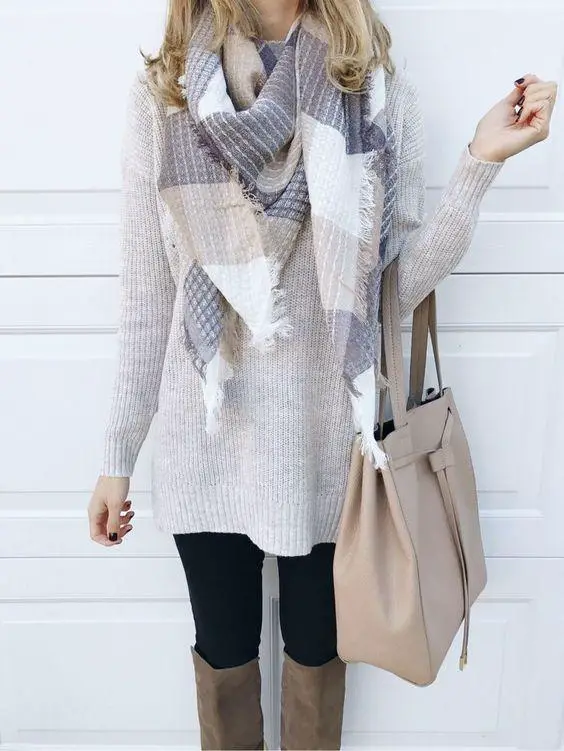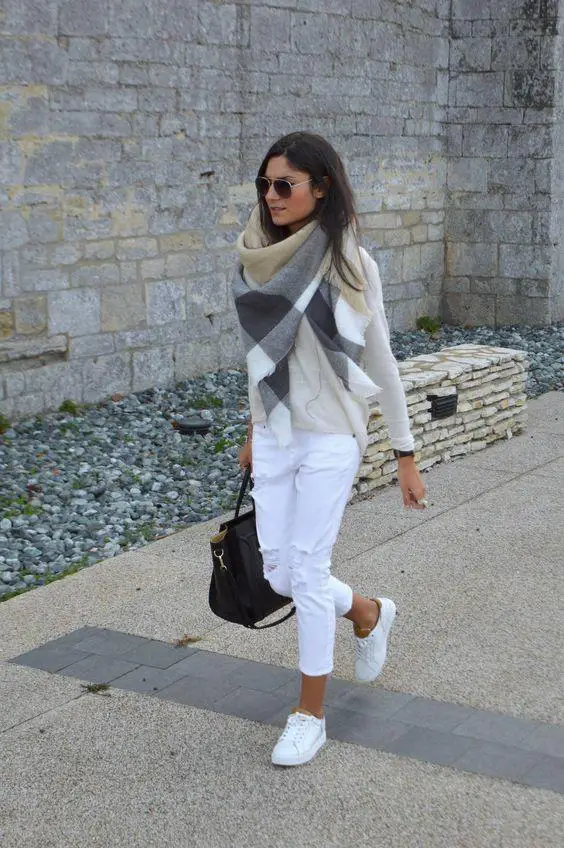 On top of a white blouse: Take a so-and-so outfit into the next level by layering it with a colorful blanket scarf. Basic pieces like a white blouse and skinny jeans can be elevated by this simple addition. Add a hat for an extra dose of chicness: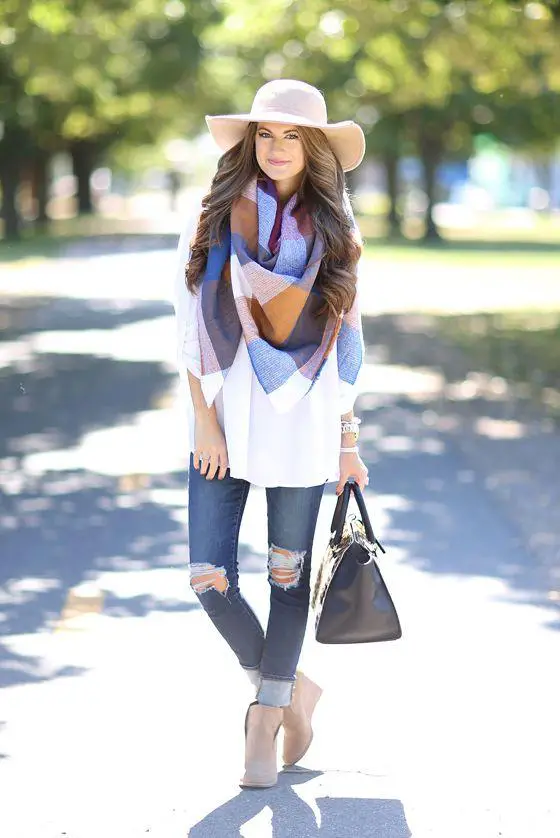 2. Wear it as a shawl
No, I'm not talking about the tradition shawls for elder women.
A blanket scarf is a perfect excuse for taking a shawl look to the next level. And the best part is that is as easy as putting it on your shoulders!
1. Put your blanket scarf over your shoulders
2. Make sure to cover your arms with it
The final result should look like this: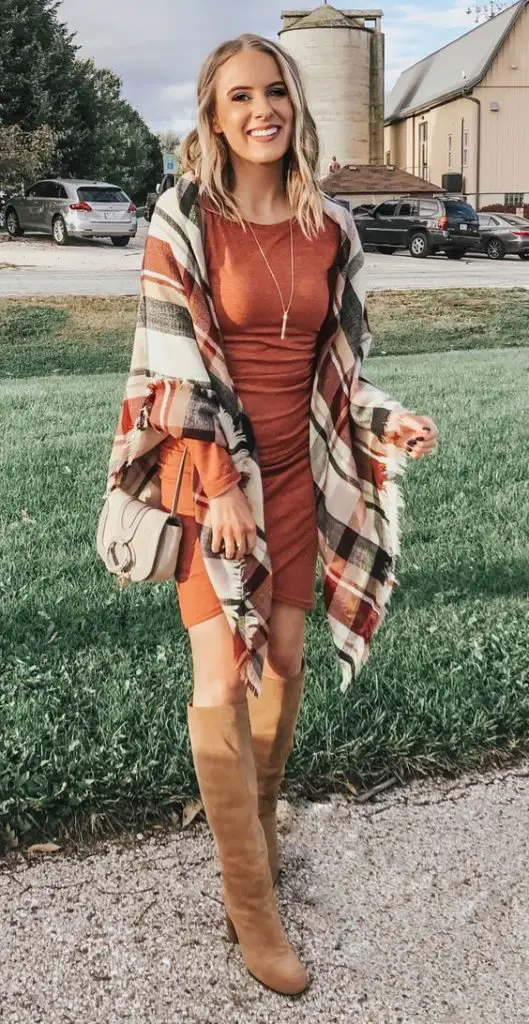 Wearing a blanket scarf as a shawl is a cute and easy way of looking fashionable. It's also perfect for anyone who wants to rock a boho look.
Style it
You can wear this look in almost any type of outfit, but here are some ideas that might help you make the most of your shawl blanket scarf:
Pair it with knee-length boots: as I mentioned, a boho look and a shawl blanket scarf look are a perfect match. Take this look to the next level with cute knee-length boots that match the color with your handbag.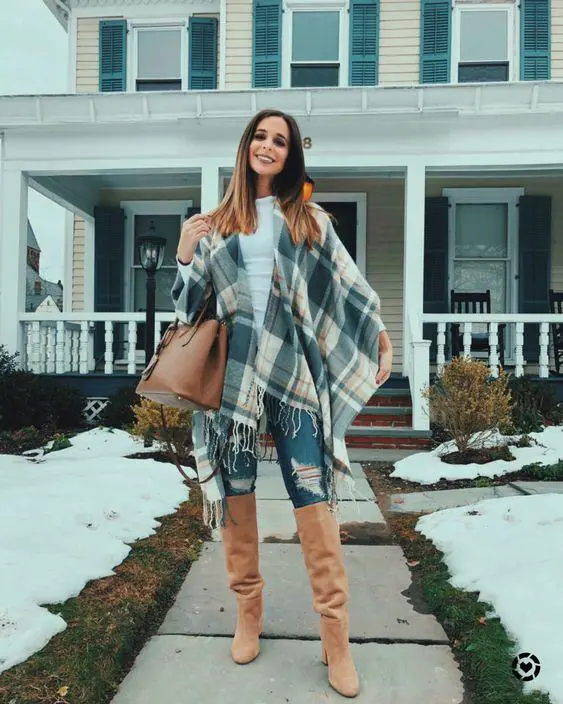 With high heels: if you're heading to a fancy but relaxed dinner, wearing high heels with a blanket scarf is the best way of rocking the best of both worlds: polished but laid-back.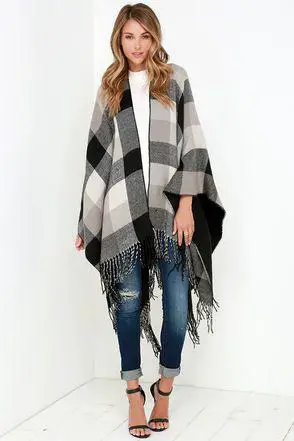 Match your shoes: matching your blanket scarf's color with your shoes' is a great option that will never fail. You can opt for bright colors like this example below while keeping the rest of your outfit very basic. From high heels to over the knee boots, any shoe that matches the color with your blanket is a perfect option.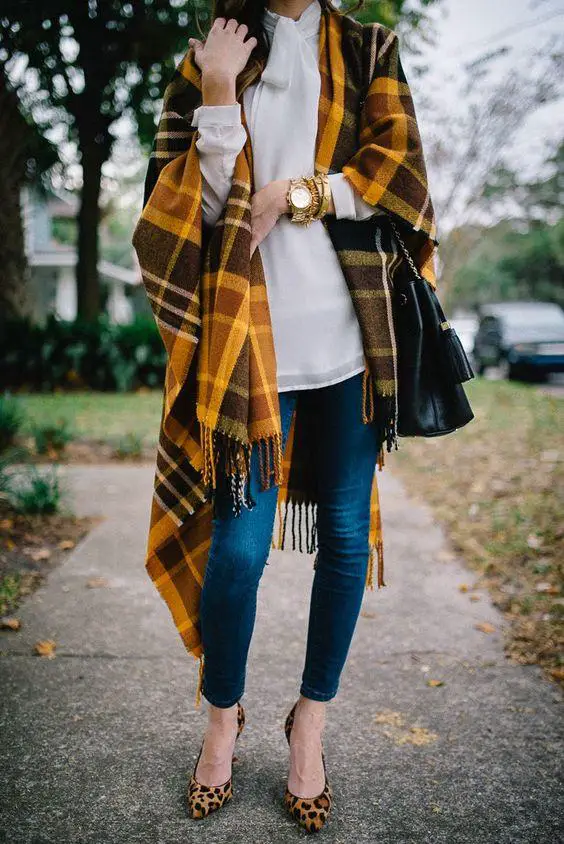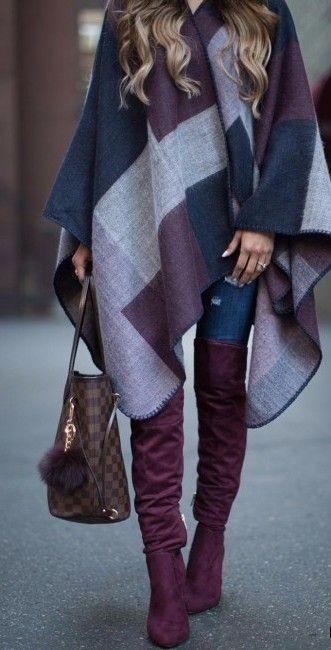 Create a cute fall color palette: wear colors such as camel, beige, burgundy, sage and charcoal gray for a sophisticated fall outfit, and don't forget to wear your blanket scarf to elevate your look: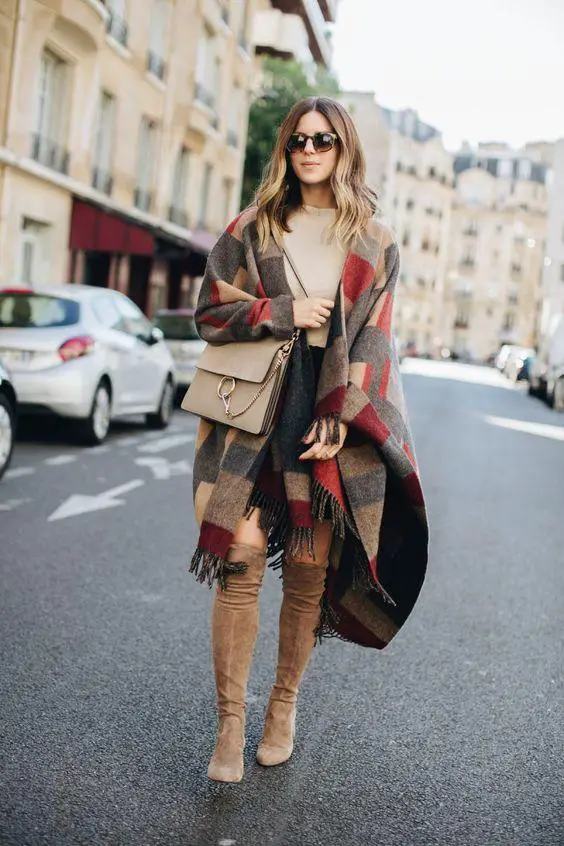 All-black outfit: For a comfy but sophisticated look, try wearing your shawl blanket scarf with an all-black look. Wear tight pieces like skinny black jeans and turtle neck tee and contrast the tightness with a big blanket scarf: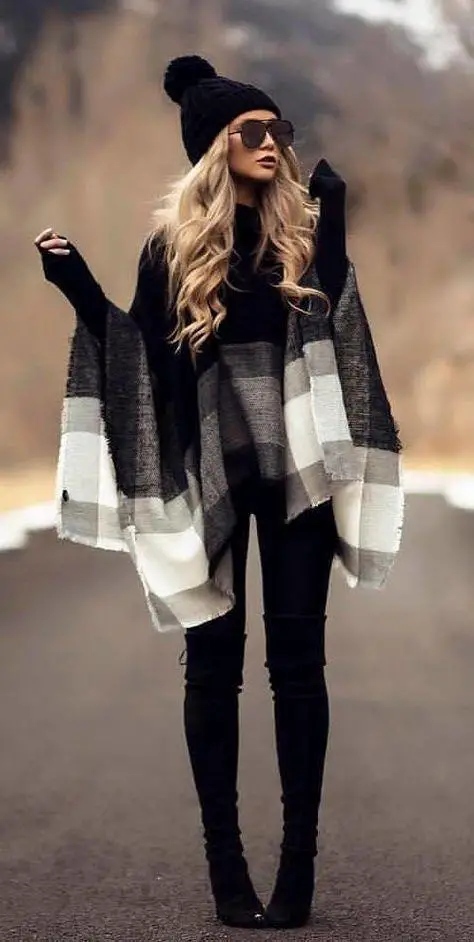 With a basic tank: a shawl blanket scarf is a statement piece all by its own, so choosing the rest of your outfit should be a no brainer. Just keep it all simple and basic. Try wearing a tank top with skinny jeans and wear your blanket scarf like a shawl and you'll be amazed at how easily you transformed a plain look into a head-turner look.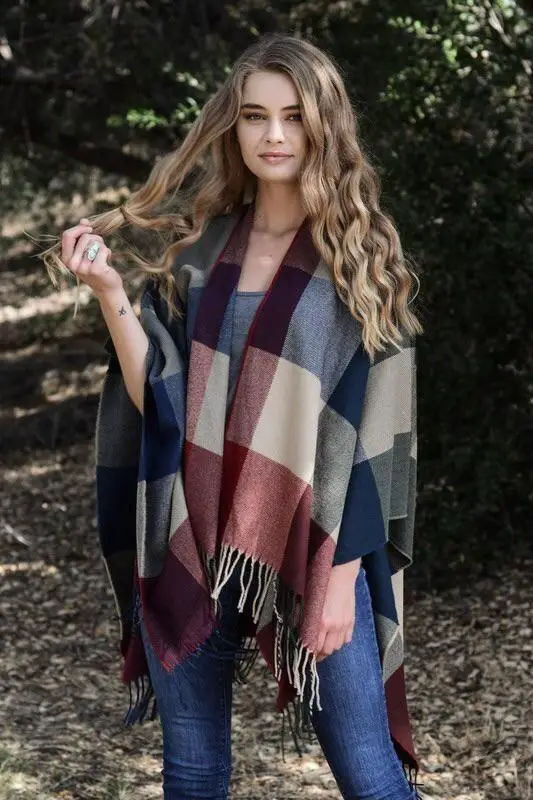 3. Accentuate your waist with a belt
Who needs a cardigan when you've got a blanket scarf? If you're wondering how to wear a large square scarf (aka blanket scarf), try wearing it like a shawl but with a belt on top for a sophisticated and fashion-pro look.
This is one of the most stylish ways of tying a blanket scarf because it looks sophisticated and difficult to pull-off, even if this is not the case. All you have to do is:
1. Put your blanket scarf on top of your shoulders
2. Make sure it covers your arms, just like a shawl
3. Put your favorite belt on top of the "hanging" parts
4. Make sure you can move your arms comfortably
It should look like this: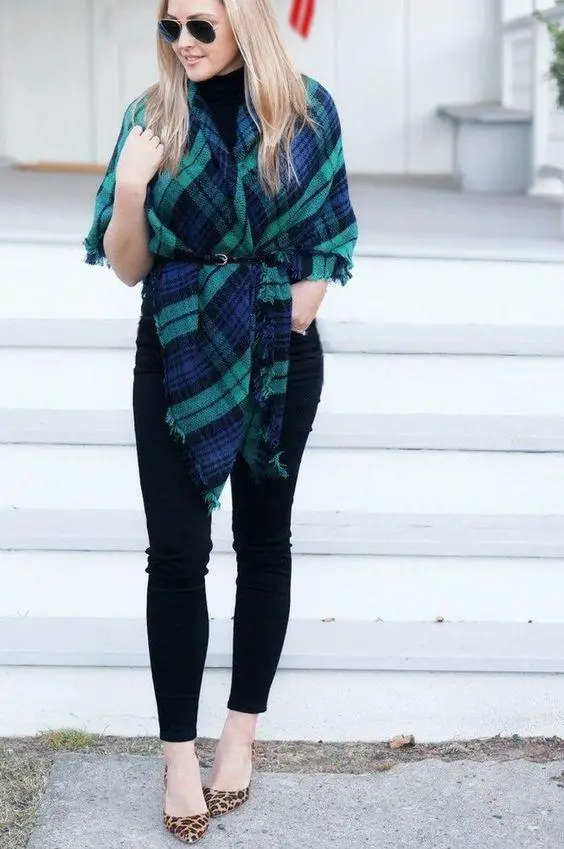 Style it
For a chic fall or winter look, these are some cute suggestions you can easily recreate:
Black and white outfit: perfect for a business look! Wear your blanket scarf on a black and white outfit and finish your look with a black belt. A basic button-down white shirt and black slim trousers will do the trick: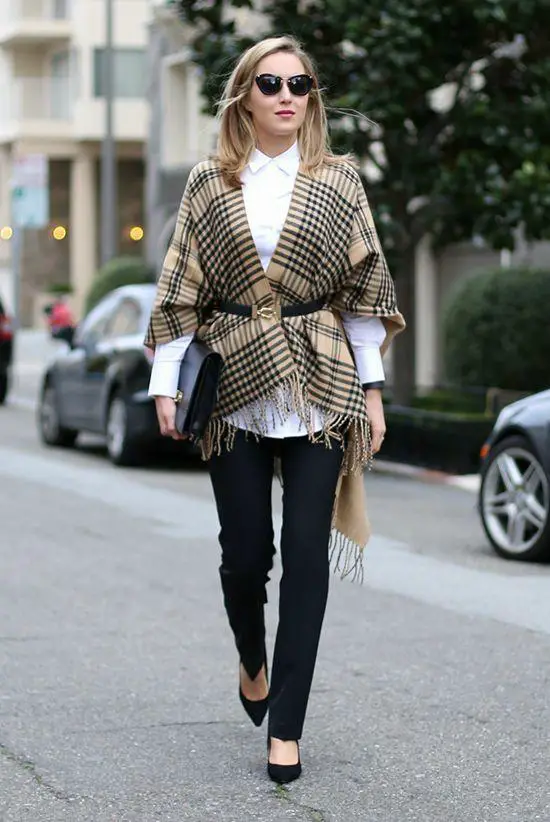 With a mini dress and stockings: take your fall style to the next level by transforming a classic look into a stylish and updated look with your blanket scarf. This is a perfect outfit for a casual dinner or lunch with friends: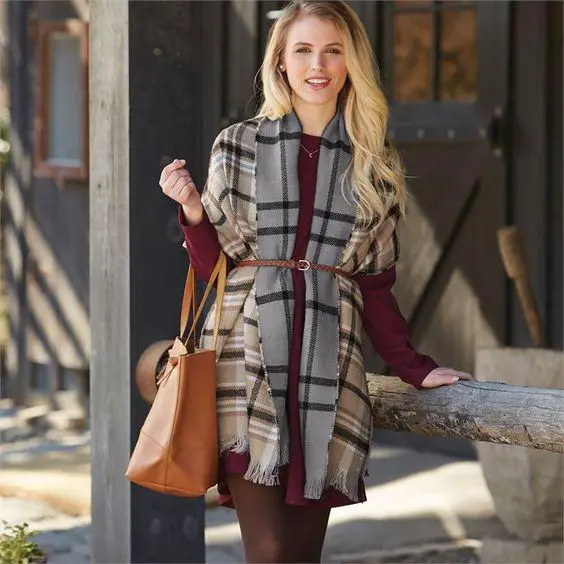 With any of your skinny jeans: A blanket scarf is oversized and loose, that's why the best way of pairing it is with tight pieces. When in doubt, skinny jeans are a go-to option regardless of how you tie your blanket scarf.
From white skinny jeans to black ripped skinny jeans, any color or style will be perfect.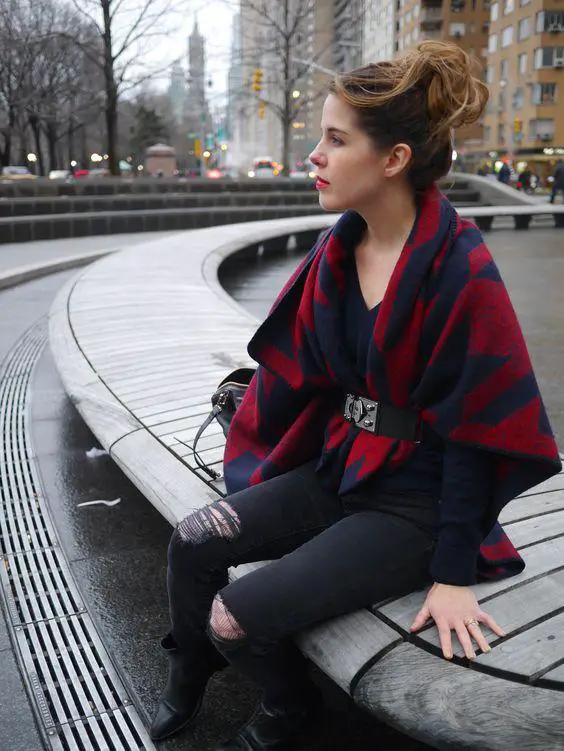 4. Asymmetrical look
If you like edgier looks or are an asymmetrical look fan, then wearing your blanket scarf in the following way is the best option for you.
Just drape it in any way you like. Be creative! It doesn't matter if it doesn't look "perfect". An asymmetrical scarf is supposed to look uneven and "unpolished".
Here are some cute ways in which you can rock this look: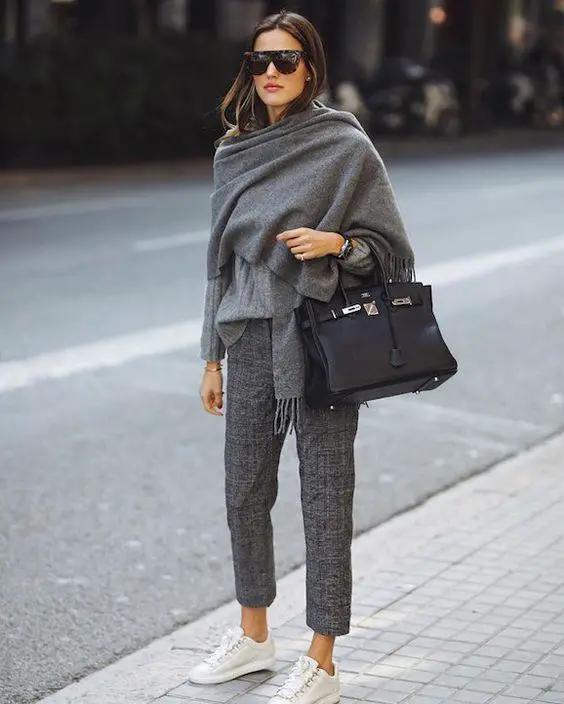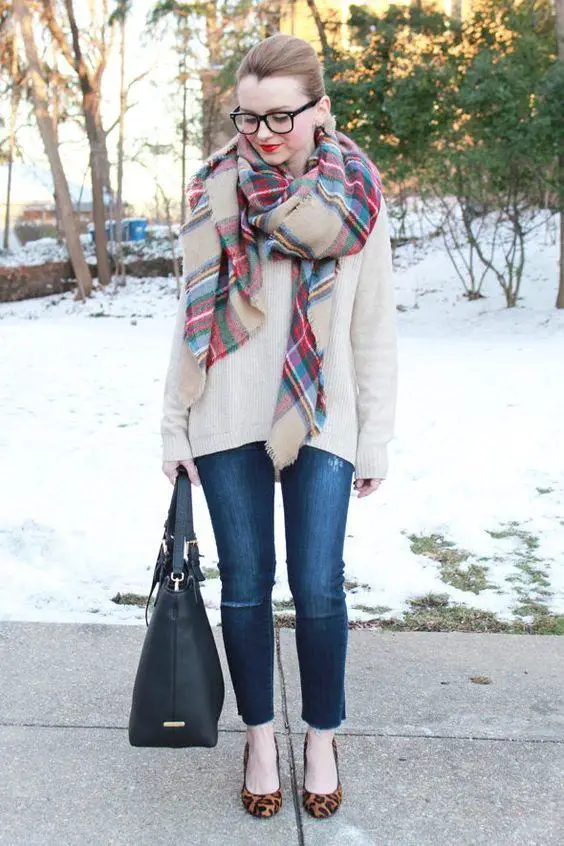 Wrap up:
Owning a blanket scarf is one of the best investments you'll make. As you've seen there are many different ways of how to wear a blanket scarf that will let you come up with multiple looks and outfits throughout the cold winter or fall days.
The best part is that you can get creative and come up with your own ways of tying and styling yours, so the rest is up to you!
Have fun and enjoy wearing a blanket scarf this fall!