Getting to know overalls
I don't know about you, but when the overall frenzy started, I was completely confused. How do you wear them? Aren't they supposed to be for little girls? I didn't know how I felt about them.
But as seasons passed, overalls still remained a trendy piece to wear. So I decided to give it a chance.
What's the best way of not knowing how to wear overalls is that you get to have that weird moment in which you try an overall outfit and don't know what to make of it. It happened to me, but a couple of minutes later I decided I loved them.
They were comfortable and cute, but most importantly I felt like they had just refreshed my entire wardrobe.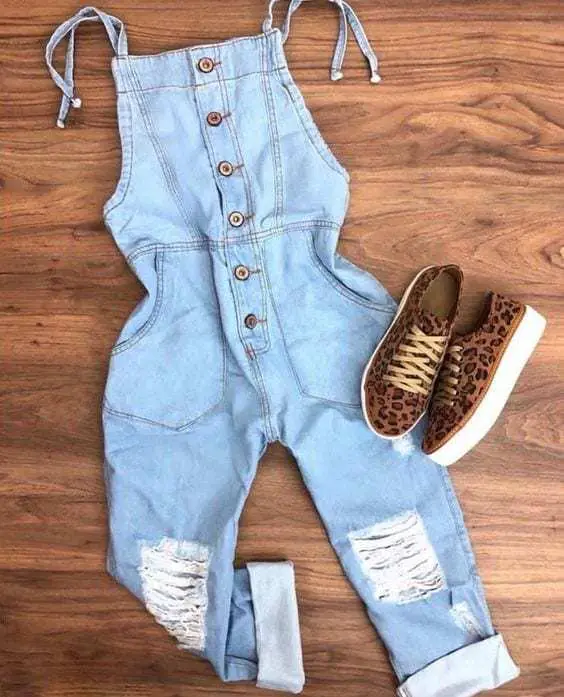 Overalls are a strong statement piece
Why am I telling you about my personal experience with overalls? Because there's one thing I'm sure most of the girls that tried them for the first time felt: overalls are intimidating and in some ways, a fashion challenge.
And, last but not least, there's one universal truth about them: a girl with overalls is impossible to ignore. Whether it's for good or bad reasons, overalls are a strong fashion statement that will always turn heads.
That's why if you're curious about this fashion piece and are wondering about ways to wear overalls, this article is just tailor-made for you.
Because let's be honest, there are some items that can either make us look like an A-list celebrity or as a fashion victim. And overalls happen to be one of them.
I'll guide you through 30 different cute overalls outfit ideas that will help you style yours in the most stylish way possible.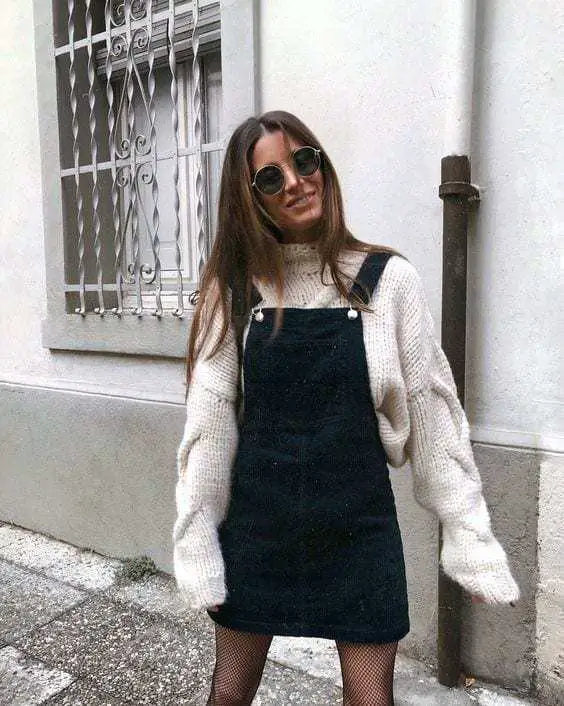 What to wear overalls
1. With T-shirts
The easiest way of styling your overalls is with a plain t-shirt, but the tricky part is that you don't want to look like you're heading to a kinder garden.
Back in the 90s when the so-called millennials wore overalls, a t-shirt was the go-to option for parents wanted to simplify their lives.
So how to style overalls and still look cute AND modern with a t-shirt?
Here are some cute ideas on how to wear an overall with a t-shirt:
Wear a tight t-shirt and pair it with cute and stylish accessories such as sunglasses, a bandana, a chic handbag… You can also choose a ripped overall for a modern look: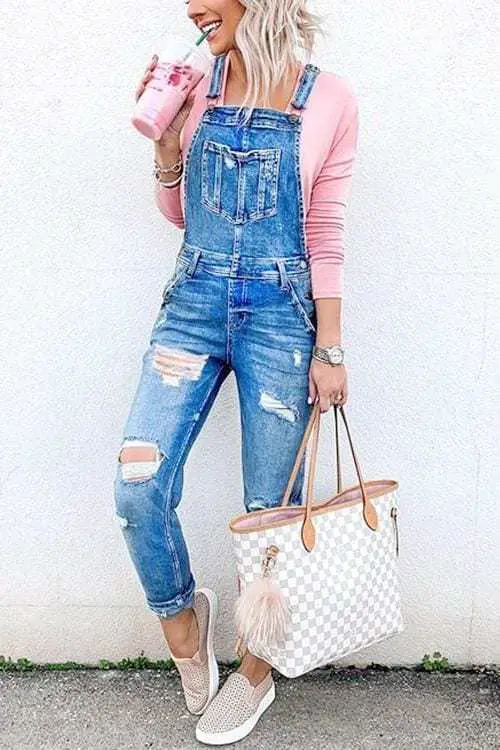 Another important thing to remember is to make sure that your overalls fit your body. Wearing one that looks a size bigger or smaller is what can bring your entire outfit down.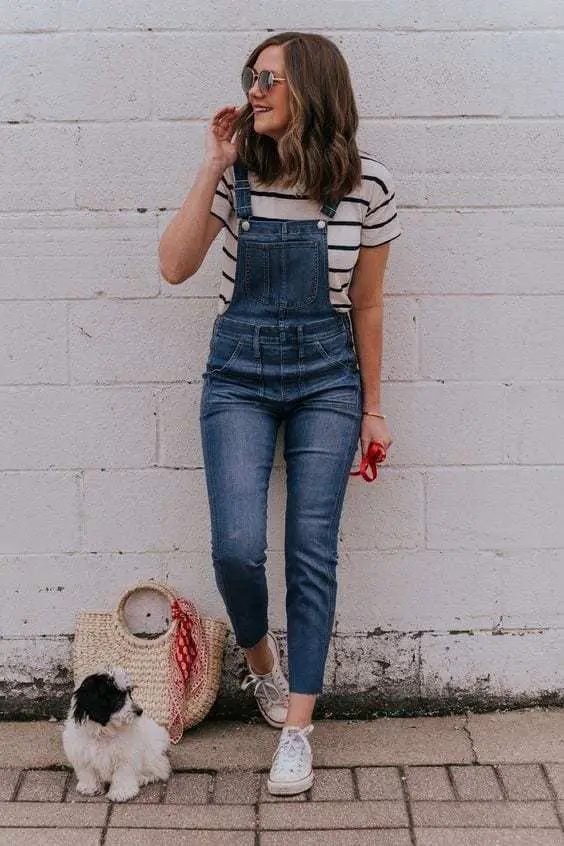 If you're a vintage fashion lover, then wearing a 90's inspired t-shirt will definitely bring nostalgia back while making you look cute and trendy.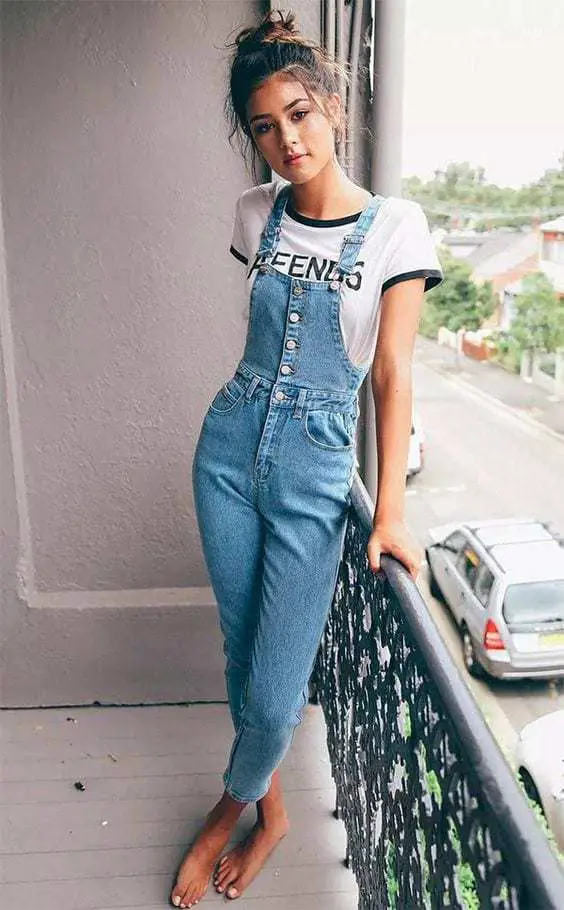 How to style overalls? Simply leave half of the upper part hanging below your chest like this: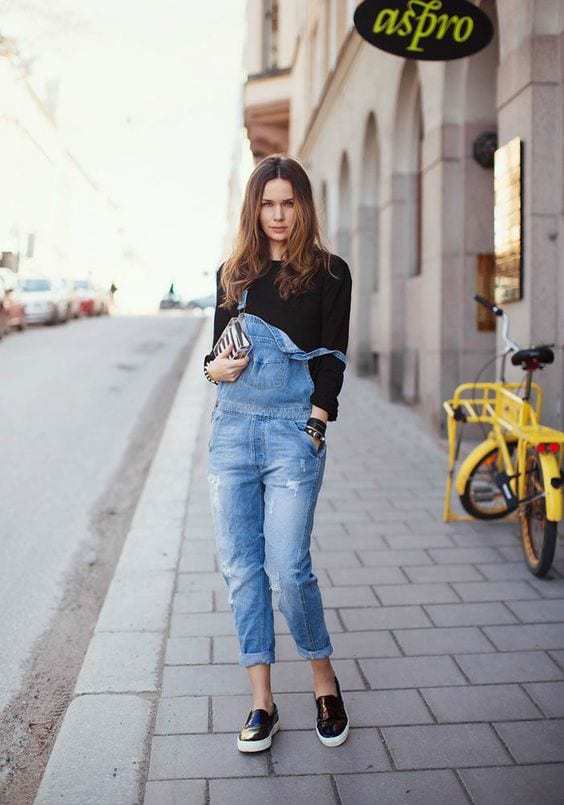 If you're afraid that your overalls will make you look childish, then try wearing a black t-shirt. I've said it multiple times: when in doubt, always choose black.
A black t-shirt can elevate your overall casual outfit in the easiest way. Want to take your look to the next level? Pair your overalls with cute high heel sandals:
For those hot summer days, wear a sleeveless t-shirt and short overalls paired with a cute handbag: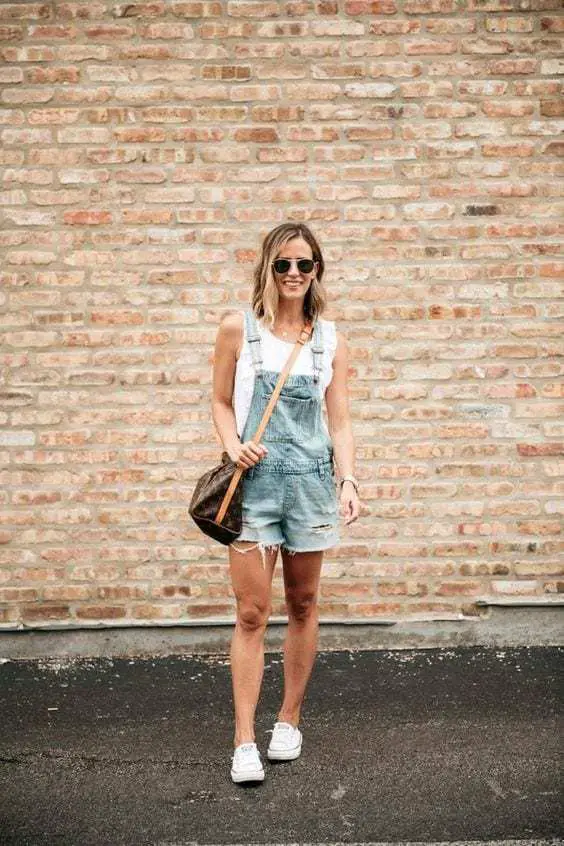 2. With a crop top
A crop top is one of the most popular and stylish ways of wearing an overall. It's fun, modern, sexy and fashionable.
You can wear a solid crop top t-shirt and pair it with cute sneakers for a simple casual outfit.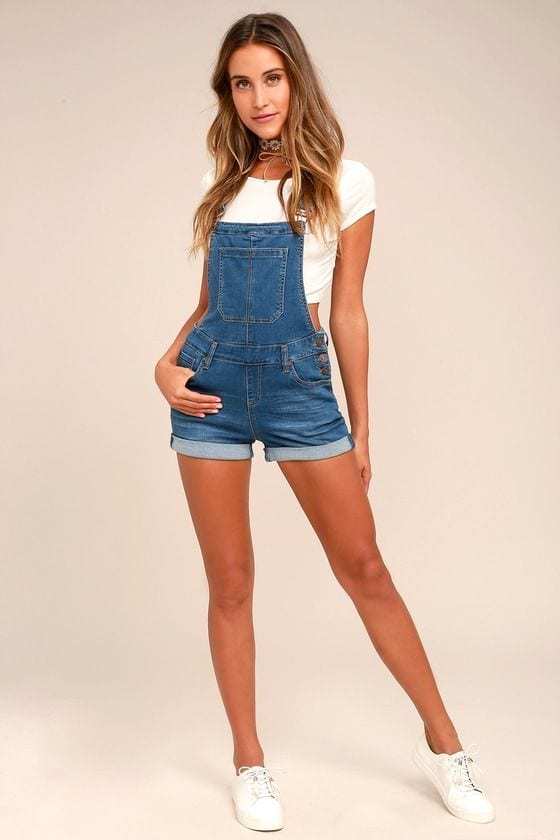 But if you want to spice up your overall game, then try wearing a fashionable crop top. A plain crop top t-shirt is a popular and easy way of styling your overalls, so opt for a cute crop blouse is the best way of showcasing a fashion pro look: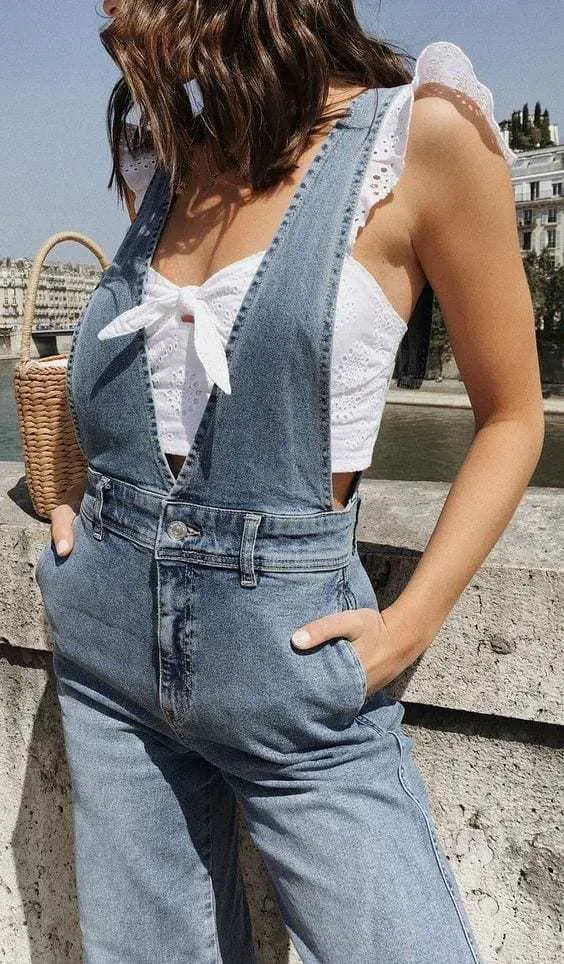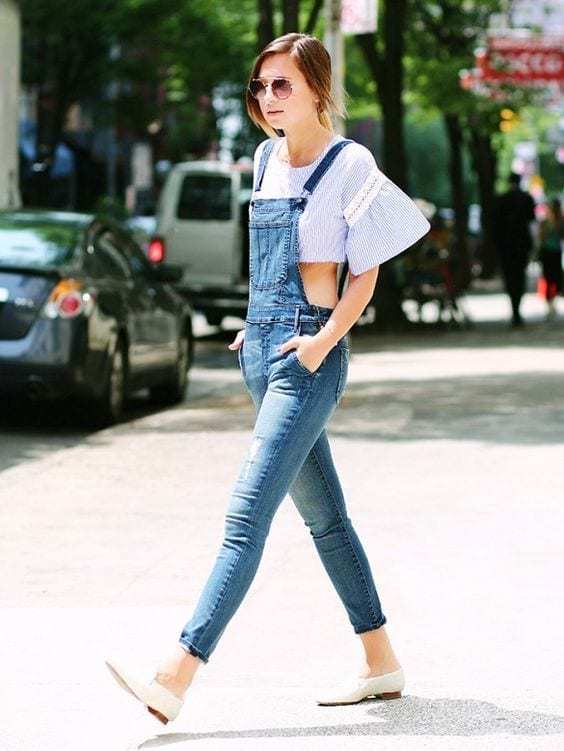 Sometimes we forget that overalls can be worn with colors and prints as well, only because they're a strong statement piece. But wearing them with a colorful and/or printed crop top can only bring the best of your overalls: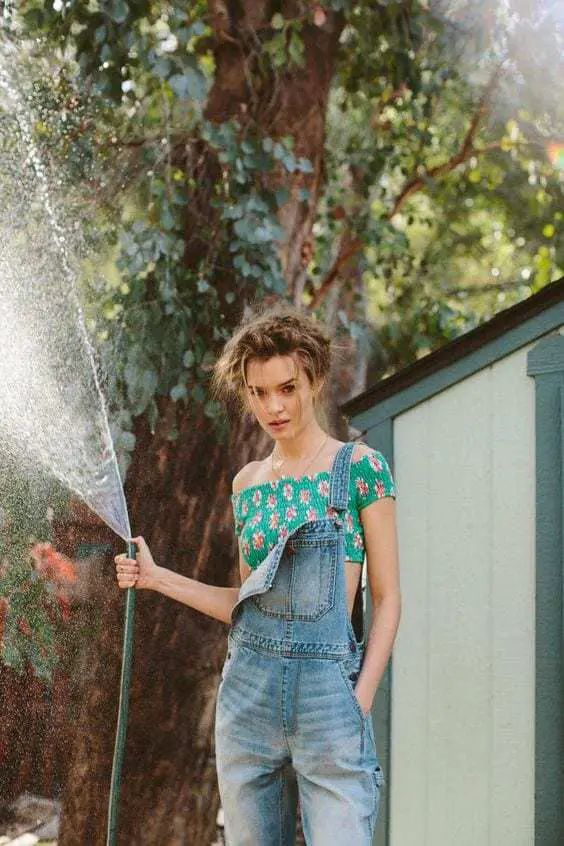 You can also pair a low waist overall jean with a regular t-shirt which is not necessarily cropped. As long as it's a bit shorter than usual, you will still show some midsection skin in a cute way: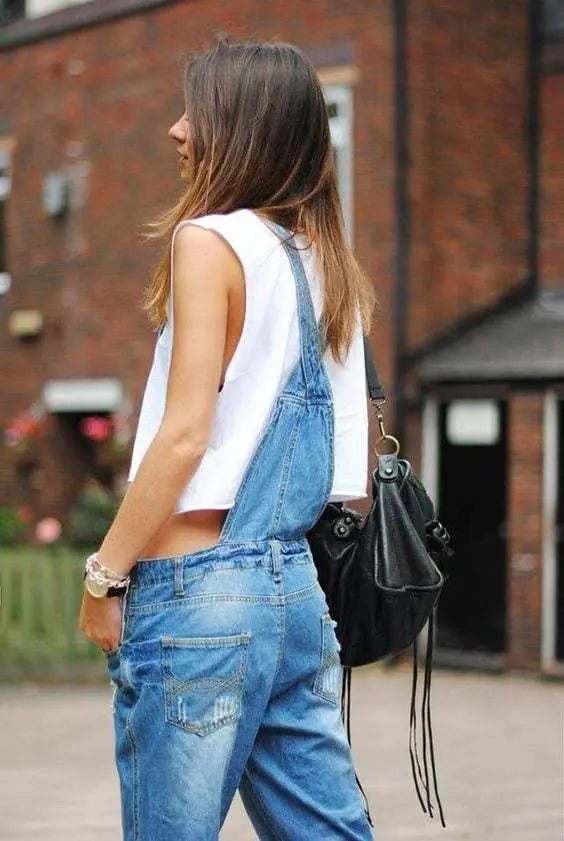 A short white top is also the perfect complement for black overalls outfits. An overall white and black look will definitely take your style to another level, leaving way behind the childish look that an overall can give you.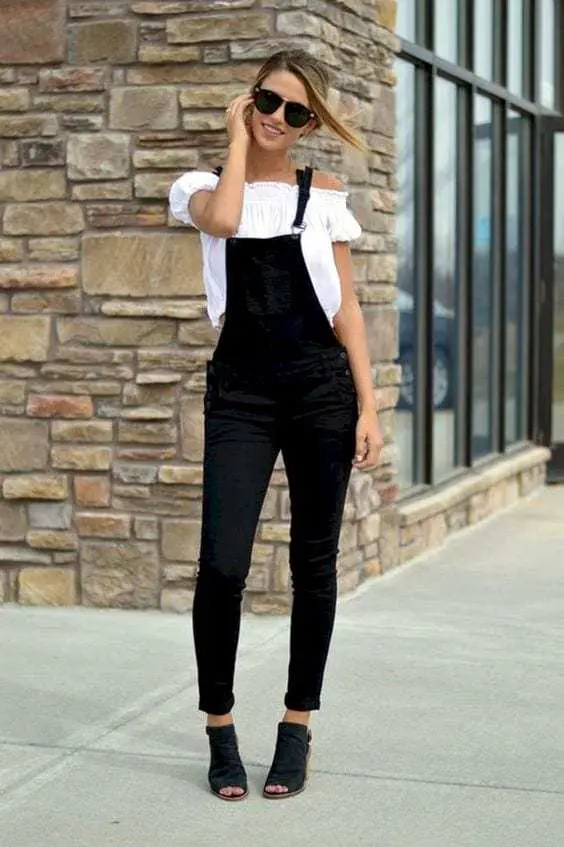 Another alternative is to wear a bandeau. I love how cute a bandeau looks with an overall because you get to show some skin, which makes your outfit look sexy, but at the same time, you're covered by a chic statement piece.
If you want to show some abs, then wear your overall half off: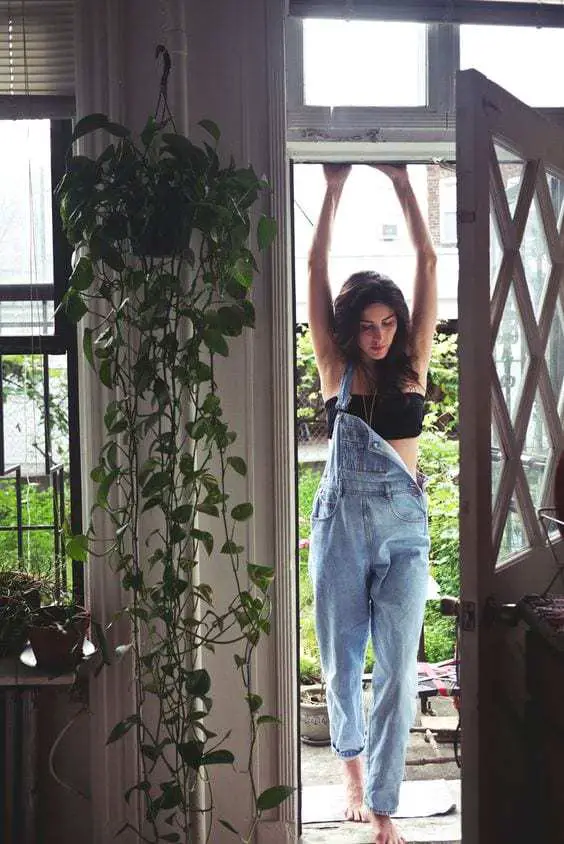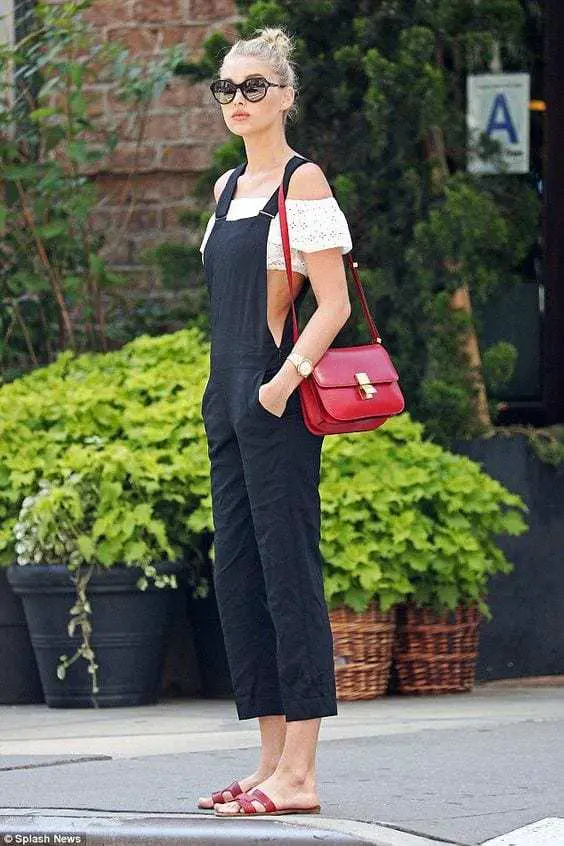 What about a night out look with overalls? It's a total YES if done correctly. All you have to do is wear a crop top, a pair of chic high heels and cute makeup for a glamorous but casual night out outfit.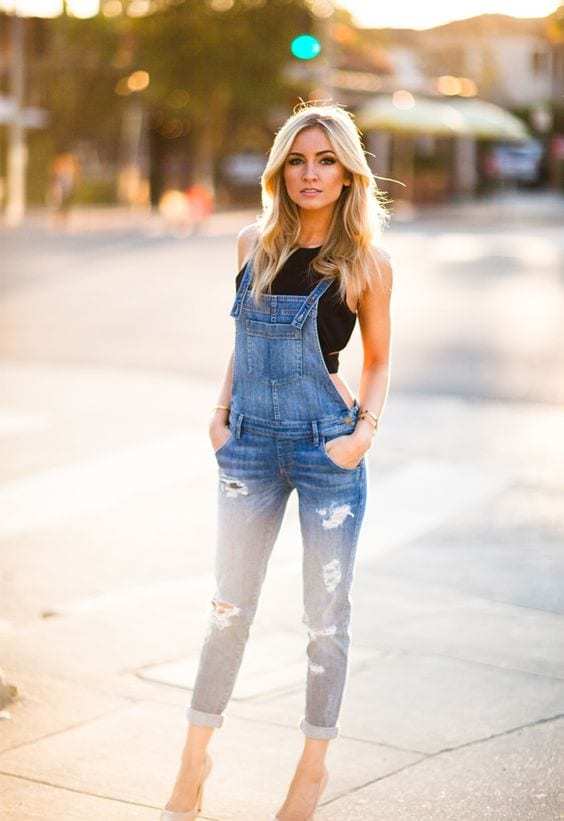 3. With sweatshirts or sweaters
Overalls are not exclusively for summer or spring outfits. You can perfectly pair your overalls with sweatshirts or sweaters and still look like a fashion pro.
There are many cute ways of doing so:
Wear an oversize pullover sweater: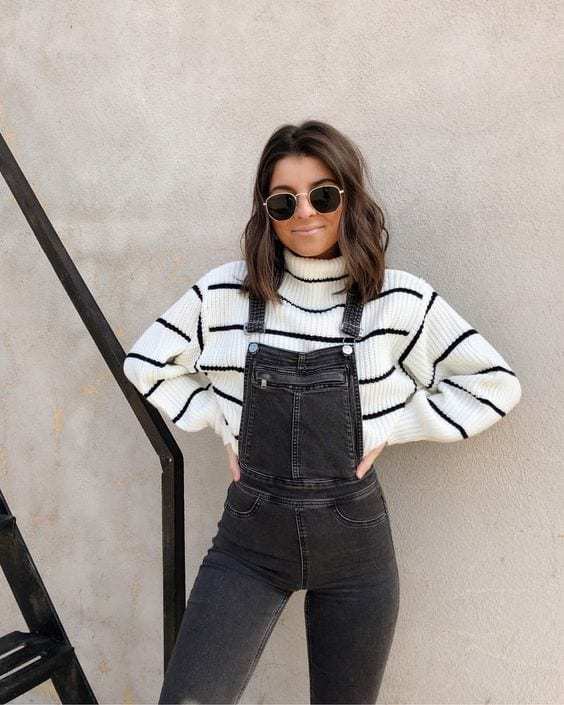 You can also wear a fitted sweater with statement sleeves for a cute winter look: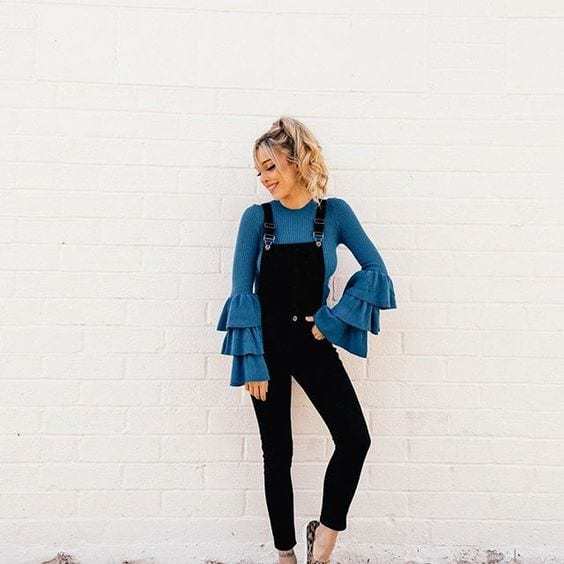 Try wearing a cute pair of polka dot tights with a skirt or short overall and your favorite sweatshirt. This is one of my favorite looks you can create with overalls for a winter outfit because it's cozy, warm and absolutely stylish.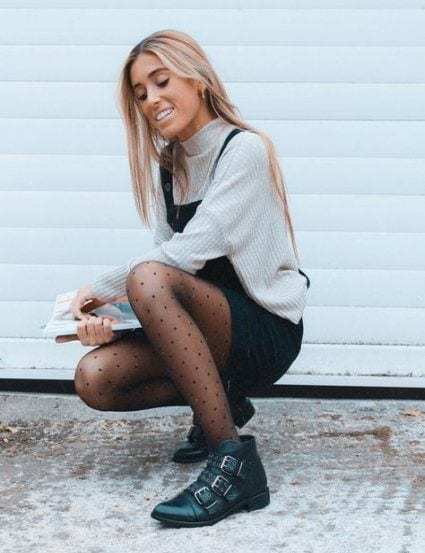 For a cute and fashion pro winter/fall look, opt for a faux leather overall paired with an oversized pullover sweater: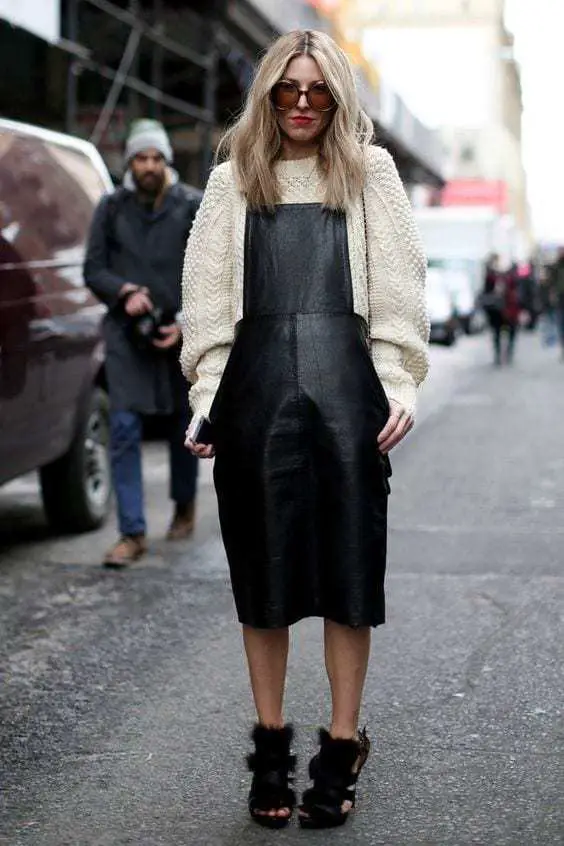 Corduroy overalls are also perfect for these seasons. They will keep you warm while making you look super stylish.
A simple but cute way of styling overalls during winter is with ankle boots or sneakers: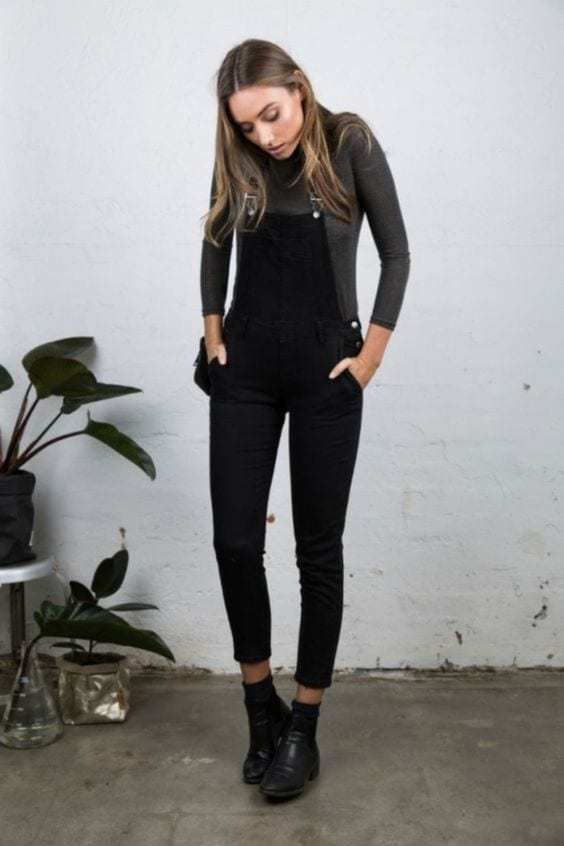 4. Sophisticated overall looks
Overalls tend to give a casual and laid back look mostly because they're usually denim. But even they're denim overalls, they can still create chic and sophisticated outfits.
Here are some ideas of how to wear overalls for an elevated look:
If you want to recreate a chic Parisian outfit, a black and white look should be your number one option. Wear a black skirt overall on top of a delicate white/ivory blouse and finish your look with a pair of black sheer tights: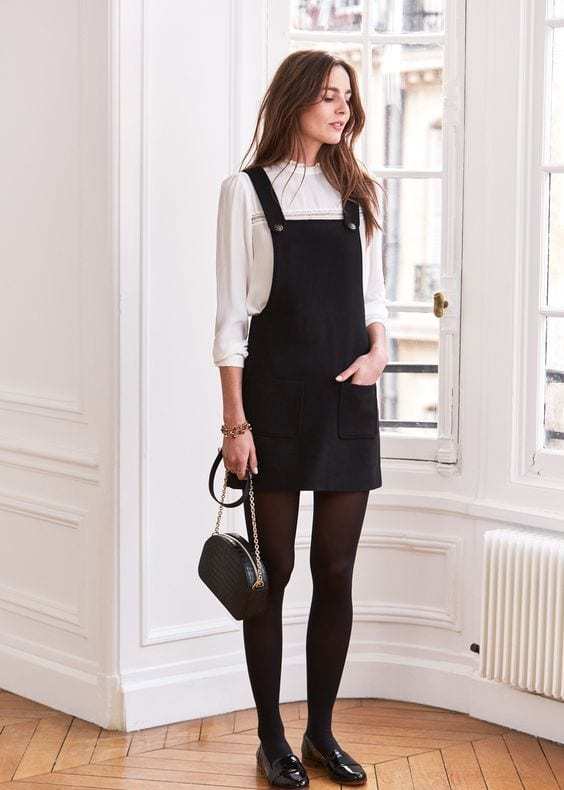 Or try a cute collar tie shirt with a statement handbag: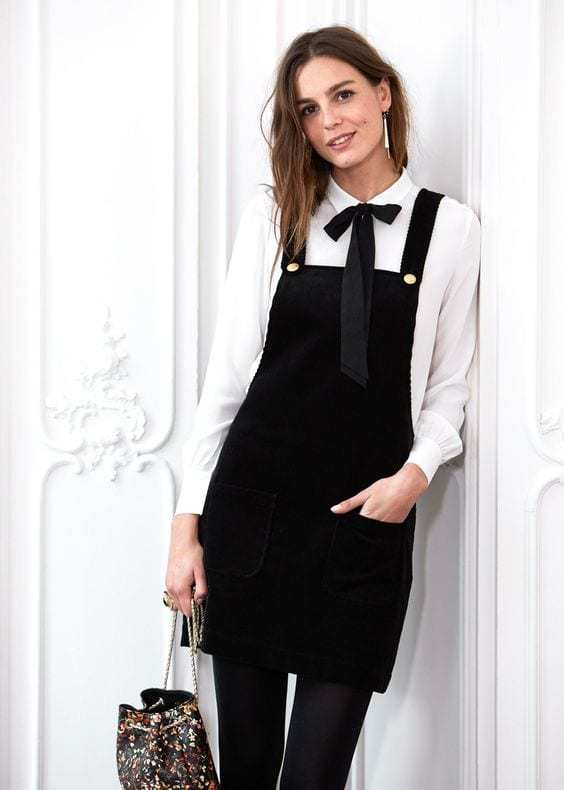 Delicate tops will only bring the best of denim overall. Try wearing a sheer blouse, and you'll be amazed at how chic you can make a denim skirt overall look.
For a trendy overalls look, a modern and sophisticated top can do the trick: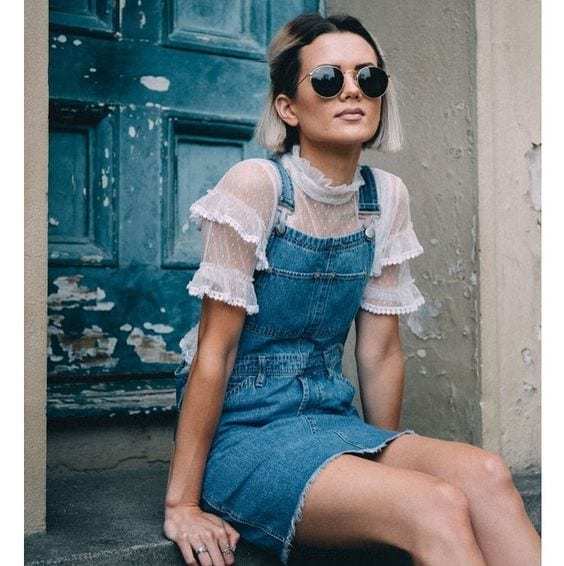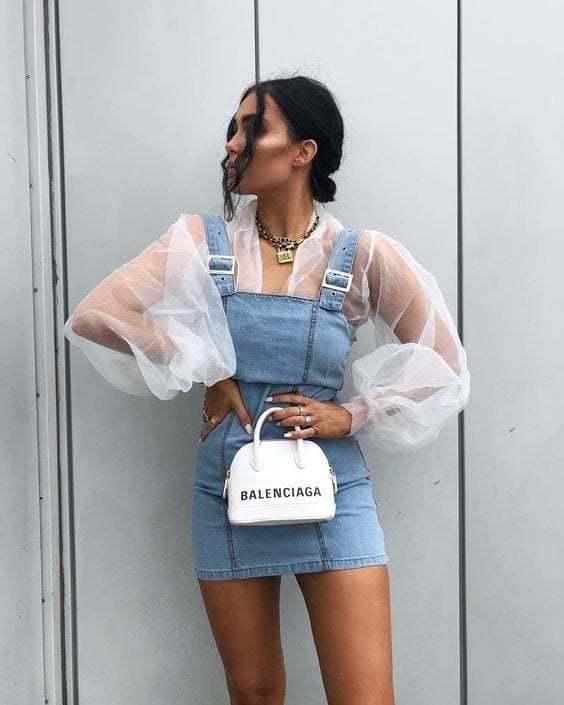 If you want to take your overall outfit to the next level, do so by pairing them with a sophisticated top and chic heels.
Elevating an overall outfit is all about choosing sophisticated pieces: tops, shoes, clutches, earrings… Everything adds up to a plain black or denim overall: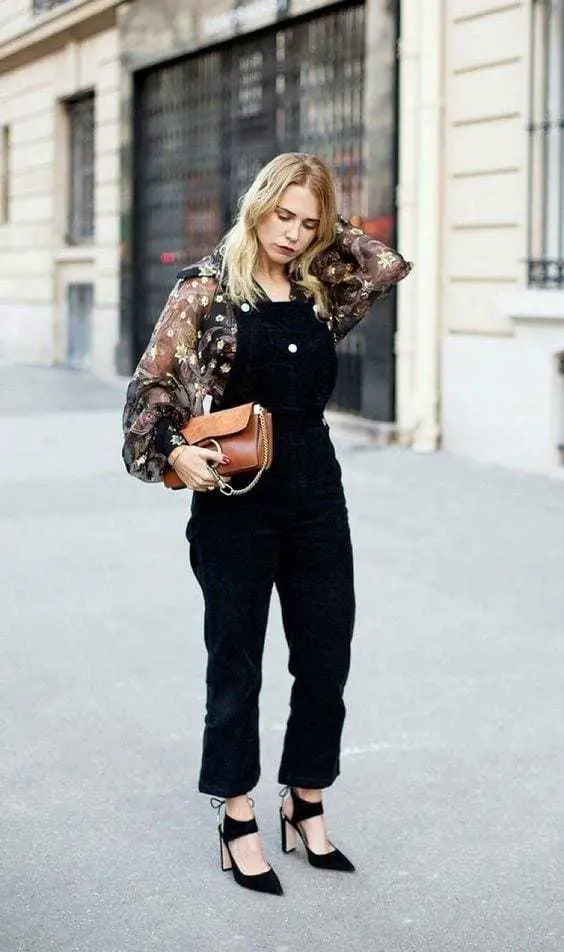 For a sophisticated AND sexy look, a bustier under your overalls is the best combo for you: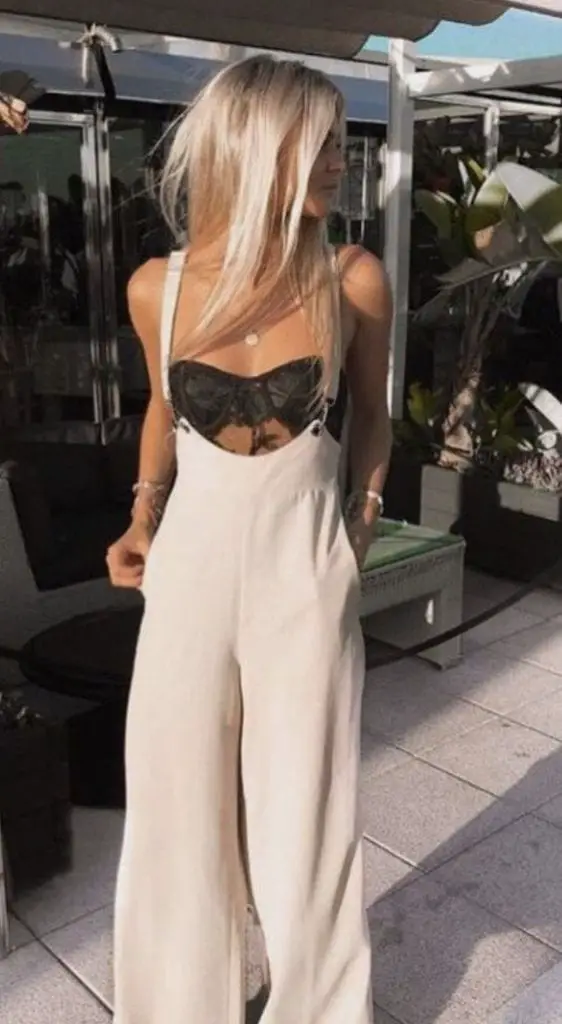 For a simple yet sophisticated overall outfit, a silk long sleeve top is a great option: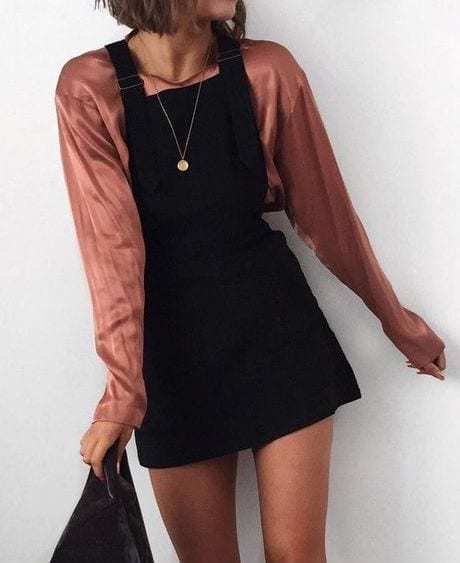 Last but not least, remember that a crisp white button-down blouse can never go wrong, even with overalls.
Try creating a black and white outfit with a white button-down under black overalls and finish your look with chic stilettos: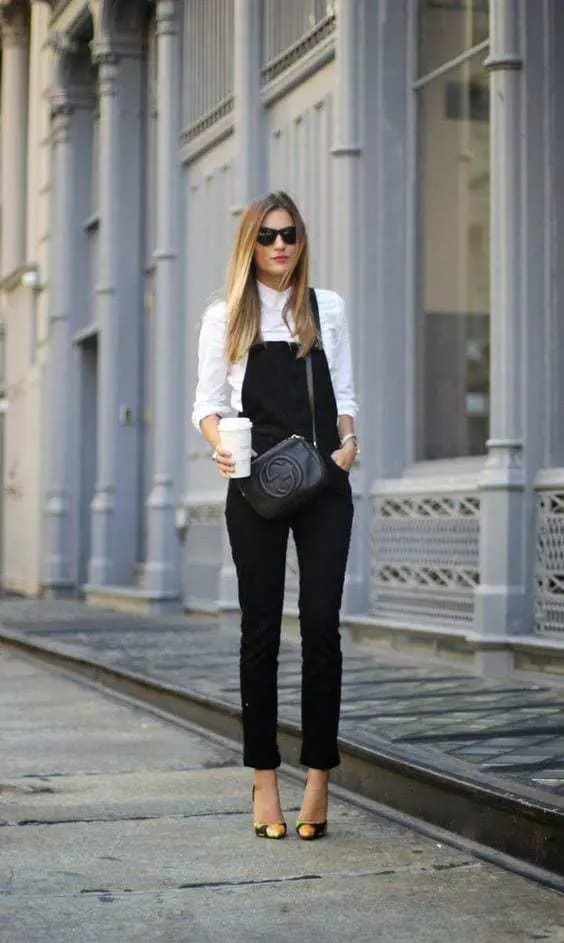 Wrap up:
Overalls are one of those intimidating fashion pieces that make you want to question yourself: do I really want to wear them?
But once you decide to give them a try, they have the power of making you fall in love with them. The best part is that, because they're a strong statement piece, they can make you feel like you just refreshed your entire wardrobe by simple owning one or two pairs of overalls.
That's the magic of overalls.
I hope this article has shed some light on how to wear overalls: from the easiest, most laid-back but cutest ways, to elevated and sophisticated overall outfits. The possibilities are endless, but these outfit ideas will help you realize an overall's magic.