Have you been wondering how to spice up your style? Let me tell you one secret: the problem is in your bottoms.
Sometimes we think that when it comes to creating a cute and fashionable outfit it's all about either the whole outfit or the tops we wear.
But the bottoms you choose can transform your style in the easiest and cutest possible way. And because denim is the mainstream bottom to wear, switching it for a chicer option is my answer to the first question.
If you've been wondering how to wear palazzo pants but are still afraid that these are not for you, then this article is perfect for you as I will guide you through the do's and the don't's of palazzo pants outfits.
What are palazzo pants?
Palazzo pants are a loose and wide-leg bottom that are usually made from lightweight fabrics: cotton and spandex, polyester, silk… They flare out from the waist and are often called simply by wide-leg pants.
The difference between these two is that a palazzo pant is much more generous in the fabric usage: they're cut to flare at the waist and can be mistaken by a maxi skirt because, with some palazzo pants, you can't tell there's a crotch.
Palazzo pants are also comfortable and perfect for spring or summer because of their lightweight fabric, but most of all, they can be very feminine, casual, polished, boho, chic… you name it.
Tips on how to wear palazzo pants
Many girls don't step into the palazzo game because they're not sure if they flatter their body type. But this fear keeps them from creating super cute outfits.
Truth is, palazzo pants are absolutely great for any body type! But there are a few things to keep in mind to make the most of your palazzo pants style:
– Short girls: stay away from cropped palazzo pants, as they will only shorten your height.
– Girls with long torso: High waist palazzo pants are your go-to option, and make sure that they're long enough as to make your legs look super long
– Rectangle shape girls: enhance your curves by wearing high waist palazzo. This will help your waist look smaller
If you don't fit into these three categories, then don't worry, you can wear your palazzo pants however you want!
But of course, there are some super stylish ideas you can recreate that will help you pull-off perfect palazzo pants outfits. I've compiled a complete guide on the trendiest ways of wearing palazzo pants, in hopes that you will find something you love and try it for yourself.
What to wear with palazzo pants
1. Palazzo pants with a t-shirt
One of the easiest tops to wear with palazzo pants is a plain solid t-shirt. This look is a no brainer; all you have to do is tuck it inside your pants or choose a cropped t-shirt.
Whatever you choose, make sure that the color of your t-shirt harmonizes with your palazzo pants. That's why a white one is a go-to option that'll perfectly work with any pant.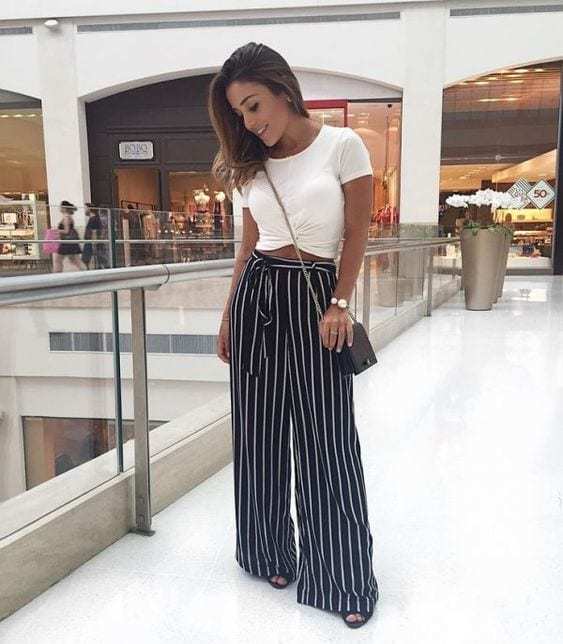 You can also choose any other color. Neutrals such as black, grey, ivory or navy are great options that will make your palazzo stand out as the statement piece from your outfit: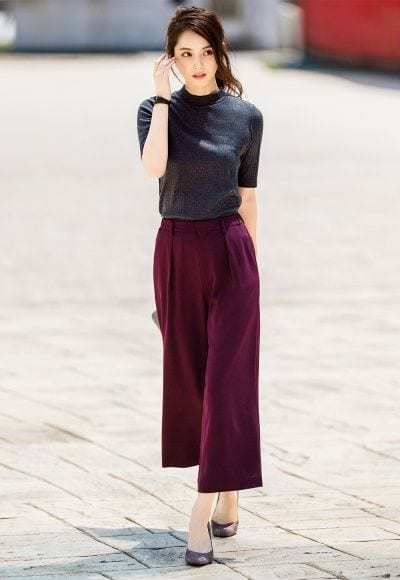 If you're feeling extra, make a dramatic and head-turner outfit by wearing a maxi kimono. The loose pants and your maxi kimono will flow in the most stylish possible way with each step you walk: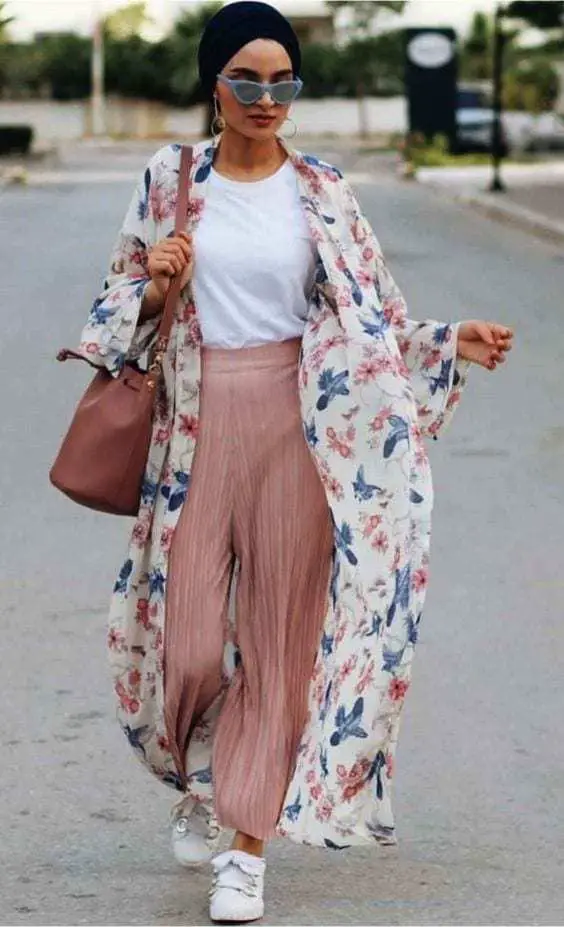 Wearing a striped tee is another cute option. I love how this girl chose to wear a dusty version of red and green, which are complementary colors but still look absolutely great together: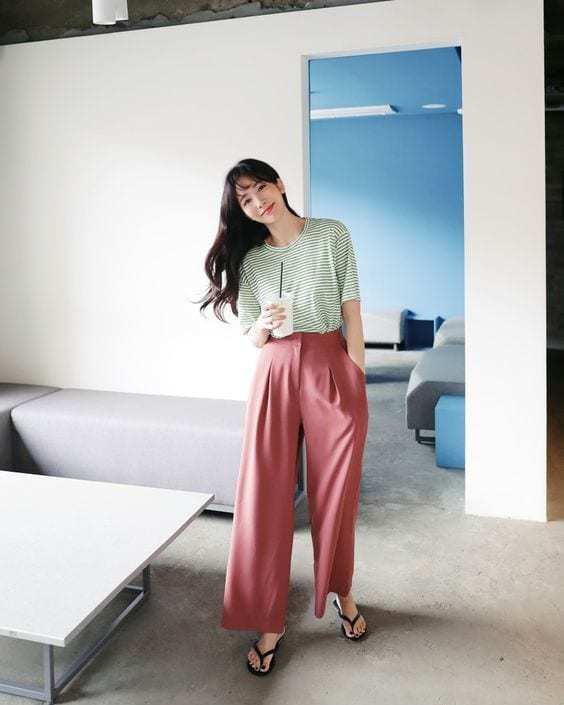 Wear your palazzo pants and t-shirt with a denim jacket for a cool and casual look: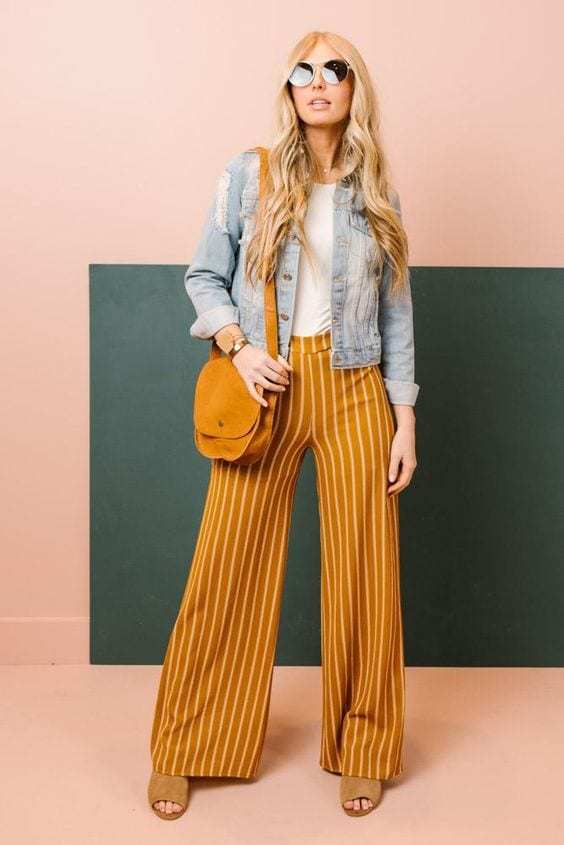 You can also tie a knot with your t-shirt for a crop top look. The thing about palazzo pants is that they're loose and flowy, so choosing a tight top such as this knotted t-shirt is a great idea because it'll contrast and harmonize with your wide-leg bottom.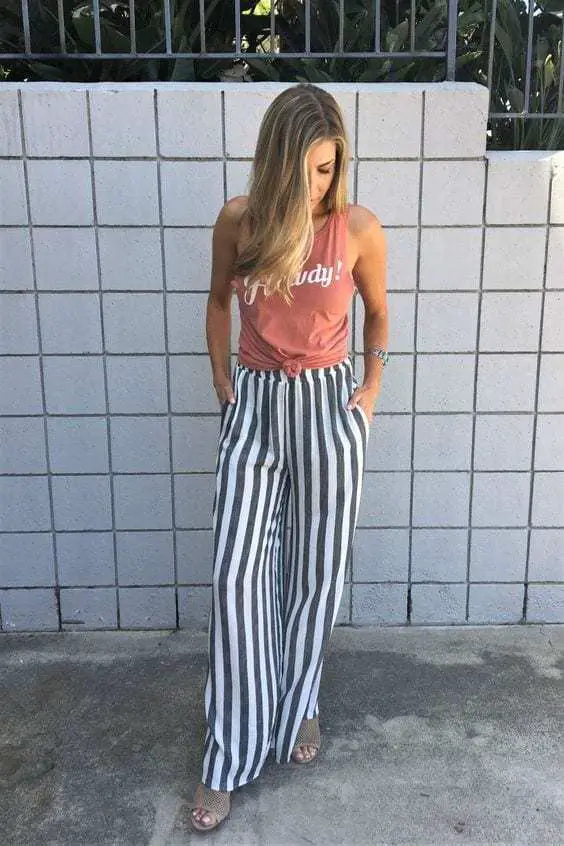 You can also create a polished and chic look with a classic black and white stripe t-shirt. Just make sure that this t-shirt has a tight fit. Finish your look with a necklace and a statement clutch for an extra pop of color: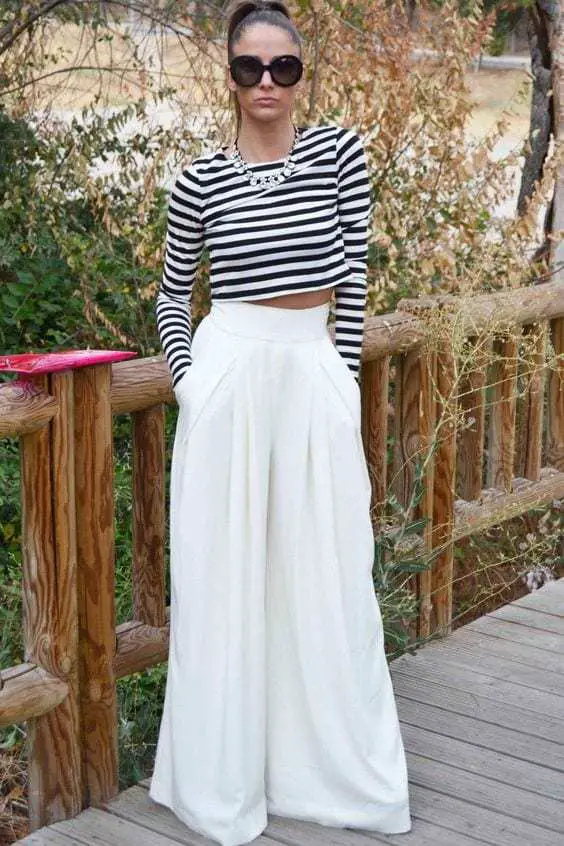 Shop The Look
---
Click the picture to buy
2. Stylish blouses with palazzo pants
T-shirts are a great go-to option to wear with palazzo pants, but if you want to take your style to the next level, then opt for a stylish and unique blouse.
This could be one that has statement sleeves, or an interesting texture or silhouette, or a modern and unique crop top… Any style that makes your palazzo pants outfit look extremely polished and put together will be great.
My only suggestion is to keep its color toned down with neutrals or dusty shades because, as I've mentioned, palazzo pants are already a head-turner bottom, and if you add a super stylish blouse in an extravagant print or bright color, then it could happen that the outfit will look like too much.
These are great examples of how to wear palazzo pants with statement tops for a harmonized and polished look: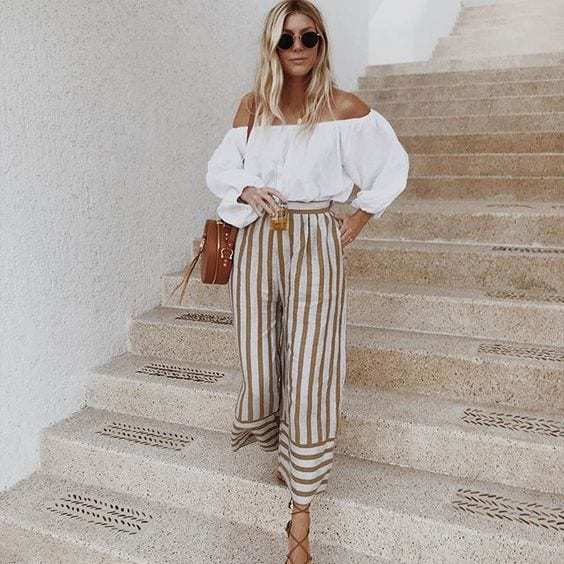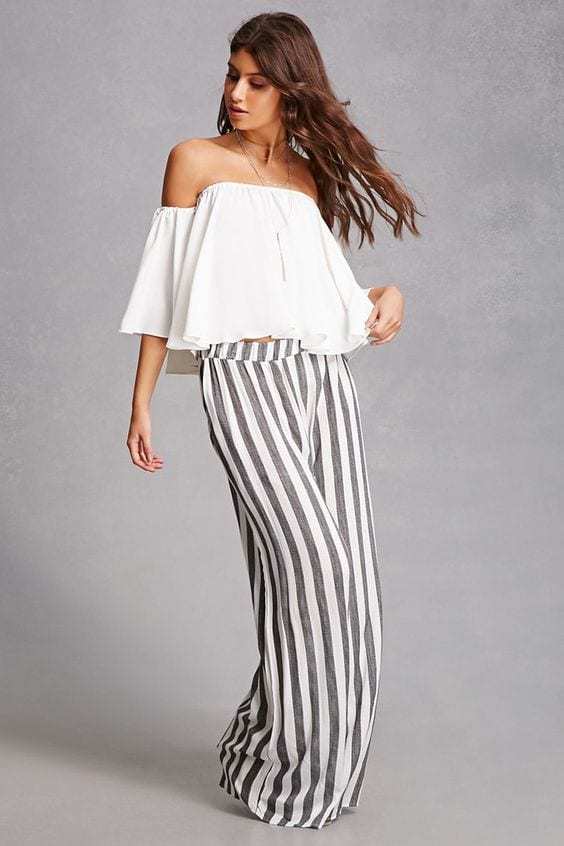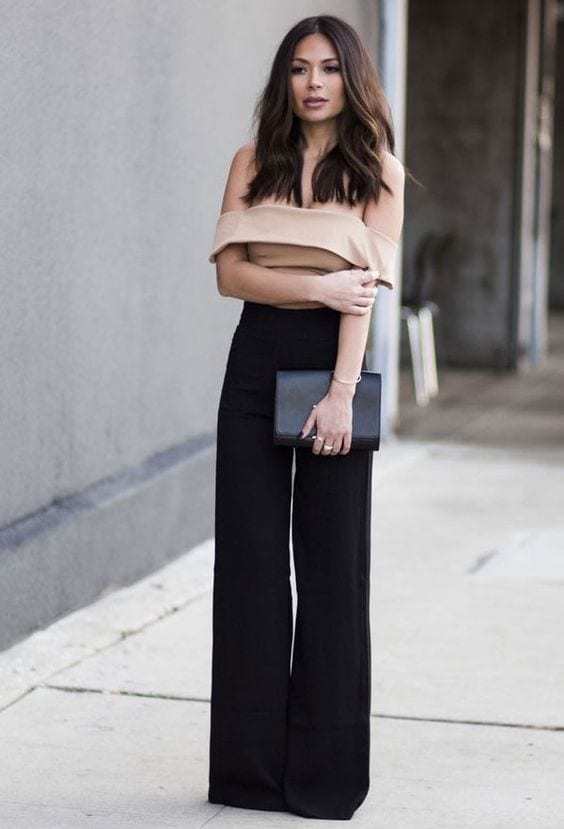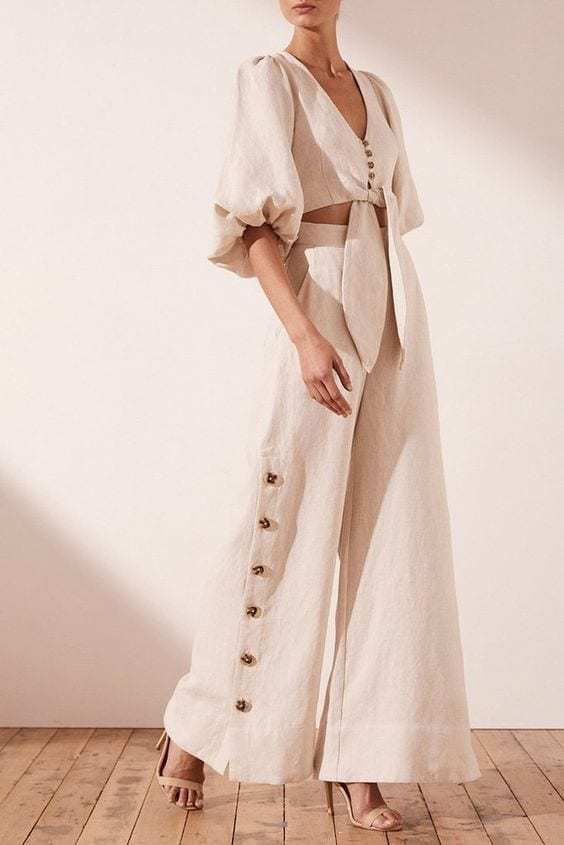 As you can see, these girls all wear their tops either tucked in or in a crop top style. This is because their waist gets the most of the outfit by looking slimmer and sexy.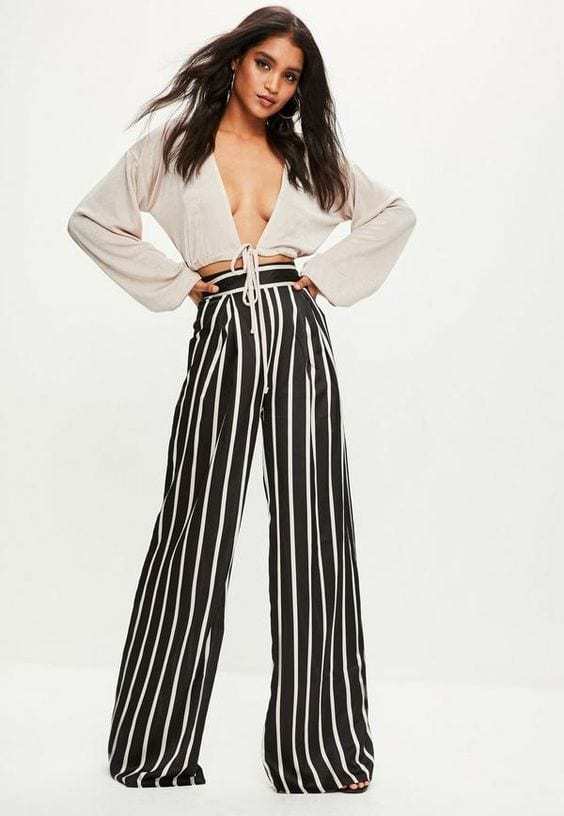 3. Tank tops with palazzo pants
As I mentioned before, palazzo pants are already flowy and loose, and pairing them with a tight top is one of the most popular options because it creates contrast between the upper and lower body and makes your silhouette look absolutely gorgeous.
That's why wearing a basic tank top is one option you should always consider whenever you run out of ideas on what to wear palazzo pants with. Something so simple as a black or white tank top can make the most of your palazzo pant style.
These are some examples of how you can look like: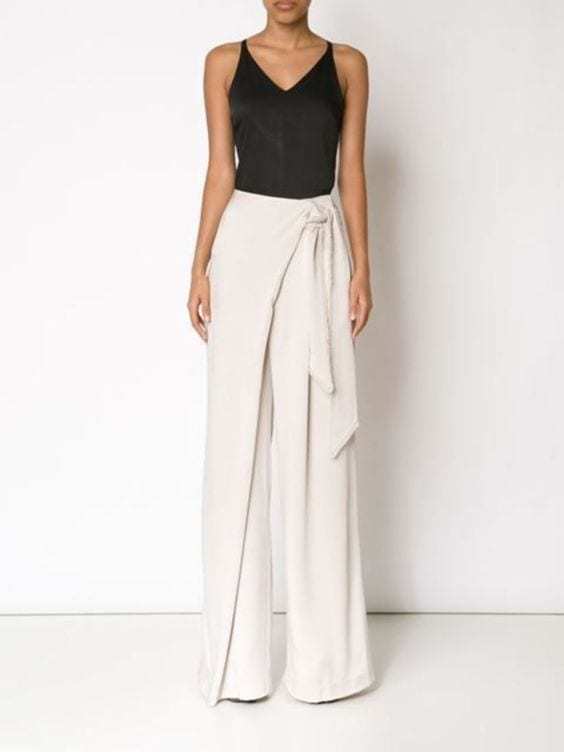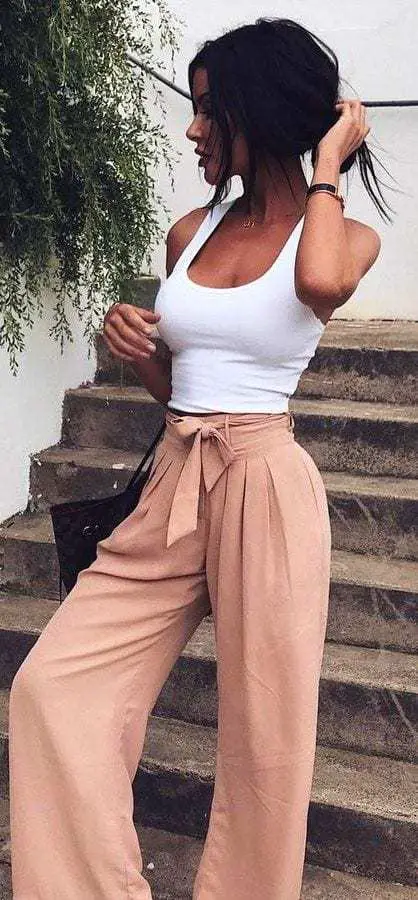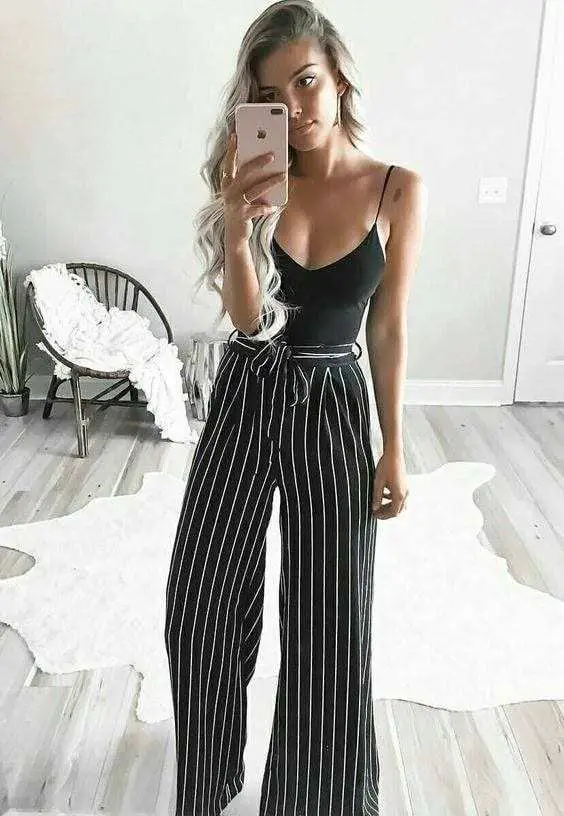 You can wear a cute necklace to add a pop of color: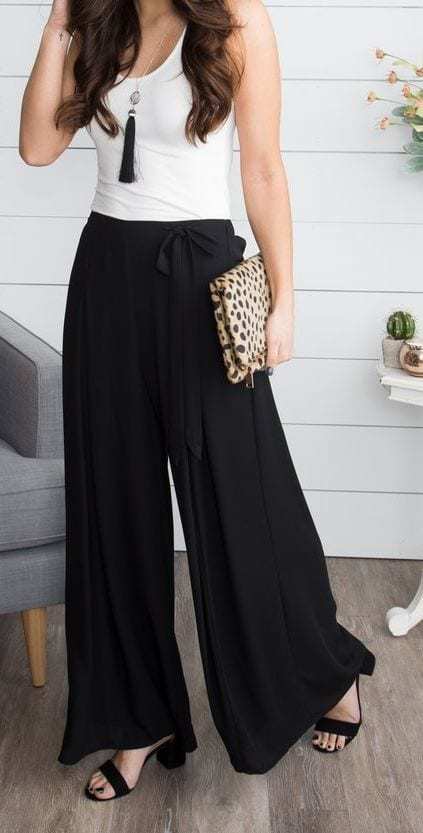 If you don't feel too comfortable with tight tops, then wearing a cute jacket or cardigan is a great idea. The dressing is all about feeling and looking good, so don't risk your comfortability by wearing something you feel self-conscious about.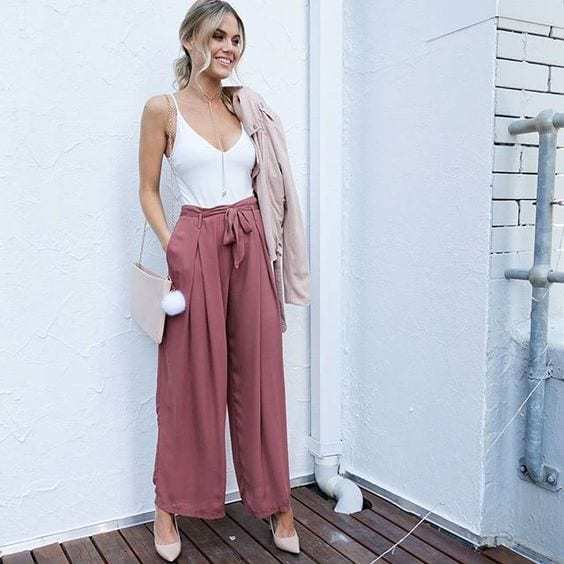 4. Show your midriff
Palazzo pants are usually worn right on the waist and that's why wearing a crop top is a great idea because even if you're tummy conscious, you can feel comfortable showing a bit of your midriff. It's a stylish and sexy way of wearing your pants without showing too much.
And, again, a tight fit will be your best friend when it comes to crop tops.
You can pull off a cute and casual look, perfect for a beach getaway: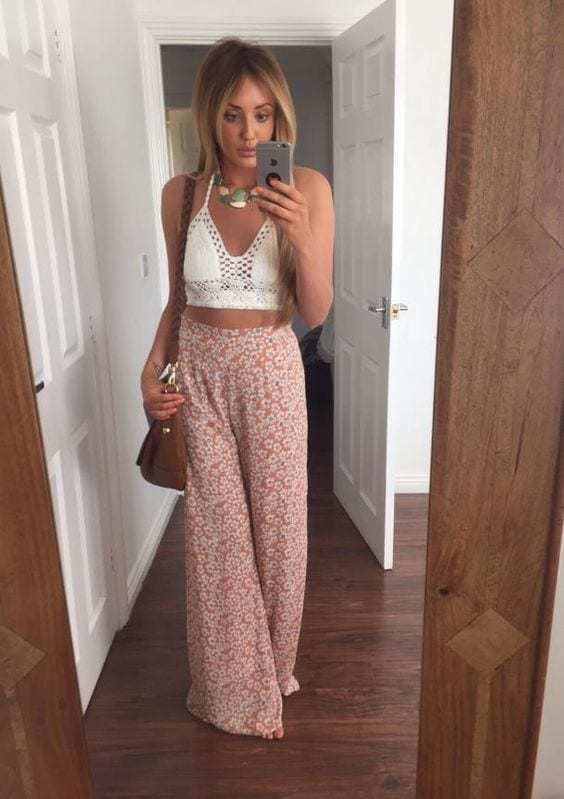 A chic and day-time look for a fancy brunch: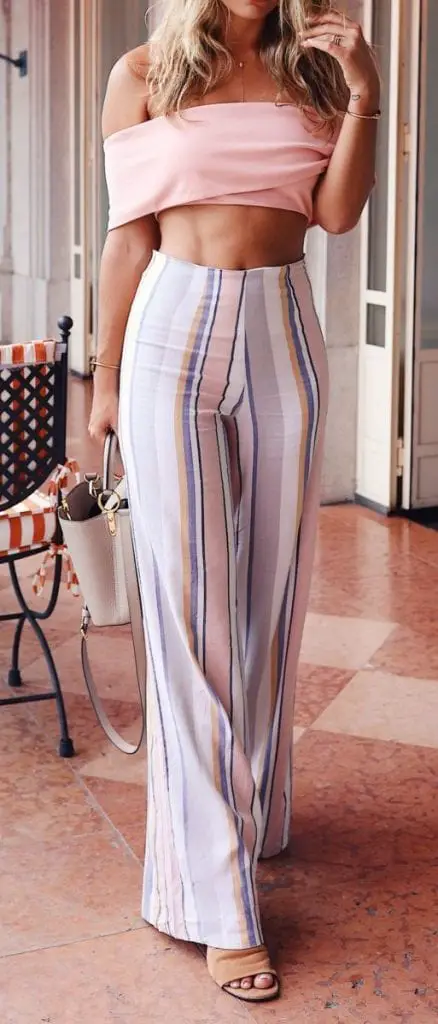 A sophisticated and glamorous look for a night out with friends: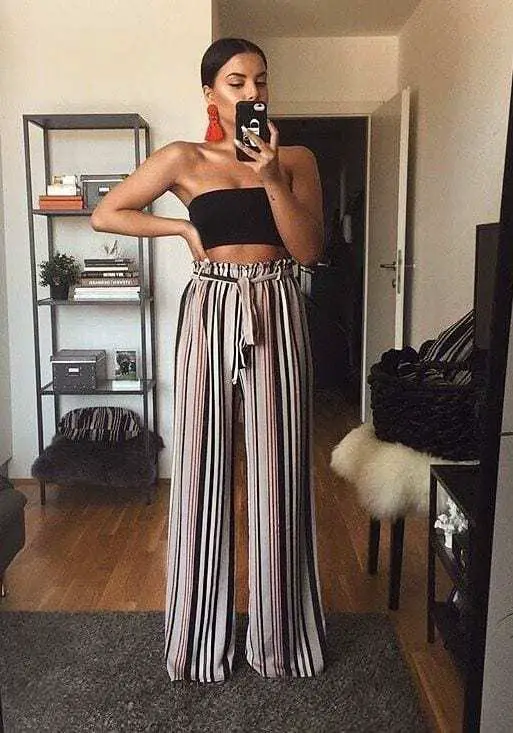 Or a polished look that's perfect for a cocktail party. What I love about this palazzo pant outfit is how the model chose to wear a chic lace crop top to match the elegance of her pants: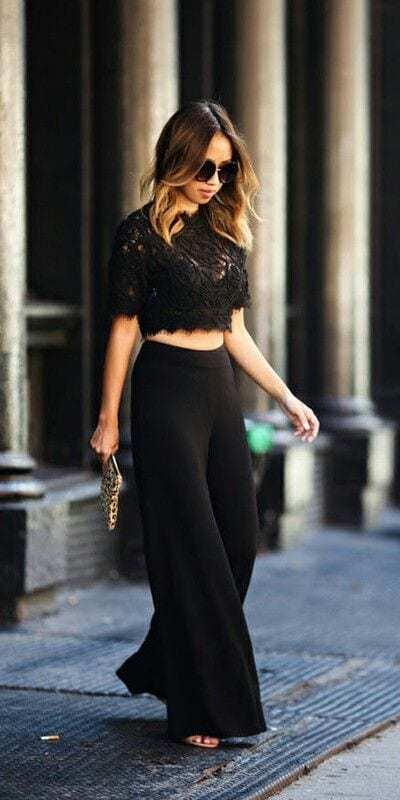 As you can see, palazzo pant and a crop top combo are not necessarily only for the beach or for a super casual outfit. You can transform this combo in so many different ways: from the sexiest and casual to the most polished and laid-back looks.
It's all a matter of getting creative and trying new things!
Here are other crop top and palazzo pant outfit ideas that can help you boost your creativity: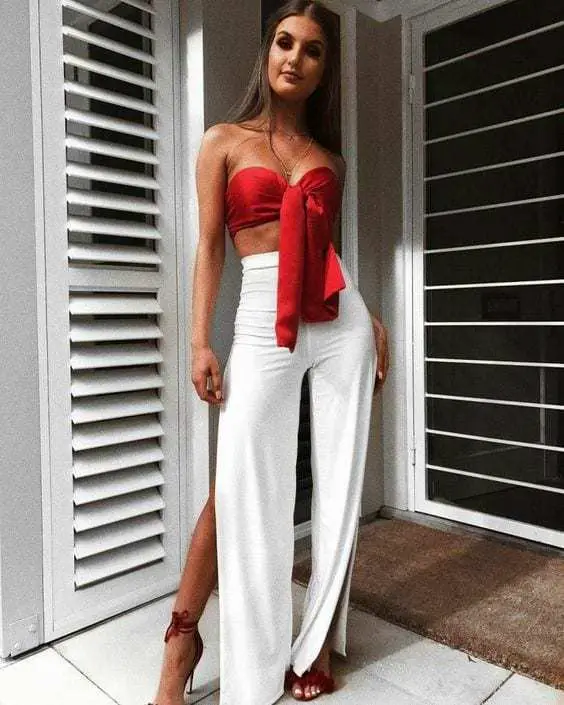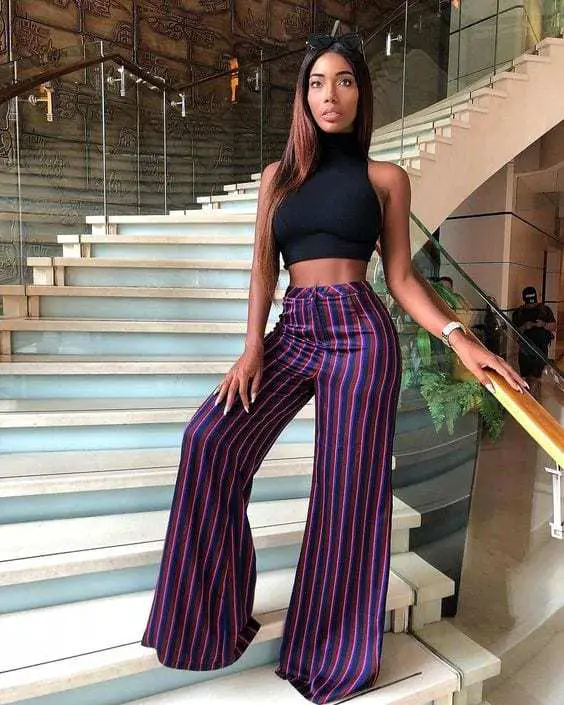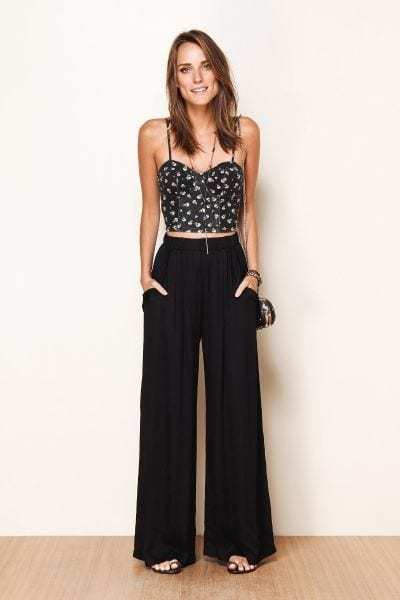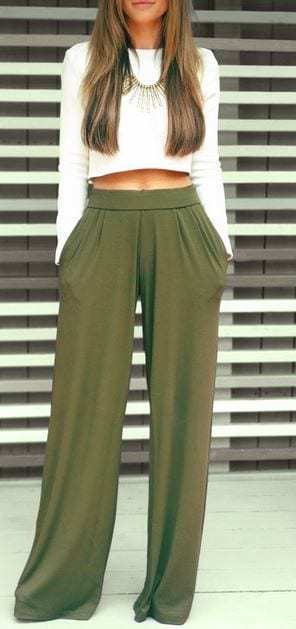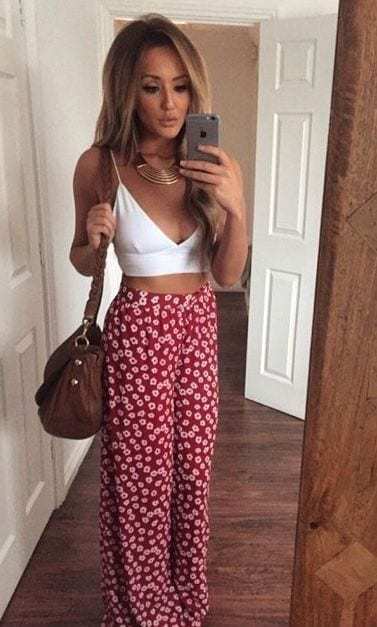 Wrap up:
Palazzo pants are one of the chicest bottoms you can find, hands down. The endless possibilities of how you can style them are one of the things that make palazzo pants so popular among girls.
They are also perfect for any body type, and can easily flatter your figure by wearing the right fit and the right top.
But most importantly, palazzo pants are the most comfortable pants you can wear. You feel like floating!
If you add comfortability and style into one same look the outcome is a boost of confidence. You will feel AND look great.
I hope these ideas on how to wear palazzo pants will help you discover at least some of the multiple ways in which you can style your pants.