Timberland boots have been a favorite among men and women since many years ago. One of the reasons is their excellent quality, guaranteeing you a long lasting shoe, and its comfortability.
But apart these great qualities, it's undeniable how versatile these boots can be. You can wear them with any type of outfit and still look stylish.
How to wear Timberland boots
Timberland boots are a great shoe option not only for those days when you're planning on doing a lot of walking, but they're also perfect for casual plans with friends or for going to school.
And one of the best characteristics of these boots is their classic style that goes perfectly well with any fashion style: from hipster to girly and everything in between.
If you're thinking of buying Timberland boots or if you already own a pair, then this article is perfect for you. I have compiled 35 different outfits you can wear with these boots, giving you plenty of inspiration to choose from.
Timberland boots fashion
1. All-black ensemble
An all-black ensemble is a perfect excuse for wearing your pair of Timberland boots, especially if these are a camel.
Black and camel is a chic combination that looks great for those days when you need to dress up a bit more.
If you want to take your black outfits to the next level, try wearing leather leggings. Your boots will look super chic next to your leather leggings: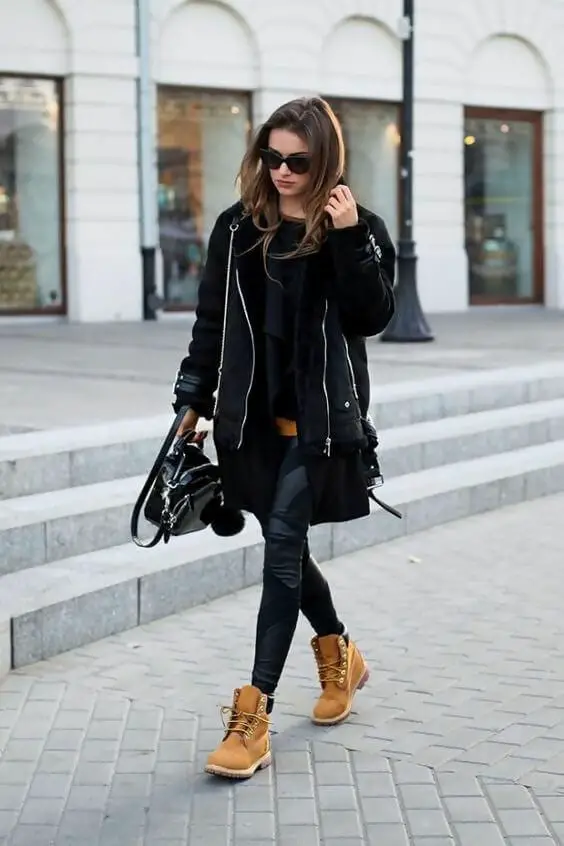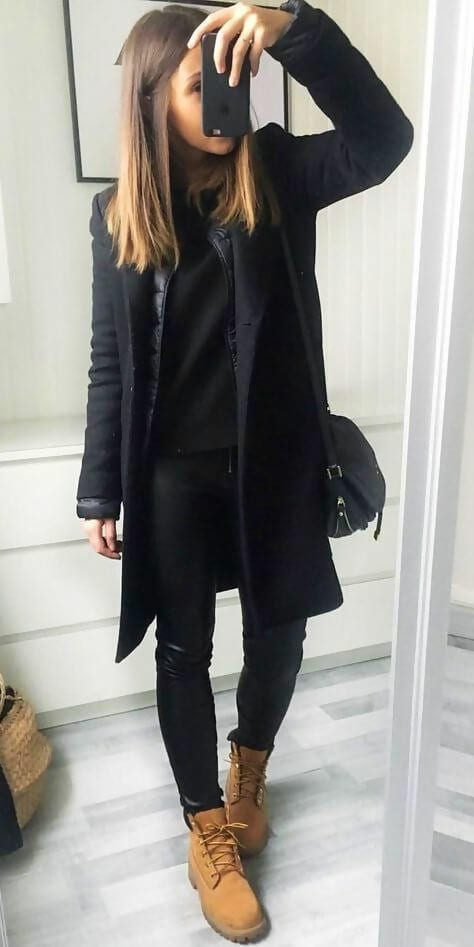 You can also wear black from head to toes. Try black Timberland boots for an edgier look and finish your outfit with a camel jacket.
The effect is similar to the outfits above except this look has the camel/mustard on the upper body. It's alternative if you don't want to wear the classic camel Timberland boots.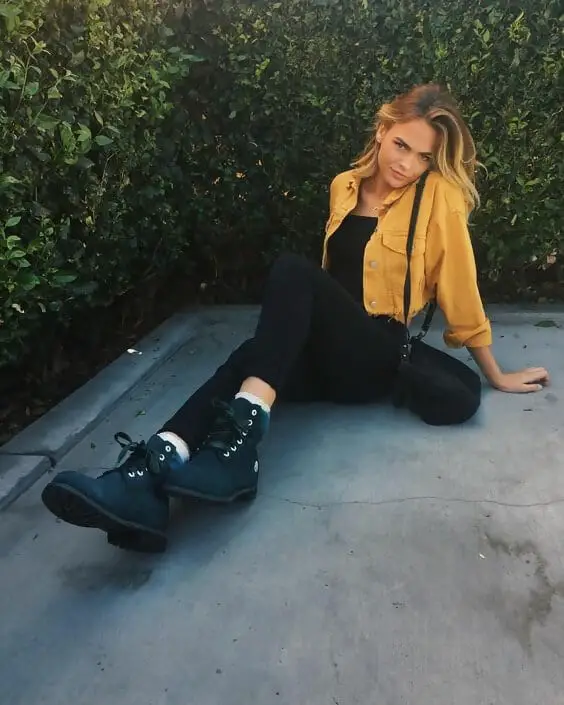 If an all-black ensemble feels like a little bit too much for you, switch the black jacket for a lighter color such as an icy soft grey. Your camel boots will be the star of your outfit because the rest of the colors are either dark or soft.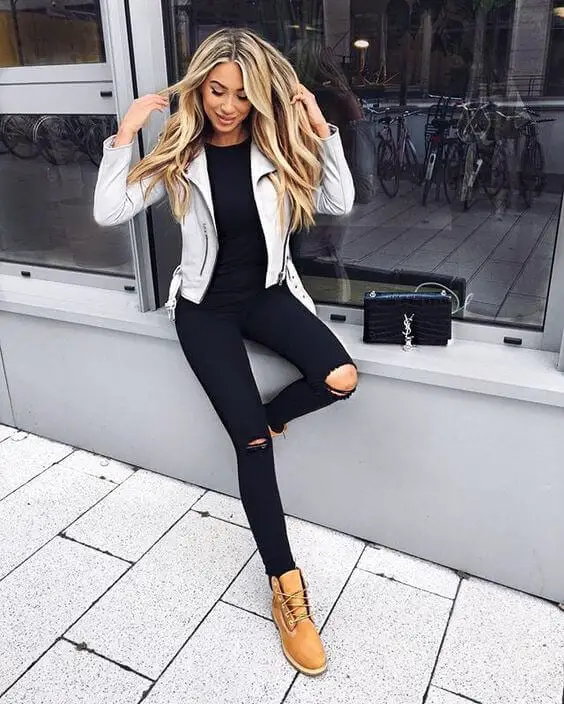 Other alternatives are wearing plaid black and white shirts with your black skinny jeans or leggings. Your Timberland boots will also become the center of attention of your outfit because their bright camel color will stand out.
These outfits are great for school or college: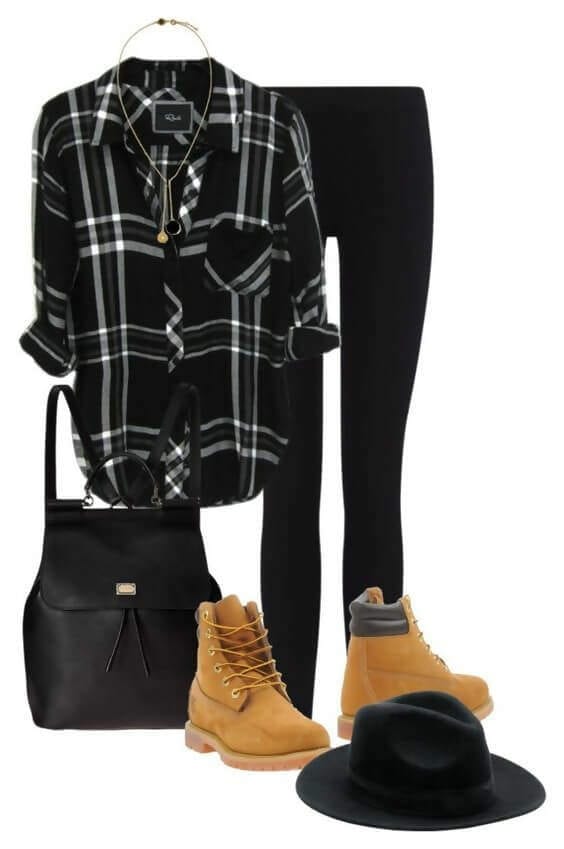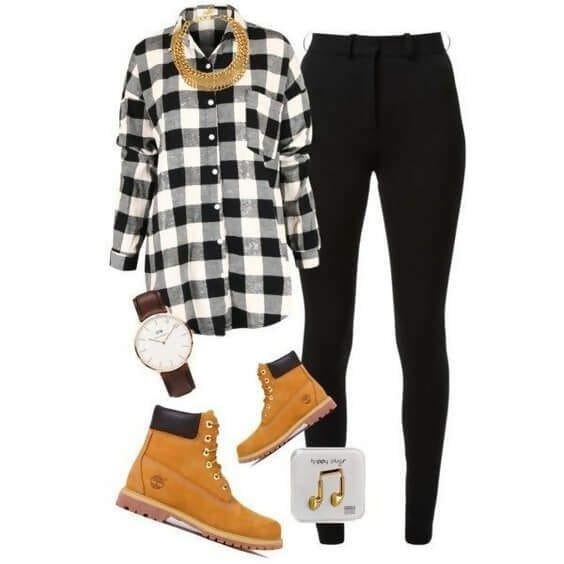 And why not mix athleisure wear with your Timberland boots? The perfect combination for a super comfortable outfit.
The result will be similar to this all-black look: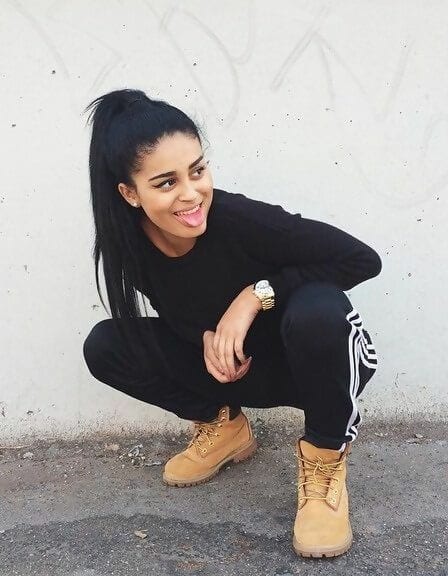 2. Monochromatic look
If you own or are planning on buying the classic camel Timberland boots, let me tell you that you will be able to create super chic monochromatic outfits.
That's what I love about these boots, not only are they perfect for edgy and/or tomboy outfits, but they also fit perfectly into classic and sophisticated fashion styles.
To achieve a chic Timberland boots outfit, wear a white pair of jeans along with layers in colors such as light grey, beige, icy soft pink, or soft camel.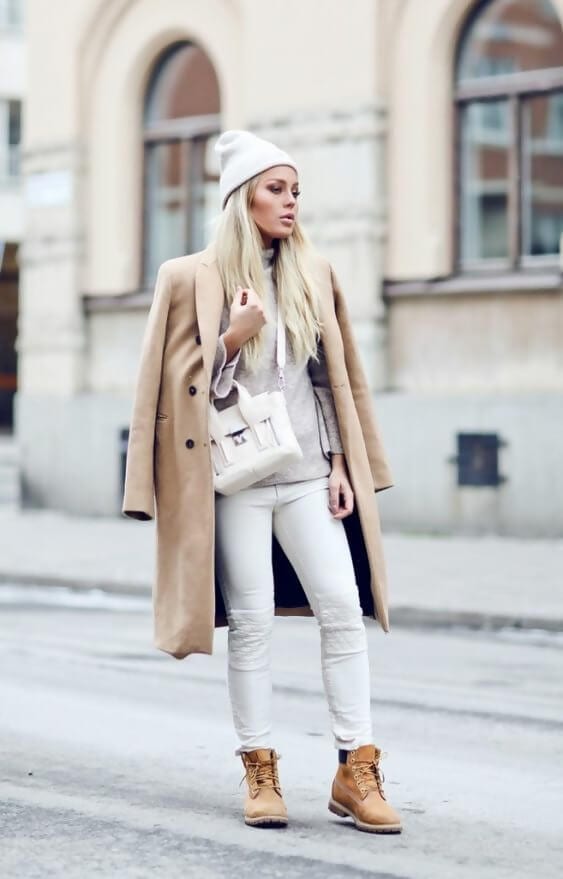 Or, if you want a head-turner to look, a pair of white Timberland boots will easily bump up any look because few people own them in this color.
You can keep the rest of the outfit white or light grey and finish our outfit with a contrasting color jacket.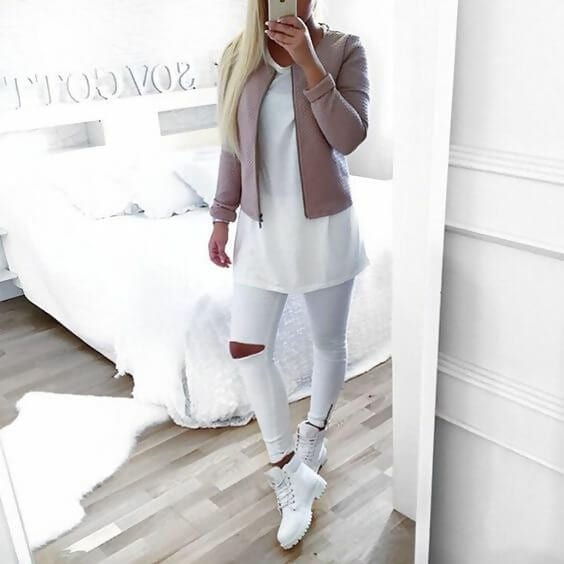 What about this brown and pale beige outfit? Just wear a brown pair of tights to connect the colors of your dress and boots for a sophisticated look.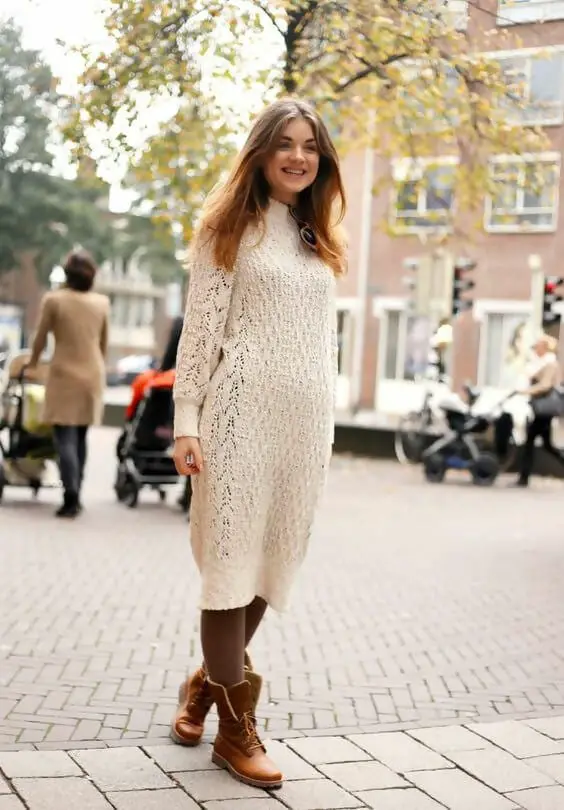 This is a similar look as the one above, except her boots, are almost knee-length. But you can perfectly wear the classic ankle length Timberland boots and recreate the rest of the outfit: a dark chocolate jacket on top of a beige knit dress and brown tights.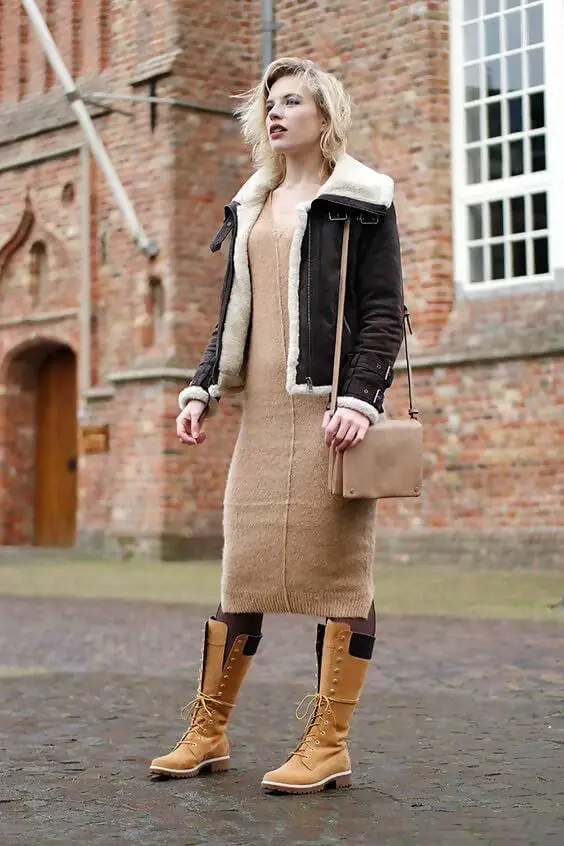 And the perfect example of how to create a perfect monochromatic outfit comes from Hailey Baldwin: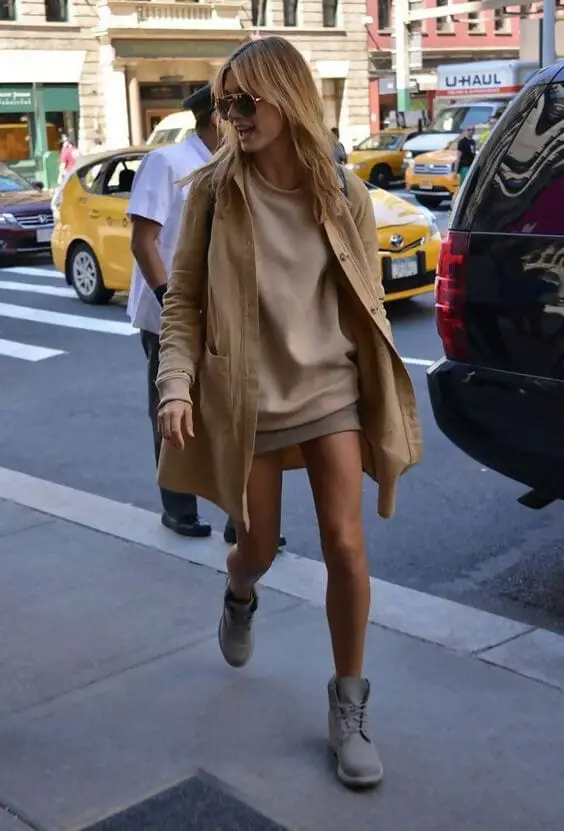 3. Timberland boots with skinny jeans
If you're wondering how to wear Timberland boots with skinny jeans for a cool and stylish outfit, all you have to do is add different layers to create an interesting look.
Something simple as a leather jacket on top of a pullover sweater that matches the color with your boots and your favorite skinny jeans: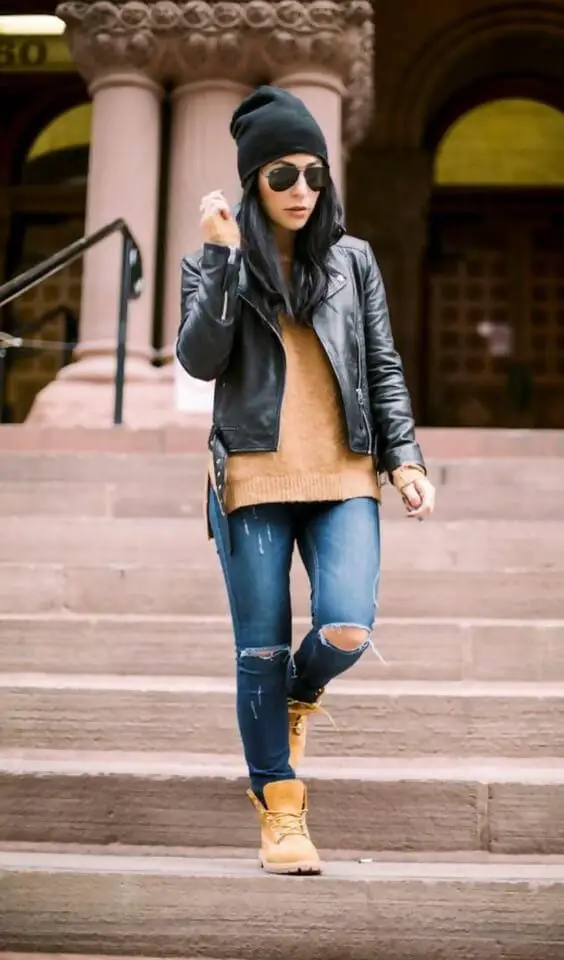 One of the best advice I can give you when trying layers with your Timberland boots is to have at least one item that matches the color with another item. For example, this lady decided to match her Timberland boots with a camel scarf and had fun pulling off a colorful outfit.
You can make the combinations you like as long as you have a pair of items that match colors exactly.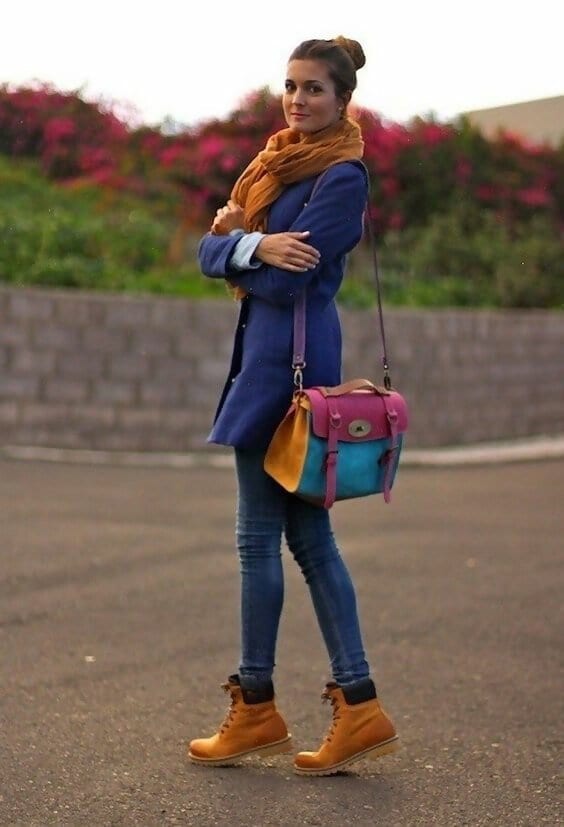 Timberlands and skinny jeans can result in a preppy look if you wear a pullover sweater that shows off your shirt's collar: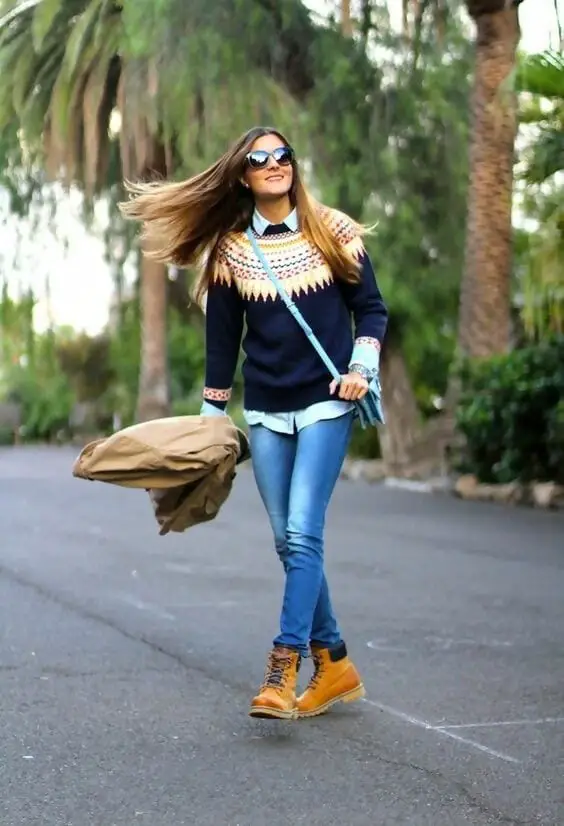 A pair of dark blue jeans looks also great with Timberland boots. Create a chic contrast with a pale beige coat: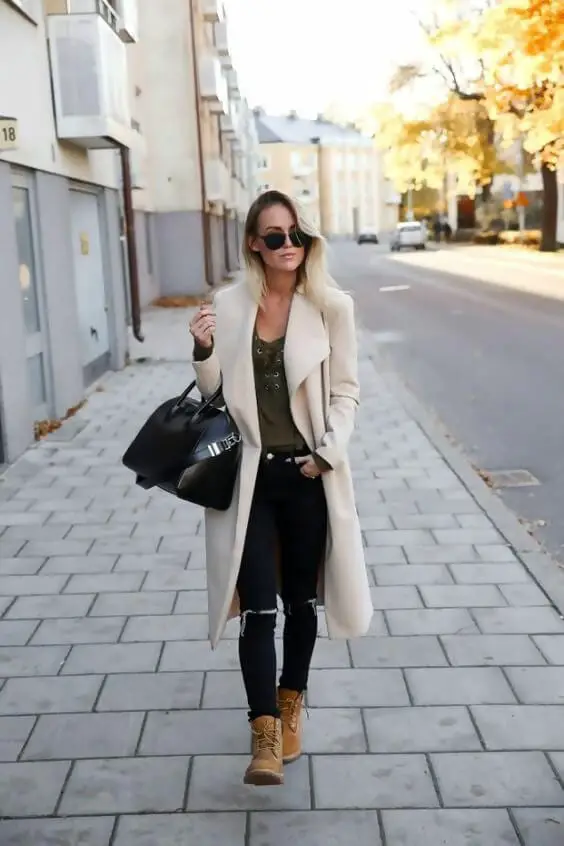 For the opposite effect, wear a light wash jean along with a white top and soft beige coat. This is a great look for day-time: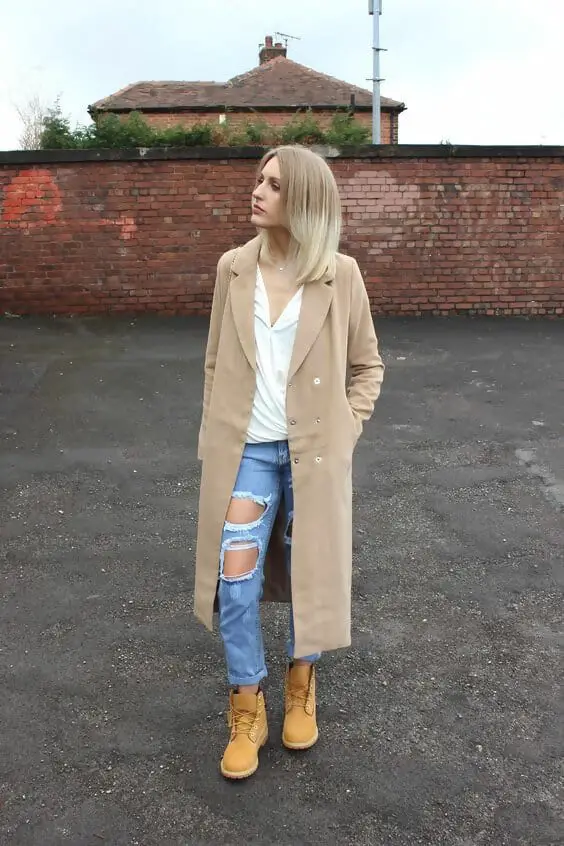 For a polished look, wear a white button-down tucked inside a dark washed pair of jeans and a jacket that matches the color with a hat.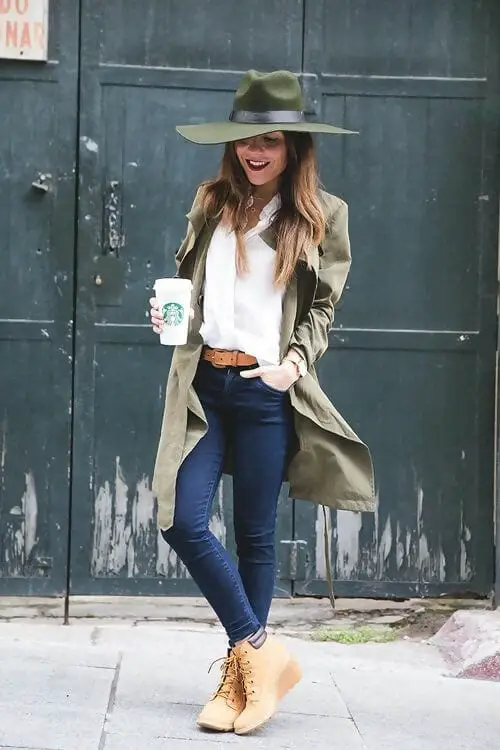 A black leather jacket and skinny jeans are another cool combos: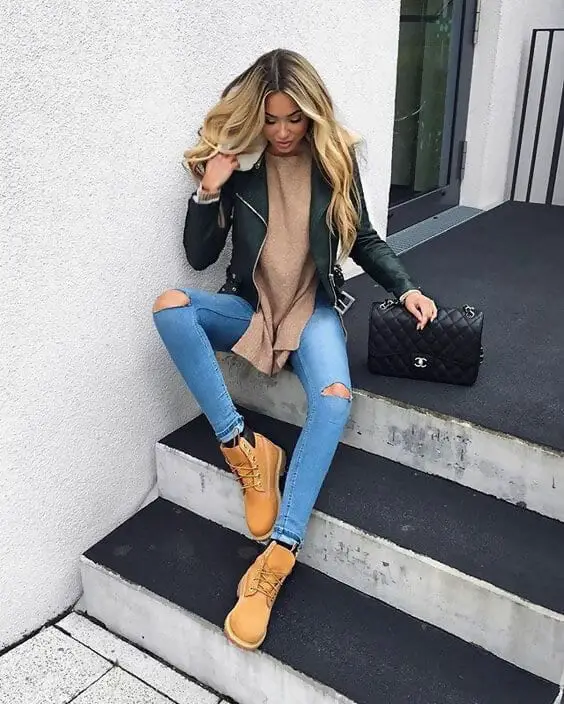 Timberland boots are also perfect for fall or spring, not only for winter. So if the weather is not cold enough for a jacket or sweater, wearing a plaid shirt on top of a tank top along with your favorite skinny jeans will create a super classic and simple yet cool look.
You can also wear your boots with long socks like this girl: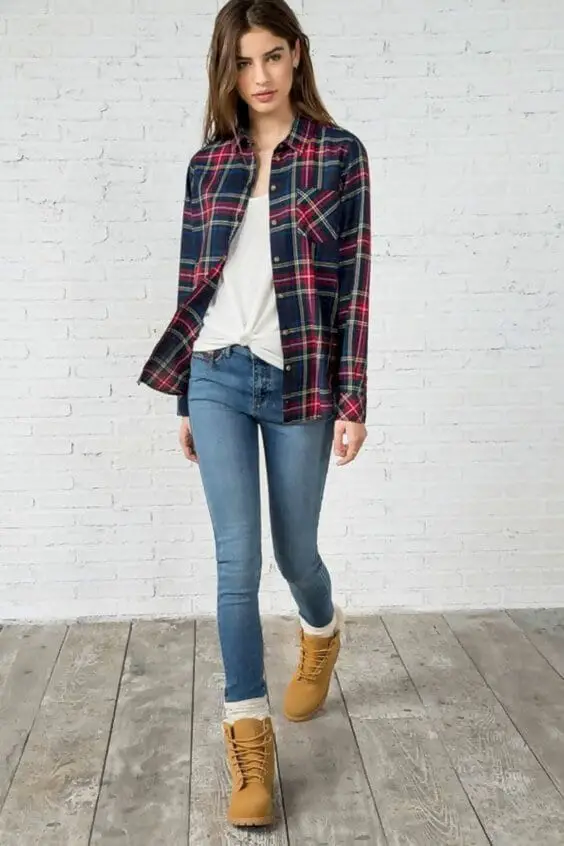 4. Timberland boots with dresses and shorts
As I've mentioned, Timberland boots are perfect for almost any weather (except for really hot temperatures). That's why you can vary the way you pair your boots: from jeans and leather leggings to dresses and shorts.
You can create a boho-chic outfit with a camel cardigan, a white dress, a hat, and your Timberland boots: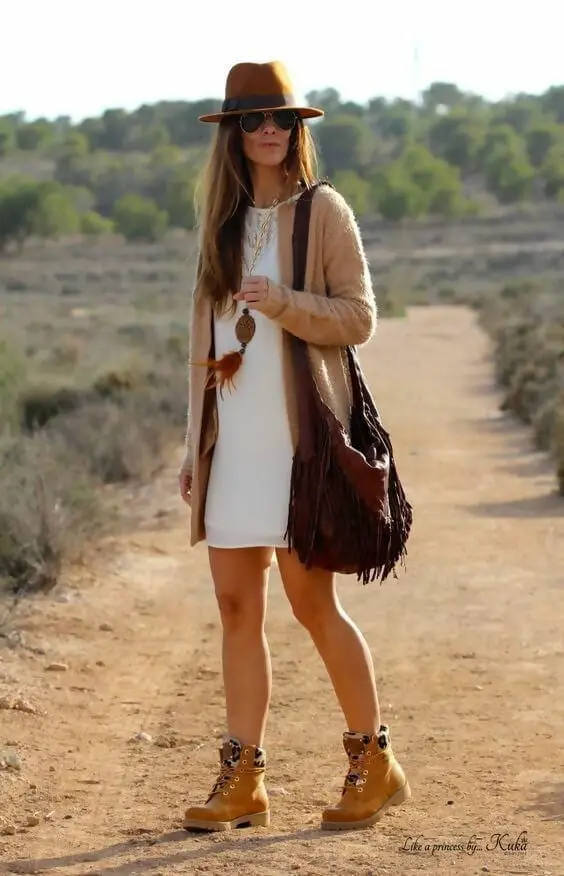 Or wear a plain black romper with a hat and your Timberlands. Something so simple and easy as this outfit can result in a super cute look: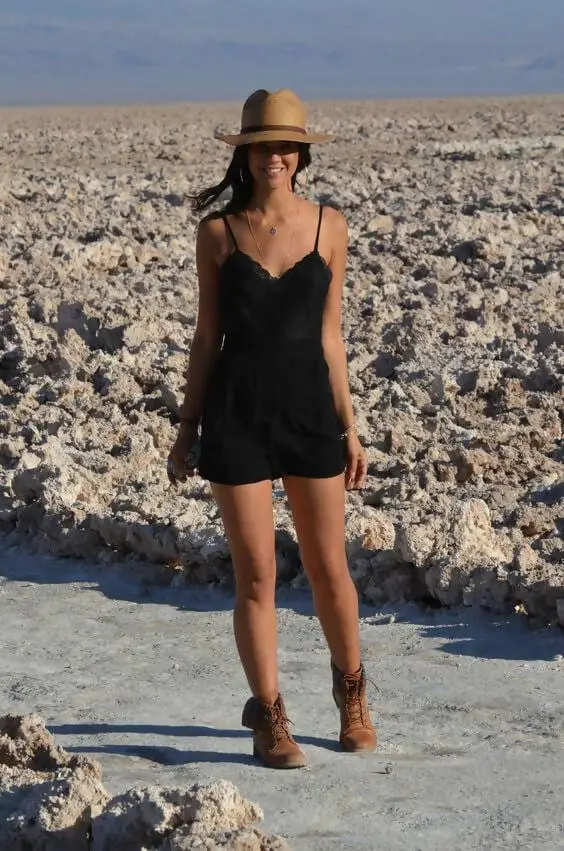 A knitwear dress with socks and boots are a cool option if you want a hipster outfit: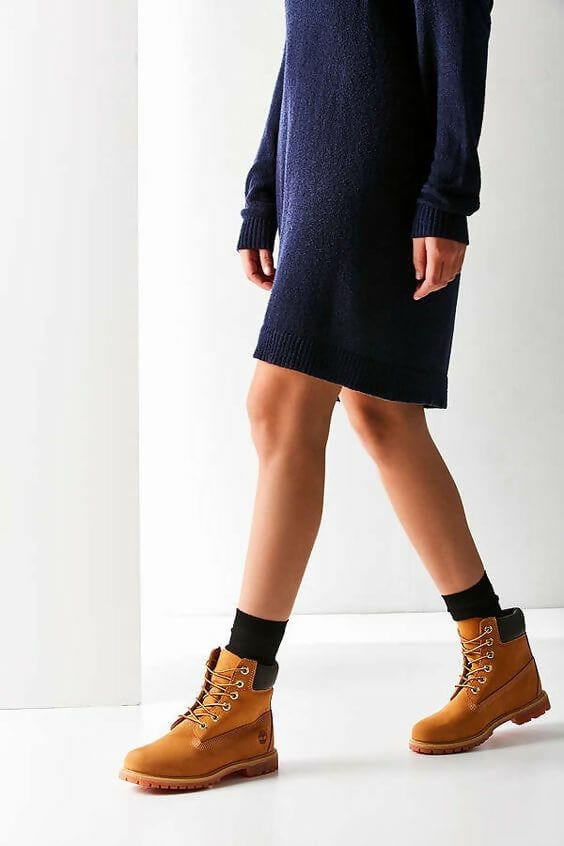 Another example of how stylish socks and Timberland boots look with a dress: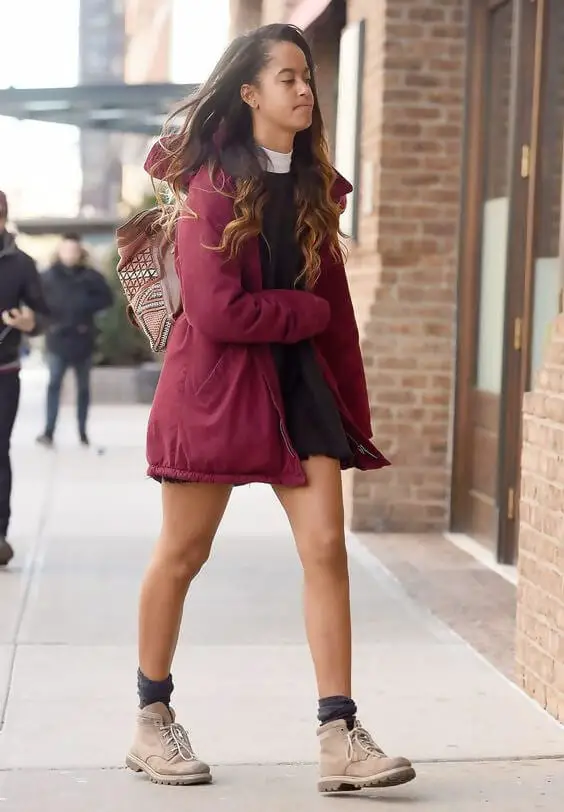 Denim short with camel boots can create the perfect outfit for an adventurous plan:
Transform your regular outfit into a chic and casual outfit with a plaid shirt and a tank top with a beanie hat and jean shorts: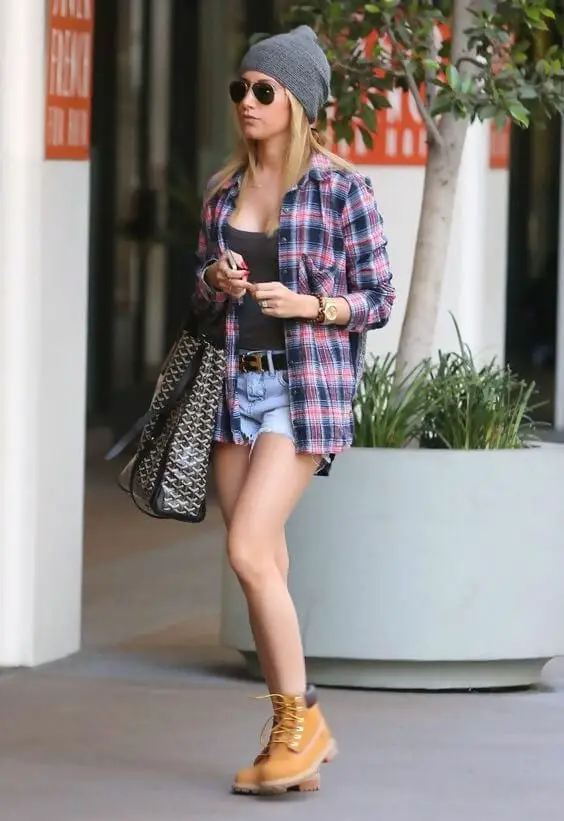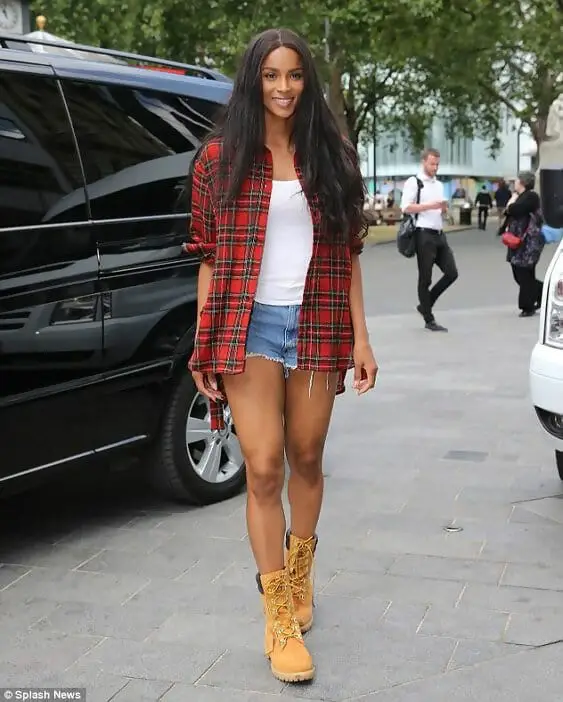 Or wear a type of short! For a chic look, an all-black ensemble never fails: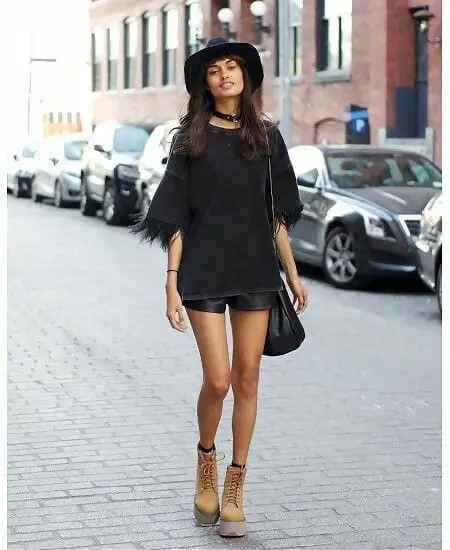 5. Timberland boots and street style
If I haven't given you reasons enough as of why Timberland boots are the most versatile and coolest shoes, check these street style fashion that showcases Timberlands in the chicest possible way.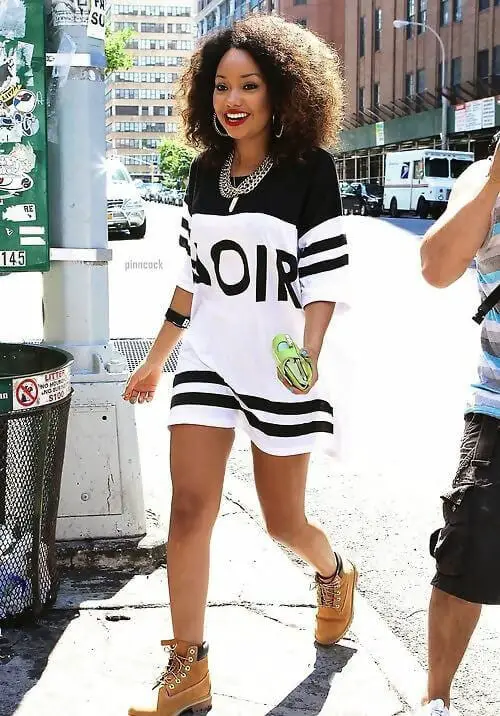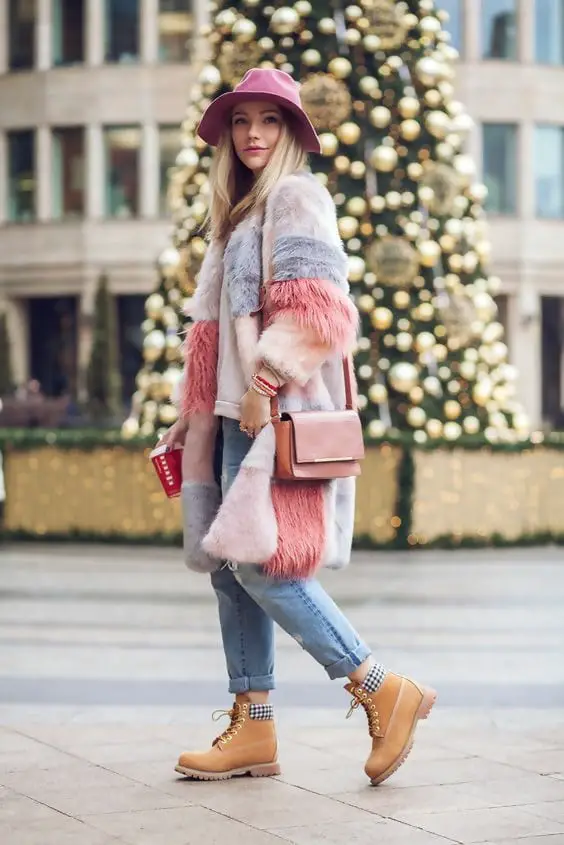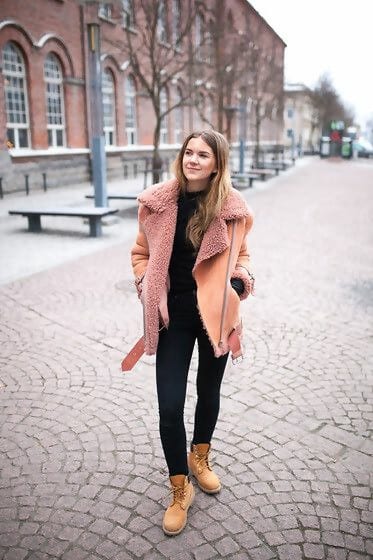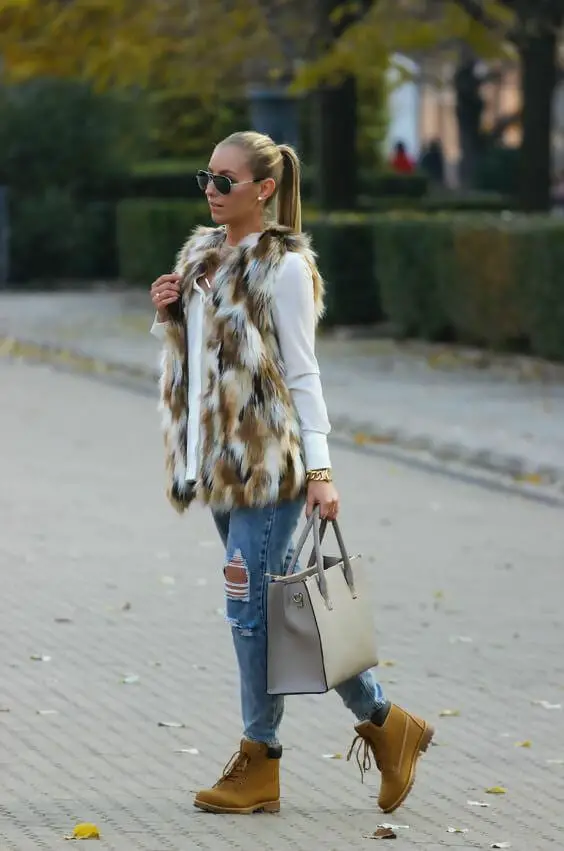 Wrap up:
If you thought Timberland boots are "nice shoes", then these 35 outfit ideas prove that they're much more than that.
They're versatile, chic, edgy, hipster, feminine, tomboy… you name it. They can transform any outfit into a cool outfit that fits perfectly into your own personal style.
That's why these ideas on how to wear Timberland boots demonstrate that these shoes are one of the best investments you'll ever make.