How to wear a leather skirt
Ever wondered what's a classic item that at the same time is extremely cool and stylish? Easy: a leather skirt.
Probably not the answer you were expecting, but I truly believe this item deserves a special place in your wardrobe. The main reasons are not necessarily because almost everyone wears it, but because it's also an edgy and super feminine item you don't want to ignore.
Plus, a leather skirt outfit can be super versatile and depending on the occasion, there are also so many different silhouettes and lengths that you can find in stores, making it easy to find one fits best to your unique style.
On the previous article, I explained how a leather legging makes every woman look gorgeous, chic and sexy regardless of their body type.
Same happens with a leather skirt. Even if there are some skirt types that don't fit as a tight as a legging, they're still made out of faux leather, which makes anyone look absolutely stunning.
What to wear with a leather skirt outfit
As most of the leather skirts are color black, you can pair yours with absolutely anything. The "rules" of how to wear yours will depend on the occasion of use.
To put it simple: wear super casual tops and shoes for day-time, and elegant or shiny ones for night-time or special events. Think of your leather skirt as a canvas, where the elements that you "adorn" it with will determine the occasion of use.
Leather skirt outfit ideas for different occasions:
1. Casual leather skirt outfit ideas
Black leather skirt
These two leather skirt outfits include a very comfy and casual knit top, and as you can see, the models have a relaxed hairstyle while barely wearing accessories. All these elements add up to their casual and laid-back outfit.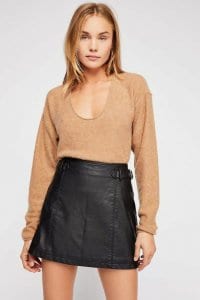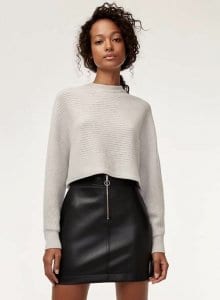 Shoes also play a major role in creating a casual leather skirt outfit. Sneakers or flat boots are great shoe ideas for this kind of look: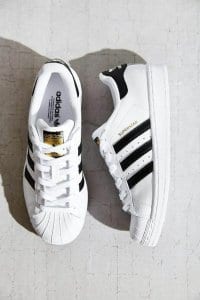 Other black leather skirt ideas are:
Grey t-shirt with a camo jacket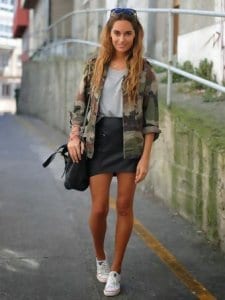 Another grey t-shirt with a denim jacket and a pair of super chic black platforms: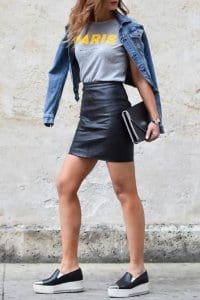 For those lazy days when you don't want to put much effort into your outfit, don't forget there's nothing simpler and stylish than a white t-shirt: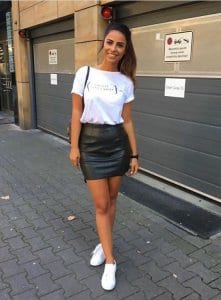 Another simple idea for your top is a white button-down shirt with your favorite sneakers:
As you can see in the last two pictures, the white sneakers are what give the ultimate casual touch. You can wear both of these outfits with high heels and have a completely different outfit.
An oversized cardigan can also make your outfit look super casual because it'll give you the same comfy and laid-back feeling as we saw in the first pictures: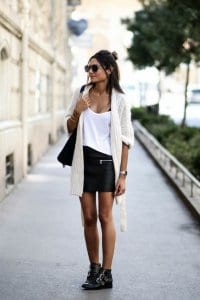 Or a chambray shirt, which will add a denim look to your outfit: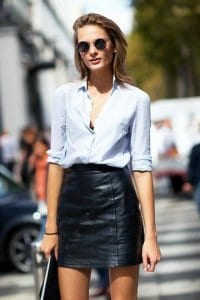 An I mentioned, I truly believe the most stylish way of dressing casual is by simply adding a t-shirt to your outfit: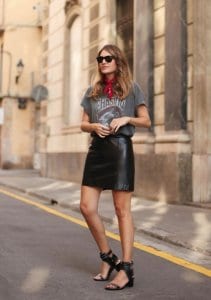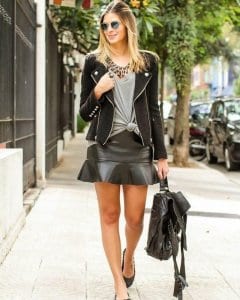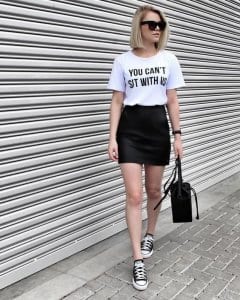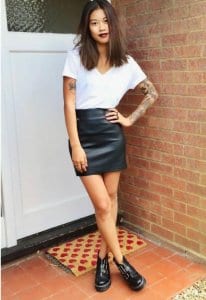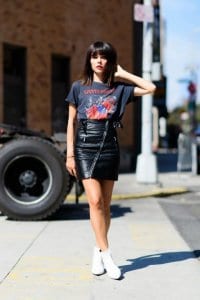 If you're still wondering what to wear with a leather skirt outfit, here are other cool and casual ideas that exclude t-shirts, giving other top options that you most probably already have in your wardrobe: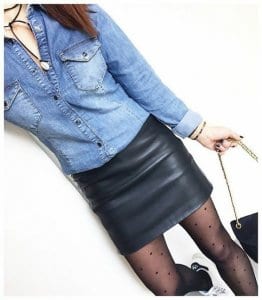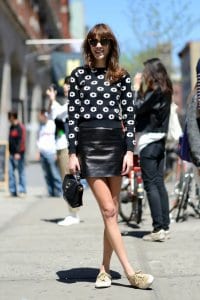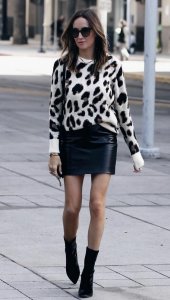 Camel leather skirt outfit ideas
What about a camel faux-leather skirt? The versatility that this color will give you is what will make you fall in love with it.
You can use the same outfit ideas I've given you and just substitute the black leather skirt for a camel one. Look how chic this color looks paired with a simple black t-shirt: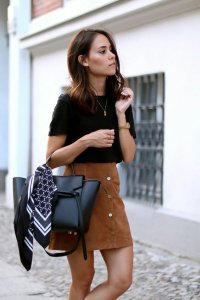 Again, the same skirt with a white t-shirt, sneakers, and a denim jacket: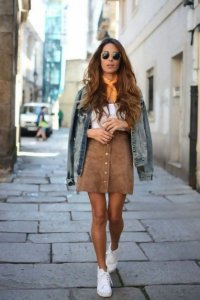 The same leather skirt outfit idea, except with some boho-looking items: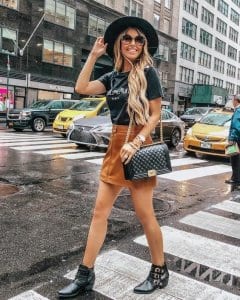 A soft cotton button-down shirt with a leather skirt looks absolutely feminine and fashionable: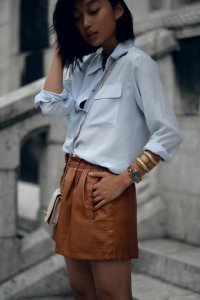 Wear a white shirt layered with a crew neck sweater for a preppy look: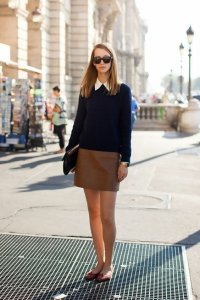 A striped t-shirt with a denim jacket and black lace up flats will make you look super fashionable: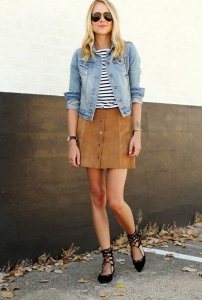 If you ever feel lazy of thinking how to style your leather skirt, remember a white t-shirt is the chicest and easiest way to pull out a perfect and casual outfit, just like we saw in the above examples.
Or literally any kind of white top: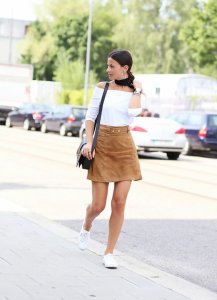 To add some texture to your outfit, opt for a lace blouse: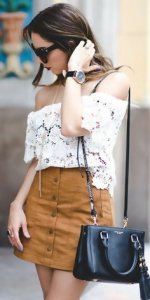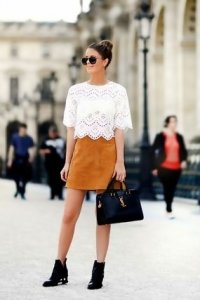 Casual leather skirt outfit ideas in other colors
Black and camel are the most common colors for a leather skirt, but other great color options that still can be perfectly adapted to the ideas I've given you are: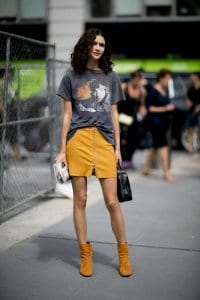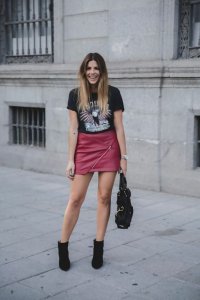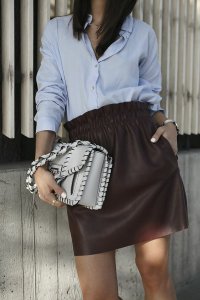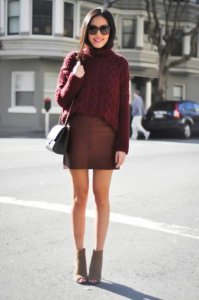 2. Leather skirt outfit ideas for work
A leather skirt looks absolutely great on any occasion, including your workplace.
For an appropriate work attire, opt for knee or midi-length skirts: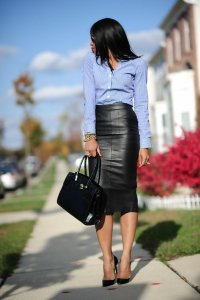 Adding a blazer to your outfit will also give you that formal element while minimizing the super tight look that a pencil skirt gives you: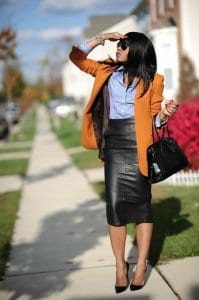 A denim shirt is also another chic idea for a work outfit. Again, a blazer or a cardigan can help your outfit look more appropriate: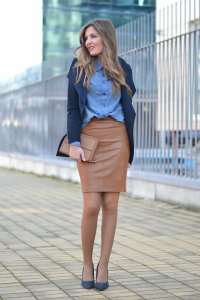 A white t-shirt with a cool jacket paired with the same leather skirt: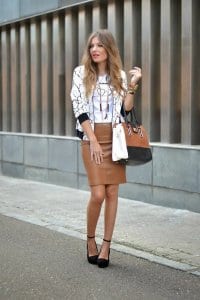 Another way of making your leather skirt outfit appropriate for work is half-tucking your top. A knit top, for example, looks super stylish paired with a pencil skirt: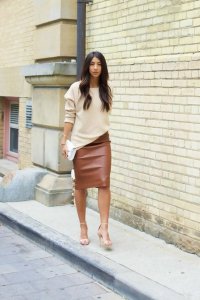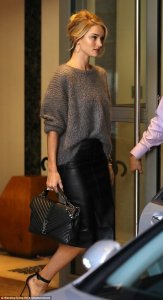 You can also completely untuck your top, though I suggest this option only for tall women:
If you're not curvy or have a leather skirt that is not very tight, you can definitely tuck inside your top: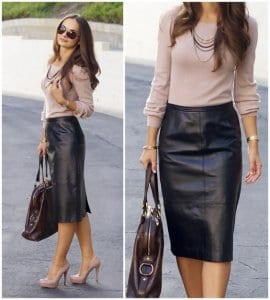 3. Festive leather skirt outfit ideas
Leather is the mother of chicness, and the below examples support my theory. Just pair your leather skirt with sequins or shiny tops, a pair of super chic high heels, and a cute clutch: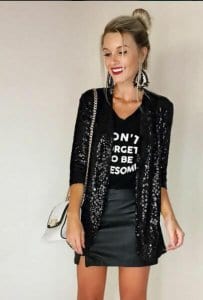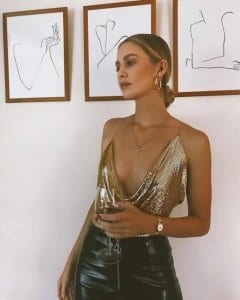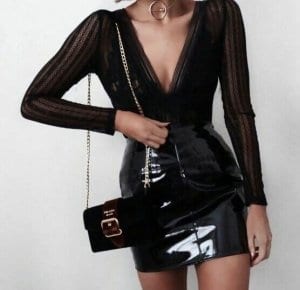 Or just wear any cute black top: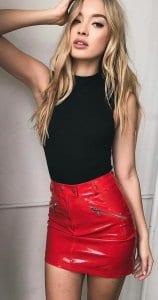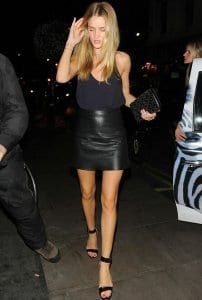 Other styling options for your leather skirt are stockings and a leather jacket, which will give you an edgy look to your formal outfit: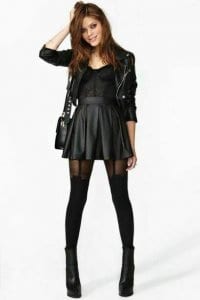 Party outfits don't necessarily mean wearing short skirts. You can perfectly wear a midi leather skirt for any night-time event: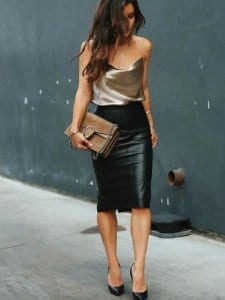 A see-through top will also give you a sexy look to your leather skirt outfit: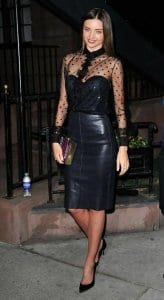 Even a t-shirt is completely approved: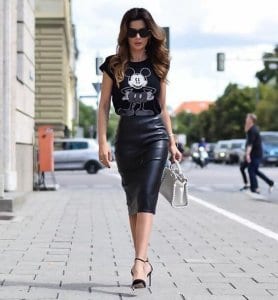 Wrap up:
A leather skirt outfit can be 100% adapted to any occasion, day and night-time events included. As I've shown you, it all depends on how you style your skirt.
This is one of the reasons why I believe you should own at least one type of leather skirt. It's a worthy investment, as it will make you look super fashionable regardless of the occasion of use.
I hope this article has given you lots of inspiration if you're struggling to find ideas on what to wear with a leather skirt outfit.
Don't make the mistake of thinking leather skirts look good only on fashion bloggers. You are perfectly capable of rocking a leather skirt outfit!