In the past couple of years, pencil skirts have shimmied out of offices and workplaces and made a successful entry into the world of basic outfits. Girls out there who have been taking pencil skirts as a mere corporate dress code must give a second thought to pencil skirt as an essential spring/summer staple. We don't say so; Spring Summer 2018 runways have proved it. Before you plan to buy a few, let's just dig out a few basic rules to wear it fashionably.
Basic Rules of Wearing a Pencil Skirt
Read on to know how the women with different body shapes can flaunt a pencil skirt fashionably.
Appropriate Length
With a pencil skirt, length plays a significant role. It must be somewhere around the knees. Both too short or too long can ruin the whole look. If you like a piece and it is not the right length, just go to your seamstress and get it resized according to your demand. An appropriate length of tops is equally important—avoid tops that are too long.
Right Fitting
Keeping in view your own body type, just be sure that the skirt is fitted gracefully and it is not too tight. Fitting should be reasonable, especially around hips and waist. If walking forms horizontal wrinkles on your hip area, that means your staple is too tight. Make sure that it is easy for you to move (and sit) around in this versatile piece.
Rolled up Tops
Girls with shorter frames often ask us for some fashion advice for pulling off a pencil skirt. What if they are not like those willowy models hitting the ramp? They must feel confident and pair up their pencil skirts with nipped or tucked in tops to avoid a swamped look. Doing so actually helps in creating a lean and long silhouette.
Height with Heels
Whether you have a petite body or not, it is always recommended to wear heels with a pencil skirt—it accentuates your overall look. In winter, we have choices like ankle or long boots, while in summer, you can go with kitten heels. Avoid wedges as they might give a casual look—which is not acceptable for pairing up with something as classy as a body-hugging pencil skirt.
Switch Between the Seasons
Every season offers a variety of fabrics. Go specific with each season. As it is summer now, go for pastel shades and lighter fabrics. For winter, knitted and black leather skirt are the best recommendations.
Pulling off Long Pencil Skirt
If you are wearing a pencil skirt that is longer than normal length, you can get a balanced look by hiding the waistline area with a loose fit or over-sized top.
Round Tummy Body Shape
Pencil skirt outfits are something that looks nice on females with flat tummies. Those who do not have one, don't be sad. We have a really nice fashion trick to hide this so-called deformity. Simply pair up your pencil skirt with an empire waist top or layer up with a cute blazer or jacket—it is the easiest way to get the illusion of a slimmer tummy.
Accentuate your Waistline
If you believe that you have a sexy waistline, just highlight it by adding a narrow belt.
Proportionating the Hips
Women with inverted triangular body type are often seen complaining about smaller hips with broader shoulders. To proportionate the hips and to get a balanced look overall, give a try to pencil skirts with pegging. It would help in highlighting the hips.
Balancing the Torso
Girls with triangle body shape want to create a balance between wider hipline and narrower torso—especially when they wear a pencil skirt. Pair up the skirt with tops having ruffled detailing. It helps in adding bulk to the upper body part and you get a proportionate look overall.
Color Game
Over-weight ladies who wish to wear a pencil skirt this season, we have a very nice fashion hack to offer. Go for darker shades for your skirt. Dark colors help in camouflaging the bulges of the lower body part while lighter tones tend to accentuate the curves.
Top 10 Pencil Skirt Outfit Ideas for 2018
Are you looking for some of the most trendsetting outfit ideas for pulling off a pencil skirt? Just keep on scrolling to find top 10 ideas for the most amazing looks that you can have by incorporating this basic outfit.
Lace Pencil Skirt
Are you planning to get a classy look in hotter days? Try out the amazing varieties of lace pencil skirts. Available in multiple hues, but my personal favorite is always a white pencil skirt with lace detailing. For an added flair of elegance, pair it up with a light-colored top—especially for daytime. Something like this…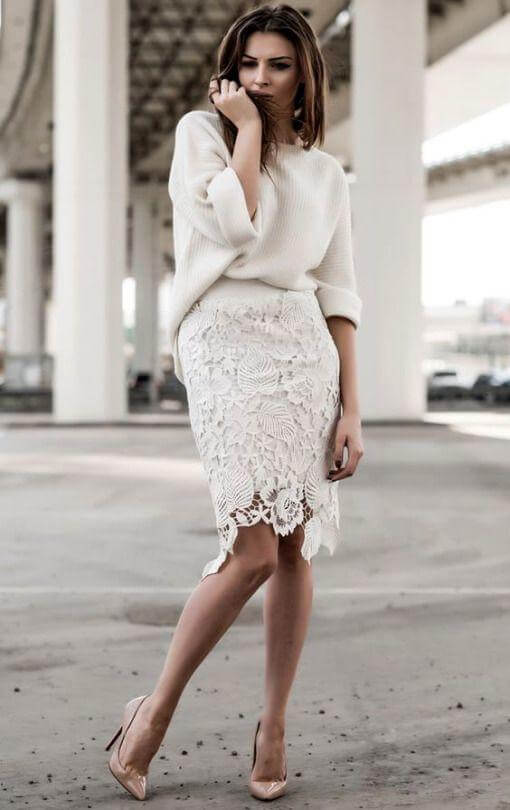 Denim Pencil Skirt
Your summer fashion collection can never be completed without some denim pieces. Denim skirts are one of them. These are simply amazing for street style, especially when you wanna walk or lounge around with your BFF. As denim is a tough fabric, it is always good to buy a skirt with a slit opening on front or back. Slit makes it easy for you to walk.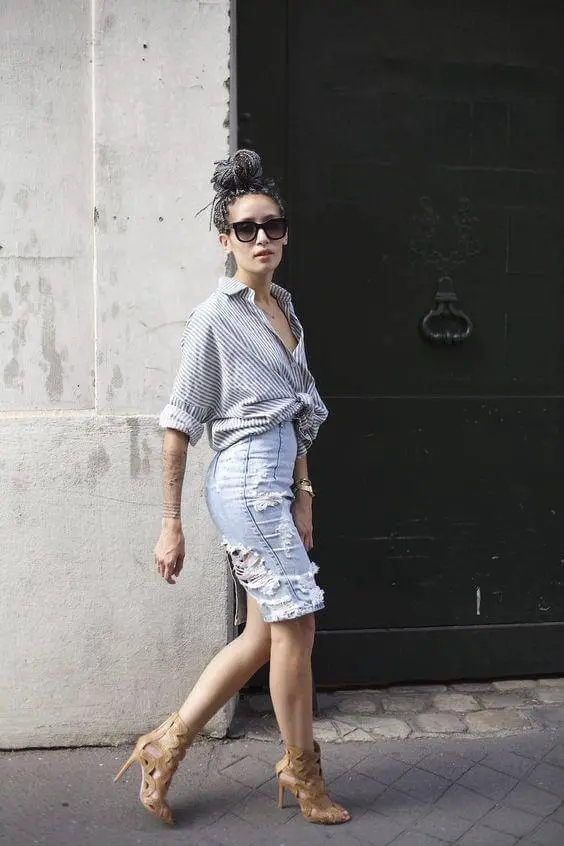 Striped Pencil Skirt
A vibrantly striped pencil skirt will put a new spring in your whole outlook. Just check out this image below. The combo of bright stripes with a denim top seems ideal for the hot season.
Leopard Print Pencil Skirts
Bottega fashion collection has showcased some amazing pencil skirt styles for spring 2018. Leopard print is something that all of you should give a try, especially in the night out summer sessions.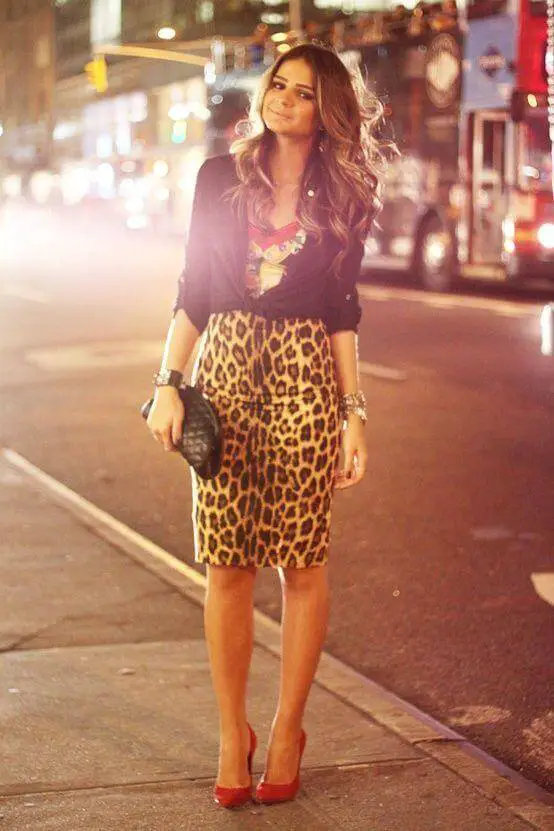 Sheer Pencil Skirts
Something sheer is going to be the biggest trend this summer. Pencil skirts are not an exception. See it for yourself.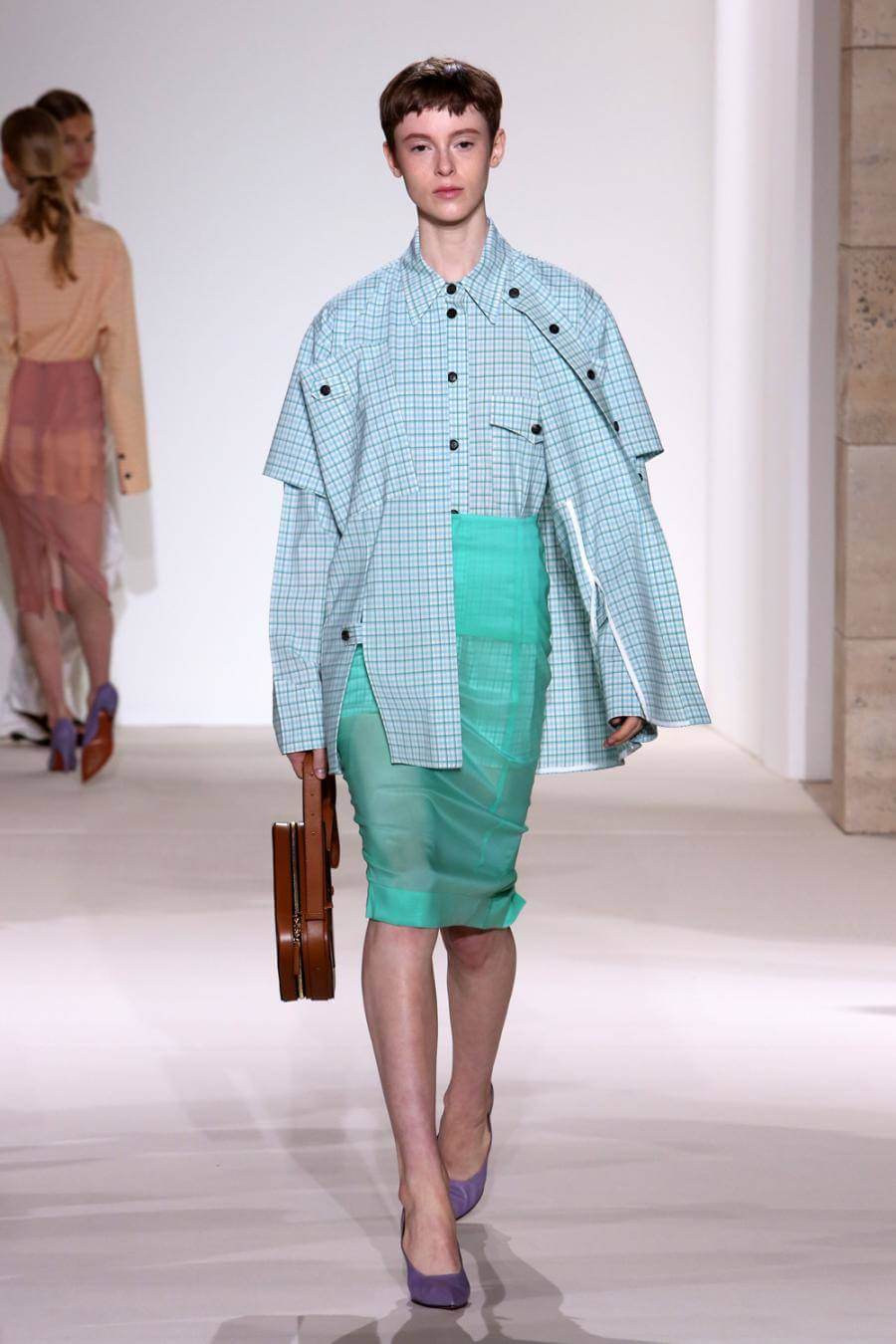 Picture credit:www.standard.co.uk
Pencil Skirt with Eye-Catching Prints
Are you a fun-loving soul? You need something chic like a printed pencil skirt. As long as you are pairing it up with the right kind of accessories, it would seem flattering from every angle.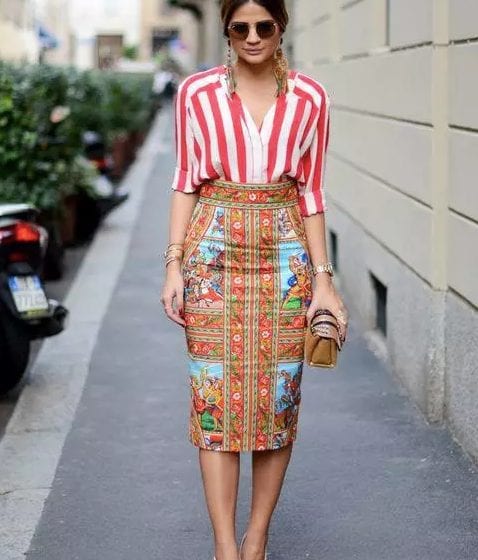 Dark Pencil Skirt and Light Top
Settle on a dark skirt like navy or black pencil skirt paired with brightly hued tops. It would help in balancing out your body by giving a slimmer look to the bottom half of the body.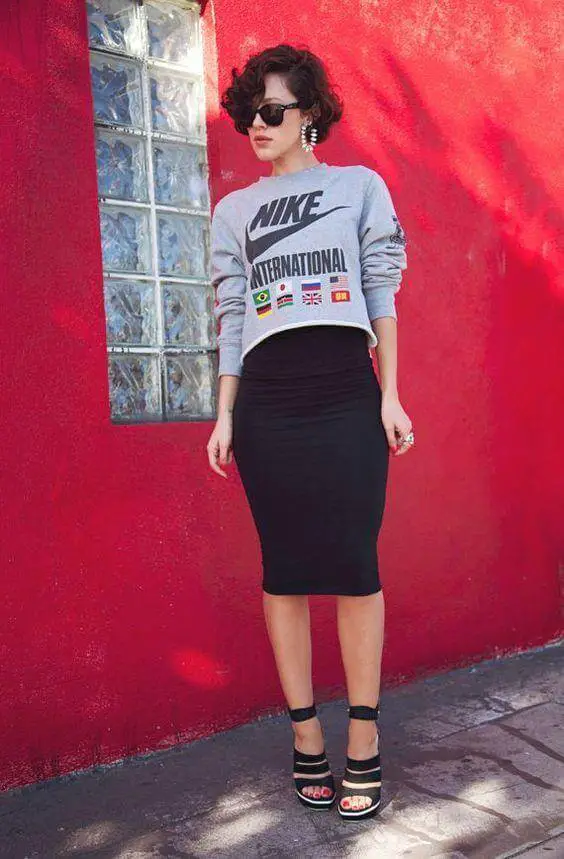 Midi Pencil Skirt with a Mishmash of Colors and Prints
Midi pencil skirts are suitable for all occasions; from parties, wedding to offices, they always flatter your figure. Fun loving girls must add some fun-filled colors and prints in this basic outfit. How about wearing a red pencil skirt with a checkered top?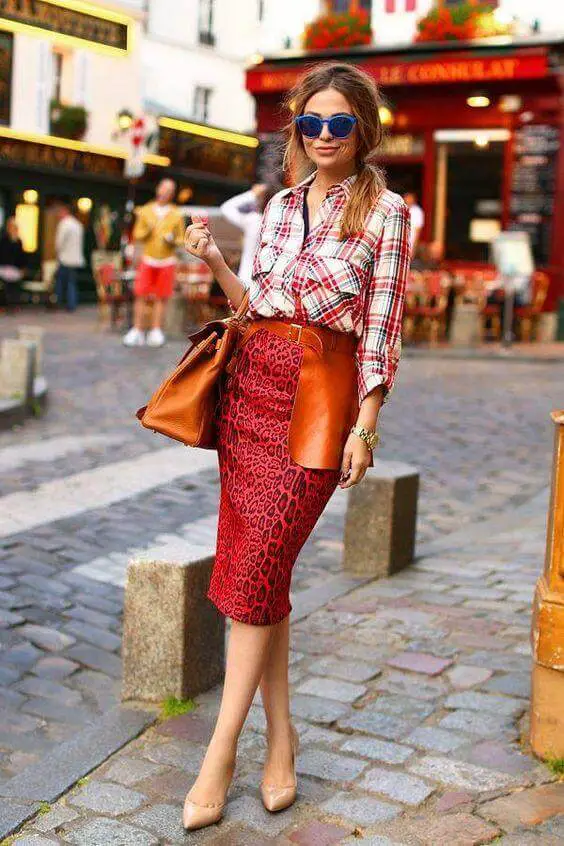 Pencil Skirts with Tee
As we are talking of summer fashion, pairing up a floral pencil skirt with a tee is the way to go. Check out the image below for visual advice.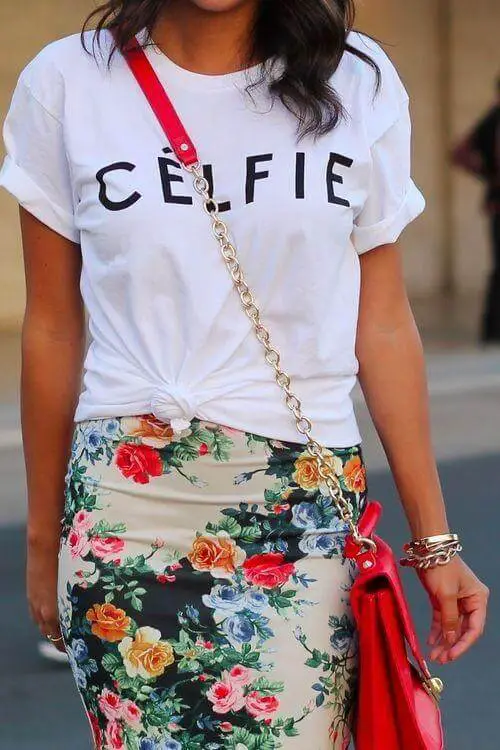 Checked Pencil Skirts
Checks are making a comeback this season. Try checked pencil skirt with a plain top. And yes, do not forget to accessorize with high heels.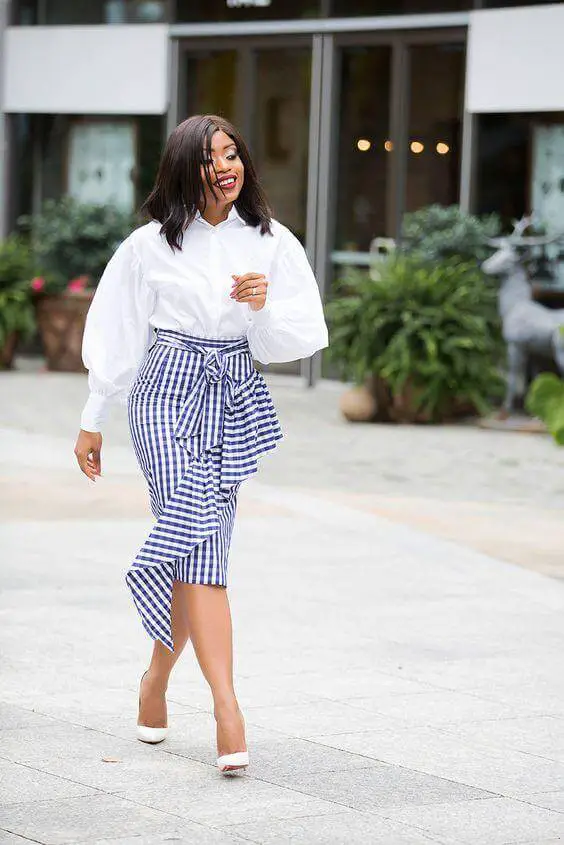 Wrap up:
With a fitted and straight silhouette, pencil skirts are normally believed to be suitable for slim and elongated body type only. But that does not mean that petite girls can't wear it. In our comprehensive fashion guide above, we have proved that girls of every body type can flaunt their curves in pencil skirts. We hope after going through this article, things would have been a lot clearer for you.