Have a wedding reception coming up and don't have a dress idea? Worry no more ladies, for we are here to give you all the inspirations of beautiful purple outfits. Wedding receptions are where people usually prefer to wear cool tone colours as the whole ceremony tends to have a very subtle and romantic vibe. Often ladies spend hours on their closet figuring out what to wear and which colour would be most appropriate.
Learn more about wedding dress – What to Wear to a Fall Wedding: 30 Seasonal & Chic Outfits 
Well, a lady, for a wedding this season, purple is the colour that you must go for. It is in trend and highly sophisticated as well. Without further due, let's get on with the looks ladies.
1.The Bridesmaids Dress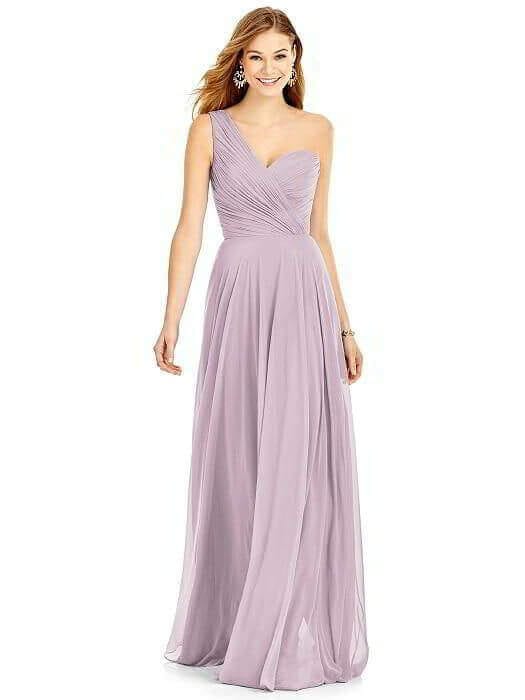 We have to begin with the bridesmaid dress now, don't we? So, all the brides out there who are in the hunt for a pretty purple dress for your bridesmaids must have a look at this light, dusky purple gown.
This dress speaks up two things, modern and elegant. The light satin fabric will give the most elegant vibe to the ladies and infatuate their figures as well.
So all the beautiful bridesmaids out there, this one's for you all.
2.The Mid Length Outfit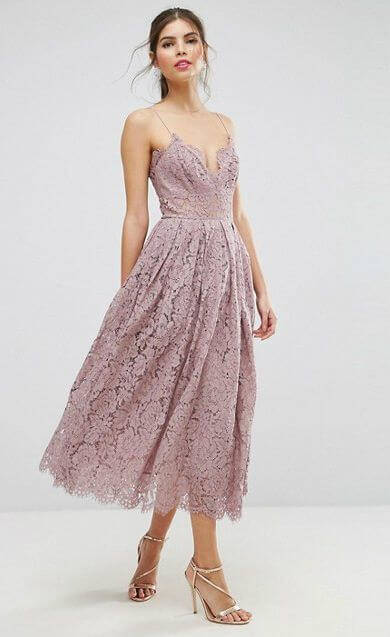 Are you looking for the perfect purple mid-length dress for your friend's wedding? Have no worries as we got your back in this one.
Mid-length dresses are the absolute epitome of classy and gorgeous. This lacy light purple dress will make the ideal outfit for any wedding reception event. The neckline and subtle flare of the dress makes it appropriate for a wedding event and the reception party afterwards as well.
The best part is the slightly cringes waist that will give you that beautiful hourglass look that all you ladies want.
3.The chic and high fashion dress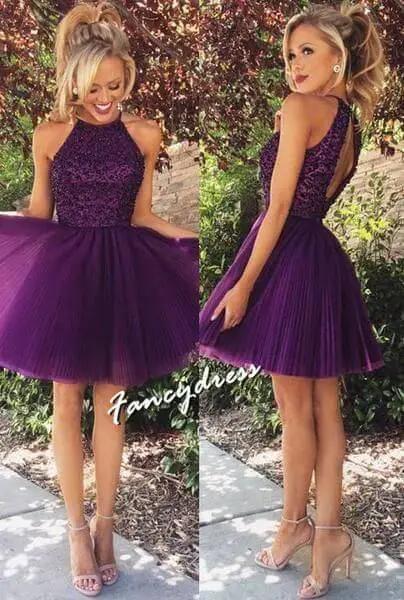 Are you someone who likes to pump the look up a notch and love a more chic detail? If yes, then this dress is a match made in heaven for you girl.
Let's get real ladies, there are some of us who don't like to dress up classy at all wedding events and really like to bring out the fashion queen within.
This short cocktail outfit is perfect for wedding receptions as well. It is high fashion and very modern. The high neck detail on this one will really bring out the best diva in you.
4.The Plump Purple Sleeveless Dress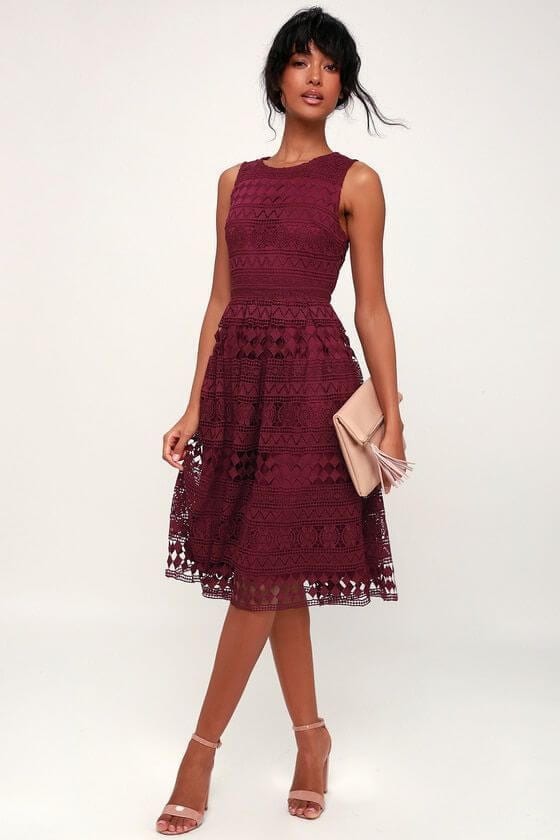 Ladies, do you have a plump purple dress that you think will be too bold for a wedding reception? Not at all ladies, for this rich purple is the shade everyone is raving about these days.
The best part about this purple outfit is its lacy detail. If you want some similar lacy dresses you must have a look at Self Portrait's Outfits.
The cringed high waist will give a very modern and flattering look which is perfect for weddings. Just pair it up with s nice pair of heels and put up an elegant bun and you are all ready to do.
5.The Diva Dress to Rock at a Wedding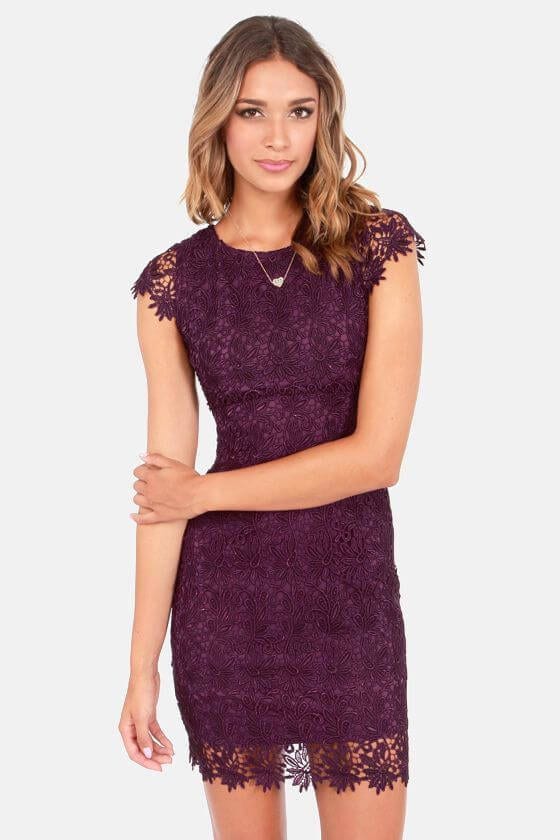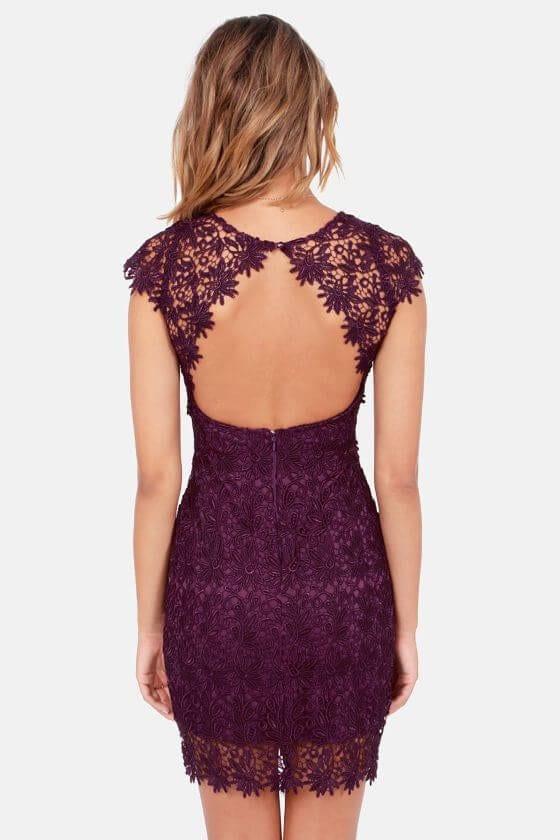 Do you want a dress perfect to sit on the wedding ceremony and yet high fashion to rock the wedding reception party afterwards? If yes, then have a look at this beautiful lacy purple dress.
The high neck fitted purple outfit is everything you can demand in a classy dress for a wedding ceremony. It is modern and yet has a very fashionable outlook.
The best part is the back of the dress. If you ladies are looking for something chic and stylish to rock your best friends' wedding reception, then this outfit if made just for you girl.
6.The off-shoulder Purple Dress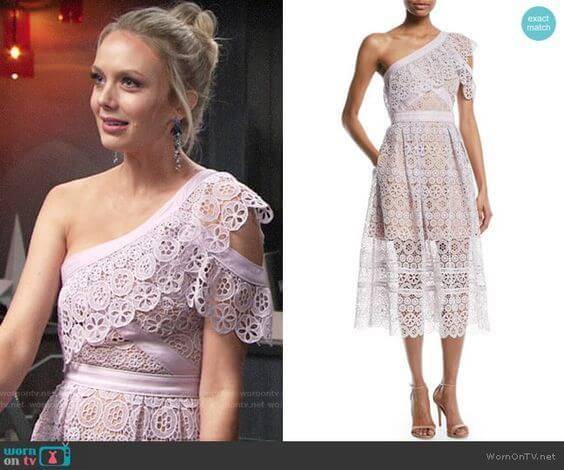 Are you someone who loves off shoulder dresses? In that case, this dress will suit you ideally.
This is a very light and elegant shade of purple ladies and it is a definite head-turner in any wedding ceremony ladies.
Not only is this dress super classy, but this one-shoulder off the look it is extremely in trend these days and perfect for reception parties as well.
The softness in the shade of purple will really complement the romantic wedding ceremony and will look gorgeous on you.
7.A Purple Dress For the Bride Herself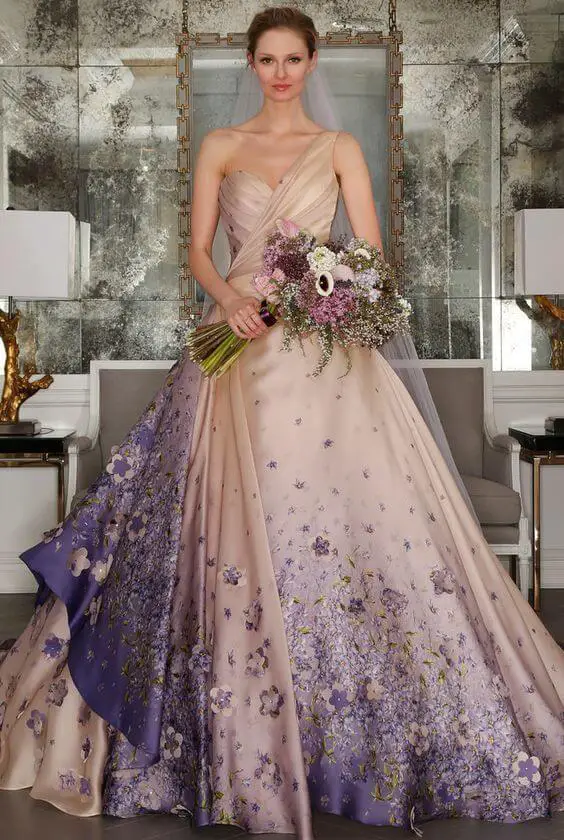 Are you a bride to be and want something purple for the dress instead of going with the traditional white? Well, girl, you are in the right place.
We must have something for the bride as well when we are talking dresses. To all those beautiful brides who want to wear something a bit colourful for the day here is something for you.
This ball gown purple wedding dress is the essence of absolute beauty. Any girl would love to walk down the aisle in this beautiful flared up dress for their special day.
Don't forget to get a matching purple bouquet to complement and tie up the entire look the lovely brides.
8.The Long Gown Dress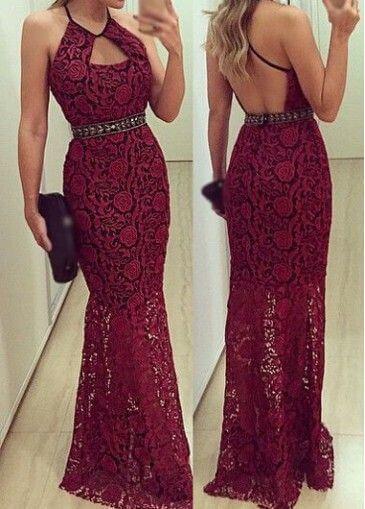 This beautiful long fitted dress is all that you need for wedding reception ladies. It is very classy and chic at the same time.
The Sequin belt on the waist really will add up a touch of fashion to the dress and elevate its overall look.
Do you think this will be too much for a wedding event? Not at all ladies, this one is perfect for gorgeous wedding receptions.
It will even make a perfect maid of honour dress, just giving a tip to those beautiful brides for picking this gorgeous dress up for the best lady. After all, you have to give the maid of Honour something a bit more styles now don't you?
9.The Fitted knee Length Dress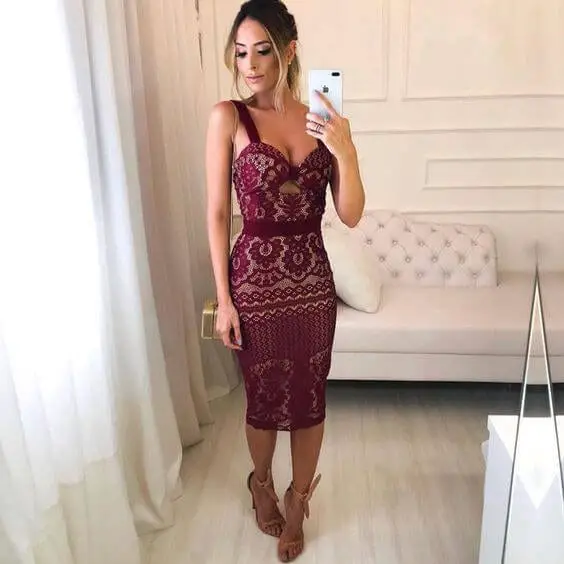 When it comes to wedding receptions, tightly fitted knee-length dressed never seems to fail. Bold and deep plum purple colours look spectacular if combined with a fitted dress.
Ladies if you are looking to wear something a bit bold and chic then this dress is just for you. It will give you an hourglass look and look a stunner in the event.
The detail of a lacy purple dress is really brought into focus with the contrasting inner lining of the dress. It screams out classy and sexy in one single outfit.
10.The Sophisticated Outlook For a Wedding Reception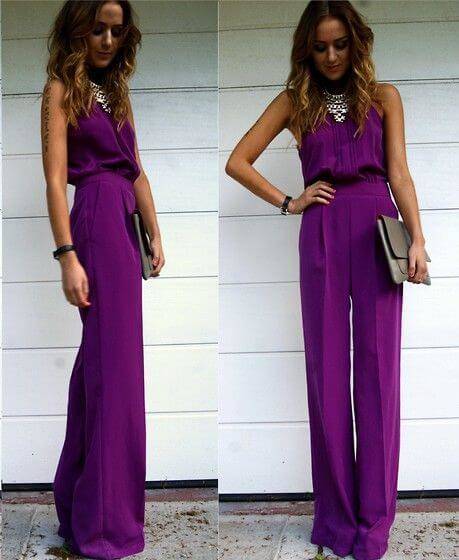 Are you one of those who not a very big fan of dresses in general and want to avoid flared gowns and dresses for the wedding? We worry no more ladies as we have something for you as well.
Whether it is a cocktail party or an elegant wedding ceremony, you can always dress up in a fashionable flared jumpsuit.
This rich purple jumpsuit with flared pants is everything that you can ask for an outfit to wear on a wedding. Yes, it might not be a conventional girly and dressy outfit but it is very modern and classy.
Conclusion
Weddings are cheerful and romantic events and an elegant colour like purple is perfect to bring a dash of joy in the ceremony.
From the bride herself to the guests, everyone can absolutely rock a purple outfit in a wedding ceremony effortlessly.