Who would have thought that someday people will actually write articles about wearing sandals with socks? I think Anna Wintour still trembles just by hearing these two words in the same sentence.
And honestly, who can blame her? Sandals with socks are not the easiest combination to pull off in a stylish and chic way. There's a blurry line between looking like a grandma or looking like a fashion pro.
But honestly, can you wear socks with sandals? The answer is a complete YES. All you have to do is learn how to differentiate this blurry line in order to be positioned in the right place.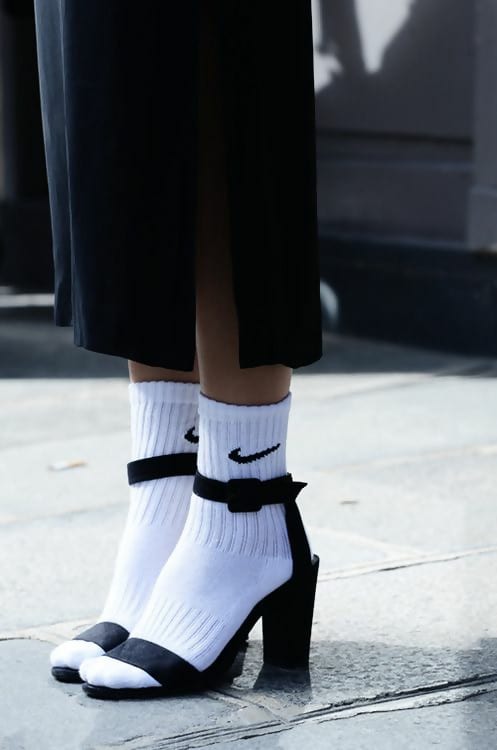 Socks with sandals trend
You may already know that fashion trends can sometimes make no sense at all but still manage to look absolutely chic. This is what happened a few seasons ago when we first saw fashionistas rocking this trend.
Wearing socks with sandals became trendy thanks to the likes of high fashion brands like Dries Van Noten, Balenciaga, and the ever-classic Chanel. How did the typical tourist dad style become a thing is still a mystery, but fashion "influencers" jumped right in showing us different cool (and not so cool) ways of wearing this combo.
So, if you're curious and want to spice up your outfits and take your style to the next level, socks and sandals will definitely come to the rescue. I'll show you the best (and safest) ways of pulling off a chic outfit by wearing socks with sandals in the right way.
Socks and sandals fashion
As I've mentioned, there's a thin line between what you should do and what you should definitely stay away from. The most important things you have to keep in mind in order to look like a total fashionista are the following 7 points.
How to Wear Sandals with Socks
1. Matching colors
If you want to try this trend but still find yourself with mixed feelings, the best way of doing so is by wearing socks that match with your sandals' color. This is a subtle way of showing your unique sense of fashion while not being so obvious about it.
So if you don't want your outfit to scream "sandals and socks", recreating this tip will be my best advice.
Wearing a black and white outfit can never go wrong. You can make the most of it by wearing your sandal heels and socks and, if you can see, from far away it looks as if she's wearing a chic pair of mid-calf boots.
Black socks and sandals will be your go-to combo for a head-turner look: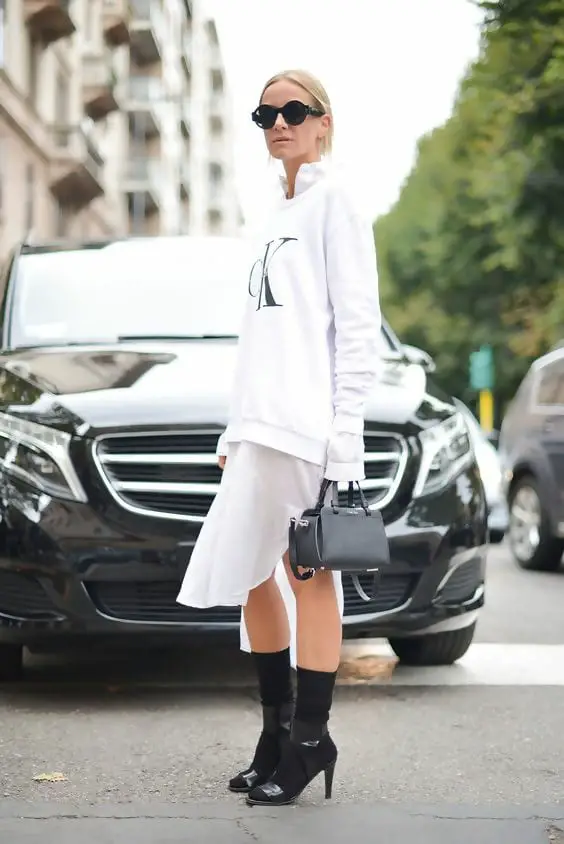 But if color is what you revolve around, then you can check these examples. They're edgy, feminine and absolutely fashionable.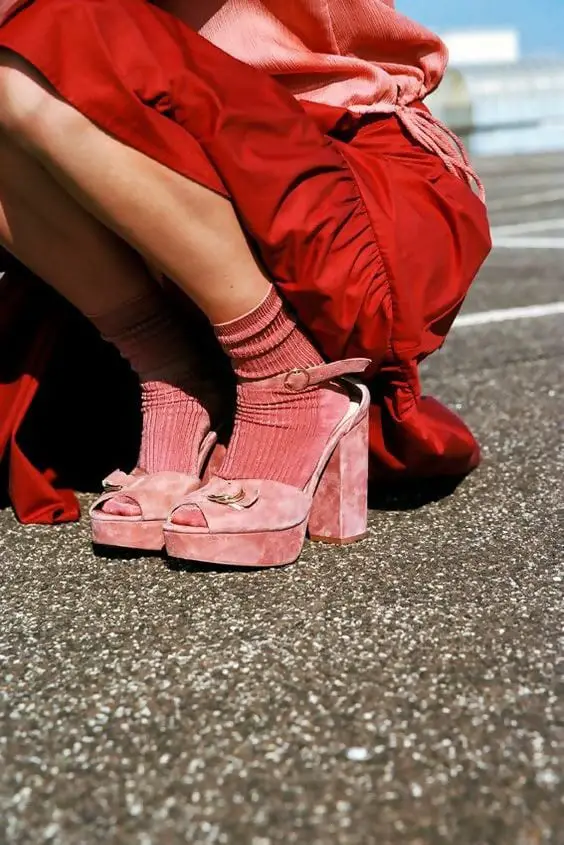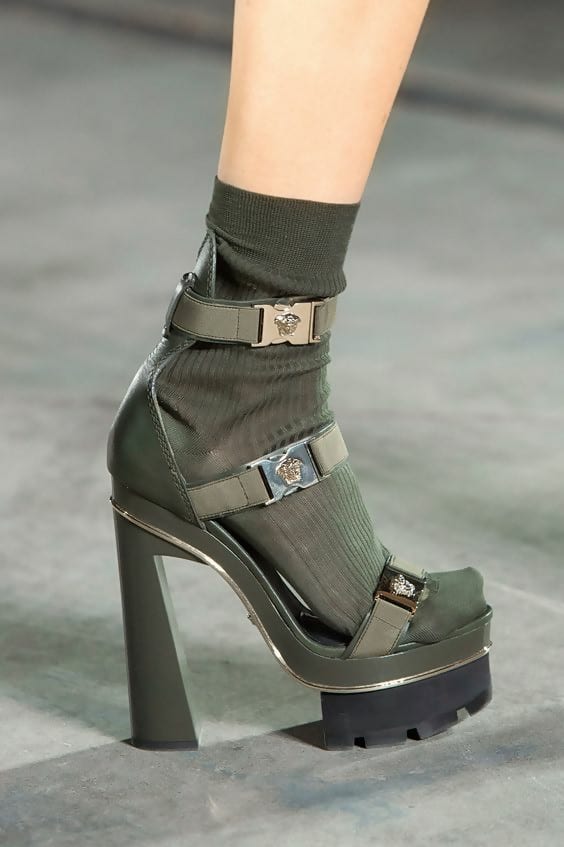 You can always opt for flat sandals: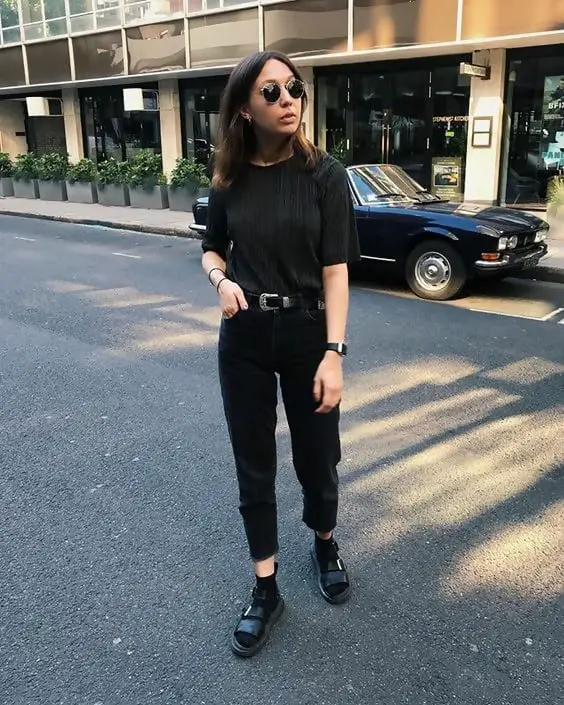 Or if you want a goth and rocker look, what better way than wearing an all-black ensemble with chunky platform sandals?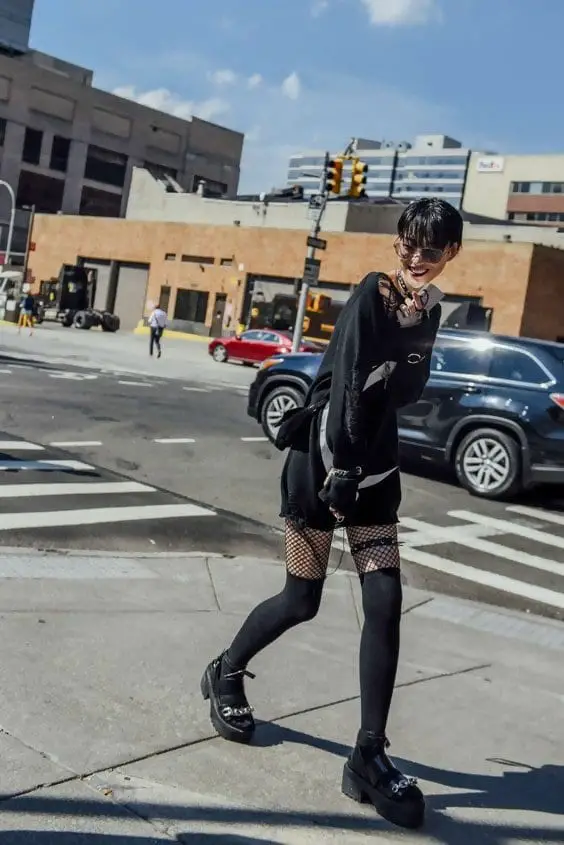 2. Low contrast
I know that finding socks in the exact same color as your sandals may not be that easy. An alternative is to opt for colors that don't make that much of contrast together.
For example, these shoes have a camel and dark emerald green while the socks have a darker shade of camel on the stripes. In that way, both socks and sandals harmonize together without making a strong statement but at the same time showcase your fashionable style.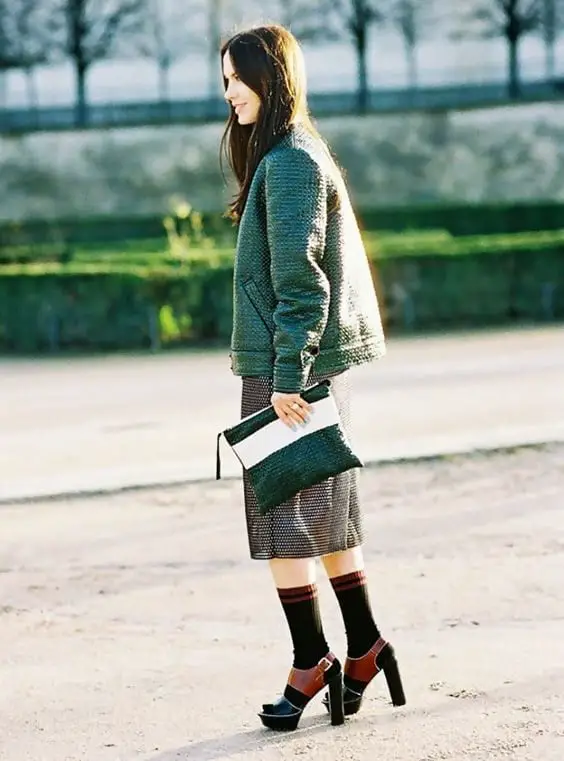 Here are other examples: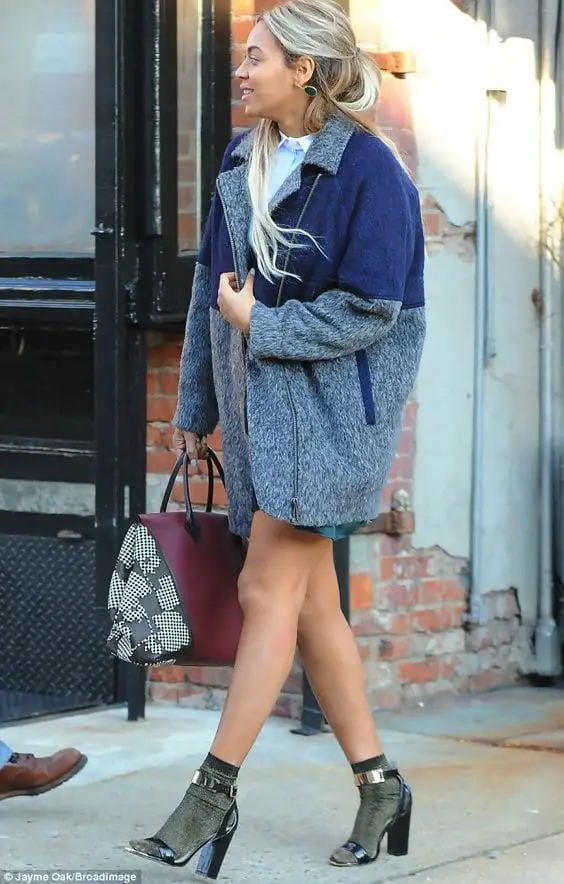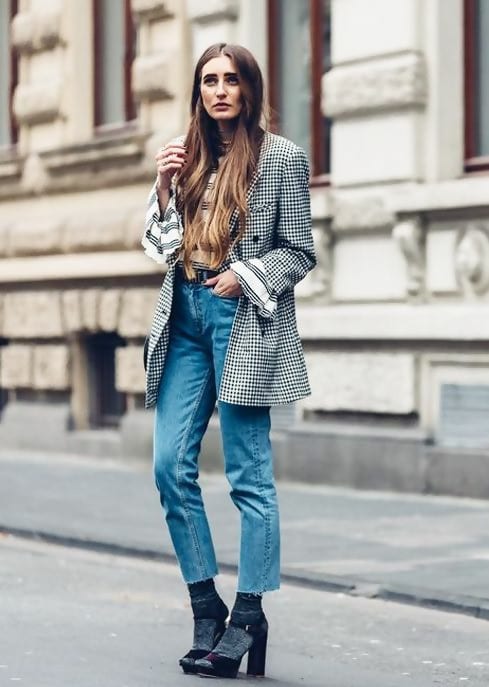 Before buying socks especially for your sandals, take some time to think what's the best length. You can wear over-the-knee socks or ankle length socks. Personally, I prefer mid-calf or ankle length socks: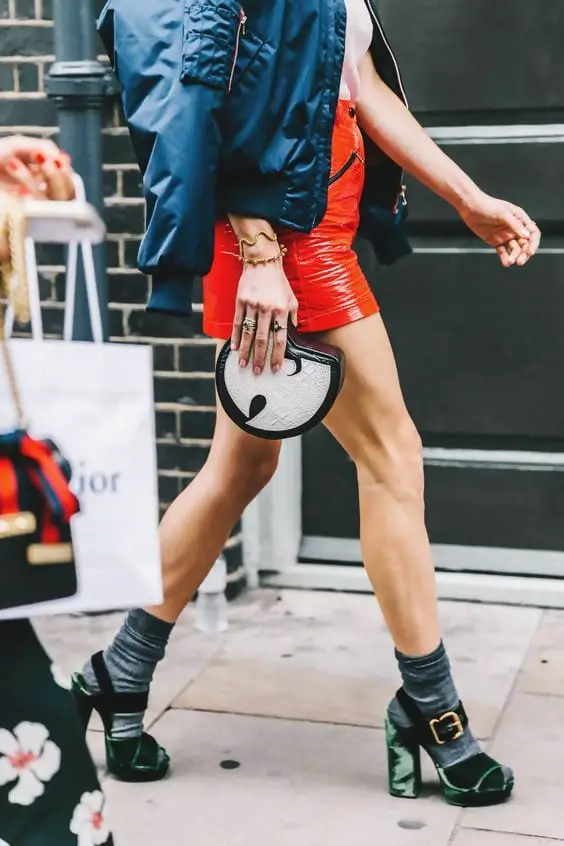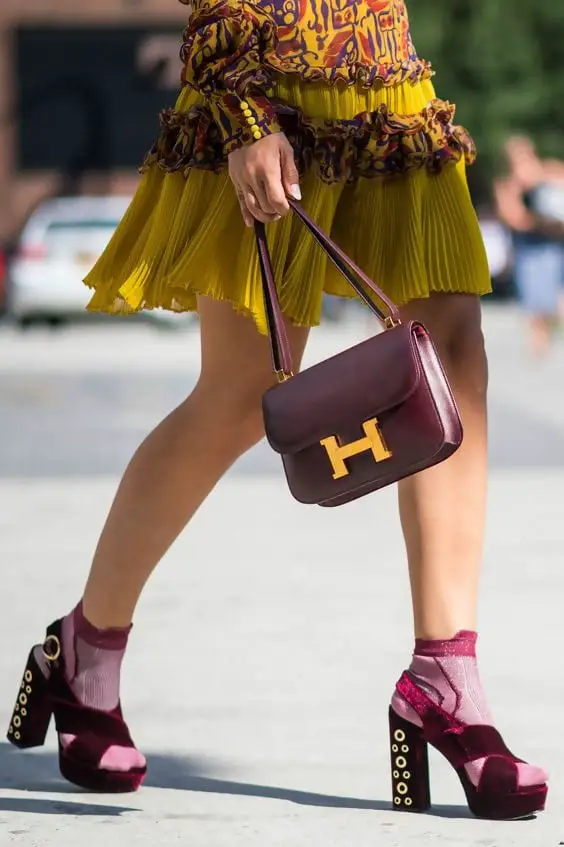 You can also choose socks with lace details: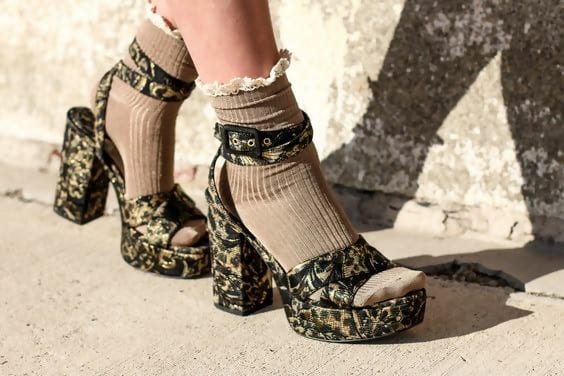 3. Contrast colors for a statement look
If "go big or go home" is your life motto, then pair your socks and sandals with contrasting colors.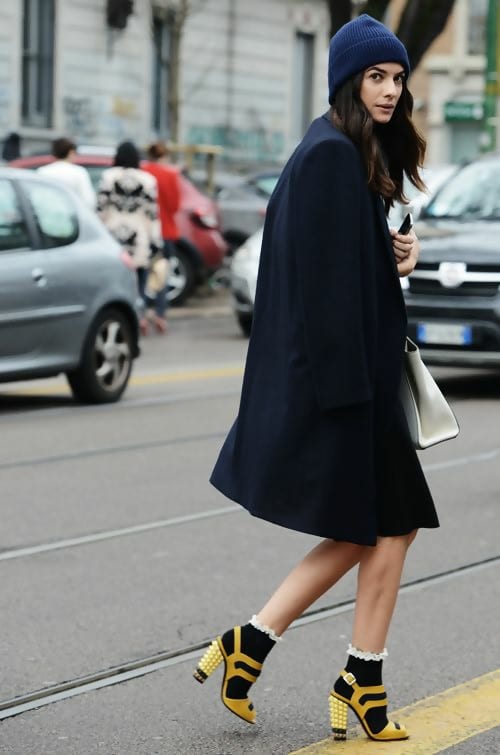 The secret to pulling off chic outfits with sandals and socks is to wear at least another piece that matches the color with either your sandals or your socks.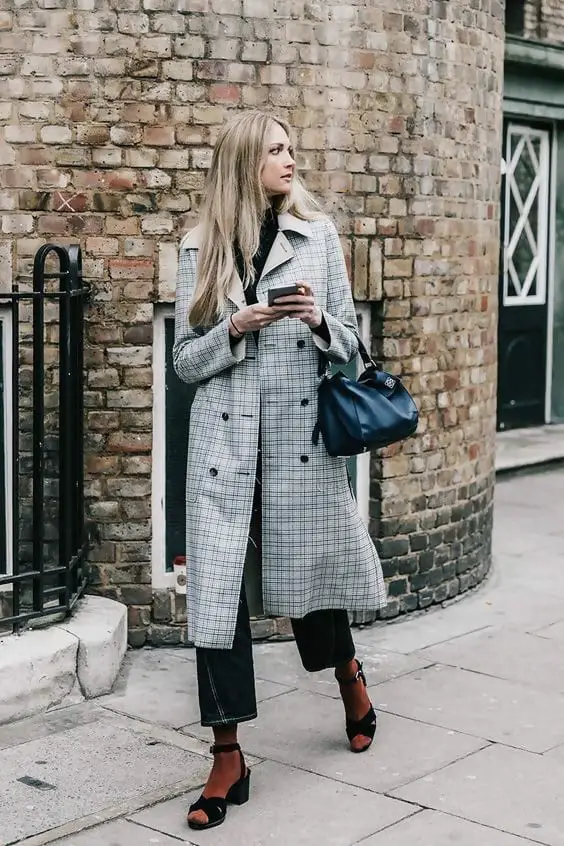 You can match the colors even if it's on the prints of your clothes. These socks, for example, are matching with the yellow flowers of her shirt: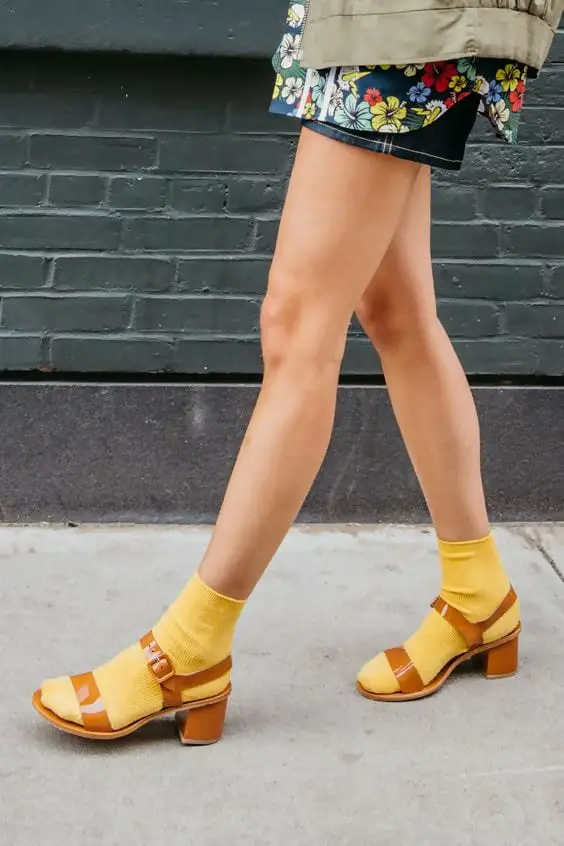 Here are other examples you can recreate for a strong statement look: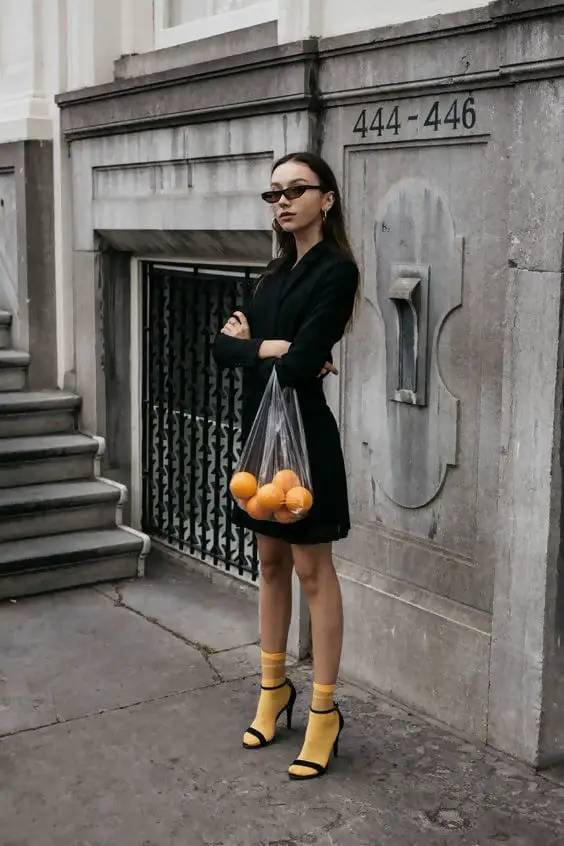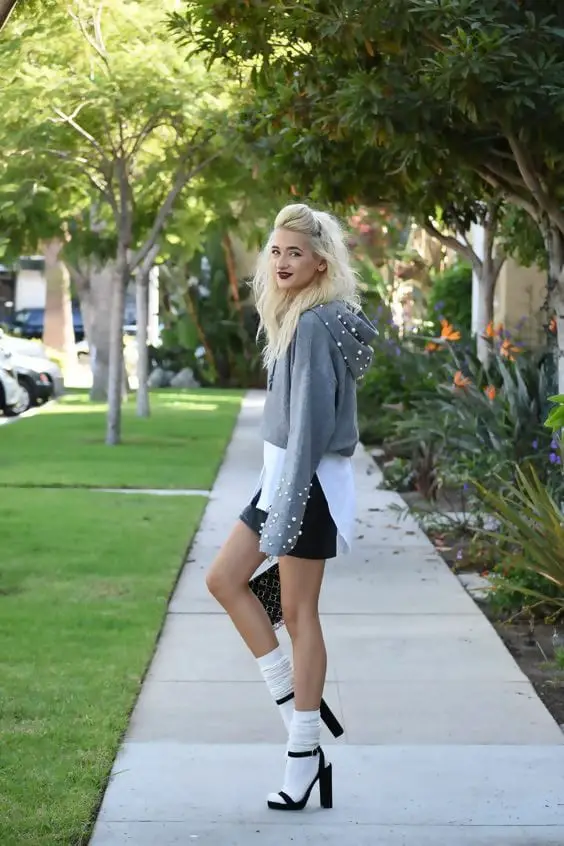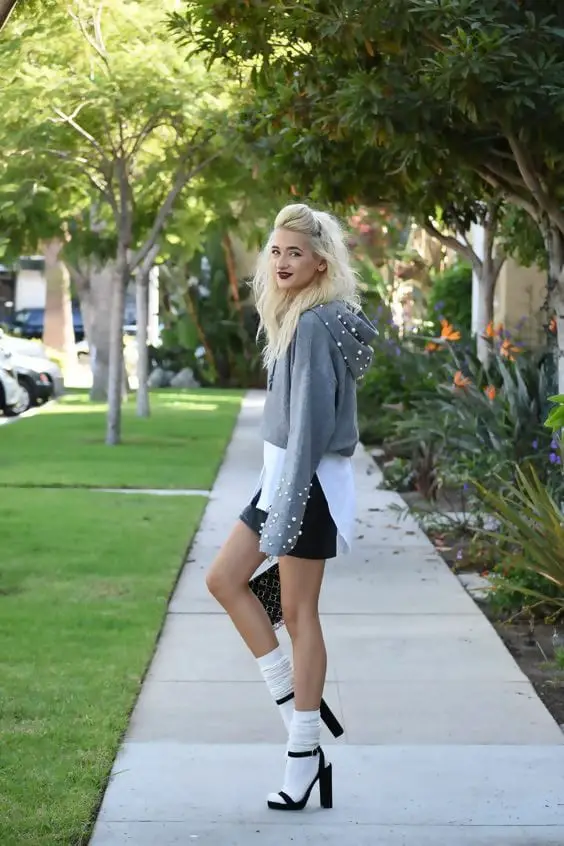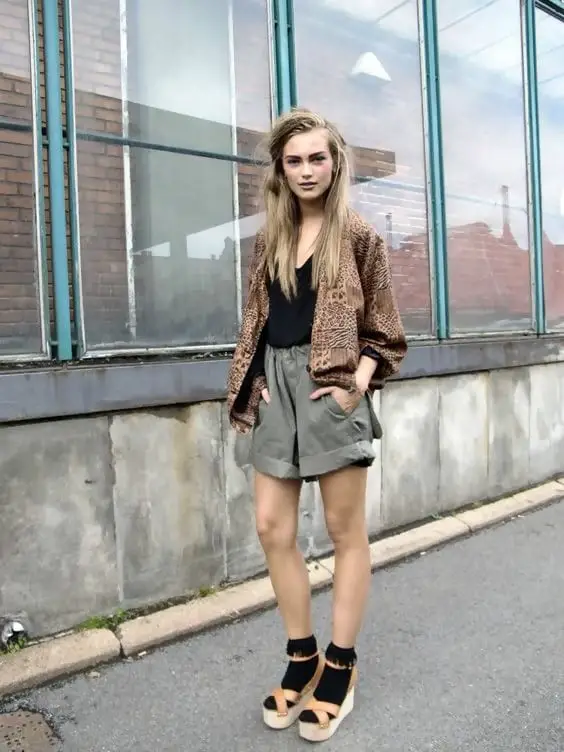 4. Shiny feet
For a glamorous and sophisticated outfit, opt for ankle length metallic or shiny socks. They will make your outfit look effortlessly polished. If you're planning on attending a formal yet relaxed event, opt for this chic combination.
You can also pair your shiny socks with velvet heels for an extra dose of chicness.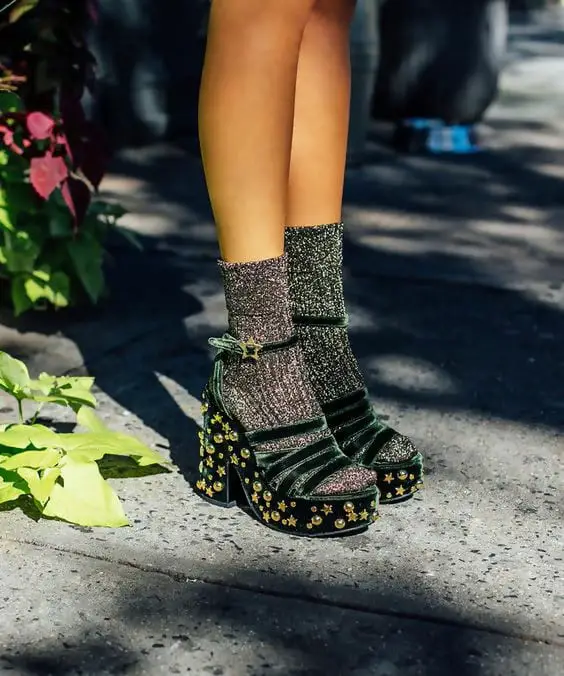 Or, if you're feeling bold, pair metallic with metallic all at once: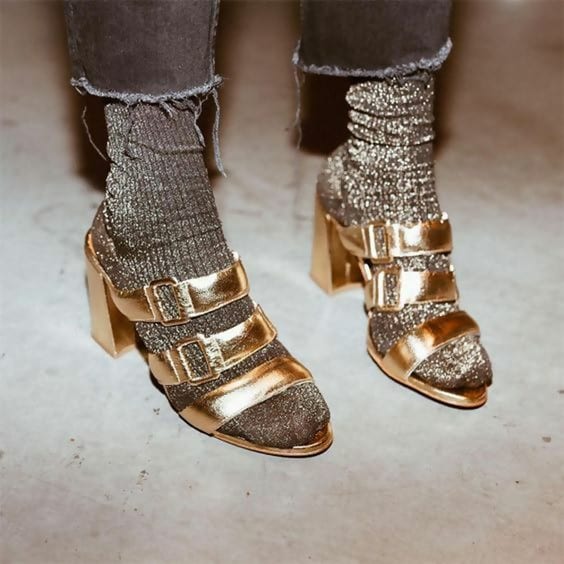 You can go subtler like the examples at the beginning of this article by choosing similar colors. In this case, black velvet shoes with shiny dark grey socks: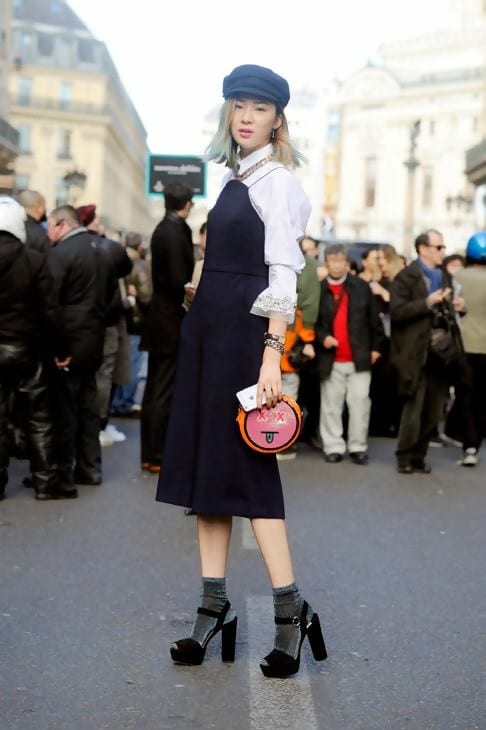 And, again, try to match either your socks or your sandals with any other item. In this case, the grey socks are matching the color with the pullover sweater.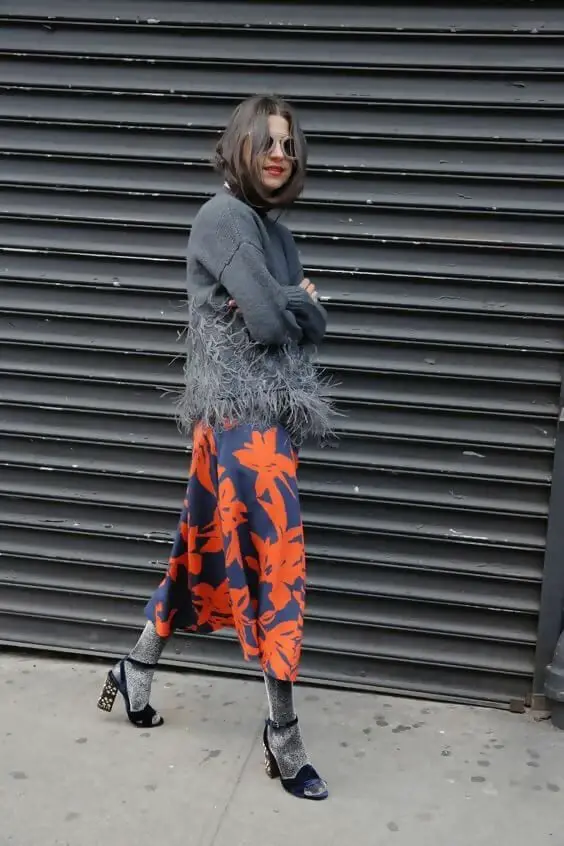 Here are other cool socks with sandal combinations: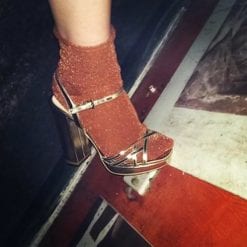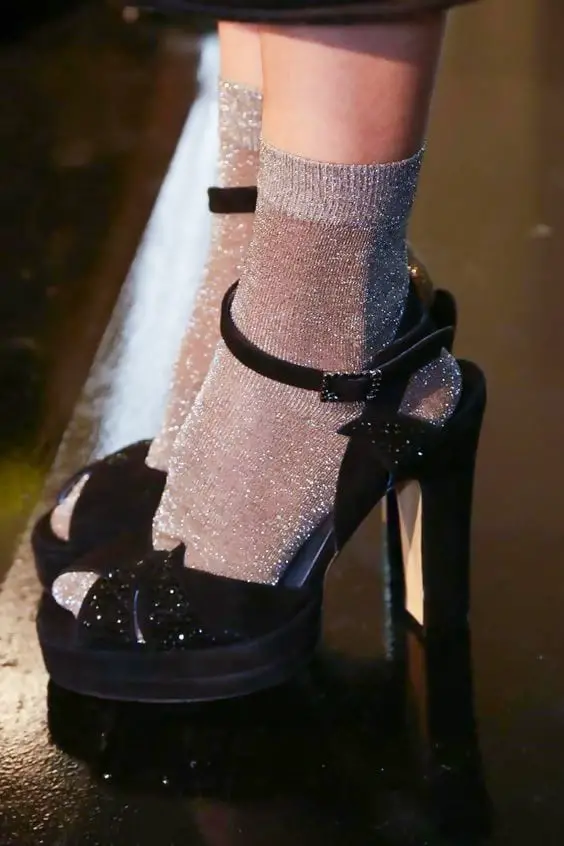 5. Sheer socks
Wearing sheer socks is probably the cutest and chicest way of pulling of socks with sandals outfits. I'd wear this combination for a formal event or whenever I feel like dressing up to the occasion.
I can guarantee you'll be the only brave one to wear sandals and socks. This is an effortless way of becoming the center of attention in any event.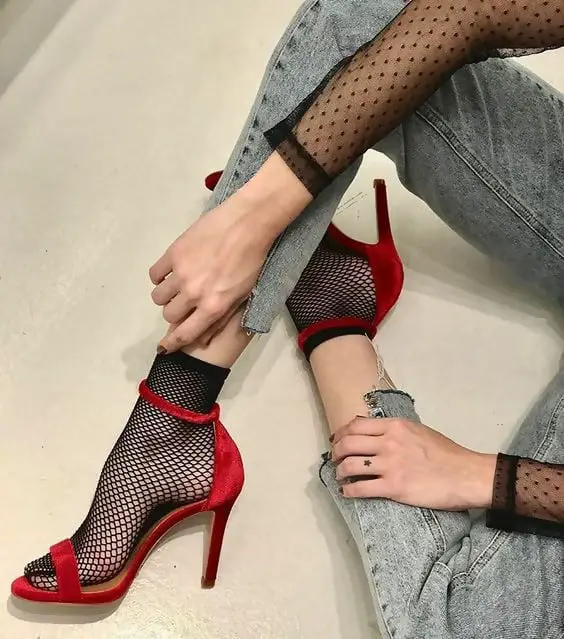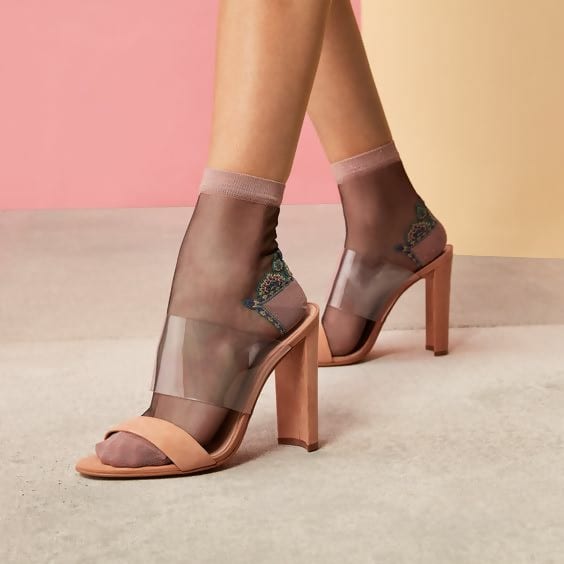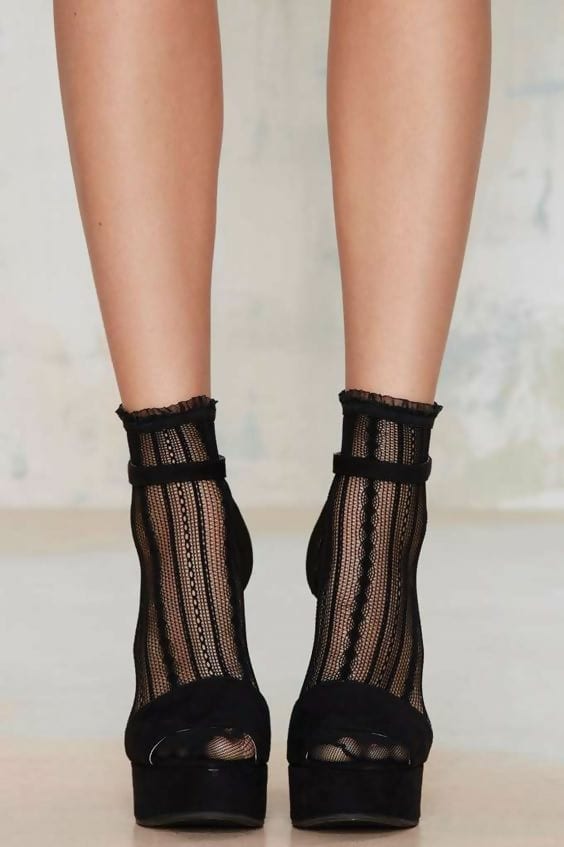 Have fun and get creative! Why not opt for polka dots and lace detail socks, for example?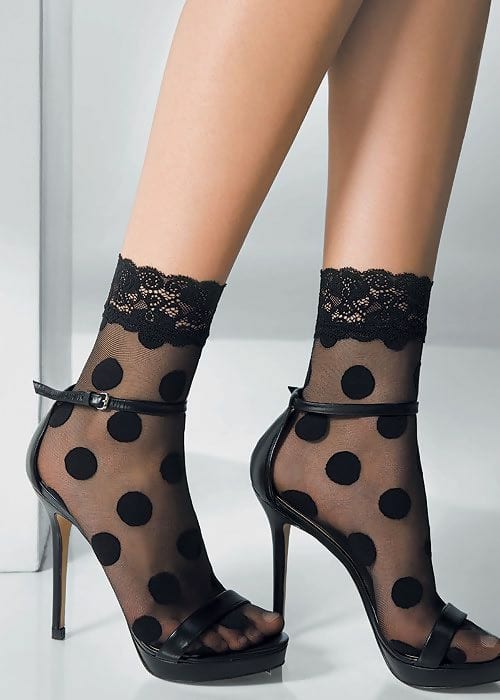 You can also create and edgy outfit by wearing black lace-up sandal heels with your black sheer socks: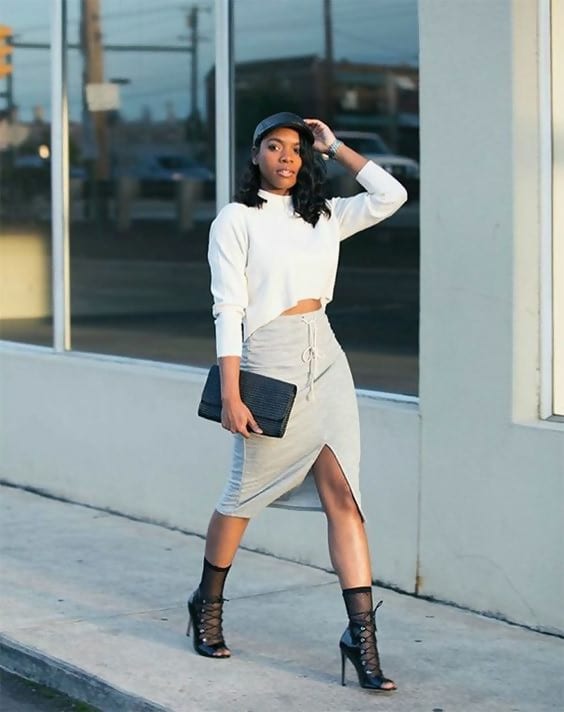 6. Embellished socks
Another fun and cute way of wearing your socks with sandals is by choosing embellished socks. These can have sequins, beads, pearls, etc…
You can maintain a monochromatic look if you feel like an embellished sock is too much: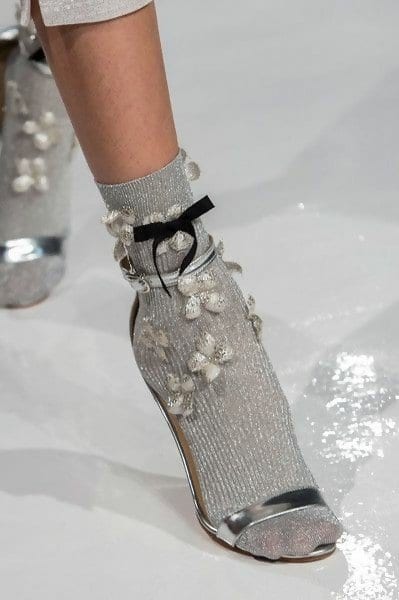 Or simply get creative and mix however you please: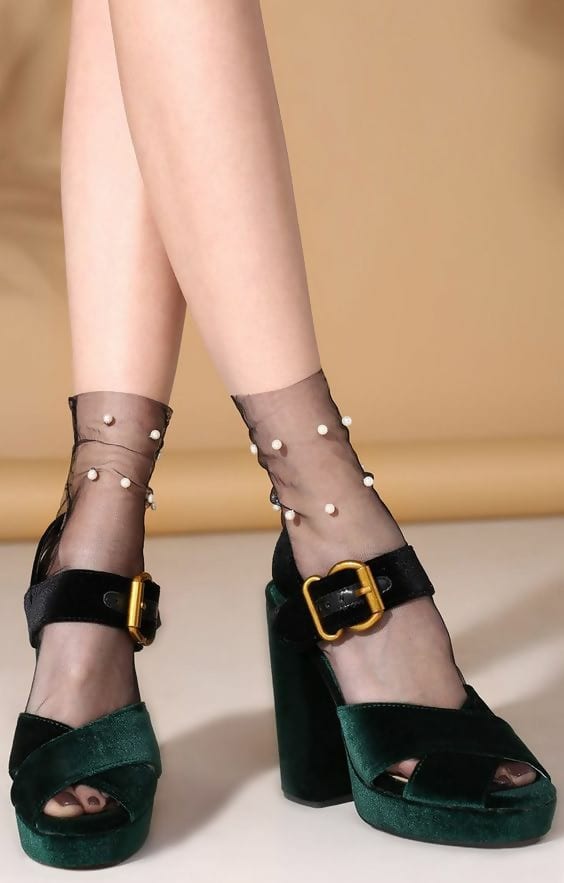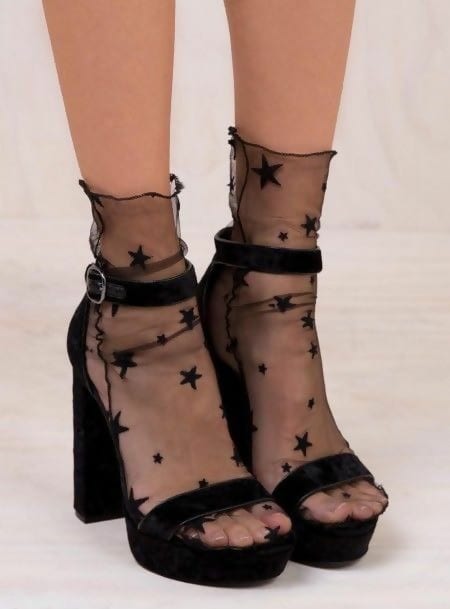 I bet if you start paying attention to socks in stores you'll be surprised at the amount of chic and cute socks they offer.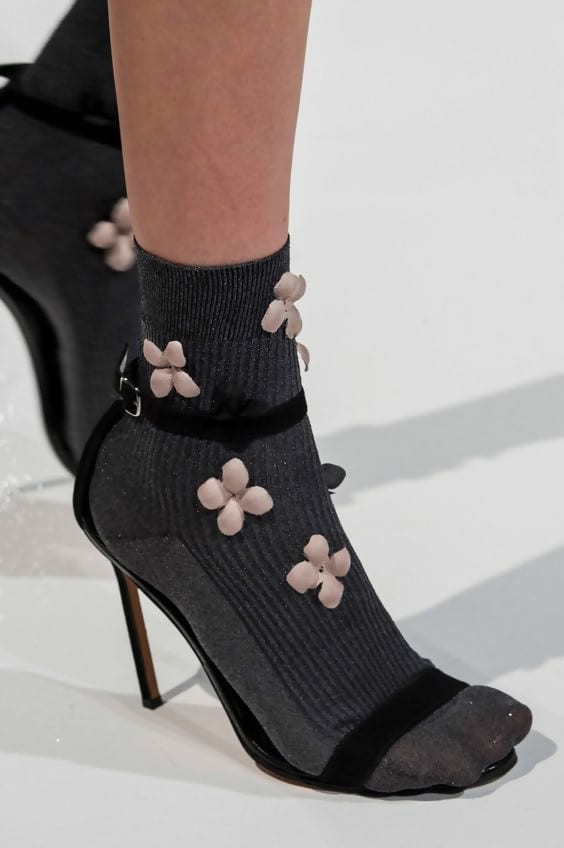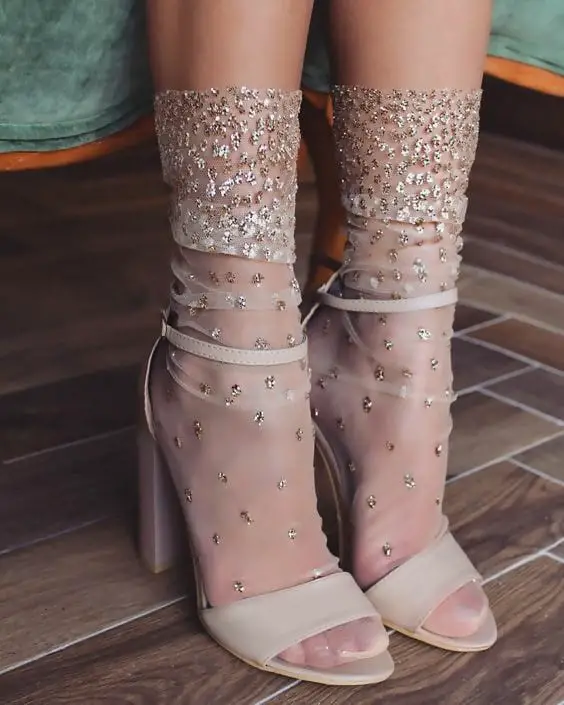 And don't hesitate in wearing your jeans with a sock and sandals combination:
7. Tights and socks
The best thing about wearing socks and sandals is that they keep your feet warm during chilly days. And, if that's not enough, you can always opt for adding a pair of tights to the equation. The result: a chic and sophisticated look.
The cutest way of doing so is by wearing super sheer polka dots tights (or any texture you like).
The key for pulling off a cute combination of sandals, socks and tights is to play with texture. In the examples below, the sheer polka dots tights contrast with the solid or shiny socks.
Get creative and think of other ways in which you can create an interesting combination. But if you try these looks, stick to a simpler outfit because you don't want your feet to be competing with the rest of your clothes.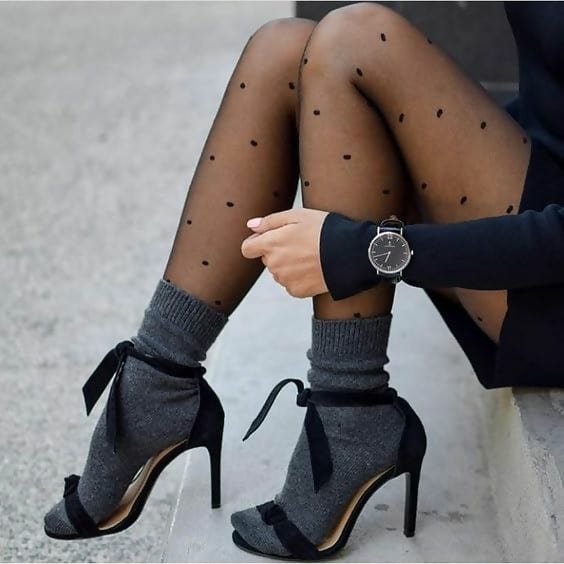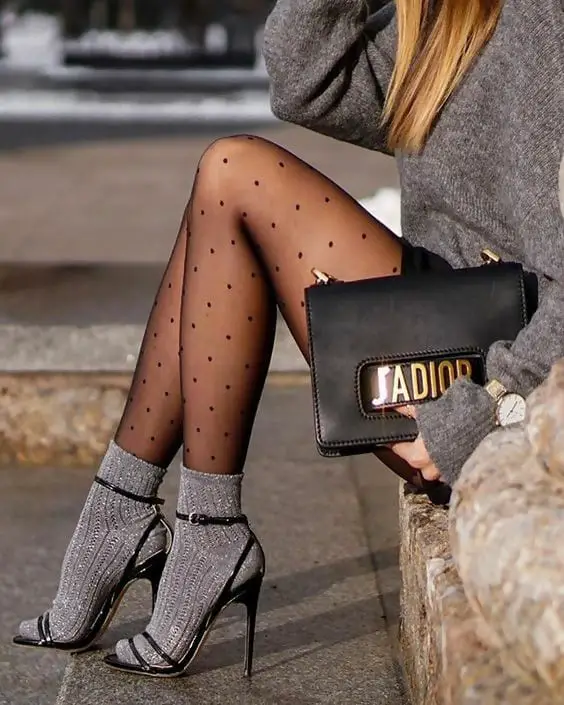 Wrap up:
Sandals with socks can be a revolutionizing way of styling your outfits by pushing fashion to its limits.
A few years ago socks with sandals were thought of as a typical tourist dad go-to fashion combination. But nowadays, we do not take this pairing slightly.
As you can see, there are multiple ways of pulling off a chic and cute outfit with socks and sandals, so don't be scared to try this trend.
I can assure you the worst that could happen is that you'll never wear it again, and the best that could happen is that you'll master the sock and sandal game. I think you have much more to win.