Leggings are a beloved item we can't get enough of. They're soft, comfortable and make us feel sexy, even if we're just lying on our couch.
That's the magic of leggings: they can be comfortable enough to wear the for Netflix-and-chill days or for our Pilates classes, yet stylish enough to wear them for a night out or as a work attire bottom.
But if you're wondering what tops to wear with leggings to create the perfect outfit, then let me guide you through the best ways of styling your leggings in order to dress impeccably for any occasion. Your tops will have the power of determining the occasion of wear, and that's why you should decide wisely.
Tops to wear with leggings
As I've mentioned, leggings are one of the most versatile items you'll ever own because they can serve for multiple purposes. But if you're planning on pulling off a specific outfit and you don't want to look like you got the dress code wrong, follow me through these different scenarios that will help you come up with different ideas on how to wear your leggings.
Laid-back casual outfits
Leggings are usually thought of as casual and comfy bottoms, and even though they're super easy to style for a casual and laid-back day, if you still want to look stylish you can recreate these different outfit ideas. Because everyone can wear leggings but making them look great on a casual outfit is what you must strive for.
1. White t-shirt
A white t-shirt is probably one of my favorite tops. But what will make the difference between looking like you're on your PJs and looking stylish is that your white t-shirt is immaculate: no stains, no wrinkles and still white as new.
You can also pair your top with a cute cardigan or denim jacket. This is a go-to look that can look super stylish as long as your t-shirt looks like new.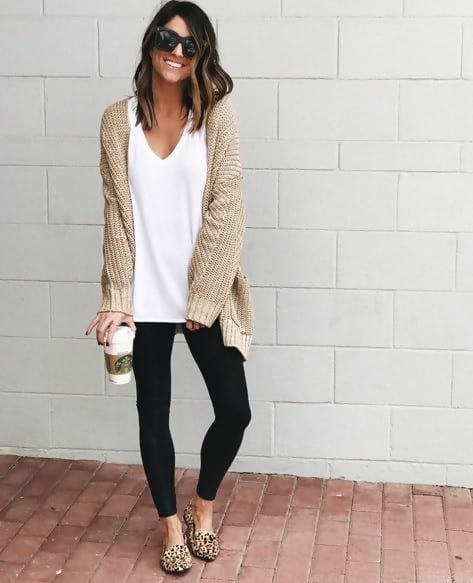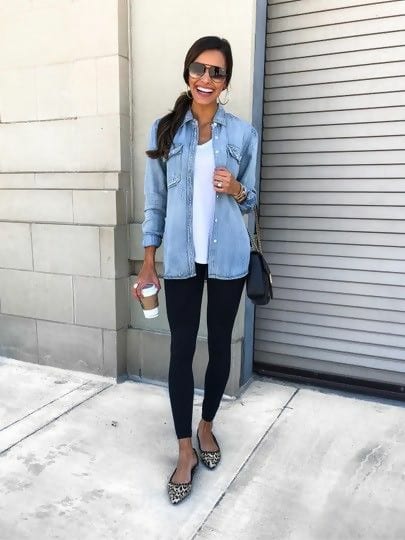 A white t-shirt and a pair of black leggings will create a "basic" look, that's why the complements that you wear are going to be what determine the difference between a stylish look and a whatever look.
That's why wearing your favorite and chic cardigan or jacket is one of the best tips I can give you. You can wear one that looks expensive in order to elevate your leggings outfit.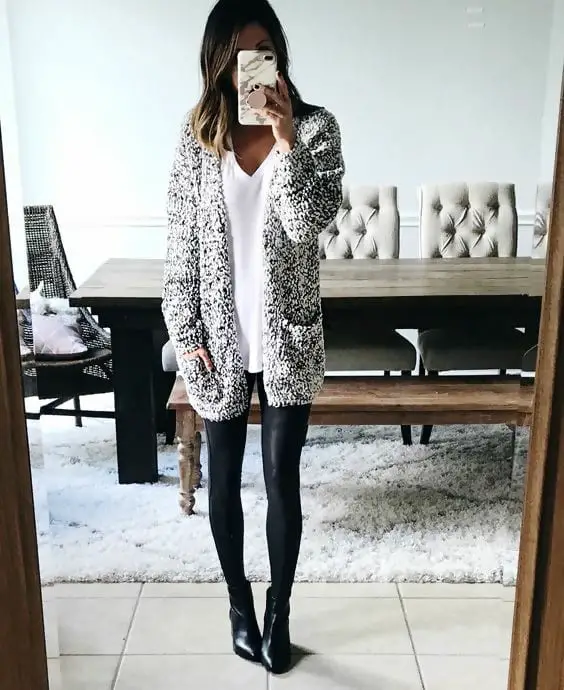 I am also a firm believer that a white-shirt with a denim jacket is a go-to outfit. Pair them with black or grey leggings and you'll be ready to go.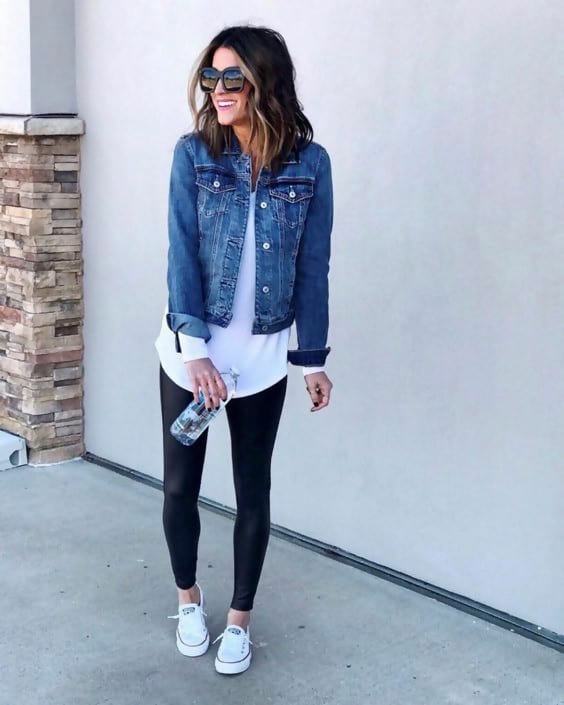 You can also wrap your jacket around your waist for a casual chic look: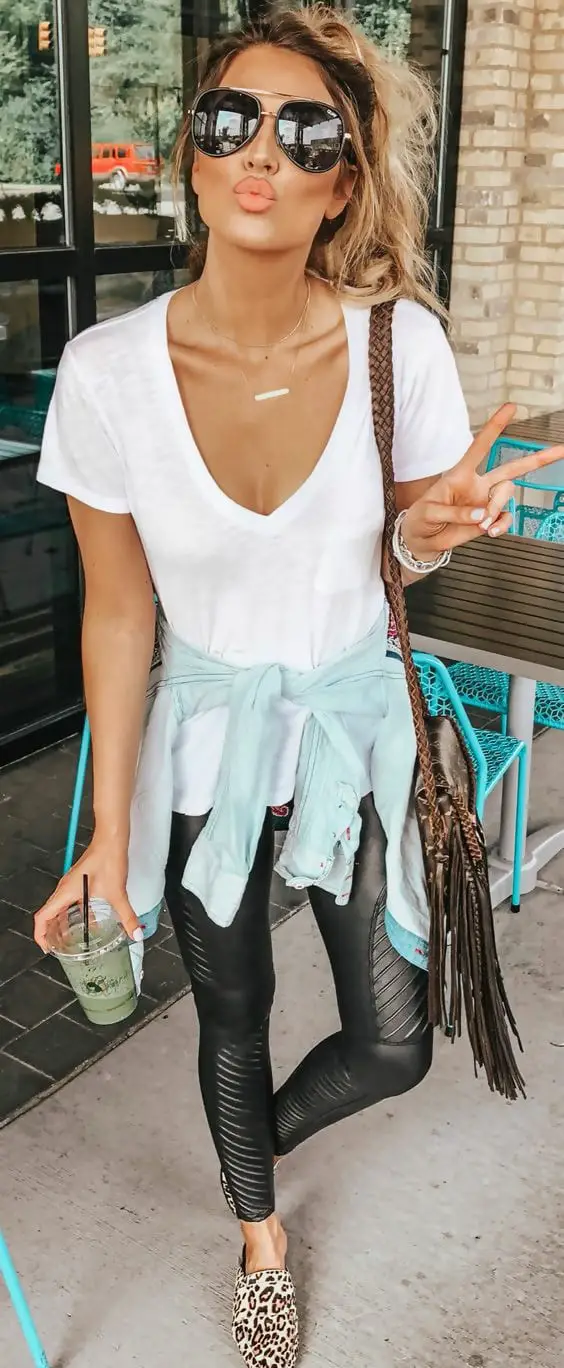 2. Pullover sweater
If the weather is a bit chilly, then wearing a pullover sweater with your leggings can create a super cute outfit.
Again, the secret for looking casual but polished is to wear a sweater that looks as if it's the first time you're wearing it. A legging can look so-and-so if you wear a worn out top, that's why I can't stress enough the importance of wearing a cute top that looks intact.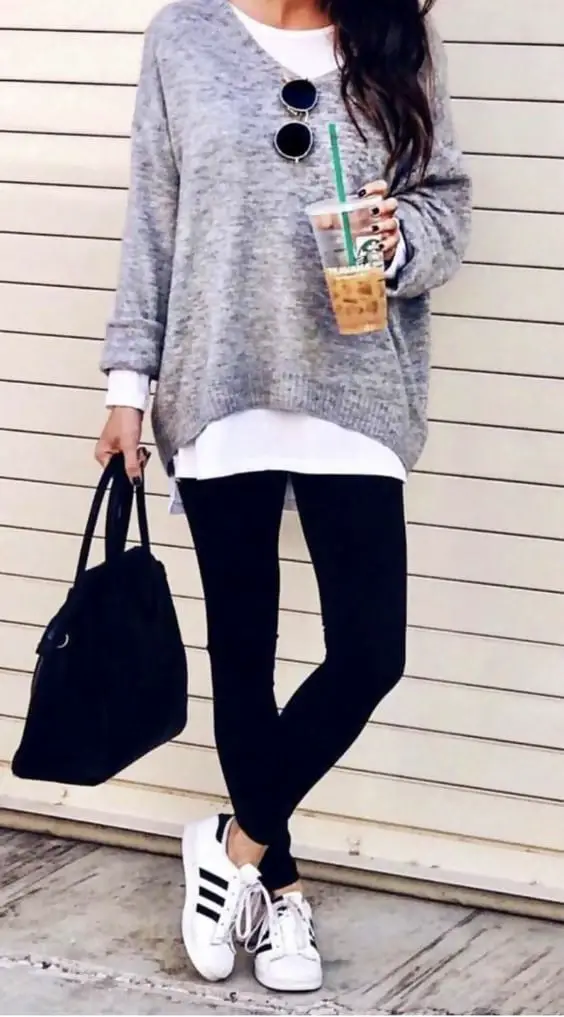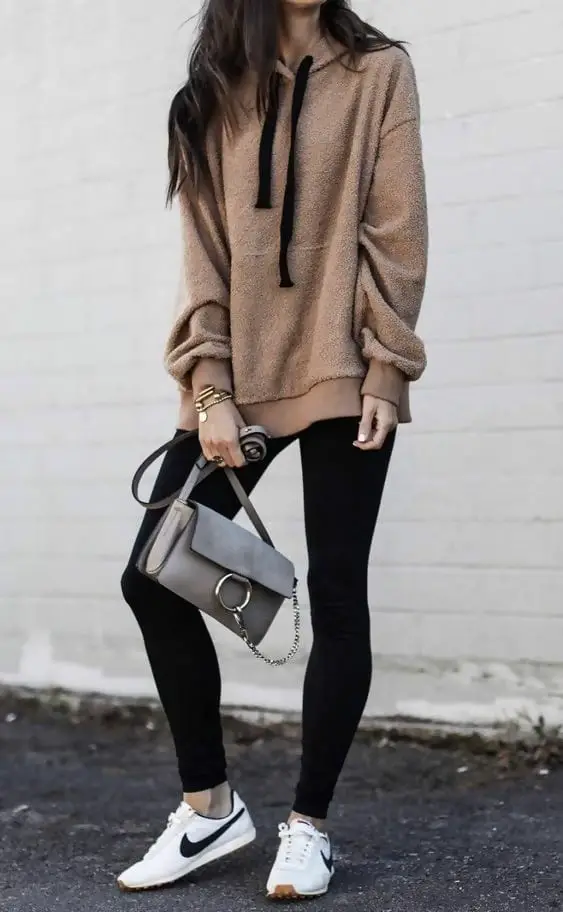 A soft pink sweater also looks cute with black leather leggings. Wearing a chic pair of shoes will also make a huge difference: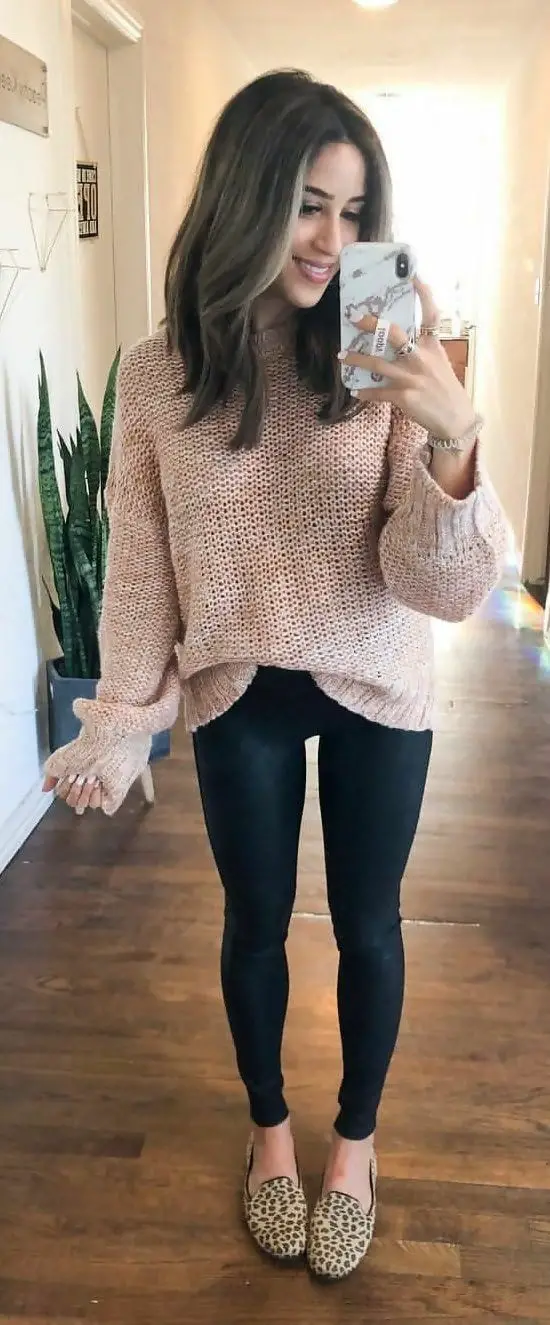 3. Sweatshirt
Wearing a sweatshirt can be another alternative as a top to wear with leggings. You can wear a bright colored oversize sweatshirt like Kendal: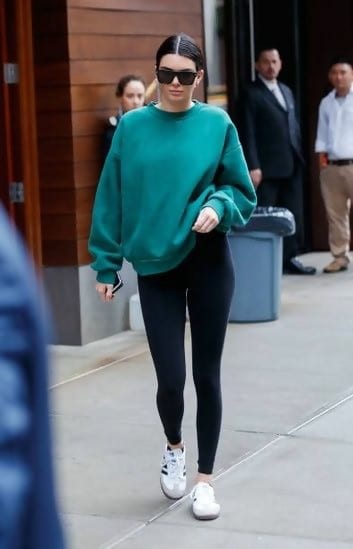 Or rock a monochromatic look with a dark grey sweatshirt.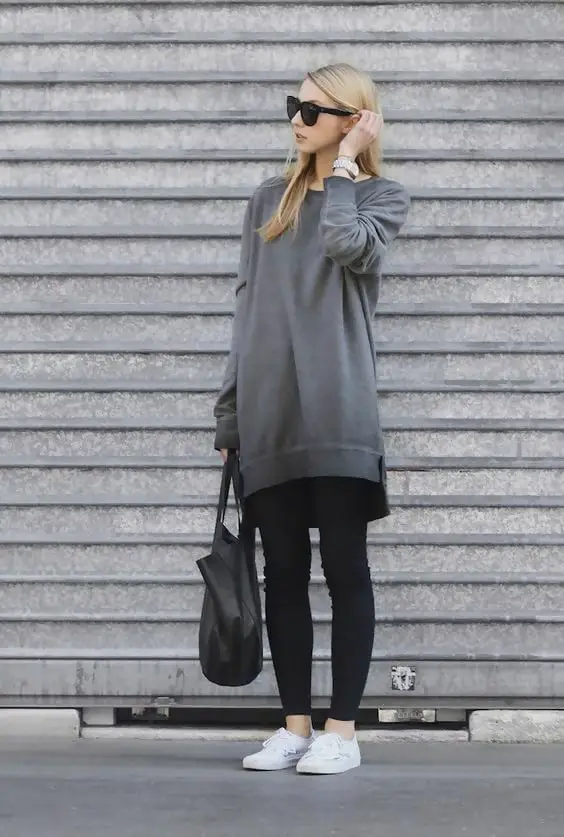 You can also bump up your sweatshirt a leggings outfit by wearing a chic handbag in a contrasting color: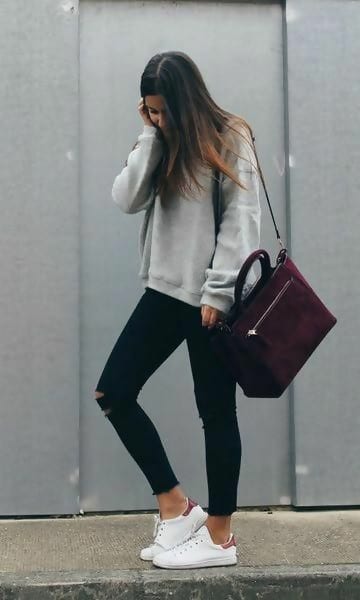 4. Hip-length tops
The thing about leggings is that they fit tight to our bodies, and sometimes we might feel conscious about it if we wear crop tops or short tops. That's why one of the most common ways of wearing them is with a tunic-length or hip-length top.
If you're wondering what shirt to wear with leggings, a classic white button-down could be your go-to top option. You can wear it half-tucked like this girl: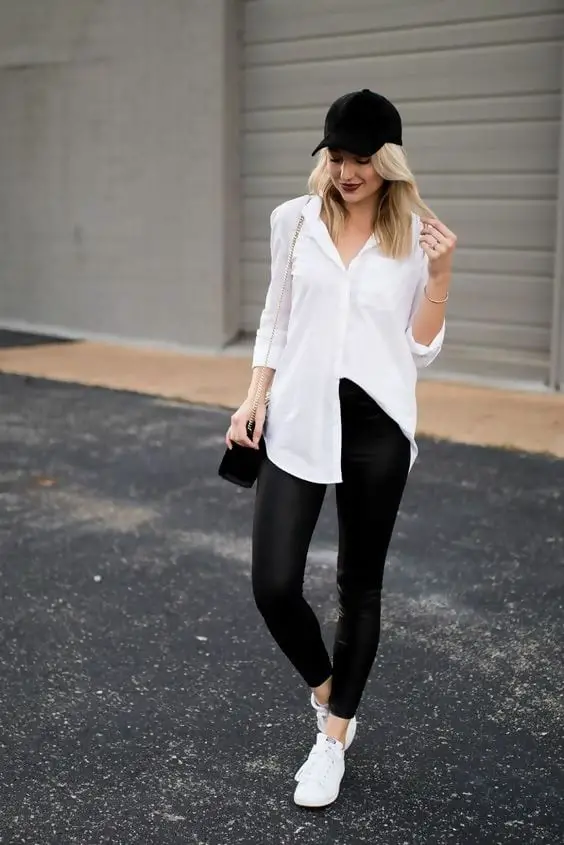 Or completely untucked if you want to feel more "covered". You can also switch your regular leggings for a pair of leather leggings for a chic casual look: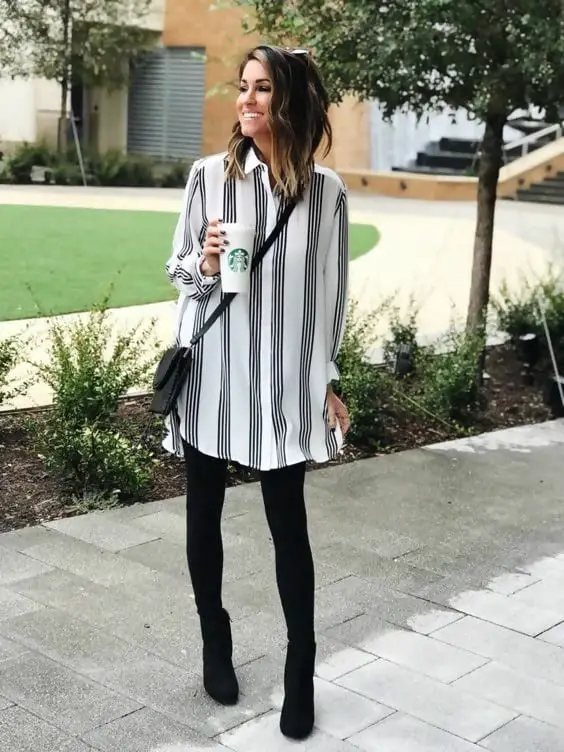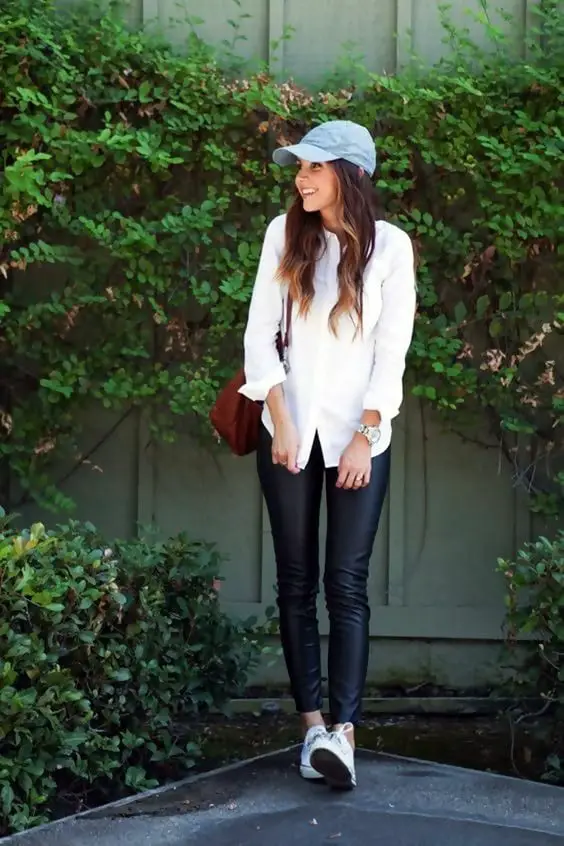 Another cute top to wear with leggings is a classic half placket chambray shirt. If you own a pair of printed leggings, this is a cute option that will complement them in the best way, just make sure the colors in your outfit look coherent.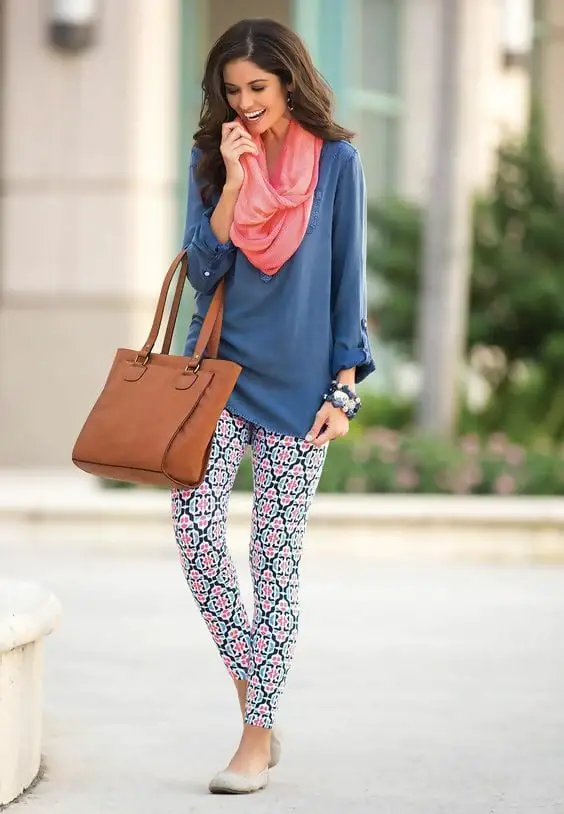 These are other cute ways of wearing your leggings with hip-length tops: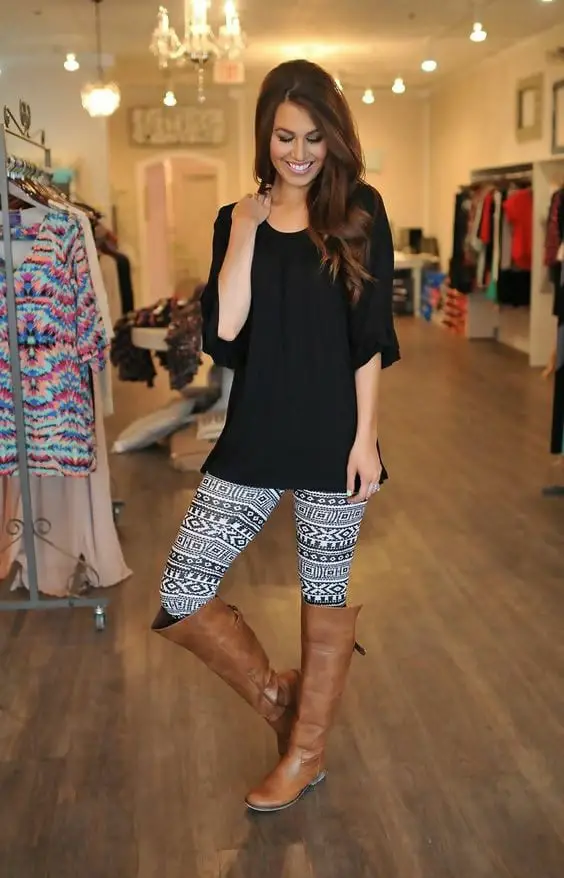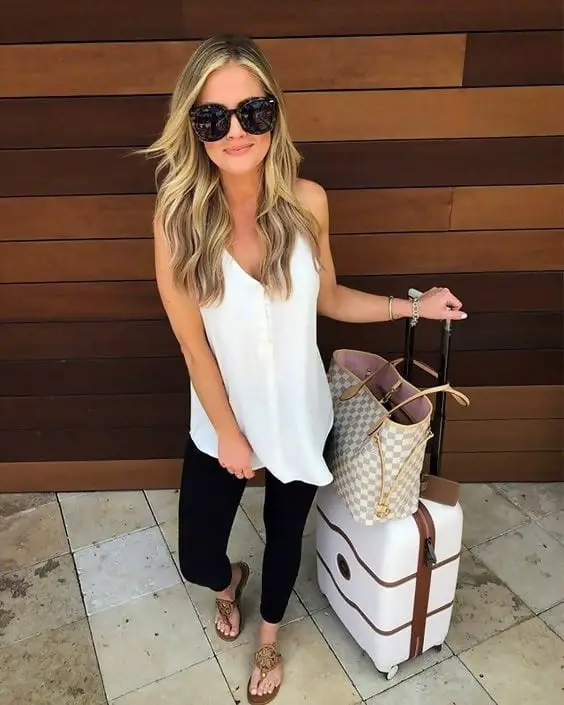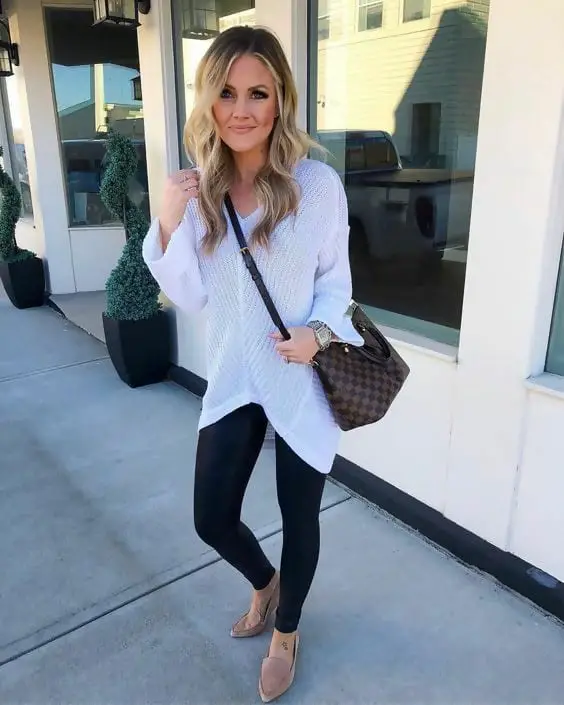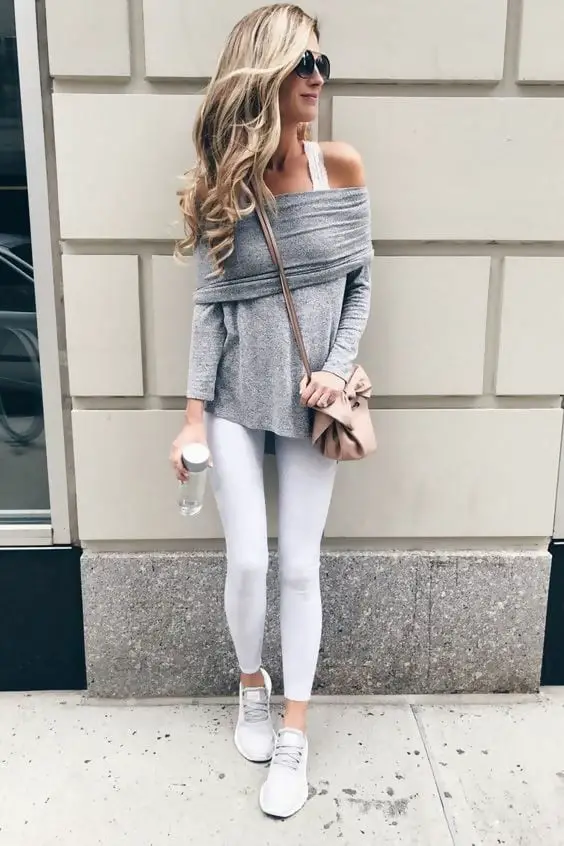 5. Knotted t-shirt
Another way of styling your leggings is by wearing a t-shirt with a mini knot. This is a great option if you're wearing either a tunic-length or regular length top.
If you're planning on wearing a jacket, sweater or cardigan, you can wear a short t-shirt and do a side knot to elongate your legs. In this way, you don't have to be conscious of showing "too much" because you'll be covered by a layer.
If you don't mind showing off your leggings, you can do it just like the second girl: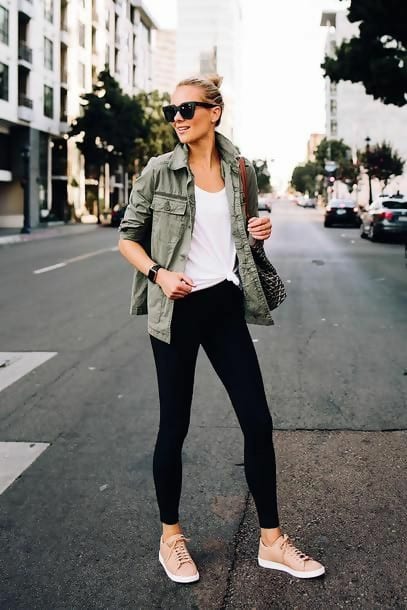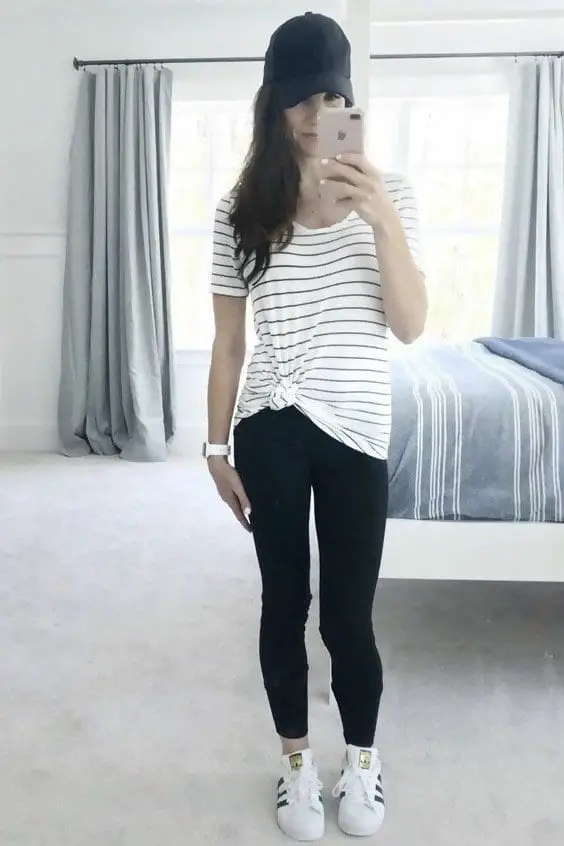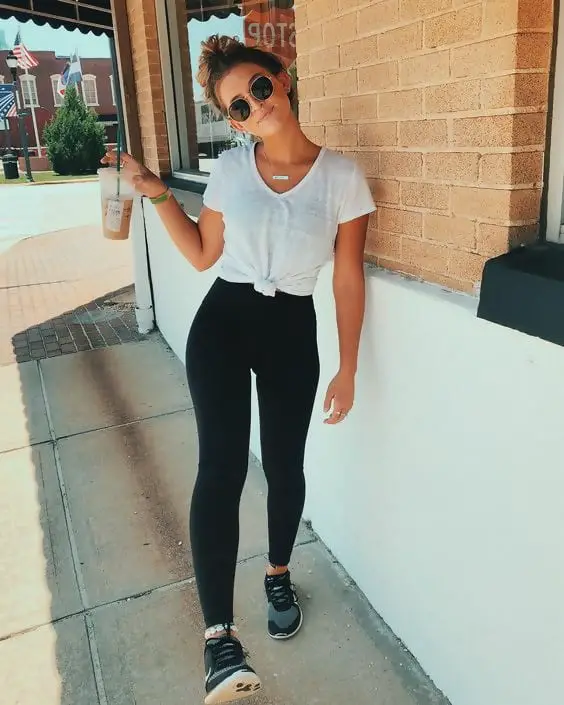 6. Structured and minimal
You can always opt for going simple yet chic. A structured or minimal top can elevate your leggings in the simplest possible way. You can choose leggings that have an eye-catching detail such as the leather panel that these leggings have: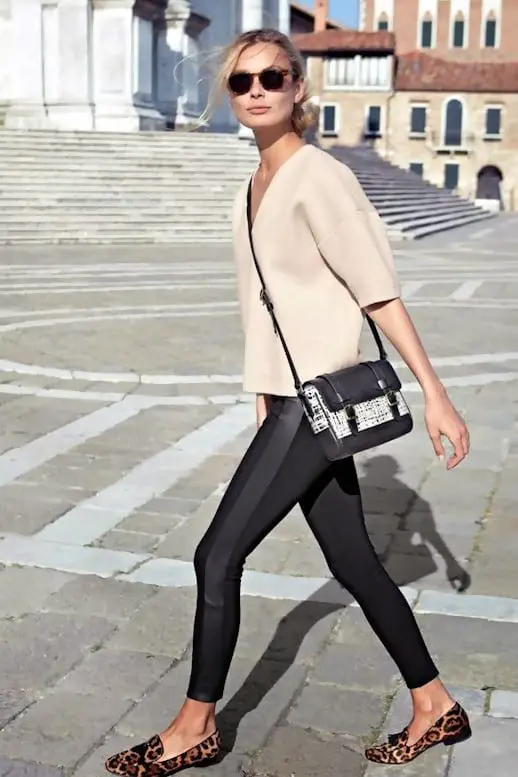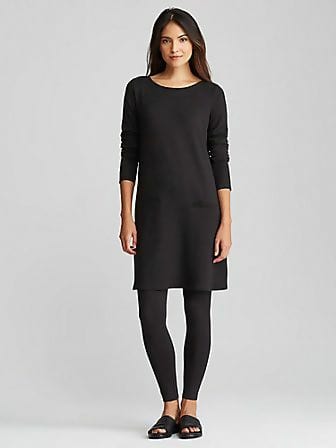 7. Wear a dress
Switch your top for a mini dress and you'll create a unique look: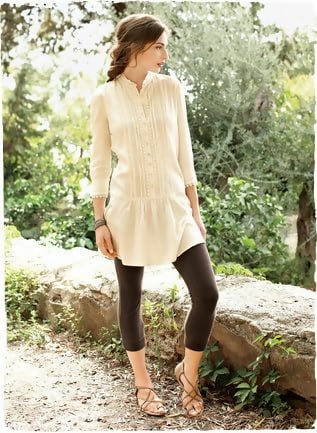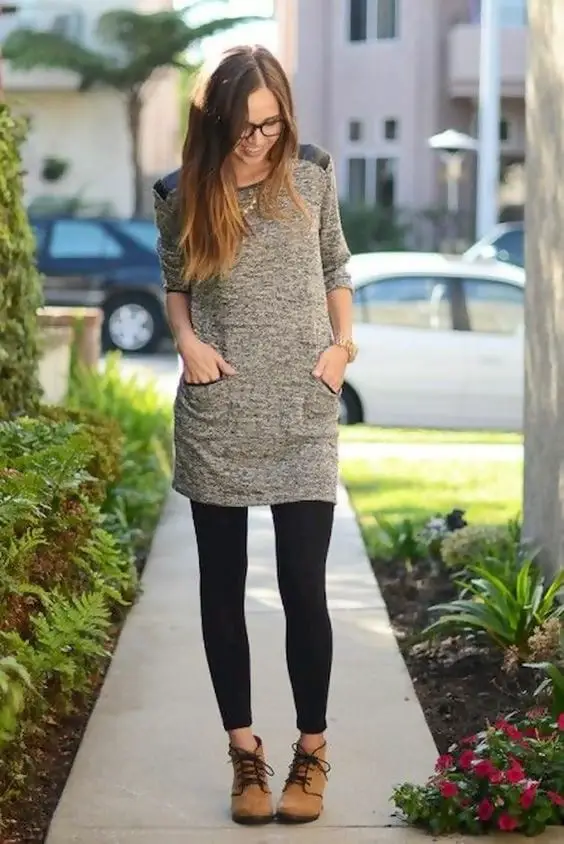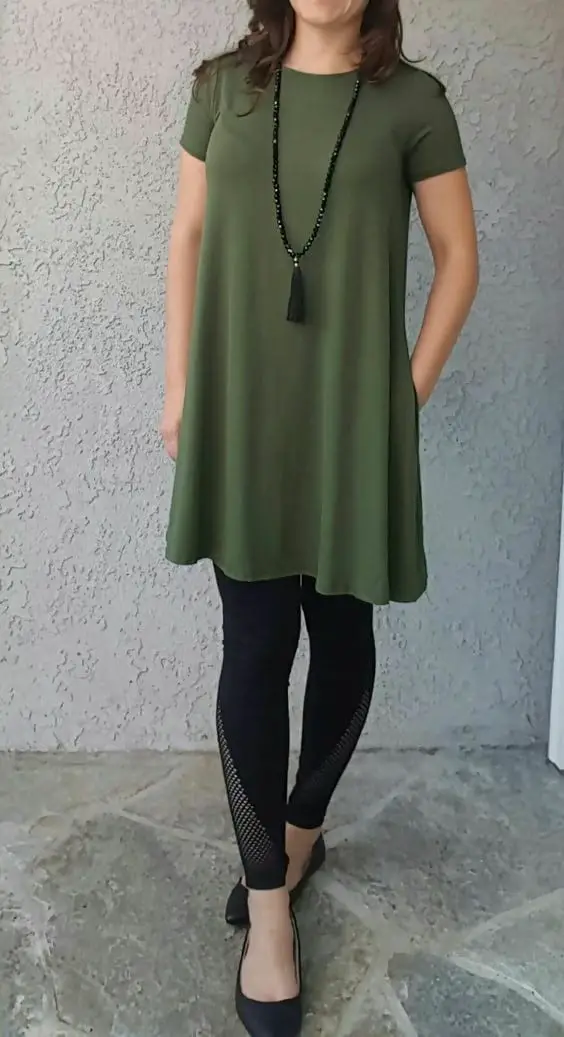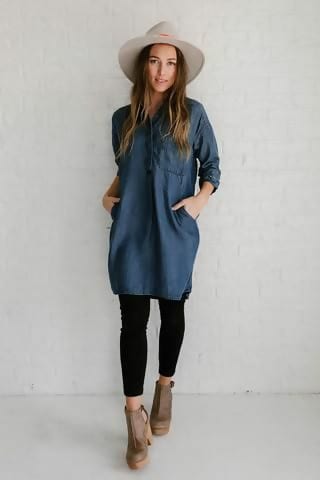 Formal and polished outfits
Leggings are completely appropriate for any occasion, and if you're wondering what blouses to wear with leggings for a formal and polished look, check these following stylish suggestions.
1. All-black ensemble
I've talked many times about how an all-black ensemble is the chicest and easiest way of pulling off a cute formal outfit. Your leggings are not the exception.
You can wear your leather leggings or cotton-spandex leggings, pair it with a cute black top and create a contrast with accessories such as scarf, shoes, handbag or even your lips.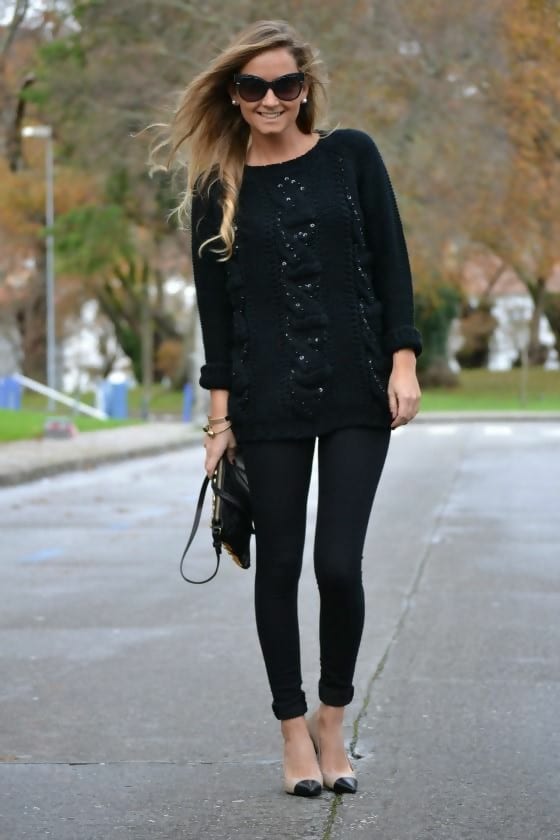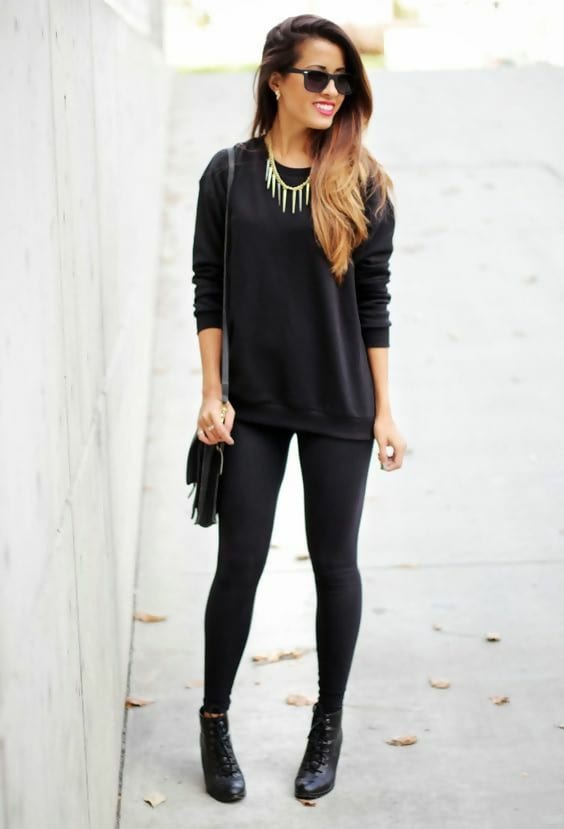 2. Shiny and/or sheer top
For club or bar outfits you can wear your leggings with a shiny and/or sheer top for a sexy and chic look. You can also do a half-tuck if your shirt is too long: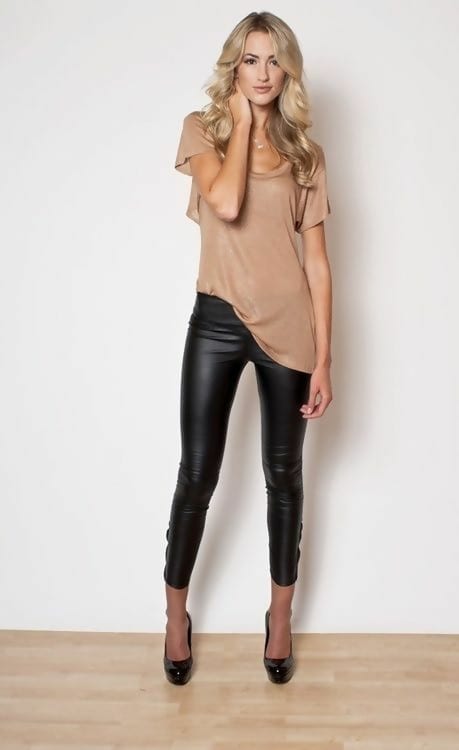 3. Peplum top
If you want to accentuate your waist, opting for a peplum top is a great idea because not only will your show-off a sexy silhouette, but also display a sophisticated look. Finish your outfit with high heels to dress it up: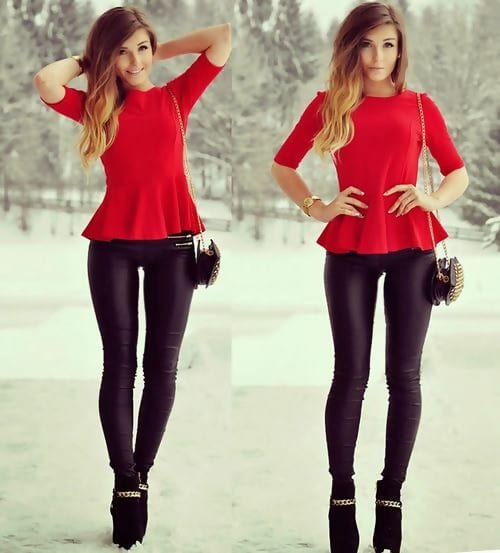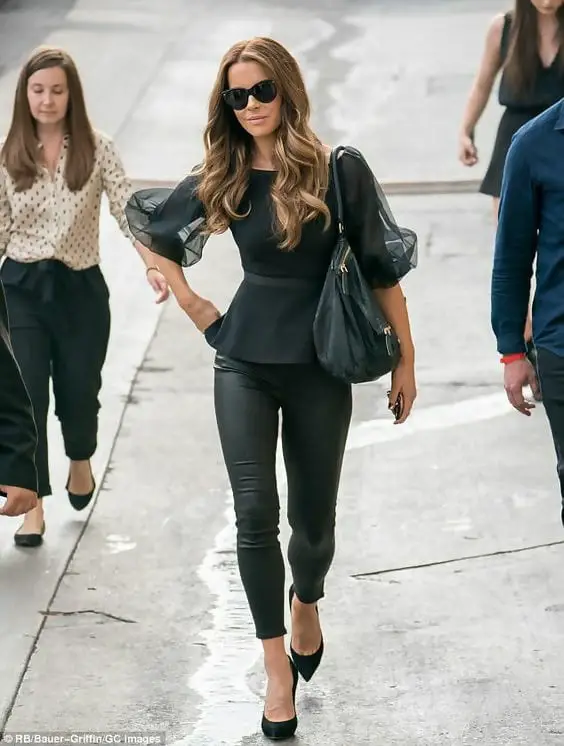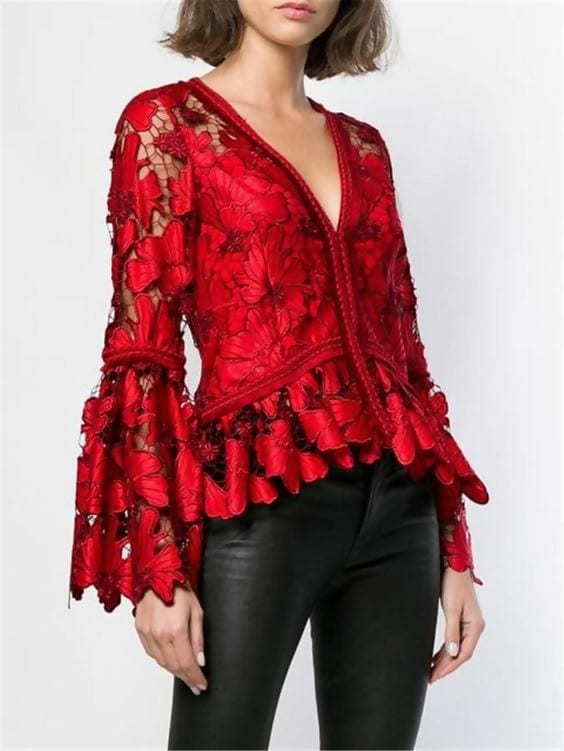 4. Layer with a vest
Leggings and vests are a super stylish combination you can't miss for your work ensembles. I'd opt for a classic button-down shirt under a long vest, my black leggings, and heels.
For a business casual look, switch the button-down for a striped shirt: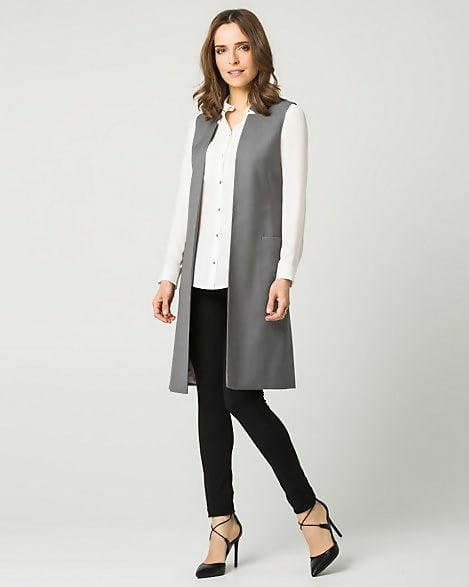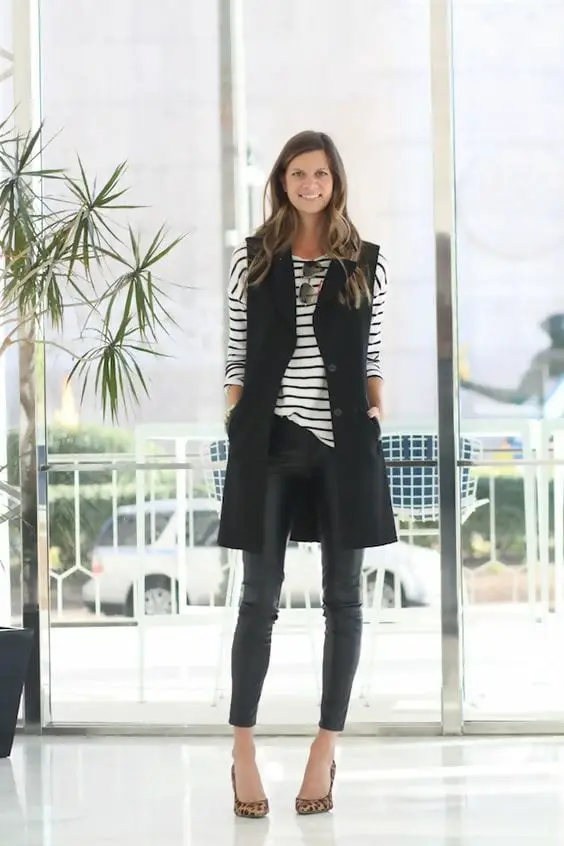 5. Knitwear
For fall or winter, one of the best ways of wearing your leggings is by pairing them with a long knit top. This can be a crew-neck sweater, a turtle neck pullover or even a mini knit dress: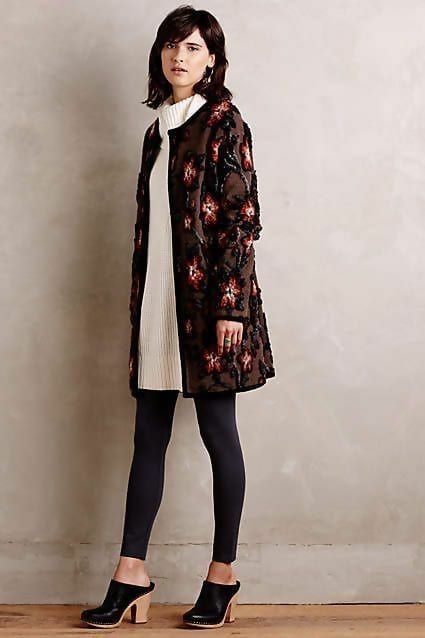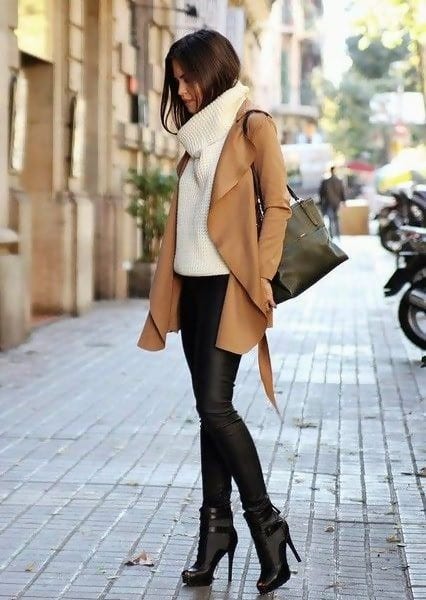 Wrap up:
Leggings are super versatile and can perfectly work for either casual or formal looks. It all depends on how you style them: the result should reflect the occasion of use.
I hope these styling ideas and top suggestions will help you recreate these looks or come up with different outfits.
So next time you find yourself wondering what tops to wear with leggings, don't hesitate and come back to this article!
Other articles that might help you pull off cute leggings outfits are:
– The Top 10 Best Plus Size Leggings on Amazon
– 10 Best Leggings for Every Occasion on Amazon
– The best 31 Leggings Outfit Ideas for Every Shade of Grey
– How to Style Leather Leggings: 43 Outfit Ideas