Winter is coming! And so is our winter fashion style.
One of the best things that winter can bring is the opportunity to rock some cute winter outfits. Forget about the low temperatures, it's all about having fun with fashion: wearing a cozy and chunky sweater, chic thigh-high heels, experimenting with layers and cute gloves.
Winter outfits for women without jeans
But sometimes we get stuck in our fashion style. Wearing the same things over and over again after the first weeks of winter is a common problem: jeans with sweaters and jackets…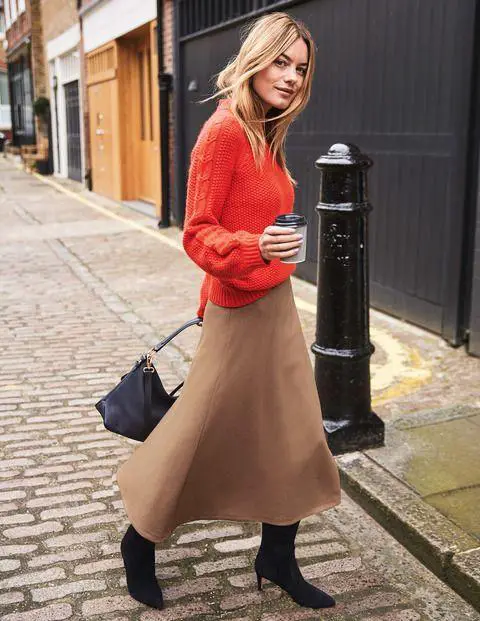 That's why, if you want to spice up your cute cold winter outfits, this article is perfect for you! I've compiled 33 different winter looks WITHOUT jeans that you can perfectly recreate to bring back your fashion game.
Wanting to showcase a chic winter style? Then follow me through these winter fashion ideas.
1. Dresses
Dresses are perfect for winter because they give you the chance to show off your legs while keeping them warm with a pair of tights.
That's why it's a must to own at least one of these, as they will be a total lifesaver whenever you feel like wearing a dress. And let me tell you, dresses during winter are one of the chicest options you can ever have.
You can perfectly choose to wear a simple but cute outfit with a basic sheath dress, tights and booties:

Or dress this cute outfit up with a pair of high heel boots. You can wear this type of outfits for work, meetings or a fancy dinner.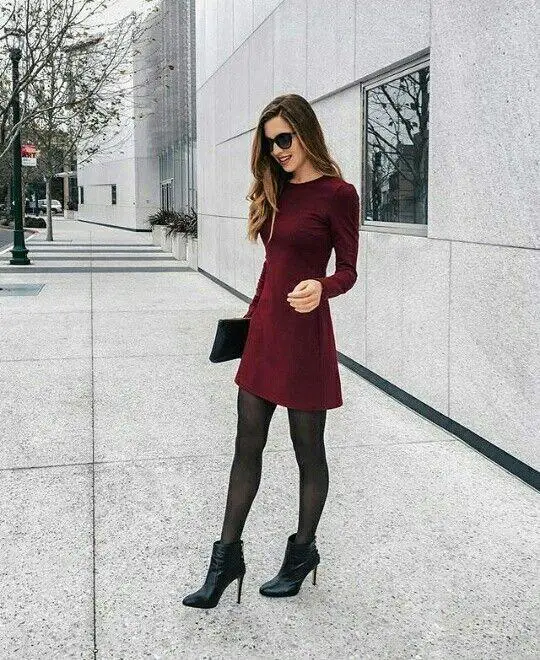 Get creative with your dresses. It's not only important to own a basic black dress, but also dresses that represent your signature style. In this way, every time you feel like wearing something simple yet cute, you can turn to these dresses knowing that they will showcase your true style.
This one, for example, is perfect for anyone who loves a preppy, feminine and sophisticated look: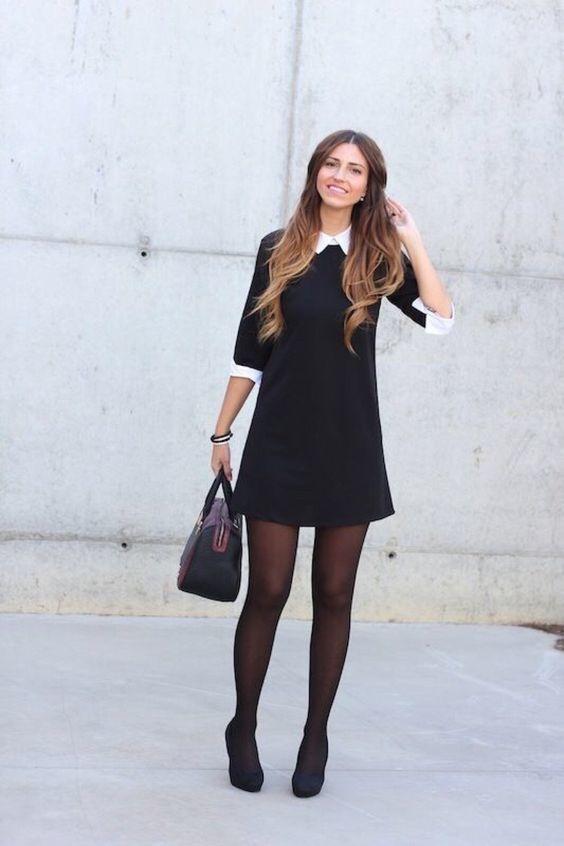 Adding berets to your winter outfit is another cute idea. It will add a touch of mystery to your look while keeping your head warm.
And why not try a different kind of tights? Polka dot designs are a perfect match with a beret because it'll immediately bring some Parisian chic vibes.
Also, an all-black outfit is perfect for winter! Wearing dark or deep colors is the best option during this cold season because those colors are supposed to make you feel "warmer".
So when in doubt, always turn to an all-black outfit during winter.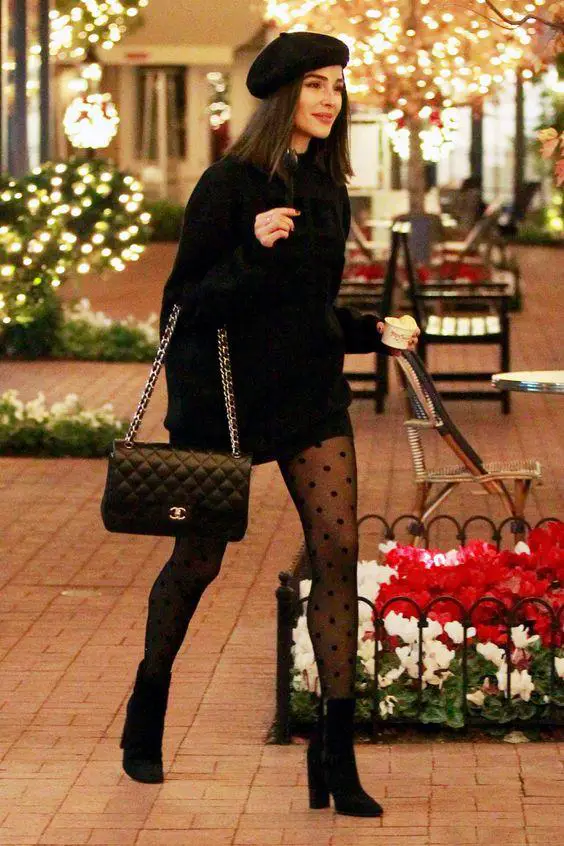 When the weather is not that cold, you can leave out your tights and wear only a pair of thigh-high boots and a pullover sweater or a cardigan: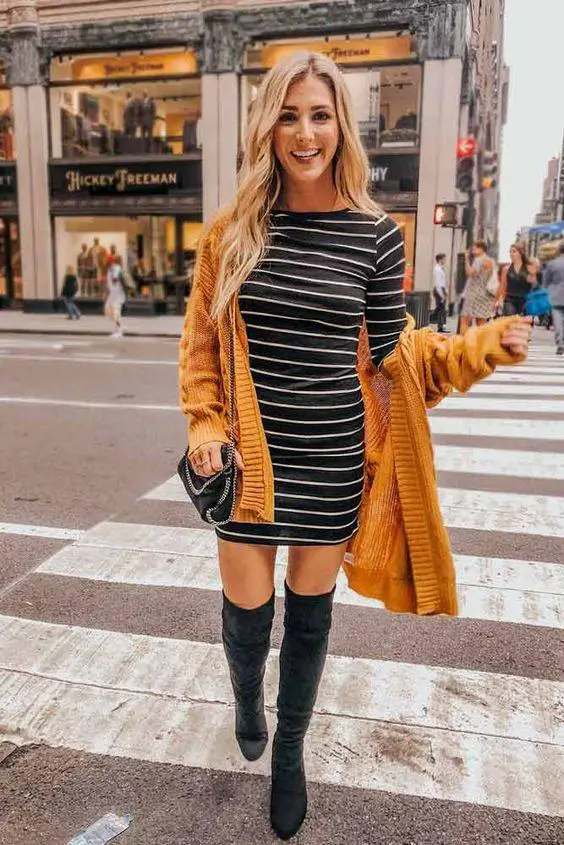 2. Overalls
If you're feeling like creating a unique outfit, try wearing a cute overall. Even though they have become trendier in the last couple of years, they are still a fashion item that few people venture to try.
That's why you'll stand out from the rest by wearing an overall as part of your winter fashion.
You can wear them on top of a chunky sweater on those days when all you want to do is a feel comfy and look stylish: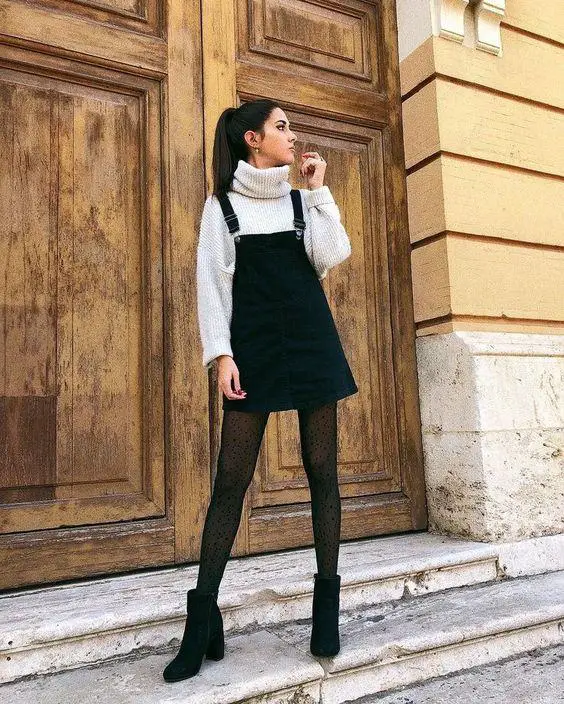 Corduroy overalls are the best for a cute winter outfit because this is a fabric that is thick and warm, which is the perfect feature for cold weather days.
Camel and black is a chic combination you can try wearing. Regardless of the pieces, you choose to wear, this is a cute and classic combination that will surely make you look like a fashion pro.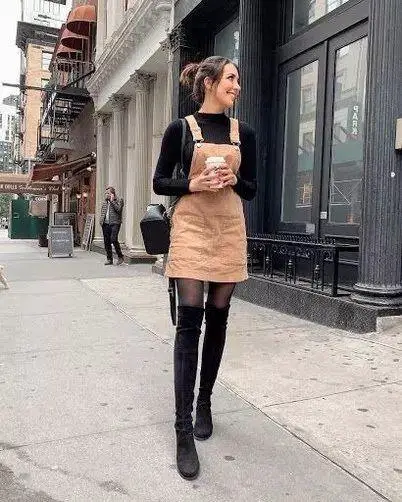 Want to take your cute cold outfits to the next level? Try wearing a tweed overall!
Not only tweed is especially sophisticated (most of the times) because of the classic Chanel jacket, but it's also the perfect fabric for a polished outfit: for work, for meetings, for museums, date nights, etc…
If you're lucky to find one in any store, don't hesitate and buy it!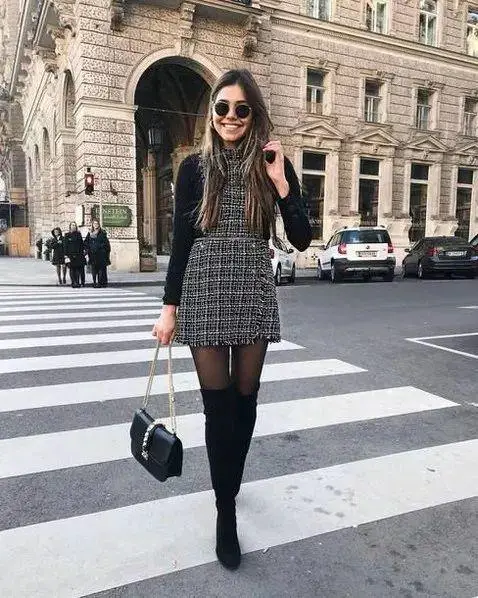 If you don't own any overall and don't feel like buying one, you can also recreate an overall look with any sleeveless sheath or shift dress you own. All you have to do is wear it on top of any shirt: button-downs, t-shirts, blouses… Anything will do the trick.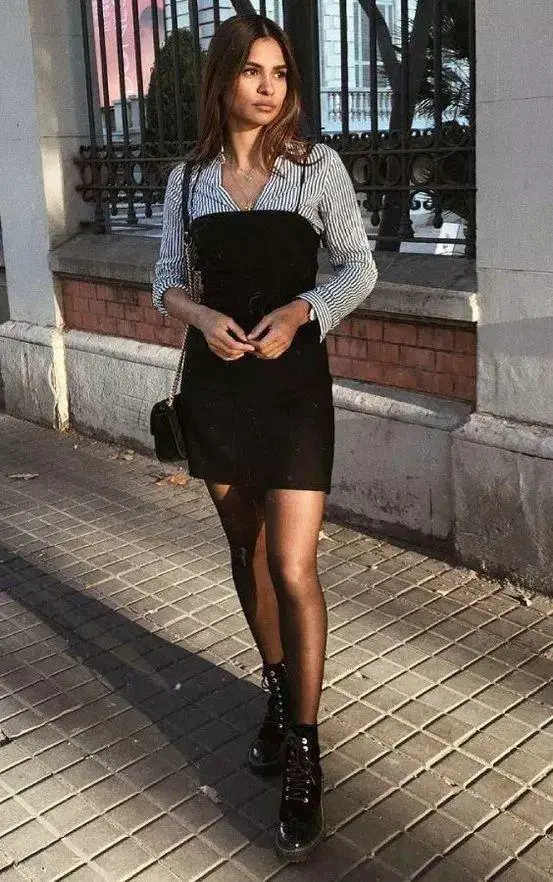 3. Pants
When girls think about bottoms, a jean is usually the first thing that pops up. But they are forgetting that there are endless styles of pants they can wear as well.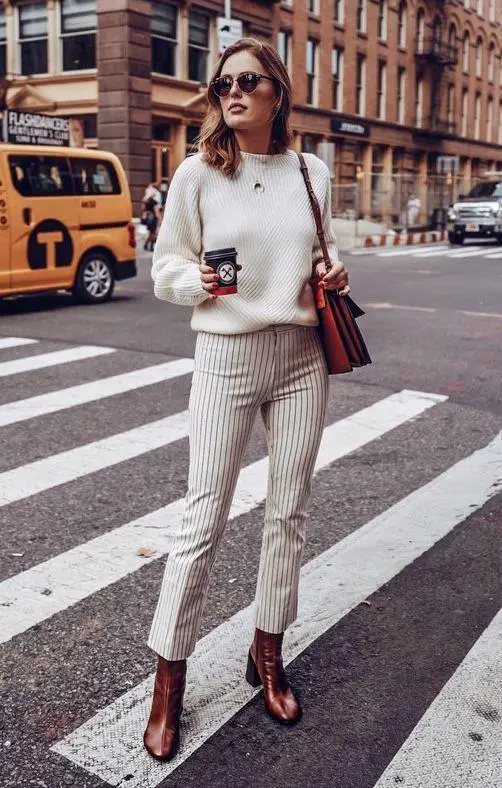 My favorite pants for a cute and stylish winter look are the following:
Flare pants
These pants are perfect for anyone who loves a boho a chic style. It's fun, cute and totally trendy, so there's no use in debating whether to wear one or not.
If you're tall or have a short torso, you can wear a fitter crew neck sweater untucked and a chic belt accentuating your waist. The flare pants will add a touch of sophistication, making you look like a fashion pro.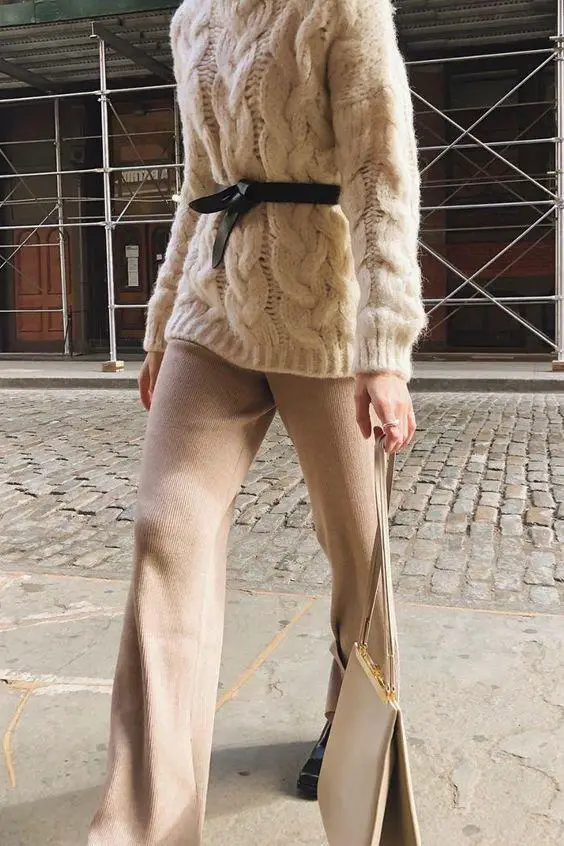 High waisted flare pants are the best for anyone who wants to look some inches longer. Again, wearing a fitted sweater is completely chic. The oversize frenzy has made us believe that sweaters have to be oversized, but that is not true.
Fitted sweaters are always a total YES.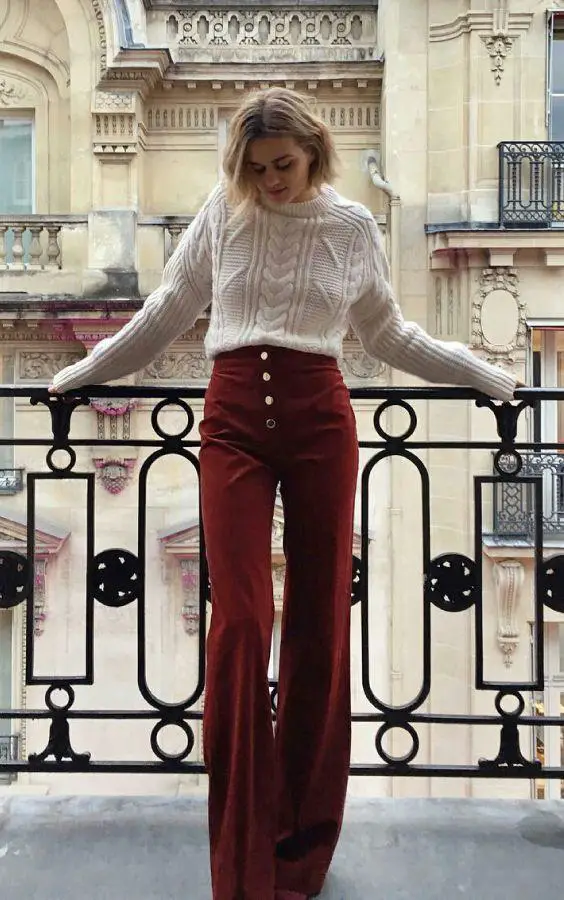 Make sure to wear your flare pants with high heels or platforms for an extra couple of inches: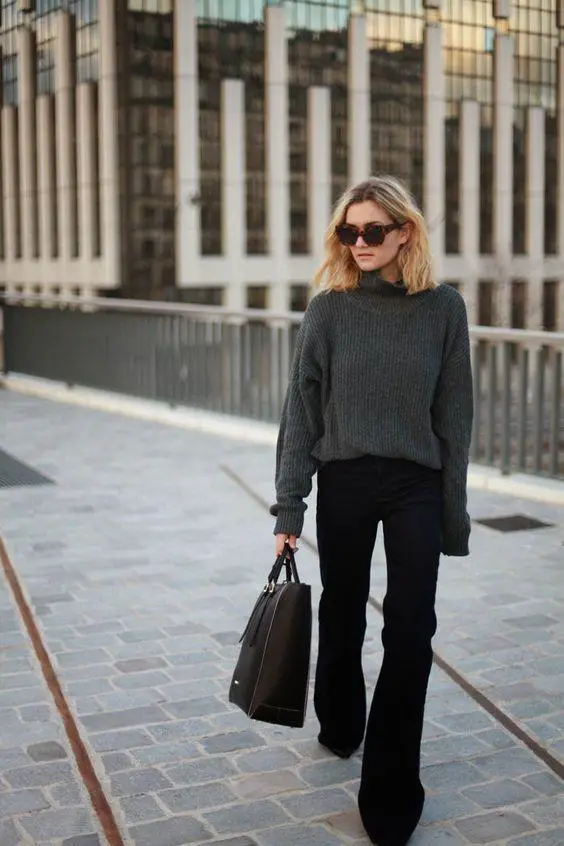 Corduroy pants
Corduroy pants are one of my favorite type of pants for winter outfits for women because this is a fabric that you don't get to wear much during spring or summer. So making the most of it during the cold weather is just perfect.
Whether bootcut, flare, straight or wide leg, any style will look great!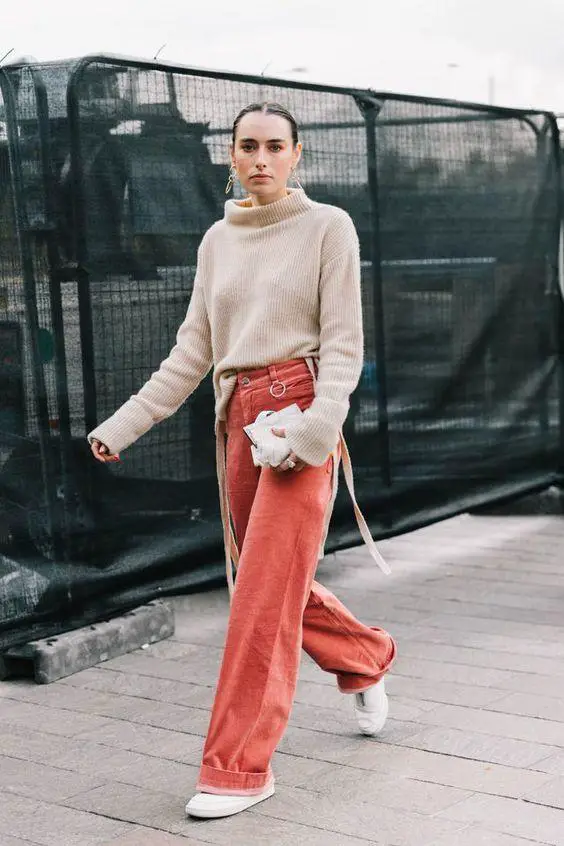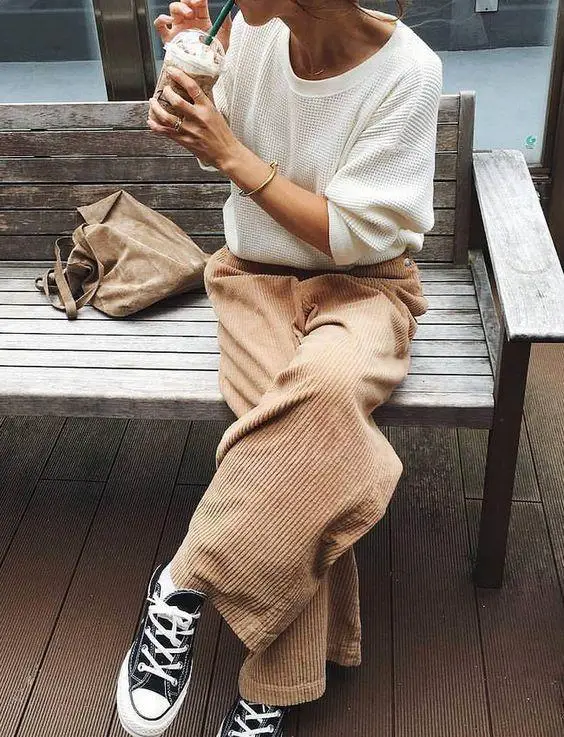 You can create beautiful layers with a corduroy pant. This fabric will add texture to your outfit, which makes your layering game even more interesting.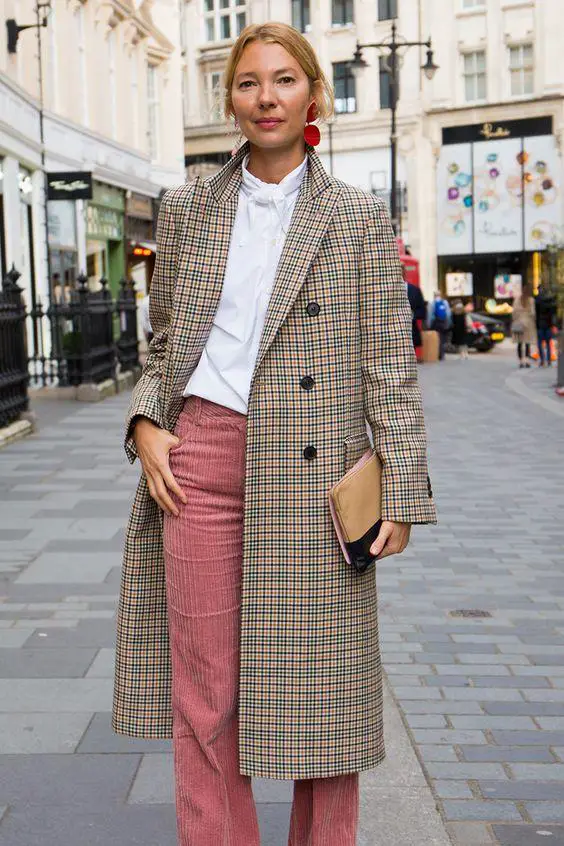 And let's not forget about hats. Corduroy and hats are a perfect combo for a boho and relaxed look: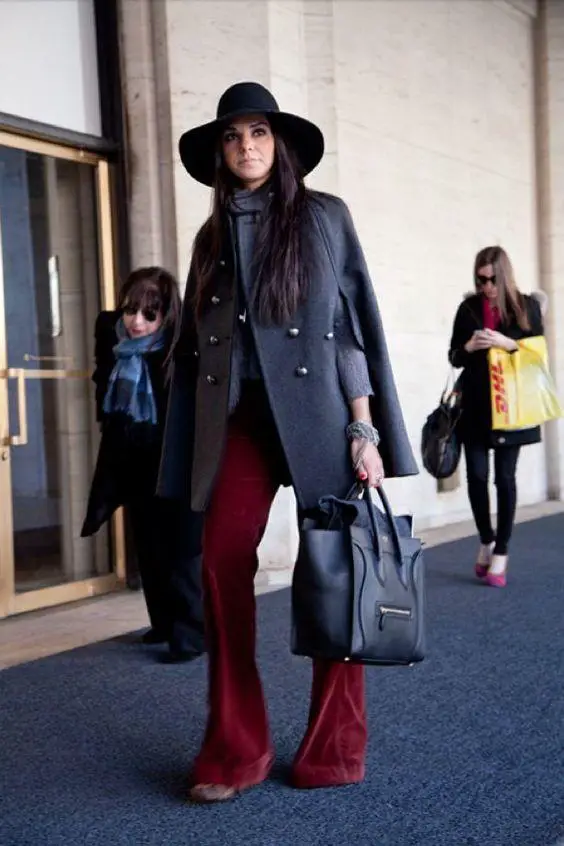 Faux leather pants
Same as corduroy, faux leather pants are an item you will probably not wear during spring or summer. And you already know that leather is perfect for winter, so there's no excuse in not trying them!
Winter clothes for women should include wide leather pants. You'll be amazed at how cool you can look with this type of pants.
You can wear them for special occasions pairing them with high heels: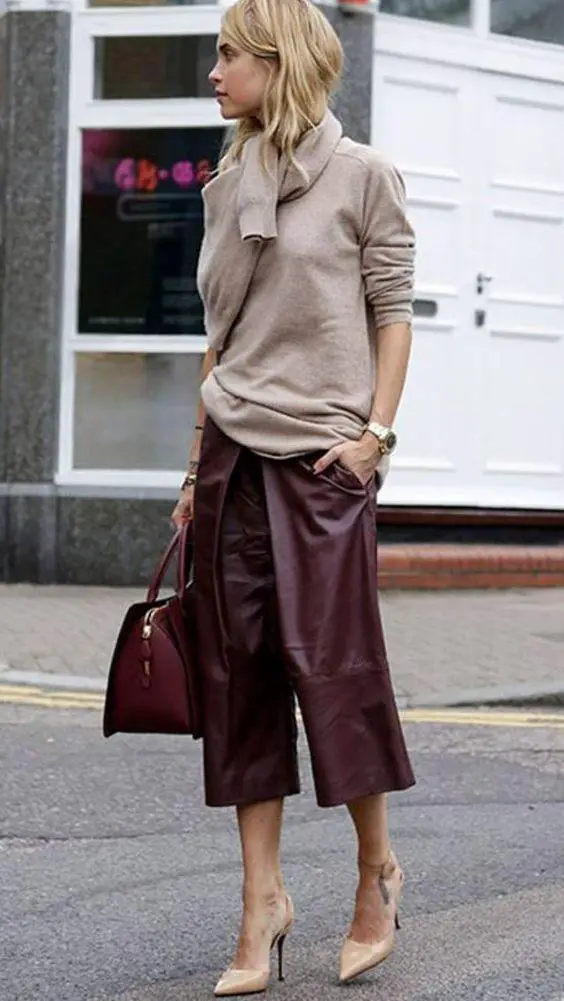 Or for a fashion pro look: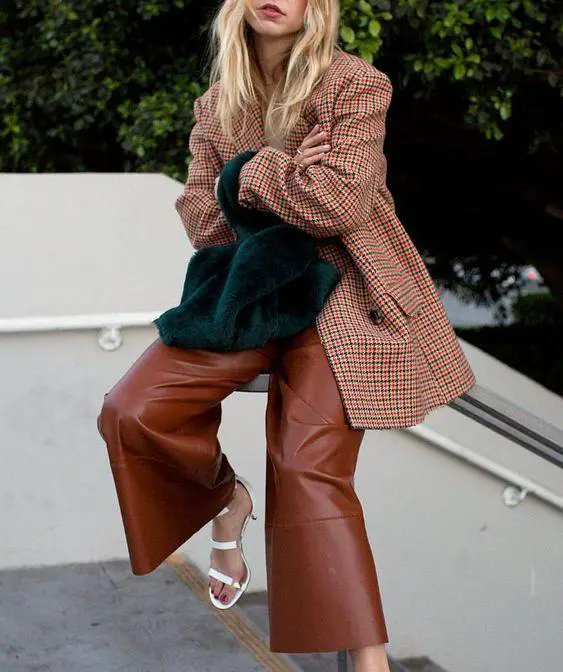 You can also wear slim leather pants for a classic and chic look: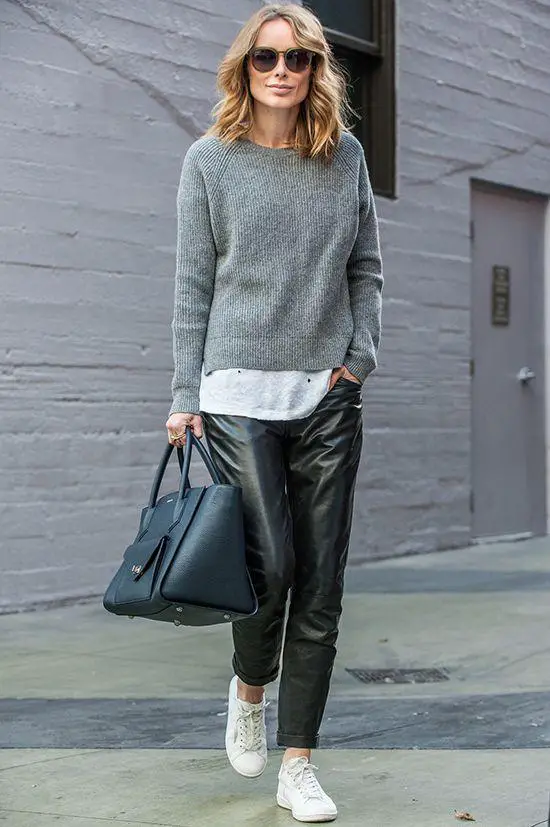 The possibilities are endless! All you have to do is search for leather pants to see which styles you find. The rest is all about being fearless and having fun.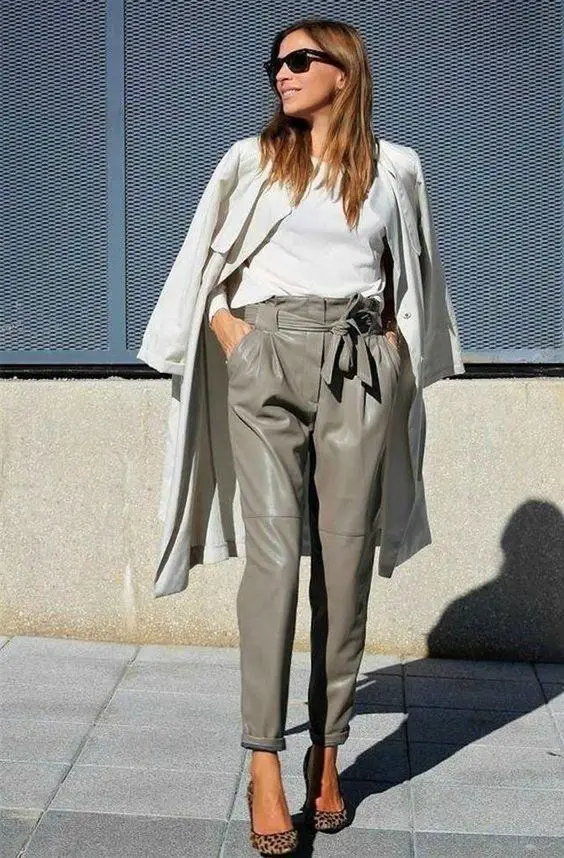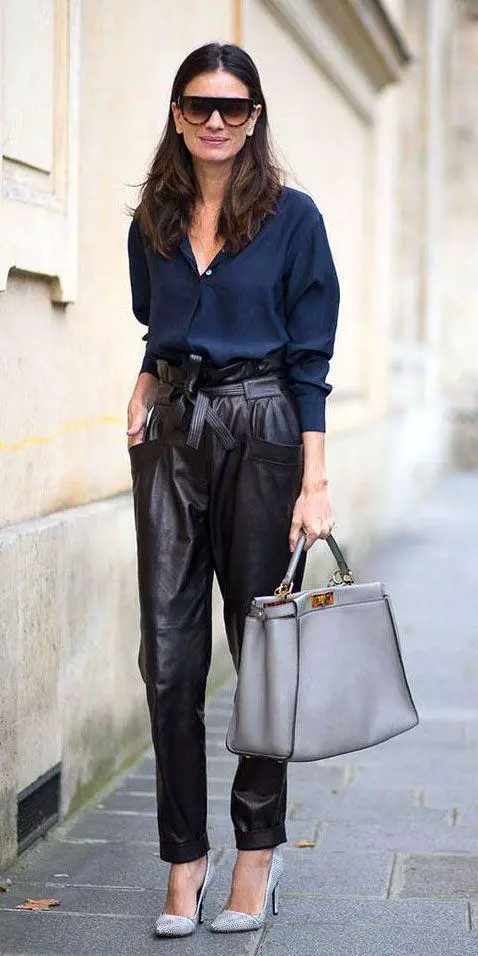 4. Skirts
Same as pants, there are endless types of skirts. But the best ones for winter are:
Faux leather skirts
It's all about leather during winter! And skirts are not the exception.
Leather skirts are super chic, stylish and can upgrade your winter outfit looks in the easiest way possible.
From midi lengths to tight mini skirts, they serve all purposes and will surely add an extra dose of sophistication.
You can wear them with knee-length boots: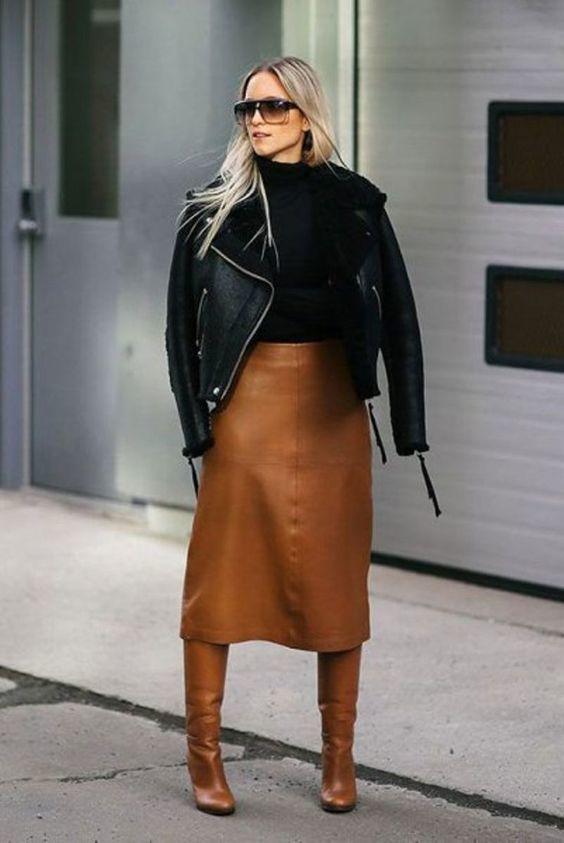 With tights and high heels (perfect for a workwear look!)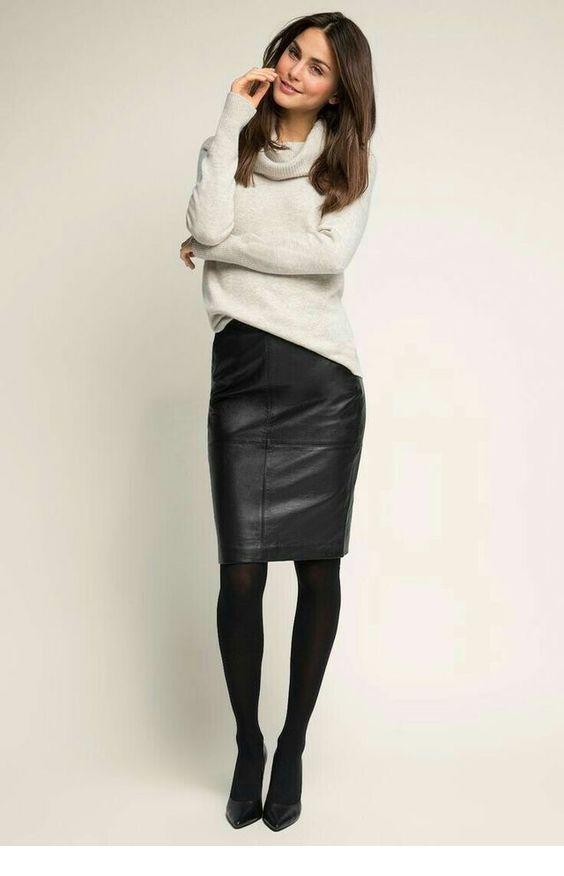 With different layers: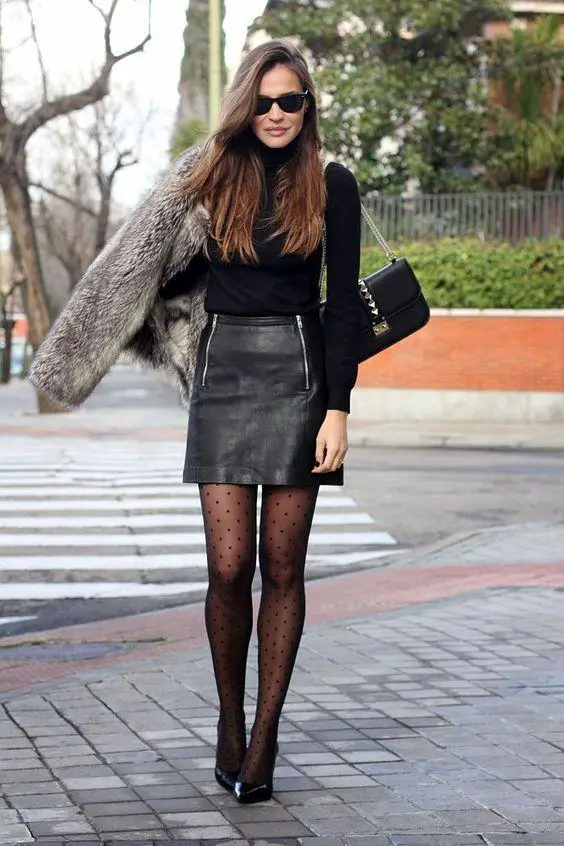 And with ankle boots and a cute fitted sweater. This is a perfect look for a night out with friends: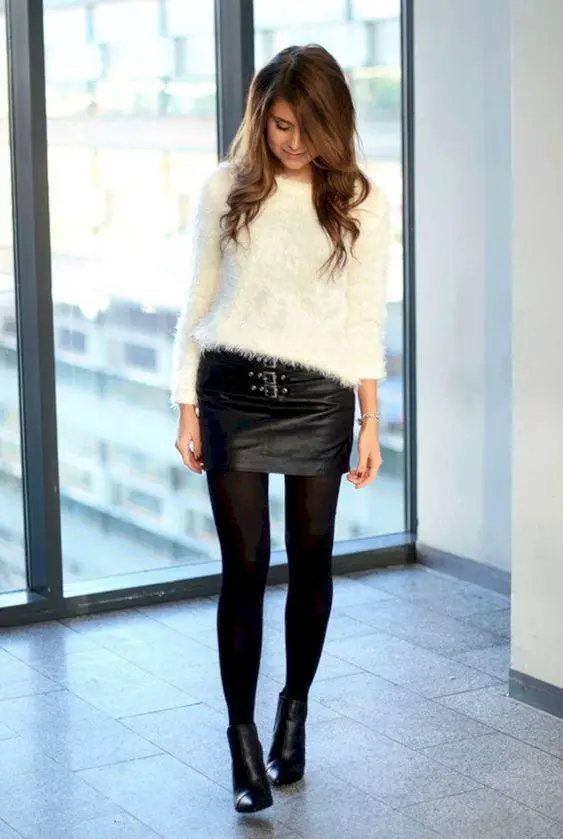 Midi skirts
To keep your legs a bit warmer, midi length skirts are another type of skirt that is perfect for cute winter outfits.
For a formal occasion, opt for pleated midi skirts: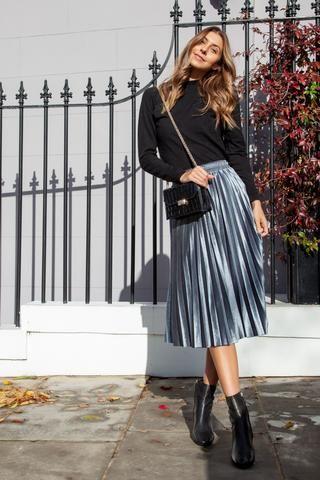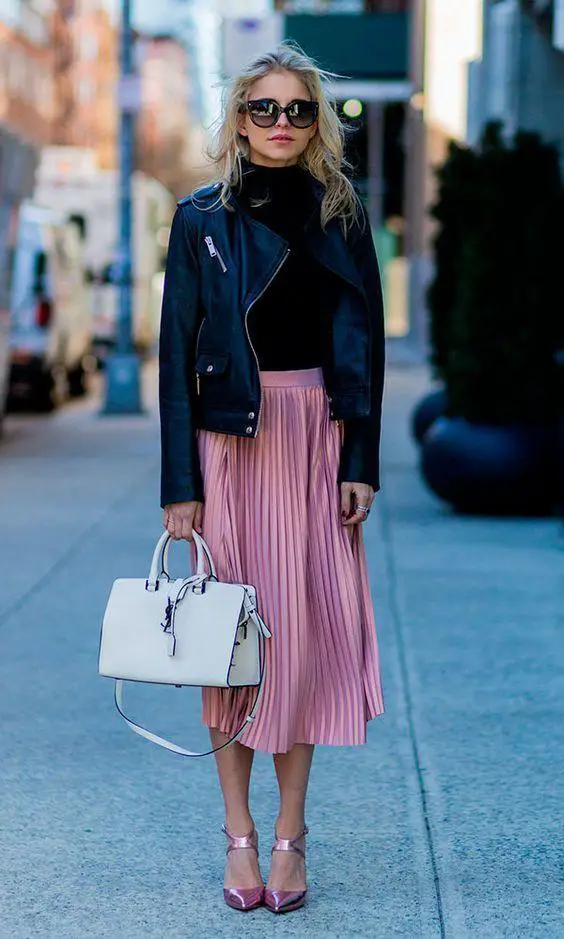 For a casual winter outfit pair your pleated midi skirt with your favorite sneakers:
Silk or cotton blends are also perfect fabrics for a chic winter outfit. You can opt for any style of midi skirt: from wrap skirts to fitted and sleek skirts.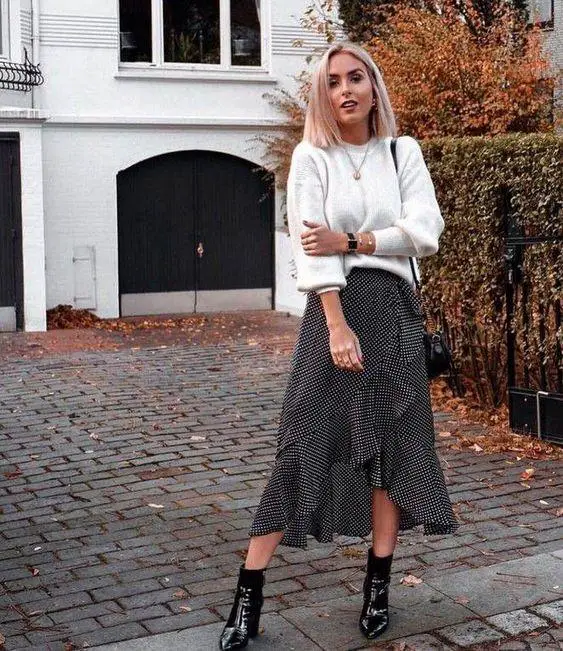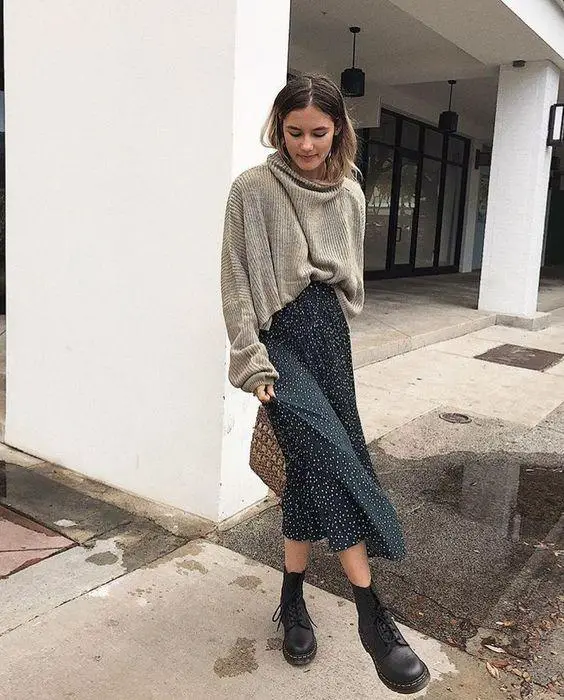 Ankle boots or sneakers are the best shoe type to wear for a casual winter outfit look: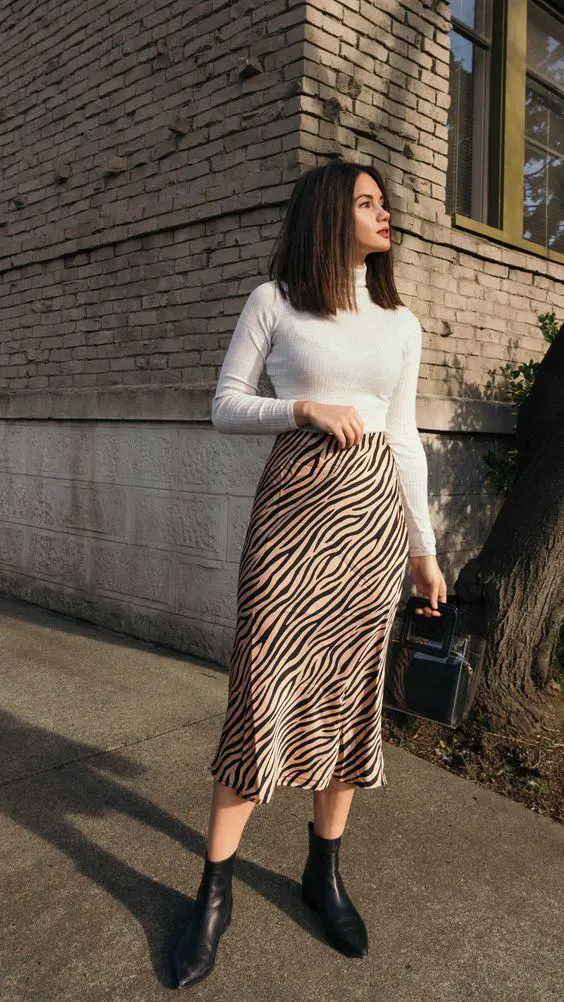 Wrap up:
As you can see, there are many different kinds of winter outfits for women that don't involve jeans.
One of the easiest ways of spicing up your winter style is to forget about that item that you keep on wearing over and over. If in your case, this item happens to be jeans, then I hope this article has given you plenty of options to choose from!
Dresses, overalls, pants, and skirts are the cutest pieces you can wear on a cold-weather season.