A pair of shorts is one of those fashion items women adore because it offers comfortability and shows off their gorgeous legs. They're also perfect for those hot days of summer when all you want to do is stay away from your jeans.
But what about winter? As you may already know, wearing shorts in winter is not an impossible task at all. Many fashionistas show us some cool ways to rock a pair of shorts during chilly weather.
The problem is that sometimes we run out of ideas of how to pair our shorts or we simply want to know what looks trendy right now. That's why I've compiled 18 of the coolest and most stylish ways of styling your shorts during winter time while showing you first the best types of shorts for this season.
How to wear shorts in winter
Shorts may not be the most versatile fashion item out there, but they can create beautiful outfits for different occasions. They're also perfect if you're someone that normally wears jeans or pants, so spicing up your style with a pair of shorts is what will make you stand out, especially during winter.
Most women reduce their bottoms to jeans, pants, and leggings during cold weather, and that's why you need to make the most of your shorts: to look different, stylish, and like a complete fashion pro.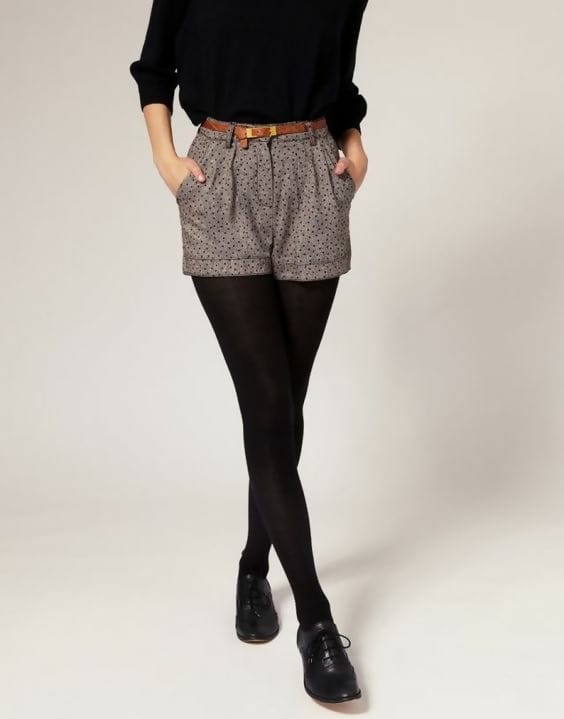 One of the problems of wearing shorts in winter is that people think they will feel too cold. So the key is to choose a fabric that's warm, such as thick wool, and to pair your shorts with tights.
The trick to turning this basic styling tip into a head-turner kind-of-outfit is to choose the right complements that will bring out the best of your shorts.
Take a look at the following winter shorts outfit ideas for a complete style guide inspiration that will keep you warm and stylish during those cold winter days.
Winter shorts outfit ideas
Winter short styles
First of all, let's talk about some short styles that are perfect for winter.
As I've mentioned, the key to mastering a winter outfit is to choose the right fabrics that will keep you warm. The other important tip is to choose a color/pattern that fits into winter fashion.
These are some cool and fashionable winter short styles you can choose from:
1. Plaids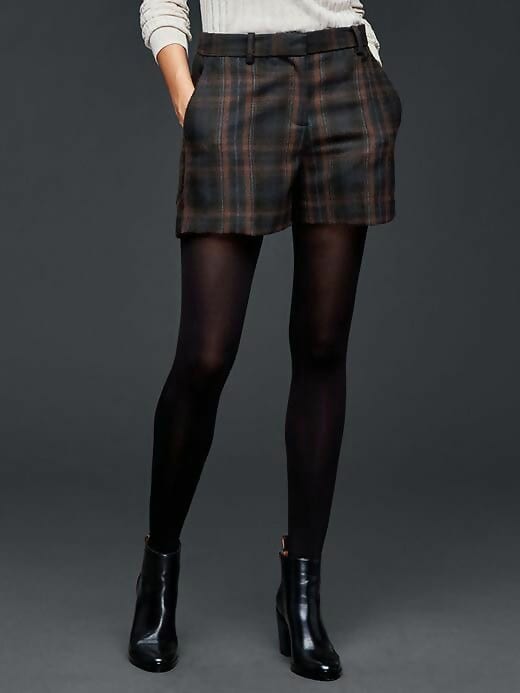 Plaids have been generally worn during winter days because of their classic dark colors.
2. Wool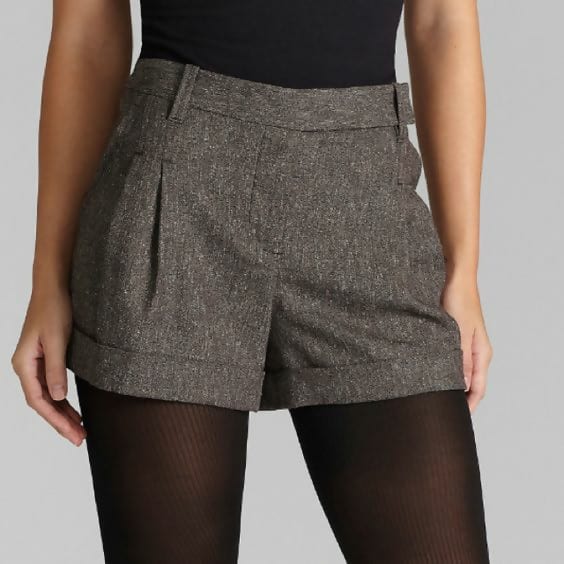 Wool is one of the best fabrics to wear during winter. Plus, the texture of the wool is super chic and makes your outfit look sophisticated.
Wool garments can be expensive but you can also choose another fabric composition that mimics this texture or that has a percentage of wool in it.
3. Faux leather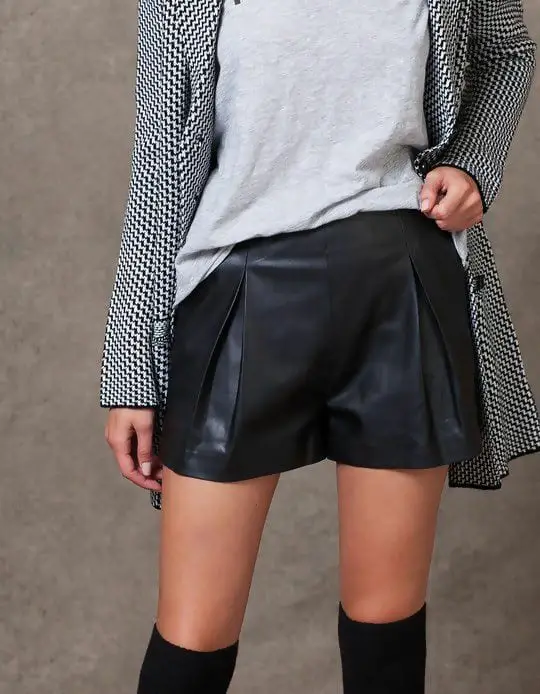 Leather is another type of fabric that's hugely associated with winter because of its warming characteristic. It can be an expensive material, but opting for a faux leather short can be a chic alternative you can wear.
The best part is that they're absolutely perfect for a polished look such as a wort attire outfit.
4. Corduroy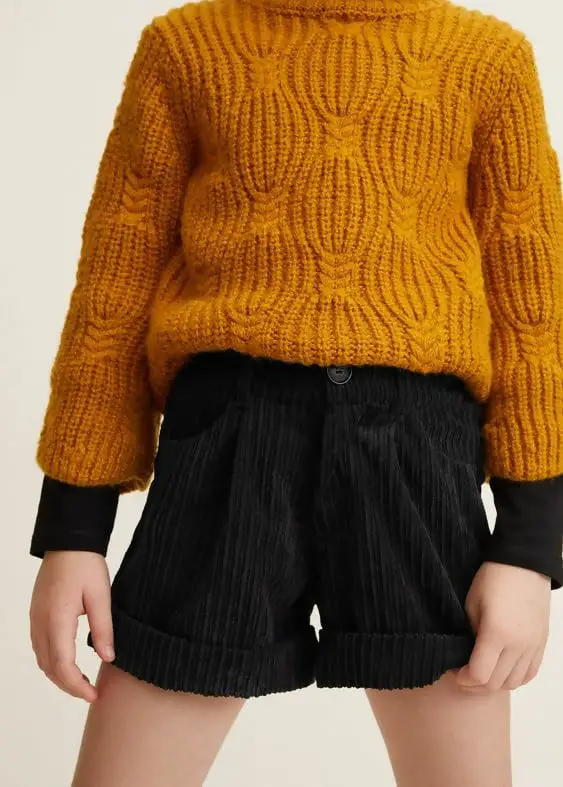 A pair of corduroy shorts may not be the easiest style to find, but it's definitely worth the try. Corduroy is a thick and durable textile that's commonly used for jackets and trousers and has become quite popular thanks to the vintage/retro trends.
For a cool winter shorts outfit, corduroy is definitely the style you need.
5. Denim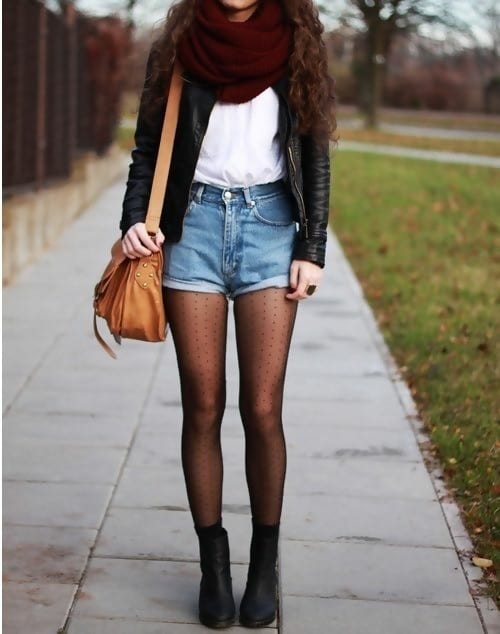 Denim shorts are a timeless piece that you probably already own. Apart from being perfect for summer, denim shorts can also transform your regular winter outfit into a cool and fashionable outfit.
To keep yourself warm during really cold days, opt for a thick pair of tights.
Winter outfits with shorts
Now that we've gone through the best winter short styles, let's see some outfit inspiration that can help you style your own pair of shorts.
1. Winter shorts and leather jacket
A leather jacket is a must-have item for your winter wardrobe, no excuses allowed. Pairing it with any of your shorts and some tights will give you the ultimate winter style worthy of a fashion pro.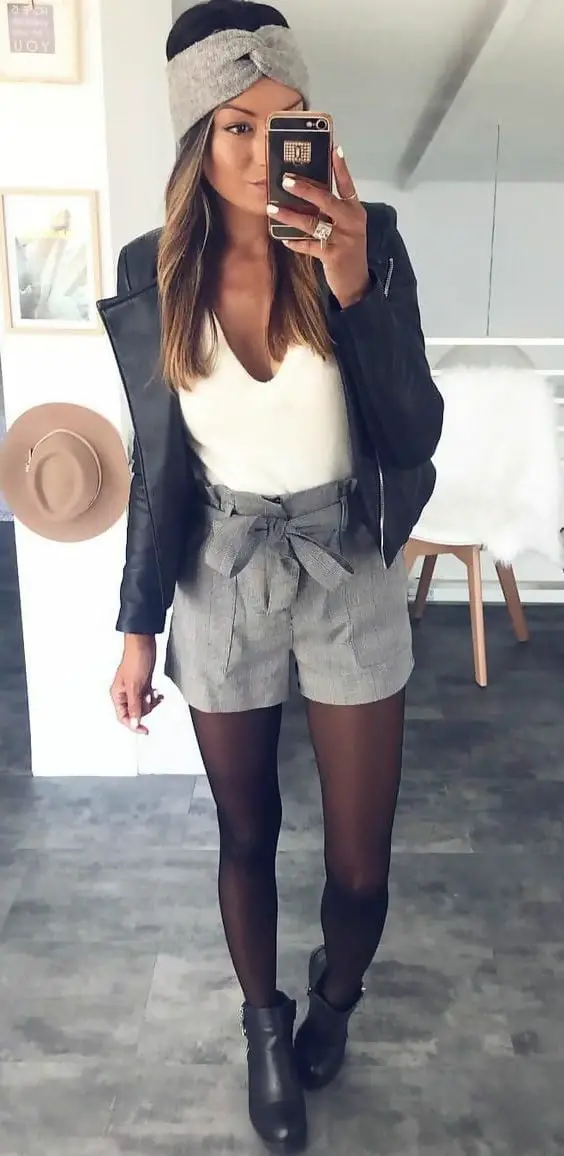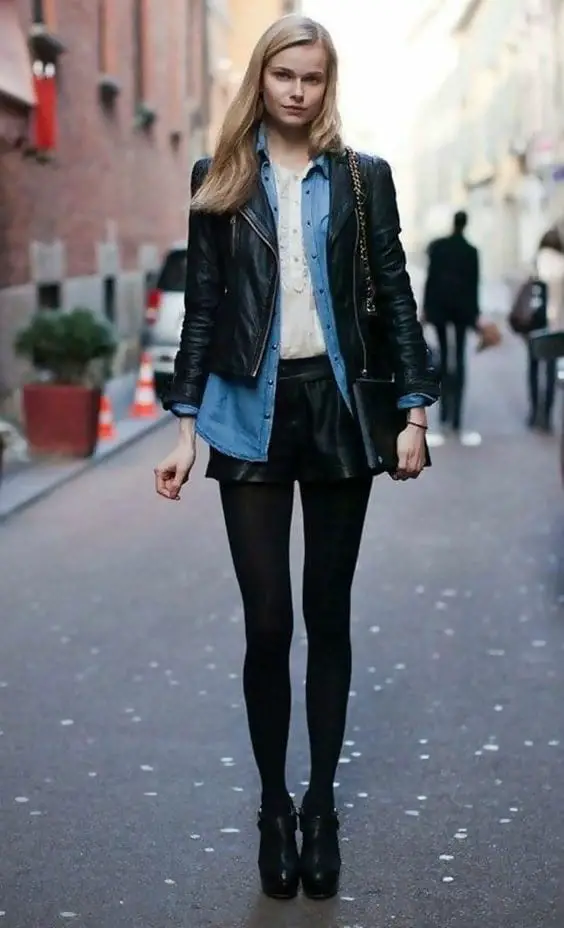 You can get super creative and even pull off a chic outfit with the leather-jacket-shorts combo by adding a cool pair of high heels: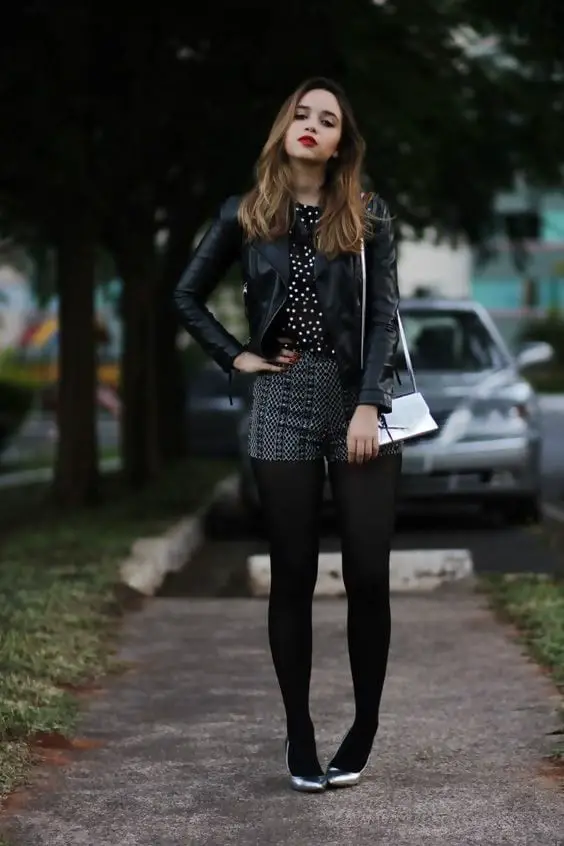 To spice up your winter outfit, opt for a pair of printed shorts as a compliment for your leather jacket, and add some texture with your tights: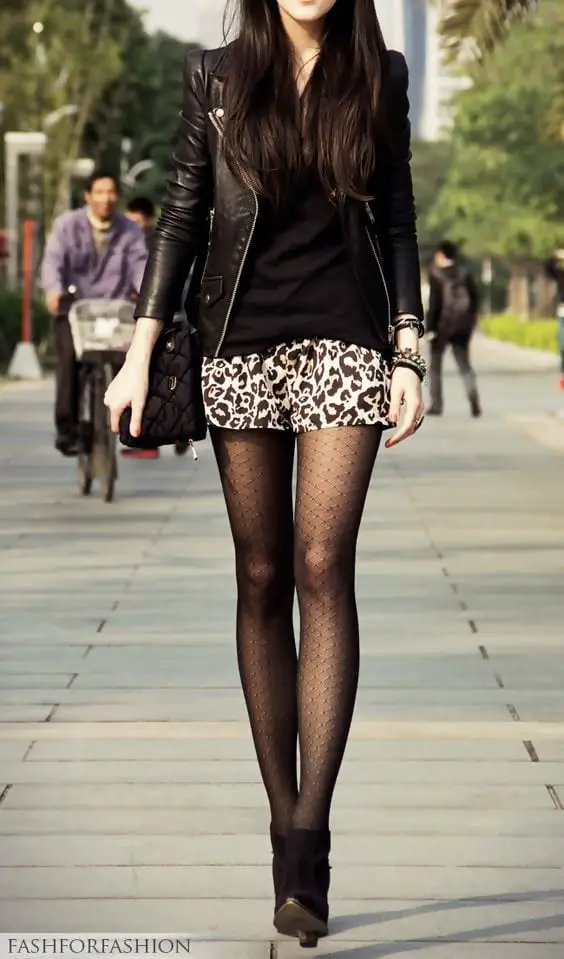 For a cool and casual outfit, nothing can beat a pair of ripped denim shorts: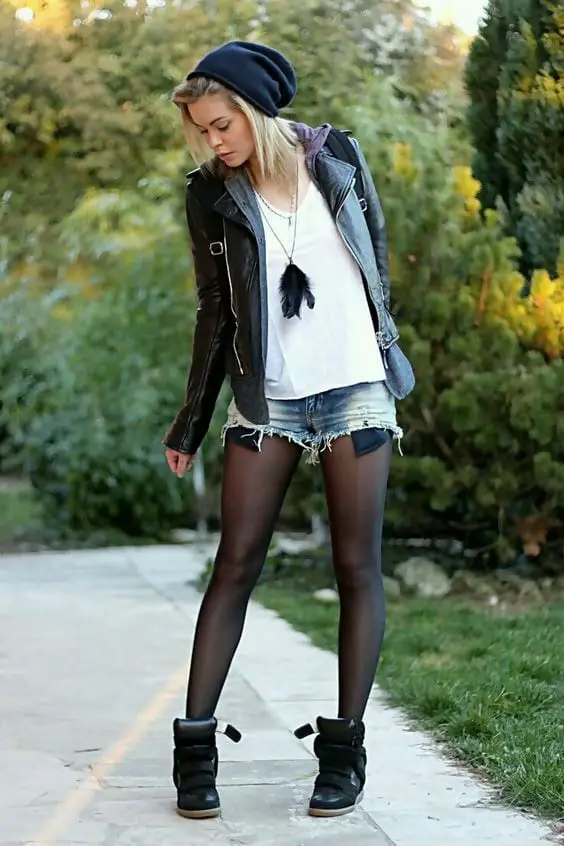 2. Pullover and shorts
A super easy and chic way of styling your shorts during winter is with your favorite oversize pullover.
My favorite way of wearing a pullover is by partly tucking it inside my shorts. Finish your outfit with necklaces like this: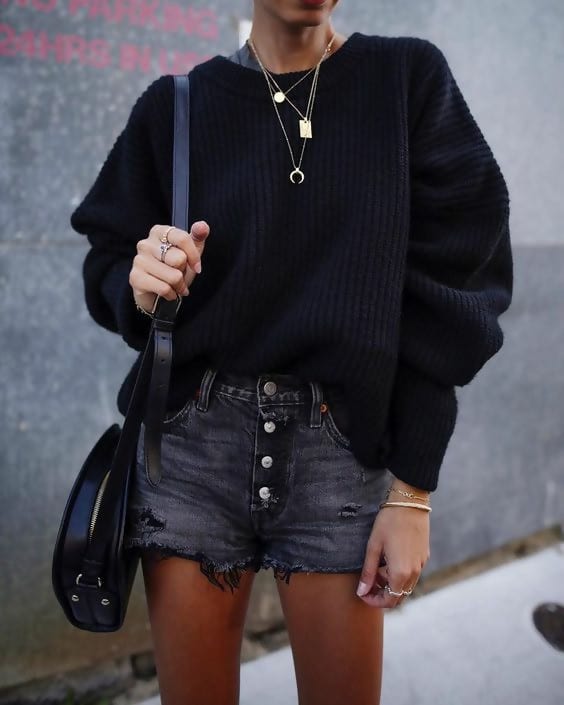 A cool tip on how to wear shorts in winter is to layer your outfit: a stylish button-down shirt under a crew-neck pullover sweater. This is a look that will make you look professional which is perfect for a work attire: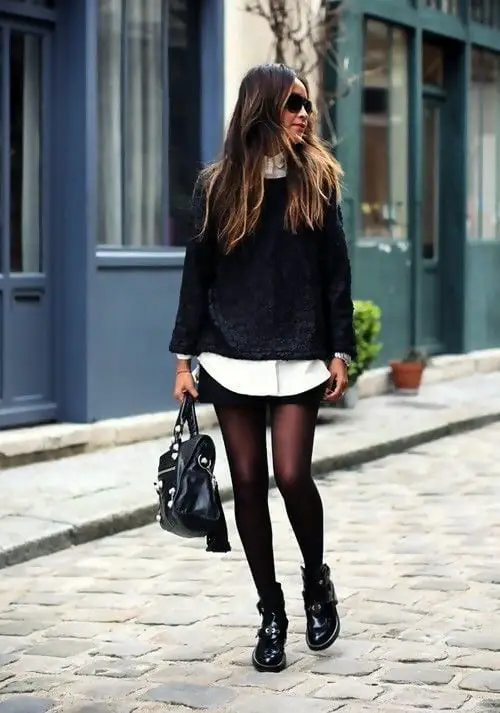 For an edgier look, wear a long and oversize pullover sweater that covers your shorts. When you're indoors you can perfectly take off your sweater and show-off your shorts with a cute top.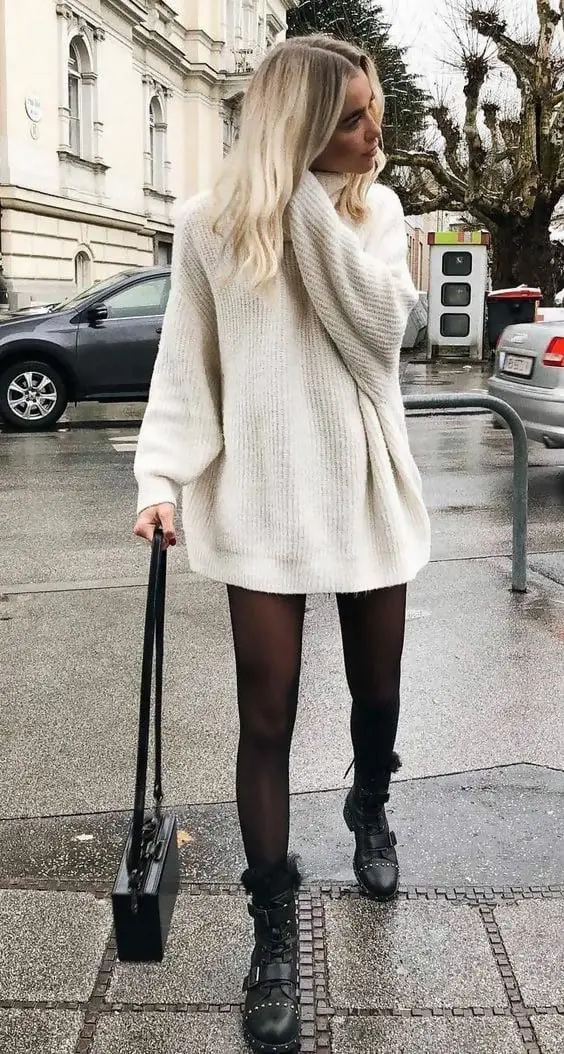 If you want to make your winter shorts the star of your outfit, tuck inside your pullover sweater and wear a cool and stylish pair of shorts, just like Alexa Chung: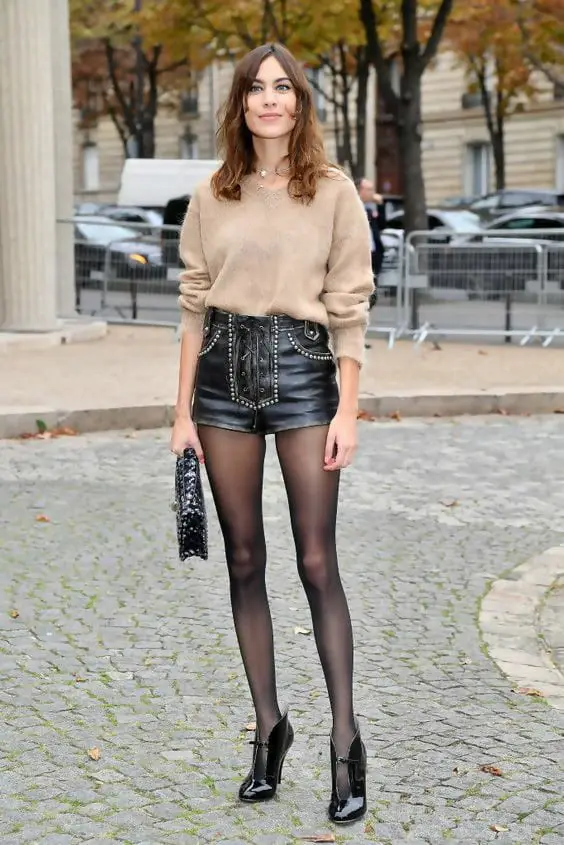 For a head-turner outfit, try wearing a chic pullover in an eye-catching color tucked inside your shorts with a matching-color belt. Finish your outfit with high heel boots: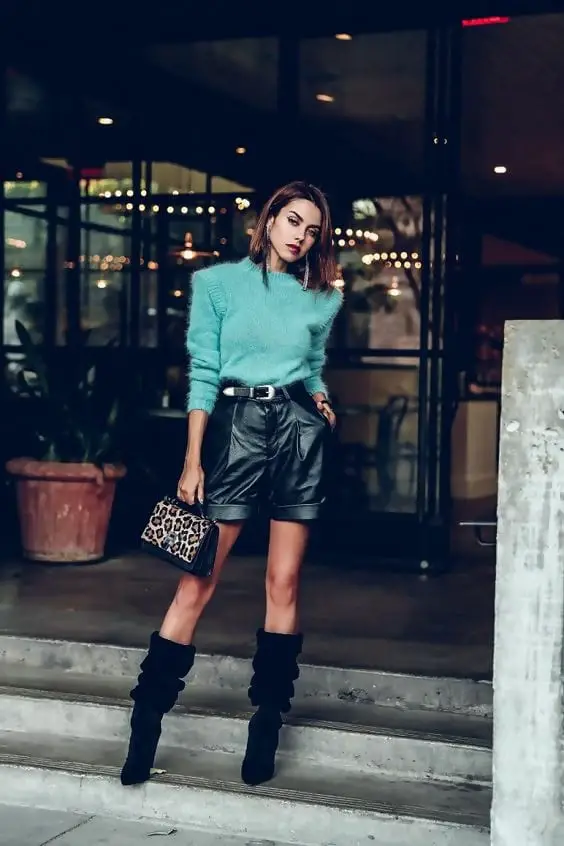 You can also accessorize your winter outfit with a stylish beret: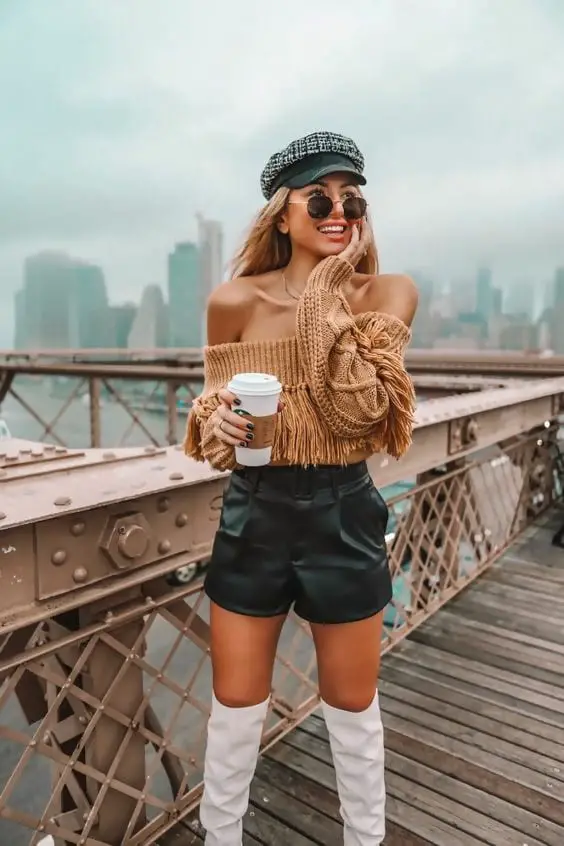 3. Layer your winter shorts outfit
Winter is the perfect time of the year to show off your fashionista's skills, and mastering the layer game becomes a must.
A really cool way of styling your winter shorts is by wearing different kinds of chic layers. I know that layering an outfit and make it look head-to-toe perfect is not that easy, so let's see some tips on how to layer your winter outfits:
– Mix different textures
– Select colors that create a nice color palette
– Choose different lengths
– Show off your layers by leaving your coat open, or wearing a vest on top of a sweater
These are some cool layering ideas you can recreate for your winter short outfits: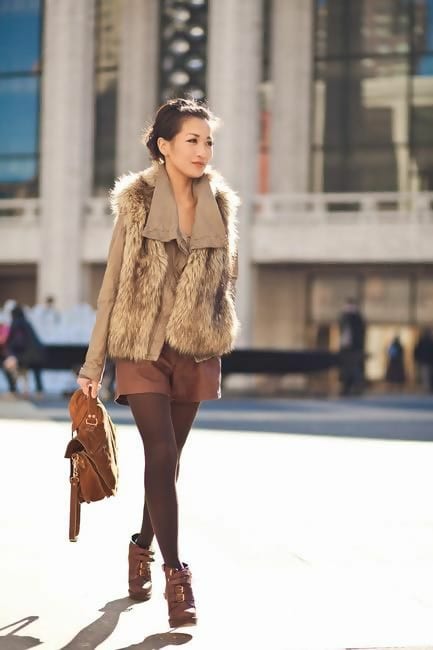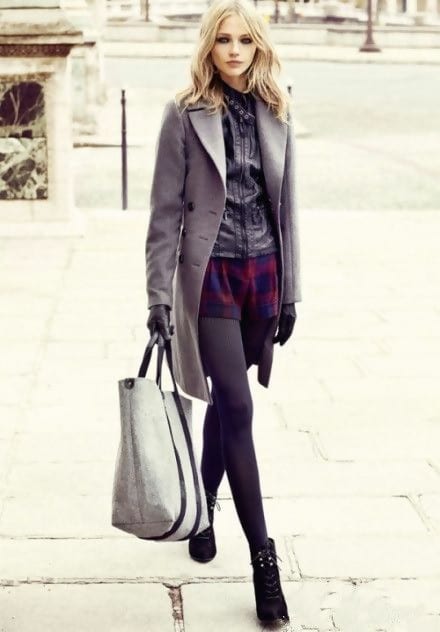 The easiest way of layering your winter outfit is by wearing a sweater under a thick blazer or a coat.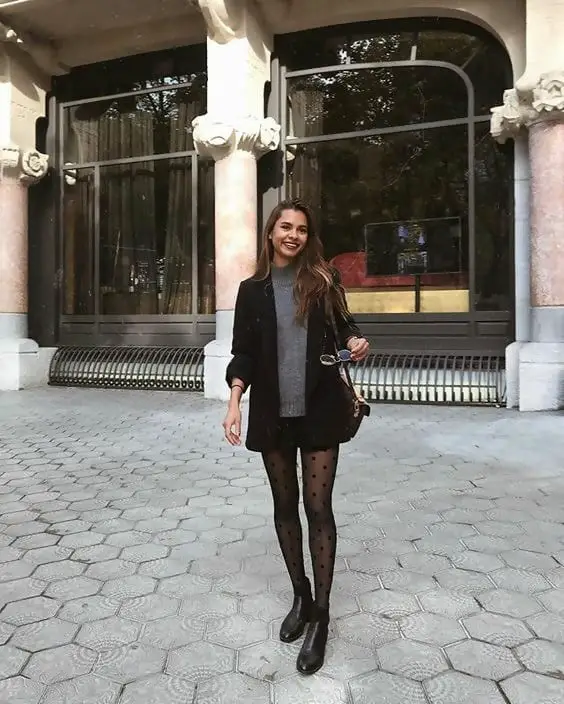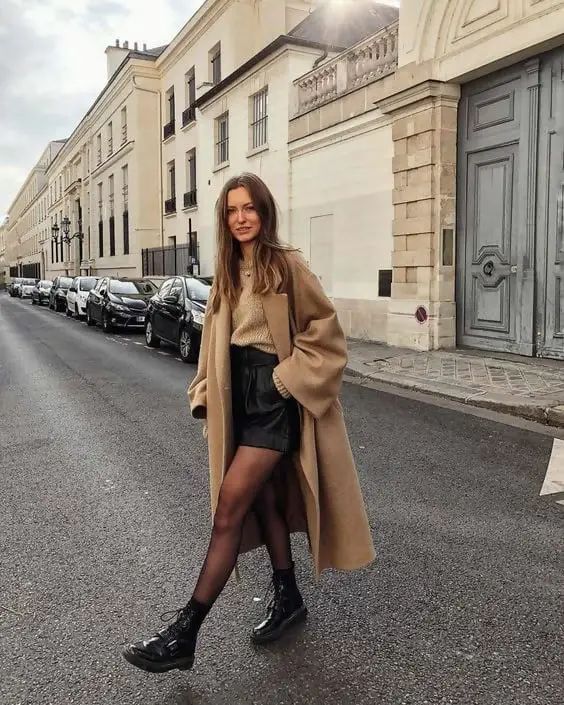 For a stylish and nerdy look, opt for a sweater tucked inside a pair of vintage shorts with pleats and a thin belt.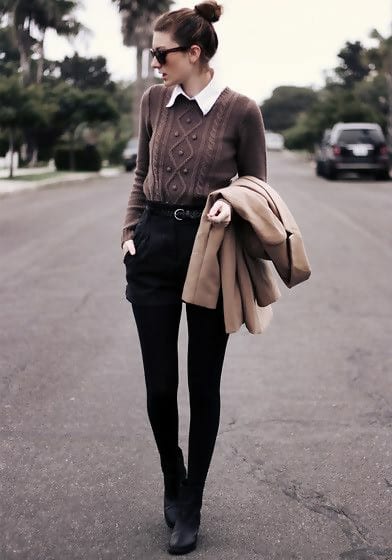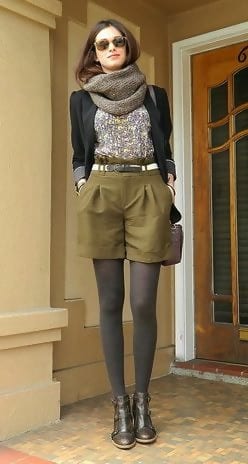 Let's not forget that layers also include your bottom part of the body: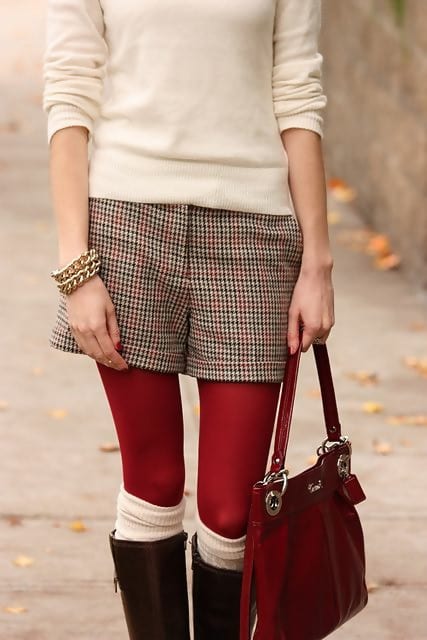 Wrap up:
Wearing shorts in winter is a great and effective way of transforming your regular winter outfit into a stylish and chic outfit. The key to mastering this type of look is to choose a stylish pair of shorts, or opt for basic ones and style them with nice layers.
I hope these tips on how to wear shorts during winter help you pull off great outfits and fall in love with your own winter fashion style.