Jean with a relaxed fit is one of the most popular forms of bottom worldwide. When we talk of a comfy pair of jeans, baggy jeans top the chart. Baggy jeans are no longer confined to the rappers from the era of 90's—rather baggy jeans have made a startling comeback in the past few years. They have become a fashion staple for both boys and girls. Read on here to know some of the best ways of pulling off baggy jeans for men and women.
Part 1: Most Common Styles of Baggy Jeans
Baggy jeans come in four basic styles. All are trendy, and it is up to wearer's discretion what s/he likes for her/himself.
Hip Hop-Inspired Baggy Jeans
Hip-hop jeans are 'too big' in size. Those who want to get an oversized look, deliberately buy baggy jeans that are bigger than their natural size. For instance, those with a size 30 waist buy size 34 jeans. Wearing this big size means you will get an oversized look around thighs, knees, and bottom. To pull off this baggy style, you must use a belt to hold the pant up.
Sagging Jeans
How to wear baggy jeans men boldly? That is a common question that I am asked quite often. 'Sagging' is the answer. Sagging is yet another popular baggy jean trend today, especially in men (remember Justin Bieber?). Sagging is also known as 'low riding'. Girls and boys who want an exceptionally badass style should opt for this type.
In sagging, you don't wear jeans at hip height. Rather it is worn below the waist and most of all, the wearer is seen with his boxers exposed. Showing boxers too have become a hot trend these days. To get this look, you must wear a high-quality undergarment.
JNCO Jeans
Unlike the first type, JNCO is more popular and practical in everyday life. JNCO is baggy and wide-legged but at the same time, they are quite fit on the waistline and you can walk, jump or even run in them without anything unfortunate, like a wardrobe malfunction.
Women's Baggy Jeans Boyfriend Style
Boyfriend jeans are the most popular baggy style jeans for women. Slouchy and loose through the legs and fitted at the hips, women's boyfriend jeans are one of the top fashion essentials today. Its style of tapering at the bottom is sure to get you noticed.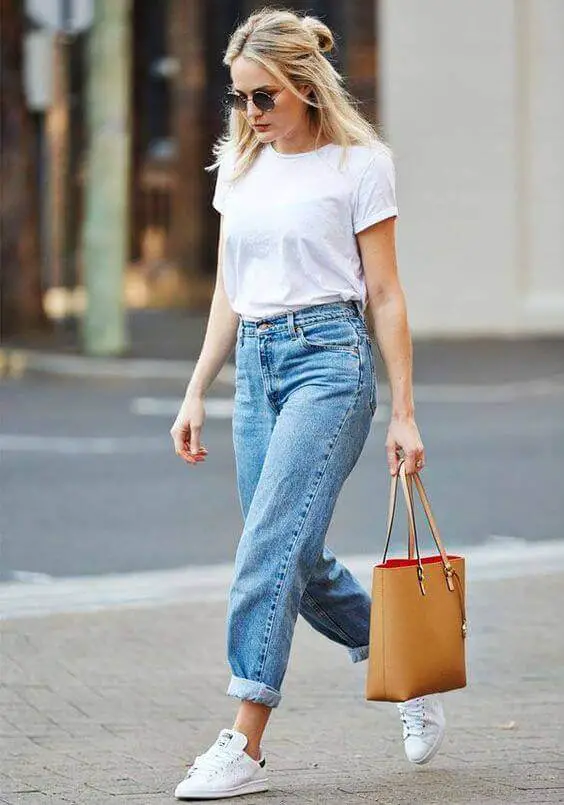 Harem Jeans
This is yet another baggy style that has been trending for the past few years. Baggy on the top and slimmer at the bottom, this style is popular among both genders.
Part 2: Baggy Jeans Inspirations for Women
With a little effort on your part, you can get a solid sense of style by incorporating different styles of baggy jeans. Just scroll down to find a plethora of the trendiest looks and styles of baggy and wide-legged jeans.
Baggy Jeans with Structured Top
I always recommend my girl readers to create a balance, when pulling off baggy jeans. It will ensure a more feminine and polished look. To get that look pair your baggy or boyfriend jeans with girly staples like structured jackets, high heels, boxy bag, and silky shirts. Lastly, don't forget to tuck in your shirt but in a messy way.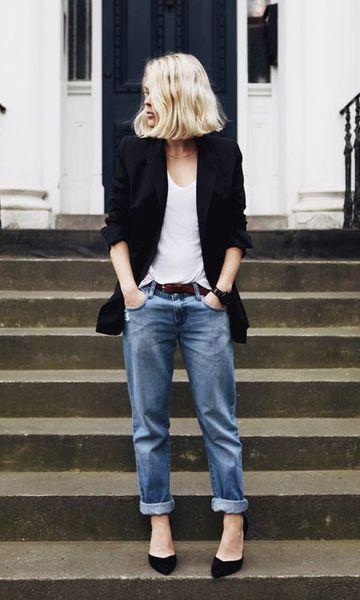 Baggy Jeans for Casual Look
Just check out this avatar—a perfect casual look. Rolled up baggy jeans are excellently paired with a layered top, oversized handbag and comfy shoes. Addition of a long necklace adds a boho flair.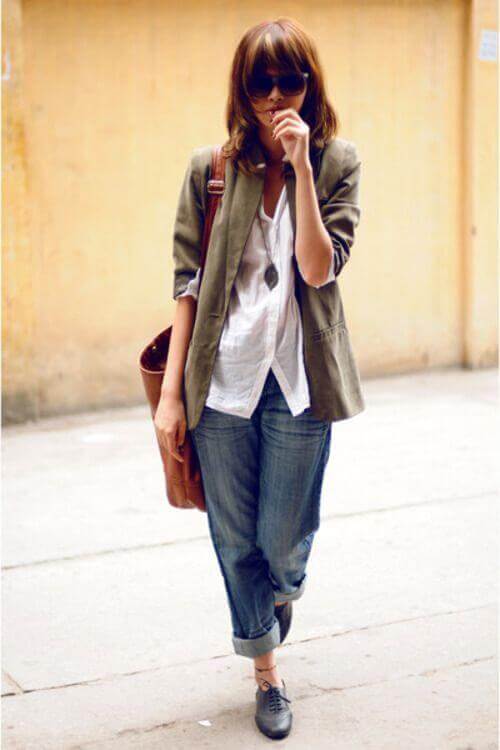 Baggy Boyfriend Jeans for Tall Girls
The baggier cut of boyfriend jeans is best suited to tall girls. Even the low-waist of the jeans does not affect their height (Those with a petite body type must opt for skinny jeans).
Slouchy Boyfriend Denim Short
Summer is the time when the lesser you wear, the better it is. For hotter days, you always have the choice of settling on some fashion-forward boyfriend short. Loosely-fit shorts can be worn by anyone—irrespective of height and size.
Baggy Jeans for Winter
There is a common concept that jeans belong to summer. I don't agree with it. Jean is such a classic iteration that cannot be restricted by seasons. Even the colder days of winter can be styled by incorporating a baggy jean. Unlike summer, look for darker shades of jean in winter. You have so many attention-getting options to layer it up. From cardigans to the trench coat, every winter staple complements your look. For footwear, prefer booties or ankle boots.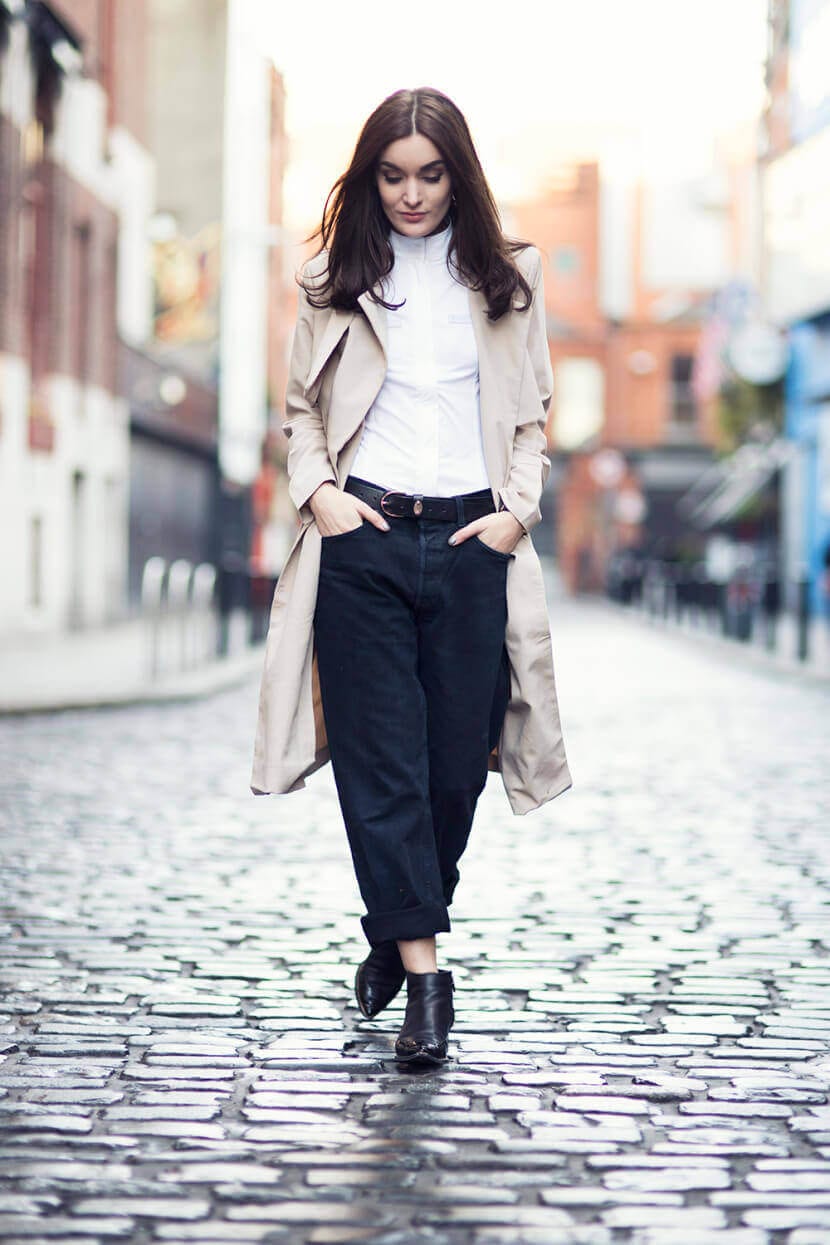 Baggy Jeans with Suspenders
Like I have already mentioned, oversized baggy jeans must be buckled up (especially for girls). Do you love that 'too big' look but fear to fall off? Just opt for suspenders (Check how to wear suspenders). Suspenders not just hold up the bottom; they also add more to your overall style.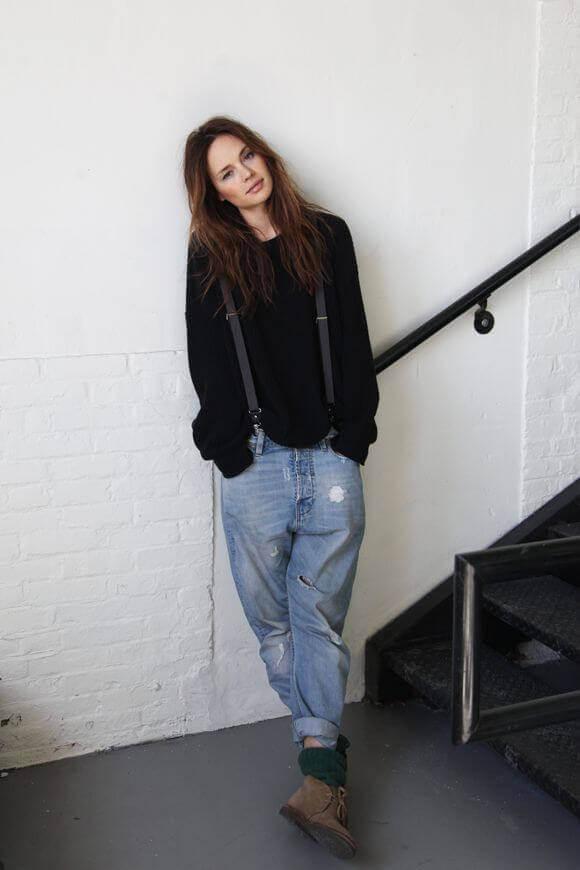 Distressed/Ripped Baggy Jeans
Ripped baggy jeans is an ideal staple for summer. Pair it with a tee or denim jacket and there you go. For a fashionably-advanced look, roll up the jeans with high heels.
Baggy Overall
Baggy denim overalls are perfect staples for an off-duty look. It is a versatile piece that easily goes from funky parties to a regular everyday look. Baggy overalls are best paired with white lace-up slip on and black bralette. Roll up the bottom and pair it with strappy flats or sneakers.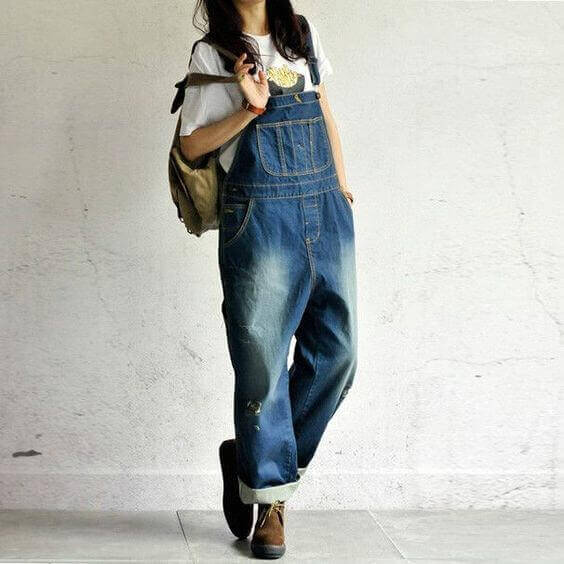 High Waisted Boyfriend Jeans
High waisted boyfriend jeans look fab with crop tops or tucked in shirts. They give the illusion of elongated legs. Just roll them up and you are all set to get noticed.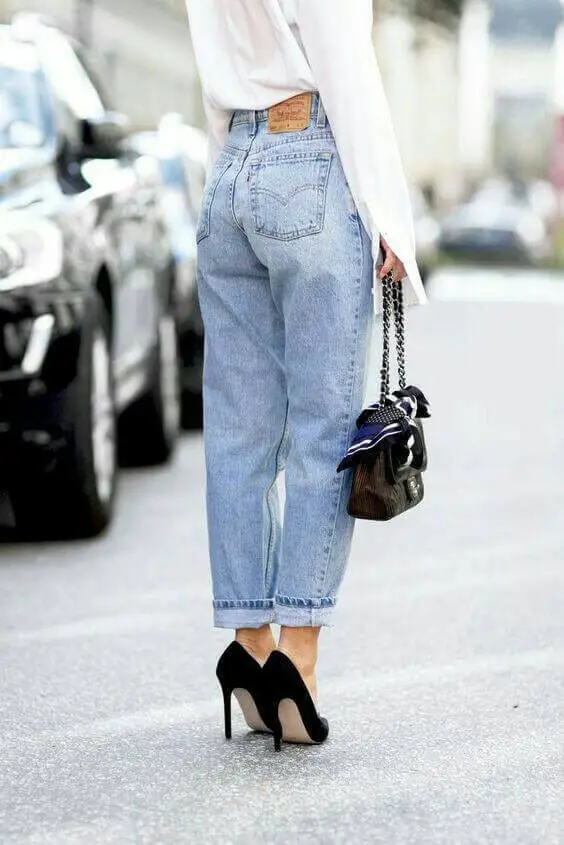 Baggy Harem Jeans for Girls
Check out this loosely fit harem jean with large-sized printed pockets. Girls who are looking for an untraditional and bohemian style must try something like this. These are best worn on fun-filled occasions.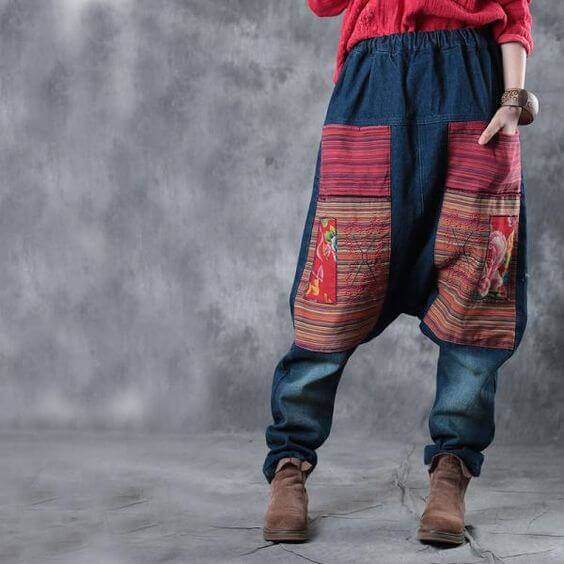 Part 3: Baggy Jeans Inspirations for Men
Jeans is not just for gals, even men can update their everyday look by incorporating funky baggy styles. Let's take a look at the trendiest looks for men.
Comfy Street Style for Men
Men prefer baggy jeans for the sake of comfort. Paired with an airy shirt, tee and sneakers, baggy jean promises an amazing street style for men. So, next time when you are on vacation, opt for this care-free look.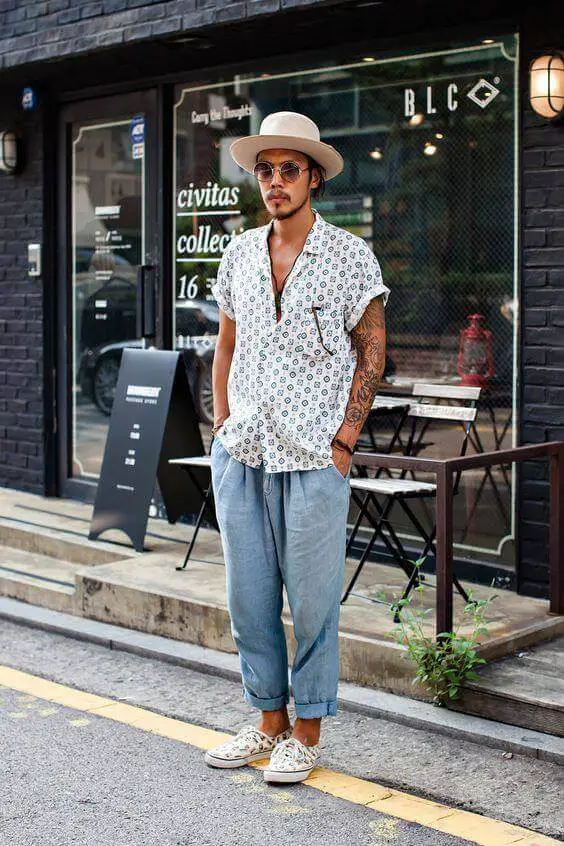 Summer Look with Baggy Jeans
Skinny outfits add more to the trouble caused by scorching heat in summer. Wearing something airy and loosely fit is the preferred choice. Even men feel at ease when trying a pair of baggy jeans with white tee and sandals. Just check out this trendy summer look, it is best for teens or students.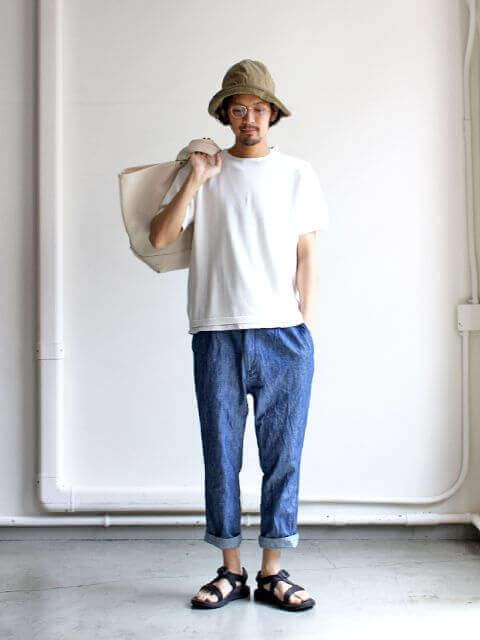 Loosely fit Jeans in Winter
Loosely fit jeans are not restricted to summer only. Just layer them up stylishly to get a fashionable look in winter. For layering, I would recommend a stylishly cut jacket or cardigan with boots.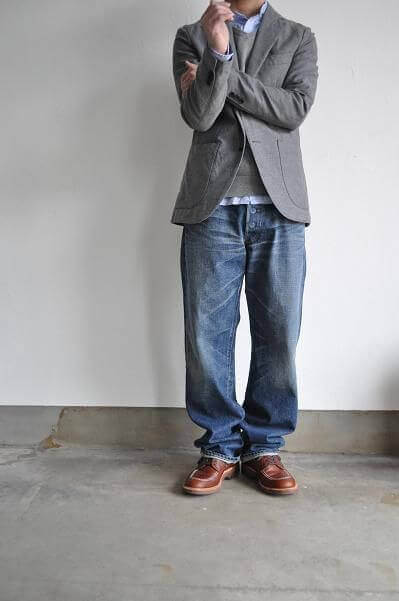 Ripped or Distressed Baggy Jeans for Men
Dress to impress with loose fit jeans in distressed/ripped style. Be it a casual look or a funky party, boys wear it for fabulous fashion and cool style.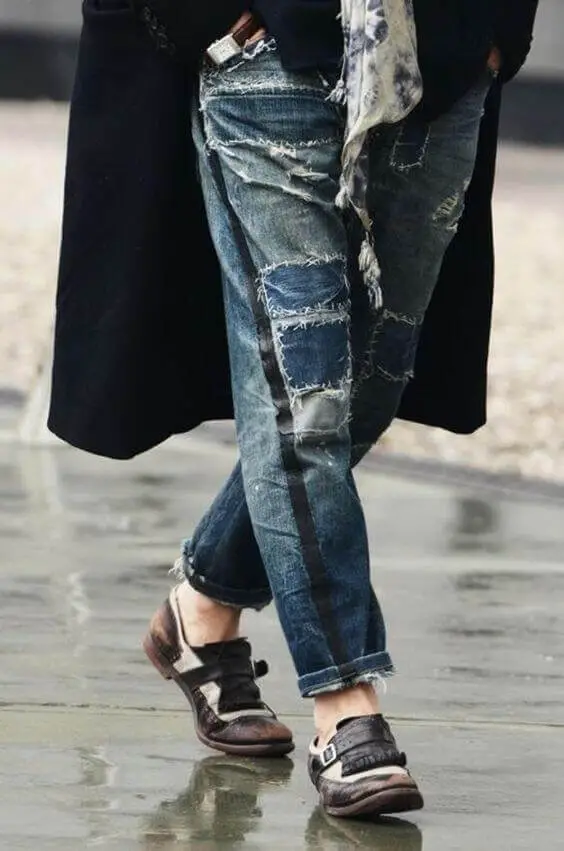 Repair Baggy Jeans for a Day Off
There are days when you do not want to leave your house—staying at home or chilling out with pals is all that you wish. Repair-style baggy jeans are best to get that relaxed look. The patch detailing on the legs promises a chic appeal.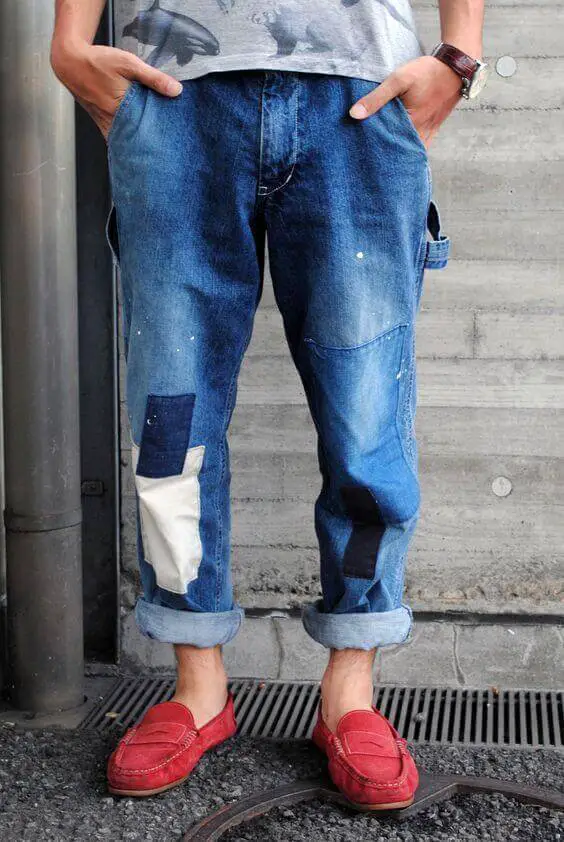 Loose Baggy Shorts for Men
Shorts are one of the most favorite summer staples. Pairing baggy shorts with tee and sneakers promises a hip-hop style.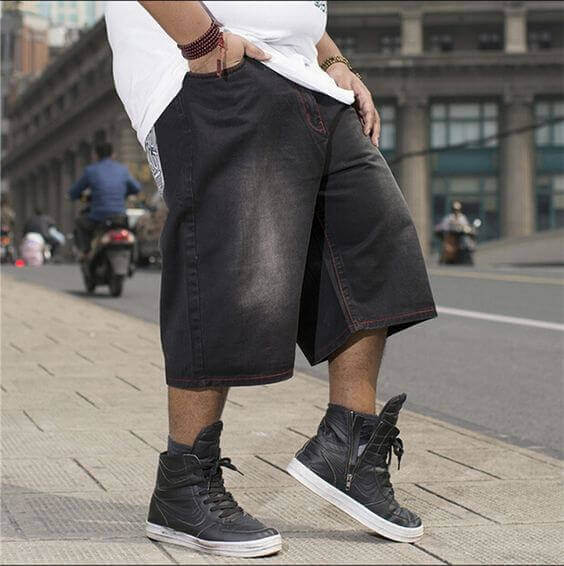 Harem Jeans for Men
Harem jeans are summer staples. These can be worn on exciting events like outdoor music festivals, picnic, and fun on the beach. Their loose-fitting keeps men at ease all the time. Pair it up with sneakers and get a look both comfy and fashionable.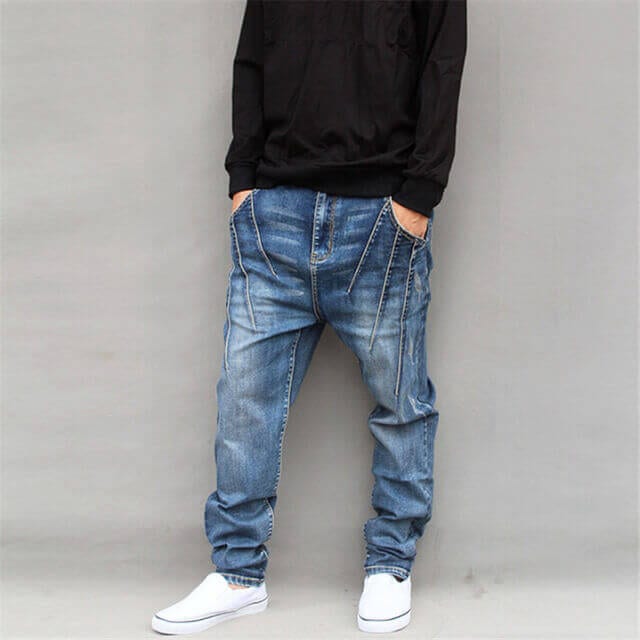 Wrap up:
Baggy jeans look best on a wearer with thicker legs and thighs. If you have heavy-looking legs and you also want to move freely, opting for loose-fit jeans is the best way. Concluding the article, I hope that you would have learned something useful here. Furthermore, our list of inspirations (for men and women) must have taught you a great deal about styling baggy jeans.