Bralette is a piece of lingerie that is usually worn like an undergarment. Though bralette as a fashion staple has got immense popularity in the past few years still there are many ladies who do not know how to wear a bralette. The range of styles, cuts, colors, and prints make bralette a sassy and hot piece that can be flaunted over or under the top.
Learn More Top 10 Best Seller Bralettes!
What is Bralette?
A bralette is a short, lacey or satiny item that girls use to adorn their tops. It can be worn as an undergarment or as a revealing, bold top. Read on to know more about it.
Bralettes are comfier than the typical breast-supporting bras. It is lightweight because it does not come with molded cups and support wires.
Bralettes are best for slim-fit girls with small to medium sized breasts.
For the girls of large-sized breasts (D cup or up), this item would not be that ideal (it would not be able to hold breasts tight).
For average to large size breasts, we recommend plus size bralette with cups.
Bralette Outfit Ideas
Knowing what is bralette is not a big deal; to have knowledge of pulling it off fashionably is the real thing. Read on to know some innovative and chic ideas to wear a bralette like a pro.
Bralette Underneath Overalls
Pairing up your short and lacy bralette with a denim overall is the chicest thing to do in summer. Be it a short overall or the long one, with a peeking bralette, you are surely going to be noticed by all.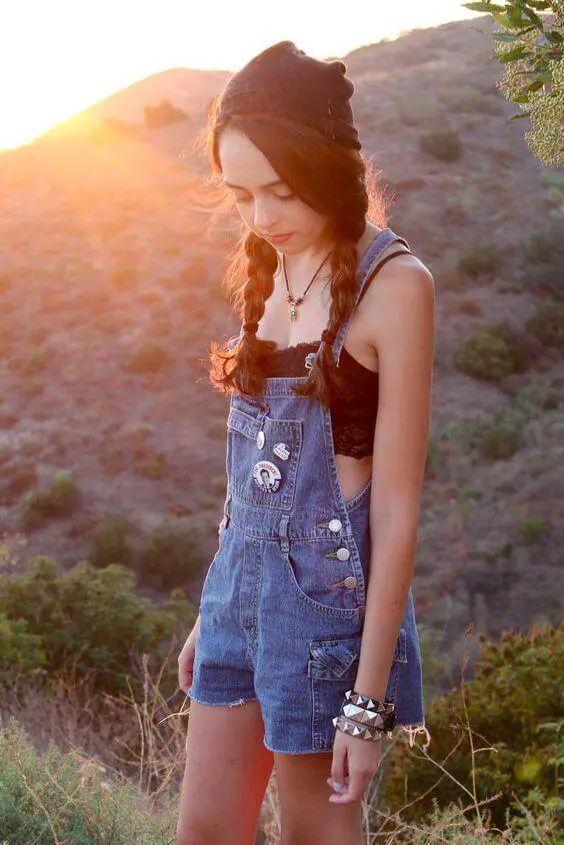 As Summer Lace Top
Are you planning vacations on a tropical island? A lace or crochet bralette is the perfect piece to pack. Simply use it as a lace top over a short and make your surroundings even hotter.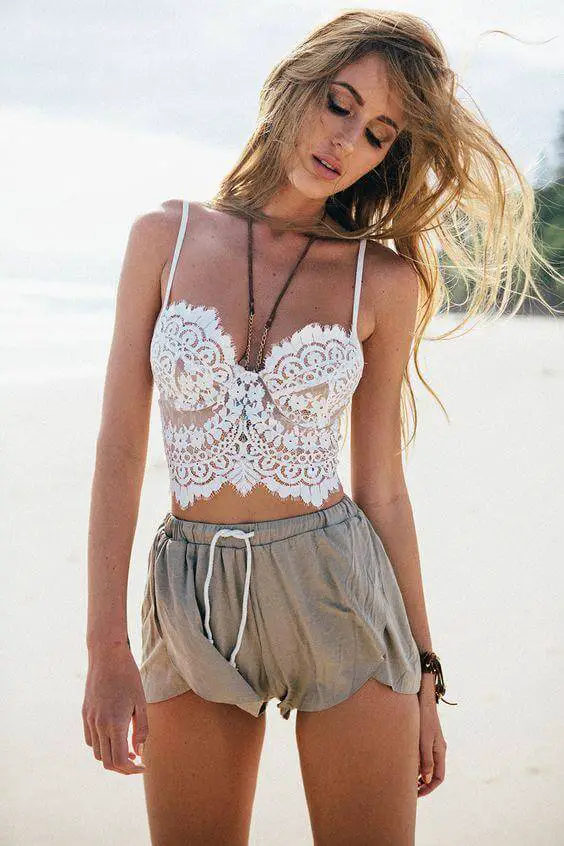 Buy Similar Here
Under a Sheer Blouse
Pulling off something sheer or transparent is the hottest spring summer trend this year. All the top fashion houses have showcased some collection containing sheer outfits. Whether it is a plain sheer top or the one with the lace detailing, addition of a bralette underneath promises a cutesy look. Just like these inspirations.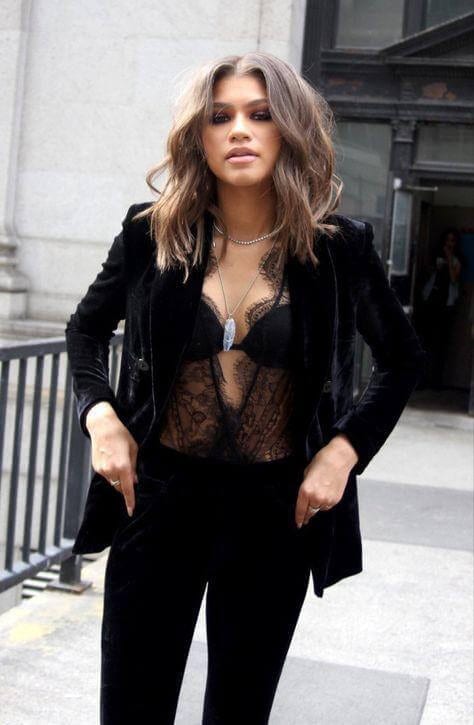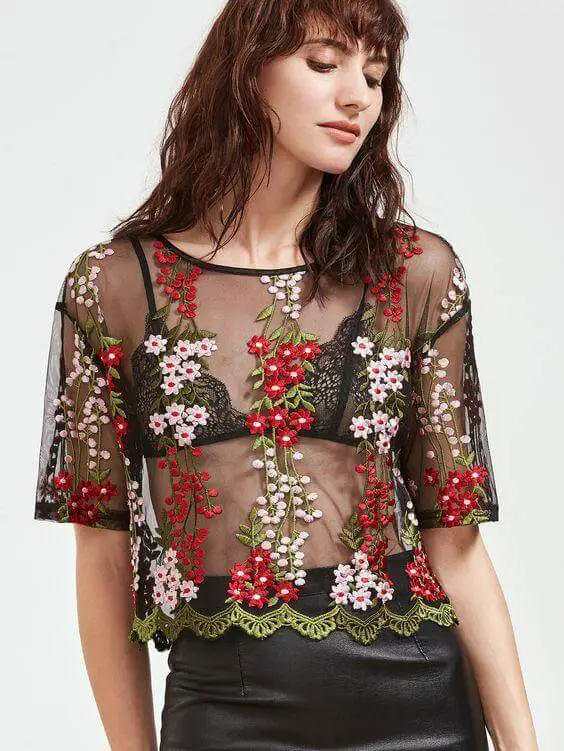 Under an Off-the-Shoulder Dress
Combining you are off the shoulder blouse with a bralette peeking out is yet another eye-catching style. Next time when you plan to wear something off the shoulder, do try this look.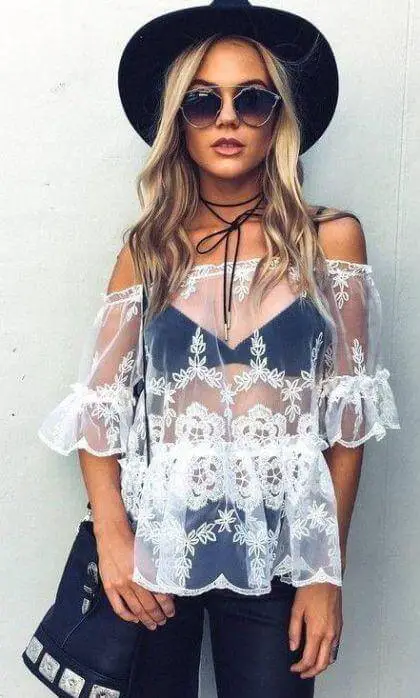 Tank with Open Sides
Open sided tanks are the perfect pieces for beach time. Deep sides are a good way to show off your lacy bralette.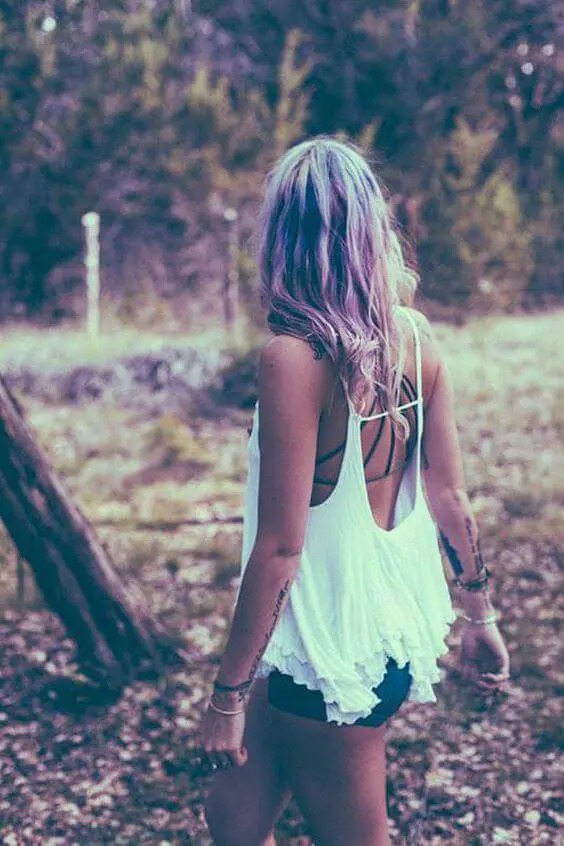 Teens who are looking for a fashionably advanced and spruced up look must give a try to bralette underneath a denim jacket. This one is a deadly combo that ensures a fabulous fashion and sleek style. Even denim bralettes are trending in the fashion world. Short and sassy denim bralettes promise a chic look. Just take a look at these amazing inspirations.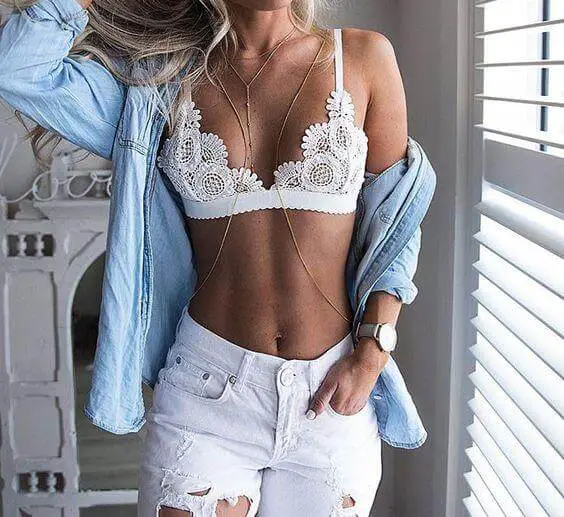 Paired with a Jacket
Jackets and blazers are the pieces that are commonly known for pulling off in professional life. Addition of bralette with a blazer adds a flair of femininity and flirty vibe. Check out these images to get some inspiration.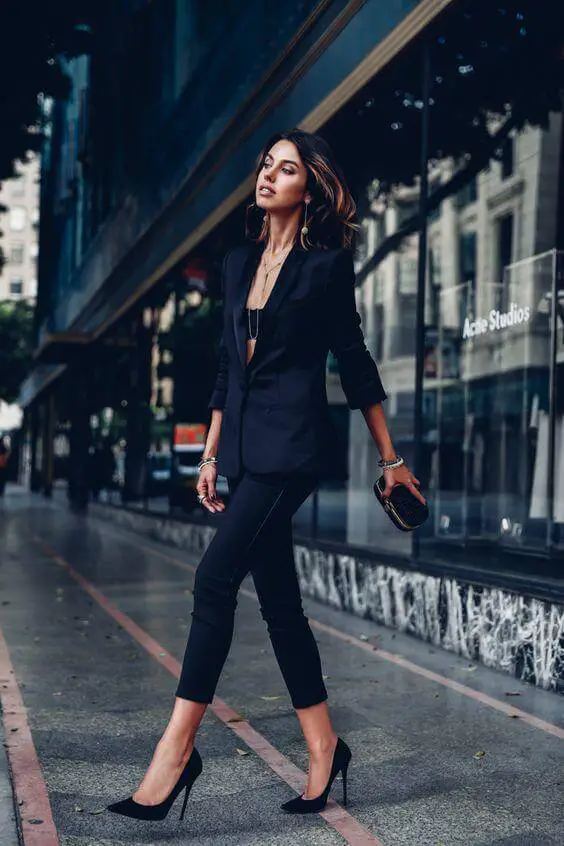 Under an Open-Back Top
Get flirty with a twisty top having an open back. Showing off your back with lacy bralette is a sassy outfit idea for hotter months. Take a look at this image to get some visual advice.
Under Oversized Sweaters
A bralette is not just a spring summer staple, it can be worn in winter as well. Just pair it up with an oversized sweater or top. Try an off the shoulder style to show off your bralette (peek a boo, I see you). Doing so promises a flirty and boho winter outlook.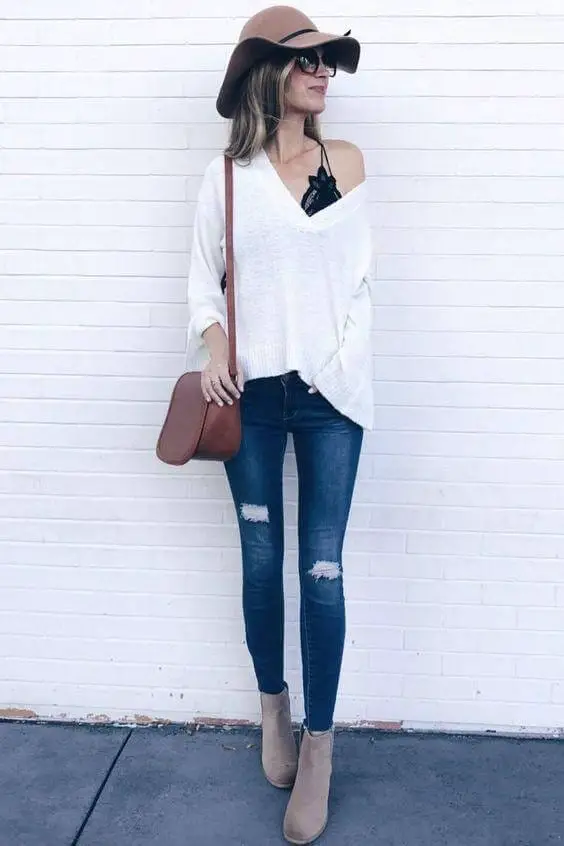 Over a Tee
This may seem an eccentric style to many but yes, we have seen it trending. None other than the fashion goddess Kendell Jenner flaunted a bralette over a tee. You too can steal her sultry look.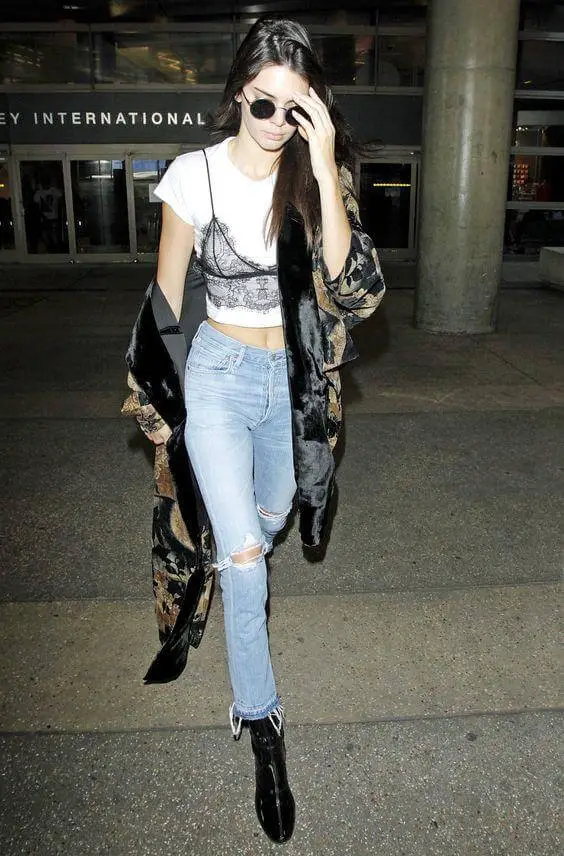 Bralette with High Waisted Jeans
Bralette is a revealing and small item which might not be a comfortable piece for many. Girls who do not want to pull off something too revealing, at the same time they want a spruced up and hot bralette outfit, they must give a try to high-waisted trousers paired with bralette. The extra length of a high waisted trouser helps in balancing the short length of a sexy bralette.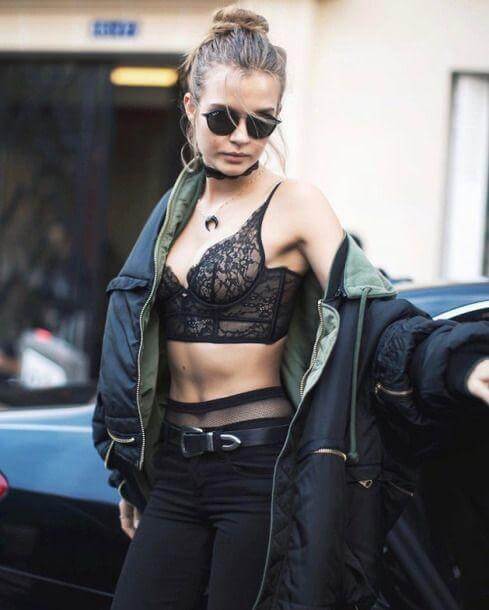 With an open-back Sundress
Summer is all about wearing airy and light clothes. Your sundress is probably one of the comfiest summer pieces; but when it is a backless dress, you need something to jazz up the whole look. Be it plain, striped or floral sundress, the addition of a strappy bralette underneath, adds a glamorous appeal.
Bralette is not just about laces and crochet, it is available in different fabrics and prints. Even floral bralettes are quite popular. Just team it up with something plain (a plain skirt or trouser) and see the charisma. Take a look at this velvet bralette with floral print.
Bralette for Plus Size Girls
We know it is a little tricky to wear bralette for plus size girls but all is not lost. Like slimmer girls, you too can experiment with different plus size bralette outfit ideas—incorporated with shorts or trousers. All that you need is a padded bralette. Do you have one?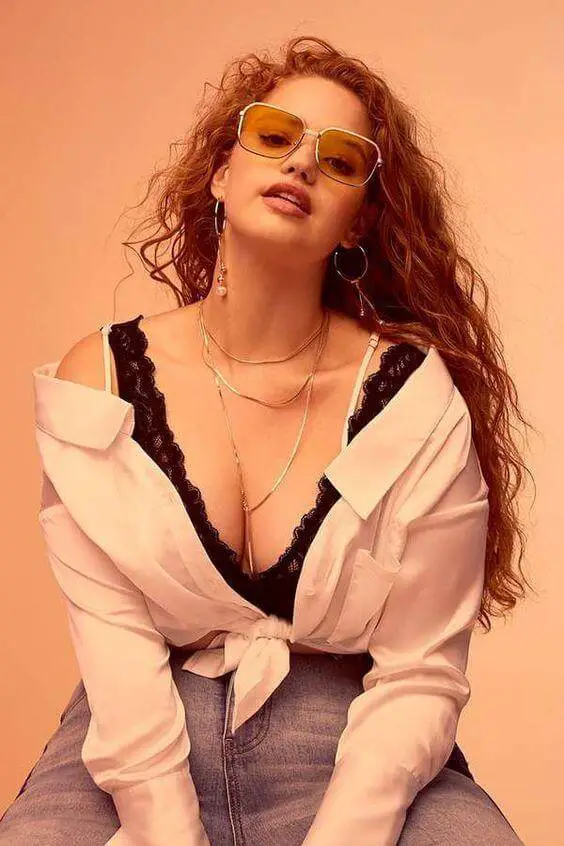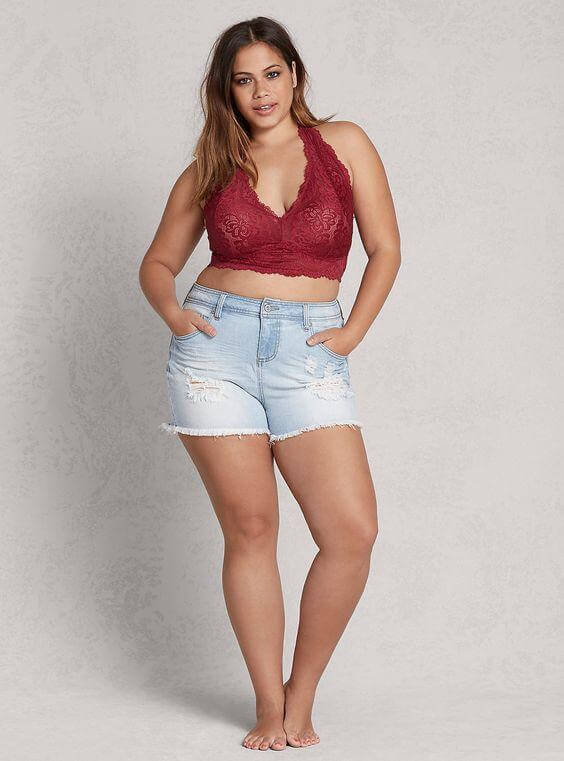 A button-down shirt is one of the basic outfits that we wear. It promises a casual and laid-back look. This everyday casual look can be transformed into something sultry and sassy. All you need is a bralette peeking from your top. Unbutton one or two buttons to show the trim of the bralette or show off the top of bralette for a bolder style.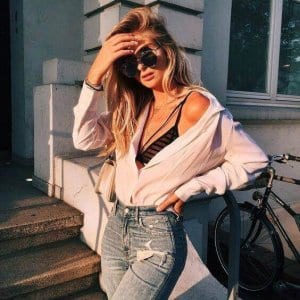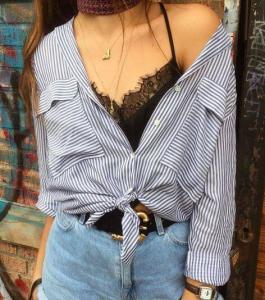 Bralette with Leather Blazer
Even your winter can be stylized by incorporating a bralette underneath your favorite leather jacket. Check out this style. The combo of denim trousers, leather jacket and a lacy bralette is enough to steal the show.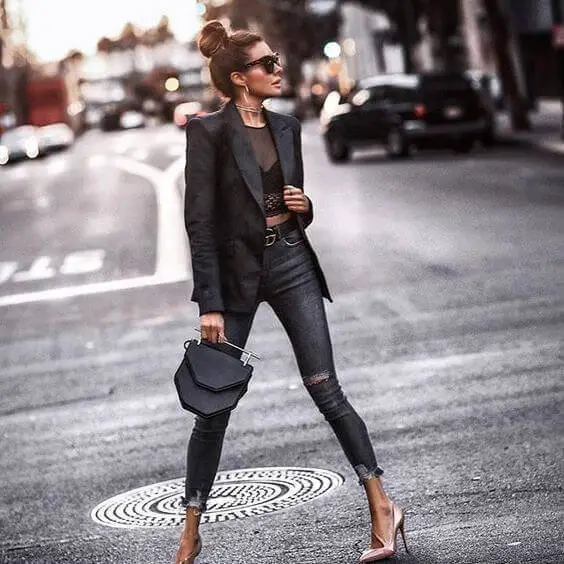 Halter bralette wraps around your neck and gives an adorable look. This can be worn as a shirt teamed up with trousers or skirt or you can wear it underneath a loose and baggy top or sweater.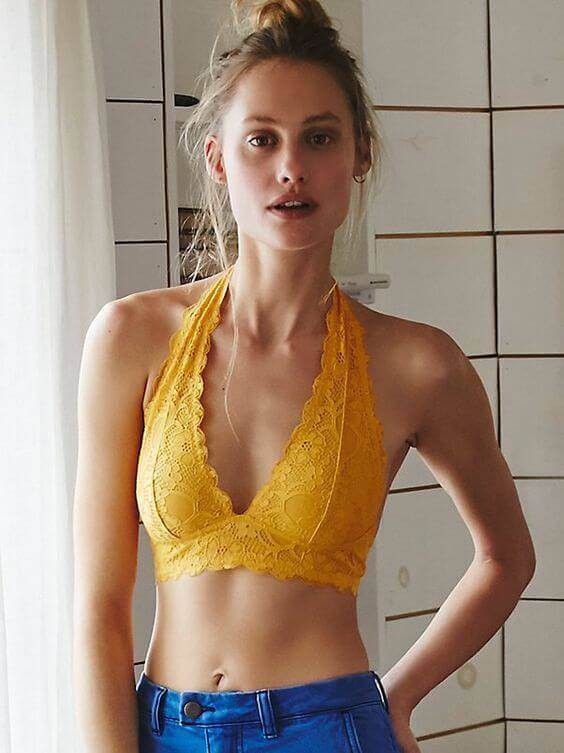 Bralette with a Maxi Skirt
Freshen up your summer look with a floral or plain maxi skirt. A bralette can easily be worn as a top and believe me, it looks fabulous. Just give a try to this look this summer.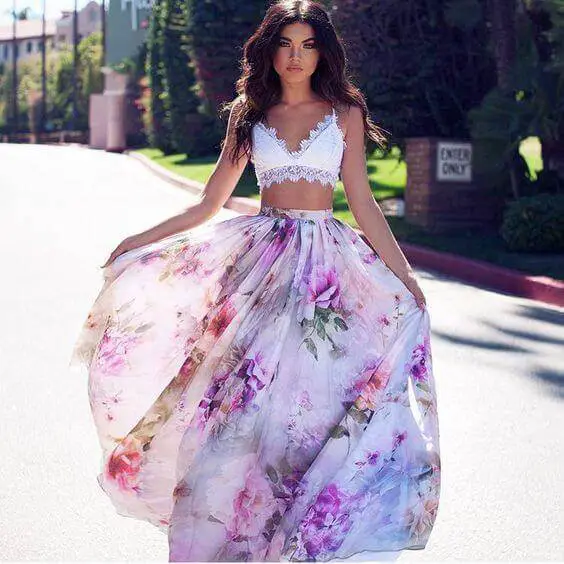 Wrap up:
Bralette is an item that requires confidence plus bold attitude on wearer's part. There are many girls who want to know about how to wear a bralette without padding. Obviously, it is up to you to flaunt a look without pads. But doing so could reveal a lot that you want to keep hidden. So, before you pull off a bralette look, make sure you are ready to carry such a revealing look. In the end, we hope our fashion lesson about bralette would have been a great help for you.