Looking adorable and fashionable is every girl's dream. Even plus size women are not an exception. According to a common observation, curvy women do not bother to follow the basic dressing up rules to balance their proportions, and they finally end up on a frumpy look. You are in luck as I am going to share the latest plus size fashion trends 2019 to smooth out your curves.
Plus Size Fashion Looks
If you really want to get all your curves at the right place, stick to these trendy outfit ideas for plus size.
Part 1: Plus Size Outfit Ideas for Summer
Summer is all about wearing lightweight fabrics like chiffon, cotton, linen, silk, and organza. Let's see what outfit ideas this season has to offer.
One-Color Blouse for Summer
Being a plus size girl, you have a heavier torso. Balance the look by flaunting your curves in some plain and preferably asymmetrical tops. As we are talking about summer, opt for lighter fabrics like chiffon, silk, thin cotton or organza.
A top with off the shoulder neckline or cut out detailing not just smooths out the heavy look; it also adds more to your overall style. To complete the look, pair it up with plain and straight denim.
Outfits too fit or too lose, both ate not recommended for plus size women—find something that fits in comfortably.
Printed Romper
There was a time when plus size women were told not to wear prints, especially the bigger ones. But the latest trends suggest prints good for your overall look. Prints tend to hide a number of physical flaws like saggy boobs and bulges. I would recommend you to stick to medium-sized prints. When it comes to spring/summer, floral prints are the best.
Try a romper with a delicate print and soothing color scheme. Long sleeves, V-neckline,
and belted waistline, all tend to give you a slimming and flattering look.
Plus Size Palazzo Pant
Over-weight girls have comparatively heavier hipline. Wearing a fashion staple like a wide-legged pant or a palazzo helps in smoothing that full-hipped look. Talking of trends, printed palazzos are the best option to add a flair of Hollywood glamor—especially with plain crop tops and strappy shoes with high heels.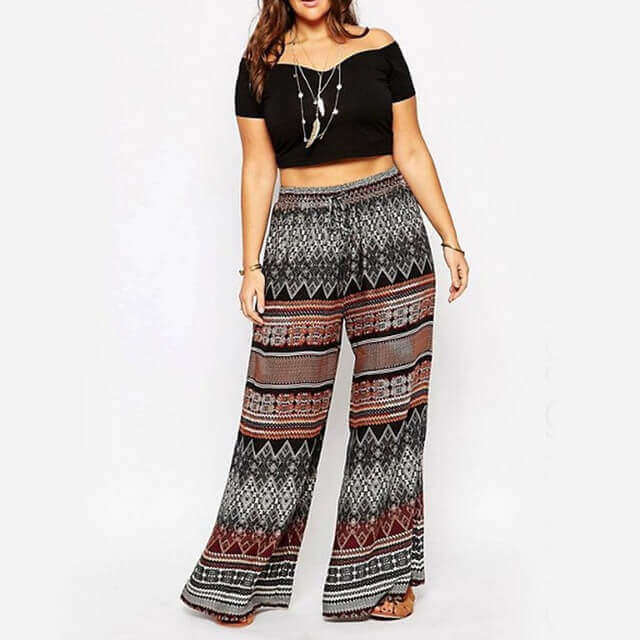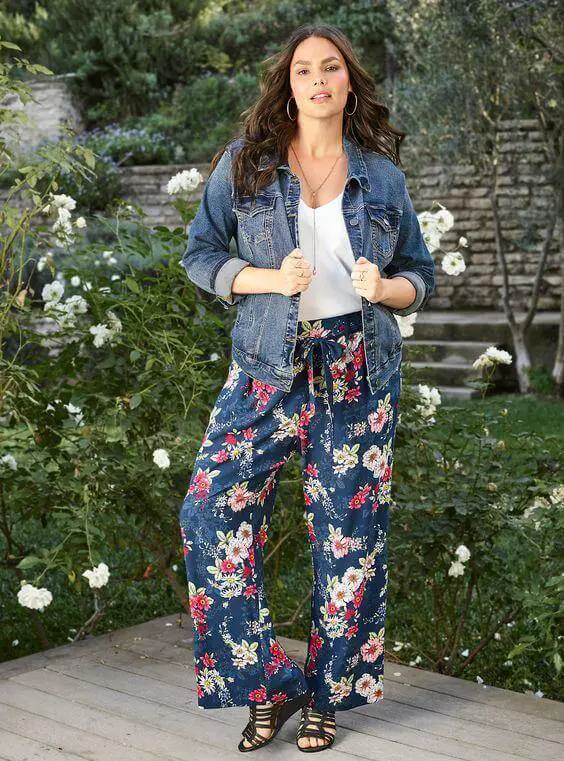 A-Line Dresses/ Maxi Dresses
Get your hands on some perfectly stitched flowy and flouncy dresses with A-line silhouette. A-line silhouette is perfect for trimming the waistline. Prefer summer-specific fabrics like chiffon to get a show-stopping look.
This trend is perfect for the gals with a pear-shaped body. The loose fabric that falls around the curvy lower body part, helps in camouflaging the heavy hipline. If you don't want too much of leg-show, opting for A-line maxi dresses is the second-best option to go with.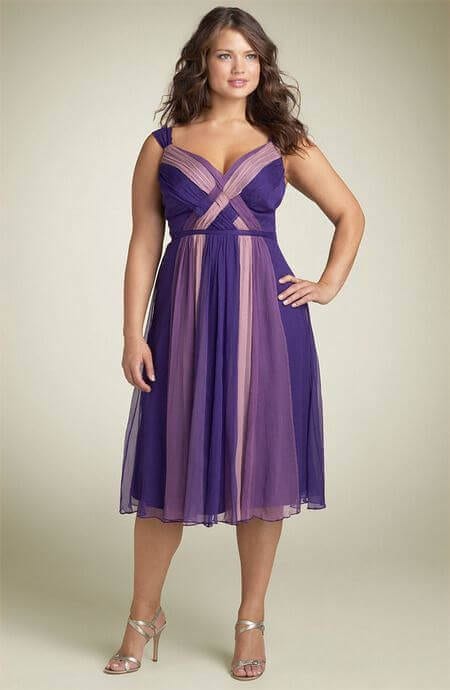 Summer Shorts
Shorts are not just a trend, it is a necessity in summer. Plus size girls can incorporate them freely in their everyday look. There is a diversity of lengths to choose from—too short, knee-length or long in Capri-style. The most recommended short trends this season include—denim overalls, printed shorts or simple denim shorts. To add more to your comfort level, just put on a kimono. Just like in the image below.
Statement Print Sheath Dress for Plus Size
Because sheath dresses are body hugging and fitted, it does not mean that you can't wear them. Sheath style accentuates a curvy body. The slim-fit style not just adds structure, but it also promises a more tailored look by nipping your lumps and bumps. So, next time when you feel confused about what to wear on a weekend party—just opt for the one with classy print. Lastly, don't forget stiletto in footwear, it would stretch out your silhouette.
Cropped Stripe Jumpsuit
Jumpsuits are one of the comfiest and trendiest summer staples for plus size girls. Since you are a little more in weight, we recommend pulling off an outfit with vertical stripes. Besides looking fab, the striped print adds a slimming effect.  If it is a windy day outside, pair it up with a blazer or a denim jacket.
Party Wear Trends for Plus Size
Curvy girls who are looking for the trendiest clothes for a night out on the town or a black-tie party, just doll up with an adorable fit and flared prom dress. The fitted waistline smooths bulgy tummy and the flared lower part camouflages hipline and thighs. Go for knee-length if your legs are your assets; if you think your torso is the best part of your body, accentuate your curvy top with some floor length gown with detailing on the top. Wear stiletto heels and avoid over-accessorizing—you are all set to dazzle the party.
Denim Dress
Denim flounce dress is one of the coolest and trendiest things to pull off in the scorching heat of summer. Settling on an off the shoulder style would divert the focus from heavy torso towards the top.
Flowy Summer Wrap Dress
Wanna spend a day on the beach? Just pick out a flowy and flouncy wrap dress to feel the cool breeze.
Part 2: Plus Size Winter Outfit Ideas
To brave the cold weather stuffs like wool, flannel, suede, fur, velvet, knits, polar fleece and leather are the trendiest. To complete your winter look, pair these (most in the list) plus size outfit ideas with leggings. Let's check out the latest winter trends for the girls with luscious curves.
Streak of Silver
Winter is all about boldness—especially in terms of colors. This winter incorporates a silver metallic finish to your outfits. Be it a skirt, a bodycon dress, a stunning top or even a cardigan—a touch of silver promises a lasting shine. Fashion accessories like silver clutches and shoes to promise a chic appeal.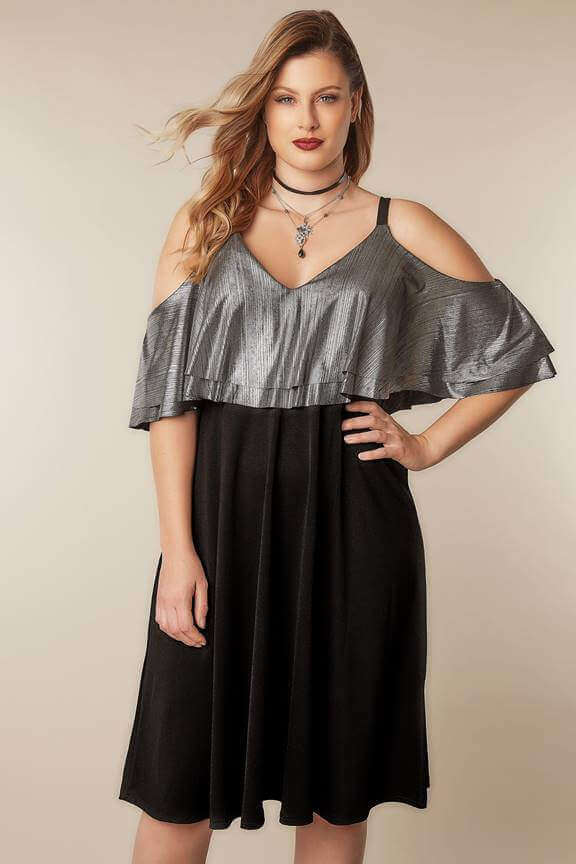 A Red Monochromatic Look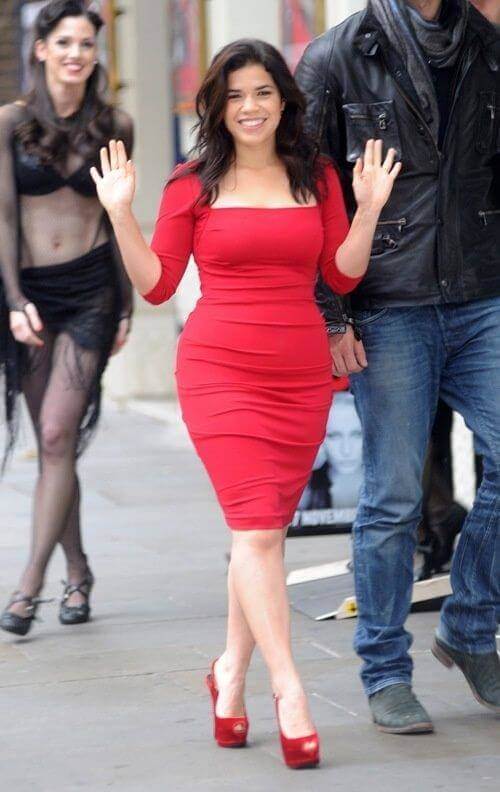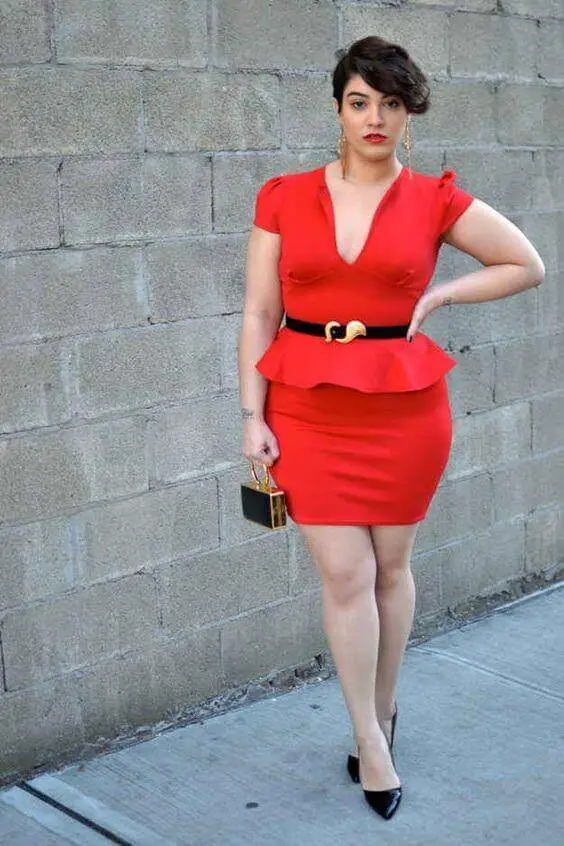 Usually, a monochromatic look is considered boring. When it is about RED, views are bound to change. Get a red-hot look with bold red monochromatic outfits. Red can be incorporated in all types of clothing—dresses, skirts, jumpsuits. Red is just enough to get you in the spotlight.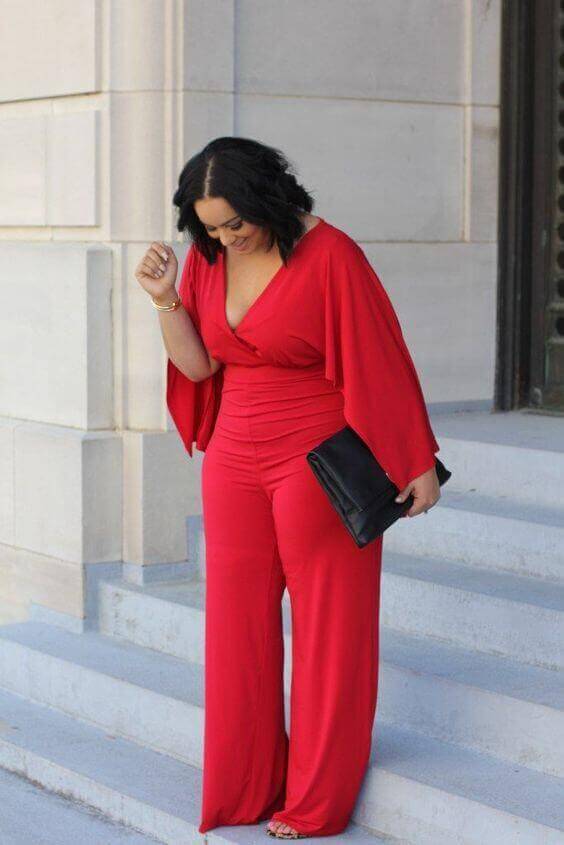 Printed Dresses in Autumn Color Palette
When it is about winter fashion trends, an autumn color palette is richer and intense. Look for stunning floral or striped patterns in autumn-inspired color schemes. Incorporate other winter staples like cardigans, leggings or knee-length boots where needed.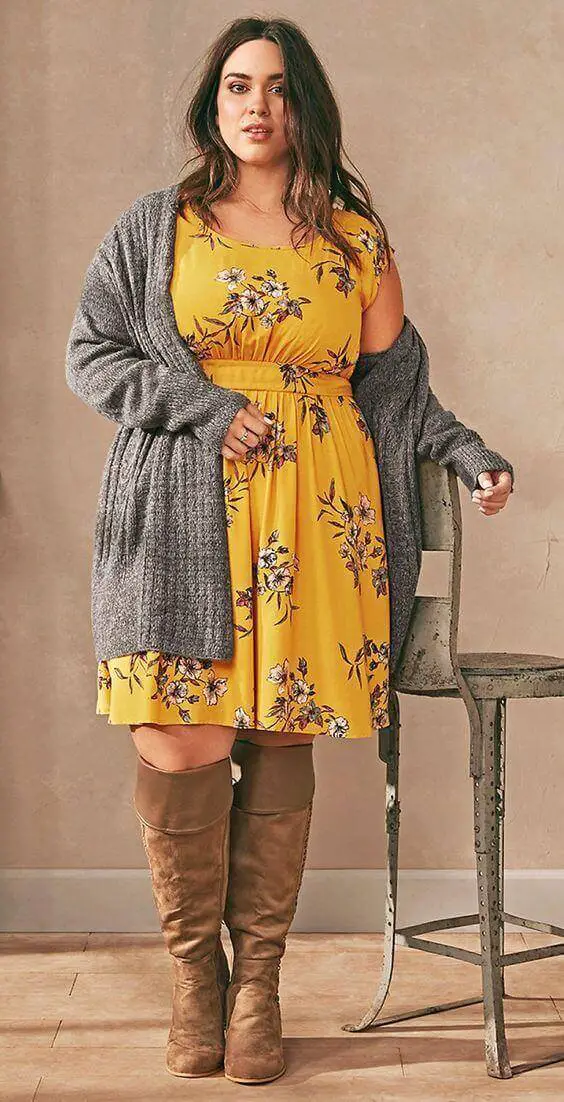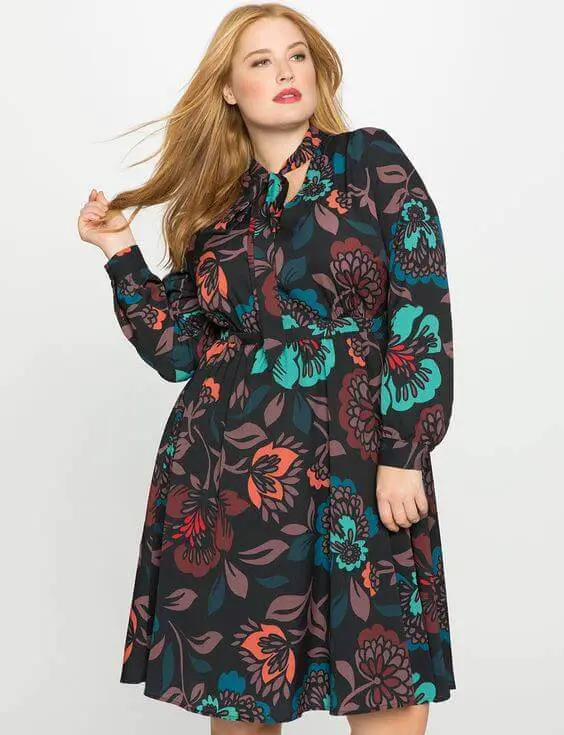 Winter-Specific Prints
Stripes plead and polka dots—all are winter-specific prints and above all they never get outdated. Emboss the retro style by integrating these prints in trendy outfits like skirts, blouses, jumpsuits and so on.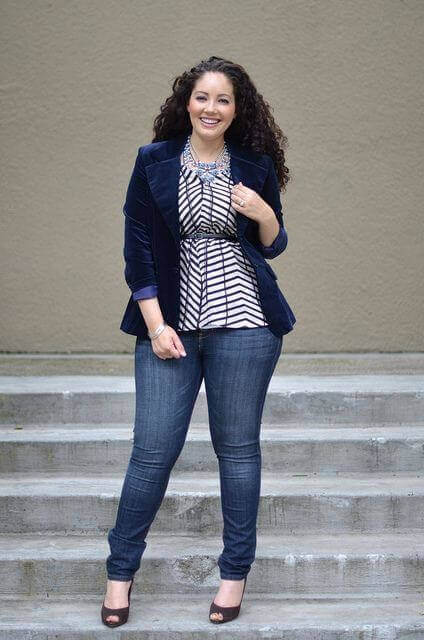 Fur, A Timeless Treasure
There has never been a year when statement fur coats, faux fur vests or other outfits with fur detailing are not around. Same is the case this year. To present your trendsetting style, opt for brightly-hued fur as it is quite trendy this fall/winter.
Attention-Getting Style with Denim Outfits
When we say denim, we don't just mean trousers, it includes denim dresses, denim overall, and denim shirts. Incorporate all denim outfits in your winter look to get a style both updated and comfy.
As you are curvier than others, we would not recommend ripped jeans/pants for you—stay elegant with sophisticated and straight jeans preferably with a high waistline.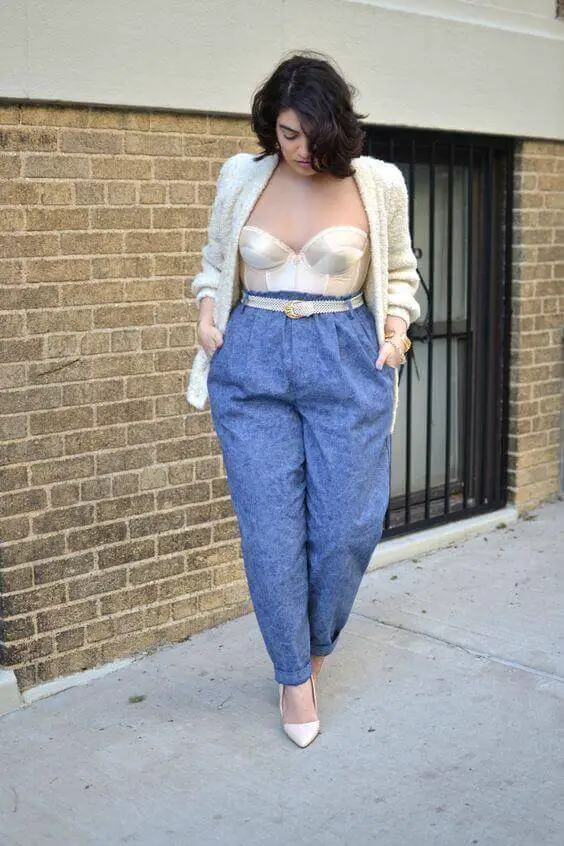 Wrap Dress with Leggings
Dress to impress with a winter-specific wrap dress with leggings and long boots. A wrap dress is best known for accentuating your luscious curves.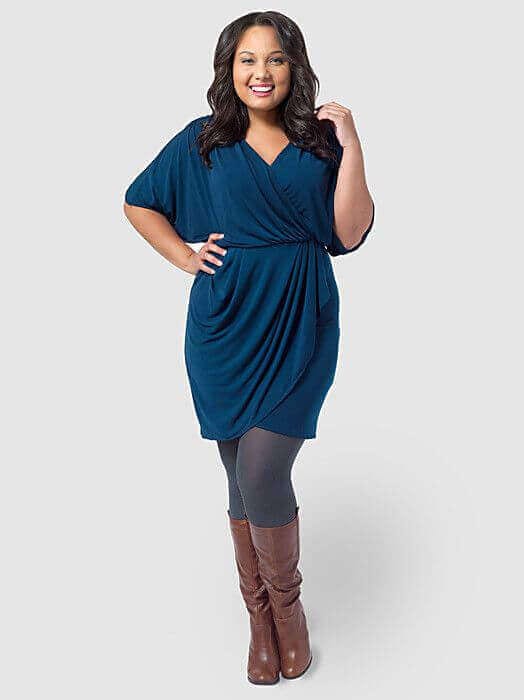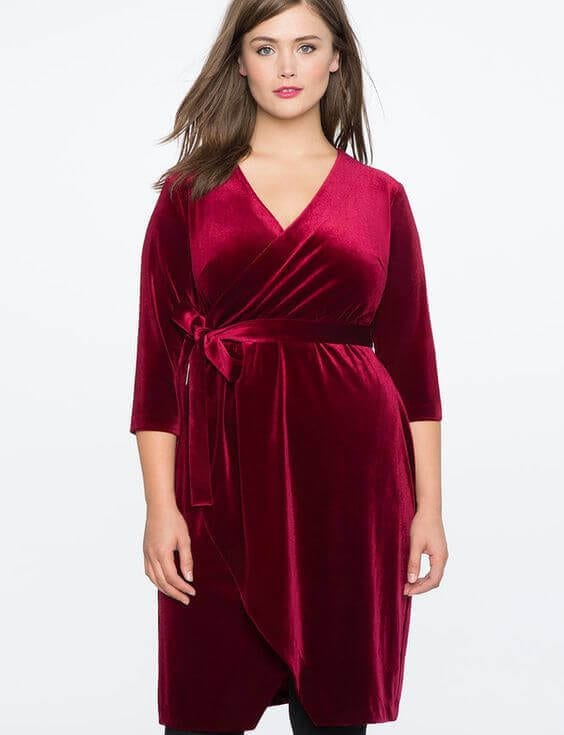 Versatile Velvet
Your winter fashion wardrobe cannot be completed without some velvety outfits. Whatever you opt to wear, it should be fitted and remarkably stitched. Looking at the latest runway collection, we can say that both plain and printed velvets are trending this winter.
Suede Dress
Suede knee-length outfits give you a fit that smooths the heavy areas like tummy, hips, and thighs. The dress should be reasonably fit and paired with leggings, high heels/knee-length boots to get an elongated look.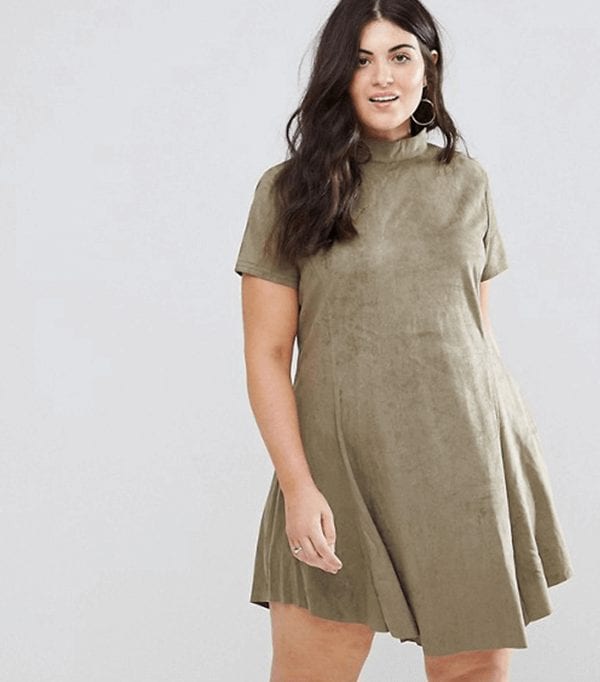 Long Lasting Leather
Even if you are curvy, leather is still one of your best winter wardrobe essentials. All you need is to settle on the right size. Be it the sassy leather jacket, leather pencil skirt or even a leather pants—they all promise remarkable comfort and a solid sense of style if worn reasonably.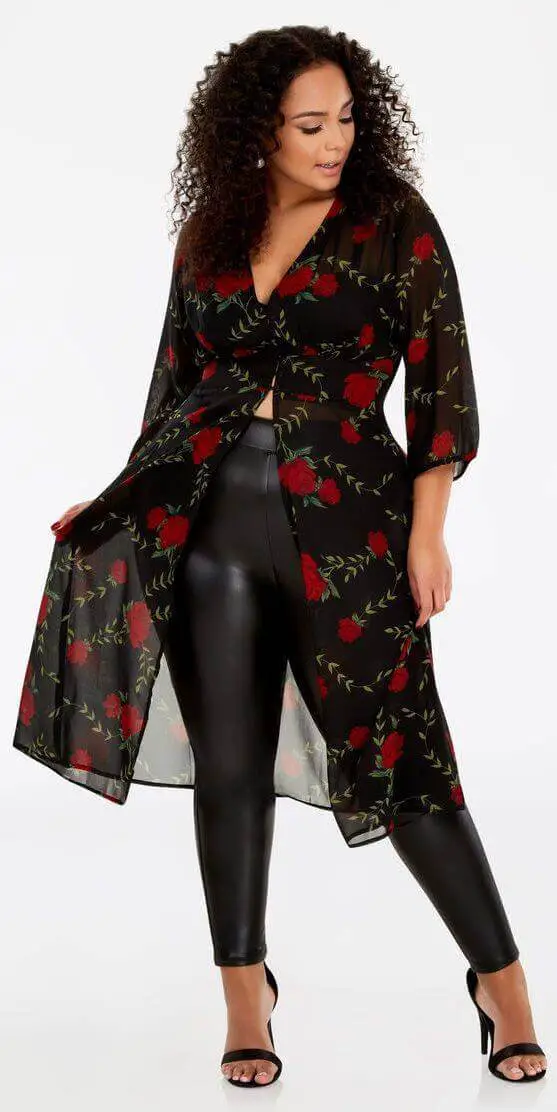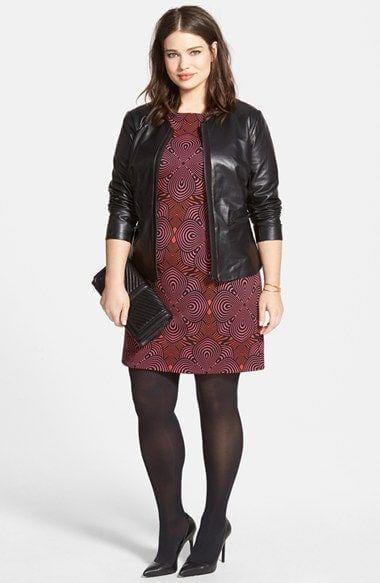 Wrap up:
Being plus size is not something to be ashamed of. Following the right fashion advice can help in flaunting your vivacious beauty. All you need to do is to wear your perfect fit. Remember, too much layering and baggy outfits are not for you, it can swamp your figure. Lastly, do not overdo any look—especially in terms of accessorizing.