A blouse is an of-the-moment top—one of the most sought after basic outfits. Whether it is a skirt, shorts or pants, a blouse is a covetable item for women of all ages. A great variety of blouses is trending this summer. Just finding a piece that is sewn to the standard of perfection is not enough, incorporating it in the most trendsetting way is equally important.
How to Wear Blouse: Adorable Outfit Ideas
To flaunt the best looks with a blouse, simply scroll down our list of best blouse-based outfits.
Lace Blouse with Denim Trousers
With summer around, girls can't keep their thoughts from finding a fashion piece both light and airy. Lace blouses are the best staple to go with. It is best paired with skinny trousers teamed up with eye-catching fashion accessories.
White Blouse with White Shorts
A white monochromatic look is just the way to go in summer. Team up your white blouse with white shorts. Addition of ankle boots and fedora hat gives a picture-perfect look.
Sleeveless Blouse with Capri Pants
Sleeveless blouses are crucial summer pieces (don't forget your sunscreen). Besides being an easy summer staple, they promise a bold and fashion-forward look. For the trendiest look in town, just ditch your everyday trousers and opt for state-of-the-art Capri pants. For an added flair of glamour, don't forget to wear stiletto heels.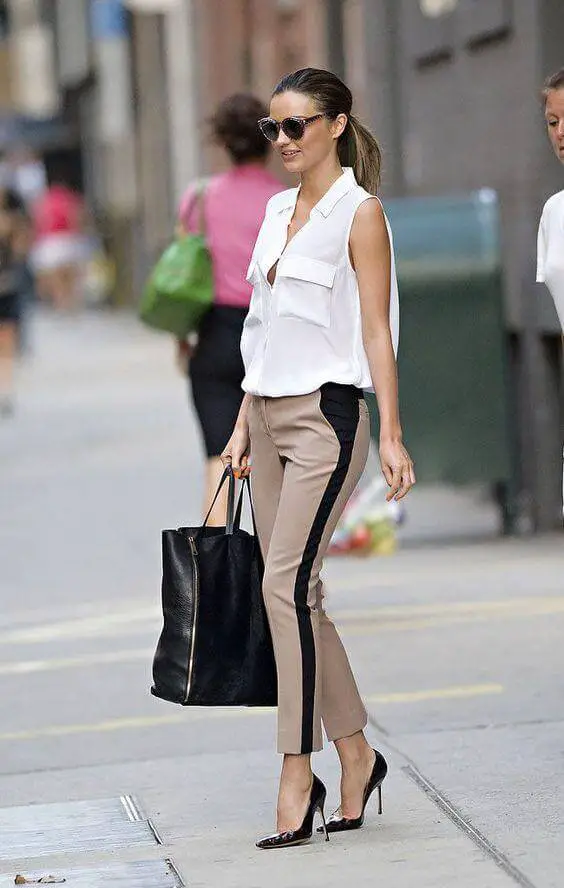 Printed Blouse for Office Attire
A blouse is something that you can easily incorporate in your office or work outfits. If you do not have some specific office attire, just go on with a classically styled floral top paired with beige pants (elegant hues for office). To keep up with the decorum of a working place, it is always good to opt for plain or simpler bottoms—especially when you are pulling off a printed/floral top. It always helps in managing a balanced look. For footwear, pumps are highly recommended.
Peplum Blouse with Denim
Embrace the trend with a stylish peplum blouse. As it is about spring and summer seasons, it is always refreshing to opt for a top with floral print. Long sleeves, deep V neckline, and denim trousers, all are just the perfect ingredients to step out in style.
Black and White Striped Shirt with Flared Trousers
This one is an awesome outfit idea especially for those looking for some business and work blouses. The deadly combo of an elegant and loosely fit black and white striped blouse with wide legged trousers is just enough to add an unforgettable appeal.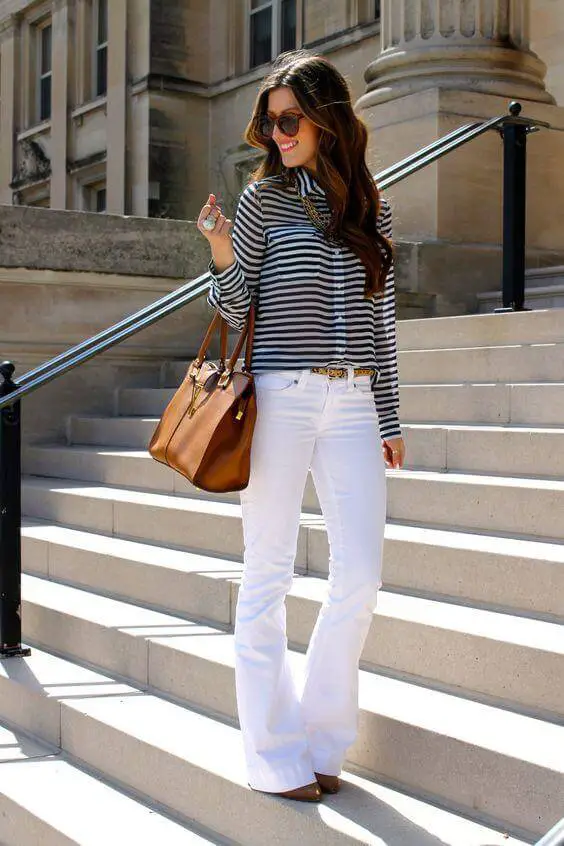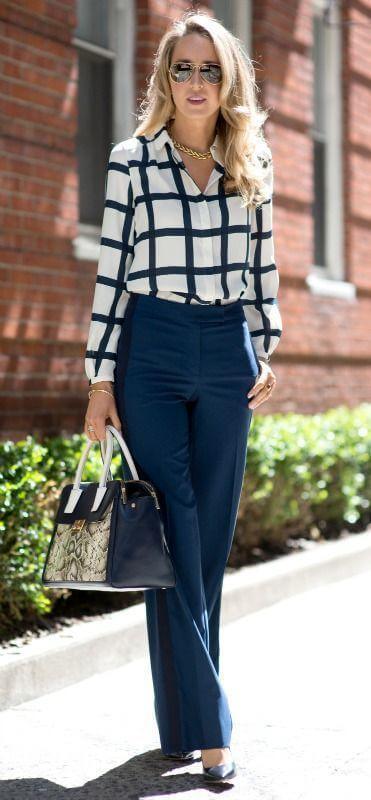 Embroidered Blouse with Denim
Embroidery is a very traditional style, but when used perfectly, it can put you in the spotlight. An embroidered blouse is a piece with old-fashioned and romantic vibes. Vibrantly hued floral embroidery beautified with sparkling studs updates any design perfectly. Just like this one. Black blouse accentuates the colorful embroidery—the addition of transparent details adds a touch of fashion-forwardness. An embroidered trouser can be worn with skinny trousers and denim shorts.
Tie Front Blouse with Shorts
A tie front blouse is best suited for teens or young girls. Get it paired with denim shorts to get a sexy and fun-loving look. Just as in the image above.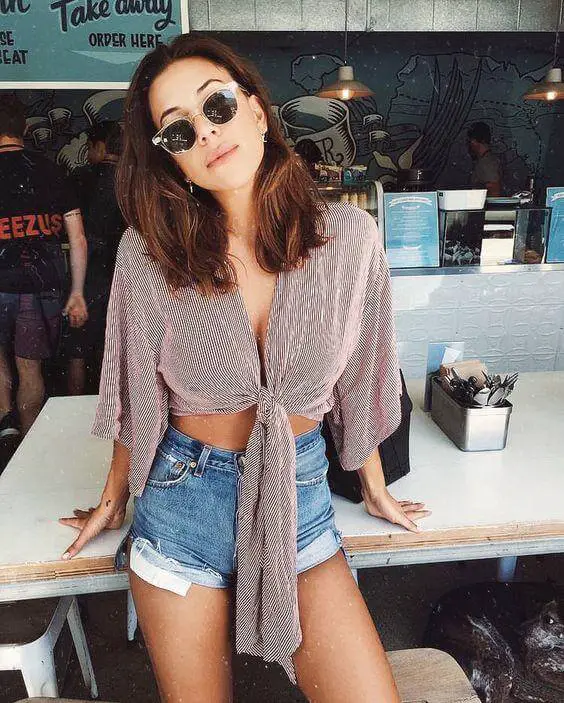 Floral Top with Pencil Skirt
Show off your sophisticated style in this wonderful combination of a floral blouse with leather pencil skirt. The sleeveless blouse is given a flair of style with a stylish knot on the front.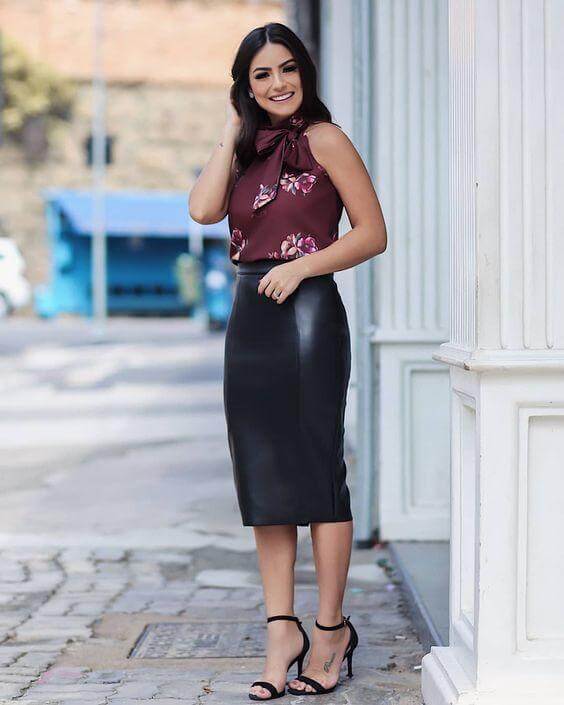 Sassy Sheer Blouse
According to fashion shows, outfits with sheer detailing are the latest trend. How about giving your blouse a flair of transparency? Check out how sizzling a sheer blouse can look, when paired with skinny trousers and stiletto heels.
Work Blouses
Are you looking for the best work blouses options? Look for long sleeve blouse with checked, plain or striped prints. A work blouse should not be too tight and for the bottom, more covered pieces (like fitted pants or pencil skirts) are the right choices.
Blouse with Over Sized Ruffles
To face the heat of summer, it is always a pleasing experience to wear a light chiffon ruffled top. Loosely fit and airy blouses adorned with cascading ruffles are one of the most loved fashion pieces of summer. To complete the look, pair them up with denim trouser and high heels.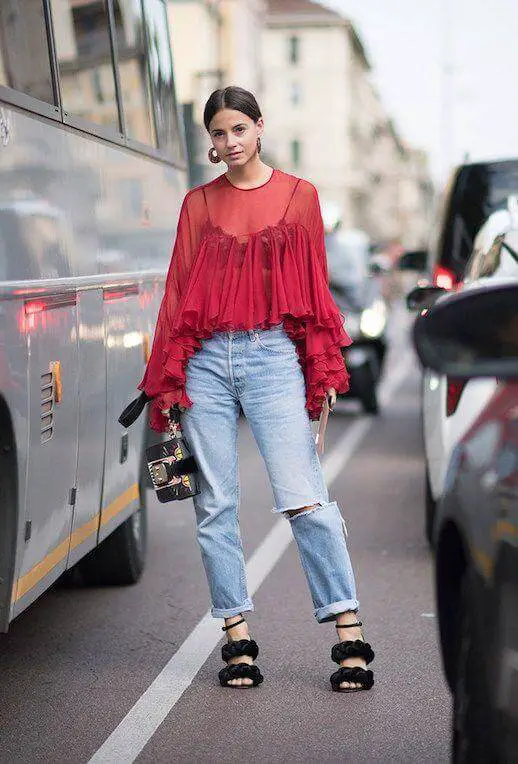 Button-down Blouse
A button-down blouse is the most traditional form of blouses. To keep it from a boring look, try something preppy like a dotted print (even plain looks cool), oversized style teamed up with bell sleeves and skinny trousers.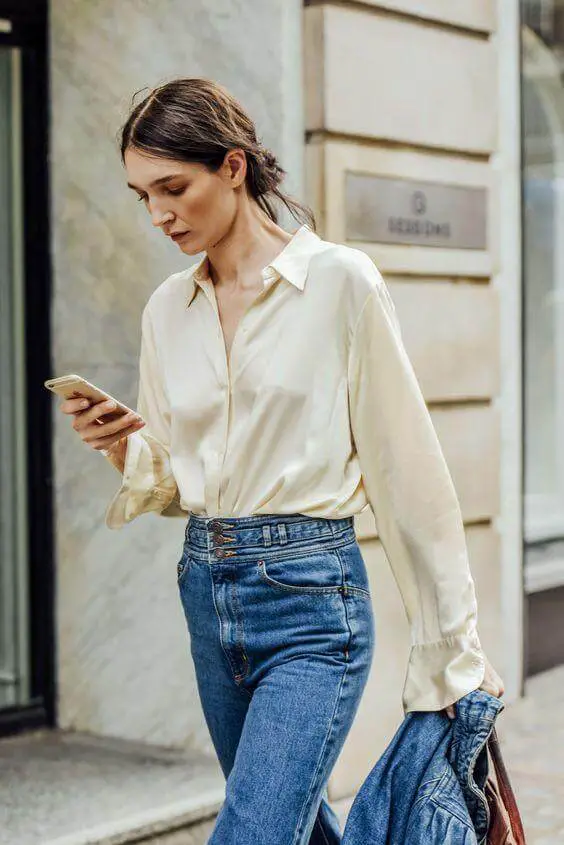 Cute Blouse with Strappy Shoulders
If you are looking for something adorable as a summer season top, handpick a cute blouse with strappy shoulders. To complement the look, pair it with skinny denim and some preppy fashion accessories—a pair of stylish wedges and a fashionable handbag.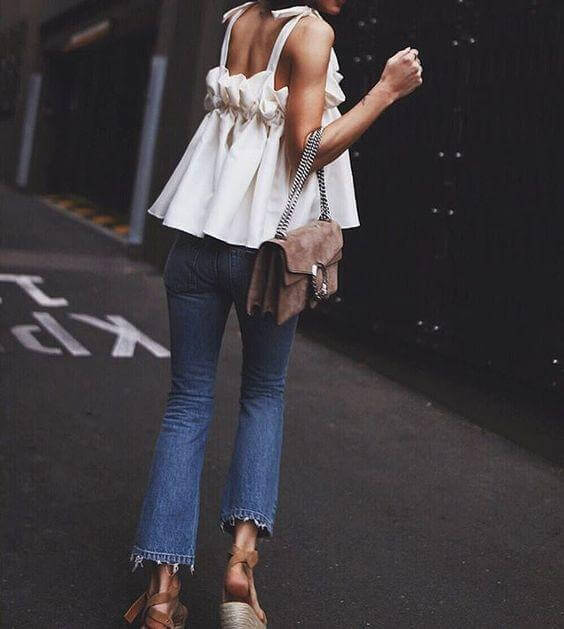 Denim Frilled Blouse with Comfy Pants
Give a try to this look for the laid back and relaxing occasions like a Sunday brunch or maybe to a day out with friends. Teaming of denim frilled top with comfy trousers promises comfort as well as style.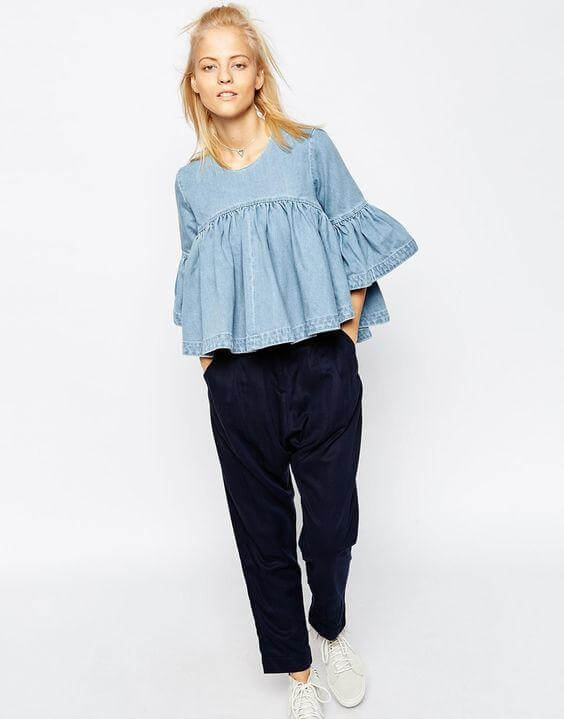 Peter Pan Blouse with Denim Shorts
Have a look at this sweet summer outfit. An off-white lace blouse accentuated with peter pan collar looks awesome with a short with floral print, adorable fashion accessories complete the look. Is not it cool?
Wrap Blouse with Destroyed Denim
Show off your fashion-forward style by dolling up your torso with an elegantly-styled wrap blouse. For the best look, just tuck it inside your skinny destroyed jeans. For footwear, no compromise on pumps.
Bell Sleeved Blouse with Cropped Jeans
Get an awesomely stylish look with a red-hot bell sleeved blouse teamed up with cropped jeans. Addition of trendsetting fashion accessories would give a flattering look.
White Sleeveless Blouse with Maxi Skirt
Next time when you wear that striped maxi skirt, do not forget to pair it up with a white sleeveless blouse. Plain top and printed bottom are just enough to give you a balanced look.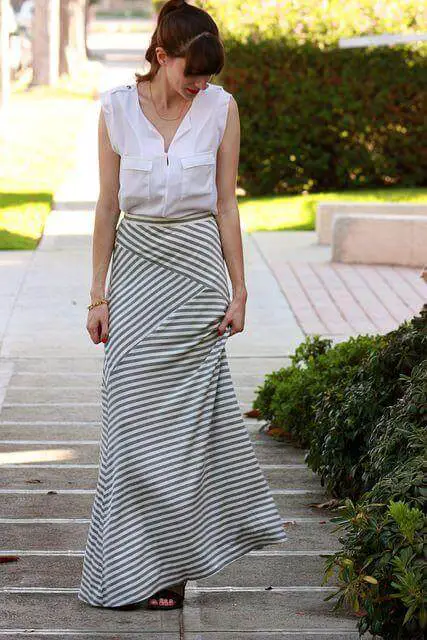 Wrap up:
Concluding our fashion guide, I am pretty sure that you must have had great style advice about pulling off different styles of blouses for women. As there is so much to experiment with, just feel free and try sassy new looks each day.