As you know we have written a lot about trendy blouses my earlier article: How to Wear a Blouse Stylishly – Top 18 Outfit Ideas to Wear Blouse At the beginning of spring, the three most popular blouse trends were bow-tie blouse, denim blouse, and off-the-shoulder style blouse. Now summer has come and a variety of styles are trending. The styles of blouses for this season have become even more exciting—with folds, hollows, large sleeves, knots, skin show and full of style tricks ~▼
Besides basic blouses, what are the other choices and possibilities in the top's range? After all, we just agreed in a previous post: "In addition to the basic models, we must store some money to buy popular items so that this year's wardrobe can be more novel and trendy".
Style 1:  Fun with Trumpet Sleeve Blouse
The trumpet sleeves are a style that has got immense popularity in the blouse industry. The bighorns at the cuffs seem exaggerated, but full of style and fun. ▼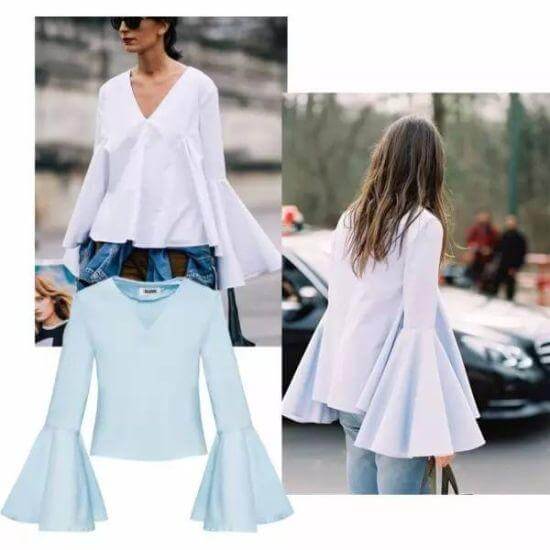 Extra-long speaker sleeves should be avoided in hotter months. The reason is that the sleeves that are too long are really inconvenient. And they may give an awkward look overall. ▼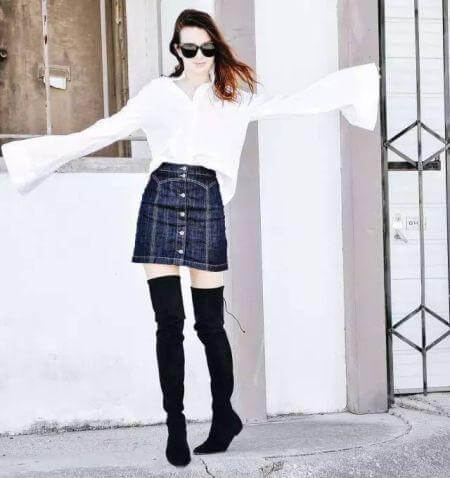 However, if you want to wear this single item with long sleeves, no one would object. It has something interesting about it—wearing such blouses cam make people dance (sleeved dance). ▼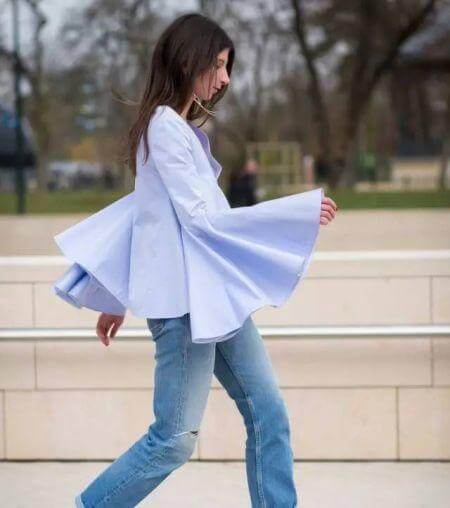 Matching the trumpet-sleeved blouse is also very convenient. ▼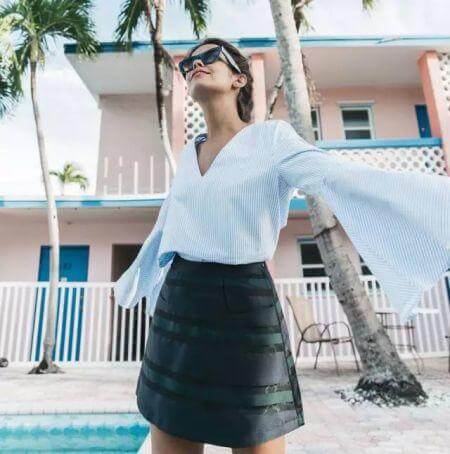 Can also be used with a strap dress. ▼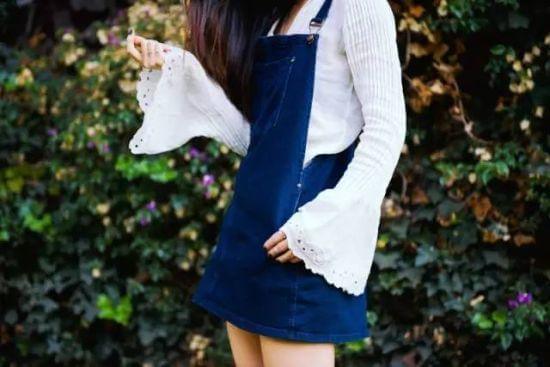 As the sleeves of the trumpet-sleeved blouse appear swollen and wide, try to expose the slender neck and wrist as much as possible. Choose a strapless, V-neck style to achieve a visually balanced summer look (more skin show). ▼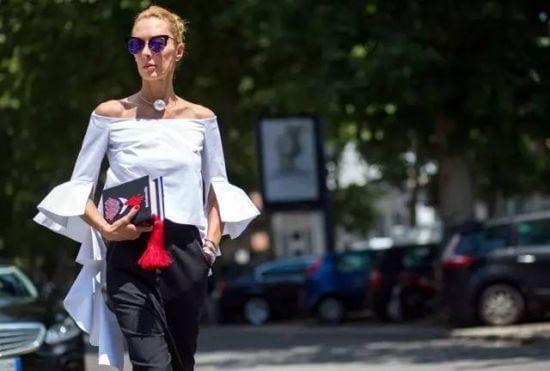 Too long sleeves not just look boring and dull in summer, but they also cause inconvenience in movement. That is why if the sleeves are a bit shorter, they would look more beautiful and appealing to eyes. ▼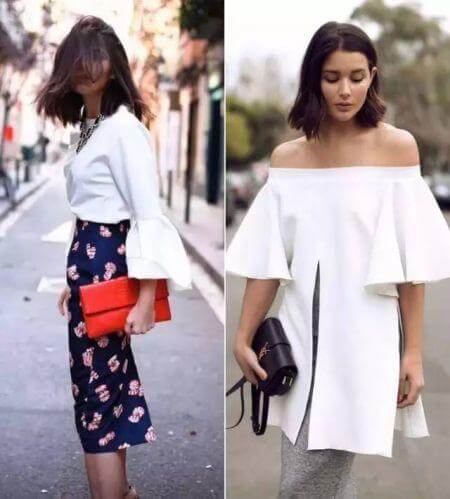 Shorter sleeves are more practical in summer. Even Fashion bloggers recommend it, they too are human and feel the heat. ▼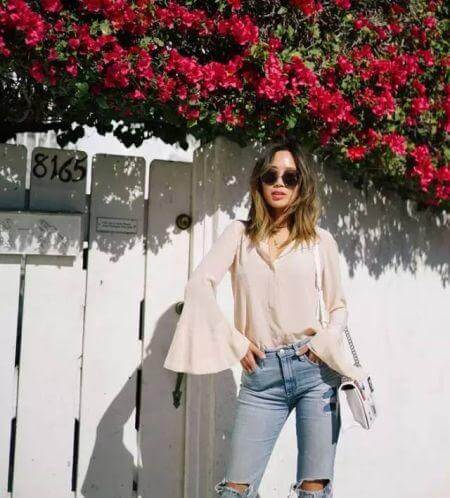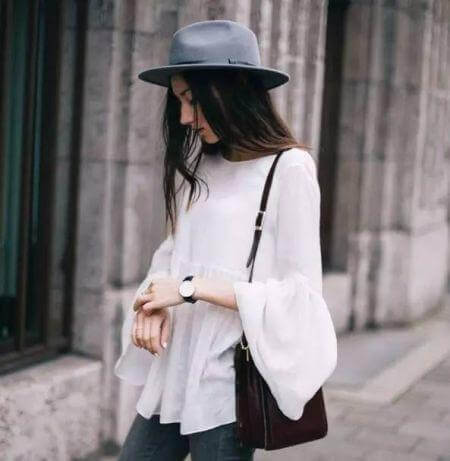 If a single horn style does not satisfy you, try the upgraded ruffled or flared sleeve blouses. ▼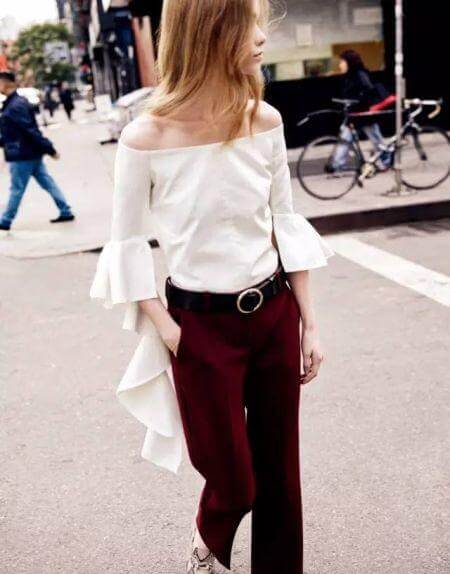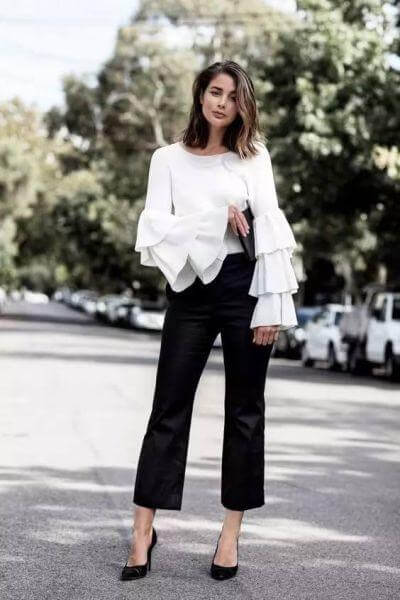 Style 2: Wanna Cool? Tie the Blouse
A knot on the blouse is also a very popular summer style. Not just in the front of the waist, but a blouse can also be tied on the back. It looks uniquely stylish. What say? ▼
For a more casual look, tie a knot at the back of your collared blouse. ▼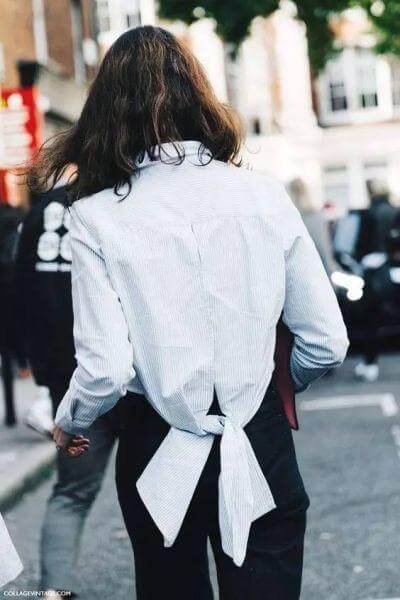 Wearing button-down blouses backward is yet another popular street style. Just wear it that way and tie a knot, as simple and playful as that. ▼
The clothes knotted in the front are all about a casual look. It has its own kind of charm. ▼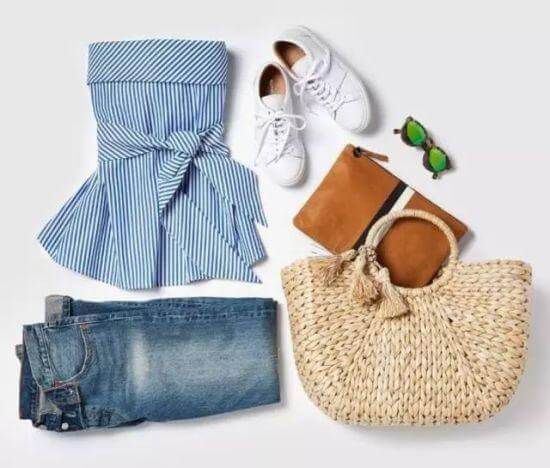 There are many ways to tie knots. ▼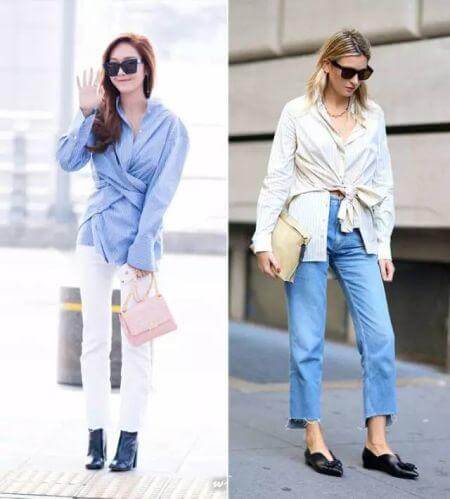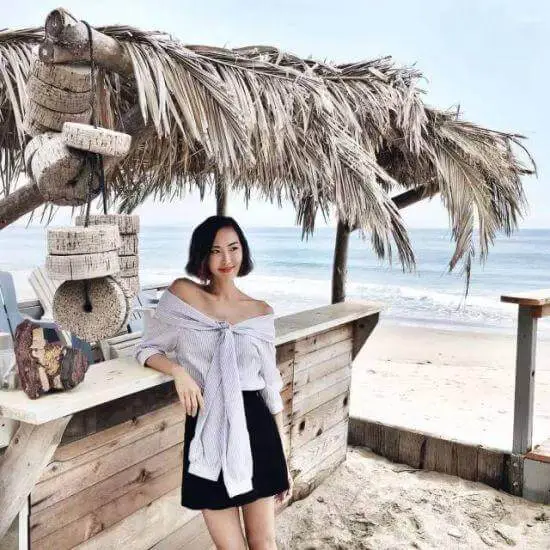 The more stylish way to wear it is to pull down the blouse collar and show off one shoulder. ▼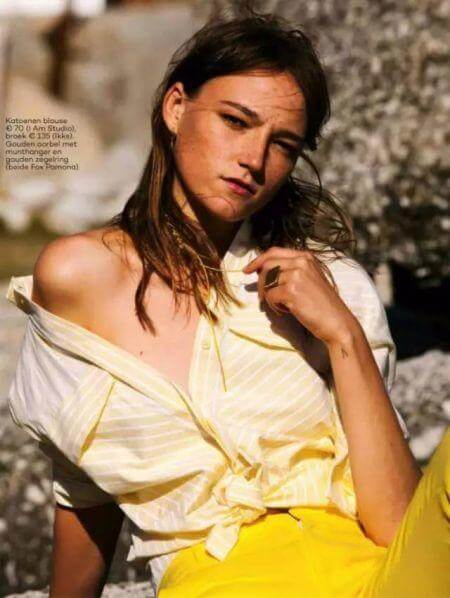 Style 3: Upgraded off-the-shoulder blouse
When summer arrives, of course, we must expose the skin, to feel cool and look seductive. Before that in the spring too, we have discussed about bare shoulder blouses and small dew shoulders—both look very feminine. Off-the-shoulder blouses are quite in vogue this year and many celebrities are flaunting this style.
However, compared with simple strapless blouses, there have been some new changes in this year's fashion. ▼
Many of the strapless blouses incorporate the aforementioned knotting elements in the sleeves, adding a sense of femininity to the overall look of the girls.
The following two Korean actresses have also worn this style. By comparing, you can find why it is better to opt for this style. ▼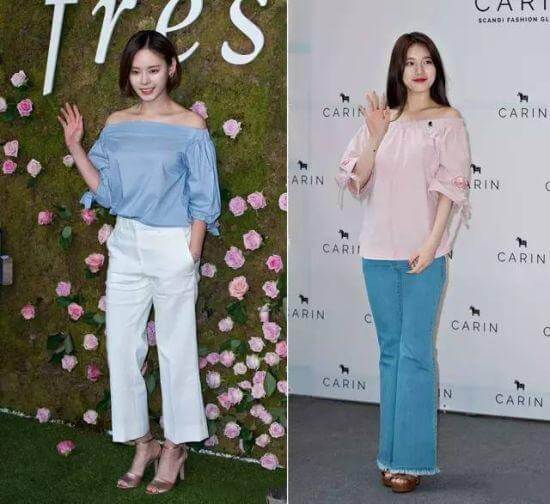 Sizzling trumpet elements and strapless blouse are more suitably paired with shorts. ▼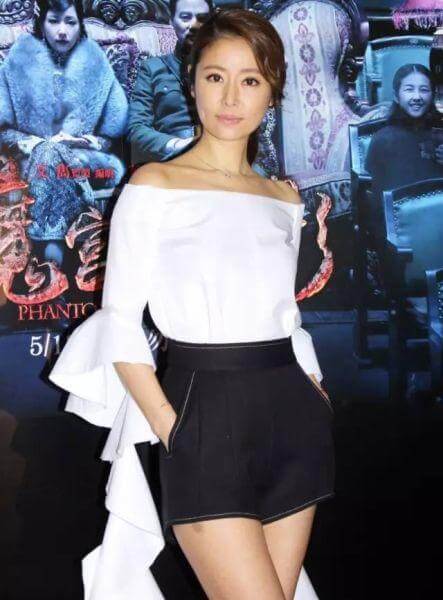 In addition to revealing the shoulders, this year's raging style of exposed shoulders is also very special. Teens with broad shoulders can split their hair on both sides, when there are no straps. ▼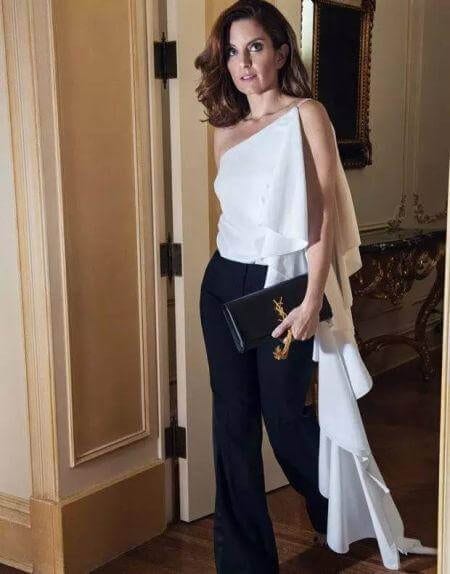 Dew Shoulder + Ruffle + Trumpet Sleeve, the following is a collection of three fashionable elements together, but its only disadvantage is that it can squeeze out the breasts. ▼
Style 4: Small Romantic: Simplified version of Palace Wind Blouse
This year fashion industry has introduced a new staple – court wind blouse. High collars, folds, ruffles, cutouts, puff sleeves, etc. are all unique elements of the court wind blouse. ▼
However, the overly complex traditional court style blouses are still there but not too common as they are not easy to manage. ▼
For our general public, a simplified version of the court style blouse that incorporates a small amount of court style elements is more suitable for daily wear, and that unique romantic and retro style is still there. ▼
Miss Zhong's latest collaboration series launched this year, Archive by Alexa, has a simplified version of the court style blouse. High collar and ruffled elements promise an elegantly royal appeal. ▼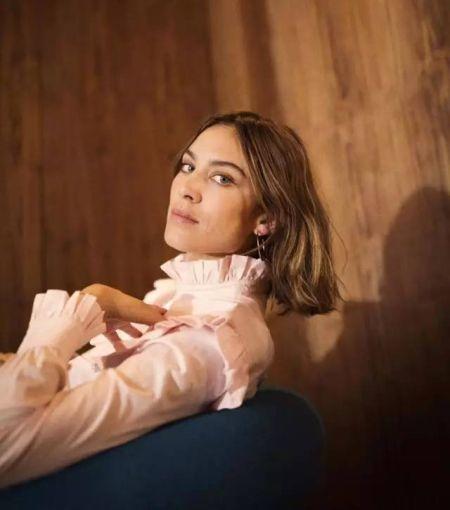 Miu Miu's autumn and winter collection of lotus leaf printed blouse is also a court style and many fashionistas love to wear it. ▼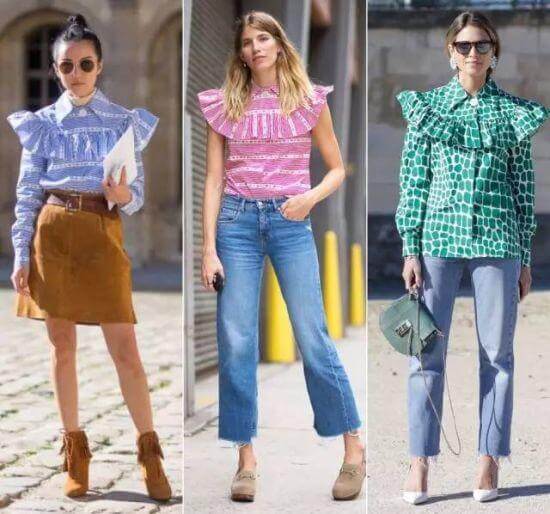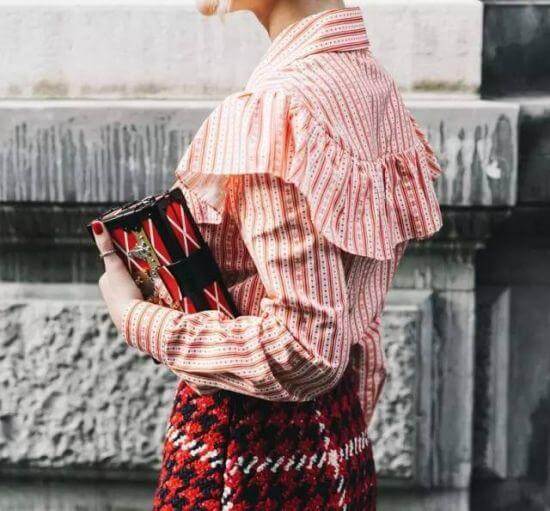 The high-collar palace-style blouse is also quite popular. Girls with small bosoms should give it a try as it makes your chest look big. Contrary to that, girls with heavy bosoms must choose lower collar style. ▼
If you want to refresh yourself in summer, you can choose between short-sleeved or sleeveless court style blouses, or simply tie up your sleeves. ▼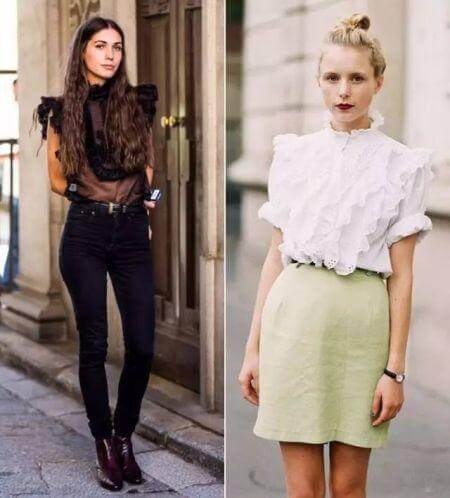 The styling of the court style blouse is not difficult. As its design is unique and eye-catching, you are recommended to keep the other single items low-key; a solid color pants and skirt can make good match with it. ▼
Style 5: Sexy Lace-up blouse
Lace up blouses have been trending from past two years. It is still going strong. All the major brands have launched lace-up blouses collection. Use a string instead of a button at the neckline to create a more subtle, sensual and adorable look. It will uplift the look of a simple blouse.▼
Aimee Song particularly likes to wear it, and she also loves to try different styles such as cutouts and flared sleeves. ▼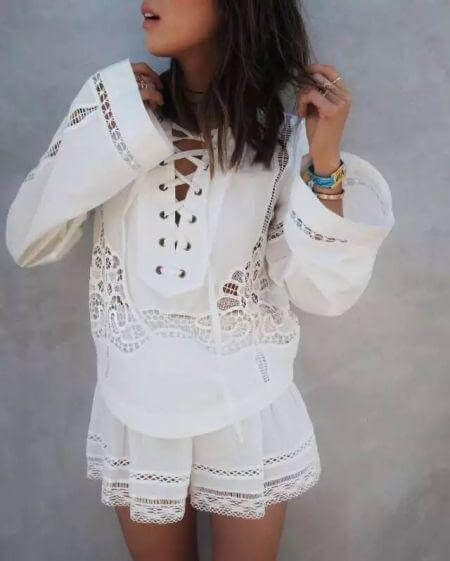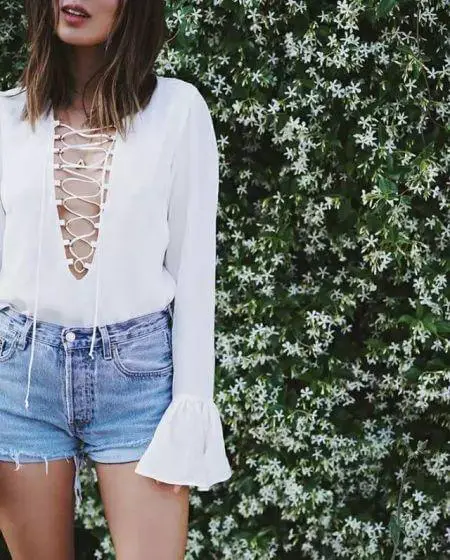 Most of the popular Lace-up blouses come with a deep V-neck on the chest. Teens with big busts must feel happy as V-neck is the safest style for girls with big bosoms. ▼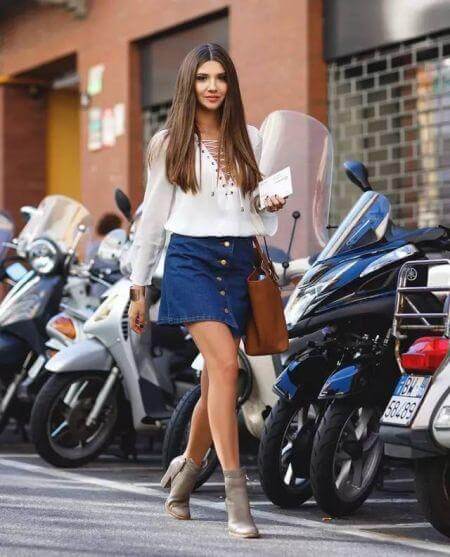 In summer, try these blouses with chic bottoms like half skirts and denim skirt. Though a simple style, but it makes you look gorgeously styled.▼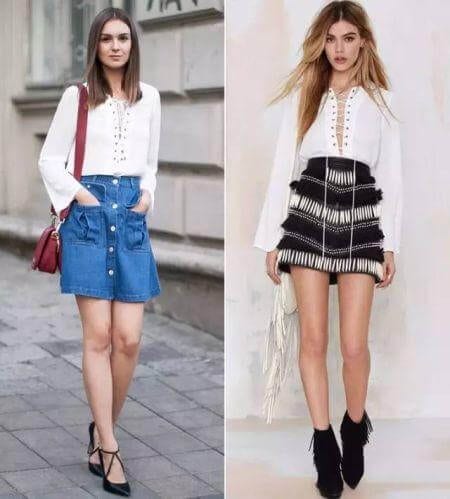 Even trying different styles of trousers is an option to go with. ▼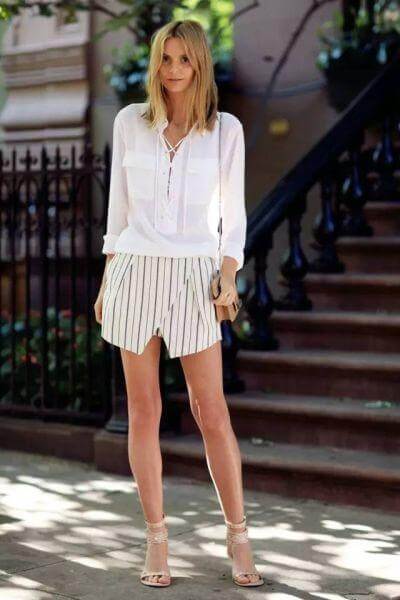 Another big benefit of Lace-up blouses is the adjustable strap design. The disadvantage is that it is too easy to get loose.