If you have a pear body shape, you know that finding the perfect outfit is no easy task. A great thing, the more you know about your pear body shape, the easier it is to look for the right pieces of clothing that will work for you along with the items you may want to skip. Keep on reading our fashion tips as we reveal the exact definition of a pear body shape and the best styles of clothes that can flatter your curves—so you'll keep looking your best no matter what occasion you're getting dressed for.
What's a Pear Body Shape Anyway?
Defined by a larger bottom half than the top half, pear-shaped women carry extra weight around the hip and thigh area. A great thing, a pear body shape has a clearly defined waist, proportionately slim arms, and narrow shoulders. So, grab a mirror and take a look: If your shoulders are narrower than your hips, you've got the pear-shaped body. All you need to do is to create conventionally flattering proportions to balance the top and bottom parts of your body, therefore creating a flattering silhouette for your curves.
10 Style Tips for Dressing a Pear Body Shape
Draw the eye upward with statement tops.
Statement tops draw the eye upward and highlight the waist and neckline, which makes it perfect for pear-shaped women. Opt for creative details like bold colors, catchy prints, artistic patterns, embellishments, ruffles, zippers, and such to draw more attention to your torso and away from your hips and thighs, therefore balancing your pear-shaped body. You may even think of tops with embellished collars or outfits with exciting prints, so you'll look more stylish while looking your best.
Look for necklines and styles that balance your lower half while accentuating your defined waist.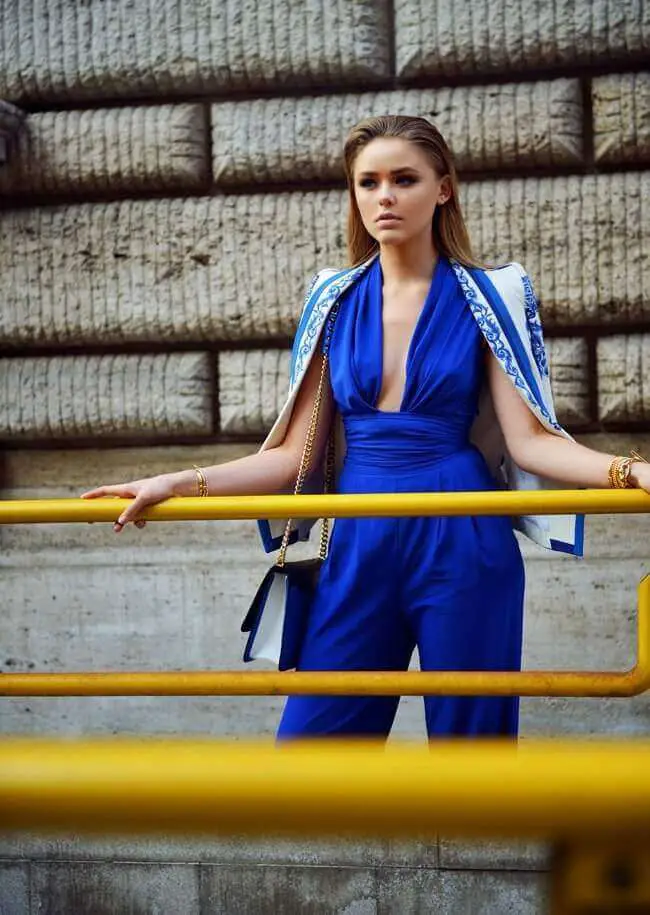 The name of the game is playing with proportions that elongate the body. Your waist gives you that flattering curve, so you must always define it and create a fitted look on top. Remember, the key to dressing a pear body shape is to add some volume to your upper body while highlighting your waist, and playing down your lower body—therefore, creating a balanced, hourglass appearance.
When it comes to necklines, opt for scoop neck, off the shoulder, boat neck tops, plunging V neckline, cowl necks, and such. Also, you need to balance your upper body by wearing clothes that make your shoulders look broader. Tops with bell sleeves, structured shoulders, hover sleeves, embellished sleeves and puffed shoulders give definition to your narrow shoulders while highlighting your narrow waist.
Skip loose and boxy tops as it'll make you look wider than you are—unless you're going to complement it with a high-waist bottom. To focus attention upward, go for tops with nipped or fitted waists, like button-down shirts and cardigans.
The right length of your hemline matters.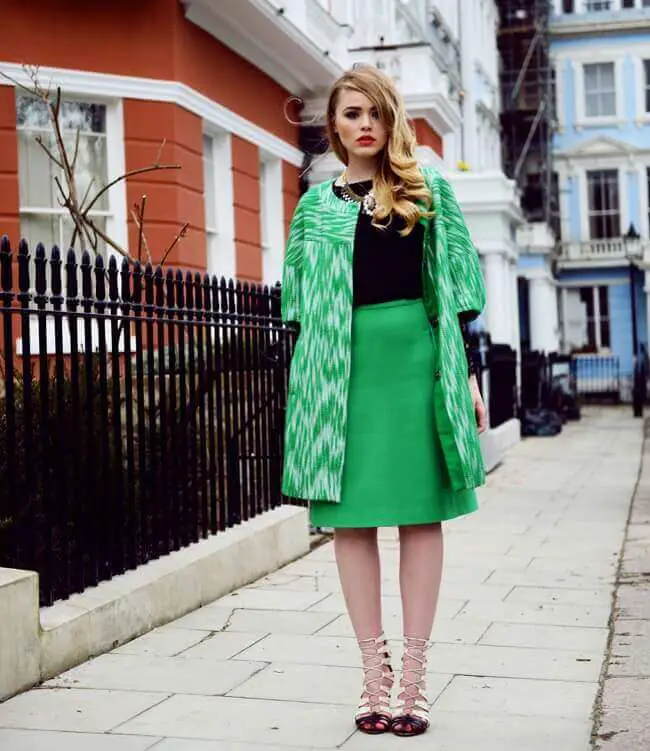 Regardless of the size of your clothes, the right length of hemline makes all the difference. When shopping for jackets and tops, make sure their hemlines fall either above or below the widest point of your hips. You may think of jackets with a nipped-in waist but stay away from lower pockets. Pear-shaped women look great in A-line, princess cuts, and waist-length jackets. Structured jackets with an asymmetric hemline or ones that are longer in the back are flattering as it visually slims the hip area.
When selecting skirts, avoid hems that reach below your thighs—that'll only make your legs look wider—though a knee-length and a maxi length that reaches your ankles can be flattering. Skirts that touch the knees show off your defined calves and play down the width of your hips. Boxy coats can totally work on you but go for a cropped style that emphasizes your waist and avoid the ones that hit mid-thigh.
If you'll wear a fitted top, balance it with a fuller skirt.

Balancing a fitted top with a fuller skirt creates visual interest and draws the eye upwards. Remember, your goal is to create an ideal hourglass figure—and full skirts gently skim your body and play down your bottom. You may also go for stitched down pleated skirts, paneled skirts, A-line skirts, knee-length pencil skirts, and trumpet skirts because they are most flattering. On the other hand, avoid skirts that stop at your calves, as well as the ones with pleats, large pockets, and low-density prints which will only draw attention to your hips.
Go for dress styles that follow your natural shape.

When picking for dress styles, go for the ones that are fitted at the waist and voluminous down to the hem to eliminate cling and a bad fit in that area. Empire dresses, wrap dresses, A-line dresses, and fit-and-flare dresses are universally flattering even in midi and maxi length. You may even look for sheath dresses, but avoid shift dress styles if you don't want to make your waist look as wide as your hips. Also, avoid dresses with pleats around the hips or bottom that will only add volume to your bottom part.
Think of high-waist bottoms.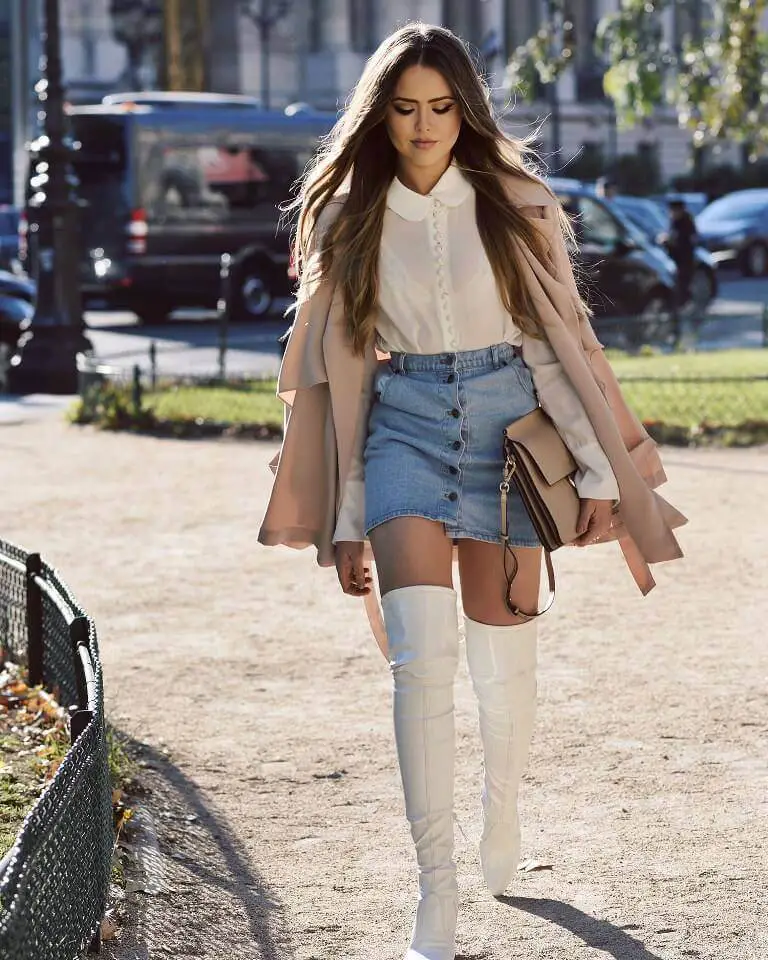 Your waist is your best asset, so be bold to show it off. Generally, a pear-shaped woman has a slim waist and perfect curves, so you can wear fitted styles that accentuate your waistline. However, if you don't have a small waist, you can still wear a skirt or shorts that hit the smallest area of your waist—right underneath your bust. Did you know that high-waist bottoms elongate your leg line, which makes your wide hips look more proportioned? High-waist skirts and shorts are perfect for drawing the eyes away from hips and towards waistlines.
Wear dark colors on your bottom piece.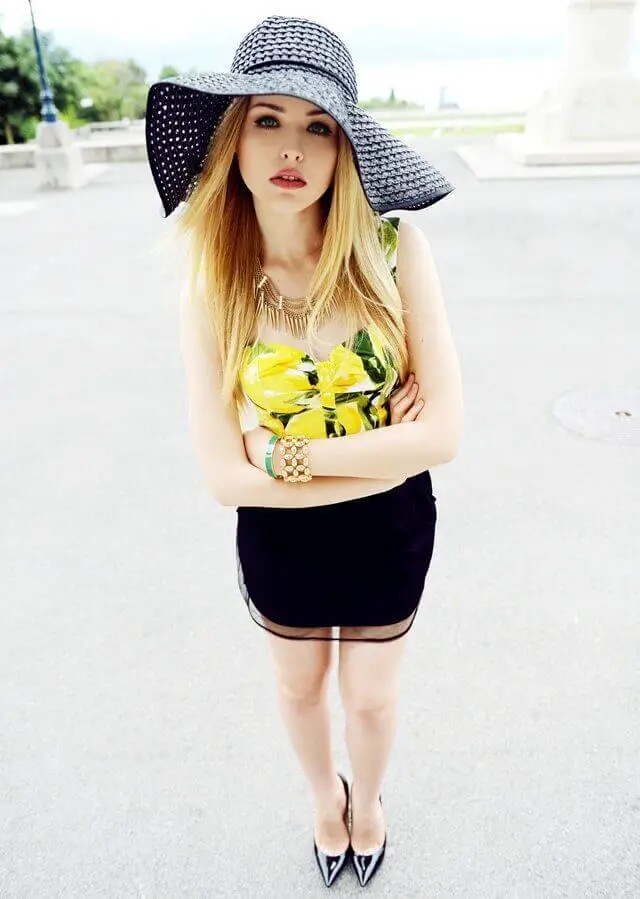 As contrary to wearing statement tops, wearing dark-colored bottoms disguises unfavorable areas around your hips. By saving the visual interest for your tops, you create an illusion of slimmer hips. The key is to stick with clean lines and simple stitching. For trousers and shorts, keep it simple, streamlined, and structured. On the other hand, avoid bright colors and bold prints, as well as embellished details and large pockets on your bottom piece that will only highlight the widest part of your hips.
Embrace wide-legged trousers and bootcut jeans.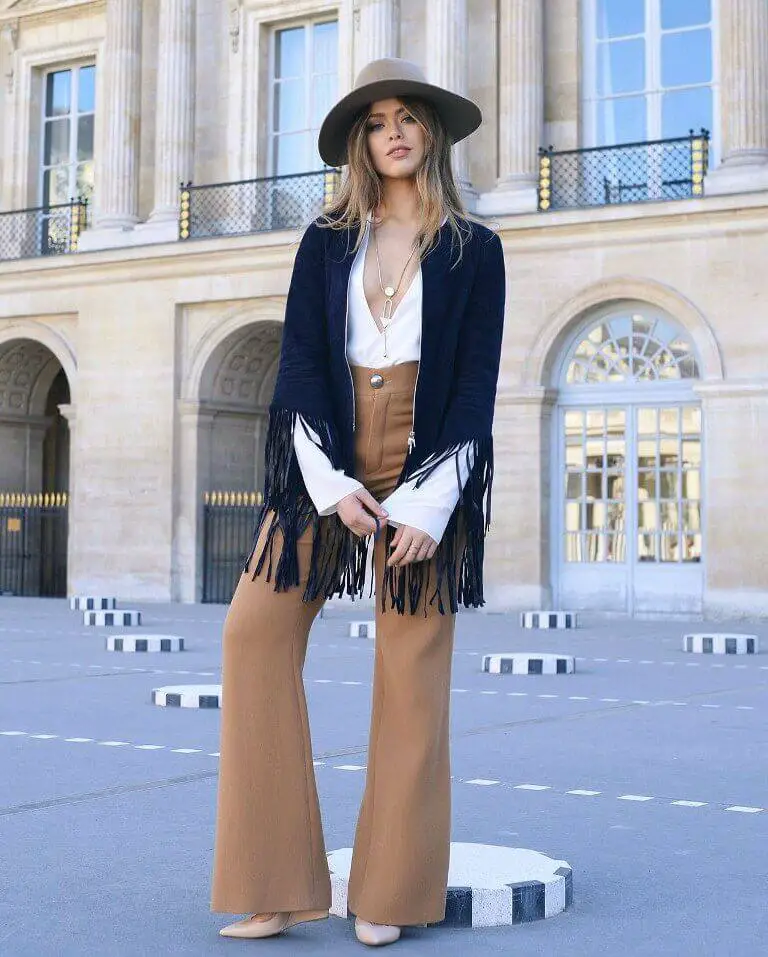 Wearing more forgiving silhouettes eliminate the cling, so think of boyfriend jeans, harem pants, jogger pants, track pants, casual knit pants, and such. But if you're not a fan of baggy trousers, resort to wide-legged pants or bootcut jeans that can also balance out the width of the hips. If you're a pear-shaped woman with a petite frame, a pair of floor-grazing flared pants over heels will do wonders.
On the other hand, avoid cropped pants that stop at your calves, as well as skinny jeans that highlight your hips. Large pockets on your pants and pleating will only add extra bulk so better avoid them too. Acid-washed and patchwork styles look trendy, but you may want to skip those details and stick with dark colors if you want to make your hips look smaller.
Layer your outerwear strategically, creating a vertical line down the center of your body.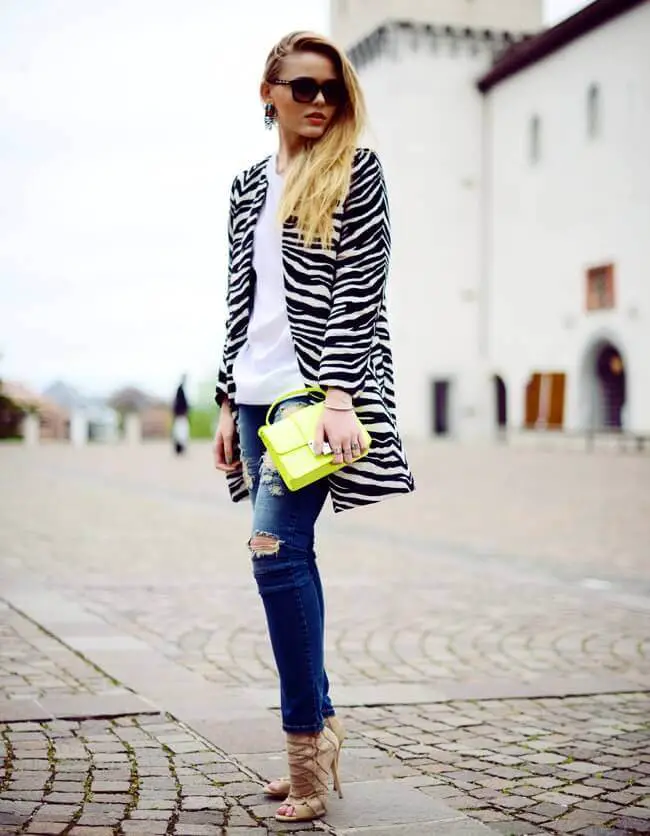 Did you know that you can create an illusion of a slimmer frame by layering your outerwear strategically? In fact, you can even out your body proportions by topping your plain white top and denim jeans with a zebra print coat—creating a vertical line that slims down your frame. Just unbutton your coat instead of wearing it all buttoned up, which is very slimming especially when you wear a light colored top with a dark colored coat.
When selecting trench coats, look for shoulder enhancing details like wide collars and big lapels, but are streamlined from the waist down. This trick will also work well with blazers, double-breasted coats, cardigans, jackets, trench coats, vests, and even capes.
Make a statement with flattering accessories.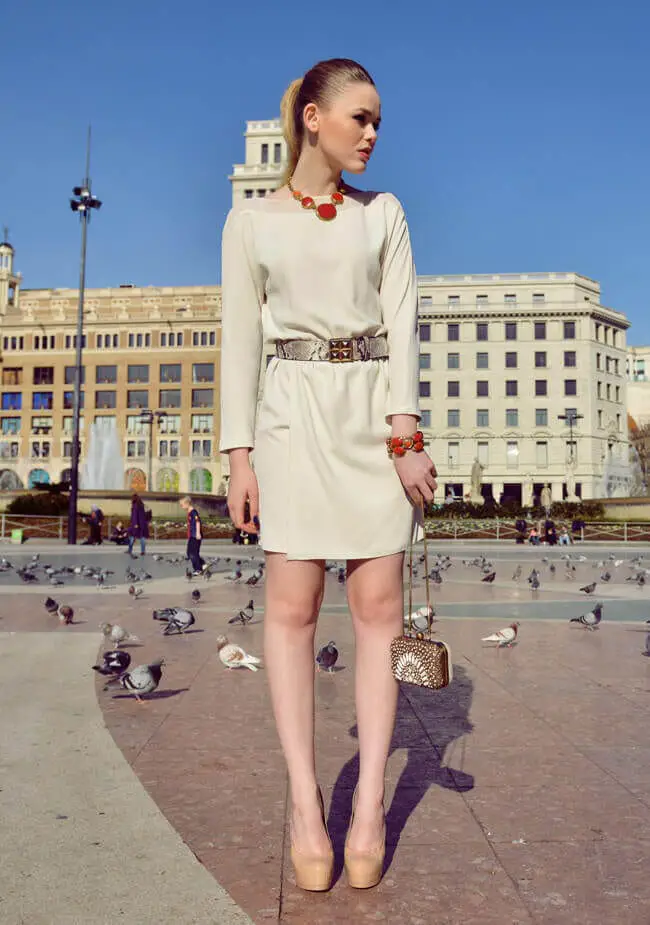 Accessories can be stylish at the same time functional for a pear body shape. Think of chandelier earrings, jeweled necklaces, oversized sunglasses, wide-brimmed hats, printed scarves, and even chokers that will make a style statement while drawing the attention to your upper body. You can even get a trendy look by wearing layered necklaces or cinching your waist with a metallic belt. Shoulder bags that sit on your waist, as well as clutches, can be great, but steer clear of bags that sit on your hips as they will only highlight your problem area.
When it comes to selecting shoes, you could never go wrong with ones that have a pointed toe—it elongates your legs. High heels with a medium to chunky heel, as well as platforms and wedges, work well. On the other hand, avoid ankle straps, kitten heels, round toe shoes, and ankle boots with straps around your calf area, as they will only highlight your mid-calves.
Indeed, dressing for your pear body shape will help you look stylish at the same time comfortable no matter what label or size you're wearing.