There was a time when girls had to wear a conservative staple like a black pantyhose. But with time we saw a decrease in the trend—and it became confined to the places like church, highly formal ceremonies, offices or funerals; places where it does not seem OK to go bare-legged. There are a couple of reasons why women have a general disliking for a pantyhose—this is an easily-torn accessory that comes with the bonus of itching.
A black pantyhose is one of the least favorite staples today, especially the opaque ones. You will find more girls wearing nudes as compared to opaque or black pantyhose. But still, you have got reasons to sport a look with a black pantyhose. The top reason to try a black pantyhose—they promise a sense of sophistication if worn stylishly.
Ever since the graceful Duchess of Cambridge Kate Middleton, has started to show off her slender legs in pantyhose (both nude and opaque), many girls are trying to follow the trend by getting some pieces all the way from a hosiery store to their fashion wardrobe. The most common opaque tights are black. But the question is how can a black pantyhose give a standout style and a flawless fit? You are in luck as I have got something for you.
In this article, I am not only going to convince all gal readers on adding a couple of black pantyhose in their closets; but I am also going to share some of the best outfit ideas where you can utilize black tights to look good and feel good. Let's get started with a few reasons why you should wear a pantyhose.
Top Reasons to Wear a Black Pantyhose
We know you don't take a pantyhose positively, but there are outnumbered positive reasons to try them on. Some of them are enlisted below;
To wear short dresses in the best possible way, you must have stubble-free and flawless legs. When you are in a hurry and don't get enough time to shave your legs, wearing a pantyhose is the best solution. Remember, the shade of nude must match with your natural skin tone.
Are you going to attend some dressy social function where going bare-legged would not be accepted? Go on with a pantyhose.
Women in their 40s, 50s or even senior ones, should prefer wearing a pantyhose. This is the best way to hide saggy-looking skin, resulted from aging.
You can't stay bare-legged in winter, can you? Wearing short dresses in cold weather can only be made possible by pairing your dress up with a pantyhose (opaque or sheer). These thin-looking pieces do help in braving the cold.
Common skin imperfections like varicose veins, moles, bumps, cellulitis, or pimpled legs can easily be hidden by wearing a pantyhose.
Black pantyhose is a must-have accessory for petite girls with heavy legs. Black tights or pantyhose will give an illusion of slim legs.
Are you fed up of shaving your legs every other day? Replace your shaving kit with a black pantyhose.
Last but not least, they look sexy if worn correctly.
Top 10 Ways to Wear a Black Pantyhose
A black pantyhose is an item that can easily be managed with all types of outfits. Just use them wisely and they can update your look. Here I have rounded up the most flattering ways to pair them with other ensembles. Just sit back and keep scrolling to find your perfect style;
With a Plaid Skirt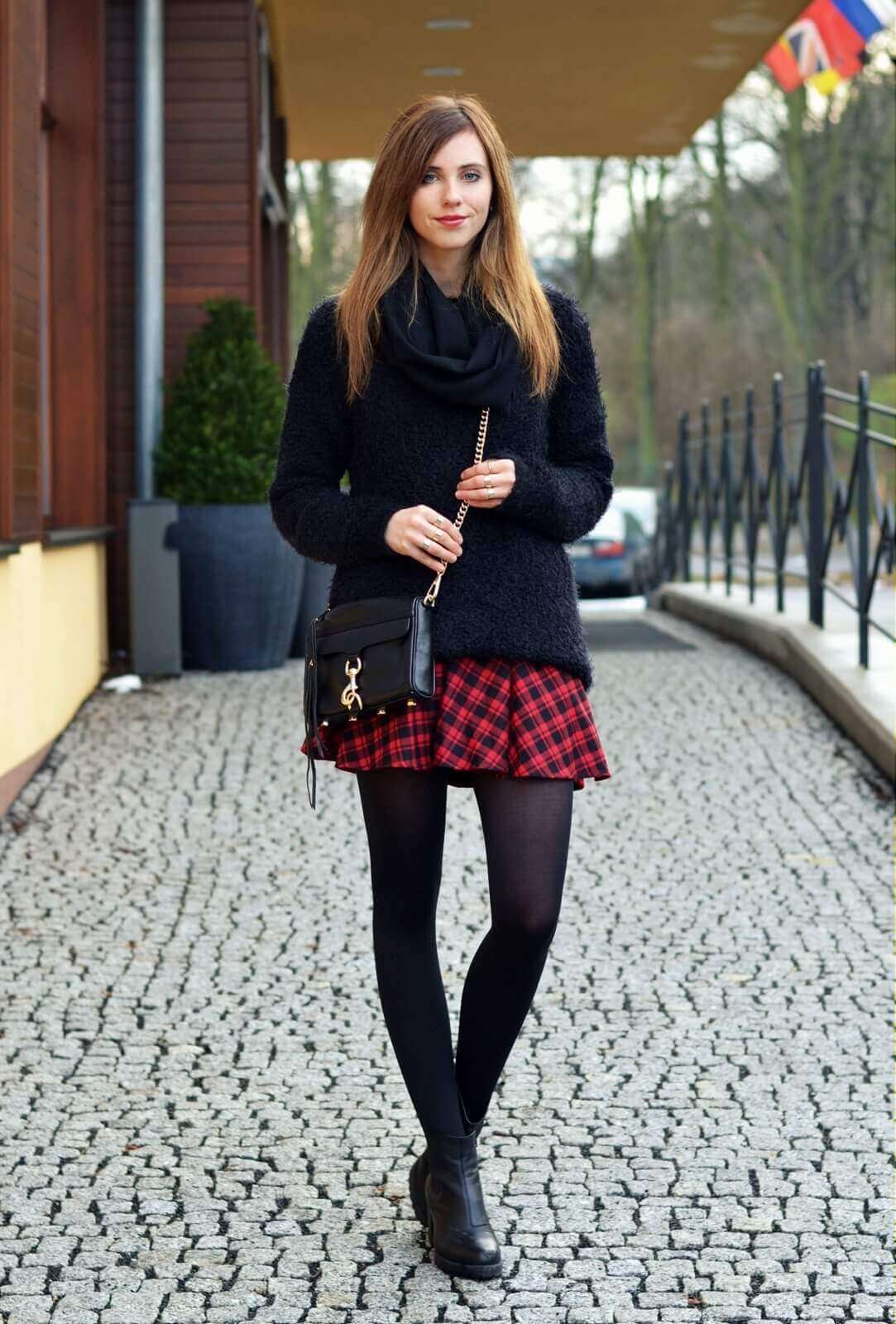 Pairing your black pantyhose with a plaid skirt and black top promises a look that perfectly goes from office to after hours. To add a more to it, accessorize it with a pair of high-heels.
With a Pencil Skirt and Thigh-high Boots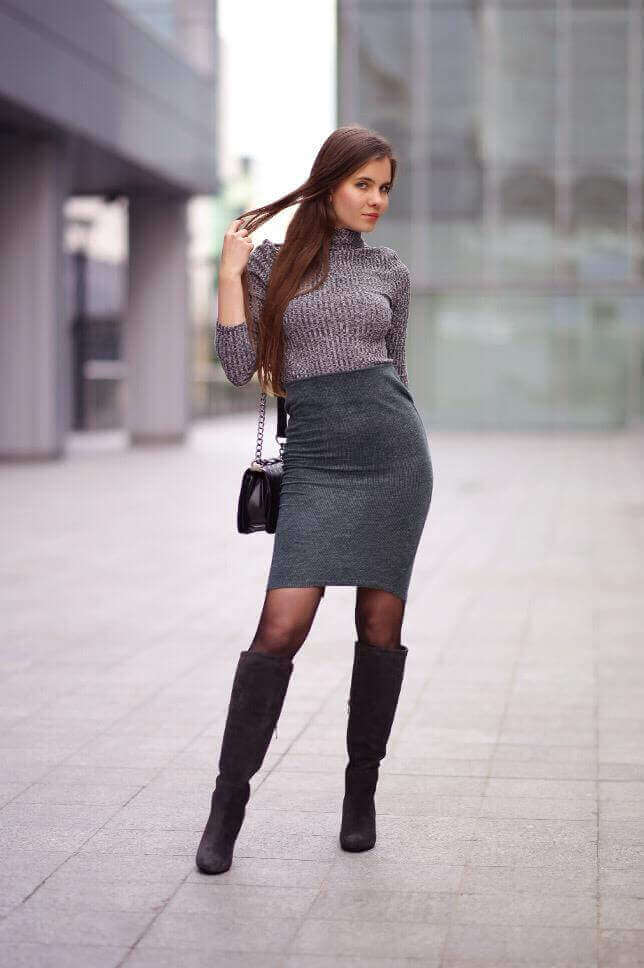 A pencil skirt is one of the top wearing girl clothing items. Pull it off in an all-new look by wearing a black pantyhose underneath. To get a glamorous vibe, adore your feet with thigh-high boots.
Note: A black pantyhose must never be worn with an open-toed shoe. Open-toed shoes are best worn with bare legs.
With Denim Shorts and Booties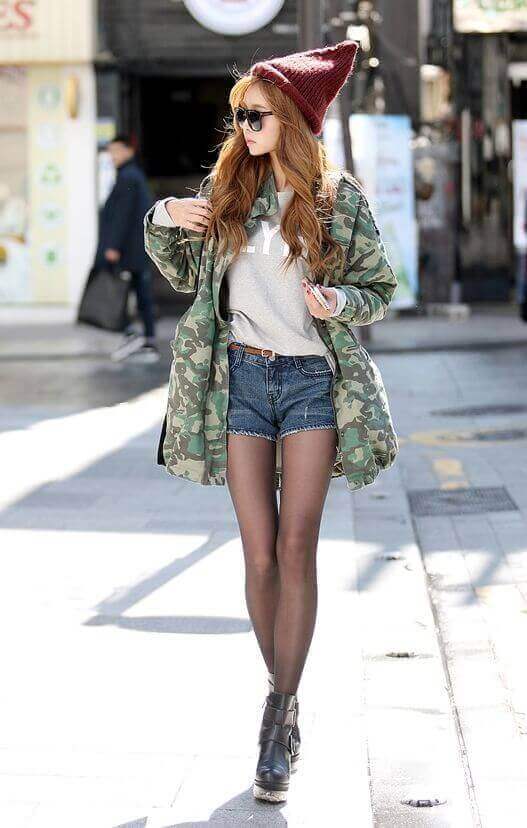 Young fashionistas out there, this looks belongs to you. You can't flaunt your legs in denim short with bare legs in winter; simply wear a sheer black tight underneath and booties in footwear, and there you go.
With Leather Skirt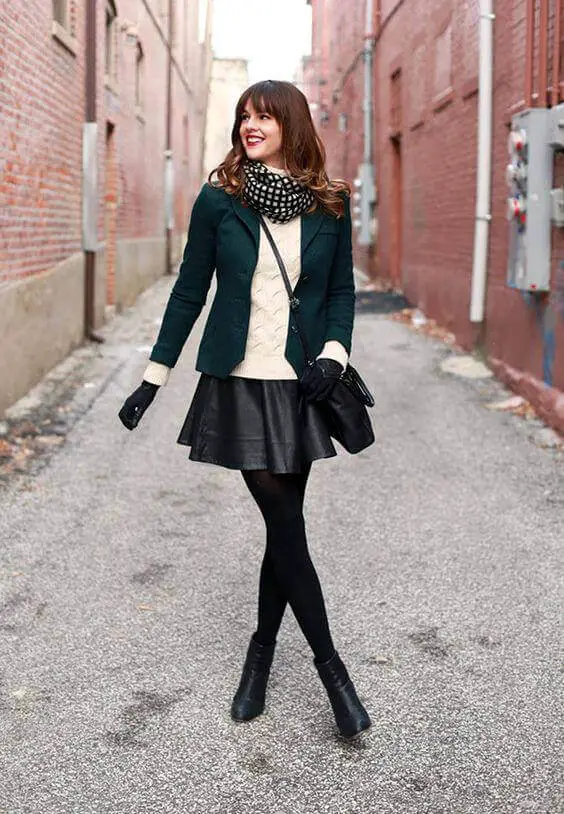 Get a funky look with a leather skirt, black pantyhose and ankle boots.
With a Black Dress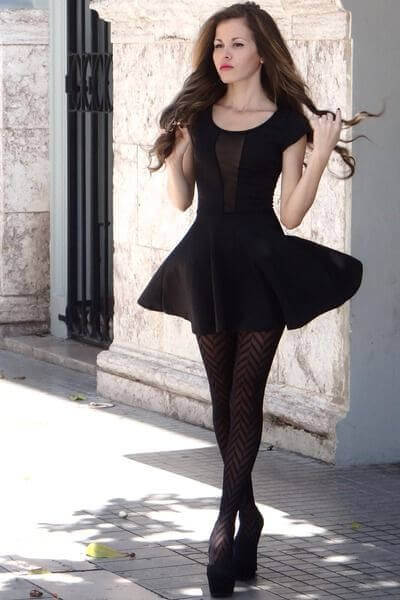 Yet another trendy combo, a black dress looks elegant when paired with a black tight. For a bolder look, opt for low denier (sheerer) black pantyhose.
With a Trench Coat and Short Dress

Get an edgy look in winter with a trench coat paired with black tights.
Note: You don't want an all-black look? Wear a dress in any other color, but for that a high-denier pantyhose should be preferred.
With a Printed Dress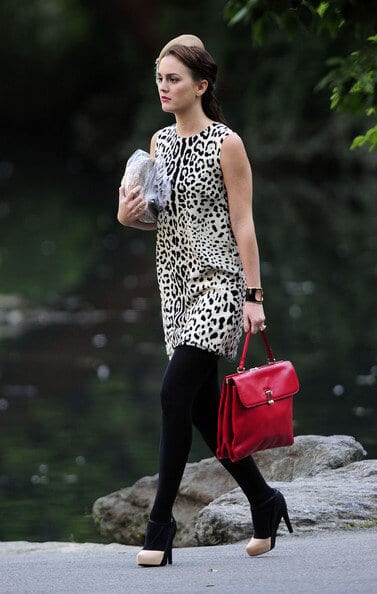 Dress to impress with a flattering printed outfit and get it paired with black pantyhose. If you take my suggestion, prefer an outfit in black and white colors. Using other hues might give an overly dressed look.
With a Coat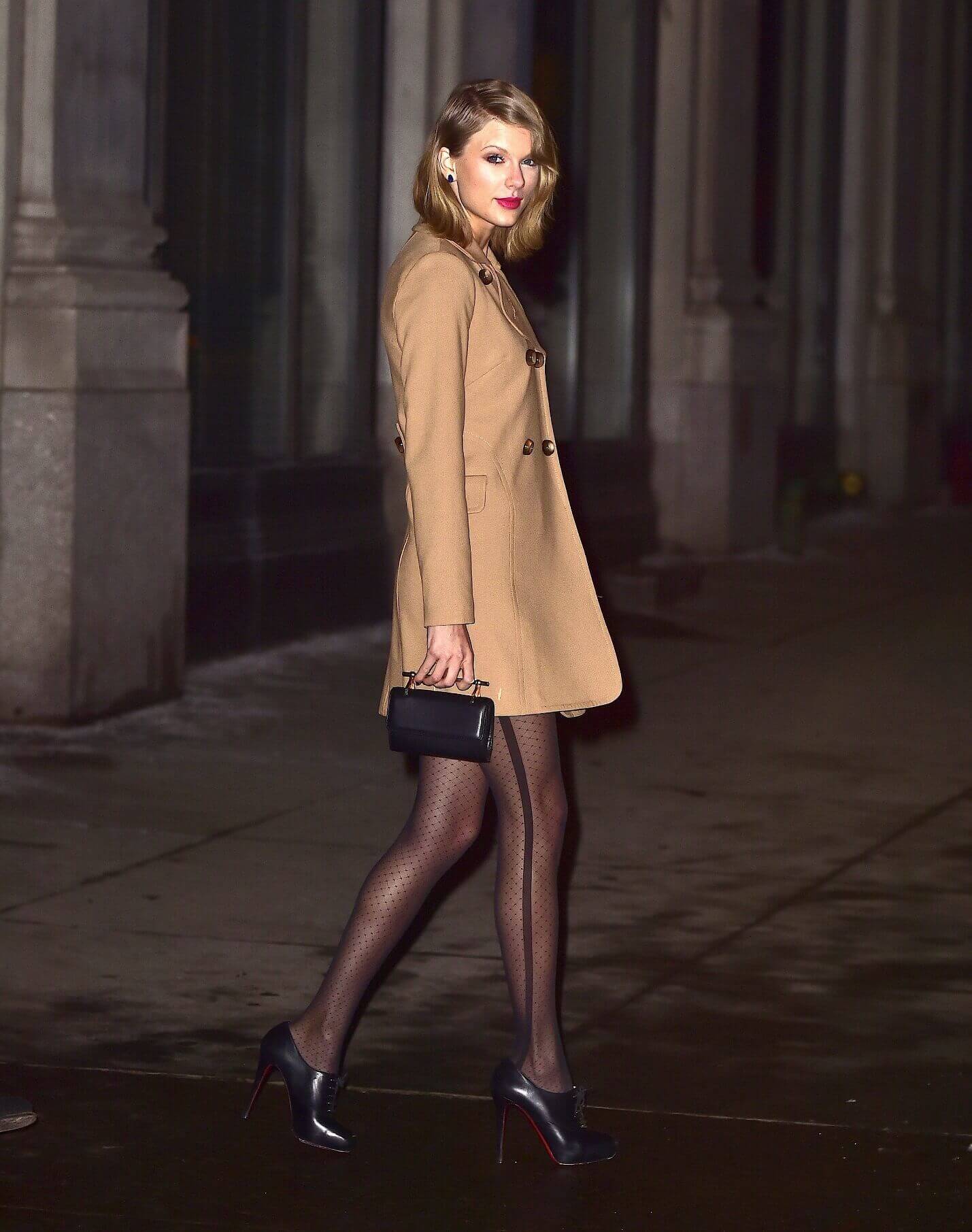 Are you looking for a sassy and saucy look for the office? Pair your winter coat with a black tight and high-heeled shoe. To get a preview, check out how Taylor Swift has managed a stunning look.
With a Maroon Dress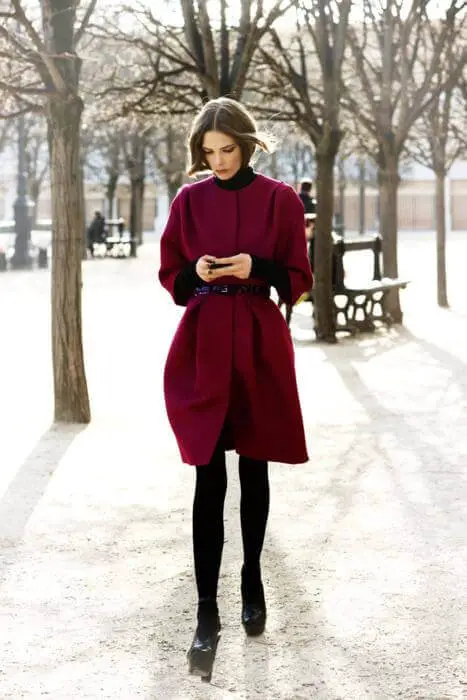 This is a trendy winter combo that you would often find around you. A bold yet elegant shade like Maroon promises a well-balanced look when combined with a black pantyhose.
With an Over-Sized Sweater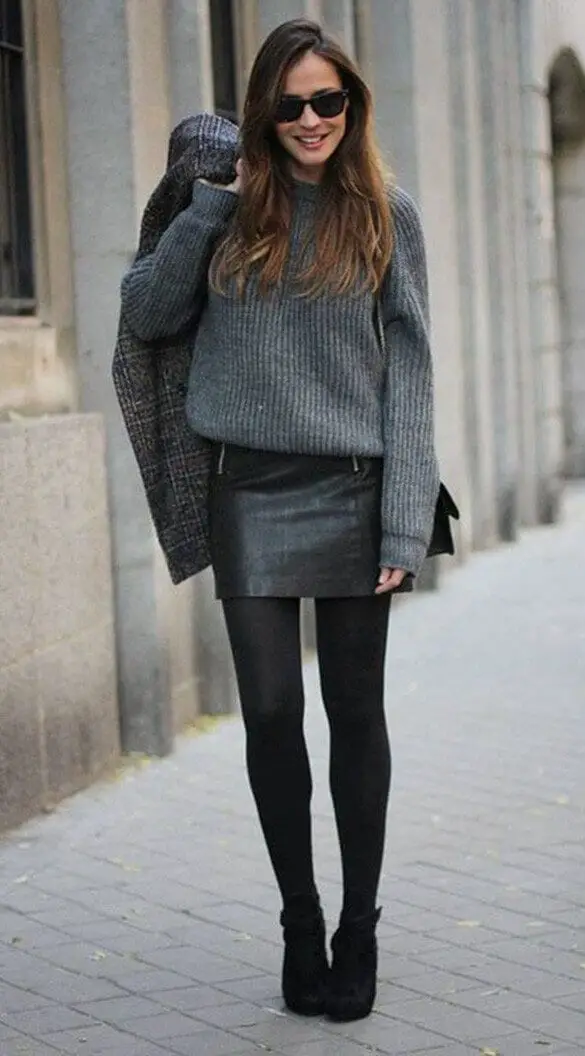 Give a try to an over-sized sweater, irrespective of the color. For winter, it can be paired with black tights and booties.
Wrap up:
Concluding the article, I am pretty sure that many of you are going to try some of these amazing looks by incorporating a black pantyhose both sheer and opaque. A pantyhose is not at all a weird item to wear; all you need is to pull it off in the best possible way.