What to Wear to a Country Music Concert? There's no one right answer to this question, as everyone has their own individual style. However, some tips on what to wear to a country music concert can include wearing comfortable clothing that you can move in, like jeans and a T-shirt, and bringing along a hat or sunglasses for when the sun goes down. Additionally, be sure to bring some sunscreen if you're going to be out in the sun for a long time.
Looking for the right country concert outfit? We've got you covered here!
What to wear when going to a country music concert
Country music fans know how to have a good time. If you're headed to a country music concert, there are a few things you need to know about what to wear. Jeans and cowboy boots are a must, but there are other ways to dress up your look. Here are a few outfit ideas to get you started.
Cute country concert outfits with boots
1. Boot styles
What boots to wear to a country concert?
If you don't own any pair yet, let me show you some cool options that can take your concert outfit to the next level.
The most basic pair of boots is probably this kind of brown leather cuties, which are absolutely perfect for any country concert outfit:
Black high ankle boots are another cute option that goes perfectly well with any kind of outfit you opt for:
Want to make a statement? These are the perfect boots to dress in a head turner outfit:
A cool alternative is a pair of white, low heel, ankle boots:
Another fashionable and cute ankle boot option is:
If you're looking for an edgier outfit, opt for studded boots like these ones:
Now that we've talked about boots, you can enjoy the following outfit ideas that have been picked especially for you to wear with your favorite pair of boots.
2. Denim skirts
Country concerts and denim is the best combo you could ask for. It's an easy option for those who want to look cute and effortlessly cool.
Pair your denim skirts with a chunky belt for an ultra-country look that will also make you feel cute and sexy.
If the concert is during super hot weather, opt for crop tops with spaghetti straps. You can even go with a strapless one, although I recommend the first option since you're most probably going to be dancing and jumping during the whole concert.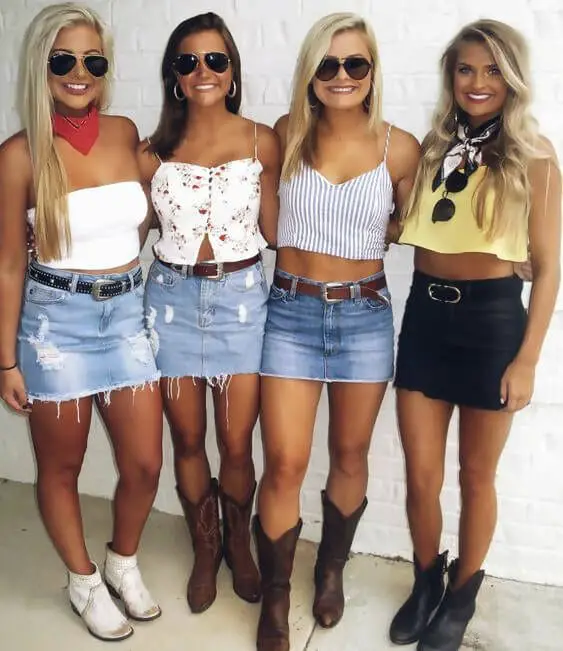 A white denim skirt will also look great with your boots: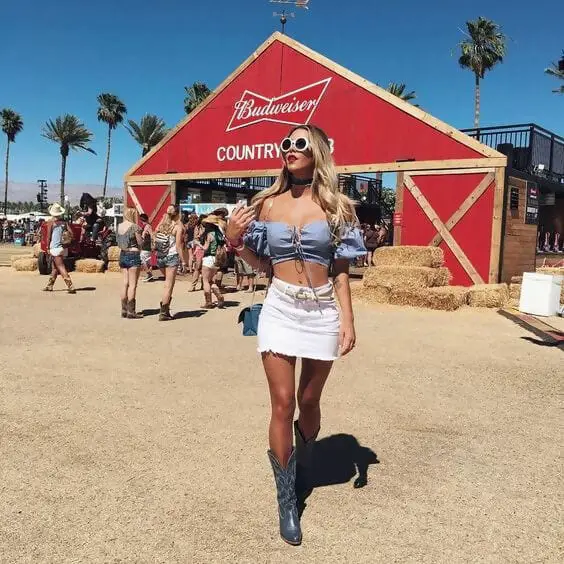 Shop The Look
---
Click the picture to buy
3. Denim shorts
If you want to dress more comfortable, a great outfit option for a country concert is a pair of ripped denim shorts, which you can wear the same way as I mentioned above: for hot weather, sleeveless, cropped or strapless tops are going to be your best friends.
You can also wear a cowboy hat to bump up your look: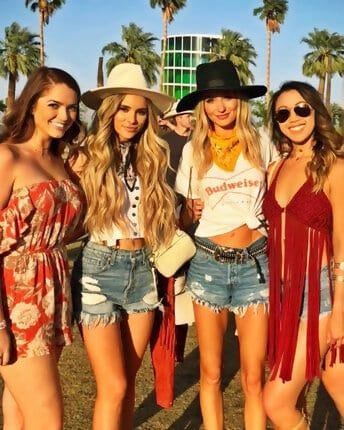 I also love how tie-front tops have an instant country concert vibe: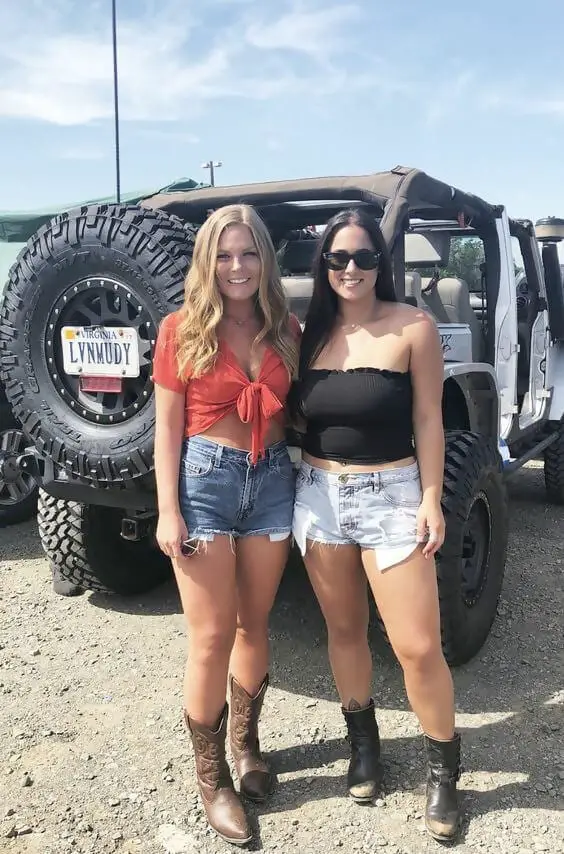 For an edgier look, opt for a black t-shirt with your favorite rock band's logo. Add your cowboy hat and you'll be picture-perfect for your Instagram pictures: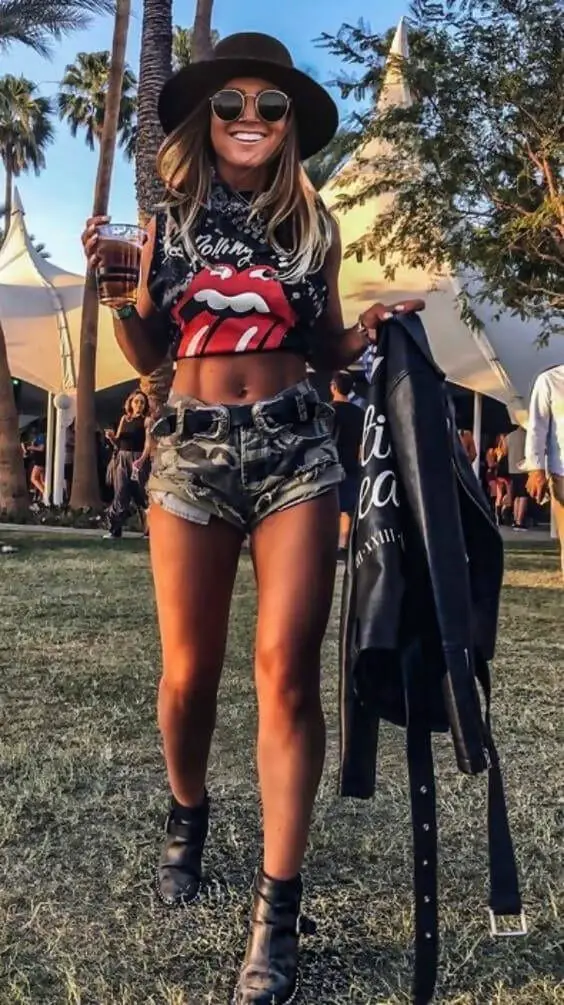 Shop The Look
---
Click the picture to buy
4. Kimonos and denim
If you have a mix of a country and indie/boho style, a long printed kimono paired with a hat is a cool country concert outfit idea.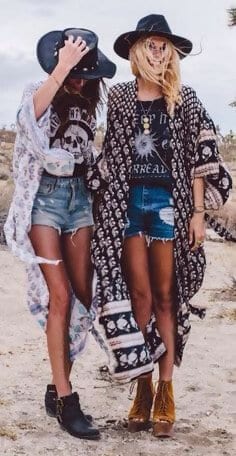 I love how this see-through kimono looks like an alternative for a printed one: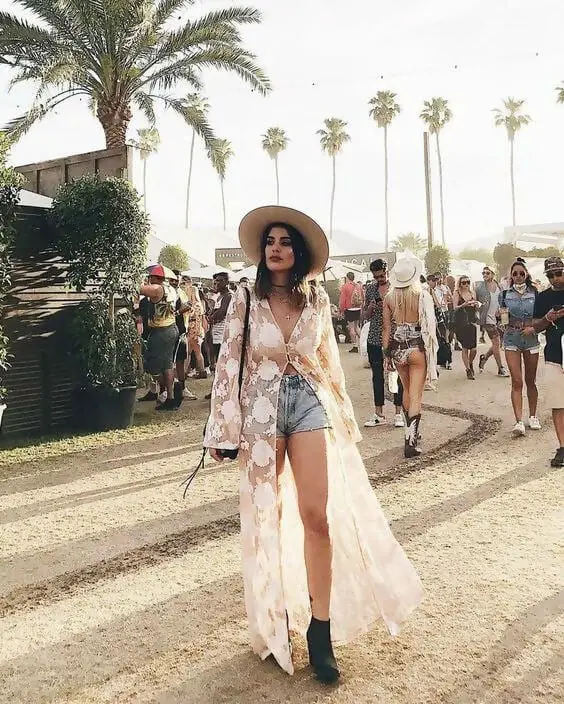 Shop The Look
---
Click the picture to buy
5. Plaids and denim
You can also wear your favorite plaid shirt for a genuine cute country girl outfit.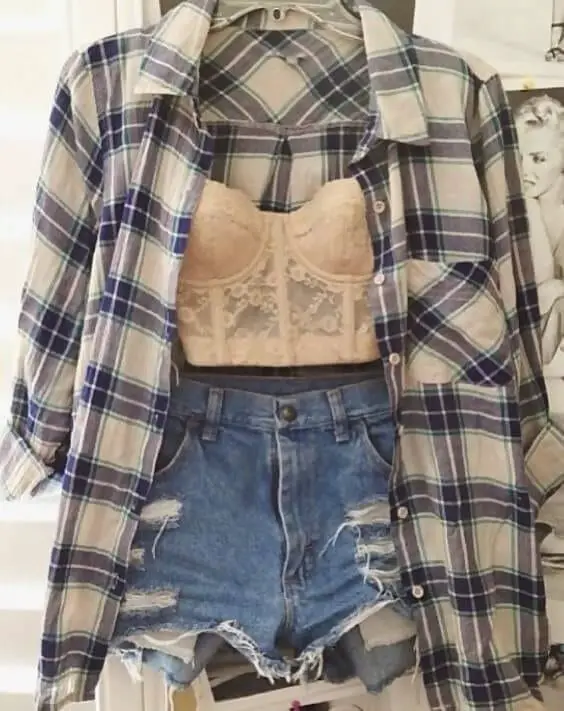 Wear your plaid shirt tucked inside your denim shorts for a sexy country concert outfit.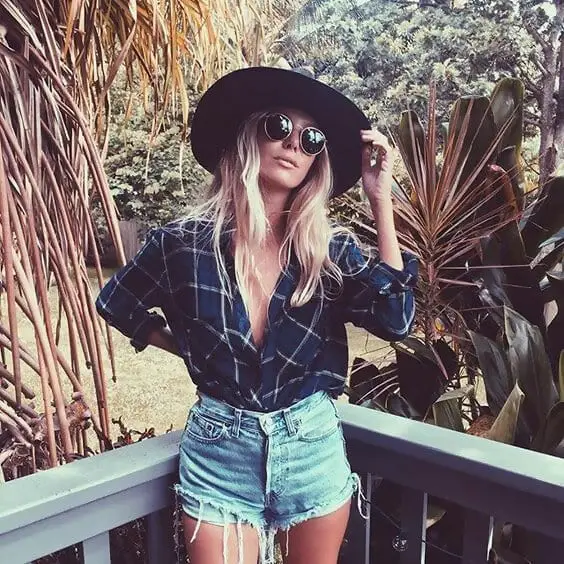 Plaid shirts can be worn in so many different styles, making them one of the most versatile fashion items you can wear to any music festival or country concert.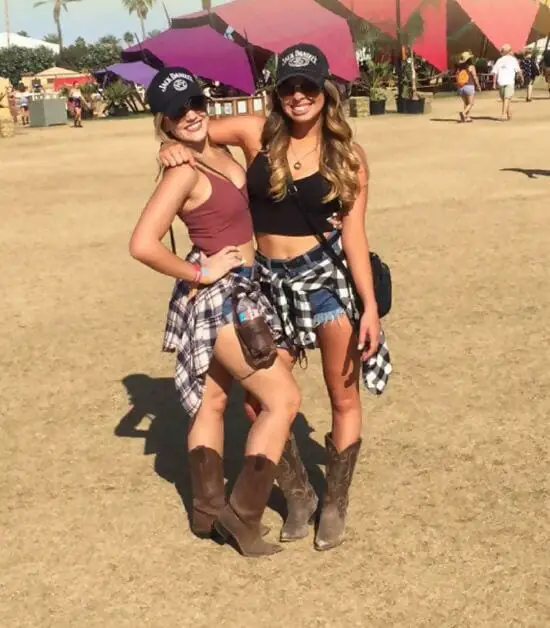 Shop The Look
---
Click the picture to buy
6. Ripped jeans
If the weather is not that hot, a cool pair of ripped skinny jeans is a perfect option to wear to a country concert.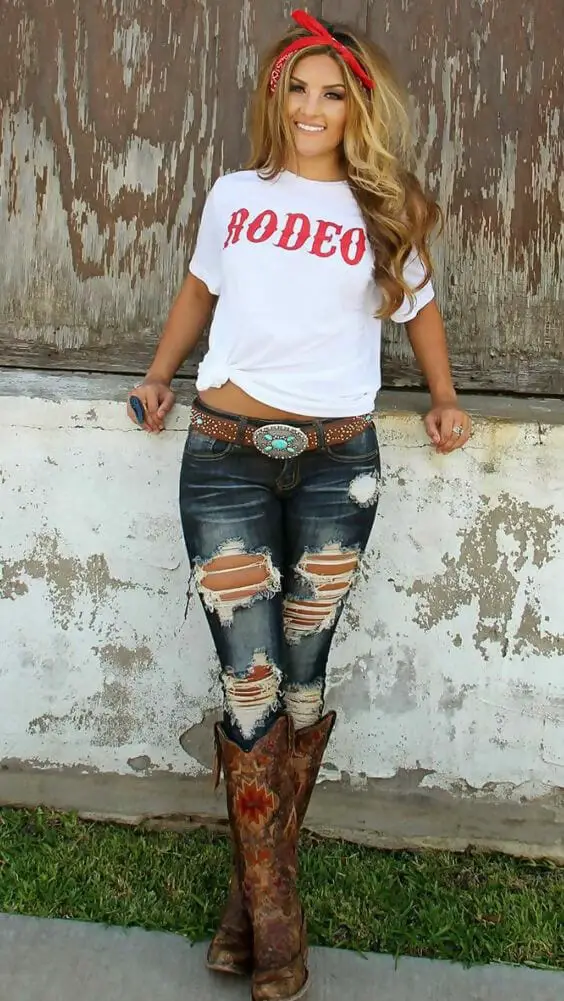 Jeans are perfect for country concerts in cold weather, as they look very cowgirl-ish while warming your legs at the same time. To cover your upper body, a kimono is again a great and stylish option for you: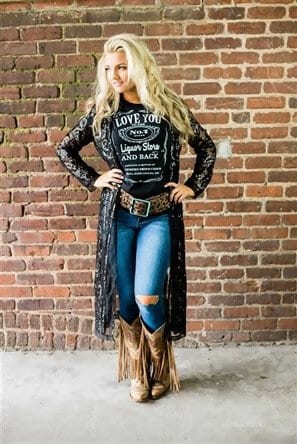 7. Dresses for a country concert
A dress paired with cowboy boots is the definition of a cute country concert outfit. I suggest choosing a white boho-looking dress like this one: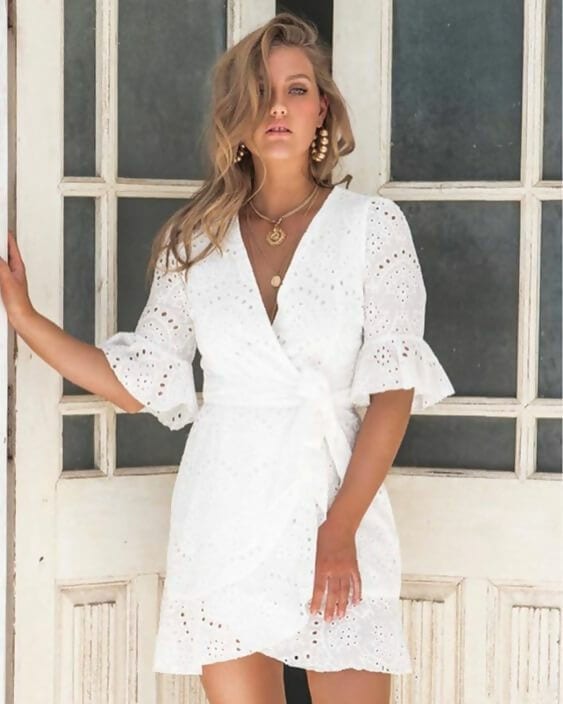 A dusty shade of pink is a cute idea if you want to add a few romantic vibes to your country concert outfit: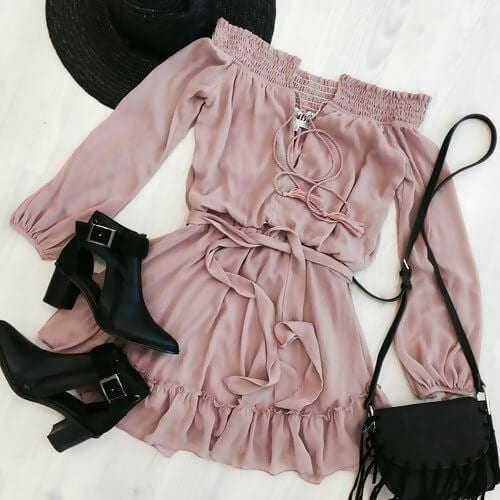 If I haven't convinced you yet about how stylish dresses look with boots, I'll leave more options for you to choose from. From printed to plain white dresses combined with a denim jacket, there's no way you can go wrong with this item.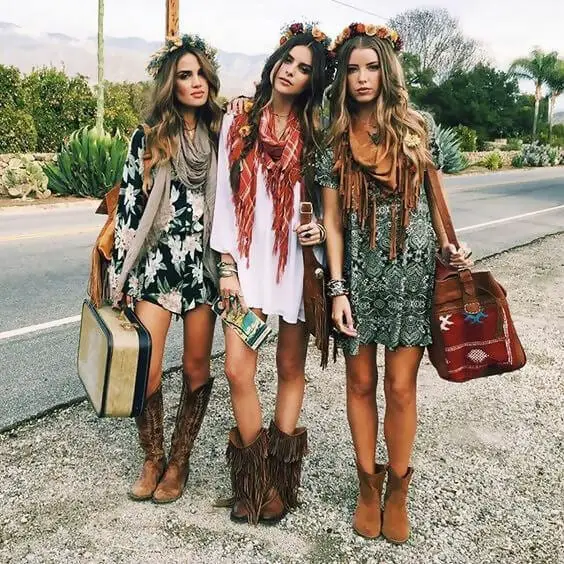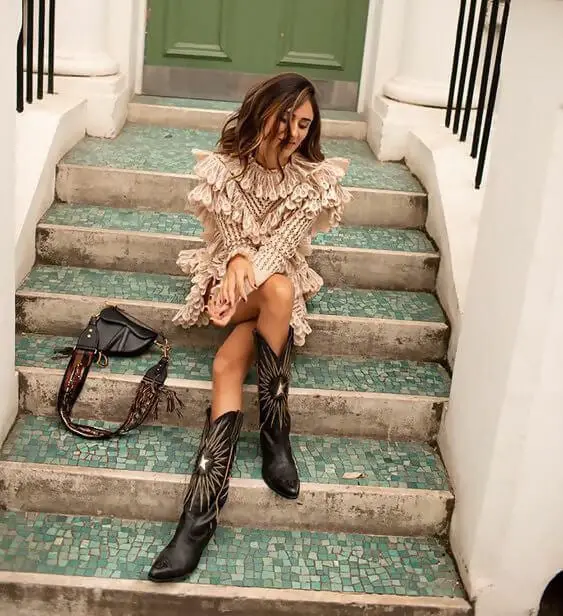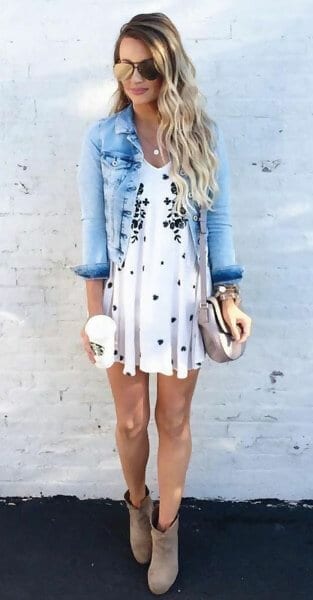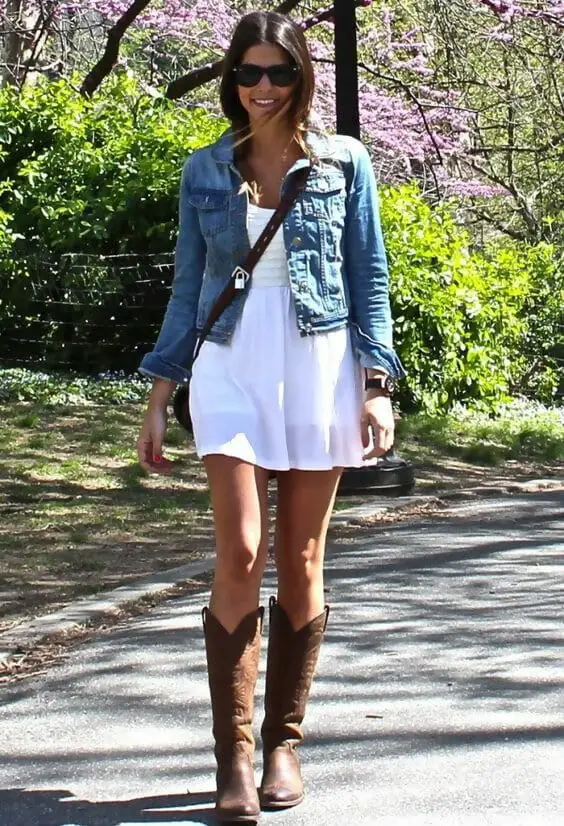 What shoes to wear to a country concert
If you've never been much into cowboy boots or simply want to have other options, there are some cool alternatives that will make you look like a true country music star.
These are the top 5 shoes to wear to a country concert, as an alternative for boots, which will complement your outfit in the cutest way.
1. Gladiator sandals:
What to wear to an indoor country concert? Sandals! I wouldn't suggest these shoes for outdoors, as your feet can get really dirty, but for an indoor concert, I would totally go for sandals as my first option.
Gladiator sandals are a great option for a super bohemian and comfortable outfit:
2. Ankle lace-up sandals
If you don't like gladiator sandals, any type of ankle strap or lace-up shoe will still be a cute option for your outfit. Sandals are a great idea for a concert and believe me, your feet will thank you after so many hours of standing and dancing.
3. Espadrille sandals
Another comfortable shoe option is a pair of espadrille wedges:
4. Peep toe wedges
These are the perfect alternative for boots, as they will give your outfit the same country concert vibe that any pair of boots will. I also love how these cutouts make the shoes look very western-like.
5. Chuck Taylor All-Stars
Chuck Taylors are a very hipster option as opposed to sandals but still completely approved for any country concert outfit. I'd go for a black or white pair:
Cute country concert outfit ideas without boots
Now let's see how similar outfits (as the ones I've shown you in the first section) can still look super cool with these shoe styles.
1. Hat + Kimono + sandals
How cute does this kimono look with gladiator sandals? As I've mentioned, this style of sandals is an instant head-turner that perfectly complements your country concert outfit.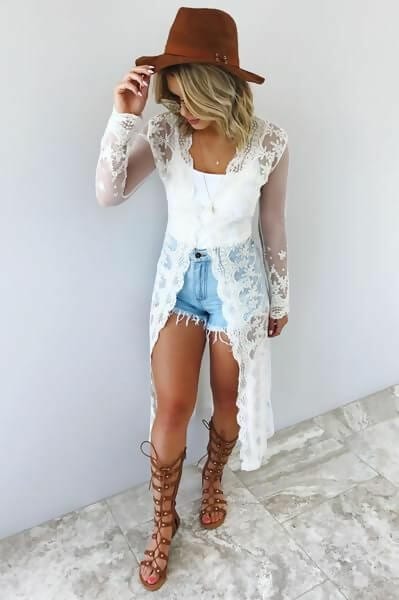 2. Dress + espadrilles
You can't go wrong with a dress, and to make your outfit even girlier, opt for a pair of espadrille sandals.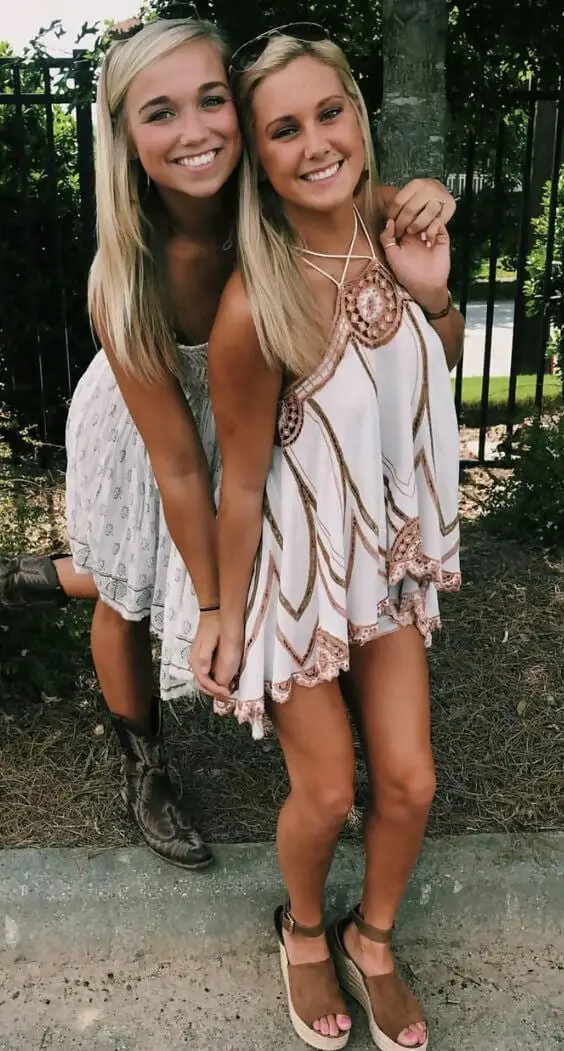 3. White t-shirt + ripped shorts
It can't get simpler and more stylish than this. Try adding a cool black or camel belt for a cowgirl look: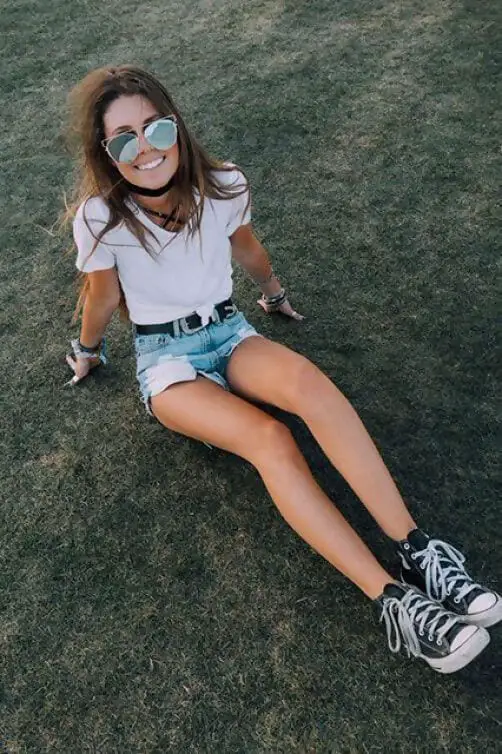 4. All-black
An all-black outfit is a coolest and edgier option you can wear. Add an item that has fringes, such as a skirt or a top (look how cool this top is!) to have an instant country vibe: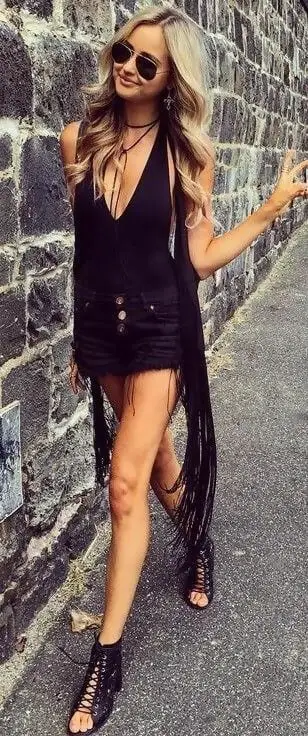 5. Fringed Vest
For a true western style, opt for a faux-suede fringed vest in camel or black. Pair it with absolutely anything; from a slogan t-shirt with jeans to a cute white dress:
Accessories: Add a touch of personality with accessories.
When dressing for a country concert, it's important to keep your look casual and comfortable. However, you can still add a touch of personality to your outfit with the right accessories. Here are a few ideas:
One option is to wear a cowboy hat. This is a great way to show your love for country music and western culture. You can find cowboy hats in a variety of styles and colors, so you can find one that matches your personality and style.  If you're looking for something a little more feminine, try a floppy sunhat or a pretty scarf. Both will add some color and style to your look.
Another option is to wear a bandana. Bandanas are a classic country accessory and come in a variety of colors and patterns. You can tie it around your neck, put it in your hair, or even wrap it around your waist.
You could also wear some boots. Boots are another classic country accessory and come in many different styles and colors.
Don't forget to pack some twangy jewelry! A guitar pendant or cowgirl boot earrings will help complete your look.
Wrap up:
Now that you've got your tickets to a country concert, it's time to start planning what you'll wear!
These country concert outfits can give you plenty of inspiration to start looking through your own wardrobe and see what items you have, and which ones are still missing. You can always borrow something from your friends or go to a thrift shop to find that cute fringed vest, for example.
Some key items such as a hat or a nice belt can be missing to complete our outfit, and that's why it's important to plan what you'll wear with time.
It's so much fun to go to a concert, but's it's even better to style a country concert outfit. So enjoy it! It will be probably one of the few times you'll get to be a true western girl.