Fall is the best time of the year
No matter how excited we get for summer days, we can't deny there is something about fall fashion that steals our heart.
In my case, I love it because a fall color palette is super sophisticated and charming. But I also enjoy layering my clothes and knowing the weather is not going to be too cold as winter nor too hot as summer.
Regardless of your personal reason, fall looks are something we crave throughout the year. And if you're in search of cute fall outfits, then this article is perfect for you, as I will guide you through the best fall fashion inspired by the latest trends.
So not only are you going to love these looks, but you're also going to be updated into what's hot and trending right now.
What to wear in fall
Fall weather demands certain basics that will keep you warm enough without feeling too hot. These essentials are:
– Ankle boots
– Thin tights
– Cardigan
– Pullover sweaters
– Scarf
If you have these items, then you'll make your way into fall perfectly.
Now, we don't only want to put on some clothes. We want to show-case many trendy and cute fall outfits.
So hold on to your fall basics and let's see the best way of styling them through these fall outfit inspiration pictures.
1. Fall color palette
First things first. Let's take a look into different color palettes that will inspire you to buy or wear the best fall outfits.
These are two color palettes that best define this time of the year. As you can see, there's nothing too bright or saturated. Normally, fall colors tend to be dusty or desaturated. Wine or burgundy along with camel is a must-have color, apart from white and black.
Velvet and leather fabrics are a chic addition you can make to your fall wardrobe, as they will make you look sophisticated, cool and classy all at the same time.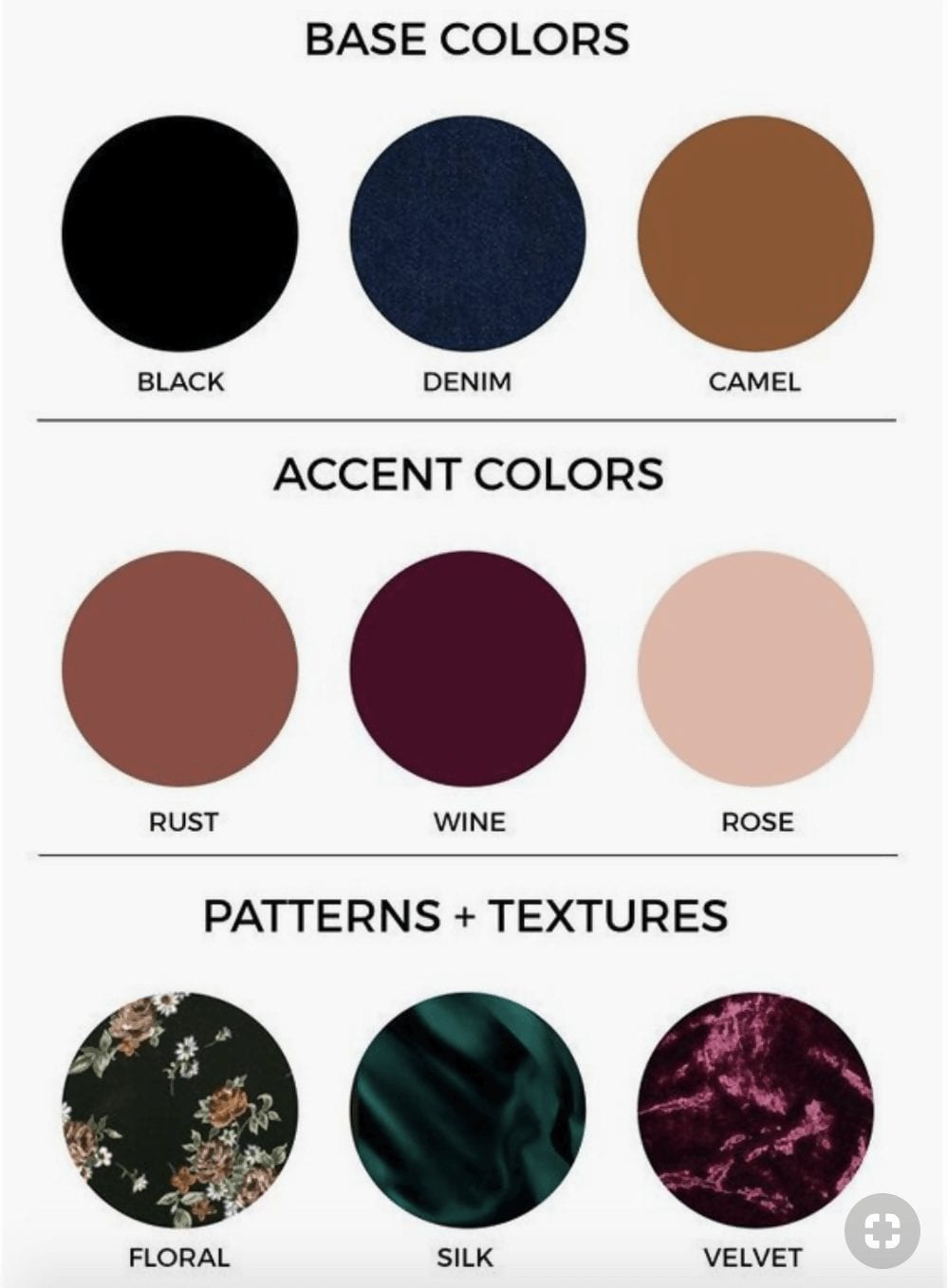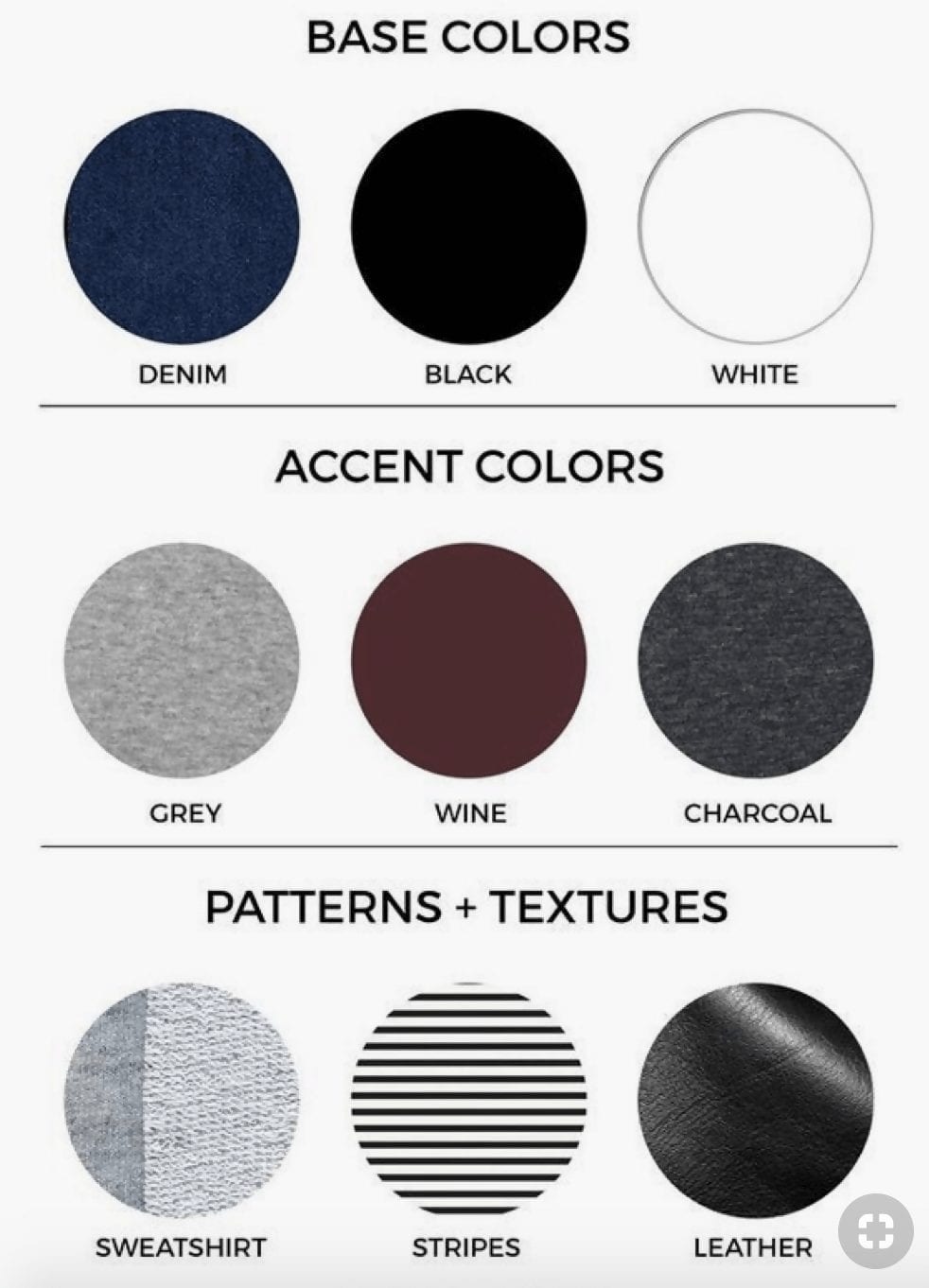 This is another color palette mood board that revolves around dusty teals, pinks, and a mustard yellow. Terracotta is another iconic color of a fall palette which is essential for cute autumn outfits as well.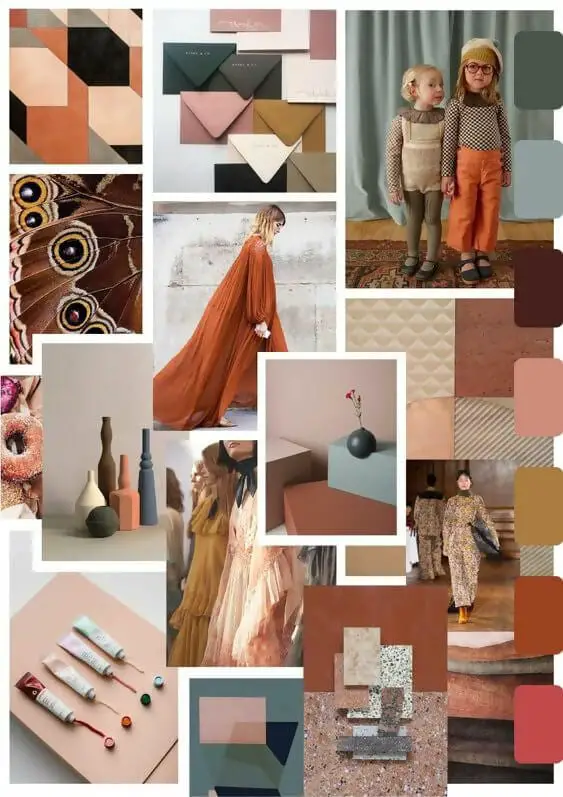 2. Pullover + jeans
For cute simple fall outfits, it can't get easier than pairing your favorite sweatshirt or pullover sweater with your skinny jeans and ankle boots.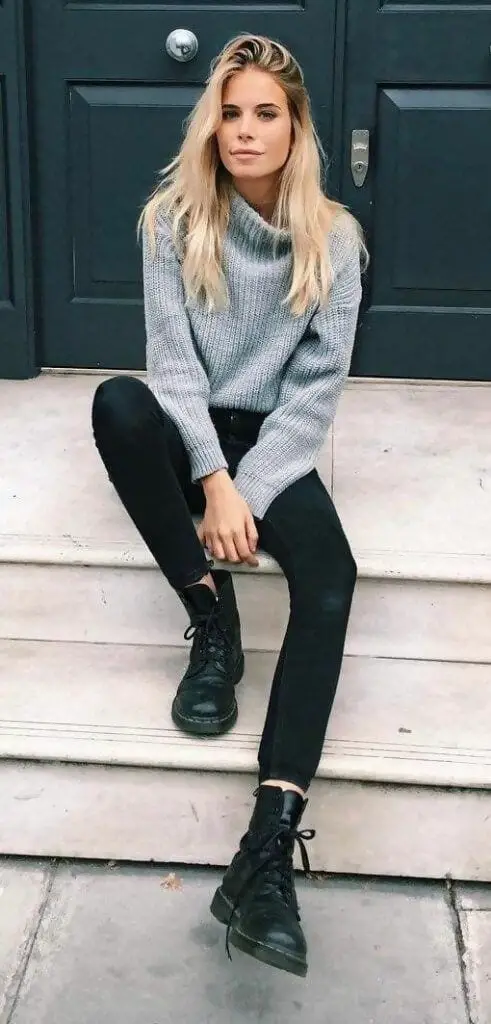 This is a go-to option perfect for those days when you don't want to make much of an effort. A cute fall outfit for school or college or for running errands around town.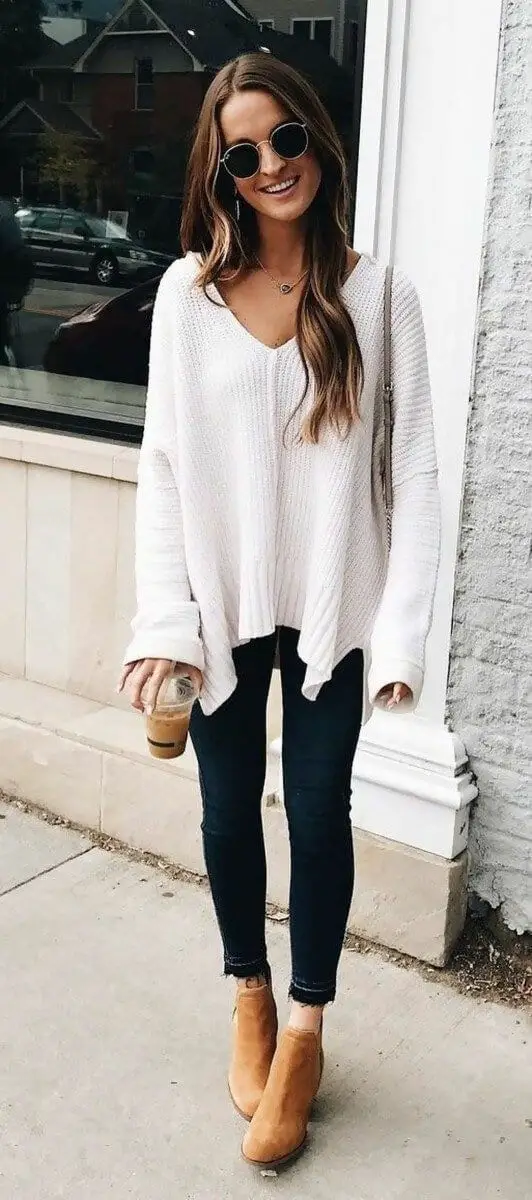 As I've mentioned, terracotta is a cute color that instantly turns your regular outfit into a fall-looking outfit. I'd say, if you're going to buy something, it should be a terracotta garment such as a turtle neck sweater: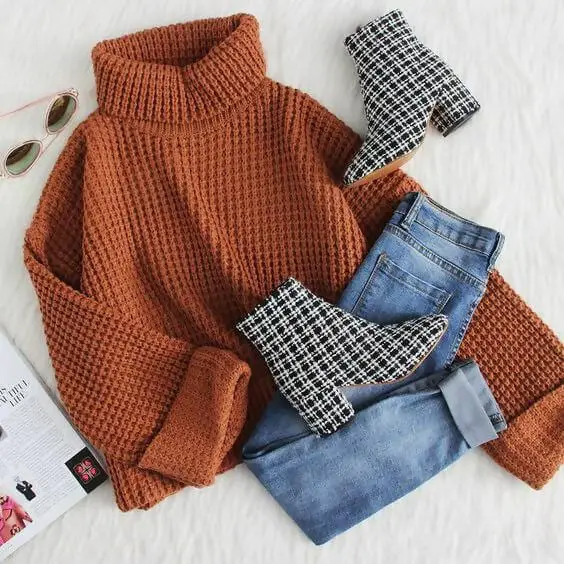 Then again, burgundy is another must-have color so picking only terracotta simply won't do. So, if you can, add burgundy into your shopping list as well.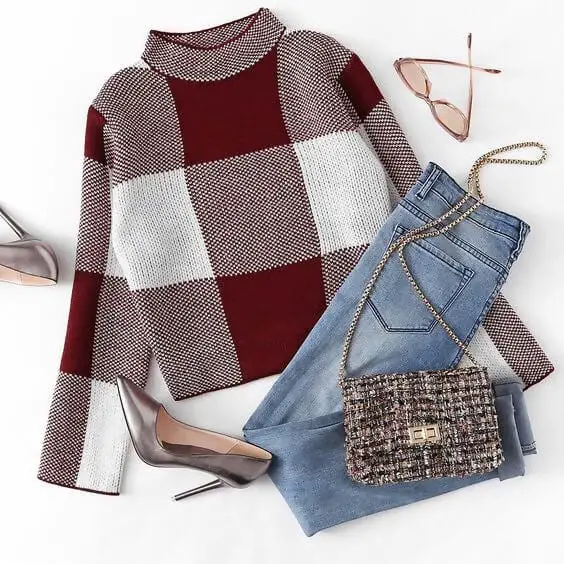 Lastly, the secret for looking stylish with a pullover sweater is to opt for a chic silhouette such as these cute bell sleeves. (Look how sophisticated is the combination of terracotta, denim, and camel)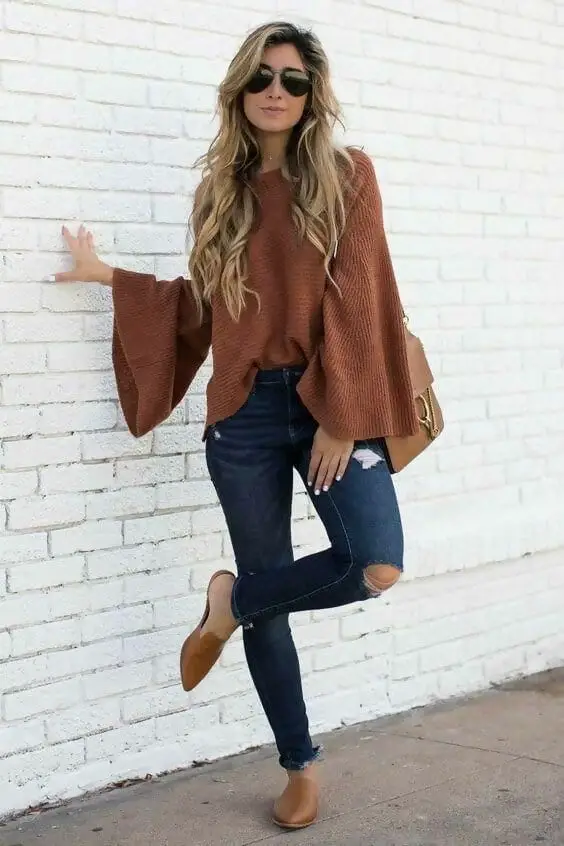 3. Spice up your cardigan
Cardigans are an essential piece included in the list above. But how can you create cute fall outfits with a cardigan?
It's all about the accessories you pair it with and the color palette you create. I love how a cute pair of animal printed shoes can spice up your fall outfit in the simplest way.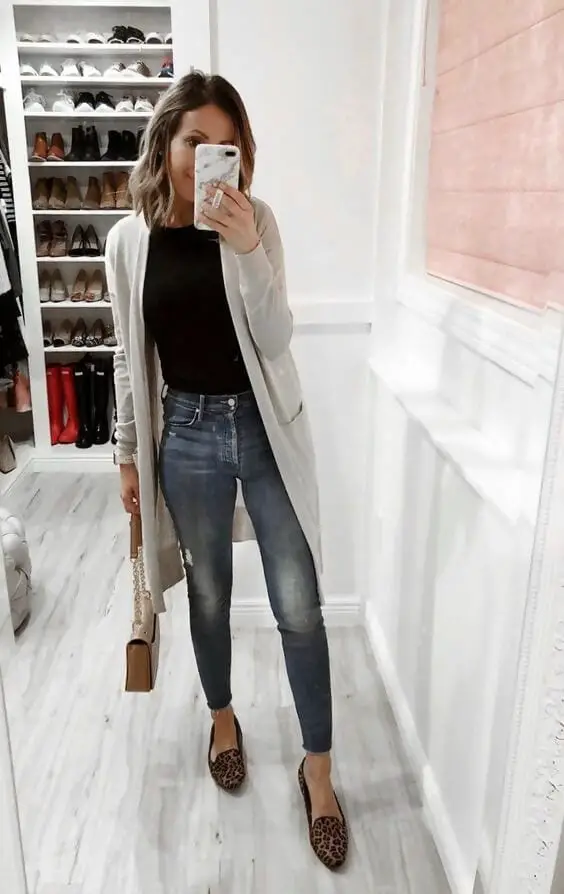 Nothing can beat a comfy and fluffy cardigan! And, as you can see, creating a nice color palette is the ultimate key for mastering fall fashion outfits.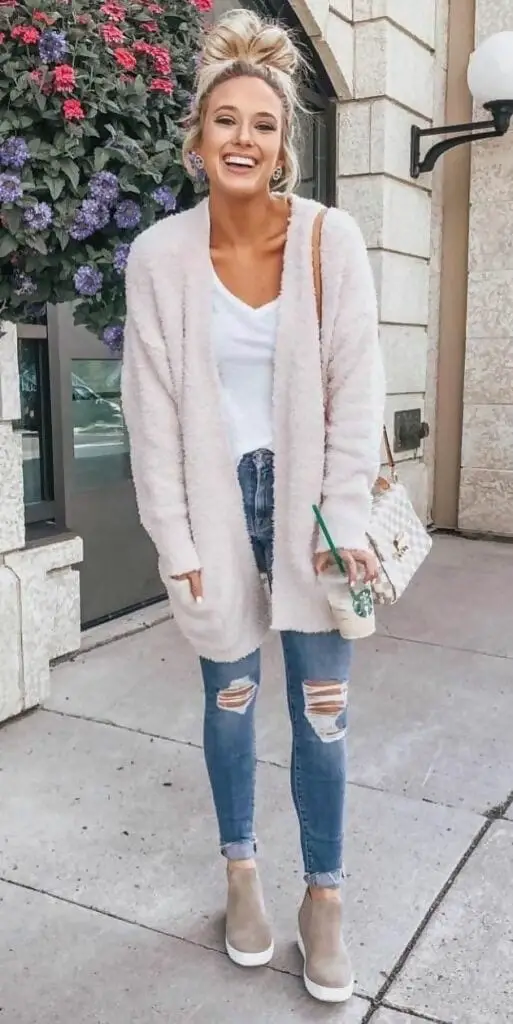 For chic and polished fall looks, always opt for black and grey. You can wear your cardigan on top of a dress with a pair of knee-length boots.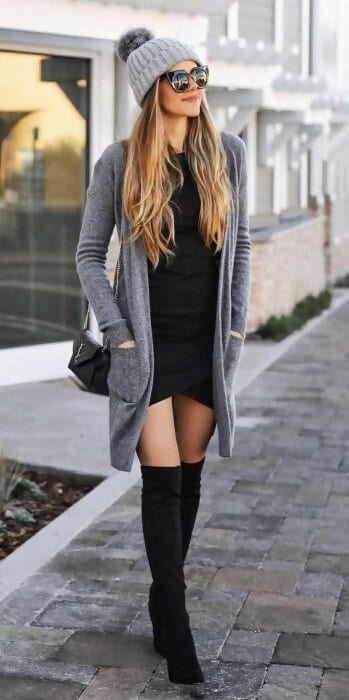 4. Join the blazer club
Few items can make you look as sophisticated and smart as a blazer. Wearing one is a great alternative instead of wearing your usual sweaters.
A blazer is perfect for a cute autumn outfit because it's not too hot but at the same time manages to keep you warm.
Plus, blazers have become quite popular in the last couple of season, let us know they're not exclusively for work attire. I love how a pair of blue jeans in combination with a checked blazer look: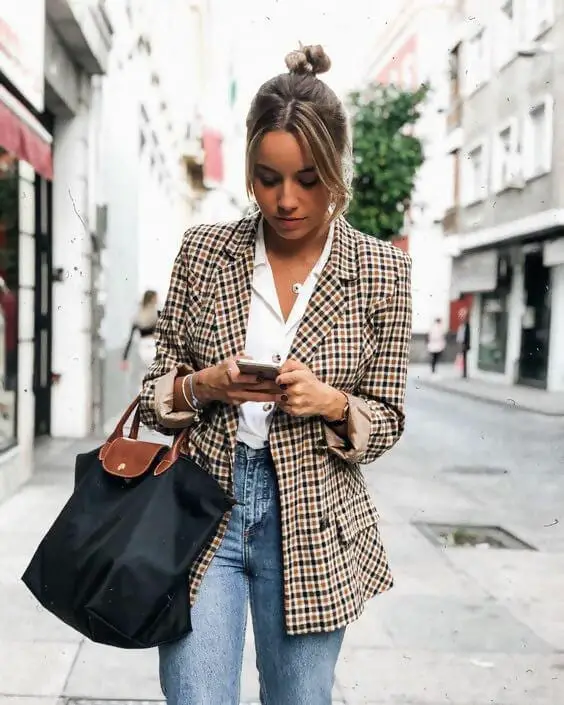 For polished and chic fall looks, opt for an all-black attire. A pair of black leather leggings are perfect for dressing up any type of outfit, so don't hesitate in including them in your fall wardrobe.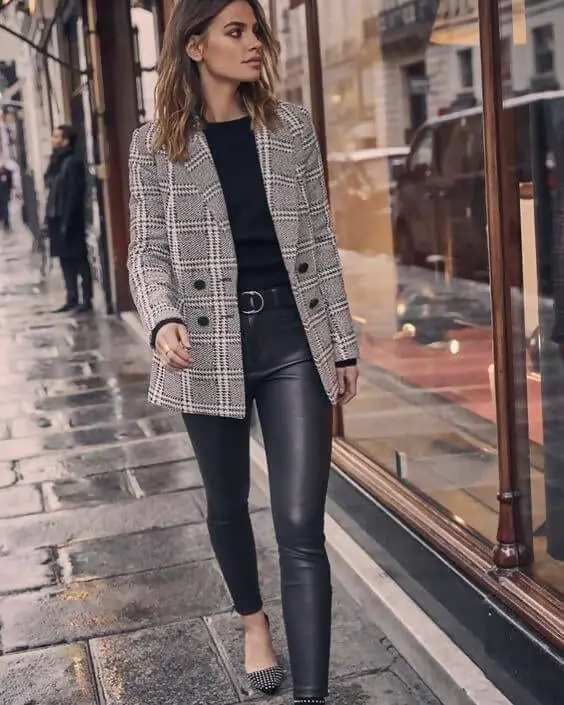 To warm up a little bit your neck, opt for a printed bandana. It will be much better if it has a fall color palette like the ones I showed you above.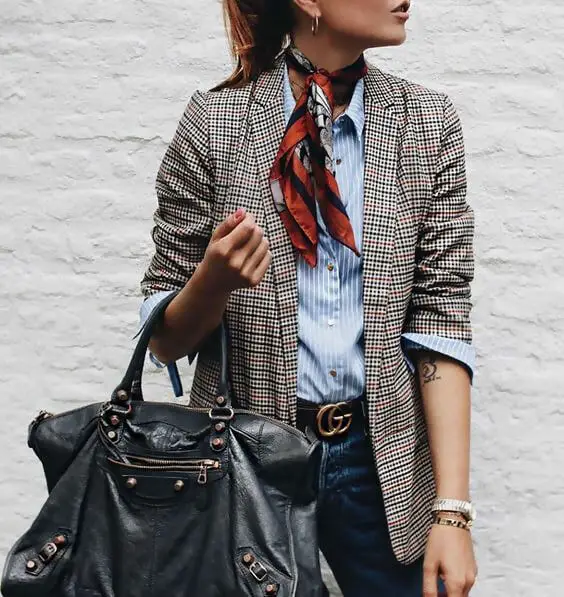 What about an oversized blazer? It's more than perfect! And you would be following the oversize frenzy, so it's a total win.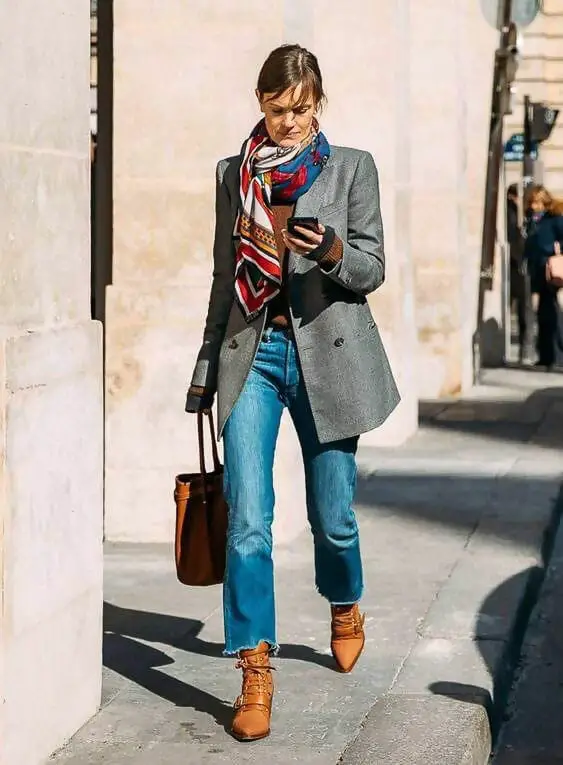 Another item that's perfect for fall is a pair of knee-length boots. For a killer look, pair them with your long blazer.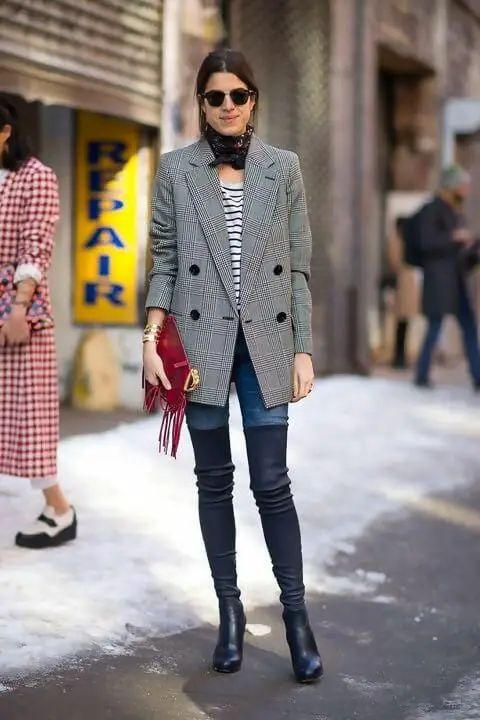 An ultra-chic color palette you can also wear is white, grey and brown: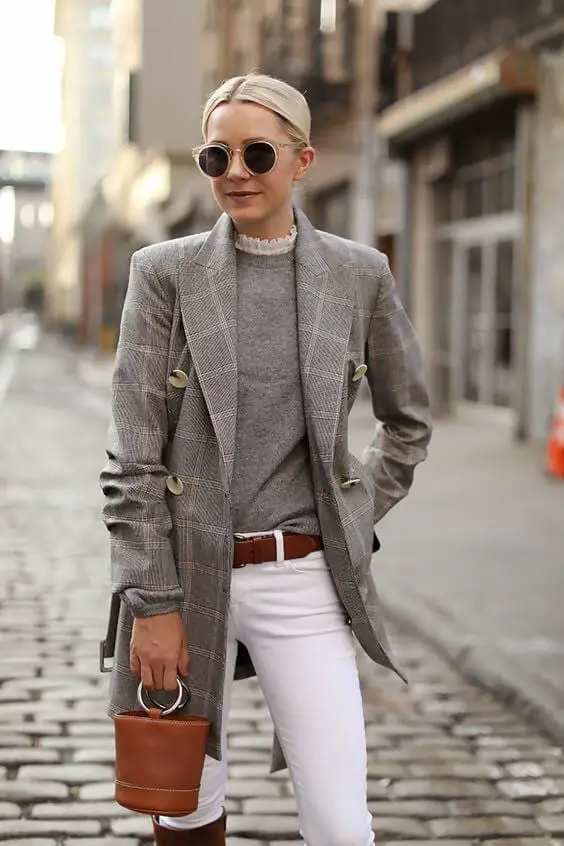 If I haven't convinced you yet about the chicness of a blazer, take a look at Karlie Kloss' blazer outfit for fall: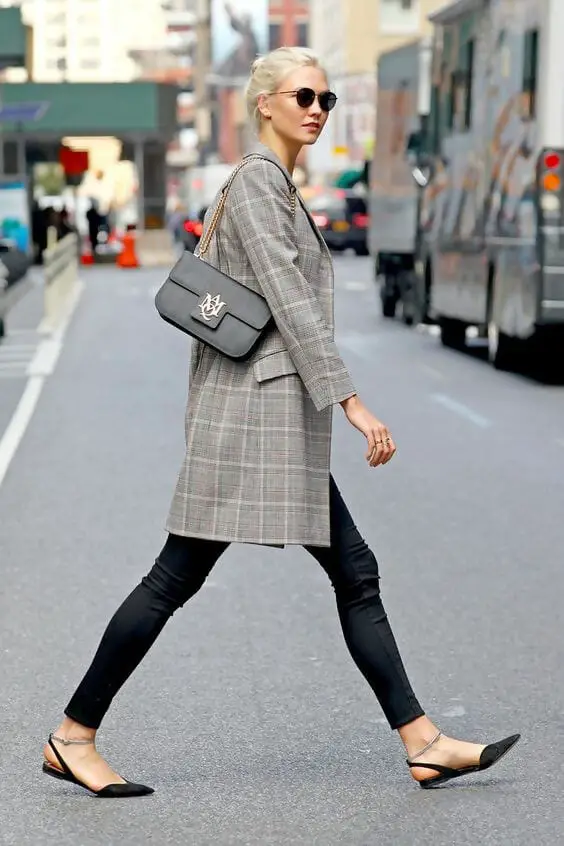 5. Trench coats
What's more classic than a trench coat during fall? This is a must-have item that looks great with any type of outfit!
From blue jeans to dresses, a trench coat is like that dear friend that will never fail you.
Another color palette I love to include into my fall looks is white, camel and black. For a cute simple fall outfit, just wear a pair of white jeans with a black top and finish your look with a classic trench coat.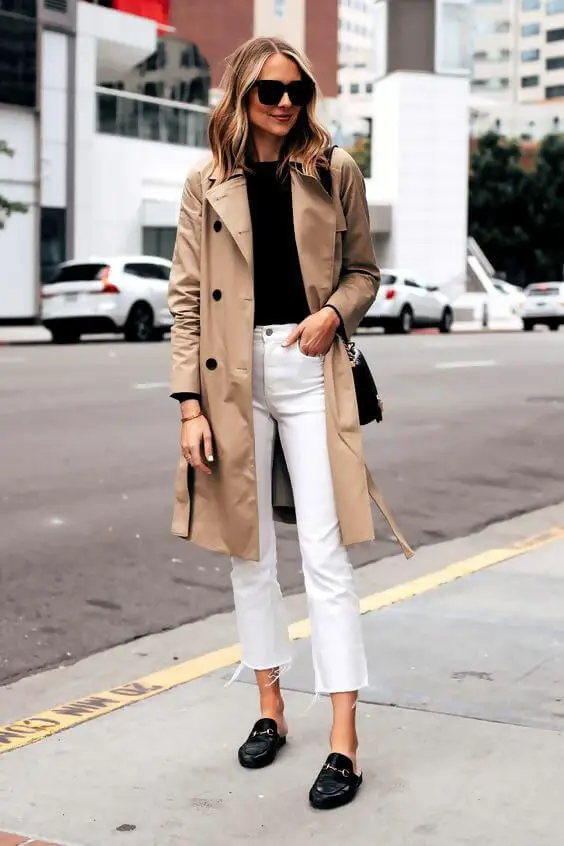 Again, the oversize trend applies to any garment. An oversized trench coat looks as cool as any A-list celebrity's style. To spice up your outfit, add a fanny pack: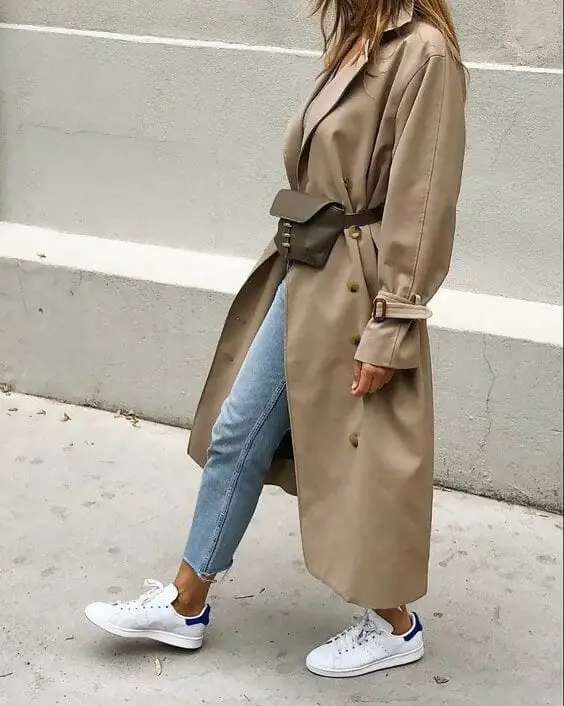 Trench coats on top of a dress is a great combo as well: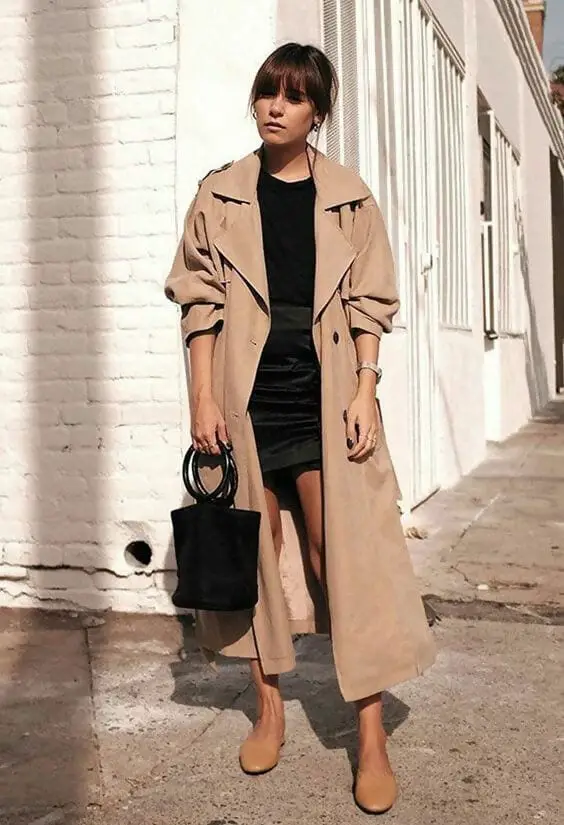 Again, trench coats go amazingly well with any type of outfit you choose, so it's the perfect element to finish any work attire: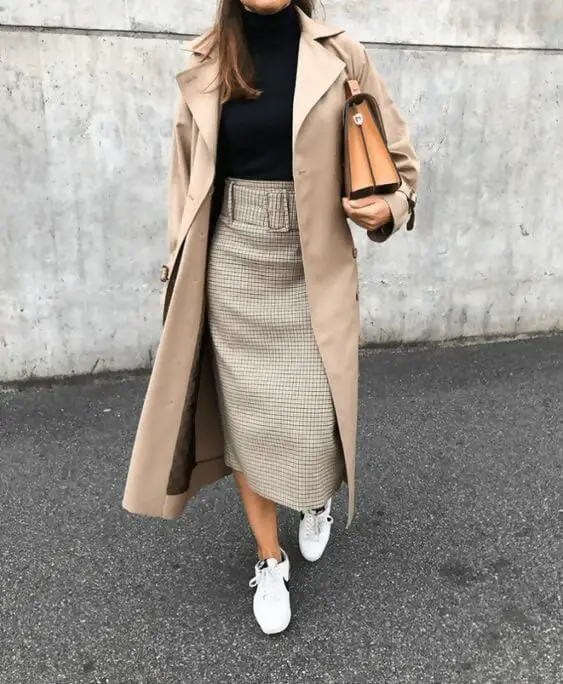 For a head-turner cute fall outfit, opt for an olive trench coat to take your style to the next level. Few people own trench coats in colors that are not a camel, so show-casing a unique trench coat is what will make you look like a fashion pro.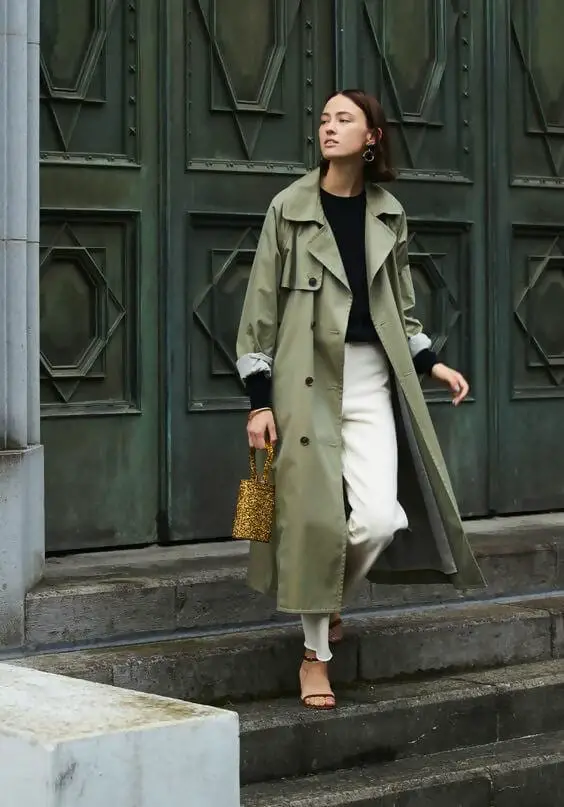 6. Maxi dresses for fall
Wearing your long dress for summer is not enough. But, thanks to the likes of street style icons, a maxi dress can look super fashionable as a fall outfit.
Wearing your favorite long dress during this time of the year is what will definitely make you stand out.
How to wear a maxi dress during the fall? Easy! Just layer it on top of a long sleeve t-shirt and wear any type of jacket or sweater you like.
Here are some ideas on how you can make your maxi work as a statement piece for cute fall outfits: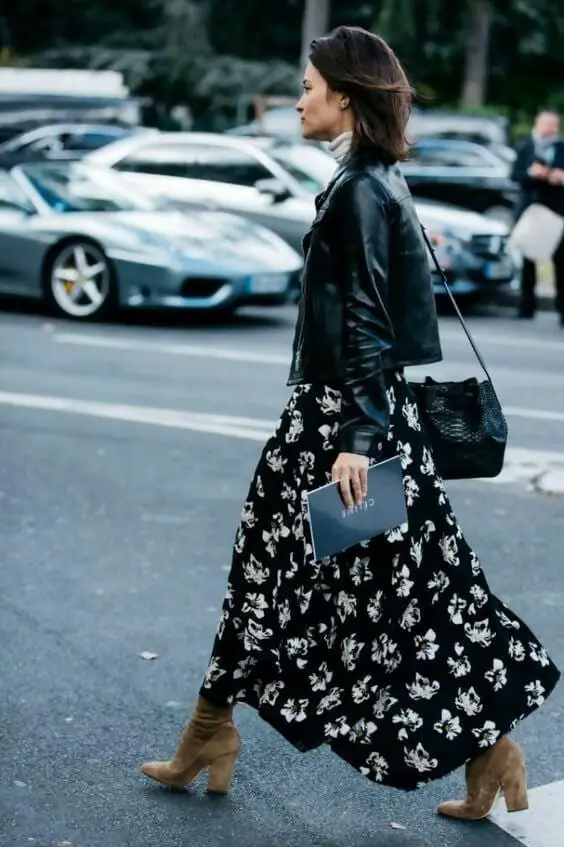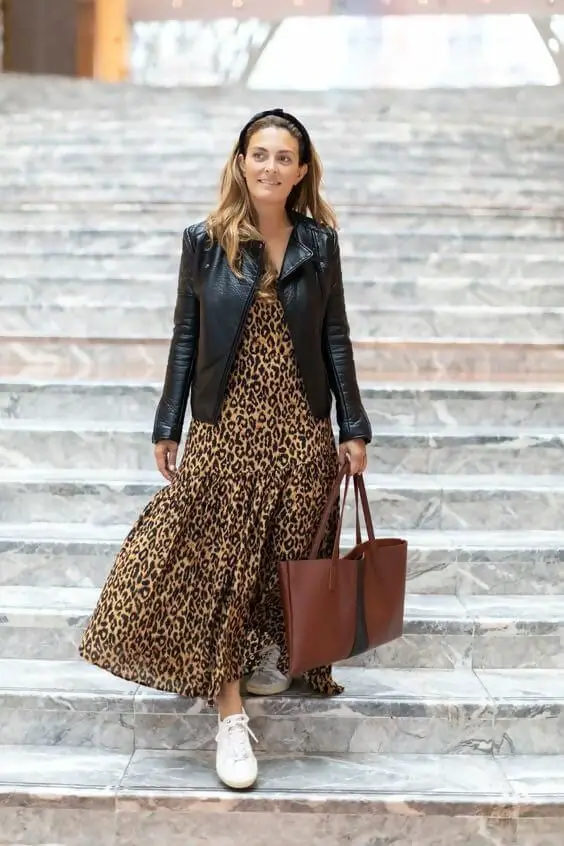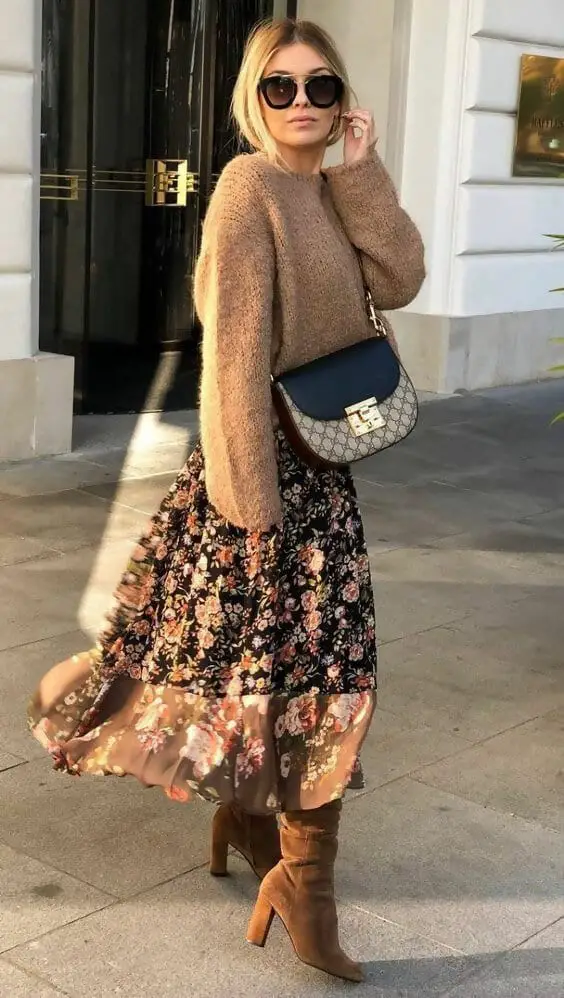 If it's not that cold, you can just opt for a long-sleeve printed maxi dress and pair it with chic boots or a cute belt: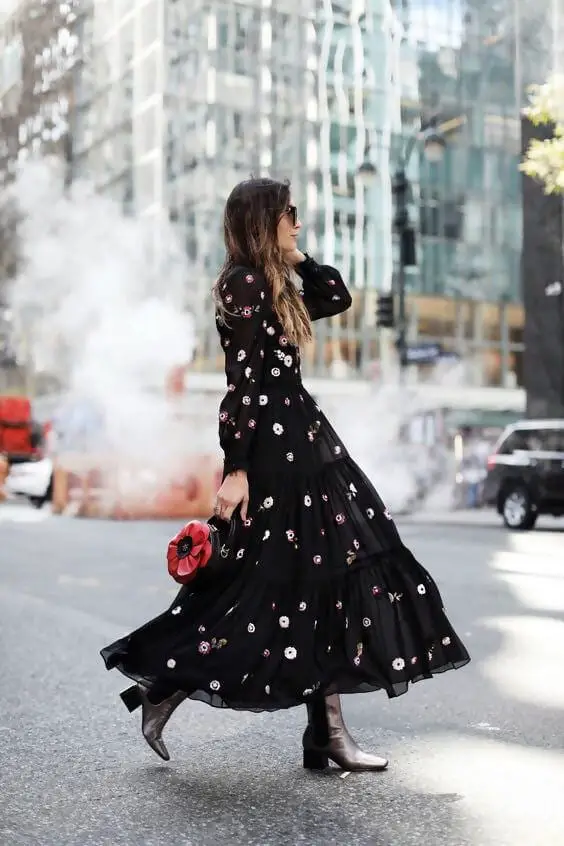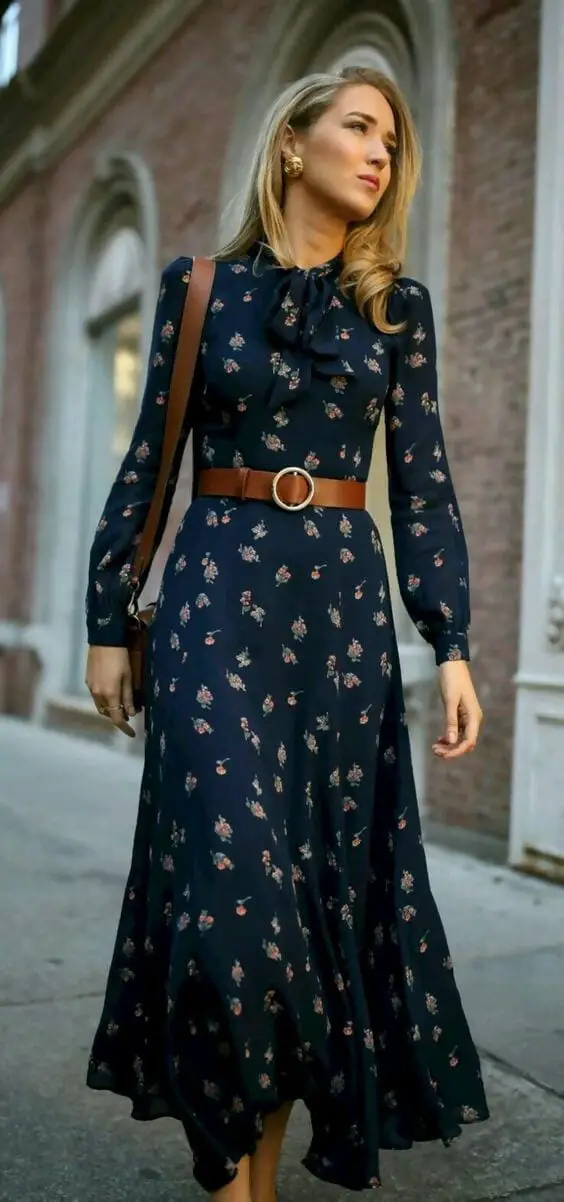 Wrap up:
Fall is the most fashion-friendly season because of the super chic outfits you can wear. The color palette is just perfect and the weather is also very enjoyable.
You can easily create cute fall outfits in the blink of an eye. All you have to do is keep in mind a classic fall color palette and the ideas I mentioned in this article.
You're now more than ready to step into fall 2019 looking like a fashion pro!