Why Leather Leggings Are a Must-Have
We all know leggings are probably the most comfortable item we have in our wardrobe, and when those lazy days kick in, they come always in our minds as our first choice of outfit.
But what if we mix comfy AND sexy? Leather leggings are the answer. No other material or fabric will ever compete with how sexy leather makes a woman look.
Leather leggings are also a confidence booster; I can guarantee that from experience. I remember the first time I tried them on a couple of years ago, not being able to believe how confident I felt knowing I looked super cool.
This is why a leather leggings outfit is something you have to try at least one. Believe me, once you do it you'll be surprised at how amazing they make you feel. I believe this is probably because leggings are already a flattering bottom for absolutely anyone, and leather has that sexy and cool vibe.
Have I convinced you already? Or have you run out of ideas on how to style your leggings?
Don't worry, as you continue reading you go running after a pair of leather leggings.
How to Wear Leather Leggings?
This question has been asked so many times, and let me tell you: just because they're leather doesn't mean they're only for night-time occasions or parties.
Leather leggings can be worn during the day, for a casual lunch with friends, or even for work. It all depends on how you style them.
I have compiled 43 outfits that will show you how chic, elegant, sexy and edgy leather leggings look on any occasion.
And remember: leather leggings are still leggings and fit very tight. Try always to wear an untucked top or a tunic-length shirt.
1. Casual and Rock & Roll
The other special characteristic that leather has is its association with rock & roll. To look casual and edgy, pair your leather leggings with a denim button-down shirt: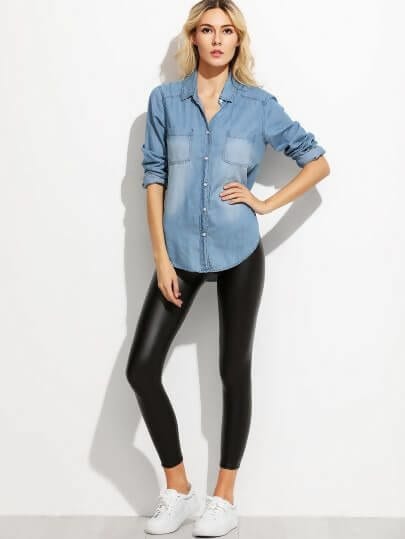 Substitute your sneakers with high heels to achieve a chicer look: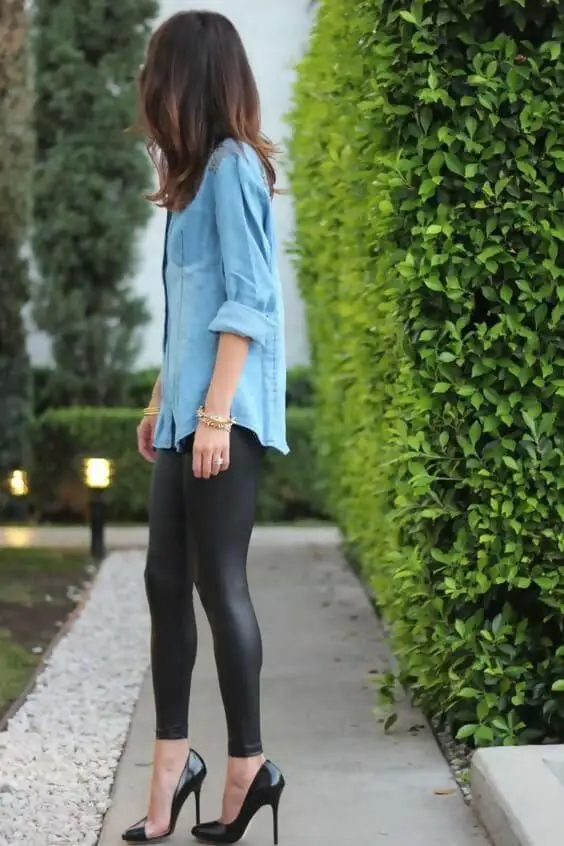 Or instead of a denim shirt, try any shirt layered with a denim jacket.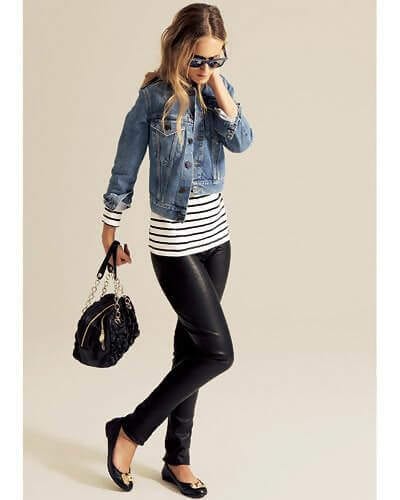 The easiest way to style your leggings: wear a white, grey or black stamped t-shirt. This leather leggings outfit is the definition of rock & roll: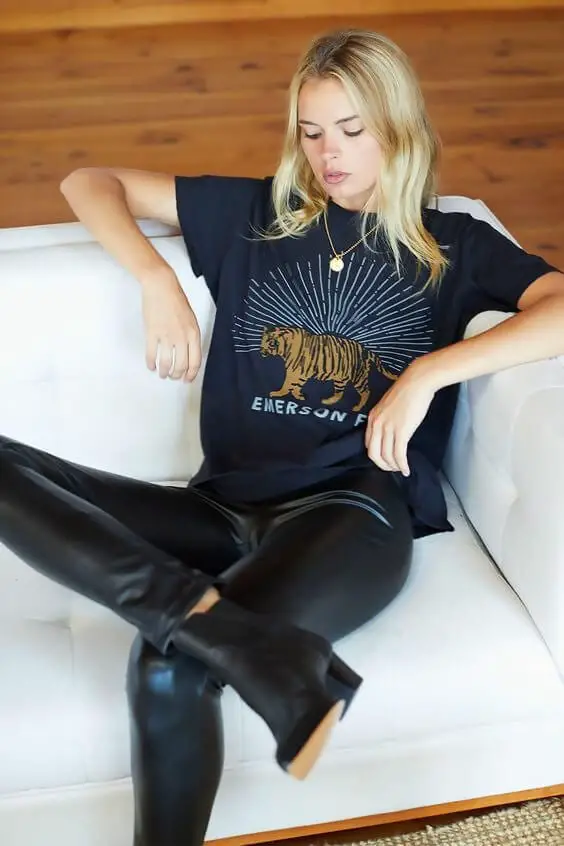 Again, finish your outfit with high heels for a sexy and formal look: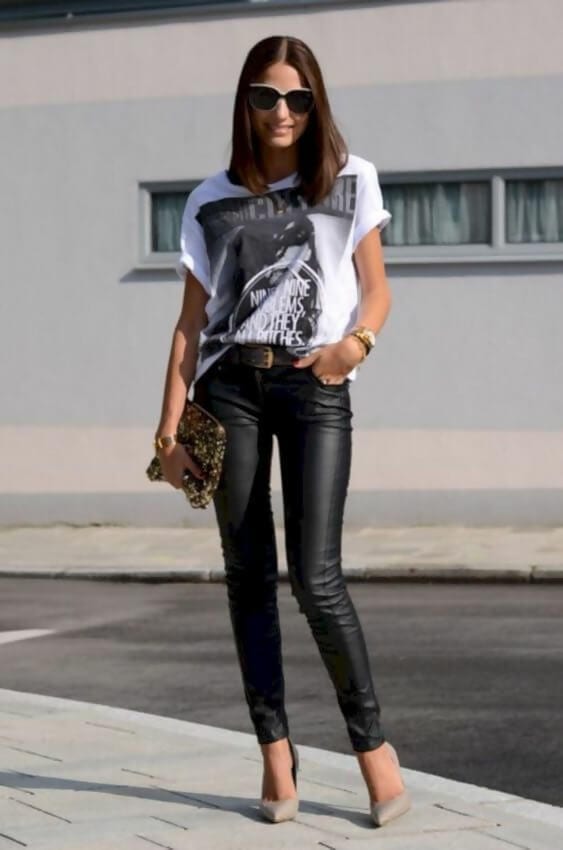 2. Casual chic
Opt for a t-shirt with a plaid blazer and sneakers for a super casual chic outfit: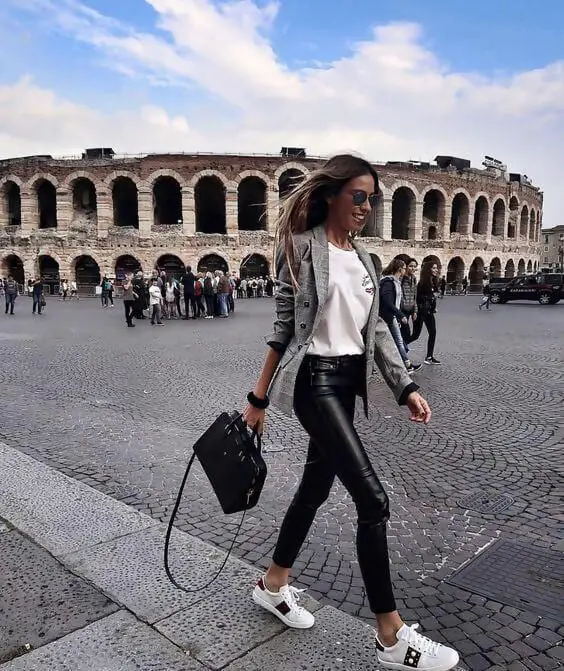 Or with absolutely any type of jacket or vest. A black and white outfit loos super elegant and edgy, and should not be ignored.
The best about this color palette is that it suits any skin color.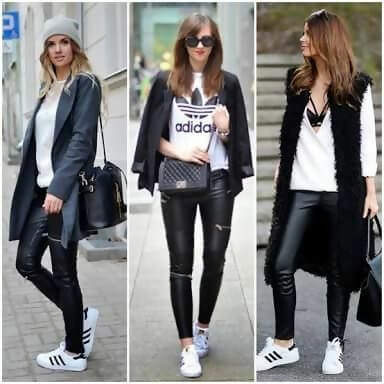 You can also wear a white cardigan or blazer on top of a black blouse: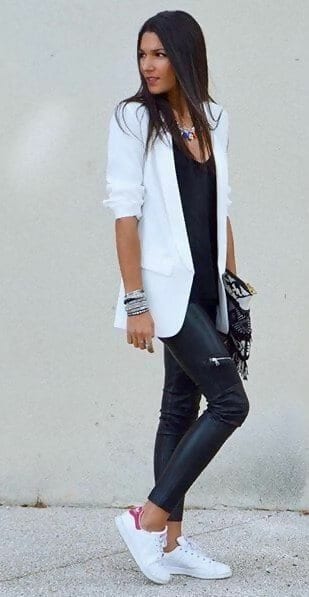 Another black leather leggings outfit idea is to wear a utilitarian jacket. I personally love how cool and casual this outfit looks on anyone: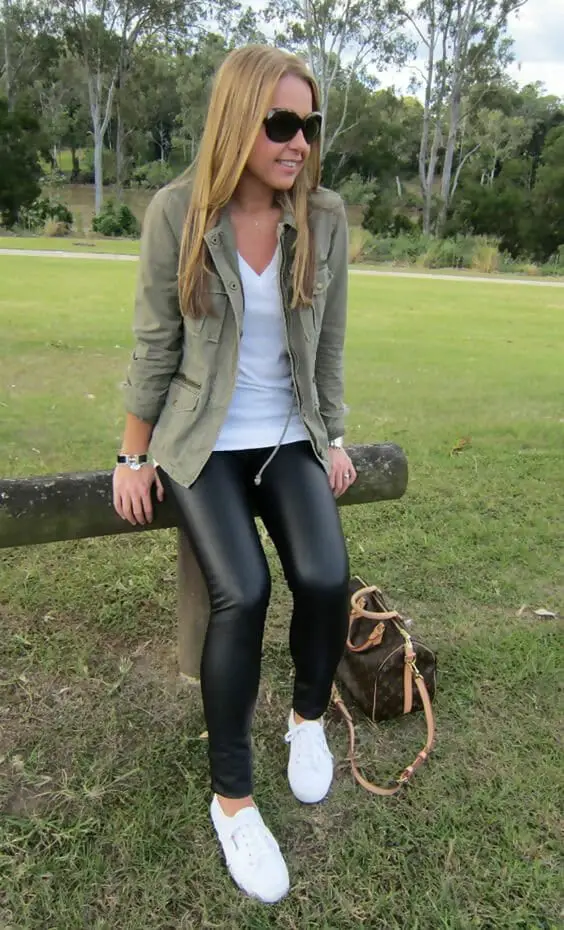 It's also a cool option for colder weather:
A monochromatic look is another super chic way of styling your faux leather leggings outfit.
Don't ever make the mistake of thinking black is only for night-time occasions. This old-fashioned idea has been left in the past by every fashion lover.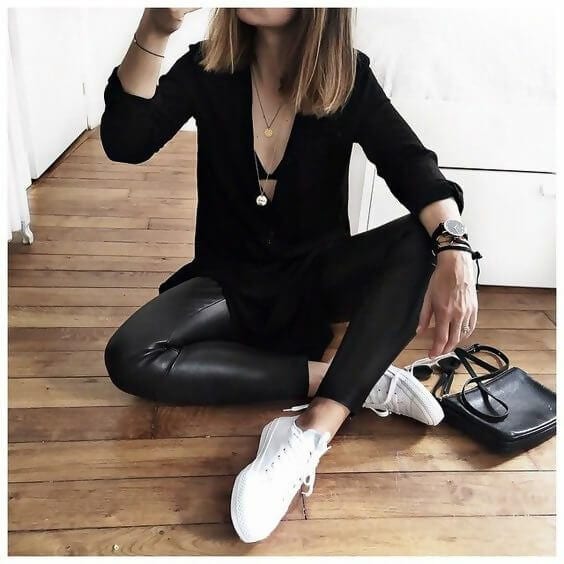 An all-black outfit is also a great idea for traveling. It looks super stylish and you feel absolutely comfortable.
Just wear a black sweater or a loose black blouse:
Speaking of black, to achieve an even edgier look pair your black leather leggings with a black leather jacket: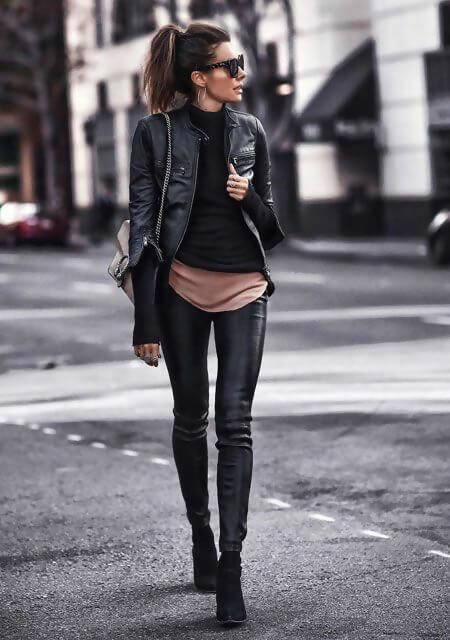 Or substitute your black top with a white t-shirt: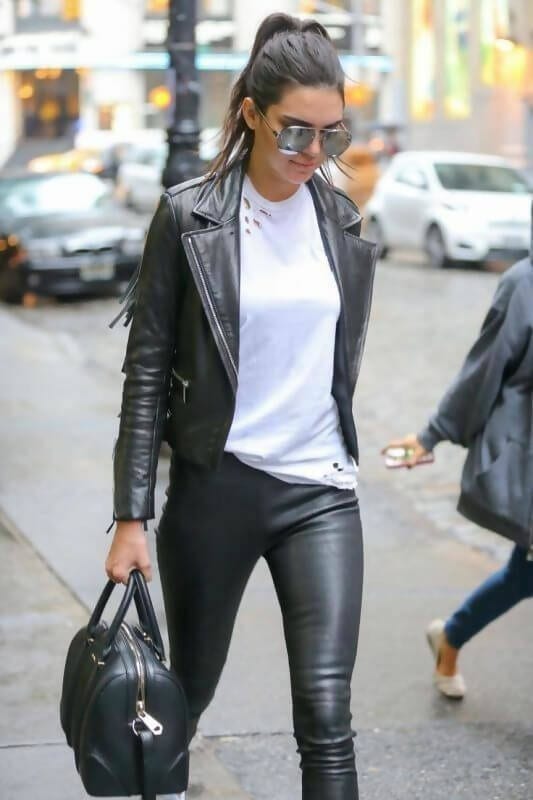 The best thing about leather jacket and leggings is that you can wear any top you like, not only t-shirts: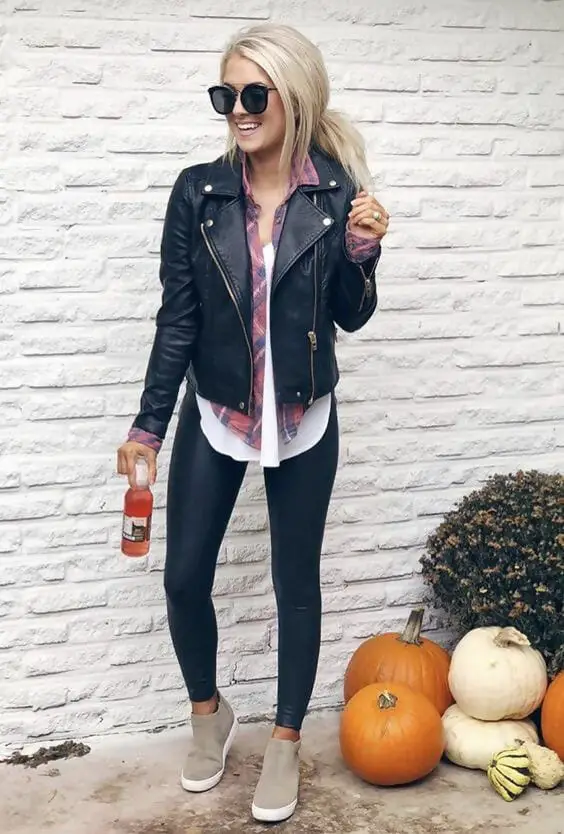 Leather leggings and jacket with high heels for another super sexy outfit:
For a casual and minimal look, try your leggings with a solid t-shirt. I love how this model looks super comfy yet cool: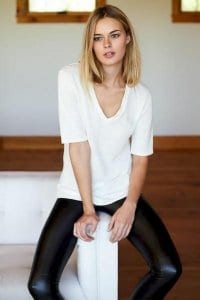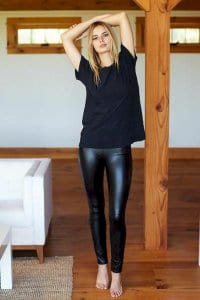 These are other leather leggings outfit ideas if you're a minimalist lover. Just wear a solid black or grey top for a monochromatic look: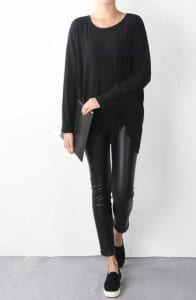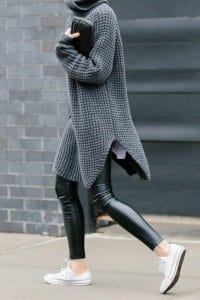 2. Business casual:
If your work's dressing etiquette allows it, don't hesitate in wearing leather leggings. Again, remember to untuck your shirts or wear tunic-length tops.
The most laid-back outfit idea for these leggings is a white button-down:
It doesn't have to be a classic white shirt. For a more fashionable look, try a different kind of silhouette for your white top, like this one:

For a more formal look, add a blazer to your outfit. This combination will make you look extra chic and professional.
Your top can be very classic like a button-down or a t-shirt if you still want to keep it business casual.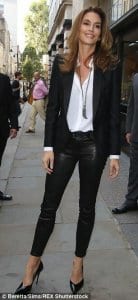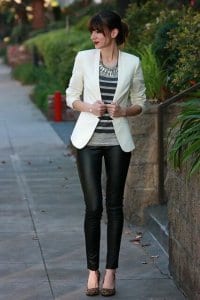 Any color you pair your leather leggings with will always look great, that's what I love about them. Opt for the colors you feel more comfortable with.
The same goes for the type of shirt: wear any style you prefer!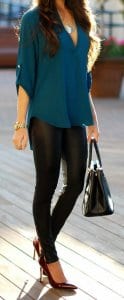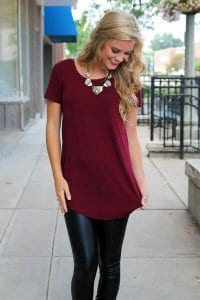 And why not a striped or printed top? See how fashionable they make these women look, as they have added some texture to their outfit: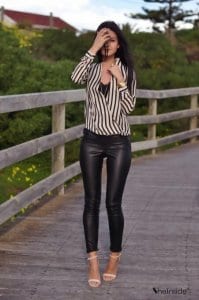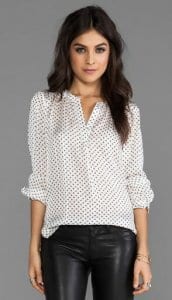 3. Night-out faux leather legging outfits
As we all know, leather leggings are perfect for a party or a club. Pair them with sequins or any shiny item to make your outfit extra fabulous:
You can also find black leather leggings with that shiny and liquid-like look. Keep the rest of your outfit more simple:
4. Other types of leather leggings
Even if black leather leggings are the most common and easiest style to find in stores, we can't deny how amazing they look in different colors. Some non-black leather leggings outfit ideas are: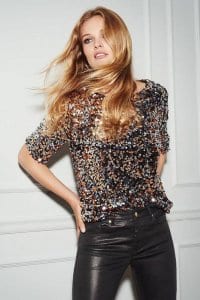 Burgundy leather leggings:
Almost the same as black, burgundy is a super versatile color that looks great with anything. My favorite combinations are paired with white, black, beige, soft shades of burgundy, soft pink and grey.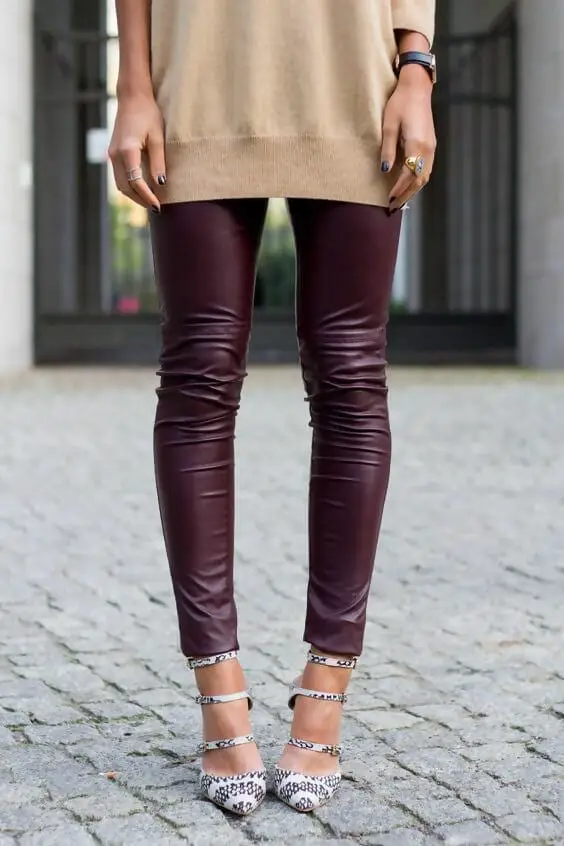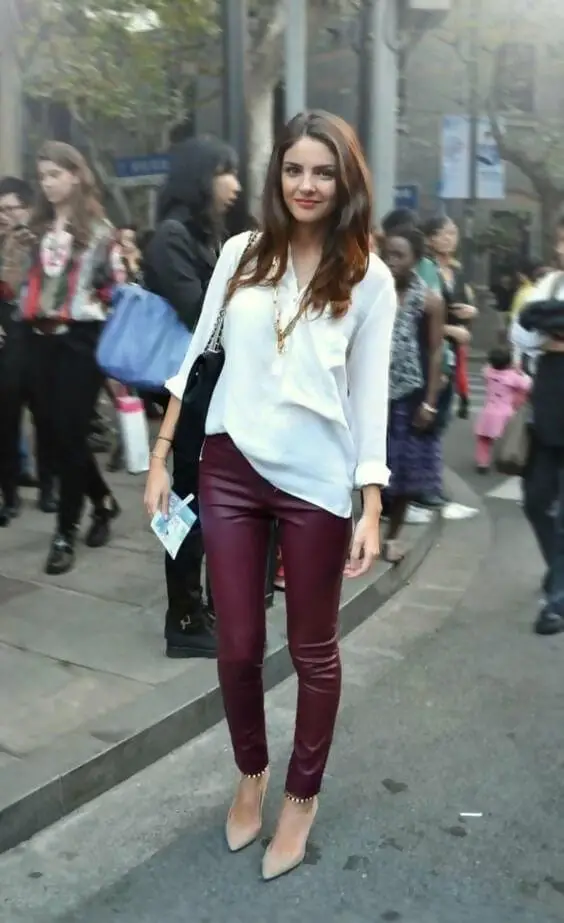 Camel leather leggings: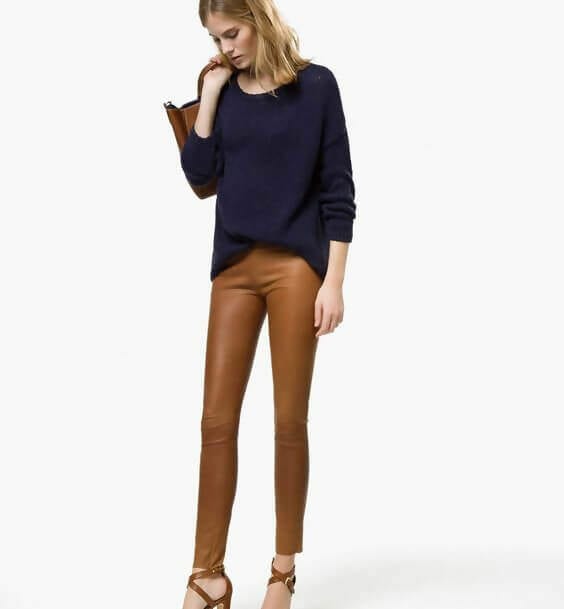 Apart from burgundy and black, my other favorite color for leather leggings is a camel, as they have the same versatility and coolness:
Green leather leggings: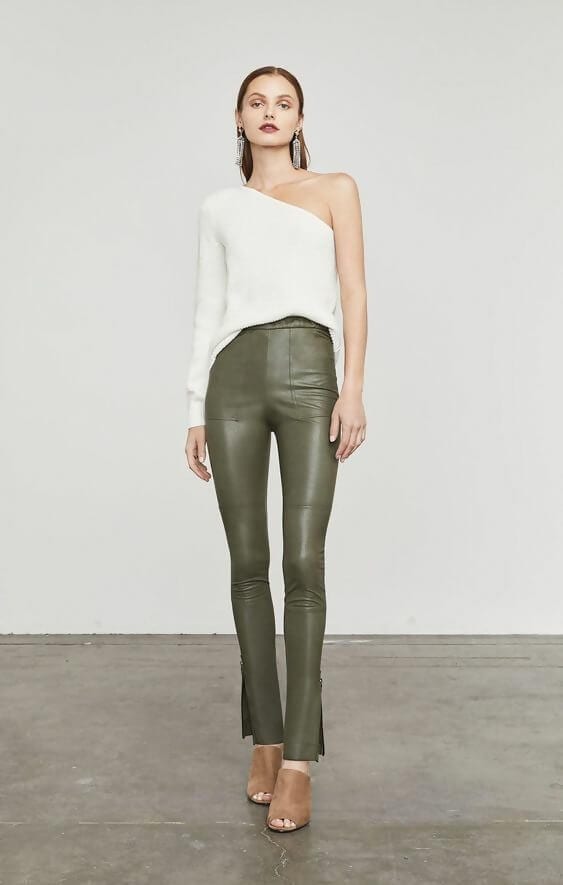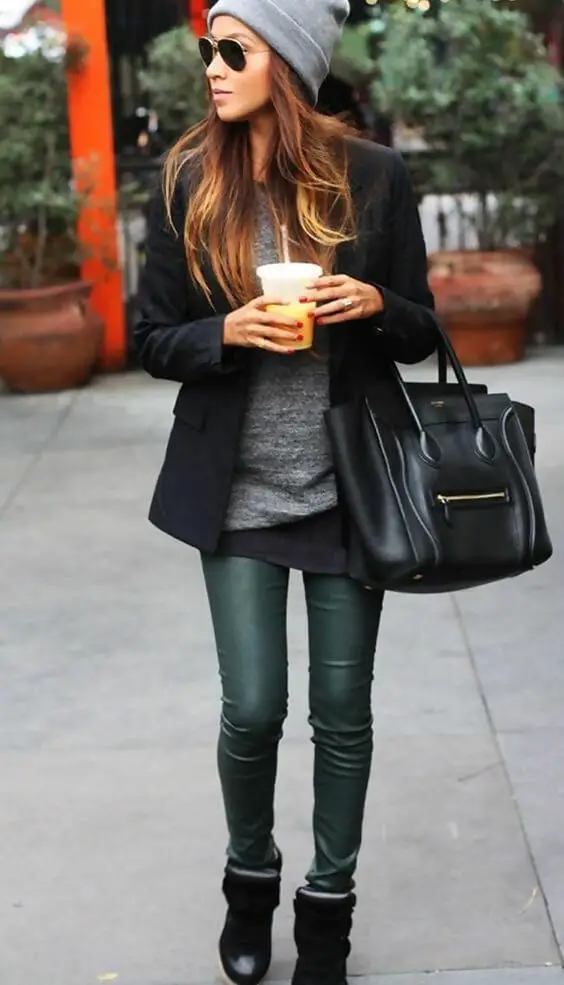 It's probably harder to get these green leather leggings, but are still definitely worth the try. You'll look very chic, and almost no one will have them in this color, making you a total fashionista.
Blue leather leggings:
Again, hard to find, but it's always nice to have our options: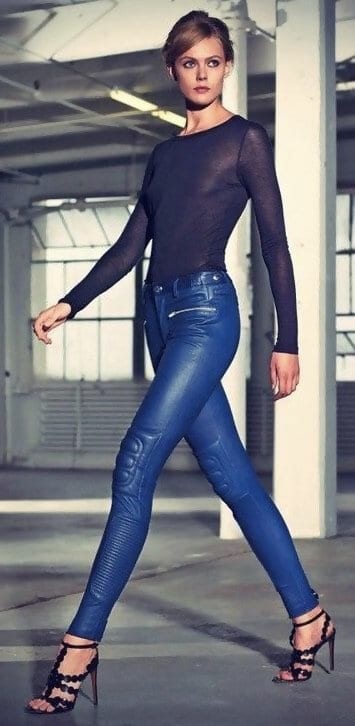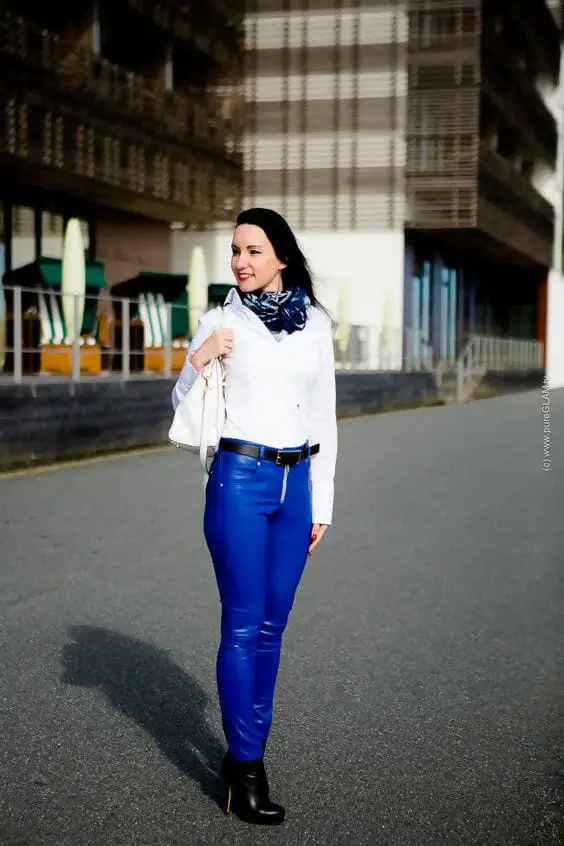 Wrap up:
How to wear leather leggings? This question has never been easier to answer.
As you have seen, there's probably not another item that can be as versatile, sexy, edgy and chic at the same time. In addition to these amazing qualities, it makes ANYONE look great.
It's like magic.
No matter the weather, occasion or combination, a leather leggings outfit cannot be ignored. Even I was amazed at how many super stylish ways there are of pairing these leggings, and I bet you were too.
Remember: next time you struggle with leather leggings outfit ideas, come back to this article to find the coolest inspiration.
Are you ready to feel and look amazing? Go get you leather leggings!