There is something about mini skirts that make them so appealing to high-end fashion designers and mass market brands. Since their first appearance in the '60s, the mini skirt fever has remained and evolved throughout the decades.
Maybe the reason why everybody loves them is that a mini skirt outfit can be sweet, sexy and edgy. This means they can be worn by absolutely anyone, regardless of their style.
A Bohemian, hipster, feminine, sexy, and even a tomboy style can perfectly rock short skirt outfits. I've compiled many stylish and varied ways in which a mini skirt can be worn, serving as a complete inspiration guide for any girl who wants to look stunning with this fashionable item.
How to wear a mini skirt
We can sometimes forget the existence of mini skirts only because we associate them with a super sexy style, and most of us might not feel identified with it. But you'll be surprised at the endless possibilities in which a mini skirt can be worn.
That's why they should always be considered in your day-to-day outfits, as there are so many amazing outfit ideas for them. Because of their versatility, short skirts can be worn for casual and formal occasions.
Let's talk first about casualwear ideas.
Casual ideas for short skirts
1. Denim:
My absolute favorites! They've become very trendy in the last couple of years, making them a must-have for your wardrobe.
These can be the classic ultra-tight denim skirt or the 90's inspired A-line with buttons. Either way, they will create a perfect sexy skirt outfit for sure: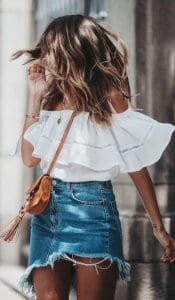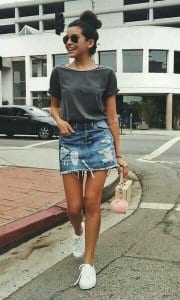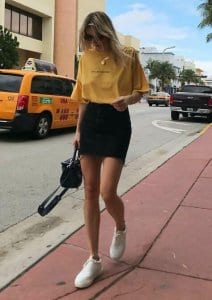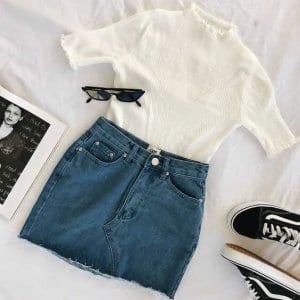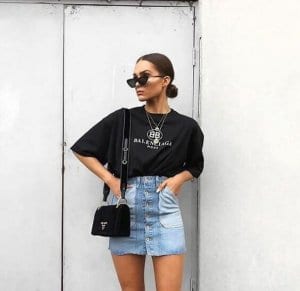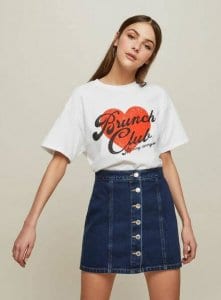 If you want to look like a total fashionista, try an unconventional denim skirt.
These can have patchworks, laces, embroideries, buttons… Anything that can have attention-grabbing potential will help you look like a super trendy while making you stand out: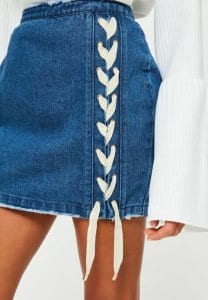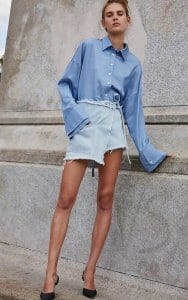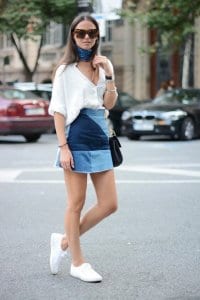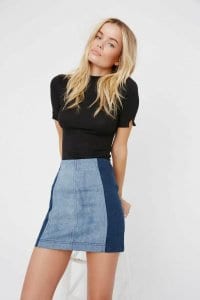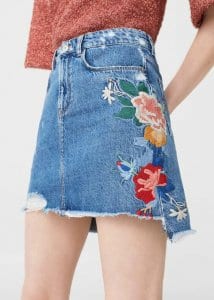 Shop The Look
---
Click the picture to buy
2. Wrap ties
Wrap-tied mini skirts can be modern and minimalist. If you feel identified with these words, try them with a faux leather-like fabric and a white top: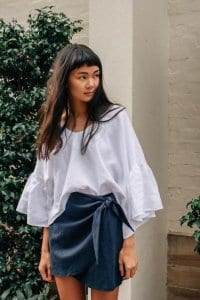 If, on the other hand, you're more like a sweet and girly kind of style, go for floral printed wrap-tied skirts. They're absolutely feminine and lovely, and more than perfect for summer: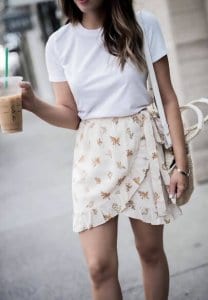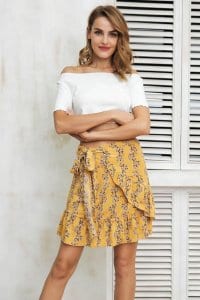 Shop The Look
---
Click the picture to buy
3. A-line mini skirts
These type of skirts are super comfortable to wear and will add a cute and classic look to your sexy short skirt outfit.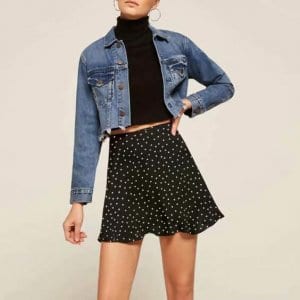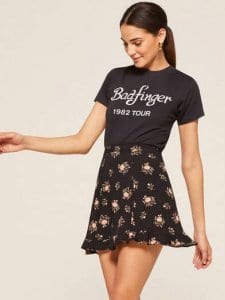 Shop The Look
---
Click the picture to buy
4. Two-piece sets
Match your top with your sexy short skirt to look trendy and stylish. Fashion bloggers have made two-piece sets a trend we can't ignore.
Usually, these two-piece sets include a crop top:
Shop The Look
---
Click the picture to buy
5. Plaids
What better way to look trendy than wearing plaids? Everyone's wearing them!
This is a perfect short skirt outfit option for anyone who's more into grunge and sexy style.
Favorite combo: a mini skirt with black boots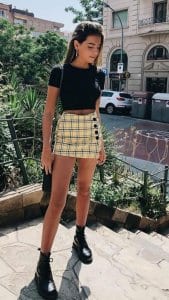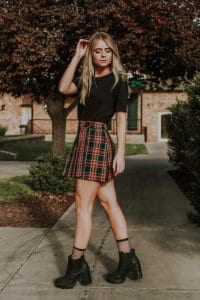 Shop The Look
---
Click the picture to buy
Tips on how to wear a casual mini skirt outfit
As you can see, for a casual mini skirt outfit all you have to do is keep in mind the following points:
– Wear a solid t-shirt if the skirt is printed, checked or striped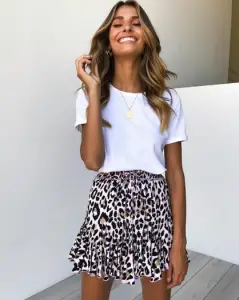 – A slogan printed t-shirt is another great option: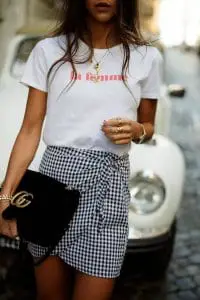 – When in doubt, pair your skirt with a denim jacket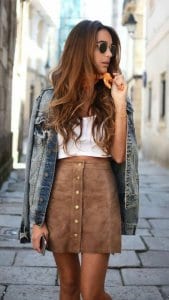 – The easiest way: wear your favorite sneakers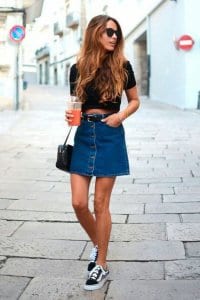 – Jute wedges, sandals or mules can also help your outfit look super casual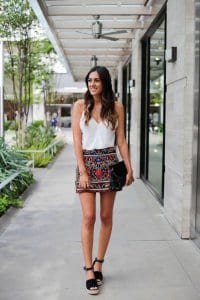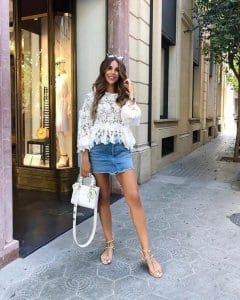 Celebrities' street style very often includes mini skirts. For more ideas on how to wear a mini skirt, take a look at these fashion icons: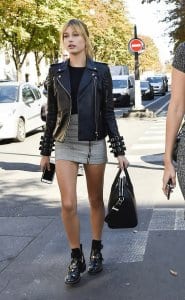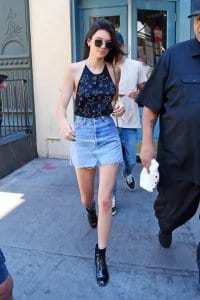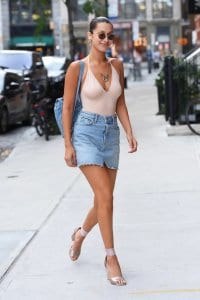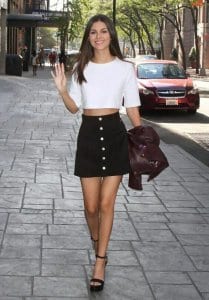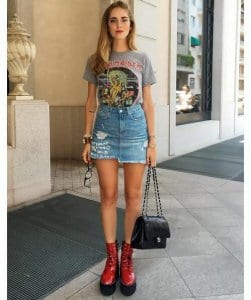 Formal ideas for short skirts
The best type of skirts for formal occasions such as a fancy dinner or lunch are the following:
1. Pleated skirts
Very feminine and flattering to any body type, making this kind of skirt a perfect option for a formal look. Pair it with high heel boots, pumps or sandals to show off your beautiful legs.
A tight top looks stunning with your black mini skirt outfit: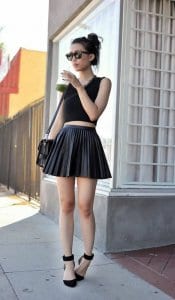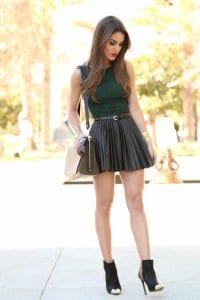 As you can see, a pleated mini skirt usually has an A-line silhouette.
Therefore, the easiest way to wear them is with fitted or tight tops tucked into your skirt. Unless you're very skinny, stay away from oversized tops.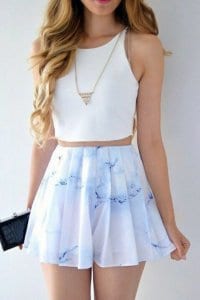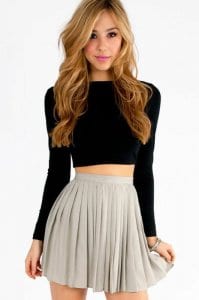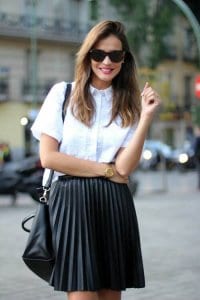 2. Leather-like mini skirts
Tight mini skirt outfits are another fashionable idea if you need to dress up a bit more. Leather-like fabrics, especially in black, are a super cool and sexy option.
Again, use any kind of high heels or wedges.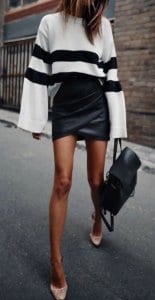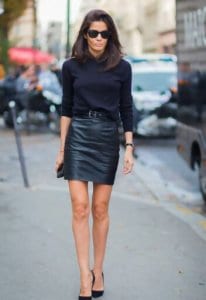 When it comes to leather, don't think exclusively in fall and winter outfits. Leather mini skirts can also be worn in warmer weather by just adding a sleeveless or spaghetti strap top: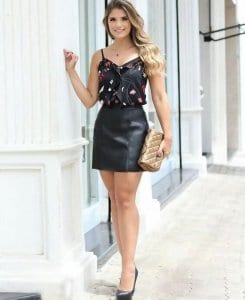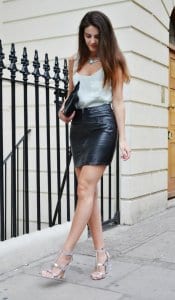 3. Metallic short skirts
For a festive outfit, try a metallic mini skirt. You'll definitely make a fashion statement and be the center of attention. No doubt about it.
A tight metallic skirt is a super sexy item you don't want to miss in your wardrobe: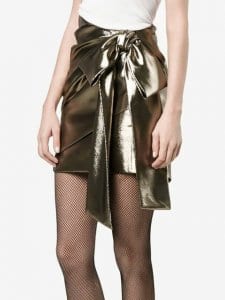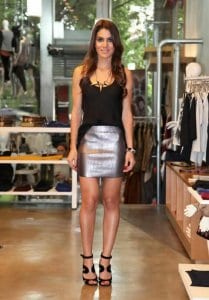 Your mini skirt can also have metallic appliques or sequins, which will create the same shiny effect: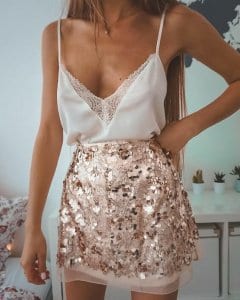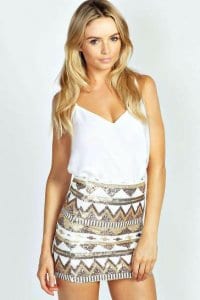 For an edgier look, you can layer your outfit with a black leather jacket: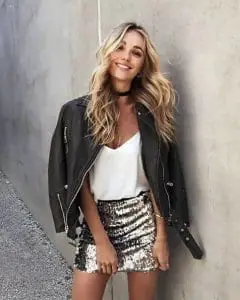 Buy Similar Here
4. Lace skirts
Lace is a very feminine and elegant idea to include in your mini skirt outfit.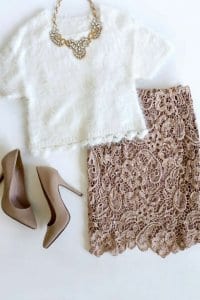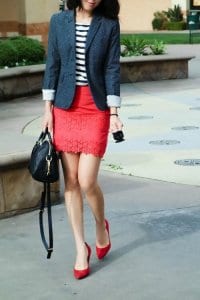 5. Mini skirts with stockings
I love how stockings and high heels can make you look incredibly sexy and stunning. This is another great option that works perfectly for chilly weathers: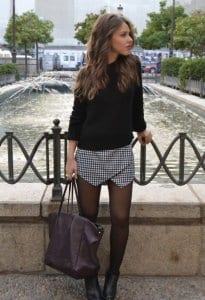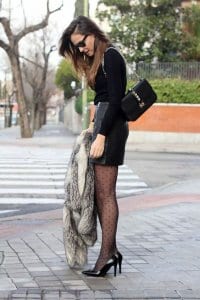 For more inspiration on how to wear mini skirts for formal or festive occasions, let's look again at more fashion muses.
Taylor Swift's style often includes multiple types of mini skirts to show off her long and gorgeous legs:
Kendall Jenner and Ariana Grande are other celebrities whose style is famously known for being sexy: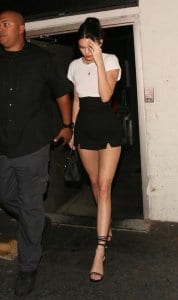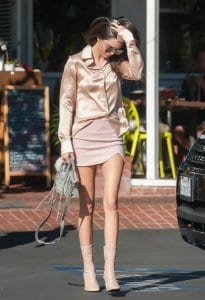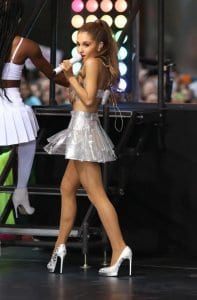 For an edgier inspiration, check out Cara Delevigne's style: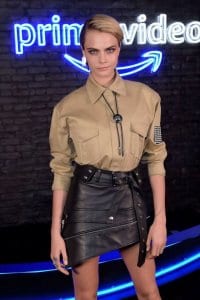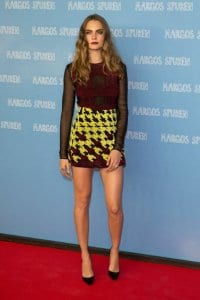 Short skirt outfits for every style
Regardless of the occasion, there are still so many outfit ideas you can try that can be totally adapted to fit your own style. Here are some ideas inspired by the most popular fashion styles:
1. Bohemian
For a bohemian look, opt for a mini skirt that has either lace, tassels, fringes or faux leather.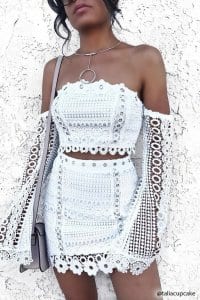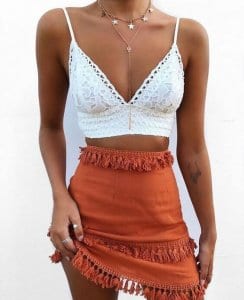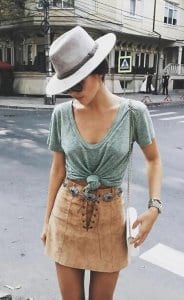 2. Grunge
Opt for checks, plaids, vinyl, faux leather, patchwork…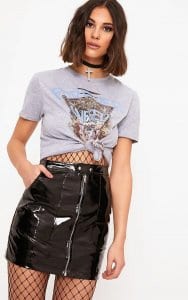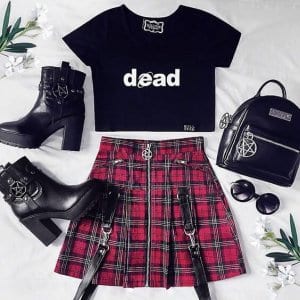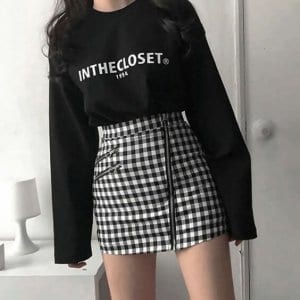 3. Cute and girly
Opt for floral or polka dots prints, lace fabric, pastel colors, tie wrap or pleated style…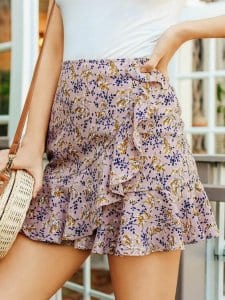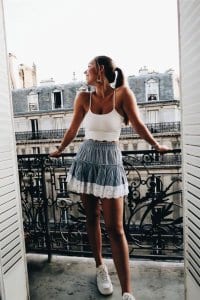 4. Vintage Lover
Nothing more nostalgic than decorative buttons or a 90's A-line silhouette denim skirt: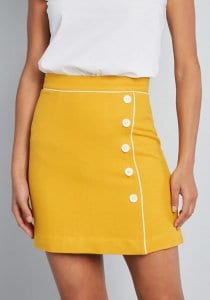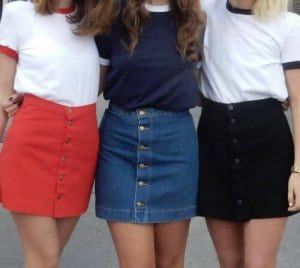 5. Classic
Is there anything more feminine and classic than Chanel? And what's Chanel without tweed? If you define your style as timeless and classic, try a tweed mini skirt: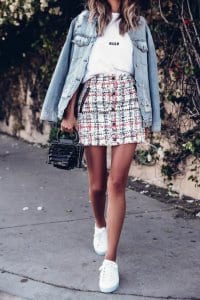 6. Minimalist
Choose a clean and simple A-line silhouette in a solid desaturated color paired with a white t-shirt: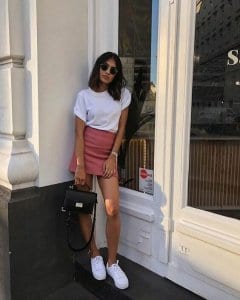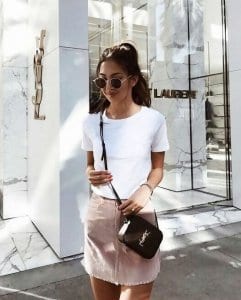 Wrap up:
There are endless ways of rocking a miniskirt outfit, and these ideas I just mentioned will serve as an inspiration and will boost your creativity on how to wear these type of skirts.
As I mentioned, short skirts can be very versatile and to make the most of this quality, you have to know how to pair them. The most important things to keep in mind are actually basic fashion "rules":
Sneakers will automatically transform your outfit and make it look casual
High heels are the best tool to show off your legs and look amazing with mini skirts
Most of the time, the skirt's fabric will often decide the occasion of use: soft kinds of cotton are for casual as sequins are for parties
Mini skirts are one of the items celebrities wear the most. Multiple and varied ideas can come to your head by just googling them: Kendall Jenner, Taylor Swift, Jennifer Lopez, Kaia Gerber, Hailey Baldwin…
I hope this article helps to give you a glimpse of the endless possibilities in which a mini skirt can be worn.