Sequins have always been associated with glamour and sophistication and, many times, a girl's best friend.
That's why sequin skirts are so popular among fashionistas: these skirts can elevate any so-and-so outfit into a head turner outfit, making anyone look like a total fashion pro.
But if you think that sequin skirts outfits are difficult to pull off, then this article comes in handy, as I will guide you through many easy and cute ways of showing off a fashionable style with a sequin skirt.
I will also show you exactly how to dress up and down a sequin skirt in the easiest and chicest possible way, making you fall in love with this fashionable item.
What to wear with a sequin skirt
Sequin skirts are perfect for a night out look, but they can also be worn for different occasions. Just like I mentioned, there are tons of stylish ideas of how you can make these skirts a super versatile item.
I'll show you 24 sequin skirt outfit ideas that will leave you inspired and ready to jump into the sequin frenzy.
5 sequin skirt outfit ideas to Copy
1. Black sequin skirt
First, we need to talk about the easiest sequin skirt color to find in stores.
A black sequin skirt is probably one of those items you own and love, but can only think of one or two ways of styling it. But truth is, a black sequin skirt is like a white canvas: you can do anything with it!
It will all depend on the occasion of use and the statement you want to make.
The most stylish ways of rocking a black sequin skirt are:
Black on black
When in doubt, black will always have your back.
If you want a stylish, classic and cute outfit, then opting to pair your black sequin skirt with a black top and accessories will your must-dos.
For a fun night out with friends, a black sequin mini skirt is the cutest option for you. Let your skirt be the star of your outfit and leave the rest of it very plain and simple.
You can also match your skirt with silver accessories such as earrings or necklaces: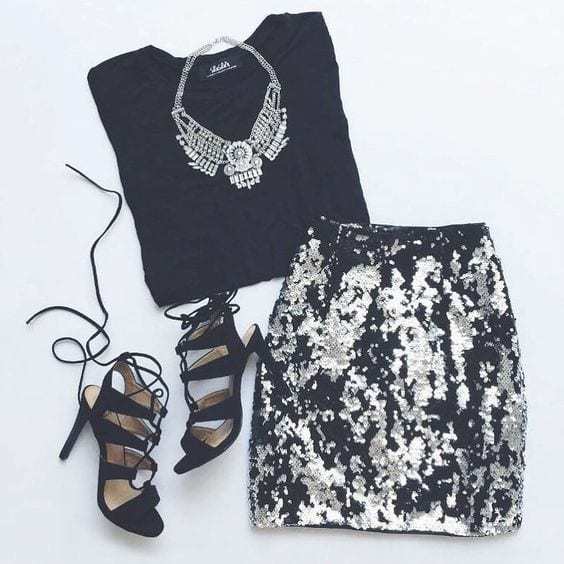 For a cocktail party, an art gallery exhibition, a fancy dinner, or any event where you need to look polished and put together, a knee-length sequin pencil skirt is a great option that will be turning heads for sure.
And, the best part is that styling it is a piece of cake. A plain black fitted top will definitely do the trick.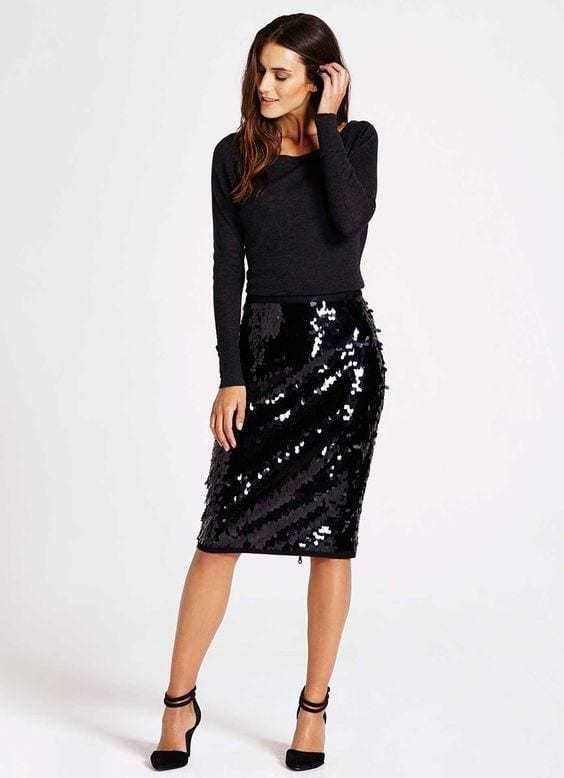 For a sexier look, pair your pencil sequin skirt with a spaghetti strap top. This look is ideal for a fancy dinner with your special someone: it's a flirty, chic and modern outfit that will make you irresistible.
For an edgy and casual look, a white t-shirt is always a good idea. Just tuck it inside your black sequin skirt and you're ready to go. But if you want to take your sequin skirt outfit to the next level, then I suggest you go big: add black socks and white sneakers and your favorite cap.
This look is perfect for anyone who wants to make a strong statement with her style: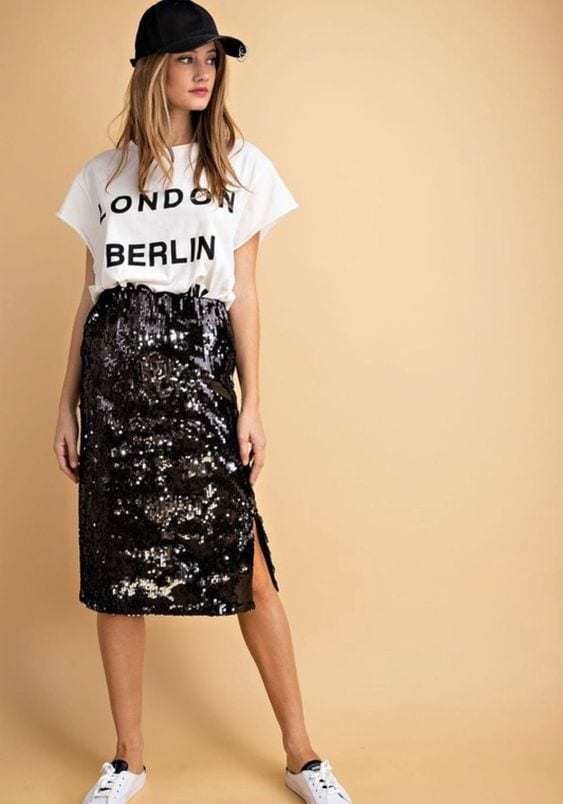 2. Silver and gold sequin skirt
Apart from black, silver and gold are the two most popular colors among the sequin skirt fashion.
Here are some cute ideas you can recreate for these two color skirts:
A silk blouse tucked inside your silver or gold mini skirt is a sophisticated and chic way of showcasing a great fashion style: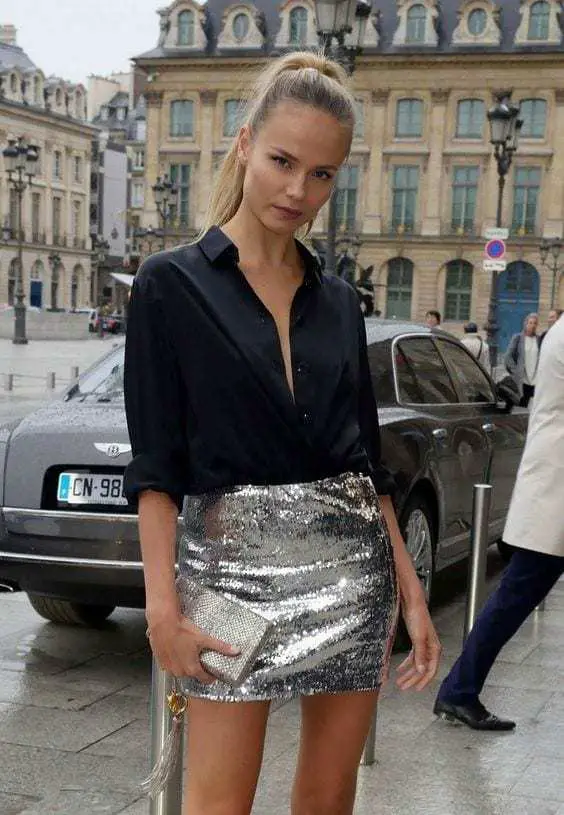 Sequin skirts aren't solely a match for solid colors. They can also be worn with textures, prints or stripes.
An easy way of dressing down a sequin skirt is to pair it with a striped black and white tee: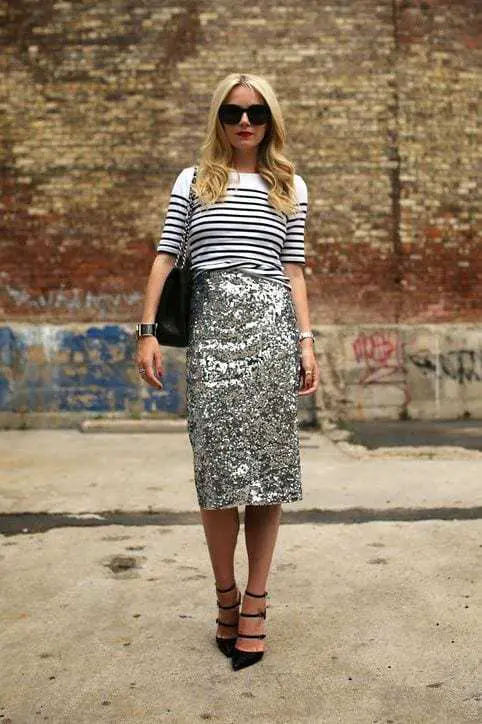 Even plaids can make a perfect match with a sequin skirt! This outfit proves that when it comes to fashion, there are no wrong or right answers. It's all about experimenting and having fun:
And why not wear knitwear with sequins? I love how putting together contrasting fabrics can create a stylish and fashion pro look: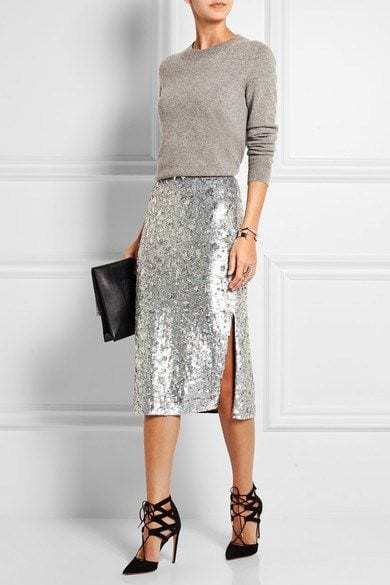 Wanting to go extra? A maxi sequin skirt is all about making a dramatic outfit in the chicest possible way: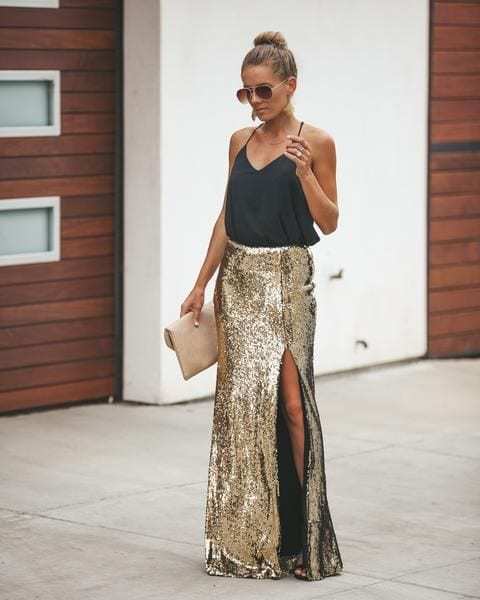 You can also style your sequin skirt with a cute belt. This is a combination I would have never thought of, but Olivia Palermo shows us that everything is possible:
Gold and white is an easy combination you can make and still look chic: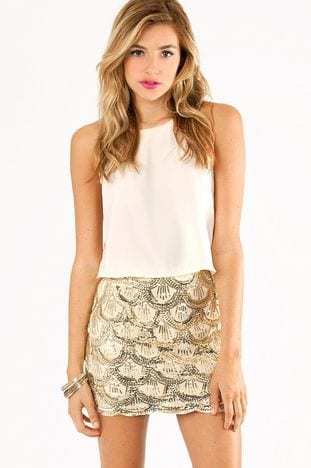 You can wear black, white, nude or gold high heels with your gold sequin mini skirt: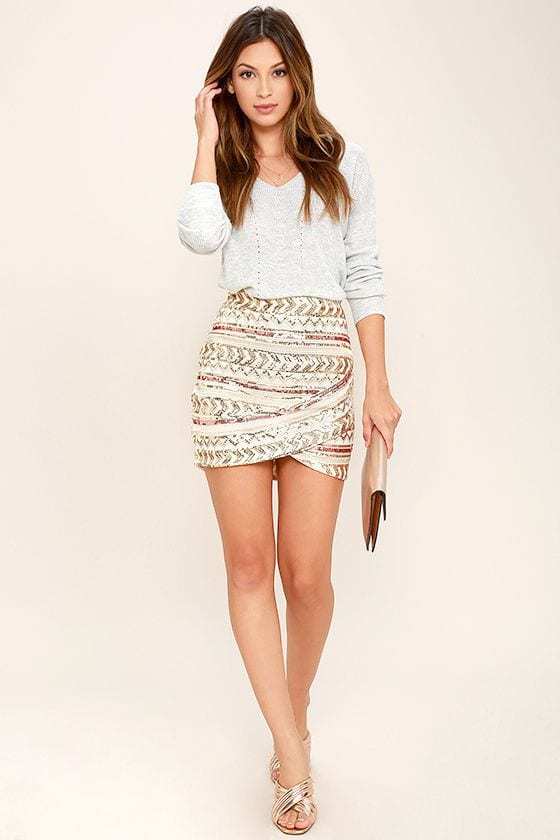 Match your clutch with your shoes for a chic look. Remember that a sequin skirt is already a statement piece all by itself, so make sure your accessories complement the skirt as best as possible.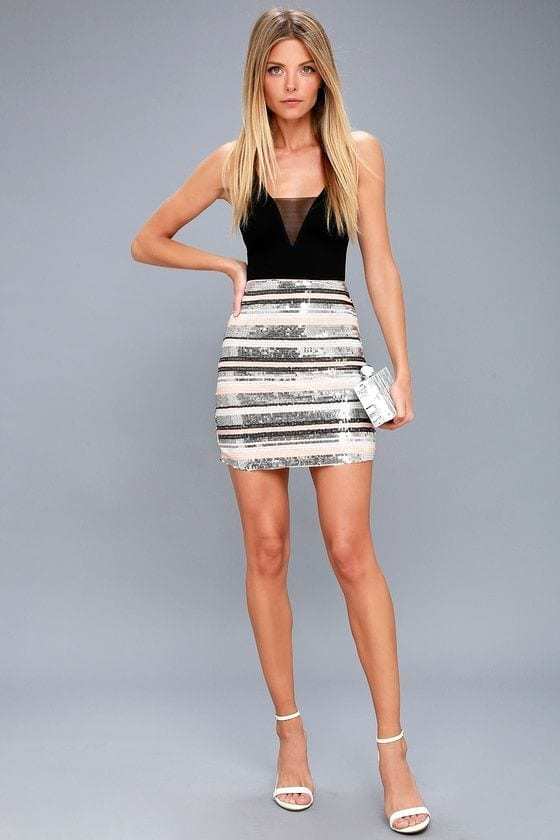 3. Blue sequin skirt
If you want to stand out from the rest, a blue sequin skirt is the best color option for you!
For a classic look, black and white are a safe color combination you can pair your blue sequin skirt with.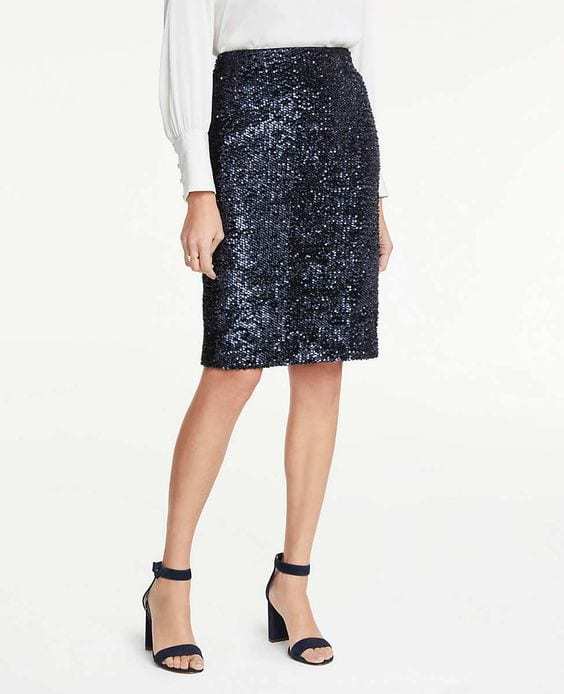 But, if you want to take your outfit to the next level, dress your blue sequin skirt down with a cool oversize denim jacket: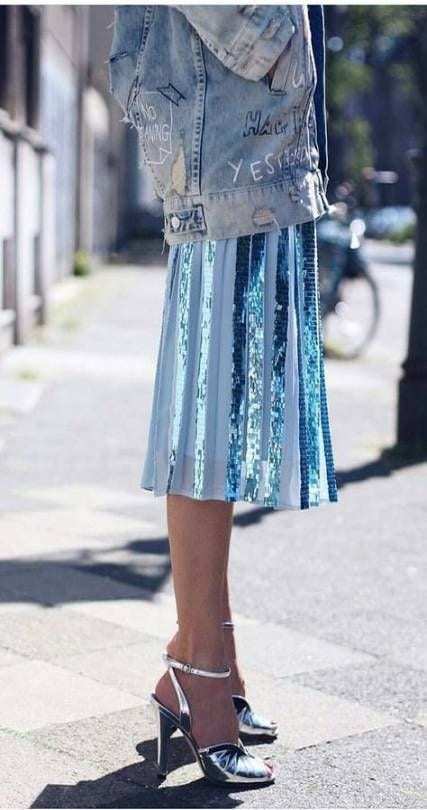 For a monochromatic look, simply pair your blue sequin skirt with a navy top. It can be a navy silk button down or even a navy turtle neck sweater.
This is a cute way of showcasing a fashionable fall or winter style: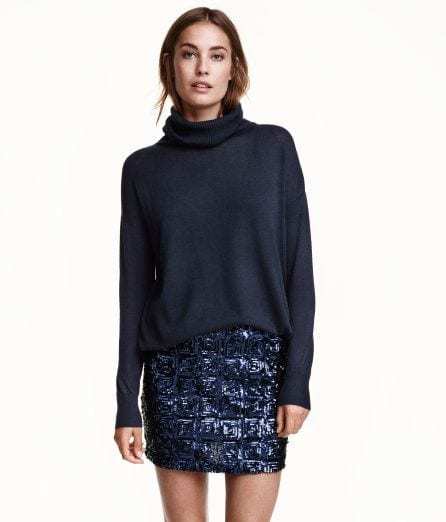 4. White sequin skirt
A white sequin skirt may not be the easiest color to find, but it's definitely worth the try. You can create cute and classic looks with white sequin skirts, and the best part is that you're going to be one of the few who owns one.
An easy way of wearing a white sequin mini skirt is by creating an all-white outfit. Wear your favorite white top and tuck it inside your skirt, and finish your look with gold/silver high heels:
For a cozy winter look, you can wear an oversized sweater half tucked inside your sequin skirt. This look is perfect for Christmas time.
Add red lipstick for a pop of color and you're ready to go: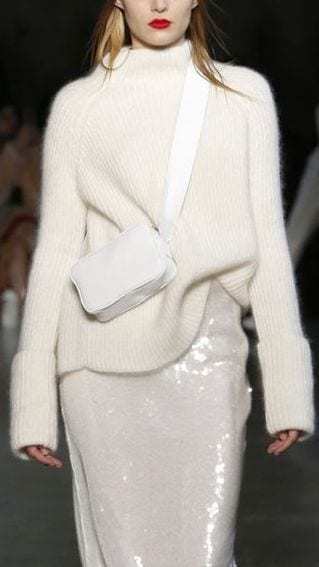 White is one of the most versatile colors, and that's why you have the liberty of choosing any top you like! From plaids, florals, lace or solids, your white sequin skirt outfit will shine regardless of your pick.
5. Pink sequin skirt
A pink sequin skirt is the best way of showcasing a girly and sophisticated style.
Pink is one of the most fashionable colors you can wear because there are so many ways of pairing this color yet few people venture into the pink fashion world.
Nude colors are a great match for pink pieces. You can wear a cute crew-neck nude sweater with your pink sequin skirt for a comfy look: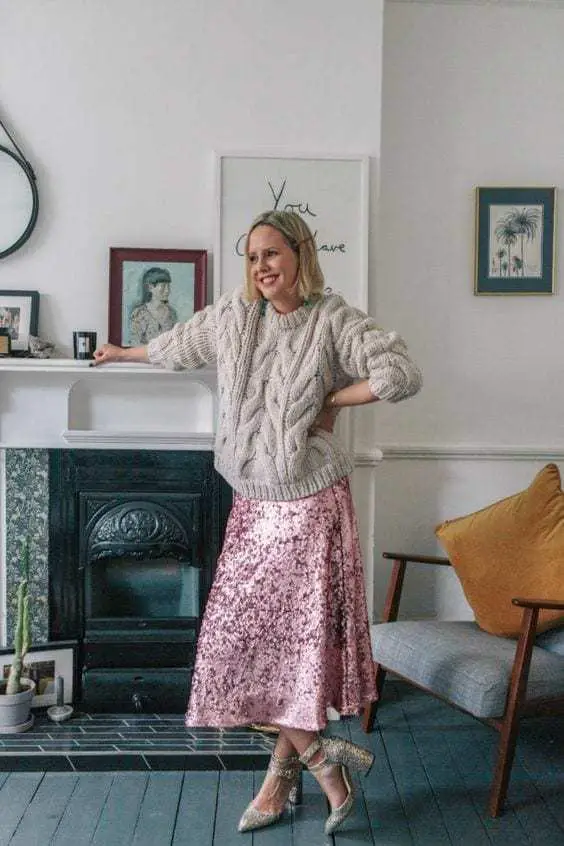 White, of course, is a go-to color for any kind of bottom. If you want to pull off a modern and sophisticated sequin skirt look, opt for a statement white top. In this way, even if your top has an interesting silhouette, its white color will tone it down and leave your sequin skirt to be the center of attention:
Add a black leather jacket for an extra dose of edginess: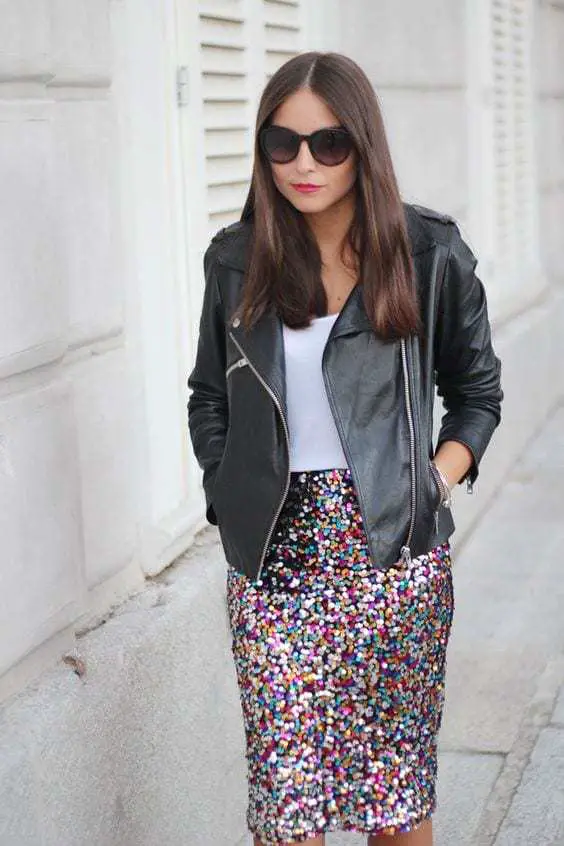 If you're a pink lover, or simply live by the motto of "go big or go home", then pairing your sequin skirt with other pink pieces is the best idea for you: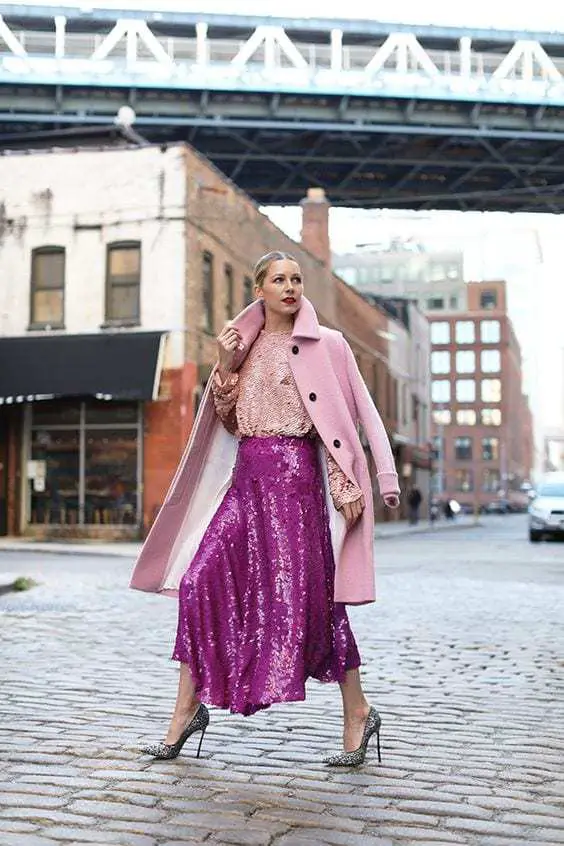 An all-pink outfit is definitely a head-turner option. It doesn't matter if your skirt is fuchsia or bubble gum pink.
Pink will always look good with other shades of pink. Even a rose gold can pull-off a cute all-pink look: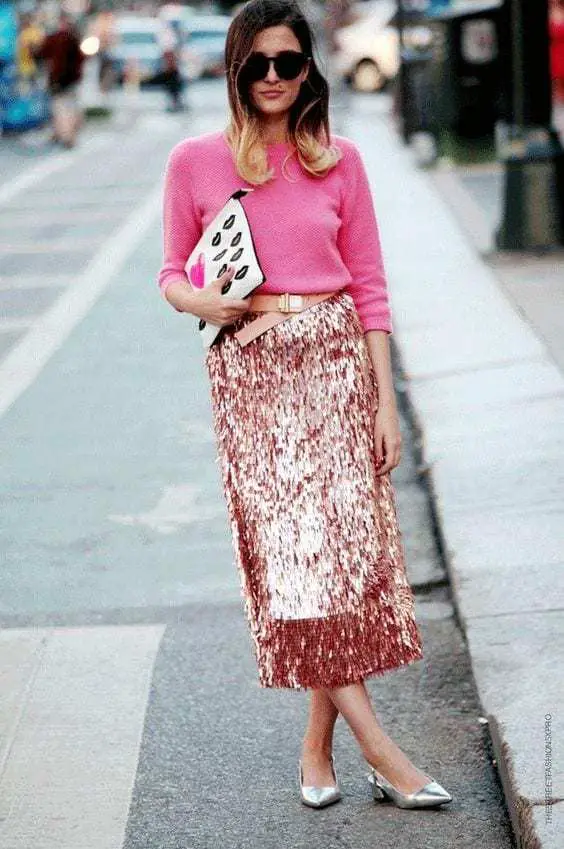 Wrap up:
If you were wondering what to wear with a sequin skirt, then this article has given you the best outfit ideas that will make you want to run and buy sequin skirts in many different colors.
The best thing about sequin skirts is that few people venture into the exciting styling game of sequins. Most will pair their sequin skirts with a black or white top, but now you know that there are endless combinations you can make.
Simple things such as wearing a graphic tee to interesting and out-of-the-box ideas such as pairing your sequin skirt with a belt is what will make you stand out from the rest.
I hope you feel inspired and ready to experiment and create different cute sequin skirt outfits.