An outfit can be drastically transformed based on the shoes you choose. That's why I never get tired of repeating the importance of choosing your shoes with care.
Previously, we have talked about what shoes to wear with shorts and what shoes to wear with long dresses. Now we need to discuss what is the right shoe for a lace dress because this type of dress is super popular among girls and it needs a special mention.
A lace dress is a super feminine and elegant type of dress that can be found in almost every store. It's also a great option for any occasion: casual lunch, a cocktail party or a fancy dinner.
It's also a timeless piece that, if you take good care of it, will save you from many "I-don't-know-what-to-wear" situations throughout the years.
Shoe types for lace dresses
The reason why we may have trouble deciding which pair of shoes to wear with a lace dress is that the dress already has an eye-catching element which is, obviously, the lace. So wearing "any" type of shoe simply won't do.
What you need to keep in mind when deciding the shoes for a lace dress is to keep it simple. A lace dress should be the center of attention, so your shoes should complement your dress in the simplest yet chicest possible way.
If you wear shoes that have a different color or have many elements on them, then your dress will lose its protagonist. There are a few exceptions which I'll talk about while showing you which shoes are better for different occasions.
Shoes for the formal lace dress
Short dresses
If you want to know which shoes for short lace dresses are better, then you kind of have a simple task. Almost any kind of shoe looks good with short dresses, but I suggest to opt for a neutral type of shoe.
You can choose something very simple and elegant like nude high heel sandals: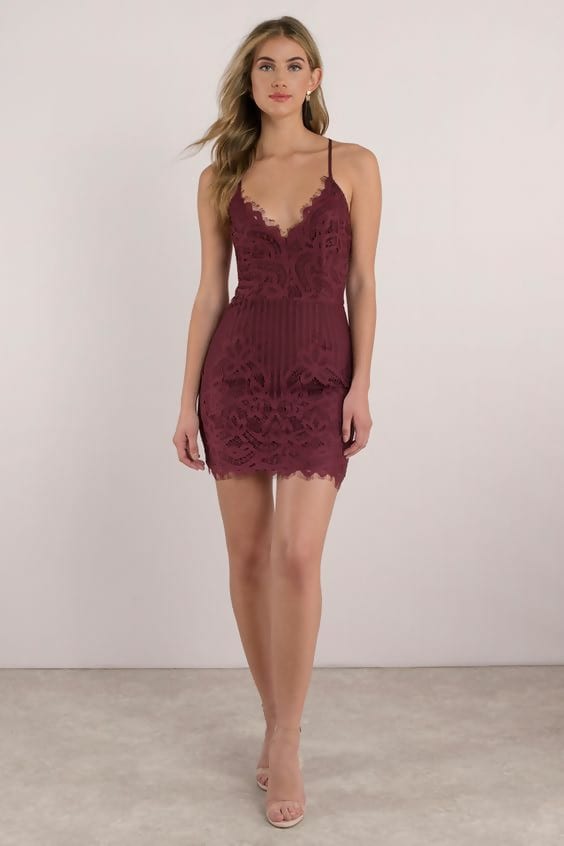 You can never go wrong with these type of nude heel sandals: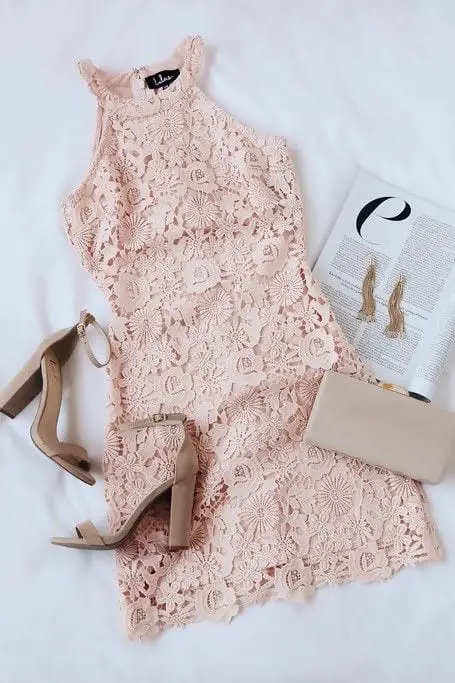 Or simply your favorite pair of heels. Just make sure that they go along with the dress code.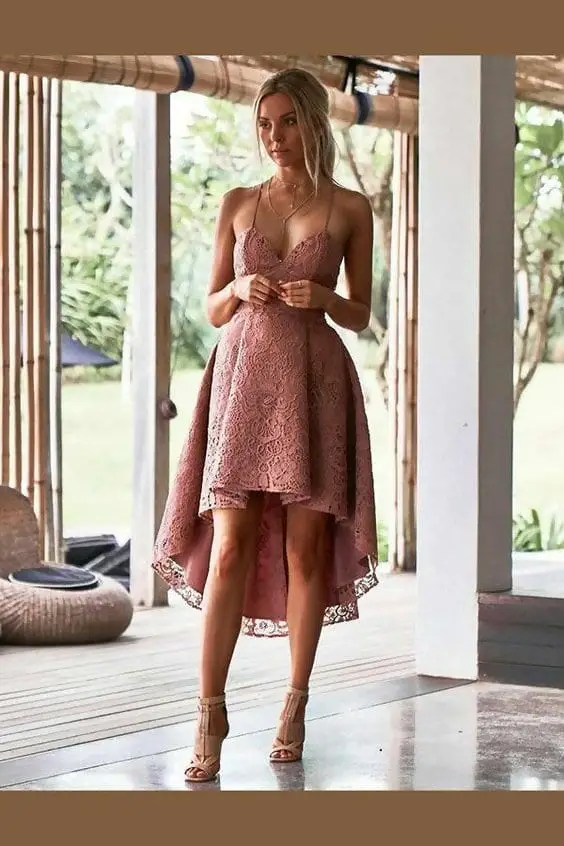 For a day-time event, a shoe for lace dress can be a pair of camel or nude wedges They're also super comfortable, especially if the event is in a garden because you won't be worried your pumps are getting stuck in the grass.
To complement your lace dress for an evening event, a sophisticated pair of shoes can be a perfect option: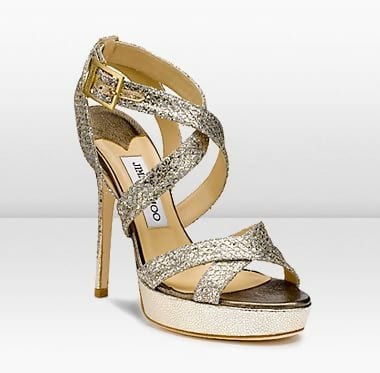 Strappy sandals are always a chic option for short lace dresses.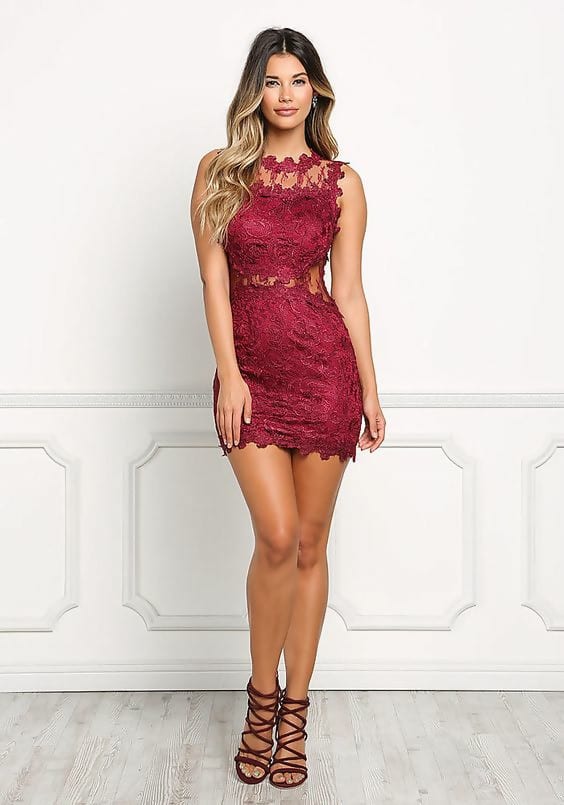 Short lace dresses give you plenty of "space" to show off your shoes. That's why lace-up high heels are a perfect option for this type of dress:
A pair of cool pumps or stilettos will make you look super chic and classy.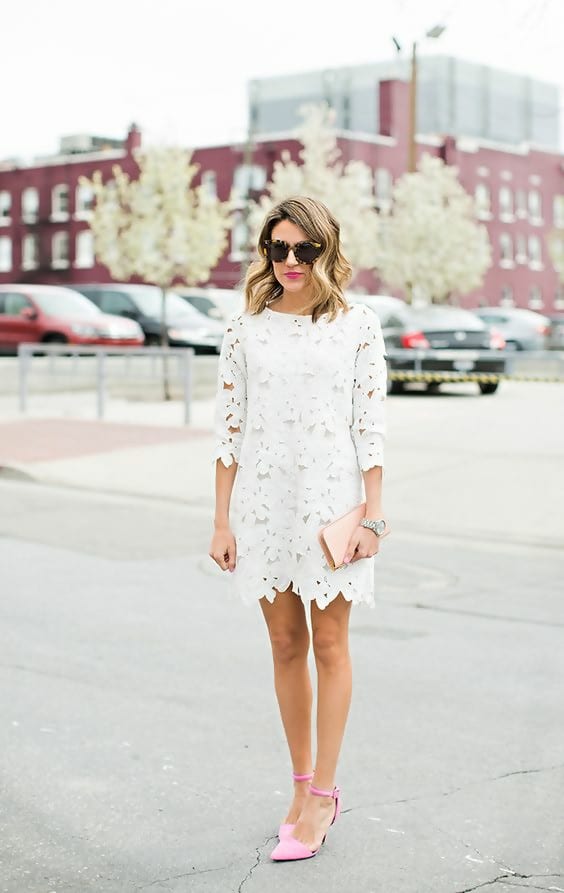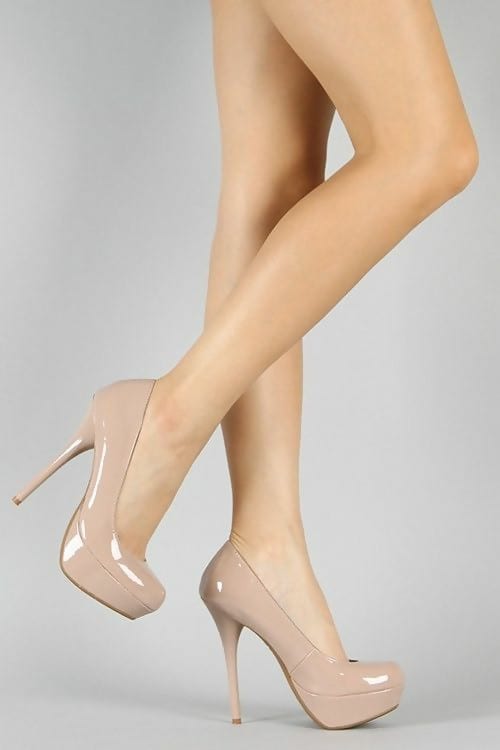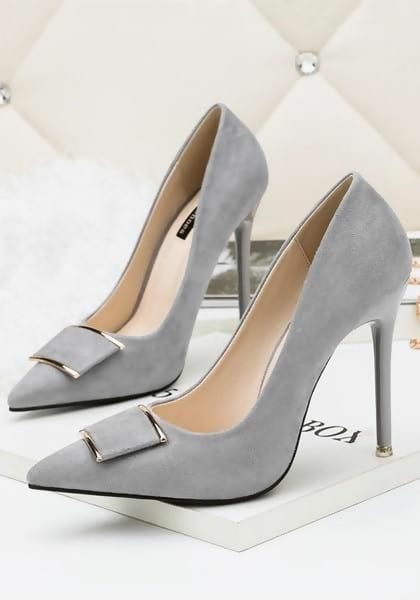 Knee-length or midi dresses
For a formal midi lace dress, the best shoe style is a pair of high heel ankle strap sandals. Because of the dress's length, it's better to show some skin on the lower part of your leg and on your feet as well.
Nude heels or any kind of neutral color is a perfect choice: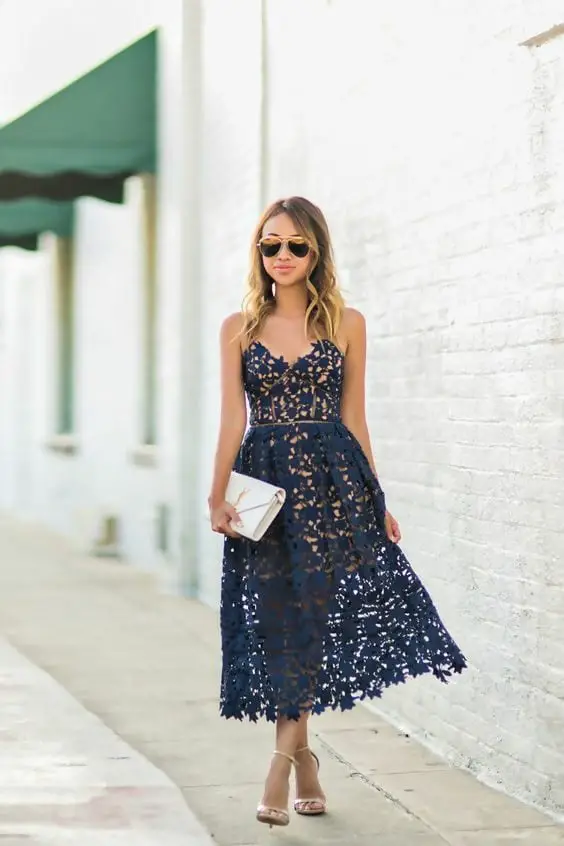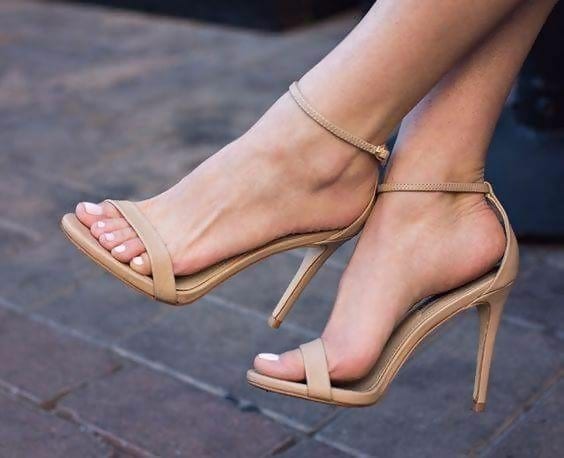 Black high heel sandals are a basic every woman should have if you simply don't want to buy anything, just wear them with your lace dress and you will be more than perfect.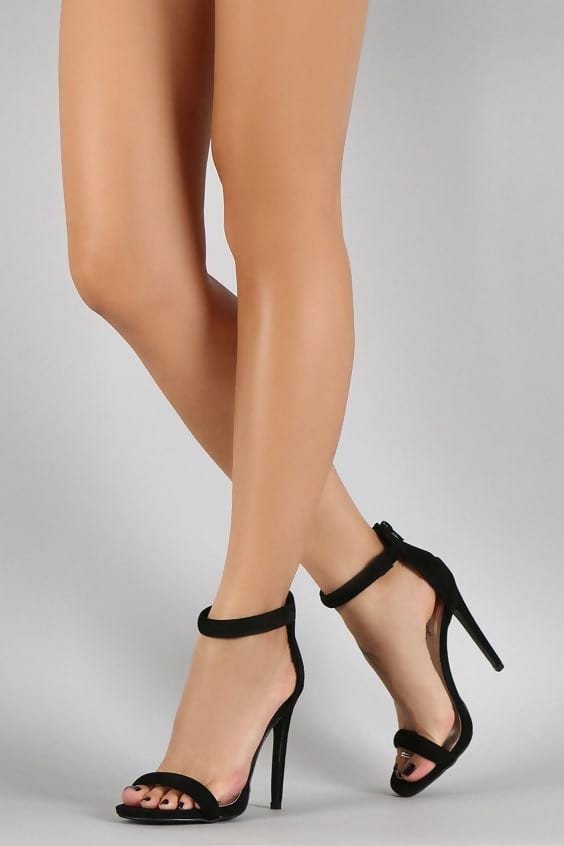 You can also choose a pair of strappy high heel sandals. For a day-time event, opt for nude colors: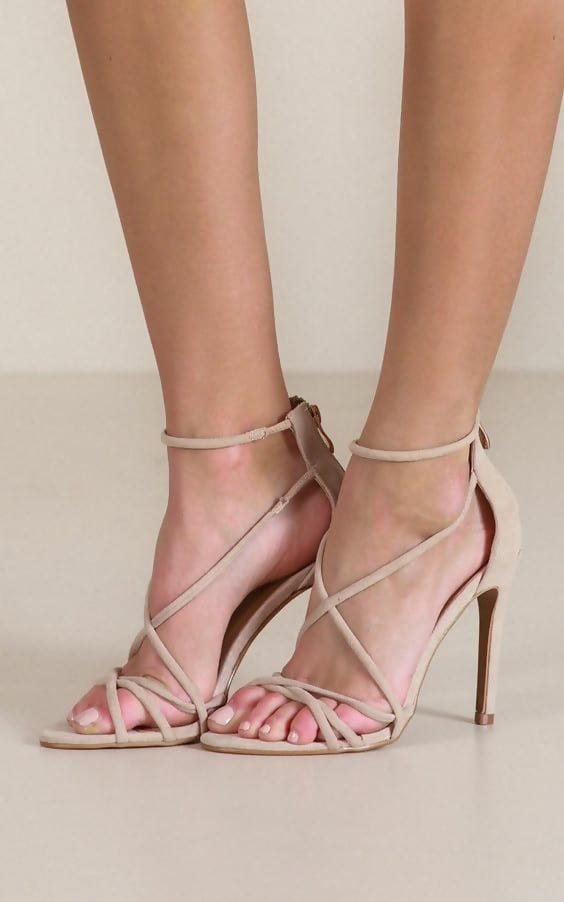 Golden or silver heel sandals are a chic option for an evening lace dress. They make you look very elegant while showcasing your femininity and your cute dress.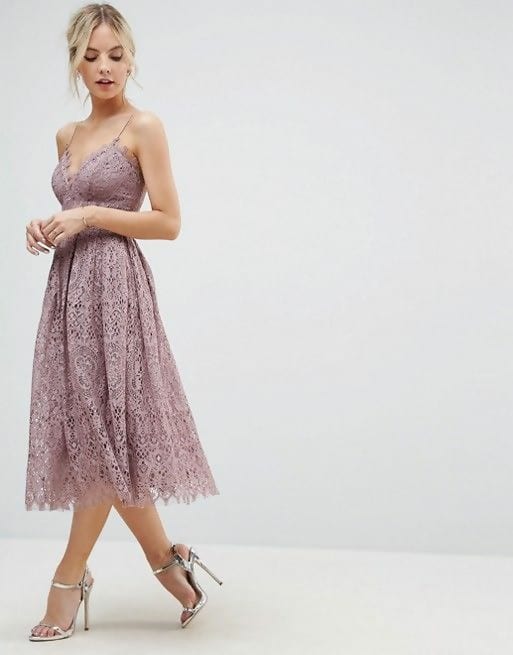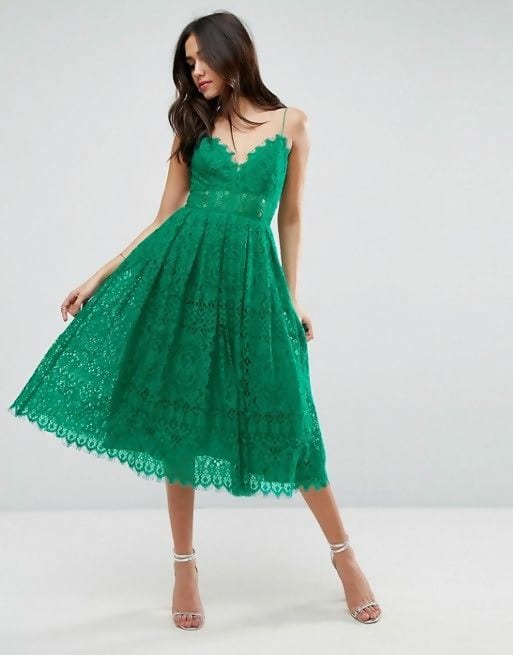 To take your outfit to the next level, opt for a shoe color that will contrast with your dresses. For example, a burgundy pair of high heels as opposed to a green dress.
This is a great way of making a statement from head to toes.
Low heel shoes are also a nice shoe option for a midi length lace dress. If you're opting for this type of shoe, remember to keep it simple.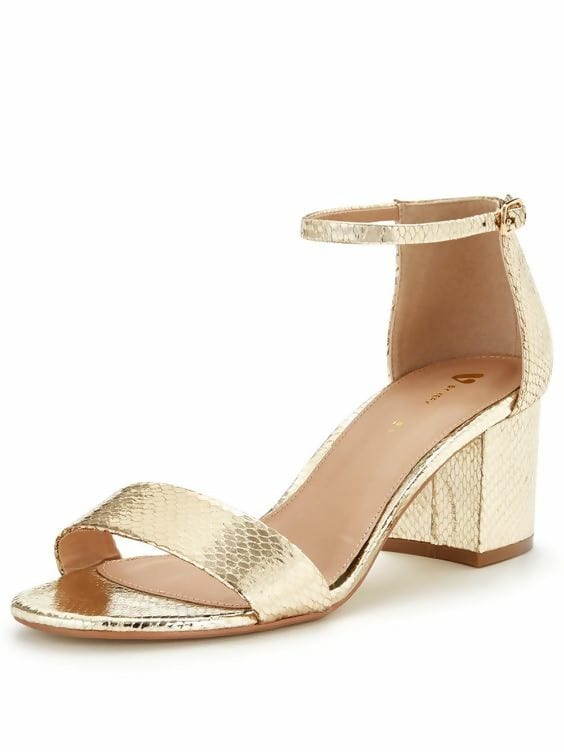 A midi length is already the star of your outfit, so the shoes shouldn't compete, especially if they're low heel shoes.
Pumps and stilettos look great on basically any type of outfit, and pairing these shoes with lace dresses is not an exception.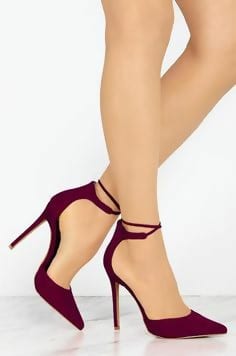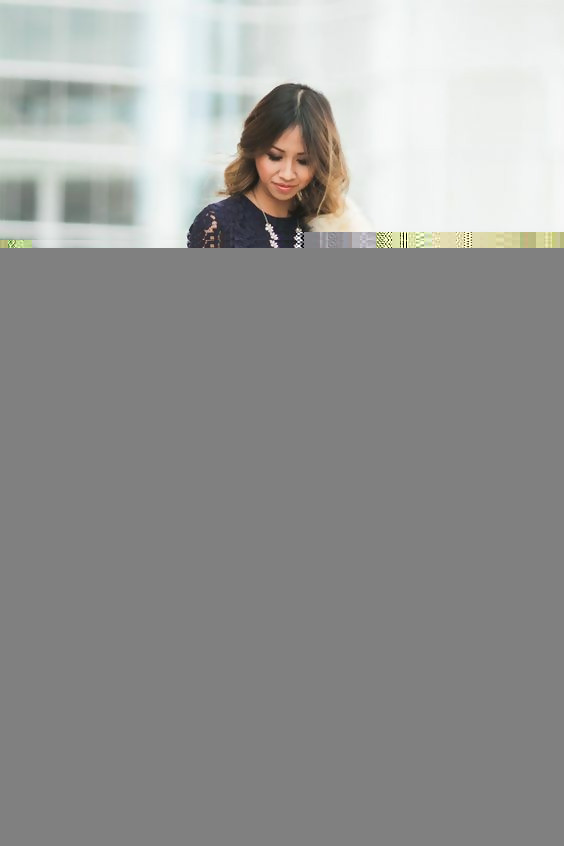 I'd say one of the only exceptions of wearing very fashionable shoes is when you want to opt for a boho chic look. Then you can perfectly choose lace-up sandals with tassels for example, which by the way are my favorite for this kind of style.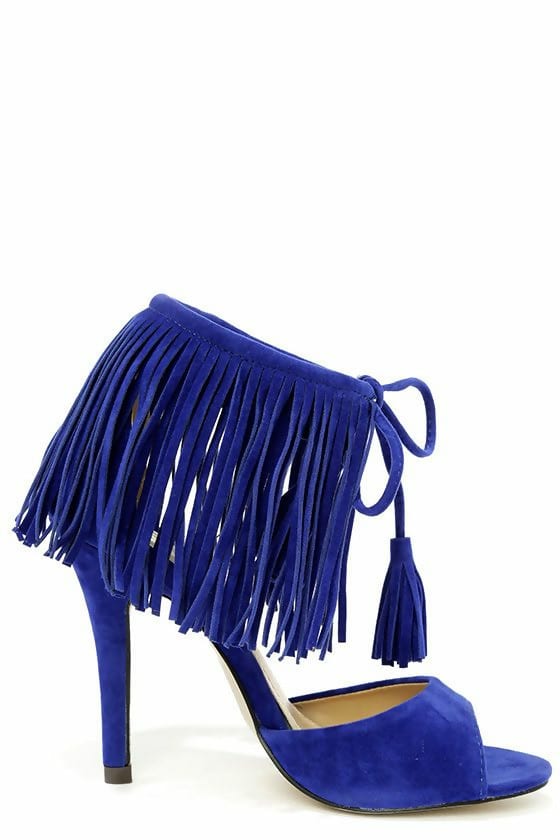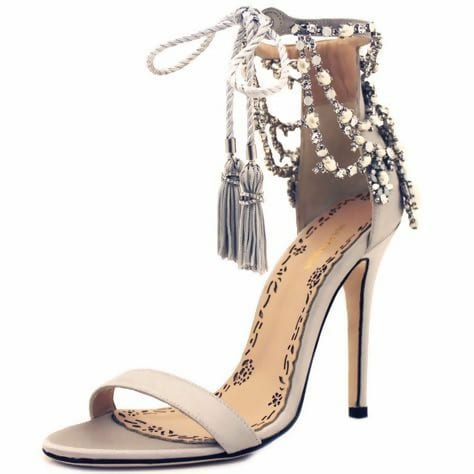 Lace-up high heel sandals or flat sandals are a perfect shoe for lace dresses when you're feeling more bohemian, or if your fashion style tends to be boho.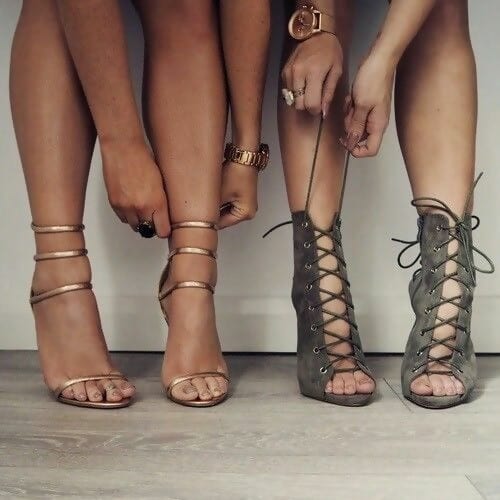 What shoes to wear with white lace dress?
The best thing about a white lace dress is that, if you're a shoe lover like me, you can wear almost ANY type of shoe.
If you've decided on wearing a white lace dress, get creative with your shoes. You can decide on any type of shoe, but a camel or nude color is always a chic and perfect idea for day-time events.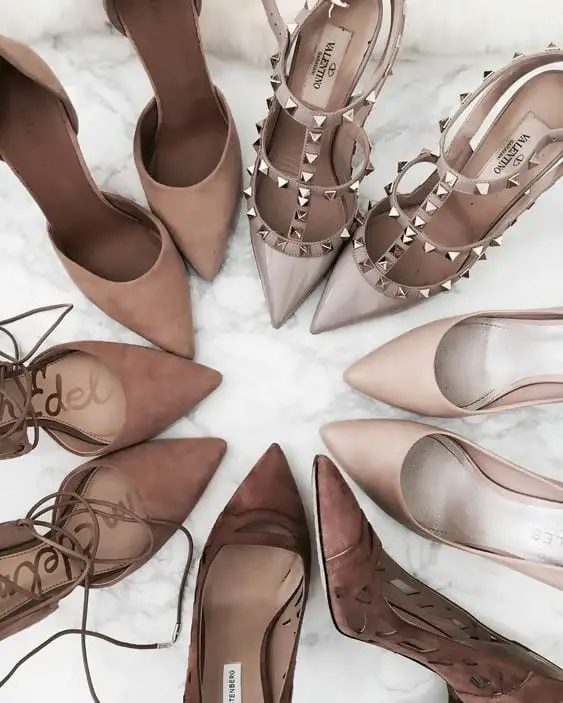 What about an animal print pair of heels?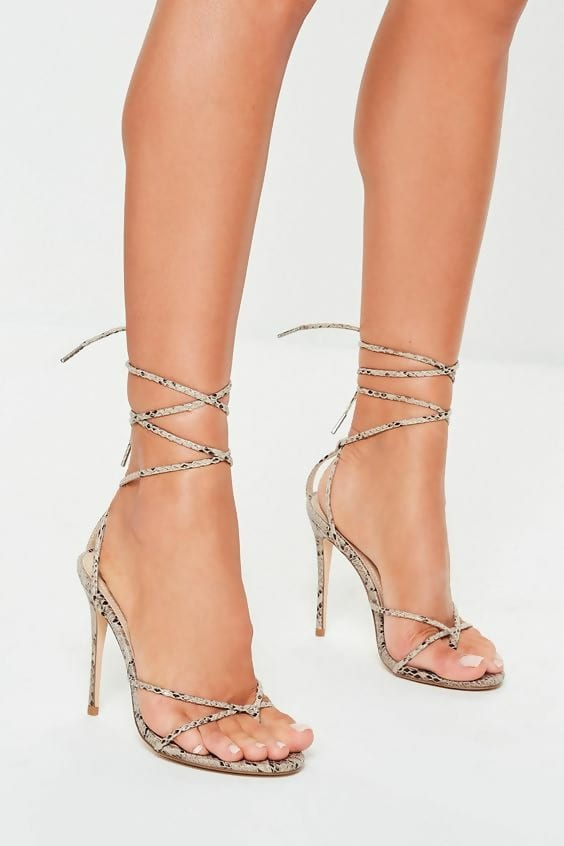 Sometimes we wonder what color shoes to wear with a white dress that's not nude nor black. But, again, a white lace dress is like a canvas where you can do almost anything.
For a fun look, opt for colorful shoes: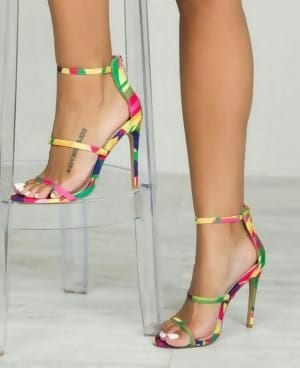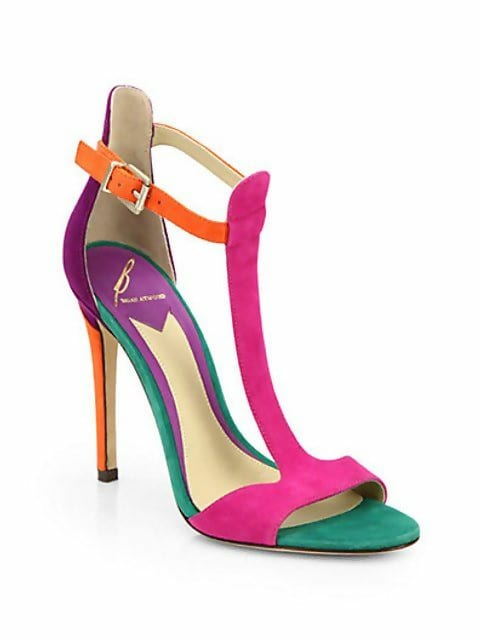 For a sweet look, pastel colors are what you should opt for:
Shoes for a casual lace dress
Casual lace dresses are a super cute option for those summer days when you want to look stylish and feel comfortable. The shoes for a lace dress that will turn your outfit into casual chic are:
Sneakers
Your favorite pair of sneakers can look good with a lace dress, but nothing can beat a white pair of sneakers.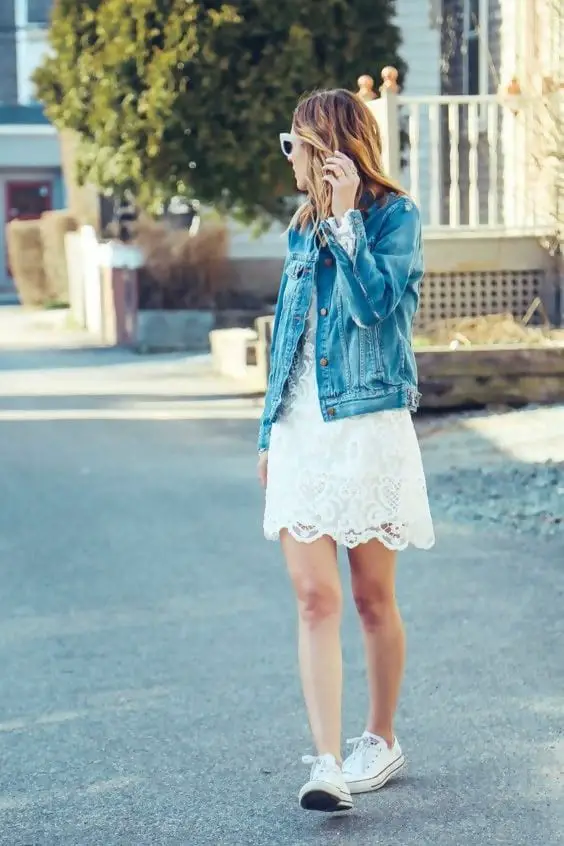 But there are no rules for which color of shoes are the best for a lace dress. Look how cool these sneakers look with a pink lace dress: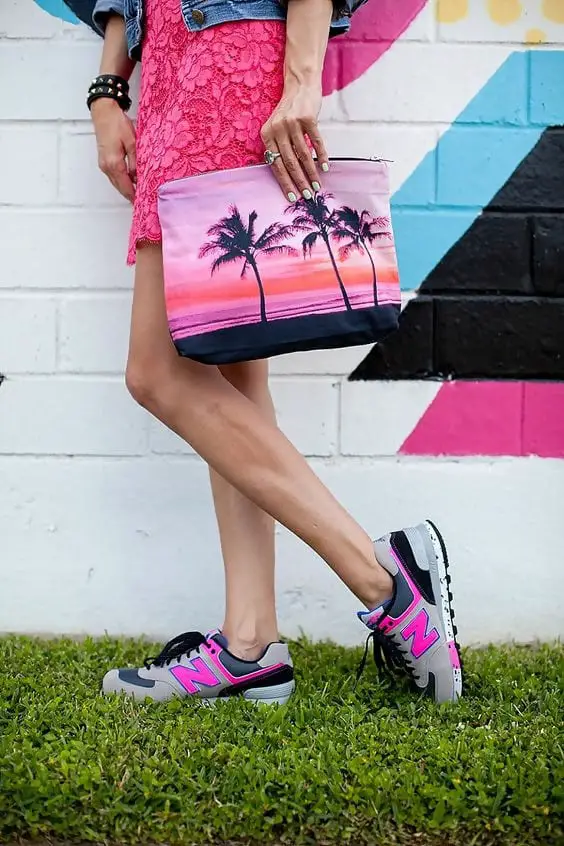 Slip-on sneakers are also super cool and will make your lace dress outfit look edgier:
If you're more into boho fashion, lace dresses with boots will be your favorite combo. Your favorite pair of boots will work just fine: ankle boots, low heel boots, even knee-length boots!
Just remember that boots are solely for casual outfits. Don't wear them for a cocktail party or a fancy celebration.
A nude pair of flats is another casual shoe for a lace dress.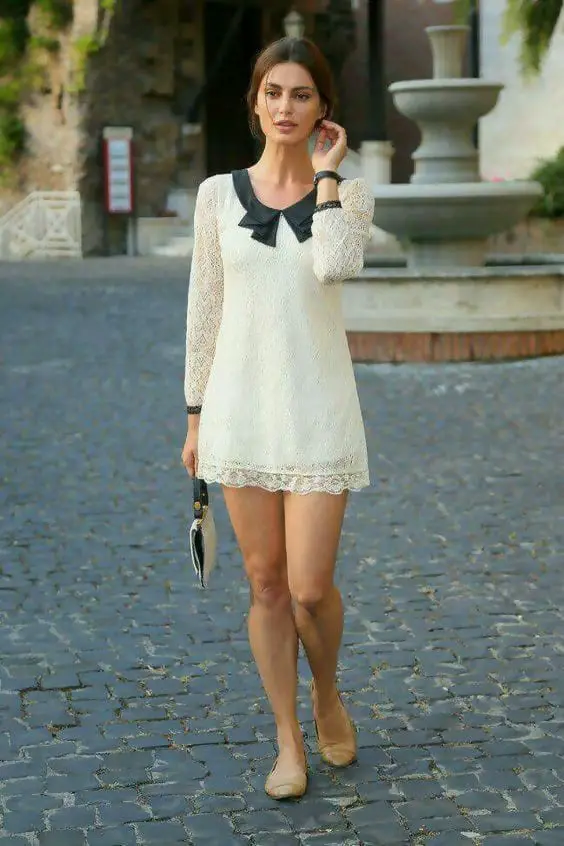 Sandals are probably my favorite shoes for lace dresses. This type of dress is absolutely girly and cute, and sandals complement them perfectly.
Again, you can choose any type of sandal, but a pair of strappy camel sandals are a great and chic option: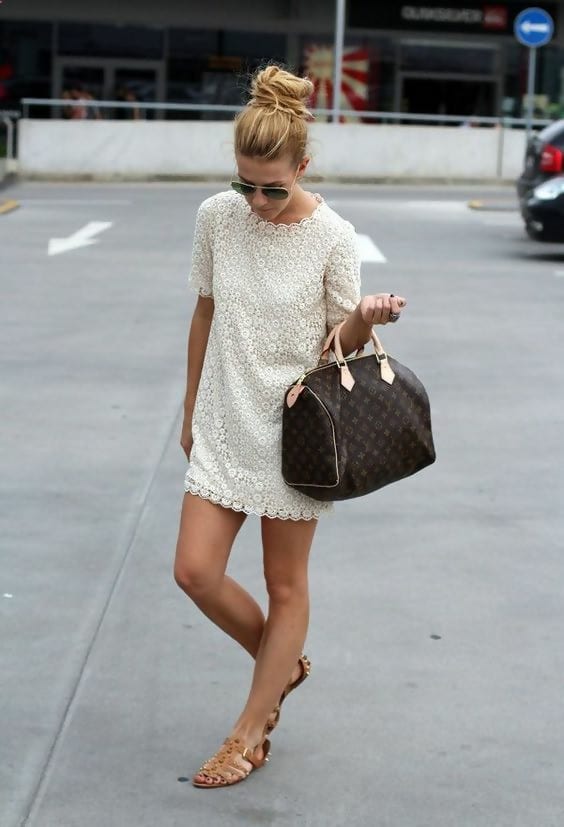 Low heel sandals are a chic way of taking your lace dress outfit to the next level. You'll look like an absolute fashion pro: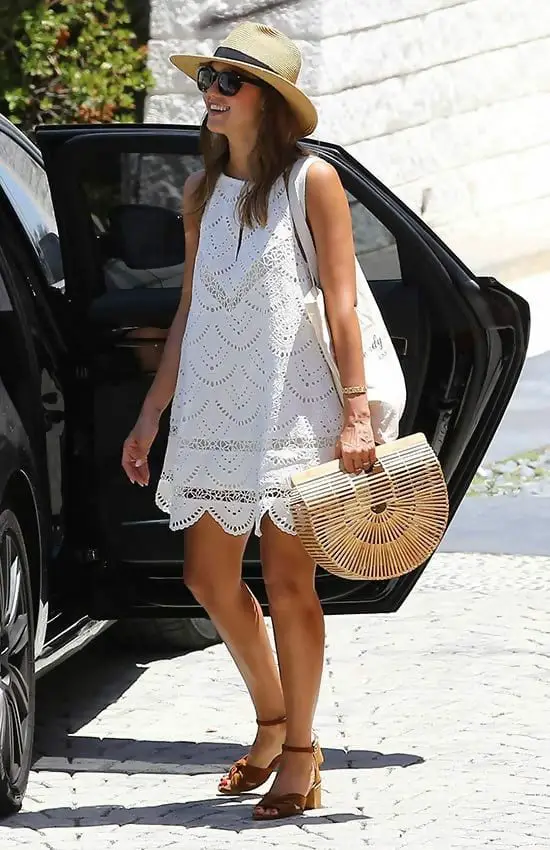 Jute platform wedges are another option for a casual lace dress. The best part is that they make you look taller AND stylish at the same time.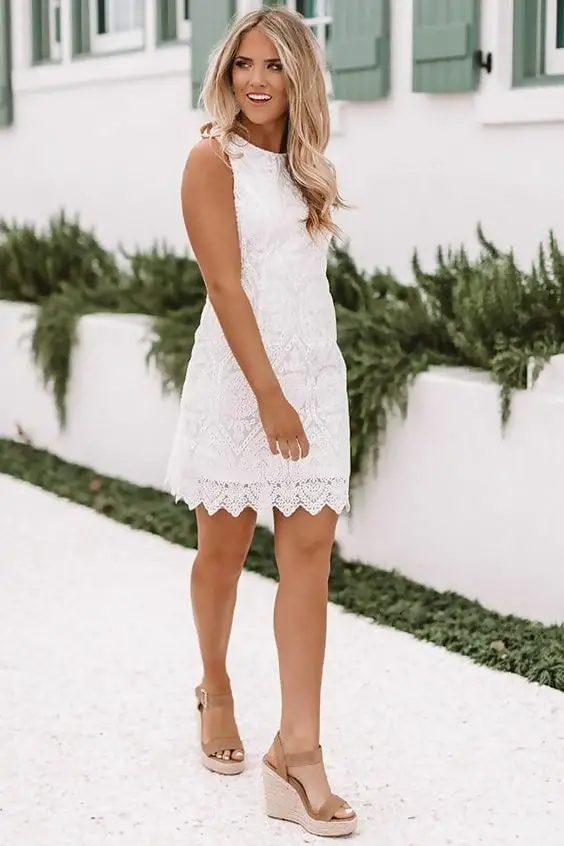 Flat jute platforms are also perfect:
Wrap up:
Choosing the right shoe for a lace dress is critical to pull off a fashionable outfit. All you need to do is remember not to make your shoes compete with your dress.
The beauty of a lace dress is, of course, the lace, and that's why the shoes in most of the cases should be kept simple.
I hope these tips on what shoes to wear with a lace dress will save you plenty of styling time next time you wear yours!