As I mentioned in the previous article, shoes are always your best tool to pull out a perfect head-to-toe outfit. Sometimes we forget the power of a cool pair of shoes, but truth is, they can transform your outfit in a way no other fashion item will ever do.
Now that I've talked about long dresses, let's talk about what shoes to wear with shorts because, let's be honest, styling shorts may not be the easiest task. So let's forget about the easiest and laziest flip-flop sandals and shorts kind-of-look.
I'm talking about cute, cool and super stylish shorts that need a perfect pair of shoes in order to make you look absolutely stunning and polished.
What shoes to wear with shorts
The best thing about shorts is how they flatter your legs and your overall looks, regardless of your height. You don't need to be a top model to rock a cool shorts outfit.
That's why you should pick a pair of shoes that go along with this characteristic while bringing out the best of your style. In this article, as the title mentions, I'm going to focus on pulling-out a casual and perfect outfit by pairing shoe styles with shorts.
Best 10 shoes to wear with shorts for a casual look:
1. White sneakers
Sneakers are the most versatile pair of casual shoes you can ever own. They're just perfect for absolutely any kind of outfit and are a great option for complementing your shorts.
As I've mentioned in previous articles, I can't stress enough how useful owning white sneakers are. They are literally an outfit savior, especially when pairing any kind of denim shorts.
You don't have to own the trendiest sneaker style. A simple pair of white canvas shoes like the ones below will work just perfectly for your denim shorts outfit.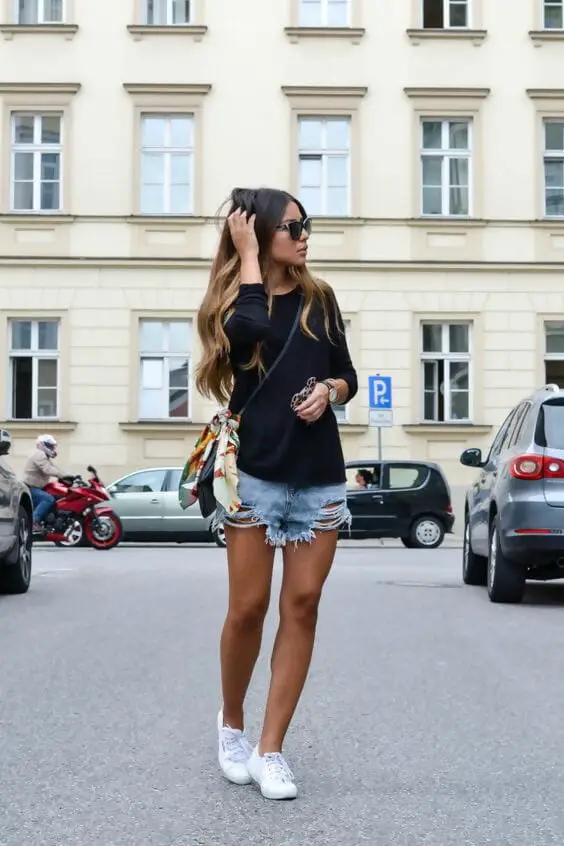 Shop white sneakers:
2. Dad sneakers
If you want to opt for a super cool and edgy look, try these dad sneakers. They will easily take your regular outfit to the next level.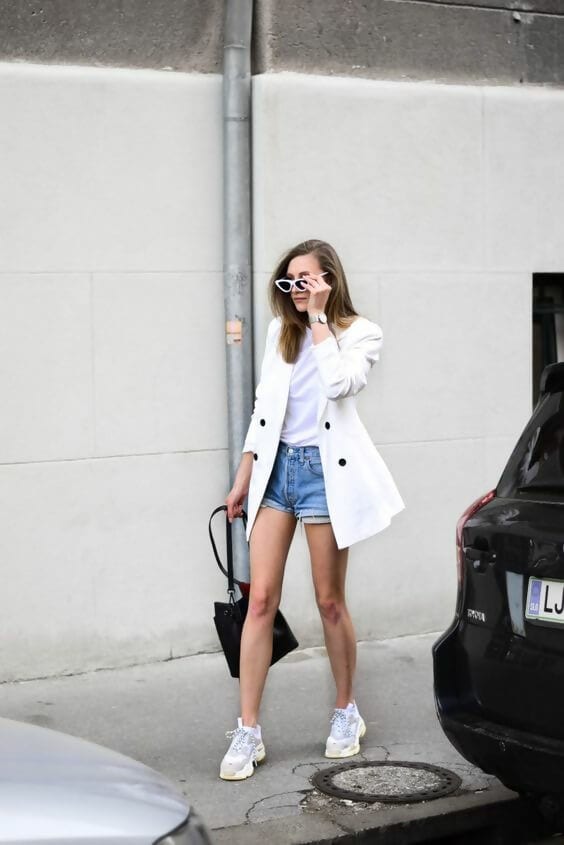 Shop dad sneakers:
What about the trendiest short style for 2019? I'm talking about biker shorts, which you should definitely keep in a special place on your wardrobe because they're taking the fashion world by storm, as you may have already seen.
Again, a pair of colorful dad sneakers are the best shoes for these shorts: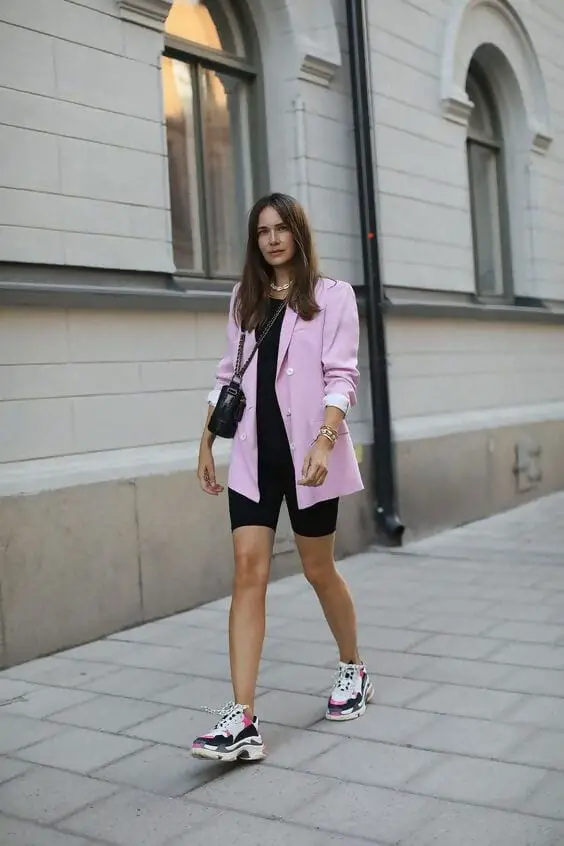 3. Slip-on sneakers
Another option when pairing casual shoes with shorts is slip-on sneakers. They're super comfortable and a great shoe style for anyone who's not obsessed with regular sneakers.
An animal print pair of slip-on sneakers will give you a trendy look: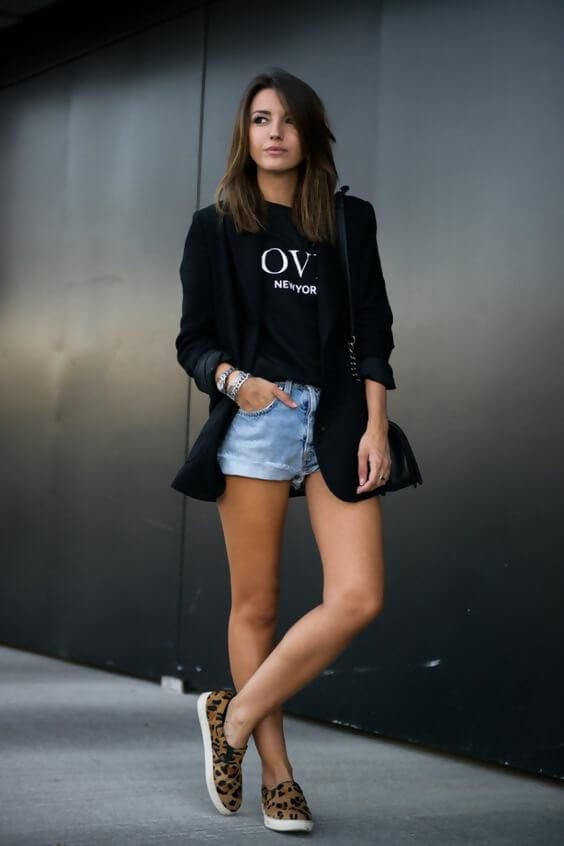 Shop animal print slip-on sneakers:
A black pair of slip-on sneakers is also a great option, and looks totally chic for a dressed-up and polished outfit: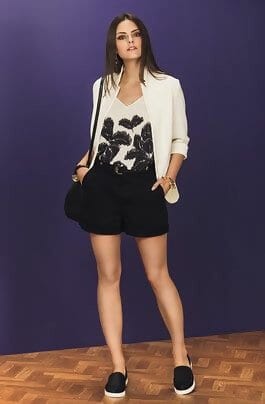 Shop black slip-on sneakers:
4. Lace-up sandals
If you're a bohemian soul, lace-up sandals have to be your favorite pair of shoes to wear with shorts.
Opt for ripped denim short for a boho-chic outfit: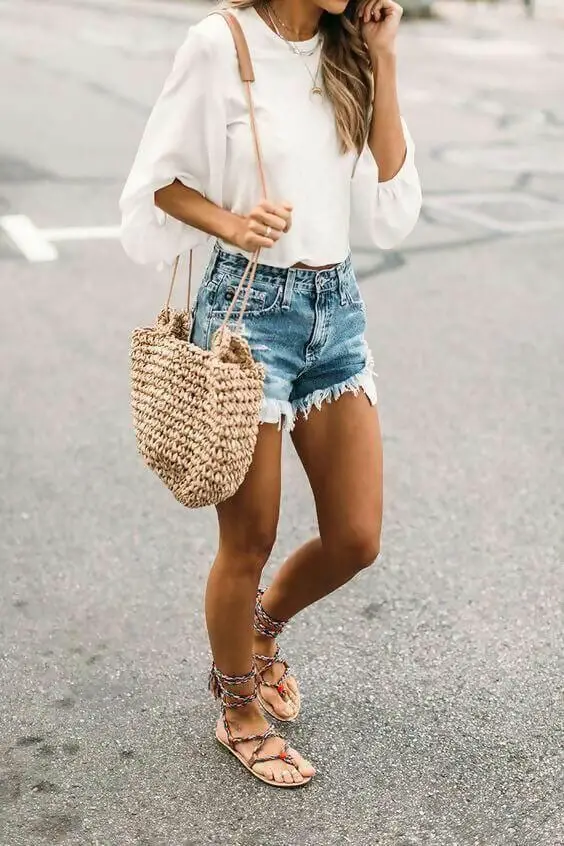 Shop lace-up sandals:
To add some extra inches to your height, opt for block heel lace-up sandals. A great casual shoe option for shorts for those who, like me, don't mind looking taller at all.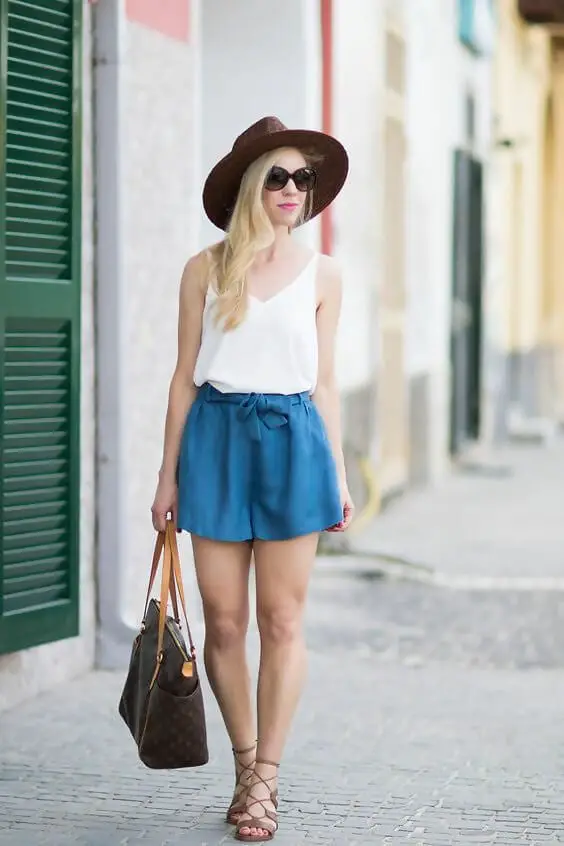 Shop block heel lace-up sandals:

5. Strappy sandals
Similar to lace-up sandals, but a bit less bohemian, strappy sandals look super stylish with any pair of shorts.
Shop strappy sandals:
Same as I've mentioned before, add some inches with low heel strappy sandals. They look very chic for a "casual lunch with friends" kind-of outfit:
Shop low heel strappy sandals:
6. Jute platform sandals
Other casual shoes for shorts are jute platform sandals. They're perfect for a casual walk around the city, especially on summer days or on a holiday vacation get-away.
I love camel or any earth tone for these type of sandals, as these look super summery and are at the same time a great option for any kind of outfit.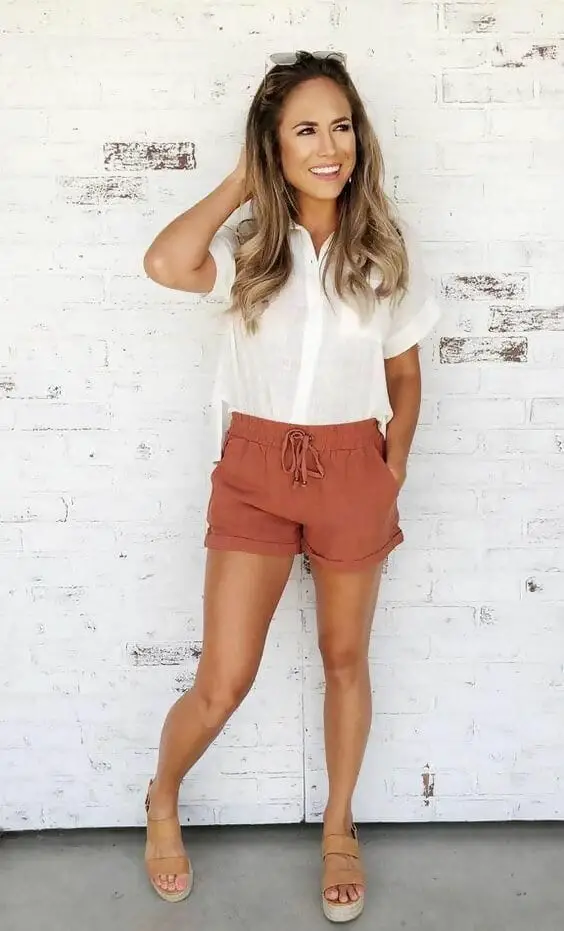 Shop jute platform sandals:
These jute sandals don't have to be flat platforms, of course. The style above is perfect for those days in which you're planning on doing a lot of walking, but for a chic and dressier look, opt for a pair of platform jute wedges: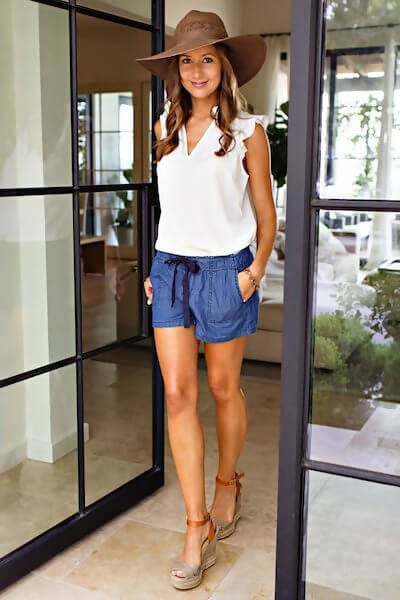 Shop platform jute wedges:
Look how cute this style is. A mix of elegant and casual that definitely make a great shoe option for your pair of shorts.
7. Slip-on sandals
Basically, any kind of sandals are perfect for shorts, so a pair of chic slip-on sandals will also look great with your shorts outfit.
These type of slip-on sandals are an easy option when you're thinking about wearing casual shoes with shorts: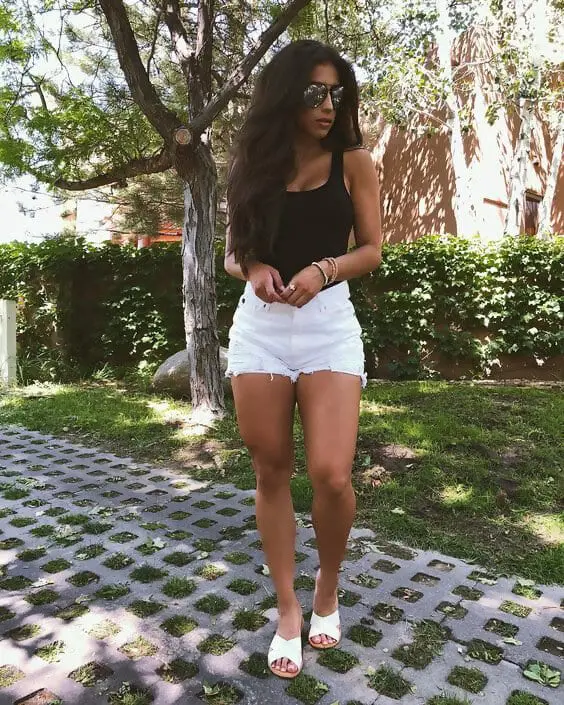 Shop slip-on sandals:
8. Ballet flats
Flats are one of the most comfortable kinds of shoes to wear with shorts and, at the same time, they make you look super feminine and stylish.
Flats are sometimes forgotten but let's not ignore the fact that the style queen Olivia Palermo has rocked many shorts outfits with this kind of shoes, especially ballet flats: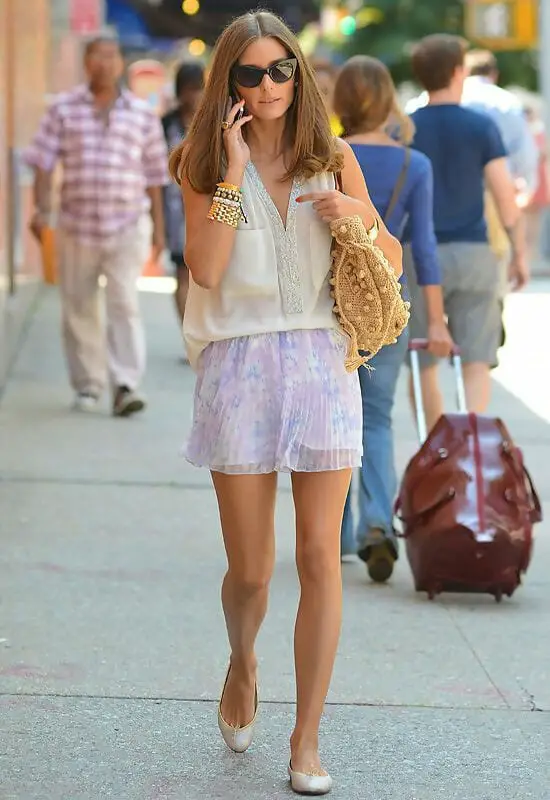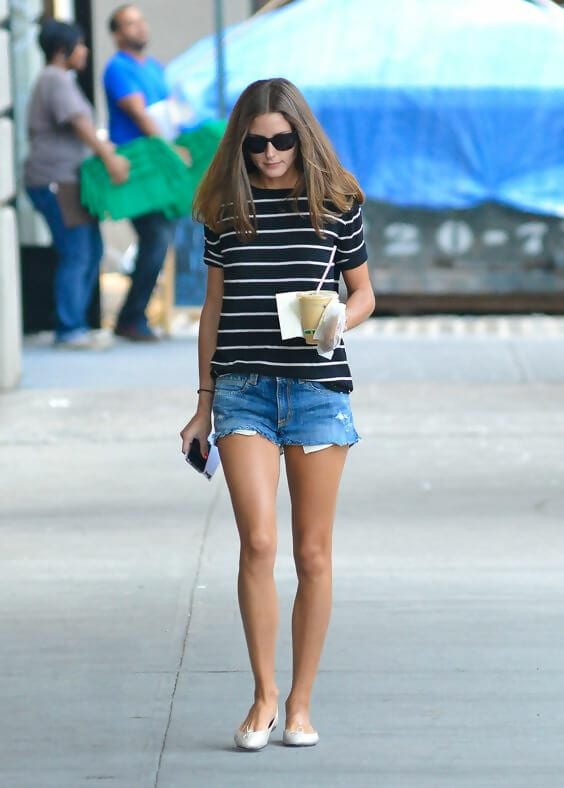 Shop ballet flats:
9. Pointy flats
Maybe not the most comfortable type of shoes to wear with shorts, but we can't deny that pointy flats are chic and feminine and look super stylish with any pair of shorts.
You can opt for a solid sling-back pointy flat as a complement to your shorts outfit: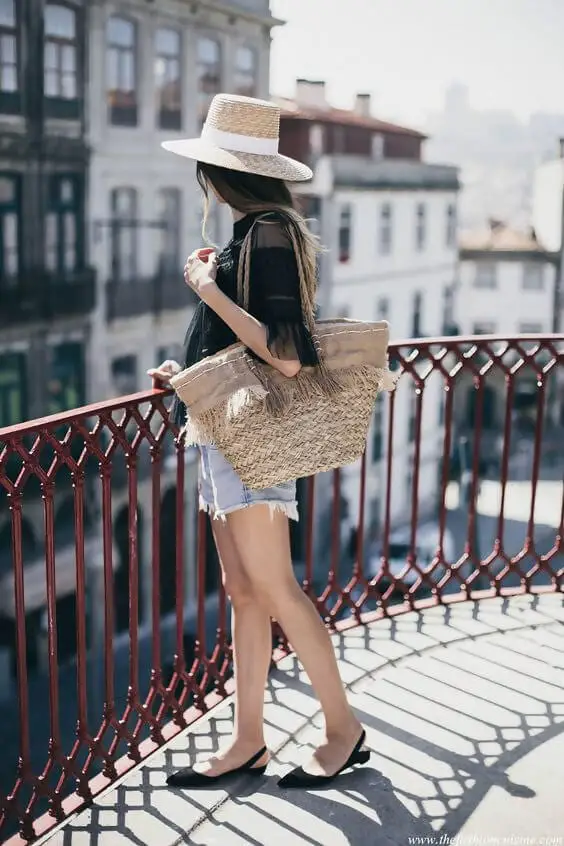 Shop sling-back pointy flats:
Or you can go with a stylish pair of lace-up pointy flats for a statement look: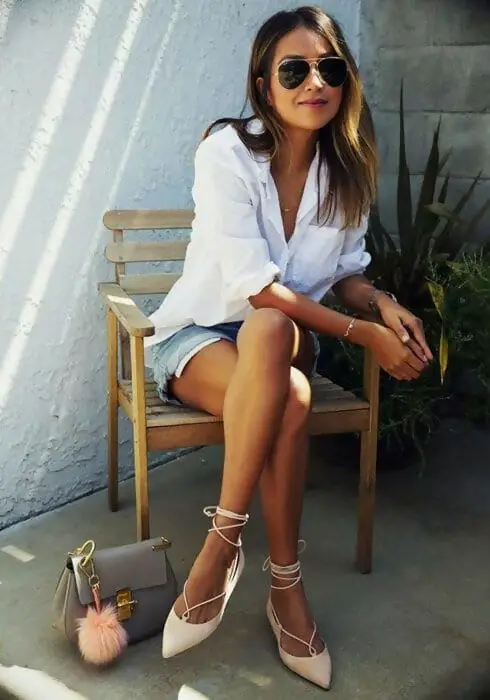 Shop lace-up pointy flats:
10. Mules
Mules can transform your regular shorts outfit into a cool, sophisticated and minimalist outfit. PLUS, they are the definition of comfy shoes.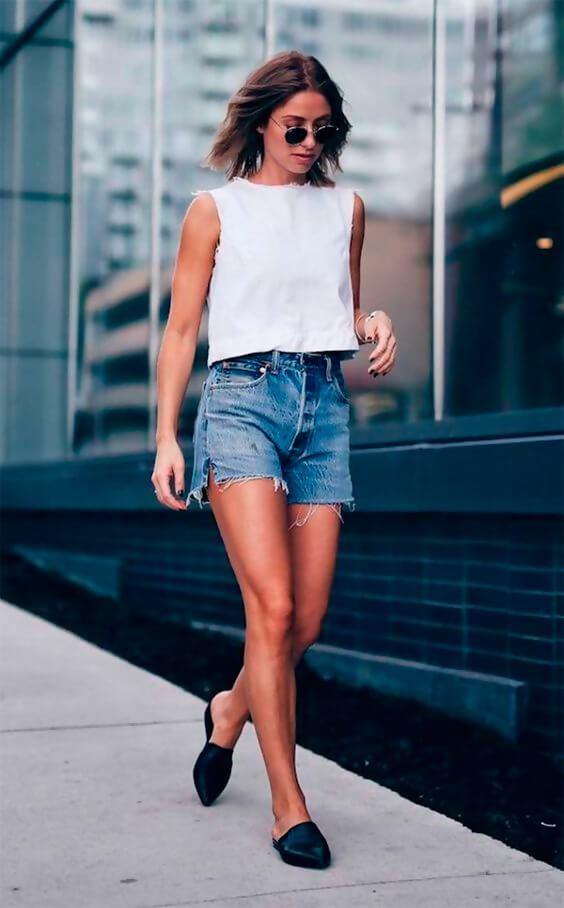 I love how effortlessly chic they can make you look: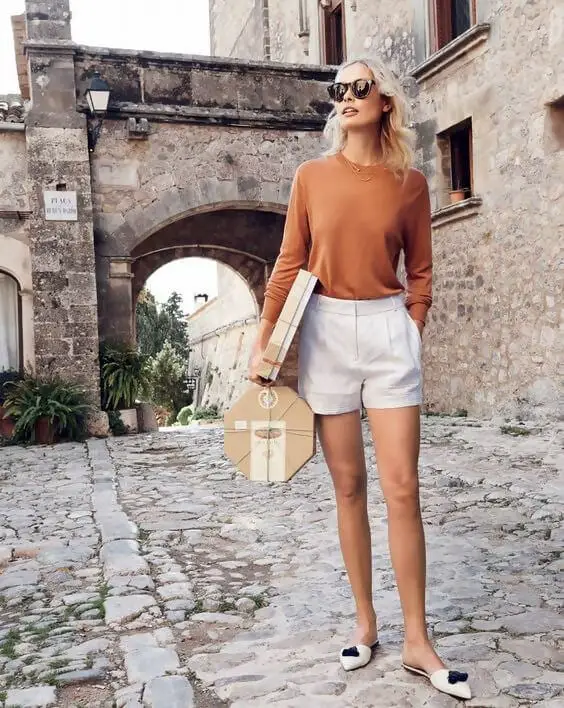 You can also opt for a very girly type of mules for a delicate look:
Shop mules:
To pull-out a shorts outfit like a pro, opt for a bright pair of mules, like these hot red block heel shoes this fashionista is wearing: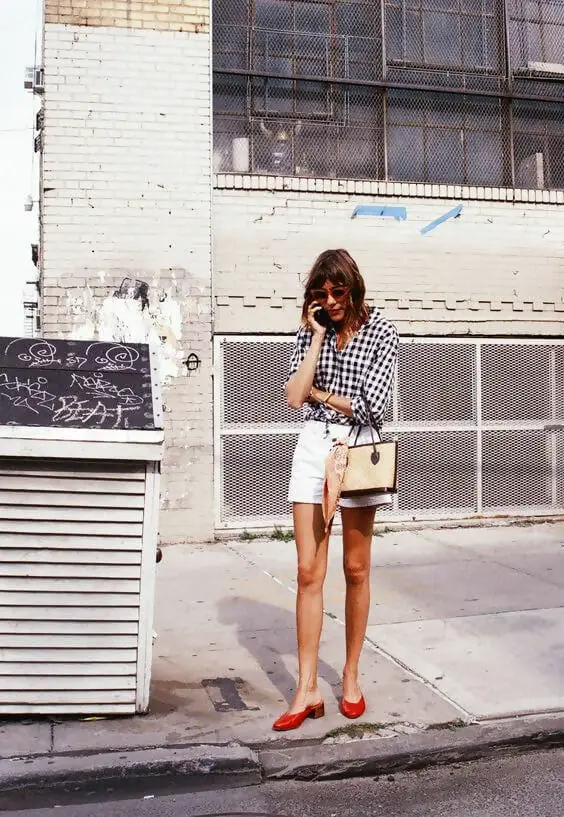 Shop block heel mules:
11. Ankle boots
Boots are always a great shoe option to wear with shorts, especially ankle boots. They are super casual and can give you a boho-chic look to your shorts outfit: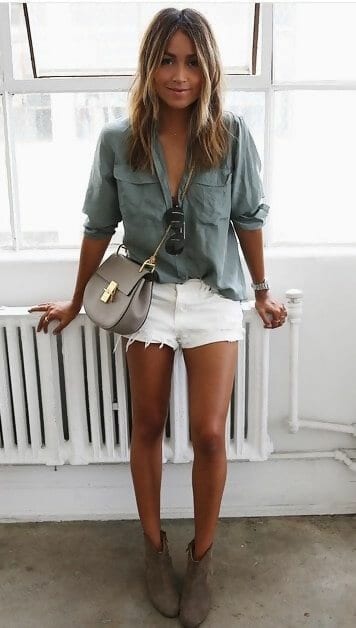 Shop ankle boots:
A pair of black ankle boots are the perfect option for an edgier and rock & roll kind-of look: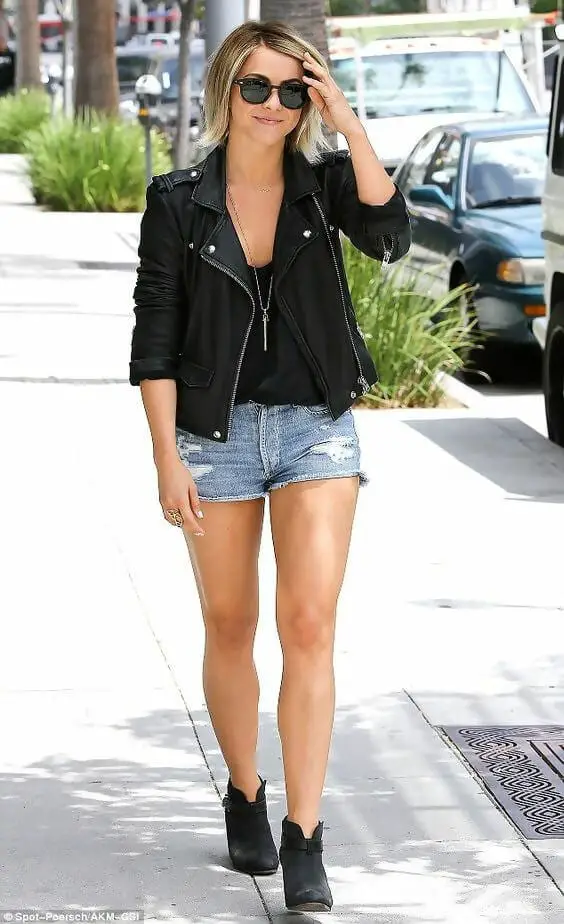 Shop black ankle boots:
Wrap up
Shorts are one of the chicest fashion items you can wear for a casual look. Pairing them with the right shoes is definitely what will make the difference between looking like you're wearing a Netflix-and-chill outfit or a street-style-fashion-pro outfit.
That's the reason why you should never underestimate the power of shoes. Remember, they are a complement to your outfit, and choosing the right pair of shoes can drastically transform your whole style.
I hope these 10 shoes to wear with shorts will help you aim for that perfect outfit while understanding that the key to pulling it out is to dress perfectly from head to toe.
Literally.
All there is to do now is showing off your gorgeous legs.