Shorts are probably one of the most comfortable bottoms you can find because, unlike skirts, shorts give you complete freedom to move and do whatever you want without the worry of displaying your underwear.
It's basic to own a few pair of shorts, but not only during summer. You can wear them all year round in so many stylish ways that it's impossible not to fall in love with them.
But styling shorts with the right shoes is key to pull off a cute outfit. We have already talked about casual shoes with shorts, but what about boots with shorts?
Can you wear boots with shorts?
Boots with shorts are a great example of one of the multiple combinations in which you can wear shorts.
It might have happened that you thought boots and shorts don't go along because it's not precisely the most popular way of wearing shorts. But it's definitely a great combo that can showcase a super cute outfit.
All you have to do is know how to pick the perfect pair of boots that best complement your shorts and think: "do I want to make my shorts the statement piece of my outfit or my boots?" And based on your answer you start creating your outfit.
5 Boots and shorts outfit Ideas
Going from the theory to the practice can be tricky sometimes, and that's why I'm bringing you 40 of the best boots and shorts outfits. If you feel like trying something new or want to spice up your style, check these outfit ideas that will leave you inspired and ready to rock multiple boots and shorts outfits.
1. Boots with shorts for an edgy look
The combination of boots with shorts can result in many different and cool styles. An edgy and rocker style is of those.
Let's see some A-list celebrities like Hailey Baldwin whose style is edgy and rocker and how they have paired their boots with shorts.
An all-black outfit is one of the chicest ways of creating a great outfit. To bump your look, choose ripped black shorts with a distressed top and finish your outfit with a pair of platform ankle boots: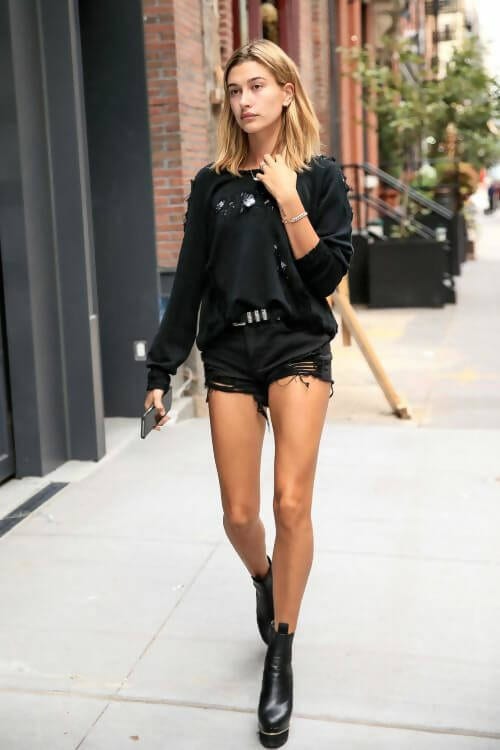 For a touch of tomboy-ish vibes, opt for an oversize printed t-shirt and tuck it inside your mini jean shorts. A pair of black boots are the best go-to shoes for edgy and tomboy outfits.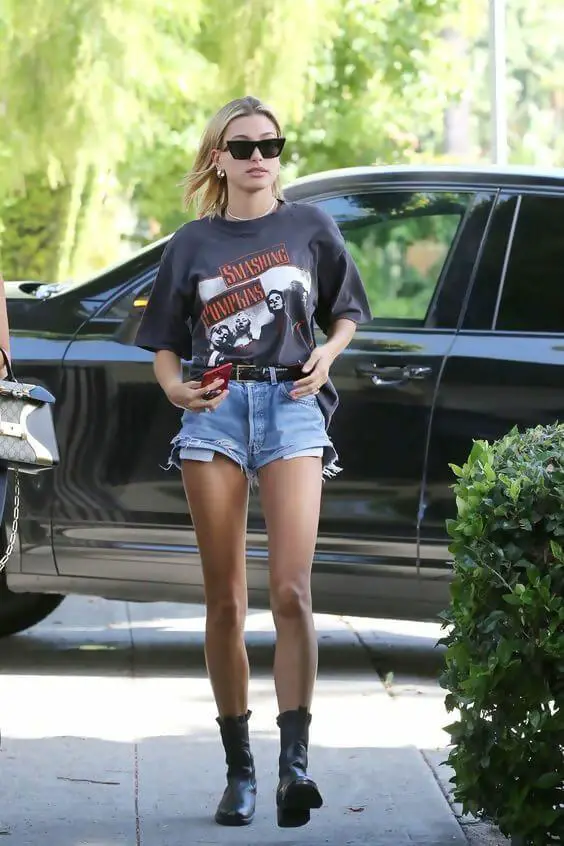 Wear your platform boots to show-off your gorgeous legs while adding some extra inches to your height. An oversized sweatshirt is another top alternative for a cool and hip look: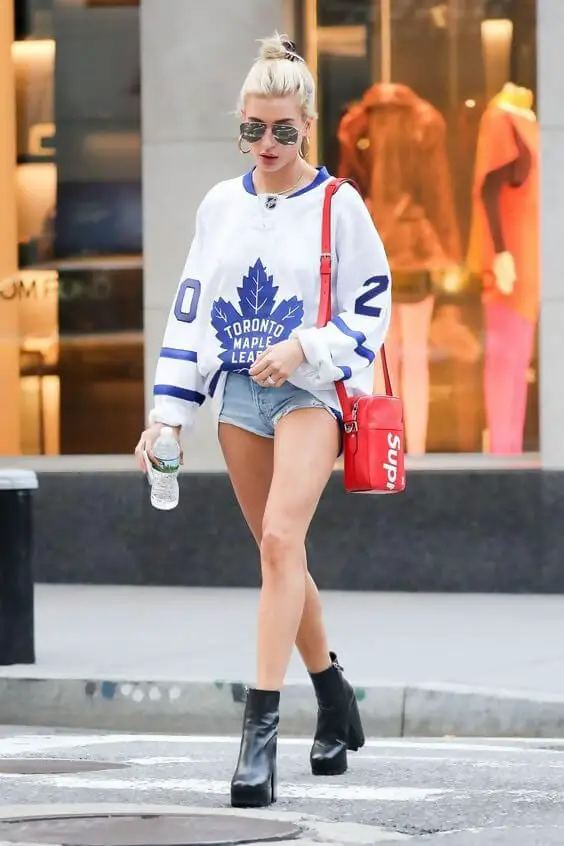 Dr. Martens boots are one of those iconic styles that have to be included in any cool and tomboy look. They're a mix of hipster, edgy and tomboy all in one pair of boots.
Wear them with your denim shorts for a casual look: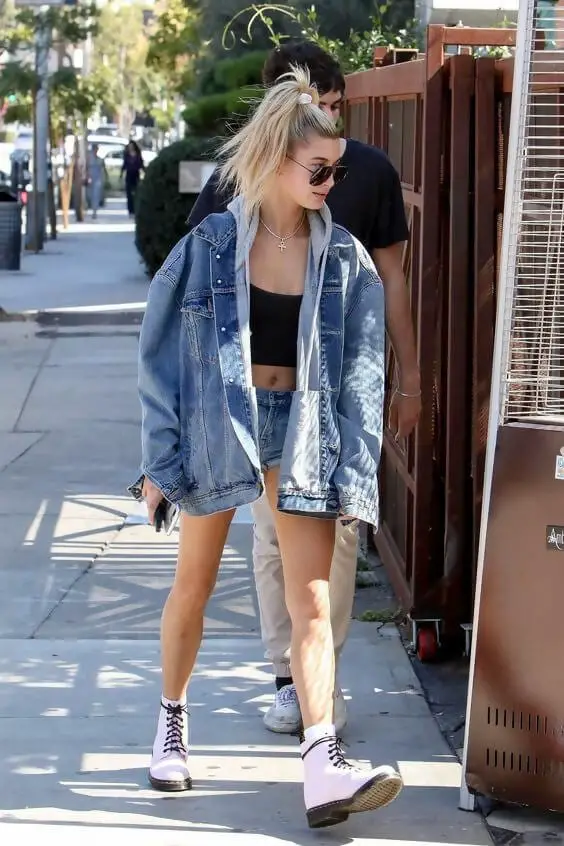 Boots with shorts are great for clubbing as well. You can choose a pair of knee-high boots for a touch of glam: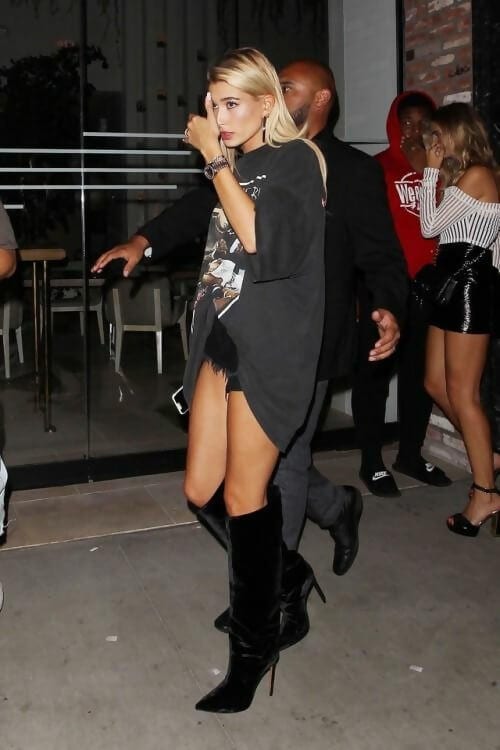 2. Boots with shorts for a hipster outfit
Chloë Sevigny is one of the hipster queens that can show us perfectly how boots with shorts are the coolest combination for a hipster soul.
Combat boots are the best boot style for a hipster look. You can wear them with anything you want, like black distressed jean shorts.
For a genuine hipster look, wear your boots with white socks, just like Chloë: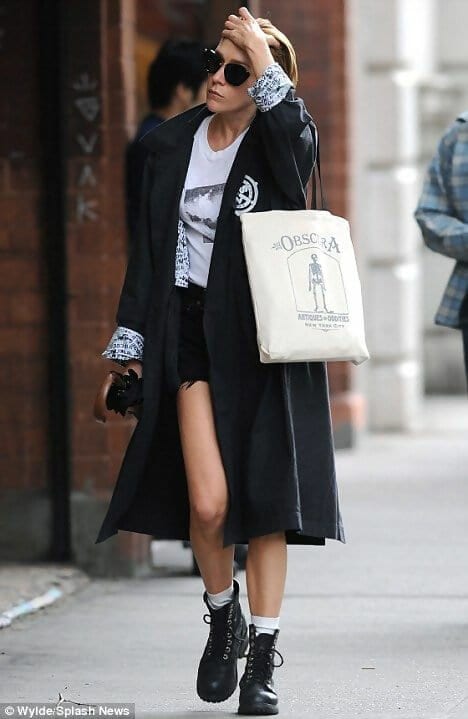 Black platform combat boots are an alternative you can opt for a unique look. I love how Chloë chose to pair her lace blouse with shorts and black boots: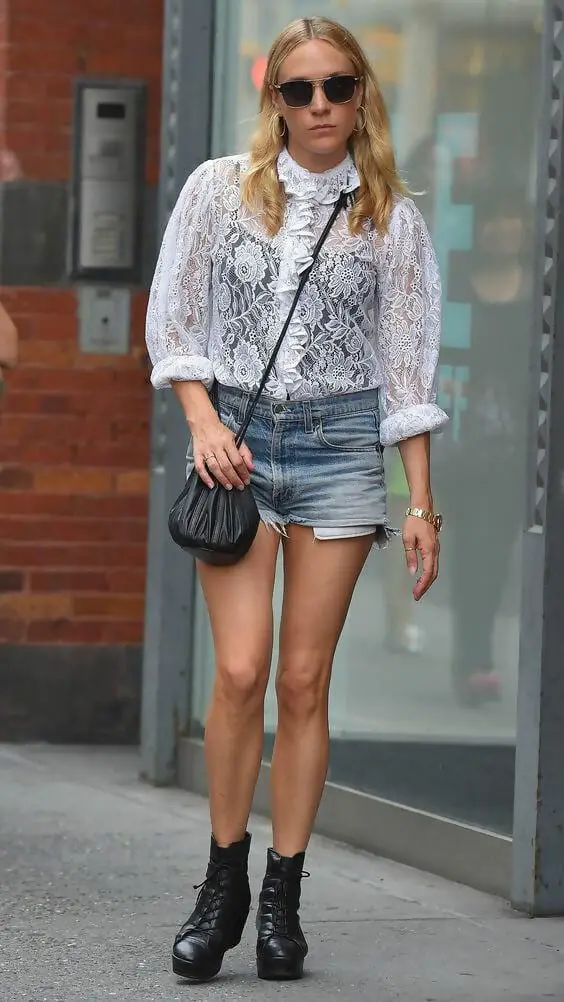 As you may have already seen, pairing jean shorts with boots is one of the most popular combinations. It's super versatile and can be worn for any occasion.
To bump up your look, choose a colorful see-through top: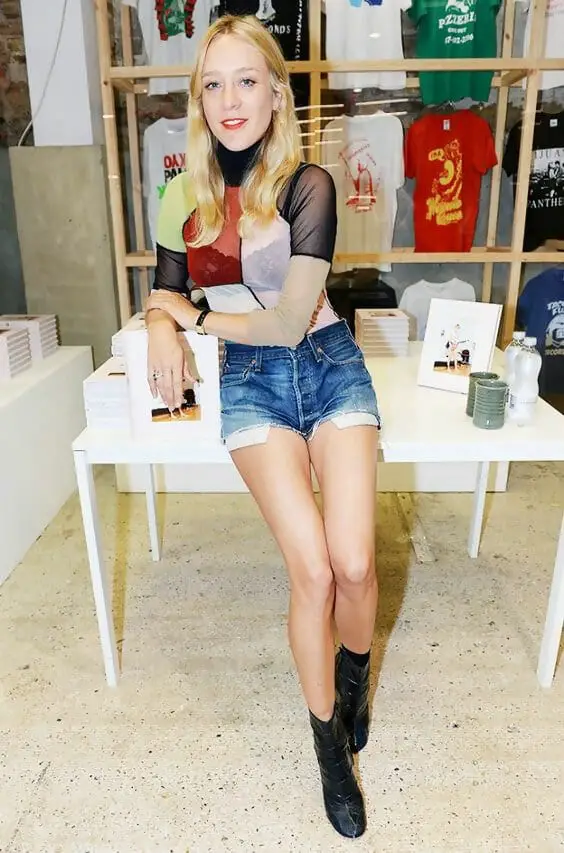 Add some suspenders to your jean shorts for a super cool and hipster look along with socks and pointy high heel boots: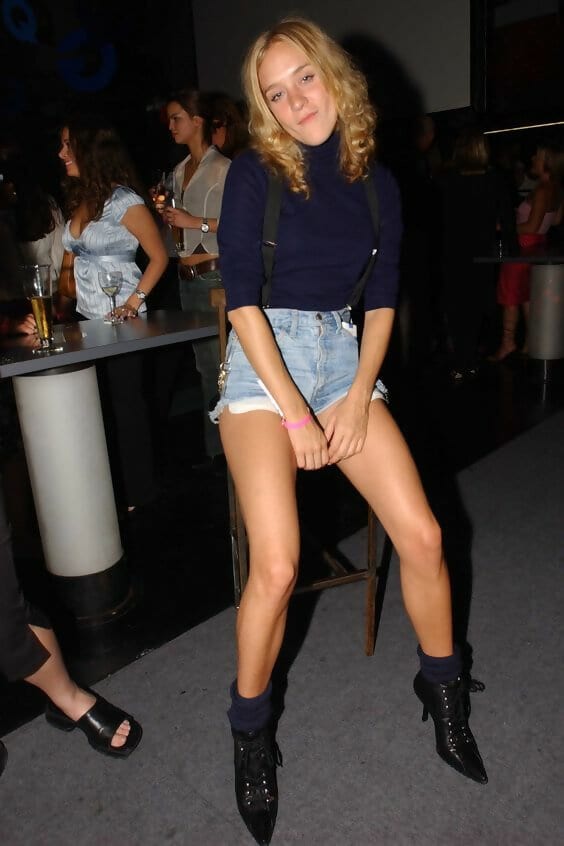 A plaid shirt and mid-thigh shorts are the ultimate definitions of hipster. All there's left to do is wear your black combat boots: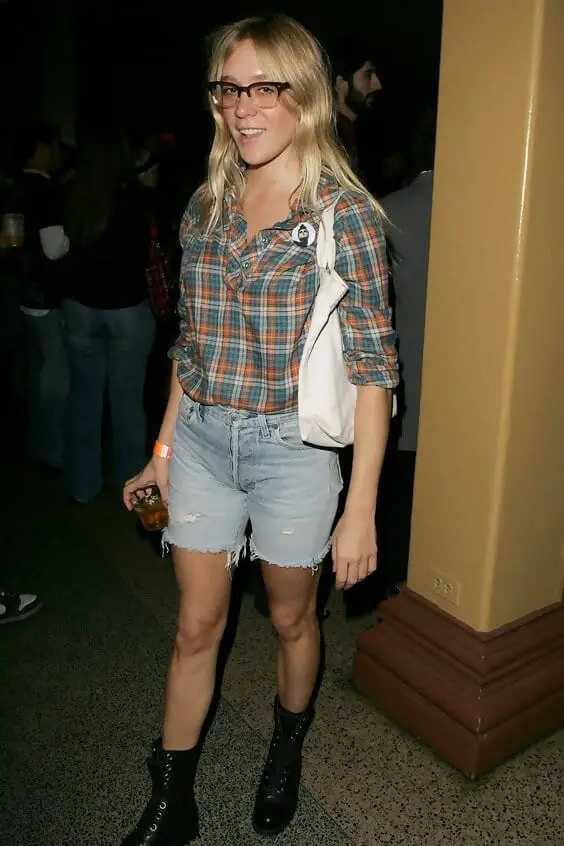 3. Boots with shorts for a chic and feminine outfit
If you're more into a chic and feminine style, Olivia Palermo's boots and shorts outfits will help you boost your creativity to create your own.
Wear your black thighs for a super chic winter look along with your shorts and ankle boots: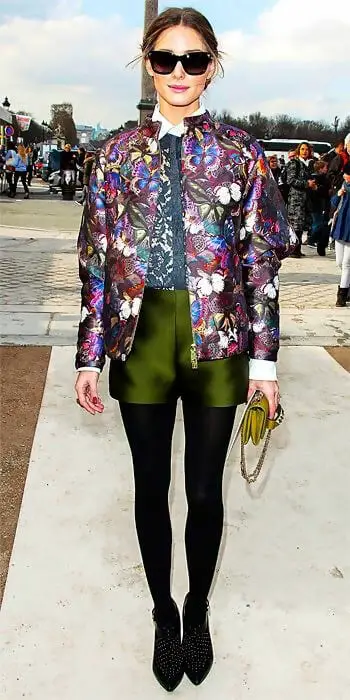 Thigh-high boots are the definition of chic and glam. Wear them for a head-turner look along with your tweed shorts: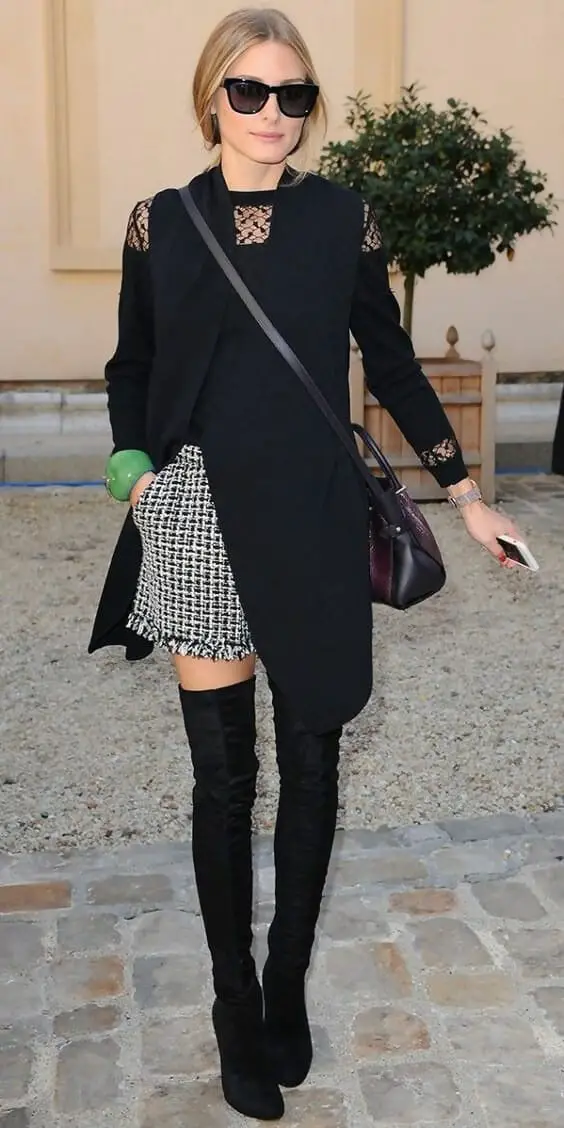 Another example from style queen Olivia Palermo that shows us how shorts and thigh-high boots are a combination impossible to ignore: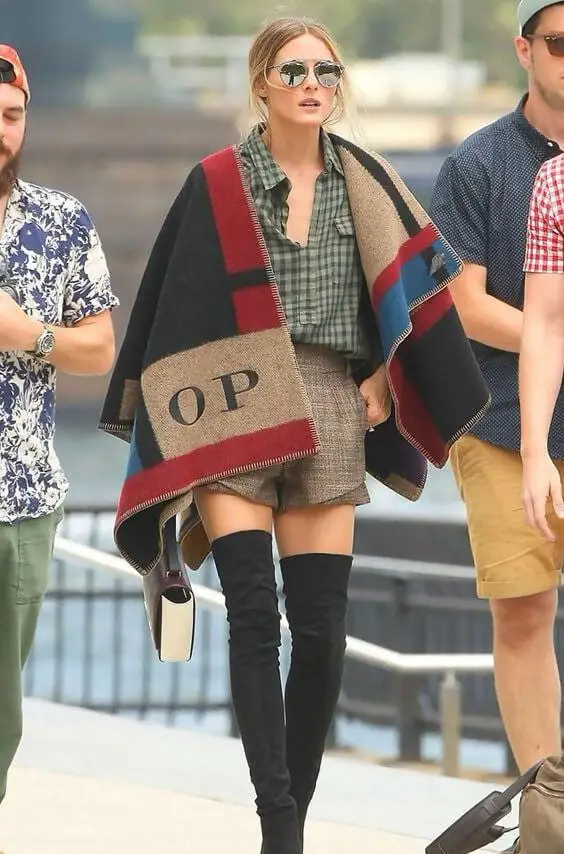 These oxford boots are a cute boot alternative for a chic and feminine look paired with sequin shorts: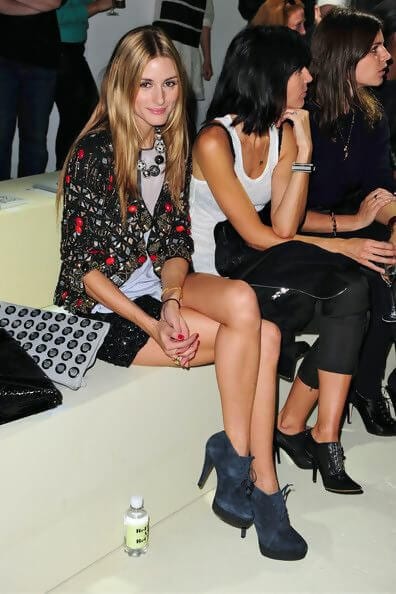 Olivia is the name for classic girls. Olivia Culpo is another celebrity whose chic and feminine style can serve us as inspiration for different boots and shorts outfits, especially for summer time.
A button down shirt is a vintage looking short that looks great with high heel glossy boots: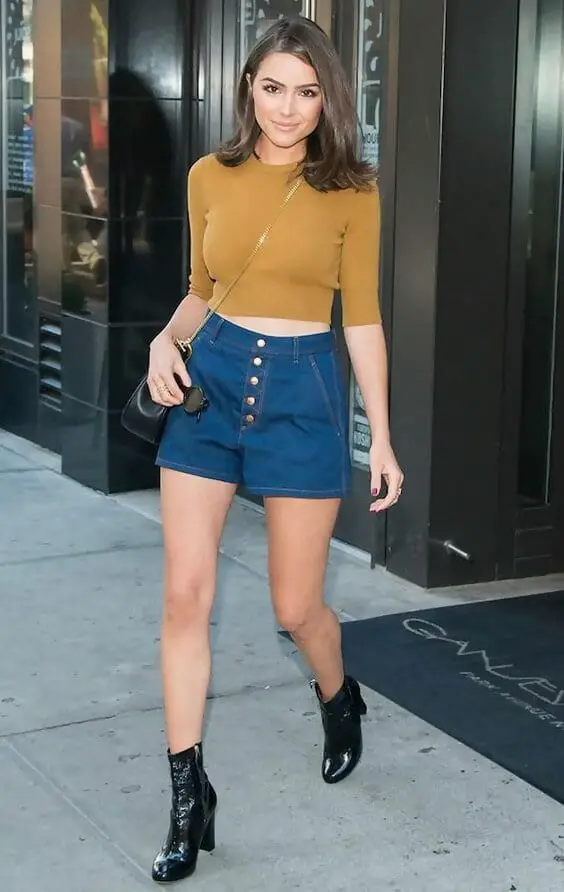 Ankle boots with shorts are another great idea for a chic outfit: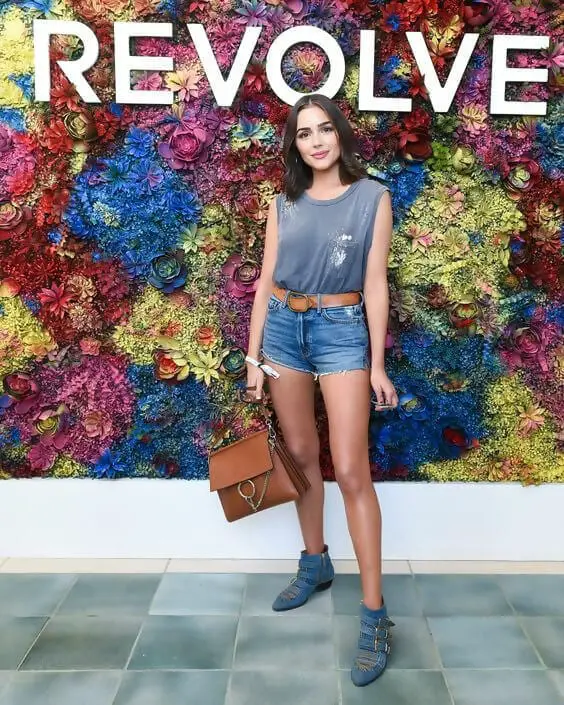 Denim shorts with white boots because, why not? I love this look because it's a mix of modern and trendy with chic and classic.
Same shorts but different boots and top: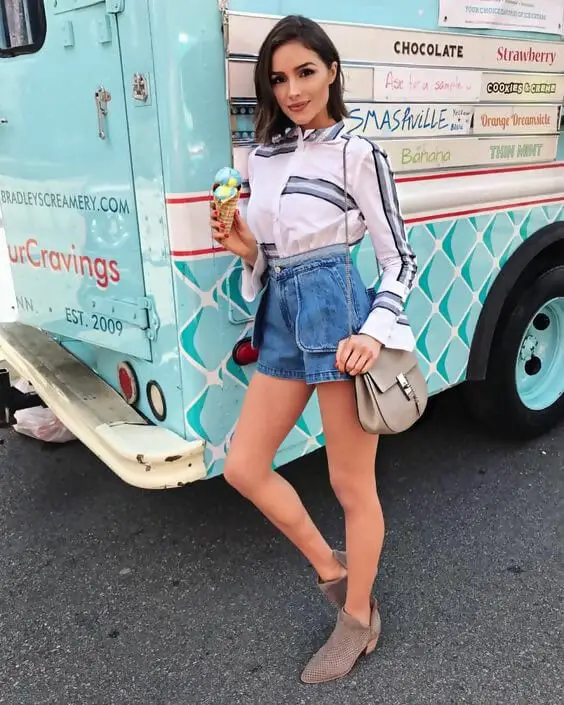 Again, button-down shorts have a vintage and classic look we can't ignore. They look absolutely stylish with a tucked inside top and high heel ankle boots: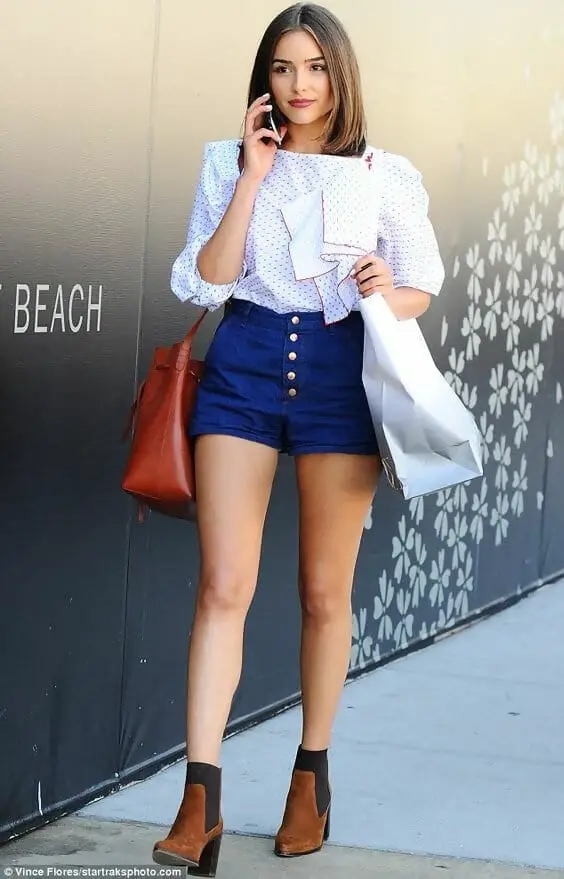 And if you're feeling extra casual, a ripped denim short can't go wrong with your pointy high heel boots: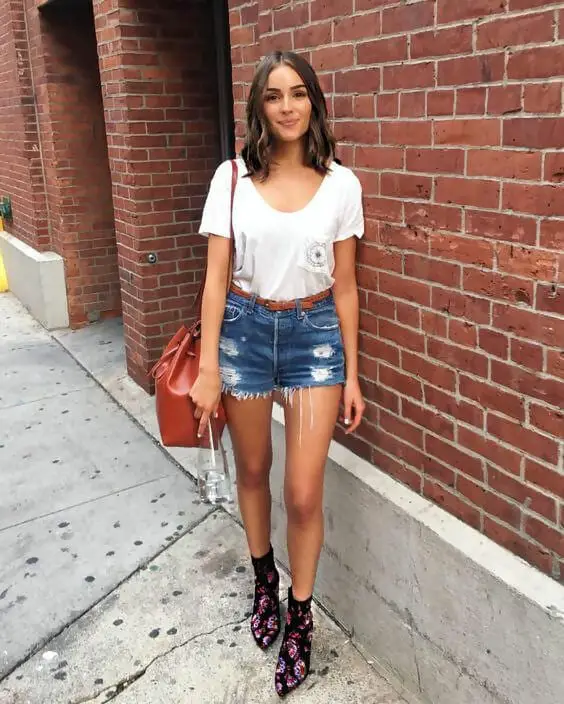 4. Boots with shorts for a polished look
If you're looking for a polished look, try combining boots with shorts and you'll be surprised at how chic these both look together. Let's go through some Rosie Hungtington-Whiteley style lessons on how to wear shorts with boots.
Leather shorts and knee-high boots are a killer combo: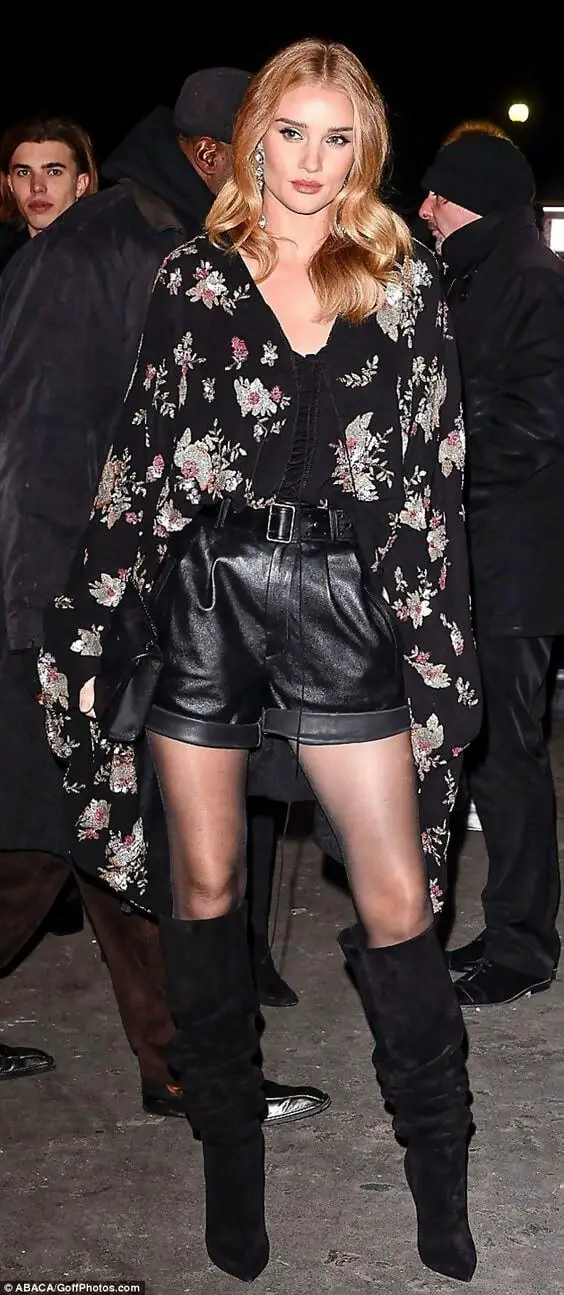 A waist tie short looks absolutely chic combined with knee-high boots: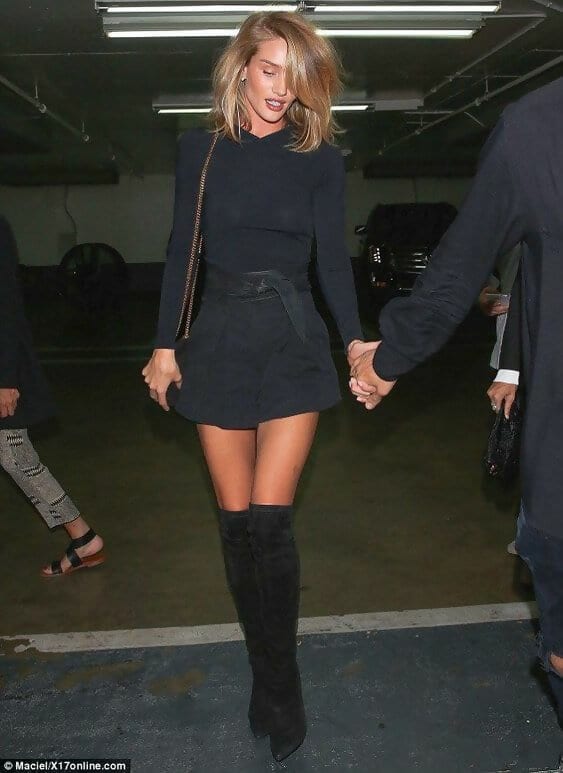 For a casual yet polished look, opt for a white button-down tucked inside a cute pair of embellished shorts and finish your look with low heel ankle boots: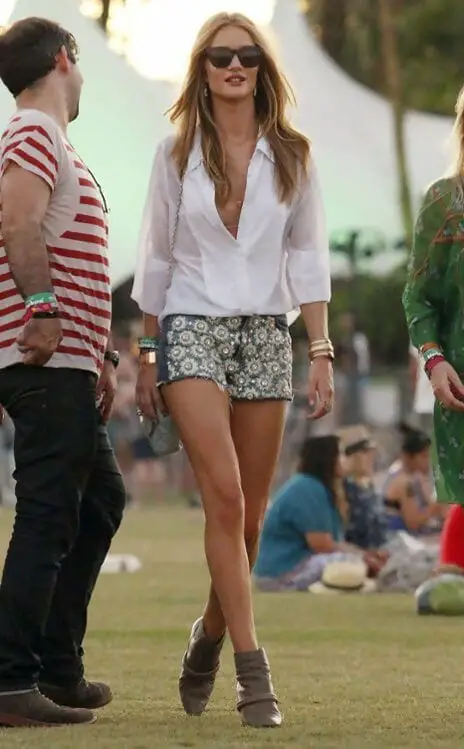 Or a flowy blouse with a hat for an alternative look: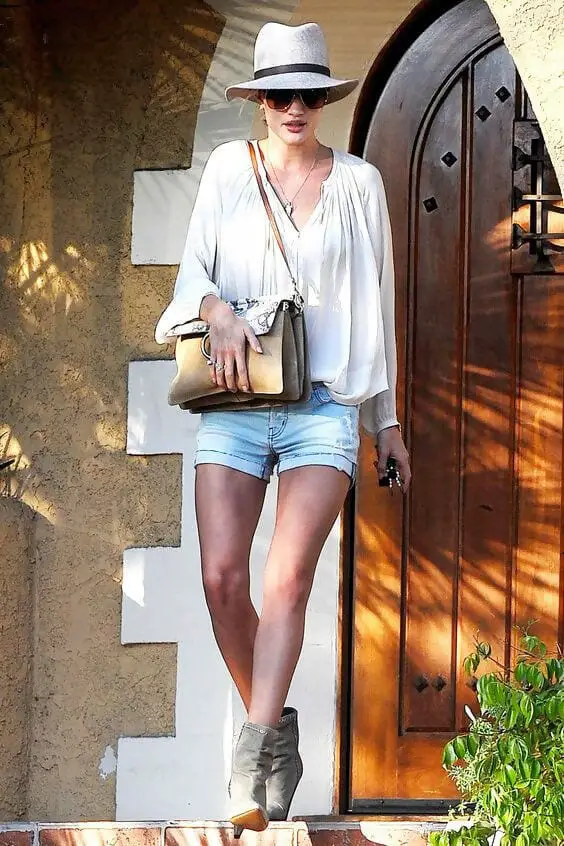 The color palette of this outfit is amazingly stylish: charcoal grey, ivory, and sage.
5. Boots with shorts for boho outfits
If you feel identified with a boho style, check Vanessa Hudgens' shorts with boots outfits for instant inspiration.
If you're planning on going to the music festival, try wearing a long knitted vest along with a crop top, denim shorts, and ankle boots.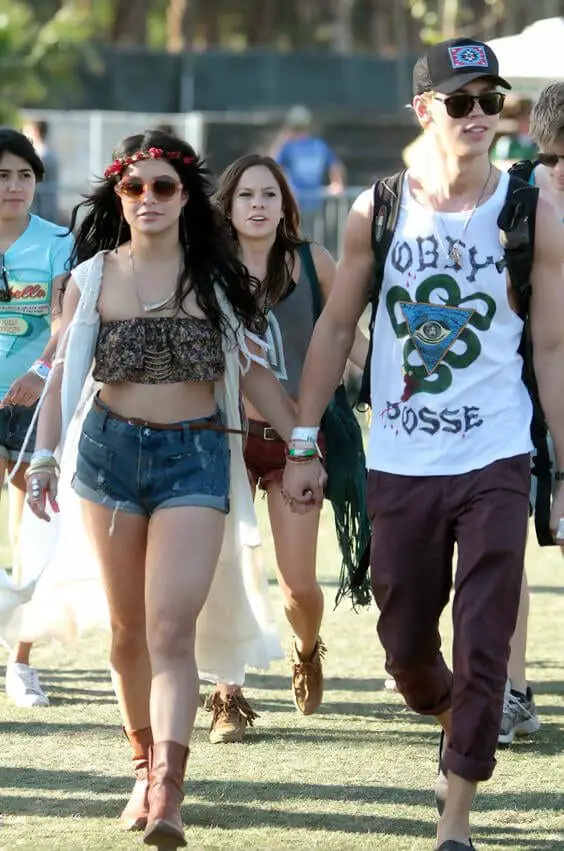 For a casual fall outfit, wear a pullover sweater, your ripped jeans, and thigh-high camel boots for a boho look: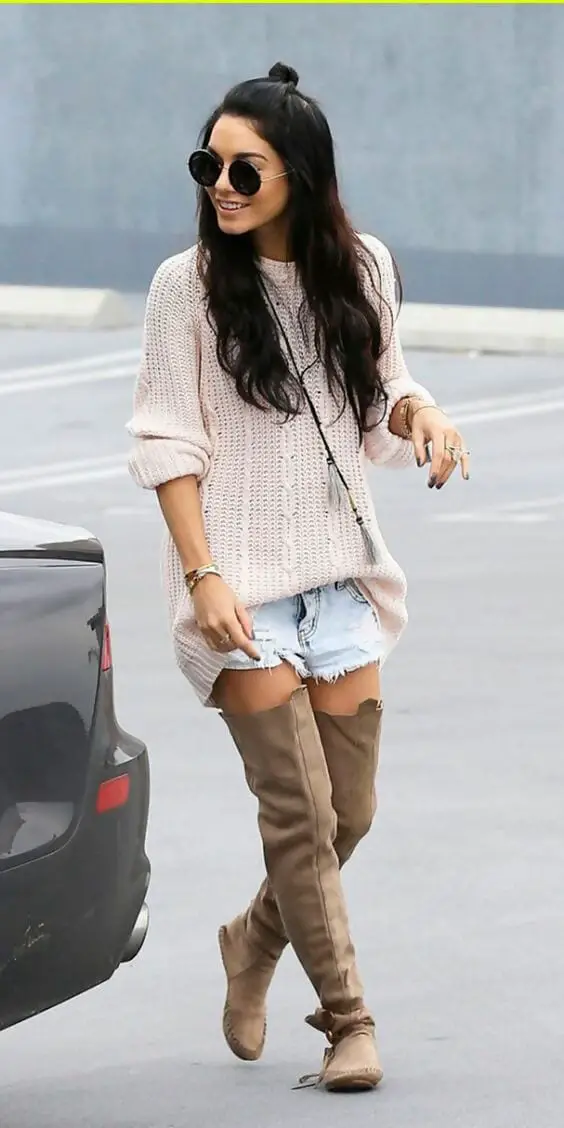 This is another cool, boho and casual look: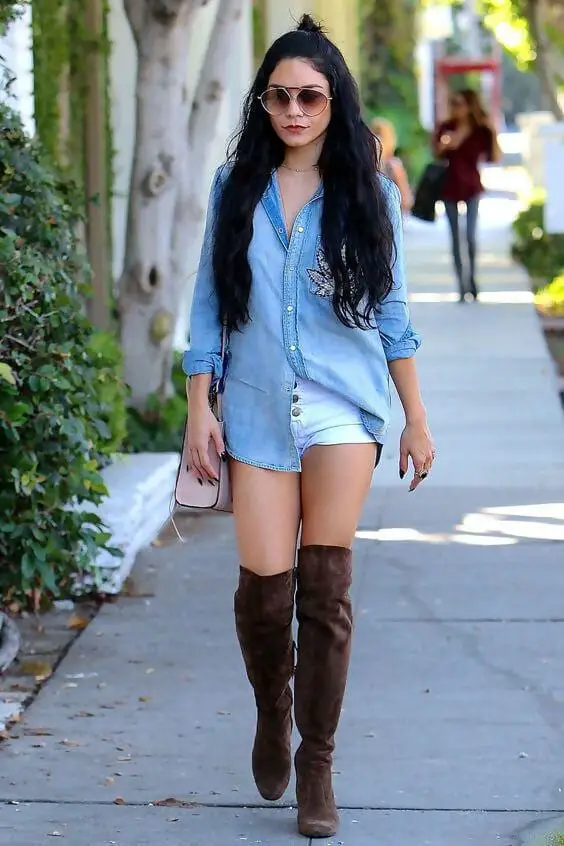 For a boho-chic look, wear a hat that matches the color with your boots and leave the rest of your outfit monochromatic: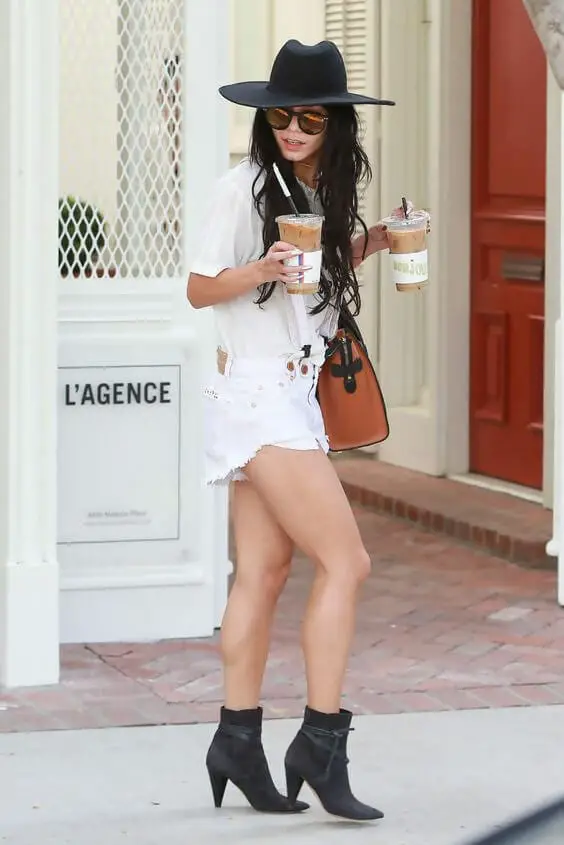 A plaid shirt wrapped around your waist can look great with mini jeans shorts and ankle boots: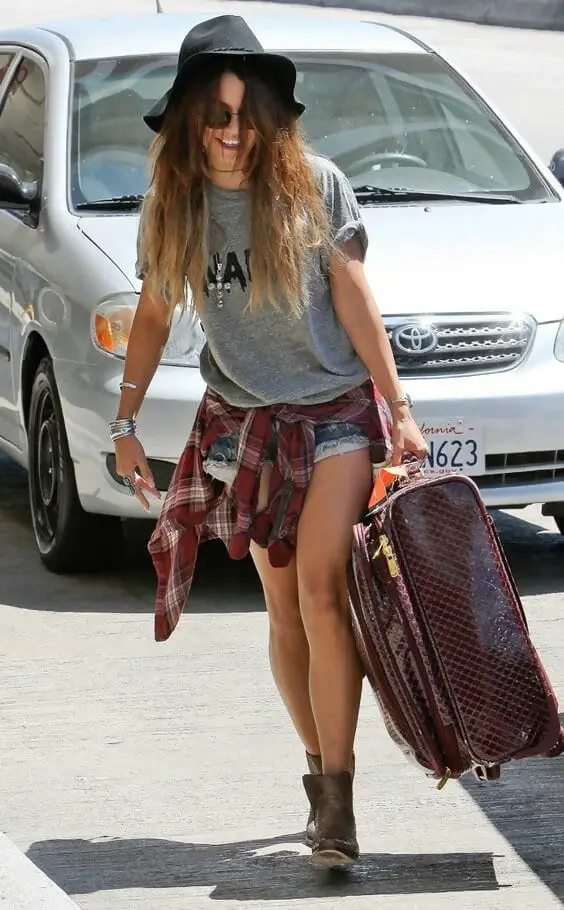 For a polished boho and hippie outfit, make a simple updo and wear a tunic-length printed shirt half tucked in your denim shorts along with knee-high boots: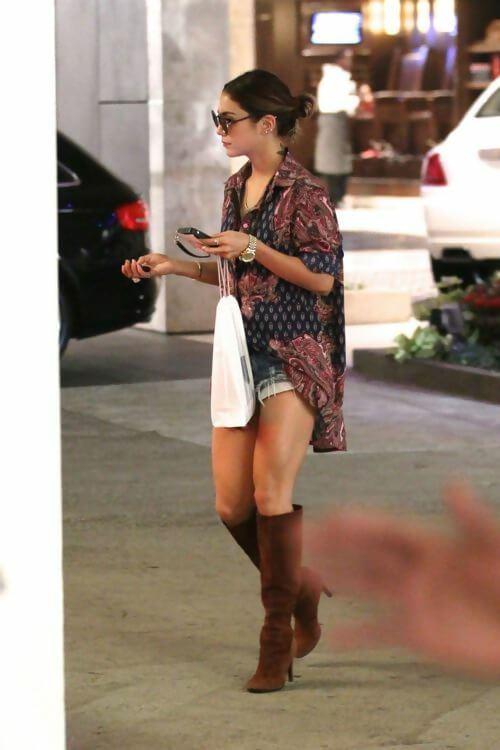 If you want to take your boho outfit to the next level, try wearing mini shorts with thigh-high boots under a chic coat and a hat: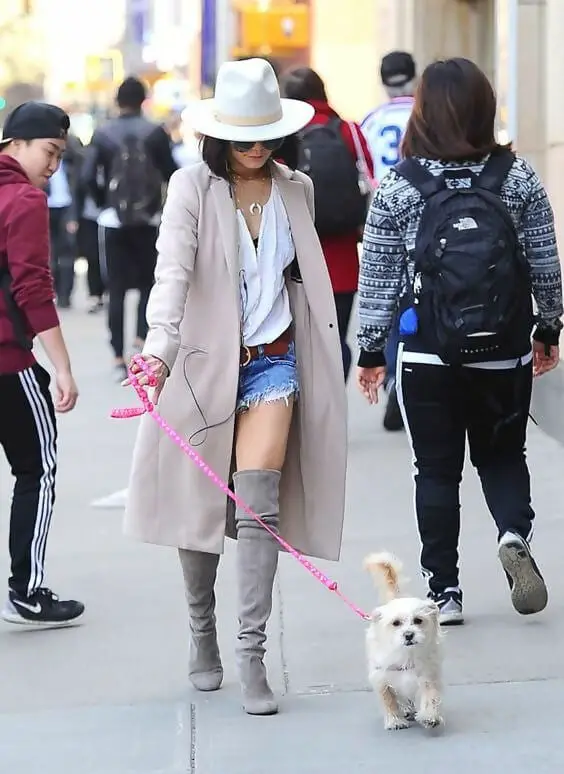 Wrap up:
As you have seen, pairing boots with shorts can have many different and stylish outcomes. From edgy to chic and polished, both items are a killer combo you definitely shouldn't ignore.
Come back to this article whenever you feel the need of spicing up your style.