Whether you are going to work or out on a date, the type of pants you are wearing will signify your personality immensely. The way you style your outlook based around the pants you have put on will be the display of your style and personality.
Given the generation we live in, the trend tends to modify and change every now and then. To be up to date with the modern fashion and styles you must also follow those changes and move along with it to avoid being out of fashion.
Well, we all know the struggle here. There are so many versatile ranges of pants out there these days that you can often get overwhelmed about which pant you should pick and how to style it.
But worry no more as we bring you the trendiest fashion tips on the top designs of pants that is in fashion these days. Trust me, the looks you can create with these amazing pants will leave you awestricken.
So let's not delay any more on chit chats and get right straight into the types of pants for both men and women that's trending these days.
Types of Pants for Women
The Casual Joggers
Joggers are so in fashion these days' ladies and the best part is you can both dress it up or just keep it low and casual.
The casual and classy black joggers with a Gucci style white stripe on the side can never go wrong ladies. Joggers are not just extremely comfortable to wear but it also helps to give your body a flattering hourglass shape.
If you have a jogger waiting in your closet to be worn, then girl it is the time to take those out and rock the streets. It's the pant that will give you comfort and diva vibes all in one look.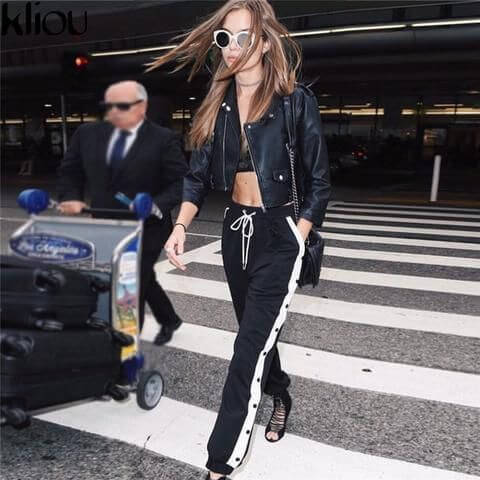 Joggers don't always mean a casual day outfit. You can totally create a killer look with satin sexy joggers that scream classy.
Satin joggers are more on a sleek side and you can pull off great formal looks with it. The combination might seem to be a bit odd to hear, but when you put on a sleek shirt with a black satin jogger you can see the transformation on the mirror and be awed.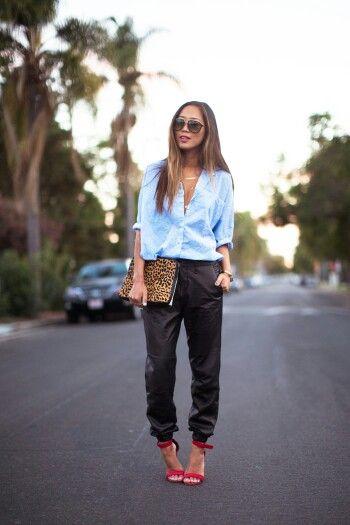 Classy Palazzos
If you are not sure about which pants are the most summer appropriate and flattering then this is just the place to look, ladies. Palazzos are an extremely gratifying style of pants that never go out of style.
When you wear a vibrant palazzo with a tucked in fitted shirt then I promise no one will be able to take their eyes off you on the streets as you mesmerize everyone with the cheerful look.
Palazzos are easy and flawless pants that can be carried into a classy outlook effortlessly. You can obviously customize the look with these pants with beautiful accessories to infatuate the style of the pants even more.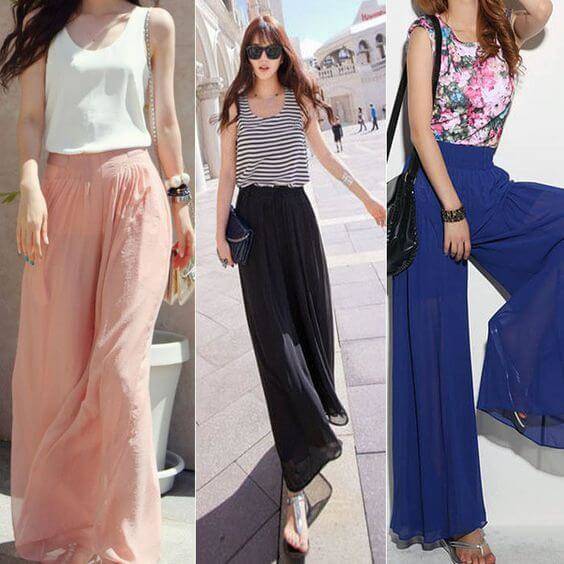 Sport Pants
While talking about types of pants for ladies, we absolutely cannot miss out on sports pant now, can we?
Sweatpants or sports leggings are the things to talk these days' ladies. Wearing the right gym/sport pants creates immense improvement on your work out as well.
Leggings are also great for casual day outs or just while you are running some errands. It is extremely lightweight and great for long outings as well.

Distressed Pants
Want to create sexy yet casual outlook girls, well; you are just in the right place for ideas. Distressed pants are a staple for your wardrobe that you cannot miss out on.
If we talk about trending pants for women this year, the award will be taken by distressed pants. Not only does it look sexy but it also gives out a very classy diva vibe that will be hard to miss on the streets if paired with the right kind of tops and jackets.

Doesn't matter which color you love, you can find distressed pants in each and every shade of your preference.
High Waist Flare Pants
Flare pants are so in fashion these days and is an absolute time piece that never gets old. High waist flare pants are the epitome of sophistication and style in on single in a single look.
When it comes to flare pants, many are hesitant and scared that the look might be out-dated. Well, the answer is absolutely not.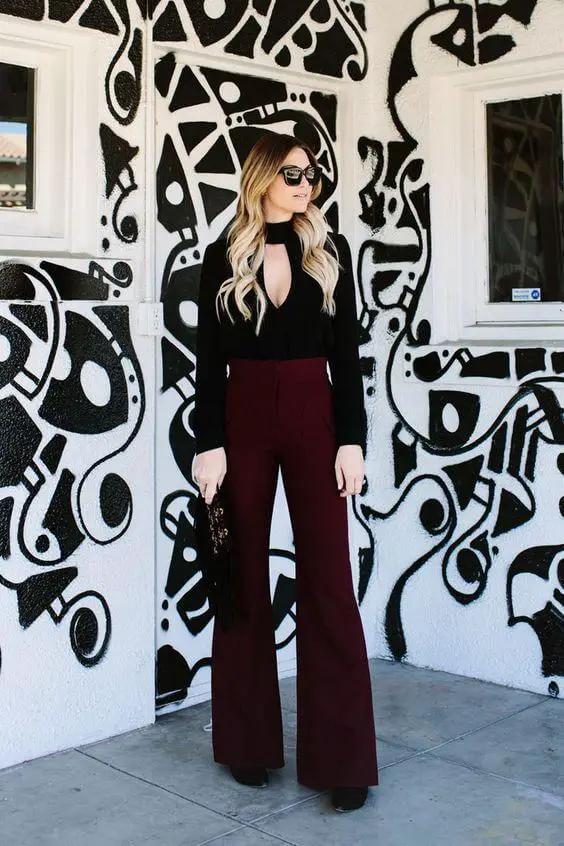 Flare pants are exceedingly elegant and stylish and certainly a head turner. Be fearless and go for vivacious flare pants to achieve that chic and classy outlook.
Types of Pants for Men
Joggers
Those days are long gone when only women used to be cautious about fashion and style. Men these days are equally trendy and like to follow the fashion trends as well.
For guys out there who want to create simple but yet killer look then joggers are the answer for you all. Joggers are very minimalist pants but yet very much in fashion these days.
Cringe legged joggers are extremely stylist and in fact help you achieve a younger look. It is classy and extremely fashionable.
The best thing about these pants is that you can pair it with t-shirts and as well as shirts and sweaters and each look will turn out to be spectacular.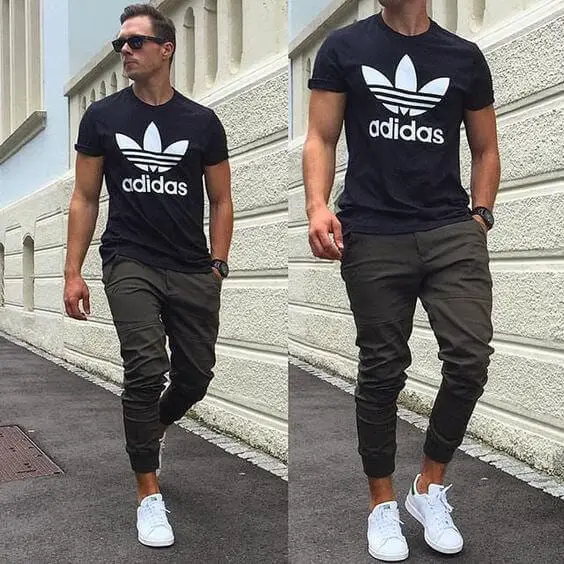 Chinos
When listing down the types of pants for men, we cannot miss out this one. Chinos are all that every guy is raving about these days and why not, it is the most stylish pants for men this year.
From t- shirts to shirts, from blazers to knitted sweaters, these pants go along with every single thing effortlessly. You can were it as formal day look or on a date as well and even on casual parties.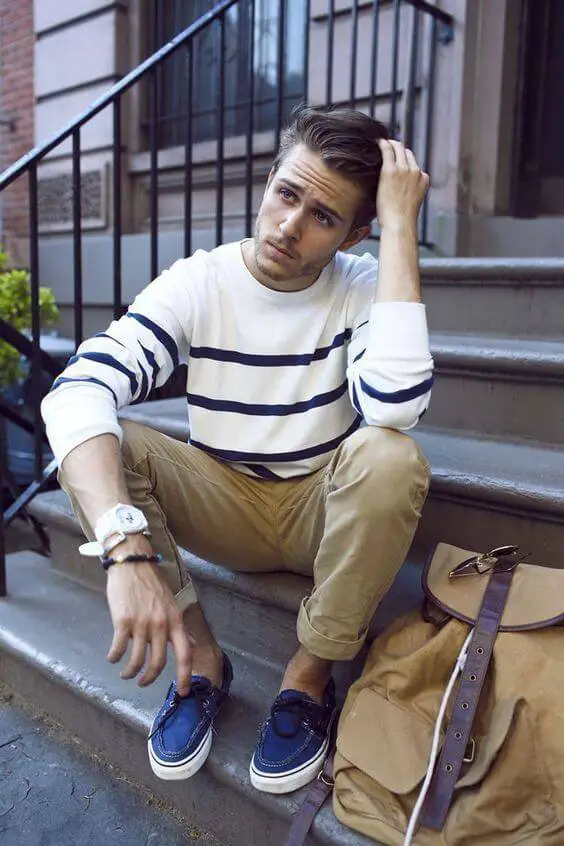 Chinos are high fashion pants for men out there in today's time and if you are still waiting to grab the style then this is your chance guys. Best part is, it comes in loads of colours to match the look you desire.
Jeans
Good old jeans are a man's best friend and distressed or ripped jeans are all about the trend and fashion today.
Are you nervous of walking the streets on the pair of ripped denim you purchased days ago? Don't be, as it is all in fashion these days boys and the looks you can create with these pants are each spectacular.
Jeans are the style of pants that will never grow old on you as a matter of fact; it will enhance every look you want to achieve.


Slim fit jeans are more on fashion these days and are a staple pair in your closet boys that you cannot skip out on.
Corduroys
The styles of these pants are classic and stylish. It is perfect for the winter seasons and gives you a very sophisticated outlook in general.
Corduroys are great for formal wear and can be paired with sweaters and blazers as well. It is a great office day look as well as a formal date night look. The velvet textures on these pants are classic and never go out of fashion.


If you are confused on what pants to pick up for this fashion season than this looks will surely inspire you to stock up your closet with the most trending pants.
Not only are these types of pants highly fashionable but are very easy to carry off with several different outlooks.
So ladies and gentleman, answer to your prayer is right here about all the fashionable pants out there. Build your wardrobe with these trending pants and start creating spectacular and fashionable looks with them.