Having a date is one of the most nerve-wracking situations a girl (or guy) has to go through. It's not only the fact that you're meeting someone you like, but it's also about the pressure of making a great and long-lasting impression.
You want the other person to think you're cool, funny, nice, fun… But you also want them to look at how pretty you are. And that's why the clothes and makeup you're wearing is as important as your attitude.
So it's only human that you get anxious whenever you think about your date night outfits. The thing about choosing the right clothes is that it can boost your confidence and make you feel relaxed.
Therefore, your natural personality shines and the other person gets to know the real you.
It's annoying when you're feeling nervous and self-conscious about your looks. You just have a hard time relaxing and being you.
That's why cute date outfits will come to the rescue to make you feel and look drop dead gorgeous.
What to wear on a date night
If you have a date coming up, or simply want to feel prepared for a future date, then read through these 33 date night outfit ideas that will help you come up with the cutest and trendiest looks for your special night.
I've compiled the best outfit ideas for the most popular date activities that will demonstrate that pulling-off a cute date night outfit is a no brainer, and even though you may feel nervous, deciding what to wear will at least be crossed out from your worries.
1. Dinner date
If you're going to have a nice meal together, then your dinner date outfit should be appropriate for the restaurant you're going to. For example, if it's casual date night and he's planning on taking you out to a pizza place, you'd look too dressed up if you wear a little black dress and high heels.
The thing about dates is that you want your outfits to add up to your personality, so dressing according to the situation will help you look natural and relaxed.
Casual dinner dates
If you're going to a laid-back restaurant, your dinner date outfit should be kept cute and casual.
A wrap tie dresses a feminine and cute idea you can wear to showcase a sweet and flirty personality. These dresses have become a thing in the last year and a half thanks to the likes of fashion bloggers, so choosing to wear one to your casual date night will make you look fashionable yet laid-back.
Wearing sneakers with your wrap tie dress will make you look confident and fun: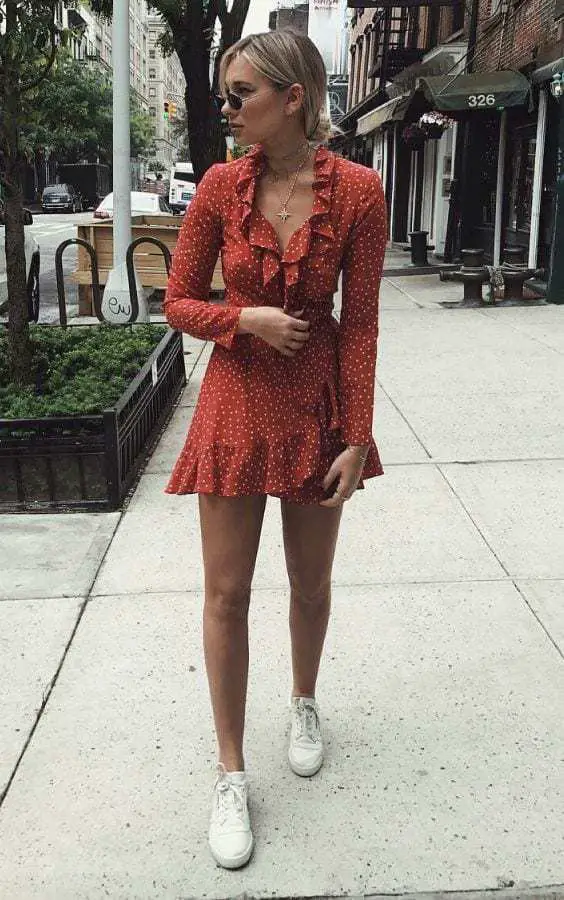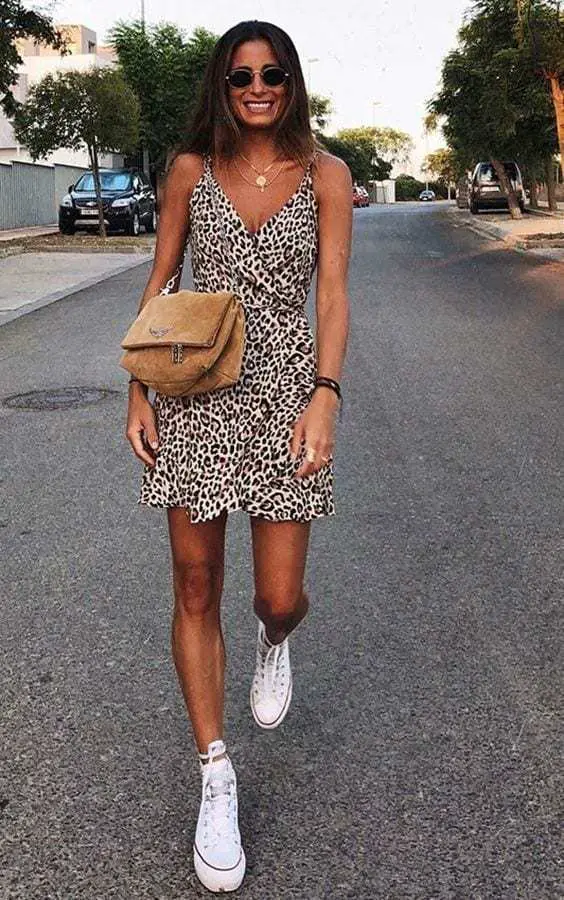 You can also choose flats, loafers or mules: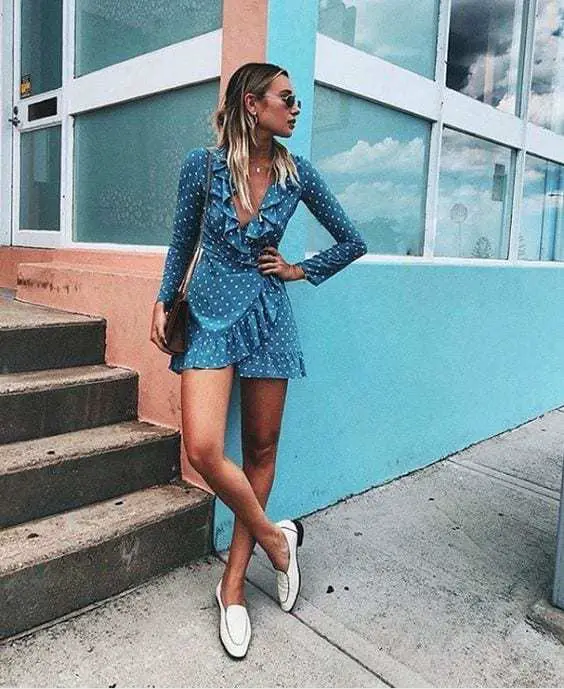 And, of course, a dress with sandals will always make you look feminine and sweet.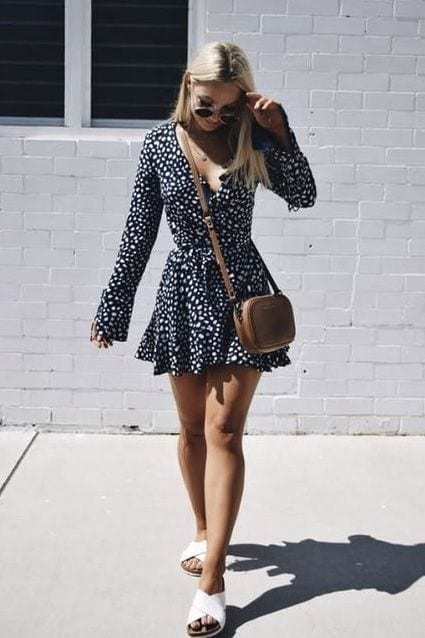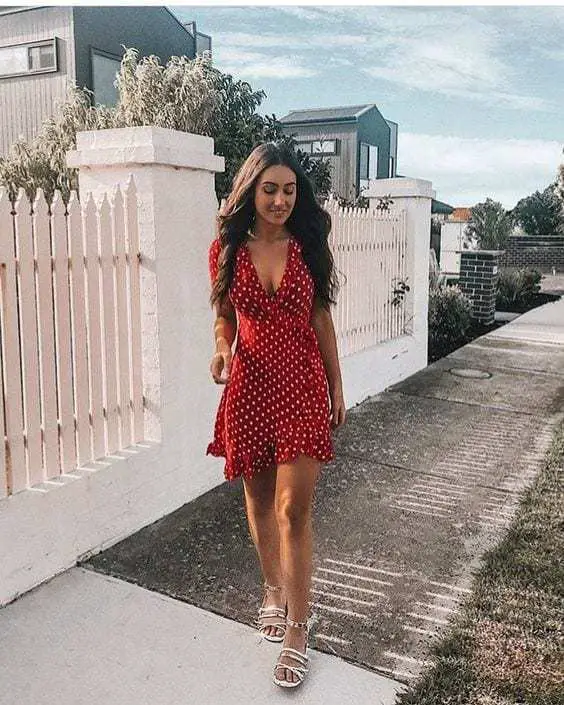 A button-up dress is another style that has become super popular among fashionistas, so wearing one for your casual date dinner makes sense.
You'll look cute and fashionable with a button up dress, but the best part is that guys really do love dresses, so you will score many points just by wearing one.
You can pair your button-up dress with a jute handbag: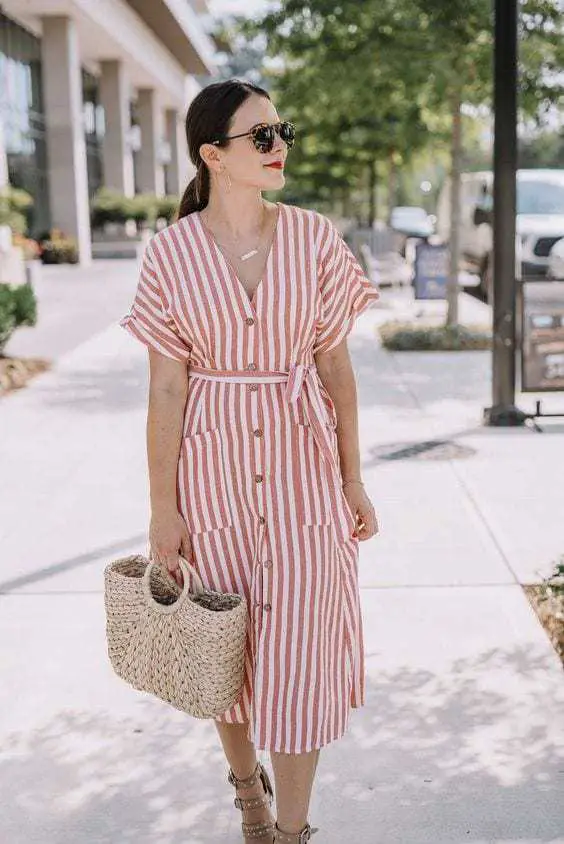 You can also wear a cute pair of low heel sandals, especially if you want to look taller. If it's a casual night out outfit, a two or three-inch heel will be just perfect.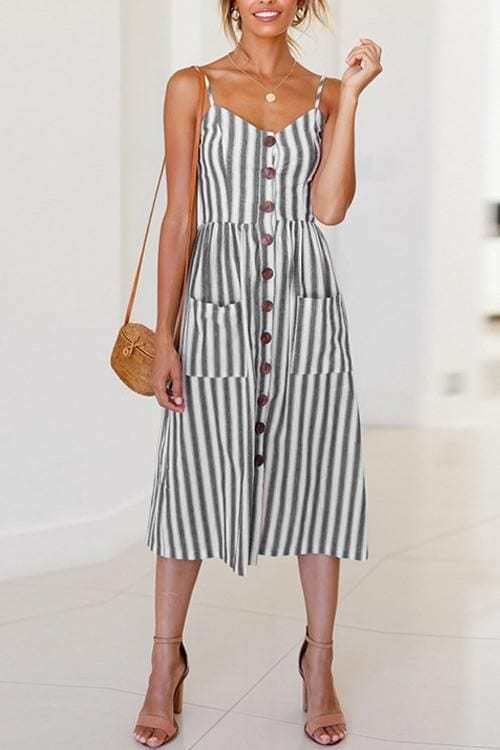 Adding low heels will make you look super feminine: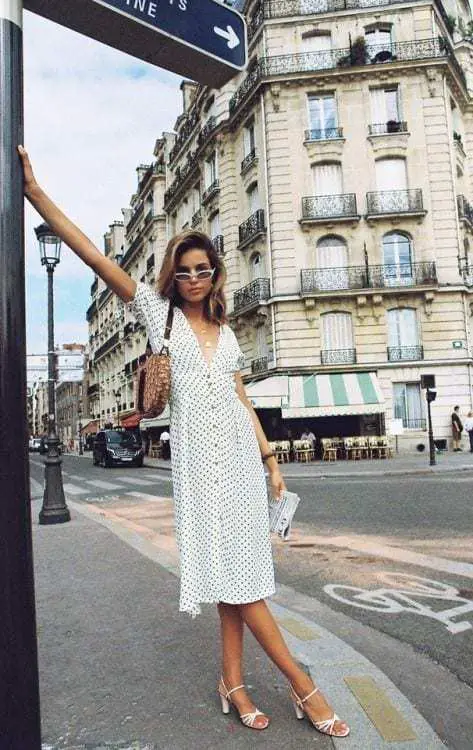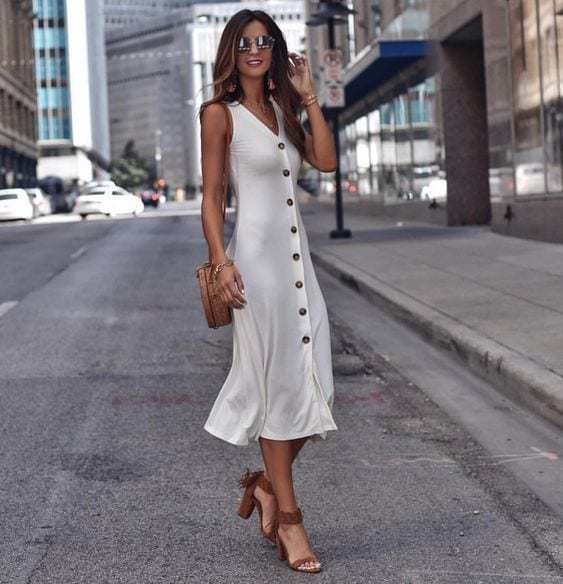 And, of course, sneakers are perfect for any casual night out. If you feel like a dress would look too feminine or dressed up for you, you can easily dress it down with your favorite pair of sneakers: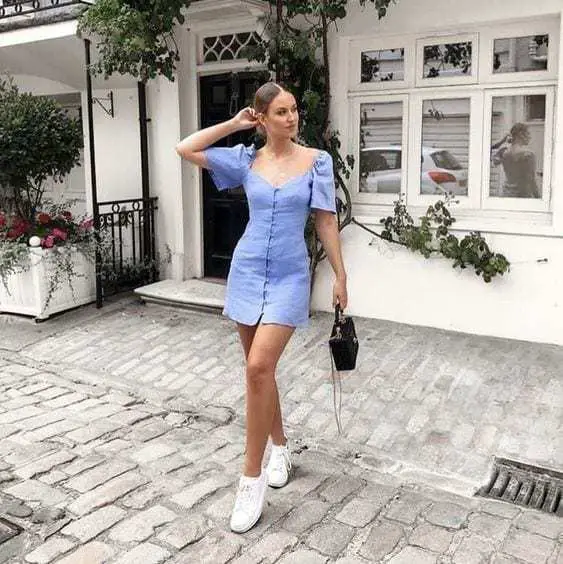 A black dress is always a good idea for any kind of date night: from the most casual to the most sophisticated date, a black dress will always have your back.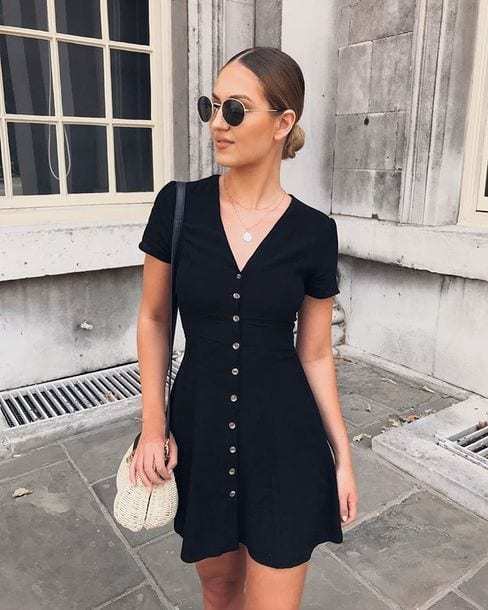 Other cute and casual dinner outfit ideas are adding some denim into your look.
Whether a pair of skinny jeans or a ripped straight jean skirt, denim is a classic piece that won't fail in making you look cute.
If you want to take your dinner date outfit to the next level, wear a cute maxi cardigan over a sexy silk tank top and add your favorite skinny jeans:
You can also wear a kimono for a stylish look. The thing about adding a layer is that it creates a polished outfit but laid back at the same time because of your jeans.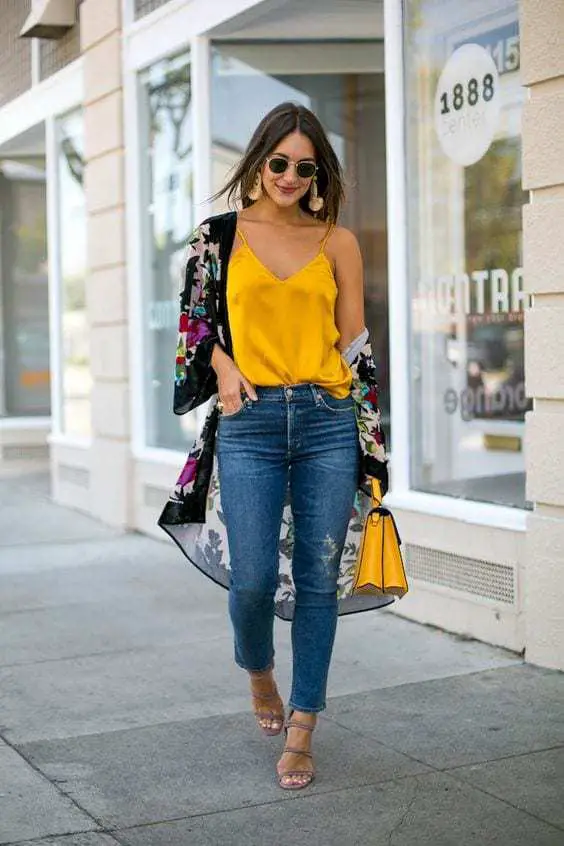 You can also wear sandals if you want to look super casual: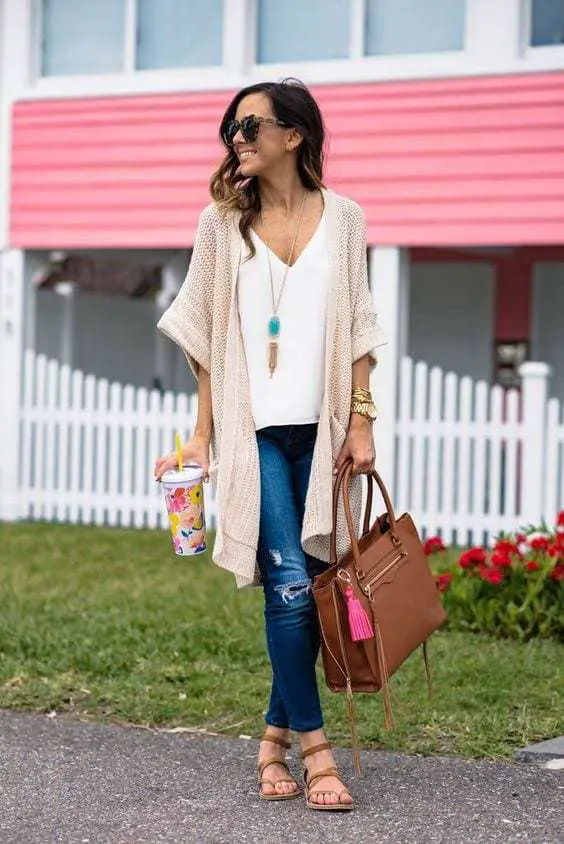 If you don't want to add a layer to your date-night outfit, that's ok! You can wear a cute top that shows off your shoulders and a pair of ripped skinny jeans: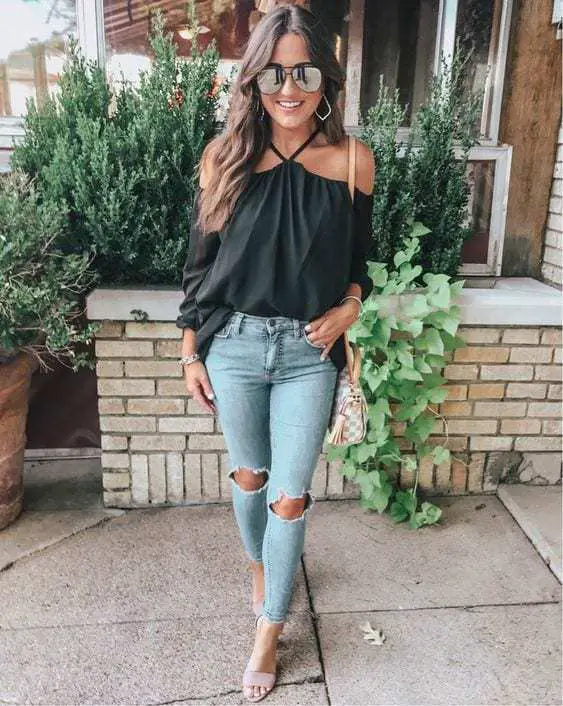 If you want to wear a skirt, or are looking for cute summer date night outfits, a jean skirt will definitely do the trick.
You can pair it with a printed tank top: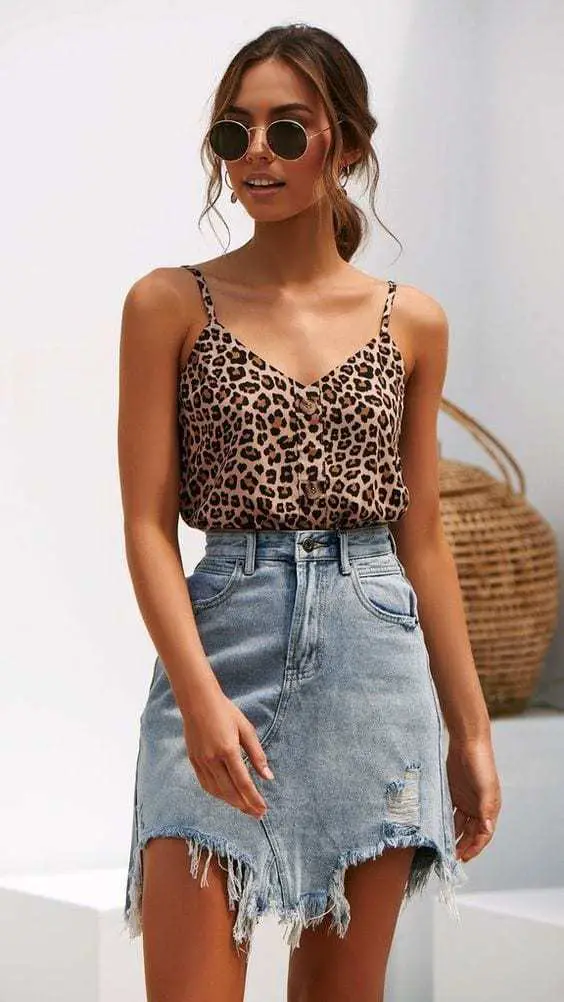 If you want to look super laid-back, a black t-shirt and sneakers will never fail.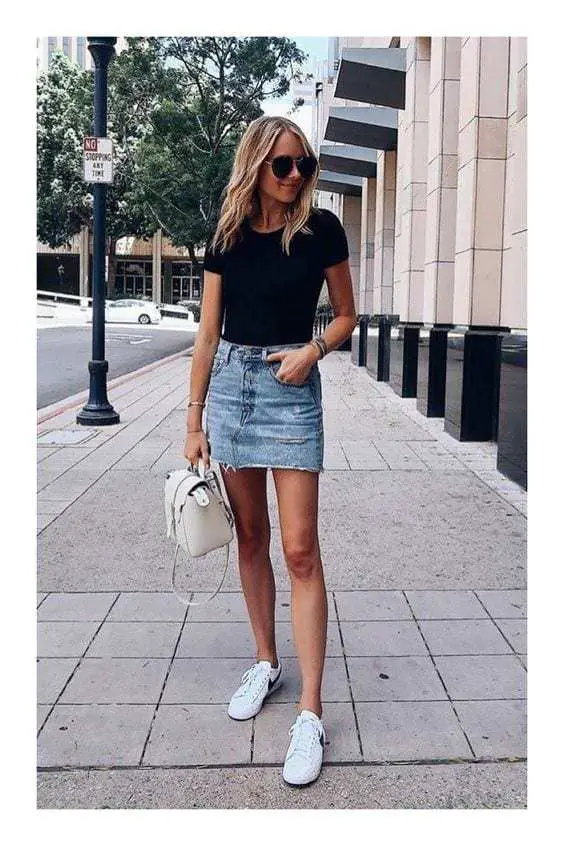 Or just tuck your favorite blouse inside your skirt and add low heels for a chic and casual dinner date outfit: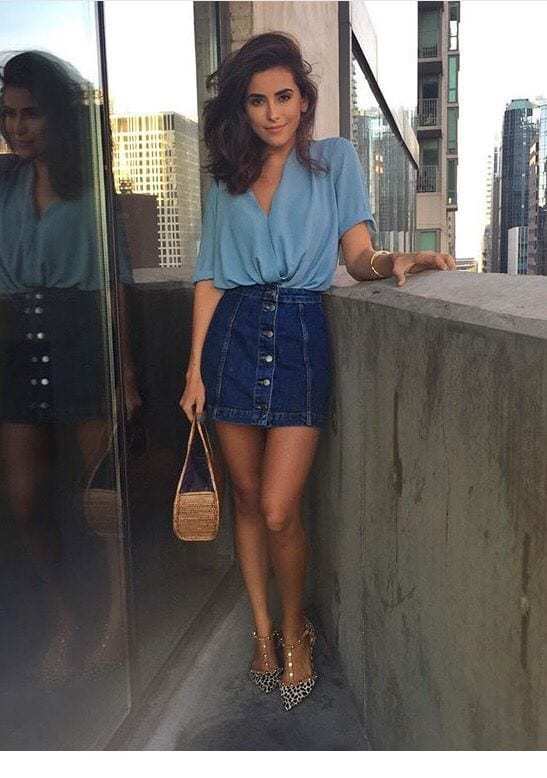 Fancy dinner date
If it's a fancy dinner date, then your outfit should be at the same level.
Black, as always, will make you look drop-dead gorgeous. So whenever you feel like not knowing what to wear, black is your safest and chicest option.
You can wear a classic little black dress, but you can spice up your dinner date outfit with a cute black romper.
Add nude high heels and you'll look absolutely perfect. Sometimes we get anxious with date night outfits because we don't want to overdress, so wearing nude shoes will tone down any statement piece we decide to put on.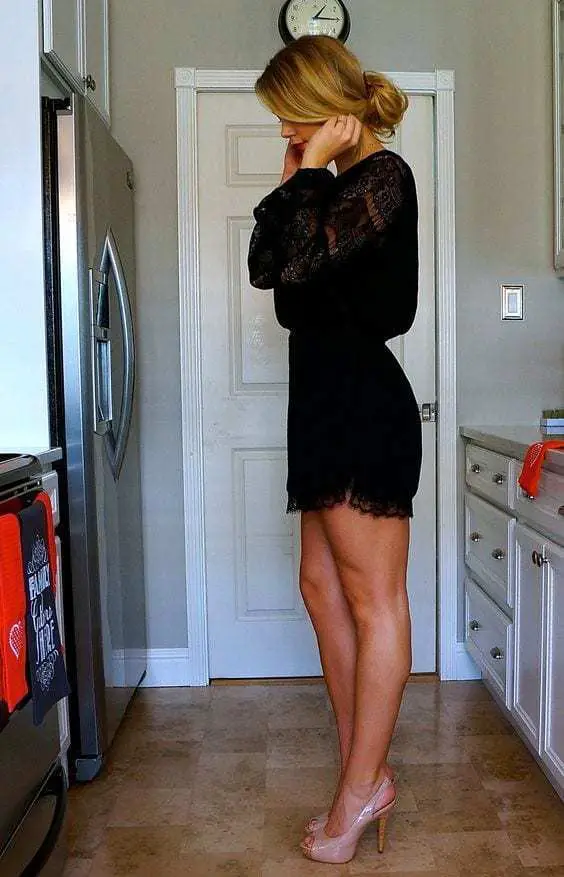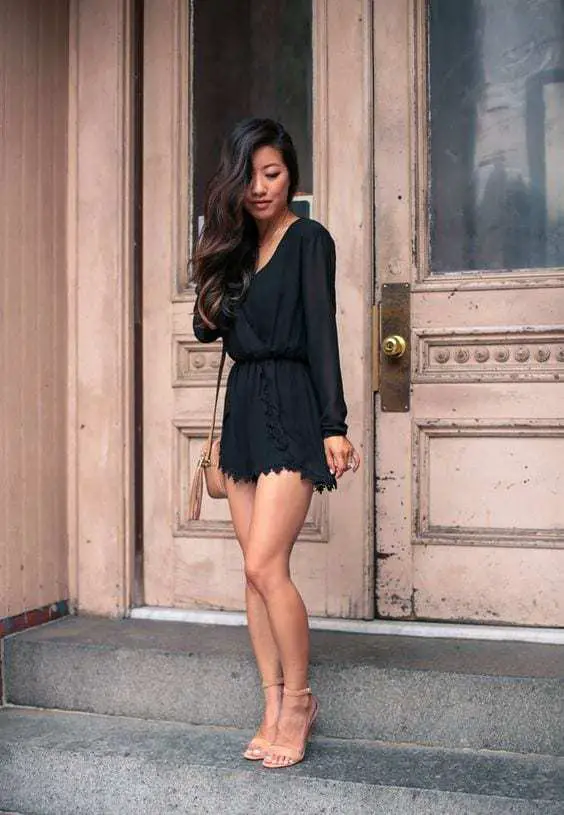 If you're looking for sexy date outfits, red will be your go-to option. It's the perfect color for a fancy dinner date when you want to make a strong and everlasting impression.
Guys love dresses AND red, so if you mix both into one same outfit I can guarantee he'll be heading over heels over you.
Again, opt for either black or nude high heels to keep your look toned down: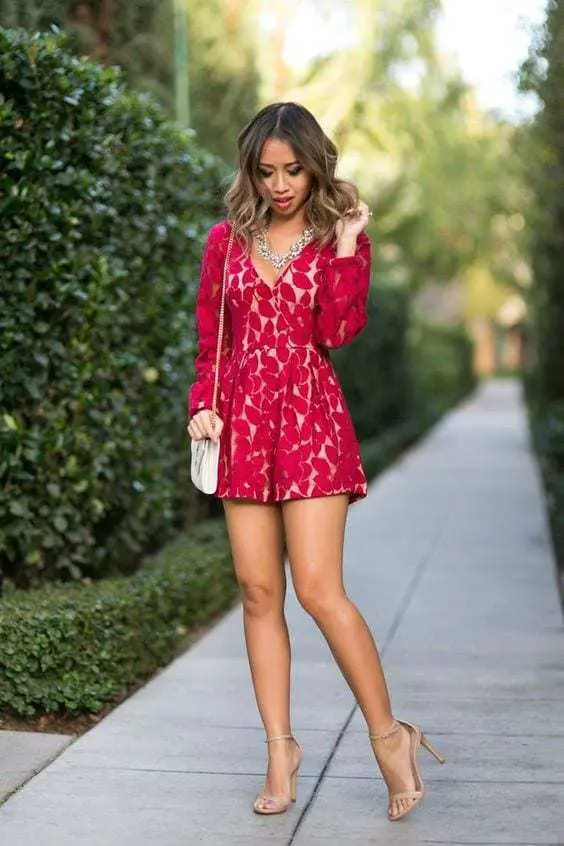 If you don't feel like wearing a dress, a cute pair of pants will definitely make you look polished and stylish.
My favorite and trendiest pants are waist tie pants. They are perfect for a fancy dinner date because they'll make you look super feminine and fashionable, and guys love girls who know how to dress stylishly.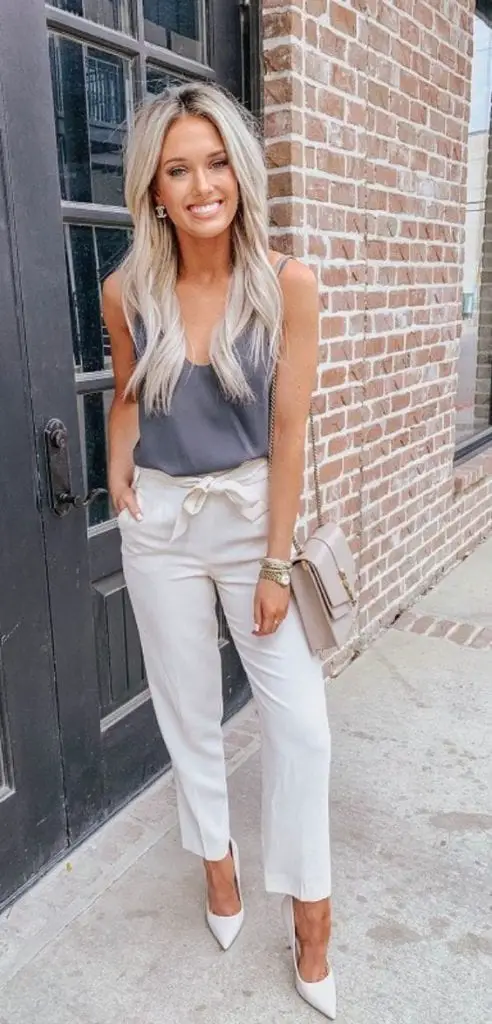 The easiest and cutest way of pairing a waist tie pant is with a sleeveless and solid top tucked inside.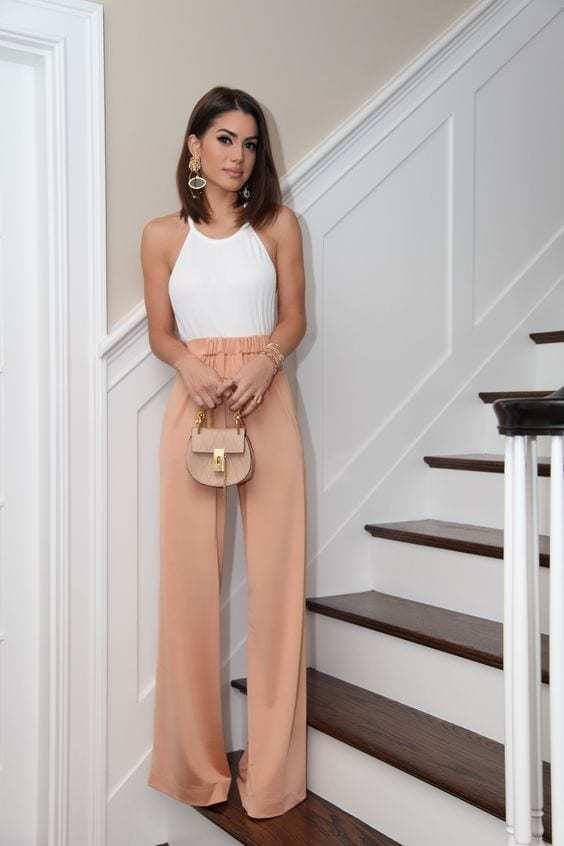 2. Movie date night
Another popular thing to do on a date is to go to the movies.
The best advice I can give you when it comes to movie date outfits is to wear a cute sweater or jacket because a movie theater tends to be super cold, and when you are feeling nervous, being in a super cold environment makes things worse.
You can wear black jeans paired with a plain tank top and a statement purse for a cute date night outfit: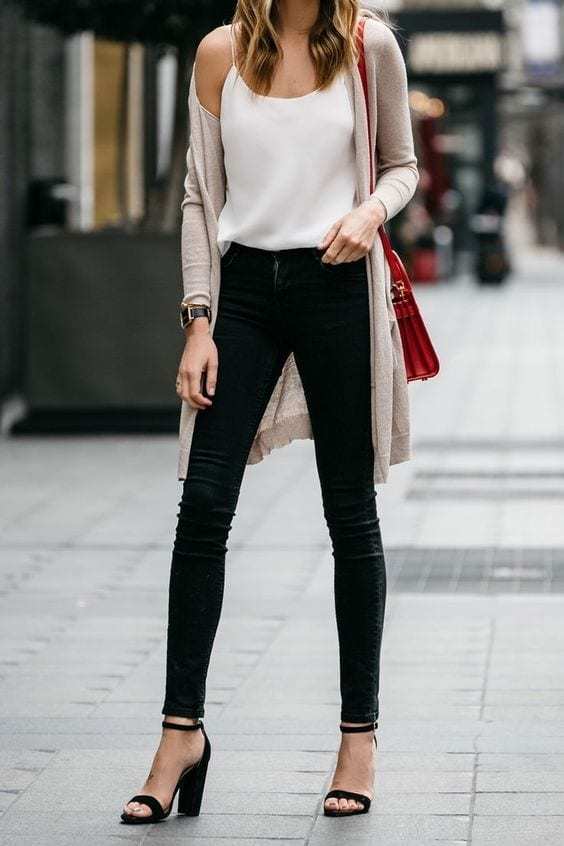 If making a strong statement is what you're looking for, opt for a bright color sweater such as red or electric blue: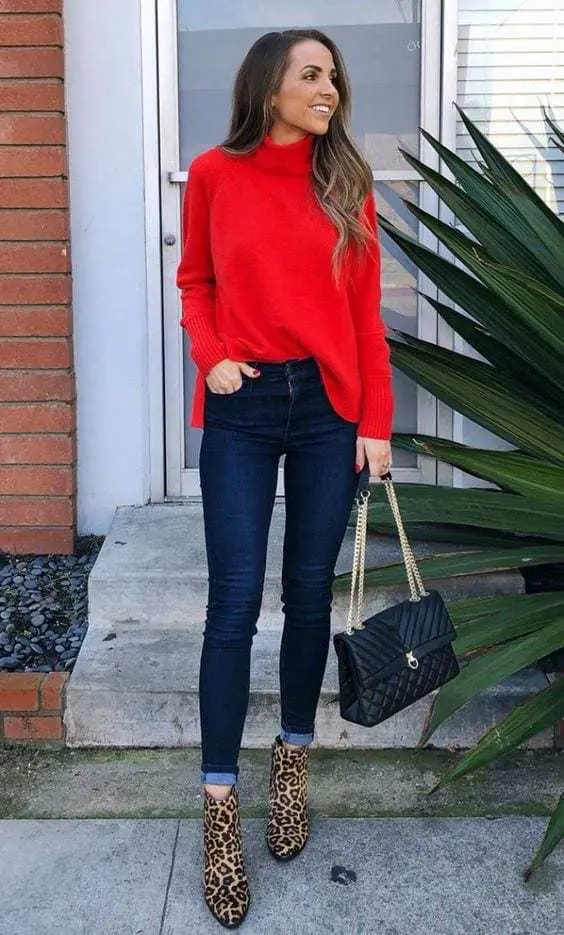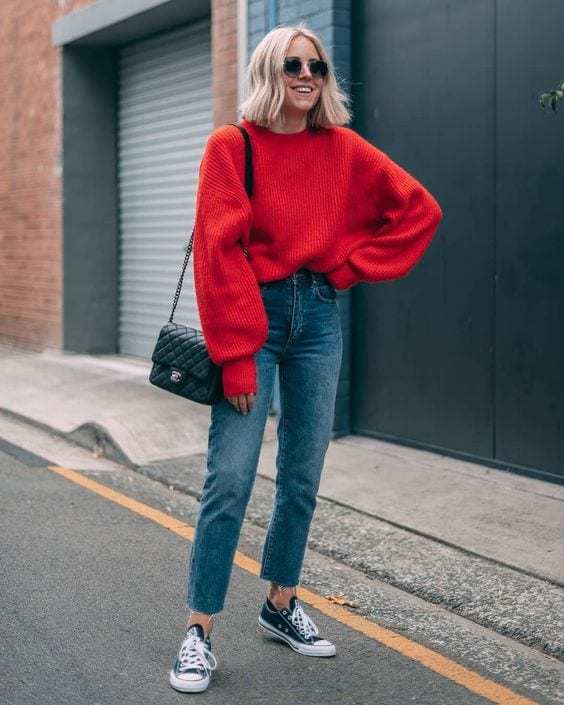 If you feel like wearing an edgier outfit, pair your jeans with black ankle boots and a stylish jacket or blazer: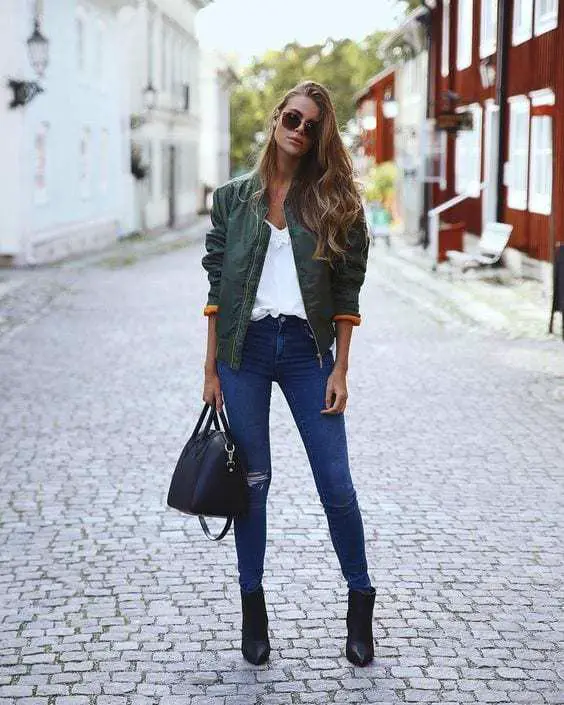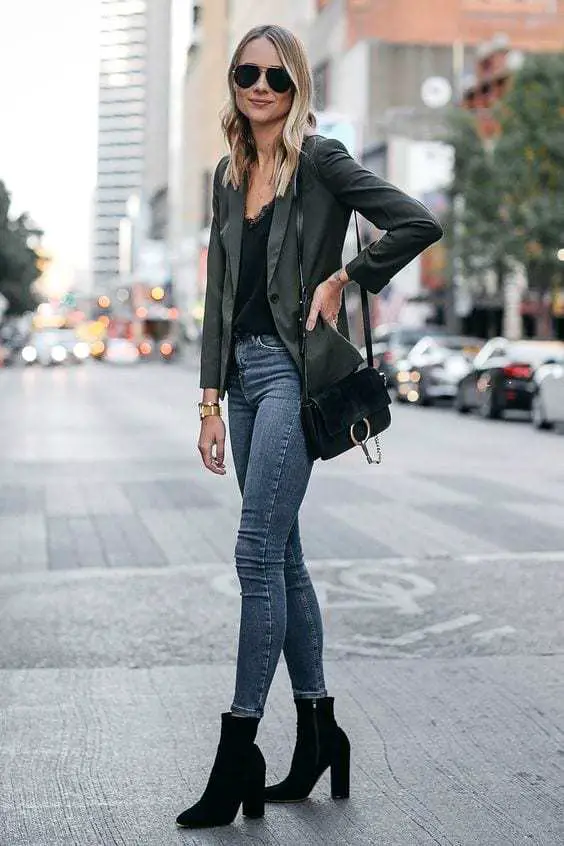 You can also switch your skinny jeans for leather leggings: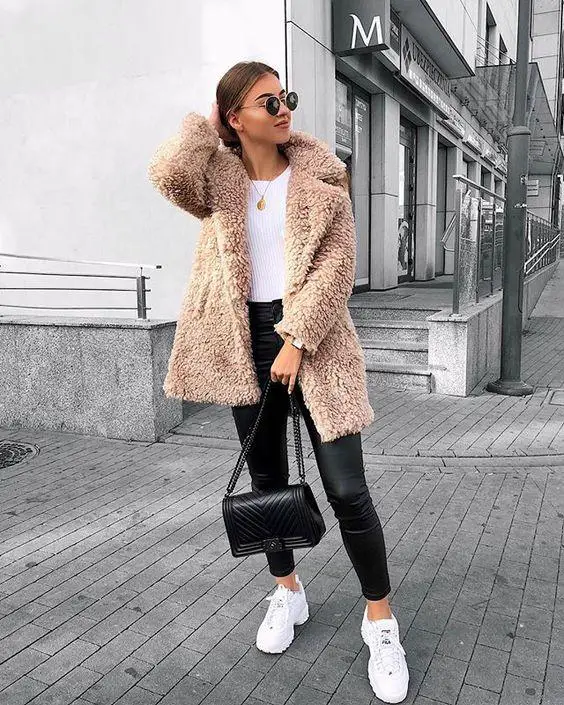 Wrap up:
A date night outfit should be chosen with utmost care because it has the power of boosting your confidence, making you look cute and stylish.
These 30 outfit ideas will come in handy for your future date, helping you create a strong, good and long lasting first impression. And, honestly, what's better than that?
You will not have to worry about not knowing if he liked you because you will KNOW he liked you. Your personality will shine through and your outfit will only make the most of it.
So feel free to come back to this article whenever you feel nervous or anxious about your date night. These outfit ideas will calm your nerves!