In the last couple of years, we've seen a massive rise of what it seems "the denim era" and honestly, we can't get enough of it. Endless types of denim bottoms, tops, and jackets have been added into the fashionistas' radar, making denim one of the most sought-after fashion items out there.
That's why we need to discuss ripped jeans outfits because they look absolutely chic and edgy, and are a total must-have for your wardrobe.
The best part of these jeans is that they can make you look super casual and polished at the same time. It's all about what you pair them with or how you style them.
So if you think that a ripped jeans style is only for a casual day at your friend's house, or that they're solely for rebel girls, you are completely wrong. Ripped jeans are one of the best types of bottoms you can own, and I'll show you chic and cool outfit ideas you can recreate for every occasion.
What to wear with ripped jeans
The secret into mastering a ripped jeans outfit is to treat your jeans as if they're a regular pair of blue-jeans. That means that pairing a ripped one is a total no-brainer.
I've compiled the most stylish ways to pair your ripped jeans, for both casual and dressed-up occasions, that will make you look like you're a fashion pro. So take notes and enjoy these outfit ideas!
Casual ripped jeans outfit ideas
1. Ripped skinny jeans
Ripped skinny jeans are the most popular type of ripped jeans and the easiest to style because you can wear absolutely any kind of top and still look good.
For an effortless and chic outfit during winter days, simply opt for a pullover sweater paired with ripped skinny jeans. It can't get simpler than this!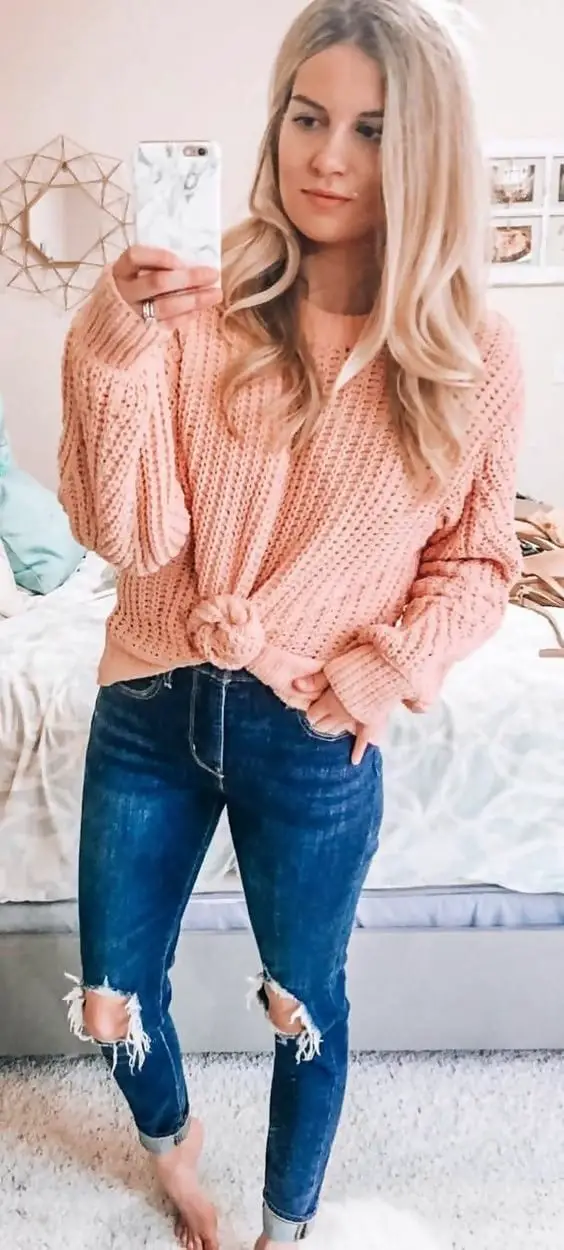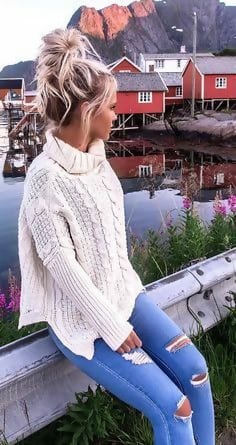 To accessorize your ripped jeans outfit and transform it into a cool tomboy look, opt for a cap and trainers or slip-on sneakers.
Ripped jeans for spring or fall are absolutely perfect, just choose a pair that's not too ripped to avoid feeling cold.
A simple long sleeve white tee paired with a vest can turn your ripped jeans outfit into a cool and stylish outfit. This is a look that's also comfortable for traveling and keeps you warm in the cold airplanes: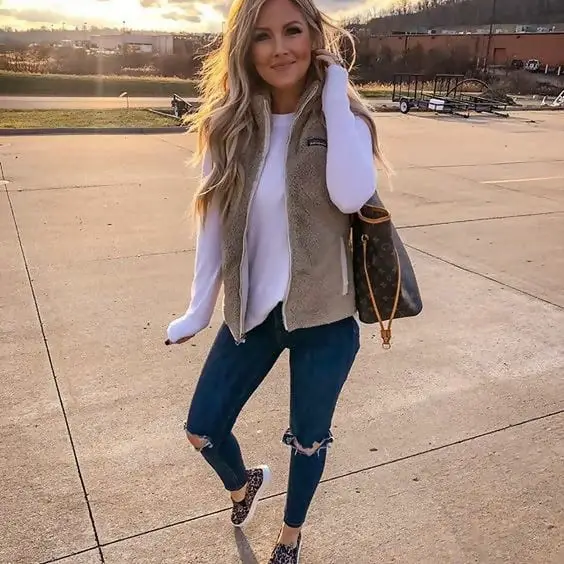 A kimono or cardigan paired with ripped jeans creates a boho and cool outfit. Finish your look with a pair of chunky heels or ankle boots like this: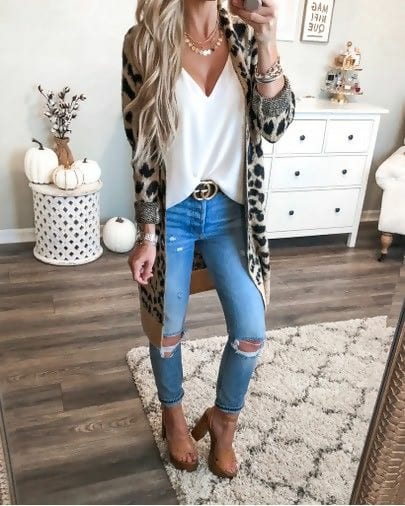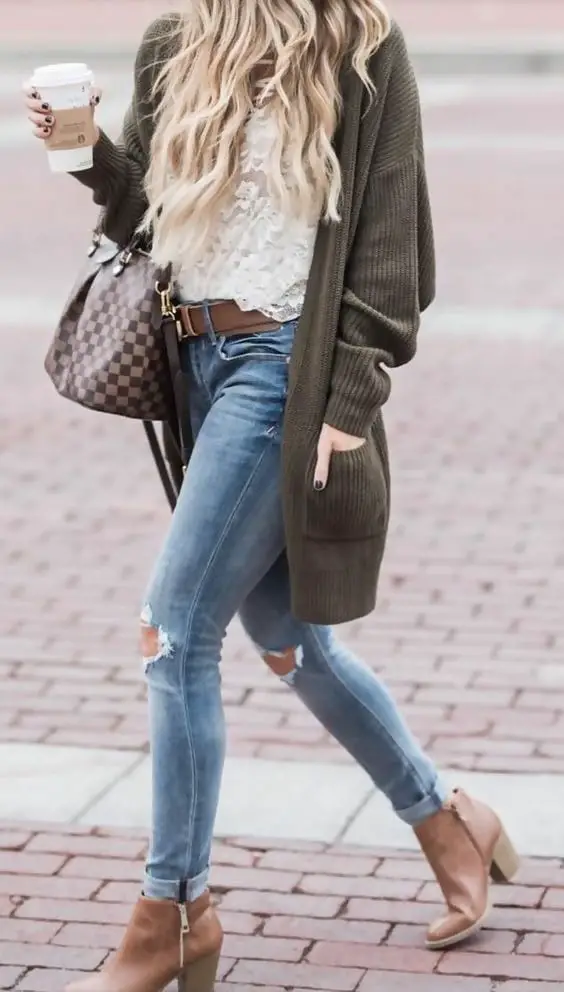 Another easy way of styling your ripped jeans is by wearing a tank top underneath a plaid shirt: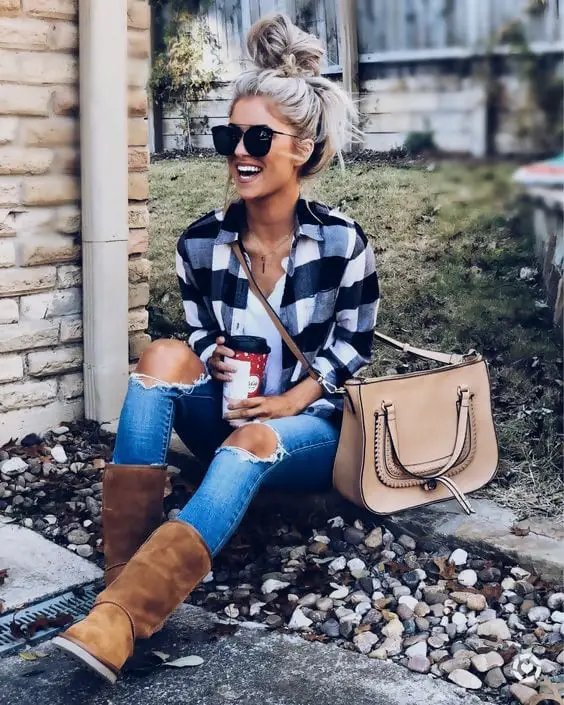 As I've said, a ripped jeans style is automatically associated with casual and lazy days, so pairing them with a hoodie is probably the comfiest option you can do. Perfect for those days in which you're planning on staying home or just want to chill with friends.
Just keep in mind that a hoodie is a loose garment, so pair it with skinny ripped jeans only for a cool look.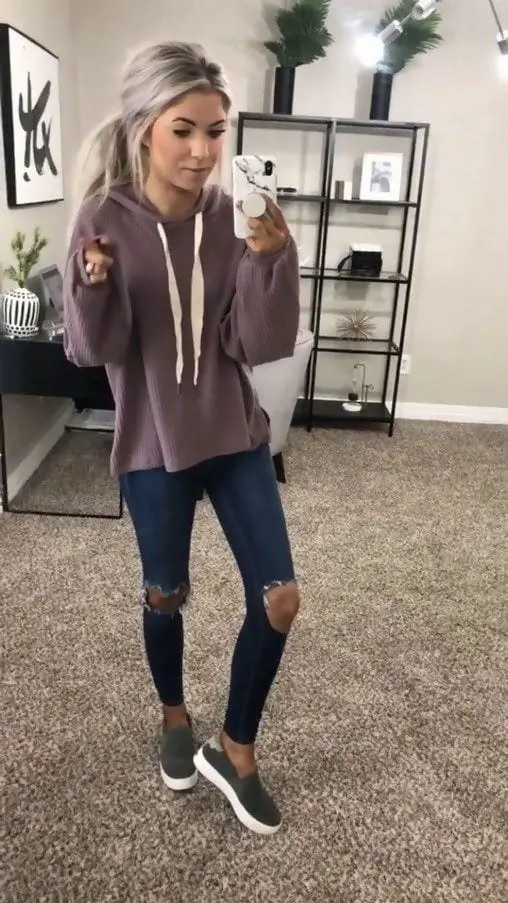 As I've mentioned, any cute top can look good with a pair of ripped skinny jeans. A solid t-shirt worn with chic sandals can transform your regular ripped jeans style into an effortless and cool outfit.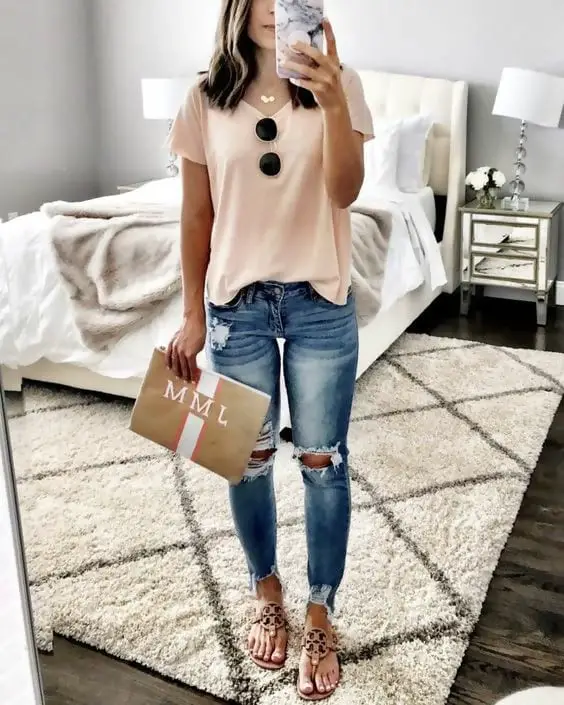 What shirts look good on ripped jeans?
If you want to wear super ripped skinny jeans, my suggestion is to opt for a solid top, as your jeans already have an eye-catching element and should be the star of the outfit.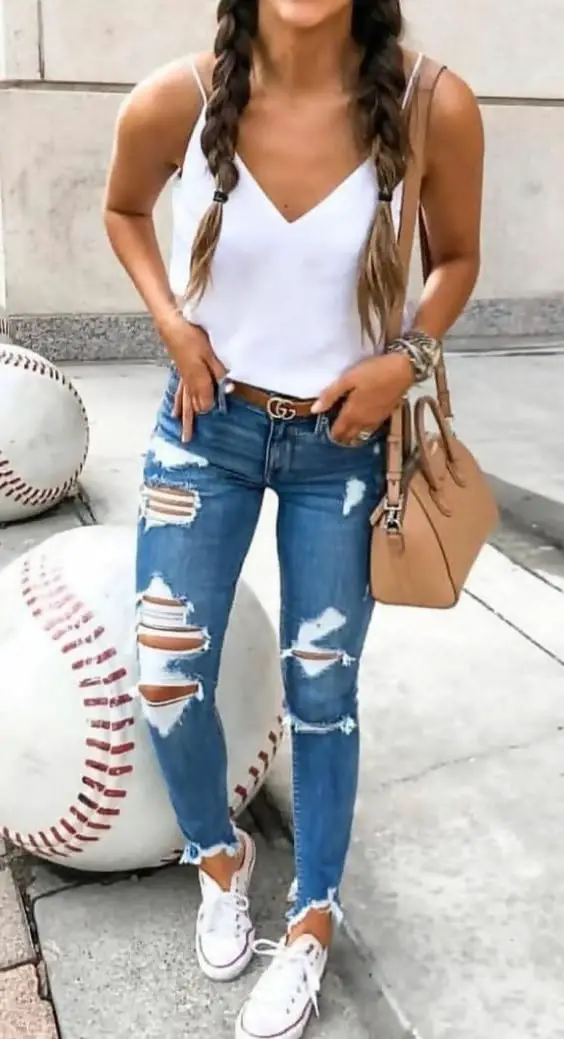 This is another example of a ripped jean that catches your attention and, therefore, the best way of pairing it is with a solid top: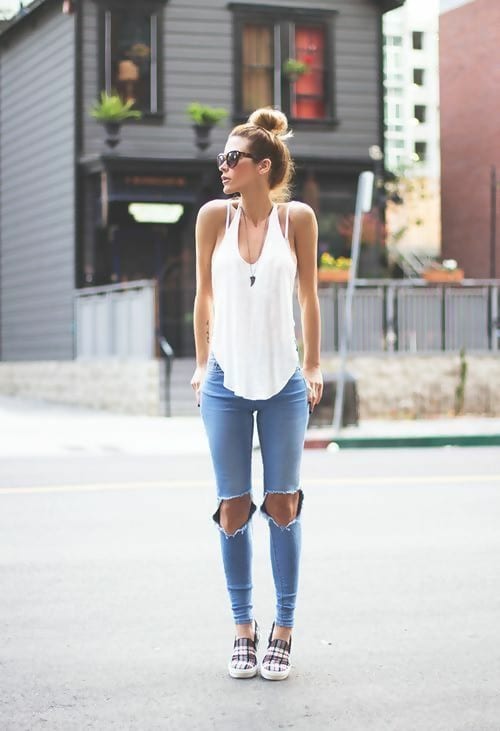 Formal skinny jeans outfits
Skinny jeans can look super chic and add up to a sophisticated look. You should always take them into consideration when you're planning a formal outfit.
The easiest and best way of pairing them is with high heels. They make your legs look long and sexy without risking your polished look.
You can opt for something as simple as a solid sleeveless top with high heel sandals matching your chic bag: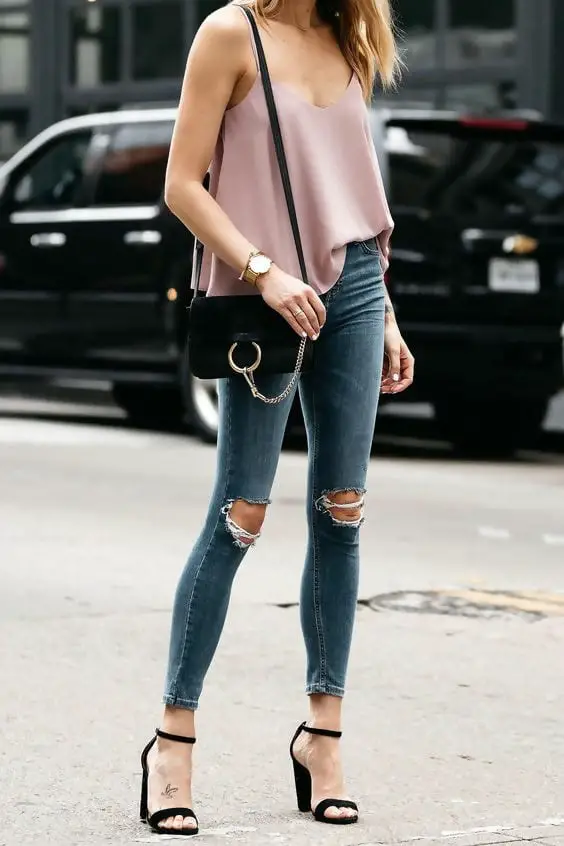 A cute lace top tucked inside your skinny jeans paired with high heel sandals is also another chic idea: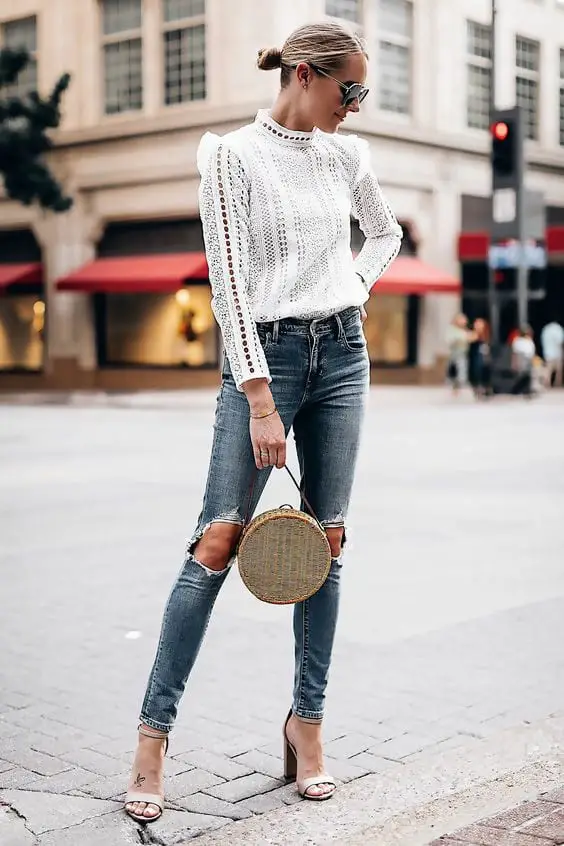 The key to creating a formal outfit with skinny ripped jeans is to pair them with elegant or dressed-up pieces that will balance the casual look that they have.
That's why it's so easy to create a formal look with ripped jeans! There's no science in it at all.
And, if you want to look edgy and chic, a skinny ripped jeans outfit is exactly what you're looking for: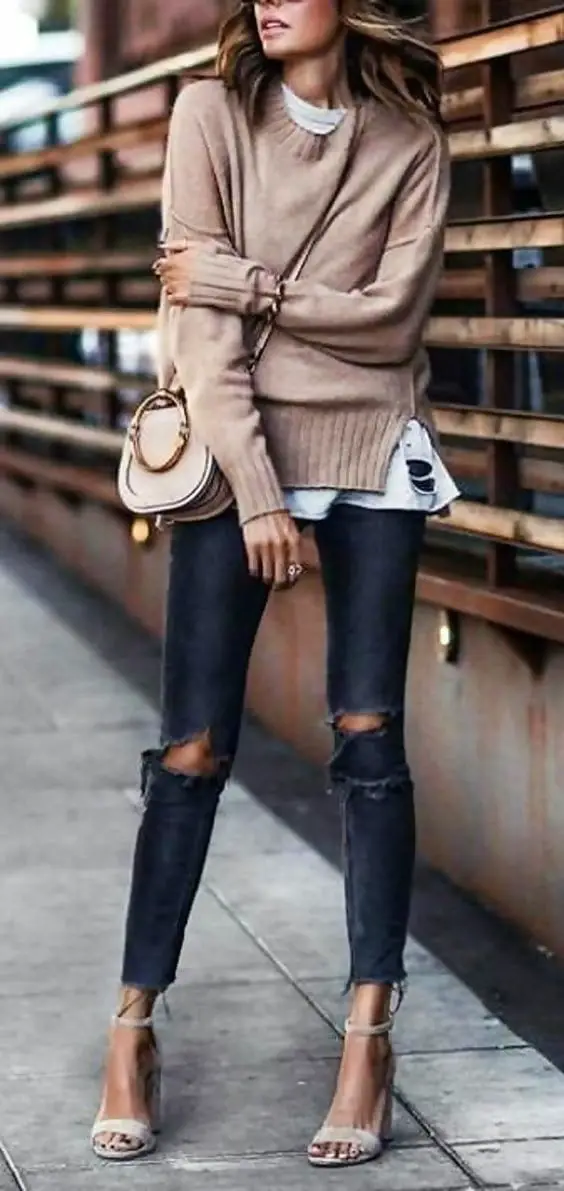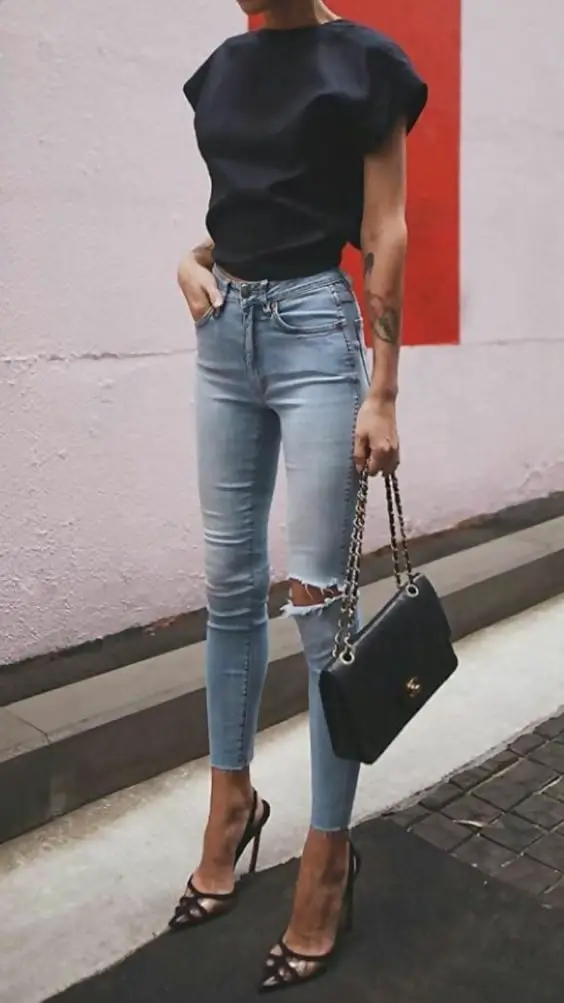 Ripped skinny jeans outfit for work
If your work's dress code is flexible, a pair of ripped skinny jeans can be a total YES.
The go-to option is definitely a chic blazer or high heels that will transform your look into a formal and work-appropriate outfit. Here are some examples of how you can add a ripped jean into your work attire: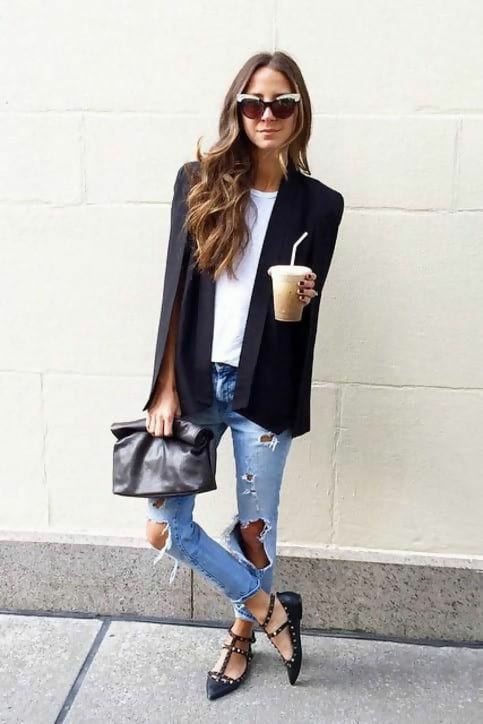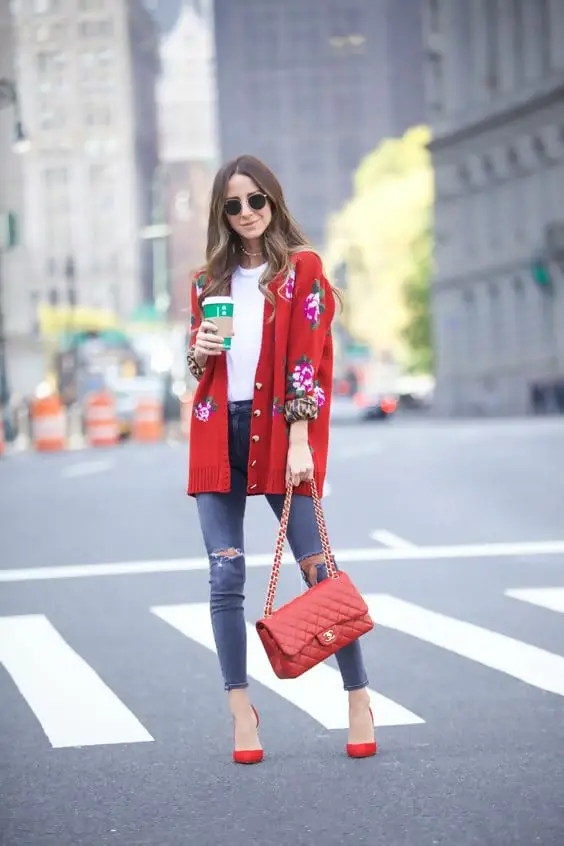 You can always opt for slightly ripped skinny jeans if you feel the examples above are too much for your work attire: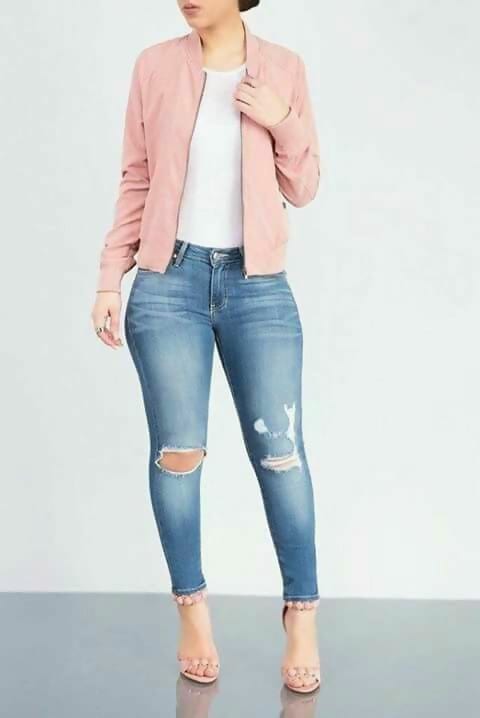 2. Ripped mom jeans
As I've mentioned, denim is here to stay and the fashion industry has been kind enough to give us plenty of jean styles to choose from. One of the trendiest is, of course, our beloved mom jean style.
A pair of ripped mom jeans are also perfect for any occasion. The only suggestion I'd make is to avoid pairing them with oversized or boxy tops, as they already have a "shapeless" look that needs to be balanced with a well-fitted top.
You can wear an oversized shirt but you should tuck it inside your mom jeans in order to subtly show-off your figure.
Casual ripped mom jeans outfits
Here are some casual outfit examples featuring ripped mom jeans: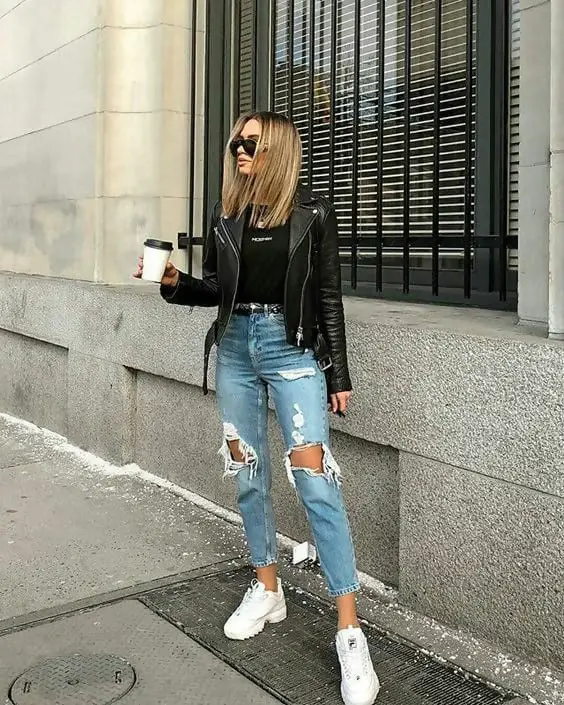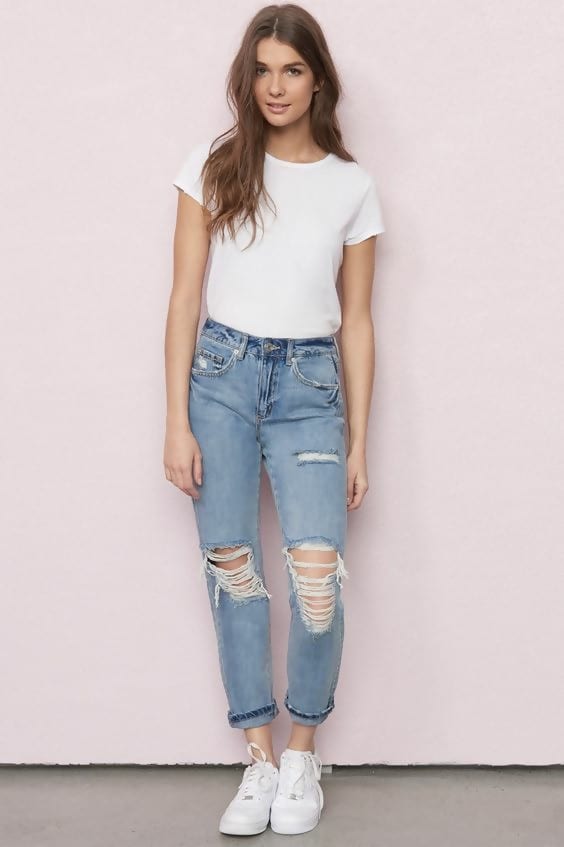 Mules and ripped mom jeans are probably my favorite combo. Both are super trendy fashion items that create the perfect ripped jeans style: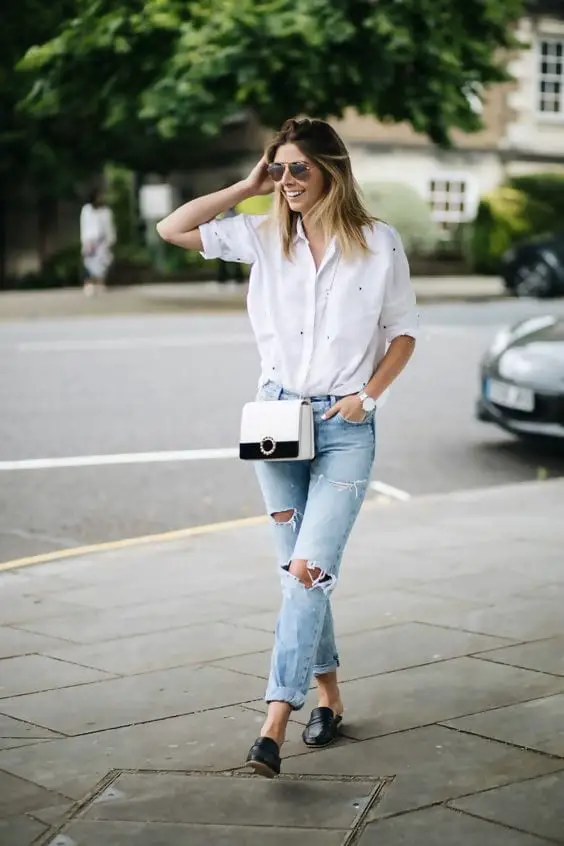 Jean on jean also is another amazing and super cool combination you should not be scared of.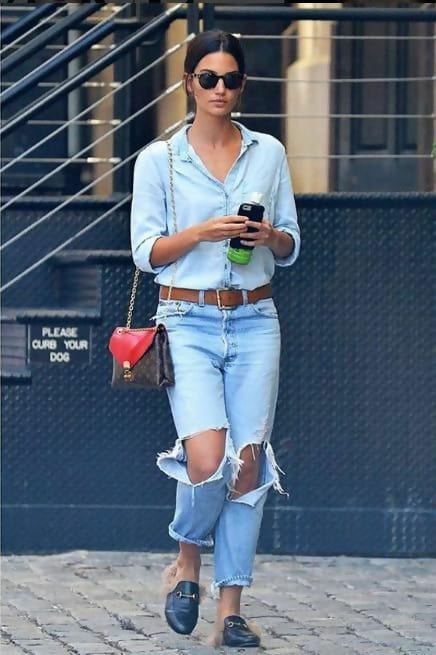 Sandals also look super cute with a ripped mom jean: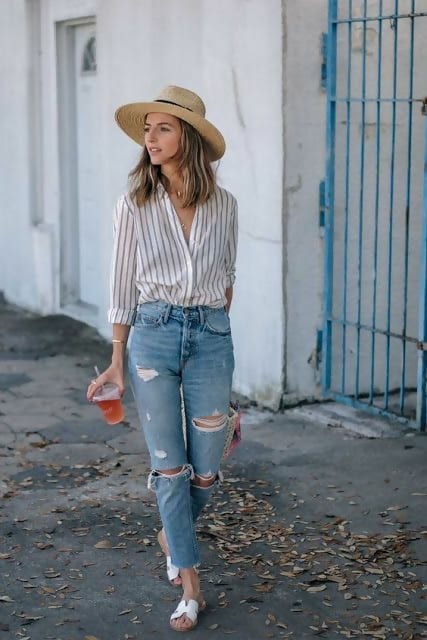 And, of course, you can never go wrong with a white button down: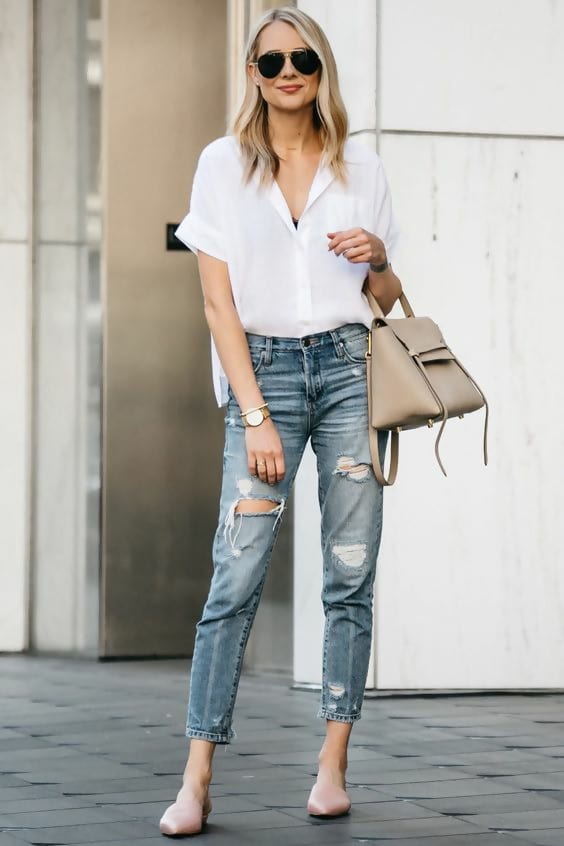 Formal ripped mom jean outfits
One chic and easy way of how to pair ripped mom jeans for a formal occasion is to opt for a black solid tee and black high heels. To bump up this look, finish with a cute and dressy bag: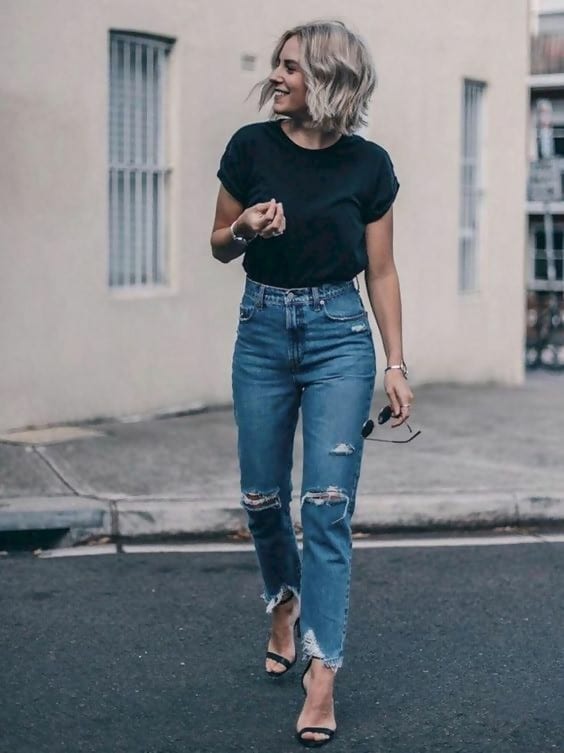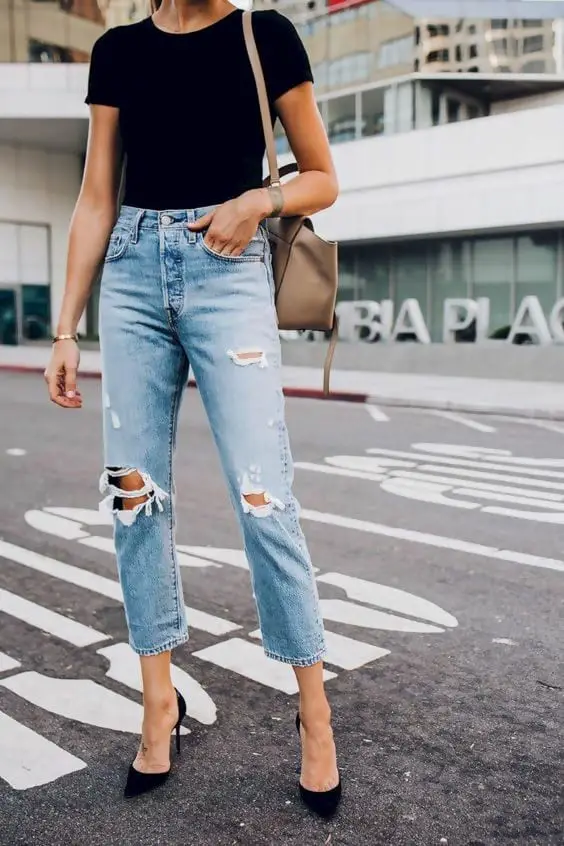 A crisp white cotton top will polish your jean outfit: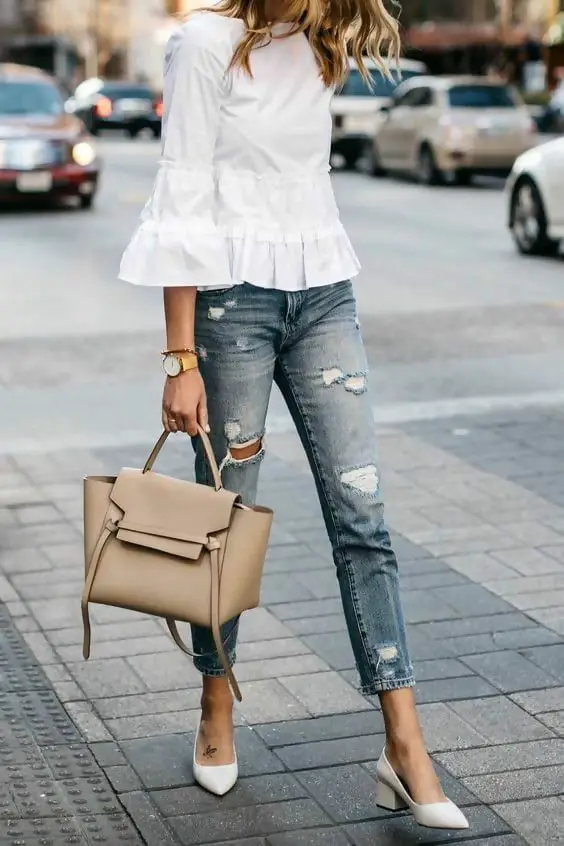 Or any chic top! Just pair it with high heels and a cute clutch and you're ready to go: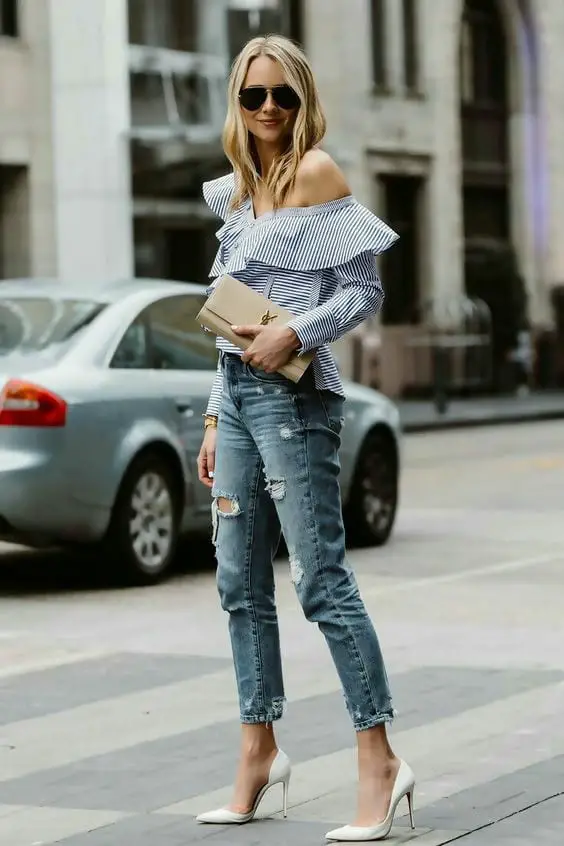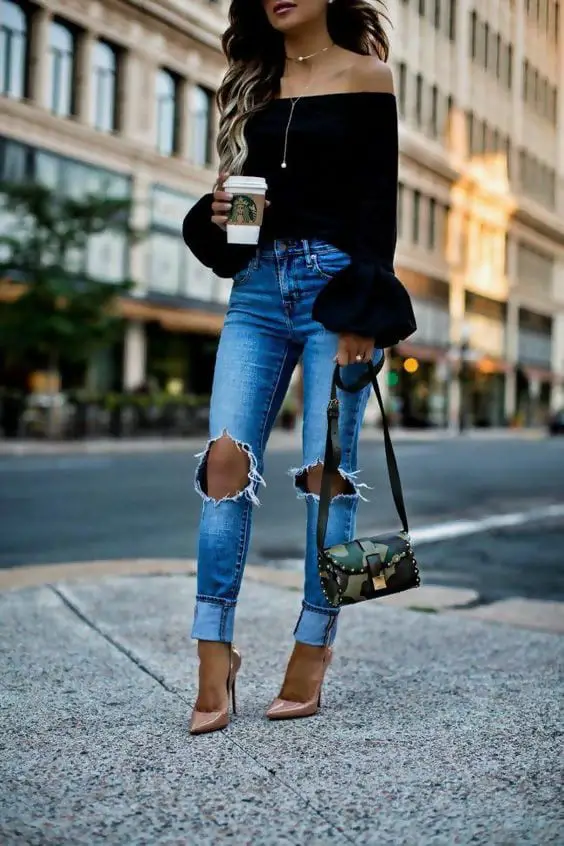 Ripped mom jeans for work
Again, ripped mom jeans are a super chic bottom you should definitely try for work. These are a few combinations you can perfectly recreate for a cool distressed jean outfit: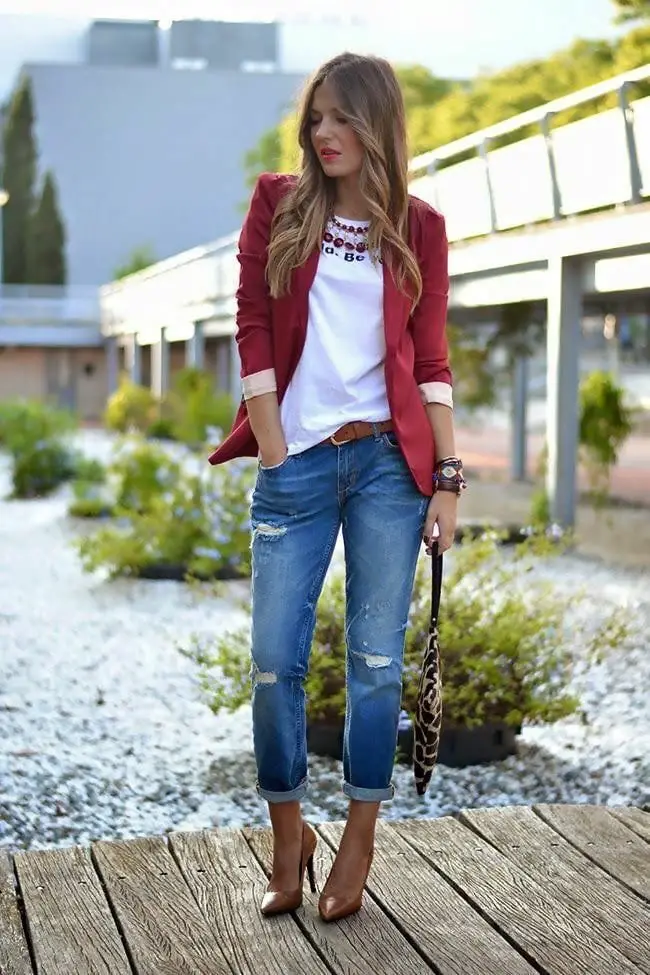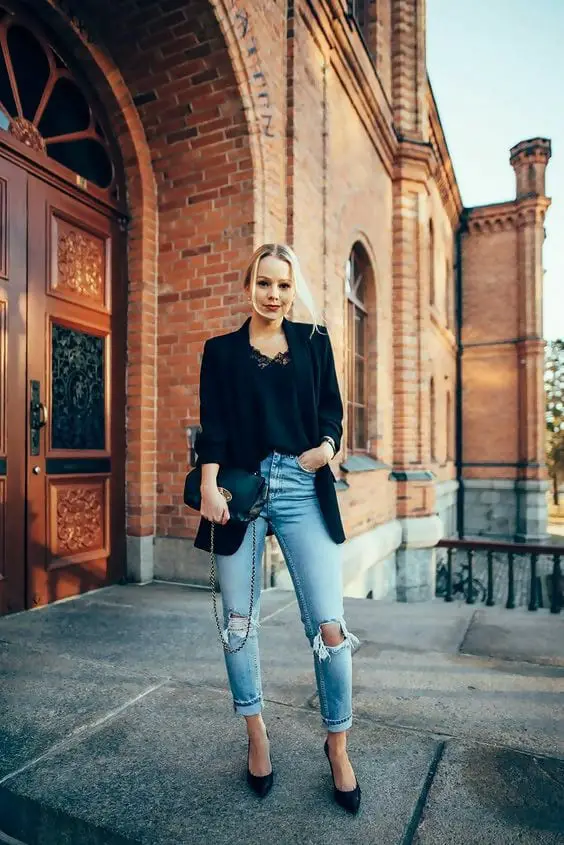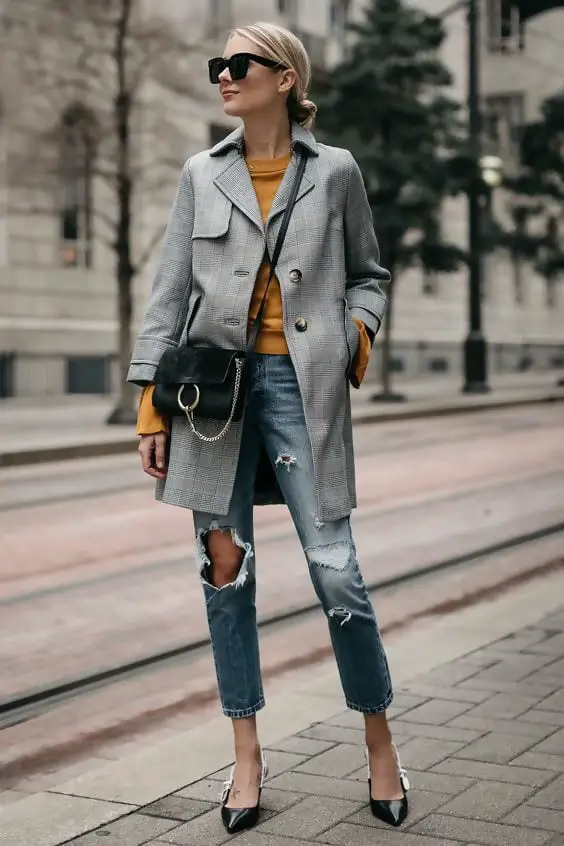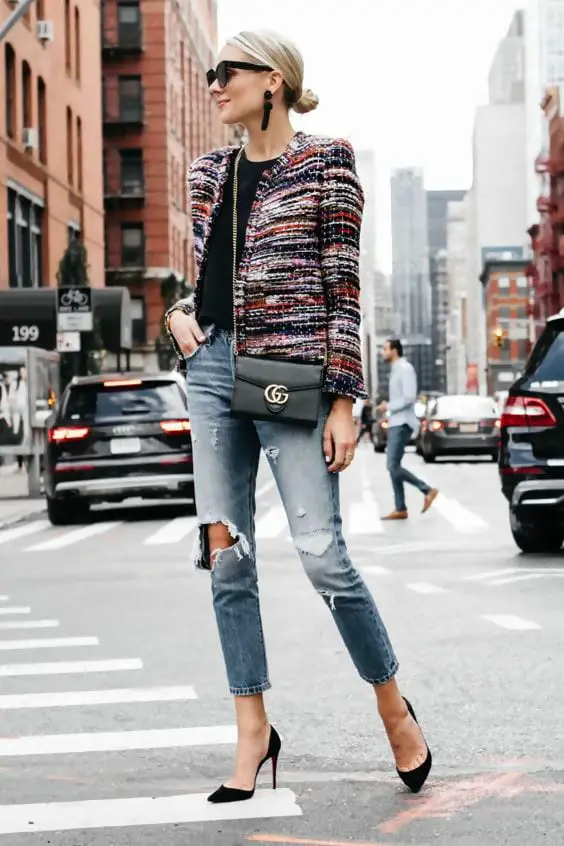 3. Black ripped jeans outfit
Black is the chicest color and a pair of ripped jeans are the coolest bottom out there. Combine the two and you have a superstar fashion item!
Here are some stylish black ripped jeans outfits you can get inspired from:
Casual Black ripped jean outfits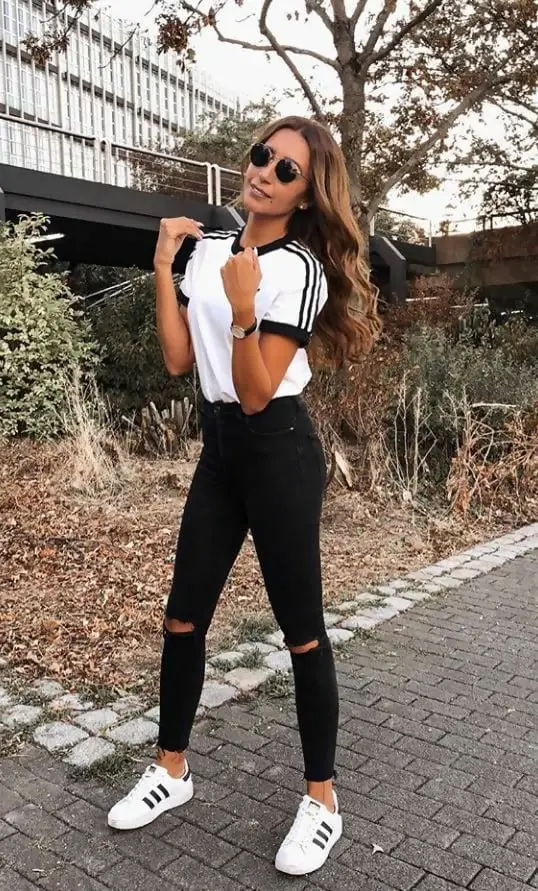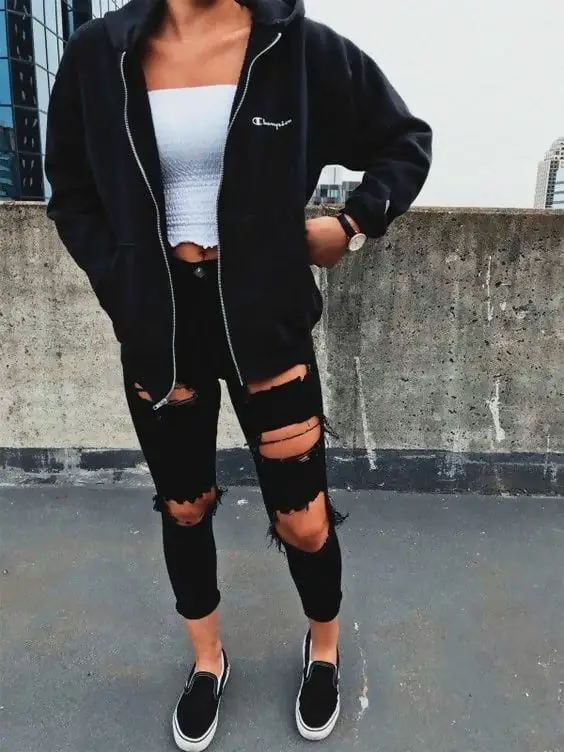 A blue denim jacket with a pair of black ripped jeans look absolutely cool:

For a tomboy look, opt for a pair of vans and a cool oversized hoodie: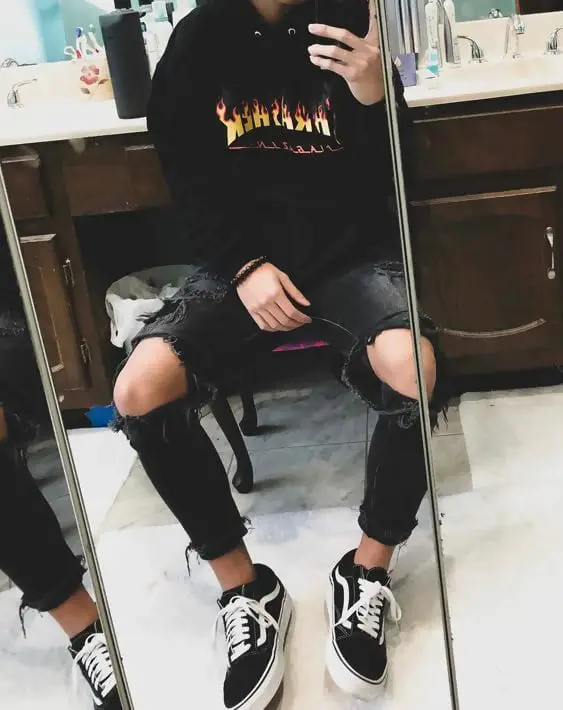 You can't go wrong with black on black. This look is perfect for a fall ripped jeans outfit: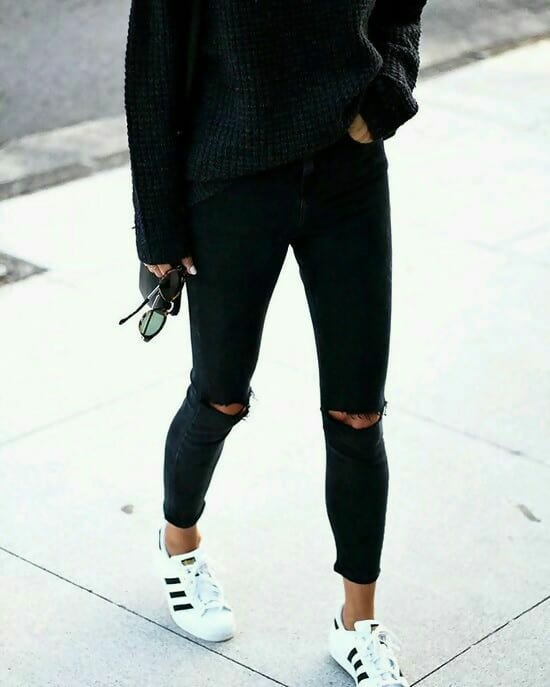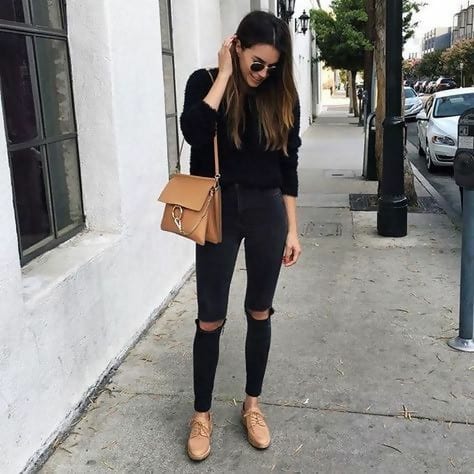 Formal black ripped jean outfits
Same as blue jeans, opt for high heels, chic handbags, a nice up-do, elegant accessories… as a compliment for your black ripped jeans: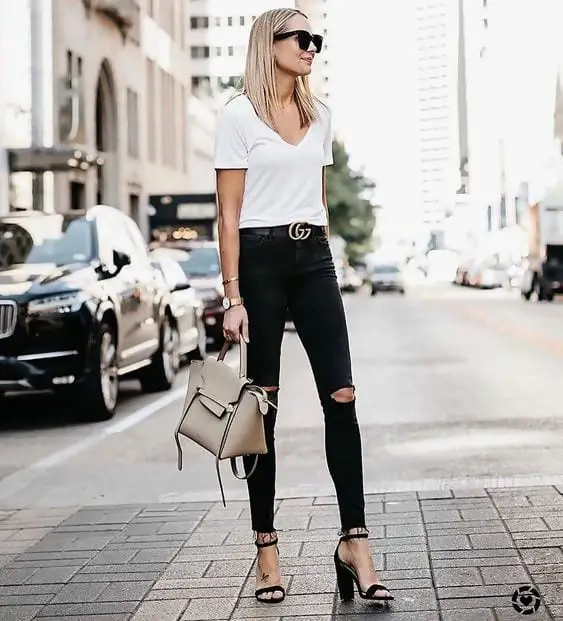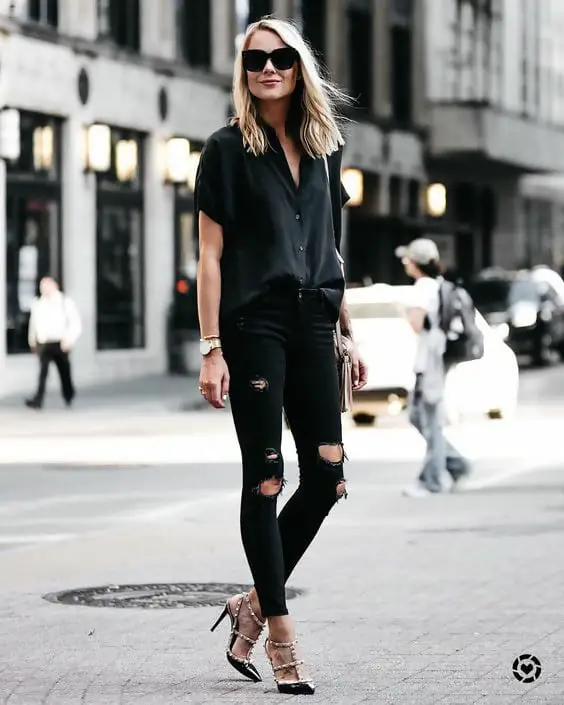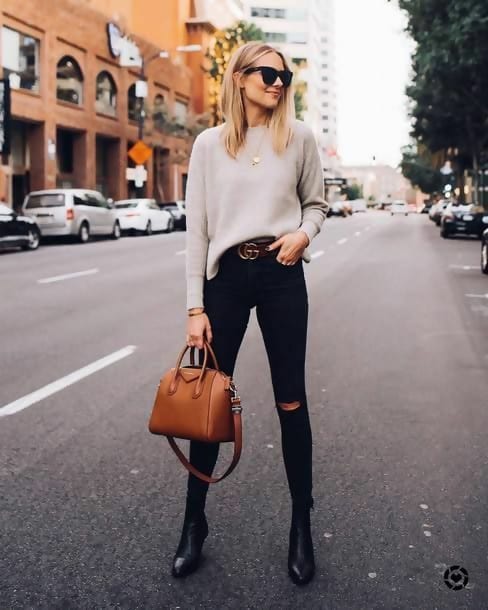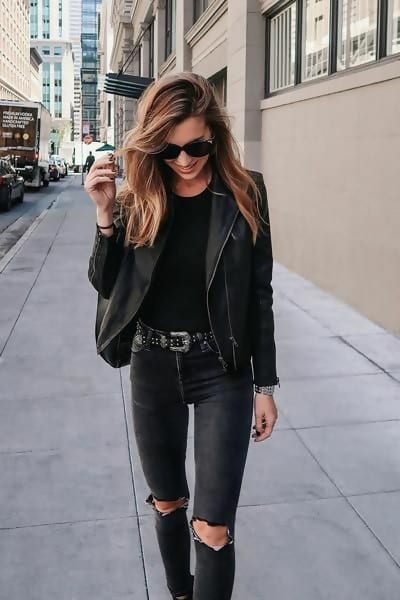 Black ripped jeans for work
Get the best of a black ripped jeans outfit pairing them with a nice blazer to transform it into an appropriate work attire: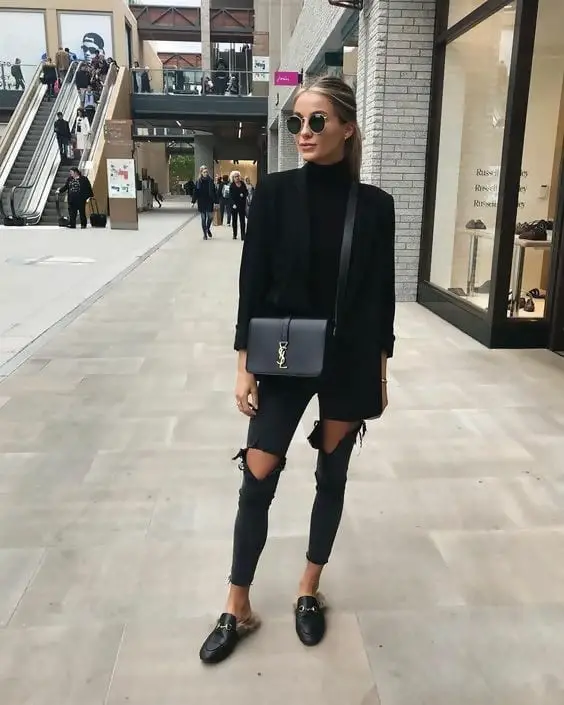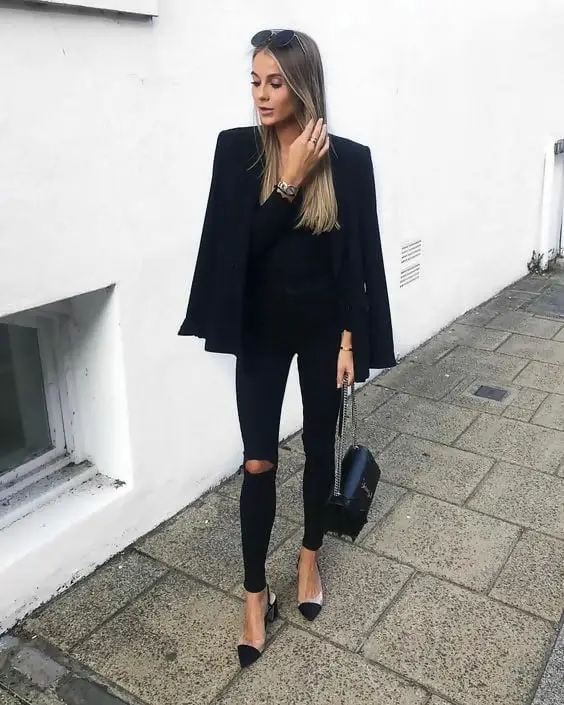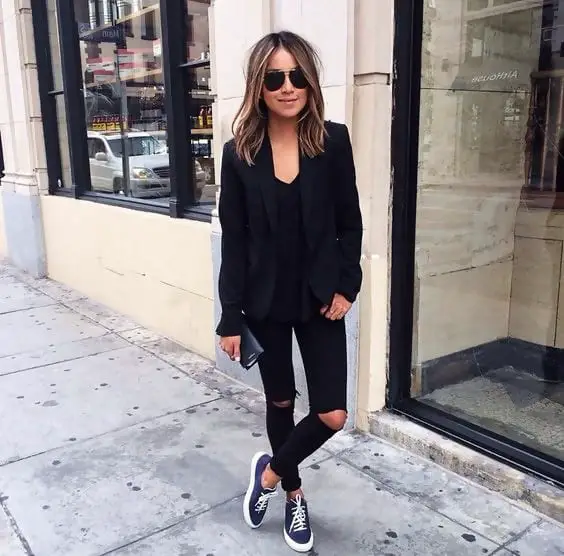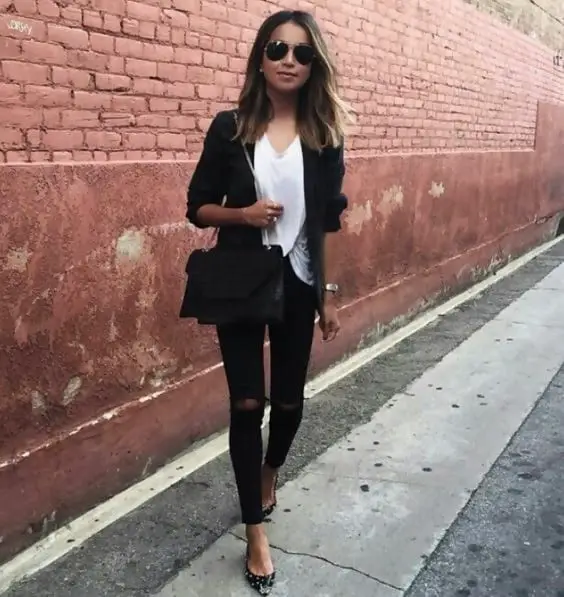 Shop The Ripped Jeans
---
Click the picture to buy
Wrap up:
Ripped jeans outfits can be so versatile as to be completely appropriate for both casual and formal occasions. All you need to do is pair them with comfy and casual pieces for a chill and lazy day, or wear a pair of high heels and a chic clutch for a dressed-up occasion.
Plus, they give you that chic and an edgy vibe that flatters any type of personal style you may have.
You also have to think of your ripped jeans (or any jeans!) as a canvas were the elements that you pair them with will decide the "occasion of use". In other words, you can do anything you want with them!
In other words: a pair of ripped jeans is definitely a must-have item.