Dresses are for every season!
Can we all agree there's nothing comfier than wearing a dress? I understand there are girls that can survive without casual dresses in their closet because they don't feel comfortable in them, and that's okay.
But most of us love wearing them, especially in those summery and warm days. I believe it's maybe because they make us feel very feminine and at the same time save us some styling time since we don't have to combine a top and a bottom together.
Sadly, summer is not forever, and when the weather drops, we wonder how to wear a dress in winter. I would rarely wear anything that wasn't a pair of jeans or trousers during winter days, back when I struggled to get creative with fashion, which I know it's a common issue for many girls out there.
Fashion shouldn't depend on the weather: a great style should survive throughout all seasons. I understand the frustration of running out of ideas when it comes to your winter dressing style, and that's why I've compiled 7 of the best and most stylish ways to wear a dress in cold weather.
Grab a hot chocolate as I guide you through winter-friendly dresses that will keep you warm while looking like a fashion expert.
How to wear a dress in winter
Dresses never go out of style, and that's why you shouldn't stop wearing one during winter. All you need to know are chic ideas that can help you stay warm while wearing a dress.
My top 7 styling tips on how to wear a dress in cold weather
1. Thigh or knee length boots
What shoes to wear with a winter dress? The trendiest and chicer answer I can give you is thigh or knee-length boots.
A dress paired with these kinds of boots is definitely my favorite winter outfit. They're ahead turner item that will automatically take your style to the next level.
Super sexy and chic. That's exactly how you'll feel and look: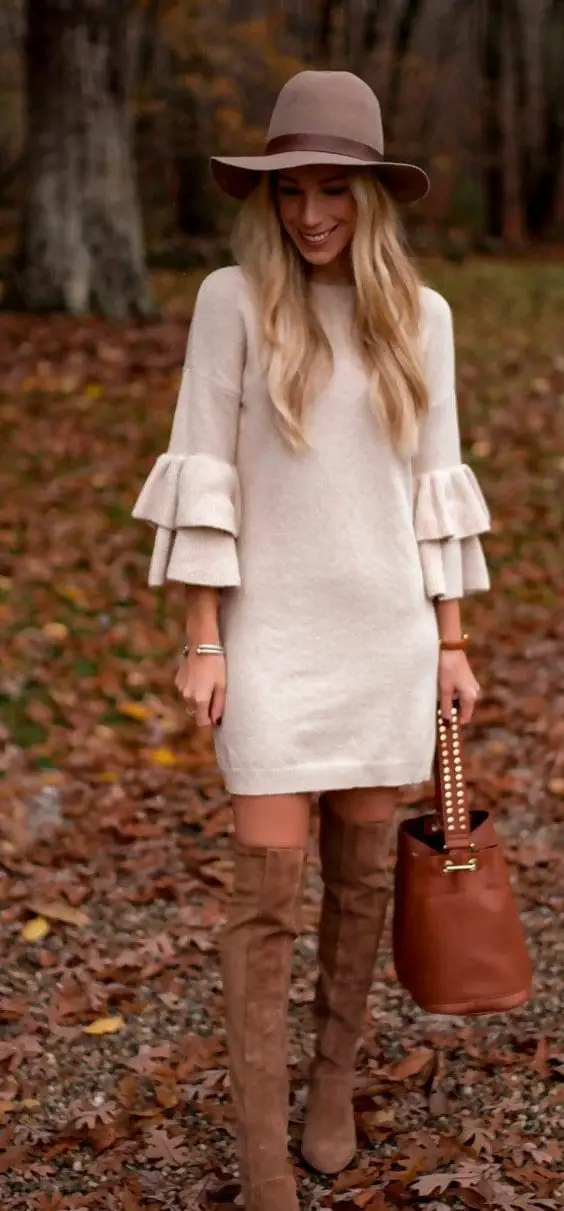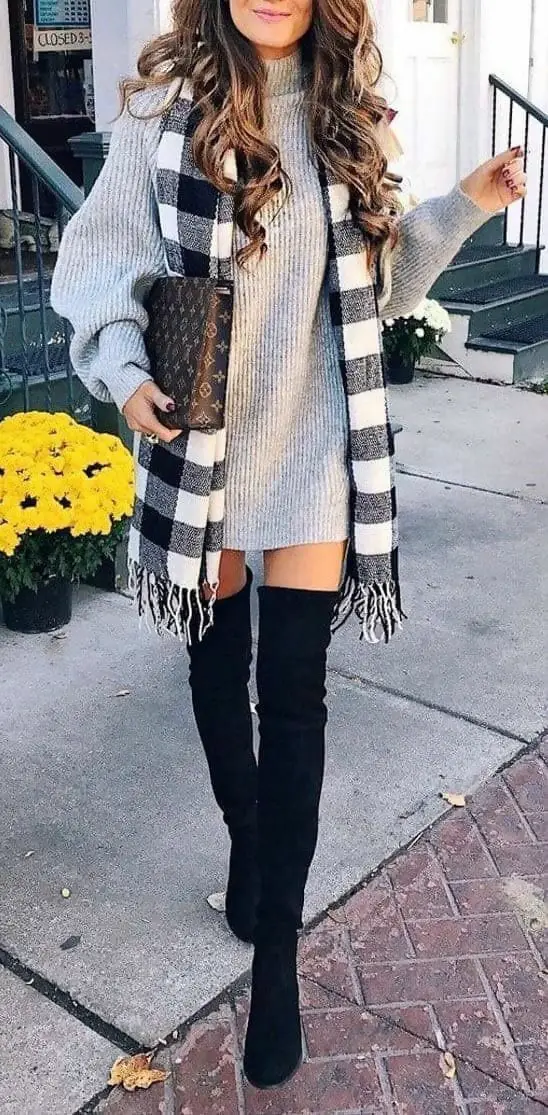 Any color of boots will make your winter dress outfit stand out, like these amazing burgundy velvet-like pair of boots: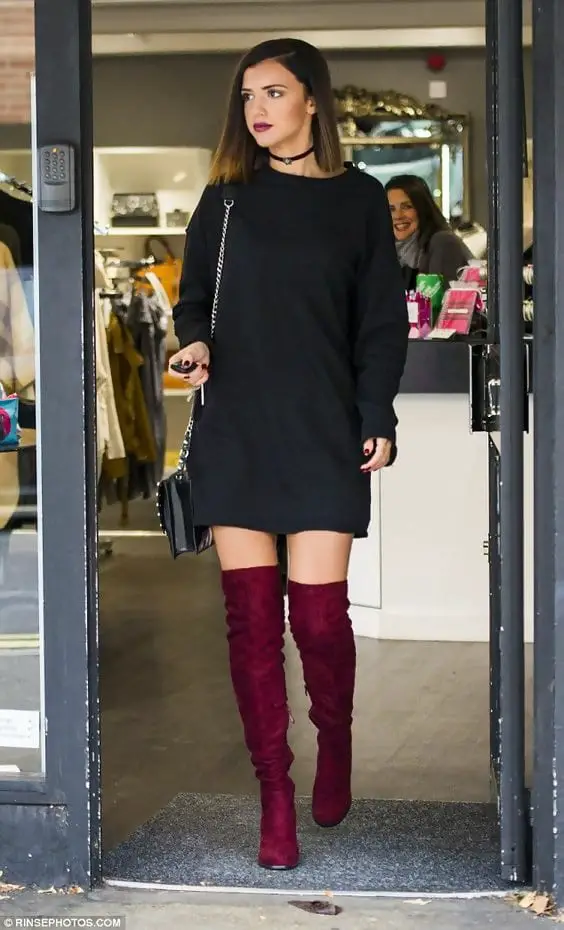 Opt for bright and bold colors for an extra dose of sophistication, like these pair of hot red boots: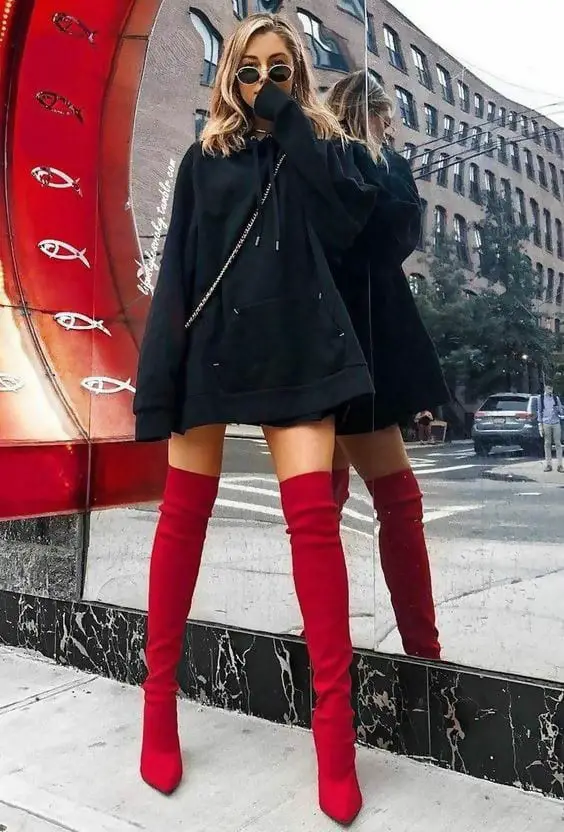 An unconventional color of boots will also add an edgy vibe to your winter dress outfit: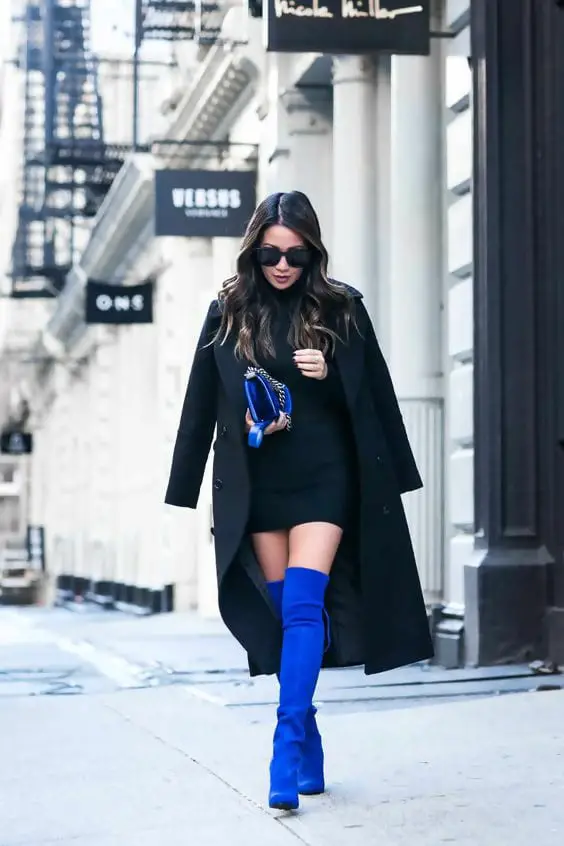 What about these dark brown boots for a relaxed and chic look? There are few color palettes more relaxing than earth tones: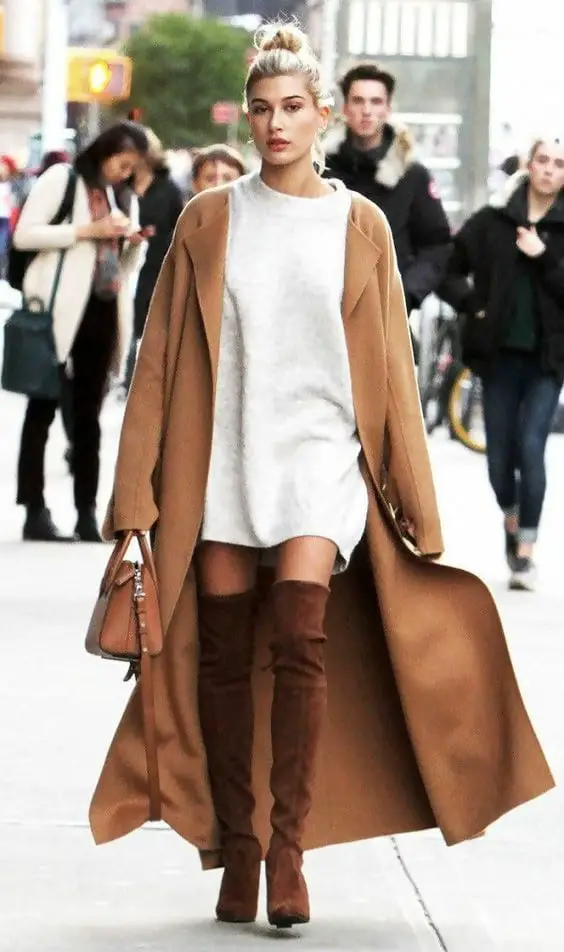 The possibilities are endless, but we all can agree that a simple or solid colored dress paired with thigh or knee length boots makes you look super chic without even trying. This is the simplest and most fashionable answer on how to wear a dress in winter.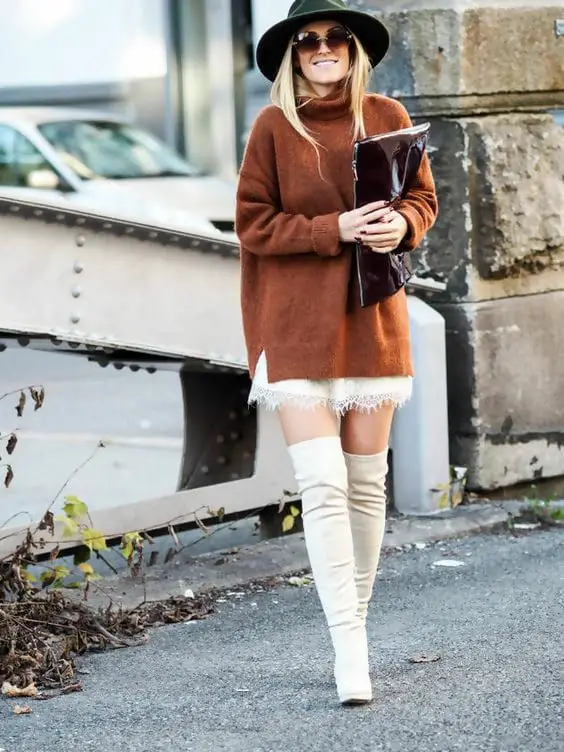 2. Stockings & boots
For colder weather, stockings always come in handy while dressing up your outfit and keeping you warm at the same time. It's literally the perfect combo for a perfect winter dressing style.
This is a great winter dress outfit, especially for formal occasions.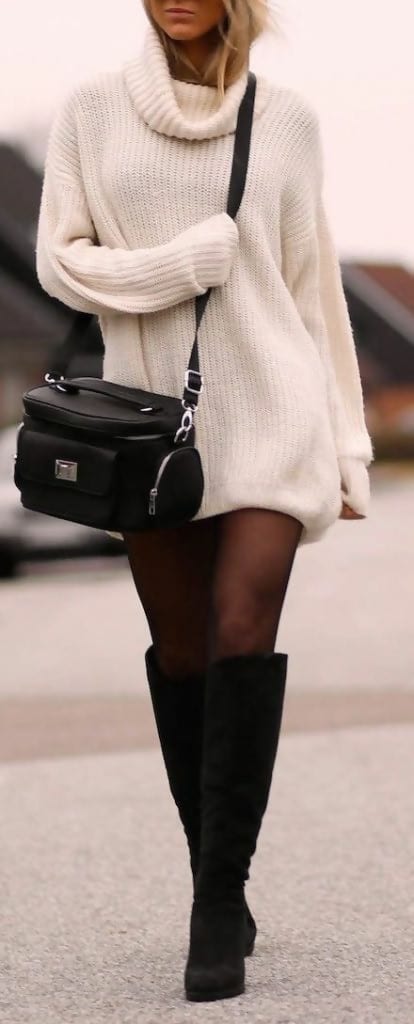 Wear an all-black outfit for a super elegant and stylish look. You can add a black scarf and jacket for really cold weathers.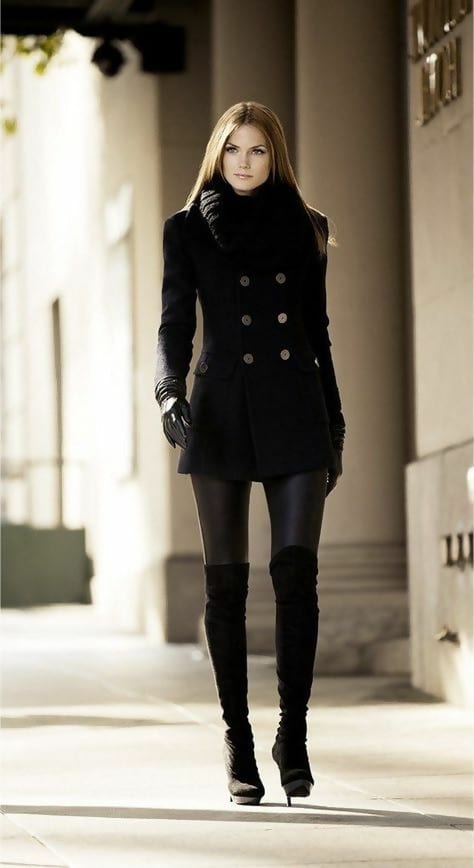 3. Monochromatic winter outfit
Street style fashion has given us plenty of monochromatic look inspirations for our own wardrobe by showing us how to wear winter dresses in the chicest possible way.
My favorite monochromatic looks for winter dresses are shades of grey and earth tones such as camel and beige.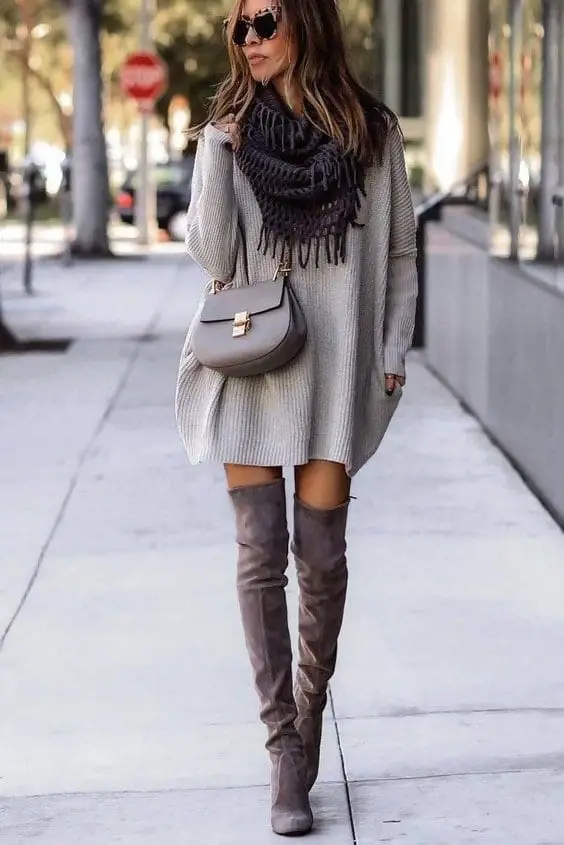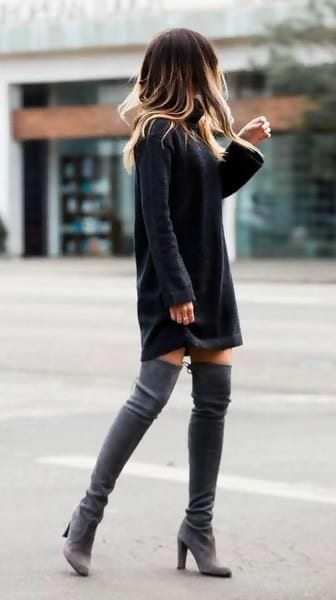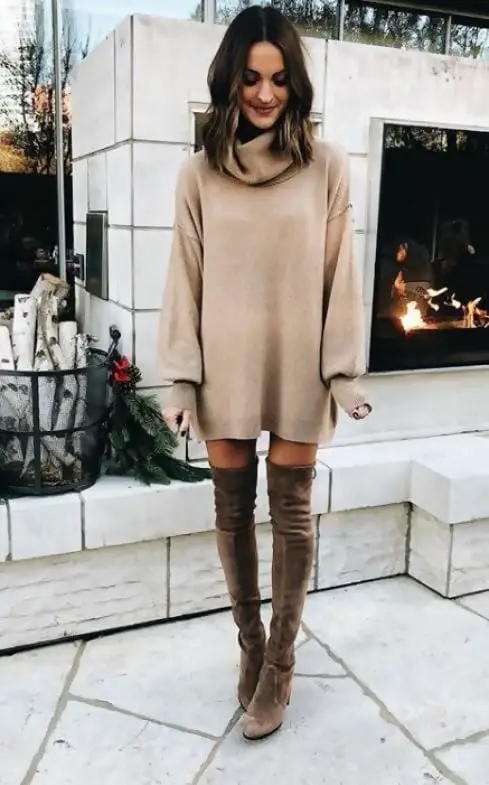 As you may know, a wintery color palette tends to revolve around cool and soft colors, but bright and bold colors can definitely be included in your winter dress outfit, especially if you want to stand out from the rest.
It can also help you cheer up a bit on those days when the weather is gloomy and cold.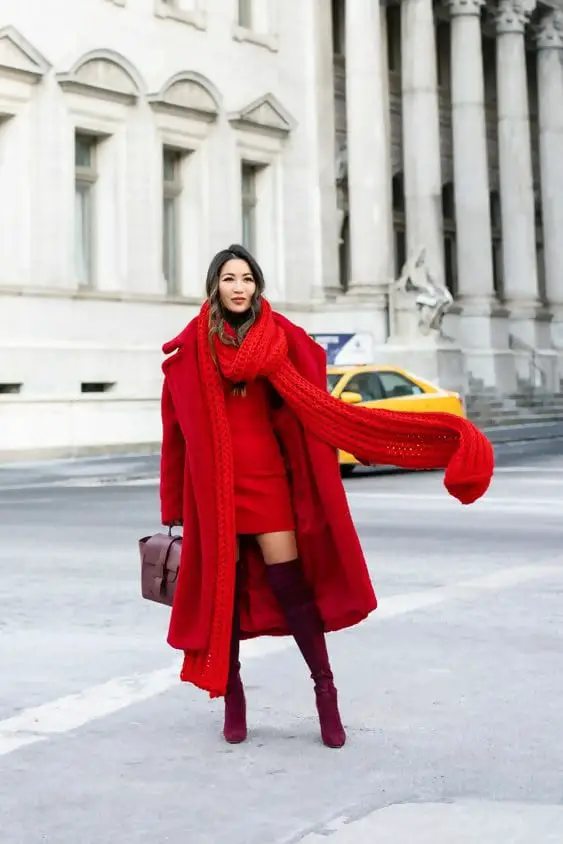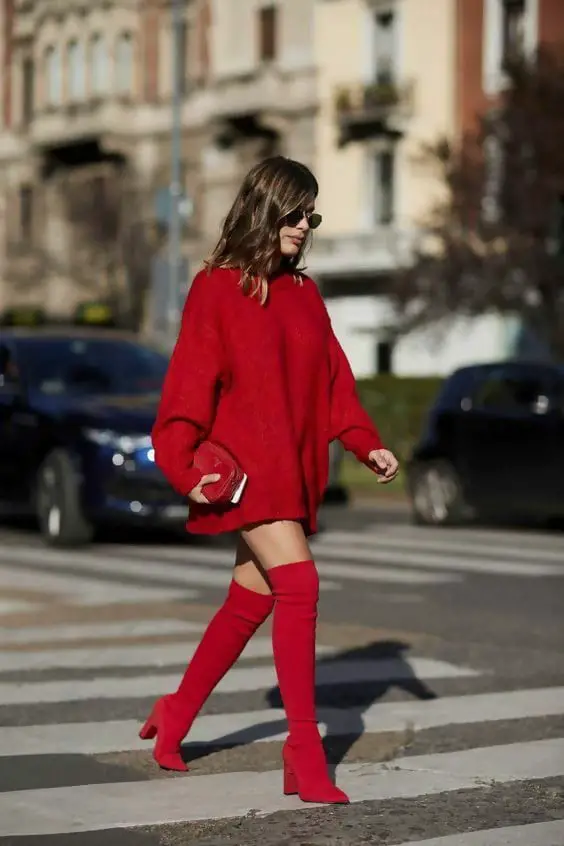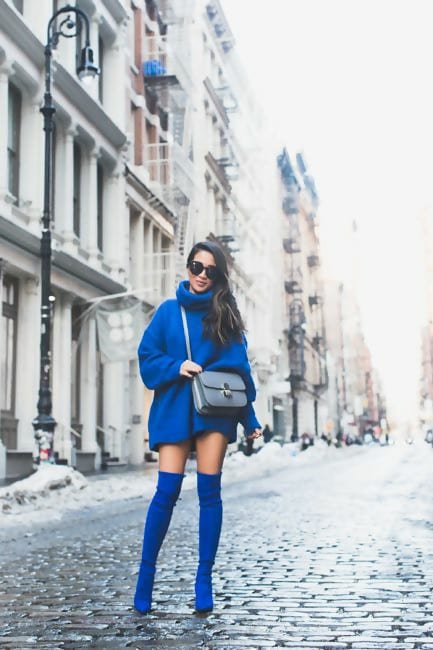 4. Ankle boots
As you may have noticed, I'm obsessed with how amazing thigh and knee length boots make you look, but a winter dressing style is also all-inclusive.
I'm a firm believer you should follow trends only if you feel comfortable with them. So if you're not crazy about these type of boots, opt for more conventional and probably easier to find the type of shoes such as ankle boots.
They will definitely be a great investment for your winter dressing style.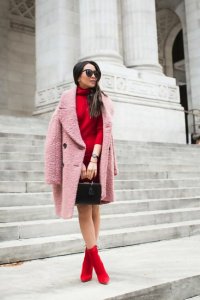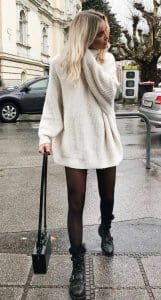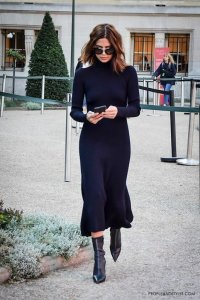 5. Layering your dress
The lowest temperatures will definitely ask for several layers, and since a dress is not covering much of your legs, you'll need to find the perfect jackets, sweaters, vests, etc, to pull out a super chic winter dress outfit.
Your favorite oversized crew or v-neck sweater over a dress is the easiest but at the same time very chic way of layering your outfit no matter your dress length.
Here are some examples of how to wear layers and a dress in winter like a pro.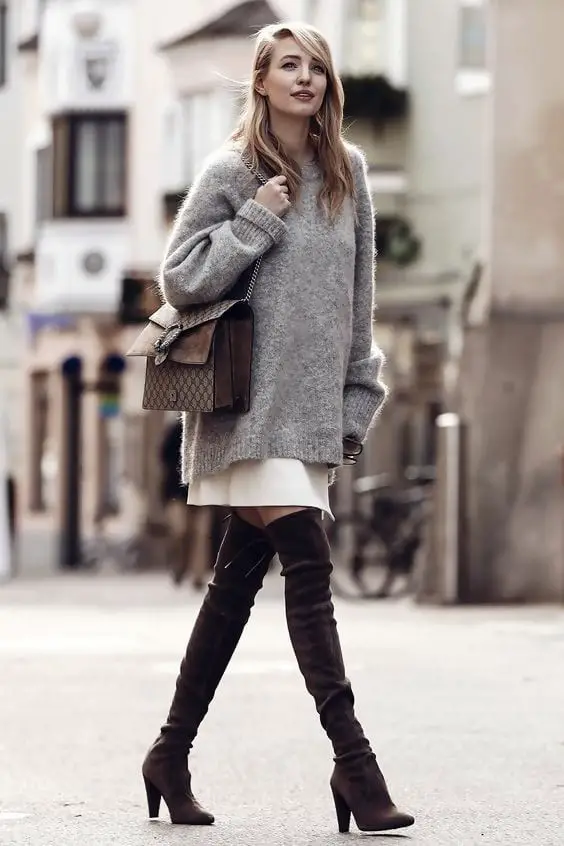 The same outfit idea looks great on midi or knee-length tight dresses: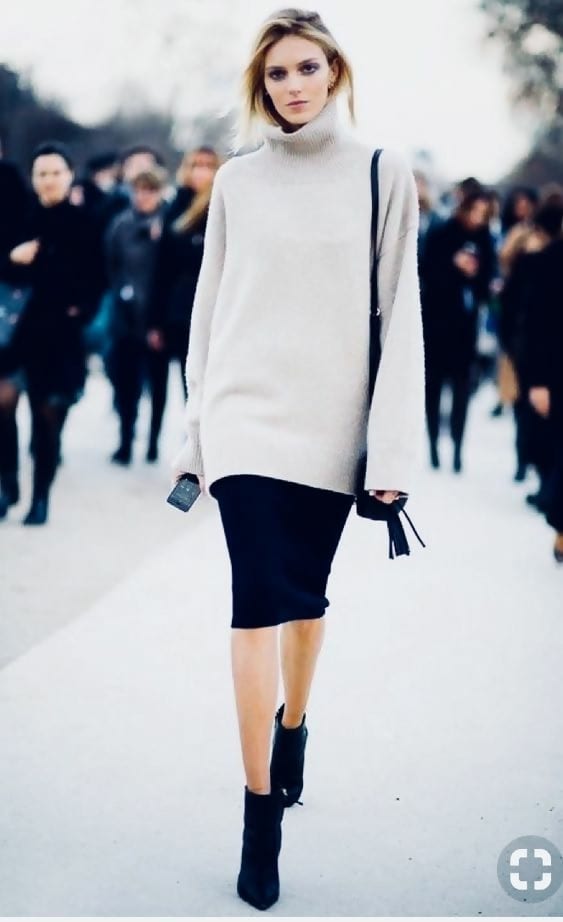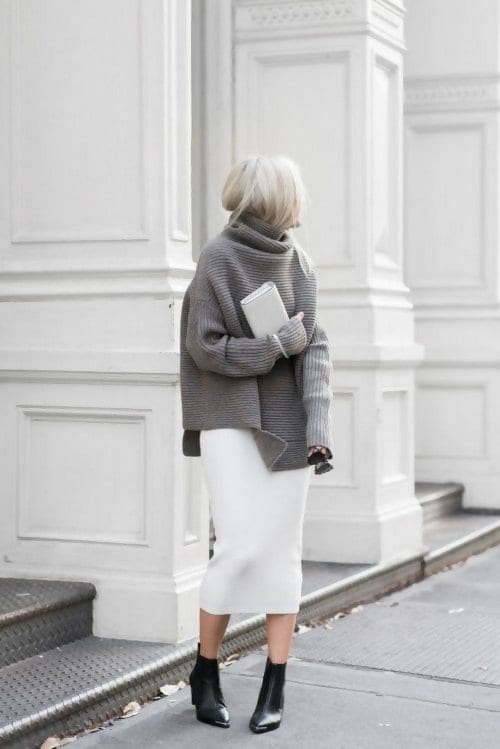 You can literally wear four favorite summer dress with an oversized turtle-neck sweater and make your outfit winter-friendly: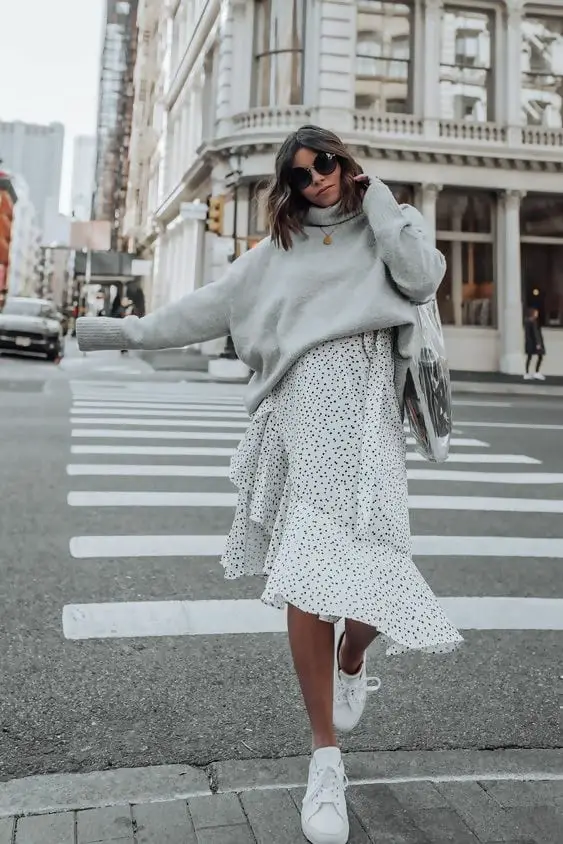 What about a poncho outfit? Another great item that can't be ignored for your winter dress look.
To master the layering game, you have to understand it is not exclusively for sweaters or jackets. A super stylish way of layering your winter dress outfit is by wearing it on top of a long-sleeve t-shirt.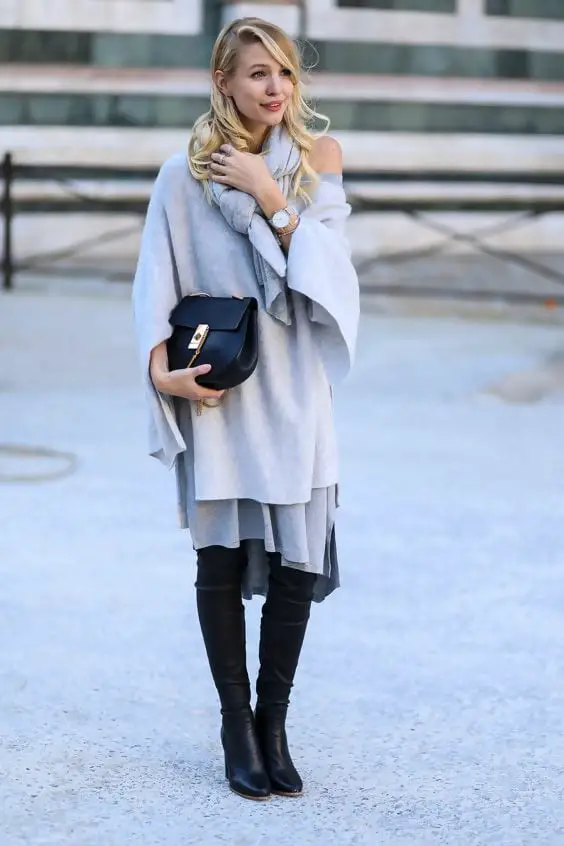 Look how good it looks on this model, who's also wearing a cool black leather jacket:
The ultimate layering idea is to wear skinny jeans or pants under your dress, helping you style your winter dress outfit like a pro: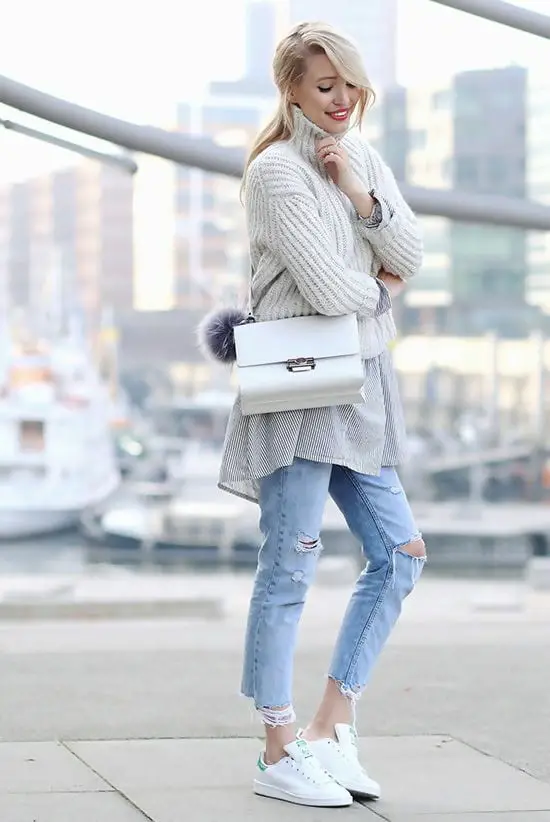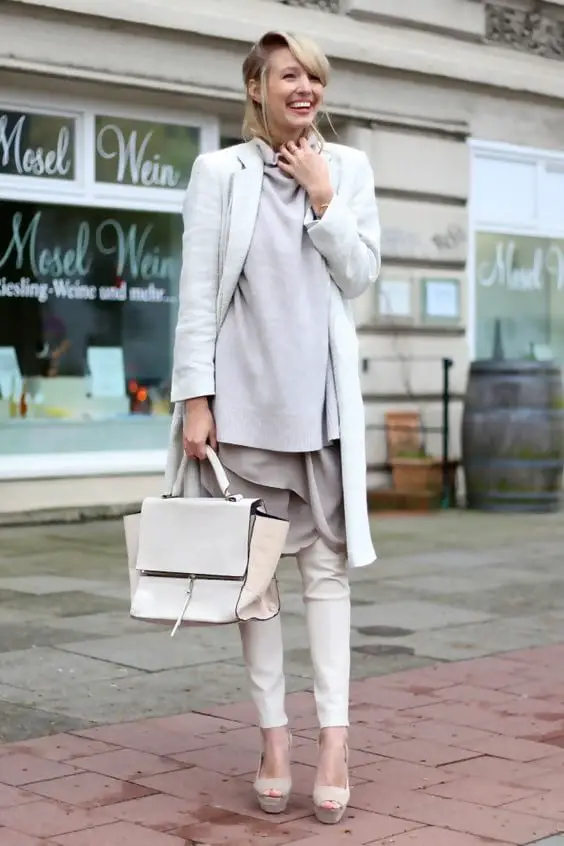 6. Chunky scarfs
These are statement pieces you can't go wrong with. They add a chic, effortless and feminine touch to your winter dressing style, and look perfect with absolutely any kind of dress or jacket: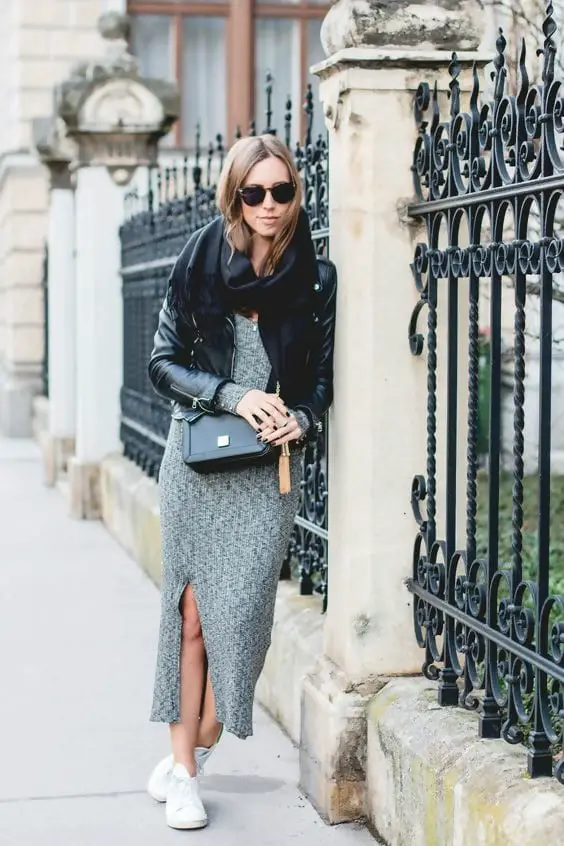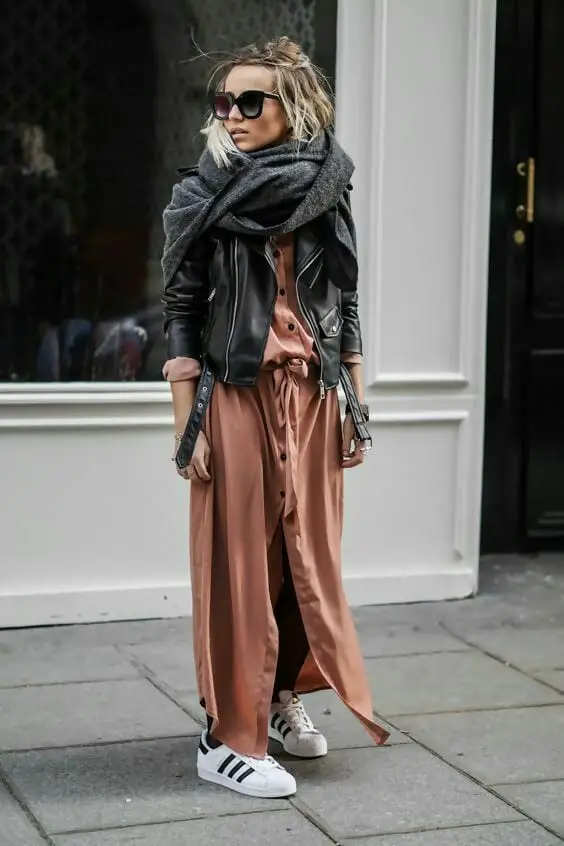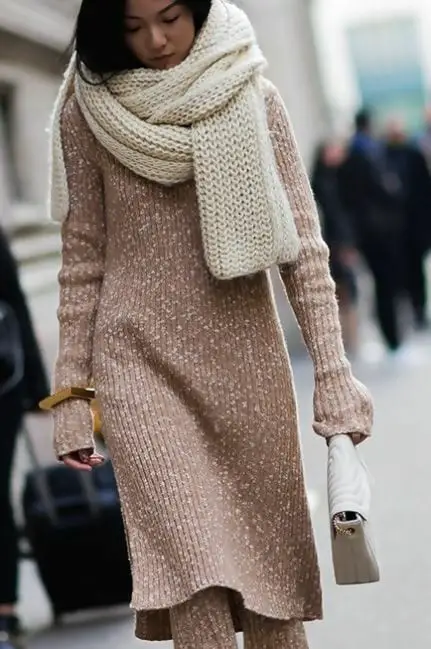 7. Belted waist
One of my favorite ways of styling dresses for cold weather is by simply adding a belt to define your waist. You can do this with almost any style of dress, but a sweater dress is by far my favorite option: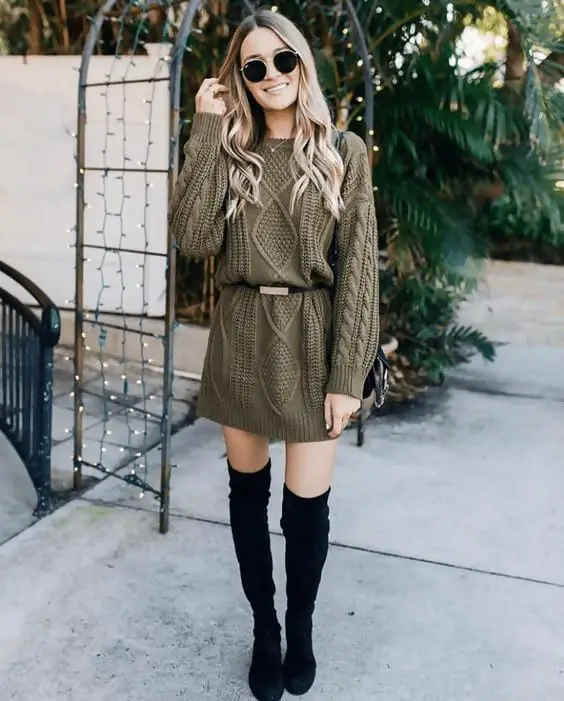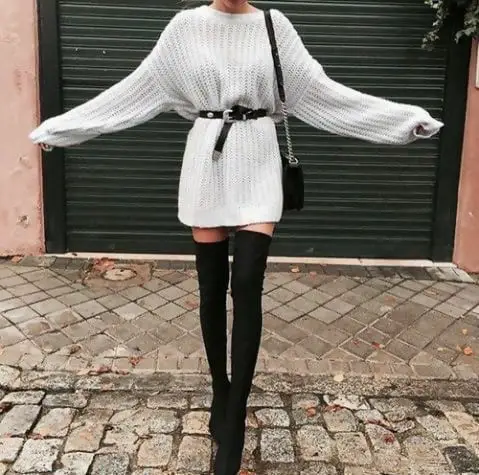 Wrap up:
As I've shown you, there's no need in saying goodbye to your dresses when the weather drops. These outfit ideas on how to wear a dress in winter display multiple ways on how to pair or style your dress, regardless of how cold the weather is.
Mini, knee, midi or maxi length dresses can all be perfectly worn for winter, all you have to do is wear the right shoes, layers, and accessories, and maybe add a pair of stockings.
Are you excited for winter now? I surely am!