A chambray shirt is a versatile and quintessential staple recommended for everyday use. Chambray fabric is lightweight with plain weave construction that makes it a perfect choice for warmer months. Not just men, fashion-forward girls too love to incorporate it in their everyday outfits. But many of us do not know what chambray is, and we often confuse it with a denim shirt. There are some fundamental commonalities that make them look similar. But actually, they are different. Before we give a lowdown on some great chambray outfit ideas, you are advised to know a wee bit about chambray fabric.
What is Chambray?
Chambray fabric offers a soft touch and unique sheen. Earlier, chambray was all about a fabric weaved in white and blue yarns. But now chambray is available in a range of hues like mossy greens, red clays, soft grays and many more.
Chambray shirts are the right go-to option in summer because they are lightweight and lack the ruggedness of denim fabric, and you can wear it on a daily basis.
How to Wear Chambray Shirts?
Scroll down to get a passel of outfit ideas based on chambray fabric. These outfits (if tried) are going to be the purchase you will never regret.
Off-the-Shoulder Chambray Shirt
Get a flirty look with a sizzling chambray top in off-the-shoulder style. It can be worn with denim trousers or with shorts—it promises an eye-catching appeal with both. Have a look.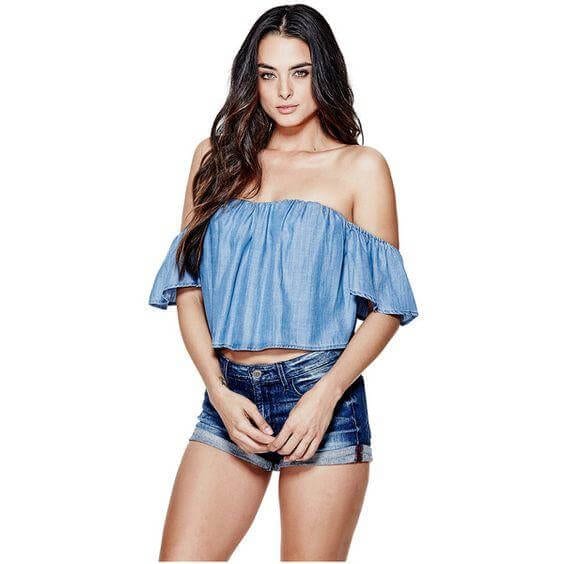 Button Down Chambray Shirt with Checked Trousers
Have a look at this denim-like chambray shirt with front pockets. The button down and loosely fit blouse is a great choice for the days when you are doing nothing but chilling out with friends. To add more to your comfort, team this shirt up with checked trousers.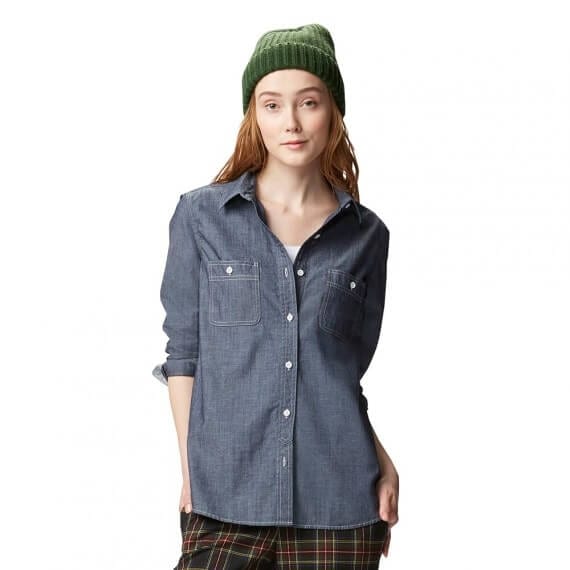 Picture credit: uniqlo.com
Chambery Shirt over a Printed Dress
Are you planning a fun day with your BFF's or is it a fun occasion like a Sunday brunch? Give your simple printed dress a flirty flair by pairing it up with a chambray shirt in a tie front style.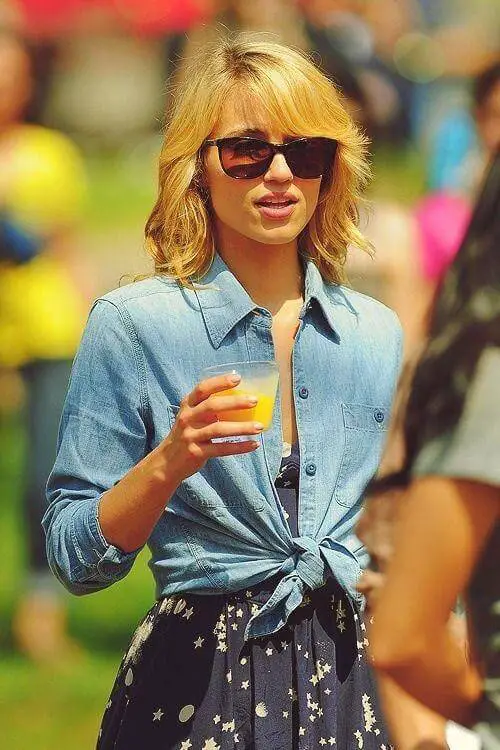 Chambray Blouse with Skinny Blue Jeans
The combination of chambray blouse and blue denim trousers is just like a dual denim look. Just pair up your soft blue chambray top with dark wash skinny jeans; to break the continuity of blue, wear the brown leather belt. To complement your look, accessorize yourself with something brown (matched with the belt), like a state-of-the-art leather bag and brown shoes that you find the ideal for lounging around. Check out the image for some visual advice.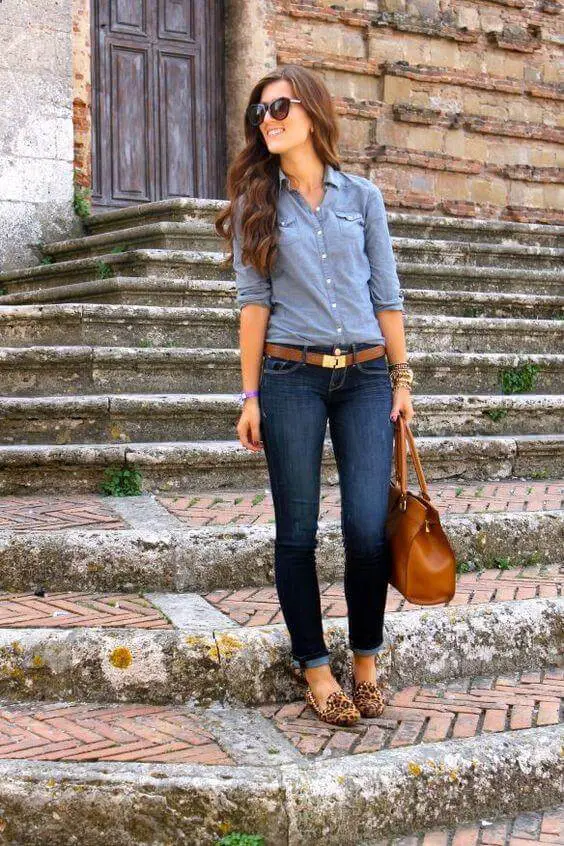 Chambray Button Down Top with Leather Shorts
Step out in style in your femininely-stitched chambray top accentuated with leather shorts and of course high heels. To add a chic appeal, adorn your torso with a statement necklace.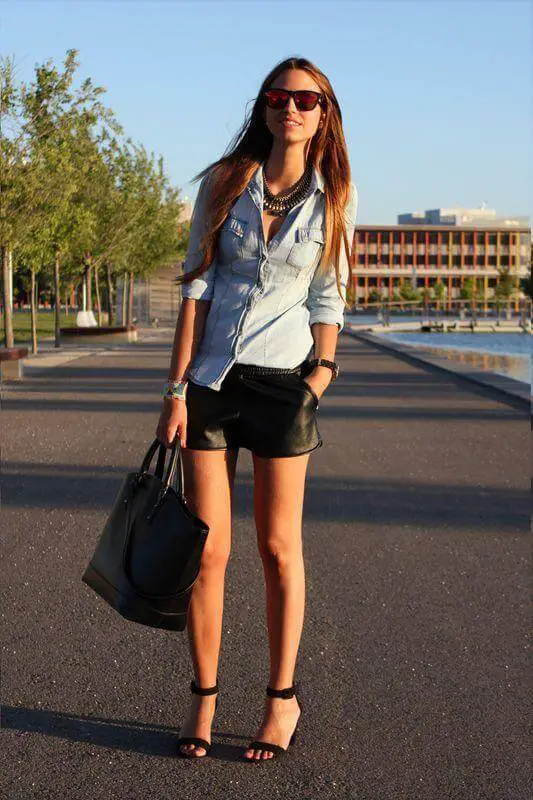 Chambray Shirt with Striped Tee
Go on for a hipster plus preppy look by layering up your black and white striped tee with your soft blue buttoned down blouse. Just opt for a black skinny denim and ankle boots for dolling up the bottom.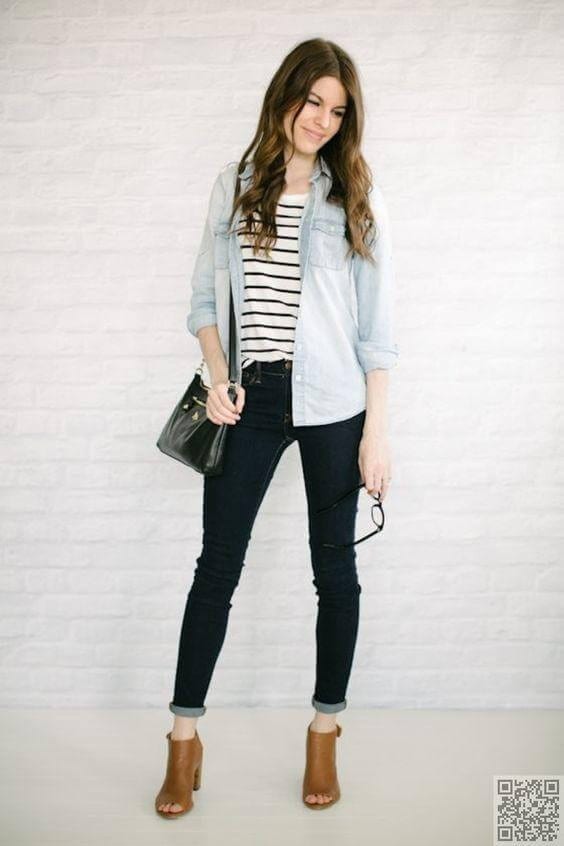 Chambray Shirt with Black Pants
Ditch the blue denim by replacing it with something black. Believe me, a chambray shirt looks fabulous when paired with black denim. You don't believe me, have a look at the visual proof.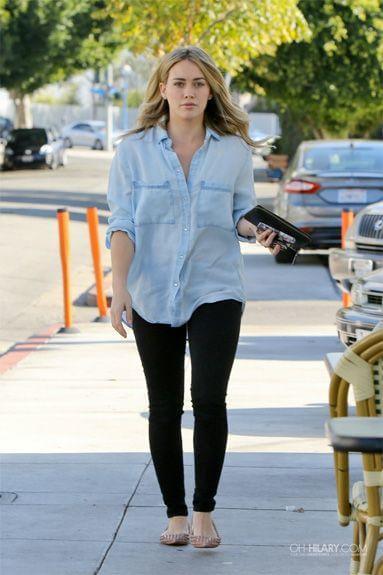 Chambray Shirt with Floral Skirt
Next time when you pull off your floral skirt, do not forget to get it layered with a chambray button-down top—especially in a tie front style.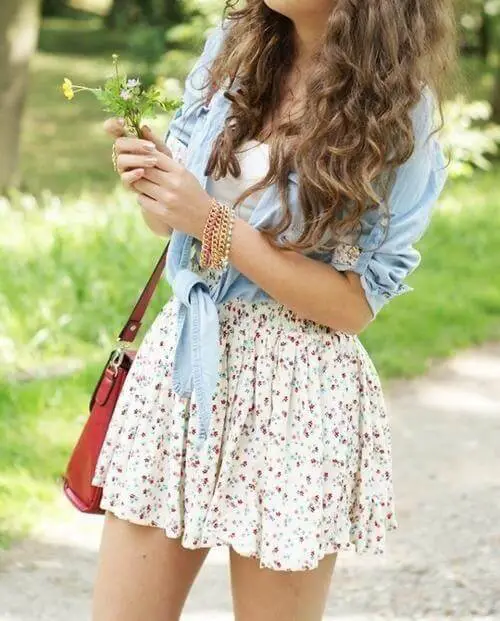 Chambray Blouse with White Skirt
Add a sophisticated glow to your white knee-length (plain or laced) skirt by pairing it up with a cool chambray shirt. The combination of soft blue and white is pleasing to eyes, especially in summer. Addition of strappy sandals and dramatic handbag complements the whole look.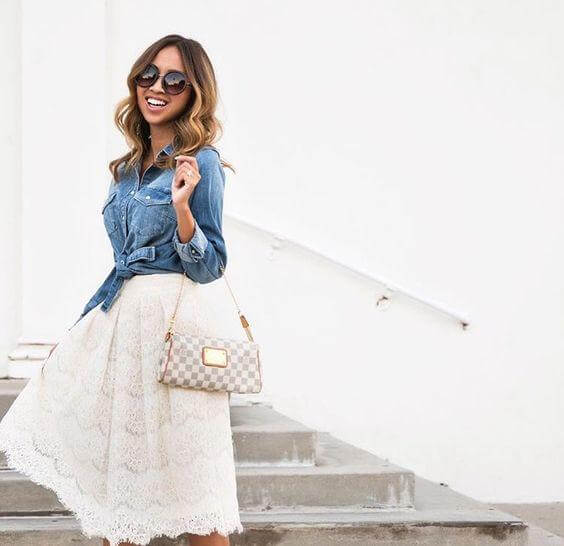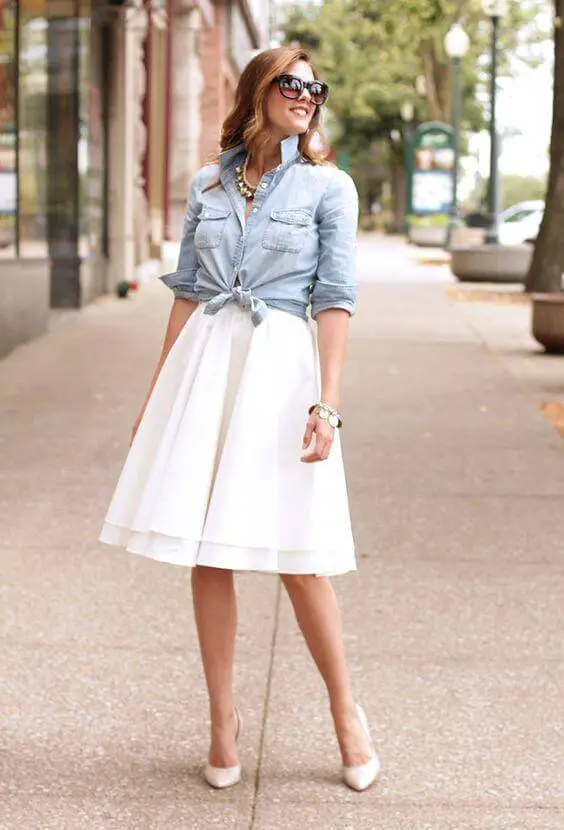 Chambray Shirt Dress
Nothing could be sweeter in summer than a lightweight chambray shirt dress with front pockets. Cover your torso with loosely fit or belted chambray shirt dress and leave the legs bared for a hot and sassy look. For footwear, both wedges or sandals can jazz up the look.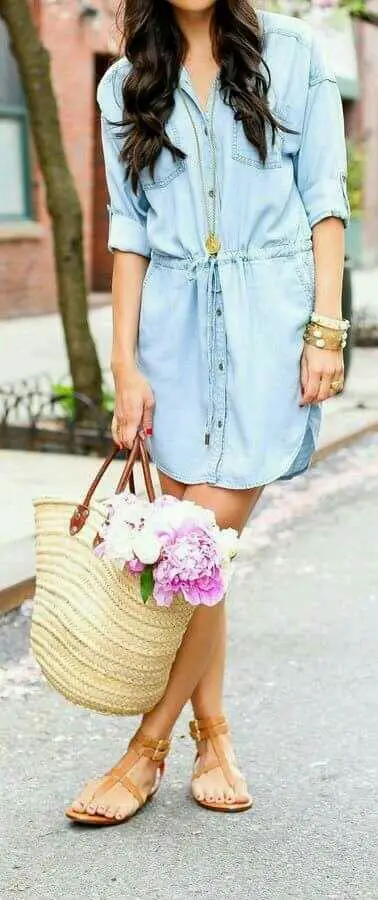 Over a Striped Dress
Add a funky style to your boring striped dress by layering it up with a chambray button-down blouse in tie front style. Check out the images for inspiration.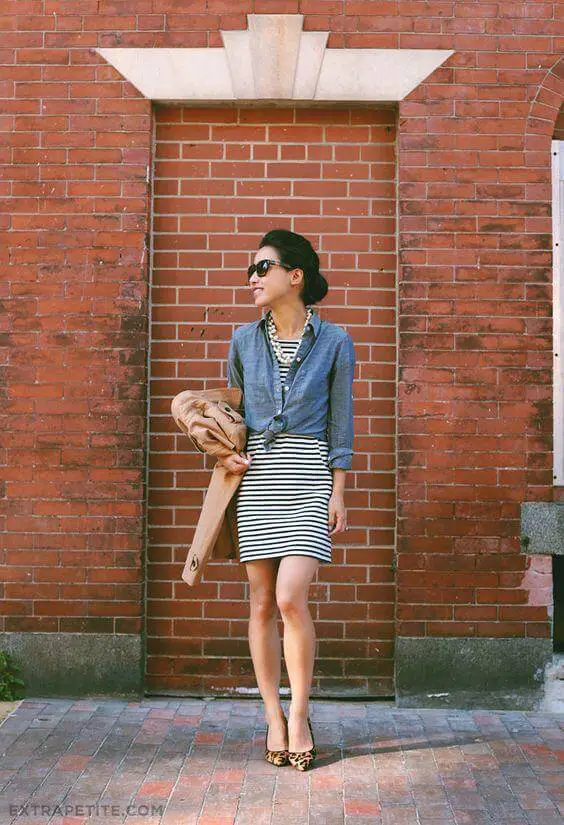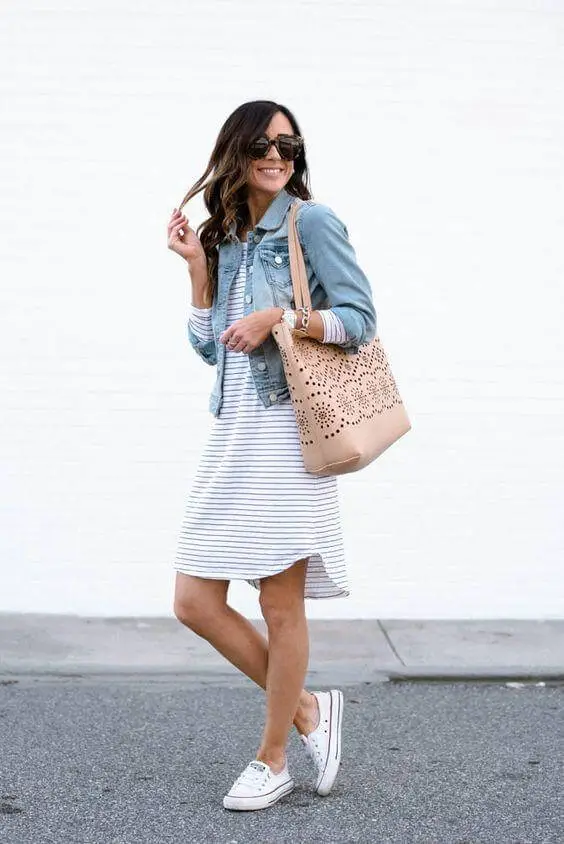 Sleeveless Chambray Blouse
When it is about summer, nothing could beat the comfort of a sleeveless top—things get even better when the shirt is made up of lightweight chambray fabric. For the bottom, experiment the rotation between black denim trousers, black skirt or black shorts. All three items promise a contemporary look without compromising the style. For footwear, keep things simple by wearing something flat.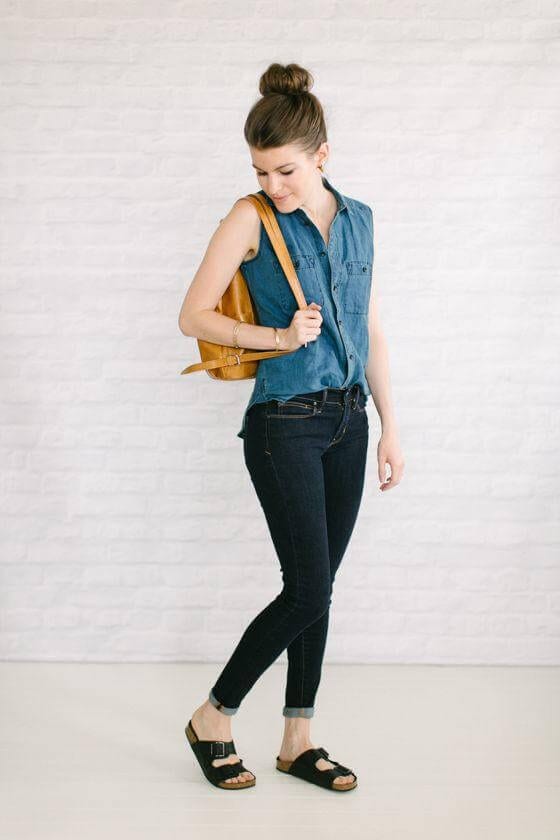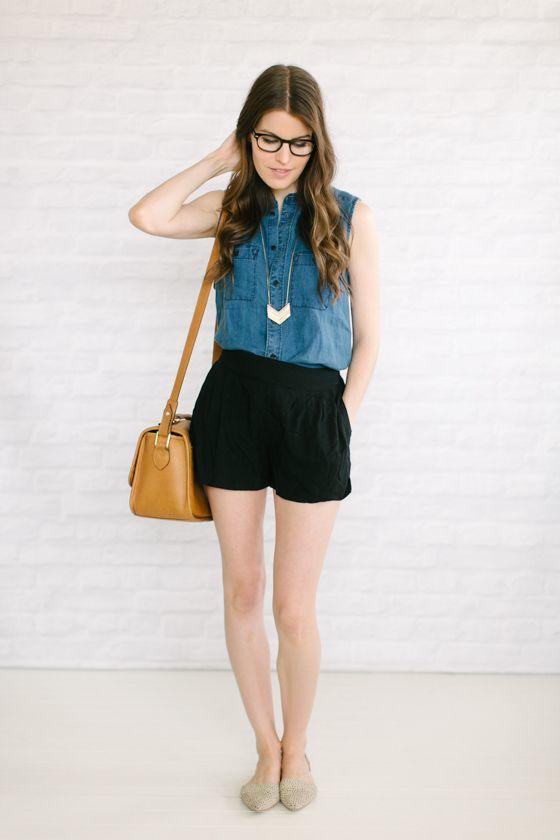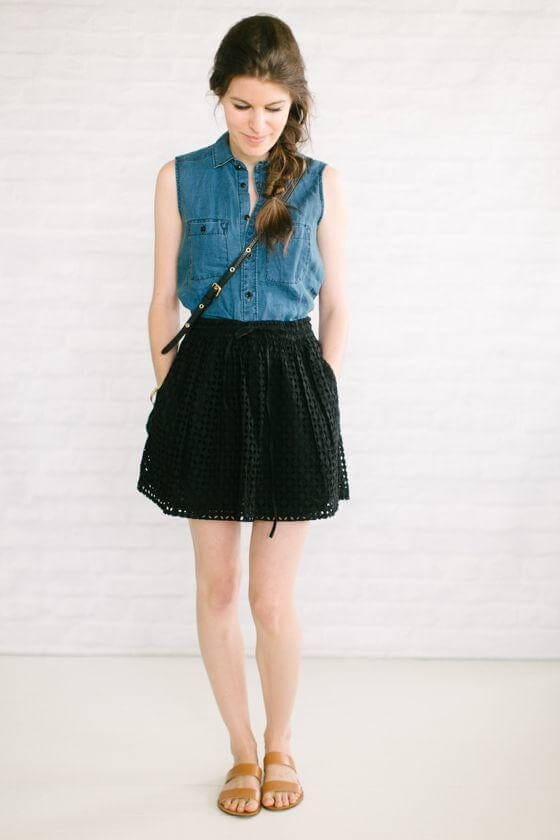 Half Button Chambray Blouse
Do you want to keep things simple? Just give a try to a half button chambray shirt with dark skinny jeans. Addition of a dazzling belt is enough to add a solid sense of style. Just don't forget to tuck in the shirt from the front (to make the belt visible).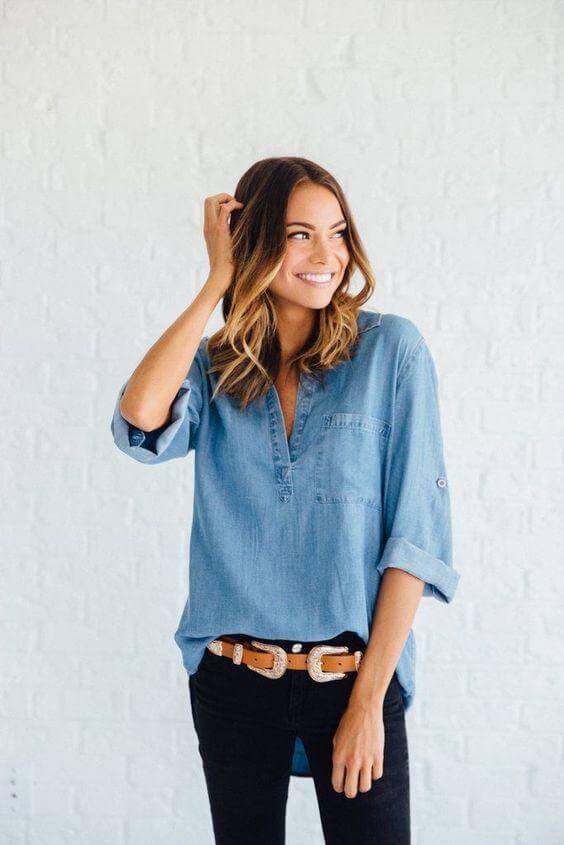 With Denim Shorts and Khaki Duster
Simply grace this look if you want to get a bold street style. The combination of a chambray blouse and denim shorts gives a chic appeal. For cool and breezy mornings, layer it up with a stylishly cut beige duster—for footwear, ankle boots are the go-to option.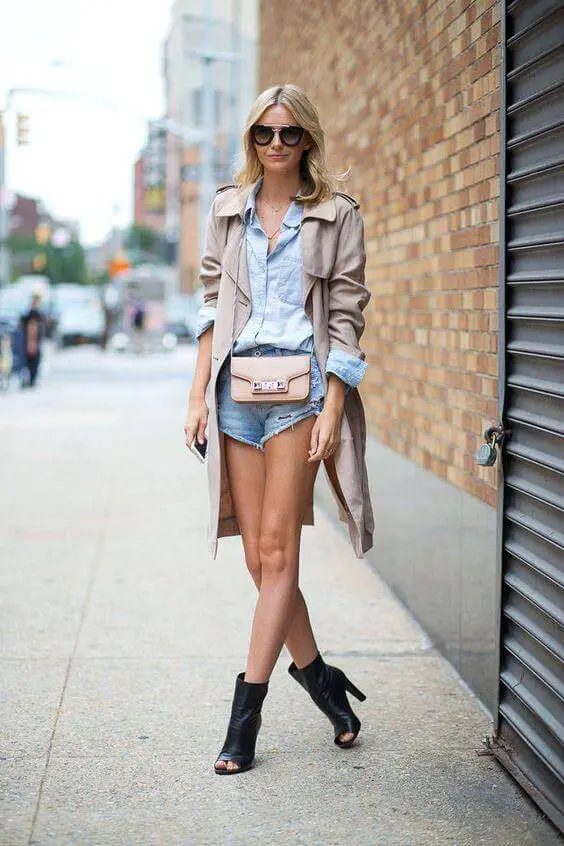 Strappy Chambray Blouse
For teenage or young girls, check out this cute strappy blouse. Frayed hemline and striped bottom are enough to get you in the spotlight.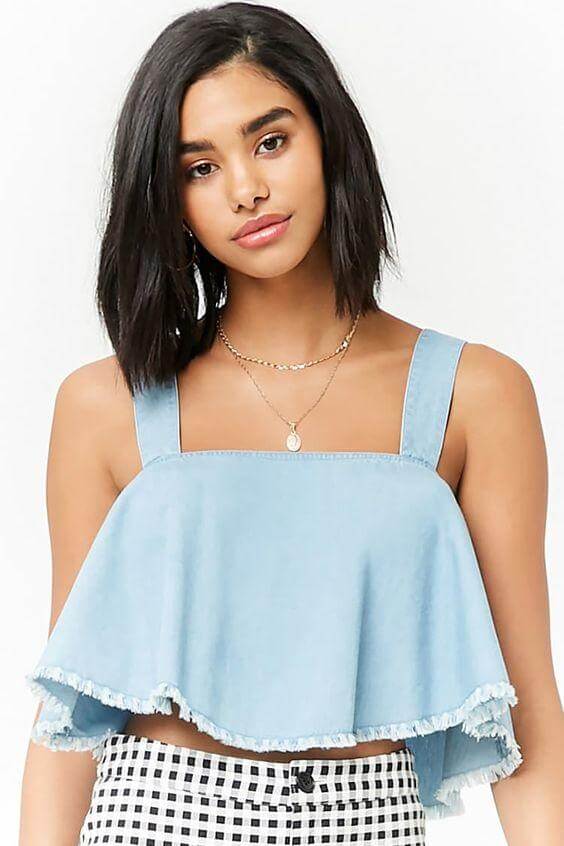 Chambray Shirt Women with Cut out Detailing
Find your perfect style in a bottom with dark denim, chambray shirt with cut out detailing and much more. Oversized sleeves, zip up and knotted front—all tend to update the design of a simple chambray shirt. Take a look at the image for some visual advice.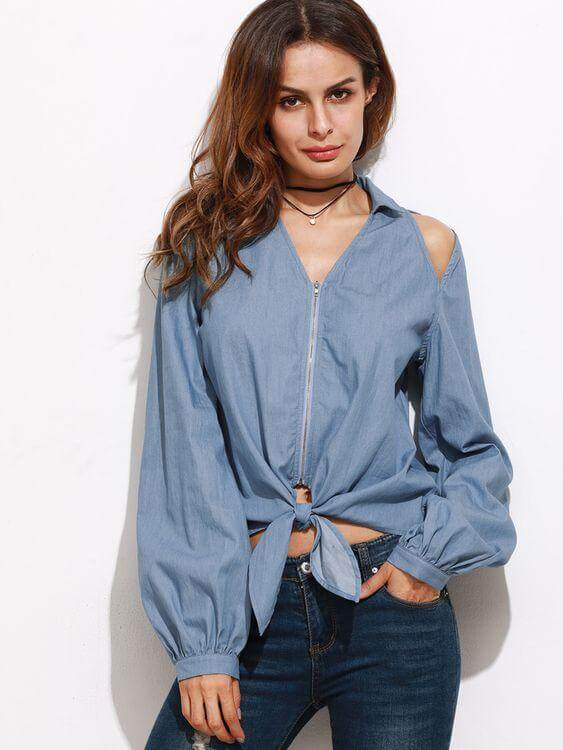 Wrap up:
There are countless styles and outfit ideas that you can try with chambray fabric. All that is needed is an innovative you, with a lot of confidence to flaunt these amazing looks and styles. Are you ready to make these outfit ideas a part of your summer wardrobe? I am sure you are.