Looking at the history of fashion, stripes have always been there—in different colors and sizes. This classic and simple pattern becomes even better when combined with a basic outfit like the striped tee. This geometrical pattern not just promises a chic look; it is also helpful in figure adjustments for many. So, next time before you shop for a striped t-shirts, just give a thought to the dos and don'ts, we are going to share below.
Do's and Don'ts of Striped Tees
Do's
A striped tee is something that you can wear in different styles. Wear it alone or by incorporating other items like a blazer, denim jacket or a scarf; it looks great in each style.
Women of all body types can pull off striped T-shirts. All they need is a wee bit of info (we will be sharing below) to flaunt this basic outfit perfectly.
Are you a plus sized girl? Let's debunk the myth that you can't wear a striped tee. You can, and it would make you look slimmer. Earlier it was believed that horizontal stripes add more to width. But this theory is proven wrong. Being overweight, you should opt for horizontal stripes—the lines should be thicker (about 2 inches). Bigger lines help in proportioning big bodies by giving them 3 dimensional and taller looks.
Girls who are worried about a round tummy, you must try horizontally striped tees, it would give the illusion of a flat abdomen.
Wearing multicolor striped garment or tee is yet another pleasing experience for eyes. The trendiest combos for colorful stripes include—red and white striped shirt, blue and white striped shirt and light brown and black.
Vertical stripes are best for skinny and underweight girls. Vertical lines tend to add the illusion of a few pounds.
Have you ever worn a plain tee with striped arms only? This is a really cool style for the girls who have heavy arms. Striped print will give the illusion of beautifully toned biceps.
You can always wear tees that have mixed stripes. A tee containing the combo of diagonal, vertical and horizontal stripes promises a fun-loving and vibrant look.
Don'ts
Heavier and curvy girls should avoid too fitted and defined striped tops. Secondly, they should also avoid tucking in their tees inside the bottom—especially when they have a heavy-looking torso.
Color Scheme plays a vital role in your figure adjustments. Being a plus size, always handpick darkly hued tops with lighter stripes on them.
It is very important that the stripes sit on right place on your body. If it is too tight, the lined print would warp and offset the figure adjustments that stripes tend to make. So, always opt for a loosely fit striped tee.
Adorn only one part of your body with stripes. For instance, if you have adorned your torso with a striped tee, there is no need to wear a bottom having similar print. The opposite body part should always be plain or different—be it the top or bottom.
Slim and smart girls can carry smaller stripes perfectly. Curvy girls should avoid pulling off small stripes, it will do nothing but getting lost within their big bodies.
Trendiest Outfit Ideas for Striped T-Shirts
Scroll down to get the trendiest and the most appealing outfit ideas for basic striped tees.
Horizontal Black and White Striped Shirt
This is the most traditional style of basic striped tee. Whether you wear it with a denim trouser or shorts, it is always trending, and is surely going to bring you in the spotlight. To add a pretty pop of color, simply layer it up with trendy staples like a colorful scarf or a matching vest.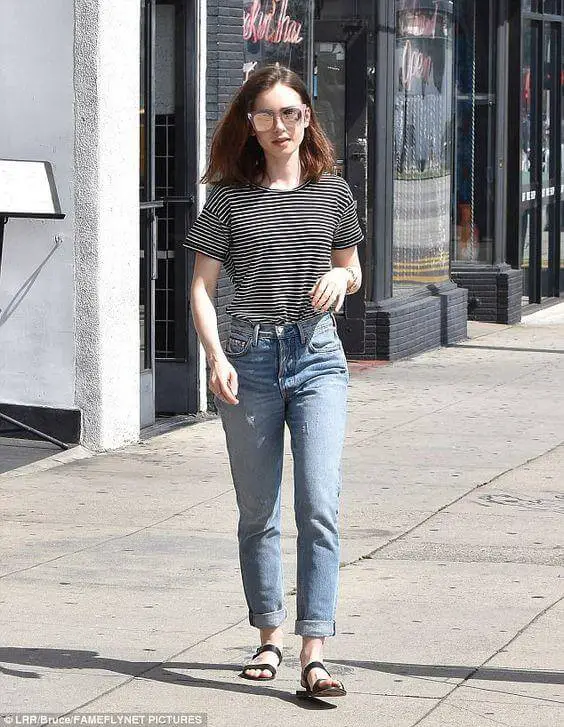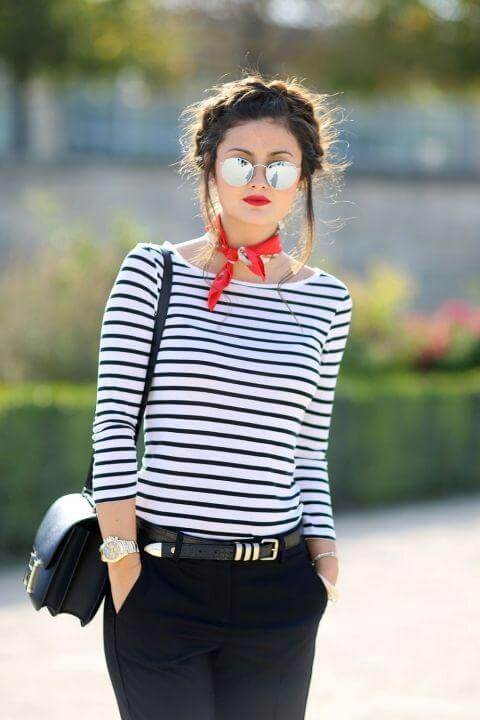 Red and White Striped Shirt
A very common yet adorable combo of striped tee, it can be tried in a number of ways. Be it a denim trouser or short, both staples accentuate the look. But my personal favorite is a white short. Addition of white shorts (even pants) adds a lift to your whole outlook. Check out the images to know how differently this combo can be styled.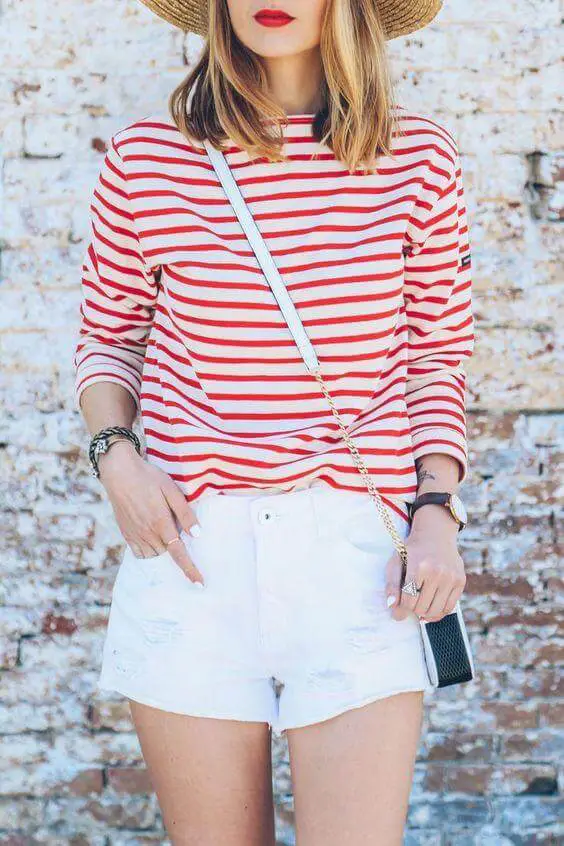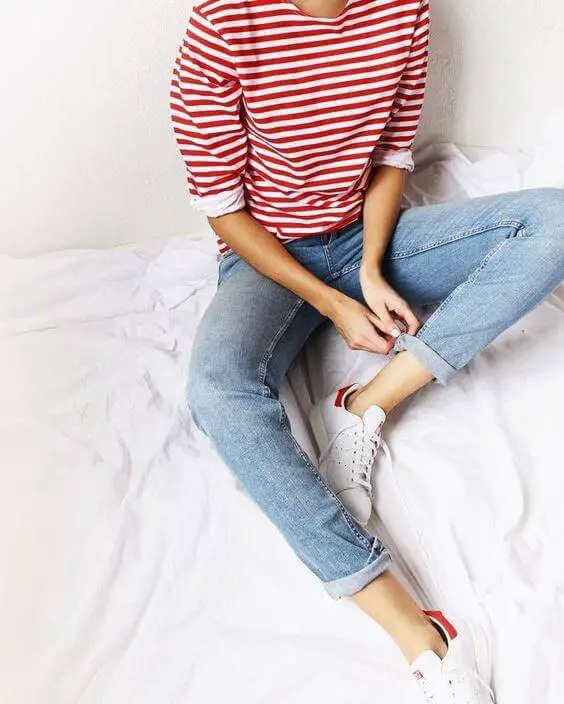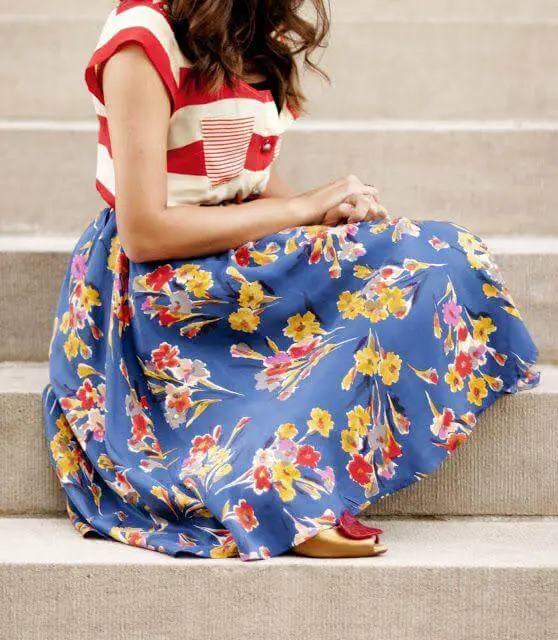 Striped Tee Under a Plain Maxi Dress
Give a whole new look to your favorite maxi dress by pairing it up with a striped tee underneath. This one is great as a street style, especially for the days when you are on vacations.
Weekend Look with White Tee with Black Stripes
Just feel relaxed and breezy in a white tee with black horizontal lines. The combo of black and white is the most traditional and it can be flaunted in a number of styles. Whether it is a denim shorts, pants or a maxi dress, the black and white duo promises a standout style.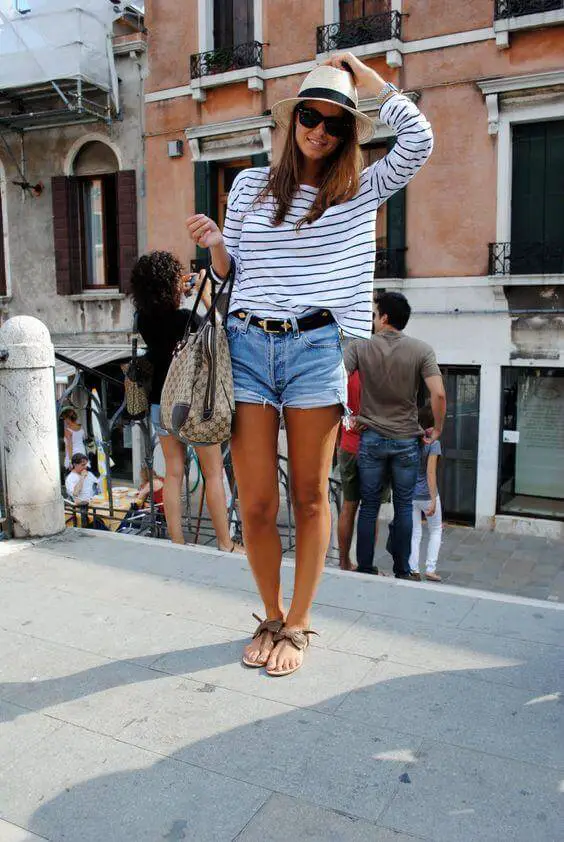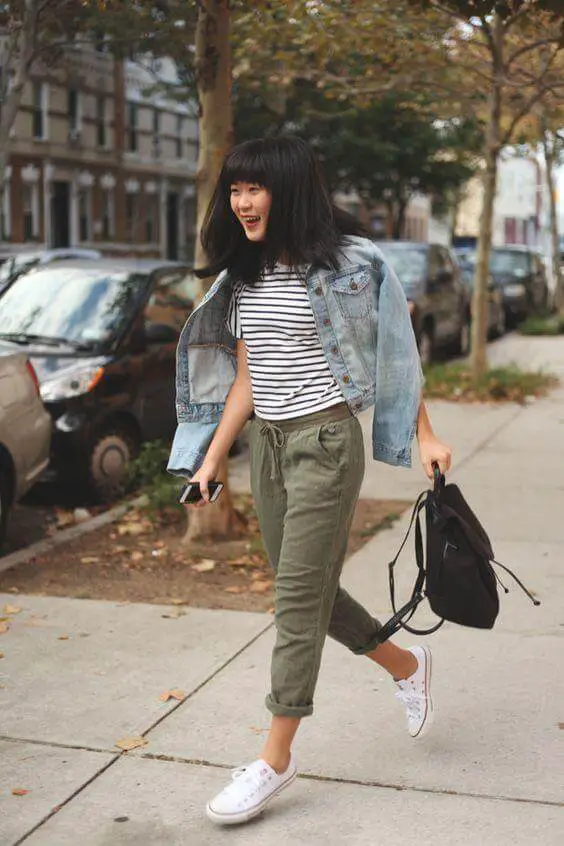 Striped Tee with Floral Bottom
Pairing up a basic striped tee with a floral trouser or skirt is an eye-catching idea. Just check out the image for visual advice.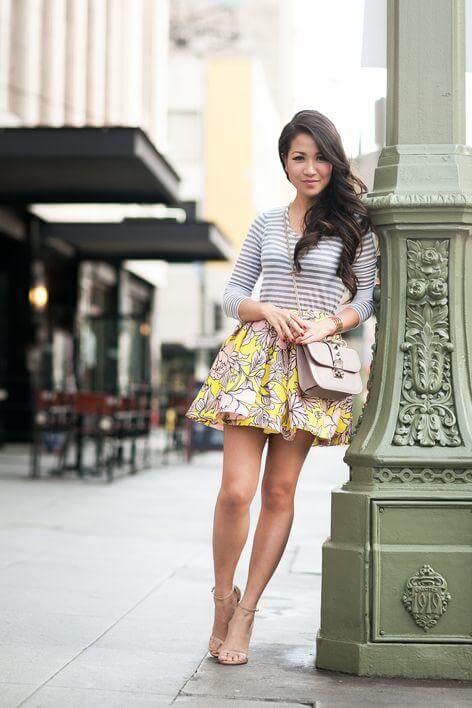 Blue and Red Stripes
This combo promises a style that seems flattering on every girl. Just pair it up with a denim piece and there you go for a fabulous fashion and sleek style.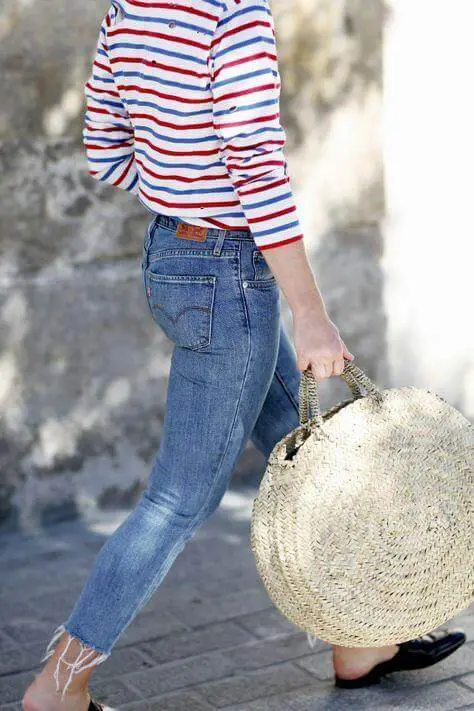 Striped Tee over a Jumpsuit
We know tees as the queen of basic outfits but many of us hardly know, in how many innovative styles tees can be worn. Have you ever thought that it can be paired up over a jumpsuit or on your favorite dress? No—just take a look how fabulous it can be.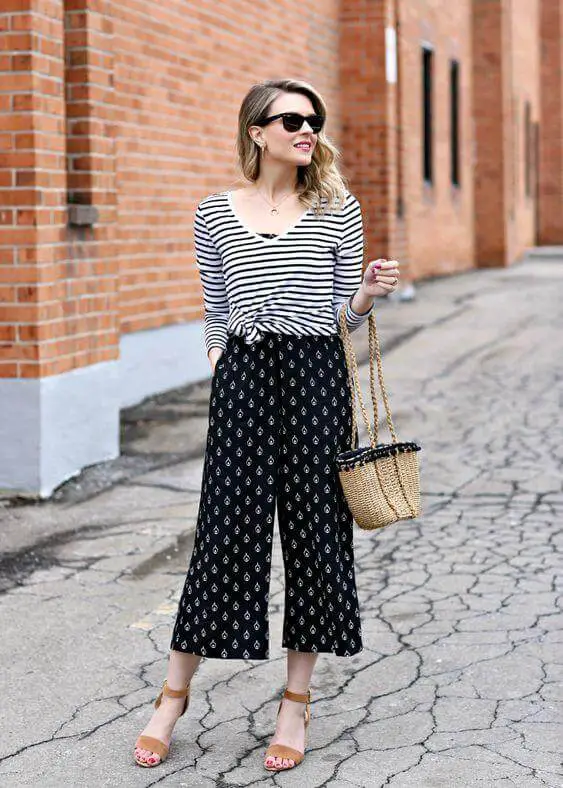 Blue and White Striped T Shirt
To beat the heat of summer, the coolest combo of blue and white is highly recommended. All you need is a denim trouser and a pair of cute sneakers. If you are looking for a more girly look, just give a try to a floral skirt in matching colors—you are all set to get noticed.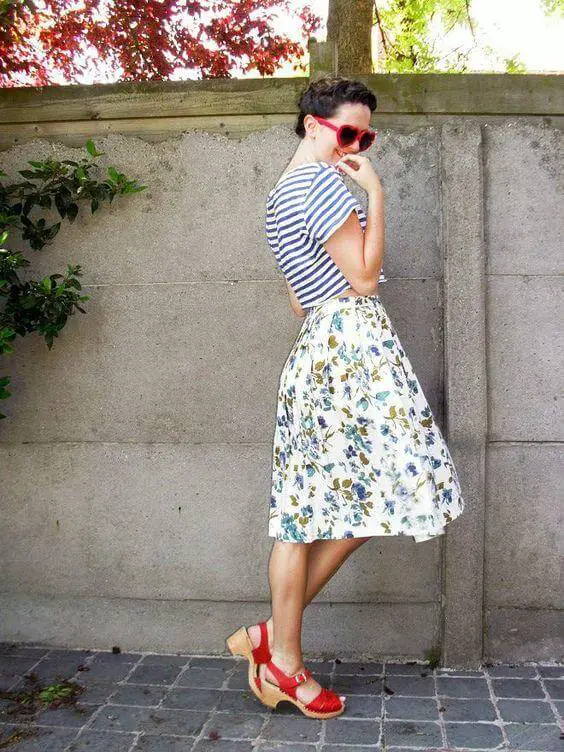 Navy and White Striped Shirt
To many, the combo of navy and white tee might be boring. But with a bit of innovation, you can add flair in your look. Check out the image—a simple navy and white striped shirt is fashionably highlighted by pairing it up with a boldly hued bottom. The unusual combo uplifted the whole look. You too can try something like that.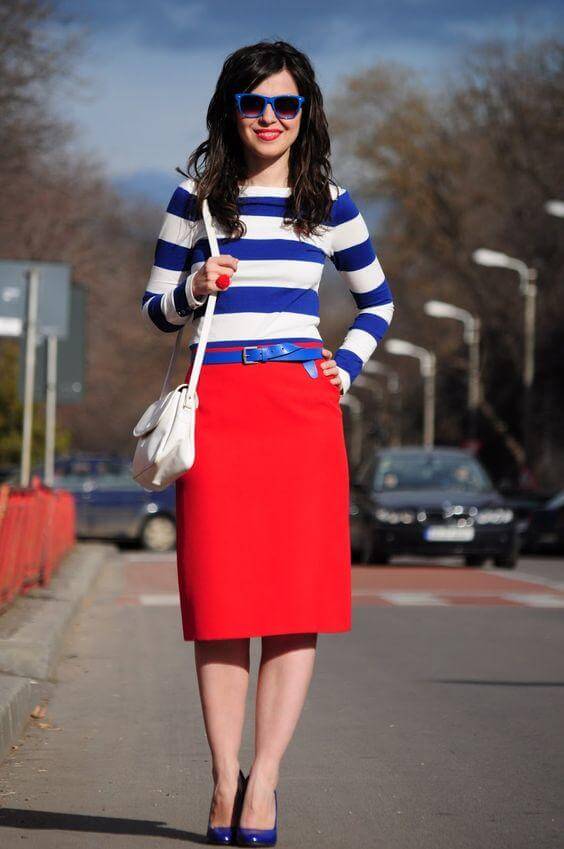 Multicolored striped Tee
Teenage girls who want something different and full of life, give a try to rainbow/multi-colored tees. The combo of different shades in a piece gives a remarkable style. It can be paired with denim or a plain skirt. It would give a totally different look with both.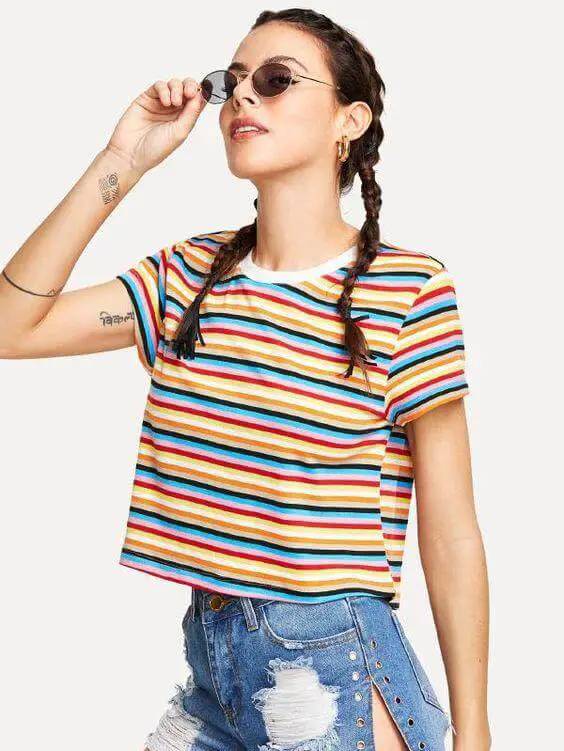 image credit:hips.hearstapps.com
Wrap up:
Striped t-shirt is the basic outfit—a part of our everyday life. What makes it special is the variety of patterns and the styles to follow. From a denim short to a jumper, a striped tee can be paired with each fashion staple. We really hope that after reading our fashion guide, you would have a number of ideas and styles to utilize a striped top fashionably.