Warmer months are about lightening up your color palette, and green pants can be the perfect piece to step up your color game. From darker shades of green—olive green, forest green, jade green—to lighter shades of kelly green and mint green, your color choice will give your outfit some sartorial voice and personality. So, keep on reading for our guide, so we will tell how and what to wear with green pants.
Learn more about navy blue pants outfit ideas here
Why should you wear green pants, if your neutrals are versatile enough?
Even though jeans and neutral colored trousers are versatile enough to match with your outfits, having something like a pair of green pants will allow you to have more sartorial options. Remember, colors can add some interest to your basic pieces while setting you apart from all the other women wearing their jeans and black pants. 
Shop The Look
---
Click the picture to buy


How to pick the perfect shade of green for your style and personality?
Pushing yourself out of your color zone is fun, and embracing color on your bottom half is easier than you think. We've rounded up the basic shades of green, so you'll be able to step up your color game with your pants: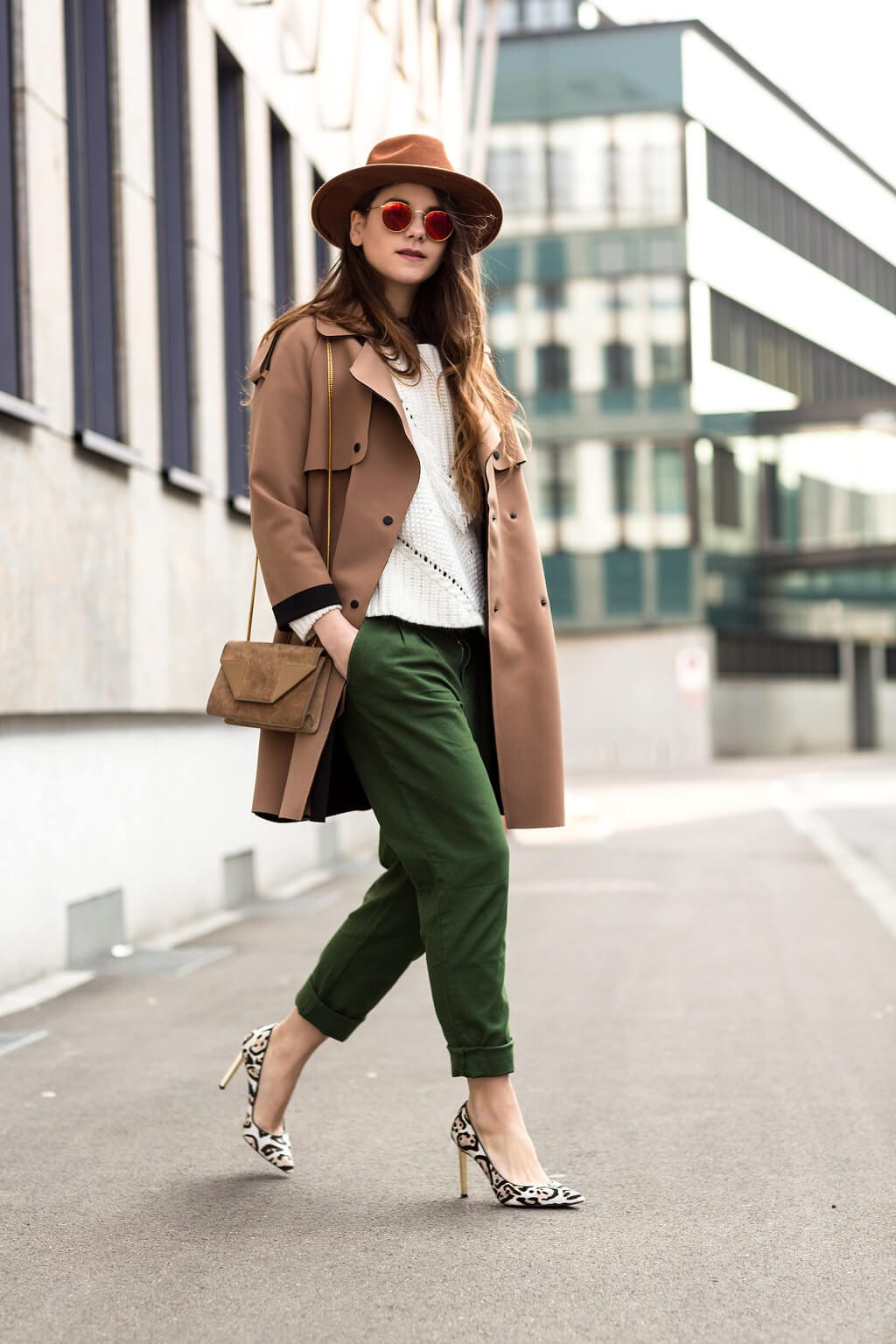 Olive green or army green pants will make your style bolder.
Olive green is a dark yellowish-green color just like an unripe olive fruit, and when it shaded towards gray, it becomes an olive drab. Do you know that olive drab is the basic U.S. army color? Basically, it's a "dull olive-green shade" or grayish green that has been used to refer to uniforms of the U.S. Army. Because the color olive drab was so universally associated with the military, the olive green color and army green shade also adopted the name.
Yes, olive drab has a past, and wearing army green pants will add some military vibe to your style. If you resort to the versatility of neutrals, olive green is the perfect shade for you since it works just a neutral color, and most of your tops will go well with it. For our army green pants outfit ideas, think of a black blouse teamed with olive green pants and boots to give you that city girl look. Thinking of what to wear with olive green pants for a night out? A metallic gold sweater teamed with army green pants and heels will make your style bolder.
Dark green pants are perfect for a sophisticated and classy look.
For the darker shades of green, you may think of Sacramento green, forest green, and even jade green that will give you that sophisticated look. Are you looking for stylish dark green pants outfit ideas? You may go for black tops and other neutral colors but skip loud standout shades. Dark green, especially jade green is elegant enough, and adding in some festive color will only compete for attention, diminishing jade's luster and appeal. You may instead think of metallic gold accents that will break up the monotonous combination of dark green and black while adding some elegance to your outfit.
Lime green is a bright, yet conservative shade that will work well in the office.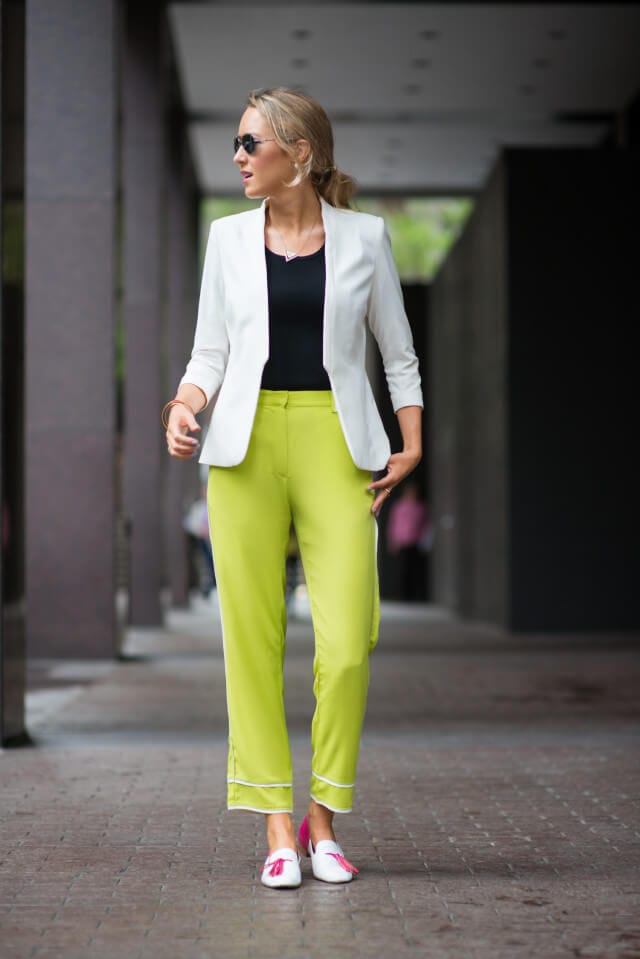 Wearing bold colors at a creative workplace is perfectly acceptable, but you must know which shades of green will give you a fashion-forward yet professional look. If you think yellow is too striking for the office, think of lime green—it's the perfect balance between a relaxing green color and a striking yellow shade. The key is to balance your lime green pants with a neutral top, perhaps a black tank top teamed with a white blazer that will keep you sleek and polished.
Kelly green is perfect for a lively, yet soothing statement.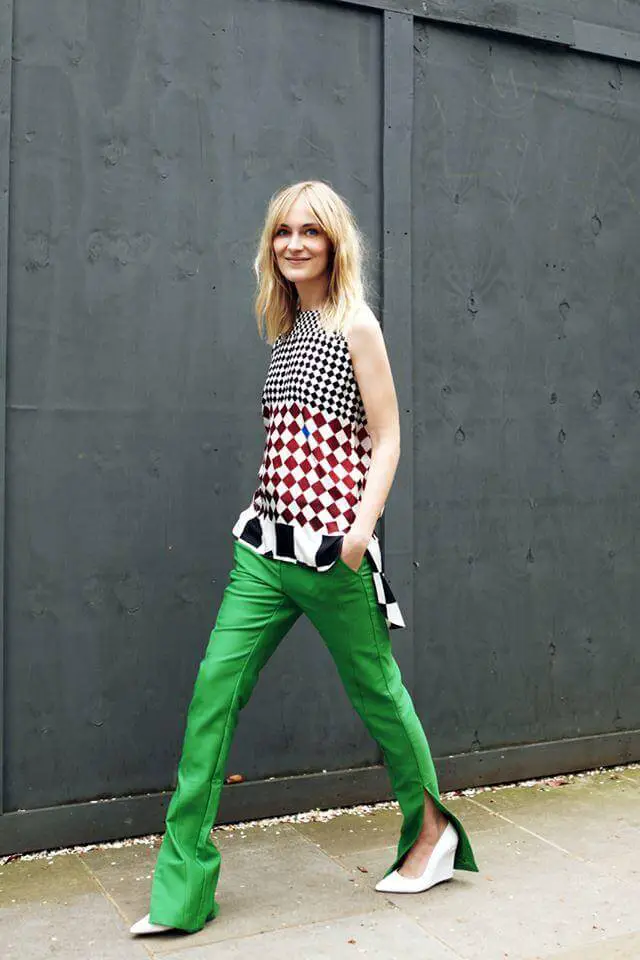 Are you looking for a vibrant green hue that turns heads? Go for kelly green—it's an intense pure green color that leans a bit more towards yellow than emerald green. A great thing, this particular shade is versatile enough to look both cool and warm at the same time. It's a fresh, vibrant, and preppy color that's perfect for springtime. Are you now wondering what to wear with kelly green pants? Think of a geometric print blouse and white shoes that will create a style impact, while keeping your looks soothing at the same time.
Mint Green will give you a sweet and sassy look.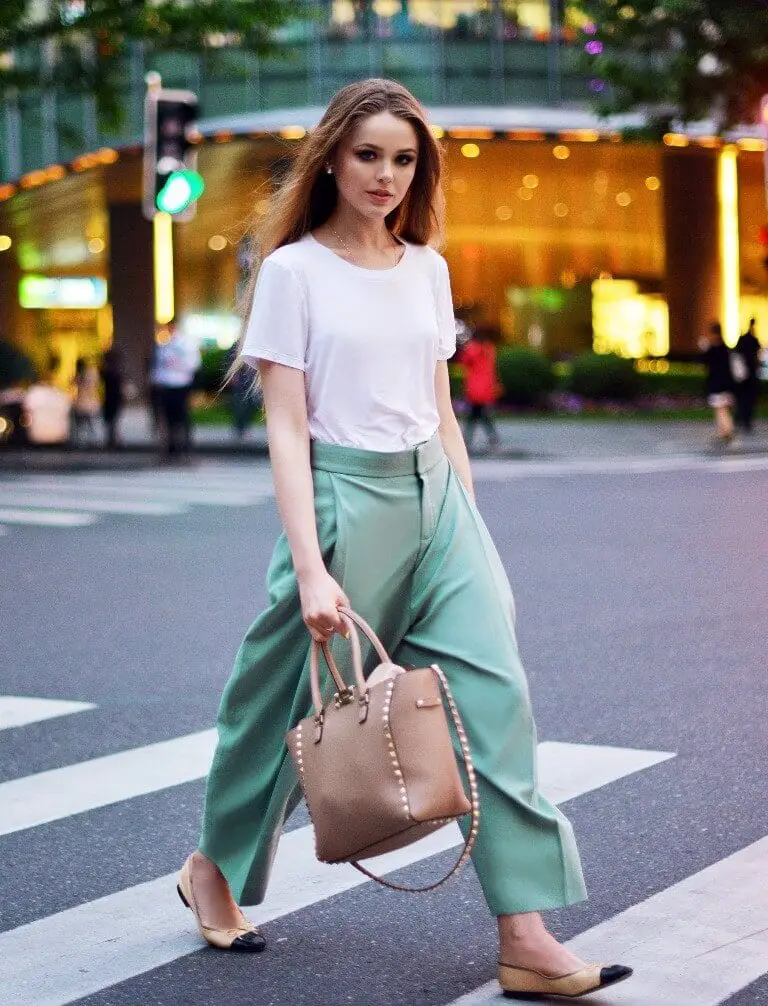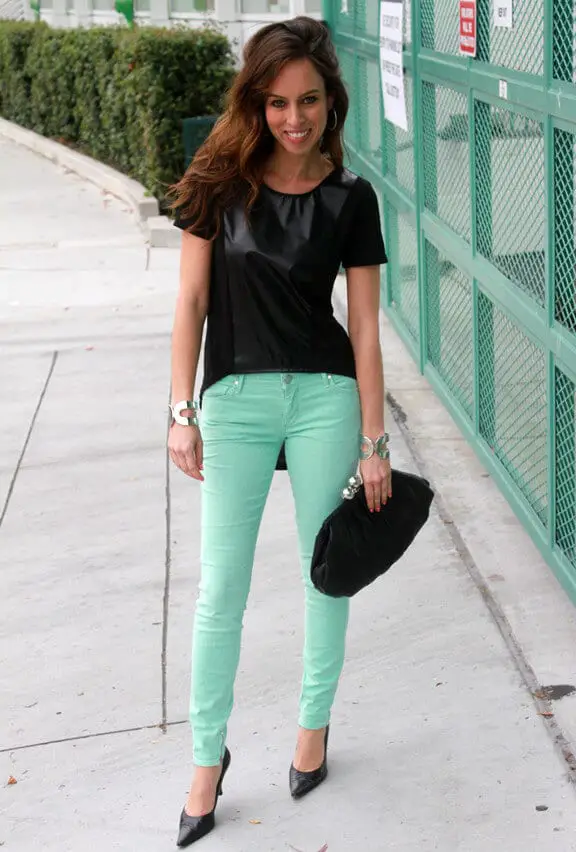 If you have an eye for pastel colors, then mint green pants are just perfect for you. Since spring is about switching things up, trade your navy jeans with a pair of mint green pants! It might be a soft shade, but when worn with black, it will create an edgy statement. Just think of a leather top, a chic clutch, and a pair of black pumps that will go stylishly with mint green—an instant night out look. On the other hand, wearing your mint green pants with other lighter and subtle shades like white, nude, or gray will balance your look for daytime.
Bright green pants will give you the trendiest look.
If wearing bright colors is your style, a pair of bright green pants are perfect for you. You can keep the rest of your outfit muted and let your brightest shade take the spotlight. This can be a great start if you're new to the world of color, as neutrals balance the intensity of bright color. You can make your pants the focal point by wearing it with a neutral colored top, and perhaps some printed accessories that will make your style more creative.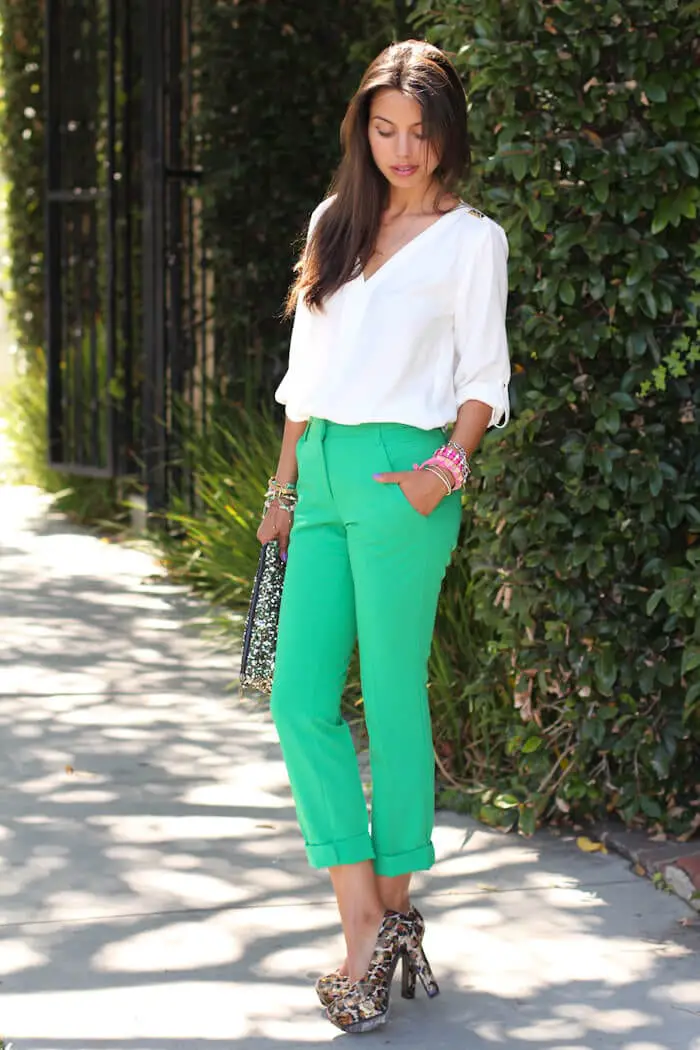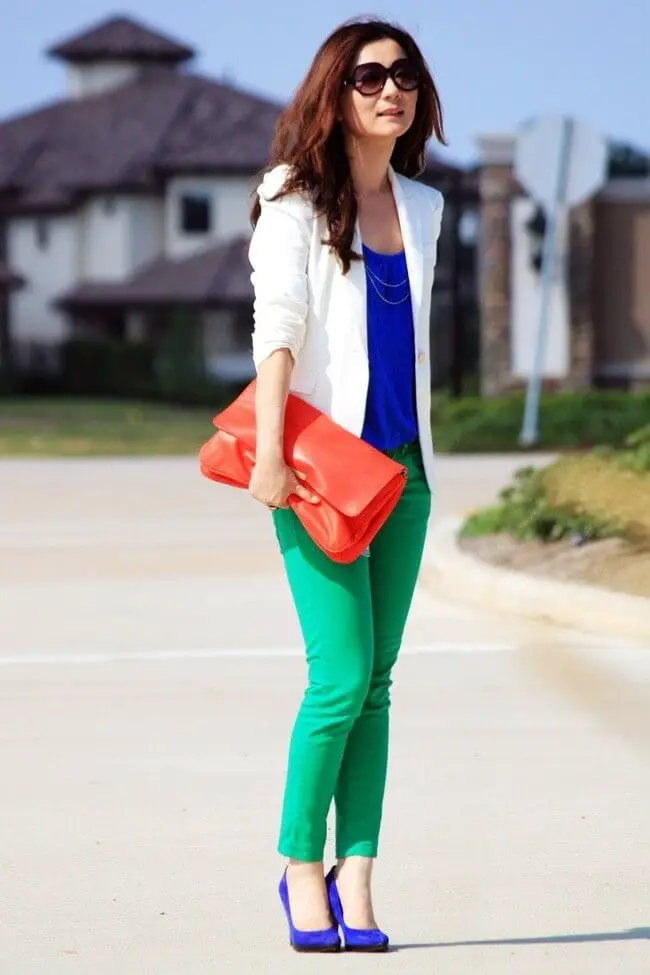 On the contrary, wearing your bright green pants with another bright color will give a trendy statement. Think of a color blocked outfit that can turn heads like bright green pants, red clutch, cobalt blue top and shoes, and perhaps a white blazer to balance your looks. It's a bold style move, but don't be afraid to take the challenge. After all, bold colored pants are designed to make a statement.
It's not an easy task to find a pair of green pants in these exact shades, but whichever green shade you opt for will work perfectly—just be creative and you'll soon find your perfect match.