Have you ever wondered how to take your style to the next level in Winter? The answer is way easier than you think.
Sweater dresses!
They're super easy to wear, so you don't need to be a fashion expert to create a cute and edgy sweater dress outfit. All you need is literally an oversized hoodie, sweatshirt or pullover sweater and you're ready to go!
The only suggestion I'd make is to make sure to wear a mini tight short or any mini short you like because many of these so-called sweater dresses were not designed to be dresses, so they tend to be super short.
And believe me, you don't want anyone staring at your undies. That's why it's better to enjoy your outfit knowing that there's no chance you're going to leave your underwear exposed.
6 Sweater dress outfit ideas to recreate
Keeping in mind the tip I just gave you, all there is to do know is know how to style your long sweater outfit.
And since wearing your sweater as a dress will already make a strong statement, choosing the shoes you decide to wear it with becomes much easier because they will be just complementary accessories. Unless you want to create a killer look… then your shoes should be packed with the utmost care.
That's why I've compiled 33 different sweater dress outfits that will shed a light onto which shoes and accessories are better to wear. Because let's be honest, there's always a much chicer or cooler idea that we haven't thought of, and looking through these pictures will help you widen your horizons.
1. Sweater dress with combat boots
If you're looking for an edgy look, nothing can beat a pair of stylish and cool black combat boots. I personally love these shoes because they add an edgy vibe to your outfit without even trying.
They can also transform what otherwise would be a girly and cute dress into a hipster or rocker dress.
That's why keeping them in mind for your long sweater style is super helpful. And if you want to spice up your look, then you can also get creative with thighs.
Look at how cool these mesh thighs look in a black sweater dress outfit. Add your black combat boots and you'll be dressed like a fashion pro for sure!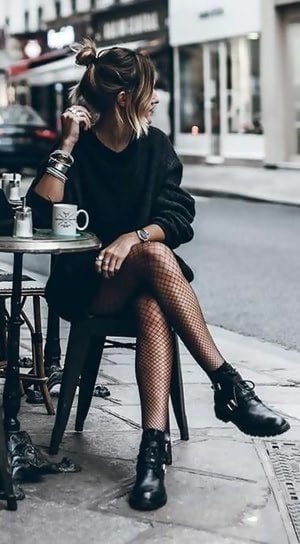 But honestly, wearing regular see-through thighs is already cool enough. You can wear a black sweater dress or any color you prefer!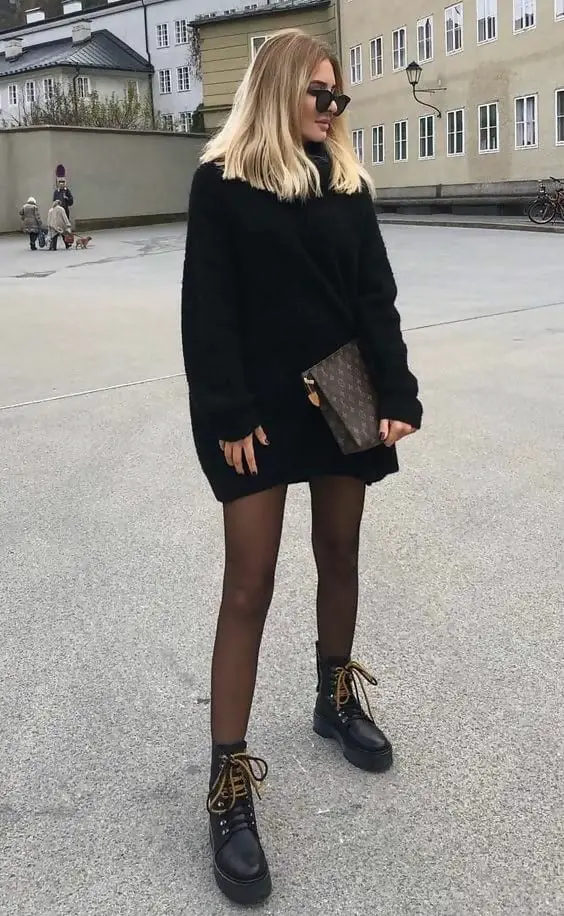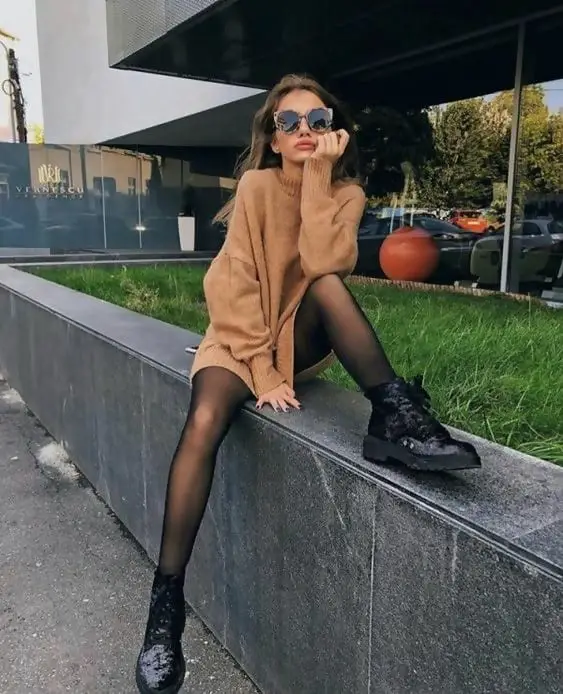 Or simply show your bare legs with a cool pair of combat boots: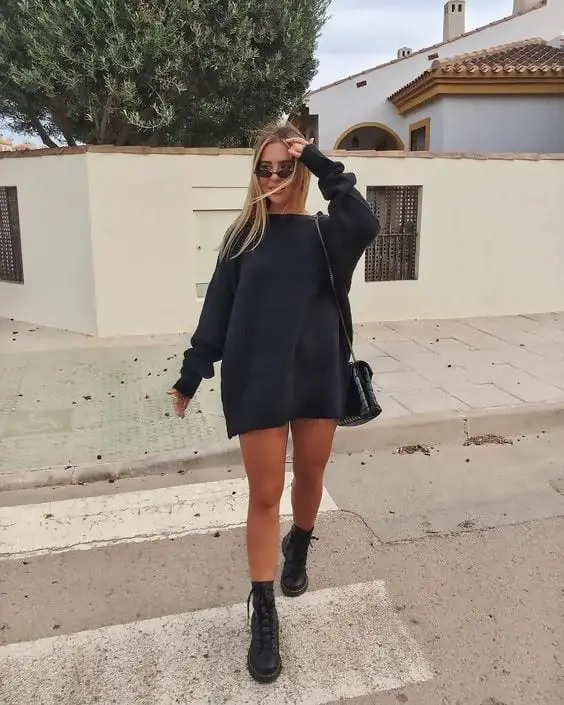 2. Sweater dress with ankle-length boots
If you don't want to look that edgy or simply don't own any pair of combat boots, don't worry because ankle length boots will also do the trick.
They look super stylish paired with a long sweater dress, making them an easy option to pull off.
A black pair of flat ankle length boots will create an edgy outfit similar to the ones with combat boots. Wear them with a black sweater dress and you'll look like the coolest kid in town.
Or with an electric blue sweater dress: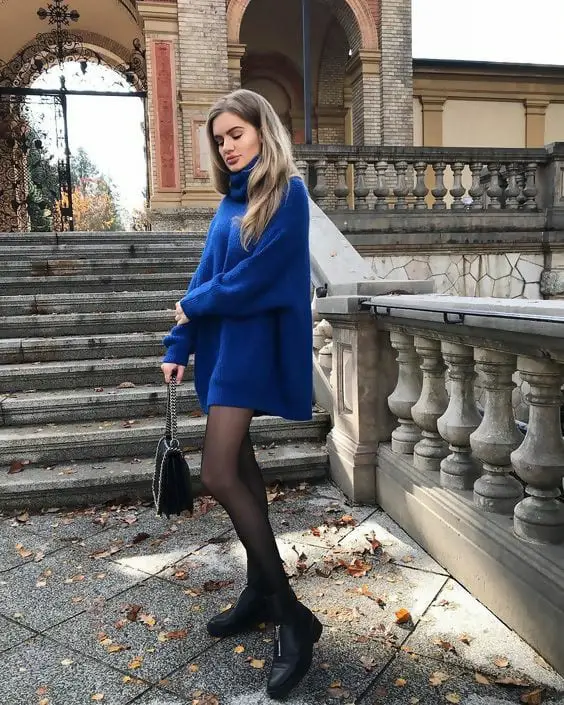 Pointy low heel boots became super trendy a couple of seasons ago, which makes them an ideal shoe to wear with a cool statement piece such as a dress sweater.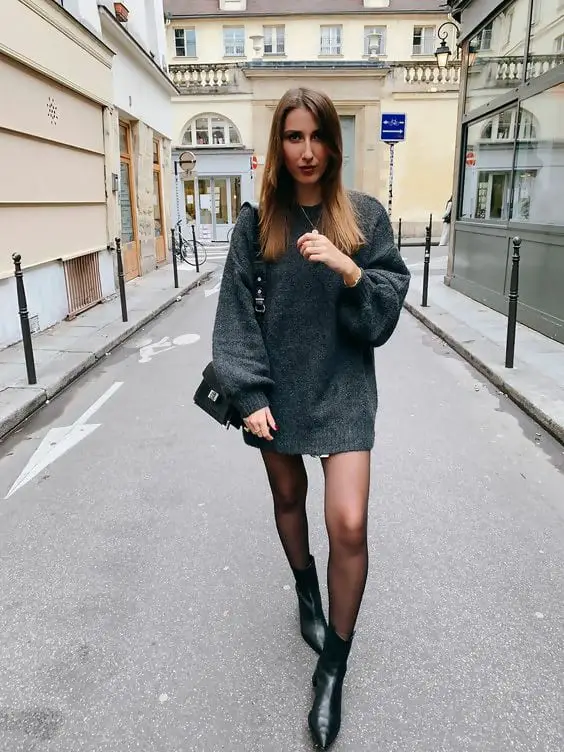 You can also wear a monochromatic look and add a contrasting color with your purse: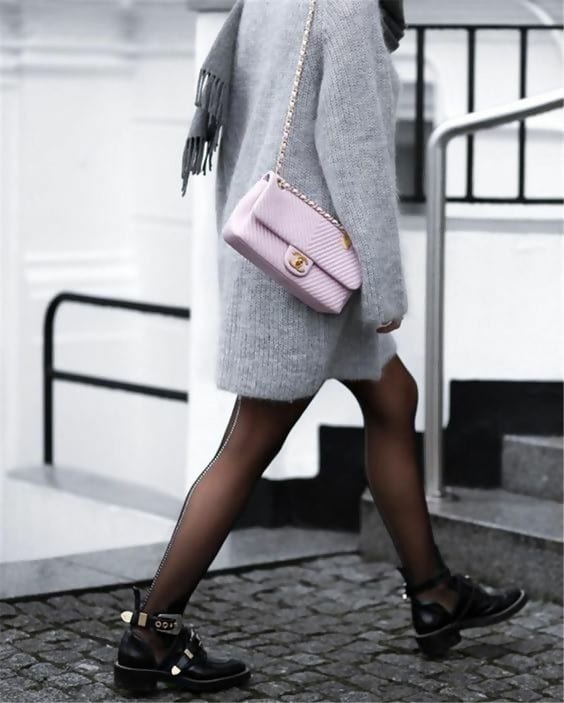 A pair of shiny and silver (or golden!) ankle length boots are another great option for a fashionable look: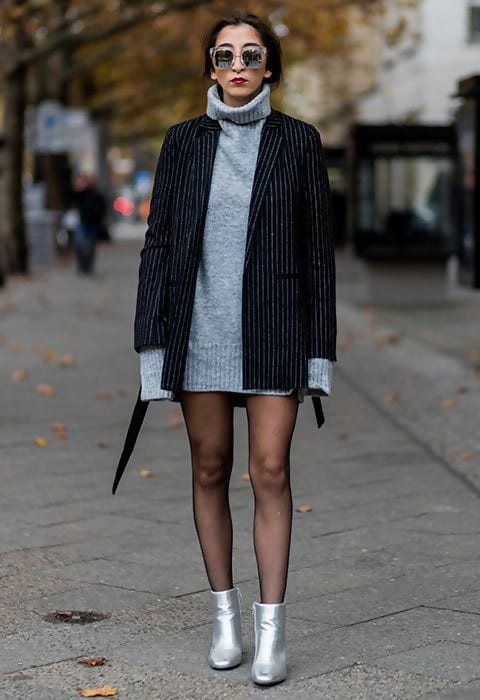 And why not wear an oversized hoodie with socks and cool pointy ankle length boots? This will be the outcome: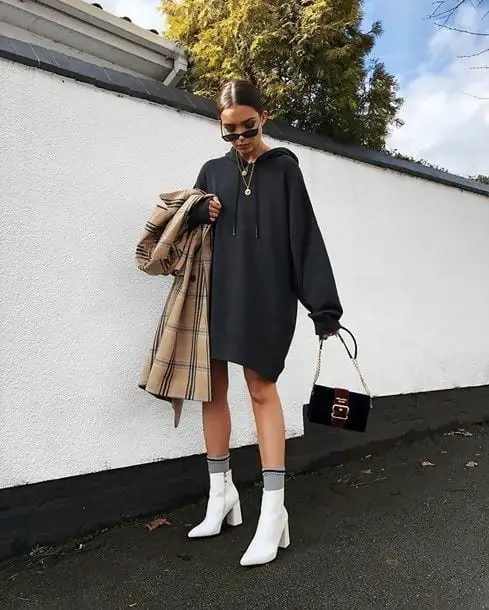 A styling trick you can do with your long sweater is to wear a thin belt to add some curves into your outfit. Remember that these "dresses" are oversized, meaning that your curves will remain hidden unless you do something about it.
This styling trick is preferably for dresses that were actually designed to be dressed because they have an extra length that allows you to shorten it with a belt.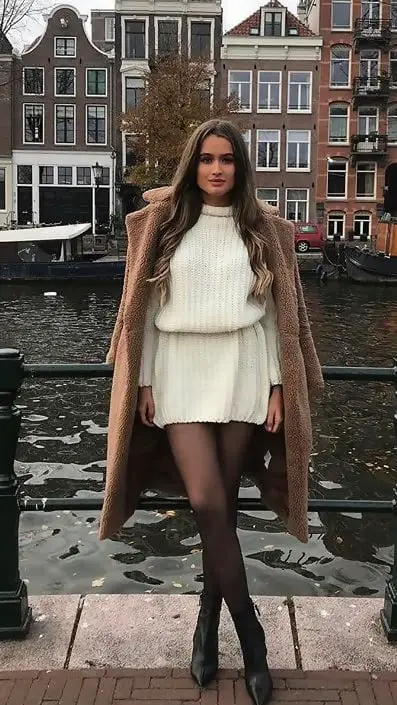 3. Sweater dress with knee-high boots
Now, if a killer look is what you're after, then nothing can beat a pair of thigh or knee high boots. A sweater dress and these boots are both a strong statement piece, so mixing them together into one whole outfit will definitely bring the best of both worlds.
I love how cute and sexy this combination looks: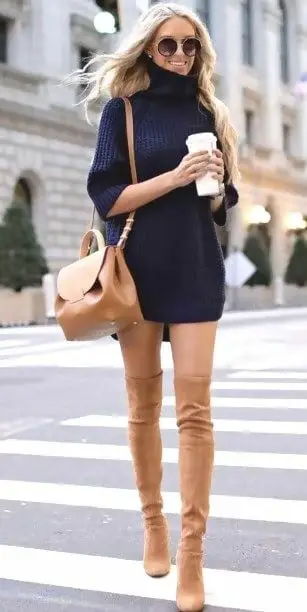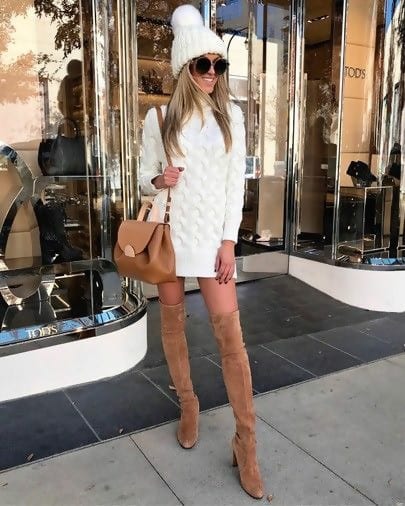 I love how cozy an oversized turtle neck sweater looks! Add knee-high boots and not only will you create a comfy outfit, but will also rock a chic and fashionable look:
Wear your maxi-length coat for a dramatic and stylish look: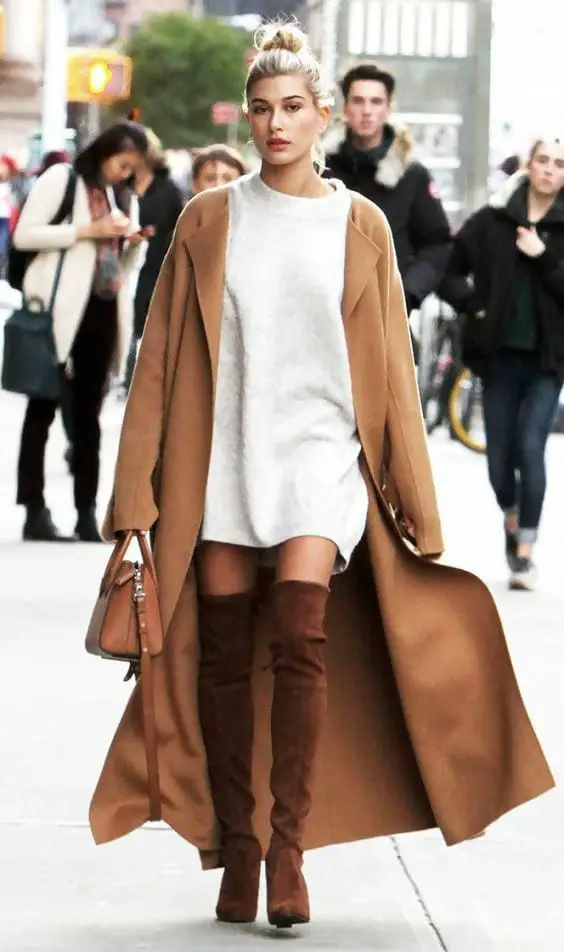 Create a monochromatic look by pairing your boots and your sweater dress' color. A black or gray sweater outfit looks absolutely cool: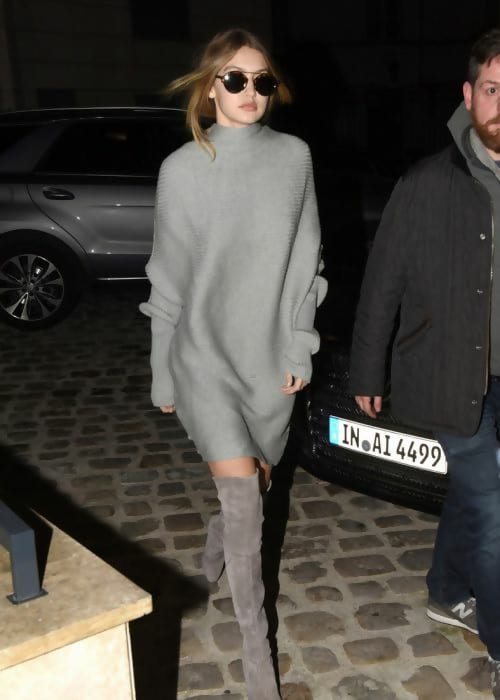 Or wear your favorite oversize sweatshirt as a dress with thigh-high boots: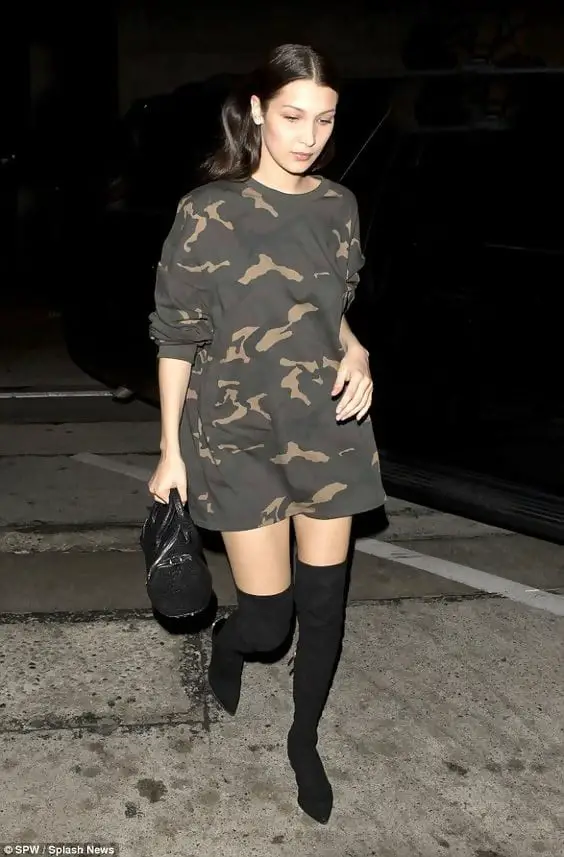 Do you remember the styling trick I gave you before? Well, a pair of thigh-high boots look great with this outfit: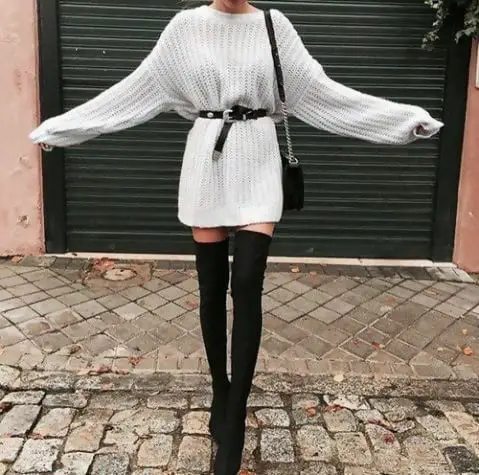 Last but not least, if you want to spice up your sweater dress game, then add a blazer! This is one of the coolest looks I've seen because it looks smart, edgy but chic at the same time if that's even possible…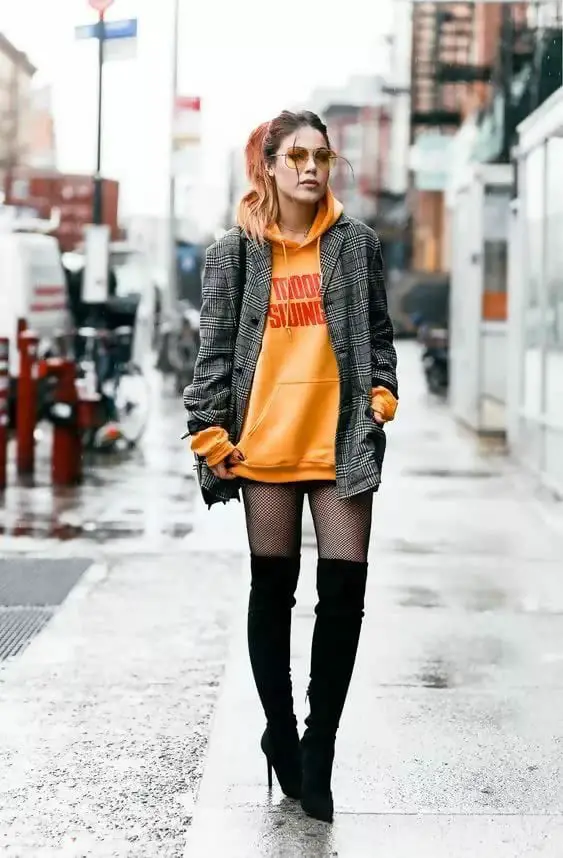 4. Sweater dress with sneakers
If you're not much into sweater dress with boots, a pair of sneakers is your go-to option to wear for an effortlessly cool look.
You can wear chunky dad sneakers for a fashion pro outfit, and finish your look with cool and retro sunglasses: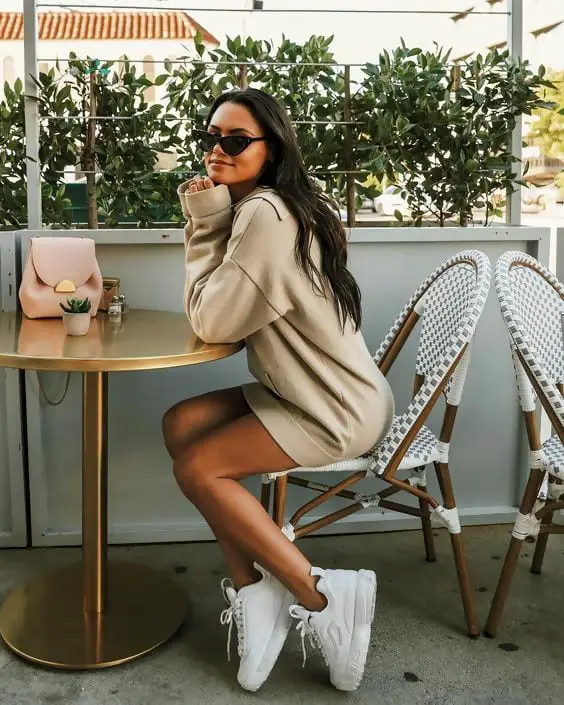 Add a fanny pack for a trendy and urban style: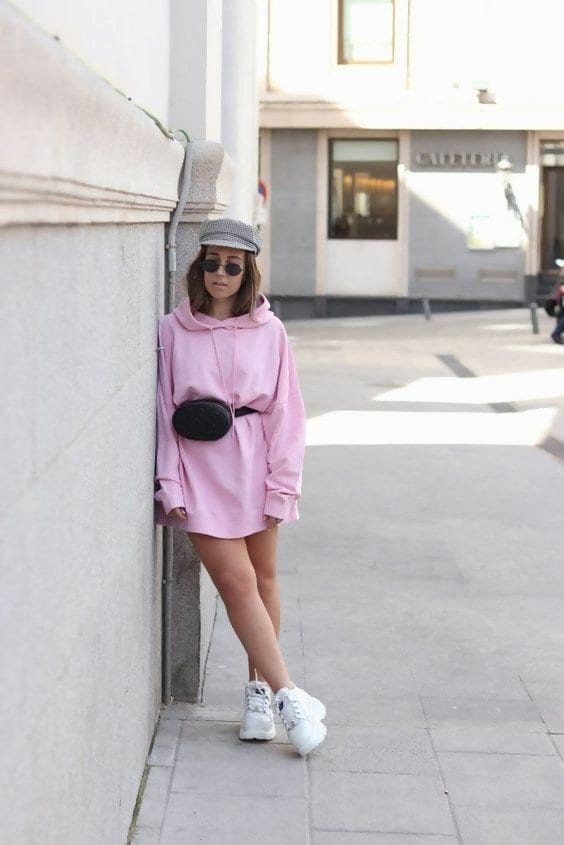 For a cute and minimal look, you can also wear a pair of regular white sneakers: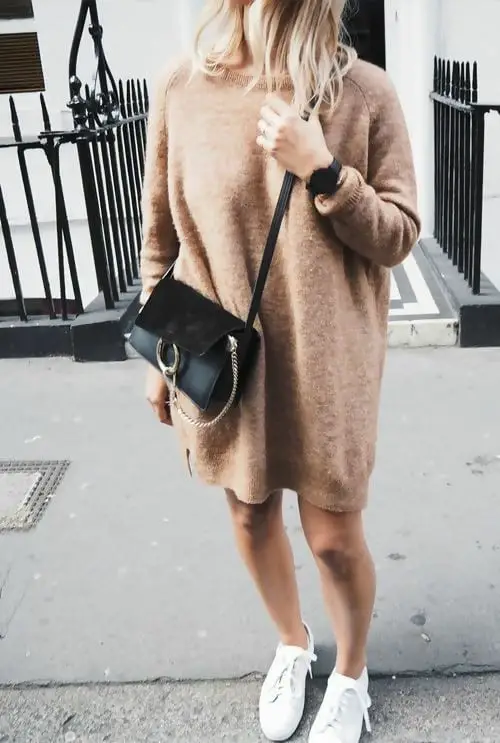 An oversized hoodie dress is one cool option you need to try. These are designed to be dresses, so wearing something underneath your dress is not necessary at all: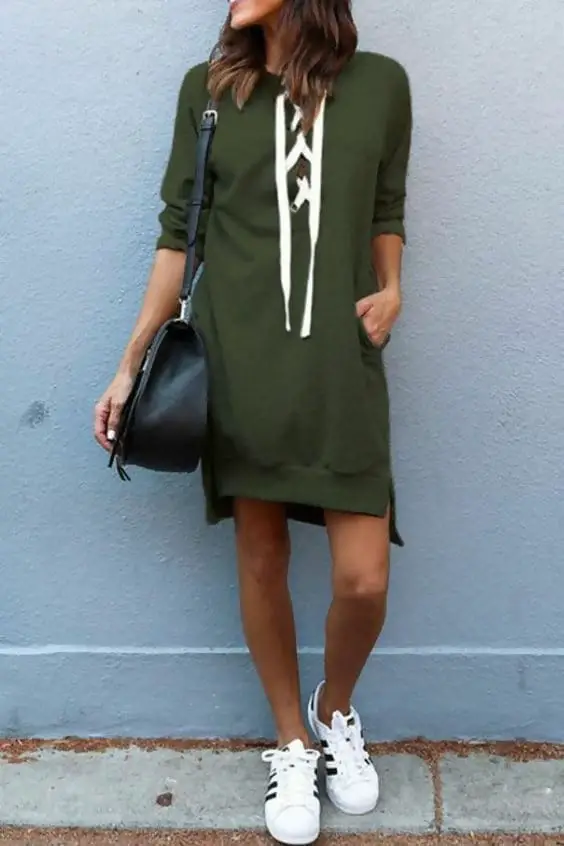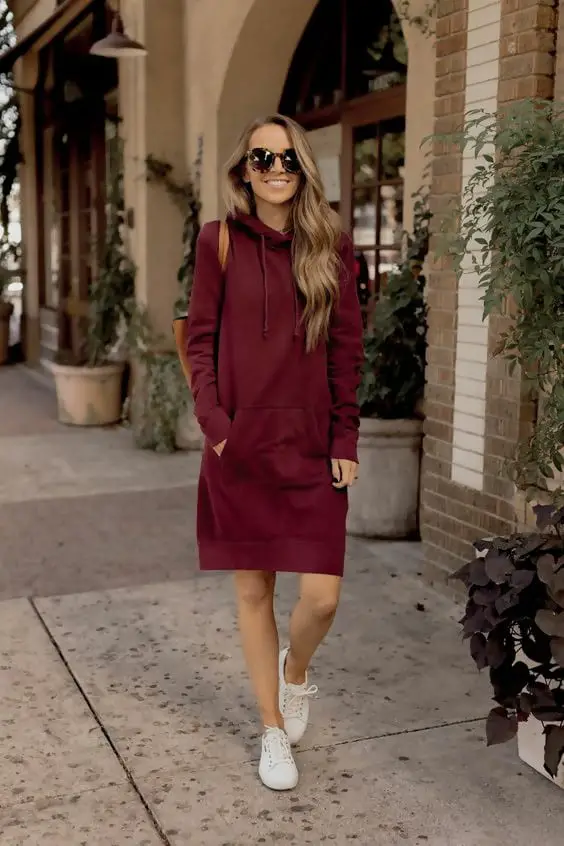 5. Other cool shoe options
What I love about fashion is that there are no rules to follow. At all…
That being said, you can wear your sweater dress outfit however you please. This means that if you love espadrilles, then so be it! Ballerina flats? Why not!
That's why I've also included different options that may be useful for many because, when it comes to dressing, it's better to stay faithful to your own personal style. So if you're super girly, for example, wear flat espadrilles: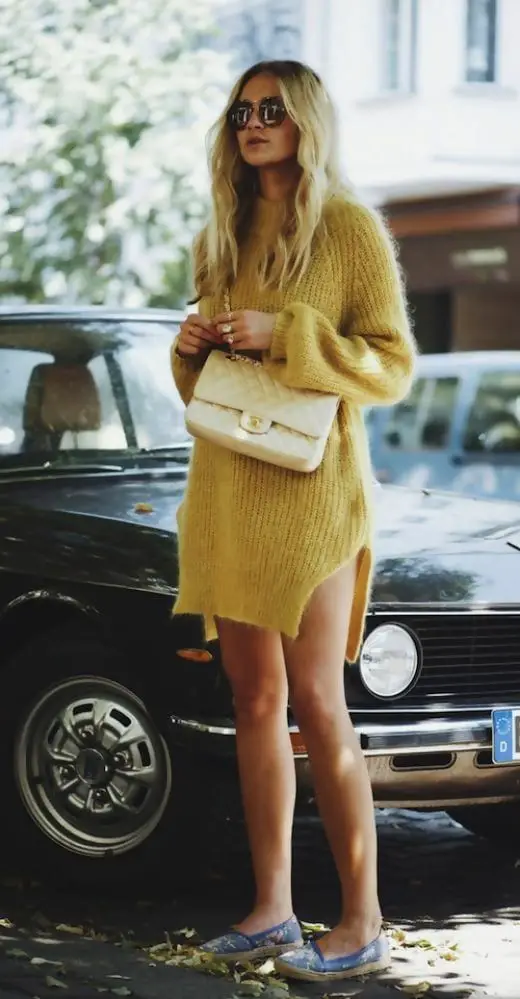 6. Maxi sweater dress
Now that you've seen different ways of styling a sweater dress, a maxi style deserves a special mention.
If you're serious about spicing up your fall/winter style, then a maxi sweater dress is what you should aim for. They're super cozy but stylish and chic at the same time.
You can wear a tank and leggings or slip-on dress underneath your maxi sweater dress, in case you get too hot and want to take it off.
You can also keep in mind the previous outfit ideas to style your maxi sweater dress: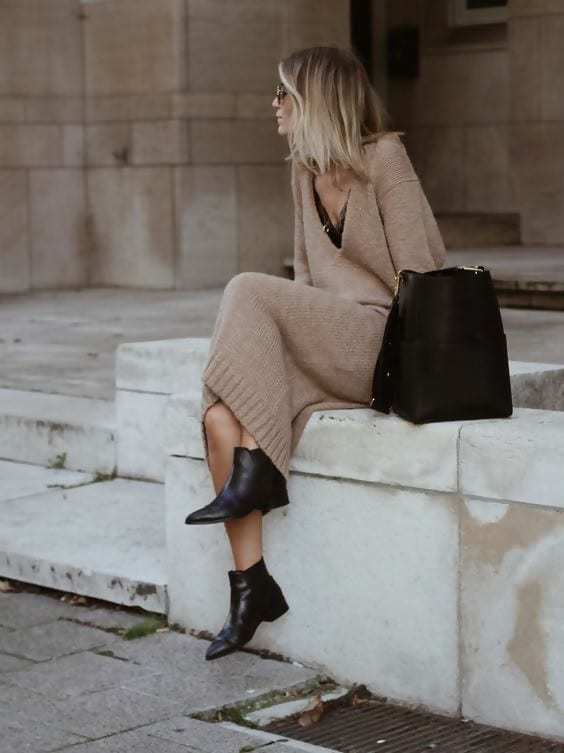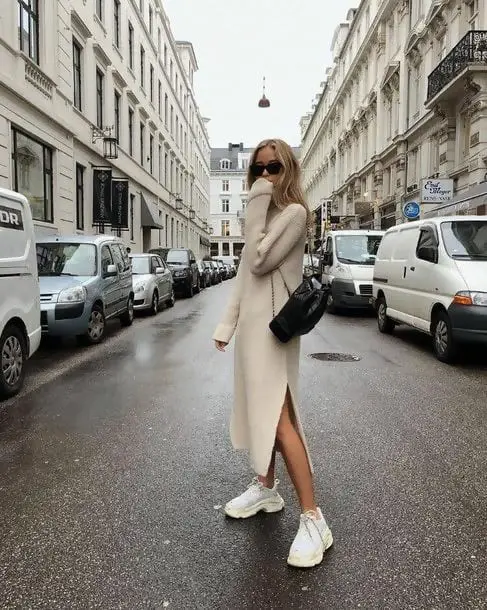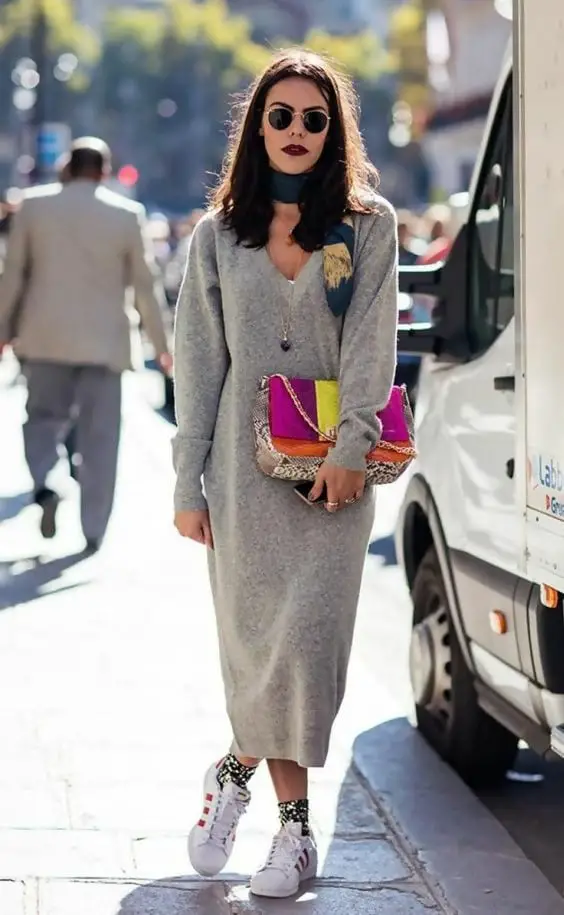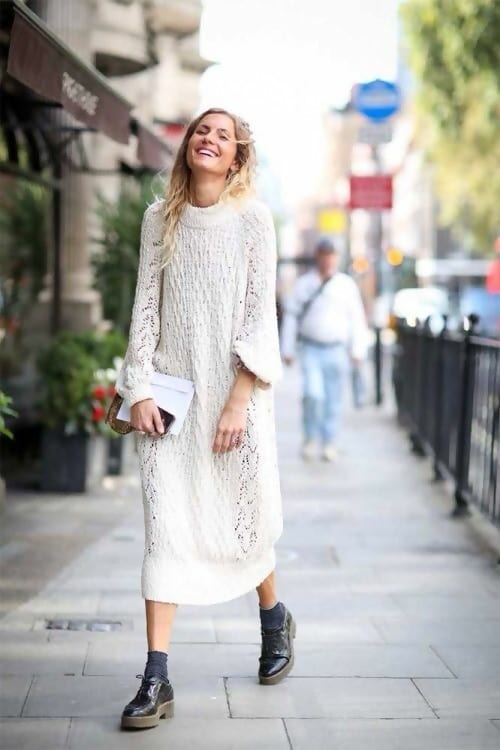 Wrap up:
Sweater dresses are a popular piece worn by true fashionistas. We've seen different streetstyle examples of how to rock a sweater dress in the most effortless possible way.
All there's left to do is carefully choose the shoes to pair it with to make the most of your sweater dress outfit.